Bustling and beautiful, Barcelona is one of Spain's top city breaks for good reason–but if you want your trip to Catalonia to extend outside the region's capital, there is a dizzying array of options for incredible day trips from Barcelona!
From beach towns to a memorable monastery to a very exciting day trip that leaves Spain entirely (!), there are excellent Barcelona day trip options for all kinds of travelers.
Barcelona itself is so full of activities it is easy to never leave the city–but the surrounding areas are worth a trip.
Here are the best day trips from Barcelona, Spain, curated by an ex-pat who has lived there for years!
Note: This Barcelona day trips guide was written for Our Escape Clause by Natalie Collins, a British ex-pat who has made her home in Barcelona. Thanks for joining us, Natalie!
Quick Decision: An Epic & Easy Day Trip from Barcelona
Want to take an epic day trip from Barcelona, but don't want to overthink it or sort through almost 20 options?
If so, this day tour to Montserrat and the Penedes wine region is a fantastic choice!
This wildly popular tour visits both Montserrat (easily the most coveted day trip from Barcelona) and includes a local wine tasting and a traditional lunch with its full-day option.
In the morning, your guide will collect you from central Barcelona and take you to Montserrat where you will be able to tour the monastery and enjoy the beautiful surrounding mountains.
From there you are taken to a local winery to discover the famous Penedes wine region (one of the top wine regions in Spain) and enjoy a traditional Catalan lunch!
If you're hoping to get a taste of Catalonia outside of Barcelona in a day, you can't go wrong with this day trip!
Book your day trip to Montserrat + the Penedes wine region today!
How to Get From Barcelona to These Day Trip Destinations
Essentially, there are 3 main ways to take day trips from Barcelona: book a tour, rent a car and drive, or take public transportation (usually via train, and sometimes bus).
Depending on the day trip in question, there might be a clear winner in how to get there… or it may be down to your travel style!
We detail the best options for getting to each of these places near Barcelona below.
For train tickets, we recommend booking through Omio, which is a very useful search aggregate for train travel (and bus travel) that works similarly to a search engine for rental cars.
If you'd like to drive, we recommend searching for your rental car through Discover Cars, which will allow you to sift through all your options and choose the right car for you based on price, the reputation of the company that is renting it, and the terms of the rental contract.
And finally, for guided day trips, we're fond of Get Your Guide and have linked well-reviewed tour options throughout this guide to Barcelona day trips where relevant.
The Top Day Trips from Barcelona, Spain
If you're looking for the most iconic day trips from Barcelona, this section is for you!
Some of these trips are easier with a guided tour, but for most of the destinations in this section, they are easy to get to using public transport and can be done independently.
Even if you only have a few days in Barcelona, you'll probably want to pull yourself away to enjoy one of these!
Montserrat
Probably the most popular day trip from Barcelona, whether visited independently or as part of an organized day trip, is the iconic Montserrat and Montserrat Monastery.
Montserrat itself is a mountain range named for the Catalan word 'serrated' due to the mountains looking like the edge of a serrated knife.
As you travel through the region you will see this mountain range from most places.
The mountain range is home to Santa Maria de Montserrat Monastery and a site of religious pilgrimage.
The monastery has one of the few black Madonnas in Europe, which was said to be discovered in the 11th century when the earliest parts of the monastery were built.
Explore the monastery and hike the mountains to discover hovels that were once home to reclusive monks!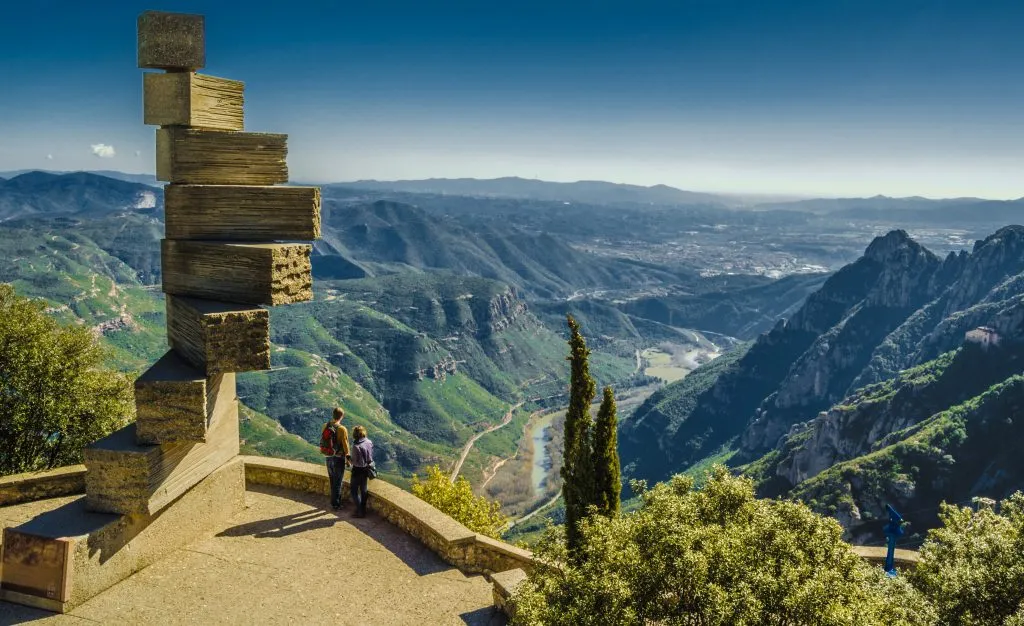 How to Get to Montserrat from Barcelona
To travel to Montserrat from Barcelona by train, take the R5 train to Aeri de Montserrat.
From there, either take the cable car or use the Montserrat Rack Railway to cross the mountaintops and see the amazing views.
If you'd rather not worry about transportation, consider booking a day tour from Barcelona that combines a monastery tour and an optional add-on for lunch with wine.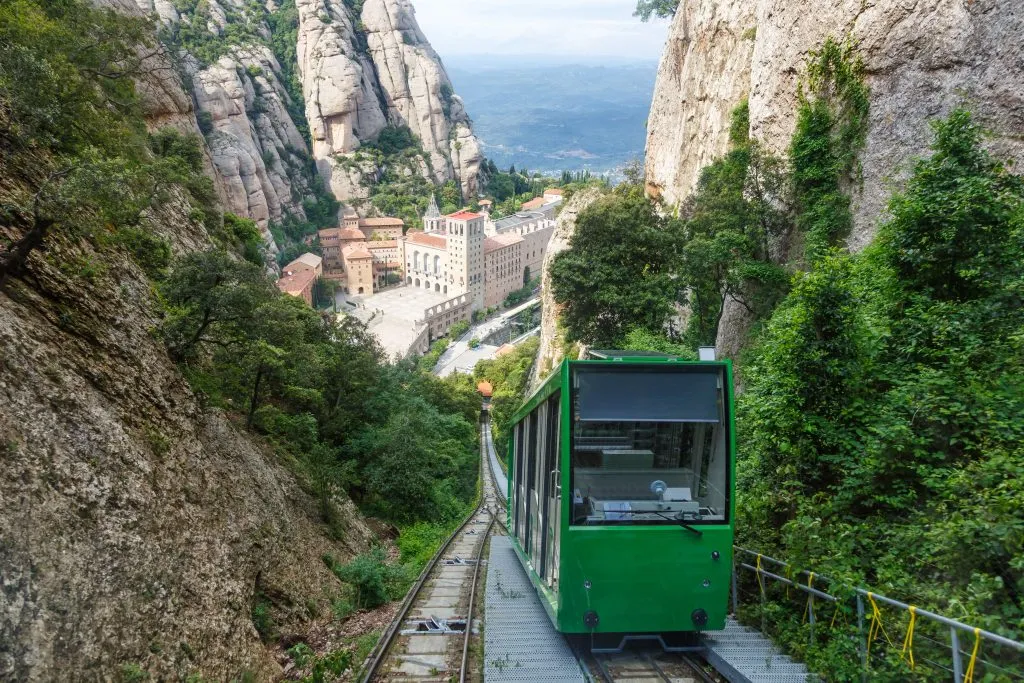 Sitges
This cute seaside town just 30 minutes outside the city is a great day trip from Barcelona.
For a tiny town there is a lot to do, browse independent boutiques, enjoy delicious food, and drink wine at the beachside.
Foodies will love sampling local foods and wines on this tour through the historic center.
Sitges is also home to the Cau Ferrat Museum, a collection of modernist artwork curated by the artist Santiago Rusiñol, as well as the Museu Maricel and Palau Maricel.
Both museums are an insight into the artistic heritage of Sitges.
Also worth a visit is the cemetery, which is a wonderful example of the history that has passed through Sitges.
How to Get to Sitges from Barcelona
The R2 train from central Barcelona gets you to Sitges along a pretty seaside rail route.
You can also spot Montserrat in the distance as you leave the city.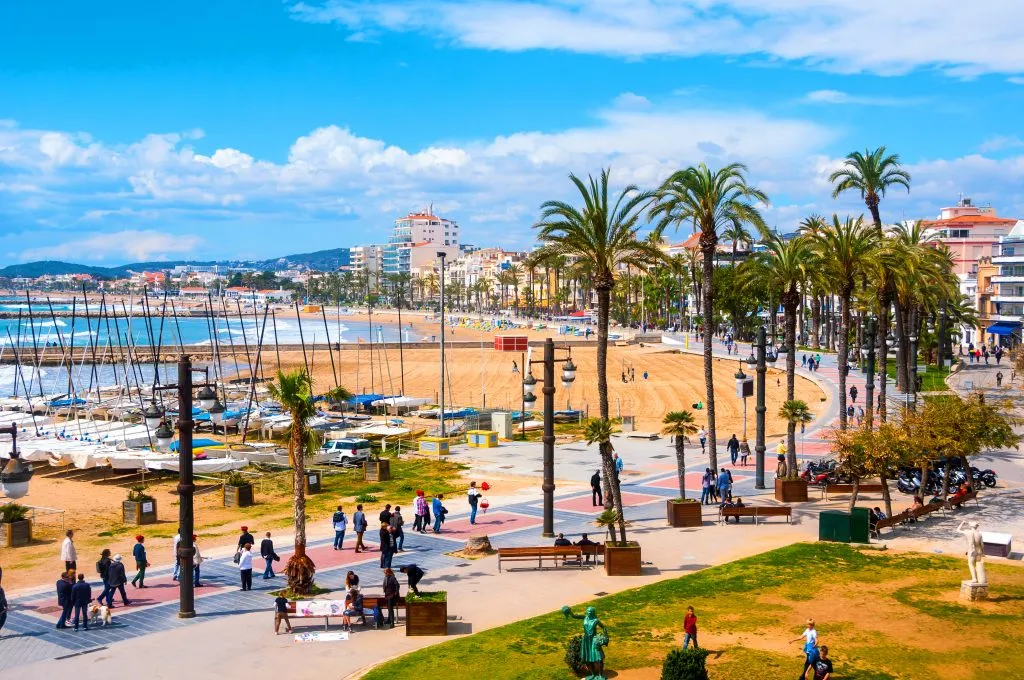 Sant Sadurní d'Anoia
As the heart of the cava wineries in the Penedes, the town of Sant Sadurní d'Anoia is a fantastic escape for Spanish wine buffs (or just wine appreciators).
From the train station, you can find several cava wineries to tour and sample their vintages right onsite.
The town itself also has a museum of cava, CIC Fassina, which offers an interactive tour of the history of cava in the region as well as its production methods.
How to Get to Sant Sadurní d'Anoia from Barcelona
There is a train direct from central Barcelona straight to the town.
From there most places, are within walking distance, making this one of the easiest day trips from Barcelona!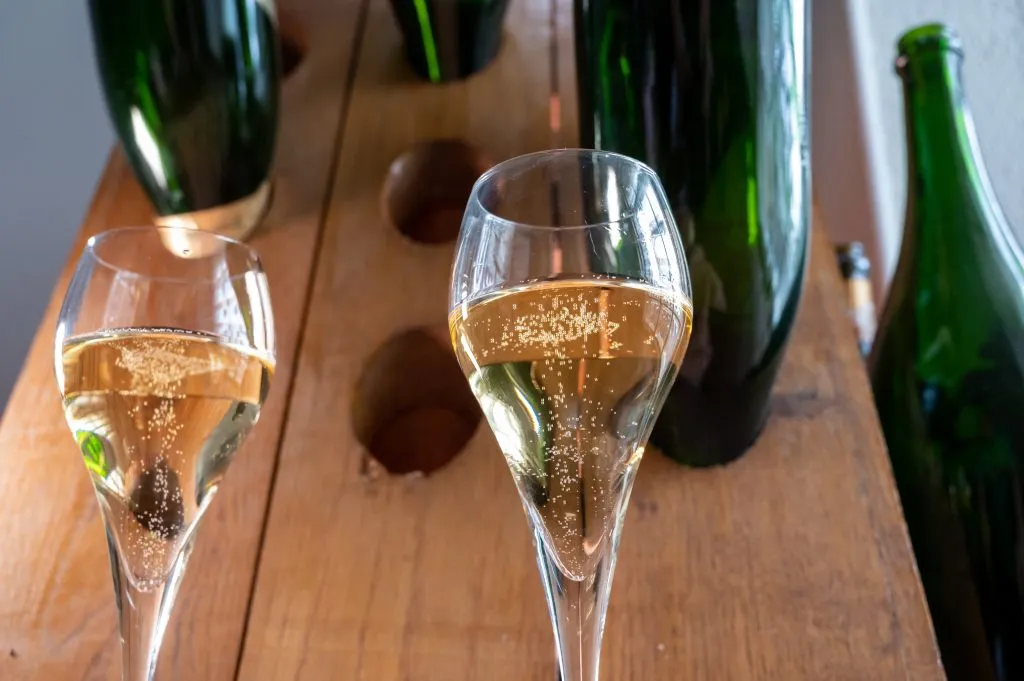 Cadaques
Another small coastal town to visit from Barcelona is the charming and art-focused Cadaques.
This rocky hillside town is home to hidden coves and a historic center that highlights the artistic past of the town.
Salvador Dalí had a house here which is now a museum, and Cadaques was also popular with Picasso and many other artists.
Spend a day exploring the beaches and coves or immerse yourself in the cultural heritage of Cadaques.
Catalonia's International Music Festival is also held here each year!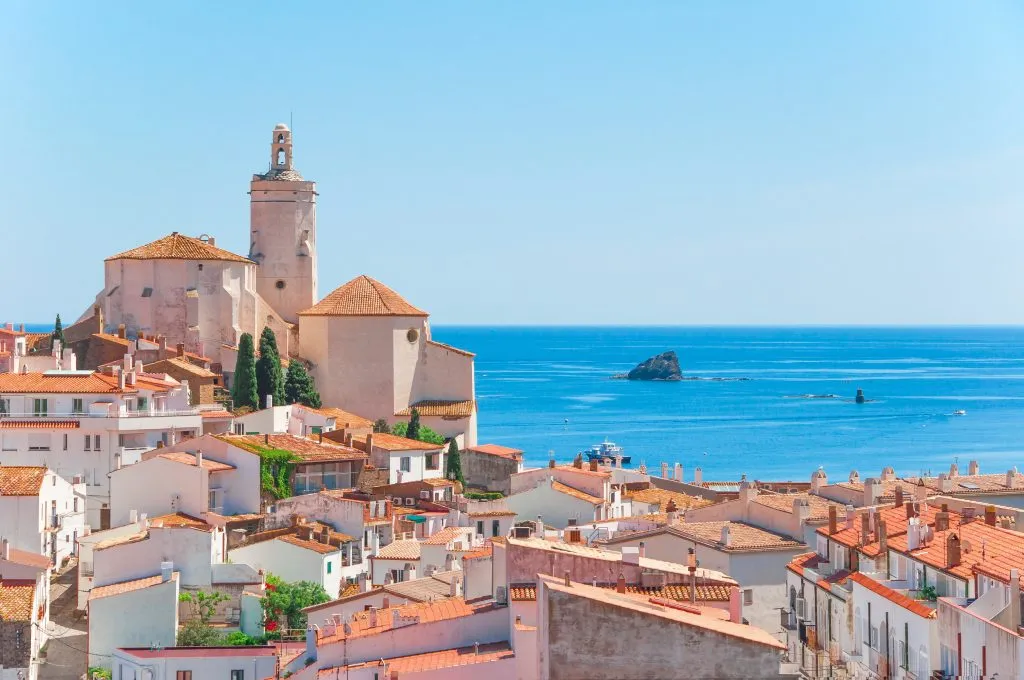 How to Get to Cadaques from Barcelona
This day trip is best done either by renting a car for the day or booking a tour that includes Cadaques.
In a pinch, you can take a train to Figueres and then a bus or taxi from there but it is long and not the most economical.
Shop rental cars or book your day trip featuring Cadaques today!
Cool Barcelona Day Trips to Small Towns
Penedes Wineries & Villages
The Penedes wine region is home to lots of lovely towns–and of course, wineries!
While it's often combined with other stops, the Penedes wine region makes for a wonderful standalone day trip from Barcelona.
Explore Vilafranca del Penedes and the surrounding smaller towns and villages based around the wine production in the area.
This area primarily produces cava and white wine, and there are lots of wineries to explore alongside the cute towns they are home of.
Take the Rutas del Vino, a planned route across the region and one of the first four to be given the distinction from the Spanish wine industry.
Booking a guided day trip is an excellent way to make sure you enjoy a variety of tastings, explore some vineyards, and stay safe doing so!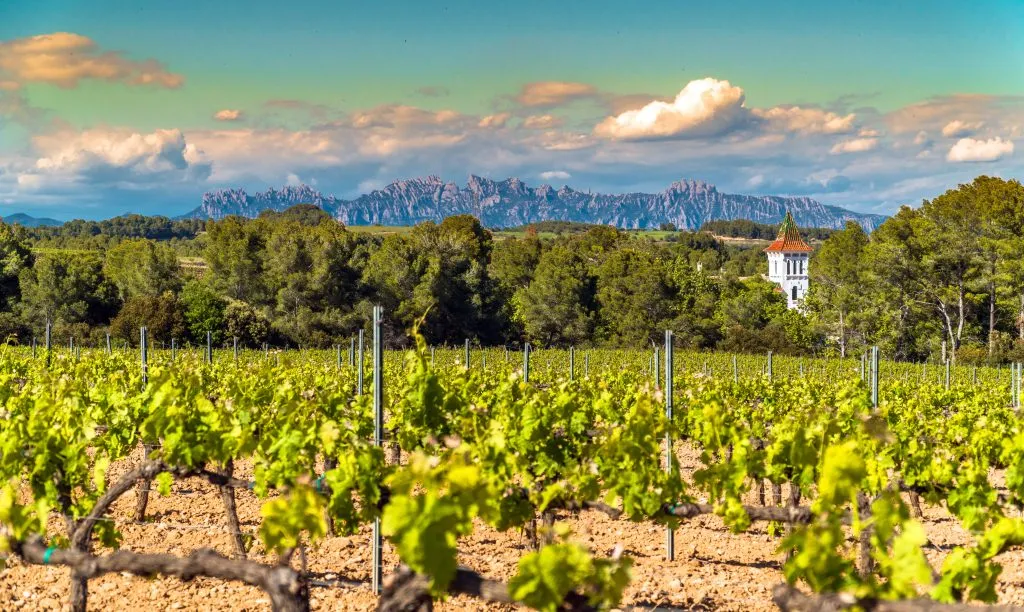 How to Get to the Penedes from Barcelona
Pretty much as soon as you leave the city you are in the Penedes, north west takes you to Vilafranca del Penedes which is a great place to start exploring the region.
A guided tour like this is a wonderful option, especially if no one in your group wants to volunteer as the designated driver.
If you have non-drinkers in your group and would rather drive, renting a car is also an option.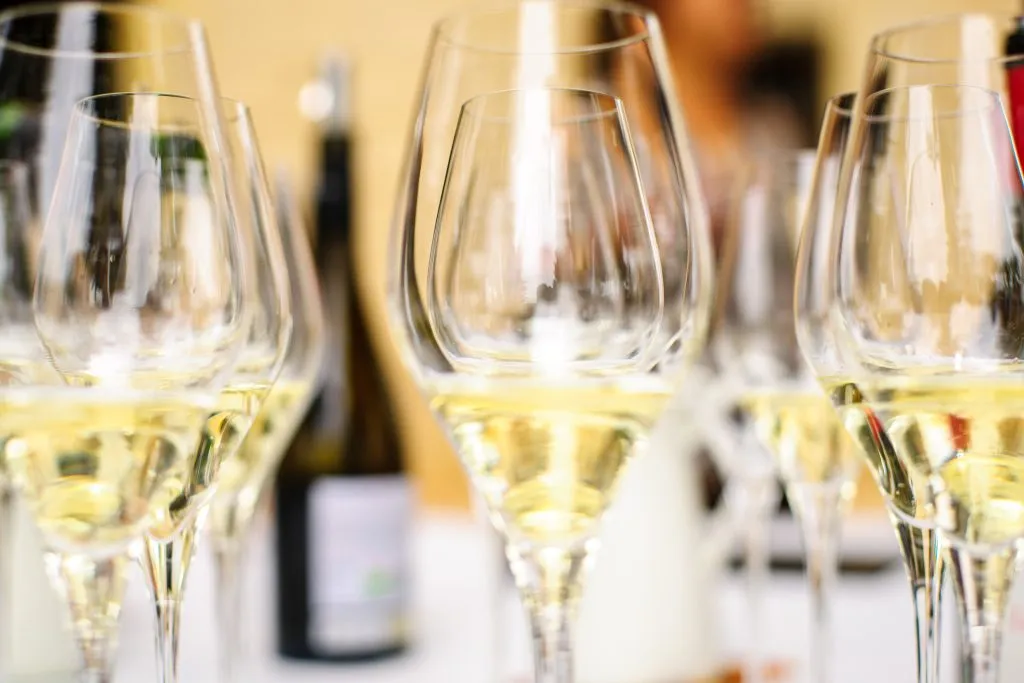 Begur
The tiny town of Begur is memorable to visit, and unlike some of these Barcelona day trip ideas, it's ideally experienced in the off-season!
In the summer there are around 40,000 visitors, so for the best of this pretty hillside town avoid the summer.
Set on a hillside with unspoiled beaches, the whitewashed buildings of Begur date back to the Muslim period in Spain and are a joy to spend a day wandering through them.
The castle on top of the hill is medieval and also worth a visit.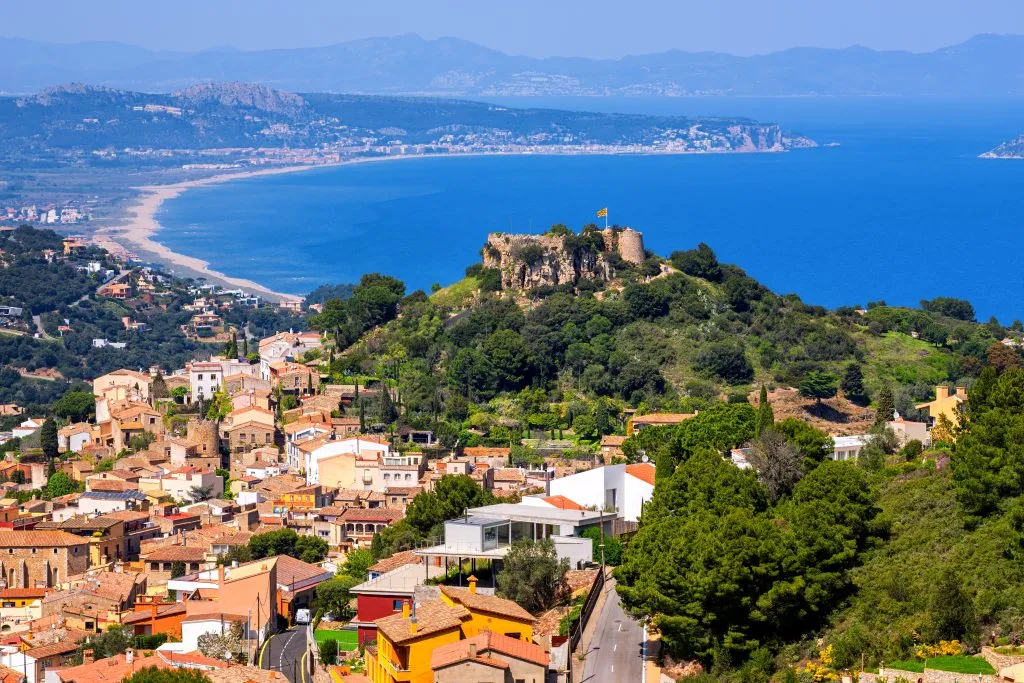 How to Get to Begur from Barcelona
This is a route better to drive, you can reach the town in under 2 hours.
A train or bus would take over 3 hours and a few changes so make use of that rental car!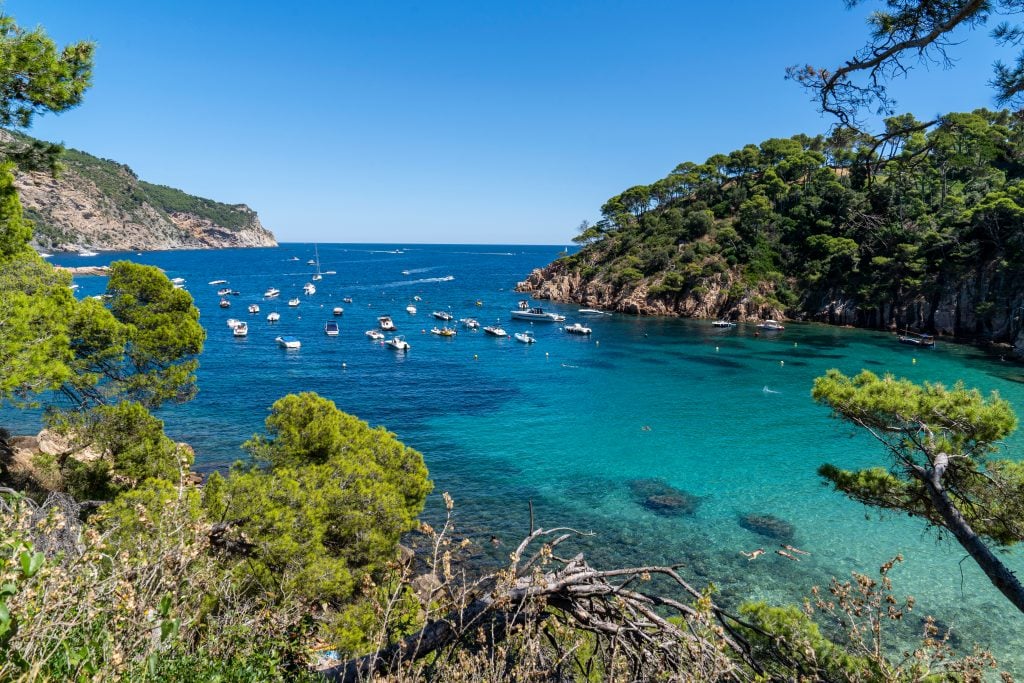 Besalu
This inland town dates back to the Middle Ages when the La Garrotxa region was an independent county and Besalu was its capital.
Today, it remains one of the best-preserved medieval towns in Catalonia.
Be sure to check out the Sant Pere church from 1022, as well as the 7th-century bath house.
Pick up an audio tour from the Tourism Office for a cool narration of interesting historical facts about this ancient town!
How to Get to Besalu from Barcelona
Besalu is another day trip option that is best to drive to!
The town is tucked away past Girona so public transport is limited, but a car will take you there in under 2 hours.
Interesting Cities for Day Tours from Barcelona
Barcelona may be one of the world's most iconic cities, but isn't the only city in Catalonia worth visiting!
Here are some other great cities you can visit on a day trip from Barcelona!
Girona
If you are a Game of Thrones fan Girona was the site of many locations for the series due to the iconic ancient architecture in the city.
The Jewish Quarter is the best preserved in Europe and is a great place to explore the small streets and hidden ancient buildings.
The Cathedral, the old city walls, and the Arab baths dating from the 13th century also rank among the best things to see in Girona.
How to Get to Girona from Barcelona
You can take a train to Girona easily, and there is also a reliable bus service between the cities.
Driving will take you a little over an hour.
Alternatively, if you want to expand your day trip, this popular day trip to Girona and Costa Brava can help you see both Girona and the coast without stress!
Tarragona
Boasting some of the best Roman remains in Spain, Tarragona is one of the best day trip ideas close to Barcelona for history buffs!
Visit the Roman amphitheater, step inside Tarragona's memorable archaeological museum, and walk the city's Roman walls.
Stop for sunset at the Mediterranean Balcony overlooking the sea at the bottom of La Rambla.
If you want to be sure you don't miss any of the hidden treasures around the city, this self-guided tour can be a fun way to structure your day.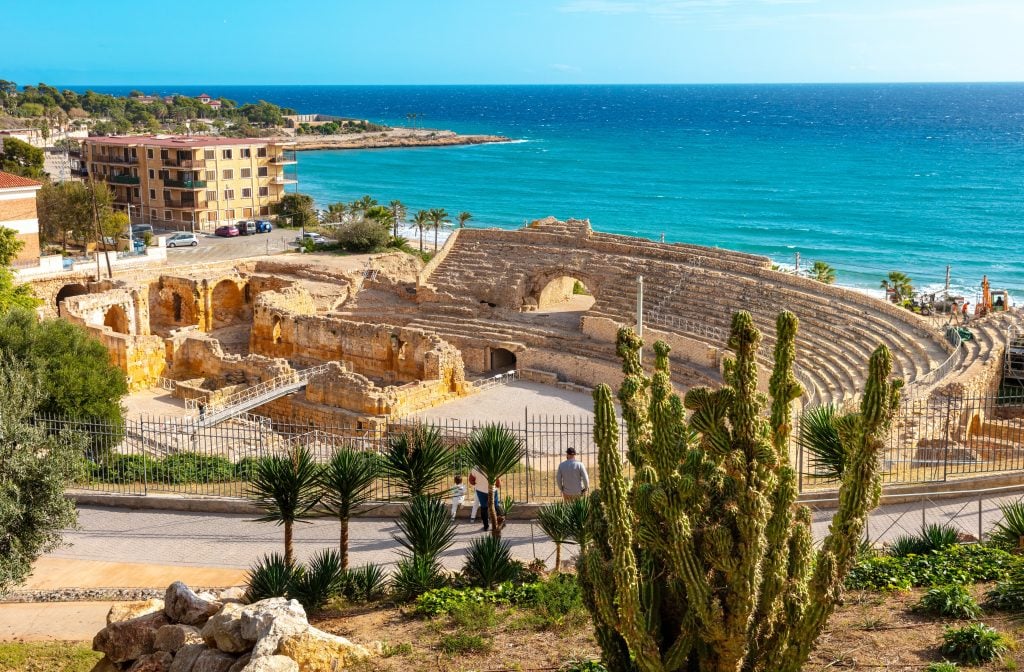 How to Get to Tarragona from Barcelona
It takes a bit over an hour to get to Tarragona from Barcelona by train, and the route travels along the coast for a very picturesque journey.
Alternatively, you can also drive to Tarragona in about the same time frame.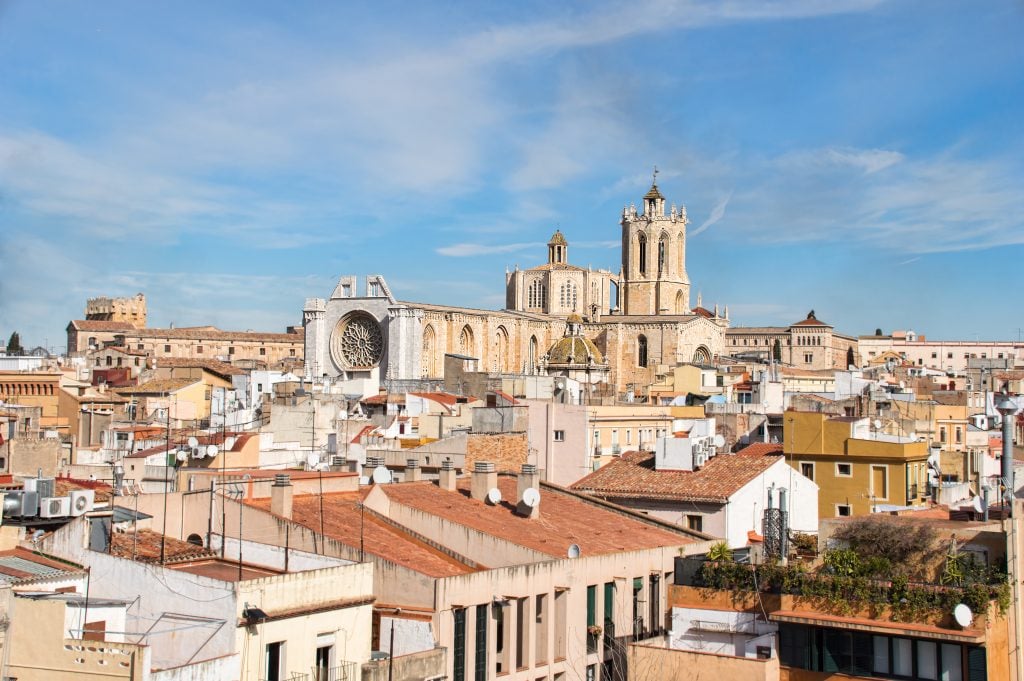 Figueres
As the birthplace of Salvador Dali, this pretty town does not disappoint the heritage of the legendary artist.
With picturesque streets and plenty of eateries, a day trip to Figueres is worth adding to the list.
You can book an organized day trip from Barcelona which also includes a tour of the Dali Museum, or go on your own steam.
How to Get to Figueres from Barcelona
This popular guided day trip picks you up in the city and takes you to Figueres and Girona, while in Figueres you tour Dali's theatre museum.
If you'd rather explore independently, it takes about an hour to travel from Barcelona to Figueres by train.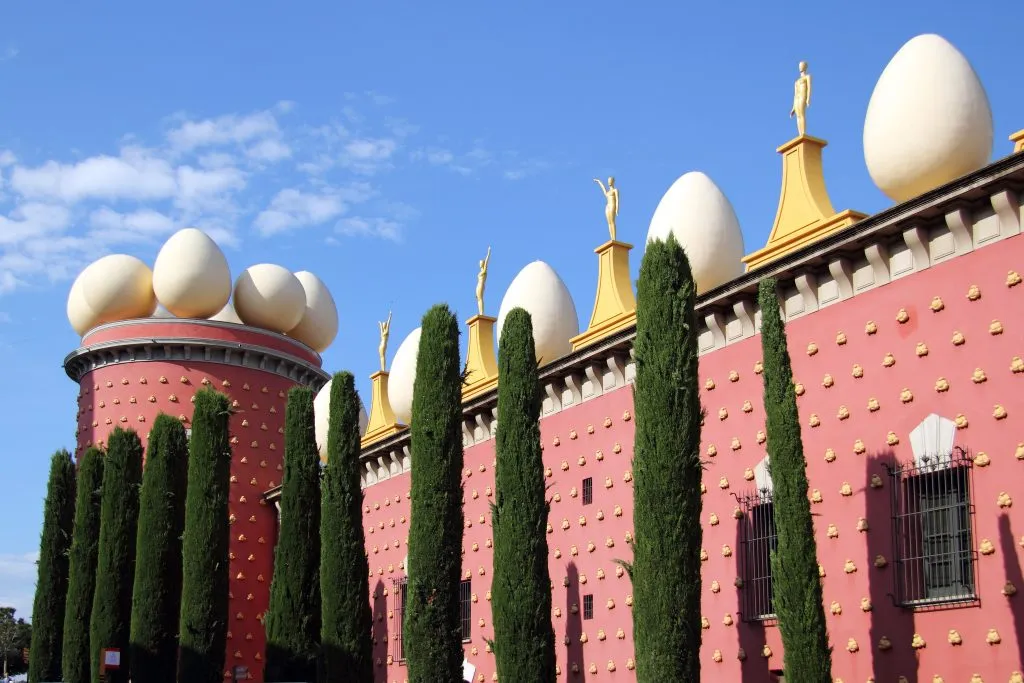 Vic
Another historical spot in Catalonia is Vic, around an hour away from Barcelona.
This small city is known for its gastronomy and has some of the best cured meats in the region (very high praise in Spain!).
There is also a Roman temple which was reconstructed when it was discovered in the 18th century.
When visiting Vic, be sure to explore the little shops off the main plaza and to sample local delicacies of cured meat.
It is also a popular place to take a hot air balloon ride, which is an incredible way to start the day!
How to Get to Vic from Barcelona
You can read Vic from Barcelona in about an hour by train.
Alternatively, driving or taking the bus is a bit quicker, coming in at under an hour each way.
Laid-Back Beach Towns Near Barcelona
Barcelona is well known for being one of the best European cities with beaches–but you will find the absolute best beaches in Catalonia by leaving the city and exploring the Costa Brava.
The Costa Brava stretches north of Barcelona and is packed with stretches of pristine beaches, Roman ruins perched on cliff tops, and beautiful towns, often with really great restaurants to spend the day relaxing and eating!
Here are the best Costa Brava day trips from Barcelona!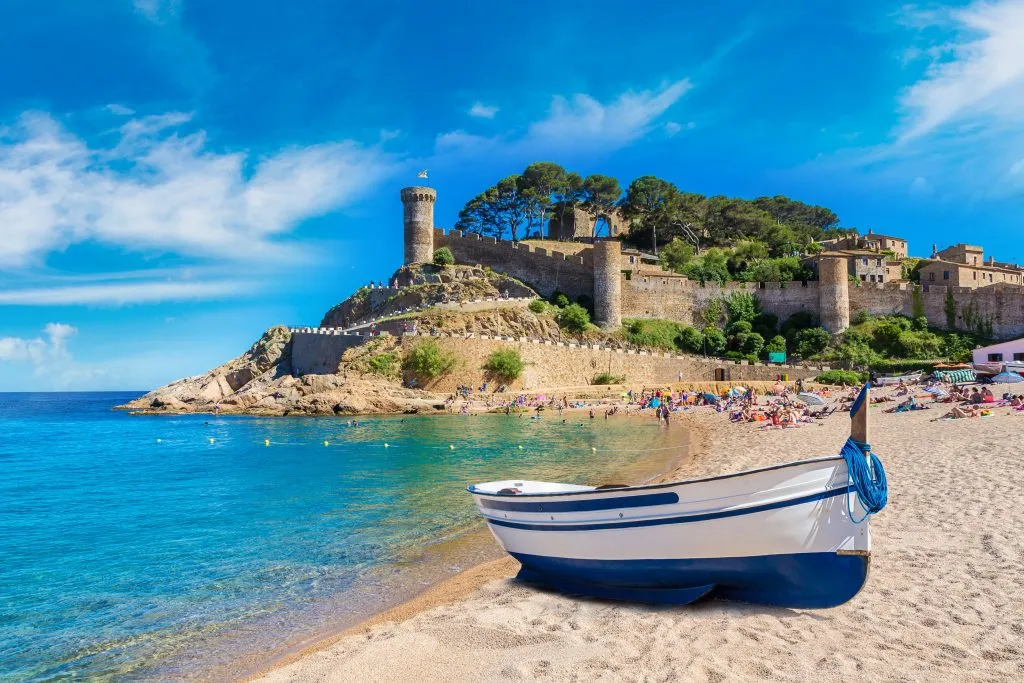 Multi-Stop Costa Brava Day Trip
Want to see as much as possible on your Costa Brava day trip?
While we'll outline some specific Spanish beach towns below (and they're beautiful!), the Costa Brava is less of a destination itself and more of a journey.
It stretches from around Blanes right up to the border of France, so there are a lot of places along the way.
The best way to explore is by car so you are not limited on when and where you can stop.
If you don't want to drive, this well-reviewed guided tour is a perfect way to sample a few spots along the coastline and enjoy a lunch by the water!
Book your Costa Brava day trip or rental car to drive yourself today!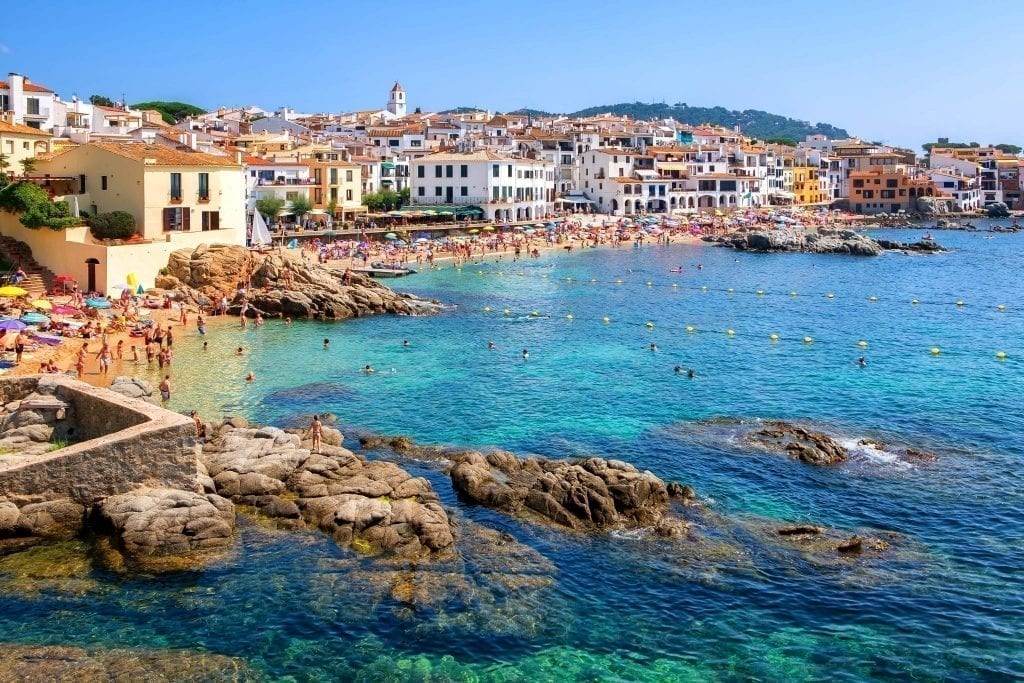 Tossa de Mar
Known as the most beautiful town in Spain, Tossa de Mar has long been cherished by artists and tourists alike for its gorgeous views and picture-perfect location.
It is also known as the blue paradise due to the clear waters across the beaches.
The town dates back to the 13th century and is very well preserved, and still feels slightly off the beaten path despite being well-trodden by tourists (especially as compared to Barcelona).
This well-reviewed day trip featuring not only Tossa de Mar but kayaking and snorkeling along the coast is the perfect way to combine culture and outdoor adventure into one of the best day trips from Barcelona!
(If you're visiting outside of swimming season, this hiking trip might be more your speed).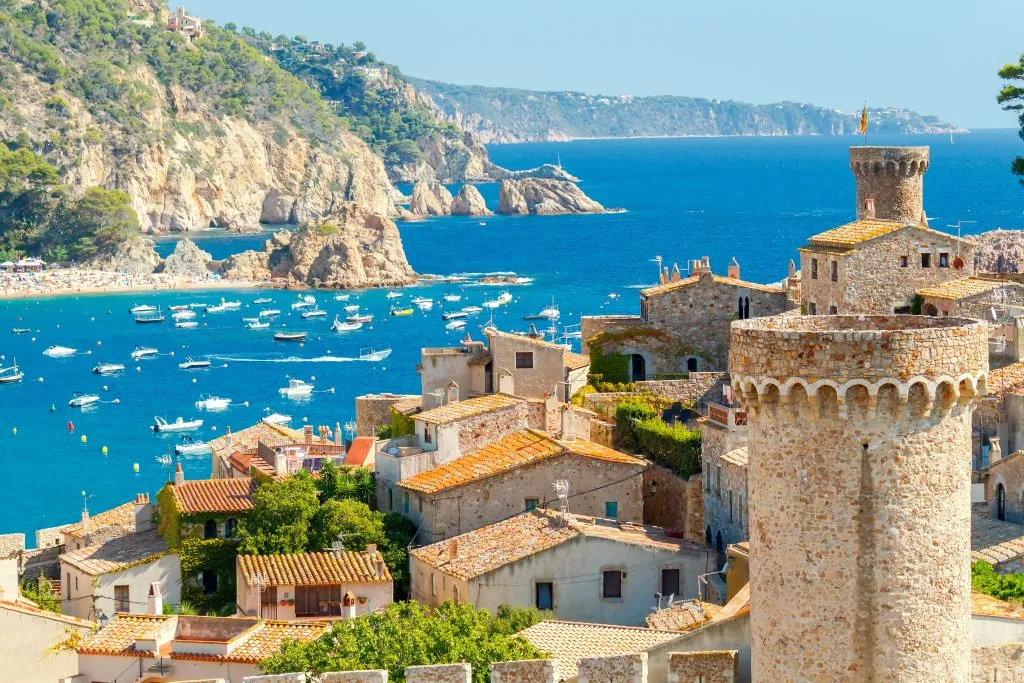 How to Get to Tossa de Mar from Barcelona
In addition to being gorgeous, Tossa de Mar is easy to visit for the day from Barcelona by either train or car.
Traveling by train takes under 2 hours while traveling by car comes in at under 1.5 hours each way.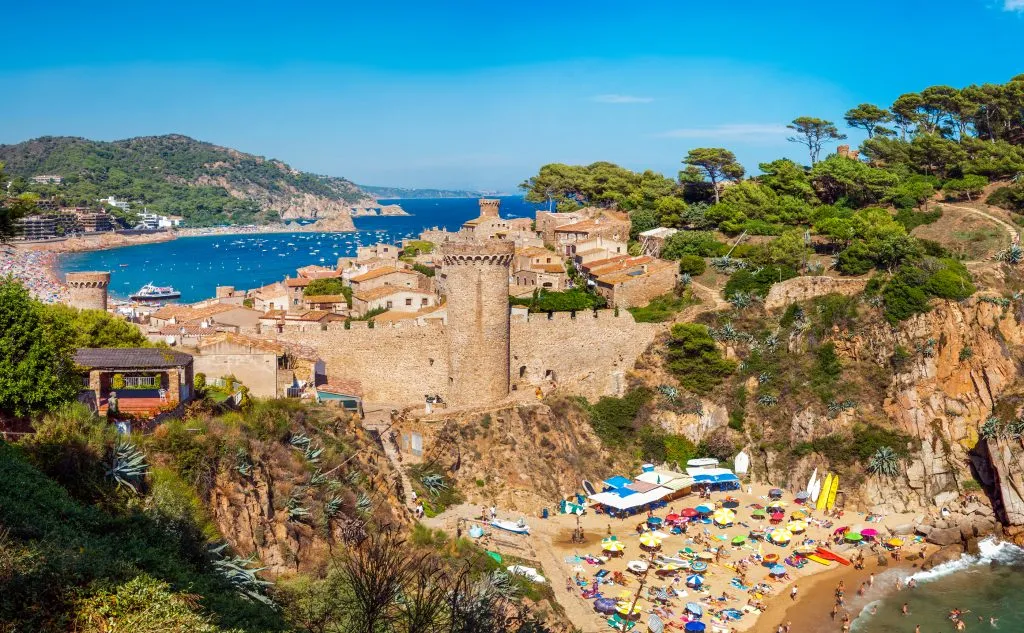 Premia de Mar
For a shorter beach day trip out of Barcelona, head to Premia de Mar.
Located in the area known as Maresme, Premia de Mar has a stylish marina, excellent restaurants, and long clear beaches.
If you are looking for a beach day outside of the city without going too far this is the place to aim for!
How to Get to Premia de Mar from Barcelona
Driving takes under half an hour, whereas the train takes around 50 minutes.
If you do opt for the train, though, it does stop at lots of pretty seaside towns along the way.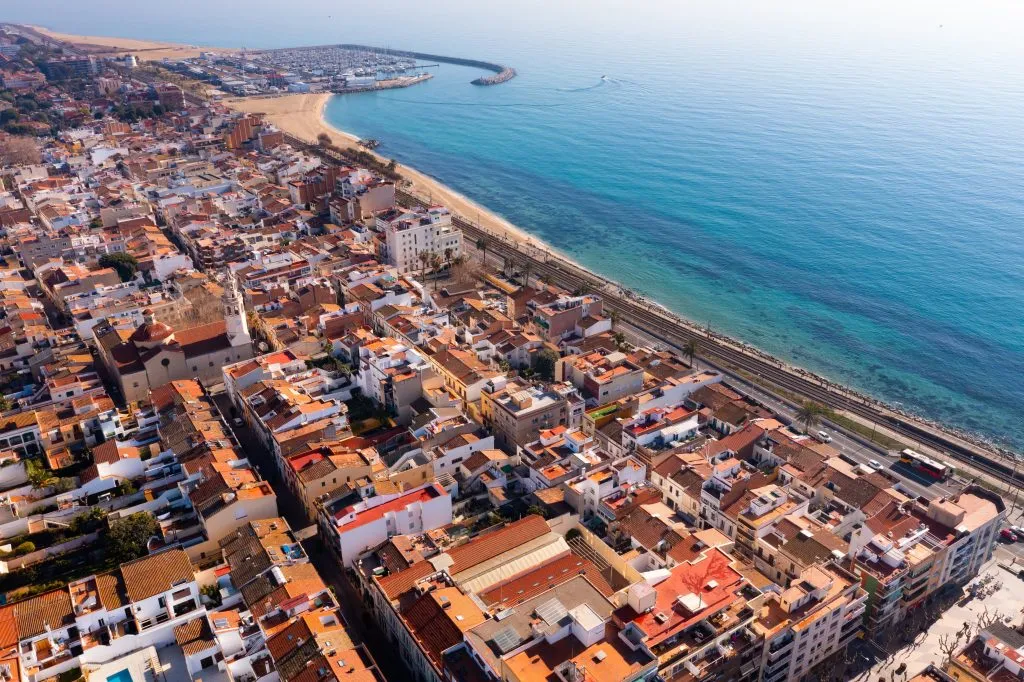 Calella de Palafrugell
If you are looking to sample only one spot on the Costa Brava, then Calella de Palafrugell is the place to go.
It retains plenty of local charm, a friendly atmosphere, and excellent eateries throughout the town.
As the town sits on the edge of a cliff, the views across the Mediterranean are lovely.
The beach is also deservedly popular and well worth spending some time on when soaking up the sunshine!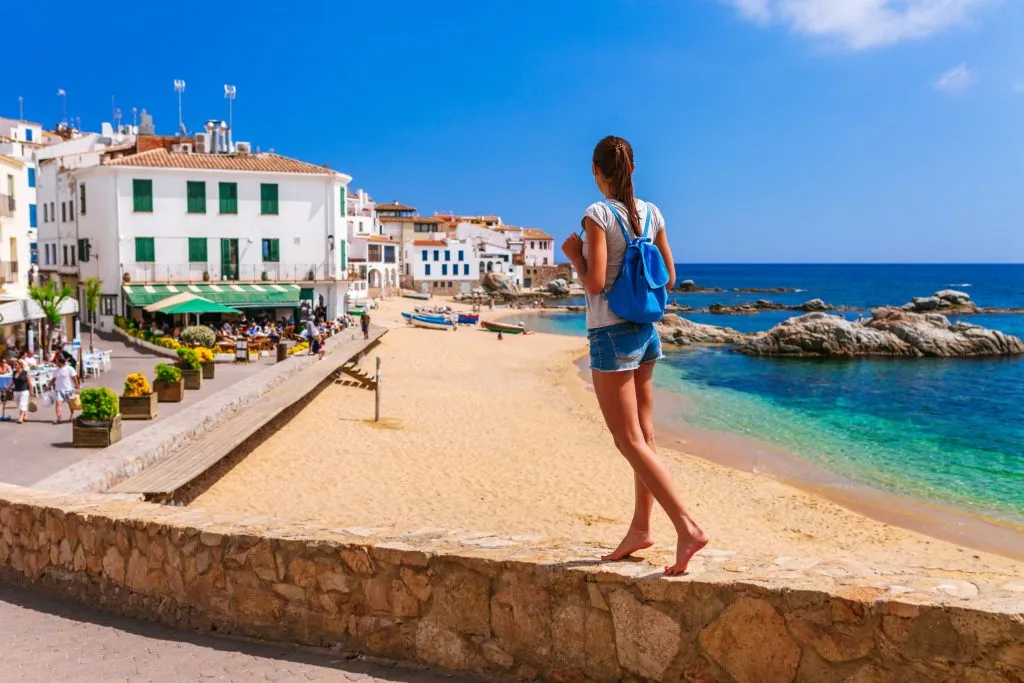 How to Get to Calella de Palafrugell from Barcelona
The only sensible way to take a day trip to Calella de Palafrugell is to drive, it takes around an hour and a half.
You can take public transport, but it will take you most of the day as you have to go via Girona.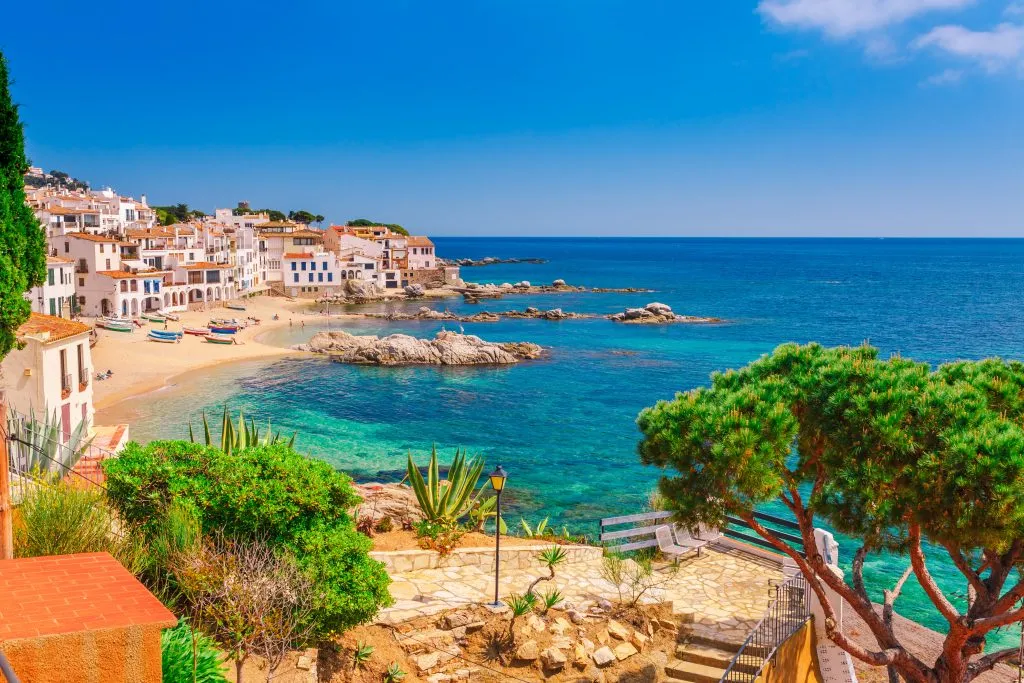 More of the Best Day Trips From Barcelona
Looking for inspiration on a few other cool places to visit from Barcelona?
…. and maybe even hop over into a totally different country?
These are some great 'extras' worth visiting on short getaways from Barcelona!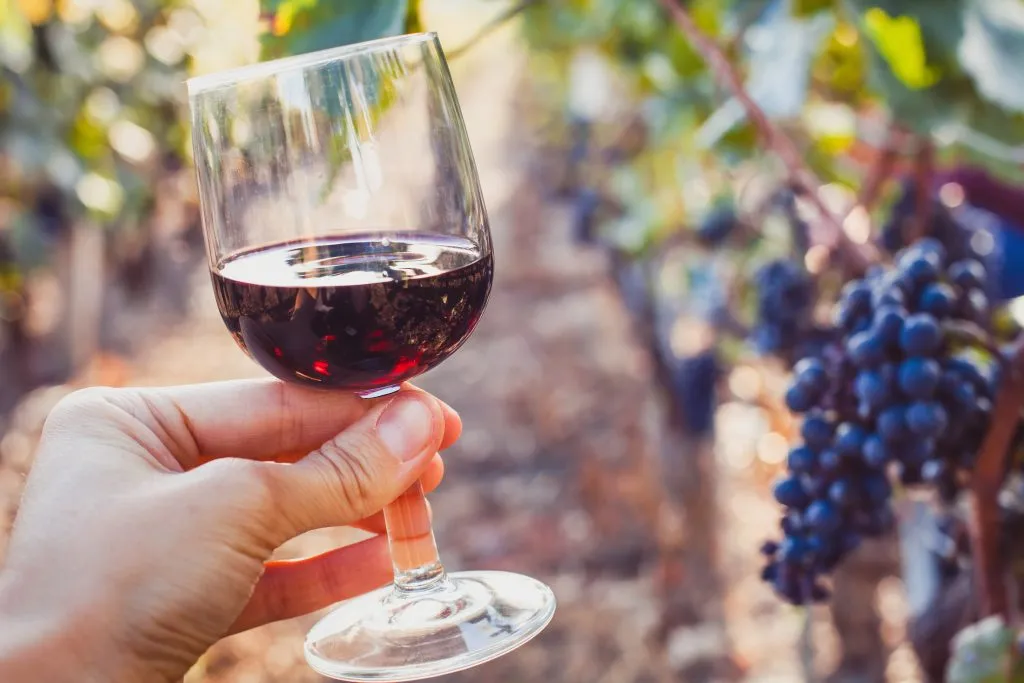 Andorra
Barcelona's main international day trip option, you will need to cross borders to reach the small Principality of Andorra!
Tucked in between the Pyrenees mountains, Andorra is a great place to visit for a change of scenery, tax-free shopping, and skiing.
The old quarter in the capital of Andorra la Vella is great to explore and browse independent boutiques.
Andorra is also the only country that has the sole official language of Catalan.
French is also widely spoken here, as well as Spanish.
How to Get to Andorra from Barcelona
There are buses but they can be lengthy for a day trip!
If you want to visit Andorra independently, it's best to drive from Barcelona in around 2 and a half hours.
If you just want to get a taste of Andorra while enjoying a bit of France as well, this well-reviewed 3 countries in one day trip is a fun option as well!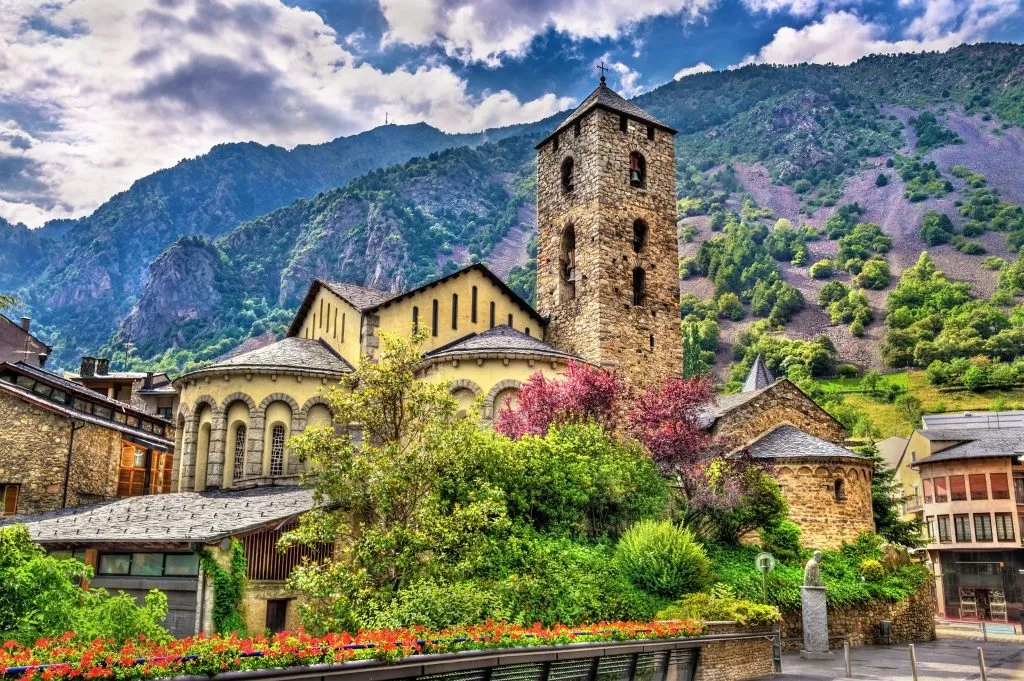 Priorat Wine Region
Similar to the Penedes, this Catalonian wine region is scattered with pretty small towns and many wineries open for tours and samples.
The difference here is that it is set against a backdrop of sheer mountains, popular with rock climbers.
The vineyards roll across steep hills, the unique landscape makes the wines particularly special.
Red wine is produced in this area and is really incredible.
How to Get to Priorat from Barcelona
Head south towards Tarragona, then head up into the mountains for the stunning wine region.
You can get to Tarragona by train but from there you will need to drive, so better use your rental car the whole way.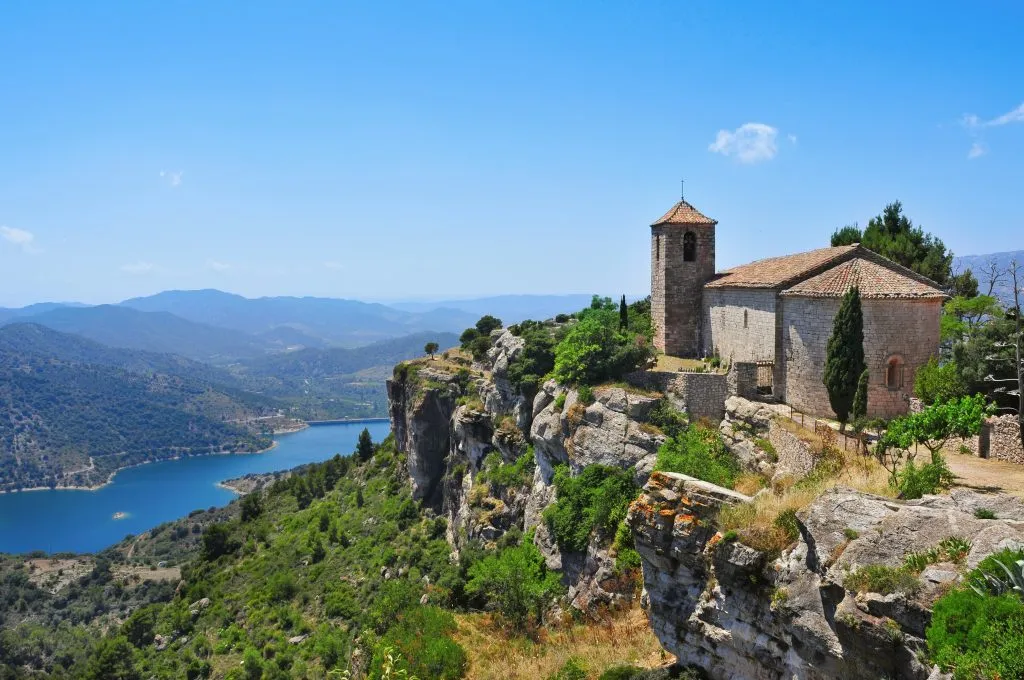 Siurana
The crown of the Priorat is this mountain top tiny village pictured in the above photo, which is home to just a handful of buildings and one very picturesque church.
There isn't a lot to do here other than hike and enjoy local cuisine and wine but it is an unbeatable spot for watching the sunset!
How to Get to Siurana from Barcelona
This is one of the Barcelona day trips that absolutely requires a drive.
Be prepared for winding mountain roads and sheer drops, but the payoff is worth it in the end.