From the whitewashed beach towns in Spain's famous Andalucia region to hidden gems in Galicia, and from the breathtaking coastal towns on Spain's Balearic Islands to the equally phenomenal Canary Islands, there's no doubt that the many, many beach towns in Spain are among the most popular coastal escapes in Europe.
Rounding up each and every one of the gorgeous Spanish coastal towns worthy of a getaway would make for a very long guidebook, rather than simply a blog post.
But, whether you're planning your first trip to Spain or have been a fan of the Spanish sun for decades, we hope we have some ideas for new seaside towns in Spain to check out on this list!
To cover a wide variety of Spain's expansive coastline, we asked a couple of dozen other travel bloggers to share their favorite Spanish seaside villages with us.
From cities famous for their nightlife to small towns famous for their peace and quiet, here are 25 of the best beach towns in Spain!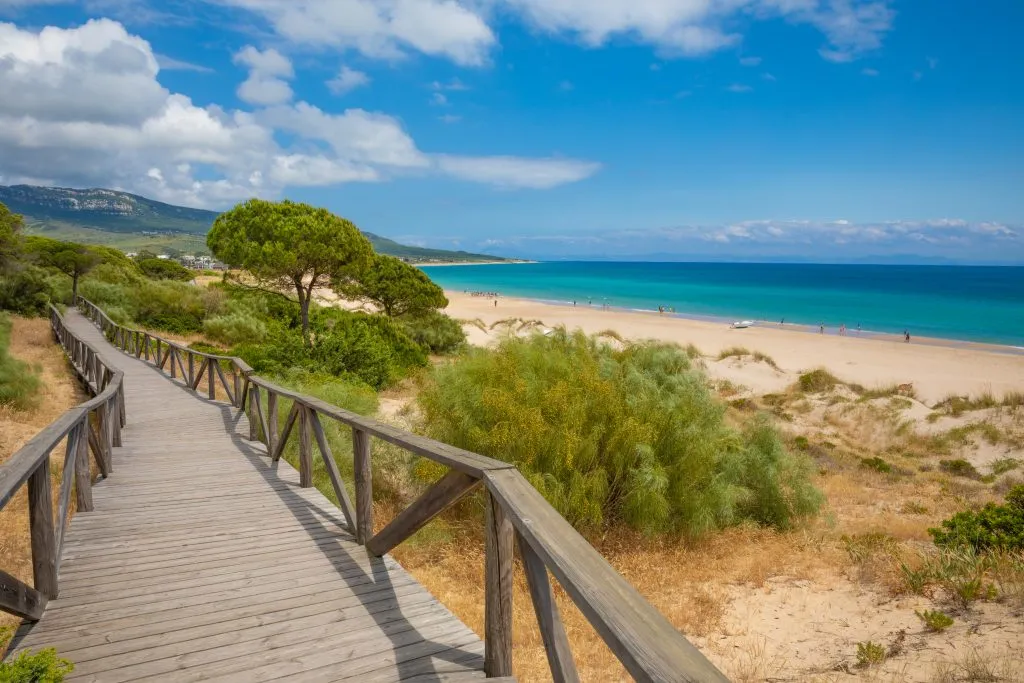 Beautiful Beach Towns in Southern Spain
Tarifa
From Linn of Amused by Andalucia
Head down to the far south of Spain, where the Atlantic Ocean meets the Mediterranean, and there are only 14 kilometers across the water to reach Africa.
Here, you'll find Tarifa, one of the most enchanting beach towns in Spain and a popular spot for lovers of wind-related water activities like kitesurfing, windsurfing, and surfing.
While it is a mecca for anyone practicing these sports, there are plenty of fun things to do in Tarifa for the rest of us too.
Tour the impressive Guzman el Bueno castle overlooking the Strait of Gibraltar, stroll through the narrow streets and browse through shops for local handicrafts or hit the beaches.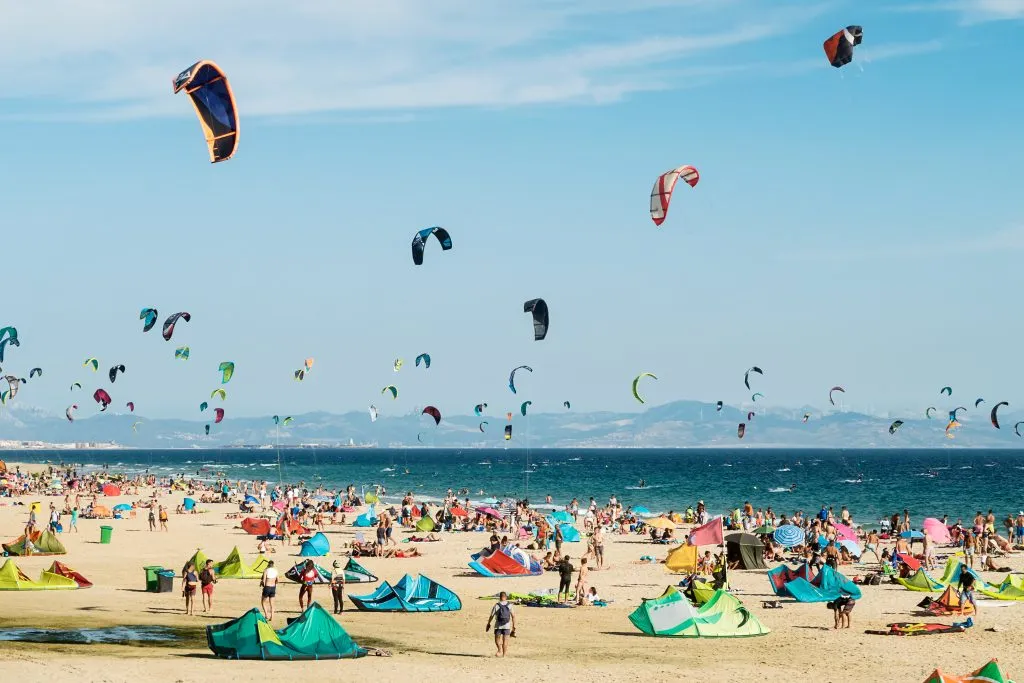 Not only does Tarifa have a wonderful urban beach right next to the old town, but with a car, you can reach spectacular sand-blown beaches nearby like Valdevaqueros, featuring a sand dune cascading down to the wide-sanded beach looking out at Tarifa town.
Another beach worth spending a day at is Bolonia beach, also boasting a massive sand dune that is declared a natural monument.
On top of that, you can explore the roman ruins of Baleo Claudia next to the beach.
For anyone interested in learning how to kitesurf or surf, there is no better place to take classes than Tarifa as the perfect waves usually are found at either one or another beach and there are more windy days than not.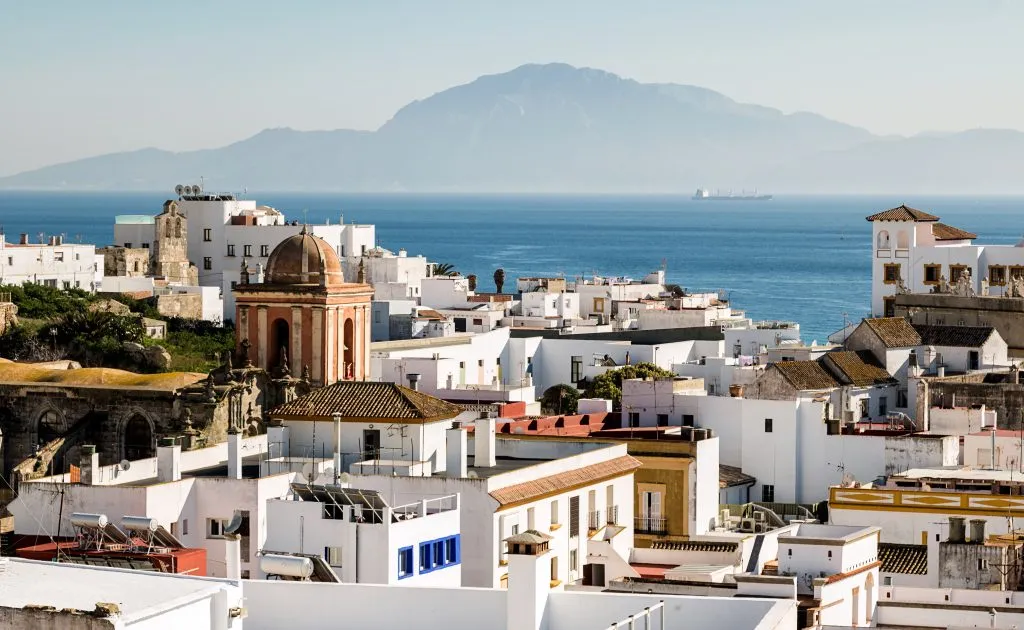 Estepona
From Paulina of Visit Southern Spain
Without a doubt, the glamorous and gorgeous Estepona, nestled along the Costa del Sol, is one of the most beautiful coastal towns in Spain.
The captivating old town attracts visitors to every part of it.
You will witness one of the most beautiful old quarters and some of the best beaches to be found along the Costa del Sol in Estepona.
From hotels, restaurants, shops, and cultural activities, there is a lot that Estepona has to offer.
It is fun to walk around the narrow streets of the old town as they are pedestrianized and filled with flower pots of different colors.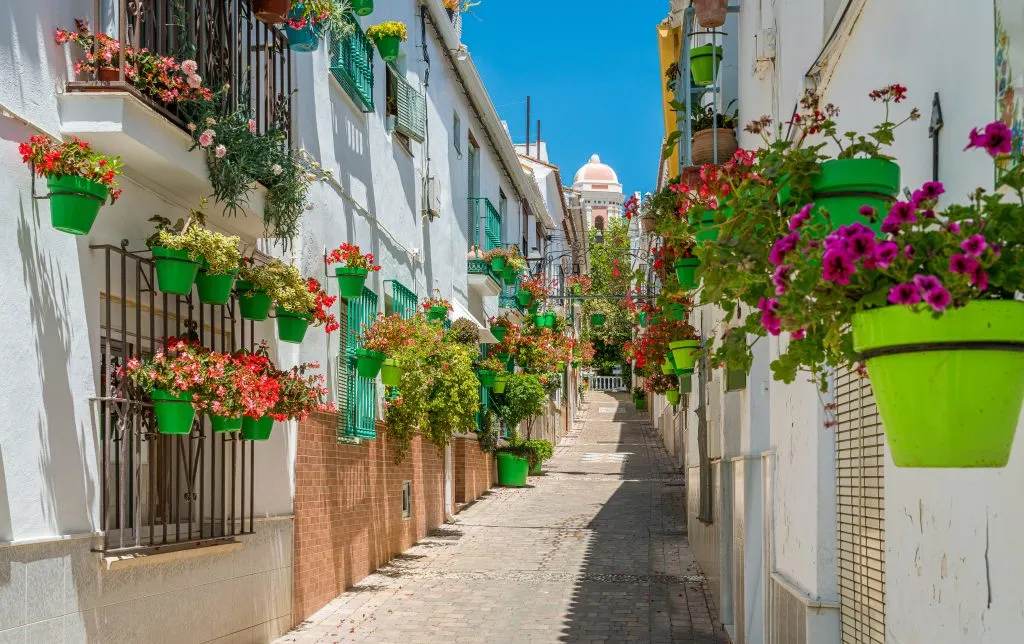 If you are obsessed with taking photos, do not miss out on capturing these beautiful streets.
There are beaches according to the preferences of different visitors.
If you want to visit a beach in the central city, visit the beach of The Rada.
If you are visiting with kids and are looking for soft slopes, visit Christ Beach.
Do not miss to treat yourself to spit-fired sardines with a variety of fried fish.
There are endless things to do in Estepona, and they are best appreciated by soaking up the beauty at a slow pace.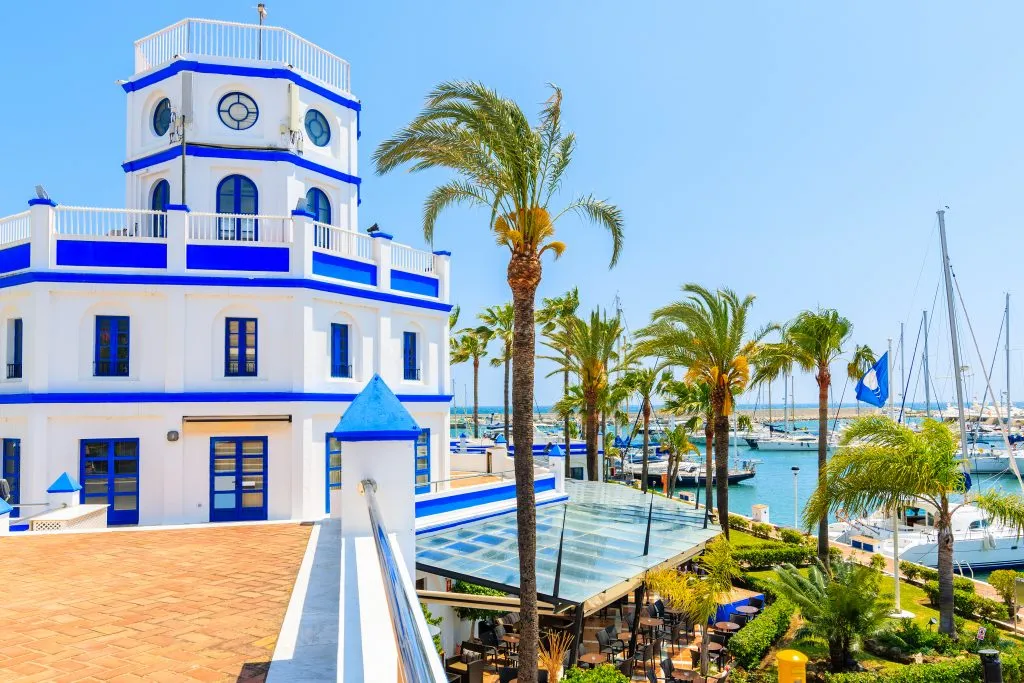 Rota
From Stephanie of Poppin' Smoke
One of the best beach towns in Spain is most popular with Spanish tourists trying to escape the heat of Sevilla and Madrid in July and August.
The great news is that you can have Rota's beautiful beaches almost all to yourself if you avoid those busy summer months!
Located along Spain's southwestern coast, Rota boasts well over 300 days of sun per year and very mild winters, making it a great place to visit in the off-season.
The town of fewer than 30,000 residents is very laid-back, and the main things to do in Rota reflect that relaxed culture.
Not surprisingly, Rota's #1 attraction is the incredible Blue Flag beaches, which are immaculately maintained and extend for more than 9 miles along the Costa de la Luz.
Most of Rota's daytime activity is centered along the beach, whether for sunbathing, strolling, or enjoying a lazy lunch with ocean views.
A large section of Rota's beachfront is also lined with forested sand dunes and a wooden path that is a popular place for walking and jogging.
At night you can indulge in Rota's many great restaurants, tapas bars, and ice cream shops.
The historic center is a particularly nice area to have a meal in one of the pedestrian zones near Rota's 13th-century castle.
Rota is truly a hidden gem among Spain's many beach towns.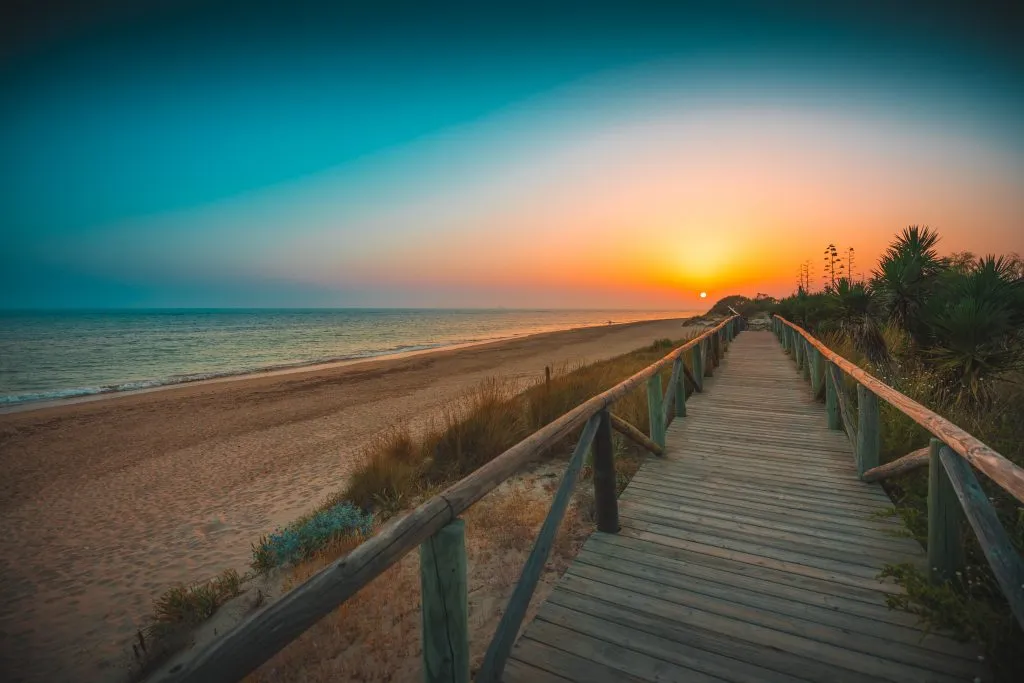 Cadiz
From Joanna of Andalucia in My Pocket
Cadiz is one of the most underrated cities in Andalucia, often overlooked by tourists in favor of more popular Seville, Granada, or Malaga.
Cadiz is however worth the trip, as it is a fantastic city with a great authentic Spanish vibe.
Cadiz is known as one of the oldest inhabited cities in Europe, founded by the Phoenicians in the 8th century BC.
It has always had a strategic position along the Atlantic Ocean and had a constant trade with the Americas after the 15th century.
The main Cathedral in Cadiz is often referred to as the "Cathedral of the Americas" because it has been built with money coming from the trade.
The beaches in Cadiz are some of the most beautiful in Andalucia, too, making it one of the best beach towns in Spain!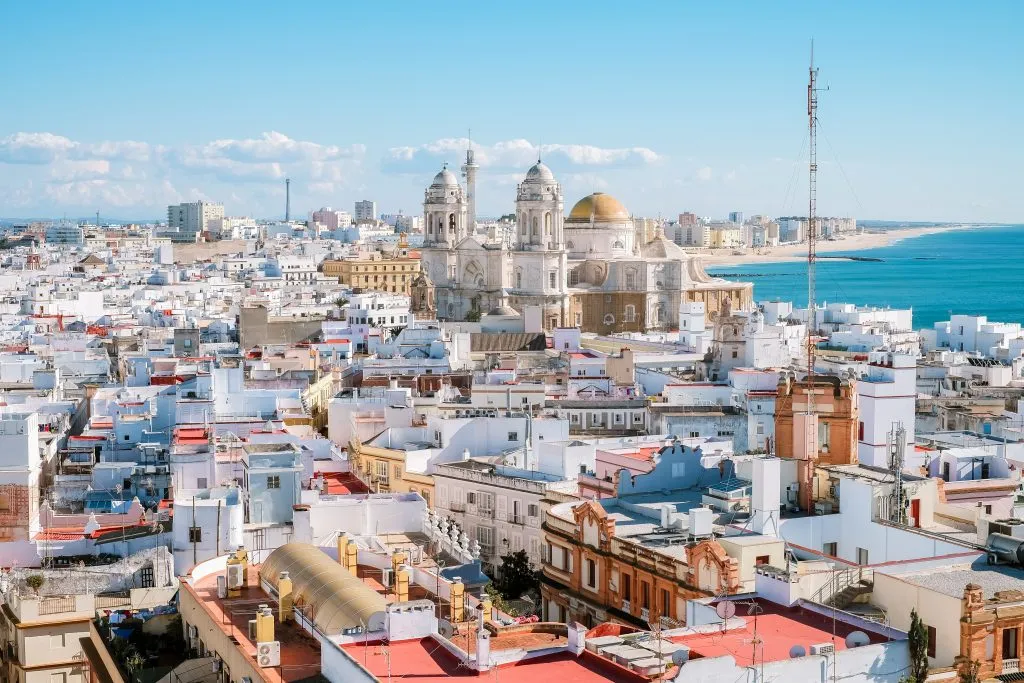 The city has 3 main beaches with soft, golden sand, plenty of beach bars alongside, and all the facilities from lifeguards in the season to showers and toilets.
One of the most exciting things to do in Cadiz is to visit the fish market.
Here, in the morning you can buy the freshest fish that was still swimming in the ocean a few hours before.
In the afternoon you can join one of the many restaurants alongside the market, grilling that same fish and seafood.
The atmosphere here is always vibrant, with mostly locals enjoying a drink and a delicious plate of fish in the sun.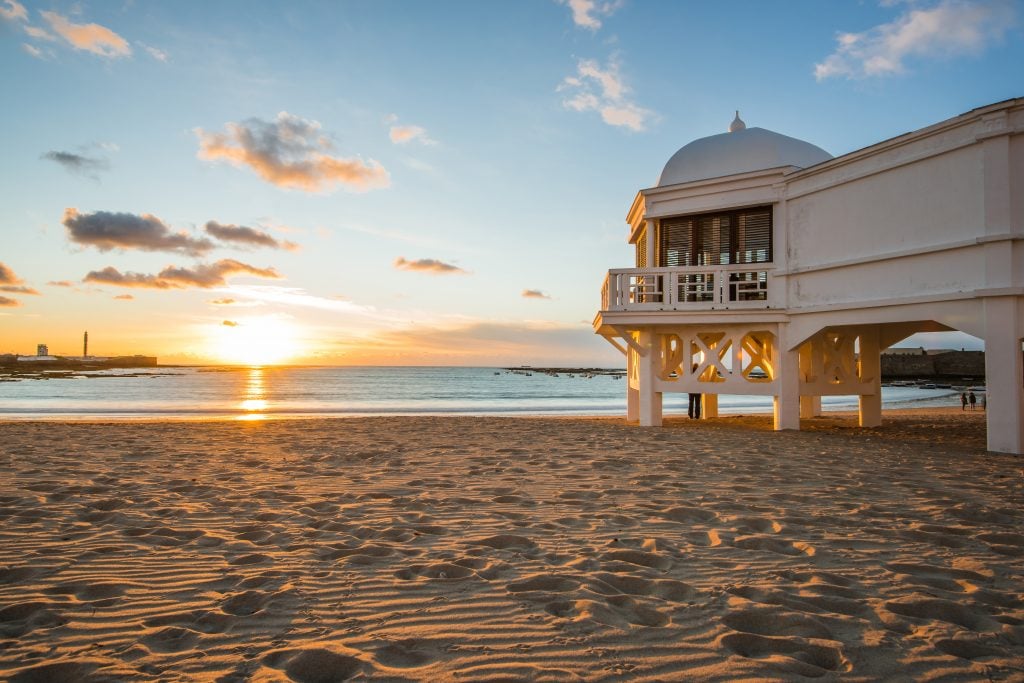 Nerja
By Cristina of My Little World of Travelling
Nerja is one of the most beautiful beach towns in Costa del Sol.
The town is home to the famous Balcon de Europa, the Balcony of Europe, a viewpoint that offers breathtaking views of the Mediterranean sea and mountains.
However, there are also other fantastic things to do in Nerja.
Another unmissable attraction is Nerja Caves which have unique stalactites you won't find anywhere else in Europe.
When visiting Nerja, wander its beautiful whitewashed and cobbled streets home to small local businesses where you can buy traditional souvenirs and restaurants.
If you are visiting Nerja in summer, head to the beach. Nerja has beautiful crystal clear water beaches perfect for scuba diving and kayaking.
If you are looking for a less touristy beach, go to Maro Beach, the best beach in Nerja.
During your time in this coastal town, you may also want to try the traditional food in Costa del Sol like sardine skewers and ajoblanco (a cold almond soup).
Last but not least, you can also add Frigiliana to your Andalucia itinerary.
It is considered one of the most beautiful towns in Andalucia and it is only a 15-minute drive from Nerja.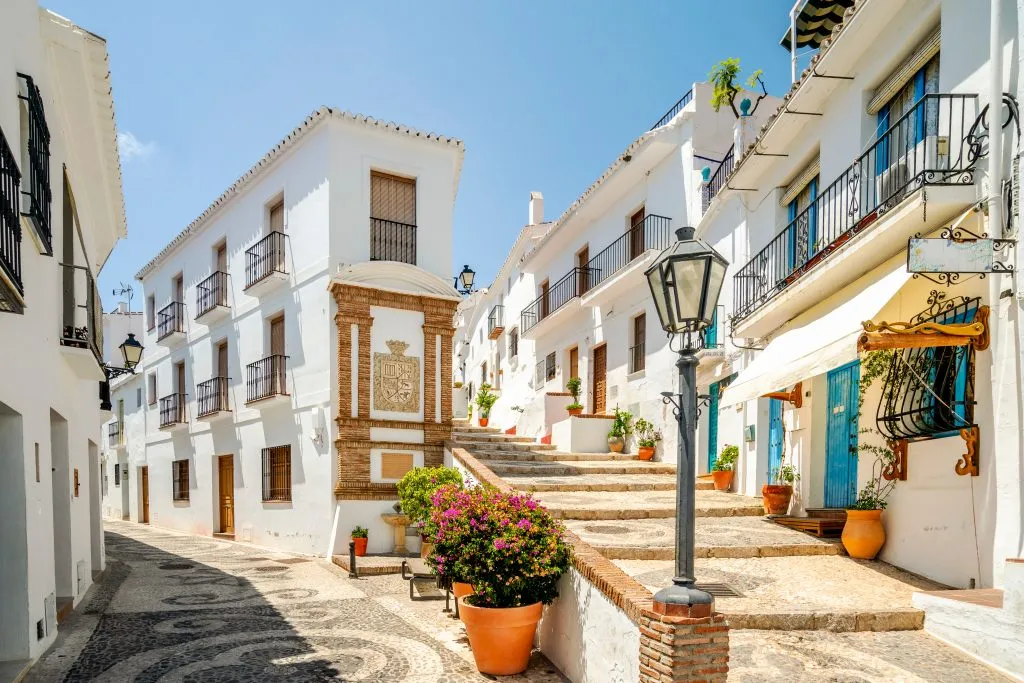 Malaga
From Michelle of Moyer Memoirs
Malaga is a popular coastal city in Spain, located in the south, right along the coast with long stretches of sandy beaches and plenty of beach activities to enjoy.
Most of the top beaches in Malaga are near the port, but all of them are a great beach vacation options.
La Malagueta is one of the most popular beaches in Malaga because it is only a 10-15 minute walk from the city center and port of Malaga.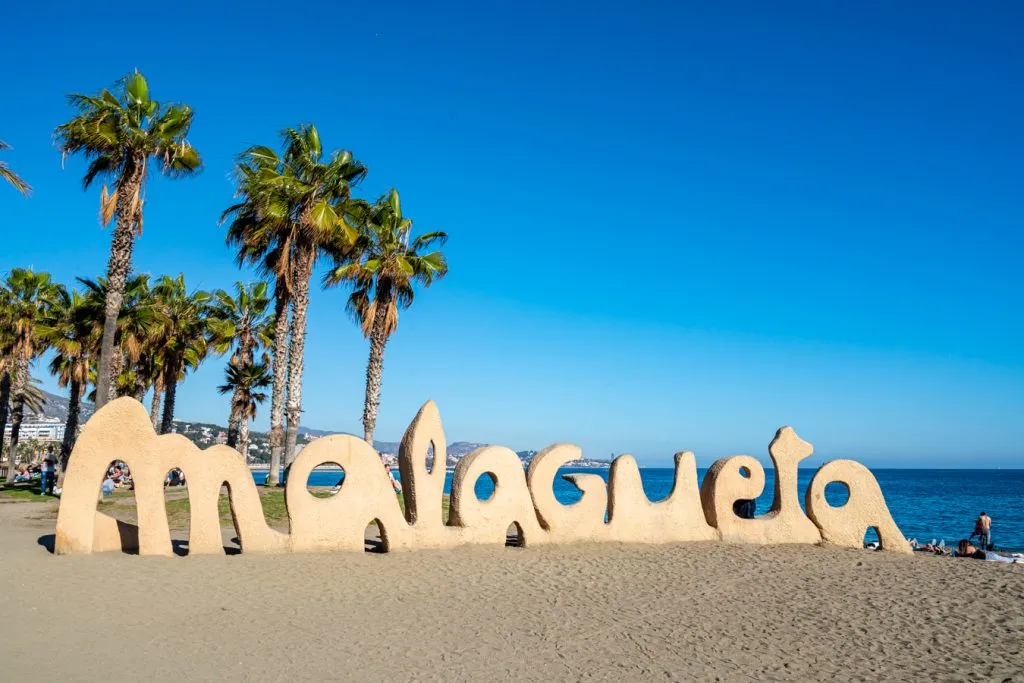 It hosts multiple bars, restaurants, and shops and a fan-favorite activity is to rent a scooter nearby and ride around the city admiring all the historic monuments and shops.
There are many beach bars that offer sun beds as well so you can sip on a pina colado and relax in the sun enjoying the scenic views of the Malaga coast.
After a whole day relaxing on a Malaga beach, it is in a perfect location to walk over to Malaga's city center and choose from multiple restaurants for a nice dinner and drinks on the water.
While you're visiting Malaga, be sure to pull yourself away from the beach long enough to visit the beautiful Alcazaba (the views from the top are incredible), Malaga's famous Picasso Museum, and the stunning cathedral, too.
Charming Seaside Towns in Central Spain
Alicante
From Izzy of The Gap Decaders
Alicante is known to many as the gateway to Spain, when they fly into the airport and depart for resorts and hotels along the Costa Blanca. But, Alicante is so much more than that!
This very Spanish city, with its wide and spacious esplanades, fabulous beaches and seafront paseo is a wonderful place to spend a long weekend as you explore the seaside and maybe even trying your hand at taking a campervan around Spain!
With a laid-back vibe amongst locals and visitors, the renovated old town has much to offer.
Gothic cathedrals, medieval castles, and 15th-century buildings provide history and culture, and the narrow streets are a perfect place to stroll and people-watch, especially in the early evenings.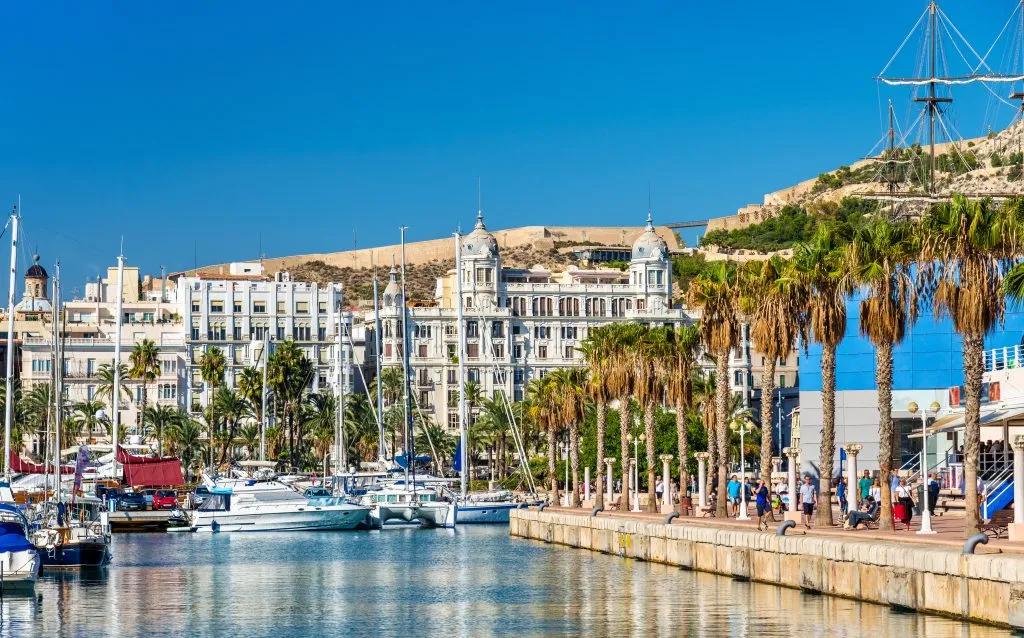 You'll find lots of good tapas restaurants and bars in this area, which come alive as the siesta ends.
You'll also find a vibrant and modern marina, the medieval mountaintop Castillo de Santa Barbara, fun waterparks, and world-class shopping.
For beach life, head for Playa del Postiguet, a popular 800-meter stretch of fine sand backed by chiringuitos serving freshly caught and grilled seafood, and cool beer.
The nightlife in Alicante is legendary, with beach bars, terraces, and fashionable clubs seemingly on every corner.
The old town is a great place to start before moving into the city if you're looking to dance all night!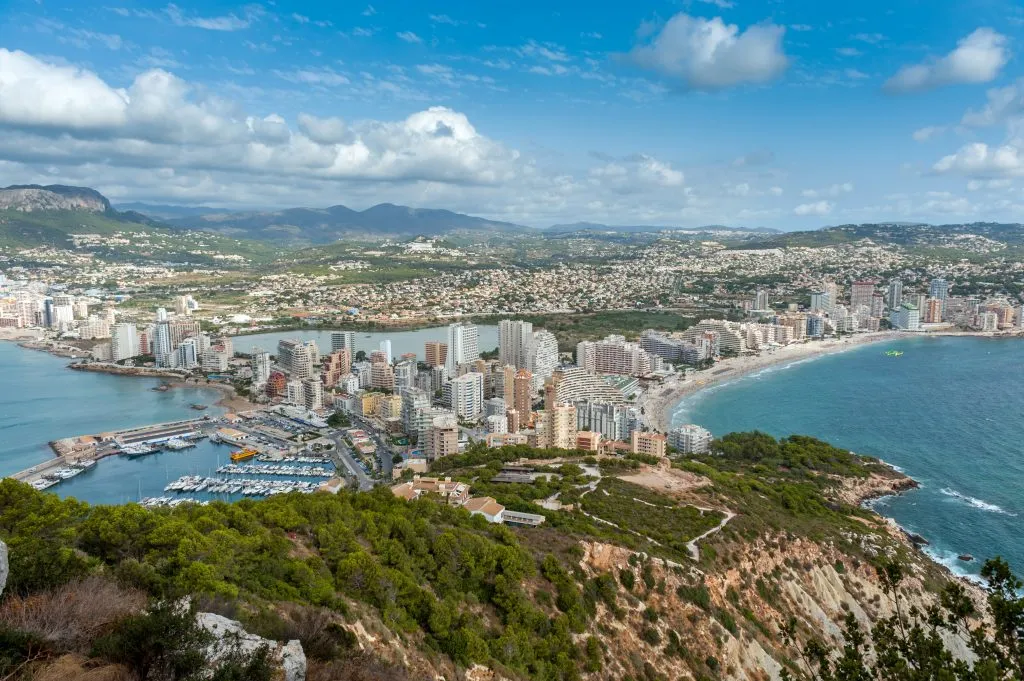 Denia
From Shobha of Just Go Places
Located on the Costa Blanca, Denia is a popular beach town in Spain.
It's halfway along the coast from either Valencia or Alicante which have great transport links both domestic and international.
Denia, itself, runs ferries to the islands of Ibiza, Formentera and Mallorca.
Denia is a popular destination for both the Spanish and foreign visitors. It attracts a lot of families and sun worshippers for its Mediterranean climate and miles of golden sand.
All of the beaches are annual winners of the European Blue Flag award for their high quality.
There is excellent snorkelling and diving at the Mt Rotes nature reserve which can be explored by a walking path from the Denia marina.
There are lots of different types of accommodation and restaurants in Denia as well ranging from budget to luxury.
Local, acclaimed Spanish chef Quique Dacosta has an eponymous 3 Michelin starred restaurant in Denia which is simply an amazing culinary experience.
With a Moorish castle looming over the town, a bustling waterfront and lots of walkable streets, Denia is typical of many seaside resorts.
In the distance the national park that contains Mt Montgo dominates the landscape.
There are lots of hiking trails and nature to explore in this national park for when you want a land-based activity.
Benidorm
From Martina of Places of Juma
Benidorm is definitely one of the coolest beach towns in Spain!
Also called the "Little Manhattan", this metropolis has the highest density in the world of skyscrapers in relation to the number of inhabitants.
Thanks to its good location in the heart of Costa Blanca, you can visit this Spanish beach town all year round because even in winter the temperatures are pleasantly mild.
The highlight of Benidorm, however, are the endless sandy beaches and the beautiful natural bays of the region, which invite you to swim already from spring.
There are so many fantastic things to do in Benidorm, and the town is also known for its vibrant nightlife because in Benidorm there is always something going on.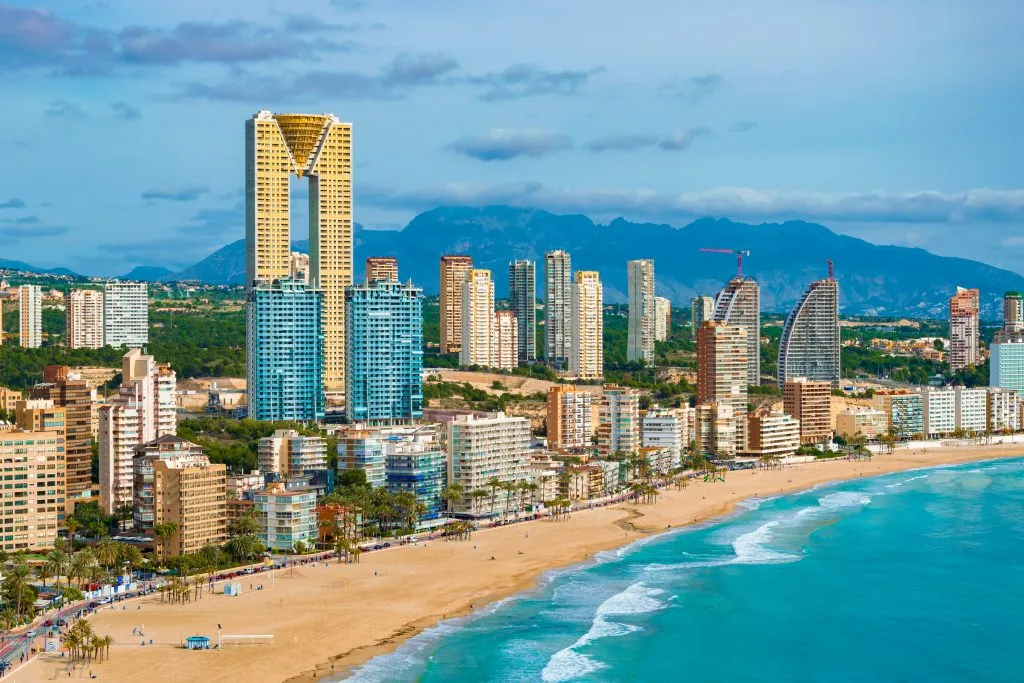 Holidaymakers come from all over the world, but especially from England, to party in the really cool pubs and bars.
In addition, you will find numerous good restaurants and cafés that invite you to relax and enjoy.
In addition, the range of leisure activities in and around Benidorm is unbeatable.
On a vacation, you can choose between numerous cool amusement parks and water parks, but also beautiful nature in the Sierra Helada National Park.
In fact, from this Spanish beach town, you can explore many highlights of Costa Blanca!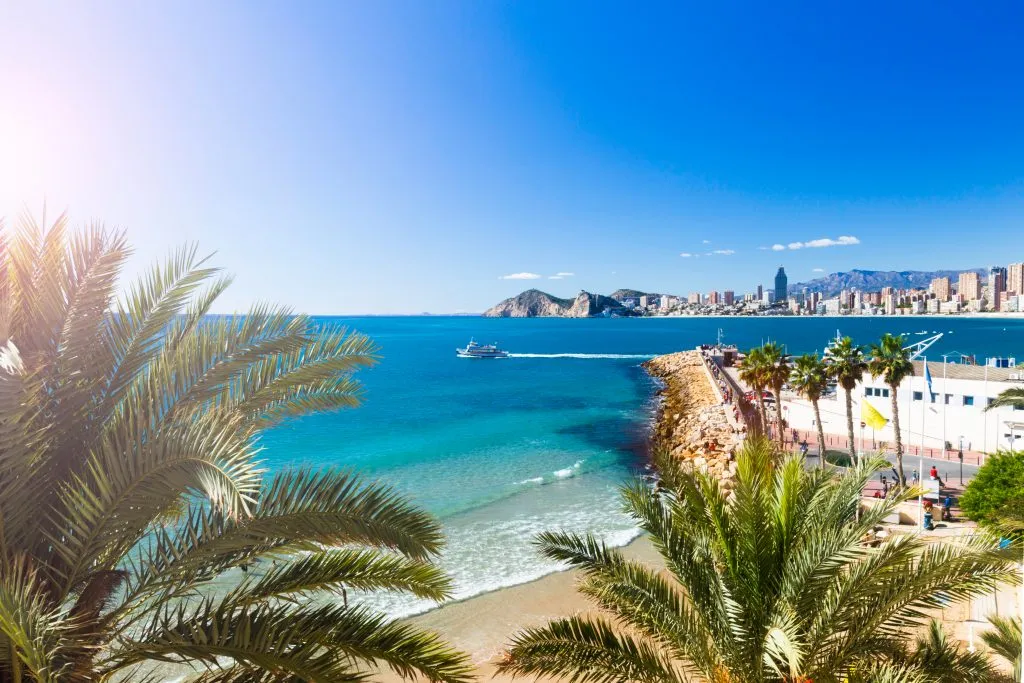 Moraira
From Ella of Many More Maps
For your own slice of paradise, head straight to the small town of Moraira, on the Costa Blanca.
Previously a fishing town, Moraira is now one of the most charming beach towns in Spain but has still managed to retain its authentic feel.
People don't head to Moraira to rattle through an endless list of landmarks to see and museums to visit.
Instead, people visit Moraira to spend long days on its pristine beaches, enjoy mouth-watering seafood and embark on epic hikes along the nearby coastal paths.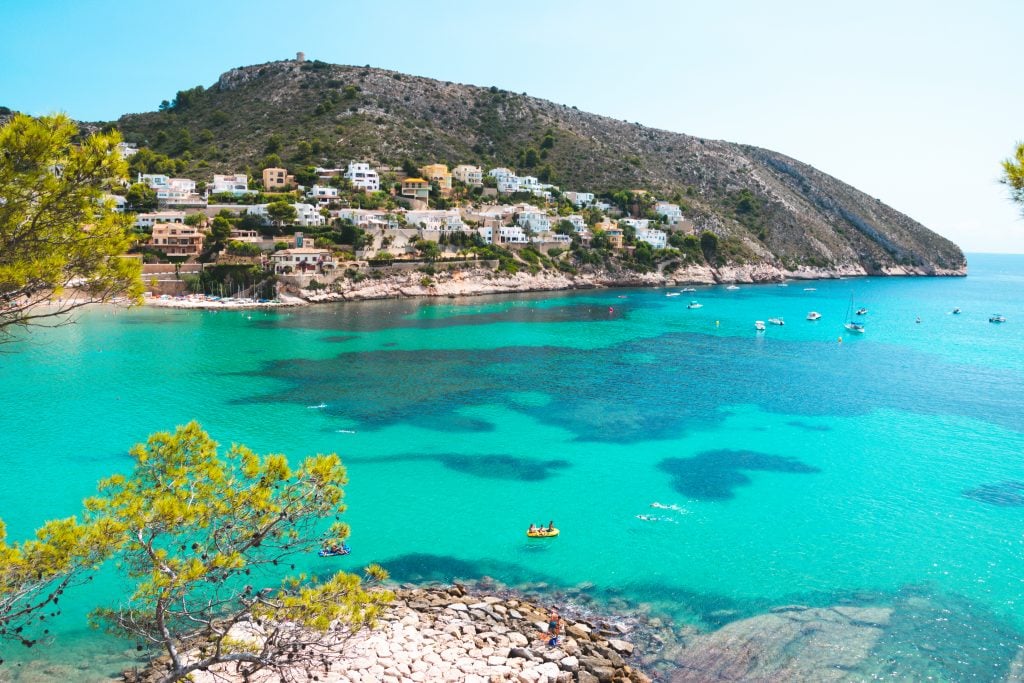 The most popular beaches in town are Playa de l'Ampolla and Playa del Portet, where you'll find sun-loungers, beachfront bars, and crystal clear water.
In terms of hiking, Moraira's coastline is full of awesome viewpoints.
A labyrinth of coastal paths and old fisherman's trails run along the cliffs near Moraira, and from these, you can check out some of the most beautiful spots in the area such as Cap d'Or, Cala Llebeig, and Cala del Moraig.
Fancy some culture? Then head straight to Castillo de Moraira.
Built in the 1700s to defend the coastline from pirate attacks, this well-known structure is the best place to visit in Moraira at sunset when you'll get to see the sun sinking into the sea at the end of another wonderful beach day.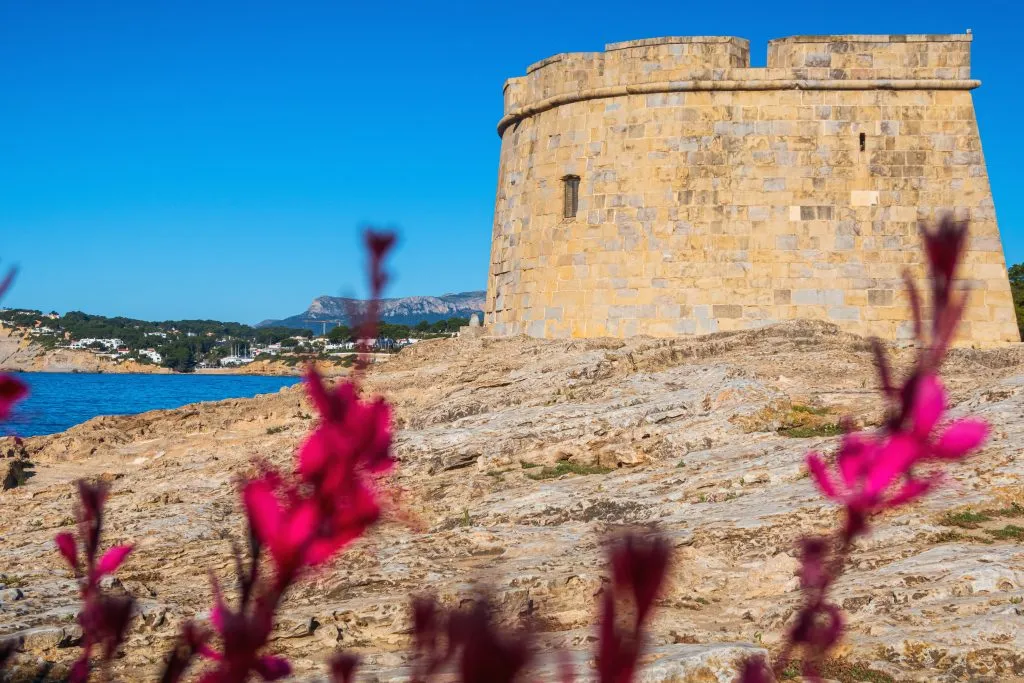 Valencia
From Laura of Travelers Universe
Due to its privileged location and its pleasant climate, Valencia is an ideal destination to visit year-round, whether you have a weekend in Valencia or a full month to enjoy it!
It's also the second-largest Spanish city on the Mediterranean coast and is one of Europe's lesser-known cruise ports.
If you are curious about what to do in Valencia, well, you are spoiled for choice.
From a magnificent old town to the futuristic City of Arts and Sciences, Valencia has it all.
If you want to enjoy the beach life, your best option is Malvarrosa Beach.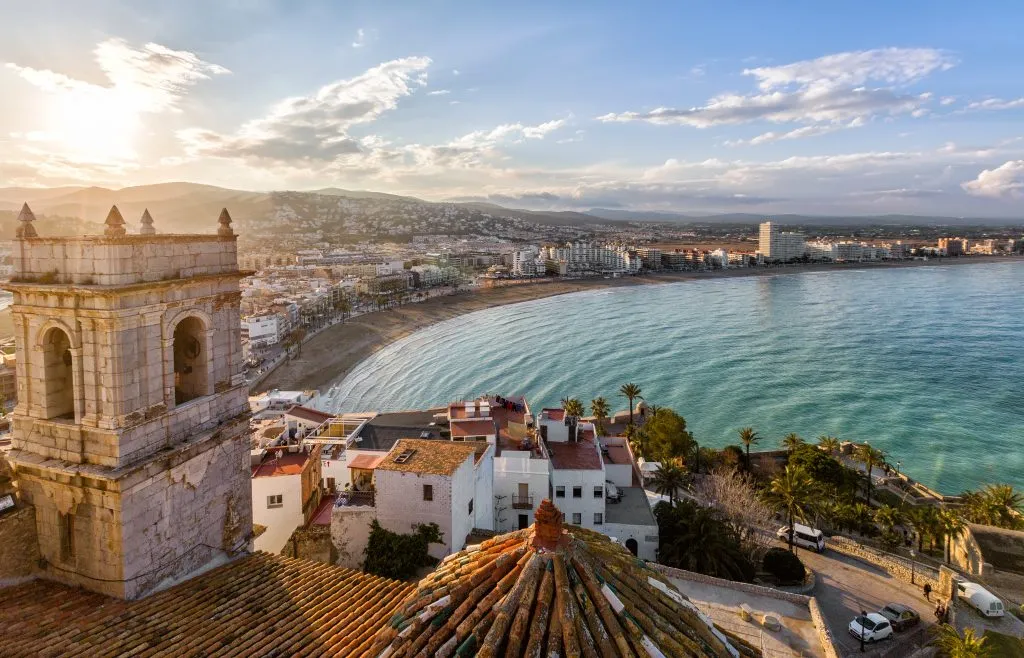 Located just north of the port of Valencia, Malvarrosa is a magnificent beach that you can easily reach from any corner of the city, by bike, metro-tram, bus, car, or on foot.
With its fine sand and crystal clear waters, this 1.8-kilometer-long beach is a true paradise in the Mediterranean, but with the advantage of being in the city of Valencia, next to the Valencia Marina, an enclave of leisure and entrepreneurship.
The International Wind Fair has been held here for more than 20 years between the months of April and May.
This beautiful and attractive show brings together more than 150 kite pilots from across Europe.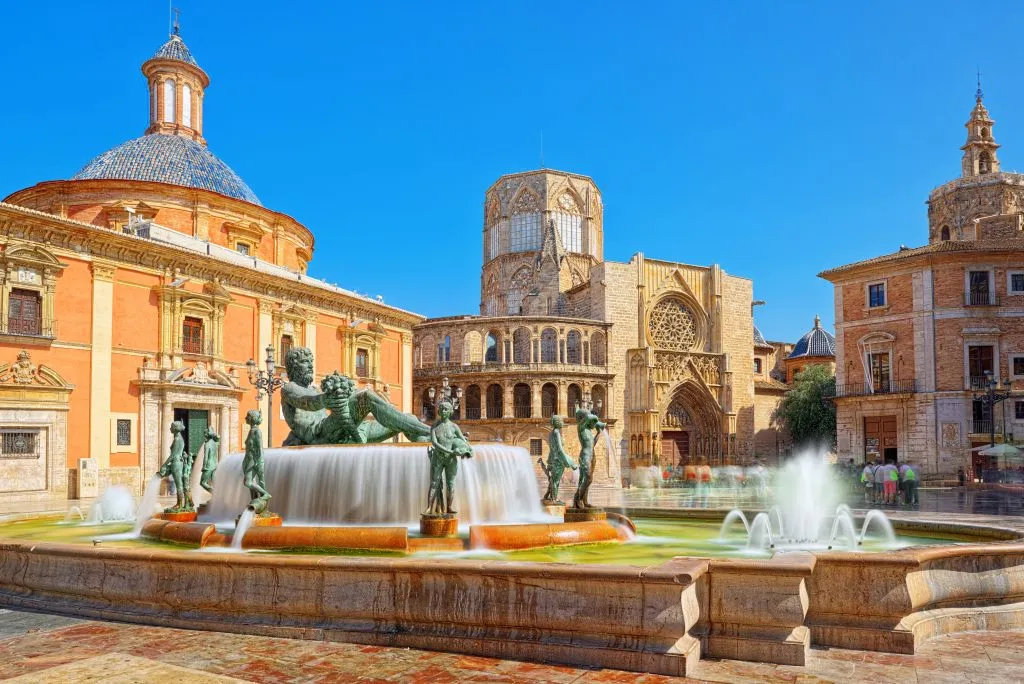 Stunning Northern Spain Coastal Towns
Getaria
From Alya of Stingy Nomads
Getaria is a small, beautiful beach town in the Basque Country of Northern Spain.
The town is situated 25 km west of San Sebastian and can be visited on a day trip from the city.
The 5-kilometer drive from Zarautz, the nearby surf town to Getaria is one of the most beautiful coastal drives in Spain.
There is a sidewalk along the coast between two towns that is a part of the Camino del Norte walking route.
It offers stunning views of the town and the coastline and is great for running or walking.
Getaria occupies a small picturesque cape with sandy beaches on both sides of the peninsula.
It's a perfect place to spend a couple of days relaxing on the beach, enjoying local cuisine, and exploring the historical and natural attractions.
Despite the small size, there are many things to do in Getaria.
Exploring the charming Old Town on foot is a must-do thing here.
Nagusia Kalea is the main street with many restaurants and bars serving local delicacies and pinchos. It's the best area in Getaria to come for dinner or drinks.
The street leads to the 15-the century Gothic church of San Salvador.
Past the old town, you'll find the port of Getaria. It's the best place to come to eat grilled fish.
For the best views of the town and the coast go up Mount San Anton. Until the 15th century, it used to be an island.
A Coruña
From Or of My Path in the World
The second-largest city in the region of Galicia, A Coruña, is a wonderful beach destination in northern Spain that has yet to become overcrowded with international travelers.
Sitting on the Atlantic Ocean (and not on the Mediterranean Sea), it boasts a jaw-dropping coastline, incredible natural landscapes, and fantastic weather even in summer.
It's a laid-back yet lively city that feels like the ideal Spanish beach town.
Those in search of soaking up the sun will find several relaxing beaches, including Praia de Riazor, the small yet adorable Praia das Lapas and Praia do Orzán.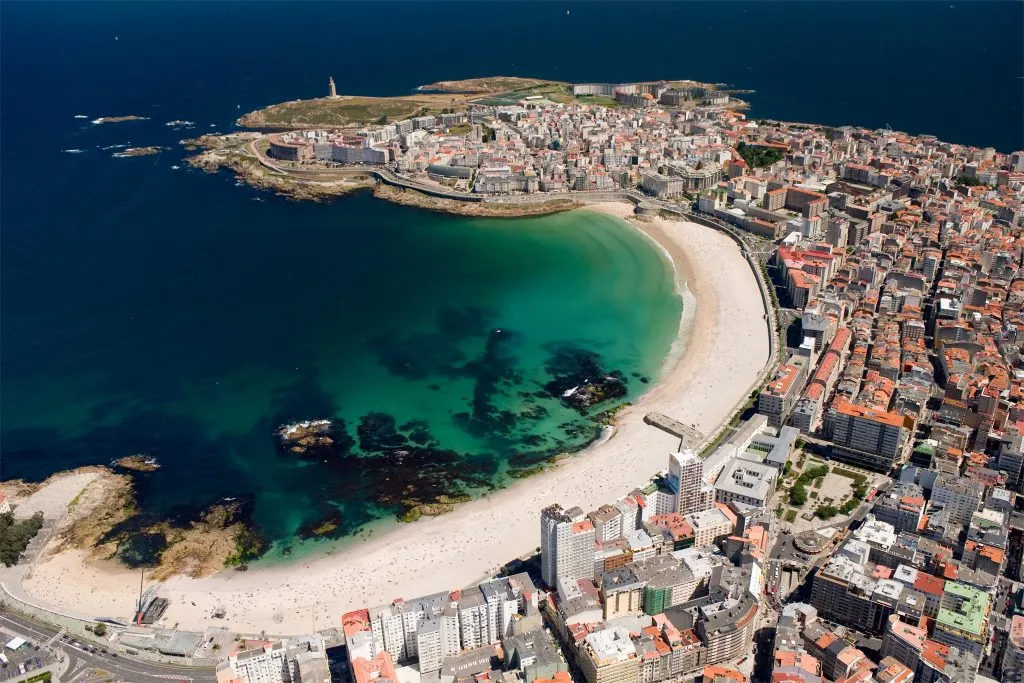 Plenty of other nearby beaches are only a short drive or bus ride away, though it's important to take into consideration the wind and wave height in this area.
When hunger starts to kick in, an abundance of places to eat awaits, from tapas bars and Galician restaurants to cozy cafes and international-cuisine restaurants.
If that's not enough, A Coruña offers many other intriguing points of interest to enjoy, like the scenic Fiestra ó Atlántico viewpoint, the UNESCO-listed Tower of Hercules (the oldest working lighthouse in the world), and the historic Plaza de María Pita, as well a few parks and museums.
The city has its own airport, though it is also reachable by train from Santiago de Compostela.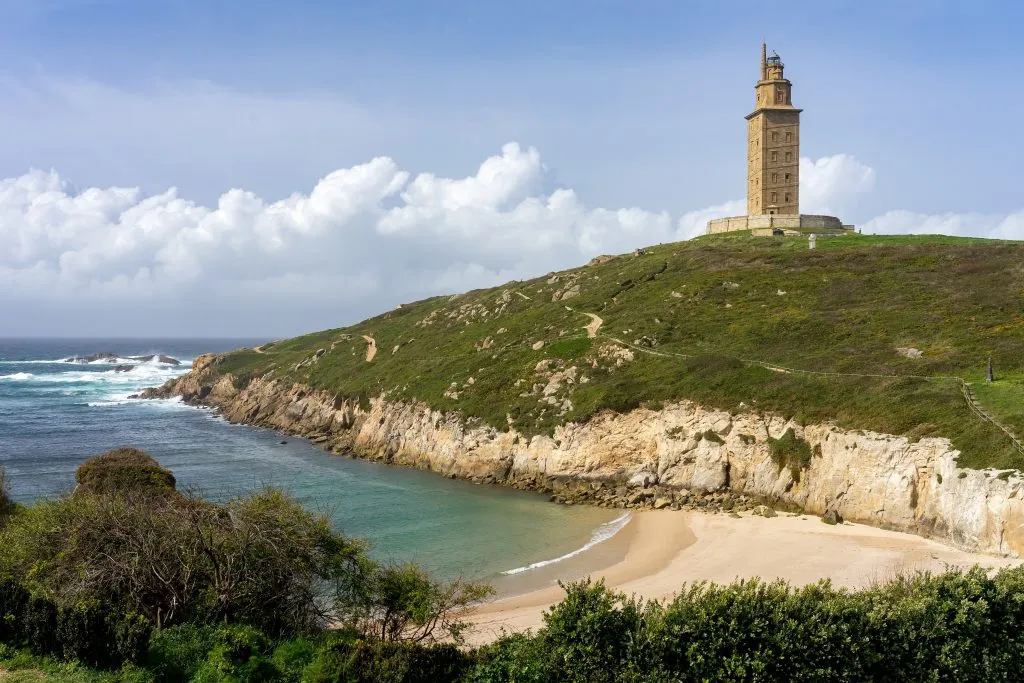 Tarragona
From Dhara of It's Not About the Miles
One of the best day trips from Barcelona that you can take, charming Tarragona is located along the Catalan Coast in Spain.
Due to the golden sands that grace the beaches, the coastline here is known as Costa Daurada.
Playa El Miracle is Tarragona's city beach, easy to access on foot from the city center.
It tends to be crowded in season, so venture further out for quieter beaches with stunning scenery.
Platja Arrabassada has a stunning setting, with cliffs and palm trees offering an idyllic escape. Surf, swim, stroll, or sunbathe!
The beach offers amenities such as showers and restrooms, and you'll find some beach bars here as well.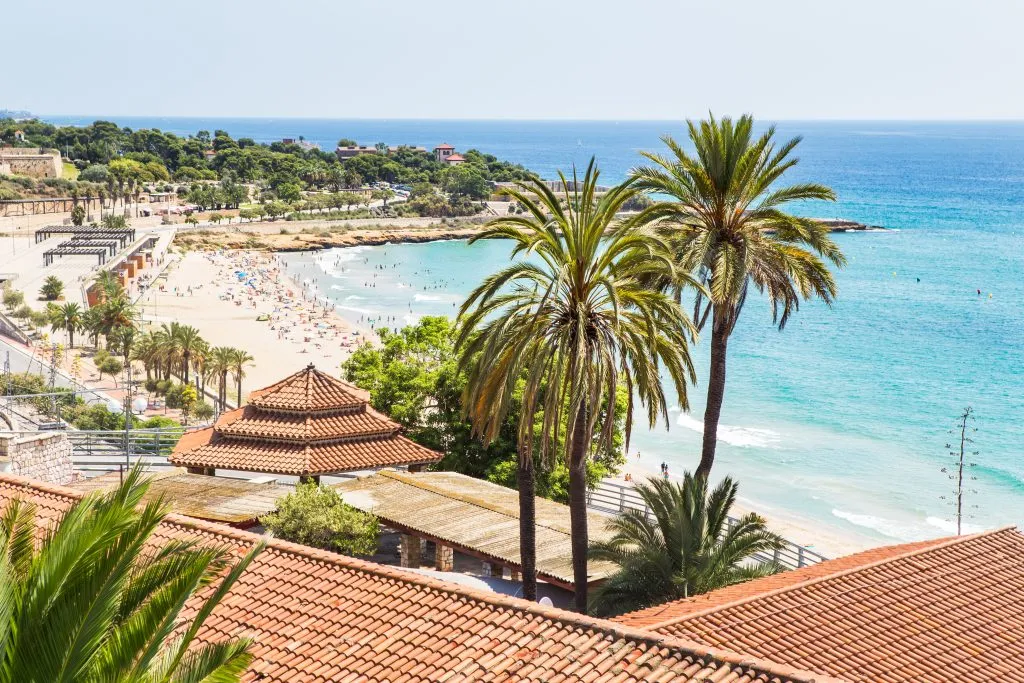 Further north, Platja de la Morá is much less crowded, but it does have amenities and beach bars.
It's a sheltered beach, very family-friendly, with a beautiful backdrop of cliffs and palm trees.
Drive here, or take a public bus from the center of Tarragona.
While Tarragona's beaches are undoubtedly a big draw, this Spanish coastal town has much more going for it.
It's home to spectacular Roman ruins, including a well-preserved amphitheater and a part of the ancient town wall.
The Roman ruins of Tarragona are a UNESCO World Heritage site.
The Old Town is picturesque, with an impressive cathedral, and includes a Jewish Quarter.
Wandering the alleys is one of the best things to do in Tarragona!
Barcelona
From David and Intan of The World Travel Guy
This famous Spanish coastal city in northeast Spain is known for its culture, architecture, beaches, and food.
You can visit outstanding buildings like the Barcelona Cathedral or the famous Sagrada Familia, go swimming at the sandy Barceloneta Beach, and do some food tasting at Mercat de la Boqueria.
Las Ramblas is the main tourist strip of Barcelona, and you can find some of the best shopping and dining there.
It's a little pricey compared to the rest of the city, but still worthwhile.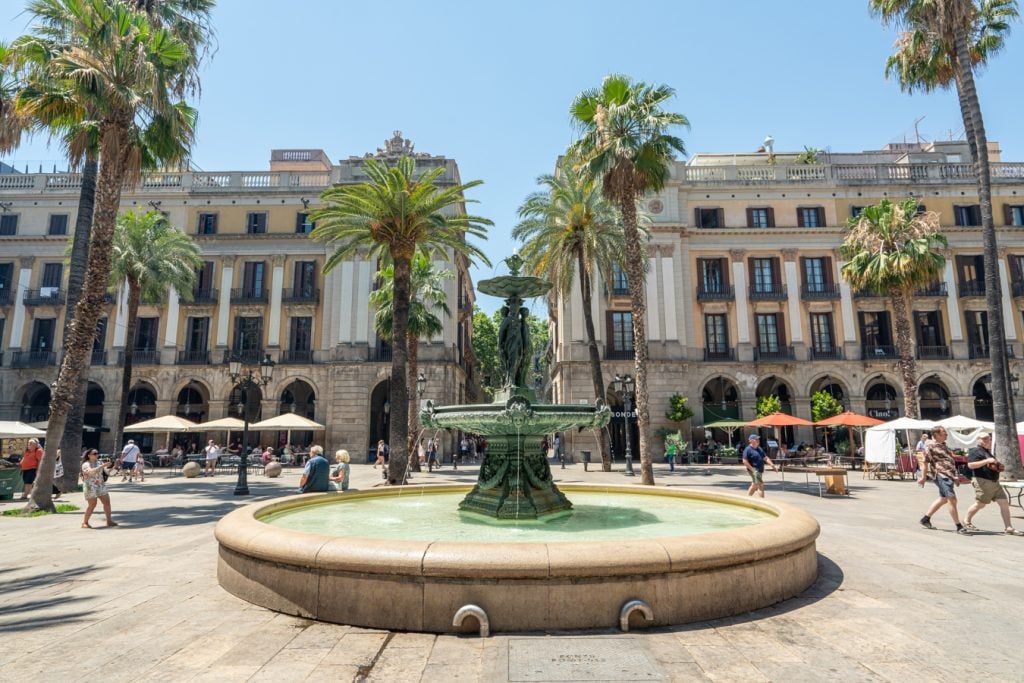 The Gothic Quarter of Barcelona is especially known for its medieval architecture, shops and restaurants, and great photography potential, and you should also check out some museums in Barcelona such as the Picasso Museum, or the Barcelona City History Museum.
Once you've finished exploring everything in the city of Barcelona, you can also do day trips to other places, like Sitges (another great beach destination) or Montserrat, Spain.
The serrated mountains of Montserrat are spectacular, and there's a monastery to see too.
Overall, there are lots of things to see and do in Barcelona and the nearby areas, both on the beach and off.
Tossa de Mar
From Vicki of Vicki Viaja
Tossa de Mar is one of the most charming coastal towns in all of Spain and is always worth visiting.
And, as one of the best day trips from Barcelona, it's fairly accessible, too!
With gorgeous beaches, hidden coves, and a picturesque old town, the small town is a dream for any visitor to Spain.
Tossa de Mar is located on the Costa Brava, on the northern Mediterranean coast of Catalonia.
While the small town is a great destination to spend several days or even weeks, it is also one of the best day trips from Barcelona due to its proximity to the Catalan capital.
Tossa is especially popular for its idyllic town center.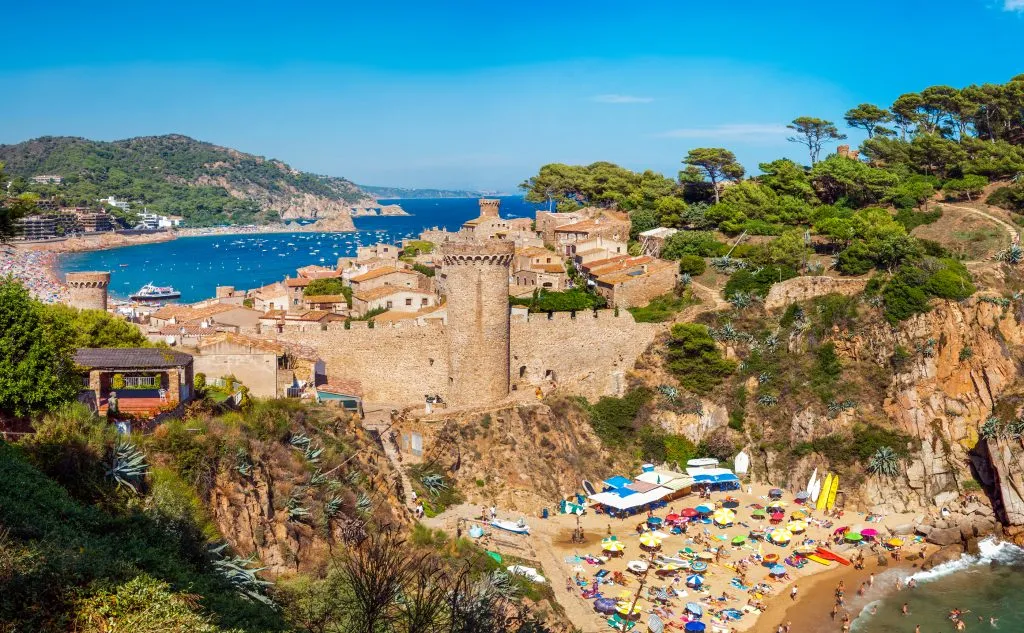 As early as Roman times, there was already a settlement here, and most of the city center's old walls date back to the Middle Ages.
One of them is the city's fortress. Walk around on the old walls and enjoy the fantastic view of neighboring beaches.
These very beaches are another good reason to visit Tossa.
Due to the turquoise-clear water of the Costa Brava, they almost look like tropical beaches, if it weren't for the typical Mediterranean pine forests surrounding them.
With this great mix of fascinating old walls, crystal clear water, and green pine forests, the coastal town offers the perfect activity for every type of traveler.
Whether you're hoping for a relaxing beach vacation, hiking in nature, water sports, or exploring the historic old town, Tossa de Mar has something for you.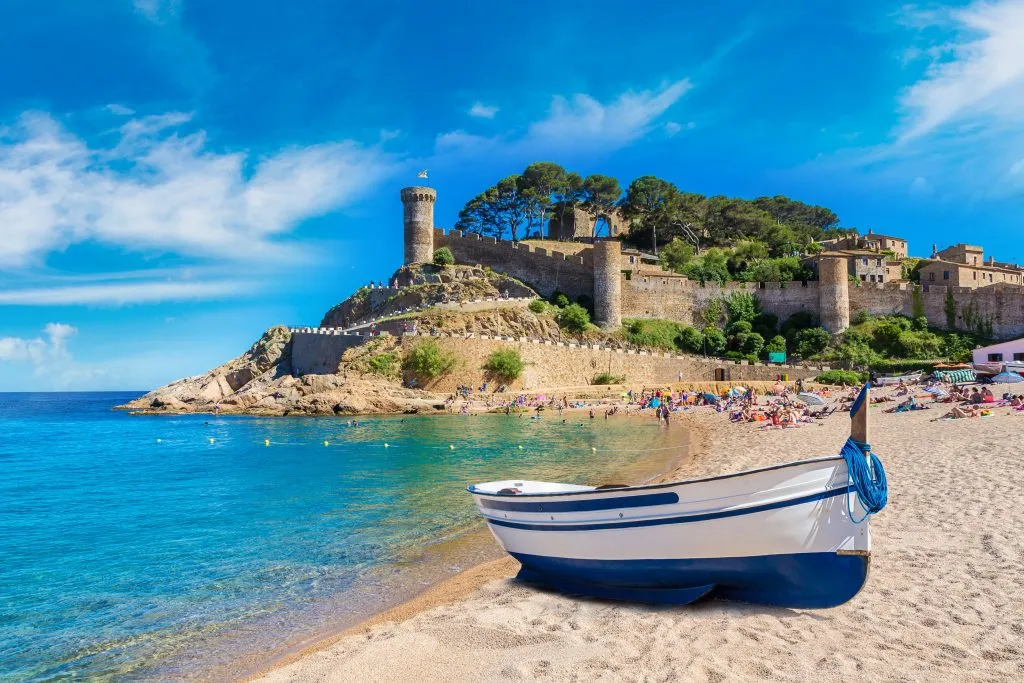 San Sebastian
From Paula of Spain Travel Hub
San Sebastian is a beautiful city in the Basque Country, in the north of Spain.
It is a coastal resort best known for its picturesque beaches and vibrant food culture.
It's a great place to visit if you are looking for a combined beach and city break.
You will find everything that you would expect from an ideal holiday destination: beaches, food, culture and nightlife.
San Sebastian has been ranked as one of the best beach destinations in Europe. It has also been ranked as one of the best European cities for food lovers.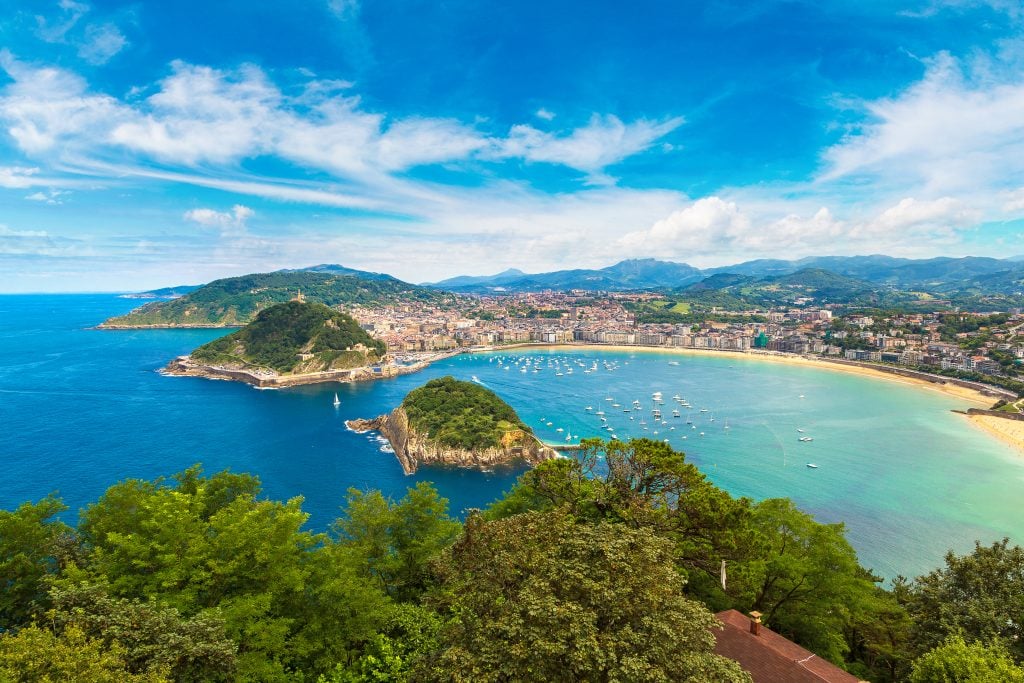 There are four beaches near the center of town, the most famous is Playa de La Concha.
As its name suggests, the beach is shaped like a shell fringed by Mount Urgull on one side and Santa Clara Island on the other.
This is the most elegant of San Sebastian beaches and a lovely spot to stroll along the sand.
If you prefer to hit the waves, make your way to Zurriola Beach, which offers a lot more activities than La Concha.
Once the sun goes down, it's time to explore the old town and try some of the famous pintxos (tapas) and wine bars, where you can enjoy tasty bites and drink a glass of wine or two while enjoying the beautiful scenery from your bar stool.
San Sebastian is well connected by public transport from other major cities in Spain.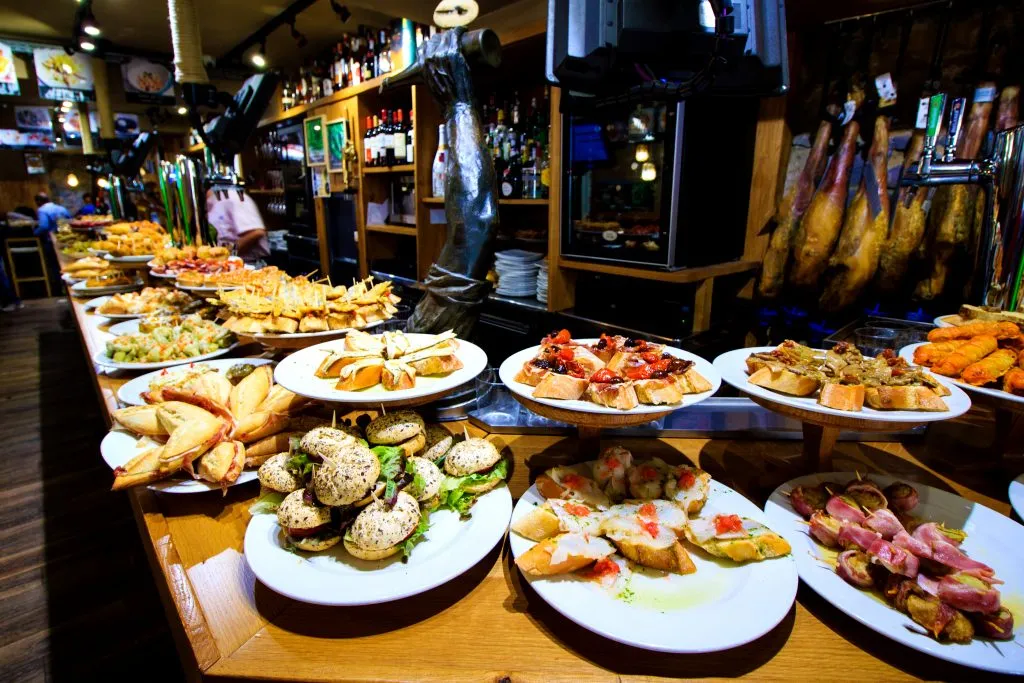 Lloret de Mar
From Kerry of Vegg Travel
Whether you're looking for a relaxing beach holiday, vibrant culture or a romantic honeymoon in Spain, there is something for everyone in delightful Lloret de Mar.
One of the most enjoyable seaside villages in Spain, Lloret de Mar is a Mediterranean coastal town in Catalonia.
Close to both Girona and Barcelona, Lloret de Mar is easy to get to by hiring a rental car or catching one of the regular buses or trains.
The night scene at Lloret de Mar is lively and features clubs and bars stretching from Lloret beach to Marlés Vilarrodona.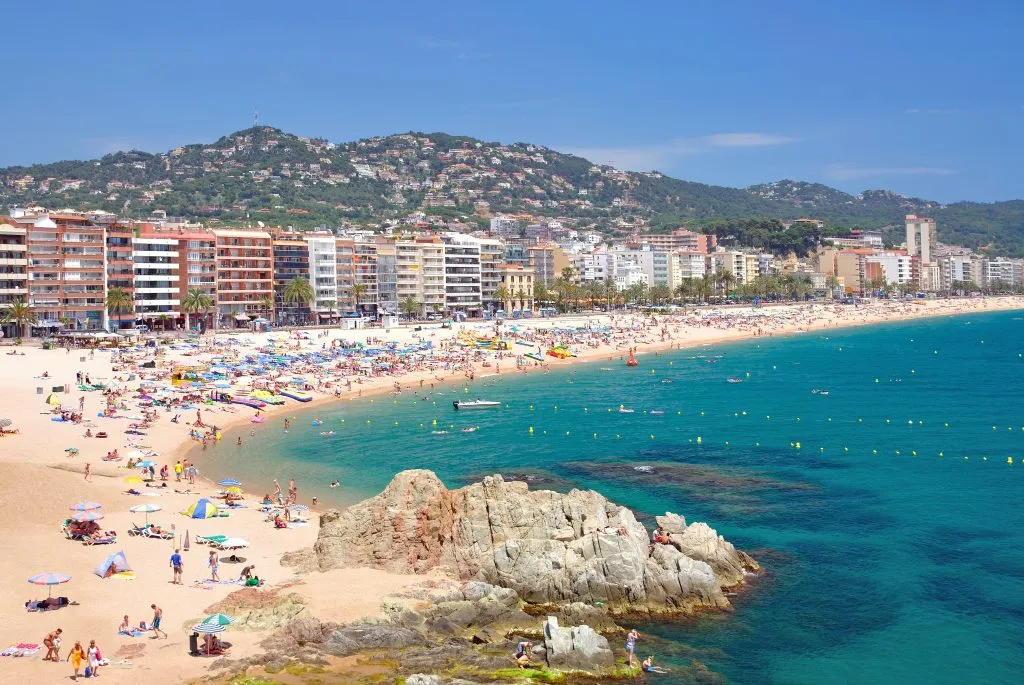 Vilarrodona is the trendiest strip to go, or if you're looking for a quieter holiday, it may be one to steer clear of.
If you'd like to visit some nearby landmarks you can take an easy hike to Santa Barbara is Sa Caleta, a relaxing cove that is overlooked by Castell D'en Plaja.
Excellent for a refreshing afternoon walk, there is no better place to get away from the sun than a beachside castle.
While you're by the beach, take the chance to experience jet skiing or a catamaran trip to cool off.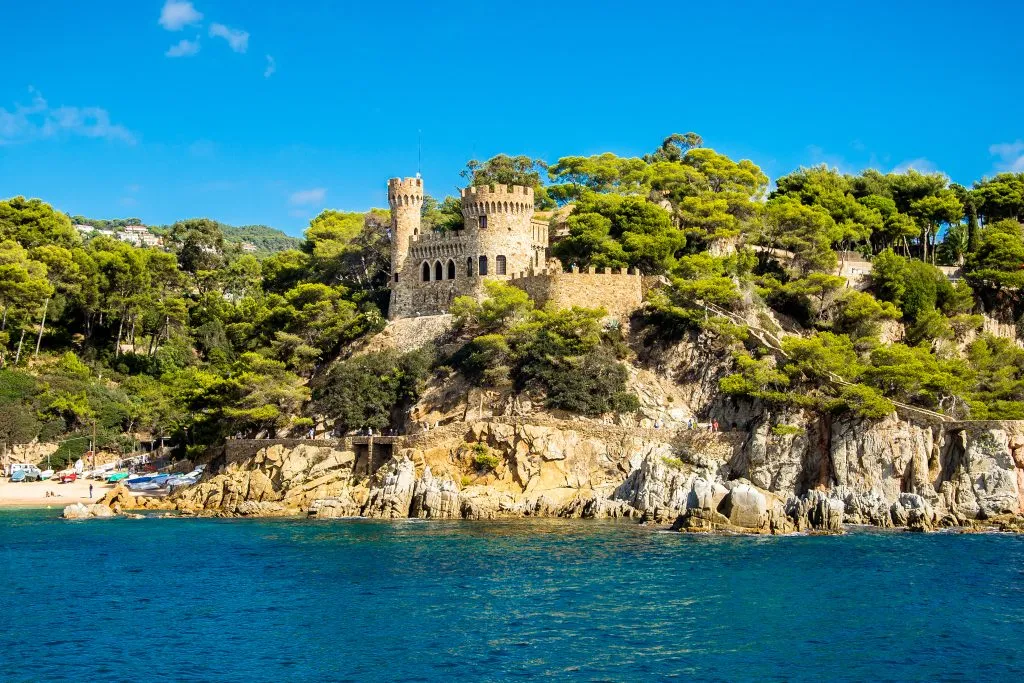 Epic Spanish Beach Towns on the Balearic Islands
Cala d'Or (Mallorca)
From Kylie of Between England and Iowa
A beautiful Spanish beach town to visit is Cala d'Or, located on the east coast of Mallorca.
It is known for its 'calas', or coves, with white sand beaches and turquoise waters.
There are 5 main beaches in Cala d'Or: Cala Serena, Cala Ferrera, Cala Esmeralda, Cala Gran and Cala Petita.
Cala Ferrera and Cala Gran are the largest, with pedal boats (with slides) and stand-up paddle board rentals, sun loungers and umbrellas, toilet and shower facilities, and fun fruit sellers that sing catchy songs.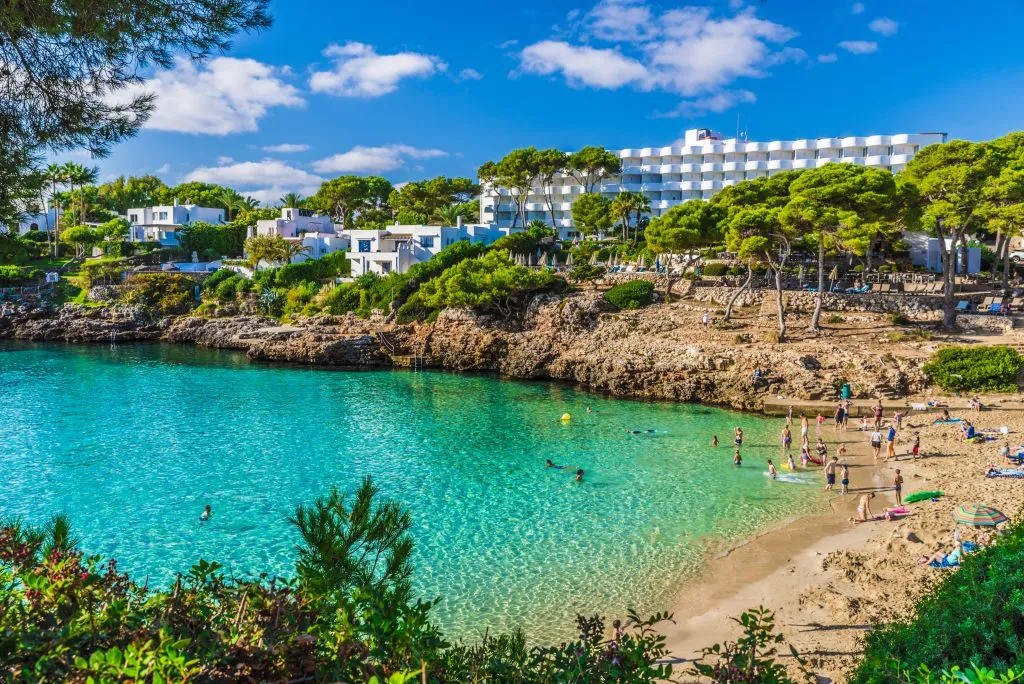 The water is calm, perfect for snorkeling and swimming, and the rocky edges of the calas are great for jumping into the water (there are steps for easy access in and out of the sea).
For those wanting to explore further, the Starfish glass bottom catamaran stops at several of the calas before heading out on various different cruises to snorkel, swim, or dolphin watch.
In Cala d'Or town, there is a pedestrian area packed full of restaurants and cocktail bars with outdoor dining areas.
Many of the bars have free entertainment such as tribute acts of popular singers and artists.
For waterfront dining, check out Cala d'Or Marina!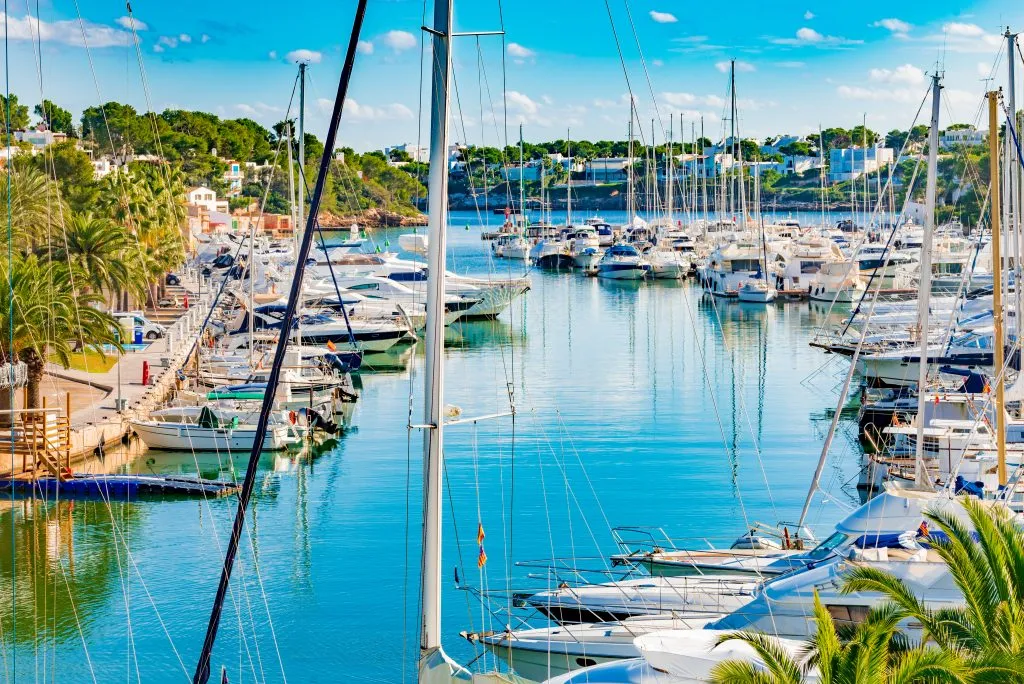 Port de Soller (Mallorca)
From Victoria of Culture Passport
Port de Soller is a lovely Mediterranean town on the rugged coast of Mallorca.
Port de Soller is located on the largest natural bay on the northern coast of Mallorca.
It has long served as a key port for both passenger and merchant ships between mainland Spain and the island.
Historically, many Mallorcan emigrants departed from this port in search of a better life on the continent.
Today, Port de Soller attracts thousands of visitors to its shores each year.
It's small enough that you can recognize the locals, yet big enough to try different restaurants every day.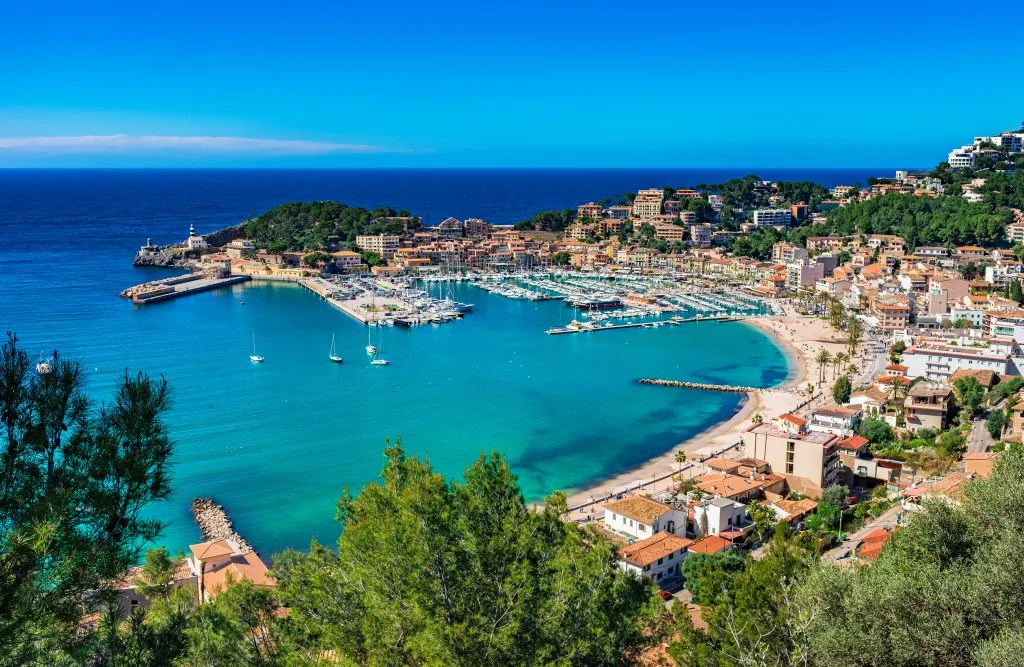 Spend the day swimming, paddleboarding, and relaxing on the sandy beach, or hike up to the Torre Picada, a 17th-century defensive tower, to admire the stunning views of the Mediterranean Sea and the Serra de Tramuntana mountain range.
Take a walk along the paved beachside promenade or hop on the Soller electric tramway, in operation since 1913.
If you're traveling with kids, take them to the Maritime Museum of Mallorca to learn about the town's seafaring history.
In the evening, try the local specialty Sarda fish for dinner, or book a sunset sail around the coast.
Rent a car, and you can drive to nearby Deià or Valldemossa, two of the most beautiful towns in Mallorca.
Palma de Mallorca
From Krisztina of She Wanders Abroad
If you're looking for the most beautiful beach towns in Spain, you can't miss Palma de Mallorca!
As the capital of the island of Mallorca, Palma is a lively town with a gorgeous coastline.
The airport is also located here, which makes it easy to get to from anywhere in the world.
Once you arrive, you'll find plenty of things to do in Palma de Mallorca. The old town is lovely to explore, and the beaches here are some of the best in Spain.
Some of the best things to do include visiting the Cathedral of Santa Maria de Palma, taking a stroll through the Old Town, and enjoying the local cuisine.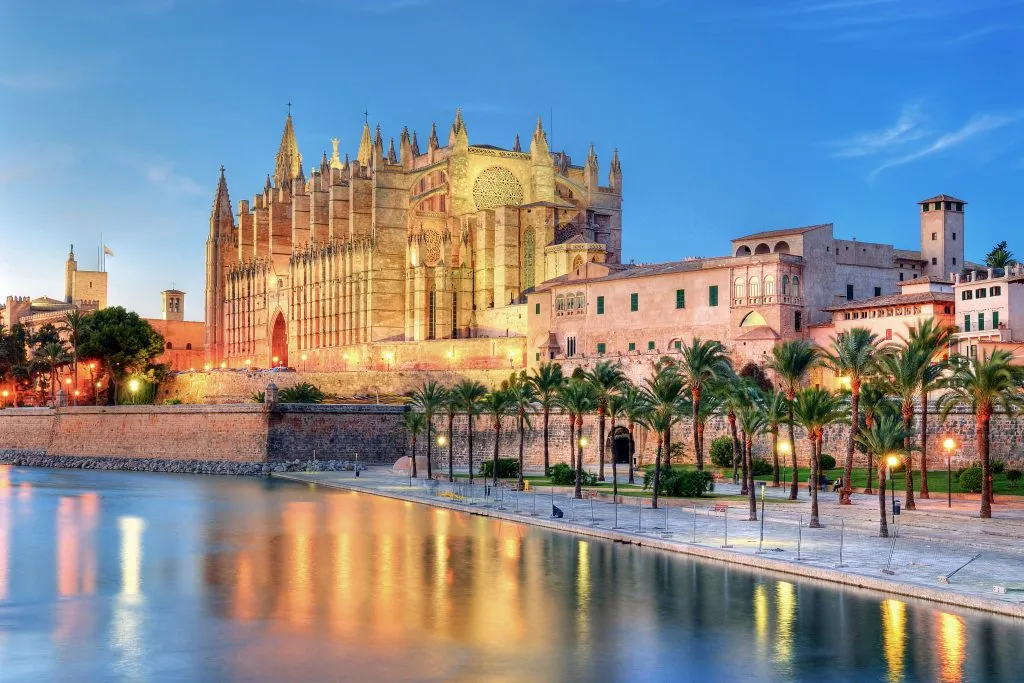 When it comes to beaches, there are plenty of options to choose from.
Playa de Palma is the most popular beach in the area and is perfect for swimming, sunbathing, and water sports.
But if you jump in your car and drive a little further you'll come across some of the most gorgeous beaches like Es Trenc or Cala d'Or.
Palma is also one of the best places to stay in Mallorca as it's incredibly central and you can easily explore the rest of the island from here.
If you're looking for a beach town that has it all, then Palma de Mallorca is the place for you!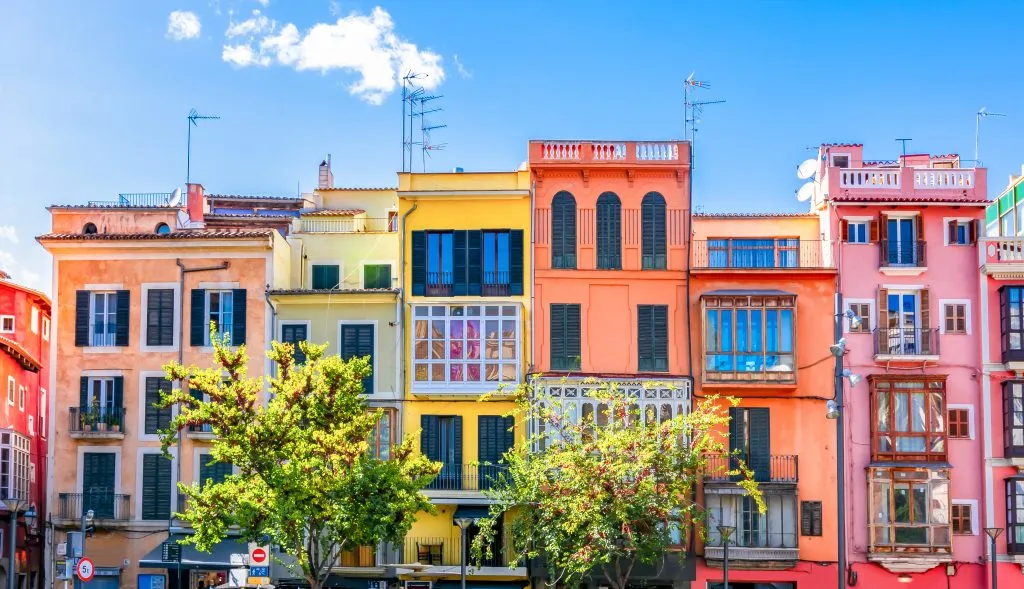 Gorgeous Canary Islands Beach Towns
Costa Adeje (Tenerife)
From Greta of Greta's Travels
If you're looking for the best beach towns in Spain, you have to add Costa Adeje, in Tenerife, to your bucket list.
Located in the southwestern part of the island, it's one of the most popular areas to stay in Tenerife, and it's easy to see why.
Blessed with year-round sunshine and warm temperatures, Costa Adeje is home to famous beaches like Fañabé Beach and Playa del Duque.
On the promenade along the sea you'll also find plenty of bars, restaurants, cafes, and shops.
Costa Adeje is the slightly fancier part of the island, with nice hotels and all inclusive resorts all over the town, which makes it a popular destination with families and older travellers.
That's not to say young travellers can't enjoy Costa Adeje.
In Costa Adeje you can do loads of fun water sports and activities, amongst which jet-skiing, surfing, kayaking, whale watching and sunset catamaran cruises.
Costa Adeje is a great beach town destination in Spain, since besides beautiful beaches, it also offers something fun to do for all travellers.
On top of that, you can visit at any time of the year, so you can't go wrong!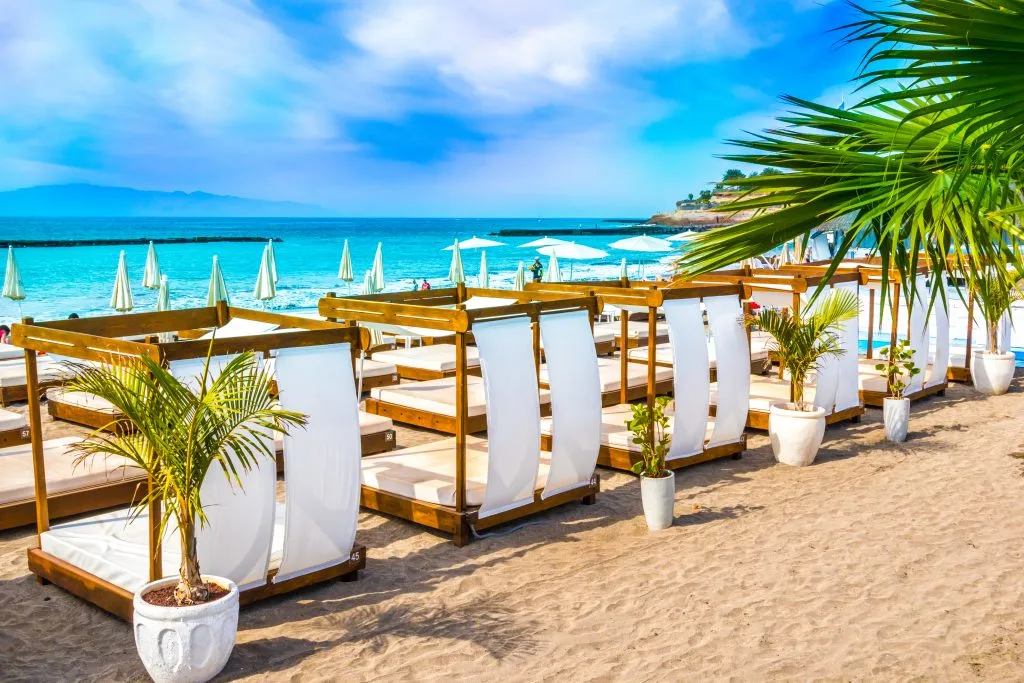 El Cotillo (Fuerteventura)
From Paulina of UK Everyday
If you are looking for some of the nicest beach towns in Spain, the black volcanic rocks and white sand of El Cotillo will take your breath away.
Located on the northwest coast of Fuerteventura, El Cotillo offers a perfect getaway for families or couples.
This beloved Spanish beach town is famous for its bays with turquoise crystal clear waters. It has some of the best beaches in Fuerteventura, where you can enjoy sunny weather on one of the Canary Islands.
El Cotillo is only a short drive from Corralejo and less than one hour away from the airport.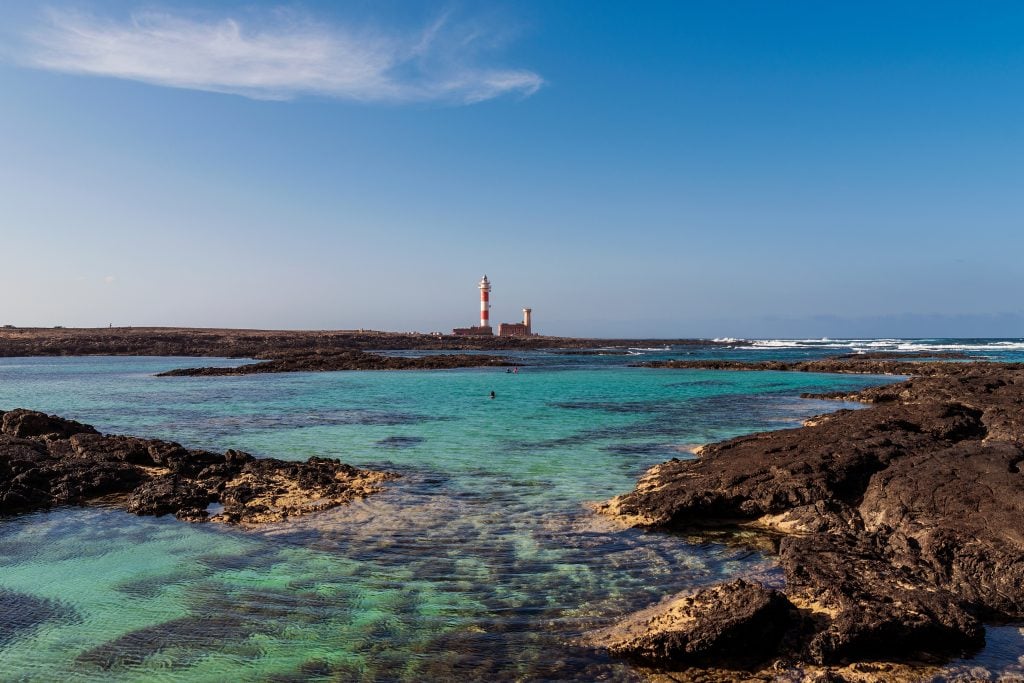 This little paradise is a must-see attraction when exploring the northern part of the island.
Especially, when you love surfing or want to spend a day in a quiet location.
Stay here for sunset, because the west coast of Fuerteventura is the best place to admire spectacular sunsets.
Also, indulge yourself in one of the best bars or restaurants such as Piedra Alta Restaurante.
Enjoy the nautical interior and beautiful views of the rugged shore while tasting delicious Spanish food.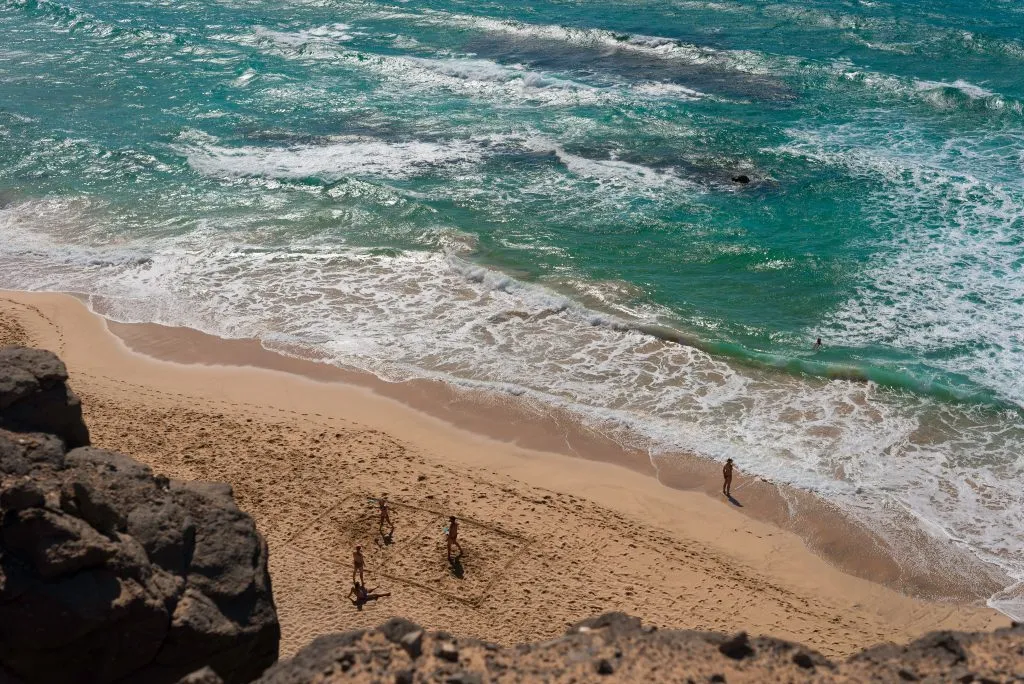 Puerto Rico de Gran Canaria
From Una of Wandernity
Puerto Rico de Gran Canaria is a charming little seaside town located on the southwest coast of the island of Gran Canaria.
Although it is a relatively small town, it offers a lot to visitors in terms of natural beauty and relaxation.
Puerto Rico de Gran Canaria is also an excellent base for exploring the rest of the island, as it is centrally located and well-connected to the rest of Gran Canaria by public transportation and roads.
Many of the best things to do in Gran Canaria are located in about an hour's drive from Puerto Rico de Gran Canaria.
Puerto Rico de Gran Canaria is blessed with stunning natural scenery, ranging from its sandy beaches to its dramatic mountains.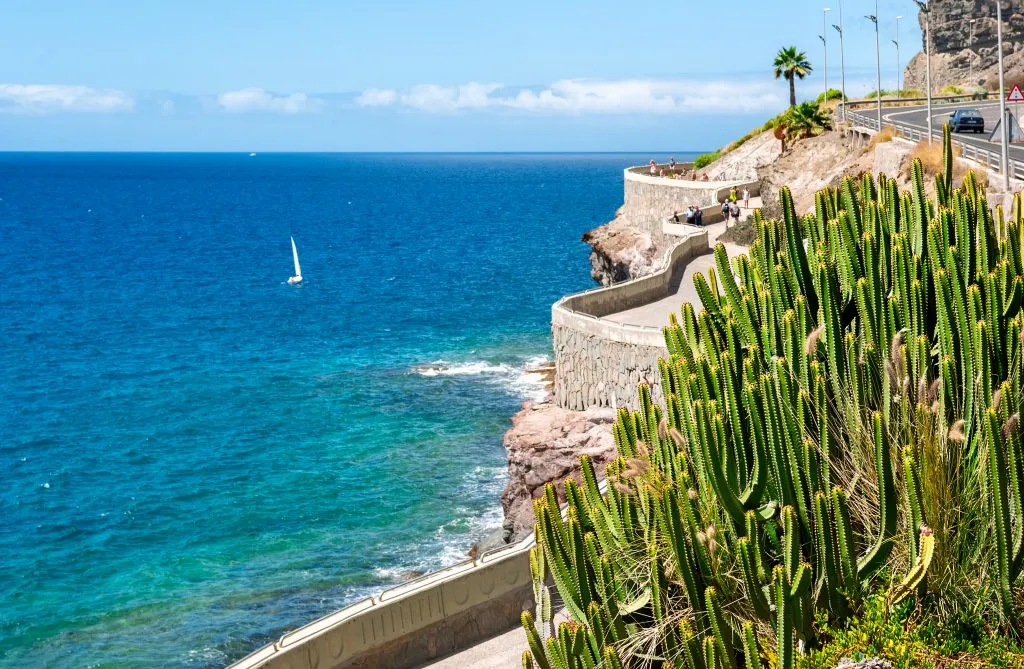 There are also several hiking trails located nearby, making it an ideal destination for those who love nature and outdoor activities.
As for beaches, there's nothing like a day at the beach to relax and rejuvenate, and the beaches of Puerto Rico de Gran Canaria are some of the best on the island.
Playa de Amadores and Playa de Puerto Rico are easily reachable on foot from the many hotels in the town.
With their white sand and clear blue waters, these beaches are a perfect place to catch some rays and enjoy the waves.
There are also several restaurants nearby for those who want to enjoy Spanish and international cuisine.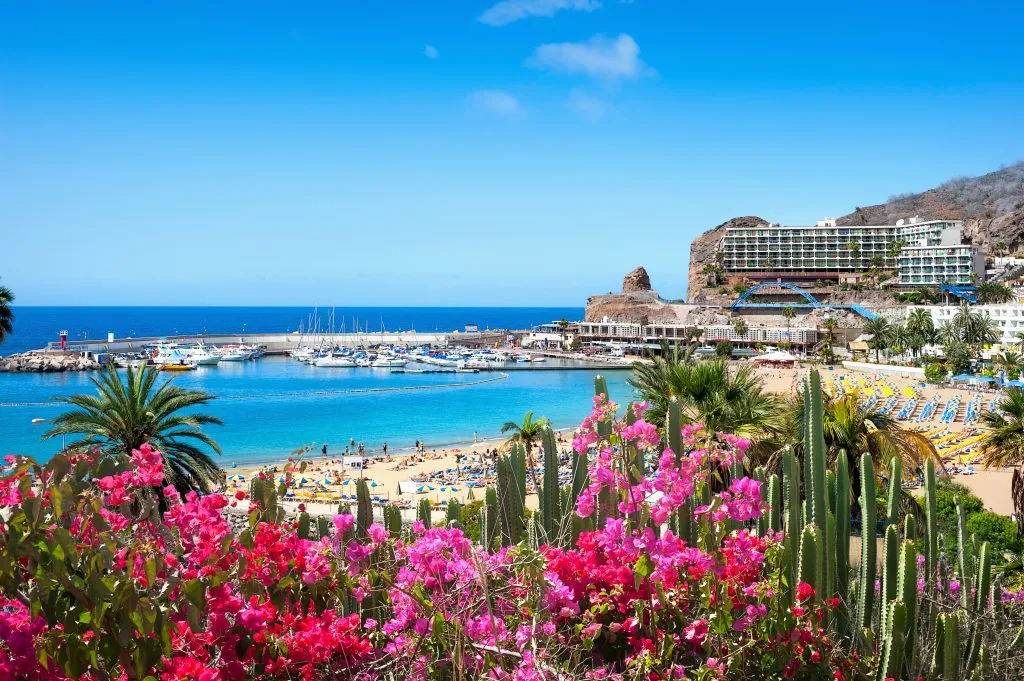 Los Gigantes (Tenerife)
From Lara of The Best Travel Gifts
Los Gigantes is one of the cutest beach towns on the southwest coast of Tenerife.
Unlike many of the other towns in the south part of the island, Los Gigantes does not feel like a man-made tourist resort.
Instead, the town still has its unique Canarian vibe.
This makes Los Gigantes one of the best towns for people who are looking for a relaxed holiday without enormous tourist crowds, while also enjoying the great weather on Tenerife's south coast.
The number one thing to do in Los Gigantes is to visit Los Guios beach.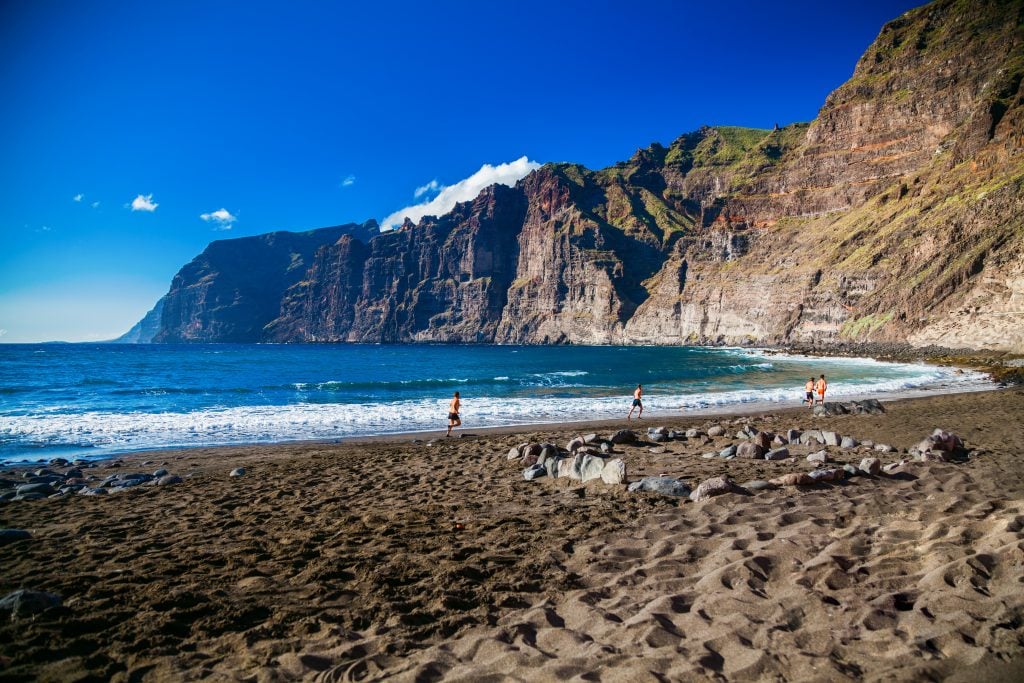 A black sand beach with the most beautiful view you can imagine; the cliffs of Los Gigantes.
For an even better view of these cliffs, you should head up to Mirador Archipenque.
Other great places for swimming and sunbathing at Los Gigantes include Playa la Arena and the Los Gigantes' natural pool.
For delicious Spanish and Canarian food, the Marina is the best area to go to.
And lastly, if you are looking for something active to do, the walk from Los Gigantes to Puerto de Santiago is a beautiful, but hilly walk along the coast.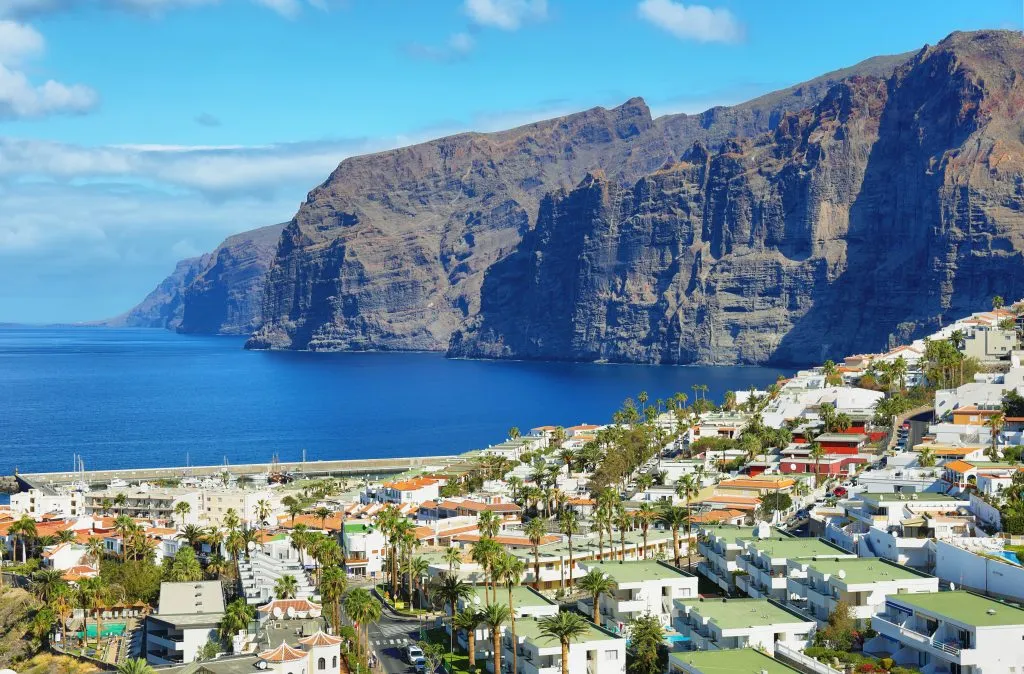 Maspalomas (Gran Canaria)
From Iris of Mind of a Hitchhiker
If you love the sandy Spanish beaches, look no further than Maspalomas.
The main island of the Canaries has many beach towns, but the southernmost is worth the detour since it's full of spectacular sand dunes by the sea.
The area is quite huge and provides endless wandering and fantastic photo opportunities at sunset.
It's like experiencing the desert without committing too much.
The Maspalomas Dunes are protected as a nature reserve.
This includes a lagoon called La Charca nearby the lighthouse.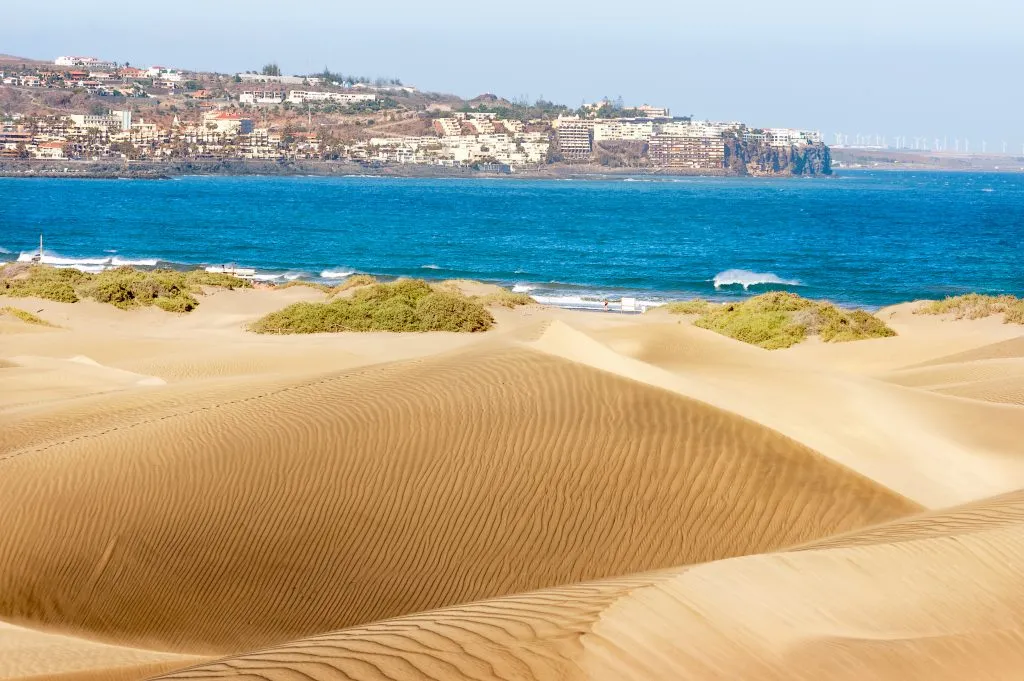 That's the place to do some birdwatching, particularly for migratory birds; the Canary Islands is a prime location for a stopover between the north and the equator.
If all that nature sounds like too much peace and quiet, just head into town.
Maspalomas started out as many other beach towns in Spain do: as a sleepy hamlet that has been transformed into a tourist favorite over the decades.
The old and functional part of town – San Fernando de Maspalomas – is 3 kilometers north of the dunes.
The main non-dune activities are in nearby nightlife-heavy Playa del Inglés.
Besides bars and restaurants, there are also some (kite)surfing schools at the beach that are beginner-friendly.
There are also plenty of big-name resorts west of the lighthouse.
If all of that sounds maddening, just visit Maspalomas as a day trip to get lost in the dunes before you retreat to your (quieter) Canarian beach town.
Map of the Best Beach Towns in Spain
Take This Map With You! Click each highlight to pull up the name of the destination. To save this map to "Your Places" on Google Maps, click the star to the right of the title. You'll then be able to find it under the Maps tab of your Google Maps account! To open the map in a new window, click the button on the top right of the map.