If your idea for the perfect European getaway is combining a city break with a beach vacation, then these gorgeous beach cities in Europe are for you!
While we love traditional beach towns as much as the next travelers (here are some of the best ones in Italy, Spain, and Portugal), there's something especially delightful about combining the beauty and sightseeing potential of a city with a chance to lounge at the beach.
And, to make sure we didn't include only our personal favorites, we asked several other travel bloggers to also contribute their favorite cities in Europe with beaches!
From iconic European beach cities like Barcelona to offbeat gems in northern Europe like Gdansk, this collection of coastal cities in Europe has something for everyone.
In order to make sure everything was in a logical category, I did have to finagle things a bit–you'll notice that France's Mediterranean cities are included in the southern Europe section, while its colder and grayer (but still wonderful) Atlantic cities are cataloged under northern Europe.
Whichever type of beach city you're looking for, you're bound to find it here.
Here are the best cities to visit in Europe with beaches!
Sunny Southern Europe Cities With Beaches
If you're looking for a traditional beach city in Europe where you can enjoy the sunshine, a long summer of warm weather, and plenty of time on the sand (or pebbles, as the case may be), these beach cities in southern Europe are for you!
Lisbon, Portugal
Famous for its sunny weather and coastal views, our beloved Lisbon, Portugal is definitely one of the coolest cities in Europe with beaches!
While you're there, be sure to admire Lisbon from its many viewpoints (the Miradouro de Santa Luzia and Miradouro das Portas do Sol are two great starting points), climb through Alfama, tour the legendary Jerónimos Monastery, and eat dozens of pastéis de nata.
Even with only a few days in Lisbon, you can still cover a lot of ground in the city… and visit its beaches!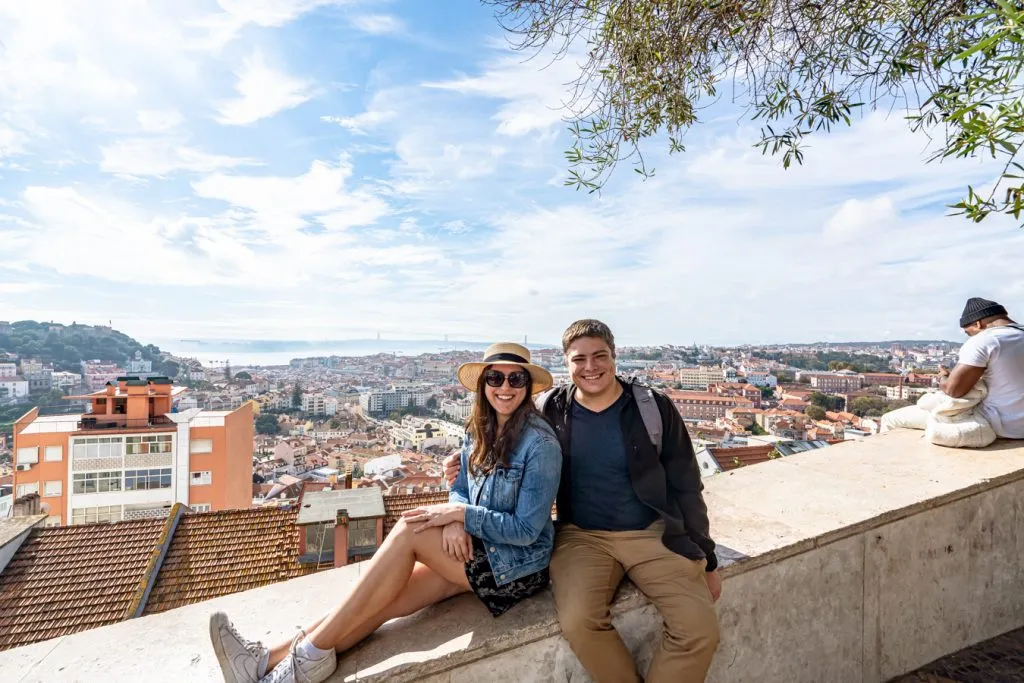 While there are a couple of very small sandy areas along the Tagus River that technically qualify as beaches in Lisbon (right in front of the Praça do Comércio in Baixa and right in front of the Belém Tower in the neighborhood of Belém come to mind), the best Lisbon beaches lie outside the center.
Praia de Carcavelos is one of the most popular beaches very close to Lisbon's city center, and a quick train ride will get you there!
Taking a day trip to Cascais, Sintra, or Costa da Caparica–all under an hour from central Lisbon–will also deliver you to beautiful beaches quickly and easily.
While the Lisbon area has some wonderful swimming and lounging beaches, Portugal's coast is also extremely popular for surfing.
If you have a surf break in mind when choosing a beach city in Europe, you can't beat planning a getaway in Portugal.
Barcelona, Spain
From Alex and Leah of Alex and Leah on Tour
Home to unique architecture, a legendary food scene, and a beautiful stretch of the Mediterranean coast, Barcelona is by far one of the best cities in Europe with a beach.
Rich in cultural heritage and dating back to the Middle Ages, Barcelona is one of the most popular city breaks worldwide and there's a good reason why!
One of the activities you have to do is walk down La Rambla.
A place to see and be seen, this famous 1-kilometer stretch of pedestrianized road is lined on either side by great souvenir stalls and is near plenty of Barcelona's top attractions.
Be sure to also check out the Gothic Quarter, the historical center of Barcelona that used to be a Roman village but has now been modernized through quirky cocktail bars and beautiful eateries.
And, of course, no trip to Barcelona is complete without a visit to the legendary Sagrada Familia.
Due to its significant popularity, Barcelona is incredibly accessible no matter where you are in the world.
Thanks to the extensive transport system in Europe, Barcelona is easily accessible by either bus or train.
If you're coming from further afield, it's highly likely you'll be able to get a direct flight from your nearest city.
Barceloneta Beach is by far the most popular beach in the city.
Prior to 1992, Barcelona didn't even have a coastline before it was all revamped for the Olympic Games.
No matter where you are in the city, the beach is easily accessible.
Both buses and the metro have stations within a very short walking distance of the beach or you can simply take a walk and enjoy the sights!
Nice, France
From Kristin of Global Travel Escapades
A gorgeous city in Europe with plenty of beaches to enjoy is Nice, France.
This vibrant city is the perfect place for a relaxing getaway.
With its location in the South of France, the city experiences relatively warm and pleasant temperatures almost year-round.
Furthermore, there's no shortage of things to do. For example, if you want to take in panoramic views of the Mediterranean Sea, then hike to the top of Castle Hill.
If you're looking for something a bit more relaxing, spend your time soaking up the sun on one of Nice's many beautiful beaches or swimming in the unbelievably blue waters of Côte d'Azur.
Alternatively, if you're looking for a change in pace, consider visiting one of Europe's smallest yet wealthiest countries, Monaco!
The tiny country is easily accessible from Nice and has tons to offer visitors.
All in all, with its stunning sea views, friendly people, and plenty of activities to explore, Nice is an amazing city to visit with gorgeous beaches to enjoy.
And if you're wondering what the best beaches are, the most popular ones are Ponchettes Beach and Plage de Carras.
Both are centrally located and can be easily walked to from Nice's Old Town.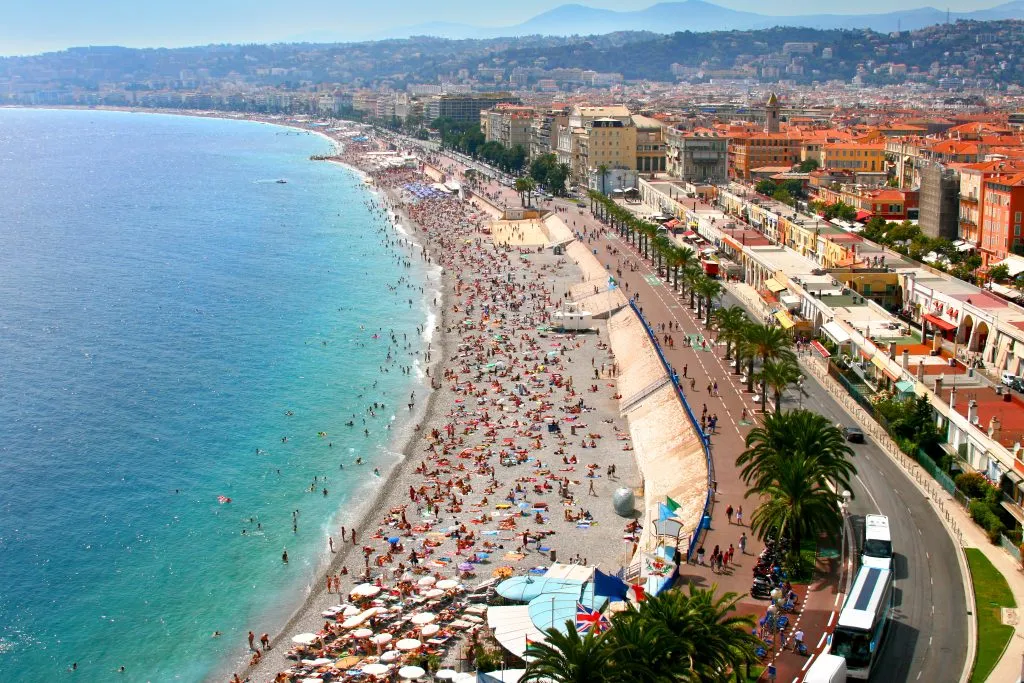 Marbella, Spain
From Cristina of My Little World of Travelling
Marbella, located 50 minutes from Malaga, is one of Europe's most beautiful coastal cities.
Beautiful sandy beaches, picturesque streets, and a touch of luxury make it a favorite destination along the Costa del Sol.
There are many things to do in Marbella, from getting lost in its old town and eating delicious tapas to going on a sunset catamaran cruise and attending a beach party.
For those who love sightseeing, Marbella Old Town must be on their list.
It is home to historic buildings, boutique shops, and plenty of cozy restaurants, especially in Plaza de los Naranjos (Orange Square).
Another popular place in Marbella is Puerto Banús, a luxury marina with high-end shopping malls, restaurants, and impressive yachts.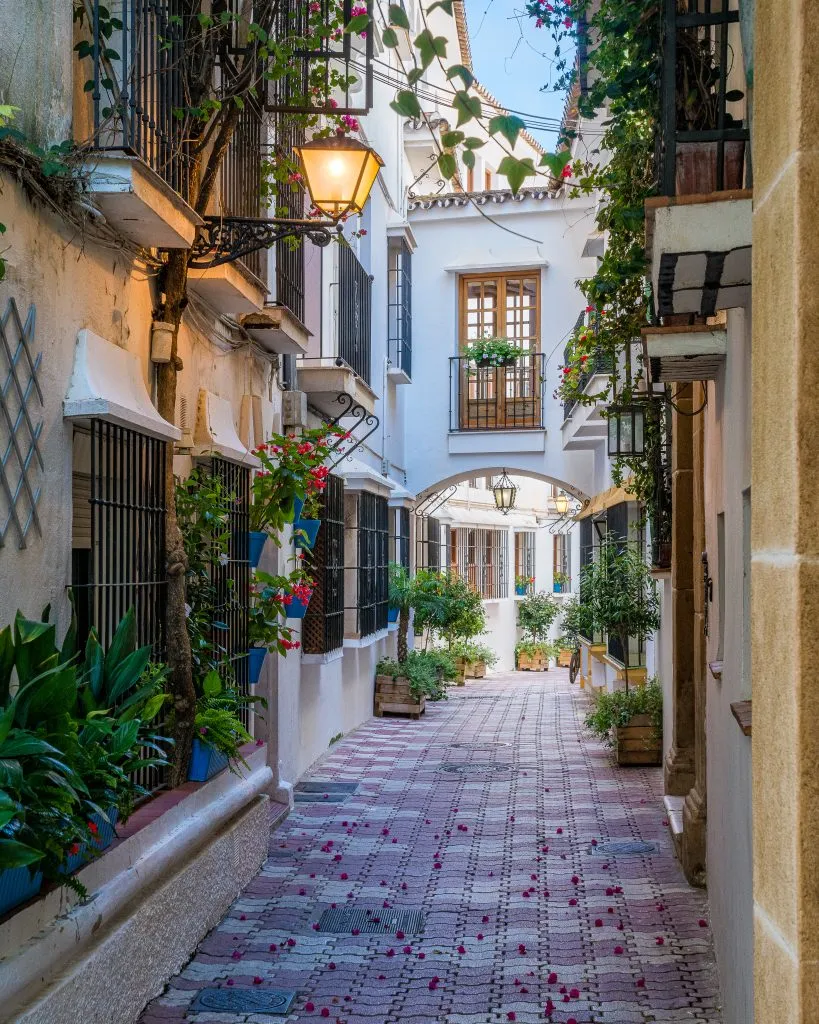 If you love nature, you are also spoilt by choice, as Marbella has some of the best beaches in Costa del Sol.
Cabopino Beach is an example, which has a tranquil beach with protected dunes.
Marbella in summer is lively, busy, and fun, but it is also a fantastic destination to visit at other times of the year.
You will find fewer crowds and milder temperatures, allowing you to go on scenic hikes to places such as Sierra de las Nieves Natural Park.
The Linda Boutique Hotel is an excellent option for a lovely stay in Marbella.
The hotel is in the heart of Marbella Old Town and offers beautifully decorated rooms.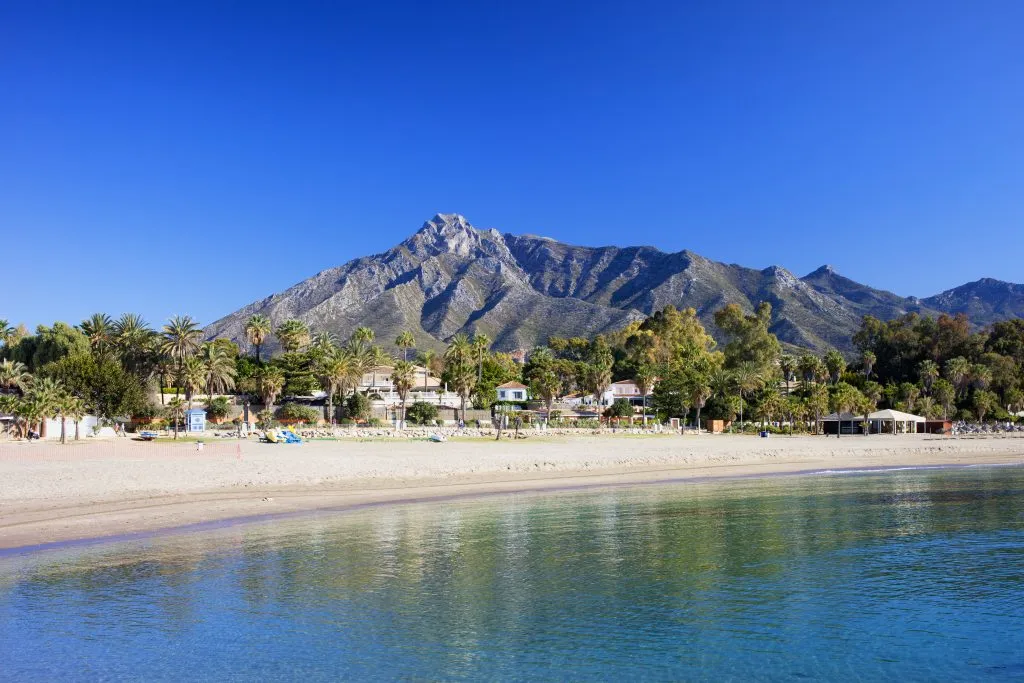 Porto, Portugal
From Megan of Traveller's Elixir
Located on the northern coast of Portugal, Porto is a charming city renowned for its wine, historic buildings, and riverfront views.
It's a great destination for anyone looking for an authentic Portuguese experience.
One of the best things to do in Porto is to explore the historic city center.
Roam around the picturesque Ribeira district, stroll along the Douro River, and visit the stunning Porto Cathedral.
Another must-visit attraction is Porto's Majestic Cafe, which is a 100-year-old cafe that J. K. Rowling used to write Harry Potter in!
Another reason to visit Porto is to indulge in the local cuisine and wine.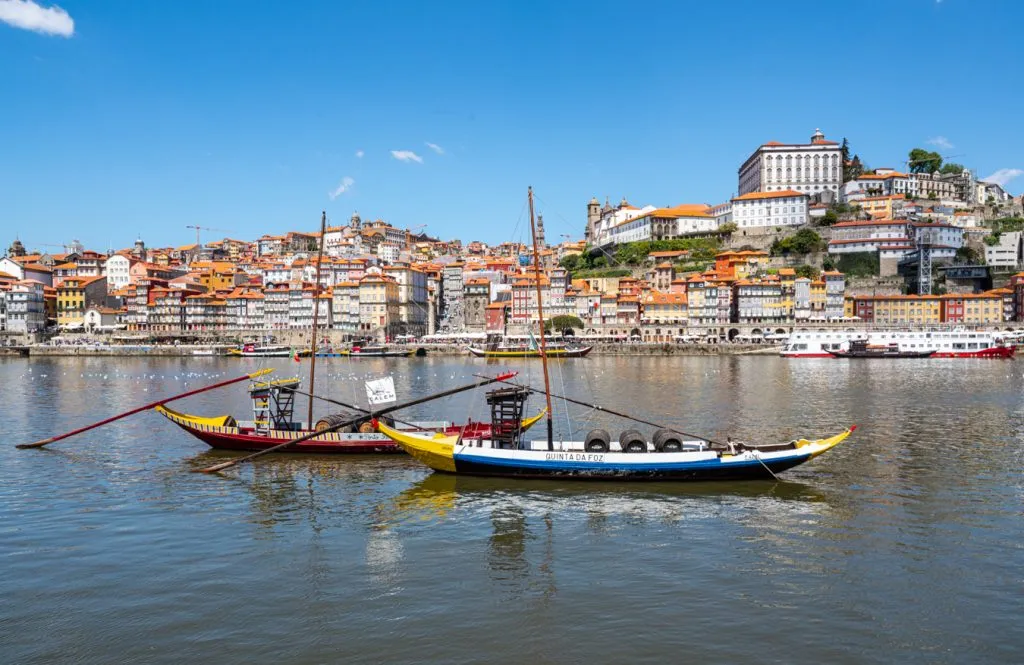 Porto is famous for its port wine which is produced in the Douro Valley and aged in the city's cellars.
You can take a tour of one of the many port wine cellars and taste the delicious wine whilst enjoying stunning views of the river.
If you need a place to stay, the InterContinental Porto – Palacio das Cardosas is a great choice.
Located in the heart of the city, this luxurious hotel features stunning views and offers a range of modern amenities.
If you're looking to relax on the beach, there are several options close to Porto's city center.
The most popular beaches include Aguda Beach, Leça Beach, Matosinhos Beach, and Mindelo Beach.
You can easily reach them by taking the bus from central Porto.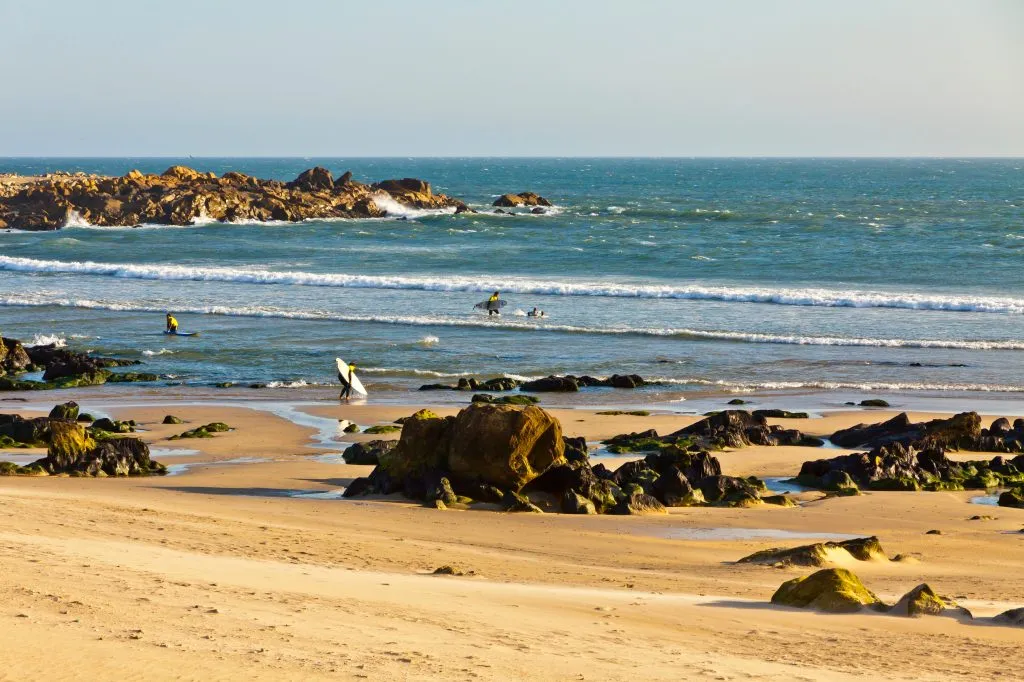 Antibes, France
From Christine of Journey to France
Situated between Cannes and Nice, the French Riviera city of Antibes is famous for its beautiful beaches, vibrant nightlife, and rich history.
It is also known for being surrounded by a 16th-century Fort Carré with its distinctive star-shaped rampart Fort Carré.
From town, you can admire a panoramic view of the luxury yachts docked at the picturesque Port Vauban marina.
There are plenty of fun things to do in Antibes that you can add to your bucket list, including admiring the majestic sculpture of Le Nomade and visiting the Musée d'Archéologie, which showcases ancient Roman artifacts.
The Musée Picasso is a must-see, too!
Take advantage of exploring the beautiful public beaches of Antibes.
If you are looking for a relaxing spot and free hassle swimming, visit Plage de la Gravette, a beautiful secluded public beach near Antibes's port and old town, just a 5-minute walk from the Provencal market of Antibes Old Town.
Palma, Spain
From Maria of It's All Trip To Me
Palma de Mallorca is ideal for a year-round European escape that combines unique urban vibes with quality beach time.
The capital of the Balearic Islands, Palma has everything you'd look for in any Spanish city: stunning architecture, delicious tapas, superb wine, and sunny weather.
While in Palma, your sightseeing stops should include the imposing Cathedral of Santa Maria of Palma, commonly known as La Seu, and the lost-in-time Arab Baths.
Don't miss the hilltop Bellver Castle that offers panoramic views of Palma and the Mediterranean Sea for as far as the eye can see, either.
Yet Palma de Mallorca isn't just about sightseeing.
When in Palma, don't miss the chance to enjoy long strolls along the city's promenade or dip your toes in the sand at one of the prettiest urban beaches you could wish for.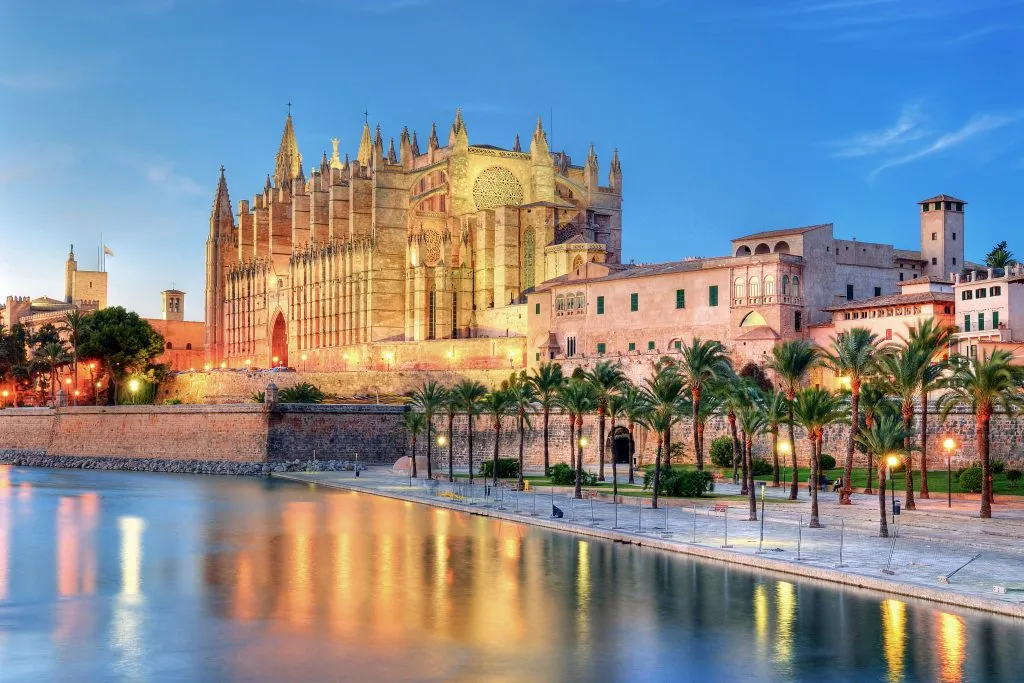 A short walk from the heart of Palma de Mallorca, Can Pere Antoni is the city's main beach, a fabulous stretch of golden sand with spectacular views of Palma's iconic Cathedral in the distance.
Another beach you can reach on foot from downtown Palma is Portixol Beach.
The latter enjoys a fantastic location, right next to a picturesque small port lined with restaurants famous for their paella.
If you're looking for a more secluded setting, you can reach some of the most pristine beaches in Mallorca in under 30 minutes by car from Palma.
Only a 15-minute drive away, the turquoise waters and dazzlingly white sands of Illetas and Cala Comtessa await.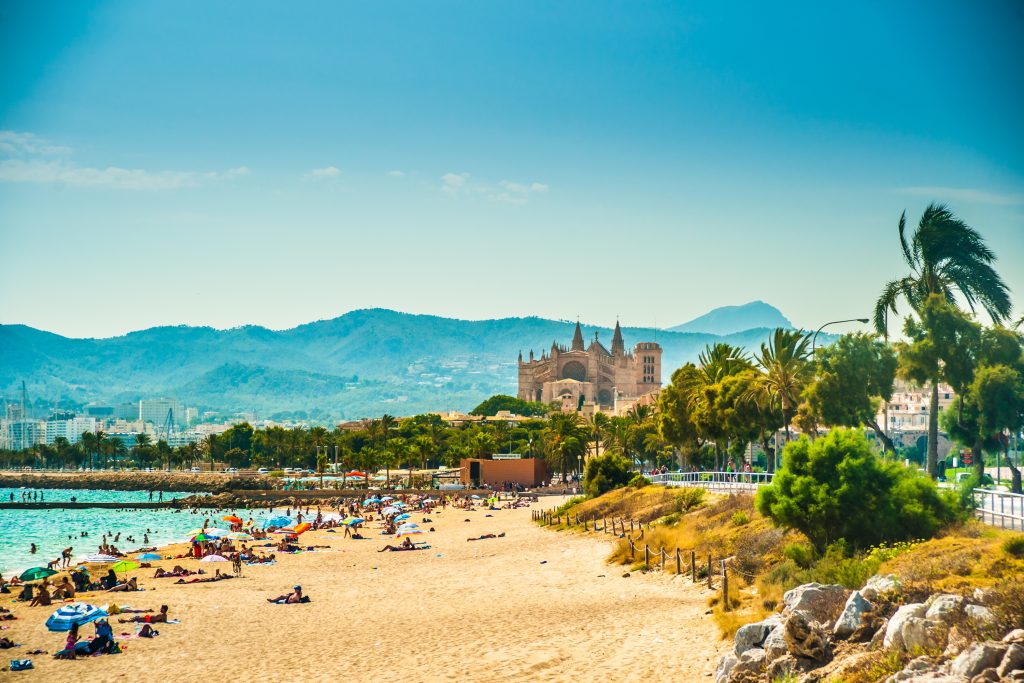 Bari, Italy
From Robyn of Two Empty Passports
Bari is a picturesque city on the Adriatic Sea located in southern Italy. It is known for its beautiful beaches, ancient churches, and delicious seafood cuisine.
It is also an ideal place to rent a car in Puglia and start a road trip through the region!
Start your visit to Bari by wandering the maze of quaint narrow alleys in the Old Town (Bari Vecchia).
This historic quarter is bursting with charming piazzas, museums, and colorful street markets.
Stop by the Basilica of Saint Nicolas, a stunning Romanesque church known for its ornate architecture and beautiful frescoes.
For the afternoon, head to one of the beautiful beaches in Bari.
Spiaggia Pane e Pomodoro is a beautiful crescent-shaped beach with fine white sand, and Lido San Francesco has umbrellas and sun loungers for rent along a long sandy beach.
End your day sampling the local cuisine Bari is known for, and enjoy a delicious seafood dinner of fresh fish, octopus, and muscles.
The quickest and cheapest way to get to Spiaggia Pane e Pomodoro is via direct train from Bari Centrale to Marconi, which departs hourly and costs 2€.
Alternatively, you can take a direct bus from Bari – CCIAA to Bari – Piazza Gramsci that runs daily for less than 1€.
There is no direct train or bus to Lido San Francesco, so it is best to drive. There is parking 100m from the beach.
You could also take a 5-minute taxi from the historic center for 13 – 15€.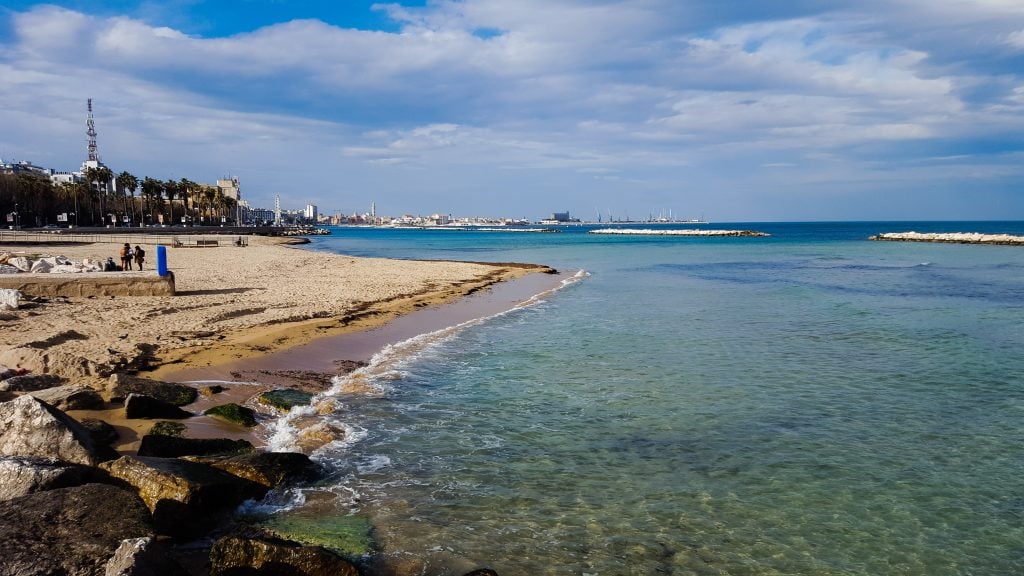 Vigo, Spain
From Melodie of Travel Must Do's
Vigo, in Spain's Galicia region, is a vibrant port city dotted with many lovely beaches.
Vigo has an incredible seafront promenade of beautiful and diverse beaches, from Vao Beach to Samil Beach, which offers stunning ocean views.
With its lively atmosphere and waterfront restaurants serving up traditional Spanish dishes like Pulpo a la Gallega, Vigo is an ideal destination for beach-goers looking to explore the superb Spanish coastline.
Vigo offers not only stunning beaches but also fascinating historical sites and museums, and visitors can explore Roman ruins or take a stroll along the Old Town's historic streets.
Vigo's nightlife is vibrant and worth experiencing with plenty of bars and clubs to choose from.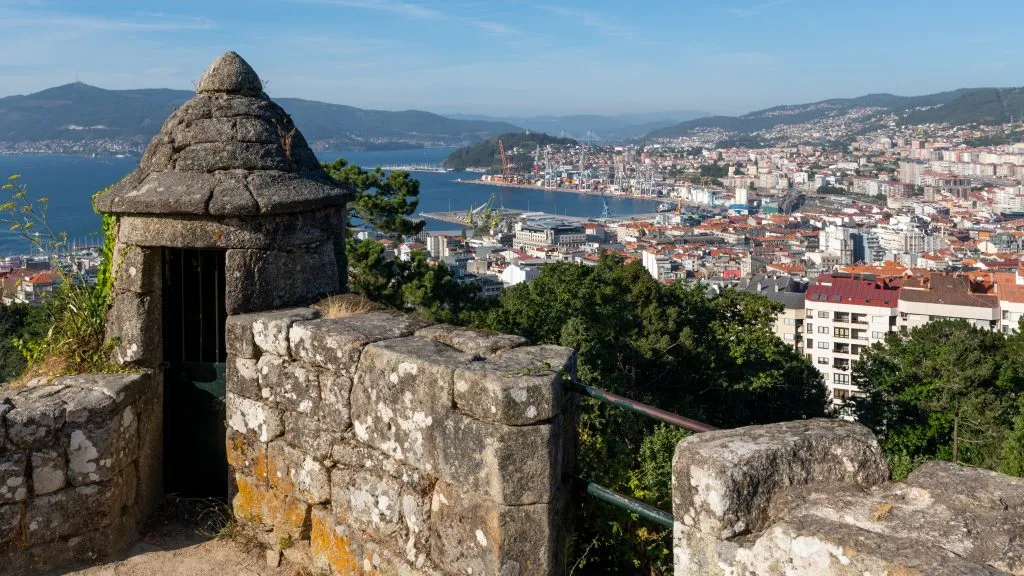 The AC Hotel Palacio Universal is an excellent choice for those looking to stay in Vigo.
Located near Vigo's historic center and a short distance from the beach, it offers comfortable rooms with sea views and easy access to Vigo's many attractions.
Samil Beach is within walking distance from Vigo's city center and is one of Vigo's most popular beaches.
Playa de Areas can be reached by public transport and is known for its stunning cliffs and serene atmosphere.
Vigo's beaches are easily accessible and make for a perfect day trip from the city.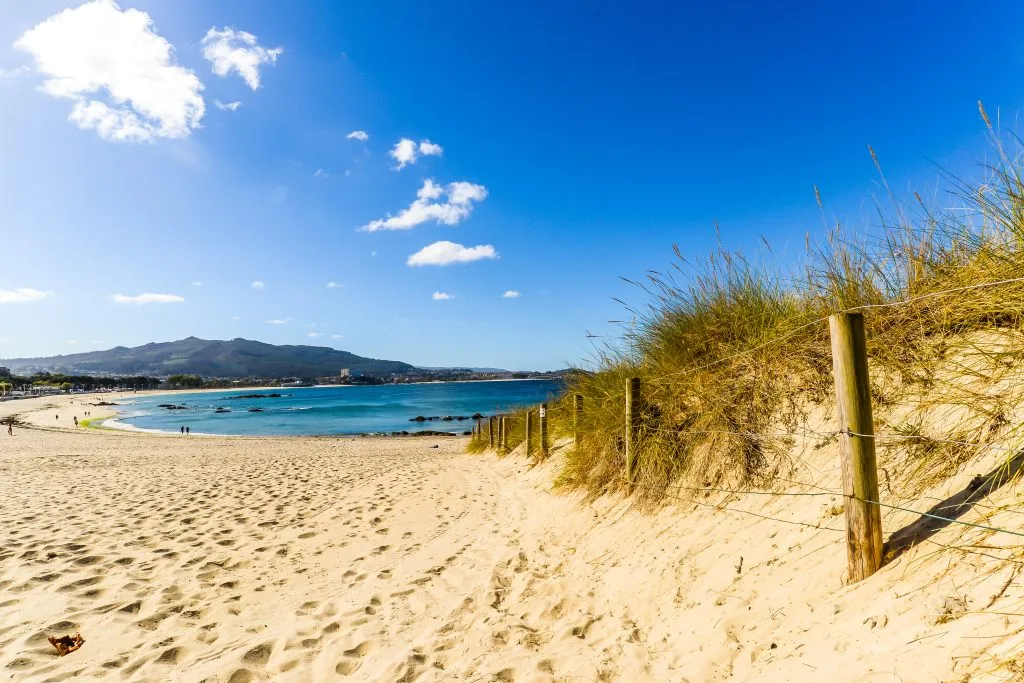 Palermo, Italy
From Catrina of 24 Hours Layover
Palermo, the captivating capital of Sicily, is one of the best beach cities in Europe due to its warm climate, picturesque coastline, and rich history.
One of the best things to do in Palermo is to visit the historic monuments such as the Norman Palace and the impressive Palermo Cathedral, which reflect the city's rich cultural heritage.
The architecture is so impressive and unique here compared to the rest of Italy due to Palermo's colorful history as the most conquered city in the world!
It has a real mix of Arab-Norman and Baroque architectural styles which is fascinating to see.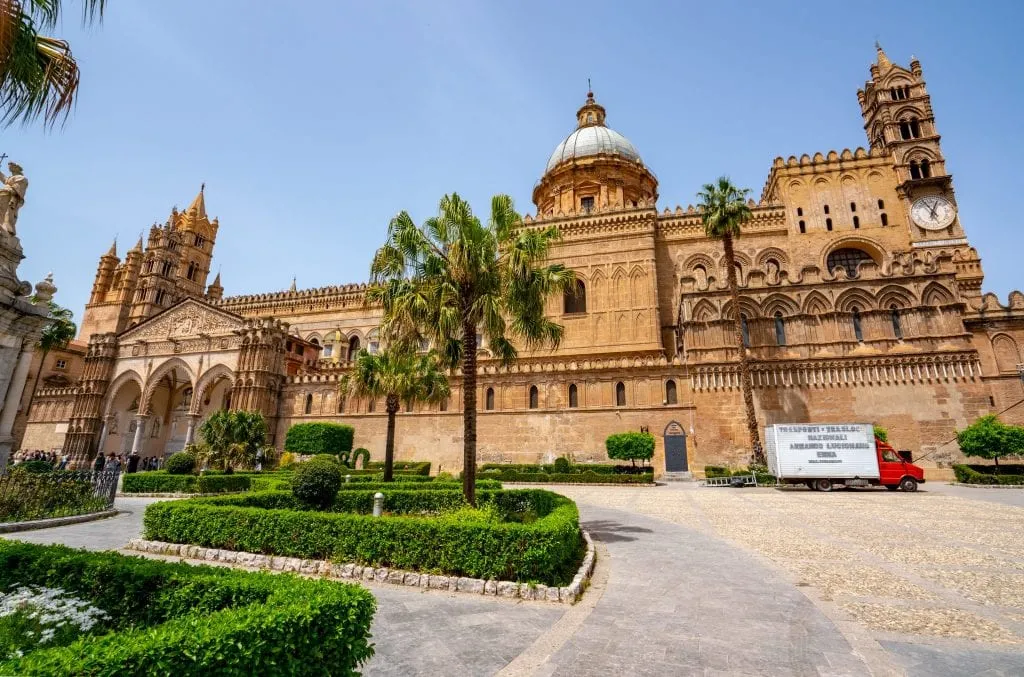 Additionally, explore the vibrant street markets such as Ballarò Market and taste the delicious Sicilian cuisine such as sfincione, cannoli, and arancini.
The closest and most popular beach for both tourists and people who live in Palermo to visit is Mondello Beach.
Mondello is a charming and beautiful seaside resort town located just a few kilometers from Palermo.
Here, you can relax on the beautiful white sandy beach, stroll along the promenade, enjoy the calm crystal-clear water or indulge in the local cuisine at one of the many restaurants and bars.
To get to Mondello take the bus or drive from the city center, which takes around 20 minutes.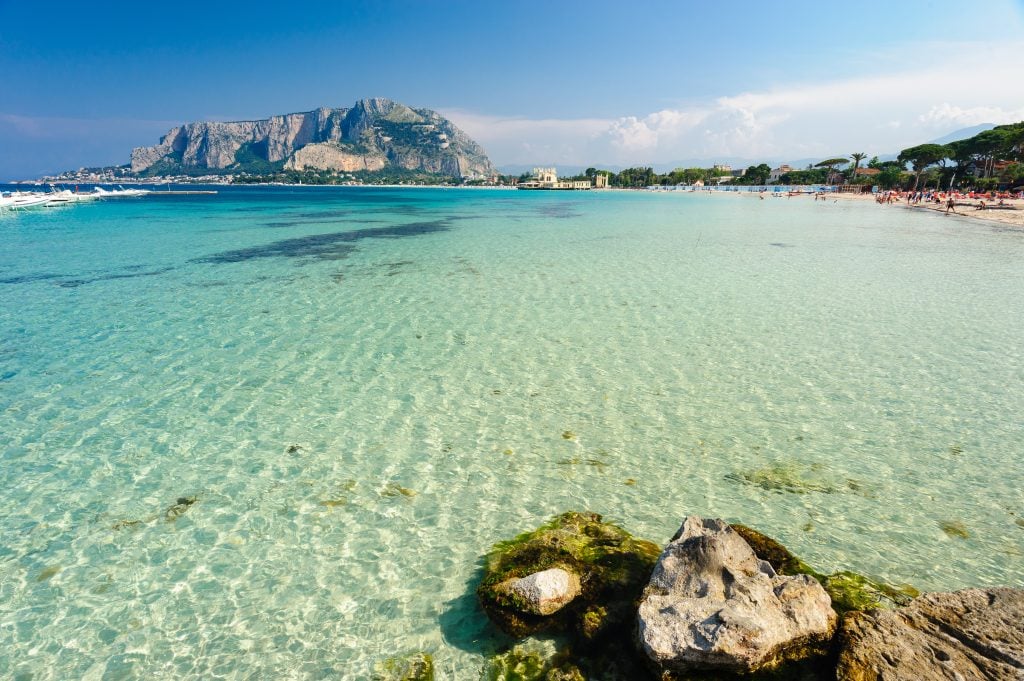 Marseille, France
From Jessie of Pocket Wanderings
Marseille is located on the south coast of France and boasts an abundance of beaches, vibrant cultural attractions, busy markets, and diverse cuisine.
Part of the stunning Mediterranean coast of France, Marseille is one of the best French coastal cities and offers plenty of things to do for visitors.
As the oldest city in France, Marseille has many impressive historical sites.
Take a walk up to Notre Dame de la Garde for stunning views over the city and its bays.
Meanwhile, the Old Port is sure to charm visitors with its hustle and bustle.
Marseille also boasts a wealth of art galleries and music venues to further fill your days.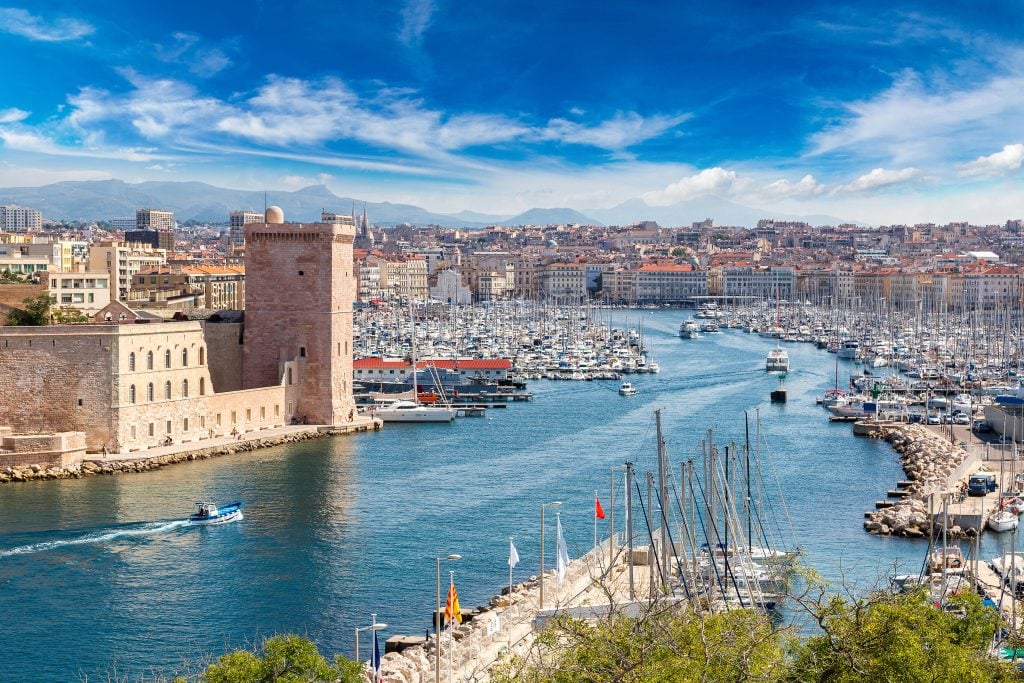 Food lovers will find solace in Marseille with dishes from all around the Mediterranean coastline, from Bouillabaisse and amazing seafood pasta to tantalizing tarts and freshly picked olives from local vendors.
One of the top spots for beach-goers in Marseille is Pointe Rouge, known for its sweeping views of the Mediterranean Sea.
La Plage des Catalans is another popular beach; it's a great spot for swimming and is also known for its beach volleyball courts.
For those wanting to soak up some serious Mediterranean vibes, Prado Beach is the ultimate spot with its long stretches of soft sand and crystal clear water.
Depending on where you're staying in Marseille, most beaches are reachable either on foot, by car, or by bus.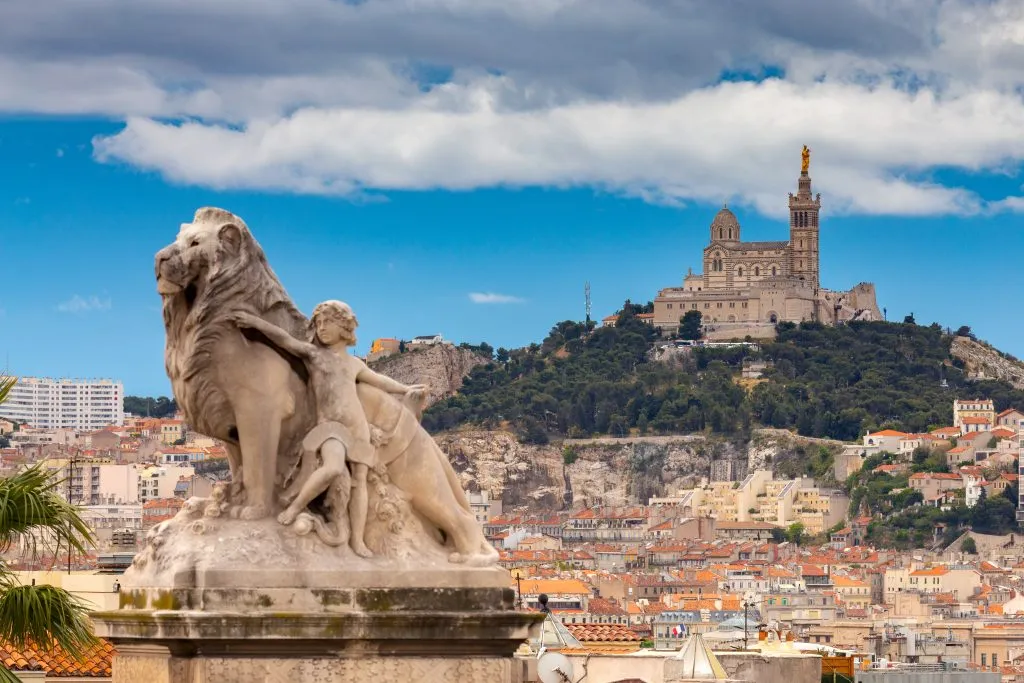 Malaga, Spain
From Dhara of It's Not About the Miles
Malaga's location on Spain's sunny Costa del Sol means that great beaches are guaranteed, but Malaga offers so much more as a destination, from historic landmarks to museums, gardens, and great food and drink.
One of the best things to do in Malaga is visit the Alcazaba, the Moorish hilltop fortress that offers great views over the city, waterfront, and the sea.
Just outside the fortress, don't miss the old Roman amphitheater, which was only discovered in the mid-20th century.
And if you are up for walking further up the hill, you can get even more expansive panoramas from the Gibralfaro, the old castle that dates back to the 10th century.
You can also drive up to the castle, or take a taxi.
Malaga is the birthplace of Picasso, and art lovers should visit the Picasso Museum in the historic center, to enjoy many of the artist's best works.
Also in the historic center, you will find the beautiful Malaga Cathedral, which is very impressive in spite of the fact that only one of its two towers was completed.
Along the waterfront, don't miss a stop for espetos, the simple but delicious grilled sardine dish that's cooked and served right on the beach!
La Malagueta is the Malaga Beach that's easiest to access. The sandy beach features amenities and is just a 10 to 15-minute walk from the city center.
El Palo and Pedregalejo are very family-friendly, with a shallow slope.
The easiest way to arrive is by local bus, and it's about a 15-minute ride each way.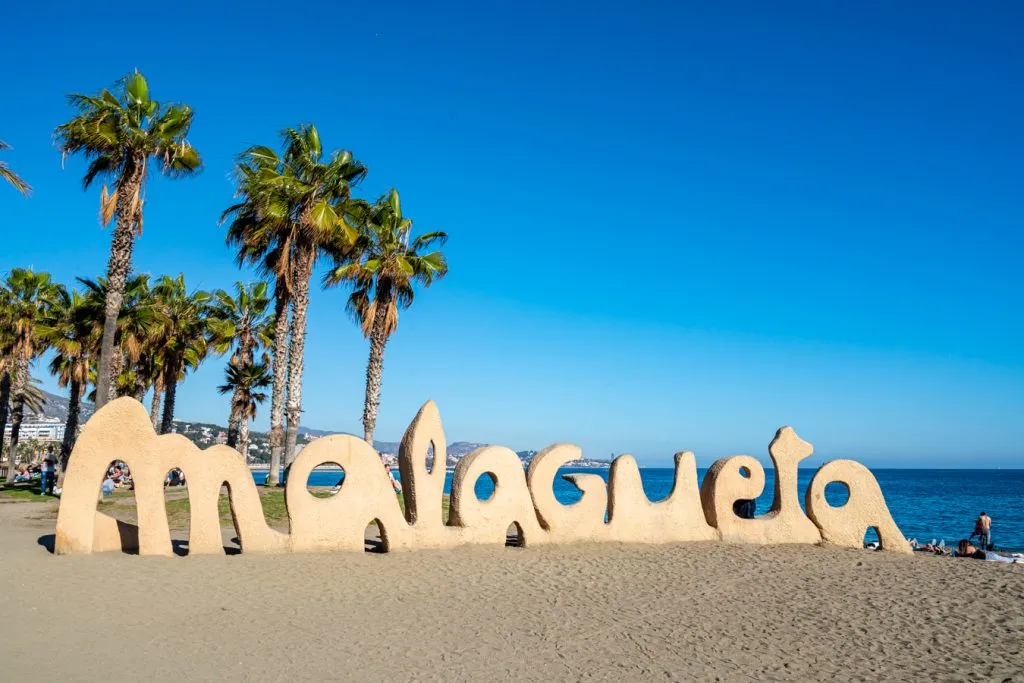 Cagliari, Italy
From Rachel of Average Lives
Nestled on the southern coast of Sardinia, the enchanting city of Cagliari boasts some of the best beaches in Europe, making it a must-visit destination for beach enthusiasts.
With its crystal-clear turquoise waters, powdery white sand, and Mediterranean breeze, Cagliari offers a picturesque escape.
The fortified Castello district provides the perfect backdrop for an idyllic stroll, showcasing the city's unique blend of history and culture.
Be sure to visit the imposing Elephant Tower and the striking Cathedral of Santa Maria to discover Sardinia's rich heritage.
Art lovers will be enthralled by the National Archaeological Museum, displaying a treasure trove of ancient artifacts from the island's captivating Nuragic civilization.
Lose yourself in the glimmering expanse of Poetto, the go-to beach in Cagliari, stretching an impressive 8 kilometers.
Dive into the warm, inviting waters, and laze around while savoring a glass of chilled wine with an enchanting view of the horizon.
For those who prefer a more intimate and tranquil setting, Calamosca Beach offers a more secluded cove with clear, serene waters.
For the adventurous, hike up to the summit of Sella del Diavolo for an unforgettable panoramic view of the city and its surrounding coast.
Then, indulge in Cagliari's delectable cuisine, renowned for its fresh seafood and gastronomic delights.
While the best way to get to the beaches is by walking or cycling, the city also has a reliable bus and taxi system to make your trip as convenient as possible.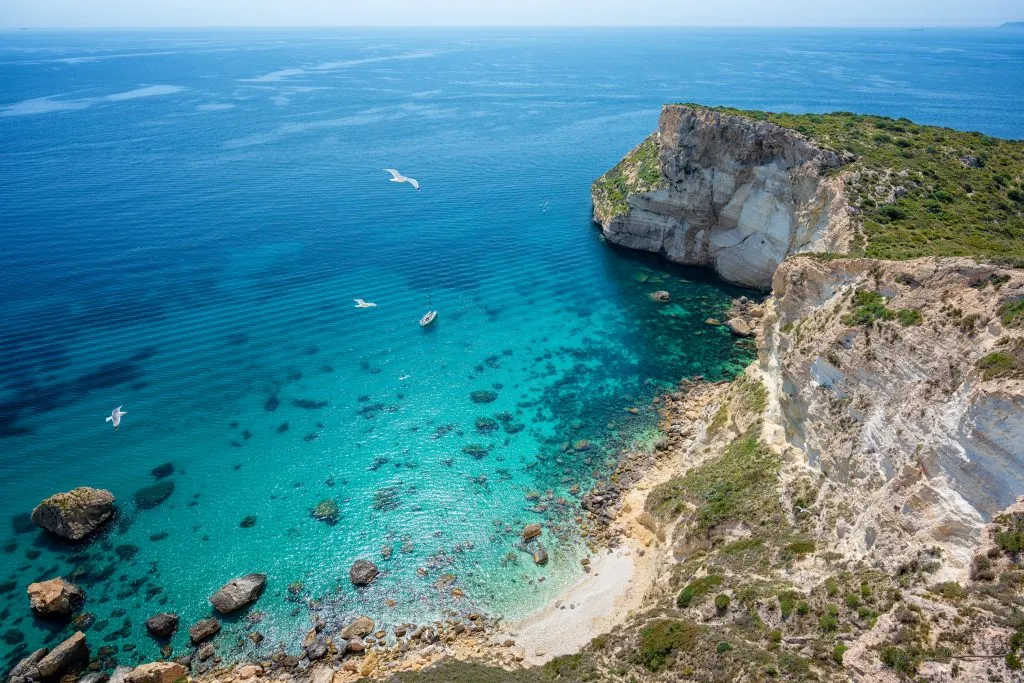 San Sebastian, Spain
From Bradley of Dream Big, Travel Far
San Sebastian is a stylish beach resort that fuses natural sceneries with modern elegance and easily ranks among the best cities in Europe with beaches.
It's nestled along the Bahía de la Concha with incredible shops and restaurants dotting its coastal line.
When visiting this beachside city, don't miss out on the old town, or Parte Vieja, where the cobble streets and medieval buildings are sure to blow one away.
More notable is San Sebastian's incredible culinary heritage.
The local dishes are a wonderful fare that any foodie would appreciate, including La Gilda, seafood fritters, the popular baked spider crab, and the uniquely aged steak, Txuleta.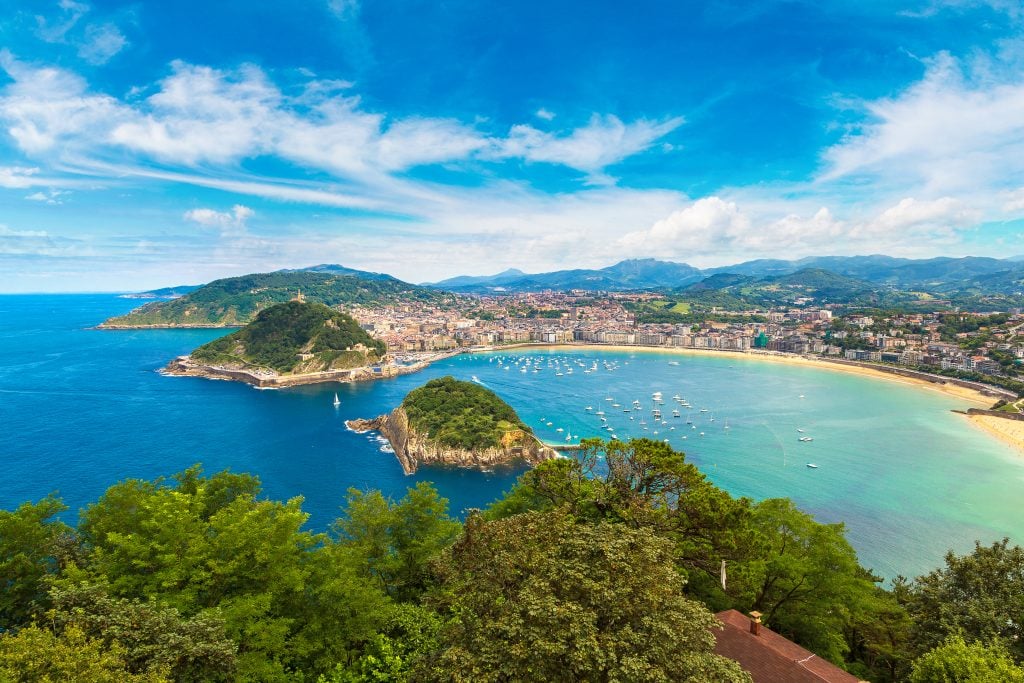 The city is even home to the Michelin-starred Mirador de Ulía, which is known for its mouthwatering Basque dishes.
It's truly one of Europe's gems where nature and urban allures collide.
Not to mention the impressive Peine del Viento steel sculptures, a pride of local art enthusiasts. They stand against the ocean backdrop to make an incredible sight!
Moreover, one of the famous Camino de Santiago travel routes actually passes through San Sebastian, making it one of the best and most unique places to travel to.
The most famous beaches in San Sebastian are La Concha Beach and Zurriola Beach, as well as Santa Clara Island Beach, which you can get to via a short glass-bottomed boat ride.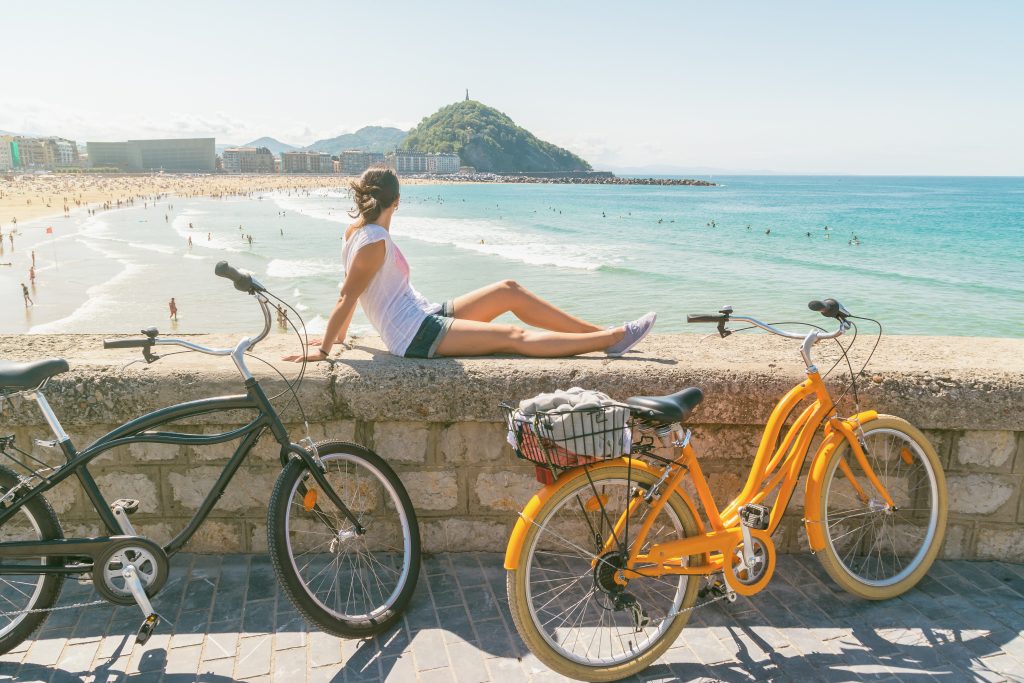 Northern Europe's Best Cities With Beaches
If you come from a warm climate like us, northern Europe's beach cities may not be the first thing that comes to mind for a swimming vacation–but you absolutely can't beat the views!
And, if you don't mind chilly weather and a shorter summer, there's plenty of lounging on the sand and potentially swimming to enjoy, too.
Swansea, Wales
From Kristin of Scotland Less Explored
Swansea is the second largest city in Wales (after the capital of Cardiff) and is one of the best coastal cities in Europe to visit.
In front of the town center, you'll find Swansea Bay and the promenade which stretches 5 miles from the Maritime Quarter at one end to Mumbles at the other.
It is a popular beach for walking but make sure you get the tide right.
The tide differences here are the second largest in the world and this doesn't make it particularly good for swimming.
At low tide, the whole bay turns into a large expanse of sand which makes it perfect for dog walking.
For more spectacular beaches that are also great for swimming take a drive out to nearby Gower.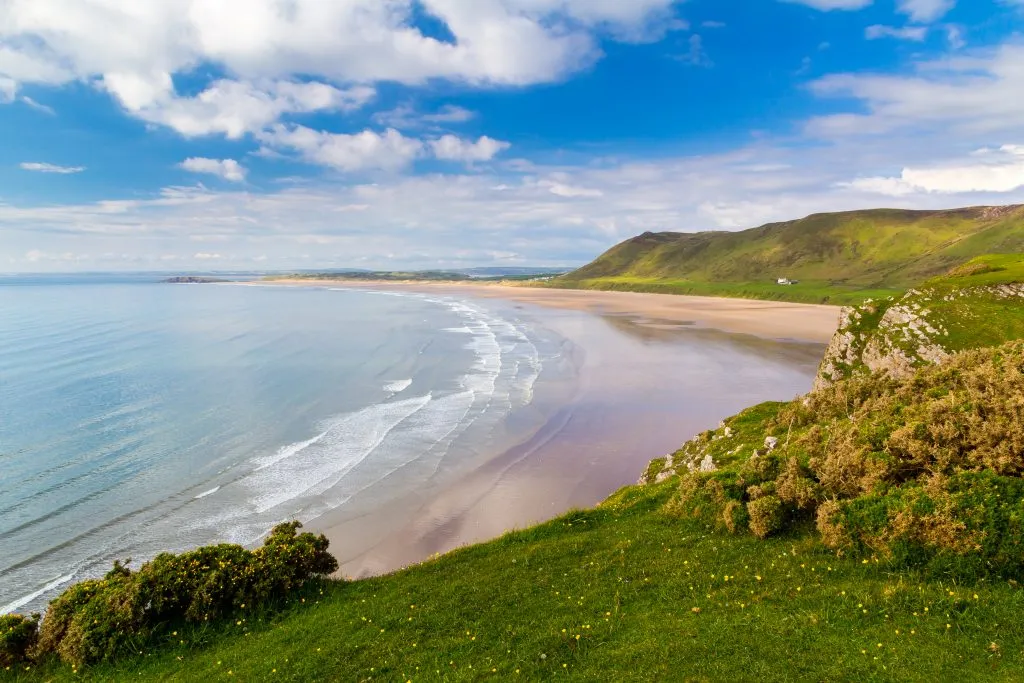 Beaches not to miss are Three Cliffs Bay, Llangennith Beach at Rhossili, and Oxwich Bay.
For a more energetic way to see the peninsula and its beaches in all their glory walk part of the 39-mile-long Gower Coastal Path.
After Catherine Zita-Jones and Bonnie Tyler, the most famous person from Swansea is the poet Dylan Thomas and it is possible to visit both his birthplace and the Dylan Thomas Centre to learn more about him.
No visit to Wales is complete without seeing a castle so make sure you stop by Oystermouth Castle in Mumbles.
This is also where you will find some of Swansea's most popular restaurants, many have fantastic views out over the bay.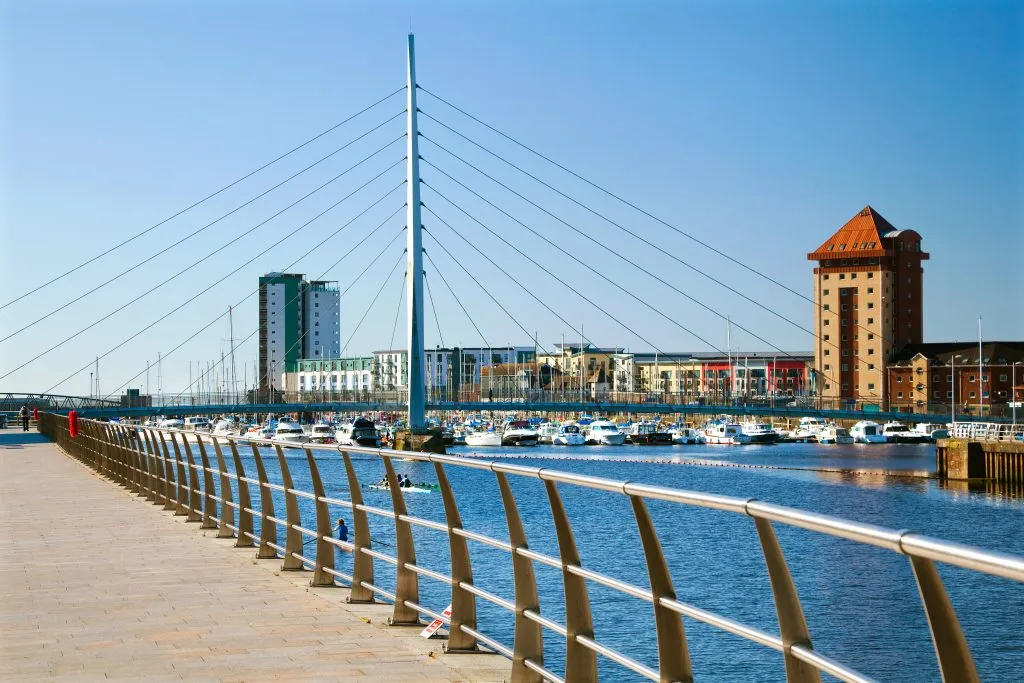 Copenhagen, Denmark
From Anjali of Travel Melodies
Speaking of a beach vacation, Copenhagen doesn't cross your mind instantly.
However, Denmark's capital city is blessed with some of the most beautiful and cleanest beaches (Blue Flag certified) in Europe making it a much-deserved candidate for being one of the best beach cities in Europe.
Taking a dip in one of the stunning beaches in and around the city is how Copenhageners celebrate summer.
In fact, Copenhagen is known for its unique harbor baths, where locals and travelers head to swim and relax.
Biking along Copenhagen's sandy beaches and waterfront parks and indulging in varied water sports are other preferred beach activities besides swimming and lounging.
Amager Beach Park, Kastrup Søbad, Bellevue, and Islands Brygge are the best beaches in and around Copenhagen. For something more peaceful, try the pristine Svanemølle.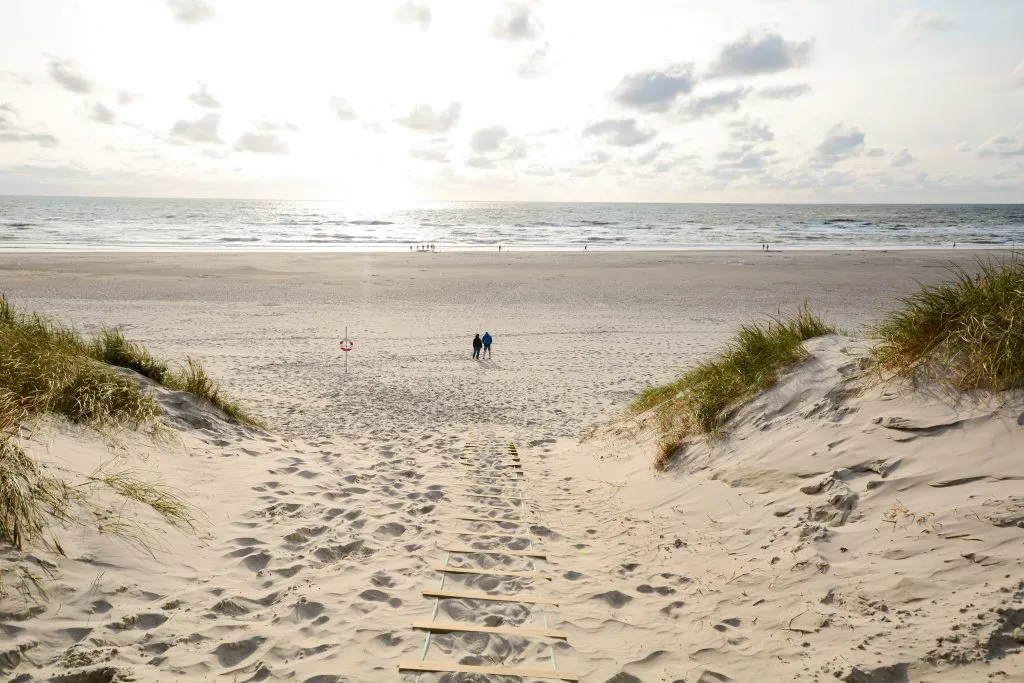 All the beaches are within biking distance with Amager being the nearest at just about 5 km from the city center.
You can also drive or take a metro, train, or bus to further beaches.
With its uniquely designed circular wooden structure stretching along the ocean and panoramic views of Sweden, Kastrup Søbad is magical.
Whenever you crave city vibes, this Scandinavian city has a charming historic core, celebrated attractions like Nyhavn and Tivoli, quirky neighborhoods like Freetown Christiania, world-class museums, great food, unique cafe culture, and iconic Danish design. You can't ask for more!
It's a perfect destination that impeccably blends the city break and beach escape experience.
For a memorable base while visiting Copenhagen, check into Hotel d'Angleterre to savor the magnificence of the 1700s.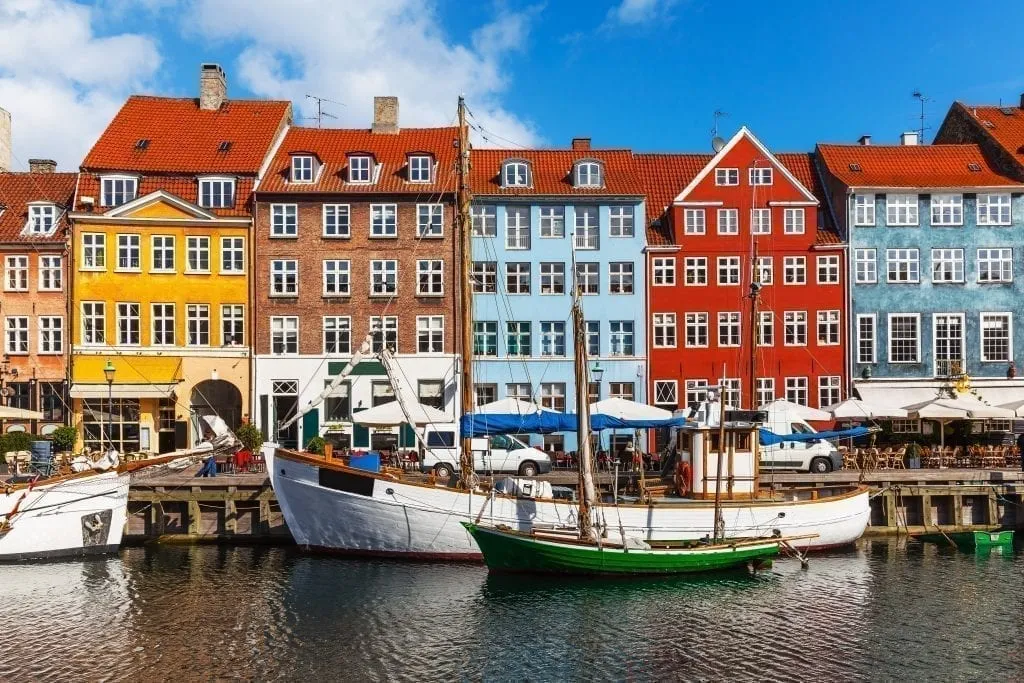 Dublin, Ireland
From Amber of Amber Everywhere
Few associate Ireland's seaside capital city of Dublin with a day at the beach, but swimming in the Irish Sea is a surprisingly popular pastime!
Many locals swear by the calming effects of diving into chilly waters, even in the winter, so you'll find swimmers in the water during large parts of the year.
If you're lucky, there might be a mobile sauna set up near the beach when you visit this surprising European beach city.
Check on Google Maps and Instagram to see if a sauna is available near the beach when you plan to visit and book ahead if possible.
The seaside saunas have only begun to crop up in Ireland, and it's easy to see why they're so popular – plunging into the Atlantic Ocean after sweating in a sauna is undeniably invigorating!
One of the other reasons to visit Dublin over other seaside European cities is its charm.
No visit to Dublin would be complete without a trip to a traditional pub, where you can listen to live music, share rounds of drinks with strangers, and generally enjoy the craic.
You'll find some of the best beaches in the Howth area, a small peninsula in northern Dublin that's accessible by train or car.
Even a very quick day trip from Dublin to Howth will make you feel like you've left the capital behind completely!
There, Burrow Beach is a great choice for a white sandy beach, or more adventurous beachgoers can seek out the more secluded beach near the Baily Lighthouse.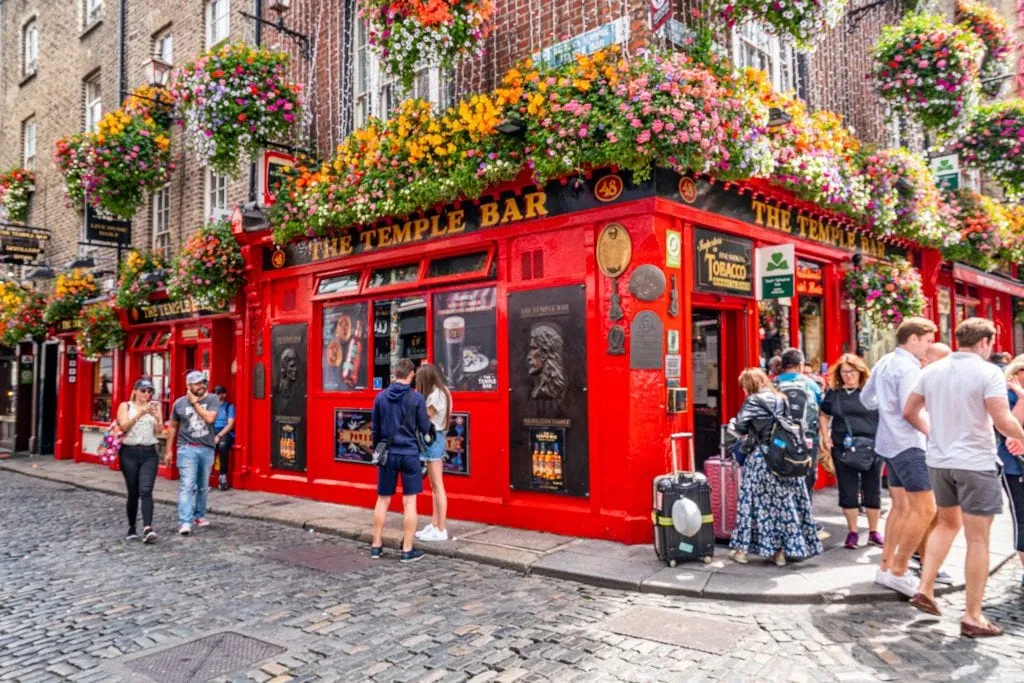 Bournemouth, England
From Sarah at Slow Travel
Located on the south coast of England, Bournemouth has over 7 miles of beautiful golden beaches and one of the best climates in the country.
The town itself is part of a huge conurbation and is packed with things for visitors to do, including museums, an oceanarium, concert venues, theatres, galleries, casinos, spas, pleasure gardens, activity centers, and much more.
And, of course, Bournemouth is packed with the pubs, bars, and restaurants you would expect in a big city.
Known for its shopping, there is a huge variety of shops to choose from as well as a large shopping center just outside the town.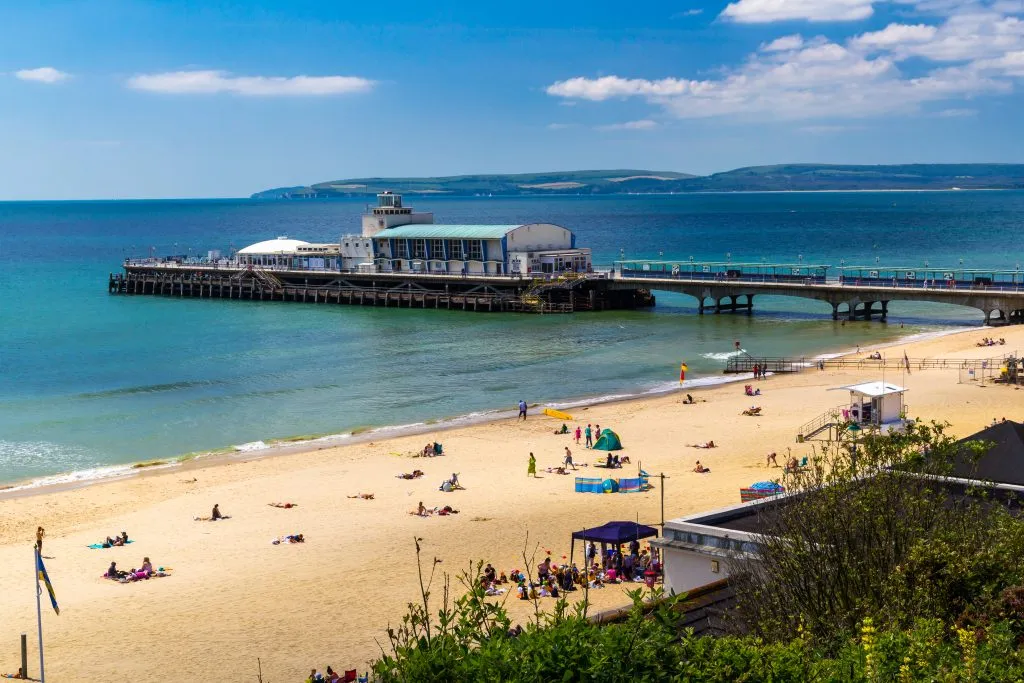 The beach itself has a traditional pier with all of the attractions you would expect as well as a zip wire, climbing walls, high lines, and more in an indoor activity center.
Not all of the beach is filled with attractions – venture to the edges and you will find peaceful spots where you can sit in the sun, swim in the sea, or just admire the beautiful views.
The beaches are easy to walk to from the center of town, or you can take one of the many small buses to get from one end to the other.
Bournemouth is easily accessible from the rest of the country by train and is just one of the best places to enjoy a traditional British seaside holiday.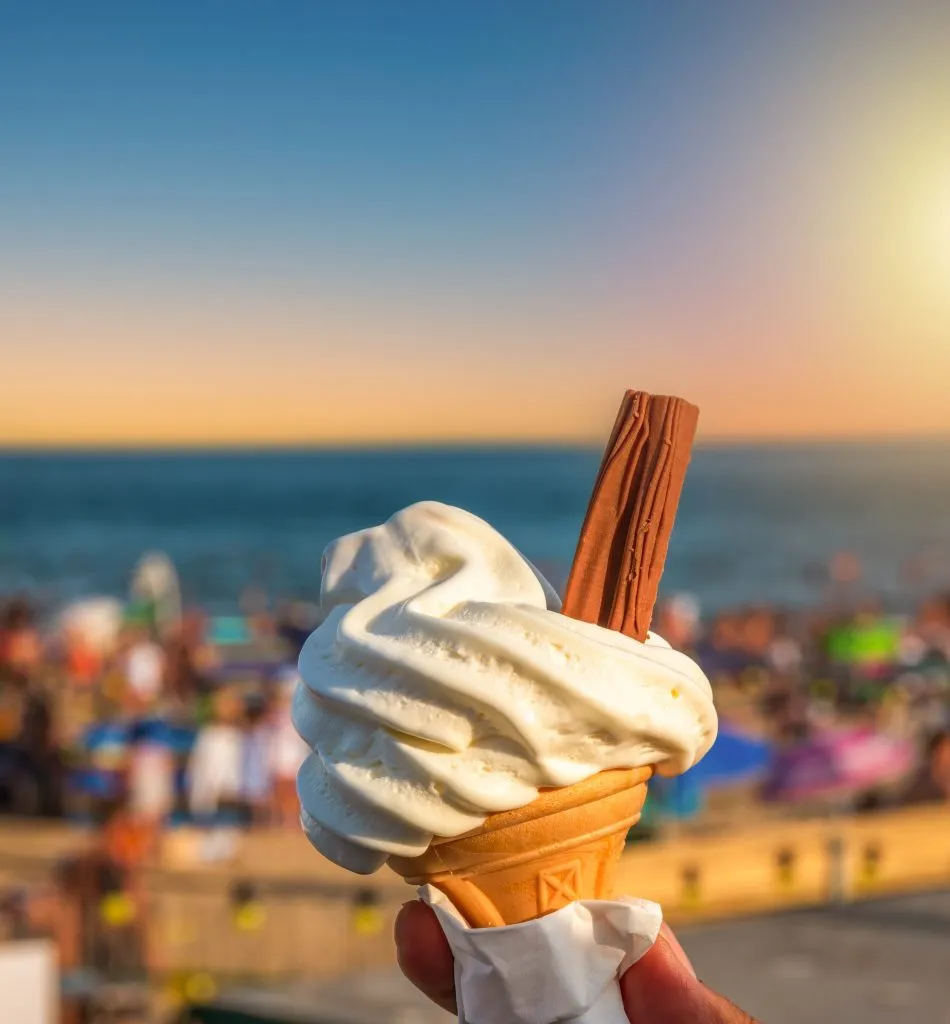 Gdansk, Poland
From Kami of My Wanderlust
Located in northern Poland on the Baltic Sea coast, Gdansk is one of the most beautiful and interesting places to visit in the region.
For centuries, the European coastal city of Gdsank played an important role in world history.
This is where World War 2 started on September 1st, 1939, and this is also where in the 1980s the Solidarity movement was established (which eventually led to the collapse of communism in Eastern Europe).
Today, you can visit the sights of those events as well as stop in two great museums dedicated to them.
Beyond historical sites, though, there are many more amazing things to do in Gdansk.
The city has one of the prettiest Old Towns in Europe, with cobbled lanes and gingerbread-lookalike townhouses.
It's best to admire them from one of the viewpoints you can find in Gdansk (such as the Town Hall's tower).
Due to its location on the Baltic Sea, shipyards have been part of the cityscape for years.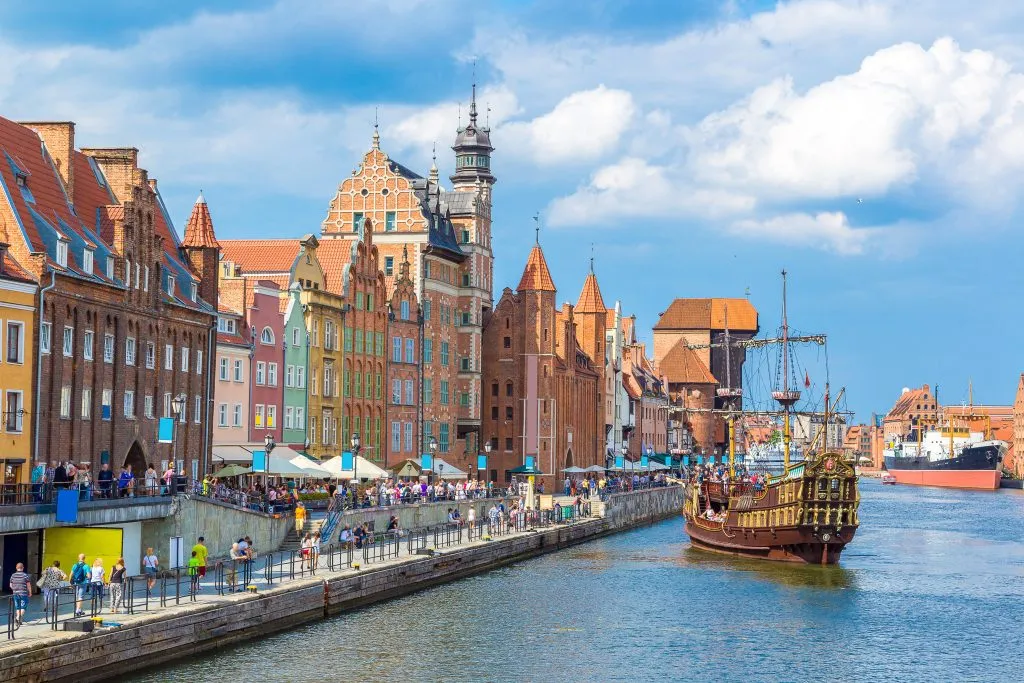 Today many of those industrial sites are turned into cool hangout spots, popular among both locals and tourists.
Gdansk is also a perfect base for exploring northern Poland, with some great and easy day trips available.
The most popular one is the UNESCO-listed medieval castle in Malbork, the largest brick castle in the world.
Once you are done with the sightseeing you can head to the beach to relax at the seaside.
There are a few beaches you can enjoy in Gdansk, the most popular ones are Jelitkowo and Brzeźno.
You can reach both by trams from the center of the city.
You can also take the train to the nearby resort town of Sopot which is a popular seaside destination in Poland and a short ride away from Gdansk.
For a great base, check into PURO Gdańsk Stare Miasto during your stay.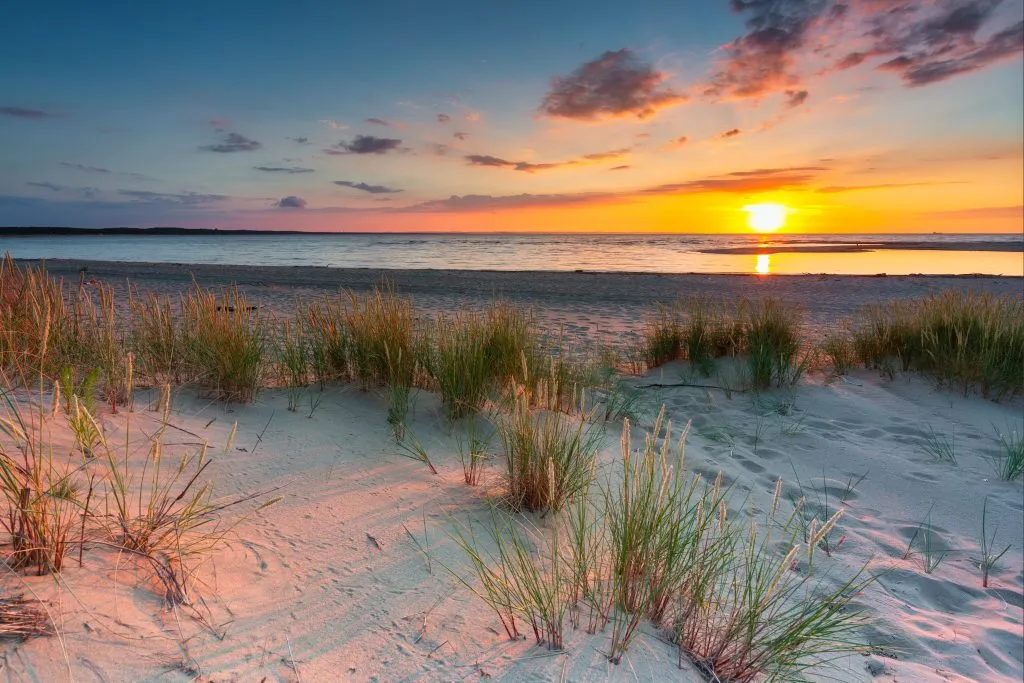 Dover, England
From Paulina of UK Everyday
If you want to explore the historic English coast that inspired Shakespeare and many film producers, visit the coastal city of Dover.
The TV series Resident Evil and the movie After Love are only a few examples where the famous White Cliffs of Dover are featured.
Shakespeare Beach surrounded by beautiful cliffs is a fantastic place to view the dramatic coast of Dover.
Moreover, if you like hikes, there are plenty of beautiful bays that you can admire from the top of the cliffs.
Below the cliffs, you can also explore Samphire Hoe, a huge nature reserve.
This award-winning outdoor area of the best green space is an amazing place to visit in Europe.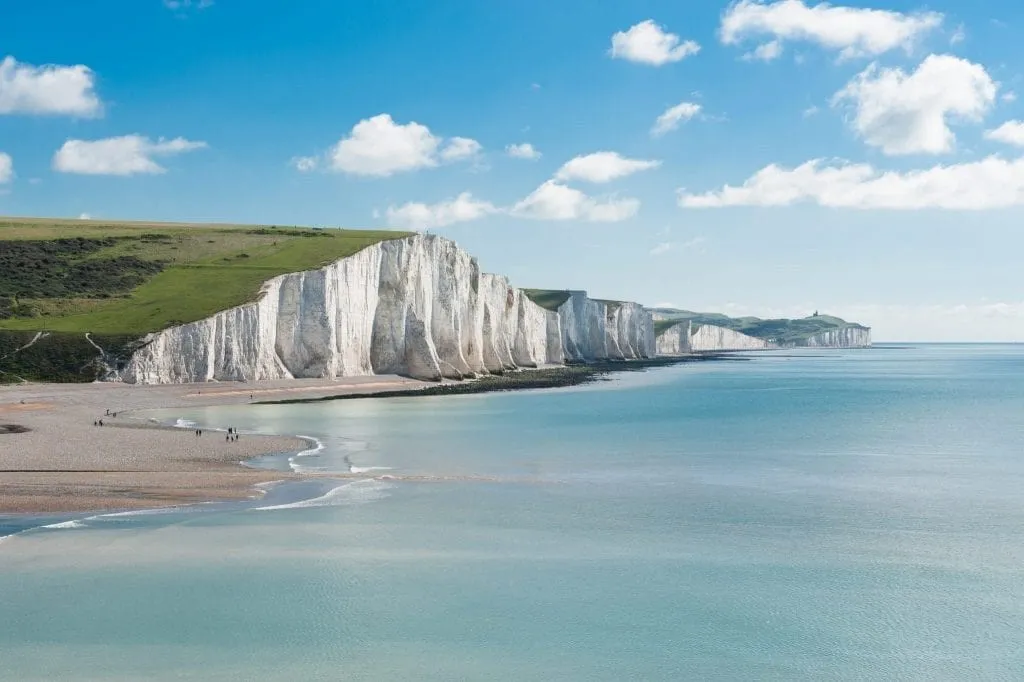 Beaches in Dover offer not only stretches of golden sands but are also surrounded by beautiful lush greenery.
A huge variety of hotels, like Best Western Plus Dover Marina Hotel & Spa which is just a short walk from the beach, offer an unforgettable stay in Dover.
Moreover, you can get to Dover by train from London and Dover train station is only a 10-minute walk from the coast.
However, if you want to explore nearby beaches the best option is to drive by car.
Make sure to visit St Margaret's Beach and Folkstone Beach.
Kingsdown Beach is also a fantastic place for a short trip from Dover.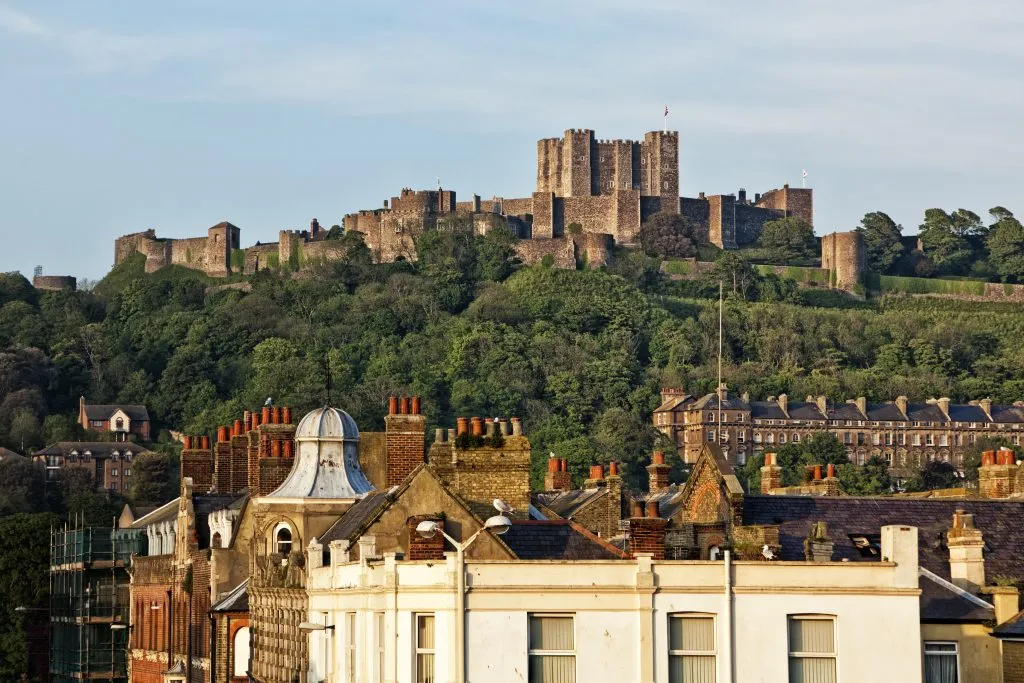 Reykjavik, Iceland
From Victoria of Iceland Trippers
One of the best cities in Europe with beaches has to be Reykjavik, Iceland.
After all, the capital of this amazing island nation is well-located near amazing beaches in Iceland like Álftanes.
In fact, this golden sand beach sits just 16.1 km (or 10 miles) from the city and is a great place to visit since its location means that it's well sheltered from the wind.
However, another great beach in the Reykjavik area is Nauthólsvík Geothermal Beach.
In fact, it's actually a waterside resort where visitors can enjoy a dip in a manmade hot spring before taking a stroll along the sand.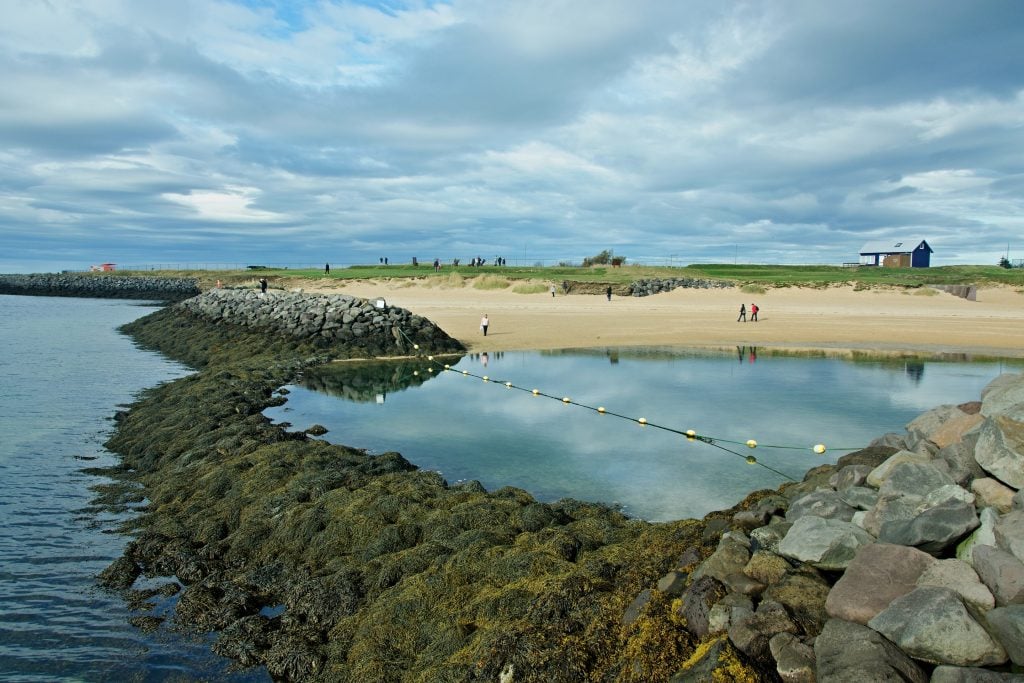 Reykjavik certainly isn't all about beaches, though: be sure to explore the city itself by taking a walk down Rainbow Street before visiting Hallgrimskirkja Church and enjoying a beer in Austurvollur Square.
You can also enjoy some of the city's amazing culture by enjoying an Icelandic meal at Sjávargrillið, where both the fish soup and lamb are to die for.
If you can though, try to visit in the summer since it's the warmest time of year.
Plus, the presence of the midnight sun means that you'll have plenty of time to visit other beaches in the area like Kirkjusandur, Langisandur, and more.
Ideally, it's best to rent a car in Iceland and drive to many of these local beaches since they're not really within walking distance of the city center.
European Beach Cities in the Balkans + Eastern Europe
Eastern Europe and the Balkans–including Greece, the home of potentially more beach cities in Europe than any other country–have lots to offer when it comes to coastal city breaks!
Dubrovnik, Croatia
Dubrovnik may be a small city… but it is definitely a city, and not a small town!
Famous for playing King's Landing in Game of Thrones, Dubrovnik is one of the most picturesque small cities on the continent, and certainly one of the best cities in Europe with beaches!
Dubrovnik's crown jewel is its intact town walls that still encircle the old town, where you can walk fully around the city, with the terracotta rooftops of Dubrovnik glistening on one side and the shimmering Adriatic Sea on the other.
Of all the incredible things to do in Dubrovnik, walking the city walls is the one you absolutely should not miss.
While you're there (and not on the beach), be sure to also check out the view from Mount Srd, and the views from the Lovrijenac Fortress!
If you're up for a bit of a physical challenge, a kayaking tour to Lokrum Island is a memorable option (which also includes swimming and even cliff jumping for those who aren't scared of heights).
Banje Beach is one of the most popular beaches right in the center of town, but like most beaches in Croatia, be prepared for pebbles, not sand (water shoes are a great idea).
Dubrovnik is also one of those delightful cities where any rock perched against the water qualifies as a "beach", so the swim spots can get quite creative!
Paphos, Cyprus
From Stephanie of History Fangirl
Spending some time on the beach in Paphos is one of the most popular things to do in Cyprus, but this small beachside city has a lot more going for it than just lounge chairs and umbrella drinks.
Besides the beaches, you'll want to make time for a visit to the archeological sites that make up Paphos's UNESCO World Heritage Site: Nea Paphos and the Tomb of the Kings.
You can hit the beach after exploring the architecture and mosaics of these ancient sites.
The best beach in the city proper is Alykes Beach, which is walkable from both downtown and the Archaeological Site of Nea Paphos.
If you are staying in Paphos, you will not have trouble making your way to Alykes or any of Paphos's beaches.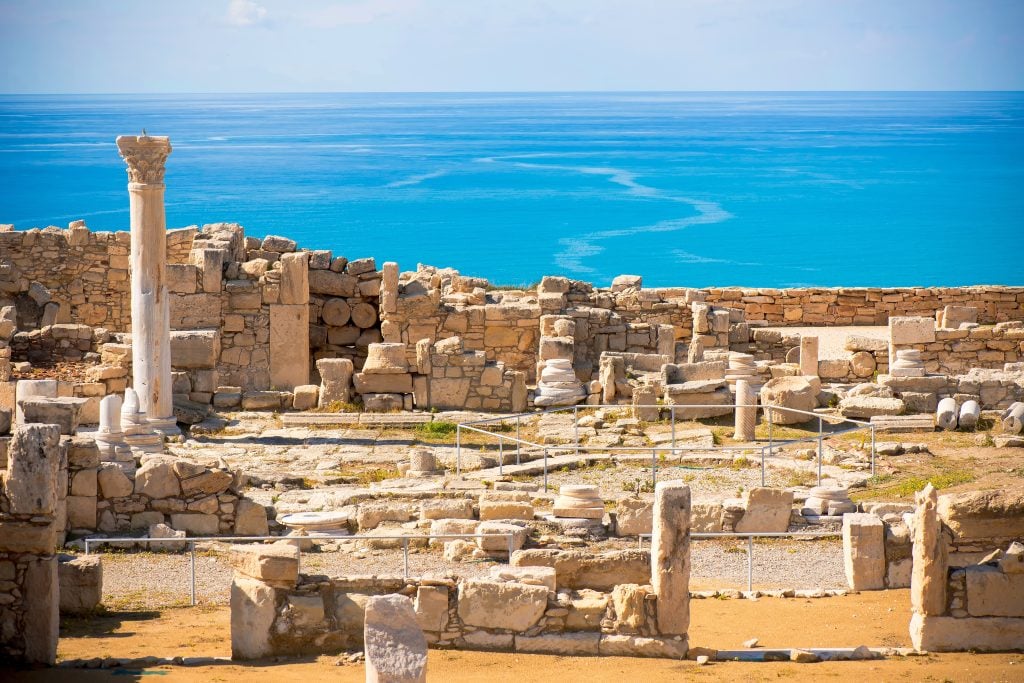 However, if you're coming in from out of town, the best way to get to Paphos is to rent a car or take Cyrprus's excellent intercity bus system.
You can walk to Alykes from the city's main bus station in fifteen minutes or less.
Another magical beach near Paphos is Petra tou Romiou, one of the most beautiful beaches in Cyprus.
This beach is only reachable by taxi or rental car, but it is worth the effort to get out here as it's a magical spot where Cypriots believe the goddess Aphrodite arose from the sea.
This is why ancient Paphos was a major center of the cult of Aphrodite.
Therefore a visit to this magical beach is both a recreational and educational experience.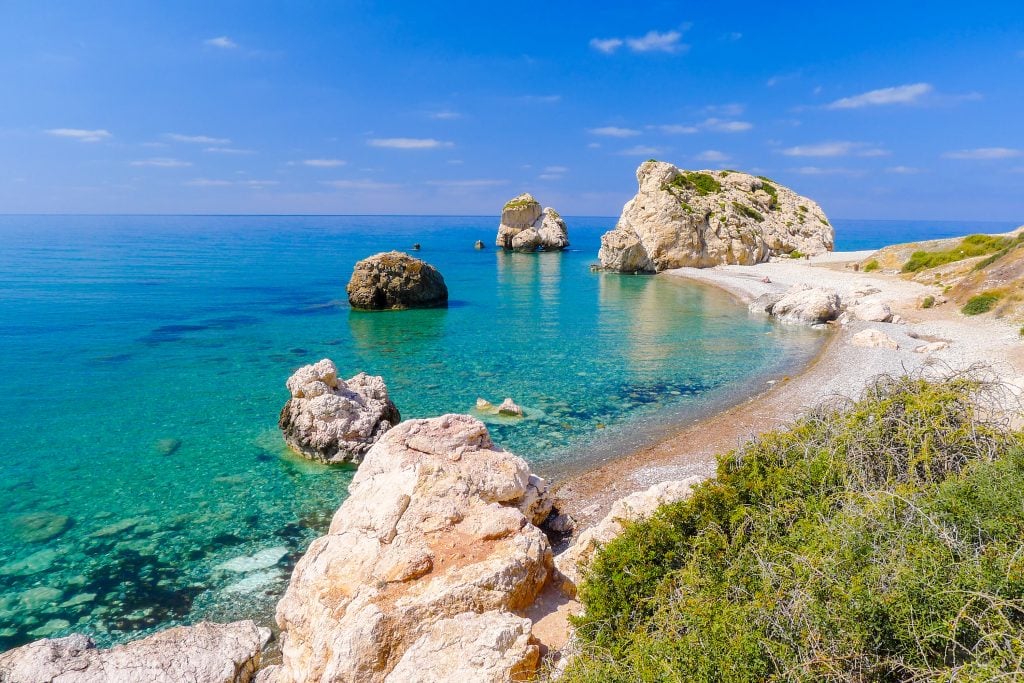 Corfu Town, Greece
From Lowri of Many Other Roads
Corfu Town on the island of Corfu, Greece is one of the most beautiful cities in Europe with beaches or without.
Corfu Town features stunning beaches with crystal-clear waters, a rich cultural heritage and a laid-back atmosphere that will make you never want to leave.
The beaches in Corfu are some of the best you'll find in Europe, with turquoise waters that make it the perfect place to cool down.
If you are looking to relax on a beach in the city center, the most popular beach is Faliraki Bathing Beach.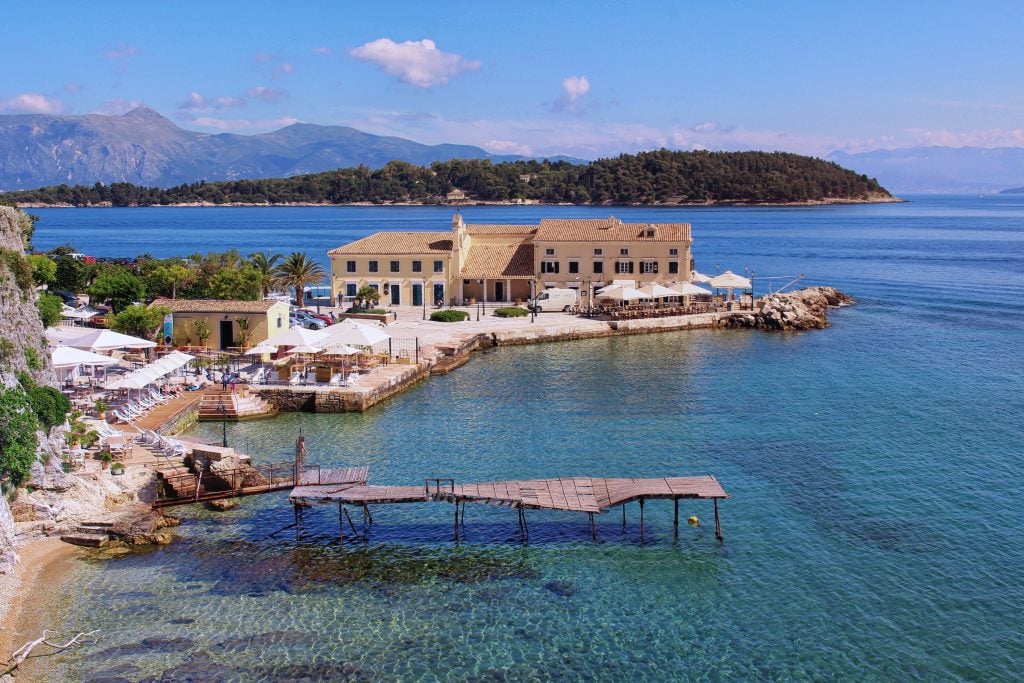 You will find the most amazing views and places to eat here, and the water is perfect for swimming!
The capital of Corfu is also home to some amazing cultural attractions, like the Old Town which has been declared a UNESCO World Heritage site for its Venetian architecture.
Here you'll find beautiful fortresses and old churches as well as quaint cobblestone streets lined with shops and cafes.
For those looking for a fantastic place to stay, the Arcadion Hotel is for you! Located in the heart of the city, you couldn't ask for a better location.
You can easily explore other parts of the islands from here and explore more amazing beaches. However, Uber isn't available in Corfu so you may want to rent a car to explore.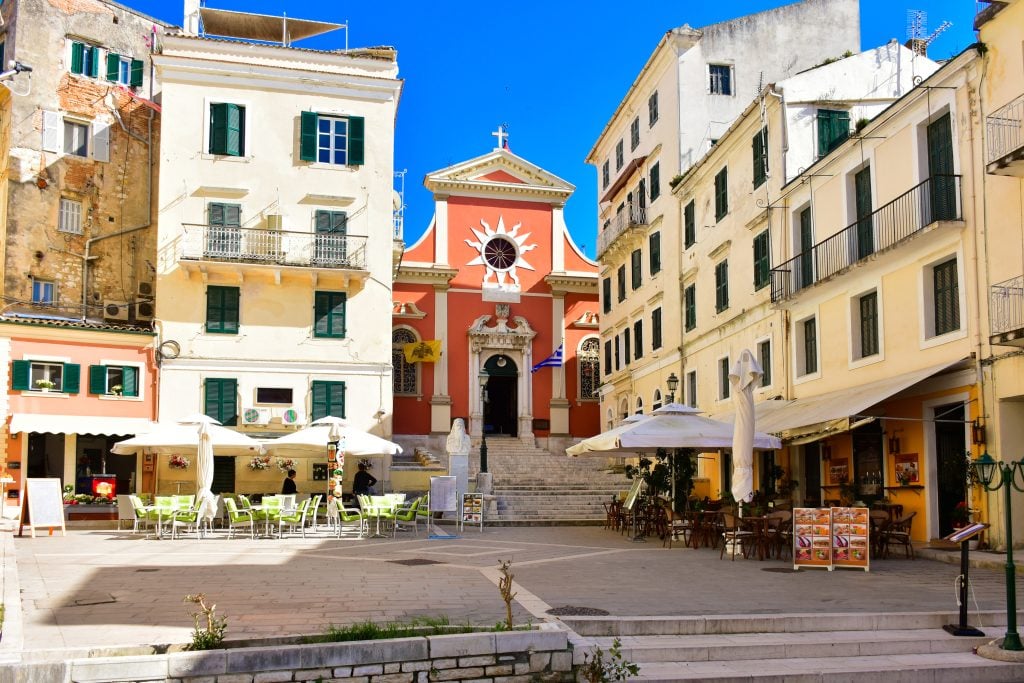 Tallinn, Estonia
From Roshni of The Wanderlust Within
The medieval city of Tallinn, Estonia, is one of Europe's best hidden gems and one of the continent's newest capital cities.
The city is found on the Baltic coast and is an easy place to connect by bus or ferry to other major cities in the region such as Riga in Latvia, Helsinki in Finland, and Vilnius in Lithuania.
Tallinn is one of the best preserved, and was almost untouched by the war, meaning you can find colorful wooden houses, cobblestoned streets, and a mix of architecture.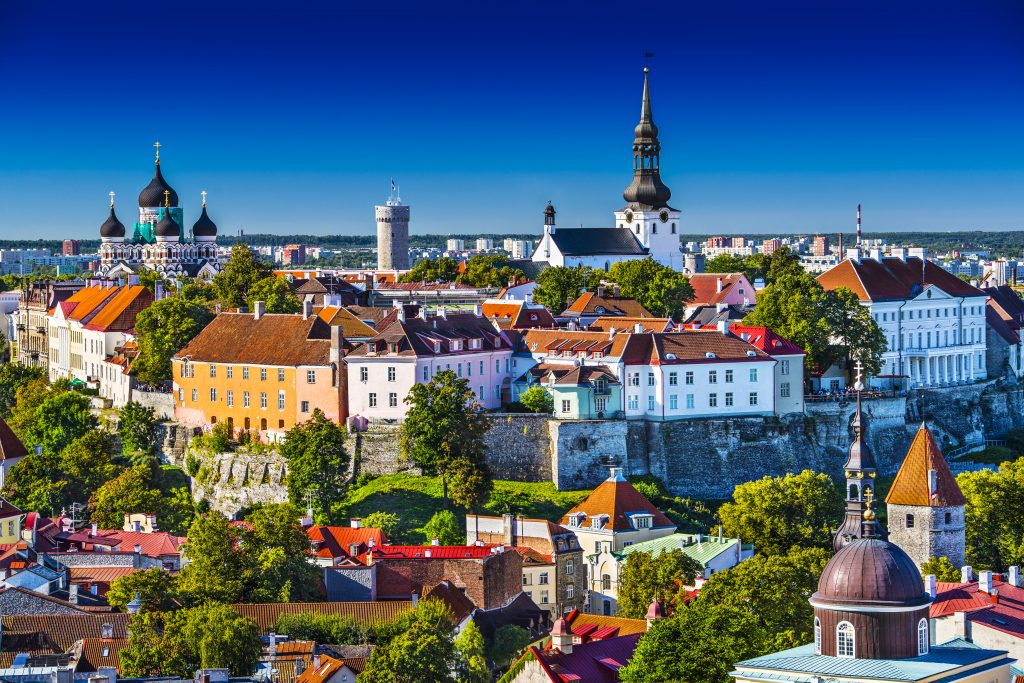 The Old Town is small and very walkable, so it is easy to visit all the main spots in a day including Alexander Nevsky Cathedral, St. Olav's Tower, and Toompea Hill, as well as Kohtuotsa Viewing Platform and Patkuli viewing platform, which both have great views over the city.
Tallinn also has an unexpected coastline!
Just a 10-minute bus ride from the city center later, you can be barefoot on the soft white sands of Pirita Beach.
This beach is great for sunbathing but is also a great place to learn to surf or windsurf.
It is located next to a forest, where there are plenty of hiking and cycling trails, so you can make a day of it before heading back to the Old Town.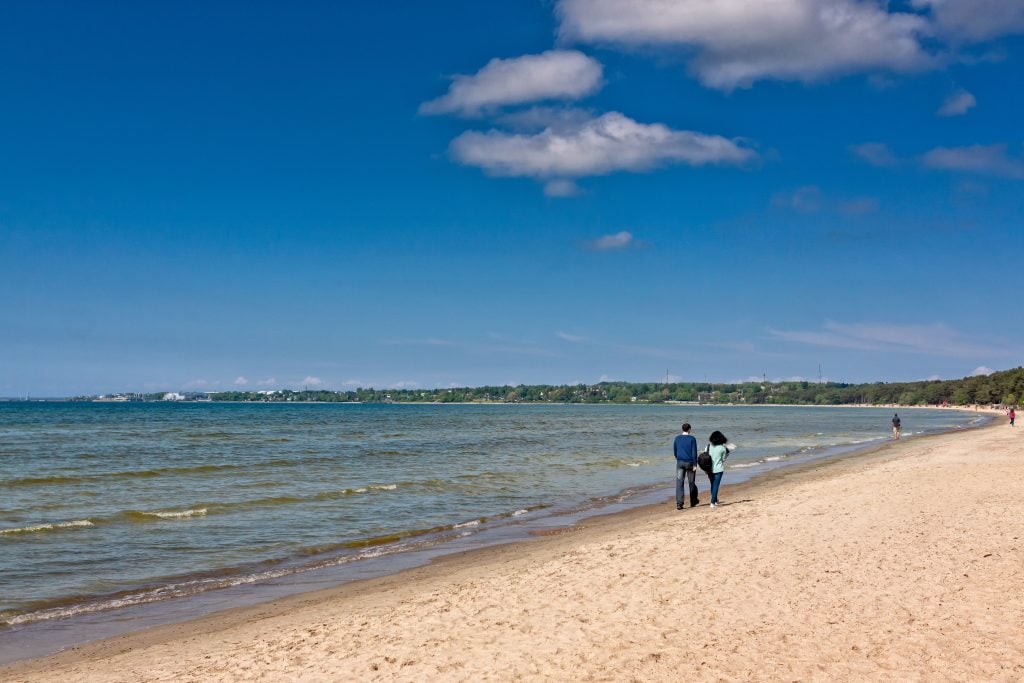 Pula, Croatia
From Lyndsay of The Purposely Lost
Found on the coast of the Istrian Peninsula, Pula, Croatia, is one of the best cities in Europe with beaches.
Two of the best beaches in Pula even have Blue Flag status!
Histria Beach is near the Pula Aquarium and has both rock and pebble areas, and Ambrela Beach is located on a rocky headland and has fantastic views of the Adriatic Sea.
From Pula, you can also reach Brijuni Island National Park.
This park features lush vegetation, numerous bird species, and pristine beaches with clear blue water, making it an ideal spot for nature lovers.
Along with its beaches, Pula is home to one of the best-preserved Roman amphitheaters in the world.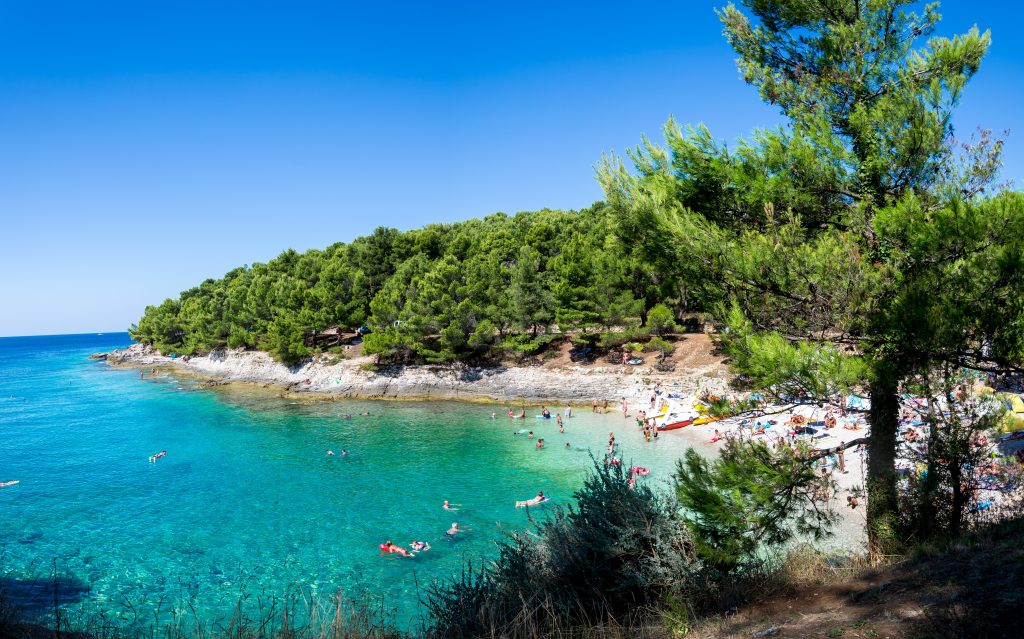 The arena was used for gladiator fights and other public spectacles.
Today, it is a major tourist attraction and hosts concerts, film festivals, and gladiator reenactments every summer.
In addition to the arena, Pula has several other interesting historical sites that are worth exploring, including the 4th-century Cathedral of the Assumption of the Blessed Virgin Mary and the Kaštel, a fortress built for the Venetians in the 17th century, which offers stunning views of the whole city from its battlements.
The city's public transportation system is the easiest way to reach the beaches in Pula.
You can take the bus to Histria Beach, Ambrela Beach, Valkane Beach, Cyclone Beach, and Hawaii Beach.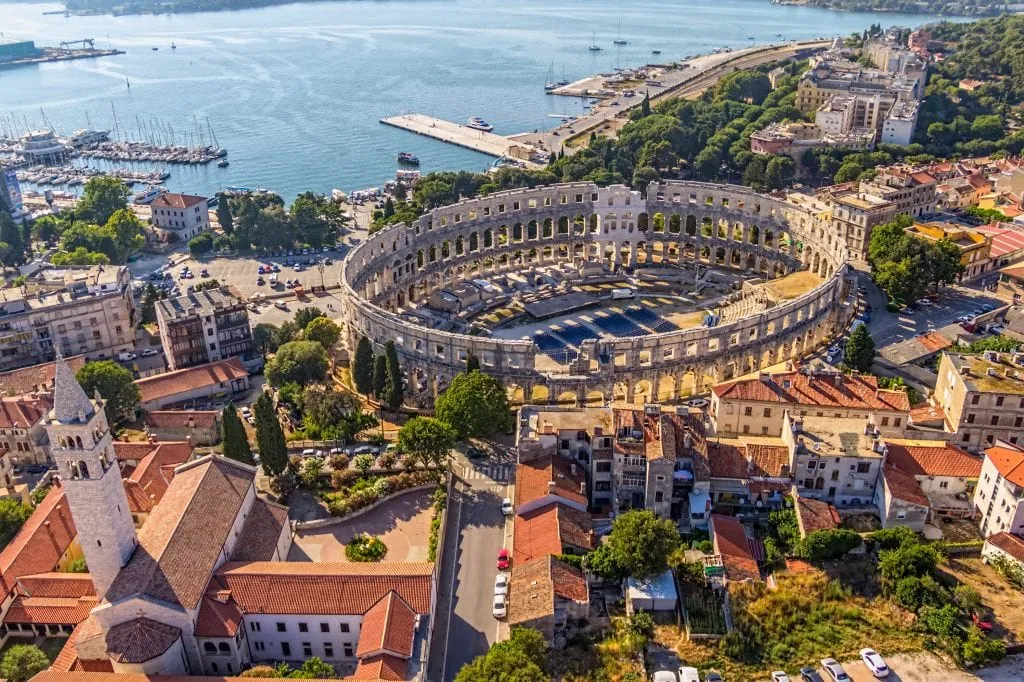 Burgas, Bulgaria
From Stephanie of Sofia Adventures
If you are looking for a mix of urban fun, culture, and beach time, look to Burgas for an offbeat coastal city in Europe.
This city in southeastern Bulgaria is the gateway to the Bulgarian Riviera, Bulgaria's Black Sea coast.
The area was referred to as the Red Riviera during the communist era, and the city of Burgas has all the telltale signs of a former communist city, from its brutalist architecture to its monuments.
One of the most popular beach destinations in the Eastern Block, it was an international destination for those who could afford to travel but could not get permission to leave the Soviet Union's sphere of influence.
However, there's an older past here as well.
A visit to Lake Atanasovsko, located twenty minutes outside of the city, shows a glimpse of Bulgaria's folk medicine traditions.
Come cover yourself in the healing mud of the lake and swim in its salty pink waters.
The city has its own beaches, but it's also close to some of the best beaches in Bulgaria.
You can use Burgas as a base to explore Sozopol and Pomorie, two beach towns that are popular with locals. Both are about thirty minutes outside of the city.
Alternately, head to Nessebar and Sunny Beach.
Nessebar is a UNESCO World Heritage Site and Sunny Beach is a beach town popular with foreign tourists.
These two sites are next to each other and located about forty minutes north of Burgas.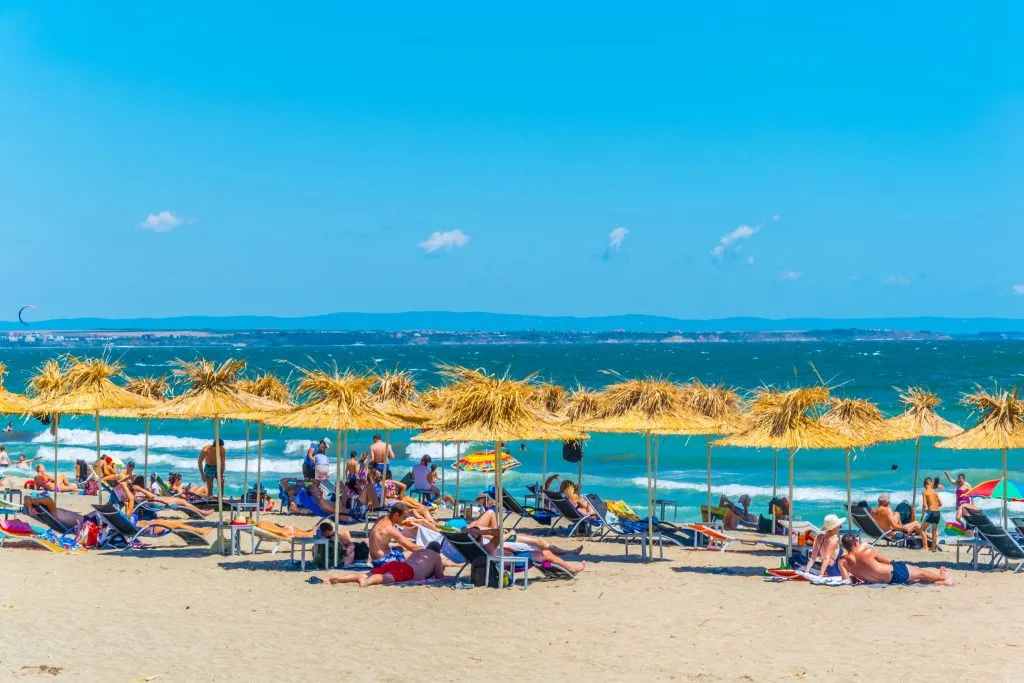 Athens, Greece
From Amber of Get Lost in Wanderlust
Athens, Greece is known for its vibrant culture, incredible food scene, and it's 3,000 years worth of history.
This is a European bucket list destination, with so many things to do.
From exploring historical sites like the Athens Acropolis or Ancient Agora to wandering the shops in the charming Plaka neighborhood, Athens is a city worth visiting.
However, many people don't realize that Athens is also an incredible beach city.
There are over 30 different beaches in the metro area of Athens, making it the perfect city to soak up some sun on the Aegean Sea.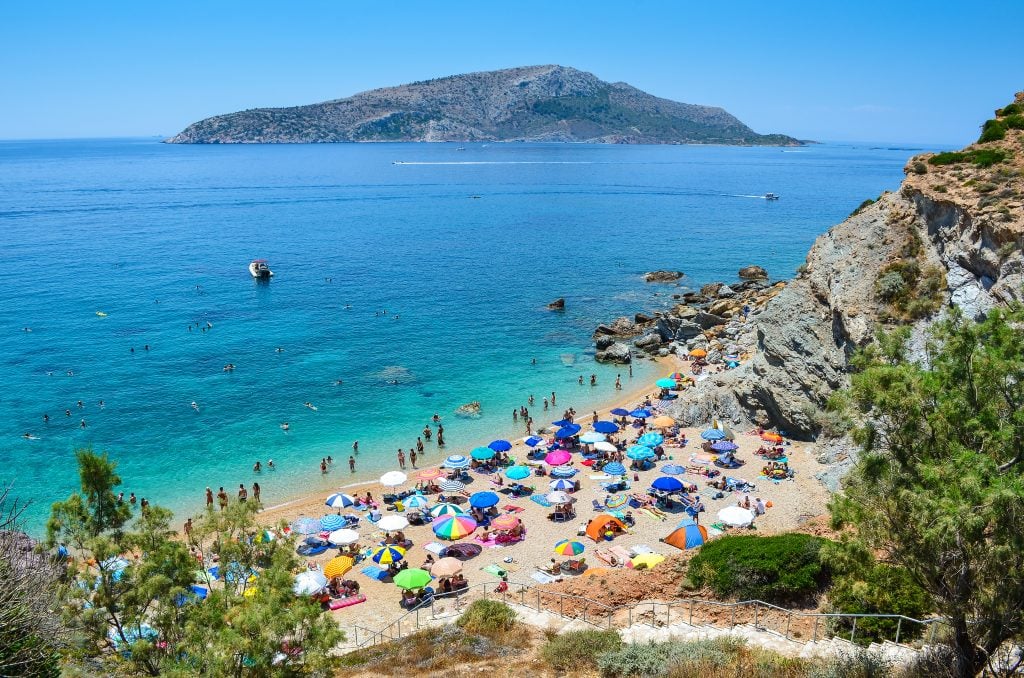 A large number of available beaches means there is something for everyone, from upscale beach clubs such as Astir Beach to more secluded beaches like Kape Beach.
One of the easiest beaches to get to from central Athens is Edem Beach.
Edem Beach is a sandy beach with nearby cafes and restaurants and can be reached by car, taxi, or public transport within 30 minutes from central Athens.
For public transport, start at Syntagma Square in central Athens and take Tram Line 6 to the Edem stop, which is located directly in front of the beach.
Ease of access combined with stunning views along the coast make Athens one of the best beach cities in Europe!