If there's one thing you'll notice the moment that you arrive in the city for your first time in Bangkok, it's that Bangkok is chaos.
It is sprawling, sweltering, smelly, sophisticated, and spunky. This is a city that has a vibe, an attitude, a life of its own.
It was hard for me to love it at first, but once you get the hang of Bangkok, there's nothing quite like it.
We visited Bangkok twice during our time backpacking Southeast Asia.
By the time that we left on our second visit, I had gone from saying, "This is so overwhelming!" to "You know, I think I really like Bangkok."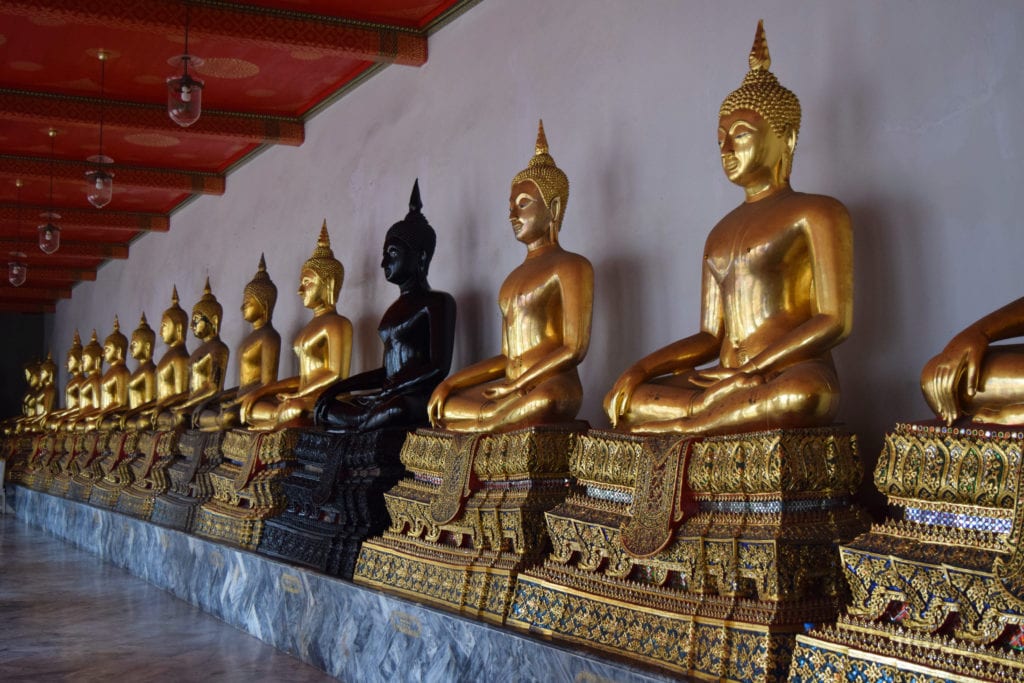 Some links in this post may be affiliate links. If you make a purchase through one of these links, we may earn a small commission at no extra cost to you. Please see our

disclosure policy

for more detail.
Want to make sure that you adore Bangkok by the time you leave?
These Bangkok travel tips will help you appreciate the city in all of its overwhelming magnificence.
Bangkok Travel Tips for Your First Trip
Proceed slowly.
The #1 trick to falling in love with Bangkok during your first trip? An old, simple strategy: one bite at a time.
We didn't rush anything during our visits–a temple here, a movie there.
This was the city of jet lag, at least on our first pass through, and we wanted to keep it manageable.
Even without jet lag, though, Bangkok is inherently overwhelming and attacks all the senses.
Avoid exhausting and overheating yourself, especially if you only have a few days in Bangkok, and take it step-by-step.
As Bangkok is generally the starting point for most Thailand itinerary options, you want to make sure you're not exhausted by the time you leave!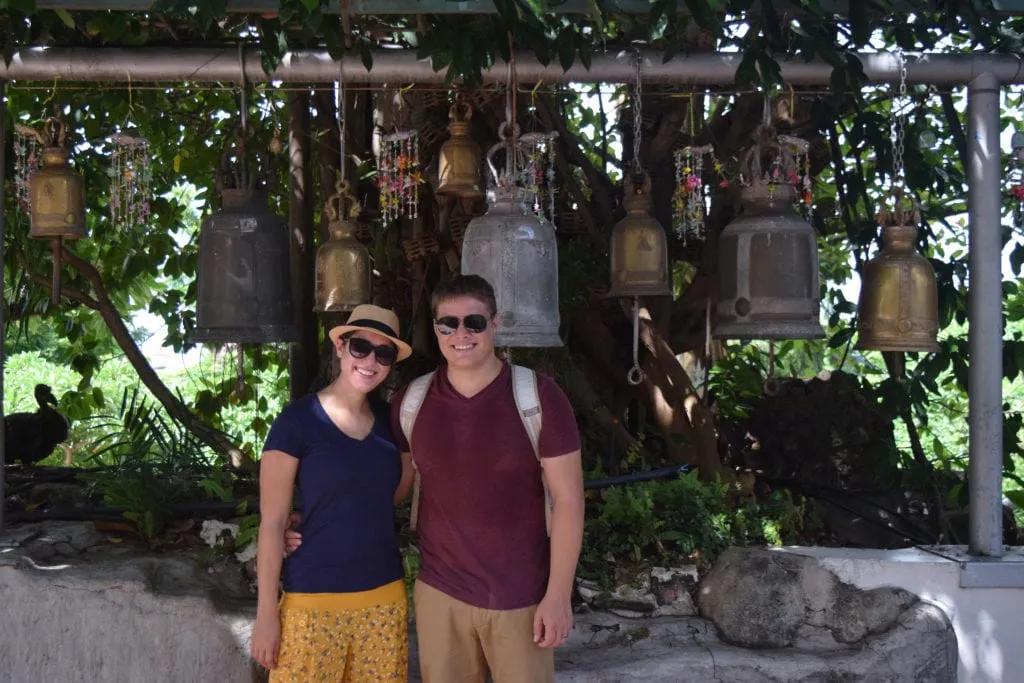 Don't overload on temples.
Temples are amazing, and Bangkok has some incredible ones. Don't waste your time trying to visit all of them, though: just like visiting churches in Europe, eventually, all but the truly remarkable ones will start to blur together.
We visited the temples at the Grand Palace and Wat Pho for our first visit to Bangkok. On our second visit, we climbed to the top of Wat Saket and received stunning views of the Bangkok skyline in return.
We highly recommend all of those, but three was enough: we had the rest of southeast Asia to look forward to!
If you want to squeeze in another temple, Wat Arun is also popular and located almost directly across the river from Wat Pho.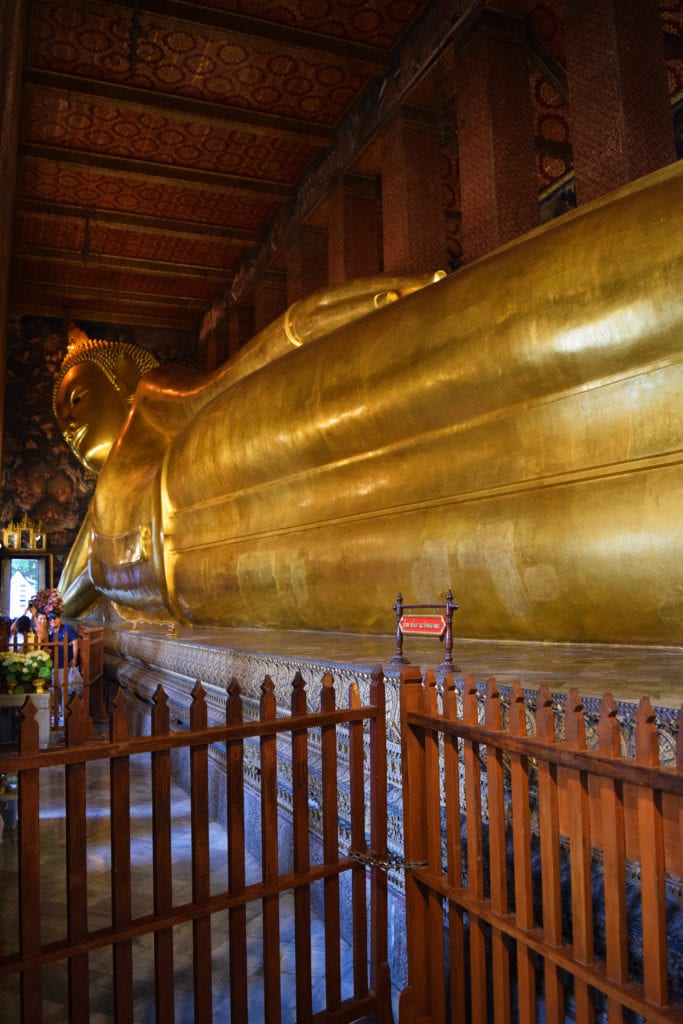 Concentrate on one section of Bangkok at a time.
Bangkok has great public transportation, including both the BTS Skytrain, the MRT subway, riverboats, and, of course, taxis and tuk-tuks.
Easy access doesn't necessarily mean fast, though: Bangkok is gigantic.
To get from Khao San Road to the Chatuchak Weekend Market is more than an hour's commitment, from the Grand Palace to the shopping mecca of Siam is about 45 minutes.
One of our best Bangkok travel tips is to keep this in mind when planning out your day, and try to group activities by geography.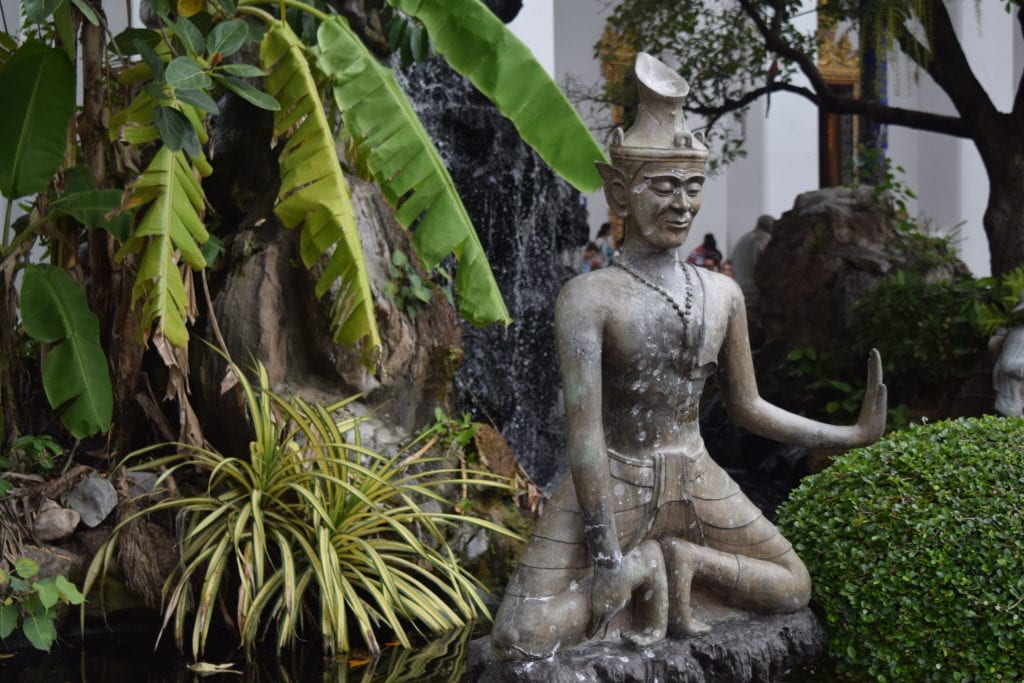 Know that the Grand Palace is never closed.
The Grand Palace is open from 8:30 AM to 3:30 PM daily. If you ask some tuk-tuk drivers, though–it's never open.
This very common Bangkok scam is a way to get tourists to agree to let tuk-tuk drivers take them to "other" temples.
Unsurprisingly, this ends up being an expensive waste of time.
We were warned about this scam by an expat we sat next to on the plane into Bangkok, several internet articles, a masseuse, and the owner of our hostel.
We certainly weren't in any danger of falling for it–but that sure didn't stop a few dozen tuk-tuk drivers from trying.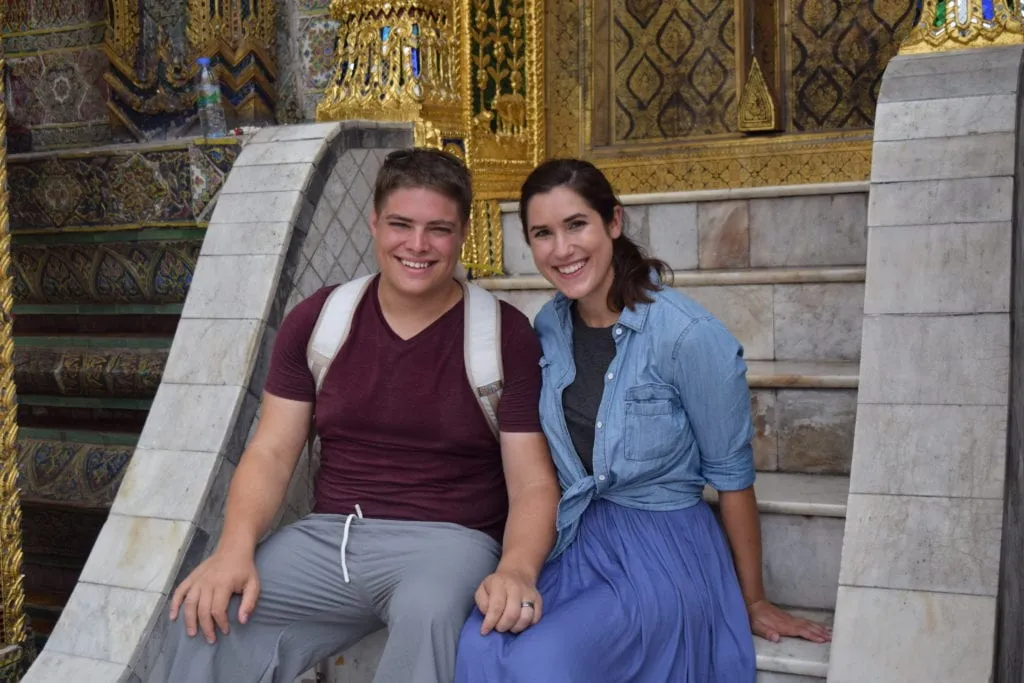 Jump on a local boat.
There are two types of riverboats in Bangkok: "local boats", which cost about $0.40 to ride, and "tourist boats", which cost about 10x as much to take you to the same place.
The "tourist boats" have slightly better seating and a loudspeaker, but the local boats are perfectly comfortable and dirt cheap.
The tourist boats are more prominently placed, of course, but be sure to look around until you find the local one during your first trip to Bangkok–it's worth it.
Don't skip the malls of Bangkok.
Clustered around Siam station on the BTS Skytrain are some of Bangkok's largest and best-known shopping malls: Siam Paragon, Central World, Siam Discovery, and MBK.
We visited all of them except for Siam Discovery, and for two people that normally avoid malls–we had so much fun.
MBK is the best for bargain hunting. It has some storefronts, but there are far more stalls and counters that were set up in the open space.
Siam Paragon is the fanciest mall that I have ever been in, perhaps with the exception of Milan. Jimmy Choo, Lamborghini, and Rolls Royce are among the storefronts there. Rolls Royce even had a couple of models of yachts, which apparently you could custom design on site.
Central World is the largest mall in Bangkok and the second largest in Thailand–which is saying something because both MBK and Siam Paragon could comfortably fit three or four standard US malls inside them.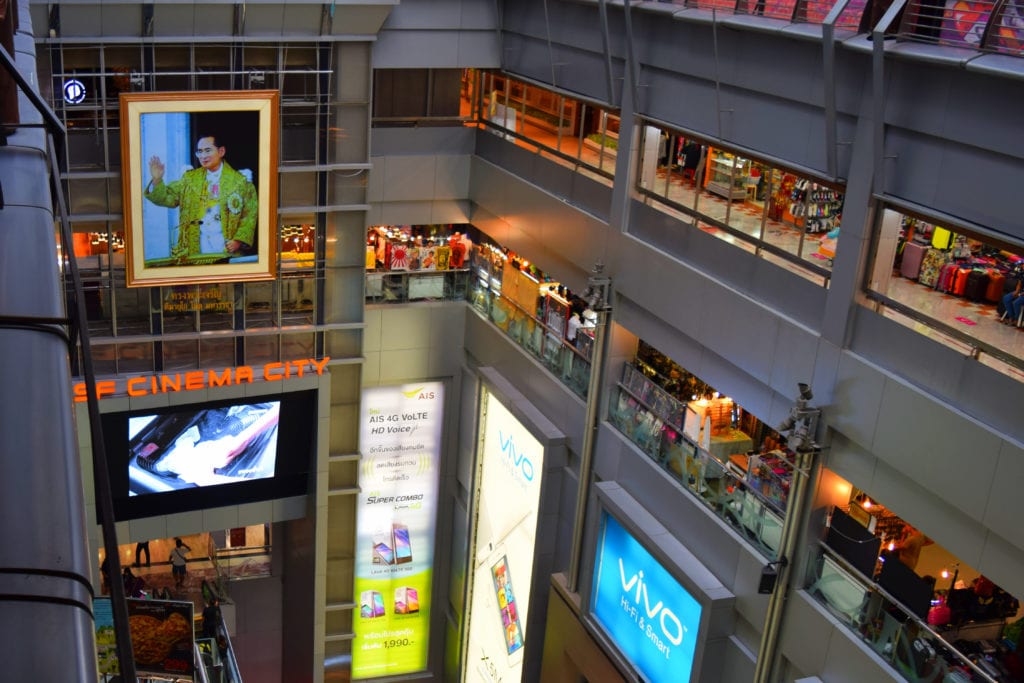 Go see a movie.
I confess: we saw not one, not two, but three movies in Bangkok. It was a little excessive–but there's no better way to enjoy some a/c and cool off between sightseeing stops.
Going to the movies in Bangkok was a fantastic experience–if you are short on time, it may not be worth it, but after a couple of months of traveling, Jeremy and I more than welcomed the air-conditioned break.
We saw a movie at MBK (Star Trek Beyond), Siam Paragon (Suicide Squad), and Central World (Jason Bourne). MBK was the best bargain ($13.76 for two tickets, a large popcorn, and a drink) and Siam Paragon was the fanciest.
Personally, my favorite thing about Bangkok's movie theaters was the fact that they stocked flavored popcorn: your choice of cheese, caramel, or barbecue.
Wake up early and watch the monks.
From about 5:00 AM to 7:00 AM, the monks will be out and about in their orange robes, collecting alms.
On our very first day in Bangkok, the jet lag caused us to be outside at 6:30 AM, so we got to see the relatively quiet streets almost exclusively populated by monks. It was a fascinating sight.
Keep a respectful distance, and don't touch them–but to see this vastly different, calmer side of Bangkok is worth getting up early at least once.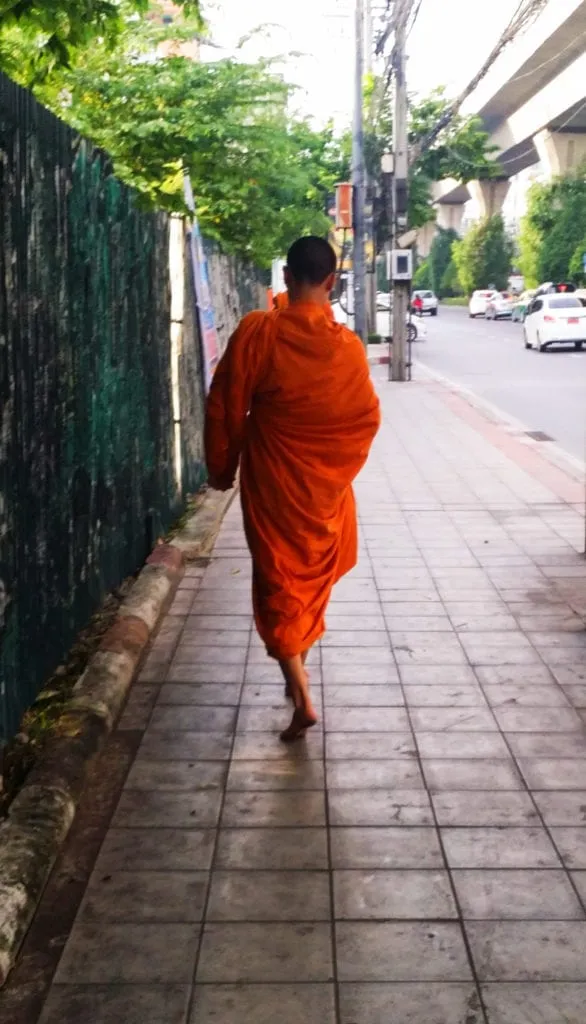 Explore some of the markets of Bangkok.
Markets are one of the best ways to explore the hustle and bustle of Bangkok's city life.
You can find any number of them, from those that cater strictly to tourists to those that are almost exclusively for locals, and anything in between.
We skipped the famous floating market after multiple people telling us that it was more of a tourist trap than anything else these days–if we have more time in Bangkok one day, we may still check it out.
Our favorite market, by far, was the Chatuchak Weekend Market. If you're in Bangkok on a Saturday or Sunday, this market should be at the top of your list.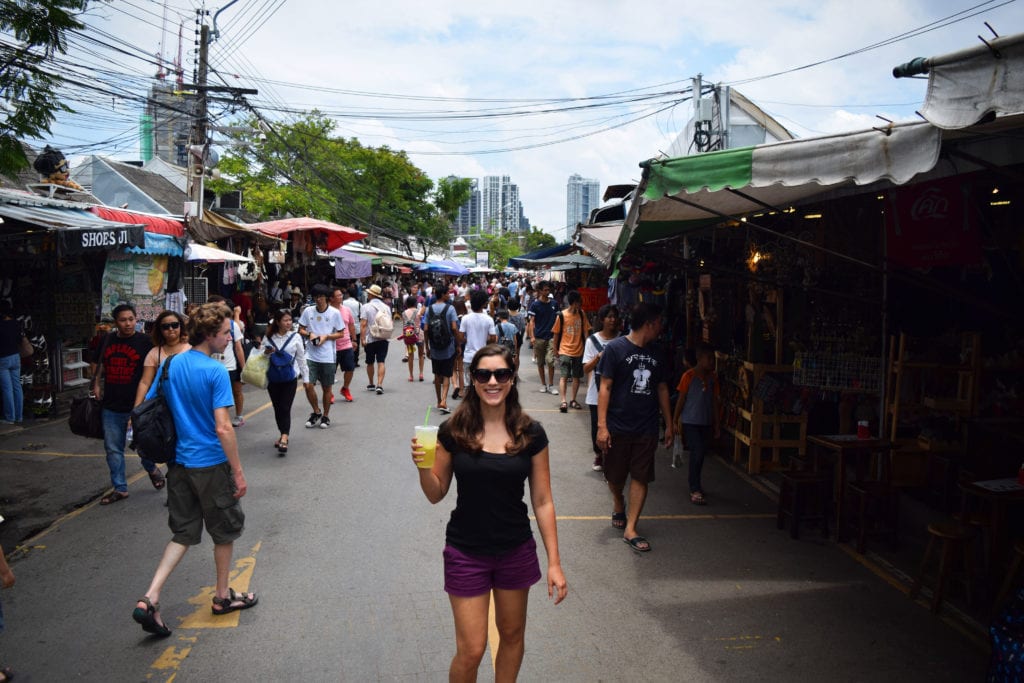 Devour the street food.
I fret a bit about food safety and definitely am not the world's most adventurous eater (it took me until I was 17 to enjoy rice–feel free to judge), so street food took a little getting used to–but it is worth it.
Eat pad thai until you turn into fried noodles. Eat chicken on a stick. Eat spring rolls on a stick. Eat anything on a stick. Try noodle soup. Try curry. Try fried rice.
Drink more fruit shakes than you ever thought it was possible to drink and love every sip.
If you love passion fruit, get your fill of it here–it was nonexistent in Laos and has been much less common in Cambodia.
If you're anxious about street food, I love this article by Adam at Getting Stamped. He uses his history in the meat processing industry to help the rest of us decide what we should and should not eat on the streets.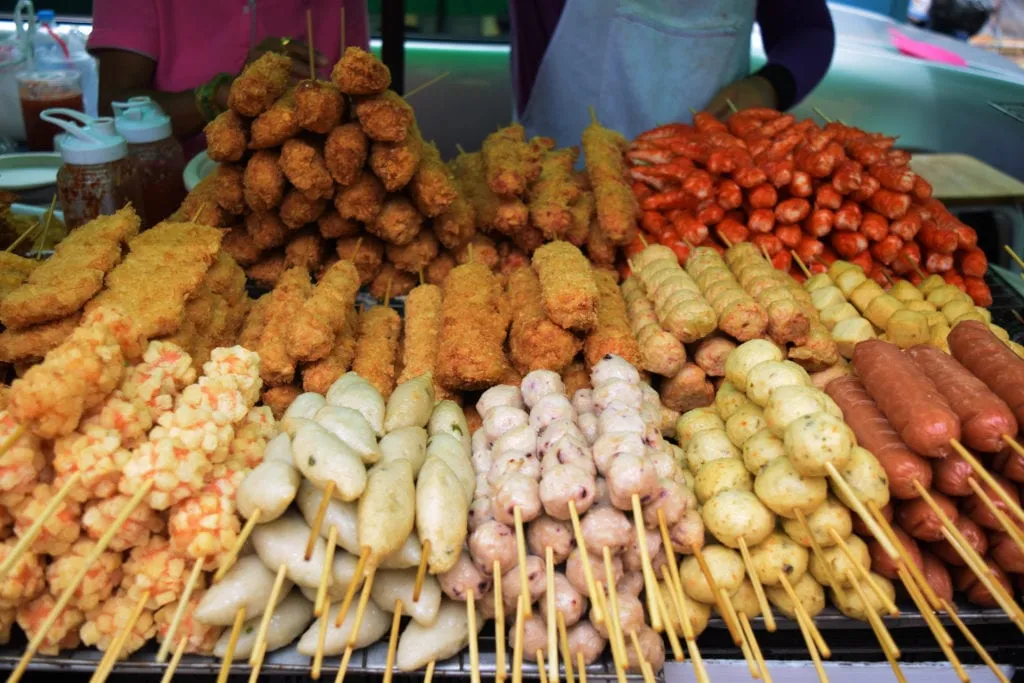 Go to a rooftop bar for great views of Bangkok.
Sadly, we didn't end up doing this, and it is my biggest Bangkok regret.
Bangkok is a city worth viewing from the top, especially at night. Oodles of rooftop bars have opened up shop to take advantage of the opportunity to combine cocktails and ridiculous heights.
On our next trip to Bangkok, this is at the top of the list.
Get a Thai massage.
… Or, you know, four of them.
Massages are dirt cheap in Thailand (we normally paid about $6/person for an hour), and are incredibly relaxing after a long day of sightseeing in the hot weather.
Thai massages are a bit like assisted yoga–there's a lot of pushing and pulling involved.
It is amazing, but if you go in expecting a Swedish massage, you'll be a bit surprised.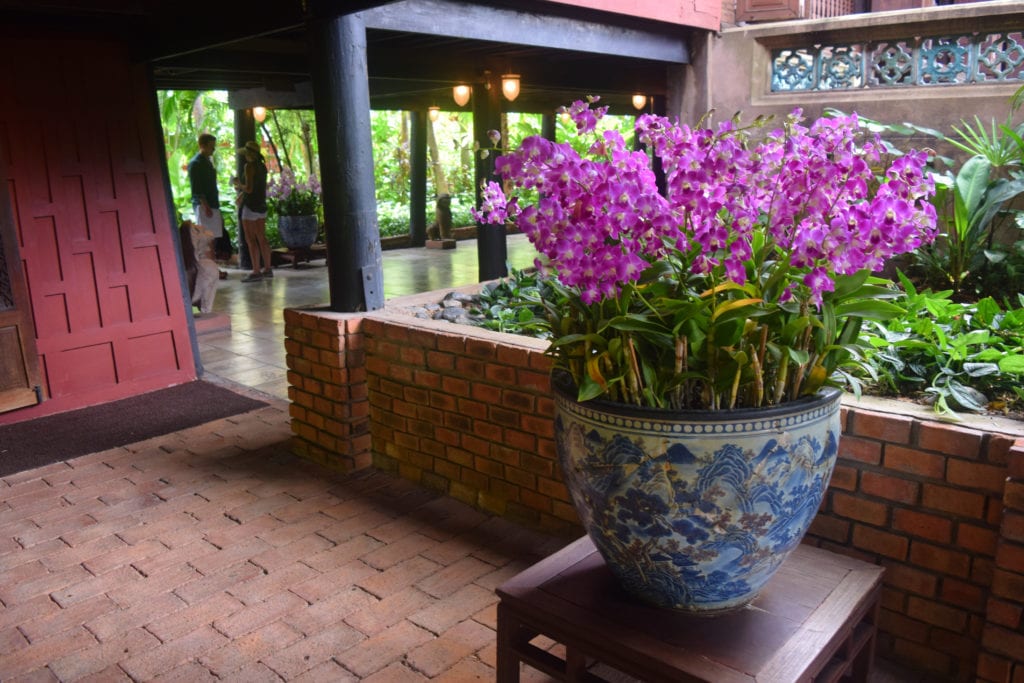 Know that you won't be able to see it all.
We covered so much ground in Bangkok: from temples to shopping malls, markets to mansions, we learned tons about the city.
… And there are still so many things to do in Bangkok that we haven't gotten to yet (we never even set foot on the popular Khao San Road!), not to mention the many possible day trips from Bangkok.
Don't get overwhelmed trying to see everything your first time in Bangkok, and don't take up precious space on your itinerary for something that you're "supposed" to see if you would really rather be doing something else.
Whether you want to hit up the most iconic sites or get off the beaten path in Bangkok, you'll have plenty of options of your first trip to the city.
One thing is certain: no matter where your interests lie, it is impossible to ever be bored in Bangkok.
Where We Stayed in Bangkok
There is no shortage of places to stay in Bangkok, from budget hostels to luxury skyscrapers to Bangkok hotels perfect for families–here were our picks for our first two trips to Bangkok.
One of our travel tips for Bangkok is to prioritize where you stay: choosing a far-flung neighborhood may seem like it will save money, but you could also end up spending hours (yes, literal hours) on public transport each day as a result.
We loved both of our hostels for different reasons, but ultimately, we loved staying in the Siam Square area and can see ourselves staying there again on a return visit to Bangkok.
At both of these locations, we stayed in a private, air-conditioned room with access to shared bathrooms.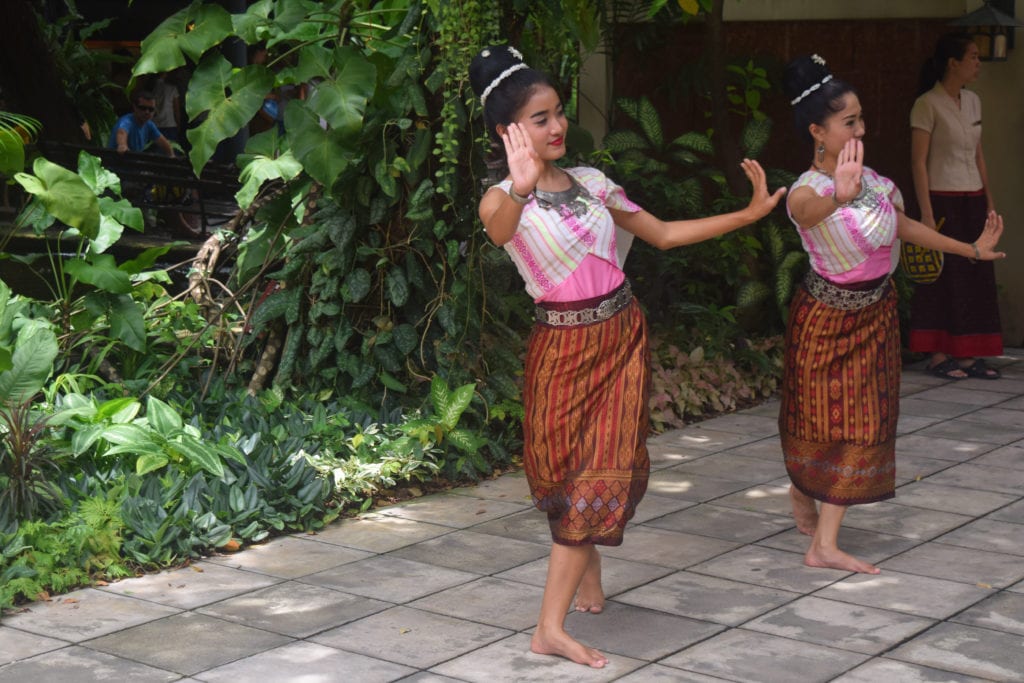 Chan Cha La 99 Hostel — On our first trip to Bangkok, Annie took great care of us at this hostel.
This lady knows what she is doing! The hostel is clean and efficient, and Annie is a wealth of information about Bangkok.
The hostel is roughly 5 minutes from the BTS. The downside? It's a little out of the way–you'll spend about 40 minutes getting to any major sites.
Lub D Bangkok — Siam Square — This hostel is actually one of several in a chain, and we adored it.
The rooms were clean, the bathrooms spotless, and the location was perfect for us–right in the heart of Siam, easy walking distance to MBK or the Jim Thompson House.
It doesn't have the personal touch that Annie provided, but we wouldn't hesitate to stay here again on our third visit to Bangkok.