When planning a trip to Laos (or Southeast Asia in general), one of the first things you will notice people talking about is the weather: there is a "dry season" (also the high season), and a "wet season", when the monsoon rains come. Sometimes you'll also see note of a "hot season", when the air is (even more) humid and temperatures are at their highest.
Some resources will tell you to avoid travel during the rainy season in Laos, some will say that it has minimal impact.
Typically, the best time to visit Laos is considered to be from October to April, during the dry season.
For Laos, the wet season generally runs from May to the end of September–and our travel there during August landed us directly inside that season.
Working through our Laos itinerary during the wet season was more challenging than traveling in Thailand or Cambodia during their wet seasons. This was partly luck, partly due to different levels of infrastructure, and partly due to what we wanted to do while we were there.
I wouldn't go as far as to say that we would not recommend traveling during the rainy season in Laos–but proceed with caution.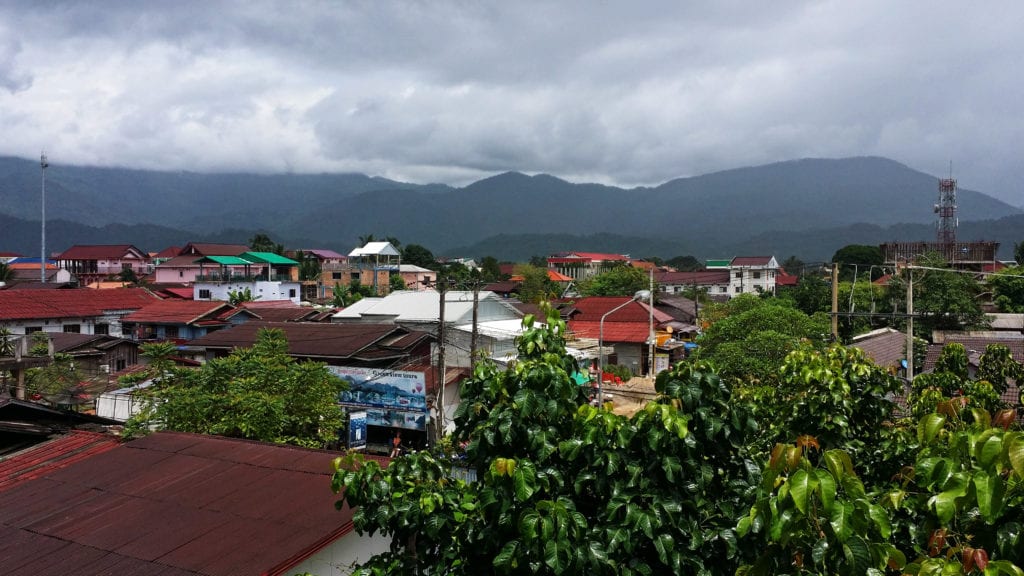 Some links in this post may be affiliate links. If you make a purchase through one of these links, we may earn a small commission at no extra cost to you. Please see our

disclosure policy

for more detail.
Questions to Ask About Visiting Laos During the Wet Season
How long is your trip to Laos?
Part of dealing with the weather while traveling is dumb luck: it could be perfect or it could be awful.
However, if you're going for three weeks, you're less likely to spend your entire trip doused in rain than if you go for six days.
Is this a multi-country trip?
If you're planning to visit countries other than Laos, you'll have the option of moving onto the next one if the weather is unbearable.
Are you going for outdoor activities?
For us, the big draw of Laos was its nature–while the jungles were pretty, the rivers and waterfalls were muddy and flooded–the famed turquoise water and tranquil environments were nowhere to be found.
The famous Blue Lagoon near Vang Vieng, for example? Definitely not blue: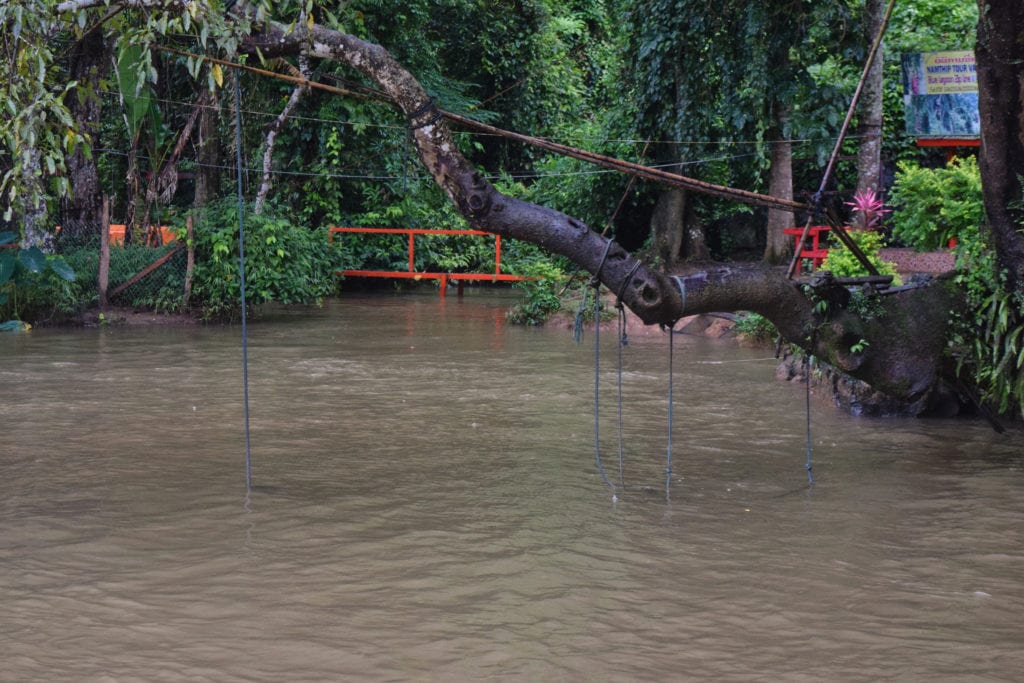 Are you planning on using ground transportation?
By far, our scariest moment in Laos was during our minibus trip from Luang Prabang to Vang Vieng: our driver spent (no exaggeration) 17 minutes negotiating a 200-yard section of a flooded dirt road… on the edge of a very steep cliff.
Everyone on our bus was anxious–including, I believe, the driver.
Do you mind being caught in the rain?
While we were in Luang Prabang, most days had a short rain shower in the afternoon. In Vang Vieng, the skies opened up and threw down so much water we looked like we had come out of a swimming pool. During our brief stay in Vientiane, the rain stayed away entirely.
There's no predicting exactly what your trip will look like, but if you don't want to risk ending up soaked, it may be best to reschedule.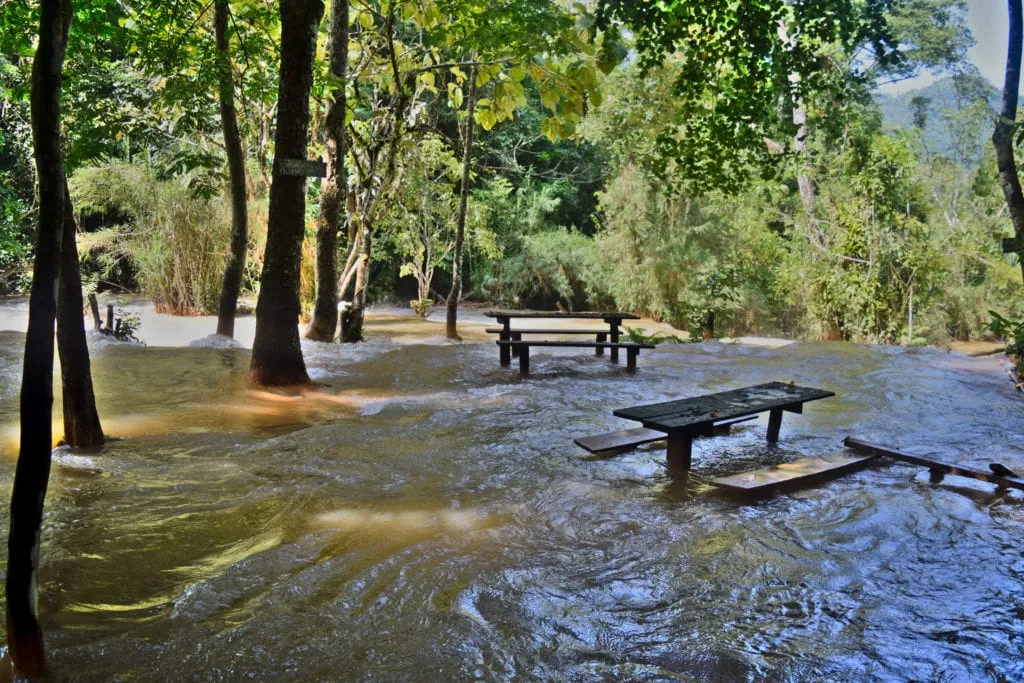 How important are bargains to you?
There's no denying that we got some good lodging deals in Laos, and I'm guessing that is partially because of the wet season–it seemed like every other hotel was running a promotion to fill its rooms.
We stayed in some 4-star hotels that we normally wouldn't have considered because the price was too small to pass up.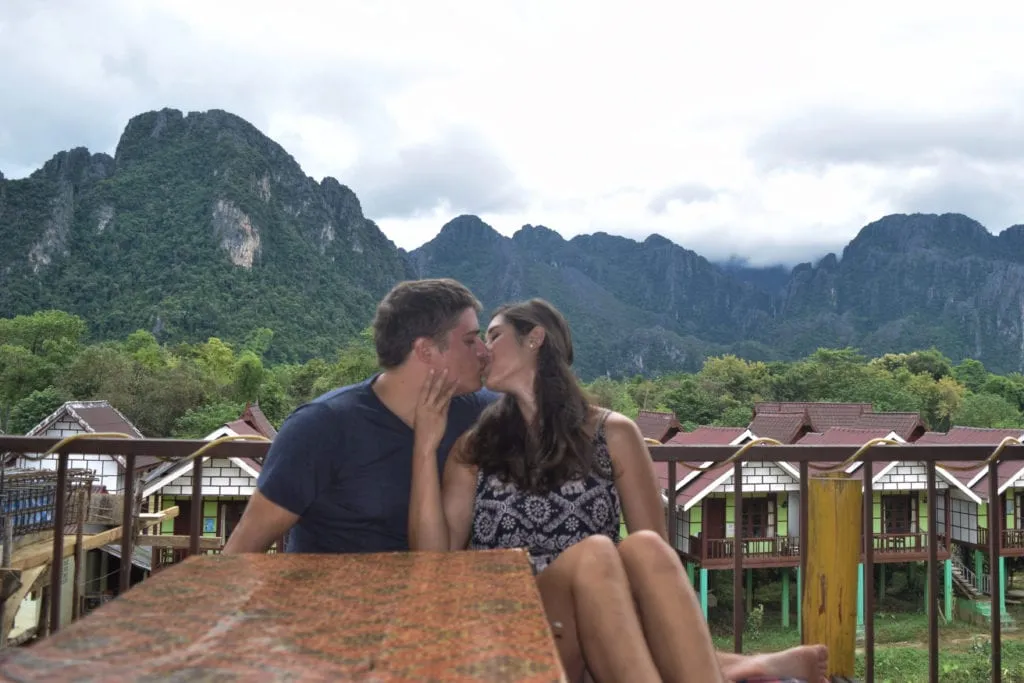 At the end of the day, I am glad that we didn't skip out on traveling during the rainy season in Laos–we learned a lot and had some great days there.
The weather did impact our trip more than the afternoon rains in Thailand or Cambodia, and we probably would not go back to Laos during the wet season again, instead focusing on the best time to visit Laos from October to April.
While the actual rain was an issue on occasion, the biggest downsides for us were the less enjoyable outdoor activities and that the inter-city minibus transportation felt very unsafe, especially in the mountains.
The next time we visit Laos, I'd like the roads to be clearer, the sun to be shining, and the natural highlights–like its adventure activities such as motorbiking the Bolovean Plateau or rock climbing–to be at their best.
For that reason, we'll be sticking with the traditionally best time to visit Laos from now on.