Why You Should Go to Mostar:
Coming from a fairly cushy lifetime of experiences in the United States, it is a strange thing to see the physical scars of war.
Mostar struck us in a different way than many other locations that have experienced violence. My theory is that this is because the city still looks so damaged, and also because of the closeness in time: 1994 simply doesn't feel like a distant, far away date.
Mostar was devastated during the war following the breakup of Yugoslavia. The phrase "it looked like a war zone" gets tossed around a lot, but it was utterly jarring to see videos of streets that looked like they were from an apocalyptic movie, while knowing that those same Old Town streets (rebuilt, bustling) were just outside the door.
Understanding this destruction–of both the parts of the city that have been rebuilt to look storybook perfect again and those spots that have been left to deteriorate–is so necessary to understanding this city.
Both the beauty and the brokenness are important. Both need to be seen. Both are why you should go to Mostar.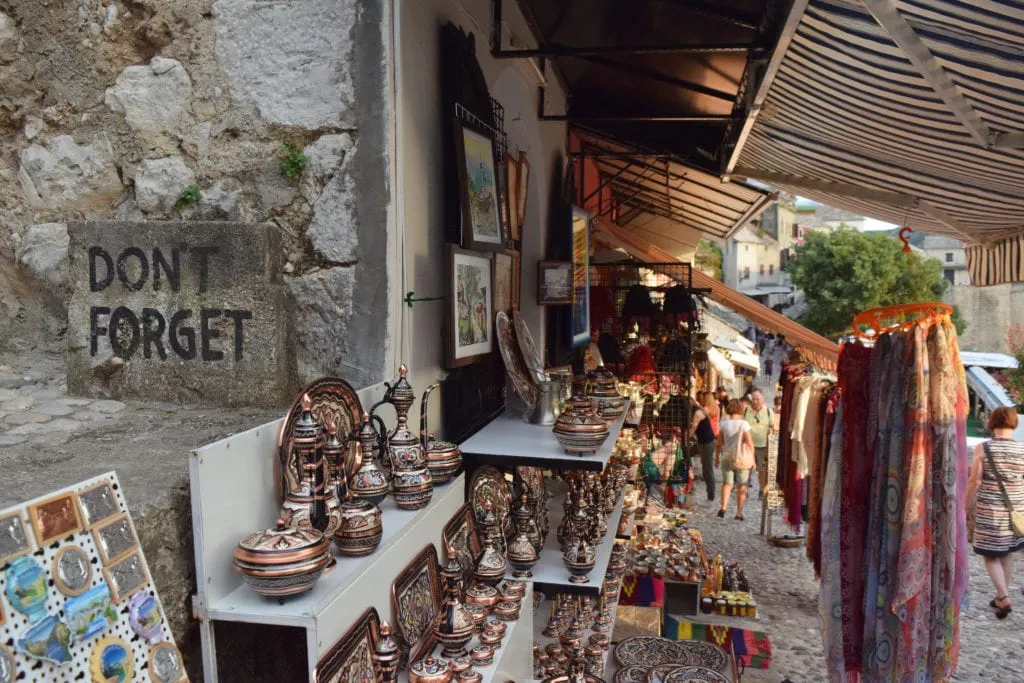 Getting Around Mostar:
Mostar is a very small, walkable city: pick a place to stay that is within a reasonable walking distance of Old Town, and you'll be within walking distance of the major things to do in Mostar both inside and outside the Old Town. We didn't use public transportation once while we were here.
If you'd like to explore the nature surrounding the city–like the stunning Kravice Falls, for example–there are plenty of Mostar day trips you can take either independently or with an affordable group tour.
Excellent Things to Do in Mostar:
1. The Old Bridge
The most famous site in Mostar is technically less than 15 years old–the original 1566 bridge was destroyed in 1993, and the "area of the Old Bridge" is considered to be the UNESCO World Heritage Site, rather than the structure itself.
The bridge is beautiful, as is the Neretva River below it. If you hang out long enough, you may be able to see one of the divers jump off of the 24m crest of the bridge into the cold river below–once they collect enough money from the surrounding tourists, of course.
Directly next to the Old Bridge is also a book shop that (for 1 Euro) will show you the videos of news reels that I mentioned above. They have a large sign and are hard to miss, and I definitely recommend taking the time to watch the videos while visiting the Old Bridge, as they capture so much about the recent struggles of the city.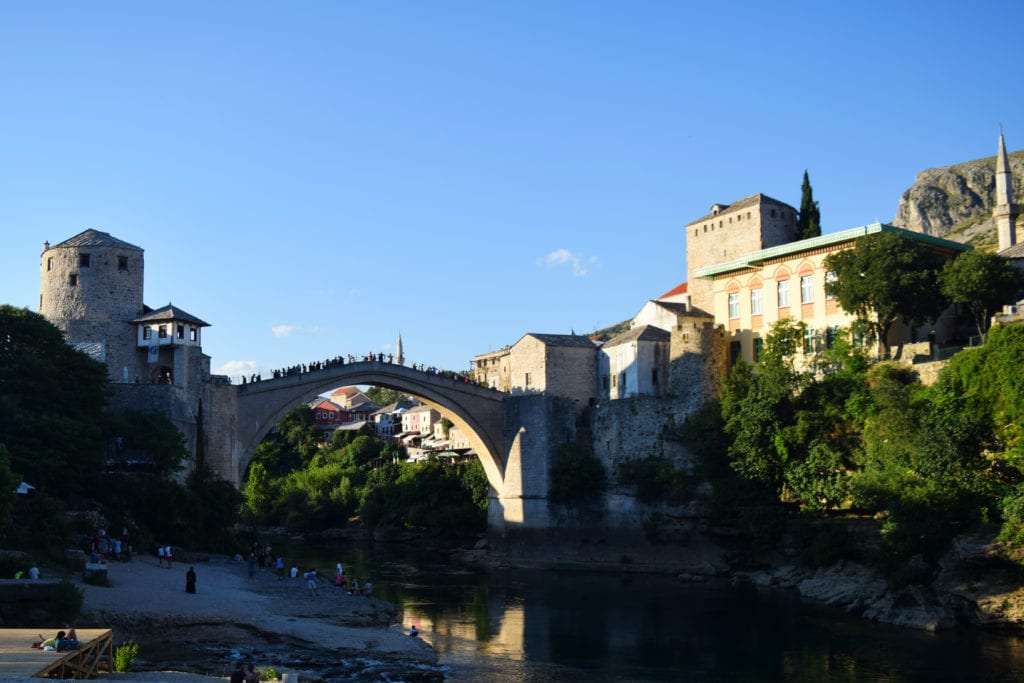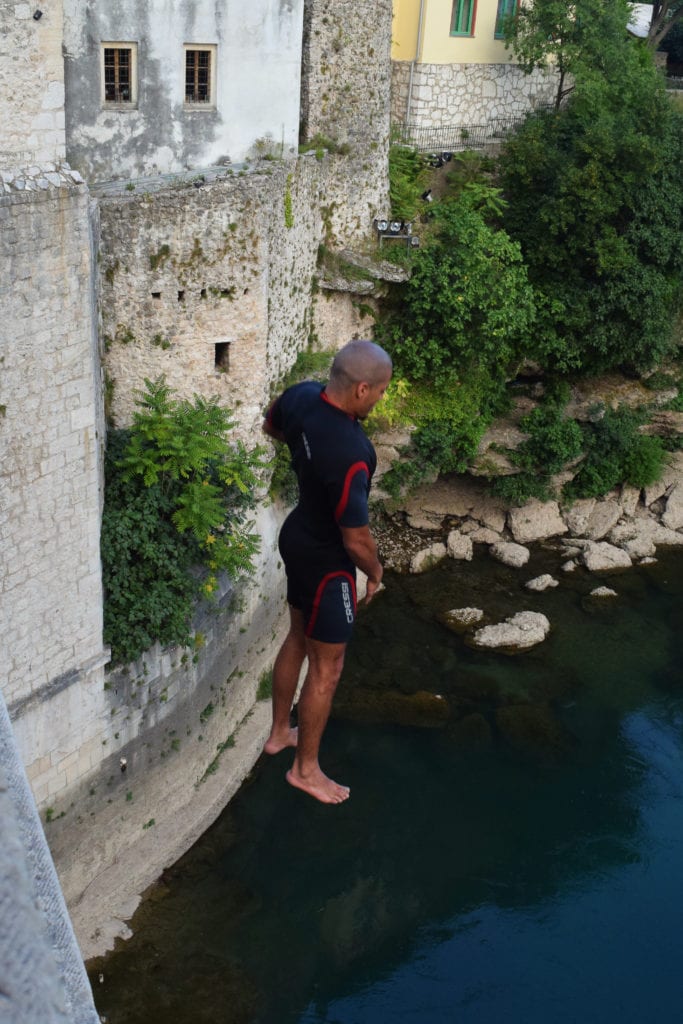 2. Sniper Tower
Our Airbnb (if you're new to Airbnb, sign up with our link to get a discount on your first stay!) host picked us up from the bus station when we arrived, and was kind enough to give us a quick driving tour of Mostar on our way to the apartment we were staying in.
Imagine our shock when the first place he pointed out for us to visit was a bombed, abandoned building.
This building was a bank and office before it was bombed and then taken over by Serb and Croat snipers to pick off Bosniak citizens–hence the dark name of "Sniper Tower".
The building is full of trash, broken glass, and oodles of politically charged graffiti. It is also home to great views of Mostar. It is impossible to leave this place without appreciating the beauty of the city opening up before you, and also further understanding the violence that once occupied the space.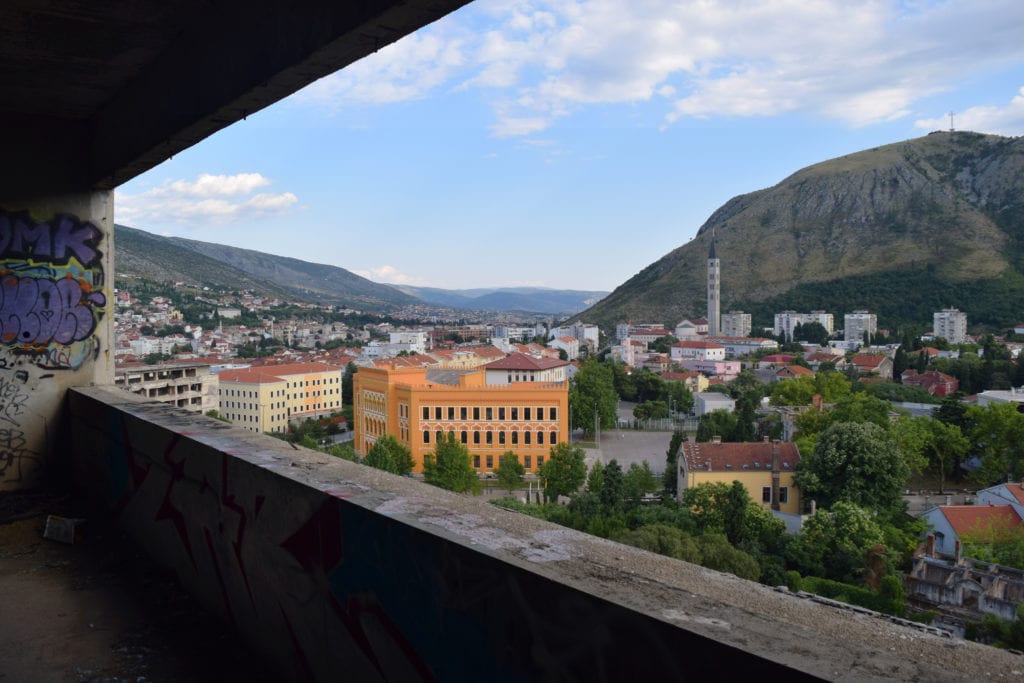 I'm very glad that we explored Sniper Tower, despite my fear of the stairs–but I'm also very glad that we went together, during the day, and with close-toed shoes. I don't think this is a place to shy away from when visiting Mostar, but it is definitely a place to be cautious.
Walking between Sniper Tower and Old Town, you'll pass many other abandoned, deteriorating buildings. Each one is haunting, especially as many of them are sandwiched between rebuilt beauties. Mostar is being rebuilt building by building rather than section by section–and choosing which buildings get rebuilt is a political and therefore controversial decision.
3. Bruce Lee
This site is so eclectic that I can't help but encourage other people to add it to their list of things to do in Mostar.
Sitting in Mostar's Zrinjski Park is a life size statue of Bruce Lee, nunchucks and all.
According to our Airbnb host, this piece was commissioned by the political elites in Mostar after the war, theoretically as a gesture of solidarity between the Bosniak and Croat parts of the city ("everyone loves Bruce Lee!"), but really as a way to launder public money and line their own pockets.
It was completed by Croatian artist Ivan Fijolić (our Airbnb host: "Because we don't have artists in Bosnia and Herzegovina, right?"), quickly vandalized and then removed to Zagreb while tempers cooled before eventually returning to Mostar after several years.
A Google search doesn't turn up much detailed information, though it does appear that the youth group Urban Movement Mostar was involved in spearheading the project.
Regardless of how it came about, the site of a bronze, life size Bruce Lee hanging out in a European park is not one to miss.
4. Strolling through Old Town
After the darkness of Sniper Tower and the bombed out buildings on the streets outside of Old Town, strolling through Old Town is a welcome bit of peace.
The Neretva River, the not-so-Old Bridge, the stone turrets, the cobblestones–much of the Old Town looks like a fairy tale.
We haven't been to Germany (yet), but Old Town felt like a strange cross between an extremely laid back Morocco, with its heavy Muslim influences, and what I always imagined a town in the world of Hansel and Gretel would look like.
Of course, for proper perspective, it's impossible to enjoy these things to do in Mostar (and its competitively priced gelato–1/2 a Euro a scoop!) without remembering and reflecting on its recent damage.
The message, all over Mostar, is clear: don't forget.
Read Next: 9 Spectacular Things to Do in Sarajevo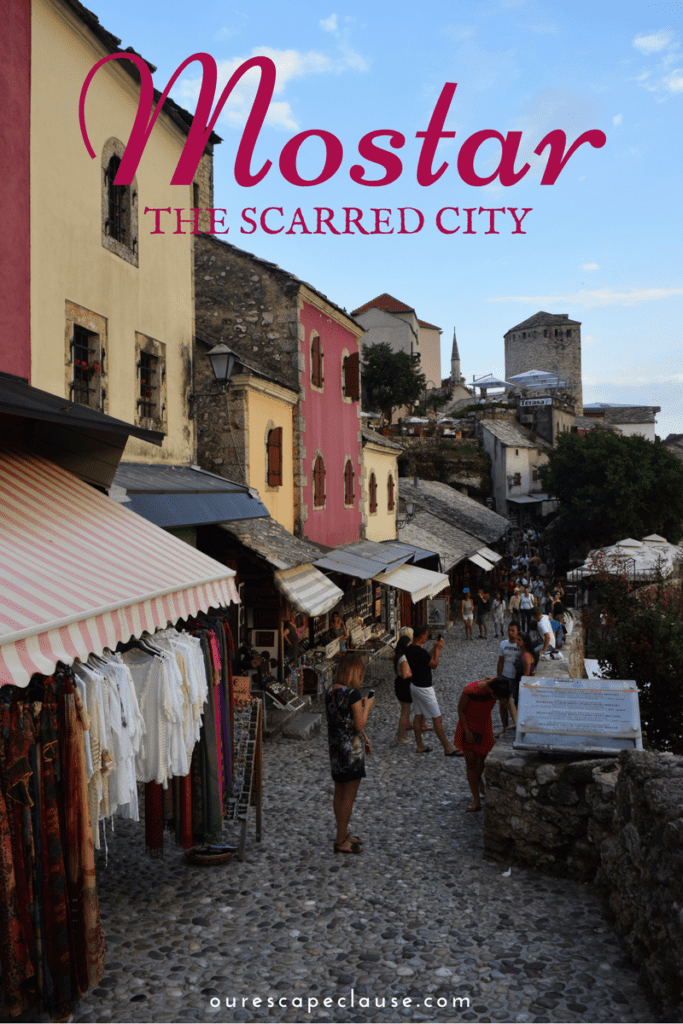 Some links in this post are affiliate links. If you click through one of these links, we may earn a small commission at no extra cost to you. We are committed to only ever recommending products and services that we personally use and like.