Surrounded by mountains, the lively and scenic Sarajevo is known for–but not defined by–the scars of its past. Explore enough of the best things to do in Sarajevo, and you're bound to fall in love with many, many sides of the capital city of Bosnia and Herzegovina.
Though Sarajevo wears its recent, bloody history more subtly than nearby Mostar does, you can still feel it oozing underneath the surface.
But that being said, Sarajevo simply has so much other history competing for attention, that the breakup of Yugoslavia becomes one chapter of the narrative, rather than the dominating storyline.
Go to Sarajevo. Whether you're touring mosques, sampling delicious food, discovering offbeat Sarajevo attractions, or staring out over the impressive landscape, it is impossible to be bored in this fascinating city.
Here are the best things to do in Sarajevo!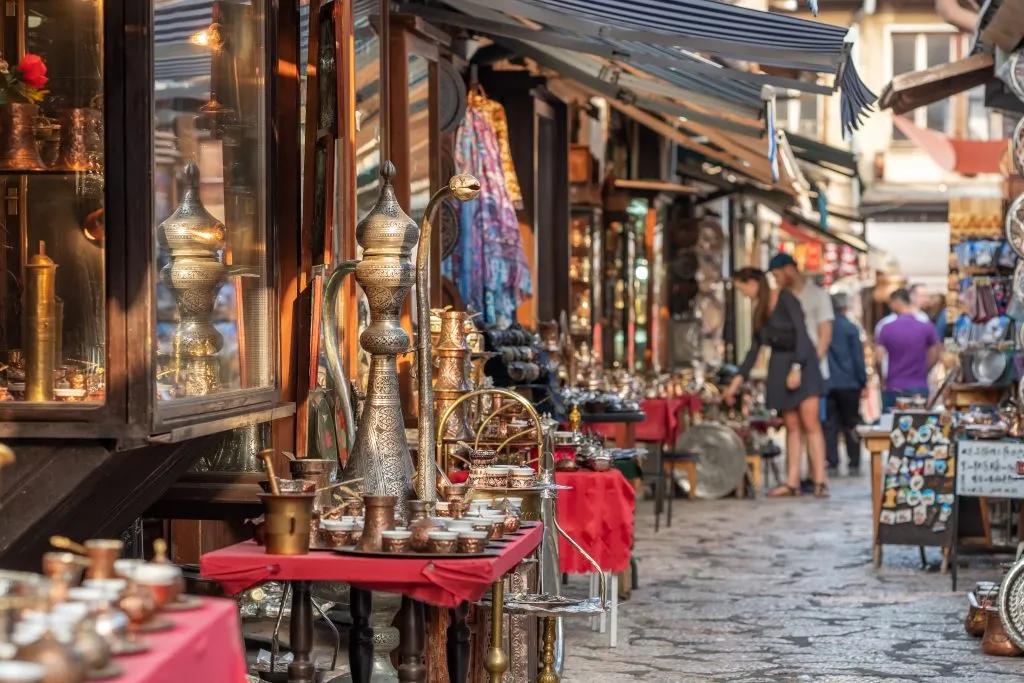 Some links in this post may be affiliate links. If you make a purchase through one of these links, we may earn a small commission at no extra cost to you. Please see our

disclosure policy

for more detail.
The Best Things to Do in Sarajevo
Get oriented with a walking tour.
While visiting Sarajevo can be lots of fun, it's also undeniable that it is a complicated city–and the best way to meld old and new together when you first arrive is by getting started with a walking tour.
This popular tour will take you to some of the most interesting places to visit in Sarajevo, helping you get oriented with the city while learning everything from historical facts to how to get around.
Check out the famous Sebilj Fountain.
Want to make sure you return to Sarajevo?
Legend says that if you drink from this iconic fountain, you always will.
Even if you don't plan to take a drink, though, the fountain's iconic status as one of the most famous landmarks in Sarajevo combined with its location in the lively Baščaršija Square means that you should absolutely still stop by.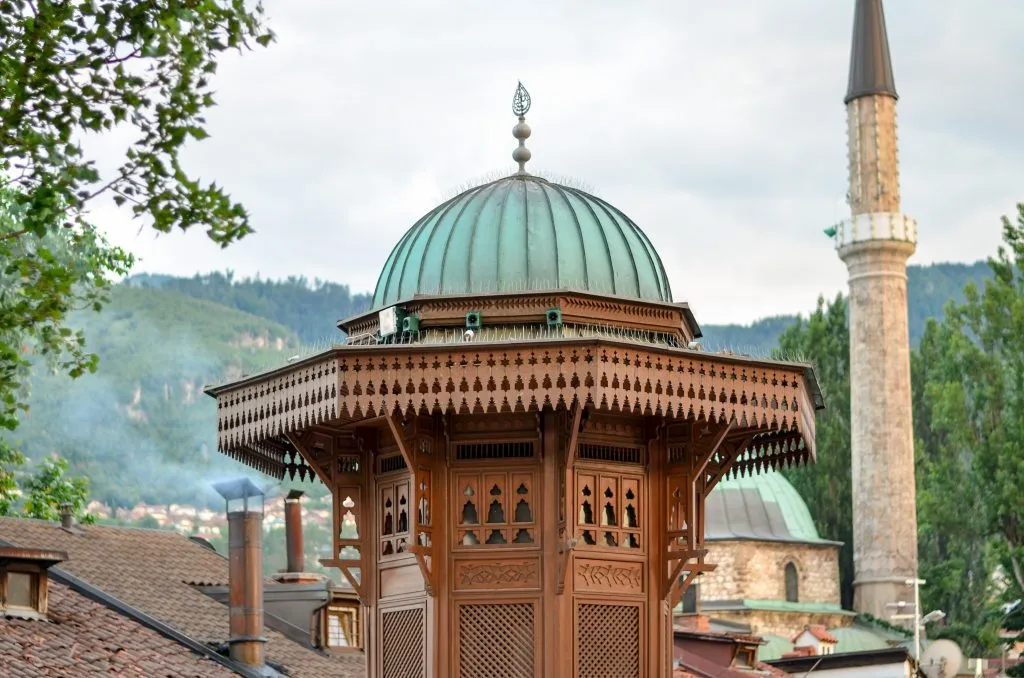 Visit the Sarajevo War Tunnel.
How could this not make the top of any list? Sarajevo's War Tunnel is famous: dug underneath the airport to allow for transfers of goods and people during the siege of Sarajevo, this tunnel has now been made into a museum.
Not only can you walk a small piece of the tunnel (it's shorter than I imagined–I couldn't stand up straight!), the museum also has footage and relics from the war.
The museum was more impactful than I imagined it would be: in the footage of the men digging the tunnel, there were all ages shown.
I was drawn to the young ones, though–the early-to-mid-twenties men who were busy digging tunnels to assist a war effort.
They reminded me of my dad, who was a similar age at the time but living a vastly different life (building a career, playing with me), in no small part due to the luck of being born in the USA instead of in Sarajevo.
The tunnel is located a bit outside of the city center, so likely won't be walkable from where you're staying. If you'd rather not worry about transportation, a tour like this is a great option.
Book your visit to the Sarajevo War Tunnel.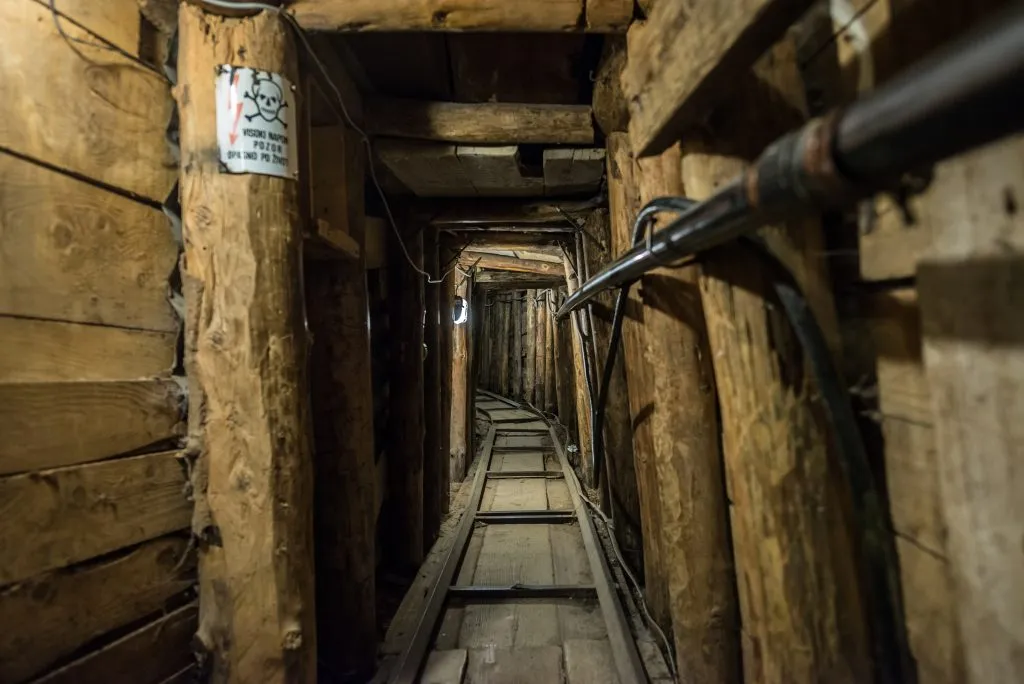 Explore the Old Town of Sarajevo.
Beautiful and walkable, Sarajevo's Old Town is packed with restaurants, shops, and tourist attractions alike–you can find many of the best things to see in Sarajevo by exploring this neighborhood on foot.
Wherever you turn in the Old Town, people are selling everything from teapots to Bosnian SIM cards.
Wandering aimlessly through Sarajevo's Old Town is a fun way to relax when visiting Sarajevo.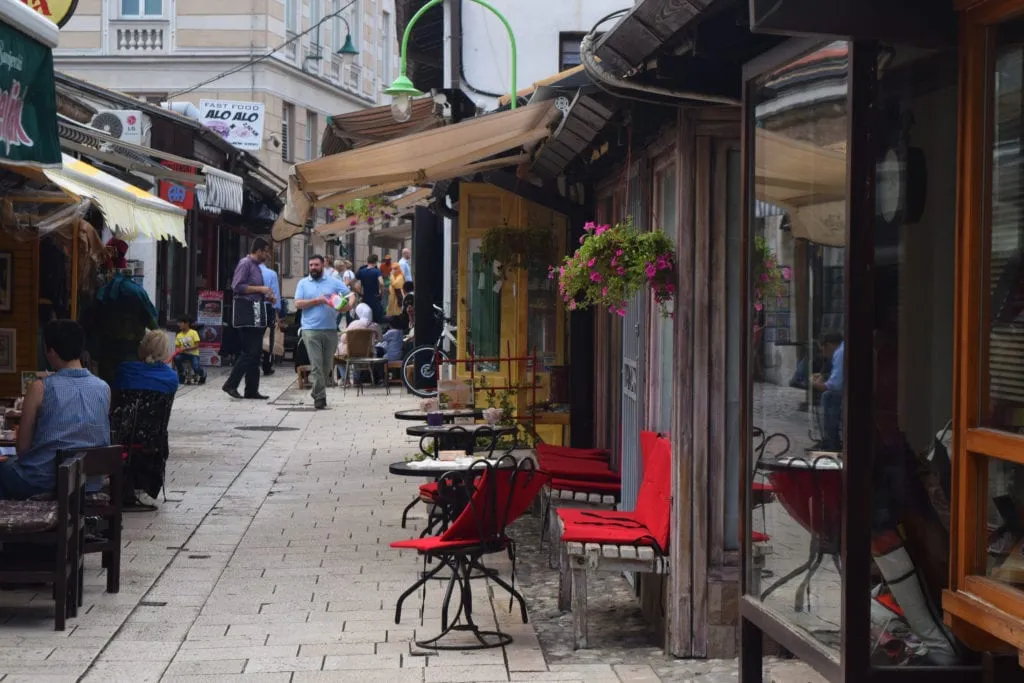 Sample some baklava.
Sarajevo's baklava is some of the best that we've seen–which is not surprising since it is a traditional dessert in the former Ottoman Empire.
While we'll never turn down a chance to sample baklava throughout the former Ottoman Empire, there's no doubt that a trip to Sarajevo is incomplete without at least one serving of baklava.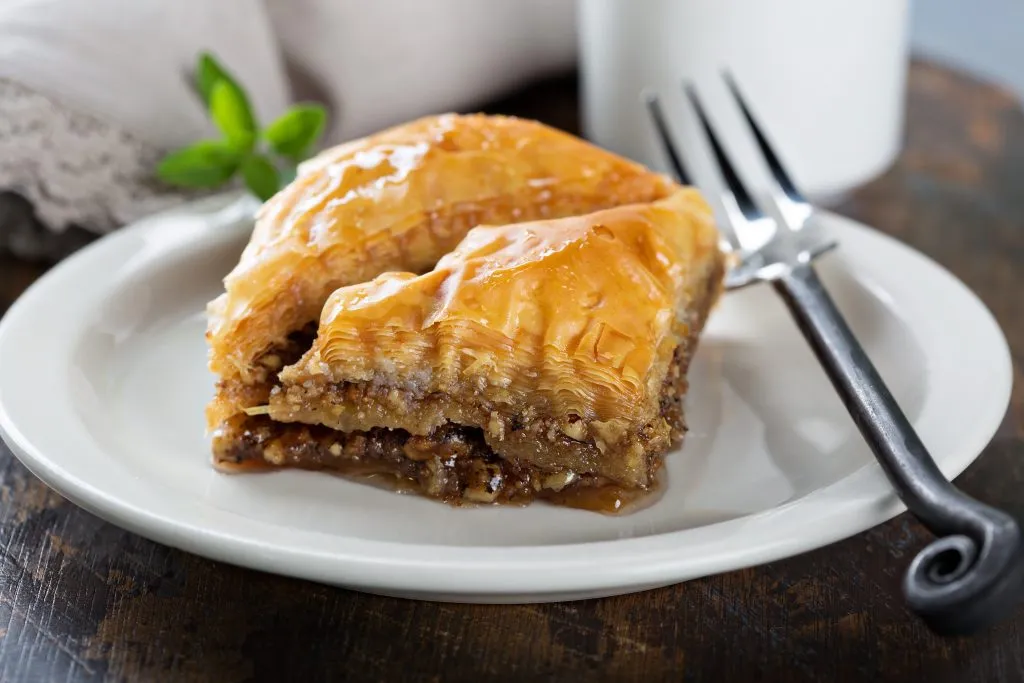 Walk across the Latin Bridge.
Before the siege of Sarajevo, the city was already famous for another war: the start of World War I.
Steps away from the Latin Bridge, Arch Duke Franz Ferdinand, heir to the Austro-Hungarian empire, was assassinated, kicking off a global conflict that quite literally changed the world.
This is a place that you can feel history beating down on you, and crossing the Miljacka River via this historic bridge belongs on any list of what to do in Sarajevo.
Watch the sunset from the Yellow Fortress.
Built between 1727 and 1739 and also referred to as the Yellow Bastion, the Yellow Fortress was originally used for defense.
Today, however, it's better known for being one of the best places to watch the sunset in Sarajevo!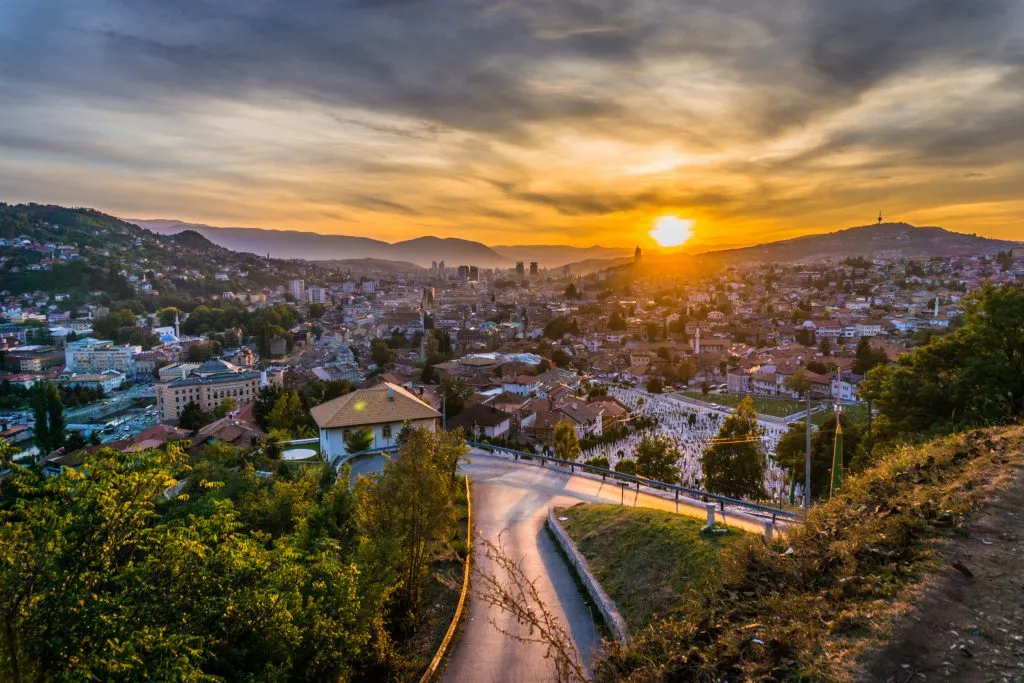 Grab a treat at a Bosnian cake shop.
Our Airbnb host was the first person who used the phrase "cake shop" with us, but we heard it several times in Sarajevo–it would appear that Bosnians eat cake the way Italians eat gelato, and the cakes are delicious.
Look for the Sarajevo roses.
The explosions of mortar that came crashing onto Sarajevo during the siege left their mark all over the city–frequently, on the concrete ground.
The shells would cause a spreading pattern on the concrete, said to look like flowers. As a memorial, many of these were filled with red resin and named Sarajevo's roses.
We only noticed one on our own, which was at the War Tunnel, though it is said that more than 100 were filled in at some point–be sure to keep an eye out for them while you're working through your list of things to do in Sarajevo!
Tours are available that will take you to them, and if you're interested, it's worth going soon: the roses are slowly disappearing as the asphalt in the city is replaced over time.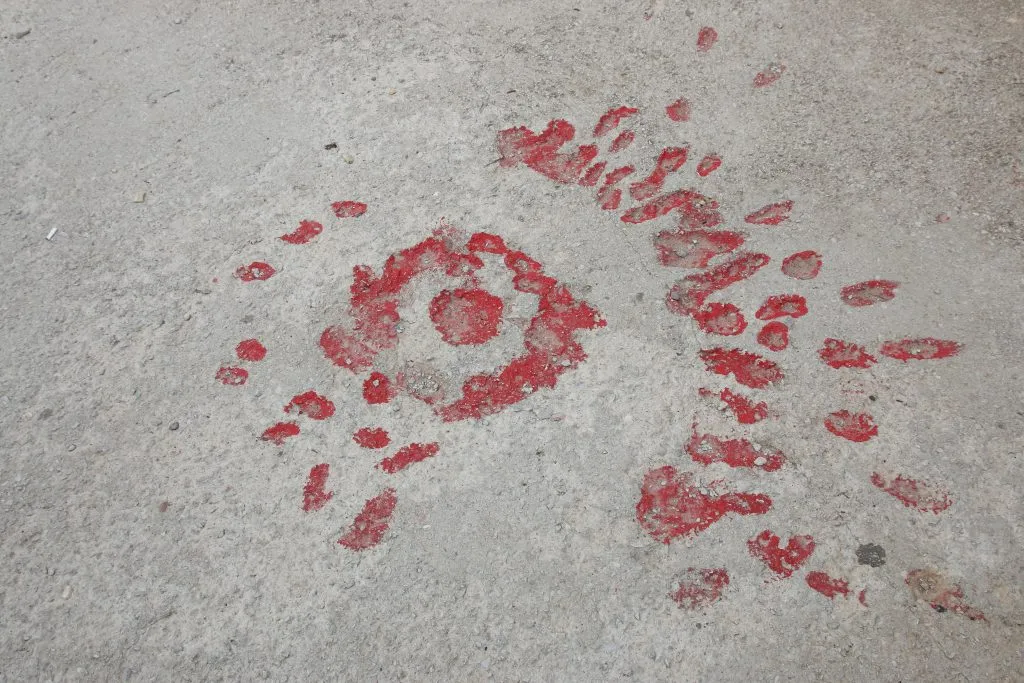 Take a day trip to Mostar (and beyond).
After Sarajevo, the scarred-yet-beautiful city of Mostar is one of the best places to visit in Bosnia.
This popular day trip will take you not only there, but also to Konjic and Blagaj, allowing you to explore some of the most interesting places in Herzegovina in a single day.
Book your day trip to Mostar today!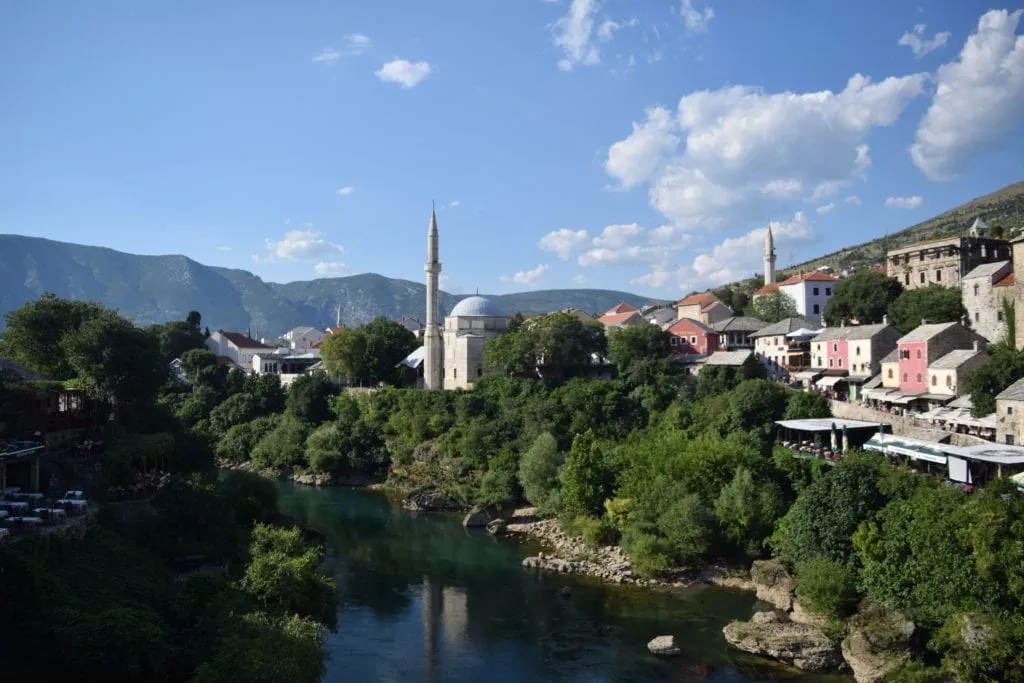 Visit the Gazi Husrev-beg Mosque.
This mosque, in the center of the Old Town, dates to the 1500s and was gifted to the city (along with a large parcel of other lands and structures) to Sarajevo by Ottoman war hero Husrev-beg upon his death.
Both the interior and exterior of the mosque are exquisitely beautiful, and open to tourists during certain parts of the day.
Visit the Gazi Husrev-beg Madrasa.
The madrasa, or Koranic secondary school, that was founded by Gazi Husrev-beg is both beautiful, and a wonderful place to learn more about his personal history–a history that is tightly tied up with the history of Sarajevo.
This is one location that we left feeling like we had definitely learned information about a city that we were unlikely to ever have found on our own, without knowing what we were looking for
The tickets are just a few marks, and you can purchase a combination ticket for the madrasa and the mosque listed above.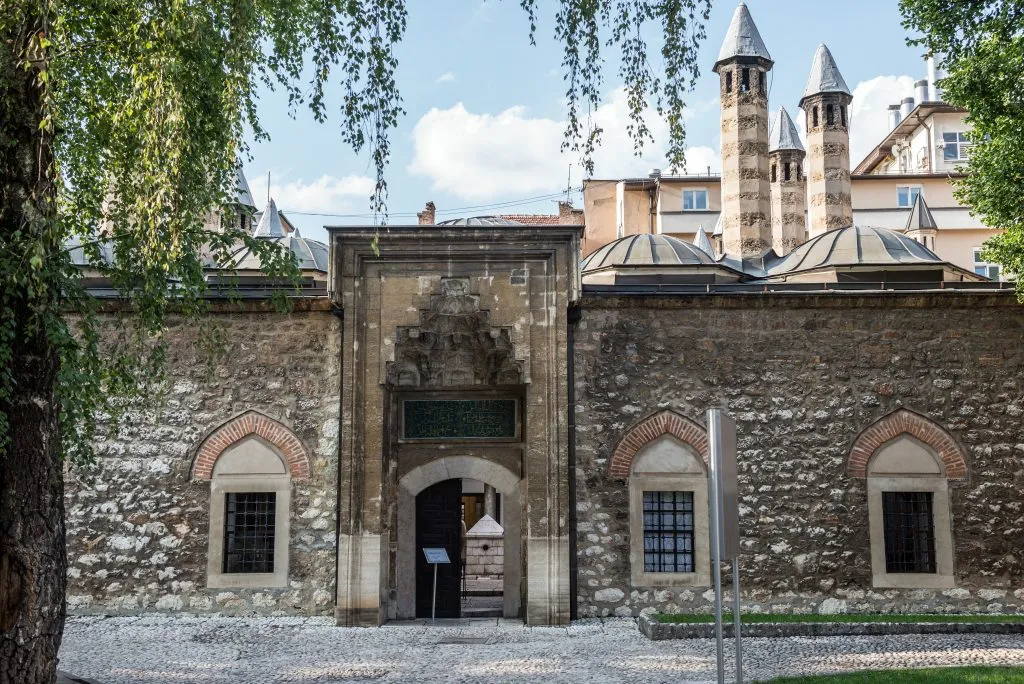 Stare down on Sarajevo from Mount Trebevic.
Reachable by cable car, taxi, or a long hike, Mount Trebevic is the most easily accessible mountain from Sarajevo's Old Town, and it boasts beautiful views and plenty of corners to explore–including Sarajevo's famous bobsled track that was built for the 1984 Winter Olympics.
The track is decorated with ample amounts of graffiti and is more or less abandoned today, but it's still one of the most popular places to visit in Sarajevo.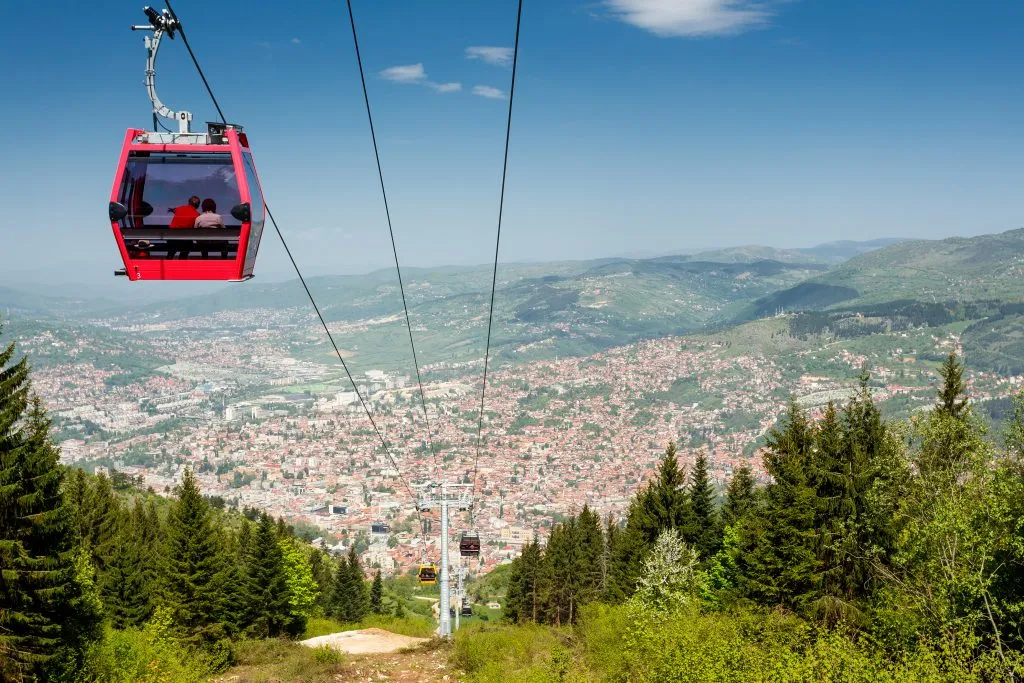 Sample some cevapi.
Our Airbnb host in Mostar swore that the best cevapi in the world was in Sarajevo.
The dish consists of small sausages served with bread and raw onions–we found it tasty, but a little plain and not mind-blowing.
We left with the impression that we'd be happy to eat it again, but only once in a while (and, in the time since our Sarajevo travels, that has proven accurate)!
Either way, it's well worth trying when visiting Sarajevo.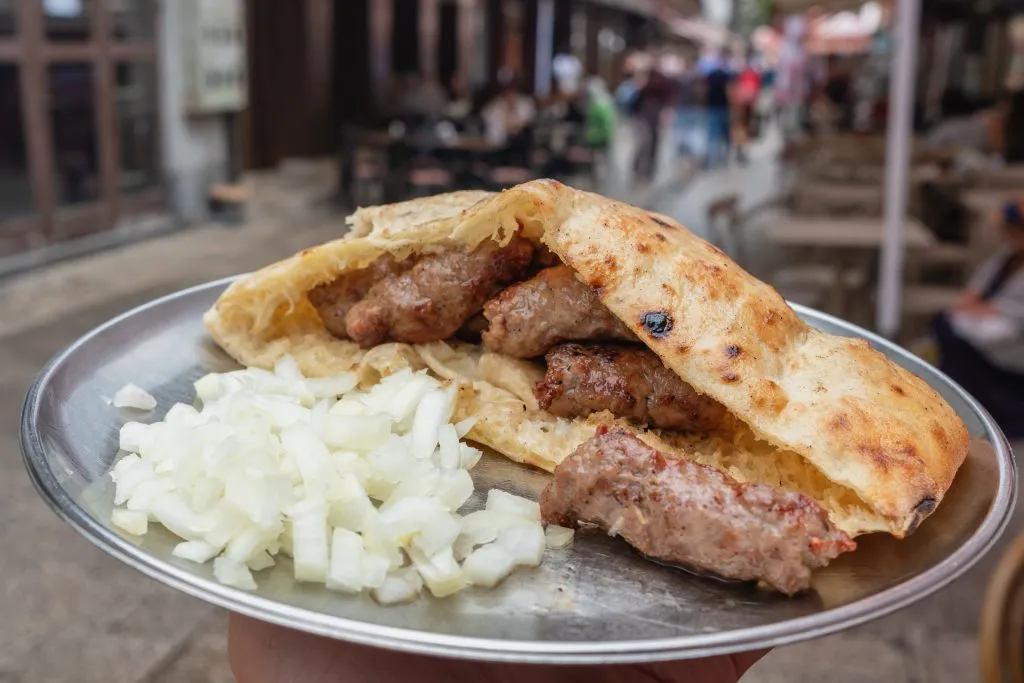 Check out the impressive Sarajevo City Hall.
Named Vijećnica, Sarajevo's City Hall is widely considered to be one of the most impressive buildings in the city and is well worth a visit as you explore Sarajevo.
---