Beautiful and scarred: those are two words that repeatedly come to mind when exploring the best things to do in Mostar, Bosnia and Herzegovina.
Mostar struck us in a different way than many other locations that have experienced violence: the scars are simply so prominent.
My theory is that this is because the city still looks so damaged, and also because of the closeness in time. 1994 doesn't feel like a distant, far away date.
Mostar was devastated during the war following the breakup of Yugoslavia.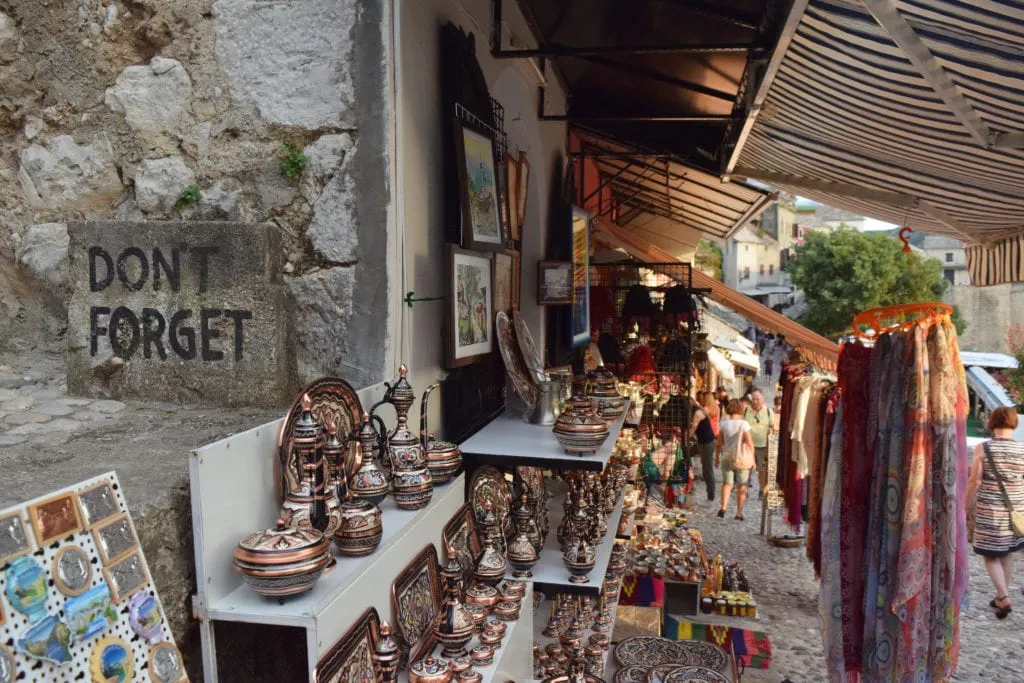 Some links in this post may be affiliate links. If you make a purchase through one of these links, we may earn a small commission at no extra cost to you. Please see our

disclosure policy

for more detail.
The phrase "it looked like a war zone" gets tossed around a lot, but it was utterly jarring to see videos of streets that looked like they were from an apocalyptic movie, while knowing that those same Old Town streets (rebuilt, bustling) were just outside the door.
Understanding this destruction–of both the parts of the city that have been rebuilt to look storybook perfect again and those spots that have been left to deteriorate–is so necessary to understanding Mostar.
Both the beauty and the brokenness are important. Both need to be seen. Both deserve attention when visiting Mostar.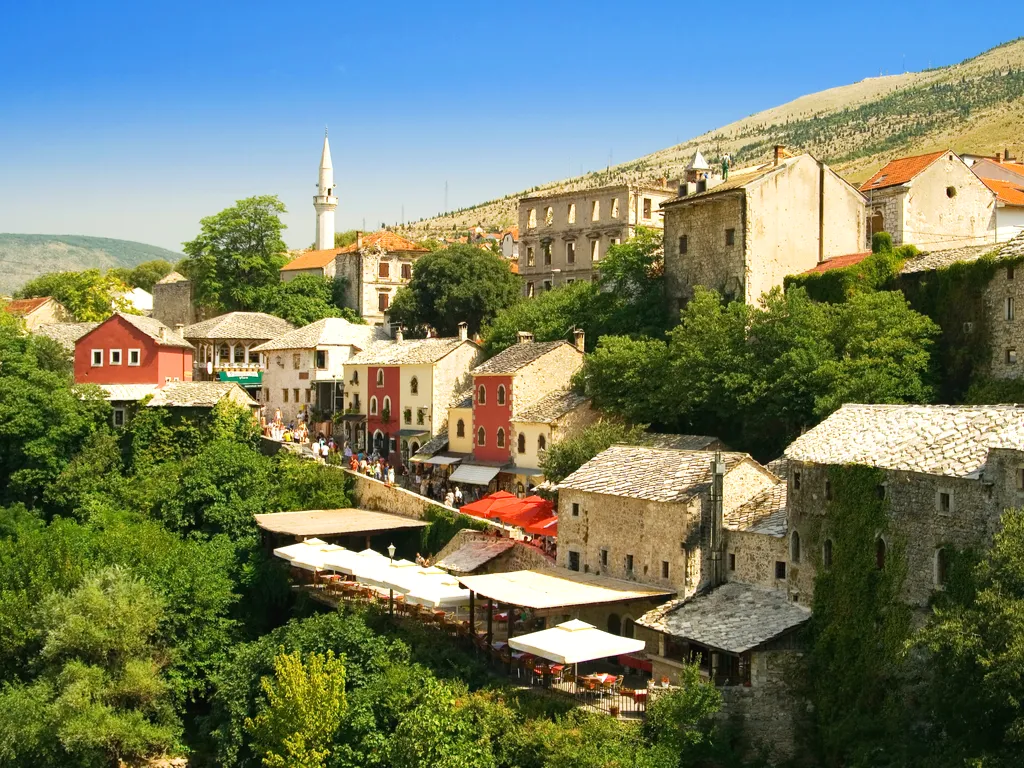 Planning a day trip to Mostar?
While we personally loved spending a few nights in Mostar, we understand that not everyone has the time for that!
If you're planning a larger trip to the Balkans and hope to visit Mostar on a day trip from Dubrovnik or Sarajevo, we highly recommend booking a tour.
That way, you'll be able to see more, make better use of your time, and–in the case of a Dubrovnik to Mostar day trip–avoid the hassle of dealing with two border crossings in one day yourself.
These two popular, well-reviewed tours are perfect for making the most of one day in Mostar!
Mostar Day Trip From Dubrovnik
Book your day trip to Mostar from Dubrovnik!
Mostar Day Trip From Sarajevo
Book your day trip to Mostar from Sarajevo!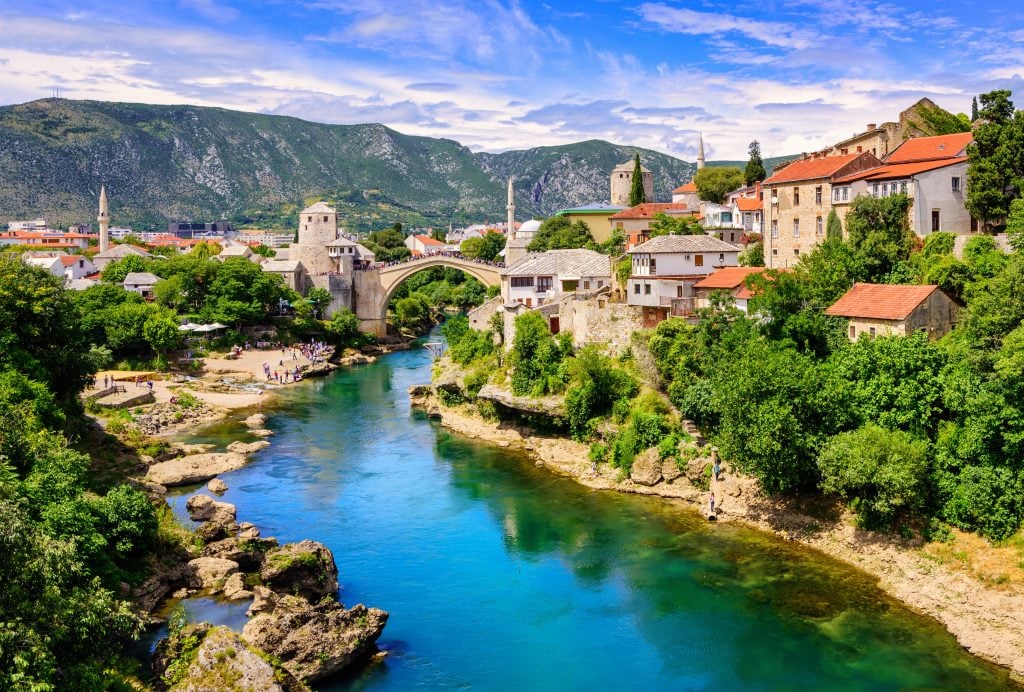 The Best Things to Do in Mostar
Stroll across Stari Most.
Somewhat incongruously for such a historic place, the most famous site in Mostar is technically less than 20 years old!
The original 1566 bridge was destroyed in 1993, and the "area of the Old Bridge" is considered to be the UNESCO World Heritage Site, rather than the structure itself.
The bridge is beautiful, as is the Neretva River below it, and admiring views of the bridge from all angles is one of the most popular things to do in Mostar for very good reason.
… and watch the divers from the bridge.
If you hang out on Stari Most long enough, you may be able to see one of the divers jump off of the 24m crest of the bridge into the cold river below (once they collect enough money from the surrounding tourists, of course).
It's an incredibly impressive sight, and well worth hanging around for a while to see if you get a show.
While you can see the divers from below Stari Most as well, we found it particularly interesting to watch from the top of the bridge, as the height helps you internalize just how impressive of a leap it is!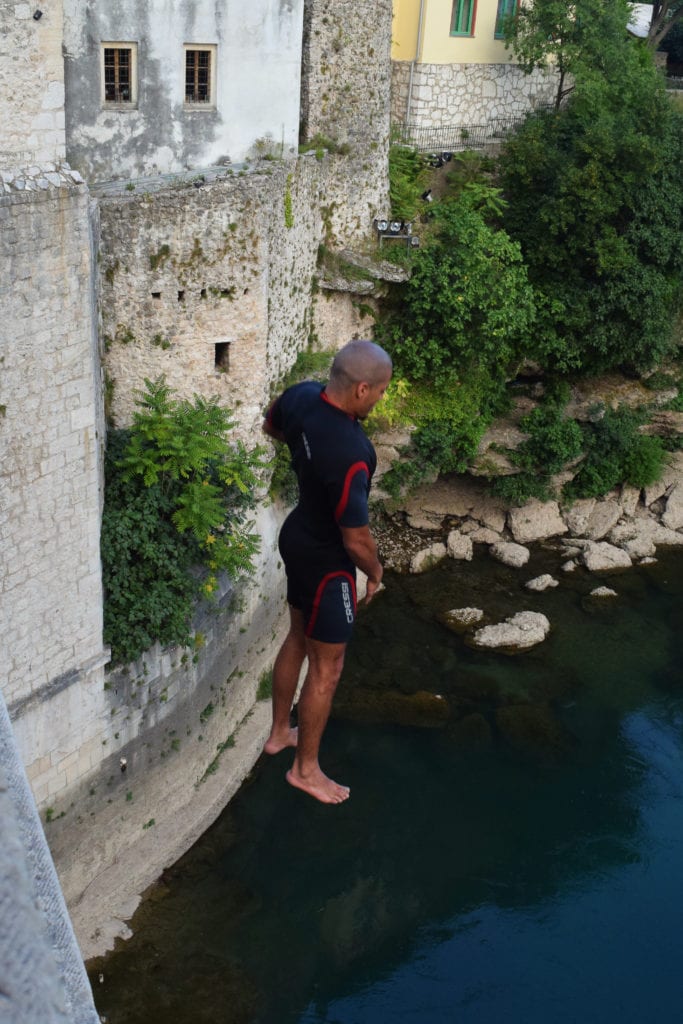 Visit the War Photo Exhibition.
Directly next to Stari Most, you'll find a bookshop that, for a small fee, will show you the photos and videos of newsreels from the destruction of the bridge during the war.
They have a large sign and are hard to miss, and I definitely recommend taking the time to watch the videos while visiting the Old Bridge, as they capture so much about the recent struggles of the city.
There's something particularly unforgettable about learning about Stari Most's heartbreaking history and its symbolism in Mostar while standing directly next to the rebuilt bridge.
Climb to the top of Koski Mehmed Pasha Mosque.
Built in the early 17th century, Koski Mehmed Pasha Mosque is one of the most popular places to visit in Mostar for two reasons: its long history in the city, and–most famously–the stunning view of Stari Most from the top of its minaret.
If you've seen photos of Mostar, most likely you've seen this mosque (which is the second biggest mosque in Mostar), as its riverside location means that it is featured in many of the most iconic views of the city.
Tourists are welcome (outside of times of prayer) to tour the mosque and climb the minaret.
Be prepared for some tight spaces in the spiral staircase on the way up, but it's well worth the climb.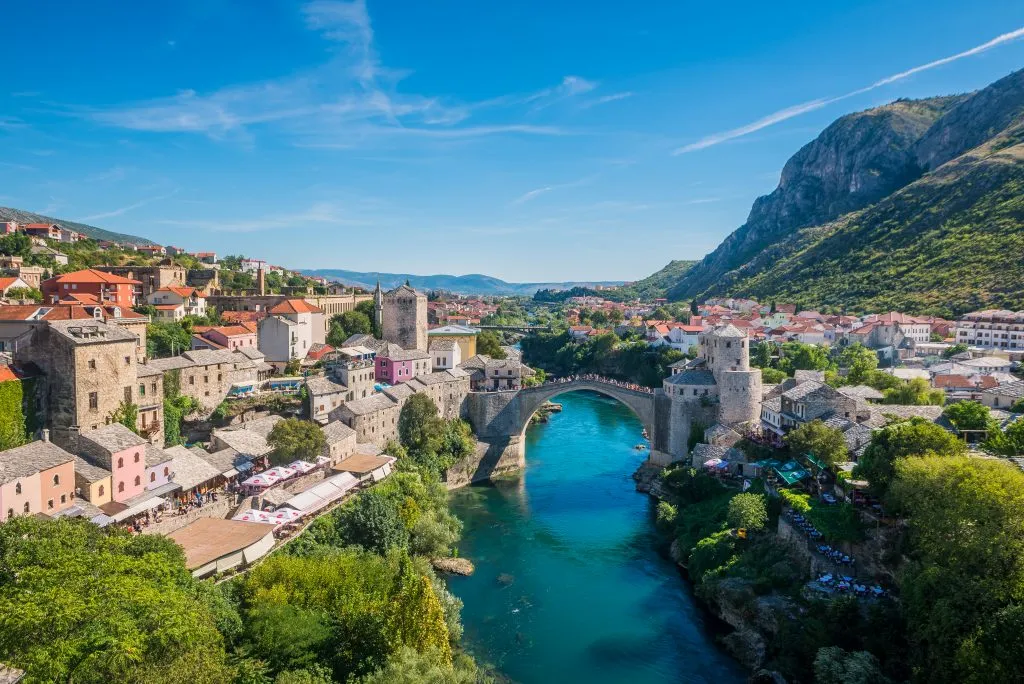 Cross Lučki Most.
This bridge may not be nearly as iconic as Stari Most, but it is very close by and features beautiful views of the more famous bridge, and is well worth adding to your list when deciding what to do in Mostar.
Sample Bosnian coffee at a riverside cafe.
Bosnian coffee is famous for its strength and thickness, and is definitely worth trying at least once when visiting Mostar!
There's no better way to try it, either, than at one of the many riverside cafes.
Soaking up views of the Neretva River is one of those things to do in Mostar that just doesn't get old!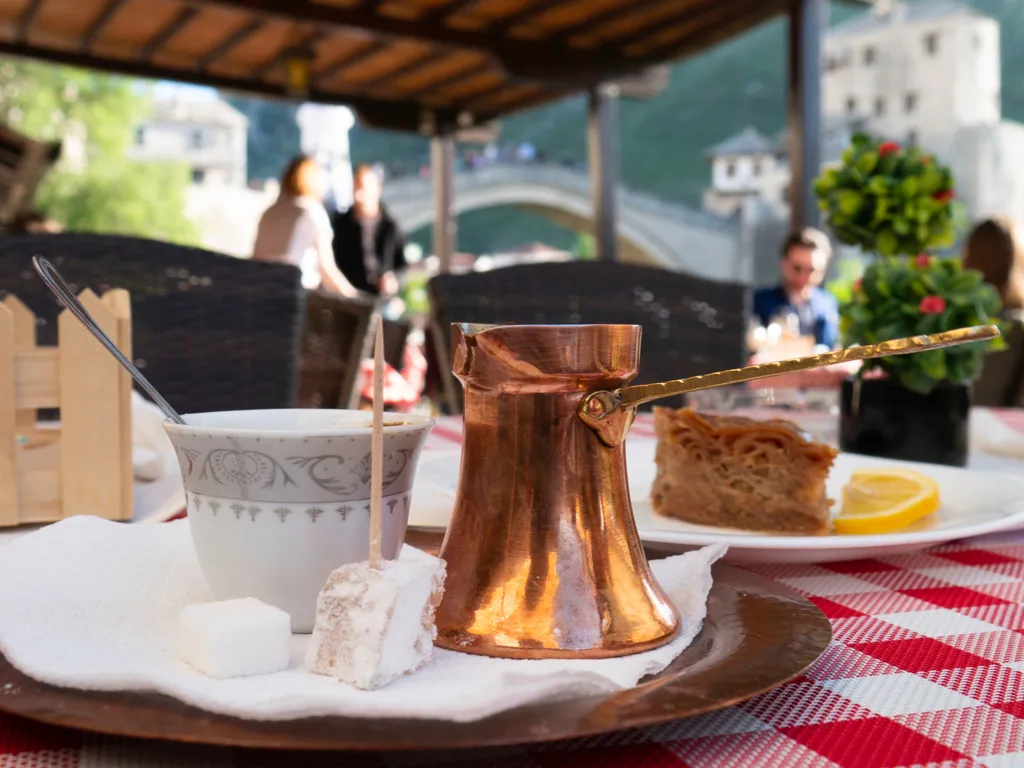 Check out the Bruce Lee statue.
To add a note of levity to this list of Mostar attractions, consider paying a visit to Bruce Lee!
This statue is so eclectic that I can't help but encourage other people to add it to their list of things to do in Mostar, though it's far enough away from Stari Most that it probably doesn't make sense if you're hoping to experience Mostar in a day.
Sitting in Mostar's Zrinjski Park is a life-size statue of Bruce Lee, nunchucks and all.
According to our Airbnb host, this piece was commissioned by the political elites in Mostar after the war, theoretically as a gesture of solidarity between the Bosniak and Croat parts of the city ("everyone loves Bruce Lee!"), but really as a way to launder public money and line their own pockets.
It was completed by Croatian artist Ivan Fijolić (our Airbnb host: "Because we don't have artists in Bosnia and Herzegovina, right?"), quickly vandalized and then removed to Zagreb while tempers cooled before eventually returning to Mostar after several years.
A Google search doesn't turn up much detailed information, though it does appear that the youth group Urban Movement Mostar was involved in spearheading the project.
Regardless of how it came about, the site of a bronze, life-size Bruce Lee hanging out in a European park is not one to miss.
Meander through the Old Bazaar.
Touristy and picturesque, the Old Bazaar (in Bosnian, Kujundžiluk) belongs on your list of things to see in Mostar whether you want to shop for souvenirs or simply enjoy wandering through the cobblestone lanes that make up one of the oldest parts of the city.
The bazaar is fairly small, so it is easy to squeeze into a one day trip to Mostar.
Stroll through Old Town.
Despite the heaviness of–or perhaps partially because of–Mostar's dark history, its Old Town shines with beauty.
Restaurants, souvenir shops, cafes, and excellent views of the Neretva River and Stari Most feel like they're around every corner, and wandering aimlessly through Old Town deserves to be featured on any Mostar itinerary, even if you only have one day in Mostar to work with.
The Neretva River, the not-so-Old Bridge, the stone turrets, the cobblestones: much of the Old Town looks like a fairy tale.
Of course, for proper perspective, it's impossible to enjoy these things to do in Mostar (and its competitively priced gelato–1/2 a Euro a scoop!) without remembering and reflecting on its recent damage.
The message, all over Mostar, is clear: don't forget.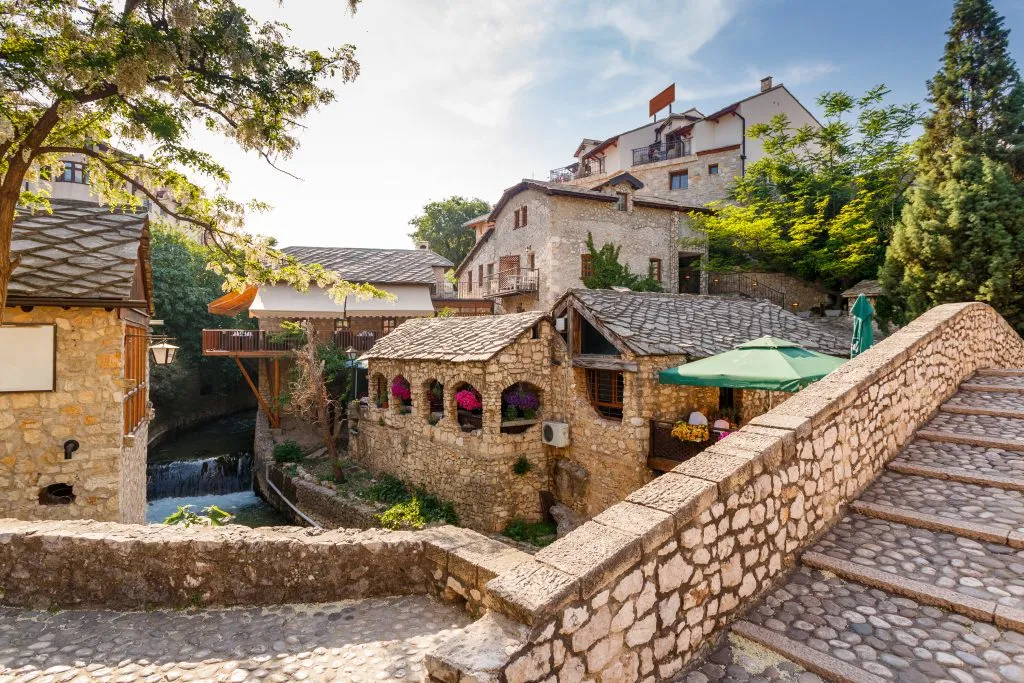 Getting Around Mostar, Bosnia and Herzegovina
Mostar is a very small, walkable city.
Pick a place to stay that is within a reasonable walking distance of Old Town, and you'll be within walking distance of the major things to do in Mostar both inside and outside the Old Town.
We didn't use public transportation once while we were here.
If you'd like to explore the nature surrounding the city–like the stunning Kravice Falls, for example–there are plenty of Mostar day trips you can take either independently or with an affordable group tour.
---