If you know of one city in Croatia, it's probably the Pearl of the Adriatic. There are just so many incredible things to do in Dubrovnik, Croatia!
This gorgeous walled city is known for its brilliant rooftops, beautiful pebble beaches, and–perhaps more than anything else in recent years–for playing the role of King's Landing in Game of Thrones.
Whether you're a fan of the TV show (we don't have to talk about Season 8) or simply looking to visit one of the most gorgeous coastlines in the world, there are plenty of fun attractions in Dubrovnik just waiting to be discovered.
We've spent weeks exploring Dubrovnik in both the height of summer and the depths of winter ("depths" is a strong word given Dubrovnik's mild weather, though), and adore the city.
Planning a trip to Dubrovnik and want to be sure that you're making the most of it?
Here's what to do in Dubrovnik, Croatia!
The Best Things to Do in Dubrovnik, Croatia
Walk the city walls.
Perhaps Dubrovnik's best-known attraction, no visit to Dubrovnik could be complete without strolling along Dubrovnik's city walls.
The views defy words: Lokrum Island, the city itself, Fort Lovrijenac, the West Harbour, and more are all clearly visible, and a visit here is easily among the best things to do in Dubrovnik.
You can walk the walls in 45 minutes if you hurry along, but we spent nearly 3 hours here both times we visited and saw absolutely no reason to speed up.
Bring a hat, sunscreen, and water–there's basically no shade up there, and during the summer it gets very hot.
… And don't forget to climb up the Minčeta Fortress while you're up there!
Minčeta Fortress is the highest fort in Dubrovnik and is only accessible from the city walls.
Climb the extra steps for a jaw-dropping view of the city.
Game of Thrones fans, also take note of the shape of the fort: it was used for the exterior shots of the House of the Undying.
Go kayaking for unique views of the city.
Kayaking tours are often at the top of visitors' Dubrovnik bucket lists, and it's easy to see why!
With the looming city walls, plenty of caves and inlets to explore, and Lokrum Island so close by, there's plenty to explore on the water.
Be prepared to have aching shoulders the next day, but if you like to get outside when you travel, we highly recommend signing up for a tour.
Our kayaking tour around Lokrum Island ranks among our absolute favorite activities in Dubrovnik and one of our fondest travel memories from Croatia!
This kayaking tour is incredibly popular (book ahead of time if you can) and follows a very similar path to the one that we took–it's an incredible experience!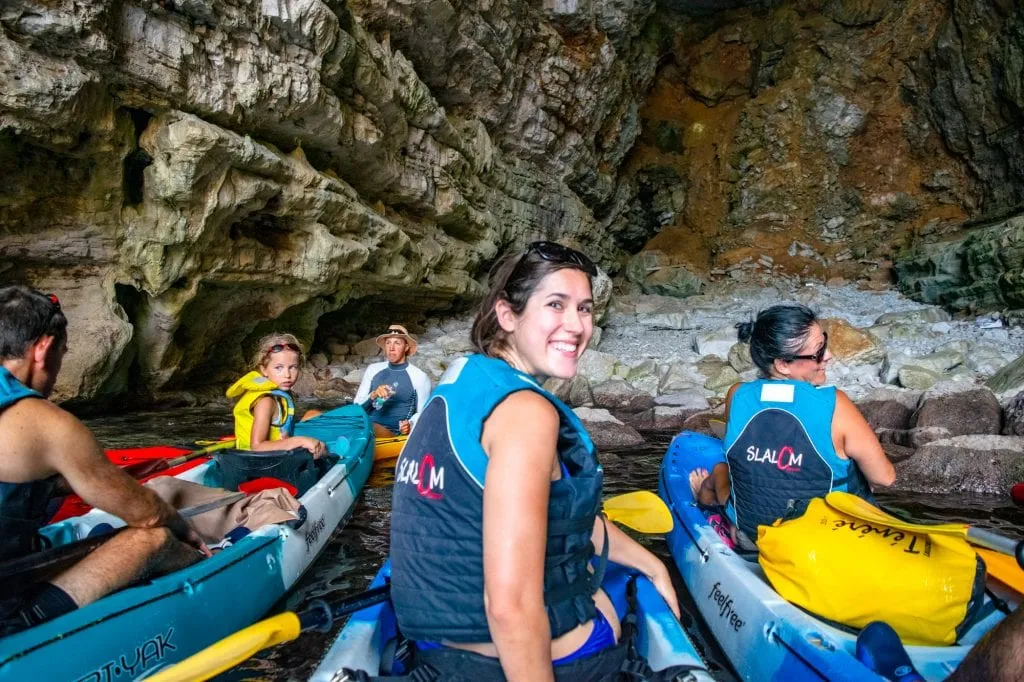 Hunt down Game of Thrones filming locations.
The Minčeta Fortress is far from the only Game of Thrones location in Dubrovnik!
The city itself played King's Landing for several seasons, and many iconic scenes were filmed here.
A few things to be on the lookout for: the Jesuit Staircase where Cersei began her walk of shame, Blackwater Bay, which was the location of several scenes, Flea Bottom, the residence of the Spice King, the location of the Purple Wedding… and there are so many more.
If you're a Game of Thrones fan, the absolute best way to spot the scenes (and potentially jog your memory of some from the earliest seasons) is to take a Game of Thrones tour through the city.
They can be surprisingly affordable and a fun way to explore interesting Dubrovnik attractions.
This popular Game of Thrones tour is very affordable and has been reviewed more than 500 times–it has definitely been tried & tested!
Pay a visit to Lovrijenac Fortress.
Set on a sheer cliff and standing imposingly over the sea, Lovrijenac Fortress is one of the most visible features of Dubrovnik outside the city walls.
Its history is impressive–it helped Dubrovnik stay free of Venetian rule–and the views from the top are also incredible.
The views alone are gorgeous enough to earn Lovrijenac Fortress a spot on your list of fun things to do in Dubrovnik!
Take a day trip to Montenegro.
Stunningly beautiful towns in Montenegro like Kotor, Perast, and Budva are all able to be visited as a day trip from Dubrovnik.
If you want to see some beautiful locations while also adding another country to your trip, you definitely can!
However, don't be tempted by the public buses: they regularly run 3-4 hours late during the high season, and even in February we arrived more than 2 hours behind.
If you're trying to pull off a Montenegro day trip, either drive yourself (check the restrictions of your rental before crossing the border) or, better yet, go with a guide who knows the way.
Book your day trip to Montenegro today!
… Or Bosnia and Herzegovina.
The most popular day trip spot in Bosnia from Dubrovnik is easily Mostar.
The city was devastated in the civil war that took place in the '90s during the breakup of Yugoslavia, and today is home to a fascinating combination of areas that are rebuilt and bustling (it is a quite popular tourism destination, after all), and areas that still bear the clear signs of war.
Mostar is hardly a light day trip–there's a lot to unpack there–but it is a valuable one.
Mostar is quite a bit away from Dubrovnik, and the city requires at least a couple of days of attention in the best-case scenario.
However, if a day is all you have to spare, there is a lot of value in a day trip to Mostar!
We strongly recommend booking a tour for this one, though: buses aren't really workable on a day trip schedule and driving can be quite a hassle when you combine a border check with a significant distance.
This Bosnia day trip is a fantastic way to get a taste of Mostar from Dubrovnik!
Watch the sunset from a cliff bar.
There are two cliff bars in Dubrovnik: Buža Bar I and Buža Bar II, both accessed through small holes cut into Dubrovnik's famous walls, and visiting at least one should absolutely be on your list of fun things to do in Dubrovnik.
The atmosphere is casual, the drink selection is limited but tasty enough (think primarily beer and wine, and not much food to speak of), and the views at sunset are utterly spectacular.
Check out Lokrum Island.
Home to beautiful botanical gardens, a monastery, plenty of shady places to rest, and many swimming spots, Lokrum Island makes a fantastic quick getaway from Dubrovnik, Croatia.
It is also an incredibly easy one!
Lokrum Island is a mere 15 minutes by ferry from the Old Town.
Swim your heart out.
The crystal-clear Adriatic Sea beckons from all angles during a visit to Dubrovnik, especially if you happen to be there during the hot and sticky summer months.
The best remedy is also the simplest: go swimming!
There are beaches and swimming spots around every corner ("beach" isn't exactly the term I'd use for the rocky cliffs near Buža Bar where people go cliff jumping, but it's often noted on lists of Dubrovnik's beaches).
The most popular beach in Dubrovnik is probably Banje Beach (pictured below), so be sure to head there at least once!
Keep in mind that Dubrovnik's beaches are generally made of pebbles, not sand.
That helps give the water its characteristic bright color, but it's not easy on the feet.
Definitely bring flip-flops or even water shoes when planning to swim in Dubrovnik.
(Carefully) try out cliff jumping.
Cliff jumping is popular along the Adriatic coast, where crystal-clear water framed by rocky cliffs creates a setting that practically demands adventure.
One of my favorite memories from our first months of full-time travel is cliff jumping in Dubrovnik, and I highly recommend trying it out.
Just be very careful, understand the risks before you participate, and ideally do so under the guidance of a tour guide or local who can show you the safe spots!
Stroll through Pile Gate.
It's pretty hard to skip Pile Gate on your list of fun things to do in Dubrovnik, as it is the main entrance to the Old Town–but it's still worth slowing down to take a look at!
Once, you would cross a wooden drawbridge suspended over a moat to reach Pile Gate, but those days are long gone.
Today, a beautiful stone bridge set over a park will take you right through Pile Gate when visiting Dubrovnik.
… And then Ploce Gate.
The east gate of Dubrovnik may be a bit less ornamented than its western counterpart Pile Gate, but it also tends to be less crowded.
Swing by for pretty views, a statue of St. Blaise, and (possibly) also to catch a bus around Dubrovnik during your visit.
Take a walking tour of Dubrovnik's Old Town to ensure you don't miss a thing.
Dubrovnik's Old Town may be small, but it's also densely packed with historical sights, beautiful views, and interesting stories.
If you're trying to maximize the number of things to do in Dubrovnik that you're able to complete, one of the best ways is to take a walking tour of the Old Town to ensure you see Dubrovnik's most significant sights efficiently.
(In other words, one of the best ways to make sure that you don't walk right past something cool several times without noticing it, which we've definitely done).
If you're looking for an inexpensive and fun introduction to Dubrovnik, this walking tour is a great option!
Visit the Dubrovnik Cathedral.
Dubrovnik's stunning Baroque cathedral is prettiest from the outside in my opinion–but it's still worth a quick peek inside.
Also worth a look?
The Cathedral Treasury next door, which is home to, among other things, the skull, arm, and leg of St. Blaise, which are coated in gold.
Take an early morning or late night walk through Old Town.
Old Town is an incredibly beautiful, atmospheric place that can make you feel like you stepped back in time… that is, when you're not sharing with thousands of other tourists who just got off a cruise ship.
Make it a goal on at least one of your days in Dubrovnik to take a stroll through town well before most people get up, or well after they go to bed.
You won't be sorry that you made the extra effort to see some of Dubrovnik's attractions at their best!
Explore the Franciscan Monastery.
Within the quiet walls of the Franciscan Monastery, it's hard to imagine that the crowds of Dubrovnik's Old Town are just outside the door.
The entrance to the monastery is easy to pass if you don't know what you're looking for, lurking just beyond Pile Gate.
Ithides, among other things, a beautiful cloister and a museum to the third oldest pharmacy in the world!
Take the Dubrovnik Cable Car to the top of Mount Srd.
Want an even higher viewpoint to admire Dubrovnik from than Minčeta Fortress?
Take a ride up the Mount Srd cable car to experience what is arguably the best view of Dubrovnik for yourself!
The views from the top are absolutely stunning, especially around sunset.
You can even eat at the restaurant near the top for an exceptional dining experience in Dubrovnik.
… And then hike down for extra beautiful views of the city.
The hike back down Mount Srd is said to take less than an hour, and if you want extra time with the beautiful views–and perhaps even the chance to enjoy them away from the crowds–definitely consider taking the slow way down.
Plus, as a bonus, you'll save a bit of money on the cable car ride by only buying a one-way ticket.
Duck inside the Church of St. Blaise.
Named for the patron saint of Dubrovnik, the Church of St. Blaise boasts a beautiful interior–the altar is particularly gorgeous.
This beautiful church is definitely worth a quick stop inside as you walk along the Stradun.
Escape to the Elafiti Islands.
Made up of six islands set in an archipelago near Dubrovnik, the Elafiti Islands are the perfect quiet escape from the city!
Two of the three main islands are car-free, giving a completely different vibe than other parts of Croatia.
The island of Lopud makes a great first stop and is home to gorgeous beaches.
You can visit the islands independently via ferry (just be careful to watch the schedule!), or book a guided tour from Dubrovnik if you'd like to see several of the islands easily in one day.
Visit 3 islands in one day via with on this popular Elafiti Islands day trip!
Take a bite of Ledo ice cream.
And ice cream brand may seem like an odd choice to include on a list of things to do in Dubrovnik, but Croatia's famous ice cream brand is so tasty that it absolutely deserves a spot on this list.
How delicious are we talking, exactly?
Delicious enough that many years and several trips to Croatia later, we never quite feel like we've arrived in the country until we've had our first ice cream bar (and that includes the time we visited Dubrovnik in February).
Especially if you're visiting during the summer, definitely try some Ledo ice cream during your trip to Dubrovnik.
Pay a visit to the Rector's Palace.
Dating to the 14th century, the Rector's Palace once served as the seat of the Rector of the Republic of Ragusa.
However, it is better known these days for its beautiful Gothic facade and being yet another Game of Thrones filming location (it was the home of the Spice King).
Today, a visit to the Rector's Palace includes seeing art, artifacts, an armory, and, perhaps most interestingly, an infamous prison known for its terrible conditions and intense punishments (think prisoners being drowned by the incoming tide).
Say hello to all of the adorable cats.
Like many Balkan cities, Dubrovnik is full of semi-stray cats that appear to be tended to by the locals.
We have passed many a pile of cat food and water bowl set out during our visits to Dubrovnik, Croatia.
The cats are generally extremely friendly–one even jumped into my lap completely unprompted and took an hour-long snooze when we were watching the sunset at Buža Bar–and add a delightful layer to the city.
Dedicate a day to experiencing Croatia's (delicious) wine.
Croatia is home to some incredibly tasty–and often surprisingly affordable–wine.
Don't leave Dubrovnik without trying some!
While there are some great wine bars in town to try out, if you have the time, consider taking a day trip to the Peljesac Peninsula to kill two birds with one (delicious) stone: taste wine right where it's grown and see part of Croatia outside of Dubrovnik.
Visit both the gorgeous island of Korcula and the Peljesac Peninsula for wine tasting on this fun day trip.
Stroll down the Stradun.
The Stradun is Dubrovnik's main street–and while the coffee shops and restaurants here tend toward being incredibly expensive, the street itself is beautiful and worth a stroll.
We especially recommend visiting around sunrise or sunset.
The light catches the Stradun beautifully at those times, giving everything a gorgeous glow.
Climb the Jesuit Staircase.
I have a hard time even looking at the Jesuit Staircase without hearing faint echoes of "shame" in the background.
But, even for those completely uninterested in Cersei's fate, this Baroque staircase is beautiful and definitely worth visiting!
Some say that the staircase is similar to the Spanish Steps in Rome–what do you think?
Visit the local market in Gundulićeva Poljana Square.
Every day, a small fruit and vegetable market opens in this square.
It's nothing enormous or fancy, but it does add charm to the square, and it is worth pausing for a quick look.
In a city as touristed as Dubrovnik, glimpses of true local life are a delight to come by!
Admire Dubrovnik's epic sunsets from a boat.
Dubrovnik is home to some of the best sunsets we have seen in our lives–maybe even better than the sunsets on Santorini (controversial, I know).
What better way to admire one of these epic sunsets than to do it from a sailboat?
Not only will you be able to have the best view of the sunset that way, but you'll also get to experience gorgeous views of the city itself too, perhaps with a glass of Croatian wine in hand.
This sunset cruise on a 16th-century ship is a magical way to spend an evening in Dubrovnik, and also includes dinner!
Sip coffee slowly while enjoying the atmosphere in the Old Town.
Like many cities and towns in the region, Dubrovnik has a strong cafe culture.
Sitting outside in all seasons (we did it almost every day during our visit in February, and we're far from alone) with a warm cup of coffee and a fun conversation partner is a staple of life here.
If you're looking for the perfect way to start your days in Dubrovnik, this is it!
In Old Town, we can recommend Micro Caffe Bar, which is tucked behind the Dubrovnik Cathedral.
Here, you can find tasty coffee that is–while not inexpensive by any stretch of the imagination–half the price of the coffee served a short walk away on the Stradun.
Go see the Trsteno Arboretum.
Set about 30 minutes by bus outside of Dubrovnik, this 500-year-old arboretum is a beautiful, peaceful escape from the city.
Its position overlooking the Adriatic Sea is unbeatable, and like so many other places nearby, it also served as a Game of Thrones filming location–it was the set of the gardens of King's Landing.
It also has beautiful, romantic vibes, and is an excellent spot to visit on a couples trip to Croatia!
Check out the interesting green doors at West Harbour.
These quirky doors situated in the West Harbour underneath Fort Lovrijenac make a great photo op no matter who you are!
But, for Game of Thrones fans, this is also where we see the Gold Cloaks killing some of Robert Baratheon's children in Season 2.
Travel Tips for Dubrovnik, Croatia
Visit in the shoulder season if you can.
If this is your first trip to Dubrovnik, we definitely understand wanting to be around when the weather is warm enough for beach days and kayaking trips.
But, if you visit in July and August, the crowds will almost certainly take away from your experience somewhat.
We recommend visiting in May or September if you can.
If you're used to swimming in cold temperatures or simply aren't that invested in actually getting in the water, October would be even better.
Do your best to avoid cruise ships.
When the cruise ships come to town, Dubrovnik turns into a whole different city with literal Disney-World-during-summer-weekends levels of crowds.
If you can, plan your trip–or at least certain activities like walking the city walls–for when the cruise ships won't be in port.
You can check the cruise ship schedule here.
Also, if you're planning on taking a day trip to Kotor, Montenegro, it's a similar story over there.
You can check Kotor's cruise ship schedule here.
Be sure to pack your passport (and debit card) on day trips.
Dubrovnik is in a bit of a curious geographic position, cut off from the rest of Croatia by a tiny sliver of Bosnian coastline.
For that reason, even if you're taking a day trip within Croatia, you may need to pack your passport with you.
And of course, if you're visiting one of the surrounding countries, you most certainly will need it.
You'll also need different currencies on day trips out of the country: Montenegro is on the easy-to-use Euro, but Bosnia uses the Bosnian mark, which is nearly impossible to exchange outside the country.
Choose wisely when deciding how much to withdraw!
Wake up early (and stay out late).
One of the best ways to avoid the crowds of day-trippers in Dubrovnik?
Beat them out of bed.
The quiet, early-morning hours in Dubrovnik are some of the most peaceful and beautiful you can experience in the city, but if you're not a morning person, a late-night walk is also an option.
Save your ticket for the city walls.
Your (expensive) ticket for the Dubrovnik city walls will also get you into Fort Lovrijenac, so hold onto your ticket!
You'll also need to show your ticket on the walls themselves a few times, as there are multiple entrances, so be sure not to misplace it.
Consider a Dubrovnik Card.
As of February 2022, a one-day Dubrovnik Card costs 250 kuna.
Meanwhile, the Dubrovnik City Walls cost 200 kuna and are included with the card.
This is a change from in previous years, where the cost of a one-day Dubrovnik City Card and a ticket to the city walls were identical, but it's still a great deal!
This price structure makes at least a one-day Dubrovnik Card almost certainly a win, as the card also allows you to access several other small museums around town, and includes public transport around the city.
Having the transportation included is incredibly useful if you're not staying within walking distance of Old Town.
You can check full inclusions, updated prices, and get a discount for purchasing the card online here.
Don't think of Dubrovnik as a budget destination.
Information floating around the internet touting Dubrovnik as an inexpensive destination isn't wrong, exactly—just outdated.
Dubrovnik is popular, easily accessible (hello cruise ships), and tiny–a recipe for price inflation if there ever was one.
The cost of walking on the walls doubled between our visits in 2016 and 2019, from 100 Kuna (around $15 USD/person) to 200 Kuna (around $30 USD/person).
Coffee in the Old Town runs at Manhattan levels–the equivalent of more than $3.00 USD for a shot of espresso isn't uncommon.
Hotel rates have soared to mind-boggling levels, especially in the summer.
Much of this fades during the winter months, when prices shrink, but not all of it.
Bottom line, if you're looking for an inexpensive backpacking or road trip destination in the Balkans, Bosnia and Montenegro are both right next door.
That's not to say Dubrovnik isn't worth visiting–it absolutely is, there's a reason we plan to visit countless times in our lives–but it's important to know what you're getting when you book your trip.
Where to Stay in Dubrovnik, Croatia
The prices for Dubrovnik's lodging fluctuate wildly–for example, the incredibly well-located apartment we stayed in for under $40/night in February when enjoying some winter sun is listed for a whopping $180/night during August!
For that reason, keep in mind that "budget" is a relative term in Dubrovnik during the high season.
If you're budget-conscious, the absolute best way to cut costs in Dubrovnik is to visit during the offseason.
The good news is, from Dubrovnik's boutique hotels to apartment rentals to larger hotel properties, there are plenty of places to stay in Dubrovnik, both in and outside of the historic center.
Budget
Guest House Amalija — You'll need to catch the bus to the Old Town (a must for staying on a budget in Dubrovnik), but Guest House Amalija is the perfect retreat from the hecticness of the city center.
The spacious rooms, fast wifi, and lovely views are all great selling points for the property.
Mid-range
Old Harbour City Center Apartment — We adored staying in this apartment during our second trip to Dubrovnik!
It's set on a quiet street but is a less than 5-minute walk from Pile Gate and the main entrance to the Old Town, and mere steps from the West Harbour.
The apartment was spacious, easy to live in, had a strong wifi connection (a must for us), and we would definitely stay again.
Luxury
Grand Villa Argentina — If you want to feel like royalty during your trip to Dubrovnik, book yourself into the Grand Villa Argentina immediately.
It's hard to say what the best feature of this hotel is, but the palatial atmosphere, the direct access to the beach, the fantastic included breakfast, and the swimming pool with a stunning view of Old Town are all in the running.
A stay here is one that you'll never forget.
Getting Around Dubrovnik
Dubrovnik's historic center is an extremely small place–you can walk from one end to the other in about 10 minutes, and that's being generous.
So, if you're staying within walking distance of the Old Town, you'll probably be able to reach all the things to do in Dubrovnik that you want via foot (excluding day trips, of course).
However, staying in or near the Old Town during the high season is extremely pricey, so there's a good chance you'll end up staying a bit further out.
If so, the best way to get around is via bus.
Dubrovnik has a dense bus network that makes it easy to get to the Old Town and back, regardless of where you're staying in town.
Keep in mind that tickets are a bit cheaper if you buy them at a kiosk, but you can purchase them from the driver as well.
If you think you'll be using the bus on a regular basis during your trip to Dubrovnik, consider getting a Dubrovnik Card, which I'll discuss in more detail below.
How Long to Visit Dubrovnik, Croatia
On our first trip to the city, we were warned by many people that Dubrovnik was small and that one, maybe two days max would be plenty… and we walked away after our trip in complete disagreement with that statement.
We would recommend spending 3 days in Dubrovnik, which should give you enough time to get through all the fun things to do in Dubrovnik that are a high priority for you while also getting out on the water at least once, either for a kayaking trip or to visit Lokrum Island.
If you'd like to take some day trips from Dubrovnik, you can easily fill up several more days in the city.
---