Known for its magnificent views, medieval history, and–above all–its world-famous Nobile di Montepulciano wine–Montepulciano, Italy is an absolute delight of a Tuscan hilltop town.
To explore the best things to do in Montepulciano is to sample some of the best of Tuscany, and it's an incredibly easy place to fall in love with–at least, we sure did!
While there is some traditional sightseeing in Montepulciano, which we'll cover in this blog post, a visit to this idyllic corner of Tuscany is less about museums and attractions than it is about relaxing with a glass of wine with a stunning view over the Tuscan countryside.
We've now visited Montepulciano 3 times, and it's safe to say that this delightful corner of Tuscany will keep calling us back again and again.
Here's how to enjoy the perfect trip to this Tuscan village, whether you're taking a day trip to Montepulciano, or you're planning to base yourself there for a week!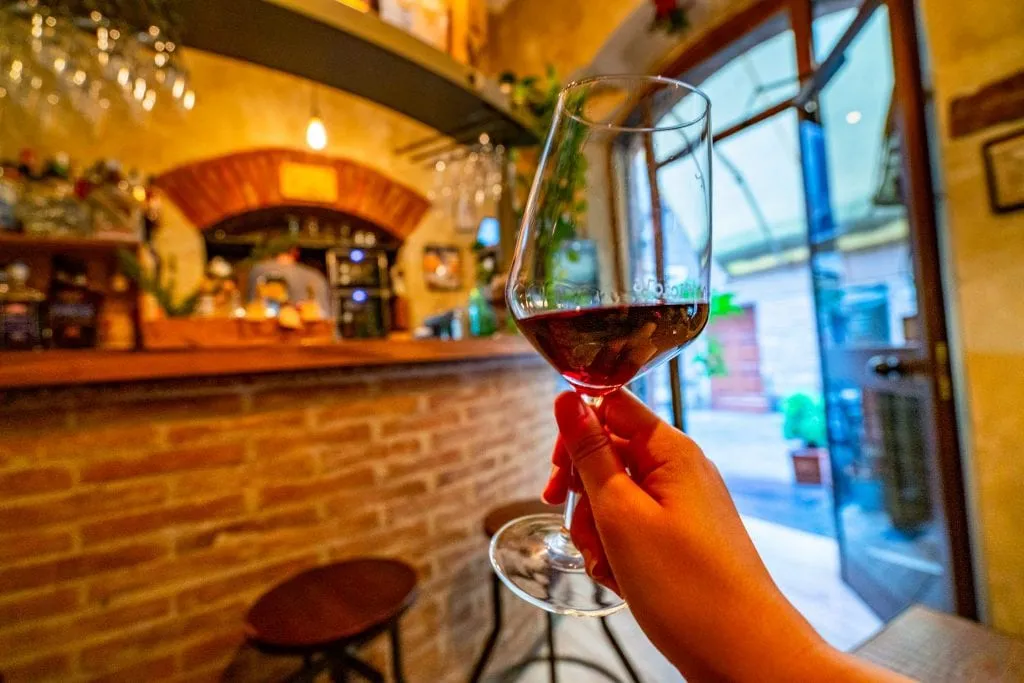 Some links in this post may be affiliate links. If you make a purchase through one of these links, we may earn a small commission at no extra cost to you. Please see our

disclosure policy

for more detail.
The Best Things to Do in Montepulciano
Meander through the Piazza Grande.
Lined with palazzos, Montepulciano's cathedral, and the town hall with its striking clock tower, Piazza Grande is one of the best places to visit in Montepulciano.
If you're so inclined, you can climb to the top of the Palazzo Comunale for gorgeous views (more on that below).
Fans of YA literature in the late 2000s may also recognize Piazza Grande for another reason: some scenes in the New Moon movie were filmed here (however, Montepulciano was playing Volterra rather than itself).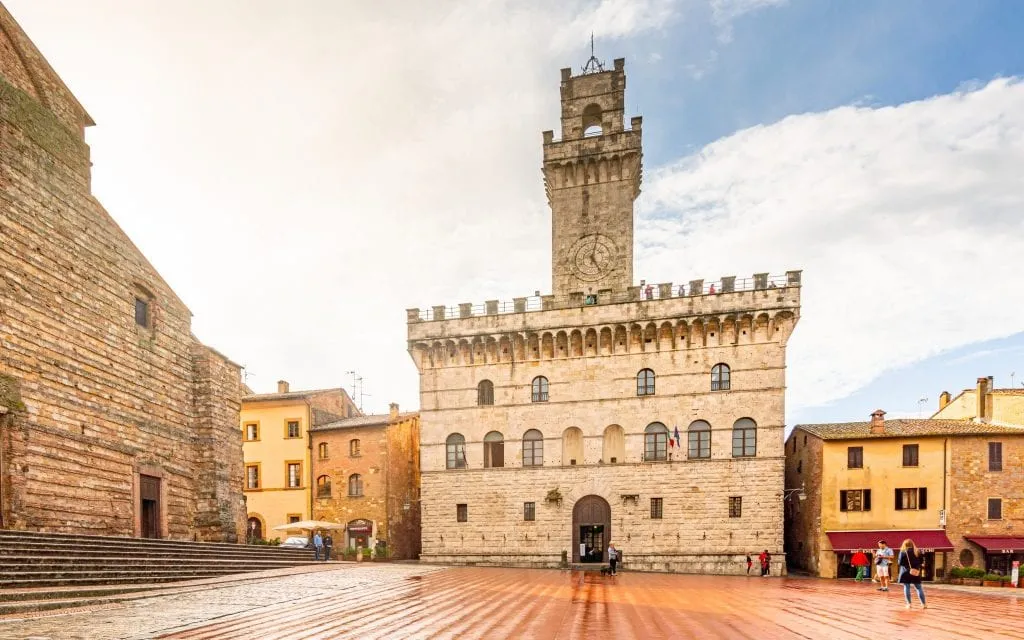 … and pay a visit to the Duomo.
The Cathedral of Saint Mary of the Assumption in Montepulciano is far from the most ornate church in Italy, but it's still well worth a look when visiting Montepulciano!
The church is free to enter and in addition to being beautiful, is an excellent place to rest your feet after climbing to Piazza Grande.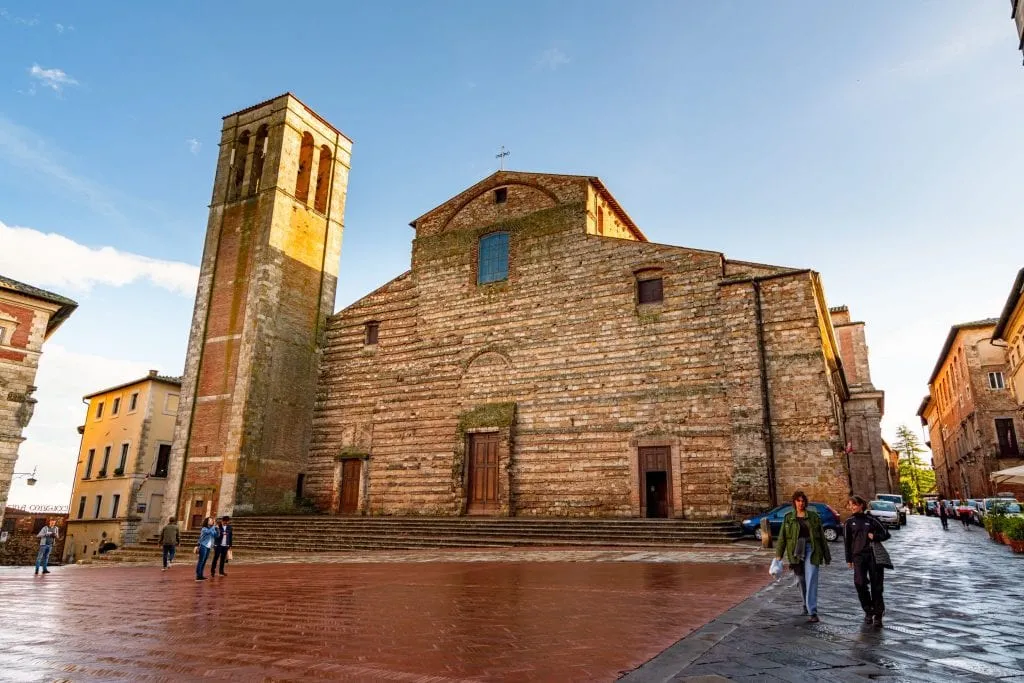 Explore a wine cellar.
One of the most unique things to do in Montepulciano is to descend underground in order to complete a wine tour underneath the city!
Buried underneath this hilltop town is a maze of underground cellars and tunnels that are the perfect place for aging Montepulciano's world-famous wine.
A tour and tasting here is an unforgettable experience, and there are several to choose from!
We toured the popular Cantina de Ricci, located just off of the Piazza Grande, and had a fantastic time.
Prefer a full guided tour and tasting complete with local cheese and several wines?
This popular tour is a great option!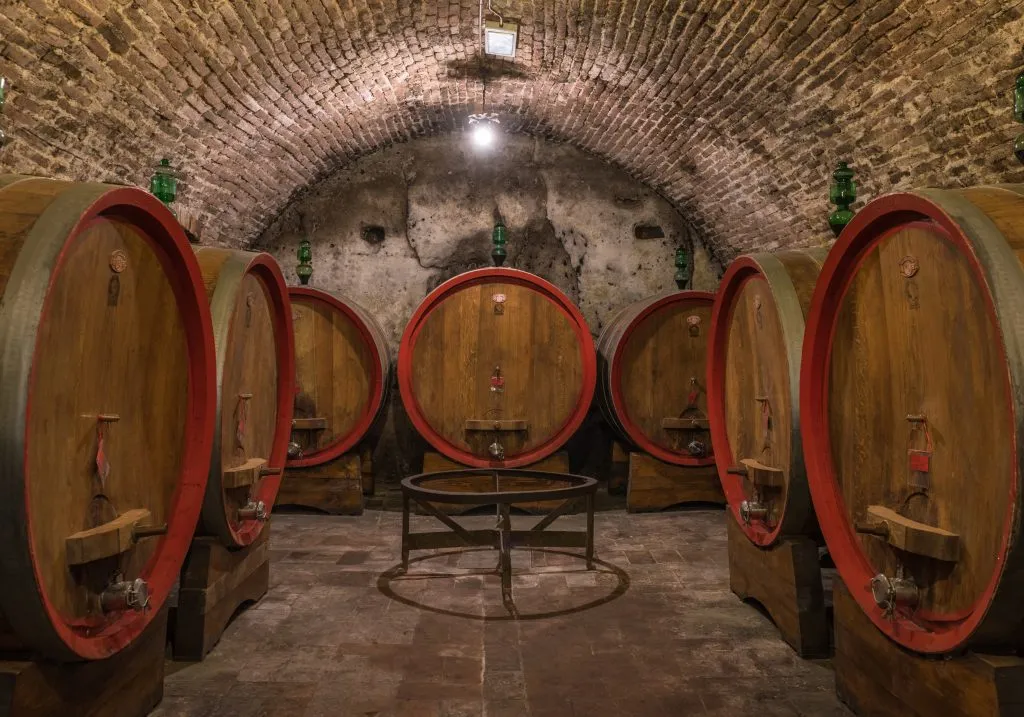 Visit the nearby Val d'Orcia.
Rolling fields, golden light, and cypress trees lining winding paths to country villas: this is the iconic vision of Tuscany, and it's exactly what you'll find in the Val d'Orcia!
This ethereal valley is a UNESCO World Heritage Site, and it is home to some of the most stunning natural beauty in all of Tuscany.
You'll find yourself pulling over to admire the view a lot when driving here!
While Montepulciano isn't located in the Val d'Orcia, it is located just outside of it and makes an excellent base for exploring the Val d'Orcia by car.
Towns like Pienza, Montalcino, and Monticchiello are fantastic places to explore–but the scenic drives to reach them are at least half the fun.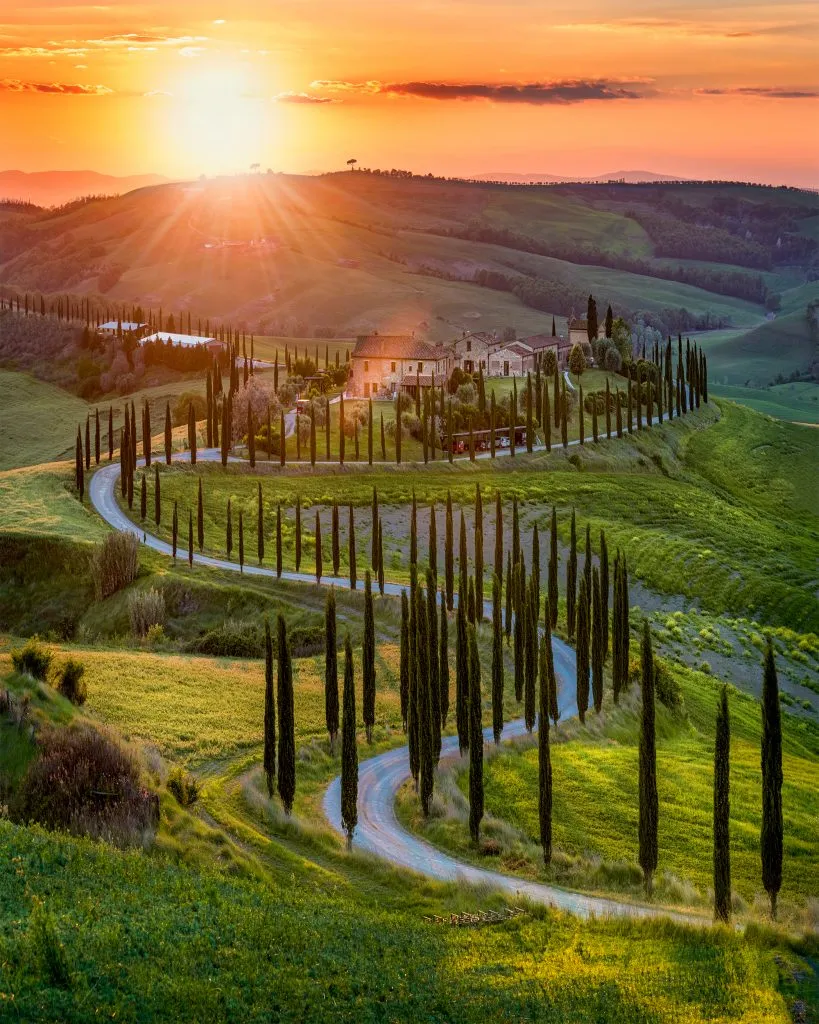 Check out the small Civic Museum.
While visiting Montepulciano is more about atmosphere than sightseeing, if you'd like to enjoy some beautiful Tuscan art and interesting artifacts without the crowds of, say, the Uffizi in Florence, head to Montepulciano's Civic Museum!
Quiet, charming, and housed in a 14th-century palazzo, it's an excellent place to escape the crowds and enjoy beautiful art.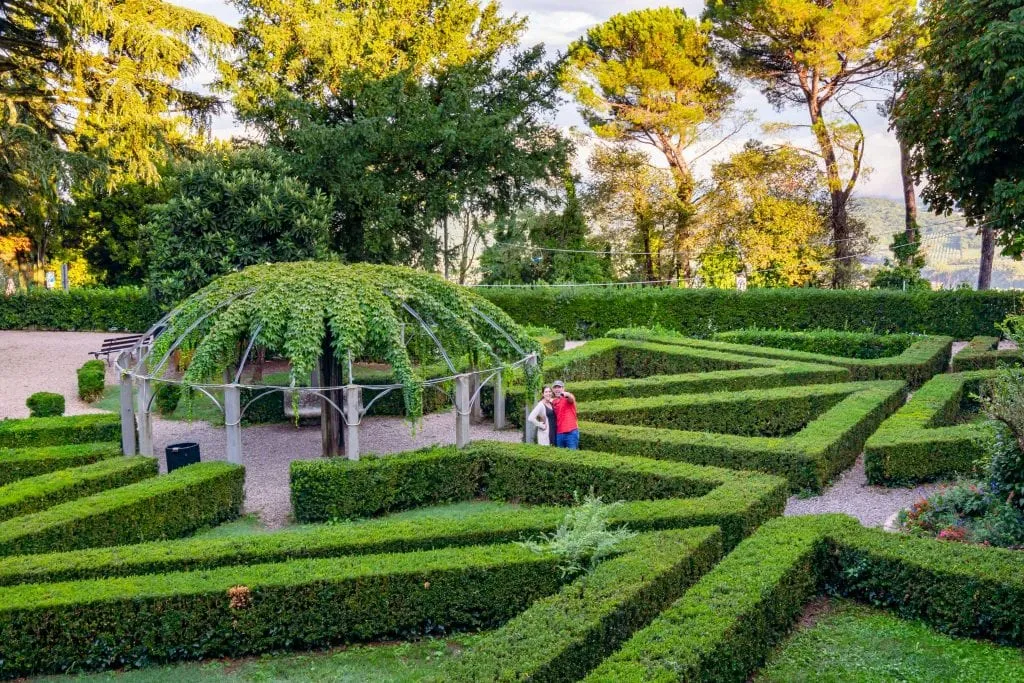 Sample wine and admire the views at the Medici Fortress.
Views, wine tasting, and even some historic ruins to admire while grabbing a glass of wine to sip on the terrace: the once-mighty Medici Fortress is hard to describe, but it's absolutely worth adding to your list of what to do in Montepulciano!
The view from here is one of my favorite in town, and even overlooks the Church of San Biagio.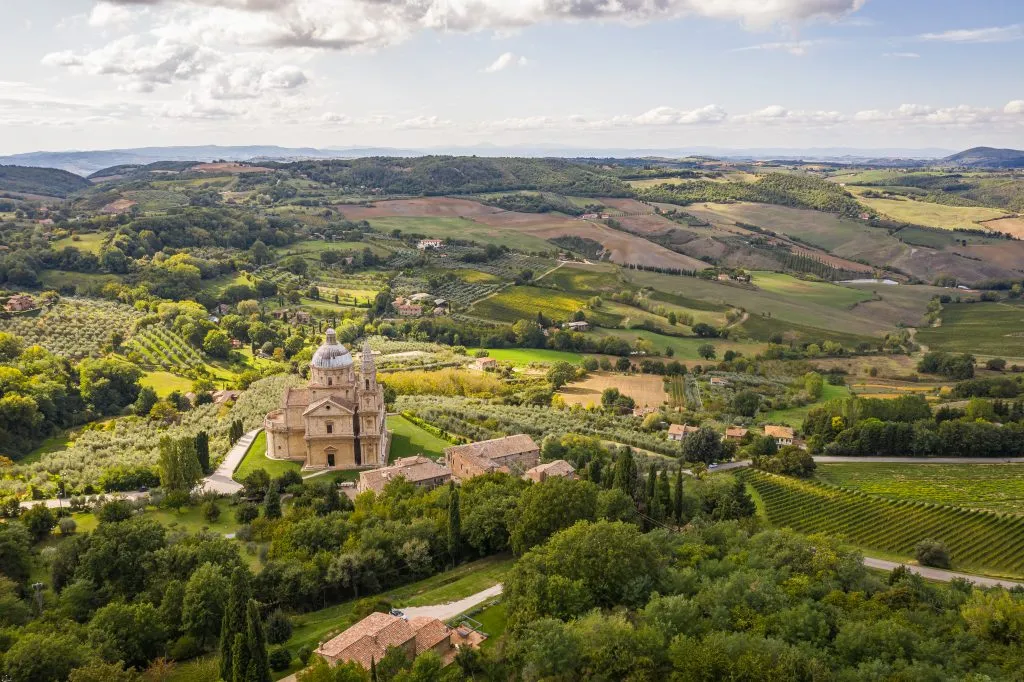 Enjoy the famous Vino di Nobile di Montepulciano.
One of Tuscany's most famous and classic wines comes from the hills surrounding Montepulciano, and tasting it is a must for wine lovers visiting the city!
Whether you want to enjoy a full tasting at a vineyard outside of town or one of the town's cellars, or you simply want to sip a glass at one of the many wine bars in Montepulciano, enjoying Vino di Nobile Montepulciano makes for a delightful experience.
We had an excellent time at Opificio 16, where the below photo was taken.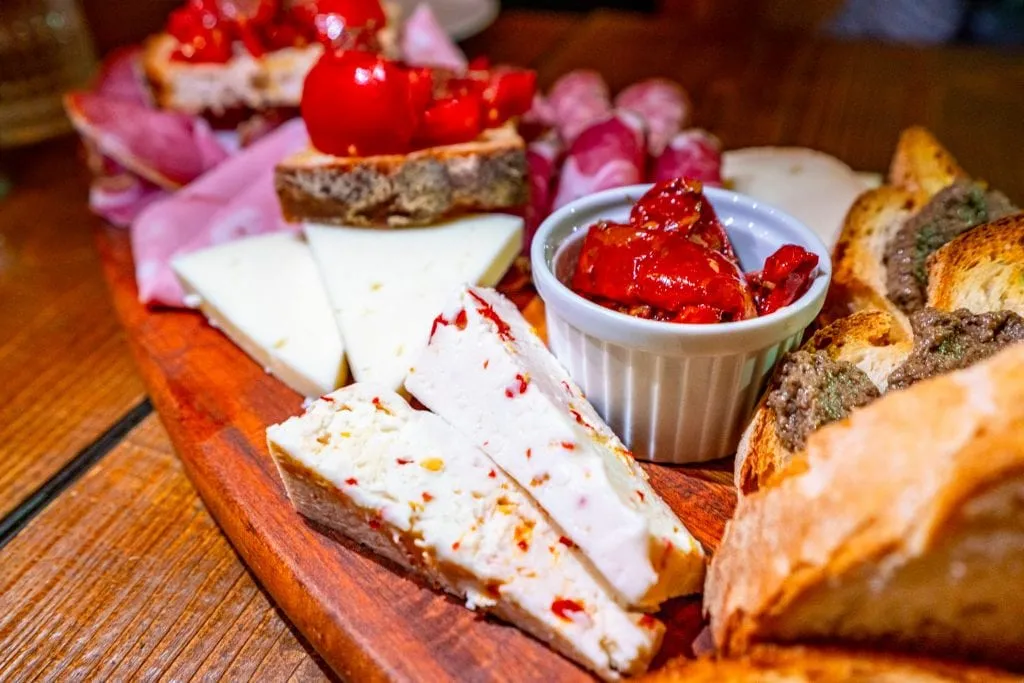 Stop to admire Porta al Prato.
While Porta al Prato isn't the only gate in town, this 14th-century structure is striking, and strolling through it is one of the best things to do in Montepulciano!
In fact, it's likely to be the first part of Montepulciano's historic center that you see, as its position near one of the most convenient places to park in town makes it a common entrance point to the city.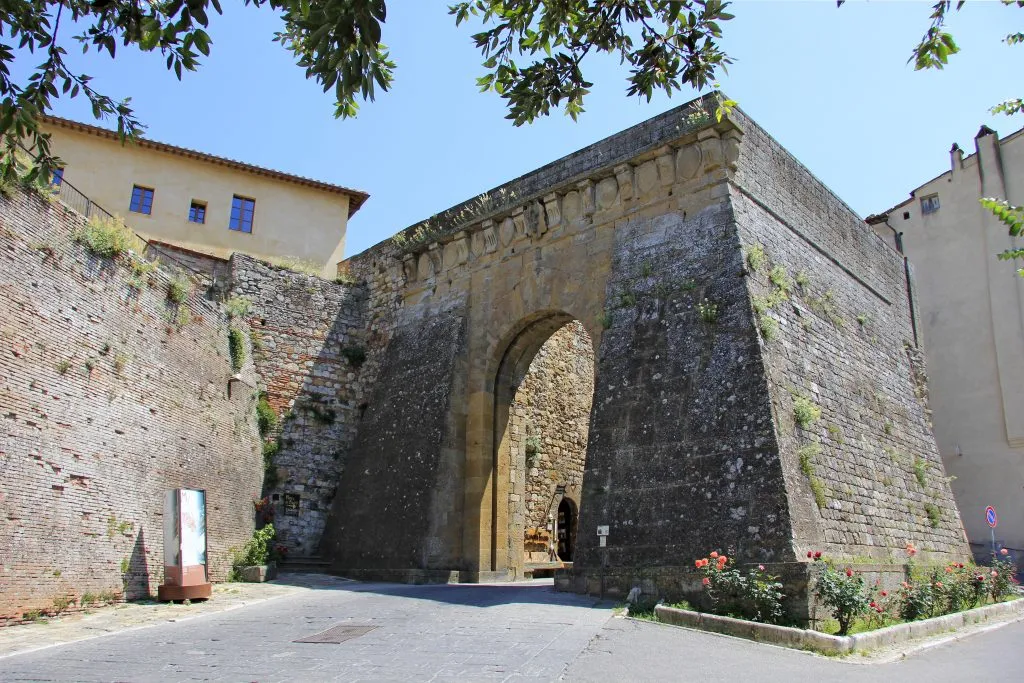 Stroll down Il Corso.
Il Corso is a street of many names, but at its heart, it is the main street of Montepulciano, winding from the medieval Porta al Prato entrance gate all the way up to the Piazza Grande.
It's not so much a destination as an experience, so be sure to savor the journey (though the steady uphill climb means that you'll likely be inclined to move slowly regardless).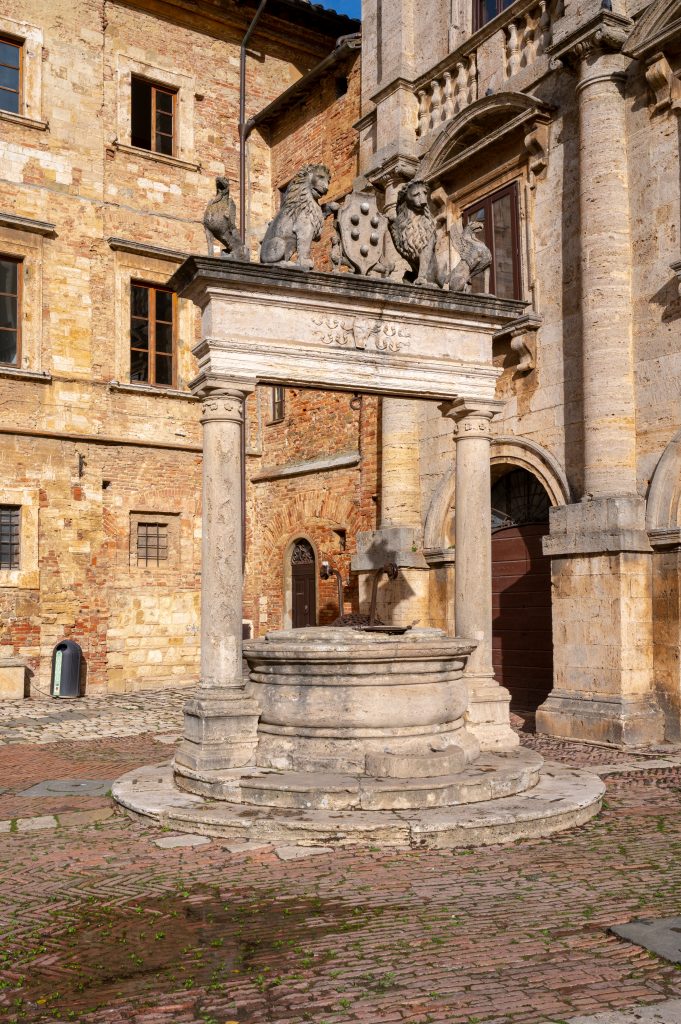 Marvel at the Church of San Biagio.
Dating to the 16th century, this massive church is situated on the edge of Montepulciano–you'll definitely know it when you see it!
As you look down from Montepulciano and across the countryside, the dome of the Church of San Biagio immediately draws the eye.
For a 10-minute downhill walk from the town center and a small fee, you can step inside.
Whether you choose to enter or not, though, be sure to keep an eye out for the church when you're admiring the view from Montepulciano!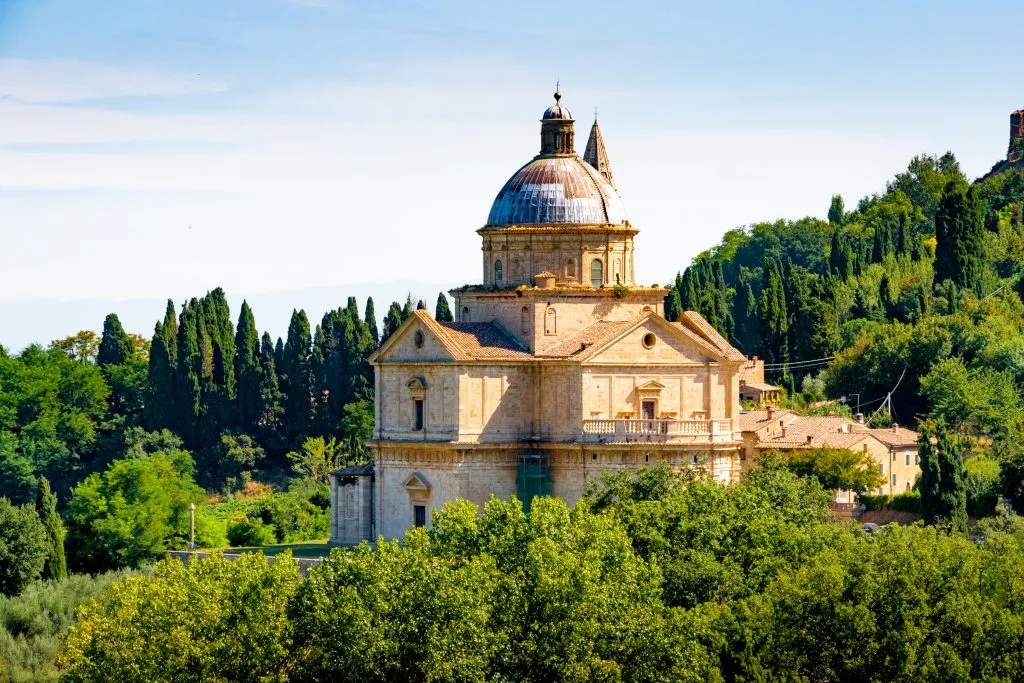 Climb to the top of the Palazzo Comunale.
While there is absolutely no shortage of stunning views over the Tuscan countryside in Montepulciano, for the highest, most dramatic views of them all, climb to the top of the Palazzo Comunale!
The views of the town below are gorgeous, of course, but it's the 360-degree views of the countryside that truly steal the show.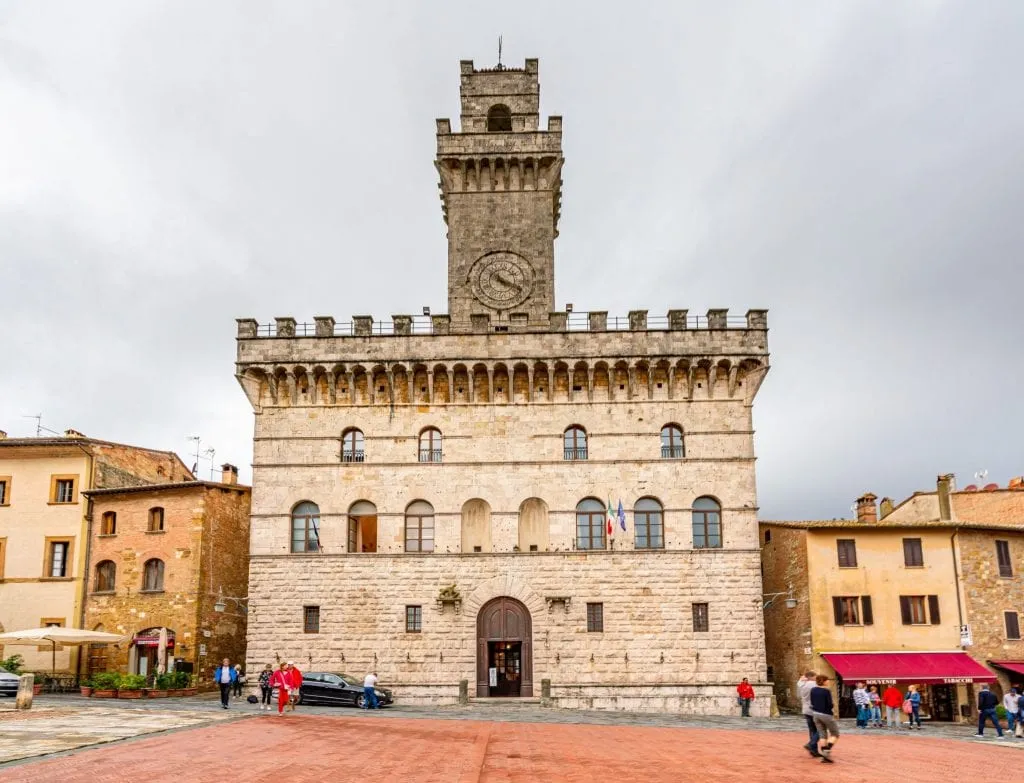 How to Get to Montepulciano, Italy
In order to enjoy the best of what Montepulciano and the surrounding Tuscan villages have to offer, the best way to travel there is by car.
We highly recommend renting a car for the duration of your time exploring small Tuscan villages (if you're spending part of your trip based in a city like Siena or Florence, you can forgo the car then).
We recommend renting a small car through Discover Cars, which will allow you to compare prices and inclusions of multiple companies at the same time and choose the best car for you from there.
Check rates and book your rental car with Discover Cars today!
We have detailed travel tips for driving in Tuscany in our Tuscany road trip guide.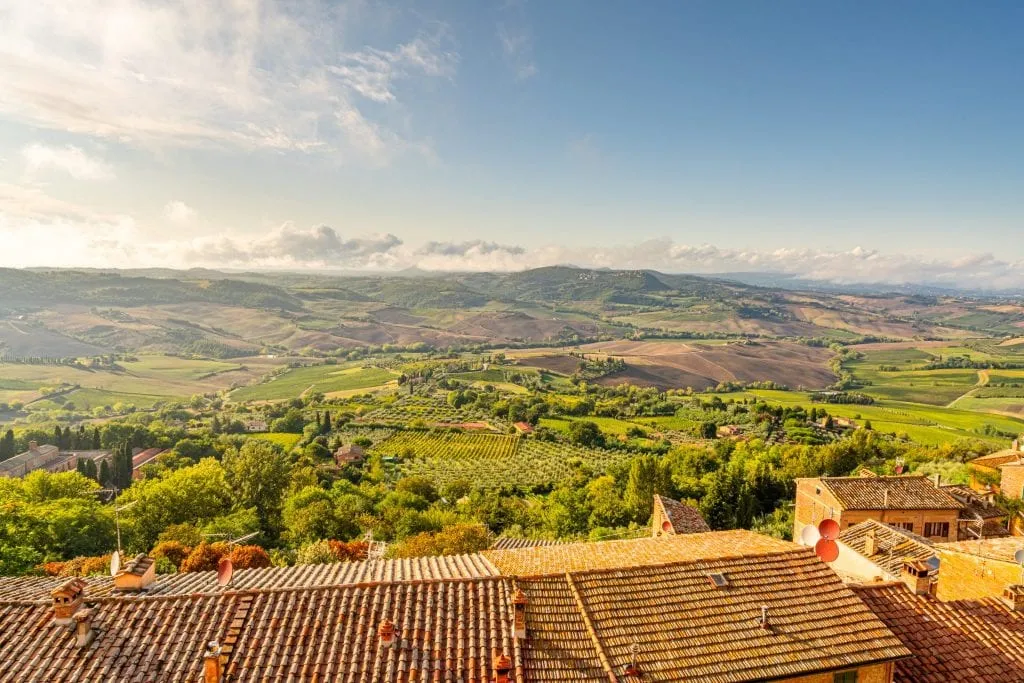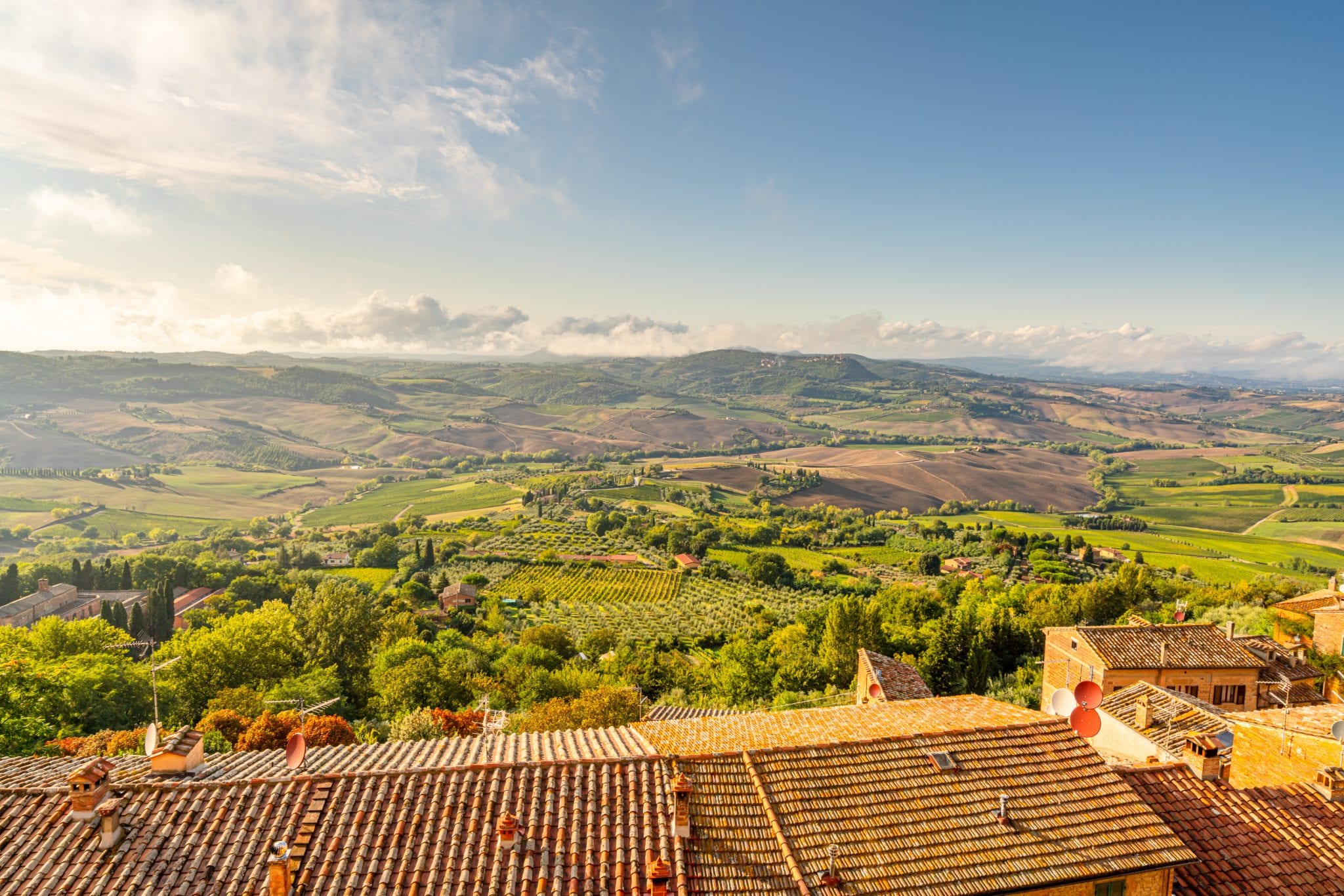 Don't want to drive?
You can technically access Montepulciano by train, but the town's station is very small and a few kilometers outside of town.
Once you arrive, you'll need to catch a bus or hire a taxi to bring you to the center.
More trains stop at the Chiusi train station, which is a bit further away and has a regular bus service to Montepulciano.
Without a car, though, you'll be reliant on organized tours to visit vineyards, farms, and nearby villages like Pienza (which has no train service at all).
If you'd like to enjoy Montepulciano without a car, we recommend shopping for train and bus tickets (and more importantly, confirming schedules) through Omio.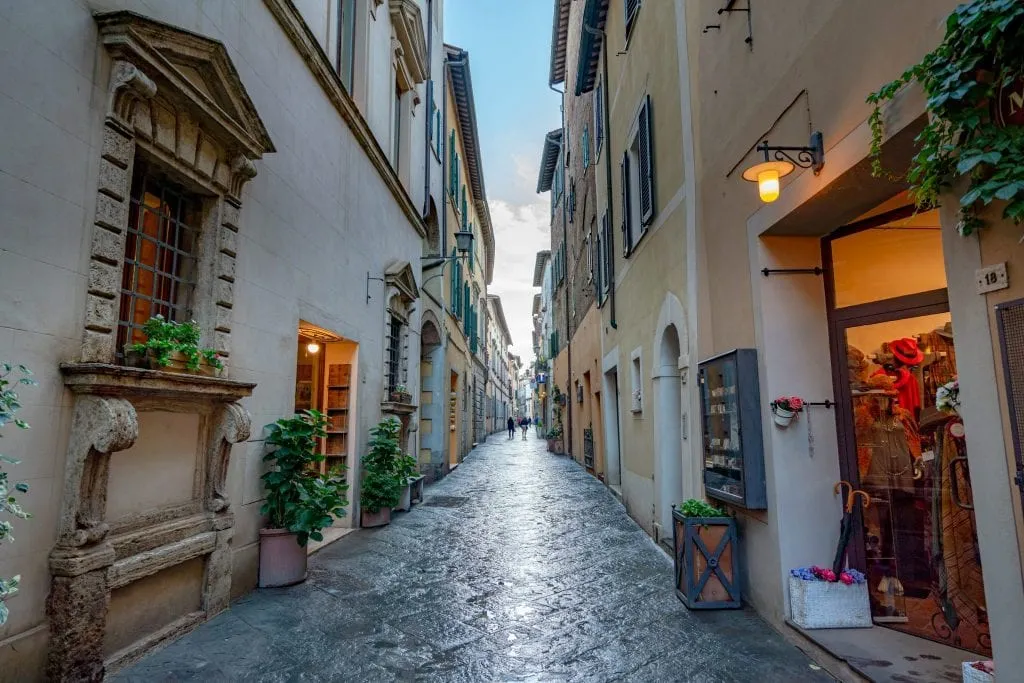 Where to Stay in Montepulciano, Italy
Whether you're staying in the heart of the historic town or at a country property nearby, Montepulciano makes an excellent base for your trip to Tuscany!
Well-situated near popular destinations like the Val d'Orcia, Pienza, and Montalcino, some of the most beautiful parts of the countryside are at your fingertips in Montepulciano.
If you decide to stay in Montepulciano, essentially you have two options: stay in the historic center and be able to easily walk through Montepulciano, or stay in an agriturismo (farm stay) outside of town to enjoy countryside views and easy access to your car for day trip opportunities.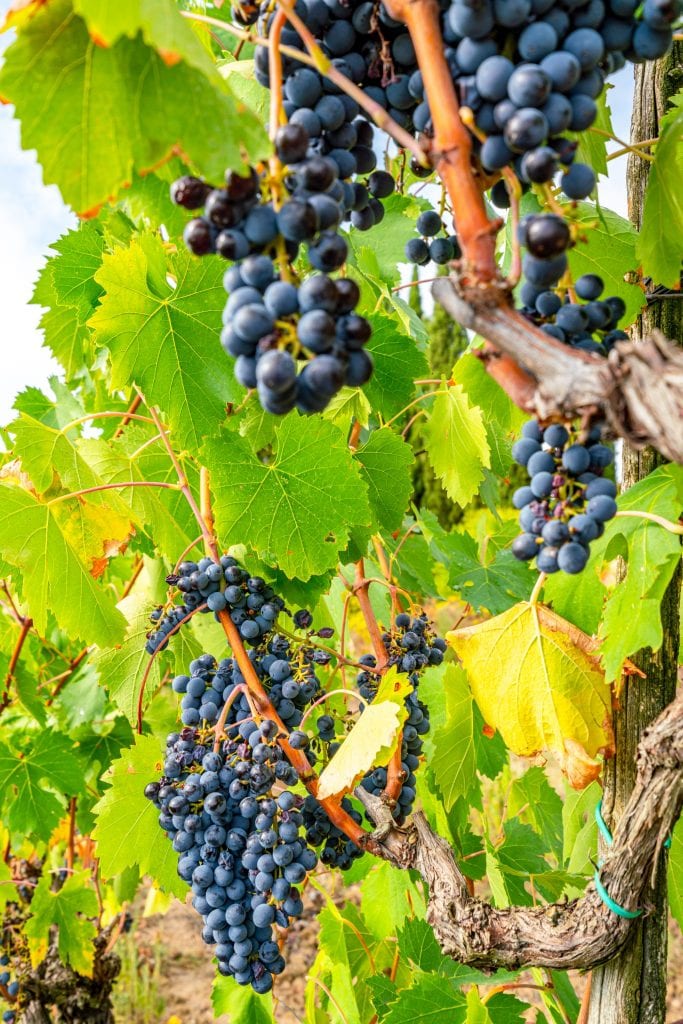 Both choices have excellent advantages, so it comes down to personal preference!
If you'd like to stay in the historic center, La Dimora nel Corso is a popular, cozy option, or for a splurge, check into the gorgeous Palazzo Carletti.
For an agriturismo experience, the wildly popular Agriturismo Merigge Montepulciano is a beautiful option that is perfect for traveling in the summer when you can take full advantage of their on-site pool!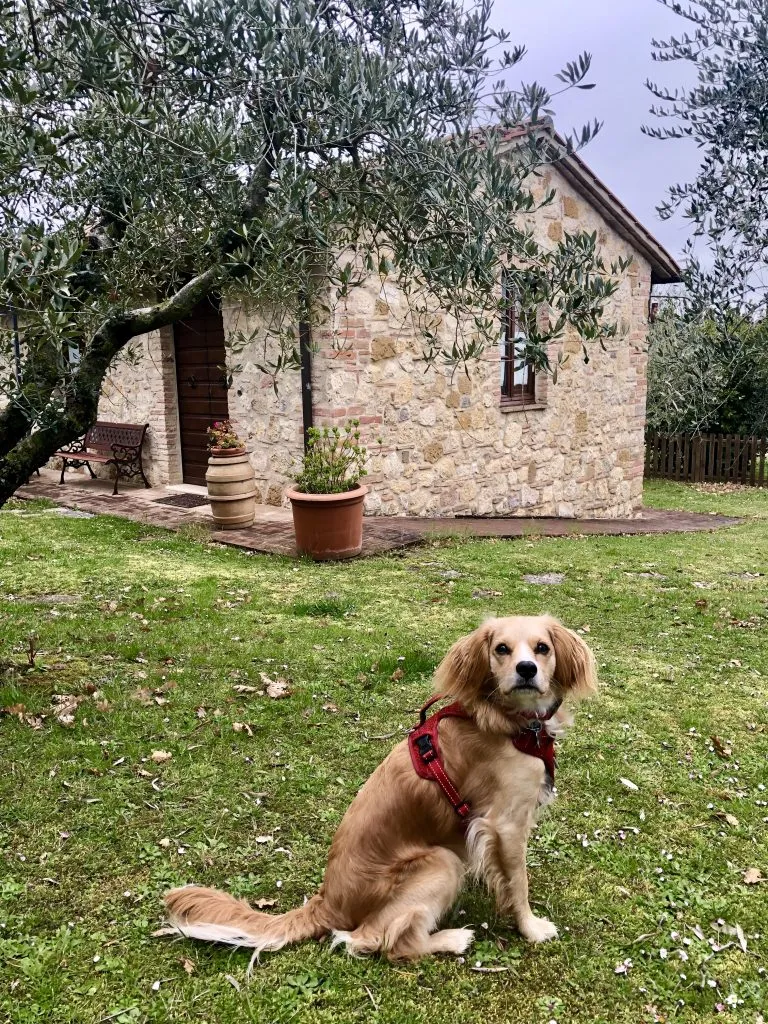 Taking a Day Trip to Montepulciano from Florence, Rome, or Siena
Montepulciano is well-positioned to enjoy a day trip from either Florence, Rome, or Siena–especially with the help of a guided tour!
Since its train service isn't as frequent as major cities and the train station is outside of the town center, it's best to plan a day trip to Montepulciano either by car or by guided tour.
Plus, that way, you can visit the Val d'Orcia while you're at it!
Keep in mind that you will only get a quick taste of the area, as Montepulciano is 2 hours from Rome and 1.5 hours from Florence by car–but it is doable!
This tour from Florence, this tour from Rome, and this tour from Siena are all very well-reviewed and are excellent ways to explore Montepulciano and the Val d'Orcia when you only have a day to work with!
Book your day trip to Montepulciano today!