Featuring gorgeous architecture and even better views, visiting the small but delightful Pienza, Italy is a fantastic addition to any trip to Tuscany.
Located in the famous Val d'Orcia, Pienza is known as the "Ideal Renaissance Town" thanks to the vision of Enea Silvio Piccolomini (later Pope Pius II), who was able to influence the transformation of his home village of Corsignano into the Pienza that we know and love today.
There are several fun things to do in Pienza, ranging from historic buildings to tour to a very famous filming location to visit, but there's no doubt that the peaceful atmosphere and incredible beauty are the biggest draws for visiting Pienza.
We fell in love with this UNESCO-recognized town, and highly recommend a visit!
Here's what you need to know about visiting Pienza, Tuscany, from what to do to how to get there!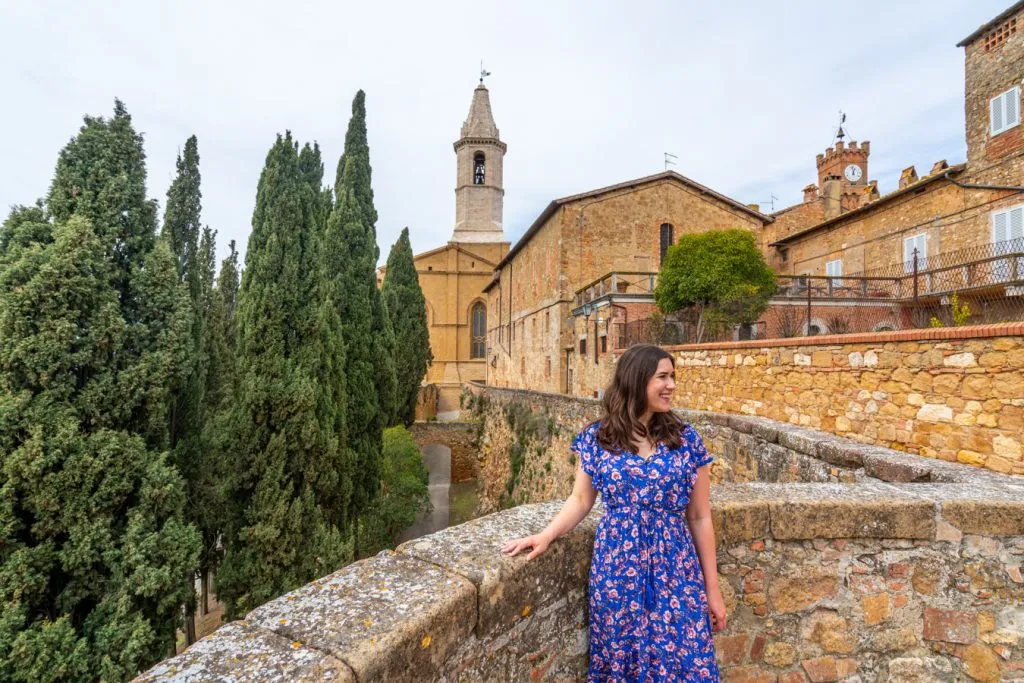 Some links in this post may be affiliate links. If you make a purchase through one of these links, we may earn a small commission at no extra cost to you. Please see our

disclosure policy

for more detail.
The Best Things to Do in Pienza, Italy
Meander along Pienza's walls and soak in the views of Tuscany.
Strolling around the edges of this delightful walled town and enjoying the countryside views is one of the absolute best things to do in Pienza!
Not only will you be able to appreciate both the town and countryside from many angles, but you'll also happen across several of the top attractions in town as you stroll.
If you're visiting Pienza with loved ones, don't miss the chance to snap your own photo with this popular "Via dell'Amore" (Street of Love) sign!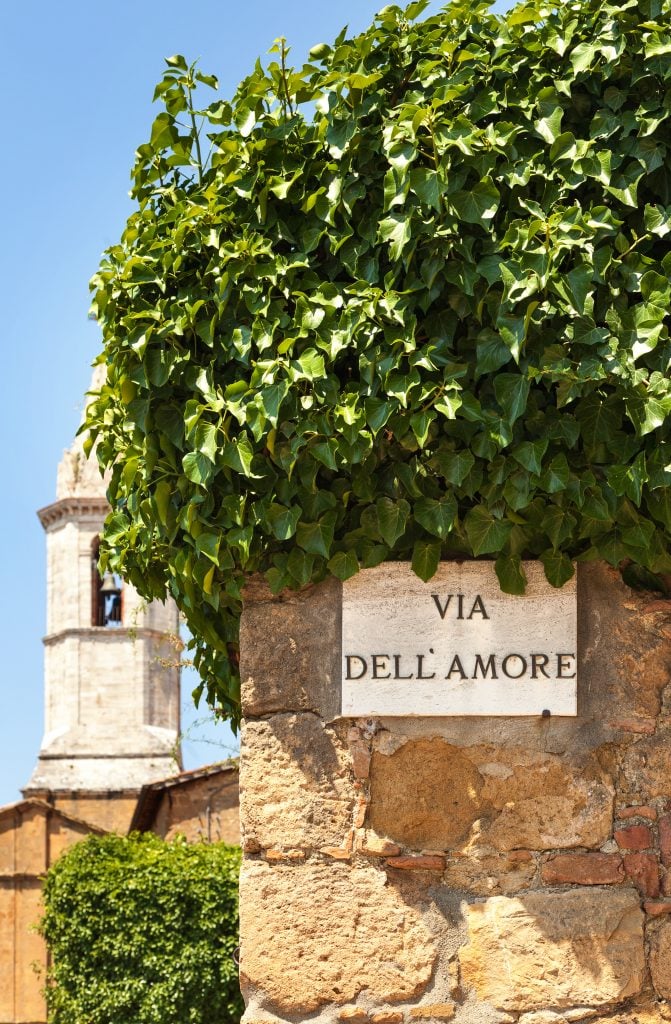 Stroll through Piazza Pio II.
At the heart of Enea Silvio Piccolomini's project to transform his hometown into an ideal Renaissance city was this place: Piazza Pio II, the main piazza of Pienza.
Designed by architect Bernardo Rossellino in the mid-1400s, this piazza is where you'll find several of the top attractions in Pienza, including its Duomo, the Palazzo Piccolomini, and more.
Plus–as in virtually all Italian piazzas–the people-watching is excellent here.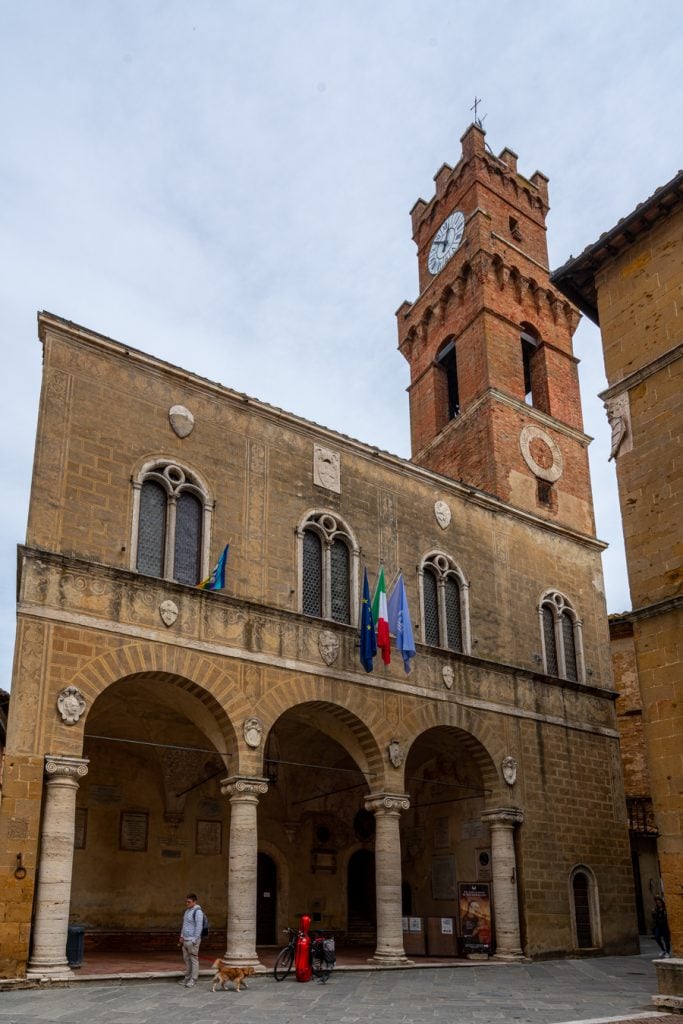 Make your way down the Corso il Rossellino.
Pienza's main walking street, Corso il Rossellino, runs directly through the center of town.
Named for Bernardo Rossellino, the architect responsible for Pienza's Renaissance-era transformation, many of the best things to see in Pienza are located mere steps from this thoroughfare.
Framed at one end by the Porta al Prato and the other by Porta del Ciglio, with plenty to see in between, it would be very hard to take a day trip to Pienza and not spend some time on Corso il Rossellino!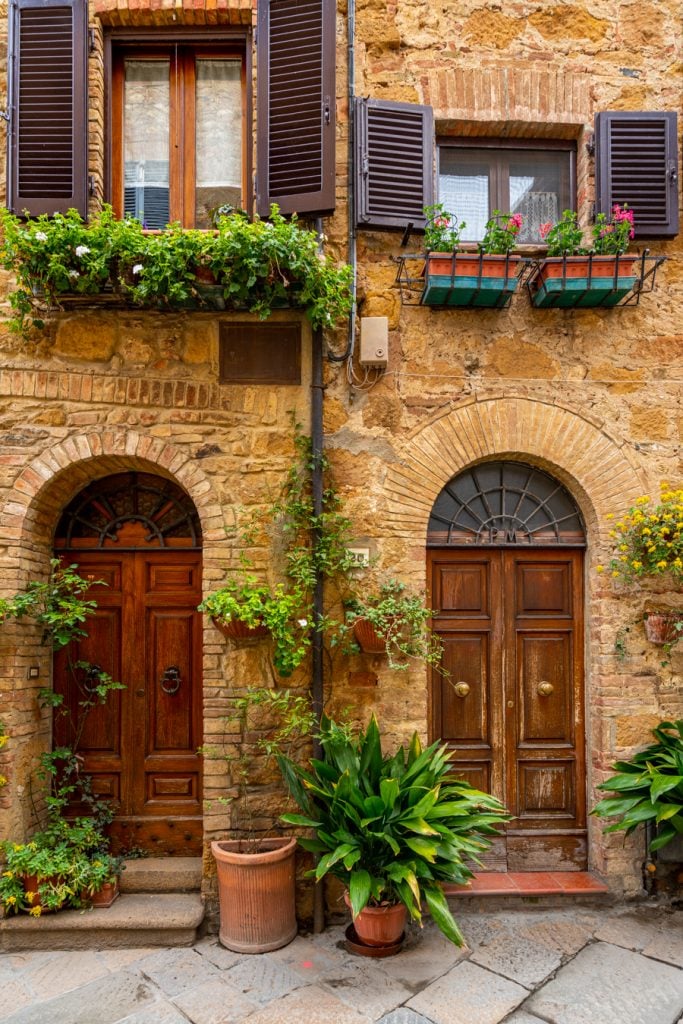 Tour the Palazzo Piccolomini.
Built as a summer home for Pope Pius II, the Palazzo Piccolomini is considered a pioneering piece of architecture in many ways, starting with its incredible rooftop garden!
Considered the first "hanging garden" of the Renaissance, it's safe to say that Palazzo Piccolomini kicked off a trend.
The magnificent loggia, impressive central courtyard, and magnificent views of the countryside also make it obvious why Pope Pius II would consider this the ideal summer home.
Step inside Pienza's Duomo (Cathedral).
Built in a mix of Renaissance and Late Gothic styles, Pienza's Duomo (the Cattedrale dell'Assunta) is beautiful, and one of the crown jewels of Pope Pius II's project to recreate Pienza.
While you're there, be sure to step down into the crypt to explore beneath the surface, too!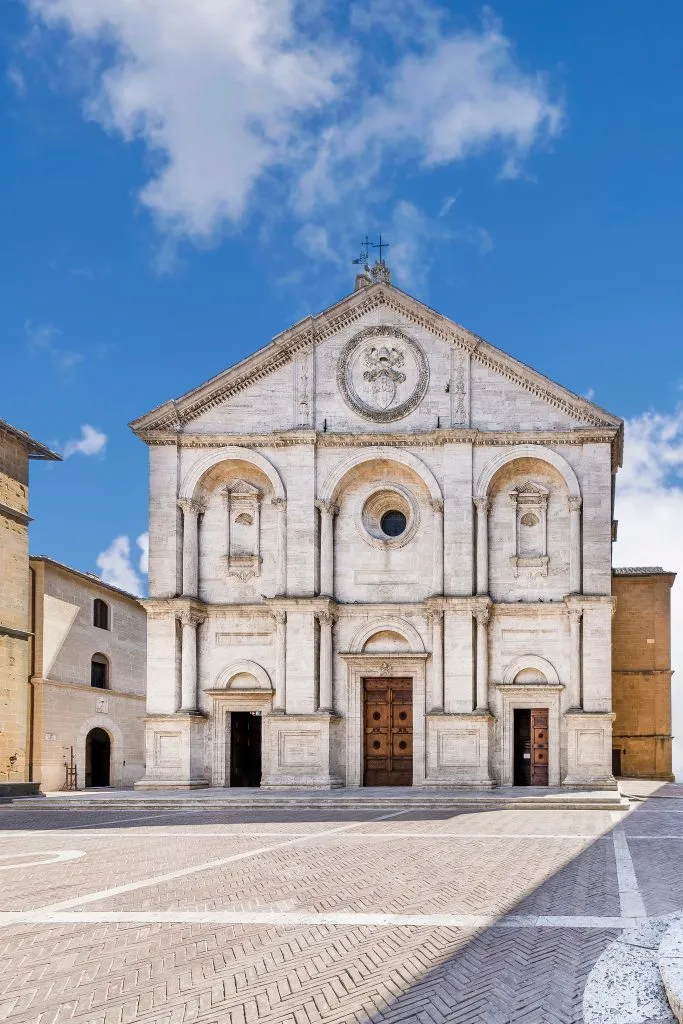 Eat lots of pecorino di Pienza.
Pecorino is one of Italy's most famous cheese varieties, and the local pecorinio di Pienza is absolutely delicious!
This hard sheep's cheese has a fantastic flavor and goes well paired with honey.
Pecorino di Pienza is so important to the town that virtually all day trips to Pienza include at least one tasting of it.
Don't miss a chance to order some when sitting down at one of the many restaurants in Pienza, and–once you fall in love with it–consider stopping in a shop to buy some to take with you, as well.
If you happen to be visiting Pienza in September, you may also luck out and be in town for the "Feria del Cacio", or Cheese Fair.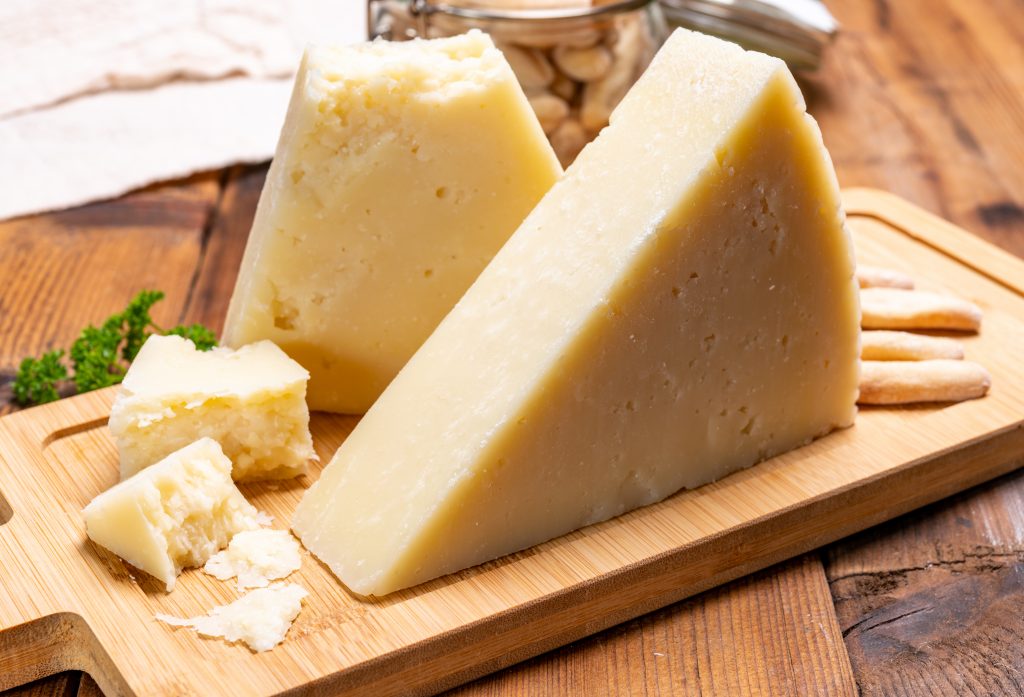 … and all the other local food, too.
For a delicious local pasta, try "pici con cacio e pepe".
Pici is a handmade pasta typical of this part of Tuscany and is a long, round noodle that is a bit thicker than spaghetti.
Add some pecorino and pepper, and you're in for a real treat!
Beyond pici, though, there is an endless number of local vegetables, meats, cheeses, and pastas that make eating in Pienza a true treat.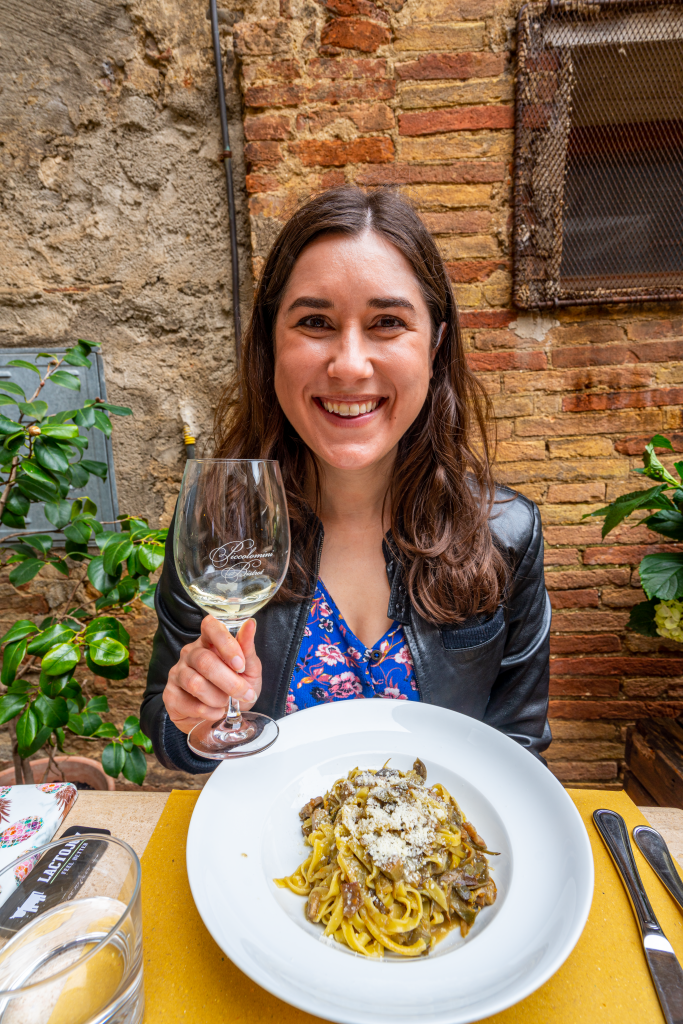 Snap photos at the Chapel of the Madonna di Vitaleta.
There's a good chance you recognize this chapel–because it's one of the most famous photography locations in all of Tuscany!
This small chapel is said to have been built where the Virgin Mary appeared to a shepherdess, and the chapel itself is listed as a UNESCO World Heritage Site.
It's also located very close to Pienza and is one of the most popular road trip stops in the immediate area.
Check this article for directions to the chapel.
Solao48, CC BY-SA 4.0, via Wikimedia Commons
Step inside the Church of San Francesco.
Significantly pre-dating the Duomo, the Church of San Francesco was built by local monks in the 13th century.
You certainly can't tell from the outside, but the interior of this church holds beautiful frescoes, though many that were once here have been lost to time.
Visit the famous "Gladiator Point".
Big fan of the movie Gladiator?
If so, you won't want to miss the chance to peek at this famous road just outside of Pienza's historic walls!
Luckily, it's not hard to find–the viewpoint is literally marked on Google Maps as "Gladiator".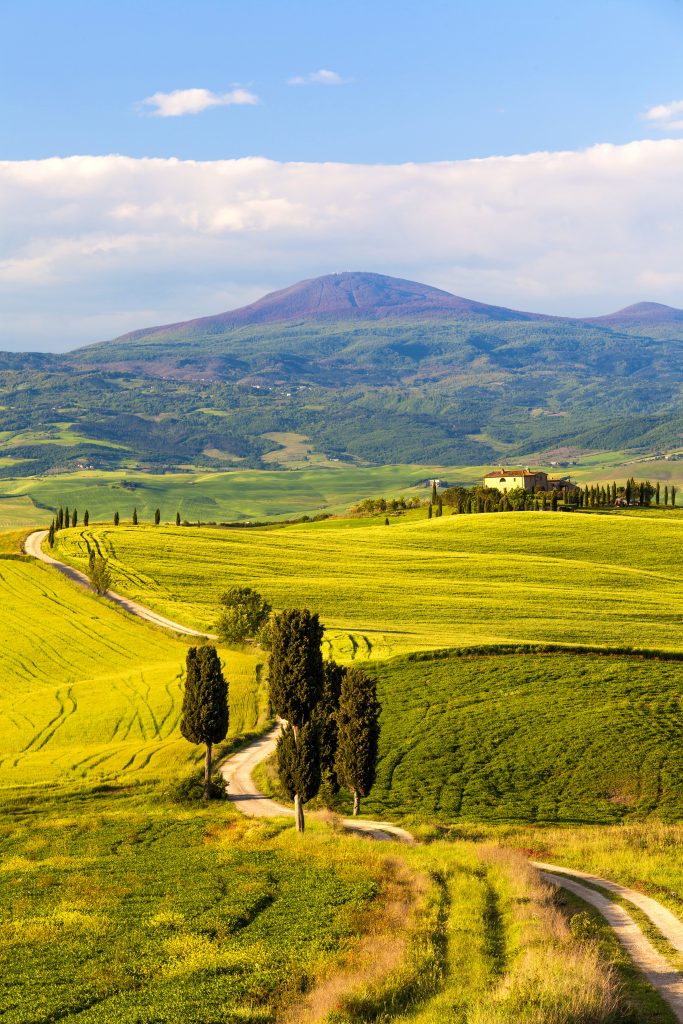 … and step inside the Pieve di Corsignano.
This small church is better known for its history and location than for its architecture, but it's worth a quick look when visiting Pienza!
This is where Pope Pius II (the man responsible for the rebuilding of Pienza into an "ideal Renaissance town") and Pope Pius III were baptized.
It's also only a short walk from the famous Gladiator Point!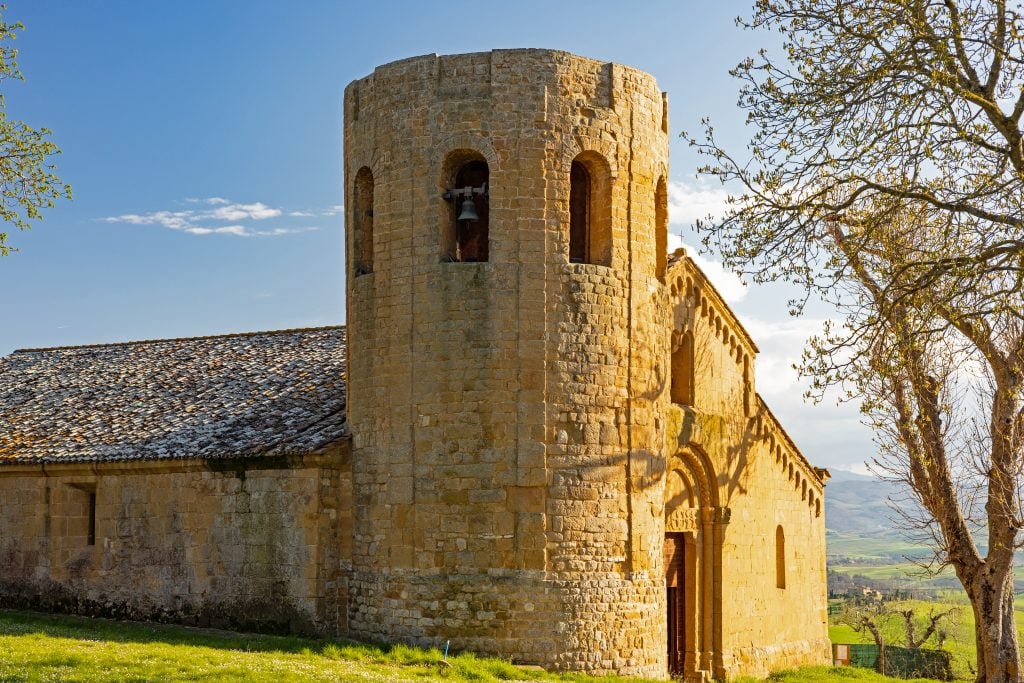 Wander aimlessly through Pienza's small alleys, streets, and shops.
Without a doubt, one of the best things to do in Pienza is simply to wander.
As one of the most picturesque towns in Tuscany–and that is truly saying something–simply appreciating the many small streets, beautifully decorated doorways, and scrumptious shops is well worth your time.
If you take a day trip to Pienza and don't do a single thing except enjoy the atmosphere and eat local food, it will be a day in Tuscany very well spent.
How to Get to Pienza, Tuscany
As Pienza is located in the rural Val d'Orcia and does not have a train station, by far the easiest ways to get there are either to rent a car or join a guided tour like this.
There is bus service as well, but it takes much longer, requires at least one change (coming from Florence), and leaves you pretty "stuck" once you get to Pienza, without much flexibility when it comes to exploring the surrounding area.
If you're planning to explore southern Tuscany and the Val d'Orcia for several days, we highly recommend renting a car.
Driving in this part of Italy is quite doable and will allow you to see much more than by relying on the fairly limited bus service!
We have several tips for driving in Tuscany in our Tuscany road trip guide.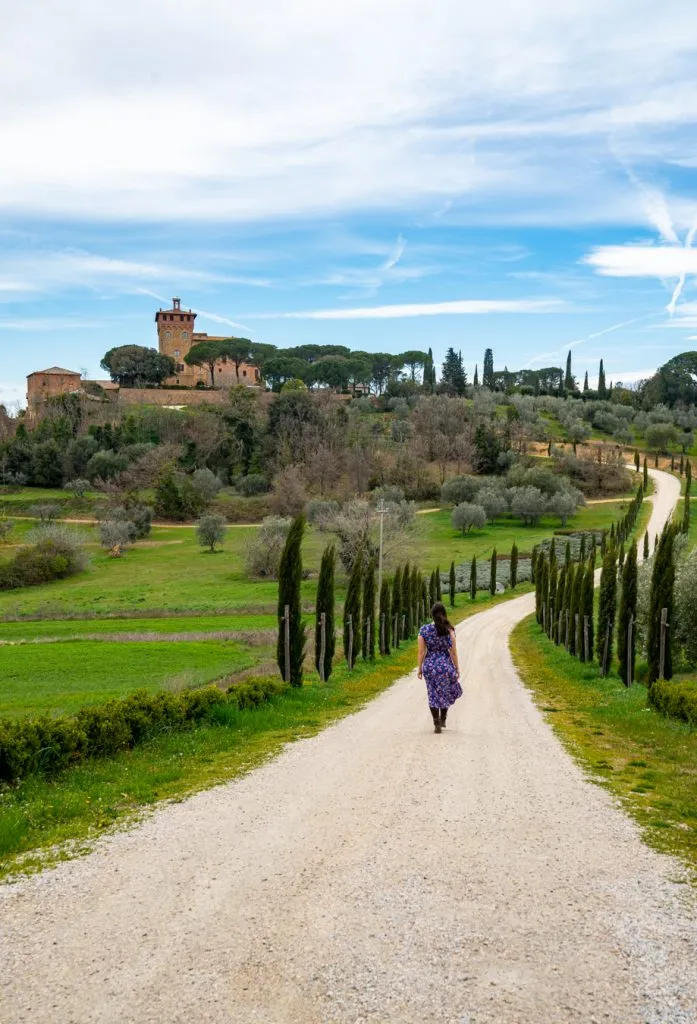 For rental cars, we recommend searching through Discover Cars, which will allow you to compare prices and inclusions of multiple companies at the same time and choose the best car for you from there.
Parking in Pienza is fairly simple, as the town is small and there is ample parking available around the edges of the walls for a small fee.
And, unlike many small towns in Tuscany, you don't even need to climb a hill to reach the center after parking!
If you're based in Siena, Florence, or Rome and would like to get a short taste of Pienza and the Tuscan countryside as a whole, a well-reviewed tour like this is an excellent option (more on that below).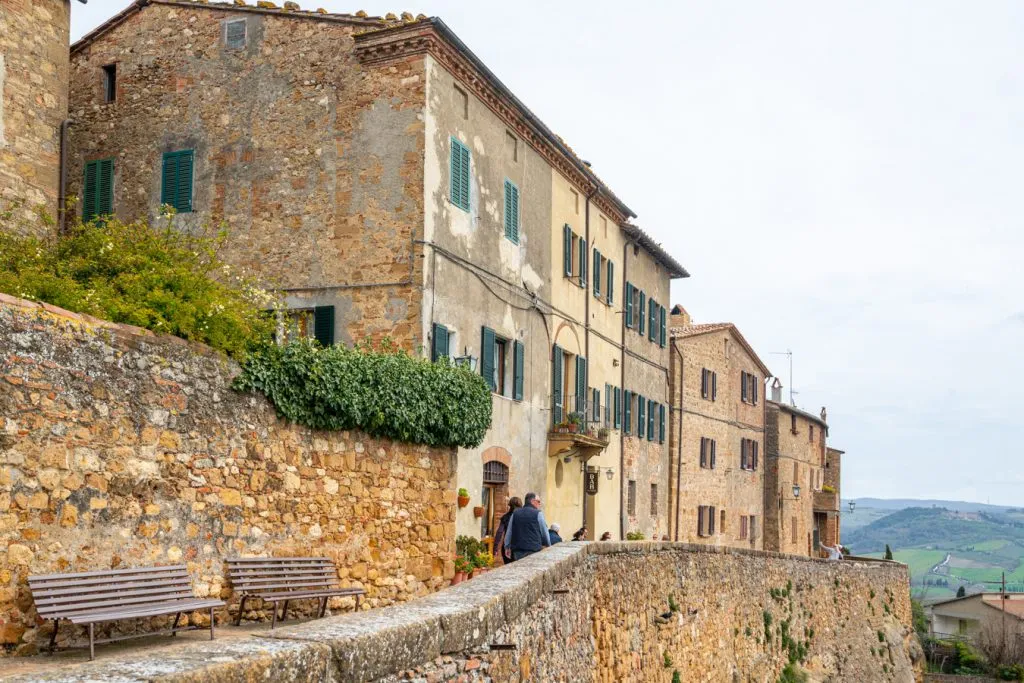 Where to Stay in Pienza
The wonderful thing about taking a road trip in Tuscany is that you can base yourself in a handful of cities or towns and visit a wide variety of places in the surrounding area without packing and unpacking!
While many visitors to Pienza choose to base themselves in nearby destinations like Siena or Montepulciano, Pienza also makes for a fantastic base.
If you're looking for somewhere in the Val d'Orcia that is quiet, peaceful, and a relaxing place to recuperate between sightseeing excursions, consider staying in Pienza!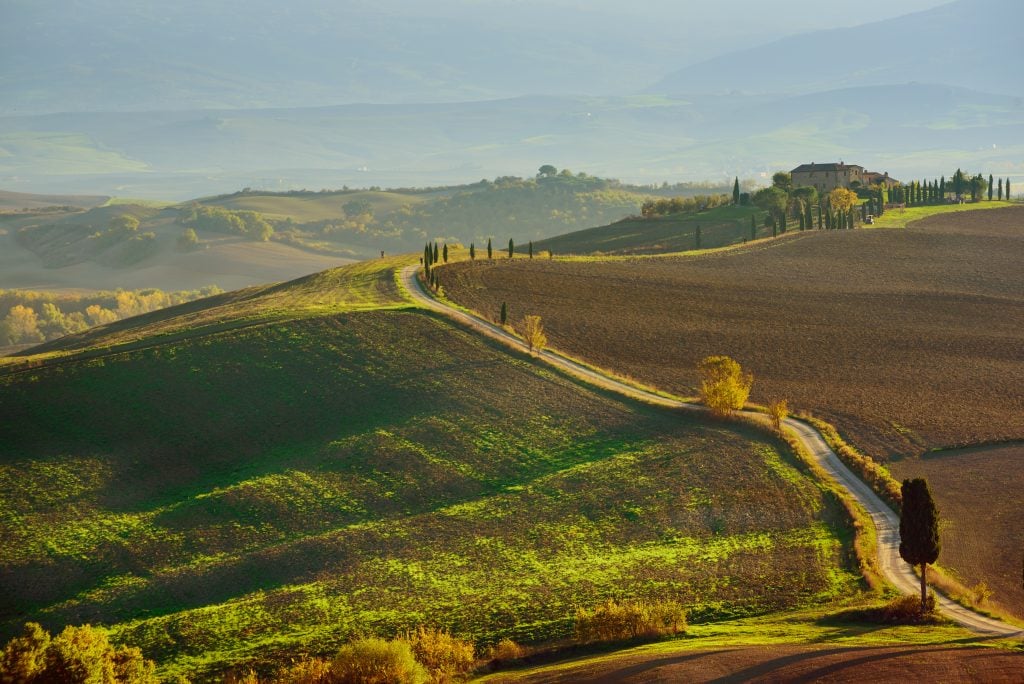 While you can stay in beautiful places like La Citta Ideale Suites right in the heart of town, spending the night in Pienza is also an excellent opportunity to try out an agriturismo.
Agriturismos generally offer incredible views, easy parking, lots of peace and quiet, and endless Tuscan charm.
Agriturismo Il Casalino and Borgo Sant'Ambrogio Resort are two of the most highly rated agriturismos in Pienza, and both would make for a fantastic stay.
And–very important for summer travelers–the Borgo Sant'Ambrogio Resort also features a pool with a gorgeous view.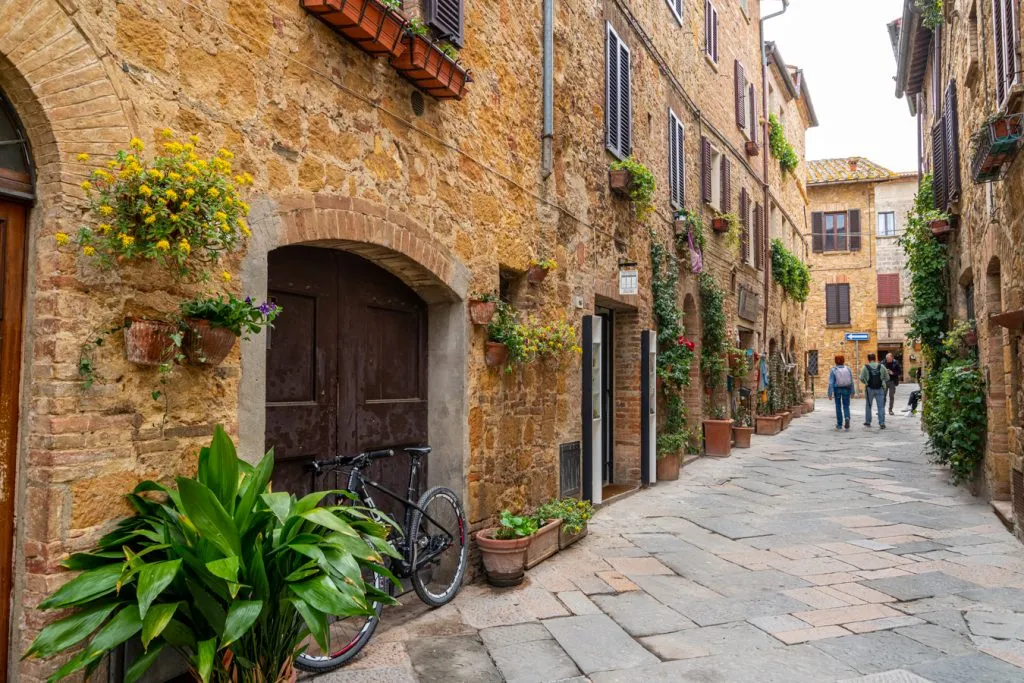 Taking a Day Trip to Pienza from Siena, Florence, or Rome
Not planning to spend the night but still hoping to enjoy Pienza?
In a town this small, that's very doable: in fact, you can experience almost all of Pienza's top attractions in one day (or even less, if you want to squeeze in a visit to a second village).
If you're comfortable driving, renting a car–even if just for the day–will give you the most flexibility for taking a day trip to Pienza.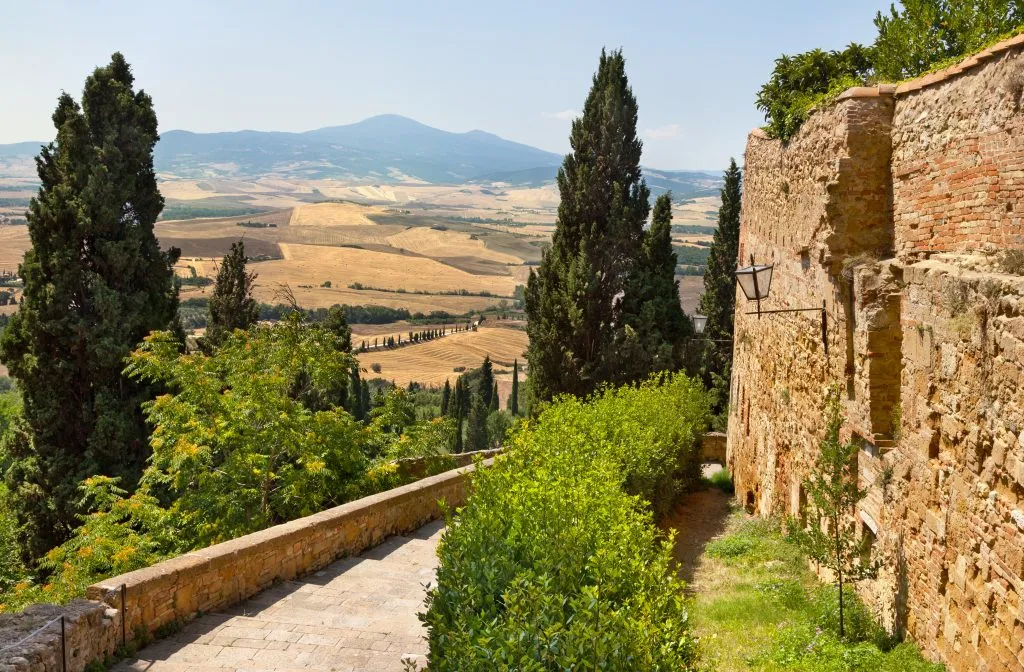 However, with such a short timeframe, you may prefer a guided tour!
Most guided tours, like this one from Rome, this one from Florence, or this one from Siena, will visit Pienza plus another town or two (usually Montalcino and/or Montepulciano), and often include a wine and/or pecorino cheese tasting as well.
Guided day trips can be an excellent way to explore Tuscany with minimal stress, and are a great way to visit Pienza with limited time!