There's something truly special about the magic of a hilltop town that makes you work a little to reach it–and that's what you'll find in beautiful Volterra, Italy.
Featuring all the standard Tuscan tourism highlights with far fewer crowds than you'll find in more well-trodden cities, exploring the best things to do in Volterra is a delightful way to spend a day (or longer).
With thousands of years of history behind it, Volterra remains just as majestic as ever. This ancient, Etruscan city is said to have been continuously inhabited since roughly 800 BCE — in other words, people have been living here for so long that the entire existence of the United States can be wrapped up into an amount of time that would be considered an inconsequential rounding error to Volterra.
Planning a trip to this magical Tuscan town soon? Here's what to do in Volterra–plus how to get there and the details behind the Twilight-Volterra connection that put it unexpectedly on the tourism map for vampire fans in the mid-to-late-2000s.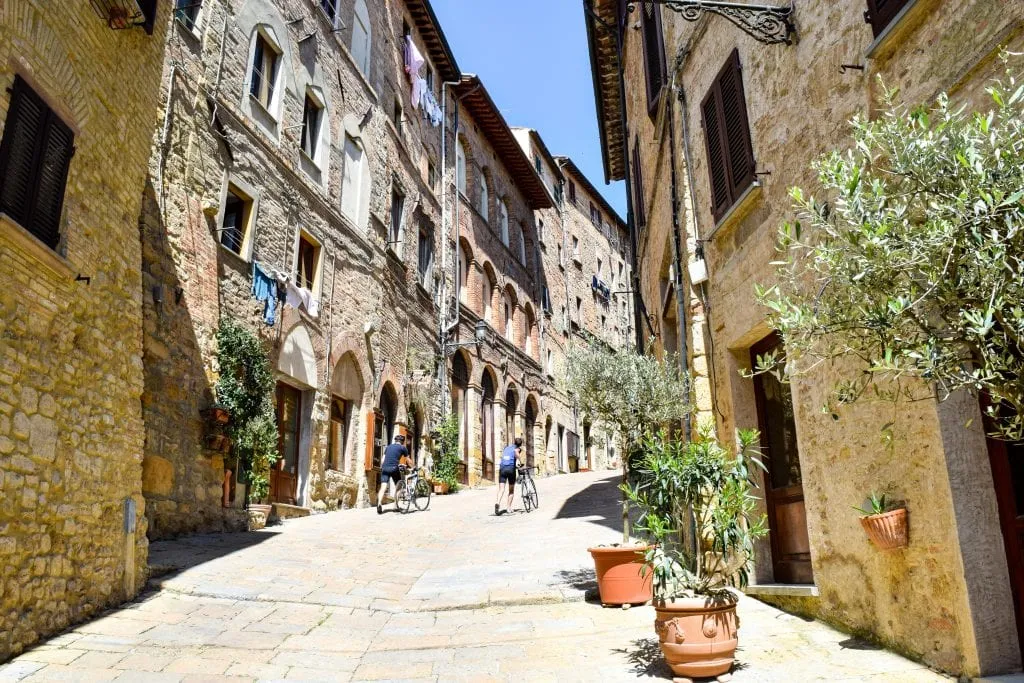 Some links in this post may be affiliate links. If you make a purchase through one of these links, we may earn a small commission at no extra cost to you. Please see our

disclosure policy

for more detail.
10 Best Things to Do in Volterra, Italy
Stroll through the Piazza dei Priori.
What's a beautiful town in Tuscany without a central piazza?
Dominated by the towering Palazzo dei Priori with its beautiful clocktower, there's no better place to kick off exploring the best things to do in Volterra than in this piazza.
… and check out the Palazzo dei Priori.
The oldest municipal building in all of Tuscany stands in Volterra–and considering that this is Tuscany, after all, which boasts historic buildings around every corner, that's incredibly impressive!
Construction started in 1208, and if you're up for ascending a mere 52 steps (a bargain for a Tuscan tower), you can enjoy stunning views from the top of the tower.
Browse beautiful alabaster.
Alabaster has a long history in Volterra, and if you're inclined to shop during your trip, you can pick up beautiful pieces here.
Want to learn more about the craft but not interested in making a purchase? Head to the Museum of Alabaster!
Explore the Roman Theatre.
Dating back 2000 years, the Roman Amphitheater in Volterra is worth a quick peak!
You can also see the remains of a Roman Forum and of some Roman Baths at the same site.
If you happen to be visiting in the off-season, keep in mind that these sites are only open on weekends over the winter.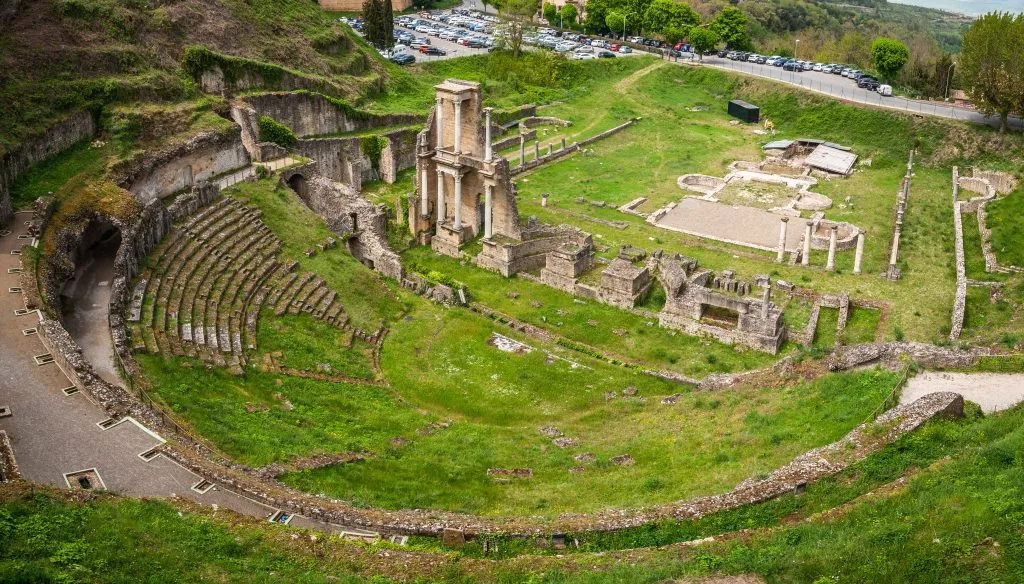 Visit the Guarnacci Etruscan Museum.
Looking for a unique Tuscan museum?
Considering that this one boasts thousands of Etruscan urns, it's hard to imagine finding another museum quite like it!
Get a peak of Volterra's Etruscan past at the Porto all'Arco.
Not much remains of Volterra's 5th-century walls–but at the Porto all'Arco, you can find a small slice of them.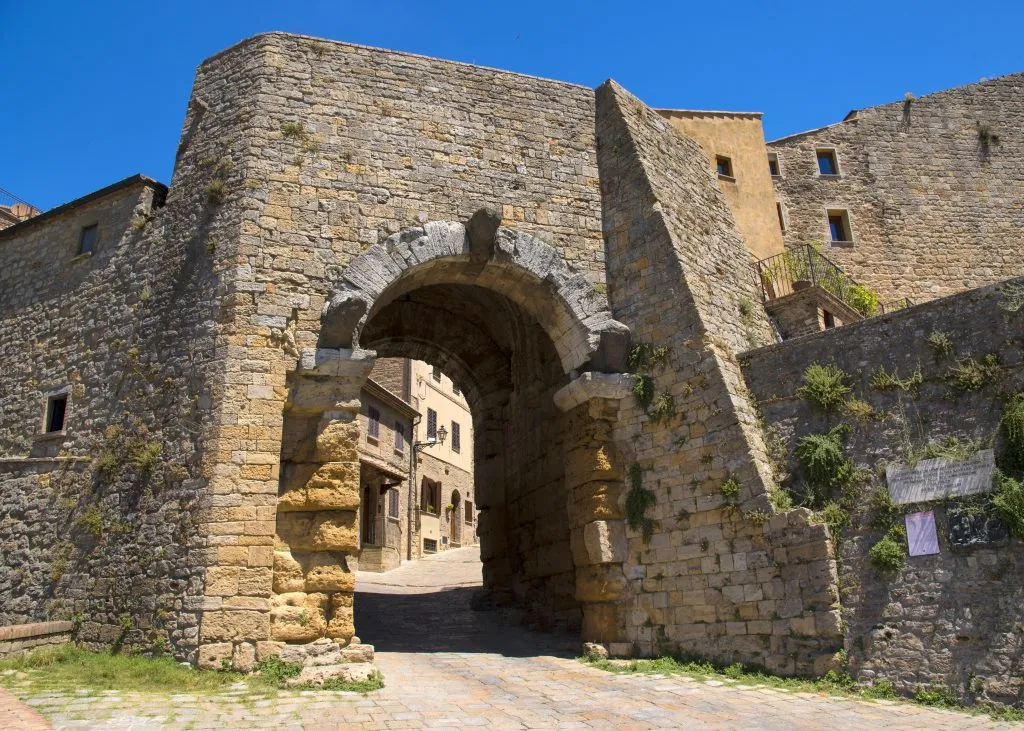 Admire stunning views of Tuscany.
One of the best parts of hilltop villages, in general, is their fantastic views, and Volterra is no exception.
Standing on the edges of town, you can enjoy absolutely magnificent views of the rolling hills of the Tuscan countryside, with vineyards and roads visible in the distance.
Simply admiring these views is one of my favorite memories from visiting Volterra!
Pay a visit to the Duomo.
The Cathedral of Santa Maria Assunta, also known as Volterra's Duomo, dates to the 12th century, though it was built on the site of a previous church that was destroyed in an earthquake.
As you walk inside, be sure to look up–the gilded ceiling is incredibly gorgeous, and is quite different from the typical Tuscan Duomo interior!
Get lost in hilltop streets.
Without a doubt, one of the best things to do in Volterra is simply to get lost in it: with a dizzying maze of tiny streets and alleys set inside towering town walls that mean you can't get too far away from your intended destination, exploring Volterra on foot is an absolute blast.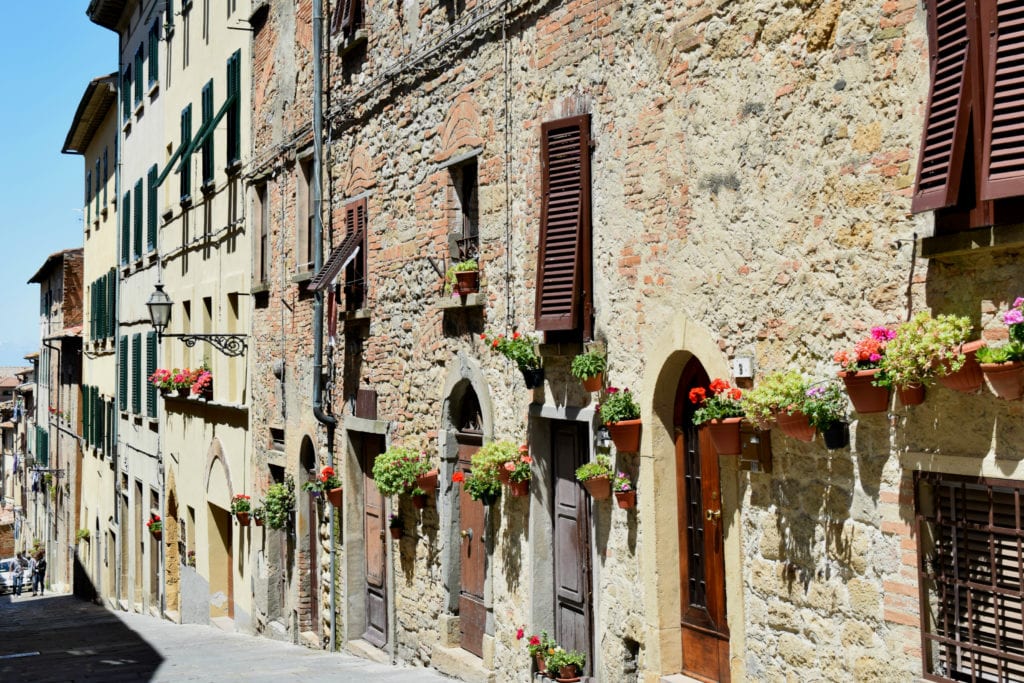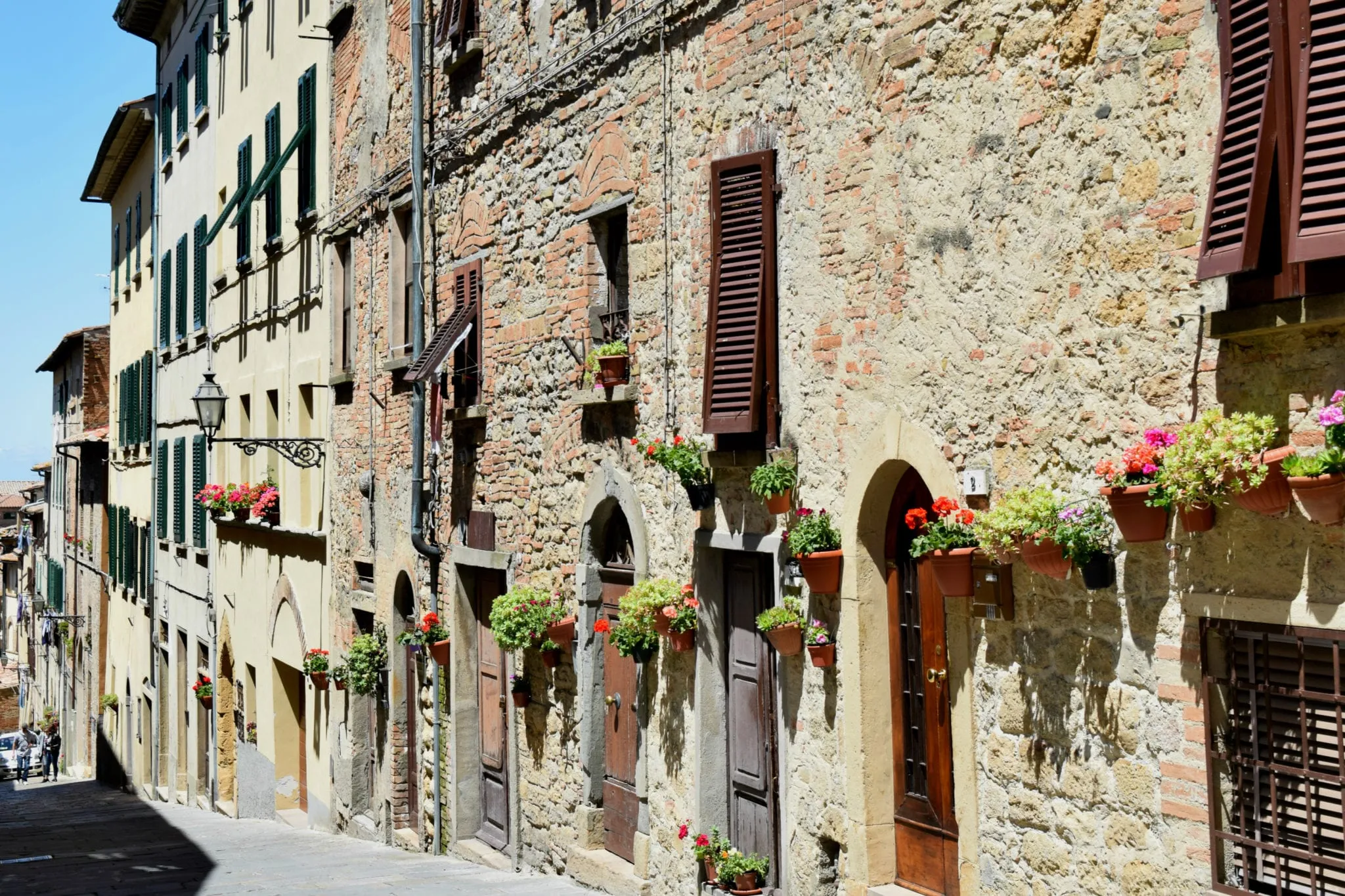 Explore the Pinacoteca.
While world-famous museums like the Uffizi are absolutely magnificent, there's another kind of charm to exploring some of Tuscany's smaller museums: with far fewer crowds, we often find ourselves slowing down to savor the art.
Volterra's Pinacoteca, housed in Palazzo Minucci-Solaini, focuses on local artists from the 14th to 17th centuries.
How to Get to Volterra from Florence (Or Anywhere Else)
Here's the deal: traveling from Florence to Volterra is not quite as simple as getting to towns like Pisa, Lucca, or Siena (in other words, towns with train stations right next to the historic center)… but on the flip side, this keeps the crowds down and is part of what gives Volterra its magic.
That being said, at the heart of it, the four standard ways to get around Tuscany apply to Volterra: you can arrive by train, bus, car, or tour.
If you choose the train, you'll want to head to the Volterra Saline-Pomarance station, which is the closest train station to town (but still 10km away). Keep in mind that routes are limited, so you'll want to plan carefully.
Alternatively, you could take a series of buses–more information on that here.
There are also a handful of tours available, including this well-reviewed one that leaves from Siena–the only downside is that most tend to combine at least two towns, so your time in Volterra will be limited.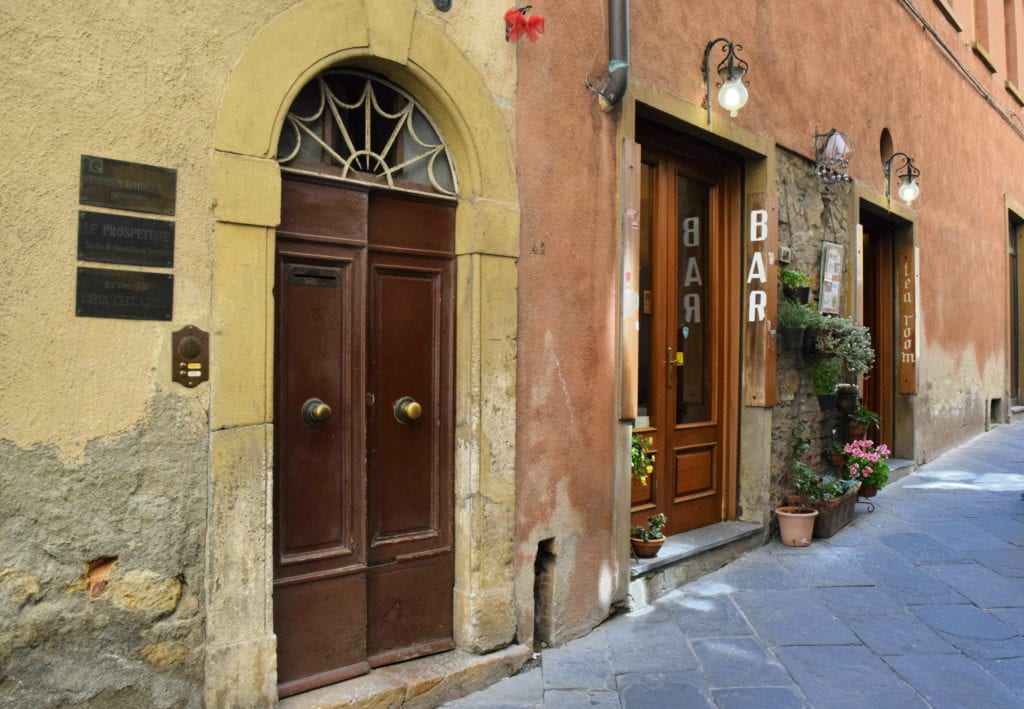 That leaves traveling by car. If you're comfortable driving in Tuscany, Volterra makes a wonderful road trip stop, and the drive to town will take you past plenty of vineyards, hilltop villages, and rolling hills.
If you plan to drive in Tuscany, we recommend renting a small car through Discover Cars, which will allow you to compare prices and inclusions of multiple companies at the same time and choose the best car for you from there.
Check rates & book your rental car with Discover Cars today!
Keep in mind that visitors are not permitted to drive inside the town walls (generally speaking, it's almost always a travel mistake to drive into the historic center of a Tuscan town), so you'll need to park outside of the town center and walk in–you'll need to be prepared for a bit of a leg workout, but that's more or less a requirement for spending a day in Volterra, Italy, regardless!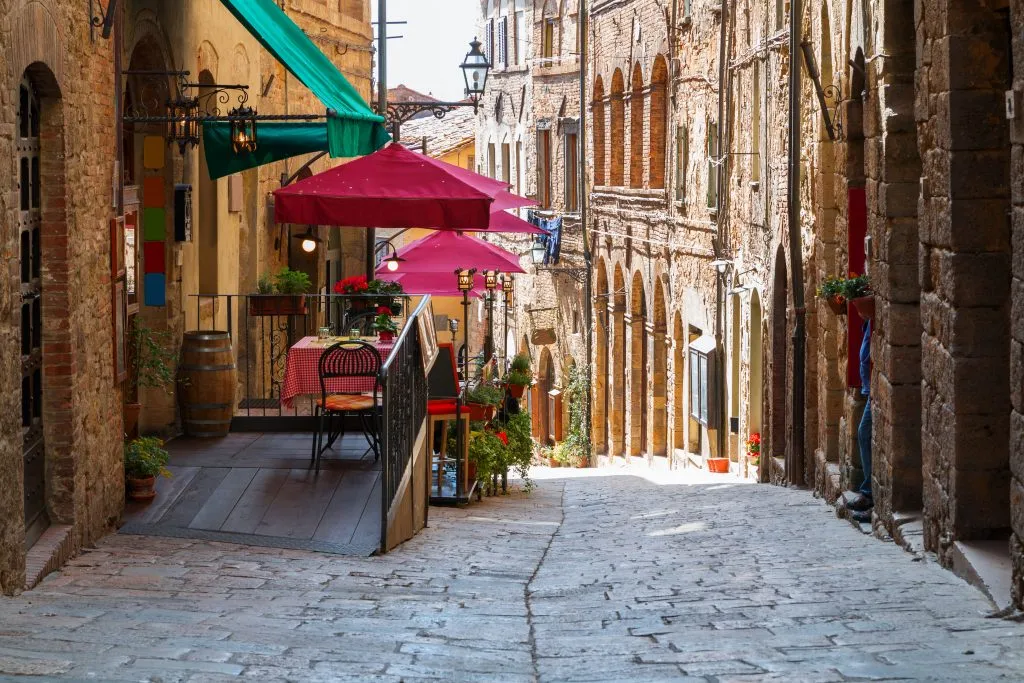 Volterra + Twilight: What's the Story?
Like many women of my generation, I first heard of Volterra not while researching hilltop towns in Tuscany but while reading New Moon, the second installment of Stephenie Meyer's Twilight series that was all the rage with teenage girls in the late 2000s.
Volterra isn't described in depth in New Moon, but a few details stick out: the clocktower on the Palazzo dei Priori is mentioned as Bella races to find Edward in the square, and the Piazza dei Priori is mentioned several times, starting when Alice gives Bella directions to find the square.
Stephenie Meyer reportedly initially planned to house the Volturi in a fictional Tuscan hilltop town, but changed her mind when she saw that Volterra met all of her needs.
In New Moon, Volterra is also celebrating St. Marcus Day when Bella arrives on March 19. This is a fictional holiday, and you won't find it in Volterra (there is a Feast of St. Mark that is celebrated on April 25, however, though it has nothing to do with vampires).
Fast forward to the movie adaptation of New Moon featuring Kristen Stewart and Robert Pattinson, and you'll find that filming did take place in Tuscany… but not in Volterra. Twilight's movie franchise instead filmed in Montepulciano (which, incidentally, is also absolutely worth visiting).
The biggest difference between Volterra and Twilight beyond those? Neither Volterra or Montepulciano has a fountain in its square, which, in the book and movie, played a role in the climax when Bella ran through it.