Home to some of the most iconic and otherwordly landscapes in the American Southwest, not to mention plenty of towns and cities to explore, it's safe to say that tackling all of the best places to visit in Arizona is quite the challenge.
After visiting Arizona many times, we still leave each time with an ever-longer list of hikes, viewpoints, small towns, and quirky attractions that we hope to enjoy (and plenty that we hope to return to again and again).
This AZ bucket list is designed to help you make the most of your time in The Grand Canyon State!
Whether you want to hike in the iconic Grand Canyon, check into a relaxing resort in Scottsdale, stand in awe of towering saguaro cacti, or try to nab a hard-to-get permit for some of Arizona's (literal) hidden gems, this list of beautiful places in Arizona to visit will have you dreaming of desert sunsets in no time.
Here are the best places to go in Arizona!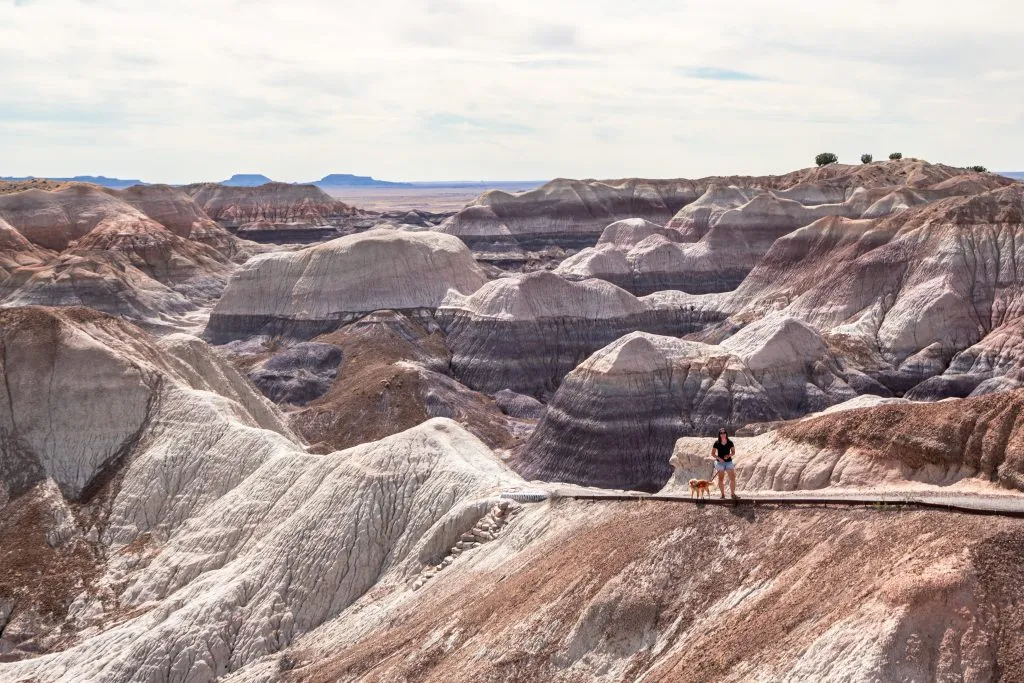 Naturally Beautiful Places in Arizona to Visit
Grand Canyon National Park
Of course, no Arizona bucket list could possibly begin with anything other than the absolutely iconic Grand Canyon!
Home to some of the most incredible views in the USA, the Colorado River has been working for millions of years to create this absolute masterpiece.
According to one 2012 study, the formation of the Grand Canyon may reach back a whopping 70 million years!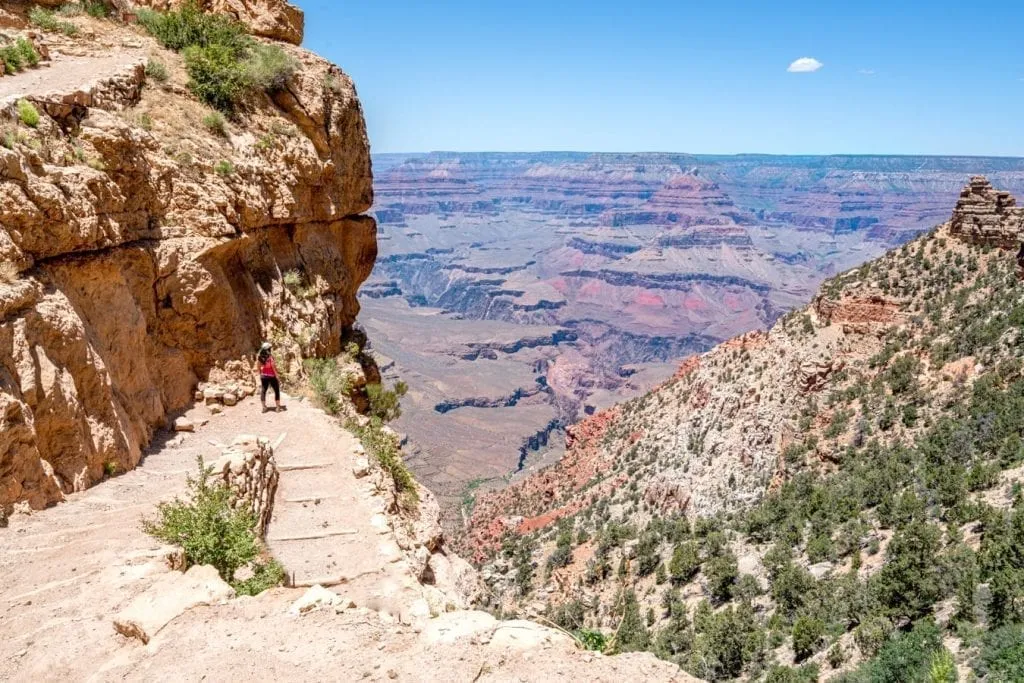 Some of the most popular things to do in the Grand Canyon today include strolling along the Rim Trail, hiking into the canyon itself (on the South Rim, the Bright Angel trail and South Kaibab trails are both incredibly popular–South Kaibab is my favorite), and watching the sunset from the viewpoints.
The national park itself is split into two sections: the popular South Rim, home to the best-known views and trails, and the lesser-visited but still beautiful North Rim.
While the South Rim should undoubtedly be your first stop, if you have time to add on a trip to the North Rim too, you won't be sorry!
(Note that while the South Rim is open year-round, the North Rim closes seasonally, but is traditionally open from mid-May to mid-October).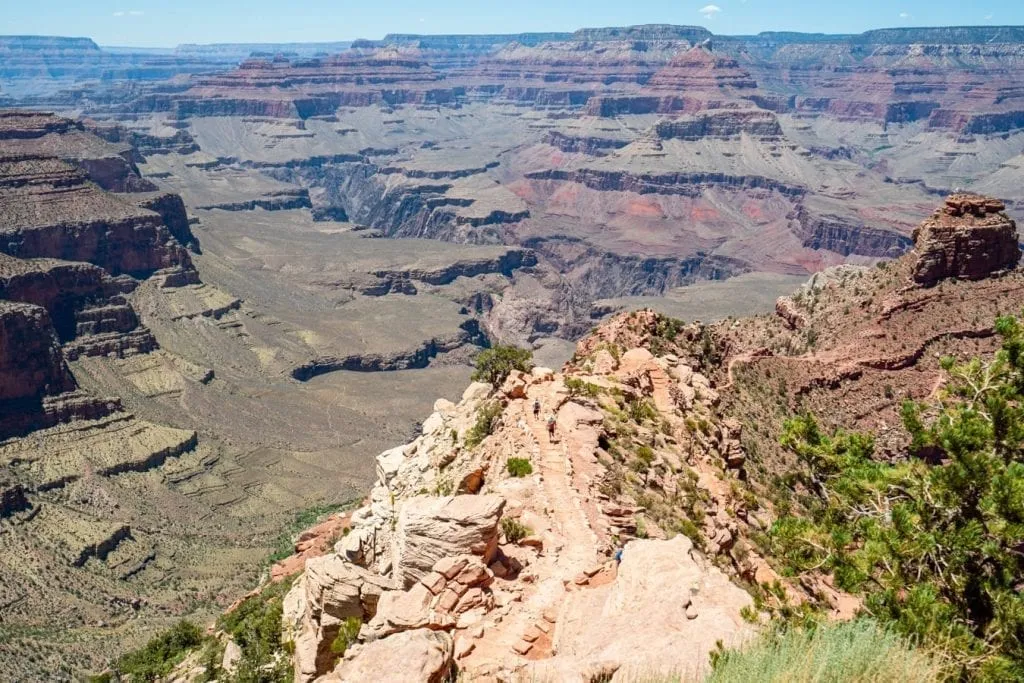 Horseshoe Bend
This iconic bend in the Colorado River is one of the best places to visit in Arizona and a must-see attraction in the small town of Page!
Seeing how big of a sensation this gorgeous viewpoint has become, it's hard to believe that during our first visit to Horseshoe Bend in 2015, it was barely a blip on the map.
At that time, Horseshoe Bend was free to visit, and we were one of only a handful of people there!
Now, everything from a large parking lot to a hiking trail to a viewing platform has been built to accommodate the number of visitors eager to admire the view–and it deserves every bit of its fame.
As of the time of writing, there's a $10 parking fee, per car, to visit.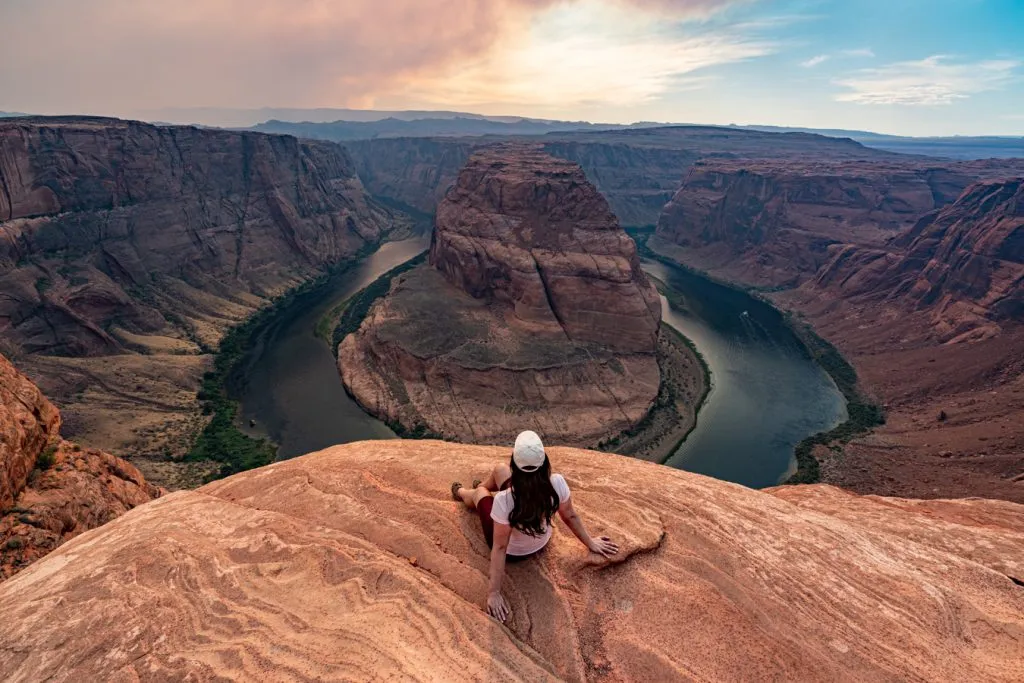 The Wave
From Paula of Paula Pins the Planet
The Wave is one of the best places to go hiking in Arizona… and also one of the most competitive!
This Arizona bucket list destination is known for its beautiful red and orange wave-like sandstone formations.
However, you must be the lucky winner of the permit lottery to be able to hike to this epic spot.
Each day, only 64 people are allotted permits to hike there.
You can apply online 4 months in advance, or you can show up at the Grand Staircase Escalante Visitor Center the day prior to trying your chance at the walk-in lottery.
The hike is about 8 miles round trip and rated as moderate.
The trail is primarily used for hiking and is best used from October until May.
It is highly recommended to hire a local guide to do the hike with, especially if you are not super skilled with route-finding.
The Wave is located in the Coyote Buttes North area of the Utah and Arizona border, and in addition to the Wave, it has many other spectacular rock formations to be explored.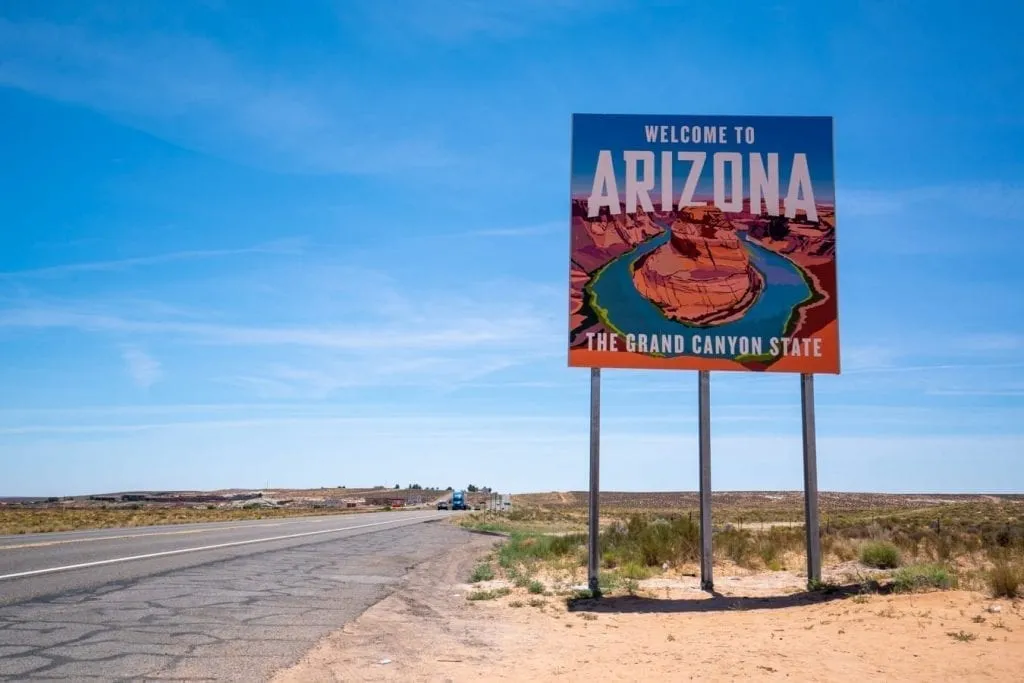 Canyon de Chelly National Monument
From Daria of The Discovery Nut
Arizona is well-known for its stunning natural landmarks such as the Grand Canyon, Horseshoe Bend, and Antelope Canyon which are popular with travelers who go there on a day trip from nearby cities such as Las Vegas.
However, the state also boasts many less-discovered gems that have been quietly flying under the radar for many years.
One of them is Canyon De Chelly National Monument, a spectacular landmark in the Four Corners region located near the town of Chinle in northeastern Arizona.
With over 800 archaeological sites that include cliff dwellings, petroglyphs, and other remnants of past civilizations that inhabited this place, Canyon De Chelly is well worth a stop.
What's interesting is that this monument consists of three major canyons including Monument Canyon, Canyon Del Muerto, and Canyon De Chelly.
It's a fantastic place for hiking and enjoying the scenic views, and, unlike some other landmarks in the region such as Monument Valley, Canyon De Chelly offers a less crowded space.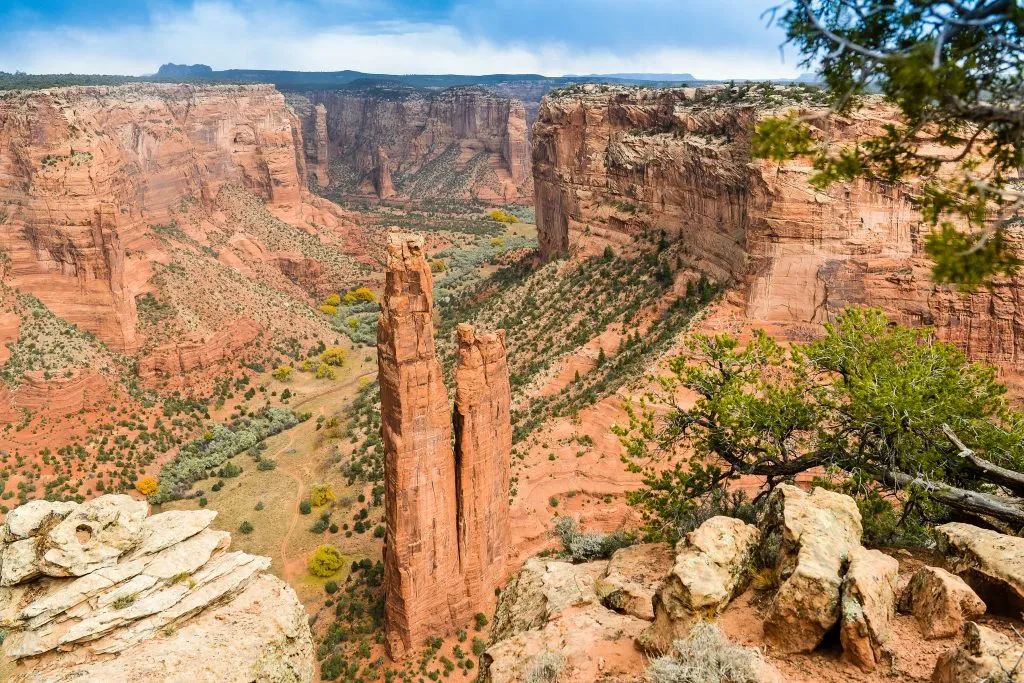 Saguaro National Park
From Ale of Sea Salt & Fog
The saguaro cactus is the icon of the West, and there's no better way to see these unique cacti in their full splendor than by visiting Saguaro National Park.
Located in Tucson, Arizona, the national park is made up of rolling hills dotted in saguaros and is a photographer's dream.
One of the best things to do in Saguaro National Park is to go hiking among the saguaros.
The Kings Canyon / Gould Mine Loop trail is a short, but moderately strenuous hike that will give you stunning views of the saguaros and of the city of Tucson.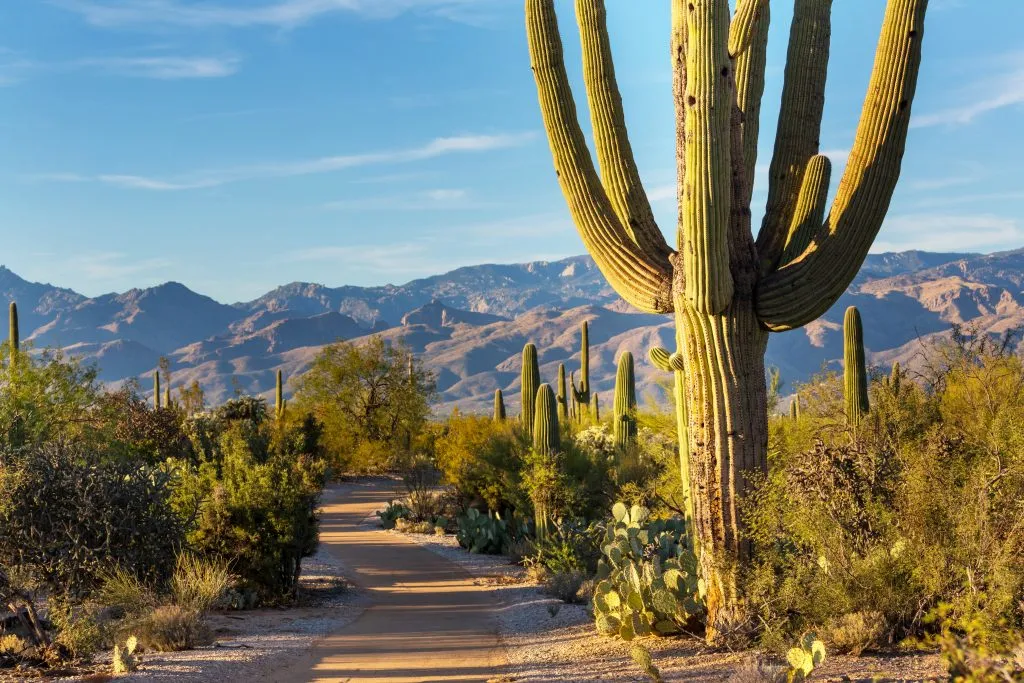 This is one of the best places in the park to experience and photograph the sunset, and an Arizona bucket list destination for photographers!
If hiking isn't your thing, you can still greatly enjoy one of the scenic drives in the park.
The Bajada Loop drive is a great introduction to Saguaro National Park.
On the eastern side, the cactus forest drive will also deliver beautiful views right from your car.
Saguaro National Park is one of the most beautiful places to go in AZ and one that should definitely be on your Arizona bucket list.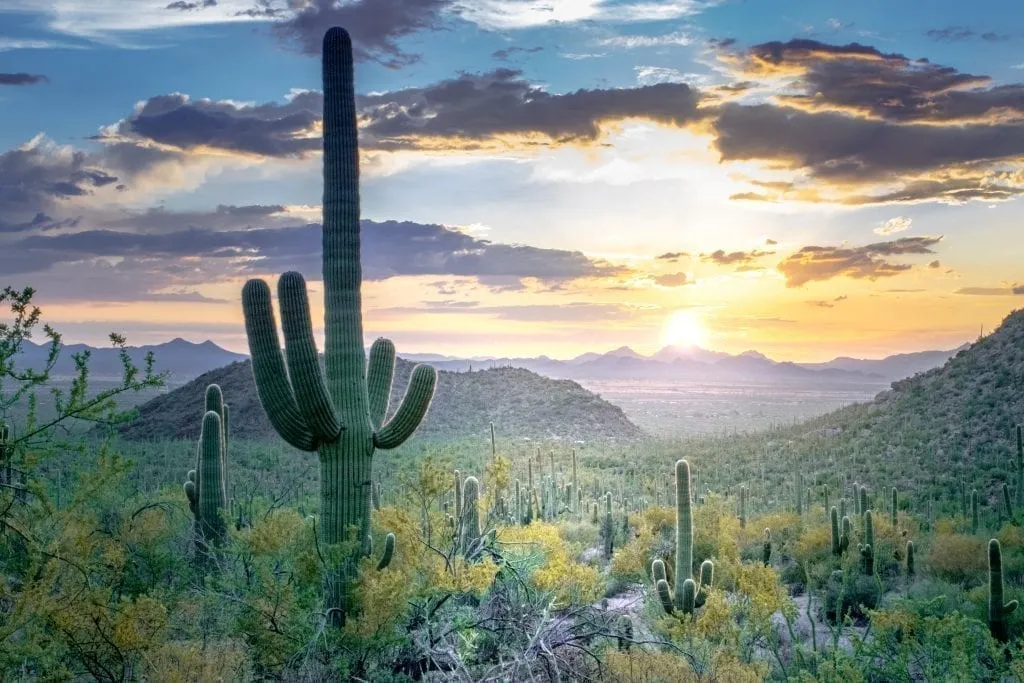 Lake Powell
From Sarah of Roadmaps and Restaurants
Lake Powell should be on everyone's must-visit list when exploring the best places in Arizona.
Lake Powell is a man-made reservoir along the Colorado River that offers something for everyone!
From kayaking, boating, and watersports to camping, hiking, and exploring the nearby Glen Canyon National Recreation Area, Lake Powell is filled with opportunities for both adventure and relaxation.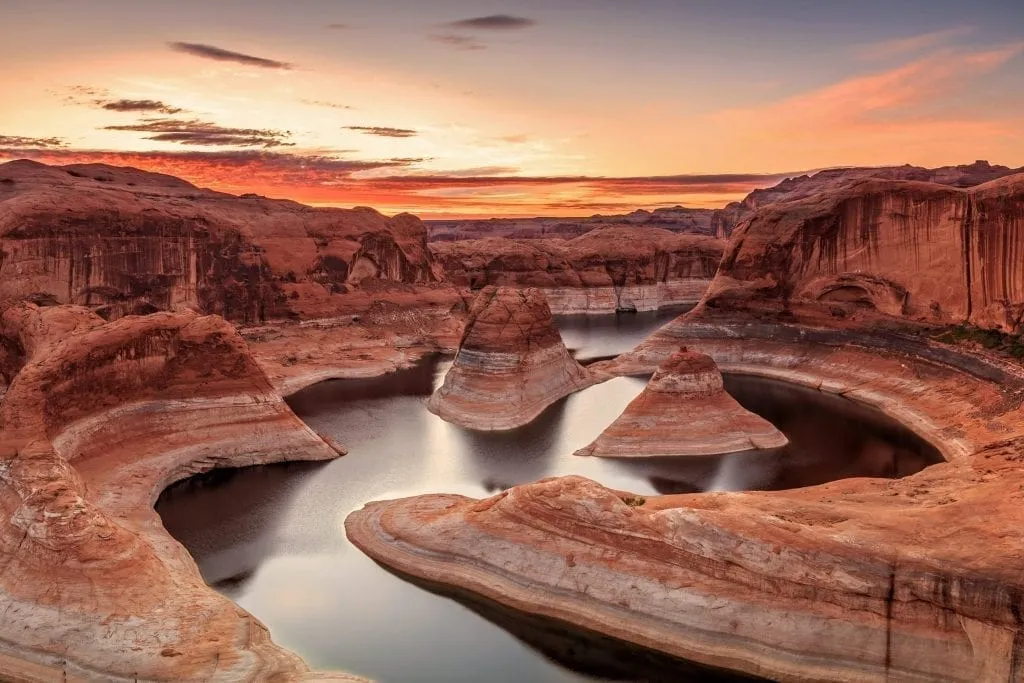 There is even a golf course if you're interested in playing a round on your trip.
In addition to camping at multiple RV or tent campgrounds, you can rent houseboats to stay on the water or stay at the Lake Powell Resort!
The resort also has multiple dining options including the Rainbow Room, which offers a delicious meal with unparalleled views of the water.
Lake Powell is also right by Page, AZ, and approximately a 15-minute drive from the famous Horseshoe Bend, which is definitely worth a stop!
Monument Valley
From James Ian of Park Collecting
When you think of classic Southwest USA scenery, you are probably thinking of the iconic Monument Valley.
With its desert plains dotted with buttes and mesas, it is both famous (you can partially thank Forrest Gump for that) and incredibly beautiful.
The valley is designated as the Monument Valley Navajo Tribal Park and, because this is Navajo land, there are restrictions on how you can access it.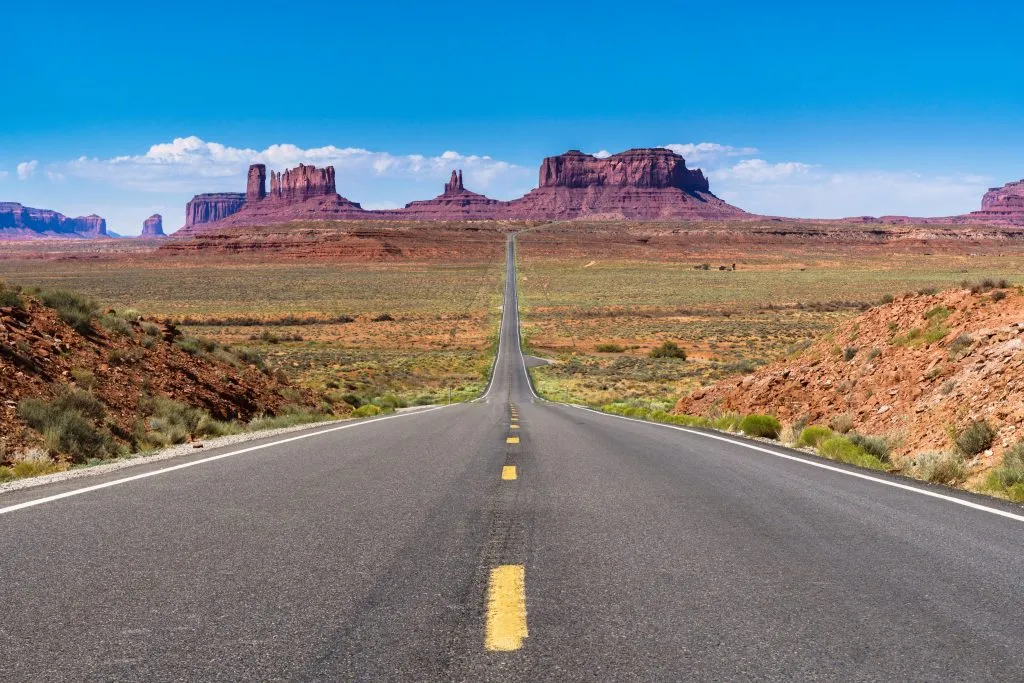 There is one road, a 17-mile loop called Valley Drive, that you can drive yourself. This takes you past many of the main formations.
You can stop off at John Wayne Point and get your photo taken sitting on a horse looking out over the scenery just like John Wayne did.
For more detailed exploration, take a backcountry tour with a Navajo guide and learn more about their culture and see additional sites.
If you like to hike, there is one trail – the Wildcat Trail – that you can hike yourself.
Other hikes also require the services of a Navajo guide.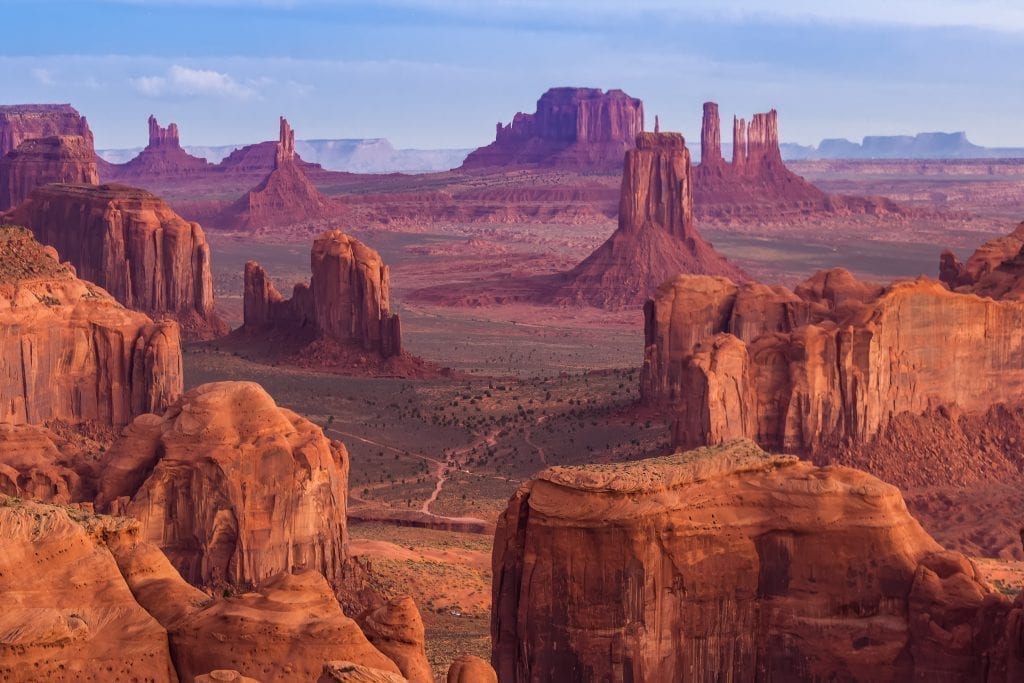 Havasu Falls
As one of the most logistically challenging places to visit in Arizona–but also one of the most beautiful–there's something truly magical about visiting Havasu Falls.
Tucked into a corner of the Grand Canyon that is part of the land belonging to the Havasupai people, Havasu Falls is not part of the national park.
For that reason, visiting Havasu Falls entails first nabbing an elusive permit, and then hiking 10 miles each way into the gorgeous Havasu Canyon.
No day hiking is allowed, so laying your eyes on this waterfall requires both advance planning and a commitment to camping overnight.
For those who make the journey, though, the effort is absolutely worth the magnificent reward!
Organ Pipe Cactus National Monument
From Lori of Southerner Says
There are several reasons that Organ Pipe Cactus National Monument should be on anyone's list of the best places to visit in Arizona.
First, there's nowhere else in the United States where you can see this many organ pipe cacti.
A rare cactus, the organ pipe requires special conditions to flourish.
Because there are so many in this compact area of southern Arizona, Organ Pipe was declared a national monument and a UNESCO biosphere reserve.
Second, the Organ Pipe Cactus National Monument is home to one of the last places on earth where visitors can see a certain rare fish.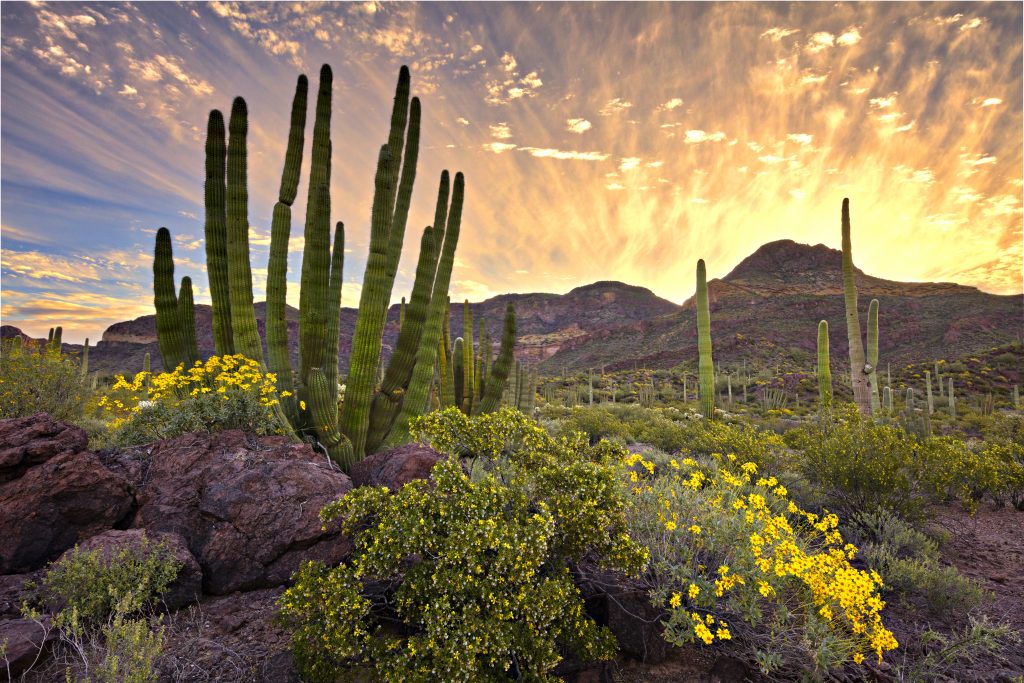 A fish in the desert you might ask? Yes!
In the United States, the Sonoyta Pupfish exists only in Quitobaquito Springs inside the park.
Besides Organ Pipe, there are two other places in the world (both in Mexico) where it's found.
When visiting Organ Pipe Cactus National Monument, don't miss the 21-mile unpaved, but maintained, scenic Ajo Mountain Drive for the best views of the cacti and the park.
It's doable in a car if you keep it slow.
CBP Photography
, Public domain, via Wikimedia Commons
Antelope Canyon
From Ashley of Jetset Jansen
One of the most popular attractions to see in Arizona is the famous slot canyon known as Antelope Canyon.
Its popularity is due to the incredible canyons that have been carved out of sandstone by water over thousands of years.
The swirling walls make for beautiful pictures, but what you may not know is that there are actually two different sections to see: the Upper Canyon and Lower Canyon.
Both parts of Antelope Canyon have a stunning landscape, but they do have slight differences.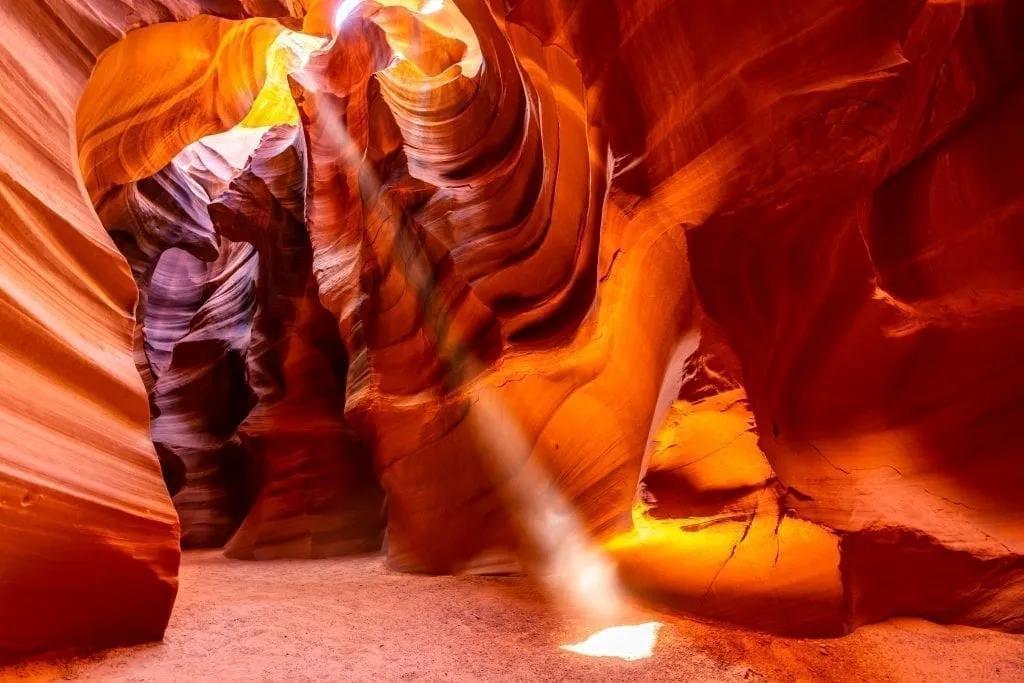 The Upper Canyon has a shallower opening and lets in less light. This can create light beams that shine through the canyon.
The Lower Canyon has a wider opening, so it does not get the light beams shining through, but it does have ladders that descend into the canyon.
Antelope Canyon is located on Navajo land and you must enter with an official tour to visit.
You'll want to plan your tour well in advance because of its popularity (particularly in the cooler months), but it is well worth the visit!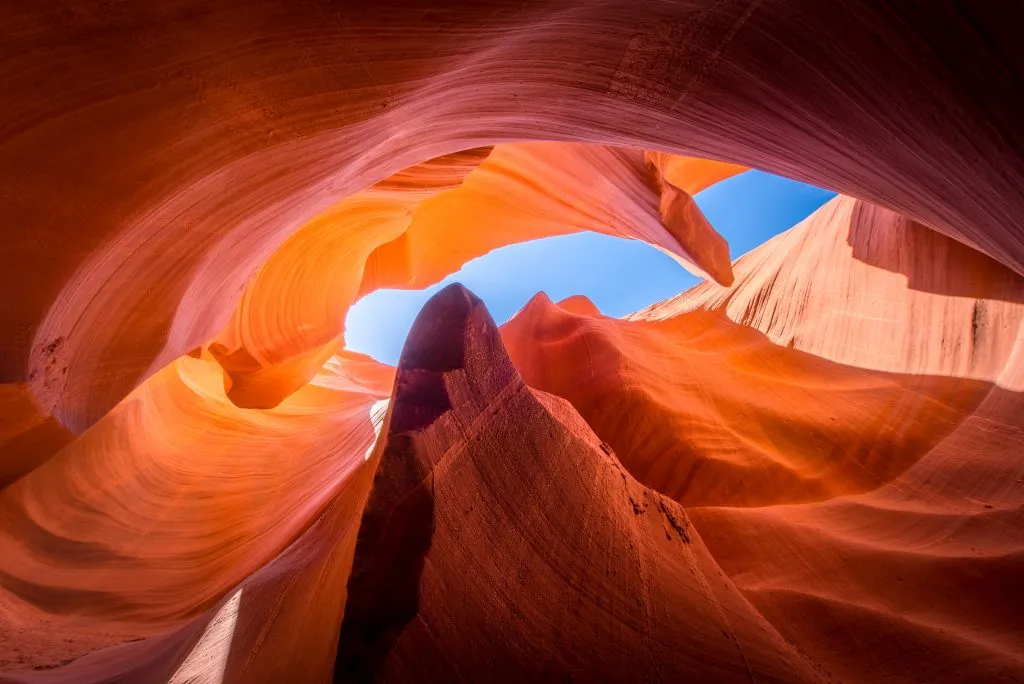 Chiricahua National Monument
From Megan Kopp of Time. Travel. Trek.
It started with a volcanic eruption over 27 million years ago. Time and weather eroded rhyolite tuff into the "Land of the Standing Up Rocks."
Chiricahua National Monument – 120 miles southeast of Tucson – is a perfect blend of both history and hiking.
While you're there, you can wander in the footsteps of the Chiricahua Apaches, and pay homage to Buffalo Soldiers who camped in the canyon and carved their names into monument stones.
Learn about Lillian and the Faraway Ranch while admiring the now-preserved stones built into the dining room fireplace.
Explore remains of the Civilian Conservation Corps (CCC) camp built on the ranch property.
Head up to the top of this "sky island" and hike down Echo Trail's wild switchbacks.
Or, go big with 7.3 miles (11.8 km) of hiking bliss as you stroll along Ed Riggs trail past Mushroom and Big Balanced Rocks, navigating the Heart of the Rocks loop before continuing down Sarah Deming and Lower Rhyolite Canyon trails to the Visitor Center.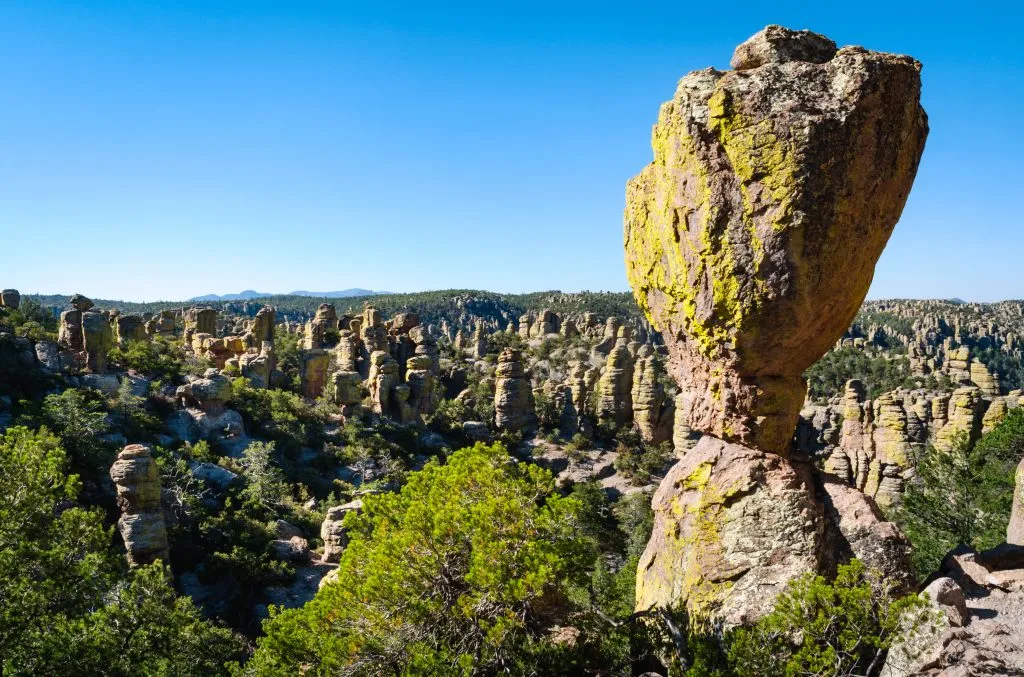 Arizona Bucket List Cities + Towns to Visit
Sedona
From Tegan and Alex of Why Not Walk Travel Guides
Sedona is a picturesque town located right along the Red Rock Scenic Byway, one of the most beautiful drives in the country.
Known for its funky vibe, Sedona is famous for being one of the premier places in the world to experience vortexes or convergences of energy that are said to leave you feeling recharged and inspired.
Sedona is a fantastic destination to add to any visit to Arizona and is a particular favorite for hiking and nature lovers, or those seeking an escape to a quiet and calming place.
While you're here, be sure to check out the views of Cathedral Rock and the other astounding rock formations with their signature red hues.
One great place to do so is at Buddha Beach, and don't miss splashing around a bit in its beautiful iridescent pools, which are quite shallow and fairly warm year-round.
If you're in the mood for a brief hike, the Devil's Bridge hike is one of the most popular in the area, and hiking it takes less than 2 miles round-trip along a smooth and well-paved trail.
Art lovers will surely enjoy the Sedona Art Walk and the variety of boutiques and galleries in the Gallery District.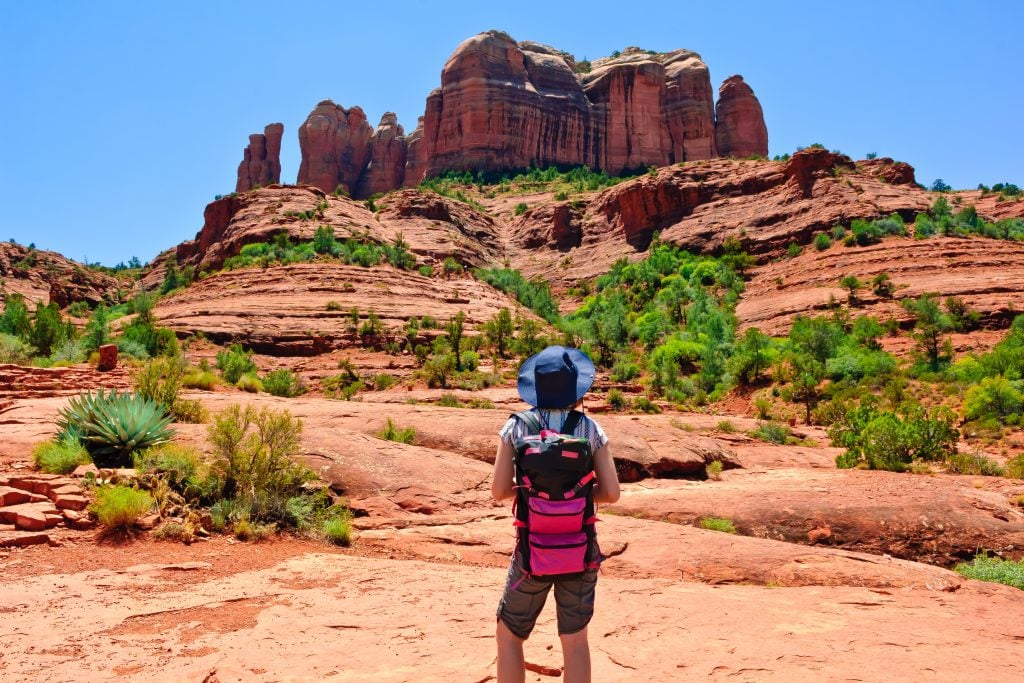 Winslow
From Margie of DQ Family Travel
Winslow makes for a great stop when visiting Arizona.
This classic Route 66 town is located an hour east of Flagstaff and is a popular tourist destination for those driving the Mother Road.
Winslow is home to two famous roadside attractions.
The first is "Standin' on the Corner" Park, which was created to pay tribute to the 1970s Eagles song that made Winslow a town to sing about.
Many people stop here and take pictures at this corner and in front of the giant mural.
The second best thing to do in Winslow is to stay at the famous La Posada Hotel.
Opened in 1930, this hotel was a stop on the Santa Fe Railway and had a number of famous guests in its heyday (Albert Einstein, Amelia Earhart, FDR, John Wayne, and Betty Grable, just to name a few).
It was restored in the late 1990s and features beautiful gardens, local art, and updated rooms.
In addition, it is home to one of the best Route 66 restaurants, The Turquoise Room.
The chef is a James Beard nominee and the restaurant features seasonally changing menus with a Southwest influence.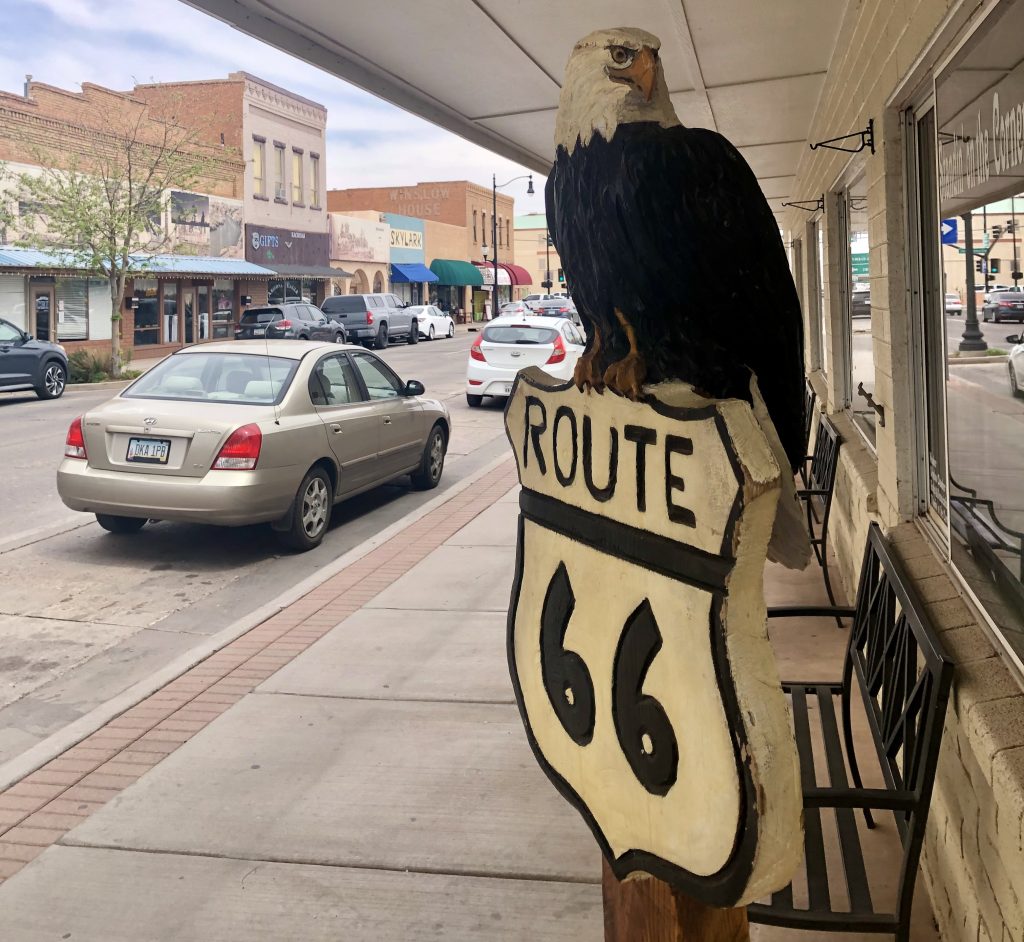 Phoenix
From Stella Jane of Around the World in 24 Hours
Even though Phoenix is the 5th largest city in the United States, people often overlook it when listing the best cities to visit in America. This is a true shame.
Phoenix has some of the best cultural experiences in the country, from museums to restaurants to botanical gardens.
The best museum in Phoenix might be the Heard Museum, which is dedicated to advancing American Indian art and history.
Don't miss their amazing Katsina doll collection!
If you want a more hands-on museum, visit the Musical Instrument Museum, where you can hear instruments from all over the world.
There's also a section on Arizona musicians, like rock legend Alice Cooper.
If you'd rather get outdoors, try exploring the gorgeous Desert Botanical Garden.
You can also visit the historic homes in Heritage Square, and afterward get a pizza at the legendary Pizzeria Bianco.
Phoenix truly has something for everyone, and its large airport makes it the perfect jumping-off point for exploring more of the best places to visit in Arizona.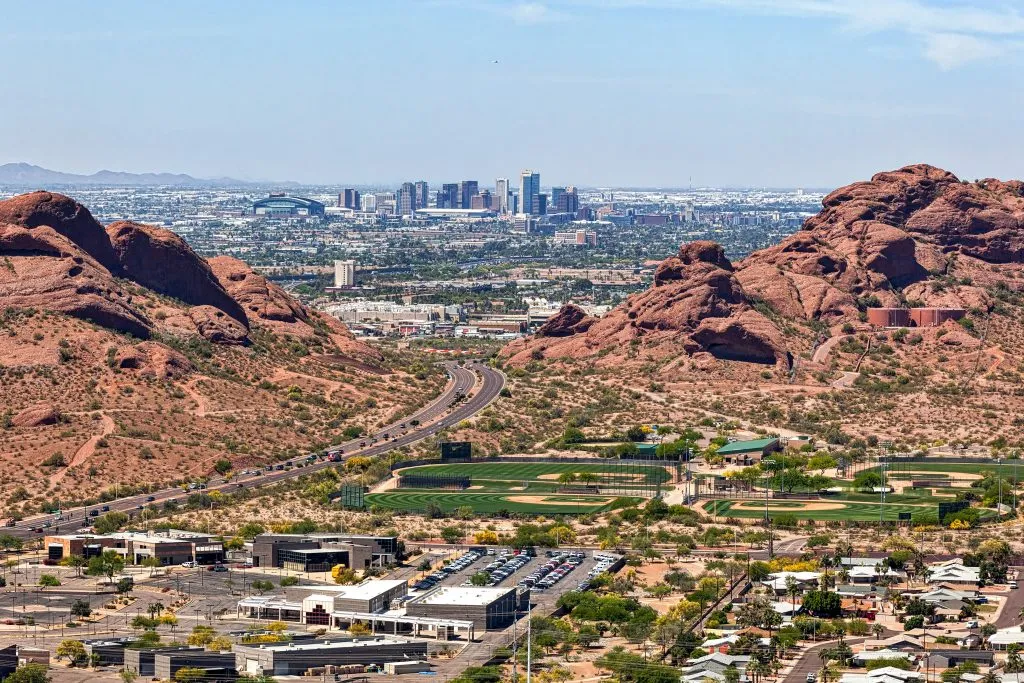 Yuma
From Alexa of 52 Perfect Days
Yuma is located in the southwestern corner of Arizona, just a few miles from the California-Arizona state line.
Anyone who lives in San Diego or Phoenix knows Yuma as a halfway point between the two cities, but it's much more than a stopover!
Yuma is a city with an interesting past. It was a true wild west town of cowboys, brothels, gambling, and gunfights during the California Gold Rush.
For a small "pitstop" town, there is a surprising number of things to do.
The historic downtown is where you'll find Lutes Casino, now a restaurant but where gambling took place from 1912 to 1920. Today, they are famous for their funky decor and potato tacos.
Yuma Territorial Prison State Historic Park is a must-visit in Yuma. It was built by its first prisoners and opened in 1876. It is now a museum and free to tour.
Jesuiseduardo
,
CC BY-SA 4.0
, via Wikimedia Commons
Yuma Quartermaster Depot State Historic Park is perfect for any military buffs.
In the late 1800s, this was a thriving military post used by the U.S. Army to store and distribute supplies for all the military posts in Arizona and throughout the West.
Five of the original depot buildings remain on the park grounds, and four of these buildings contain exhibits.
The Confluence of the Colorado and Gila Rivers happens in Yuma, which makes for great tubing.
If you visit from late spring to early fall, a float down the Colorado River is a must.
It's definitely worth adding Yuma to your list of places to visit in AZ!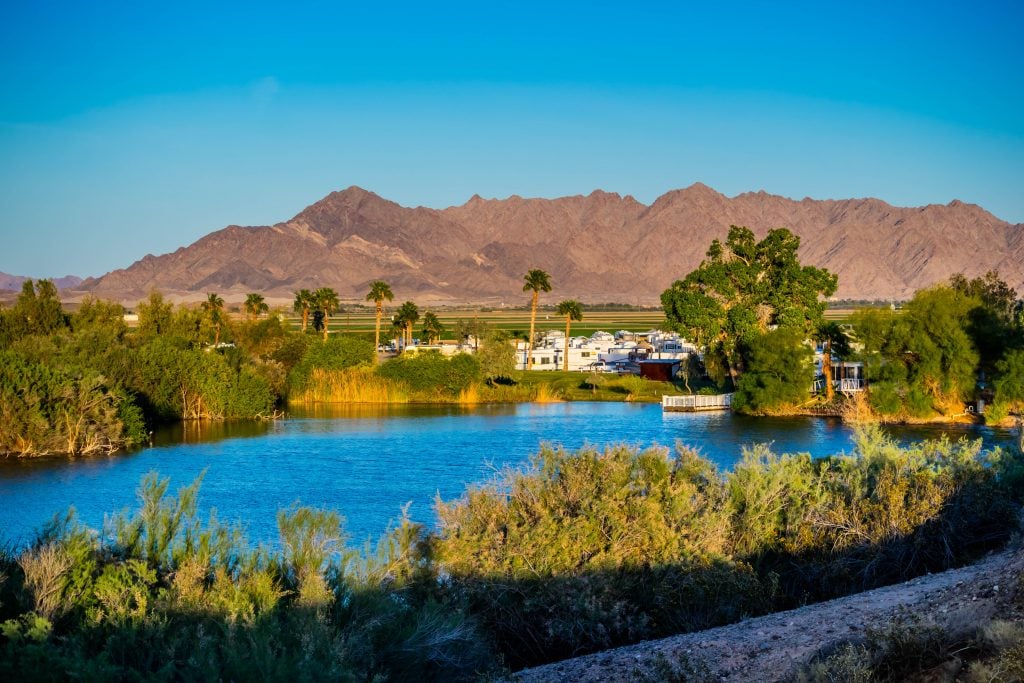 Scottsdale
From Sydney of A World in Reach
If you're looking for an Arizona bucket list destination where you can enjoy the outdoors and the city all in one, Scottsdale is the place to be.
The city has great hikes and other outdoor activities as well as a fun downtown with plenty of museums and a thriving foodie scene.
Spend a morning hiking Camelback Mountain or one of the trails in the McDowell Sonoran Preserve.
Make sure to get an early start – it gets very hot in Scottsdale, so starting before sunrise can help you beat the heat.
Up next, explore Old Town Scottsdale. Here, you can go souvenir shopping, visit museums, and go winery hopping along the Scottsdale Wine Trail.
Arizona wine country may be under the radar, but it has plenty of gems to offer!
When visiting Scottsdale, you have to stay at one of the excellent resorts, like the Andaz Resort & Bungalows.
If you're visiting Scottsdale on a budget, go during the summer when the resorts slash their prices.
It'll be hot, but you can cool yourself down at the resort pool!
Marine 69-71
,
CC BY-SA 4.0
, via Wikimedia Commons
Tucson
From Katie of Two Wandering Soles
With one of the best Mexican food scenes in the US, a unique national park, and a burgeoning arts scene, Tucson is adored by foodies, outdoor enthusiasts, and art fiends alike.
If you find yourself in this southern Arizona city, you'll have no shortage of ways to fill your time!
First and foremost, one of the best things to do in Tucson is to visit Saguaro National Park, which is divided into two sections — the most popular being on the west side of town and a less crowded portion to the east of the city.
Known as one of the best places in the world to see the saguaro cacti after which it was named, there are plenty of scenic drives and hikes suitable for all levels.
Michael Barera
,
CC BY-SA 4.0
, via Wikimedia Commons
Once you've worked up an appetite, sample your way through the city's famous Mexican food scene.
Order your favorites or try a Sonoran Dog — one of Tucson's staple dishes.
Even if you don't eat meat or dairy, you'll find some great vegan Mexican restaurants in the city.
If you're in the mood, Tucson has a pretty lively nightlife scene, complete with a pretty good variety of live music.
If you prefer your evenings on the more relaxed side, do a sunset hike up "A Mountain" for a spectacular view over town as it begins to light up!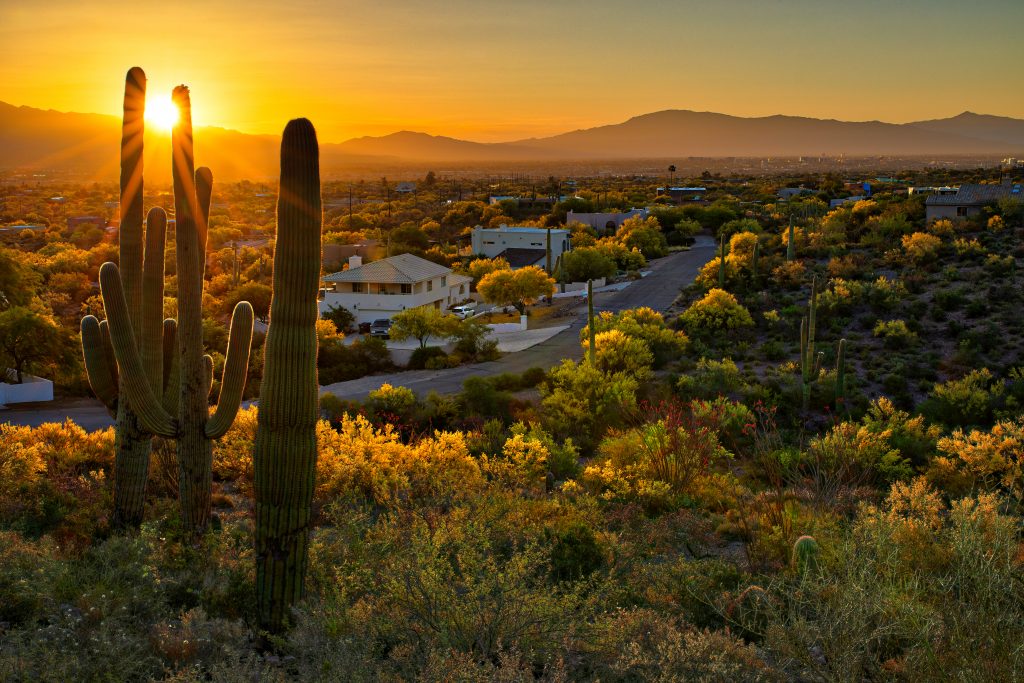 Oatman Ghost Town
From Debbie of World Adventurists
Located in western Arizona along Historic Route 66 flourishes the ghost town of Oatman, in the Black Mountains of Mohave County.
Oatman was originally a mining camp where two prospectors struck $10 million in gold back in 1915.
Its location on Historic Route 66 has kept it alive since, with over half a million visitors every year.
You'll stop for the wild burros that wander around town, but you'll soon realize they are just the start of the show.
Stay to watch the Gunslingers Wild West shootout (1:30 & 3:30 daily) and wander the western-themed shops.
You'll quickly also notice the fun sassy town vibe, with each storefront being named something cheeky.

Don't miss the Oatman Hotel's saloon, covered with signed one-dollar bills.
This started when Miners would sign and attach their money to the wall for use when they were short of funds.
Locals also claim that the hotel is haunted and the whispers and laughs of ghosts are heard in empty rooms.
More of the Best Places to Visit in Arizona
Montezuma Castle National Monument
From Alanna of Periodic Adventures
Between Sedona and Phoenix, you'll find Montezuma Castle National Monument, a hidden gem in Arizona.
There are two locations 11 miles apart that make up the National Monument; the castle and the well.
Montezuma Well is a large freshwater sinkhole that was once frequented by ancient Native peoples, as evidenced by cliff dwellings and irrigation systems, that still function today!
There is one main path around the area, and some of it is shaded near the small irrigation ditches.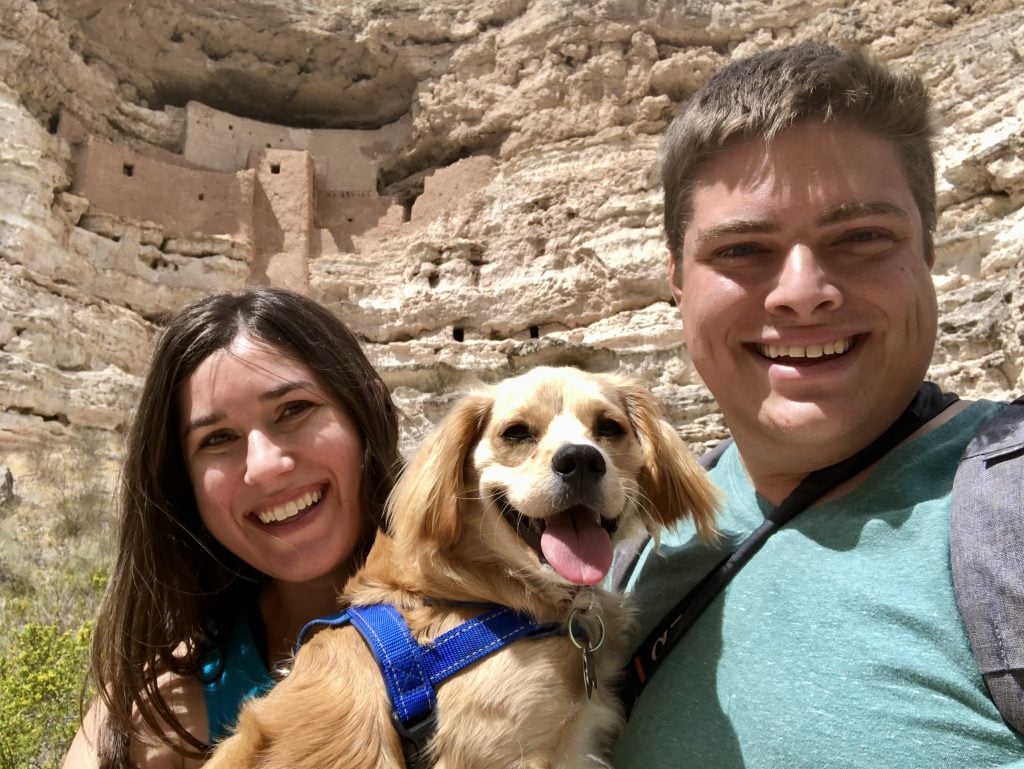 Rest here for a tranquil break from the Arizona heat.
Montezuma Castle is the main site where you can see the large cliff dwelling that was erected over 900 years ago by the Sinagua people!
Take the circular path around the site to see the main Castle, other cliff dwellings, and unique Arizona plant life and wildlife.
There is a visitor center at the Castle site with facilities and a small museum to explore as well.
Apache Trail
From Noel of Travel Photo Discovery
One of the most unique places to visit in Arizona, just on the outskirts of Phoenix, is the Apache Trail area.
This rugged landscape with man-made reservoirs cut into the large basins collects water to take care of the Phoenix water needs.
Traveling through this trail and now more of a graveled road through the various reservoirs, rivers, and desert landscape is so unique and old western that doesn't look changed from the old days.
You also get to pass through striking Superstitious Mountain State Park, the Goldfield Ghost Town, and some of the most beautiful mountain and desert-scape in the area, which comprises the Apache Trail.
There's even a cool western town called Tortilla Flats that has a western bar that is so photo-worthy that a stop really gives you a sense of place in this small western spit far removed from the rest of the region.
The striking beauty and landscape of this area stand out and is a unique place to visit that isn't even touristy in appeal but a very cool road trip experience.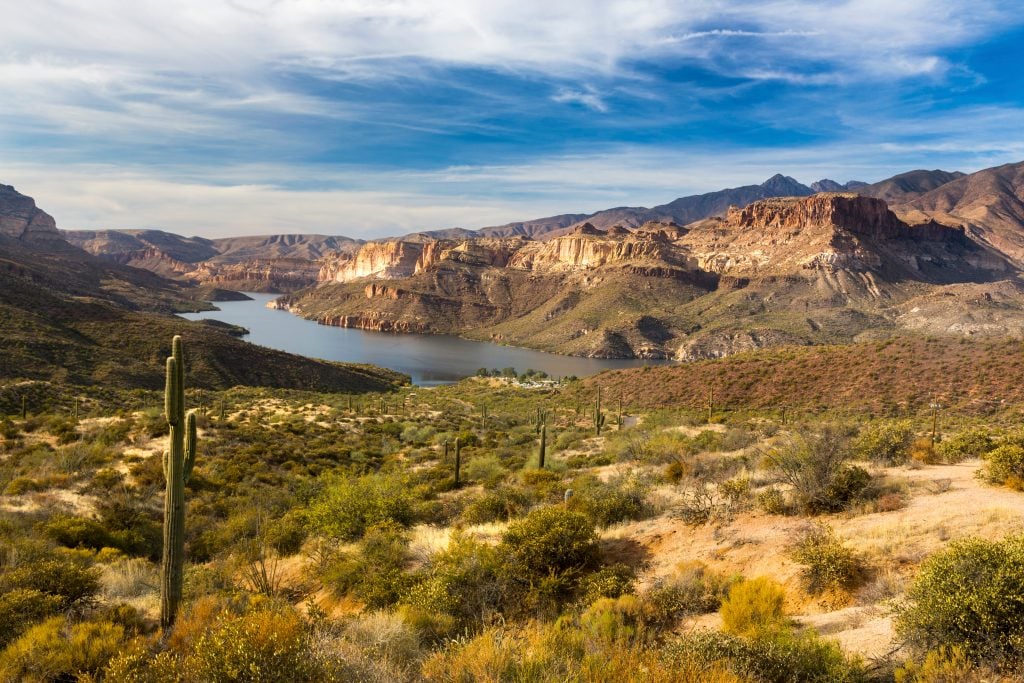 Desert Botanical Garden (Phoenix)
From Cat of For Two, Please
Whether you are looking for romantic things to do in Arizona or fun family outings around the area, be sure to make a stop at Desert Botanical Garden!
Located in Papago Park, Phoenix, the visually stunning plant sanctuary offers a peaceful opportunity for visitors to discover 4,000+ different cactus species from around the world!
There are several hiking trails inside the Garden – all offering fantastic views of the surrounding landscape while immersing yourselves in colors and fragrances.
Throughout the year, the Garden continuously hosts exciting events to celebrate each season. Concert series, wine tastings, and dinners, to name a few.
Simeon87
,
CC BY-SA 3.0
, via Wikimedia Commons
If you're visiting in the winter, check out Las Noches de las Luminarias.
Using projection, lighting, and sound, you will watch the cacti, succulents, and rocks be brought to life and put on a show you've never seen before.
The event runs throughout the entire month of December – in time to celebrate the winter holidays!
The Garden is quite big to spend half a day exploring. Make sure to plan ahead and set aside enough time to get a full experience.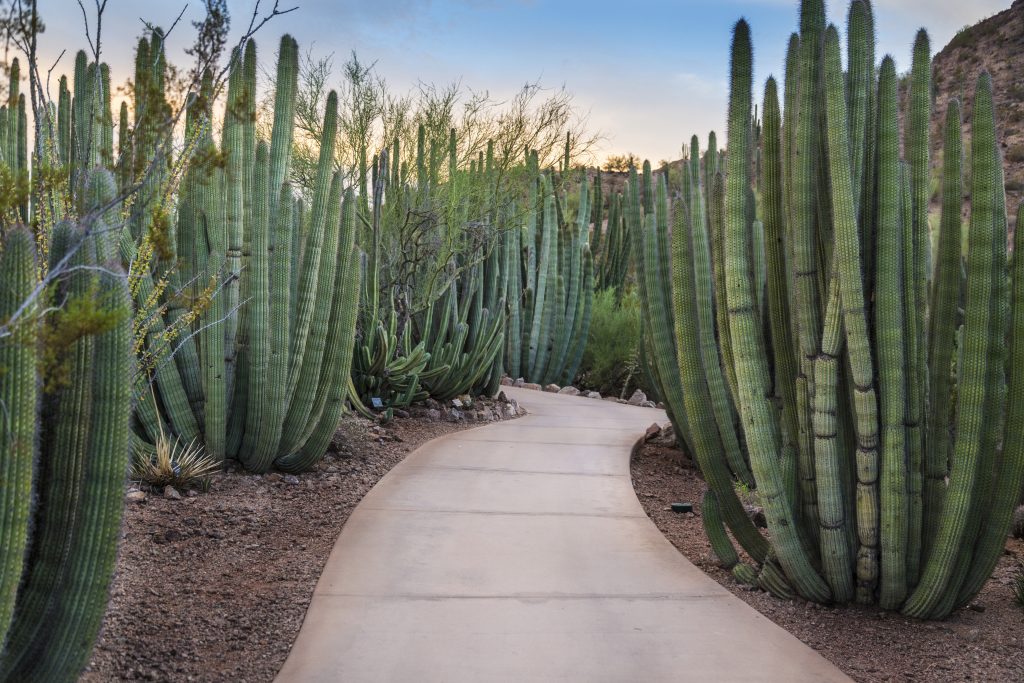 Devil's Bridge (Sedona)
From Jessica of Unearth the Voyage
Of all the best places to visit in Arizona, Sedona's iconic Devil's Bridge is definitely high on the list!
There are lots of fun things to do in Sedona, but the hiking in Sedona is out of the world amazing.
Of all the really neat hikes Sedona has to offer, you definitely cannot miss Devil's Bridge.
It is arguably the most famous hike in Sedona, landing a spot on Arizona bucket lists for visitors across the country.
If you're looking for a picture-perfect shot on a really cool natural arch, Devil's Bridge is your place.
The hike to Devil's Bridge is rated as moderately challenging and can be shorter or longer depending on where you park (and parking is extremely competitive–be prepared for an early start!).
For the closest parking to Devil's Bridge, it is recommended to have a 4-wheel drive vehicle to get there, especially after it's been raining.
The trail itself has some gorgeous red-rock scenery that Sedona is so famous for so you will get to admire that on your 2-4.2 mile hike (depending on where you park).
After walking on a fairly easy flat trail for more of your hike, you will come to the mountain face where you will have to do some rock-scrambling to get to the arch.
The rock scrambling isn't too bad though, and it's for a very short distance.
After you've climbed up the rock staircase, you will be rewarded with a gorgeous view of one of the most beautiful places in Arizona and Devil's Bridge!
Read More About Visiting Arizona (and the Southwest USA)
Planning a trip to the Southwest soon, and want to keep reading?
You can browse all of our 100+ USA blog posts here, or check out these guides: