There may be no other region in the USA quite as otherworldly as the American Southwest. And there is absolutely no better way to appreciate that magnificent beauty than via an epic Southwest road trip itinerary!
Unfortunately, for most of us, there's no way to encapsulate the full magnificence of the region on a single Southwest US road trip (and trust us, we've tried to, many times).
Because of that, we've teamed up with several other travel bloggers to craft this complete guide to the best road trips in the Southwest USA, from iconic classics in Utah to offbeat highlights in Nevada to focused Southwest national parks road trips.
We've decided to work with a pretty generous definition of the Southwestern US for this guide, covering road trips in Arizona, New Mexico, Utah, Nevada, and Colorado, as well as parts of Southern California and West Texas.
Whether you only have a weekend to spare or are planning the Southwest road trip of a lifetime, here are the best Southwest USA road trip routes to consider!
Quick Tips for Your Southwest USA Road Trip
Before diving into the best Southwest road trip itineraries below, there are a few tips to be aware of, especially if this is your first time in the region!
Pick up an America the Beautiful Pass.
If you're planning a Southwest USA road trip itinerary, odds are very high that you're planning to visit several national parks!
If so, consider picking up an America the Beautiful Pass, also known as the USA's annual national parks pass.
For only $80–less for certain groups like seniors and military personnel–the park covers day-use fees to over 2,000 federally managed lands, including all 62 national parks, for an entire year.
It's one of the best travel deals around and will pay for itself within 3-4 visits to popular US national parks (for example, as of the time of writing, many popular Southwest national parks such as Arches and Bryce Canyon cost between $25-35 per vehicle to visit).
Buy your national parks pass today!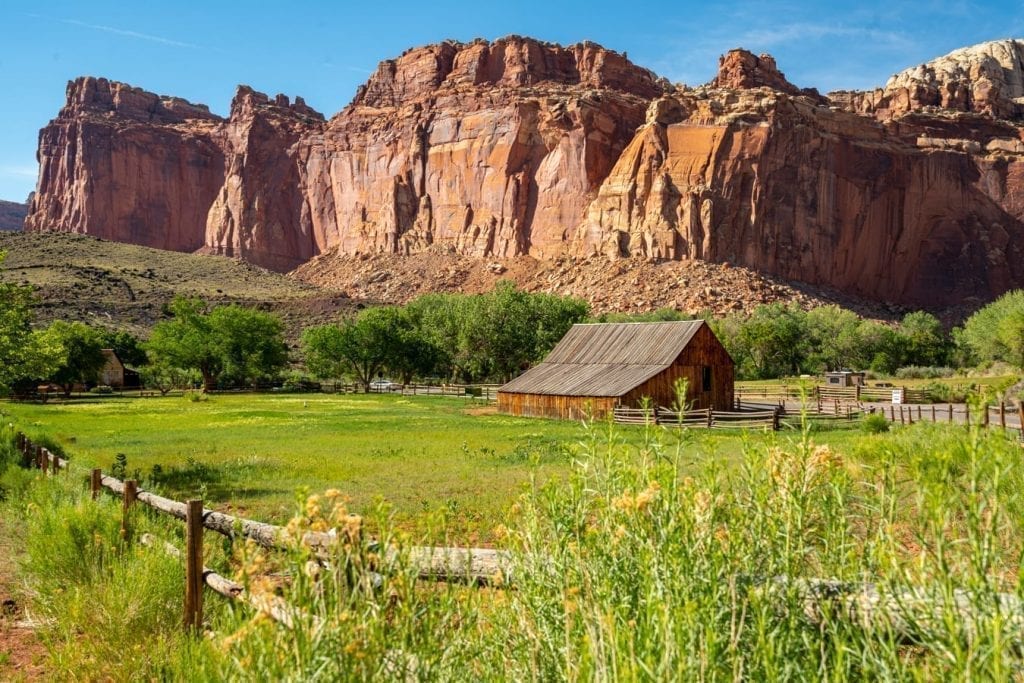 Beware the heat.
Everyone talks about it, but it really can't be overstated: the heat in the American Southwest in summer can be life-threatening and is not to be trifled with.
Water, sun protection, and keeping an eye on the weather need to be at the forefront of your mind as you work your way through the region.
If you're planning a trip during the (long) summer, consider optimizing your schedule so that the bulk of your hiking takes place in the mornings and evenings, too, rather than in the middle of the day.
If you're renting a car, shop around.
The best company to rent a car from for your Southwest USA road trip will likely vary dramatically depending on where and when you're traveling.
Sometimes large international carriers offer the best prices, sometimes local outfits. Sometimes one company has an excellent base price, but terrible rental requirements.
The best way to find your rental car is to search through Discover Cars, which will sift through dozens of companies to find the best combination of low prices and reasonable rental terms for your trip.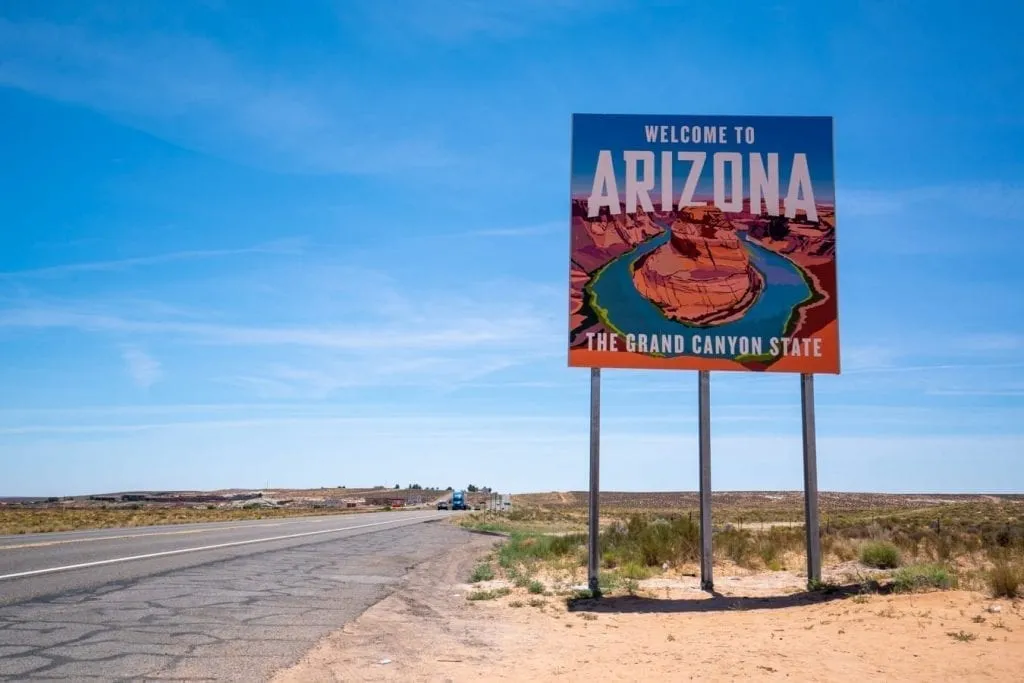 Read the rental requirements carefully.
Especially make sure you know how many miles you've been allotted (or ideally, if they're unlimited), what to do if the car breaks down, and what damages you're liable for in the event of an accident.
You'll also want to note whether or not to return the car empty or full of fuel.
On the off chance that you're planning on extending your road trip beyond the US Southwest into Canada or Mexico, be sure to check the requirements for crossing the border as well.
Consider bringing your sleeping arrangements along with you.
It's not right for everyone, but there's a reason that using an RV or campervan is such a classic American road trip experience!
And, you don't need to dive into the RV lifestyle and buy one for your next trip in order to try it out: you can try out the experience by renting RVs and camper vans from Outdoorsy.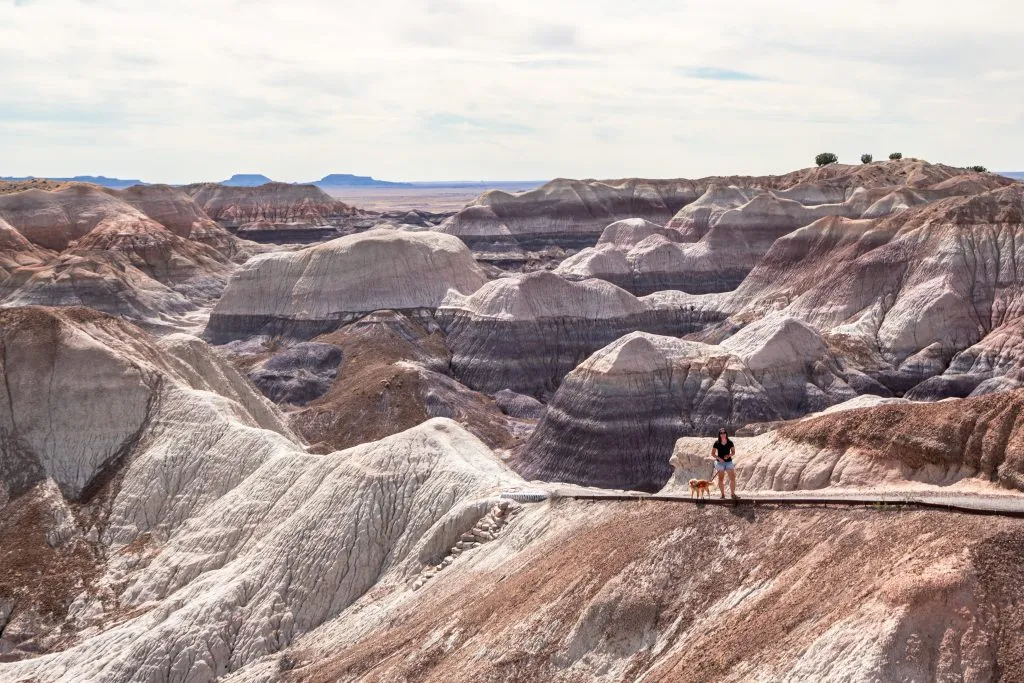 Make sure you pack the right gear.
From safety gear to snacks, a big road trip in the American Southwest requires bringing the right tools along, whether you're taking a short vacation, trying out van life, or something in between.
We recommend taking a look at the suggestions on our road trip packing list before you go!
Book travel insurance.
We don't ever suggest traveling without travel insurance.
Anything can happen on the road, and an epic road trip is definitely a case of better to be safe than sorry.
You can check prices and inclusions with Safety Wing for road trips in the Southwest USA.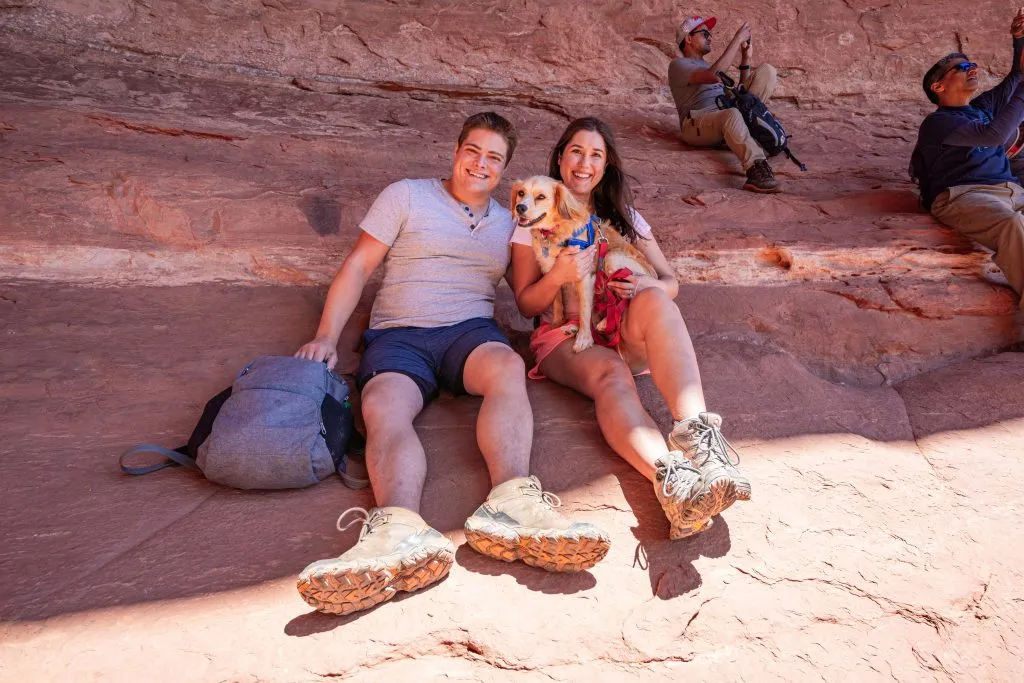 Don't overextend yourself.
Exploring every nook and cranny of the American Southwest is a project for a lifetime, not one trip!
As tempting as it is to add on additional driving to stop in just one more park or small town, make sure that you leave enough time to thoroughly explore each destination rather than spending the entirety of your Southwest US road trip driving from one spot to the next.
Considering the long driving distances between some of the most iconic places in the Southwest, it's easy to over-plan!
Set realistic expectations for visiting US national parks.
Many of the best national parks in the USA are located in the Southwest–and they are incredibly popular.
Be sure to research individual parks in advance to make the most of your time, as accessing the most iconic attractions often is not as simple as showing up.
Hotels tend to get booked up quickly, some parks like Rocky Mountain National Park, Arches National Park, and Zion National Park are now requiring most visitors to book timed entry permits in advance.
Other restrictions can pop up too–for example, Zion National Park requires visitors to use a shuttle rather than private cars to access popular hikes (unless you're planning a winter trip, that is).
None of this detracts from the beauty of the parks–but it does mean that your experience will be much better if you plan ahead!
Utah Road Trip Itinerary Ideas
Kanab to Escalante
From Rachel & Clark of Seeking Our Someday
The Kanab, UT to Escalante, UT road trip gives way to some of Southern Utah's most beautiful hidden gems.
These rural areas are filled with some of the most dramatic rock formations that you can find on an itinerary for the Southwest USA.
Starting in Kanab, use this small town as a home base for visiting several nearby destinations.
Buckskin Gulch, just East of Kanab, is one of the longest slot canyons in the world and is considered one of the most beautiful slot canyons in Utah.
For an incredible day trip from Kanab, hike into this slot canyon from Wirepass Trailhead. Be on the lookout for ancient petroglyphs as you descend into the canyon.
Just north of Kanab are the Moqui Caves. These caves are great to explore for a couple of hours, especially in the afternoon light.
Only 30 minutes outside of Kanab, the Coral Pink Sand Dunes State Park is home to some of the most beautiful sand dunes. These dunes are especially beautiful at sunrise and sunset.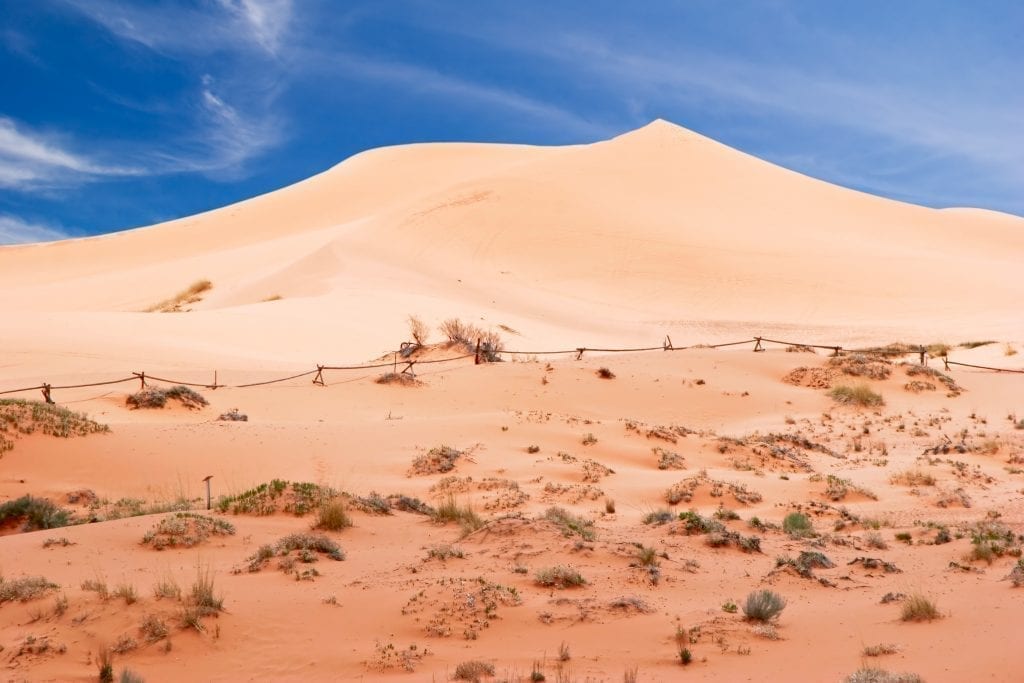 On the two-hour drive from Kanab to Escalante, make sure to stop at Bryce Canyon National Park to see the natural hoodoos in the Bryce Amphitheater and check out a few of the coolest things to see in Bryce Canyon NP.
Use Escalante as a second home base to visit more hidden gems in the Grand Staircase-Escalante National Monument.
Some of the most incredible landscapes can be found down Hole in the Rock Road, just south of Escalante.
Make sure to visit Zebra Slot Canyon, a very narrow slot canyon with natural striped rock, along with Devils Garden just a few miles down the road.
Further down Hole in the Rock Road are the Peekaboo and Spooky Slot Canyons which are a fun loop hike through two beautiful slot canyons.
Driving Distance
120 miles
Recommended Road Trip Length
This road trip could be done in a long weekend, but there are enough places to visit that we recommend 1-2 weeks to fully experience all of the stops along the way.
Arizona + New Mexico Southwest Road Trips
New Mexico's Enchanted Circle
From Becky of SightDOING
Northern New Mexico doesn't get the attention that the rest of the state does, but travelers willing to take an extra drive will find incredible beauty along the Enchanted Circle Scenic Byway.
Starting from Taos and going clockwise, you'll visit the smaller towns of Questa, Red River, Eagle Nest, and Angel Fire.
This part of New Mexico sits high in the mountains and the route takes you through ever-changing scenery.
Many parts are verdant green, thick with evergreens and aspens.
As the road winds, you'll also see alpine valleys and lakes, plus the impressive Mt. Wheeler (the highest in the state).
As you drive, you'll be reminded more of Colorado than the stereotypical desert road trips that are so iconic in the Southwest.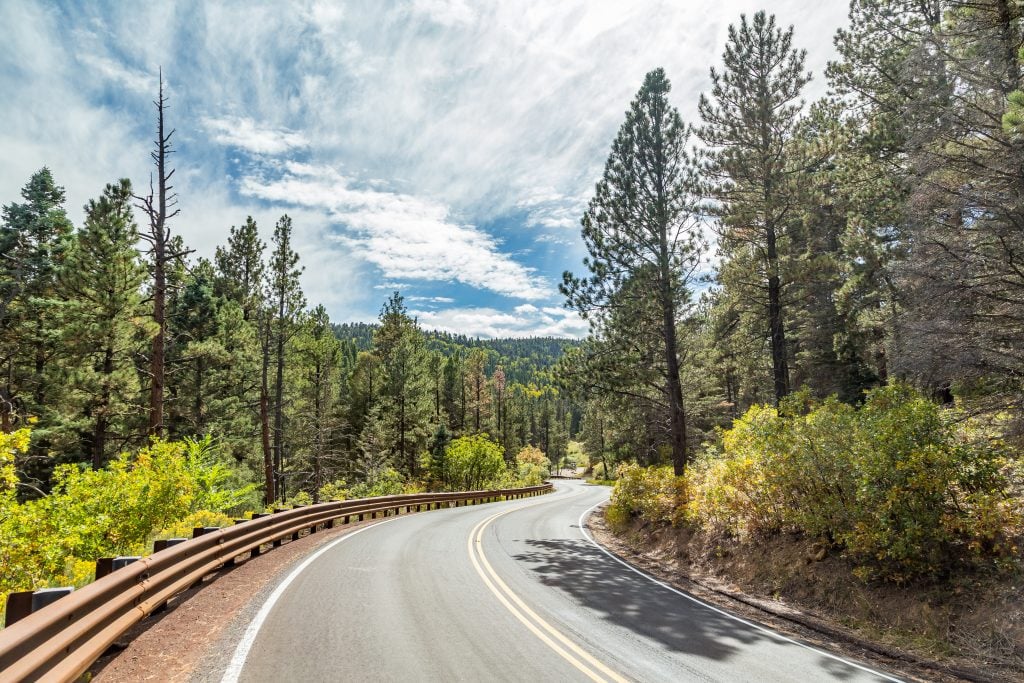 Perhaps as you'd expect in a beautiful destination like this, the primary activities involve the outdoors.
One of the highlights is Eagle Rock Lake, not only beautiful but home to playful otters that you might spot if you're lucky. The picnic tables make a perfect vantage spot.
Hiking is plentiful: head out into the Columbine Hondo Wilderness for wildflowers in spring or look for waterfalls in Cimarron Canyon State Park.
Other activities include mountain biking, horseback riding, fishing, and even skiing in the winter.
It's not all about the outdoors, though. Visitors can also watch artisans in Questa, pay their respects at the Vietnam Memorial near Angel Fire, brewery hop along the trail, or explore Taos' history.
Best of all, this New Mexico road trip is wonderful year-round.
Driving Distance
85 miles.
Recommended Road Trip Length
Although the driving route is short enough that you can complete it in a day, the area is deserving of a weekend.
Allow plenty of time to stop and explore the parks and mountains along the way and consider even longer if you're an avid hiker.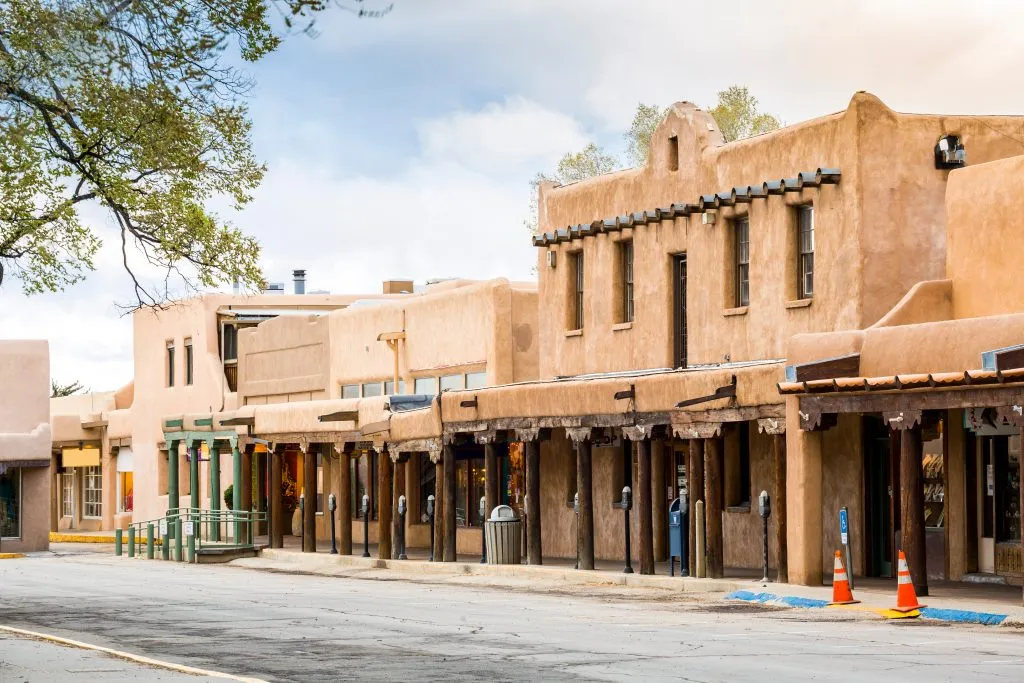 Phoenix to the Grand Canyon Road Trip
From Nicole of American SW Obsessed
Visiting the Grand Canyon is one of the best weekend trips you can make from Phoenix.
The drive from Phoenix to the Grand Canyon is only 4 hours and there are several stops along the way.
Montezuma Castle is one of the best preserved Native American Ruins located 94 miles from Phoenix.
It is a 5-story structure built into a recess in a white limestone cliff about 70 feet above the ground and it consists of 20 rooms.
Another great stop is Sedona, which is famous for its red rocks and great hiking trails.
You could easily spend a weekend in Sedona but it is also a great place to stop for some lunch and get out and stretch your legs.
Once you arrive at the Grand Canyon National Park you will enter from the east and one of the first viewpoints is the Desert View Point and Watchtower.
This is one of the most popular viewpoints in the east and it is your first view of the Grand Canyon and the Colorado River.
You can continue heading West to the main visitors center where you can walk the Trail of Time.
The Grand Canyon Trail of Time is an interpretive walking timeline trail focusing on the highlights of the Grand Canyon so tourists can experience and appreciate the vastness of geologic time, as well as the stories captured by Grand Canyon rock layers and landscapes.
Driving Distance
230 miles.
Recommended Road Trip Length
We recommend three days as a minimum for this road trip. Some people do this in a day but it is very rushed.
Spending a weekend there gives you time to make stops along the way and experience the Grand Canyon.
Northern New Mexico
From Melissa of Parenthood and Passports
New Mexico is known as the Land of Enchantment for a reason.
The southwestern state is one of the best places in the United States for a culturally immersive trip, incredible food, and beautiful desert landscapes.
Most New Mexico road trips start and end in Albuquerque, the largest city in the state.
There are so many things to do in New Mexico with kids, or without, and you'll find many of them in Albuquerque!
Give yourself a couple of days to explore Old Town and visit some of the great museums, like the Indian Pueblo Cultural Center.
Be sure to take the tram up to Sandia Peak. The 2.7-mile aerial tramway is the longest in the United States!
From Albuquerque, head north to New Mexico's capital of Santa Fe. Known for its adobe-style architecture, this historical city founded as a Spanish colony in the 1600s is as lovely as it is enchanting!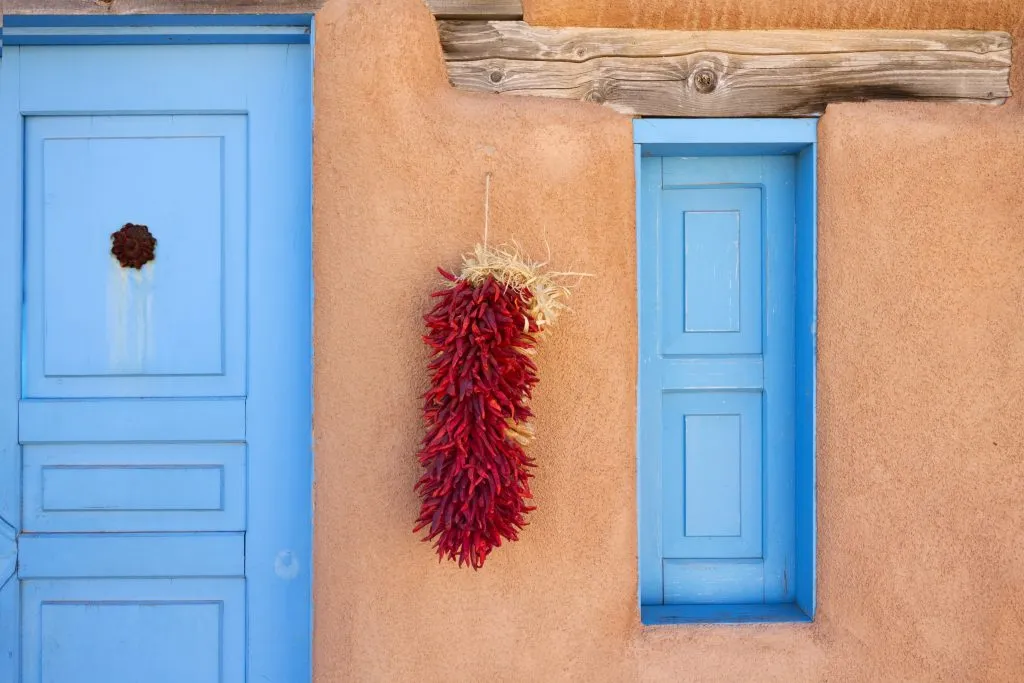 Just northwest of Santa Fe, outside the town of Los Alamos, Bandelier National Monument is a fascinating look back in time.
In this national monument, you'll find petroglyphs and cliff dwellings left behind by the Pueblo Indians, the indigenous tribe who originally settled the area.
For a look at how the Pueblo live today, head to the Taos Pueblo next.
The pueblos one mile north of the town of Taos, is believed to be the oldest continuously inhabited community in the United States.
People have lived in this multi-story adobe building for more than 1,000 years! You can tour the pueblo, which is open to visitors except when tribal rituals take place.
Driving Distance
300+ miles.
Recommended Road Trip Length
Ideally, give yourself about a week for this road trip through Northern New Mexico.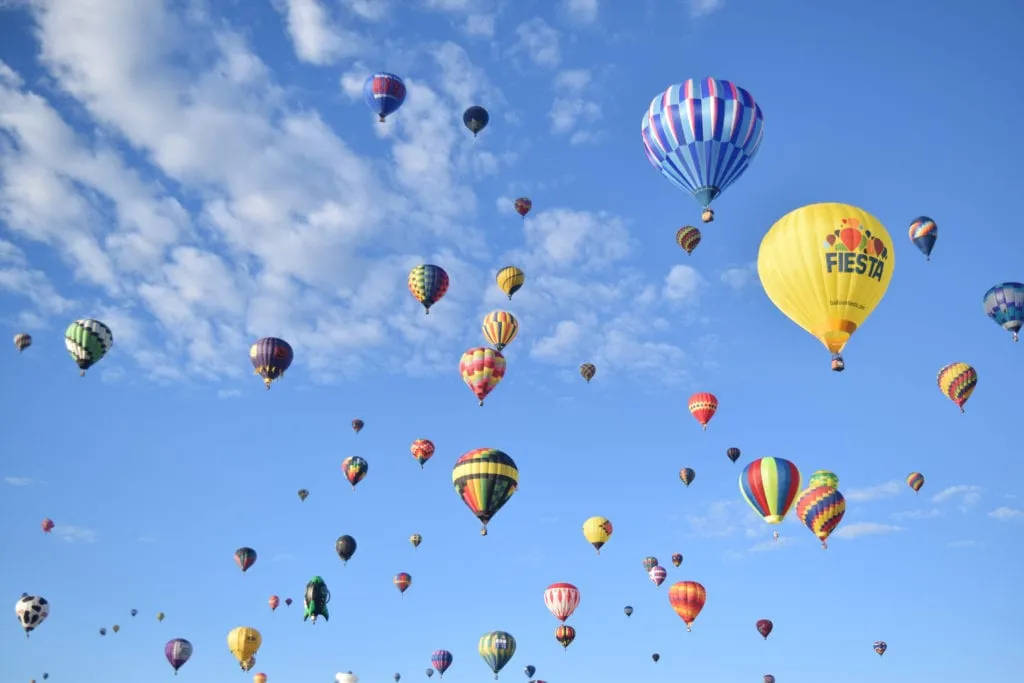 Southwest Road Trip Itineraries in Colorado
Denver to Aspen Loop
From Lori of Fitz 5 On the Go
The state of Colorado was made for epic road trips. The scenery is just amazing and pretty non-stop.
Colorado's many mountain towns are fun and welcoming places to explore and are packed with so many outdoor activities to enjoy.
There are many great options for planning a loop from Denver. Some can be done on a day trip, and others are more fun spread over a few days.
For the most variety and activities in a shorter drive time consider going south to Colorado Springs, loop over to Salida then make your way north through Independence Pass.
Take some time enjoying Aspen then stop by Glenwood Springs for fun activities before going back to Denver.
Summer or early fall is the best time for this trip before some of the roads are closed due to snow.
First, stop in Colorado Springs, where popular activities include Pikes Peak, Garden of the Gods, the Incline, Cheyenne Mountain Zoo, the Olympic training center, and the Broadmore.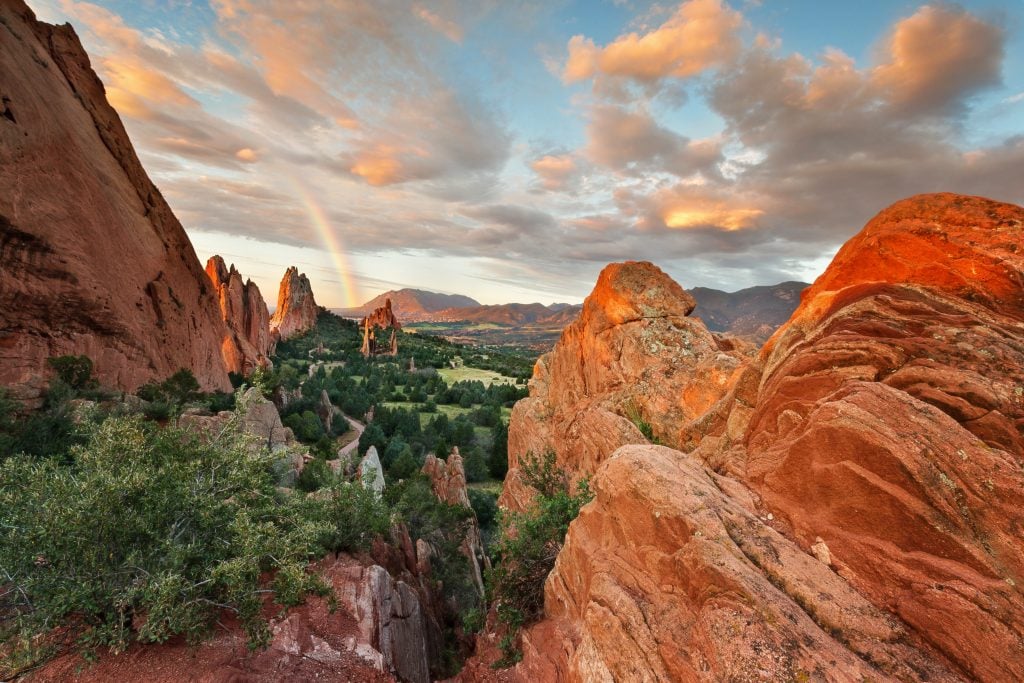 From there, head to Salida and Buena Vista.
On the way to Salida stop by the Royal Gorge. This amazing viewpoint is not great for those with a fear of heights but it's beautiful.
The area has a train, a suspension bridge, and several other activities including a Skycoaster.
After enjoying a night in Salida, head north toward Leadville.
Leadville can make a nice little stop to explore an old mountain town and get some lunch but the main attraction of the day will be Independence Pass just south of Leadville.
Driving Independence Pass in the fall is likely one of the most beautiful drives in the country.
As a mountain road, it is closed in the winter and no large vehicles are allowed.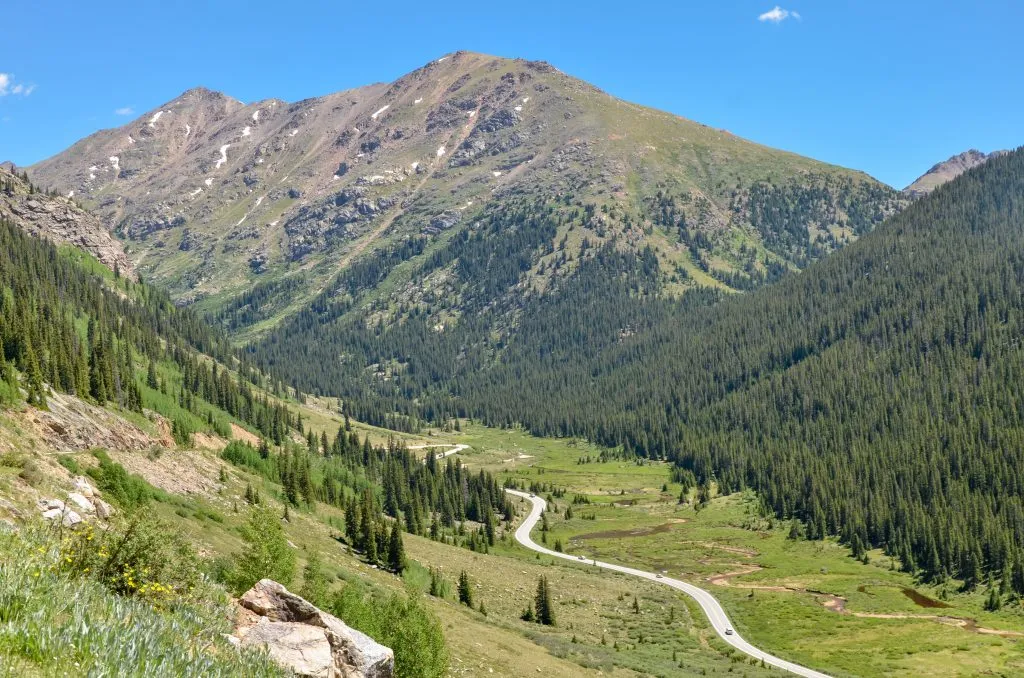 Independence Pass ends in beautiful Aspen. A stop to Aspen is not complete without seeing the Maroon Bells.
To make your way back to Denver, head north toward I-70 and stop for lunch and activities in Glenwood Springs.
Glenwood Springs has a fabulous hot spring as well as a mountaintop adventure center.
Driving Distance
450 miles.
Recommended Road Trip Length
At minimum plan to stay a night in Salida and one night in Aspen.
If you only have a weekend then consider cutting the trip in half and making a smaller loop.
The full loop would be most enjoyable with planning a night in Colorado Springs, 1-2 nights in Salida, and at least 2 nights in Aspen.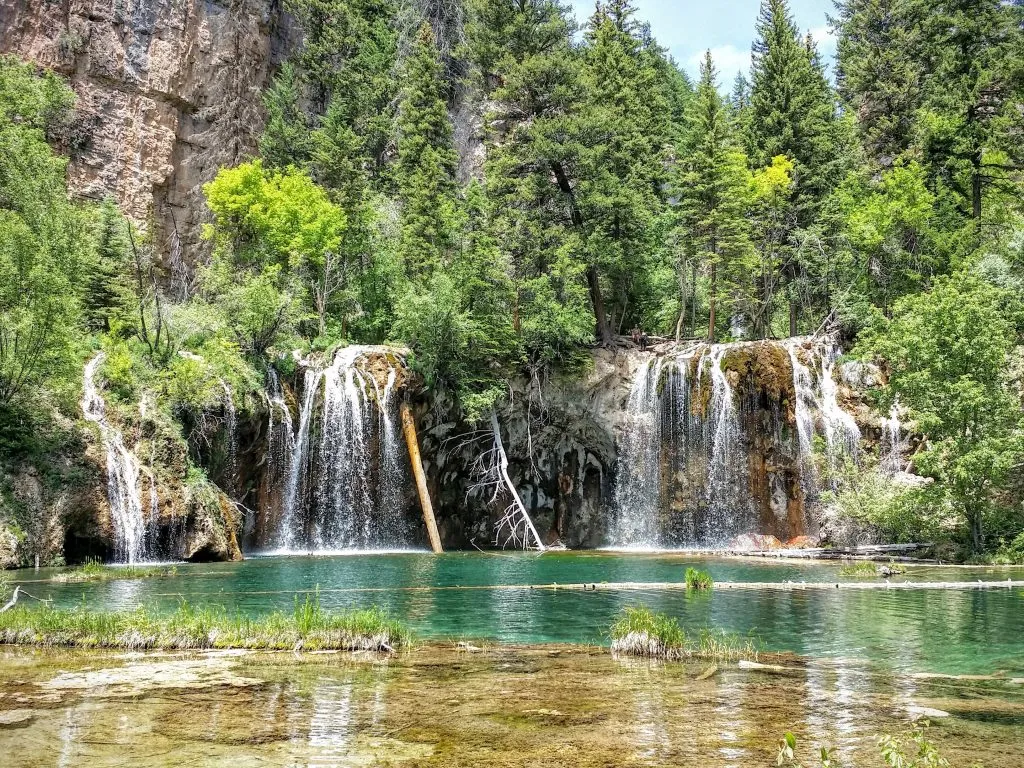 Cool Nevada Road Trip Ideas
The Extraterrestrial Highway
From Audrey of That Backpacker
For a one-of-a-kind southwest road trip that you won't soon forget, drive Nevada's Extraterrestrial Highway!
Located in south-central Nevada and spanning a total of 98 miles between the towns of Warm Springs and Crystal Springs, State Route 375 is considered a bit of a pilgrimage for those who believe in alien life!
But even if you're not a believer, this is still a fun road trip worth doing.
The Extraterrestrial Highway is punctuated by desert landscapes, lonely roads, and some rather unusual attractions.
Some places not to miss include ET Fresh Jerky where you can buy alien-themed snacks including bottles of Martian soda, the Extraterrestrial Highway sign which is plastered with stickers from intrepid adventurers who have completed the drive, and the Alien Research Center where you can hear stories of paranormal desert activity.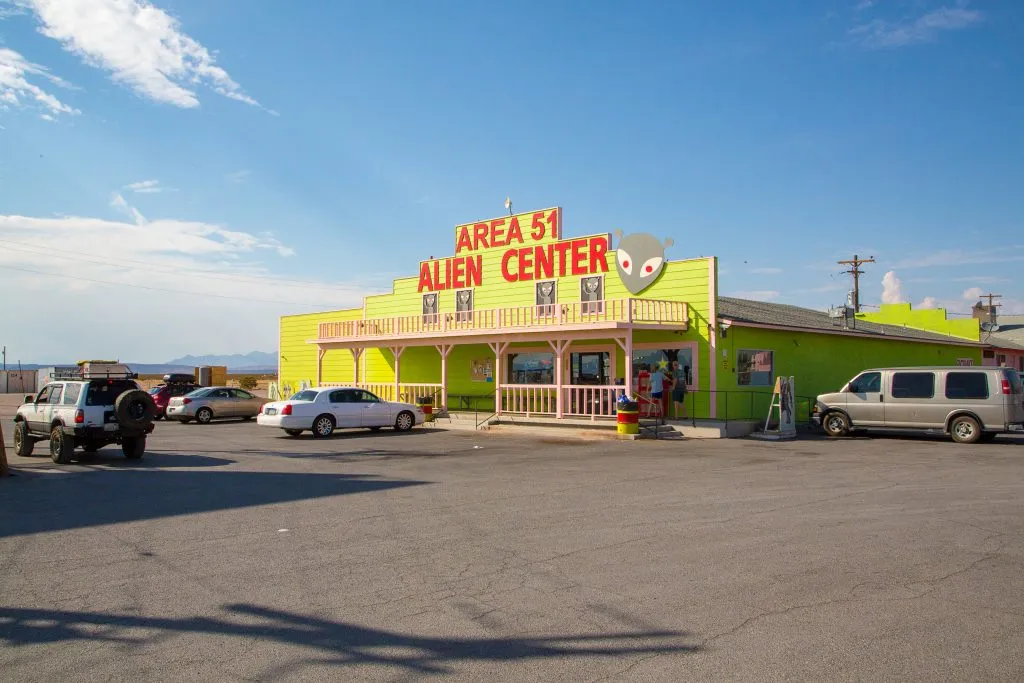 You should also visit the Black Mailbox where people leave all sorts of mementos and letters to aliens, and the Little A'le'inn Motel featuring a pick-up truck towing a UFO and a green alien welcoming all earthlings.
It's important to note that although Area 51 is also located in the area, it is strictly off-limits.
There are numerous signs to remind you that no video, no photography, and no droning are permitted, so save yourself the trouble.
Driving Distance
98 miles.
Recommended Road Trip Length
Though this road trip can be completed in a day, you can break it up with a stay at the infamous Little A'le'inn Motel, home to all things extraterrestrial.
You may also want to consider driving the ET Highway as part of a bigger Nevada road trip with a small detour through Valley of Fire State Park.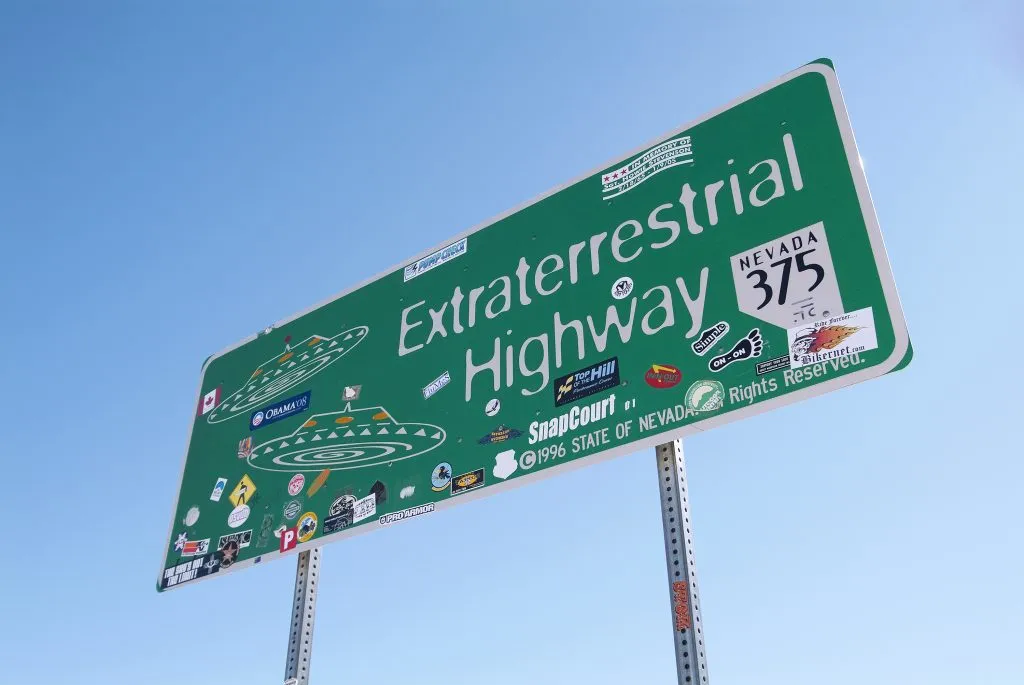 Las Vegas to Cathedral Gorge State Park
From Daria of The Discovery Nut
Cathedral Gorge State Park is a natural wonder located in Central Nevada near Utah's border that makes you feel like you landed on Mars.
The park is located about 3.5 hours by car away from Las Vegas, the nearest big city, and the remote location of this place and lack of facilities, coupled with the lonely drive in the desert make for an incredible experience.
Cathedral Gorge State Park remains an undiscovered gem full of otherworldly views, amazing hiking trails, and great opportunities for photography.
It's one of those hidden gem Southwest road trips from Las Vegas that no one talks about, and if you want to see it before it gets discovered, you need to do it now.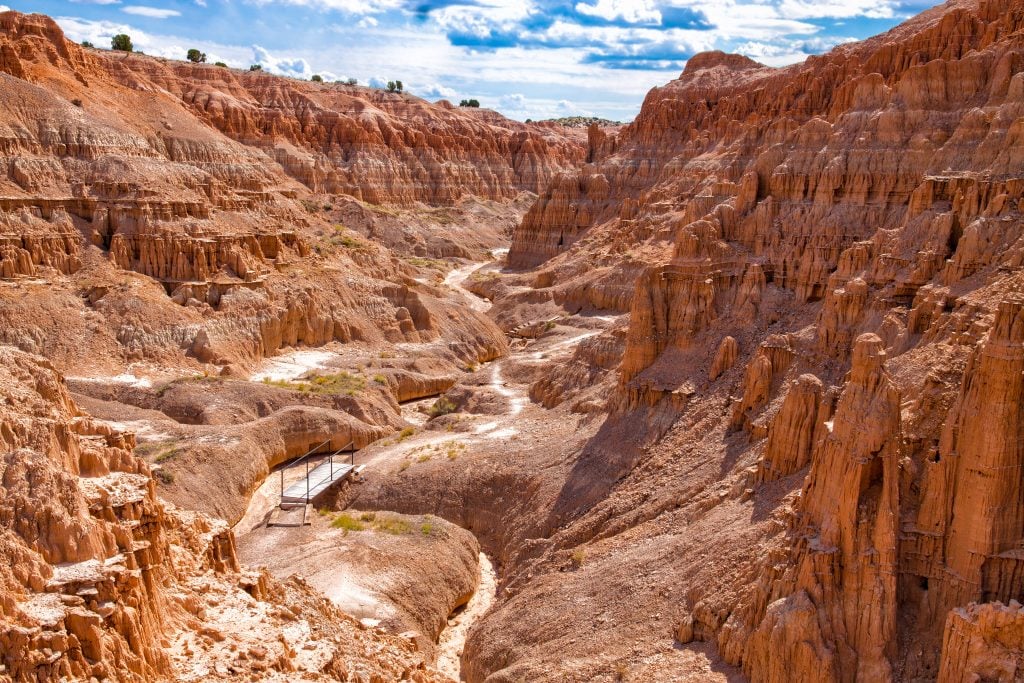 Visiting Cathedral Gorge is pure magic at any time of the year.
Unlike many other popular places in the southwest USA, this state park is uncrowded and offers an amazing quiet space with fantastic landscapes.
With no big stores, chain hotels, or restaurants in the area, this is the ultimate getaway for adventure lovers.
Driving Distance
165 miles.
Recommended Road Trip Length
I recommend spending at least one day at the park and camping under the clear dark skies.
However, if you would rather stay at a hotel, the nearby town of Panaca has a couple of accommodations.
West Texas Road Trip Itineraries
Big Bend Country Road Trip
While all of Texas may not culturally fall into the Southwest, the western part of the state does–and a Big Bend Country road trip is among the best road trips in the Southwest USA.
Make your way to the rugged, isolated, and utterly beautiful Big Bend National Park to kick off your trip.
While you're there, hike the stunning Santa Elena Canyon, ascend into the Chisos Mountains via the Lost Mine Trail, and soak in natural hot springs along the Rio Grande.
From there, head to Big Bend Ranch State Park to experience one of the most scenic drives in the USA.
Head a couple of hours north, and some of Texas' most beloved small towns are waiting for you, including Alpine, Fort Davis (where you can experience some of the best stargazing in Texas at the McDonald Observatory), Marathon, and Marfa.
With wild beauty, a huge variety of landscapes, great food, and even excellent art installations, you'll find plenty of fun things to do in Texas' Big Bend Country–just be prepared for long driving distances along the way.
Driving Distance
About 1000 miles round trip, starting and ending in El Paso.
Recommended Road Trip Length
We recommend setting aside at least one week for this Southwest road trip route.
Multi-State Southwest Itineraries
Classic Southwest USA Road Trip from Page, AZ
From James Ian of Parks Collecting
One of the best road trips in the Southwest USA is a loop from Page, Arizona that takes in a variety of natural and cultural icons.
Starting in Page, head to Monument Valley.
Stop off at the Navajo National Monument, where you can walk on the easy paved 1.3-mile Sandal Trail to the Batatkin Cliff Dwelling overlook for views of your first cliff dwelling on the trip.
After arriving in Monument Valley around noon, head down the Monument Valley road for a self-driving tour.
The 17-mile scenic drive loops through the valley past many of the major buttes and mesas that make this area so famous.
In the late afternoon, if you still have some energy, hike the Wildcat Trail around West Mitten.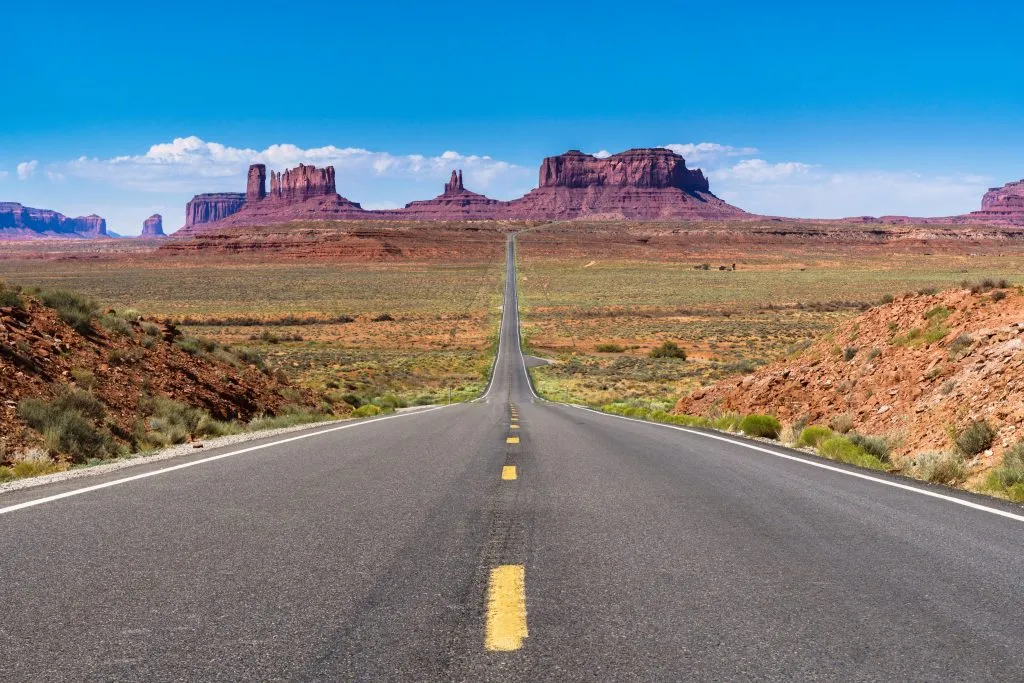 The next day, take a Navajo-led guided tour back into the valley, where you can visit the backcountry and learn more about the Navajo people and culture.
After you leave Monument Valley, take a couple of hours to drive through the beautiful Valley of the Gods before arriving in Moab in the late afternoon.
Moab is the adventure capital of the world, and you can arrange to go canyoneering, rock climbing, mountain biking, or white-water rafting. Then head to nearby Arches National Park and do all the major hikes in the park.
Next up is a visit to Mesa Verde National Park, where you will want to spend a couple of days visiting the cliff dwellings, hiking to petroglyphs, and exploring the area.
After you leave Mesa Verde, stop for a photo at Four Corners, where you can have your limbs in four states at once!
Drive on to Canyon de Chelly, where you will want to spend a full day enjoying the views and hiking down into the canyon.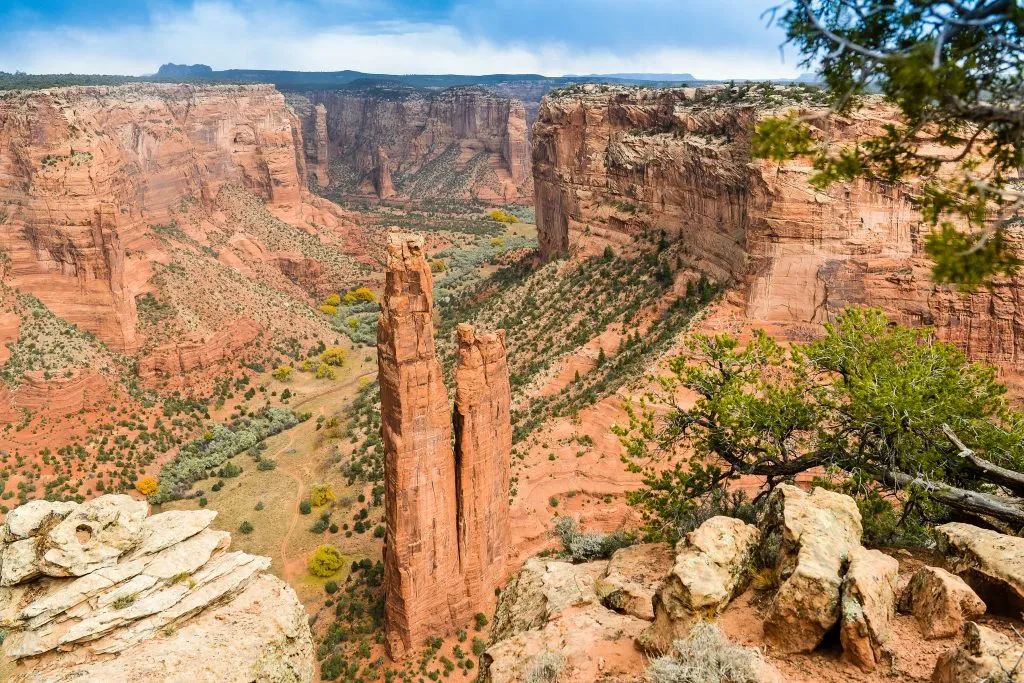 On the drive from there back to Page, you will pass through the Hopi reservation.
It is worth spending half a day on a tour with a Hopi guide to see more of the area and learn about Hopi culture.
Back in Page, don't miss the mind-blowing Antelope Canyon and stunning Horseshoe Bend!
Driving Distance
958 miles.
Recommended Road Trip Length
I recommend allowing ten days for this trip.
This will give you time to explore each of the parks/ areas and learn more about the cultural and natural environment along the way.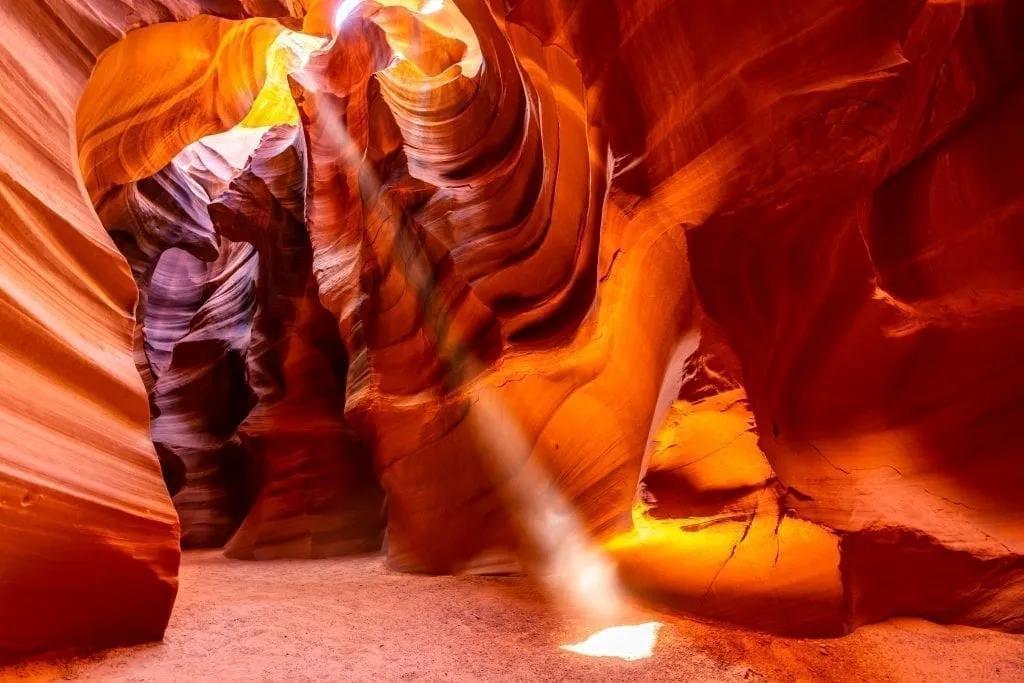 Trail of the Ancients
From Megan of Red Around the World
One of the most unique road trips in the Southwest is the Trail of the Ancients through Southeast Utah and Southwest Colorado.
It passes tons of amazing scenery but really features ancient Anasazi ruins throughout the Four Corners Area.
This is a particularly great Southwest road trip itinerary for history buffs and hikers!
Start your road trip in Cortez, where you can start making your way through some of the best places to visit in the Southwest.
Some of the highlights are Mesa Verde National Park, Monument Valley, and Valley of the Gods, but there are tons of smaller stops along the way, too.
Some of those include Natural Bridges National Monument, Edge of the Cedars State Park, Upper Sand Island Petroglyphs, House on Fire Ruin, Butler Wash Ruin, Goosenecks State Park, Four Corners National Monument, Hovenweep National Monument, and more.
Diriving Distance
About 300-400 miles, depending on stops.
Recommended Road Trip Length
I would recommend spending about 7-10 days on the Trail of the Ancients.
If you have a full 2 weeks to explore, that's even better.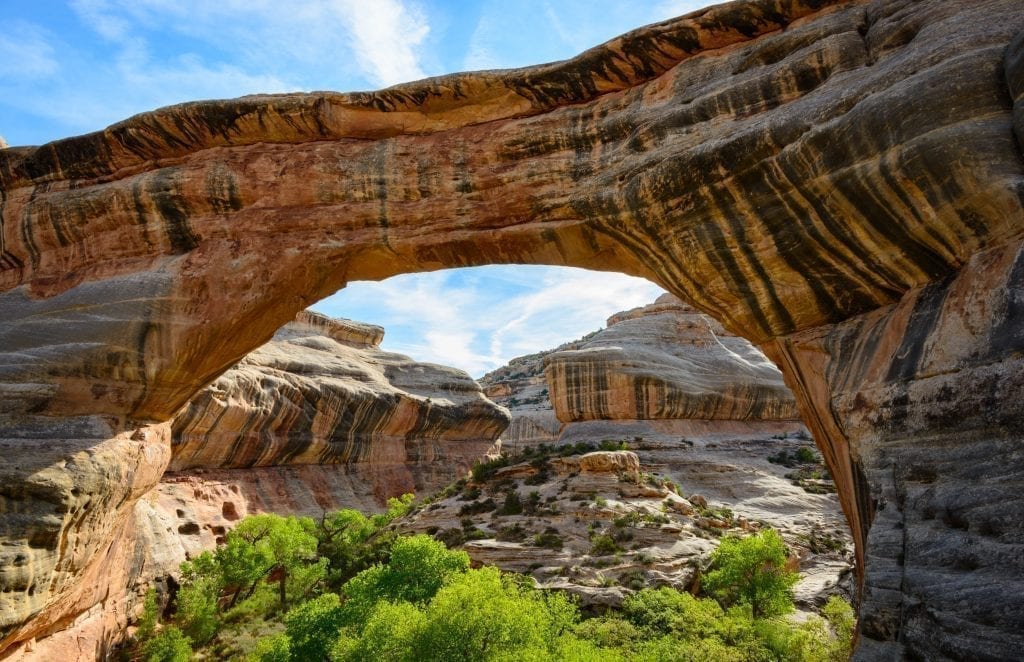 Zion National Park to Sedona Southwest Road Trip Itinerary
From Allison of She Dreams in Alpine
If you're looking for a quick Southwestern road trip that packs a whole lot into a relatively short drive, head from Zion National Park in Utah to Sedona, Arizona.
Although Zion is the start of your road trip, it's actually hard to leave this magical place.
From the epic Angel's Landing hike to The Narrows slot canyon, if you're up for adventure, you will have an amazing time here.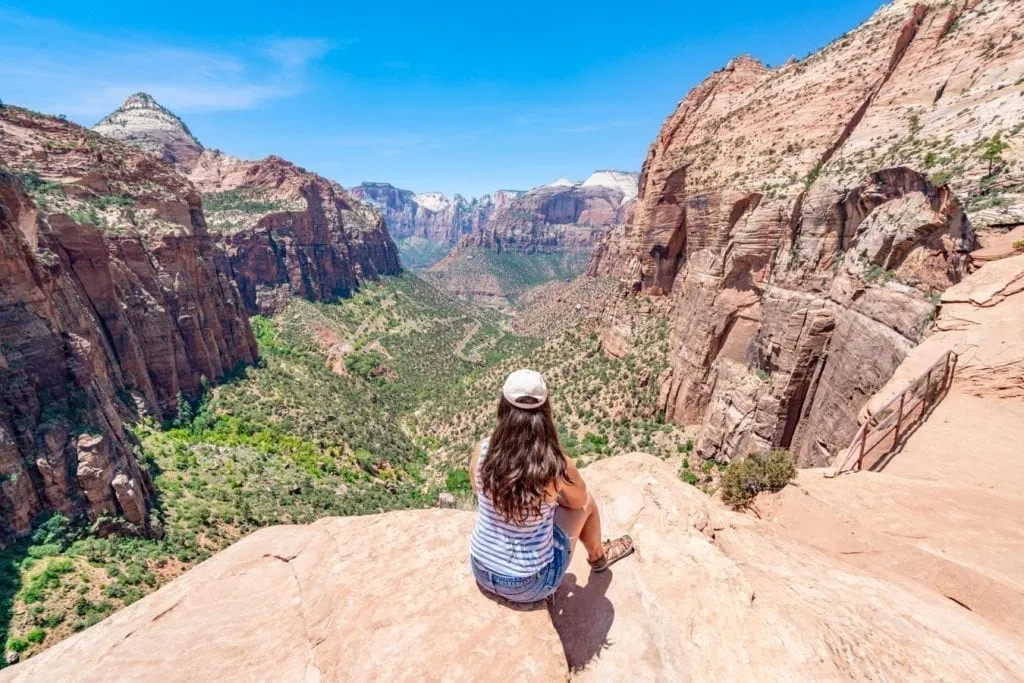 Don't worry, when it's time to hit the road, your next stop of Kanab has plenty to offer.
If you're lucky enough to score permits, hike to the incredible swooping sandstone of The Wave.
Or, take some time to explore the beauty of Grand Staircase-Escalante National Monument.
Then head east on Highway 89 to Lake Powell, where you can take a rest day or two. Chill in the lake before heading south.
Stop at the photogenic Horseshoe Bend, then make your way to the Grand Canyon.
Bask in the breathtaking views from the rim, or challenge yourself to hike to the bottom – just know that means you also have to hike back out!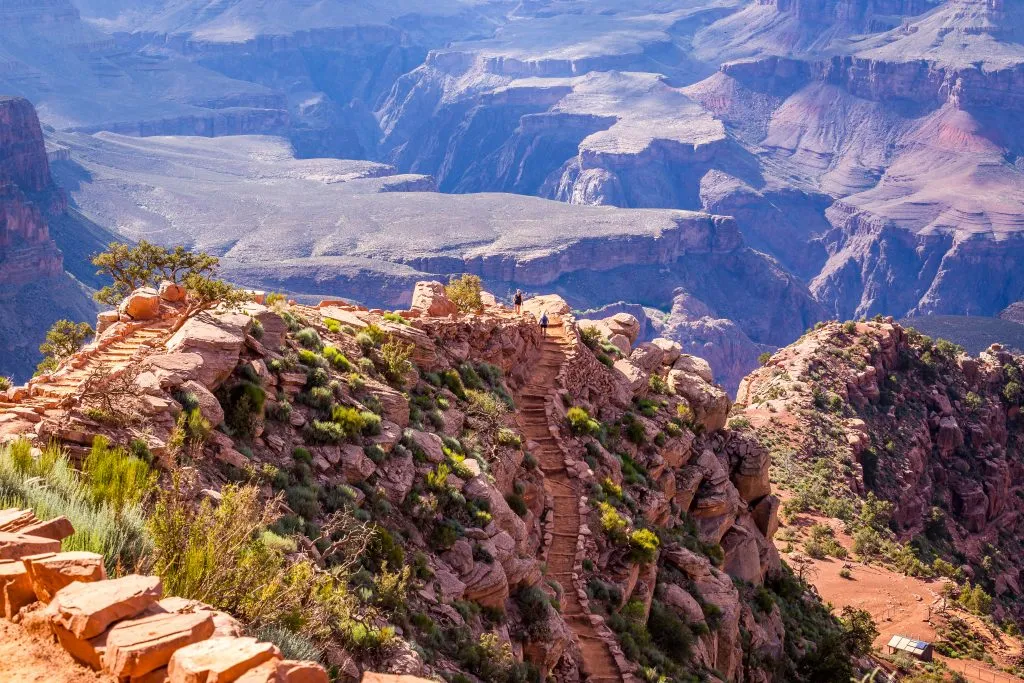 Next, make your way to Flagstaff, and enjoy the Southwestern city life in the lively downtown area. Finish your road trip in the red rock paradise of Sedona.
You can hit the trails again on some of the awesome hikes in Sedona, take an off-road Jeep tour, or pamper yourself at a spa.
You'll definitely be ready for some relaxation by the end of this road trip through the Southwest USA!
Driving Distance
350 miles.
Recommended Road Trip Length
With all the incredible outdoor places to explore along the way, you should plan at least a week for this adventurous road trip.
You could easily make it longer if you wanted to spend more time hiking around Zion, the Grand Canyon, and Sedona.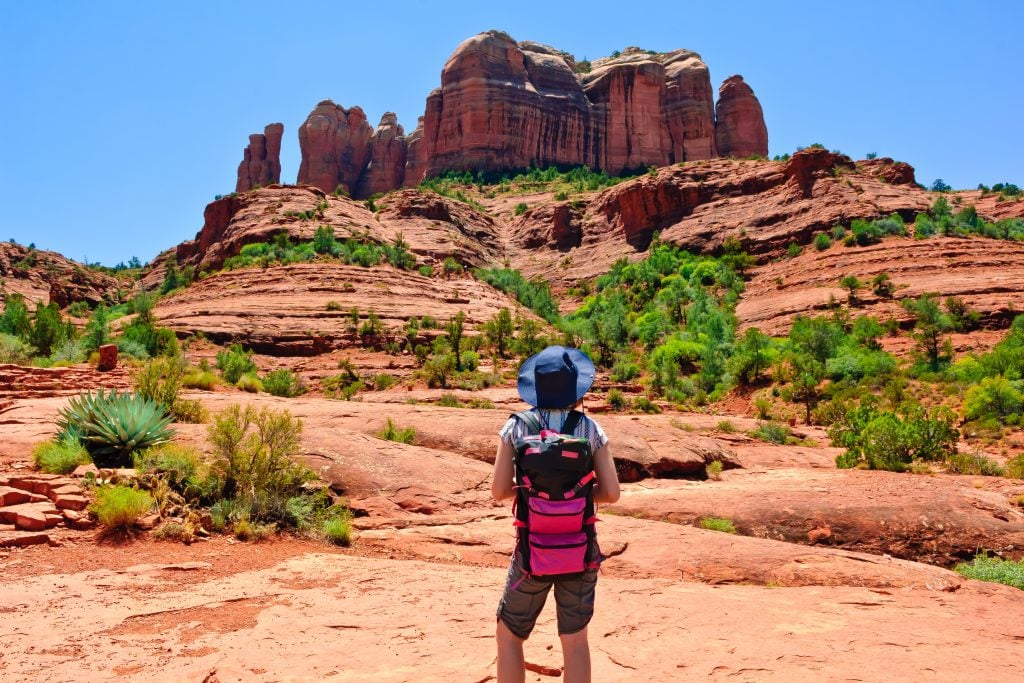 Salt Lake City to Phoenix
From Samah of God and Wanderlust
Absorb the extraterrestrial beauty of the southwest with a road trip from Salt Lake City, UT to Phoenix, AZ.
Salt Lake City is made for the adventurous at heart.
Explore Red Butte Garden, Big Cottonwood Canyon, and the Great Salt Lake itself. A scenic mountain backdrop is always included.
Skiing and other snow sports are possible in nearby Park City.
Drive south to Moab and hike your way to the Delicate Arch in Arches National Park. Camp under the Milky Way in Monument Valley situated on protected Navajo land.
Ride a horse among the red rocks and buttes and pretend to be in the Wild West. Visit Forrest Gump Point at the crack of dawn to avoid the rush of cars.
From here head to Zion National Park and then Page, AZ.
Check the infamous Angels Landing off your list, kayak in Lake Powell, and hike to Horseshoe Bend.
Become mesmerized by the cave formations of Antelope Canyon.
At last, you arrive at the Grand Canyon. It's magnificent. The Bright Angel trail will guide you right into the Canyon.
Sedona is still to come. It's the most beautiful city you'll lay eyes on. Hot air balloons illuminate against the sun's glow. Devils Bridge and Doe Mountain offer spectacular views.
Phoenix will eventually bring a calm end to your southwest road trip itinerary.
Its mellow, laidback atmosphere will help relax after your breathtaking journey through the southwest.
Driving Distance
977 miles.
Road Trip Length
We recommend at least 2 weeks to explore various cities, do activities and make stops along the way.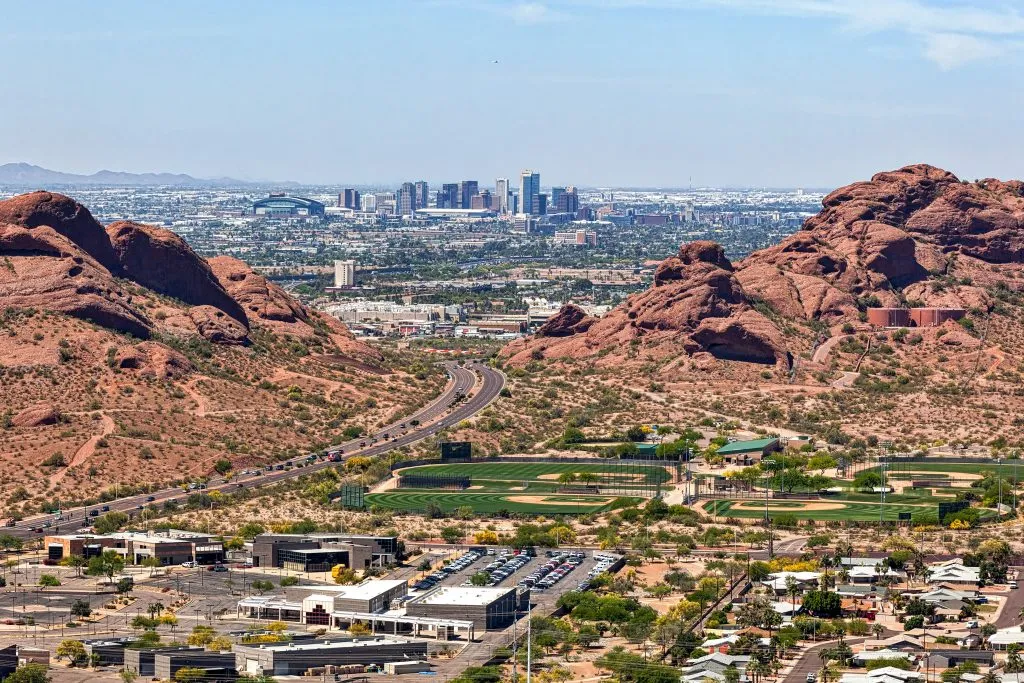 Las Vegas to Monument Valley
From Hannah of Hannah Henderson Travel
For a point-to-point overview of some of the most popular Southwest road trip stops, drive from Las Vegas to Monument Valley!
Your first stop outside of Las Vegas is the Hoover Dam.
This impressive man-made damn along the Colorado River marks the border between Nevada and Arizona.
Head southeast along Hwy-93 towards Kingman, and be sure to visit the Historic Route 66 Museum.
If you have time, take a detour and visit Oatman, an old mining town where wild burros (donkeys) roam free throughout the town.
The next leg of the road trip takes you along a small section of Historic Route 66 from Kingman to Seligman.
Enjoy the kitsch rest stop at Hackberry and eat lunch at the Road Kill Café. The replica Wild West town in Seligman is a fun attraction for families too.
Continue to head east along the I-40 and then up to the Grand Canyon. There are Grand Canyon hikes to suit many levels, educational talks, and unparalleled views.
Stay overnight at one of the rim-side cabins and witness the incredible sunset and sunrise.
The final leg of your journey will take you through some of the most captivating desert landscapes in Arizona, onwards north towards Monument Valley.
The land becomes more arid and sparsely populated, and you will get picture-postcard views.
Your final stop is Oljato-Monument Valley, a Navajo Nation Tribal Park. This valley of red rock formations is a soul-shaking place to end your road trip.
Driving Distance
461 miles.
Recommended Road Trip Length
Three to five days is a good length of time for this road trip between Las Vegas and Monument Valley.
You can do the journey in 3 days minimum, but 5 days would offer you more time to explore the by-ways and scenic stops along the way.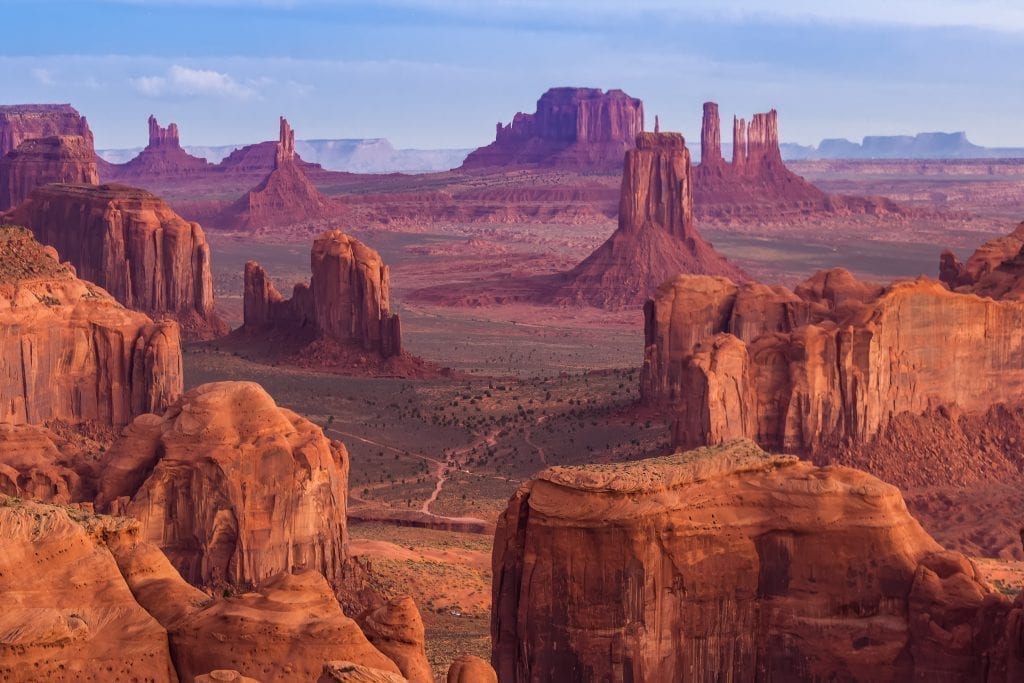 LA to Las Vegas Road Trip Itinerary
From Dhara of Roadtripping California
An LA to Las Vegas road trip can be done along several different routes, but you can't go wrong with a route that includes some of the choicest scenery in the Sierra Nevada as well as the spectacular Death Valley National Park in California.
Admittedly, this is a longer route that involves a little bit of a detour, but for travelers with enough time on their hands, this Southwest national parks road trip itinerary cannot be beaten.
Highlights of the itinerary include the scenic Alabama Hills, Lone Pine, and Mount Whitney, and the spectacular sights in Death Valley National Park.
The Alabama Hills consist of beautiful rock formations nestled at the base of the Sierra Nevada mountains.
The national scenic area is popular for hiking, dirt road driving, photography, camping, and night sky viewing.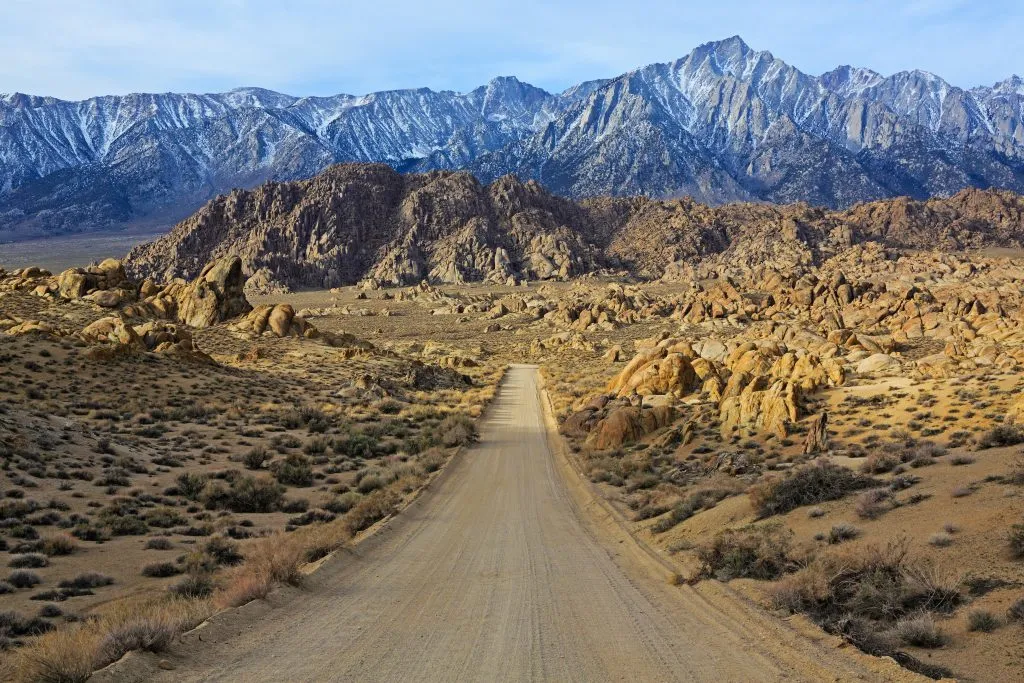 At Lone Pine, you can also drive the road that goes part way up Mount Whitney, the tallest peak in the contiguous United States.
The road is open in the summer and fall until snow accumulations close it.
Of course, you can also hike to the peak, either as a grueling day hike or as an overnighter, with a permit.
In Death Valley National Park, the main sights can be found along the road that runs through the park, the one you will be taking to get to Vegas.
If you do the road trip in the cooler months of the year, you can hike. When it's hot, you can drive through the park and stop briefly at viewpoints for photos.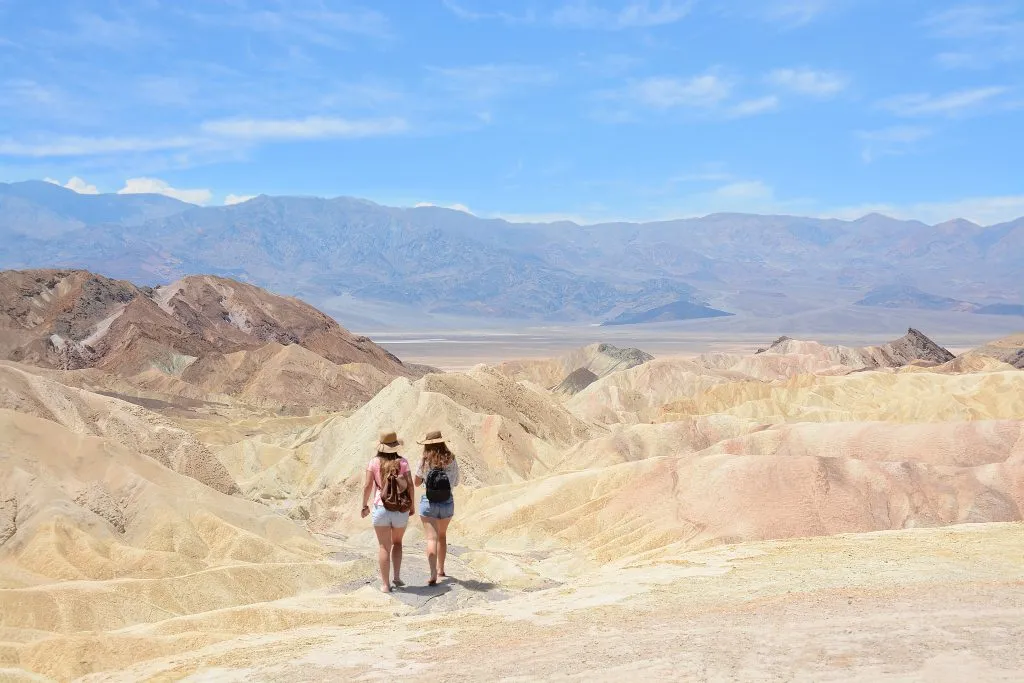 The Mesquite Flat Sand Dunes are fun for kids and adults.
At Badwater Basin, you can have your photo taken by the sign for the lowest point in North America. Spectacular views await at Zabriskie Point and Dante's View.
Once you are done exploring the park, it's a quick drive to Vegas!
Driving Distance
443 miles.
Recommended Road Trip Length
We suggest three days or more for this road trip.
With more than three days, you can spend more time hiking, and also explore the northern part of Death Valley National Park.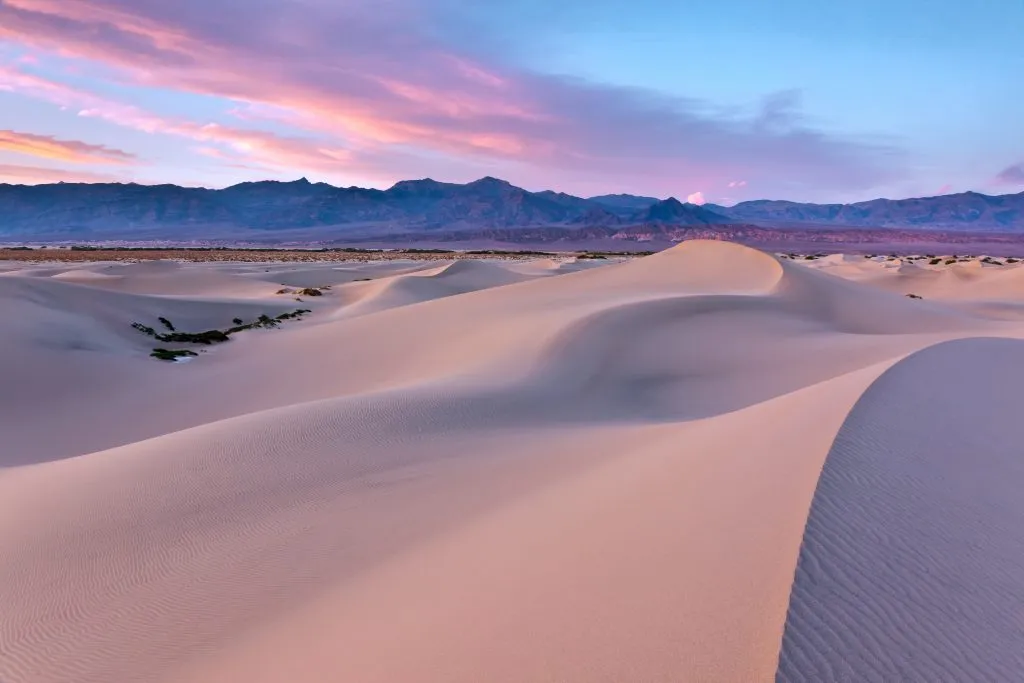 Denver to Moab
From Julia of The Cure for Curiosity
One of the best road trips in the Southwestern USA takes you from the snow-capped mountains of Denver, Colorado to the red canyons of Moab, Utah.
During this epic road trip from Denver to Moab, you'll be able to see some of the best scenery the United States has to offer.
As you travel, you'll pass through many charming small towns, complete with great hiking, hot springs, and of course panoramic views.
Start your trip in Denver, the capital of Colorado, and make your way to Rocky Mountain National Park.
Here you'll find some stunning mountain views and world-class hiking.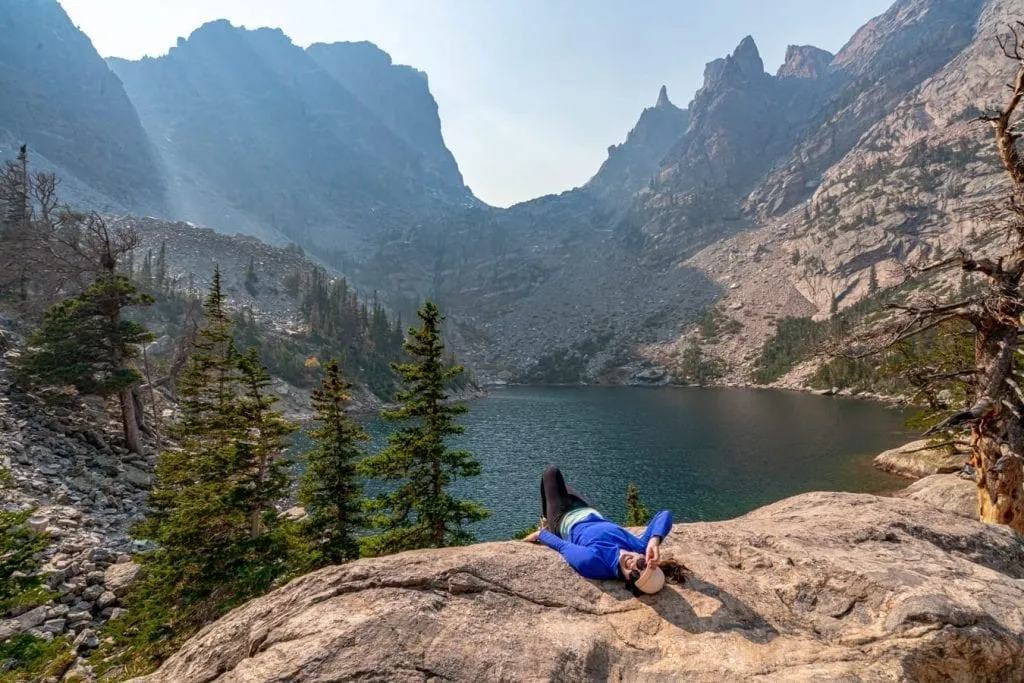 Continue your trip through the renowned ski towns of Breckenridge and Vail, exploring the quaint city centers and everything they have to offer, from skiing to mountain roller coasters and free gondola rides.
The next stop is Glenwood Springs, famous for its hot springs as well as the beautiful hike to Hanging Lake.
If you have the time, you can also detour down to Aspen to check out the popular Maroon Bells, the most photographed mountains in North America.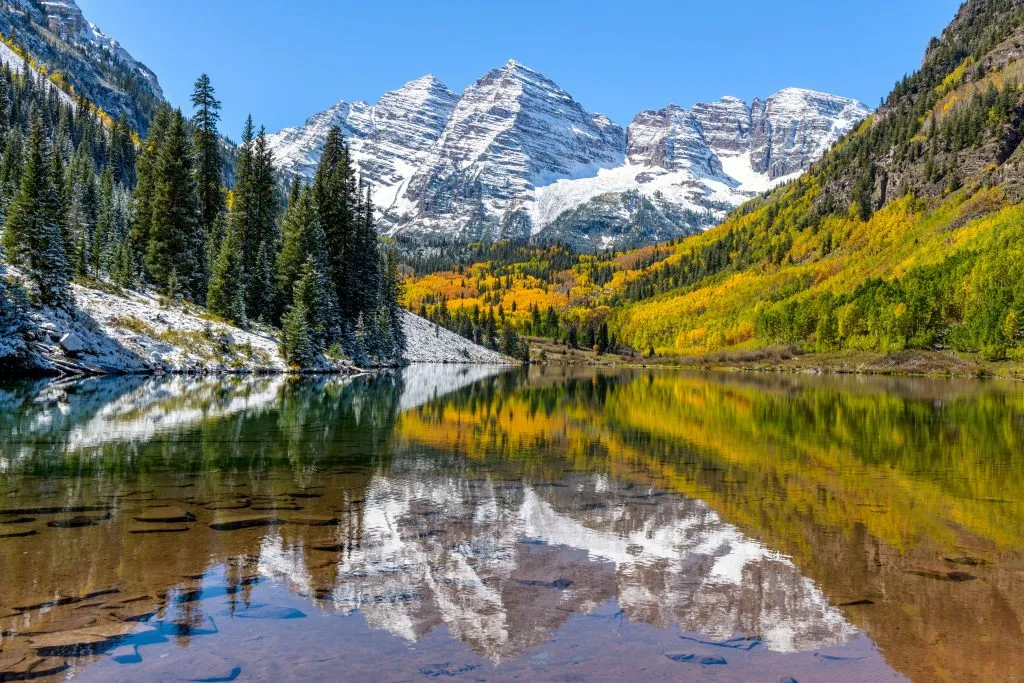 From there, make your way through Colorado wine country in Palisade, CO to the Colorado National Monument.
This is the last stop before crossing into Utah and making your way into Moab.
Moab is the perfect end destination for a road trip as you can spend days exploring the local sights that bring droves of tourists to the area, like Arches National Park, Canyonlands National Park, and Dead Horse Point State Park.
Driving Distance
355 miles.
Recommended Road Trip Length
While the drive itself can easily be done in just one day, you'd miss a lot of the fun stops along the way.
It's best to plan about a week for this road trip to have plenty of time to explore Denver, the stops in between, and Moab.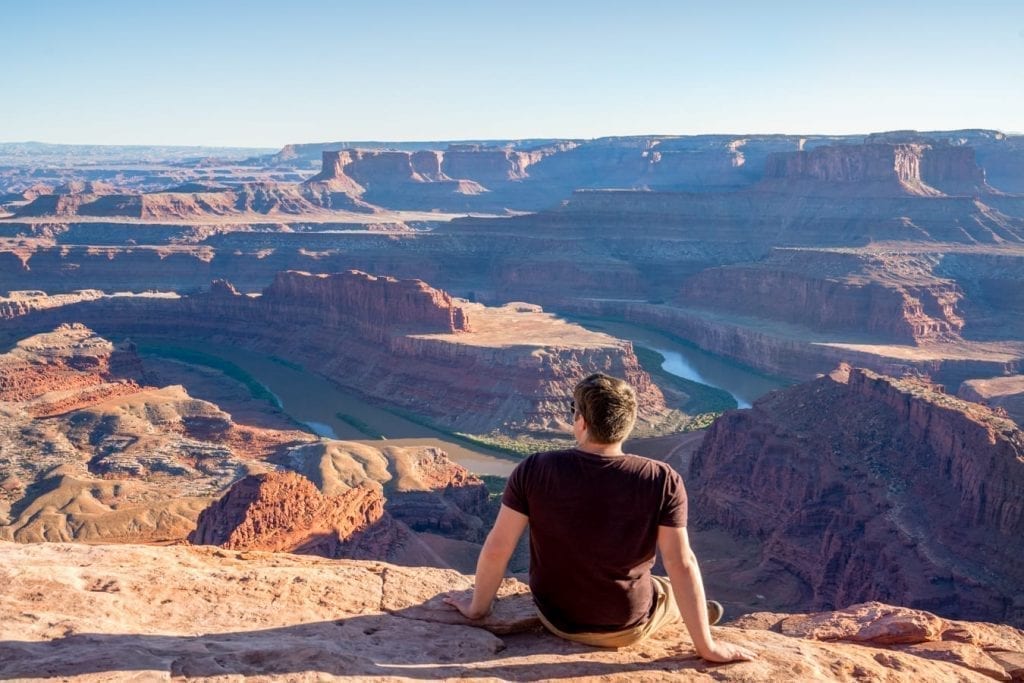 LA to Bryce Canyon & Zion National Parks
From Ciara of Wellness Travel Diaries
Los Angeles to Bryce Canyon National Park— a red rock road trip experience — is a beautiful and classic Southwest USA itinerary for those wanting to escape and indulge in the unique rock formations found in Utah.
It's a serene drive that takes about 8 hours from LA to Bryce Canyon. Add an extra two hours for a detour to Zion National Park
Here's how to make the best of your time when road tripping from LA to Bryce Canyon and Zion.
Starting in Los Angeles, California hop on the freeway heading north toward Las Vegas. On route, you'll find Death Valley about an hour or so off the freeway for a quick day trip.
Take another quick pitstop, right off the freeway at Eddie's World for clean bathrooms and exquisite snacks.
Once you reach Nevada, stay the night in Las Vegas to explore the famous strip where the downtown lights, lit up the midnight sky.
It's about four hours from LA (depending on traffic), and marks the halfway point to Bryce Canyon.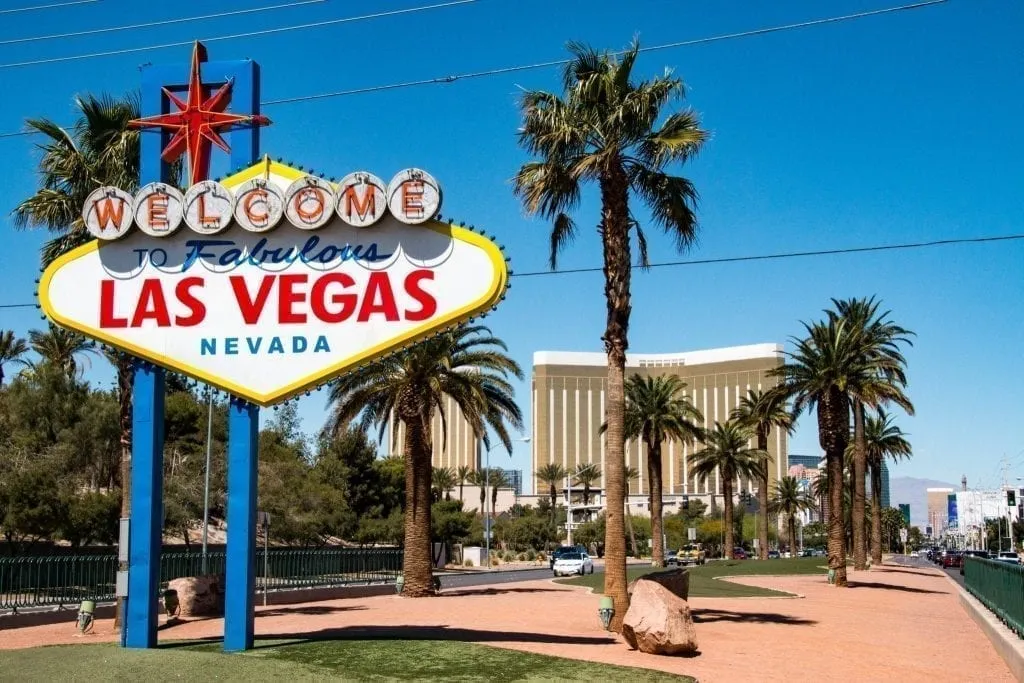 Continue toward Utah for another 160 miles to reach the first destination: Zion National Park.
Hike the beautiful trails such as Angels Landing (5.4 miles out and back) and Watchman Trail (3.3 miles out and back).
Hop back in the car for another 80 miles to reach the second destination: Bryce Canyon.
Explore the picturesque hoodoos by taking the Rim Hiking Trail (1-11 miles; it's not a loop so hike the distance you choose) or Fairyland Loop (8 miles out and back).
Pick your route by deciding which park you'd like to visit first, then enjoy!
Driving Distance
About 530 miles — this includes the stop in Zion National Park.
Recommended Road Trip Length
While the drive from California to Utah can be done in one day, there are several fun pit stops along this route.
It takes about seven hours to drive from Los Angeles to Zion, and then about two hours from Zion to Bryce Canyon.
To fully explore these natural wonders 6-8 days would be ideal, and allows you to split your time equally between both parks.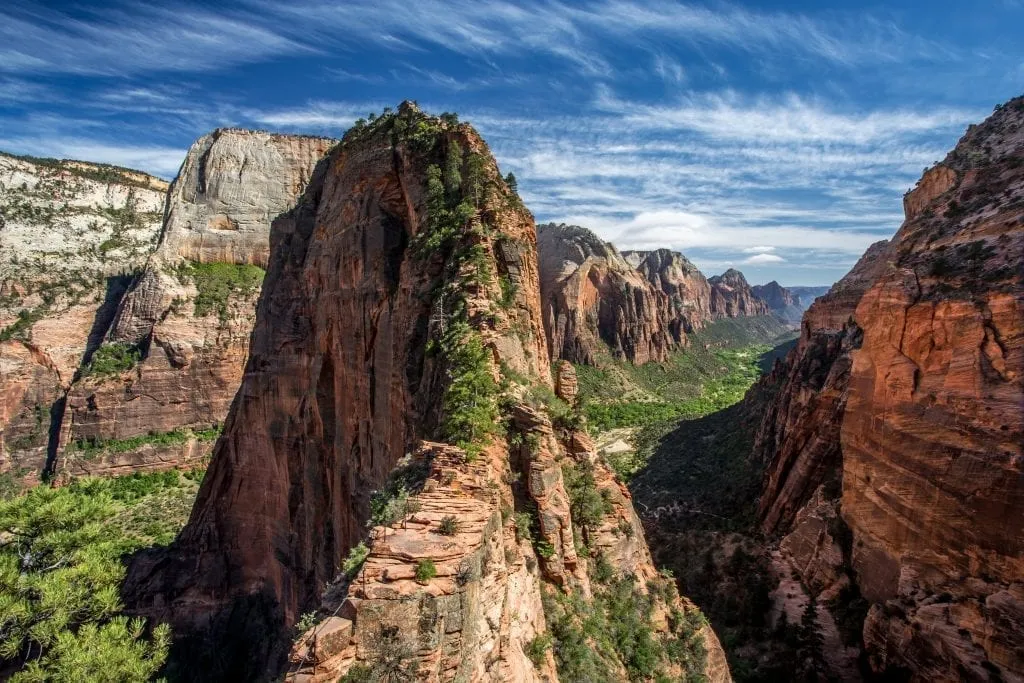 Phoenix to Taos to Road Trip
From Polina of Bucket List Places
One of the best itineraries to explore by car in the states is through Arizona and New Mexico.
If you are doing a winter ski road trip itinerary, this can also be done in reverse starting in Taos.
Fly into Phoenix and rent a car (or RV for even more fun)! Then head south and stop by Saguaro National Park to view the iconic cactus after which the park is named.
From there head to White Sands National Park in New Mexico and sled down some sand dunes.
This park is vast and can be explored for the day or for multiple days if you would like to hike amongst the sand dunes.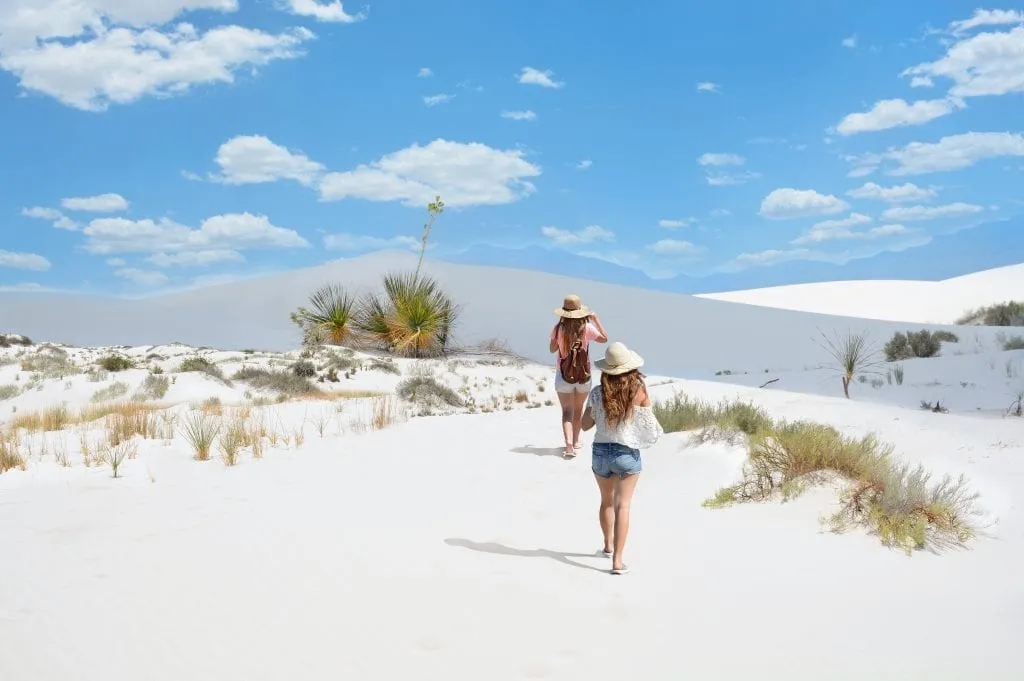 Then head to the city to check out Albuquerque's bustling nightlife.
In contrast, the next stop on the itinerary is Santa Fe, a beautiful historic city that looks like it is stuck in the past.
Stroll the streets and marvel at the beautiful architecture. Visit the delicious restaurants in town or get your culture on at the numerous art galleries.
Your final stop is Taos where you can view the historic Pueblan village, enjoy the delicious restaurants in town, and hang out in the historic town square.
In the wintertime, make sure to hit the slopes!
Driving Distance
808 miles.
Recommended Road Trip Length
We suggest a minimum of one week to enjoy the beautiful destinations on this road trip itinerary.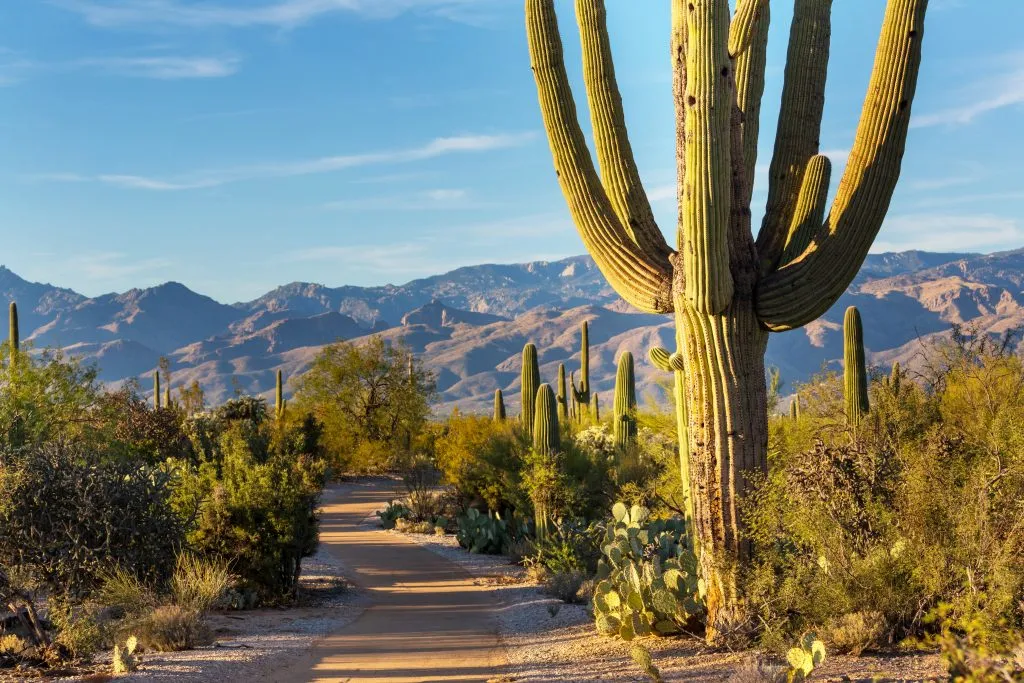 Route 66 (Southwest Portion)
From Stephanie of Oklahoma Wonders
While Route 66 stretches from Chicago to the east to Los Angeles and Santa Monica in the west, Route 66 is the Great American Road Trip of your dreams.
Of course, when people think of driving Route 66, or the Mother Road as it's commonly called, they think of diners and motels in the Midwest, but by the time the route crosses the border from Oklahoma into Texas, you're officially in the part of the drive where southwestern scenery and magnificent landscapes take over.
There's nothing more iconic than a Route 66 sign in front of a tiny Arizona town or the eye-catching Cadillac Ranch installation in Amarillo.
There are so many things to see on Route 66, but in this part of the country make sure to visit Petrified National Forest National Park, take a day trip to the Grand Canyon, and even venture up to Monument Valley.
Driving Distance
The total distance of Route 66 is just under 2,500 miles, but you can easily visit only a portion on a Southwest USA road trip.
Recommended Road Trip Length
You can spend months exploring Route 66!
With a week or less, we recommend picking 1-2 states to explore.
San Jose, CA to Escalante, UT Loop
From Jyoti at Story at Every Corner
The road trip from San Jose to Escalate is an excellent way to get out into nature and have a fun outdoor vacation, and features plenty of of classic Southwestern landscapes along the way.
The drive is about 12 hours plus additional time for stops.
Along the route, you'll find many parks, camps, Mojave National Preserve, and Las Vegas.
The little town of Escalante is surrounded by five great national parks of Utah and many recreational areas and national monuments.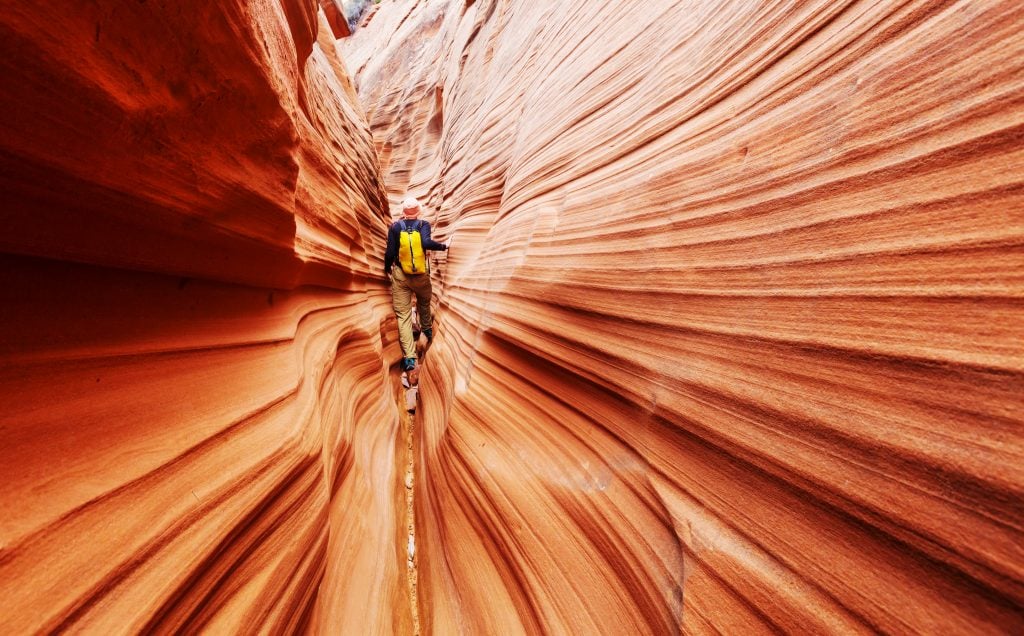 You could do day trips to national parks but there are many incredible hikes around Escalante to slot canyons, waterfall trails, and natural formations.
You could easily spend 10 days in Escalante and still have many hikes remaining to be explored.
You would definitely want to do day trips to Bryce Canyon National Park, Burr Trail, Capitol Reef National Park, Dixie Forest, and Arches National Park.
Driving Distance
1640 miles.
Recommended Road Trip Length
10 days will be a reasonable amount of time for this round trip.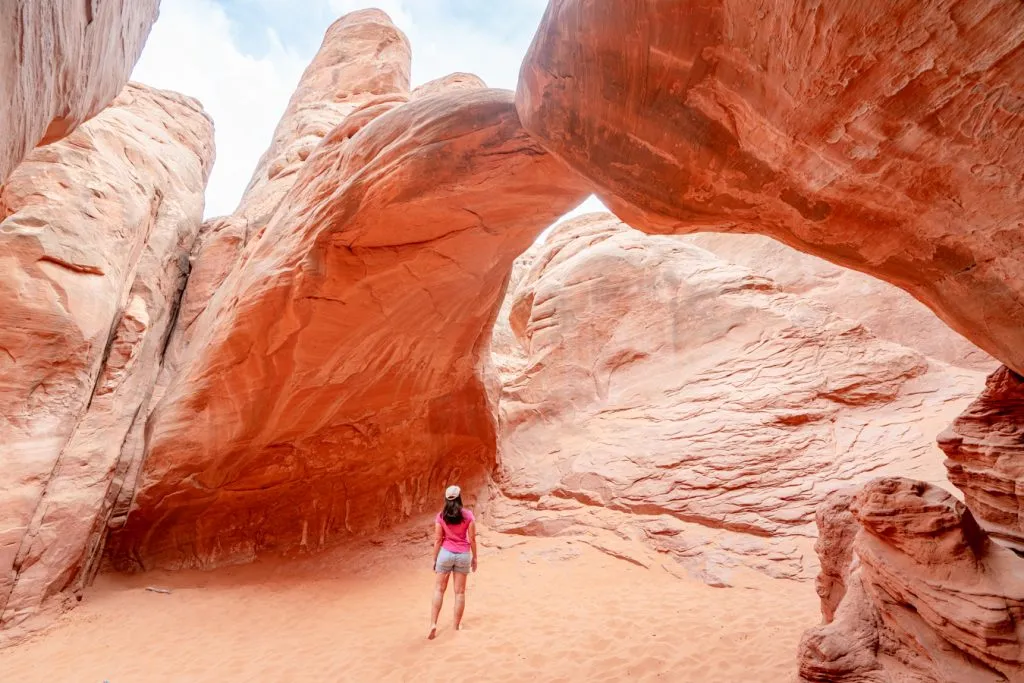 Read More About Visiting the Southwest USA
Planning a Southwest road trip soon and eager to keep planning?
You can browse all of our USA blog posts here, or check out these guides: