Once an obscure but mesmerizing riverbend view in a little-visited corner of the American Southwest, Horseshoe Bend, Arizona has emerged in the last few years as one of the most sought-after viewpoints (and Instagram photo spots) in the region.
Heading to Arizona or nearby Utah and hoping to lay eyes on the beautiful Horseshoe Bend yourself?
Here's everything you need to know before you go!
Some links in this post may be affiliate links. If you make a purchase through one of these links, we may earn a small commission at no extra cost to you. Please see our

disclosure policy

for more detail.
What's it Like to Visit Horseshoe Bend, Arizona?
We've been lucky enough to visit Horseshoe Bend twice: first in 2015 when it was still a fairly offbeat spot and we had almost the entire view to ourselves, and once several years later, surrounded by dozens of other admirers.
There's no doubt that the experience of visiting Horseshoe Bend was dramatically different on our second visit than our first.
On our second trip, instead of parking in an impromptu dirt parking lot and strolling a few steps to the free-to-access viewpoint, we parked in an expansive paid lot, paid an entrance fee, and made our way down a carefully curated trail to the view.
Ultimately, though, the natural beauty of Horseshoe Bend was overpowering both times–and while we'll always be a bit nostalgic for the more laid-back nature of that first trip, the Horseshoe Bend of today is still absolutely worth a visit.
Once you admire the view in person, it's easy to see why it has become so popular.
Where is Horseshoe Bend?
Horseshoe Bend is located off of Highway 89, right next door to the small town of Page, AZ, just south of the Utah border.
It's about 4 hours by car north of Phoenix, 3 hours north of Sedona, 4.5 hours east of Las Vegas, and 4.5 hours southwest of Moab… if you drive the route straight through, during the day, without any scenic detours (and there are a lot of scenic detours to choose from!).
How to Get to Horseshoe Bend
By far, the easiest way to get to Horseshoe Bend is to drive.
If you're planning to rent a car for your trip to Arizona, the best company to rent from will likely vary dramatically depending on exactly when you're traveling. Sometimes large international carriers offer the best prices, sometimes local outfits. Sometimes one company has an excellent base price, but terrible rental requirements.
The best way to find your rental car is to search through Discover Cars, which will sift through dozens of companies to find the best combination of low prices and reasonable rental terms for your road trip.
We've taken several road trips in the southwest over the years, and have never used or needed a 4-wheel drive–but if you want to get far off the (literally) beaten path, you may want to consider renting one!
Shop rental cars for your trip to Page today!
If you can't or would rather not drive, your only other realistic option for visiting is via a pricey tour, like this popular one that leaves from Las Vegas.
However, fair warning: not only are tours to Horseshoe Bend expensive, they make for ridiculously long travel days–just look at those outlined drive times from nearby major cities to Page in the above section!
We strongly recommend driving yourself and spending at least one night in Page if at all possible.
FAQ for Visiting Horseshoe Bend
How much does Horseshoe Bend cost?
Today, you'll need to pay a parking fee of $10 per car to visit Horseshoe Bend.
This is a change from the past when the site used to be free to visit.
Major credit cards are accepted!
Do you have to hike to Horseshoe Bend?
Yes, but not very far!
The Horseshoe Bend hike is a little under 1.5 miles round-trip.
The path is not paved, and there is some very minor elevation, but it is a fairly easy, short walk.
One thing to keep in mind, though, is that as in much of the southwest, there is not much shade to speak of, and it can be brutally hot during the summer.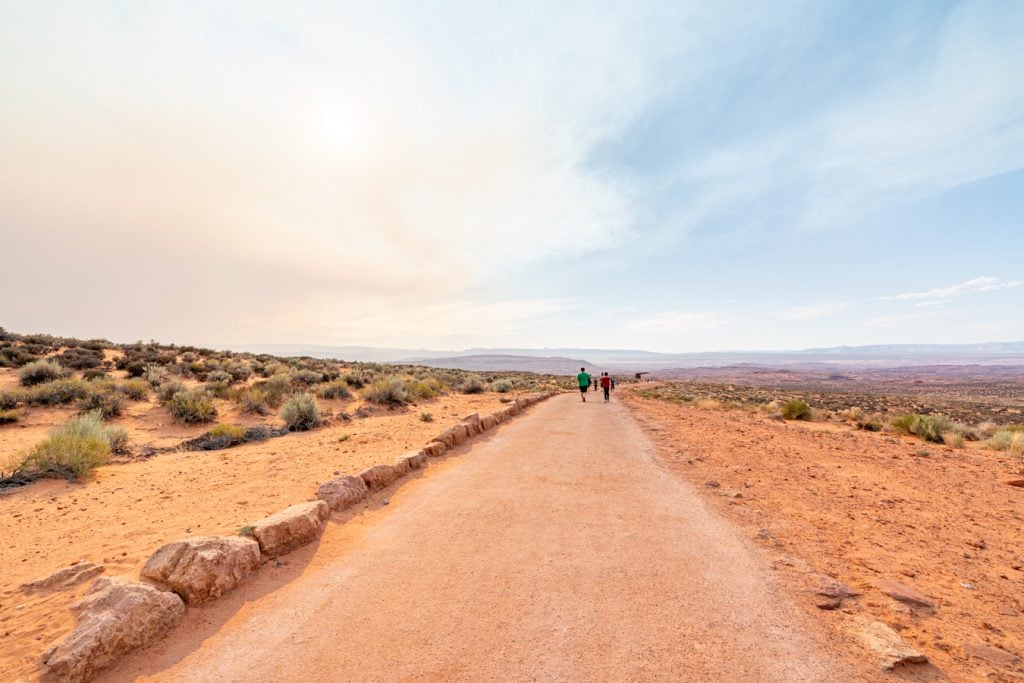 What's the best time to visit?
Horseshoe Bend is gorgeous year-round–but what time of day to visit is a little bit trickier.
If you visit near sunrise or sunset, the actual bend of the Colorado River is likely to be in shadow. We personally love the view as sunset begins, though: the colors are gorgeous and the river isn't in shadow yet.
Midday, when the sun is high in the sky, is excellent for getting even lighting all the way down to the river–on the flip side, though, it's also the hottest time of day to visit.
Ultimately, Horseshoe Bend is overwhelmingly beautiful all day, every day, and there's no "bad" time to admire the view.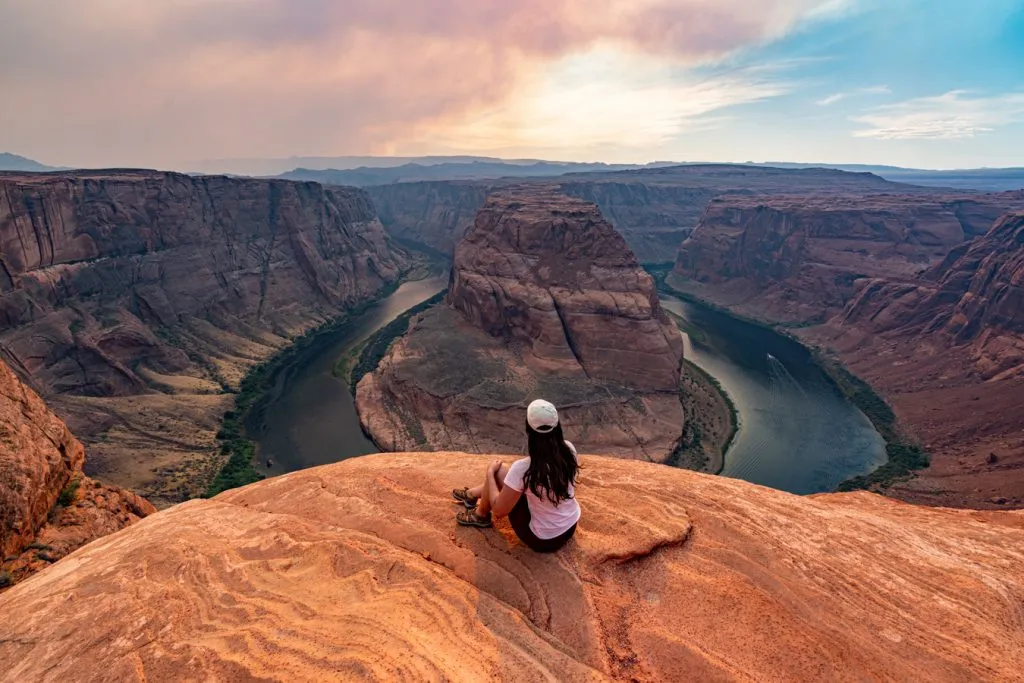 How far is Horseshoe Bend from Utah?
Horseshoe Bend in Arizona is very close to another southwestern beauty: the state of Utah.
Continue north along Highway 89 through Page, and you'll hit the Utah/Arizona state line in less than 15 miles.
If you want to get fun road trip photos with the "Welcome to Arizona" and/or "Welcome to Utah" road signs, this is an excellent place to do so!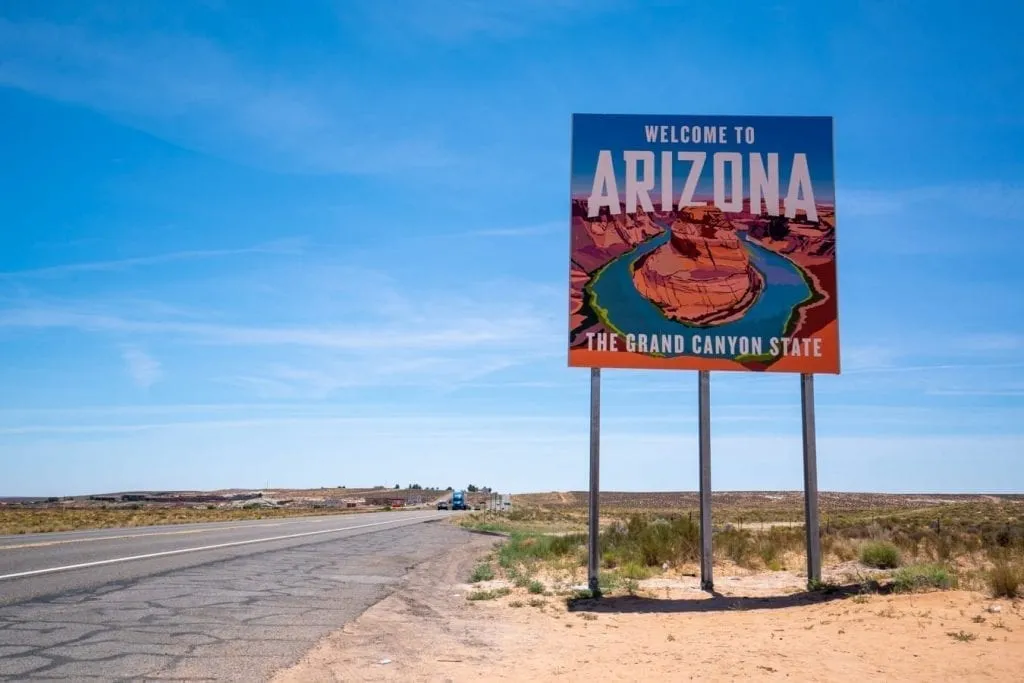 How do you get from Horseshoe Bend to Antelope Canyon?
Horseshoe Bend, AZ is located about 25 minutes, or 10 miles, west of Antelope Canyon, and most travelers who come to Page are hoping to visit both!
Unlike Horseshoe Bend, you'll need to score an advance reservation to see Antelope Canyon, but it's absolutely worth planning ahead for.
What should you bring with you?
Though the Horseshoe Bend hike is short, we strongly recommend bringing water and sun protection with you when visiting, especially during the summer!
Though not a requirement, the view is also worth lingering over, and a great place to enjoy a snack or a picnic lunch, especially if you're visiting northern Arizona with kids.
If you are a photographer hoping to catch the entirety of the bend in one photo, you'll also need to bring a wide-angle lens in order to do so. We missed out on capturing the entire view in one shot on our first visit for this reason!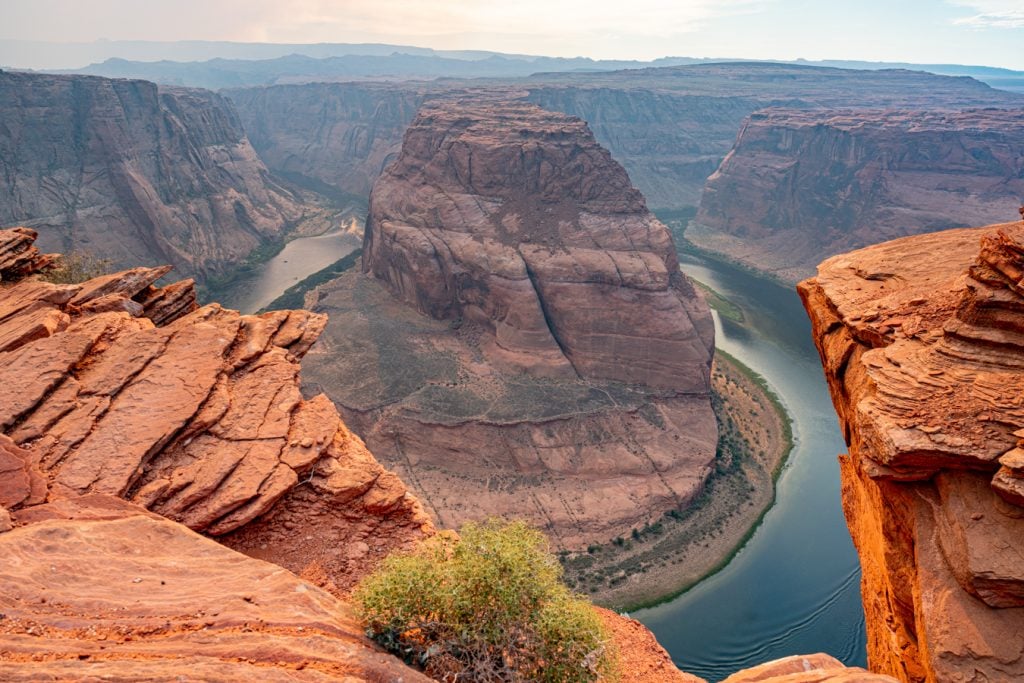 Other Ways to Experience Horseshoe Bend, AZ
Though observing Horseshoe Bend via the overlook is by far the most popular way to visit, there are two other options for enjoying the view: an aerial flight over the river or a rafting tour that will take you right down into it!
What to Do After Visiting Horseshoe Bend
Once you finish exploring Horseshoe Bend, be sure to check out some of the other fun things to do in and around Page!
In addition to Antelope Canyon, other incredible nearby sights include Lake Powell and Rainbow Bridges National Monument.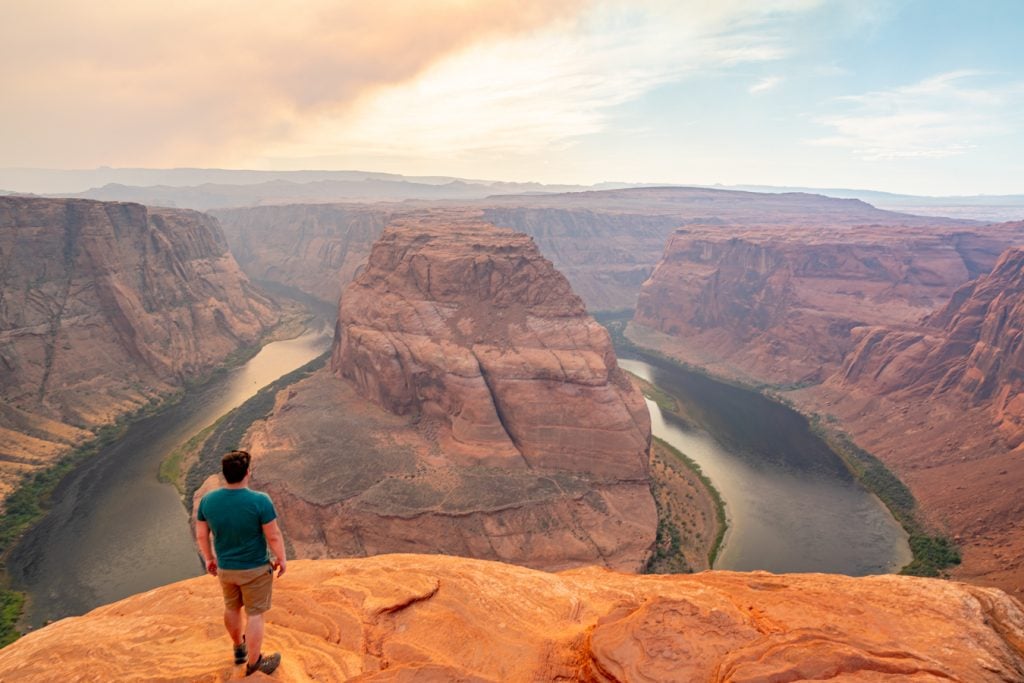 Where to Stay Near Horseshoe Bend
Without a doubt, the best place to stay when visiting Horseshoe Bend, Arizona, is in the nearby town of Page.
While Page may be small, it has plenty of hotels and places to stay to choose from!
Here are a few well-reviewed properties to consider for your trip.
Budget
Super 8 By Wyndham — Clean, popular, and featuring a pool in the summer, Super 8 By Wyndham is located a 6-minute drive from Horseshoe Bend and is the perfect option for a budget traveler looking for a comfortable option in the heart of town.
Mid-range
Best Western View of Lake Powell Hotel — With excellent reviews and even better sunset views, there's a reason this hotel is one of the most popular places to stay in Page!
Check rates & book your stay at Best Western View of Lake Powell Hotel!