So you have just one day in Bologna–don't worry! You'll be surprised at how much you can cover.
Though the city is the capital of the Emilia-Romagna region and one of the best food destinations in Italy, it is fairly small, which means you can cover a decent chunk of Bologna in one day and walk away at the end feeling like you have gotten a fantastic snapshot of the city.
We spent a month living in Bologna this spring, hunting down all of its nooks, crannies, and best spots.
After a solid month of stuffing our faces, researching, and exploring, here's what we suggest doing to make the most of one day in Bologna.
Fair warning: this one day in Bologna itinerary is mostly centered around eating and then walking around/climbing up various things to work it off in time for the next meal.
Some links in this post may be affiliate links. If you make a purchase through one of these links, we may earn a small commission at no extra cost to you. Please see our

disclosure policy

for more detail.
The Ultimate One Day in Bologna Itinerary
Start your day in the Piazza Maggiore.
Bologna's central piazza is easily the best place to stay your one day in Bologna: it's beautiful, it's easy to find, and it's surrounded by plenty of coffee and pastry shops for those (like us) who need a cappuccino to kick off a morning of exploring.
While you're in Piazza Maggiore, be sure to duck into San Petronio's Cathedral and to take a look at the impressive Neptune's Fountain!
Prepare to eat absolutely everything.
Bologna, and the Emilia-Romagna region in general, is a place to eat. Considered one of the best food cities in Italy, Bologna is a heaven for those who love Italian cuisine.
As you're plotting out your goals when trying to see Bologna in a day, definitely make a point to schedule time for food–you'll want a lengthy lunch and dinner to be part of your plans!
If you'd like to explore Bologna's food scene in depth during your one day in Bologna, we recommend spending your morning on a food tour–most tours will take you through some of Bologna's major sights while also teaching you all about Emilia-Romagnan cuisine (with plenty of time to stuff your face built in, of course).
If you go for the food tour, simply loop around and pick this Bologna itinerary back up for the afternoon when you're finished, crossing off anything that you already saw.
Book your epic Bologna food tour: you'll leave both stuffed to the gills and more knowledgable about Bologna!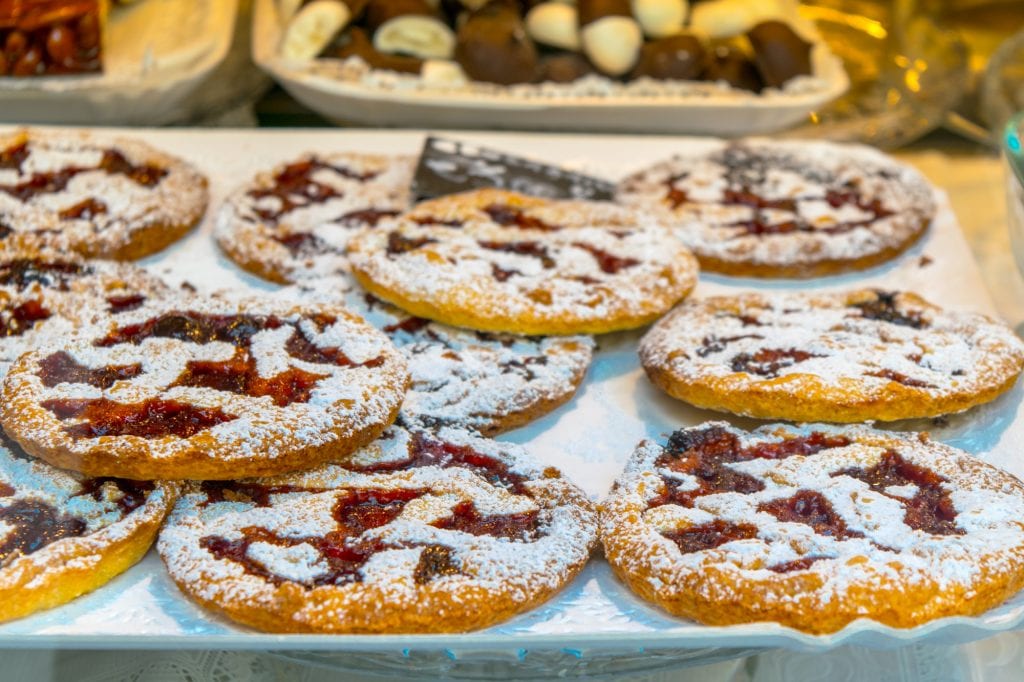 Visit San Petronio's Terrace.
The roof of San Petronio's Cathedral (yep, the one conveniently located in Piazza Maggiore) is home to one of our favorite views of Bologna.
Not only can you admire the city and surrounding countryside from above, you'll also have a picture-perfect view of Bologna's leaning towers, the most recognizable features of the city!
Stop into the Anatomical Theatre & Library of Archiginnasio.
With only one day in Bologna, we don't recommend spending too much time in museums, but with the palace of Archiginnasio and its museums located right next door to San Petronio's Terrace, it's definitely worth taking a quick peek!
The palace, which has long been owned by the University of Bologna, is home to a 17th-century carved anatomical theatre, which is incredibly beautiful and yet historically was used for medical students to learn how to slice and dice bodies–not exactly as pretty a use as you would imagine for a space like that!
Down the hall, you'll find the library, and while tourists aren't allowed into most of it, even a quick glance is worth the time it takes to get there–it is gorgeous!
Stroll down Via Drapperie and explore the Quadrilatero area.
Via Drapperie is one of the prettiest streets in Bologna and one of my all-time favorites in the city due to its food.
Via Drapperie and its surrounding streets make up the oldest market in Bologna, dating back to the Middle Ages, and is known today as the Quadrilatero area.
Here, you can find everything from cheese shops and cured meat shops to flower stands and cafes, all of it ridiculously photogenic.
Grab lunch in the Quadrilatero area.
We recommend stopping on or around Via Drapperie to grab lunch–not only is it a gorgeous place to enjoy a view with your meal when you only have one day to eat in Bologna, you'll need the energy for your next stop!
If you'd like to sit inside, we recommend ducking into the Mercato di Mezzo, which offers plenty of options.
However, we suggest finding a small restaurant with outdoor seating instead–it's much more memorable to have lunch in Bologna when you're able to watch the hustle and bustle of the busy streets over your pasta and wine.
If you'd like to try a traditional Emilia-Romagnan dish for lunch, consider ordering tagliatelle al ragu (the real version of what the rest of the world knows as spaghetti bolognese), tortellini en brodo, zuppa inglese, or tortellacci.
Of course, you should definitely start your meal with a plate of Emilia-Romagnan cured meats, including mortadella (the delicious meat that has been radically altered and renamed bologna outside of Italy).
Head over to Torre Asinelli for a great view of Bologna.
Climbing the leaning medieval tower of Asinelli is a bit of a challenge for those of us who are scared of heights: at 498 perilous steps up (that almost always have at least one side open to a visible drop, though there is a handrail), it is by far the tallest tower in Bologna.
But, as someone who hated every second of the climb, I can attest that it was totally worth it.
Reaching the top of Torre Asinelli will give you incredibly epic views over Bologna, including views of Piazza Maggiore and a chance to see Torre Garisenda, which sits next door to Asinelli and has an even more pronounced lean, from above.
Because only a limited number of people are allowed to climb Torre Asinelli at a time, we recommend booking your ticket through the official website in advance.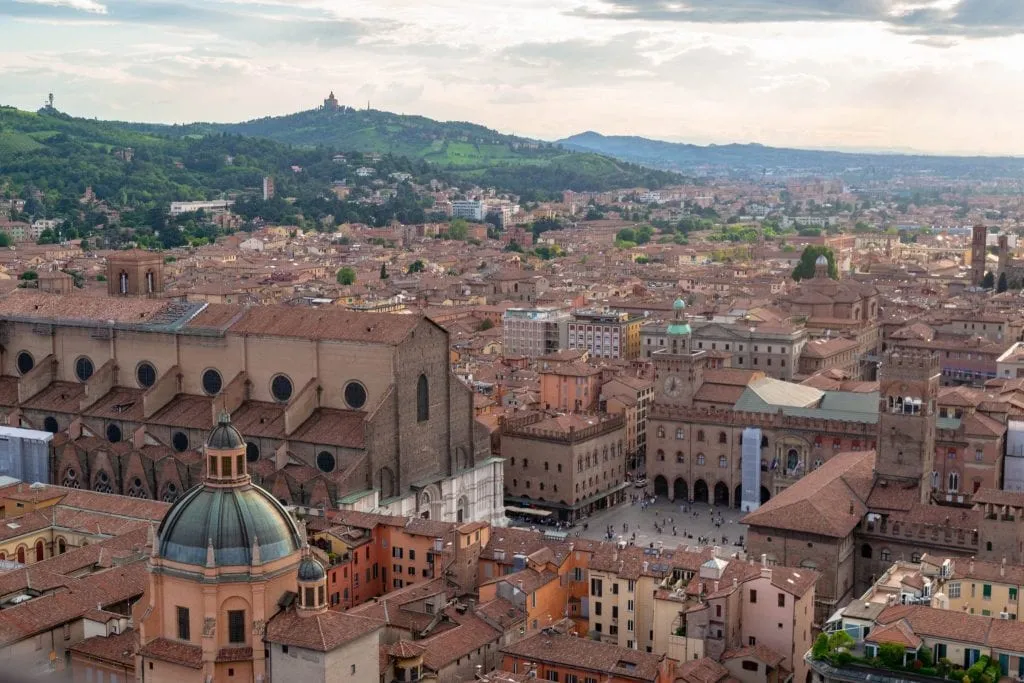 Enjoy the porticoes.
Bologna is known for its beautiful porticoes–wide, covered walkways that are flanked by buildings on one side and columns on the other.
The city is filled with them, and they are not only beautiful, they're functional! The porticoes will keep you cool in the summer, dry in the rain, and far away from vehicle traffic at all times when you're under them.
Check out Bologna's hidden canals.
One of our favorite things about Bologna is its series of hidden canals, and spending a day in Bologna wouldn't be complete without finding a couple of great viewpoints!

Bologna's canal system dates back to the Middle Ages, but today, most of the canals are either filled in or covered, and aren't visible to the public.
There are a few exceptions, though (and the city of Bologna helpfully provides this map to help tourists find them).
With only one day in Bologna, we recommend starting with the most famous viewpoints: the view of a canal through a small window on Via Piella (while small, this shouldn't be difficult to find: there was a literal line to take a look when we visited), and the open view of a canal on the opposite side of the street.
More Than One Day in Bologna?
You can definitely fill more than a day in Bologna without getting bored–we spent a solid month there this spring!
If you have more time in Bologna, consider a visit to the Museum for the Memory of Ustica (the museum is centered around a controversial plane crash, and includes the plane!), taking a cooking class to indulge in more Emilia-Romagnan cuisine, strolling to the Sanctuary of the Madonna di San Luca above town, paying a visit to the archaeological or history museums, climbing Torre Prendiparte, and exploring the various markets around the city.
You can also use Bologna as a base, as we did, to explore surrounding towns in Emilia-Romagna, as well as taking day trips to nearby Tuscany, Veneto, and San Marino.
If you're looking to try your hand at creating a delicious meal while in Bologna, this cooking class is well reviewed and takes place in the home of a local family!
Getting Around Bologna
Bologna is a very walkable city–unless you have any specific limitations, nothing on this one day in Bologna itinerary will require anything other than walking to get around!
The Bologna train station (which is also the pickup location for the shuttle to the Bologna airport and is located right across the street from the main bus station), is less than a 20-minute walk from Piazza Maggiore, so in all likelihood, you'll be able to walk into town, as well!
During the month we stayed in Bologna, we were staying on the outskirts, about a 25-minute walk from Piazza Maggiore… and even still, we took a bus exactly once while in Bologna: the day we arrived.
The bus system in Bologna is fairly extensive, so if you want to avoid some walking, that might be an option to consider.
It's worth noting that, like in most of Italy, Uber is unavailable, and while we saw a handful of cabs driving around, they weren't extremely numerous.
Though Bologna is generally very safe, be sure not to visit without travel insurance!
Though Bologna is generally very safe, be sure not to visit without travel insurance!

We use and recommend World Nomads for their affordability, ease of purchasing, and the clarity of their contract.
When to Visit Bologna
Like many places in Italy, we consider the spring and fall to be the best times to visit Bologna–the weather will be less oppressive than the summer, and the markets and city life will be more active than in the chilly winter.
However, there are benefits to visiting Bologna for a day at any time of the year–the summer sees festivals and great produce, and the winter will see decreased crowds–so no matter when you are able to spend one day in Bologna, take the opportunity!
Where to Stay in Bologna
These hotels meet our usual preferences (free wifi, excellent location, great reviews), and we would absolutely consider them for a visit to Bologna:
Residenza Bianconcini — Set in a historic building in the university district, the Residenza Bianconcini is especially noted in the reviews for its charming neighborhood close to major attractions and its delicious included breakfast!
B&B Second Floor — Located a short walk from Bologna's leaning towers and many other major attractions, this B&B has fantastic reviews across the board.
Because we spent a month in Bologna, we rented this spacious Airbnb a bit away from the center of town. The apartment was perfect for long visits (very clean, close to a grocery store, great wifi), but the 20-minute walk to the center of Bologna means that we wouldn't recommend it for a short stay.