Confession: a big part of why we went to San Marino is not because we were excited about learning interesting facts about San Marino or about the prospect of an annoying bus ride to get there (more on that later), but because we wanted to get in another notch in our belt of countries visited.
I know, I know–that's so terribly uncool to admit.
But, as travelers who very clearly do not focus on country-counting to an absurd degree (hello, second six-week trip to Italy in less than a year), I'll give us a pass on this one.
Plus–as we quickly found out once we got there–San Marino is incredibly cool.
It's beautiful, it's quirky, it's (subtly) distinct from Italy, and–oh yeah–it's the self-proclaimed oldest republic in the world.
Considering a visit to the tiny country of San Marino? Here are some interesting facts about San Marino to entice you to visit–plus how to get there.
Some links in this post may be affiliate links. If you make a purchase through one of these links, we may earn a small commission at no extra cost to you. Please see our

disclosure policy

for more detail.
Interesting Facts About San Marino
San Marino is the fifth smallest country in the world (and the third smallest in Europe).
At roughly 24 square miles (or 61 square kilometers), there are very few countries that can claim to be smaller than San Marino!
Vatican City, Monaco, Nauru, and Tuvalu all have the distinction of being even smaller than tiny San Marino.
It was officially founded in the year 301.
Nope, not a typo. According to legend, San Marino was founded by the Christian stonemason Marinus (one name, like Madonna–10 points to anyone who knows what show I'm quoting there).
San Marino officially joined the UN in 1992.
The nation is landlocked by Italy.
Nestled between Emilia-Romagna and Marche, San Marino is completely enveloped by Italy.
You can visit the Parliament.
The Palazzo Pubblico building is open to visitors and is where the Grand and General Council of San Marino meets. There are 60 representatives in total.
The official language of San Marino is Italian.
Not particularly surprising, I know.
… And they also have open borders.
San Marino and Italy are closely connected both politically and economically, and that extends to their borders.
There are no border checks entering or leaving San Marino.
If you want a passport stamp, though, you can buy one!
For around 5 Euros, you can purchase a San Marino passport stamp in the tourist office during your visit.
The currency is the Euro.
However, San Marino is not a member of the EU.
You can't enter the Schengen Zone from here, as there is no border control.
San Marino's borders are a bit complicated: they're not part of the Schengen Zone, but they do have open borders with Italy (and the Schengen Zone by extension).
Since there are no borders, you can't legally enter the Schengen Zone from San Marino.
Unless you're flying in your own helicopter from a non-Schengen state, though, that's not likely to be a problem you run into: with no public airport, no trains, and no way to approach the country via boat, you pretty much have to come through Italy, and therefore the Schengen Zone, to access San Marino anyway.
San Marino maintains an embassy in the USA (but not the other way around).
Who knew that tiny San Marino holds a piece of real estate in Washington D.C.?
The people of San Marino are referred to as Sammarinese.
… And I definitely would have failed to guess that correctly had someone asked me.
Once, briefly, you could access San Marino by train.
In 1932, a train line (which involved several tunnels, due to the mountainous terrain) opened that ran from the Italian city of Rimini to San Marino.
Sadly, the railway was destroyed during World War II and never rebuilt.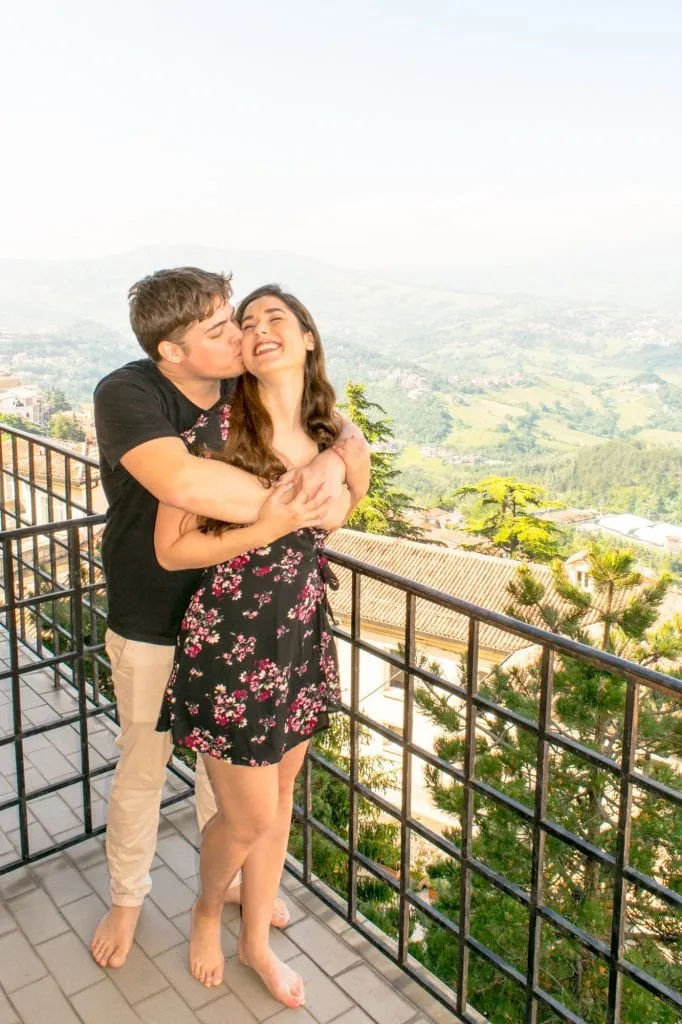 Speaking of world wars, San Marino remained neutral in both.
Despite their neutrality, San Marino was briefly occupied by the Germans during World War II.
There was even a Battle of San Marino in 1944, in which Allied forces (specifically British & Indian troops) pushed out the German forces over a series of days.
The population of San Marino is around 33,000.
… Or, in other words, about a third the number of people who live in the smallish US suburb Jeremy and I grew up in.
San Marino has a bust of Abraham Lincoln in their parliament building.
In 1861, San Marino wrote a letter to Abraham Lincoln to congratulate him on his presidency, which Lincoln returned.
A quote from Lincoln's letter in return: "Although your dominion is small, your State is nevertheless one of the most honored in all of history. It has by its experience demonstrated the truth, so full of encouragement to the friends of Humanity, that Government founded on Republican principles is capable of being so administered as to be secure and enduring."
What I find most fascinating about this quote, aside from the relationship between tiny San Marino and the 19th century United States, is that Lincoln wrote it right around the beginning of the American Civil War–1861 was not a fantastic year for the USA, and I'm sure that weighed on the president's mind in his reply.
Mount Titano is a central focal point in the country and boasts 3 peaks.
At only 739 meters, Mount Titano is the highest point in the immediate area and gives San Marino the amazing views it is known for, stretching all the way to the Adriatic Sea.
Each of Mount Titano's peaks holds one of San Marino's three towers, Guaita, Cesta, and Montale.
Montale is privately owned and inaccessible to tourists, however, you can climb both Guaita and Cesta on your trip to San Marino. They boast incredible views of both the surrounding countryside and each other!
[instagram url=https://www.instagram.com/p/BjC82tvB9FA/?taken-by=ourescapeclause]
Did we get your attention with these interesting facts about San Marino? Good!
It truly is a fascinating, beautiful place that absolutely deserves some attention–especially if you're already planning a trip to the surrounding regions of Italy.
How to Visit San Marino
The best way to access San Marino is through the Emilia-Romagnan beach town of Rimini (which is also worth a short visit if you're passing through, especially in the summer!).
The most popular way to visit San Marino for people traveling through Italy is as a side trip from Bologna, which is how we accessed San Marino.
To get to San Marino, here's what to do: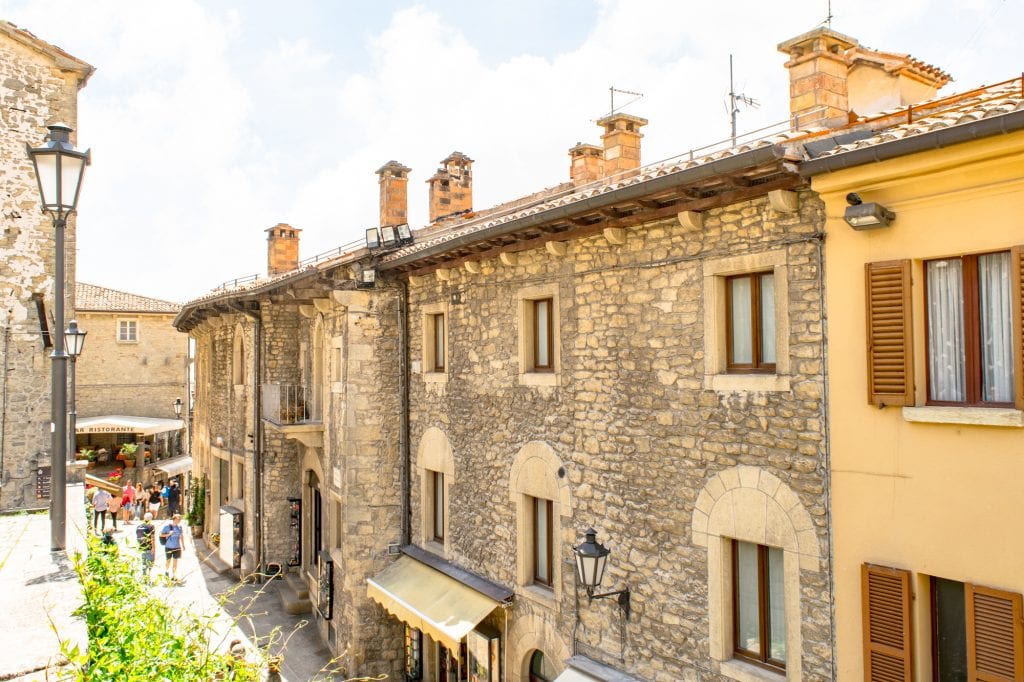 Take the train to Rimini.
This can be done from anywhere in the surrounding area, but Bologna is the most popular starting point: several regional trains (with fixed prices, so don't worry about buying in advance) run from Bologna to Rimini and visa versa each day.
Hop on the bus to San Marino.
Right across the street from the Rimini Train Station is the bus stop to San Marino–you'll see some small signs, and there is a storefront a couple of doors down from the Burger King where you can purchase round-trip bus tickets.
The bus will take you almost directly to San Marino's old town, where you'll likely be spending your time, with minimal stops along the way. The bus ride takes a little under an hour each way.
When you're heading back out of San Marino, you'll simply reverse the process.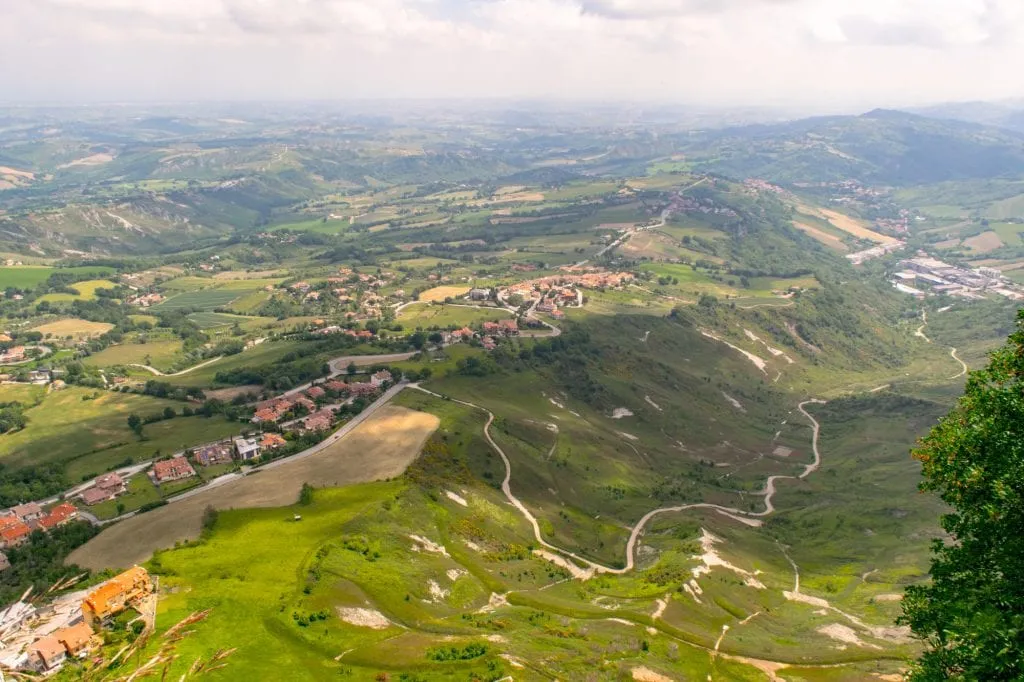 Consider more than a day trip.
Though San Marino is popular as a day trip, we strongly recommend spending one night in San Marino if you have the time.
Not only will you have the privilege of eating a few more meals in town and admiring what the city is like once the hoards of day trippers melt away, you'll also have the opportunity to do a few more things in San Marino.
While it's true that San Marino isn't a place you want to base yourself for weeks, there's more than a few hours worth of epic views to fill your time with here.
We spent one night in Hotel La Rocca and loved our stay–the location in the old town, the room itself, and the restaurant downstairs all met expectations. As for the view off the balcony attached to our room… that definitely wildly exceeded expectations.
As a bonus, Hotel La Rocca (along with many other hotels in San Marino's old town) will provide a San Marino Tourism Card that covers the (admittedly small) entrance fee for most attractions–think of it as a discount code you receive for spending the night.
[instagram url=https://www.instagram.com/p/BjNcoCqhTy1/?taken-by=ourescapeclause]
What to Do in San Marino
There are plenty of tourist traps in San Marino (how many cities actually need a Museum of Torture? Why are these so popular?), but there are also a few things that regardless of how much time you have in San Marino, you should definitely add to your list.
Climb the towers of Guaita and Cesta.
If you do just one thing in San Marino, it needs to be climbing the towers of Guaita and Cesta.
These towers are fairly short to climb (though they do involve some small steps and ladders), but the views–both of the surrounding countryside and of each other–are spectacular and absolutely not to be missed.
Visit the Public Palace.
It's not every day that you can enter a country's parliament building for a small fee and wander around yourself with no metal detector at the entrance, no bag check, and no guide–but it San Marino, it's totally possible, and you shouldn't miss it.
Take approximately 10,000 pictures of the vistas of San Marino.
San Marino's biggest asset is its views: as I mentioned when discussing interesting facts about San Marino, the old town of the city of San Marino is situated on Mount Titano.
Every direction boasts views that belong on a postcard. Definitely don't set off to visit San Marino without a camera in hand!
Check out the Basilica of San Marino.
San Marino's old town is small, so you'll end up seeing most of the highlights just by walking around.
Be sure to take special notice of the Basilica of San Marino, though–I personally think the 19th-century building looks like a stately courthouse, but it's actually a grand church!
Where We Stayed in San Marino:

Hotel La Rocca — We loved this hotel!

The location right in the center of the old town was perfect, the room was clean and spacious, and the view from our balcony was incredible. Definitely be sure to eat at their restaurant downstairs once–the views and atmosphere are lovely.
---