Though it is the capital of Emilia Romagna, Bologna itself is often seen more as a day trip destination than as a base for travel–and though you can definitely see quite a bit of Bologna in one day, there are plenty of epic day trips from Bologna that show it can be an amazing base for an Italy trip as well.
We recently spent a month living in Bologna and using it as a base to explore Emilia Romagna and beyond, and had a fantastic time doing so–we got a taste of everything from beaches to mountains to Tuscan cities and loved how easy so many spots were to access.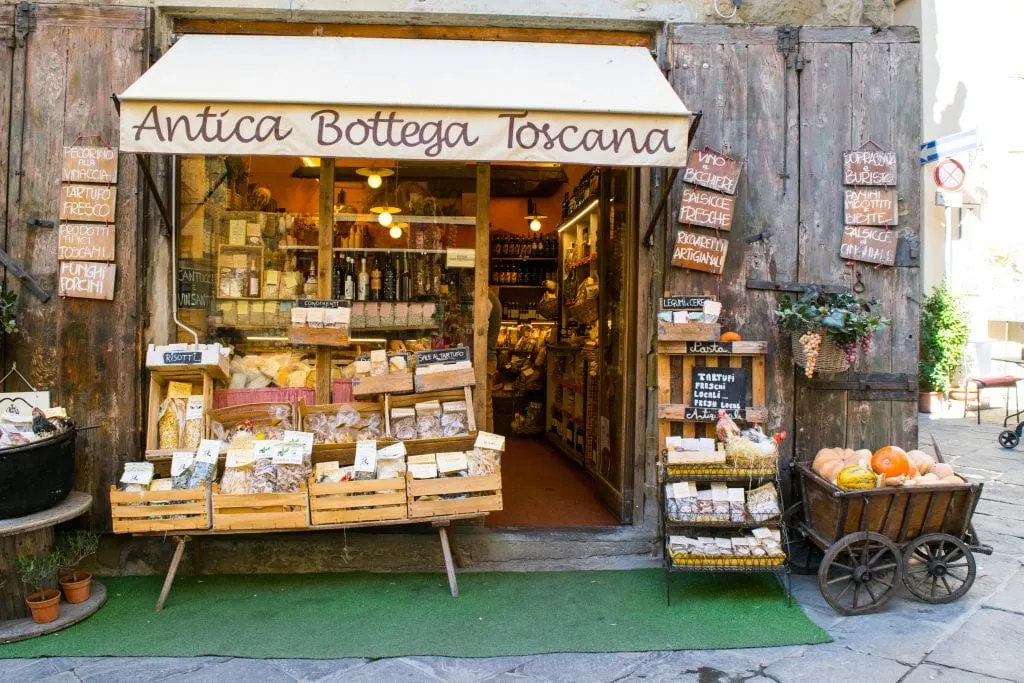 Looking for some great day trips from Bologna? These Bologna day trips need to be on your radar.
Almost all of these places can be reached in no more than 2 hours by train (though there is one notable exception at the bottom of the list), and many much faster than that–you won't find more than one exhausting long-haul destination here.
Bologna Day Trips Map
Take This Map With You! Click each highlight to pull up the name of the destination. To save this map to "Your Places" on Google Maps, click the star to the right of the title. You'll then be able to find it under the Maps tab of your Google Maps account! To open the map in a new window, click the button on the top right of the map.
The Best Day Trips from Bologna
In Emilia Romagna
Parma
Home of the original parmigiano-reggiano cheese, a colorful downtown, and some truly stunning church interiors, Parma makes the perfect first day trip from Bologna.
We used the bulk of our time in Parma to take an absolutely amazing food tour that focused on Parma Ham, parmigiano-reggiano cheese, and true balsamic vinegar production, and we cannot recommend it enough–and not just because I fulfilled a lifelong dream of running through a cheese factory and marveling at the hundreds of wheels of cheese that towered over us.
Distance from Bologna by train: 50-55 minutes
We loved our food-filled day trip to Parma–plan ahead and book yours!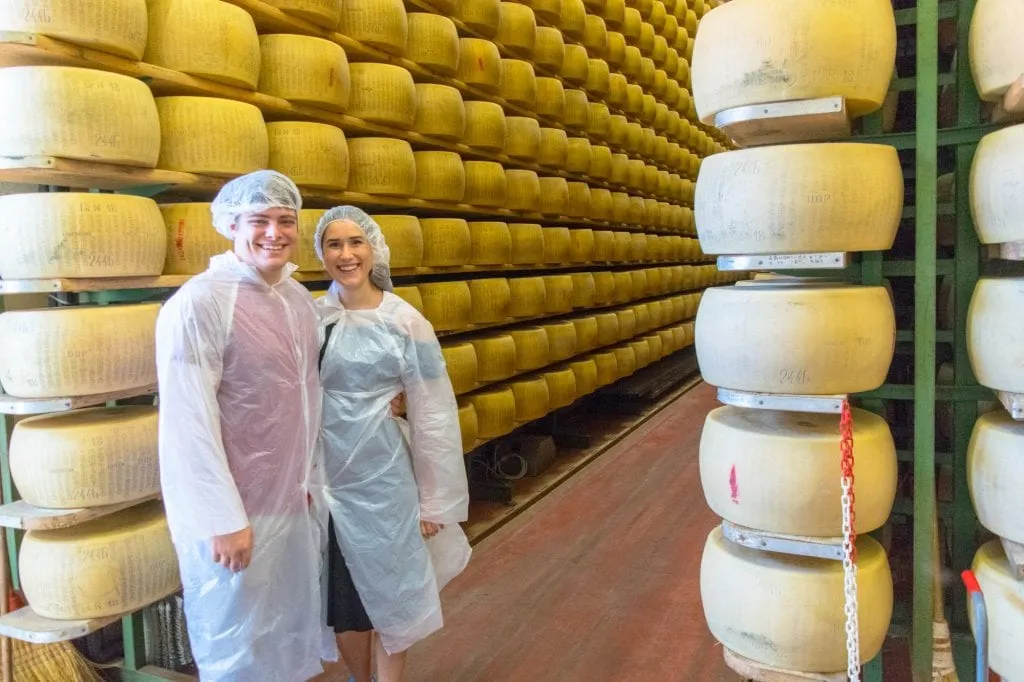 Rimini
Looking for a chilled-out beach day?
Look no further than Rimini, which makes an excellent day trip from Bologna and will make you feel like you've traveled much farther than you actually did!
Rimini's long, beautiful beach–complete with colorful umbrellas–is a great place to swim along the Mediterranean Sea and is less than a 20-minute walk from its train station.
In other words, you can go from the medieval city of Bologna to hanging out under an umbrella at the beach in less than an hour and a half!
Distance from Bologna by train: 50-55 minutes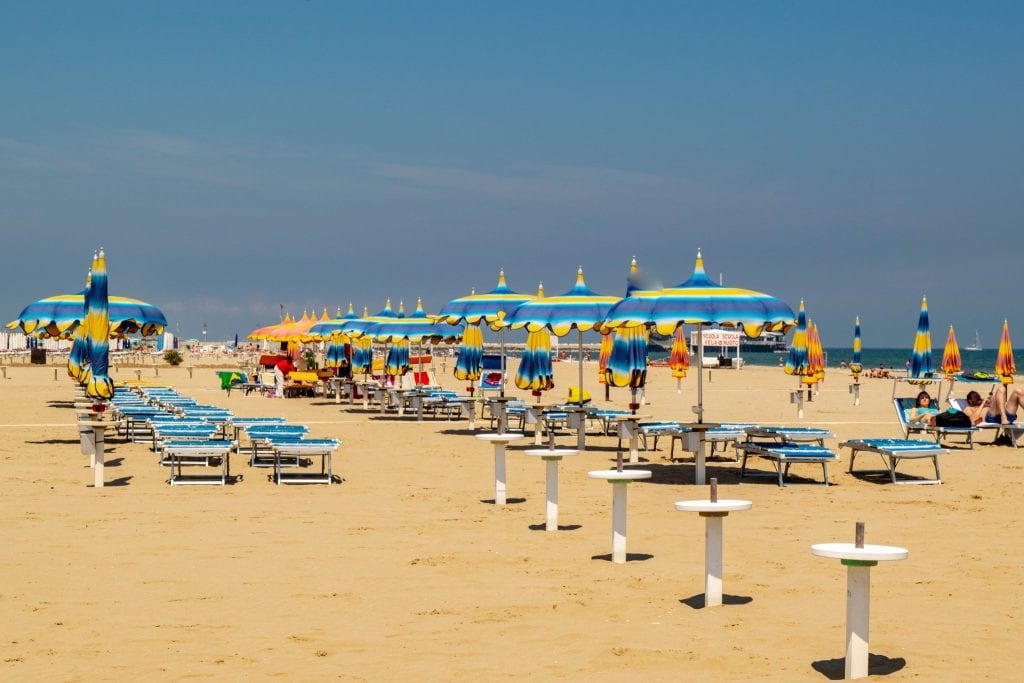 Modena
As any Italy-loving foodie will tell you, true, traditional balsamic vinegar can only come from Emilia Romagna… and Modena is the center of that production.
If you're a balsamic vinegar lover, Modena needs to shoot to the top of your list of day trips from Bologna.
If you're not a big fan of the condiment as poured over salad, give it a try anyway–traditional balsamic vinegar isn't remotely similar to what you find in most grocery stores and is more like a decadent syrup than anything else.
For the car lovers, Modena is also home to something special: the Museo Enzo Ferrari, which tells the story of the founding of Ferrari and also–unsurprisingly–is home to some incredible classic Ferraris. Combining food and Ferraris into a tour together makes a great day trip from Bologna!
Distance from Bologna by train: 25-35 minutes
No need to choose what to focus on: book a day trip from Bologna that includes both food & Ferraris in Modena!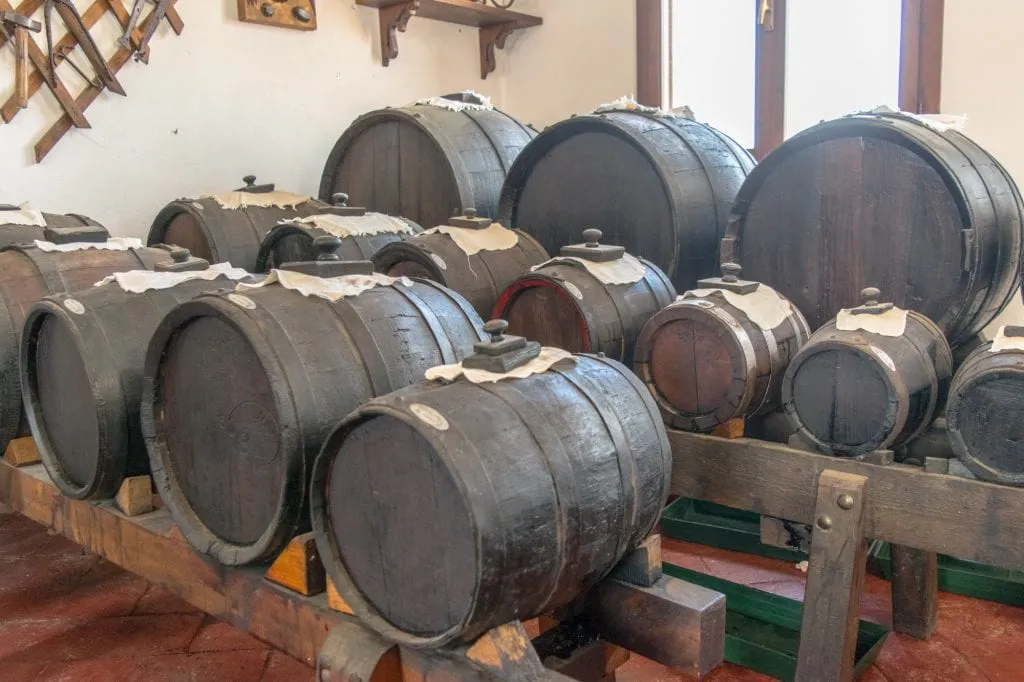 Reggio Emilia
Remember how I said above that Parma was the home to parmigiano-reggiano and that Modena is the home of balsamic vinegar?
Well… Reggio Emilia, which is conveniently located right between the two cities, contests the claims of both (that's the "reggiano" part of "parmigiano-reggiano").
Make Reggio Emilia one of your day trips from Bologna to get a first-hand look at some sibling rivalry, Emilia Romagna style!
Distance from Bologna by train: 35-45 minutes
Ferrara
If you're looking for a small Italian city with a beautiful castle for one of your day trips from Bologna, look no further than Ferrara.
Home to both the lovely Enzo Castle and Emilia Romagna's only Jewish community that has maintained a continuous presence since the Middle Ages, Ferrara is bursting with history and beautiful sights.
If you happen to be visiting Emilia Romagna toward the end of May, keep an eye out for the Palio of St. George in Ferrara, which is possibly the oldest still-running medieval horse race in the world!
Distance from Bologna by train: 25-35 minutes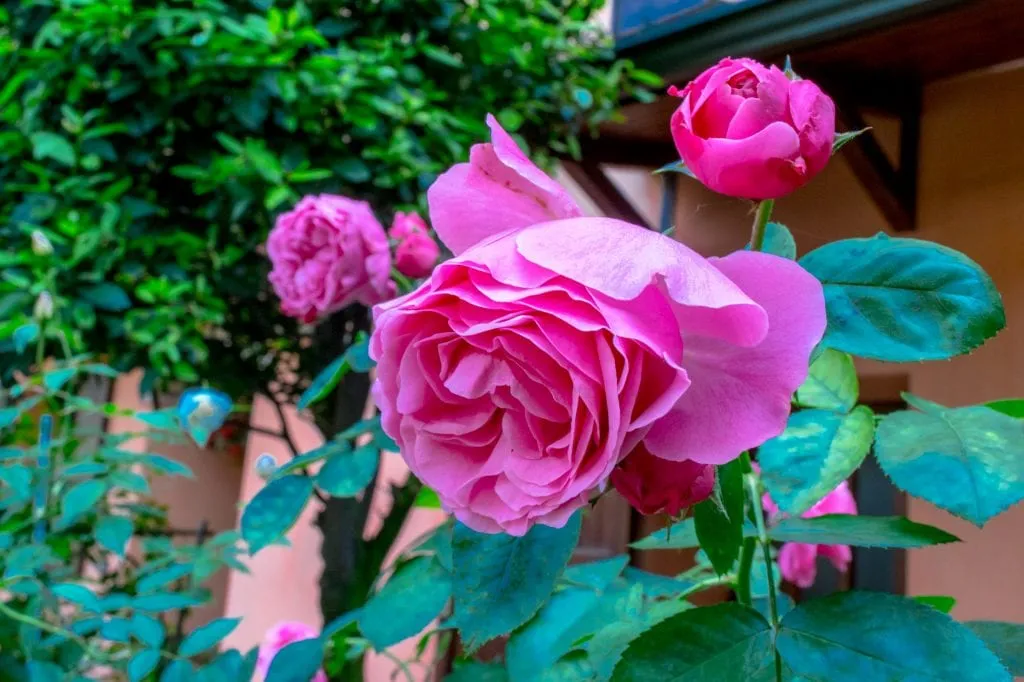 Ravenna
If there's one word synonymous with Ravenna, it's mosaics.
If you're the type to be delighted by 1500-year-old Byzantine mosaics adorning elaborate churches, then of all the day trips from Bologna on this list, Ravenna is the one for you.
Ravenna is fairly small, and you can see its major sites in just a few hours, making it an excellent candidate for a day trip–and it's also a very peaceful, leisurely pace, perfect for savoring a long lunch in between sightseeing stops.
Distance from Bologna by train: 1 hour
In Veneto
Verona
The city of Romeo & Juliet is so much more than its literary ties (which do play a huge role in the city's tourism–if you want to visit Juliet's balcony, write a letter to Juliet, visit Romeo's house, or of course see the play, you will definitely have that chance in Verona).
Beautiful viewpoints, a gorgeous downtown, tasty food, and a lovely setting on the Adige River make Verona one of our personal favorite day trips from Bologna.
Distance from Bologna by train: 1 hour
If you want to see the best of Verona in one day, consider purchasing a skip-the-line pass in advance to ensure you don't waste a second!
Venice
There's nowhere in the world quite like Venice.
The canals, the masks, the architecture, the glass… Venice is truly one-of-a-kind, and it deserves a place on any Italy itinerary.
However, Venice is also expensive, crowded, and can be unpleasantly hot (and smelly) during the summer months… which makes a day trip to Venice from Bologna an excellent alternative.
Head to Venice and explore the famous St. Mark's Square, climb St. Mark's Bell Tower for some incredible views over the city, visit Libreria Acqua Alta to enjoy one of the most unique bookstores in the world, and spend the rest of your day wandering aimlessly through Venice's addicting maze of tiny back streets and canals.
Distance from Bologna by train: 1.5 hours
The view from the top of St. Mark's Bell Tower is both stunning and popular. We recommend using a skip-the-line pass to save you time in Venice!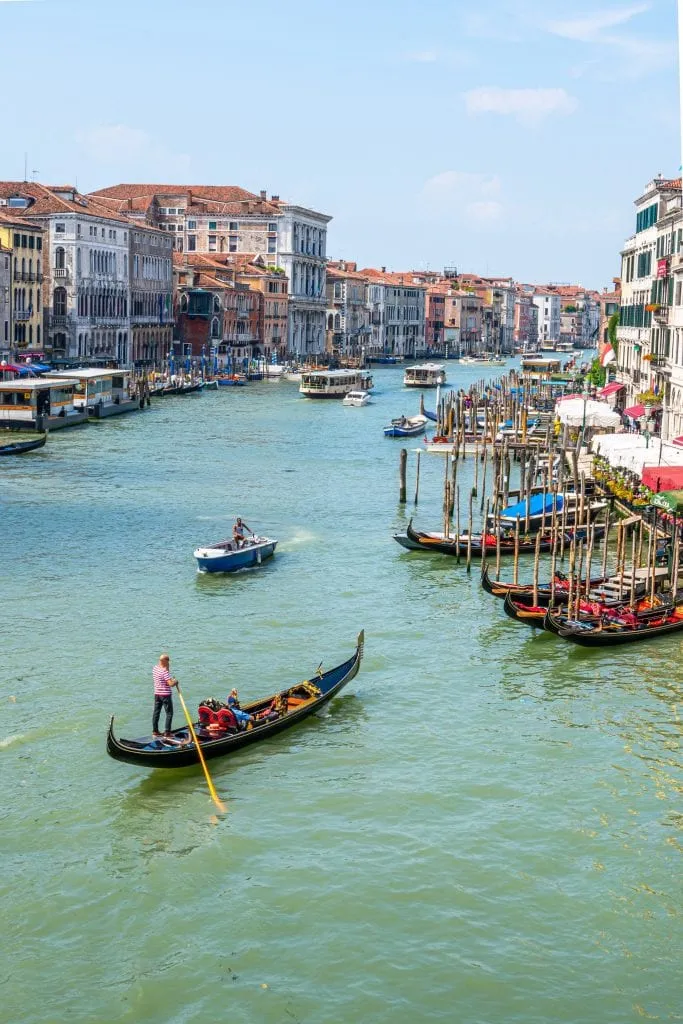 In Tuscany
Florence
The Cradle of the Renaissance is easily one of our favorite cities in the world–and luckily, it's very close to Bologna!
Though one day in Florence won't be enough to explore all of its art in depth, you'll have enough time to get a great overview of the city–consider visiting the Duomo, Mercato Centrale, Piazza della Repubblica, the Ponte Vecchio, and Piazzale Michelangelo while you're there.
And, of course, no trip to Florence would be complete without stopping into a trattoria for a delicious Tuscan pasta!
Distance from Bologna by train: 35 minutes (on the fast train)
Tips for Spending One Day in Florence
If you only have one day in Florence, make it a great one! We want everyone to love this city as much as we do, so we strongly recommend either planning ahead in detail to make sure you see the best sights, or booking a tour to help you out with structuring your limited time.
Also: if you're hoping to climb the Cupola, go into the Uffizi, or see David on your Florence day trip, you will almost certainly need a skip-the-line pass to do so.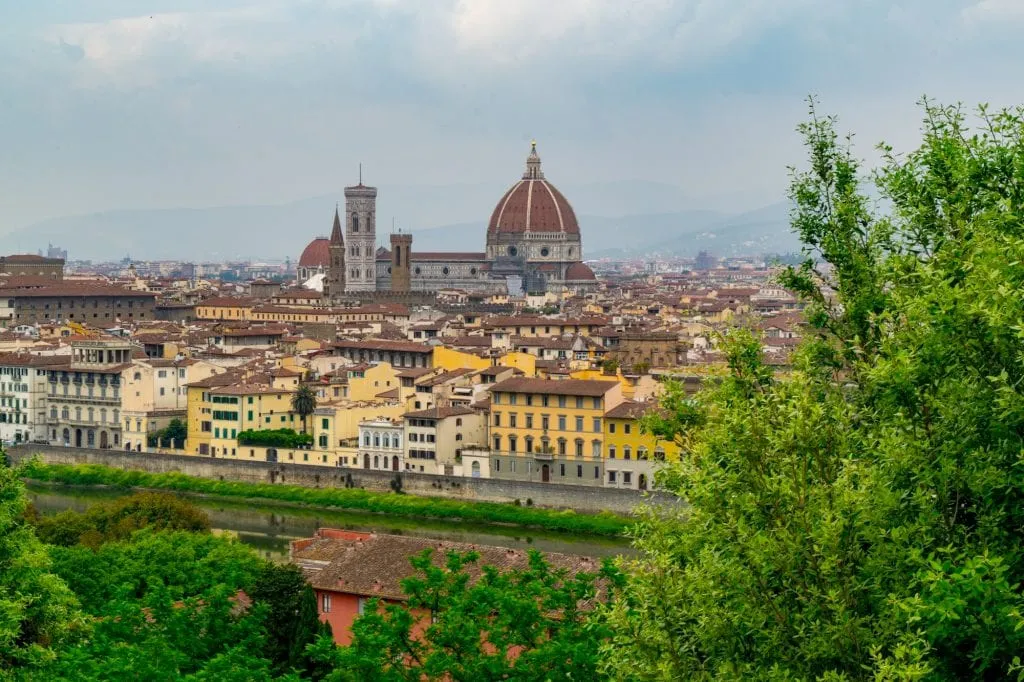 Siena
Captivating, stunning Siena is a bit of a long day trip from Bologna, but it is well worth the effort!
Once the military rival of Florence, Siena is packed with gorgeous architecture (Siena's Duomo is arguably one of the most magnificent in Tuscany), a compelling history (the various Contrade alone are so interesting!), the amazing Piazza del Campo, and twice a year, the Palio di Siena.
The Palio di Siena horse race is held twice a year in the Piazza del Campo (July 2 and August 16), and while it's unlikely you'll happen to take your day trip to Siena on one of those days, the horse races dominate the lore of the city.
With or without them, though, Siena is well worth the trip!
Distance from Bologna by train: 2 hours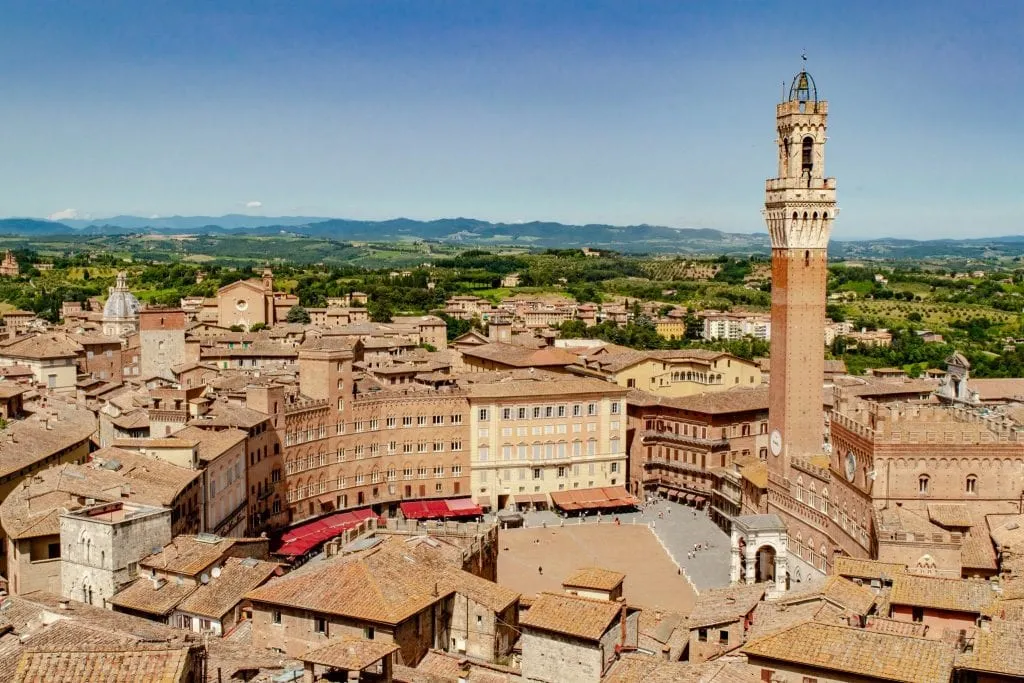 Arezzo
Outside of Florence, most Tuscan cities are too difficult to reach from Bologna to be worth considering as Bologna day trips, but if you want to see a smaller Tuscan city while based in Bologna, Arezzo is a great option.
While you're there, be sure to visit the stunning Piazza Grande and to admire it from above: the view from the top of the bell tower is one of my favorites that we've seen in Tuscany!
Arezzo is also home to some gorgeous early-Renaissance frescoes in the Church of San Francesco, beautiful views from the Medicea Fortress, and some of the best antiquing in Tuscany, all of which are worth checking out.
Distance from Bologna by train: 1.5 hours — 2 hours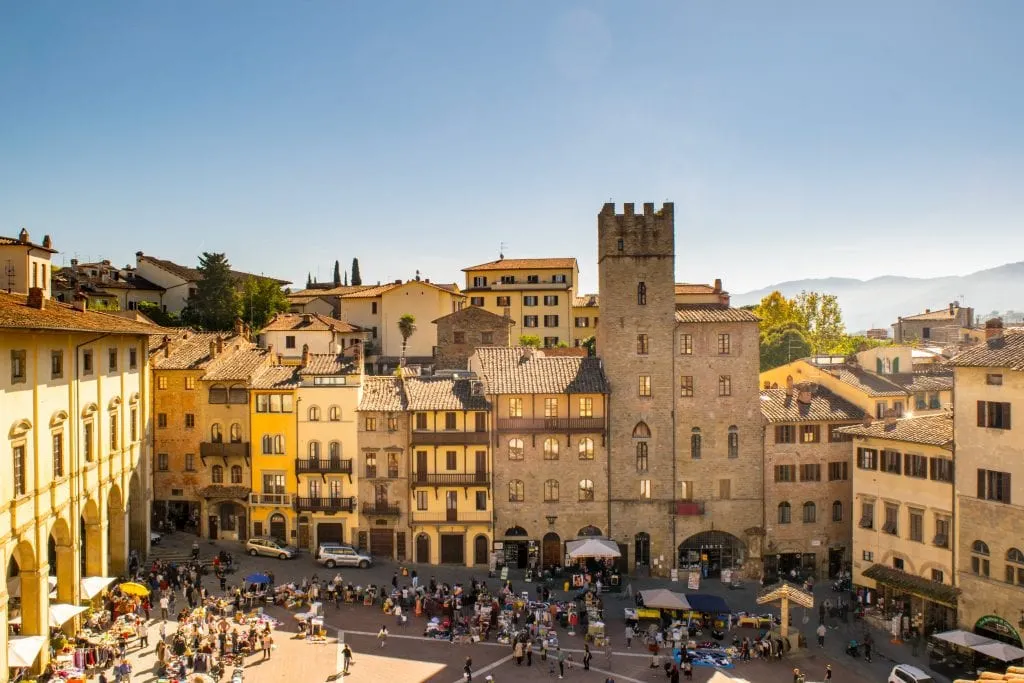 Though Italy is generally very safe, be sure not to visit without travel insurance!

We use and recommend World Nomads for their affordability, ease of purchasing, and the clarity of their contract.
In Lombardy
Milan
Italy's fashion and business capital is perfect for exploring in one day: the main sights can be covered quickly, and a Bologna day trip is plenty of time to see the Duomo (including its epic rooftop), the Galeria Vittorio, the Sforzesco Castle, and more.
As a bonus, Milan's central train station is one of the most beautiful we have ever seen–so the sightseeing can being as soon as you arrive in Milan!
Distance from Bologna by train: 1 — 1.25 hours
If you want to see The Last Supper while in Milan, you'll most likely need to book a group tour.

This tour will show you Milan's main sights in one day, while also guaranteeing you access to The Last Supper!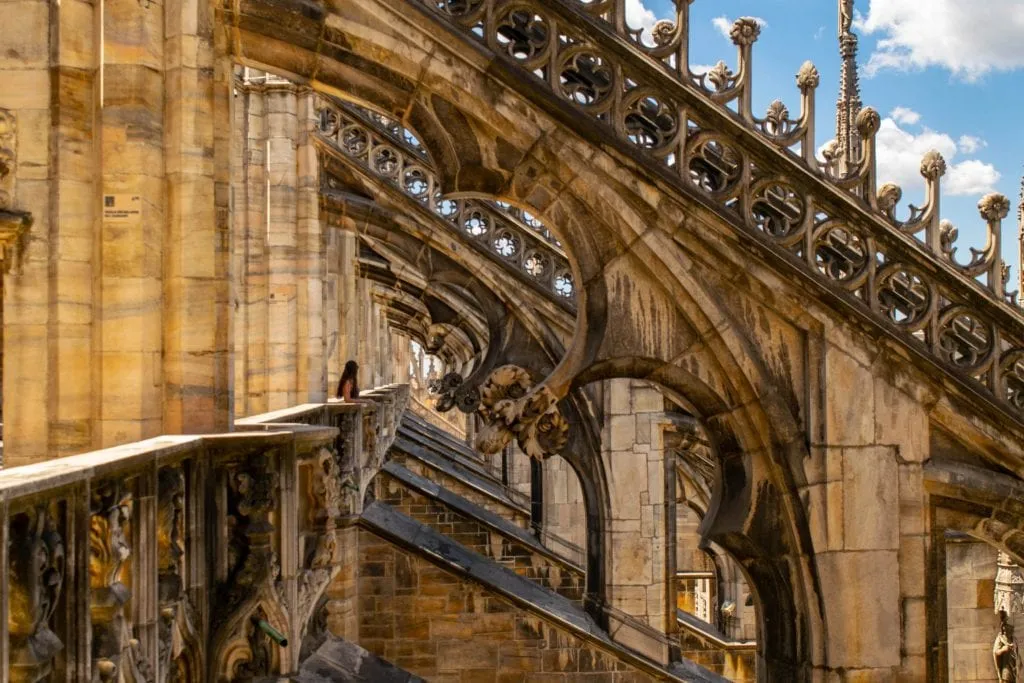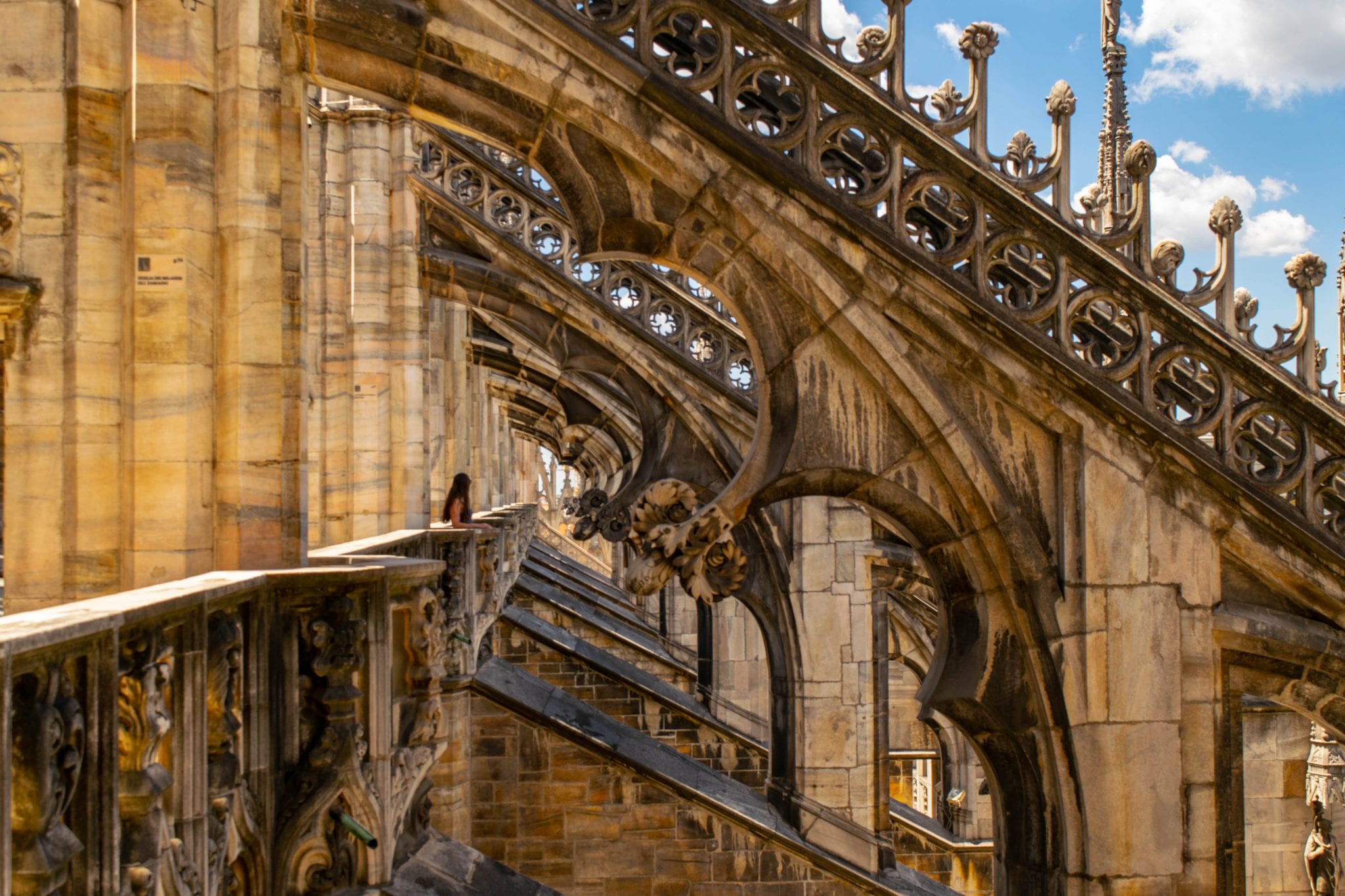 Beyond Italy
San Marino
Does it seem impossible to take a day trip from Bologna that is outside of Italy?
Thanks to the microstate of San Marino (which is the self-proclaimed oldest republic in the world), it's actually surprisingly easy to take add a day trip to a different country from Bologna!
If you're interested in microstates or visiting lots of countries, San Marino needs to be at the top of your list of days trips from Bologna: home to incredible landscapes, castles, fairytale views, and some very interesting sights (want to visit a tiny parliament?), San Marino is a must-see.
San Marino sadly is a bit harder to get to than the rest of these day trips from Bologna–it requires a train to Rimini and then a bus after that–but in our opinion, it is worth it to visit such a unique place.
Distance from Bologna: 3 — 3.5 hours by a combination of train + bus
Buying Train Tickets for Bologna Day Trips
Most of these destinations are able to be reached via regional trains in Italy, which is perfect because these trains don't require advance purchase.
We usually use Trenitalia, Italy's national company, for regional train tickets, and more often than not for fast train tickets as well! However, other brands like Italo can also be excellent options for fast trains in Italy.
If you'd like to take the fast train, we recommend booking in advance, as prices can vary. You can use Omio to compare prices and timetables of the various train companies and make sure you're finding the most convenient train and getting a good deal.
Shop train tickets in Italy today!
While it's best to have your ticket and route in hand (or more accurately, on your phone) before you go, sometimes it might be easier to purchase a paper ticket at the train station.
In those cases, let us leave you with this one very, very important piece of advice:
DO NOT FORGET TO VALIDATE YOUR TICKET.
Italian ticket inspectors take ticket validation incredibly seriously, and you risk being thrown off a train on your way to or from an epic Bologna day trip if you forget to validate your ticket.
There are exceptions to this rule (if you're taking an express train with an assigned seat, for example), but this is definitely a case of better safe than sorry: if you're not sure if you need to validate, ask an employee at the train station before boarding.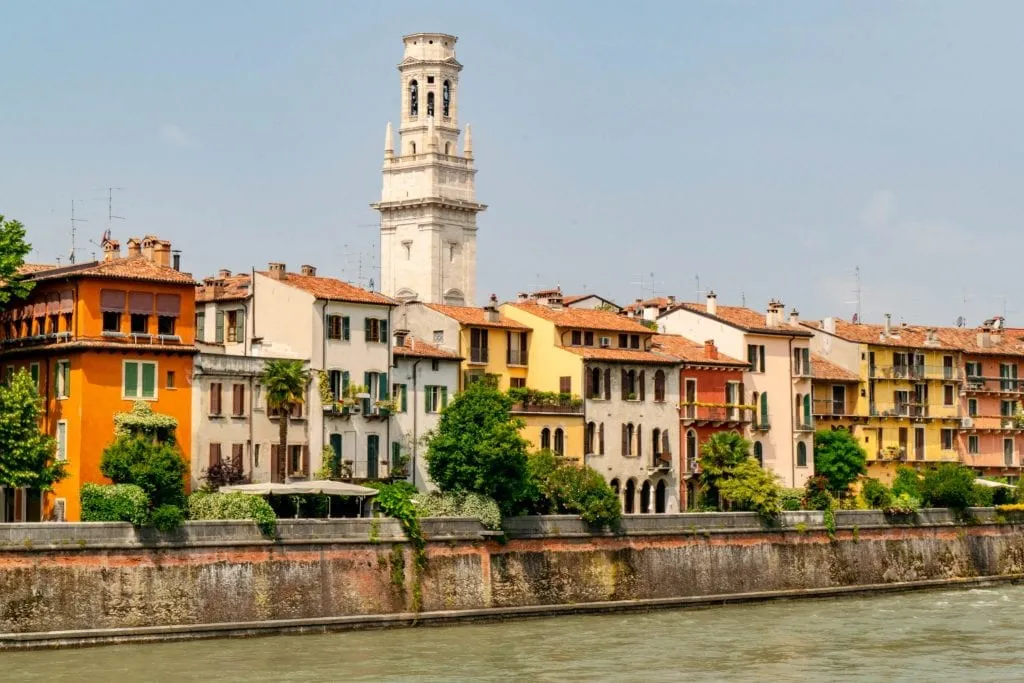 Where to Stay in Bologna
… Because the best day trips from Bologna include having a cozy base to come back to!
Here are a few hotels that meet our usual preferences (free wifi, excellent location, great reviews) that we would consider for a visit to Bologna:
Residenza Bianconcini — Set in a historic building in the university district, the Residenza Bianconcini is especially noted in the reviews for its charming neighborhood close to major attractions and its delicious included breakfast!
B&B Second Floor — Located a short walk from Bologna's leaning towers and many other major attractions, this B&B has fantastic reviews across the board.
Because we spent a month in Bologna, we rented this spacious Airbnb a bit away from the center of town. The apartment was perfect for long visits (very clean, close to a grocery store, great wifi), but the 20-minute walk to the center of Bologna means that we wouldn't recommend it for a short stay.