Known for its red hue, many porticoes, and downright sublime food, Bologna is a fantastic city to explore in northern Italy–and there are some magnificent day trips from Bologna to add to your trip as well!
Though it is the capital of Emilia-Romagna (arguably the best foodie region in all of Italy, though there's stiff competition), Bologna was long seen as more of a place to take day trips to, rather than from.
And, while you can see quite a bit of Bologna in a day, Bologna's increase in popularity as a place you base yourself on an Italy trip is well-deserved.
We adore both Bologna and Emilia-Romagna in general and have visited both several times, including one very memorable trip where we spent a month "living" in Bologna and using it as a launching pad for exploring the region.
From beach towns to Tuscan cities to a parmigiano-reggiano factory and beyond, there are some truly amazing Bologna day trips to consider.
We've rounded up the best day trips from Bologna, Italy here!
How to Reach Your Bologna Day Trip Destination (Train Tips)
The vast majority of the day trips from Bologna we cover in this travel guide can be reached in less than 2 hours by train.
There are a couple of limited exceptions where you might want to rent a car or take a bus, and we'll note those where applicable.
Generally speaking, though, Bologna is so well-positioned for day trips that you could explore for weeks without ever traveling further than a short train ride away!
When searching for train tickets, though, be sure to keep in mind the difference between high-speed trains (which have dynamic pricing that gets pricier the closer to your trip that you book a ticket) and regional trains (which are slower but cheaper, with regulated prices).
When traveling to Florence from Bologna, for example, you have the choice between taking the high-speed train (about 40 minutes each way) or the regional train (about 1.5 hours each way) on your day trip.
Therefore, we've listed Florence as a day trip located less than one hour from Bologna… but if you don't book your ticket in advance, you may find that it's quite expensive to take the fast train at the last minute!
We recommend using Omio to shop for high-speed train tickets (it will compare prices and routes for you, including bus routes).
While some of these day trips from Bologna are easy to use the regional trains for and don't require train tickets to be purchased in advance (like Modena), others require a high-speed train ticket to be feasible.
If you have your heart set on a particular day trip, we recommend researching exact train times and prices as soon as possible to get a realistic look at what your day will look like.
The Best Day Trips from Bologna, Italy
Bologna Day Trip Options in Emilia-Romagna
Parma
Most famous for being the origin parmigiano-reggiano cheese, the laid-back, fun city of Parma makes for the perfect day trip from Bologna.
In fact, we loved our day trip to Parma from Bologna so much that we opted to base ourselves there on a later visit to Emilia-Romagna!
On your day trip, we recommend taking a parmigiano-reggiano factory tour (with tasting, obviously). To date, this is one of our favorite food experiences in Italy!
Some Parma food tours, like this popular one, include a parma ham tasting and/or traditional balsamic vinegar tasting as well (this is a shorter option if you just want to stick with the cheese).
After your food tour, be sure to step inside the Parma Cathedral, visit the baptistery, wander through Centro Storico, and, if you're feeling adventurous, try the pesto di cavallo–the city's local delicacy of horse tartare.
Distance from Bologna
50-55 minutes by train.
Rimini
Looking for a chilled-out beach day?
Look no further than Rimini, which makes an excellent day trip from Bologna and will make you feel like you've traveled much farther than you actually did!
Rimini's long, beautiful beach–complete with colorful umbrellas–is a great place to swim along the Mediterranean Sea and is less than a 20-minute walk from its train station.
In other words, you can go from the medieval city of Bologna to hanging out under an umbrella at the beach in less than an hour and a half!
Distance from Bologna
50-55 minutes by train.
Modena
As any Italy-loving foodie will tell you, true, traditional balsamic vinegar can only come from Emilia-Romagna… and more specifically, from Modena.
If you're a balsamic vinegar lover, Modena needs to shoot to the top of your list of day trips from Bologna.
If you're not a big fan of the condiment as poured over salad, give it a try anyway.
Traditional balsamic vinegar isn't remotely similar to what you find in most grocery stores and is more like a decadent syrup than anything else.
For car lovers, Modena is also home to something special: the Enzo Ferrari Museum, which tells the story of the founding of Ferrari and also–unsurprisingly–is home to some incredible classic Ferraris.
While visiting Modena, don't miss the interior of the cathedral, either–it's gorgeous.
Distance from Bologna
25-35 minutes by train.
Reggio Emilia
Remember how I said above that Parma was the home to parmigiano-reggiano and that Modena is the home of balsamic vinegar?
Well… Reggio Emilia, which is conveniently located right between the two cities, contests the claims of both (that's the "reggiano" part of "parmigiano-reggiano").
Make Reggio Emilia one of your day trips from Bologna to get a first-hand look at some sibling rivalry, Emilia Romagna style!
Less visited than either Modena or Parma, but with a laid-back charm all its own, Reggio Emilia is a delightful place to enjoy la dolce vita for a day.
Distance from Bologna
35-45 minutes by train.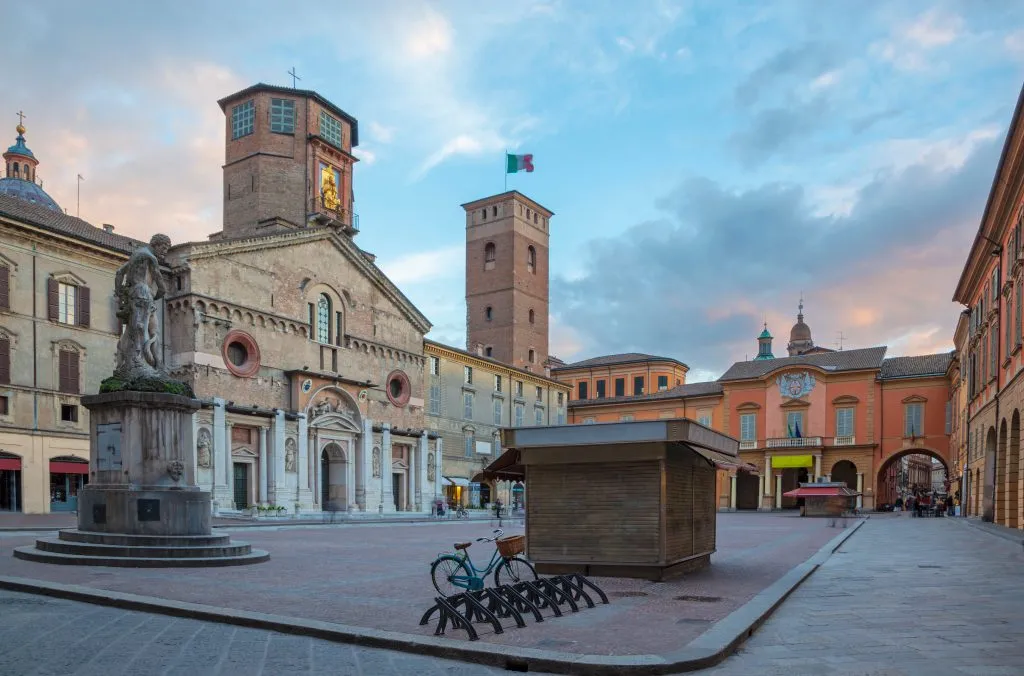 Brisighella
If you're looking for gorgeous views in a tiny, off-the-beaten-path town in Emilia Romagna, look no further than Brisighella.
This small town is very quiet, and the few attractions around have very limited hours–but it makes for an incredible escape, and you can't beat the views.
The Rocca Manfrediana (14th-century fortress), the Monticino Sanctuary, and the town's picturesque clock tower all overlook Brisighella from different angles, and each one is worth admiring.
In the center of town, don't miss the covered Via degli Asini, and enjoy wandering through the colorful buildings.
Brisighella isn't a place for fast-paced sightseeing, but it is a treasure to those who want a quiet day trip.
Distance from Bologna
1 hour by car, and renting a car and driving makes visiting the viewpoints simpler.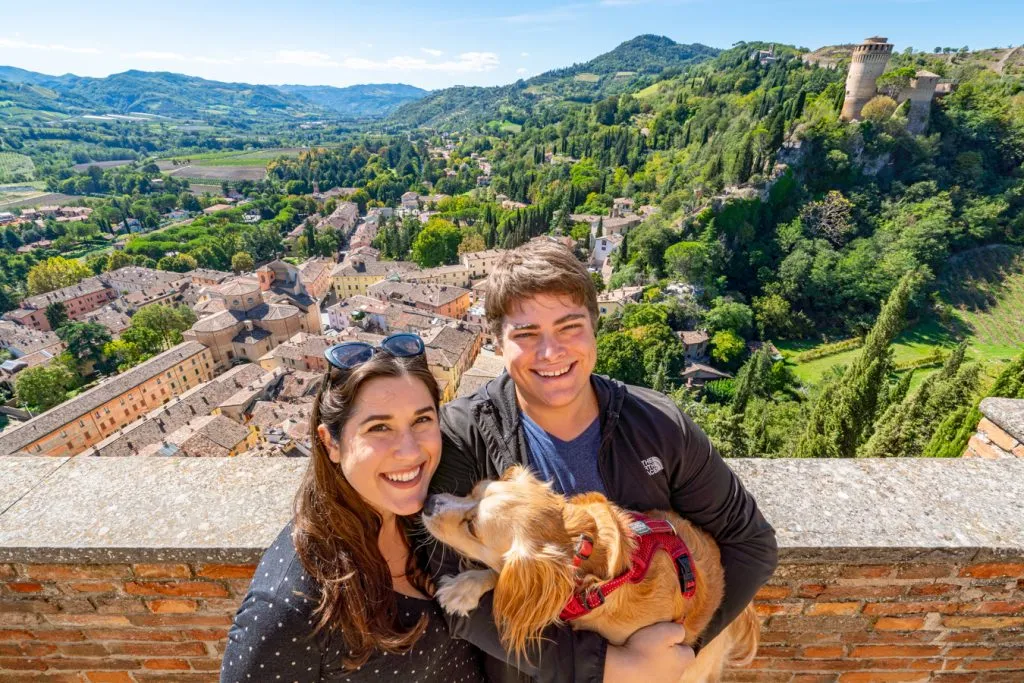 Ferrara
If you're looking for a small Italian city with a beautiful castle for one of your day trips from Bologna, look no further than Ferrara.
Home to both the lovely Enzo Castle and Emilia Romagna's only Jewish community that has maintained a continuous presence since the Middle Ages, Ferrara is bursting with history and beautiful sights.
Ferrara is also home to an incredible cathedral dating to the 12th century, which features one of the most striking facades in the region!
Unfortunately, the cathedral was damaged in a 2012 earthquake and the cathedral has been closed since, but it's definitely worth admiring the facade when you visit.
If you happen to be visiting Emilia Romagna toward the end of May, keep an eye out for the Palio of St. George in Ferrara, which is possibly the oldest still-running medieval horse race in the world!
Distance from Bologna
25-35 minutes by train.
Ravenna
If there's one word synonymous with Ravenna, it's mosaics.
If you're the type to be delighted by 1500-year-old Byzantine mosaics adorning elaborate churches, then of all the day trips from Bologna on this list, Ravenna is the one for you.
Ravenna is fairly small, and you can see its major sites in just a few hours, making it an excellent candidate for a day trip (though if you want to see all of the city's UNESCO mosaics, it's better to spend at least one night).
In addition to its world-famous mosaics, Ravenna is also a very peaceful, leisurely place, perfect for savoring a long lunch in between sightseeing stops.
Distance from Bologna
1 hour by train.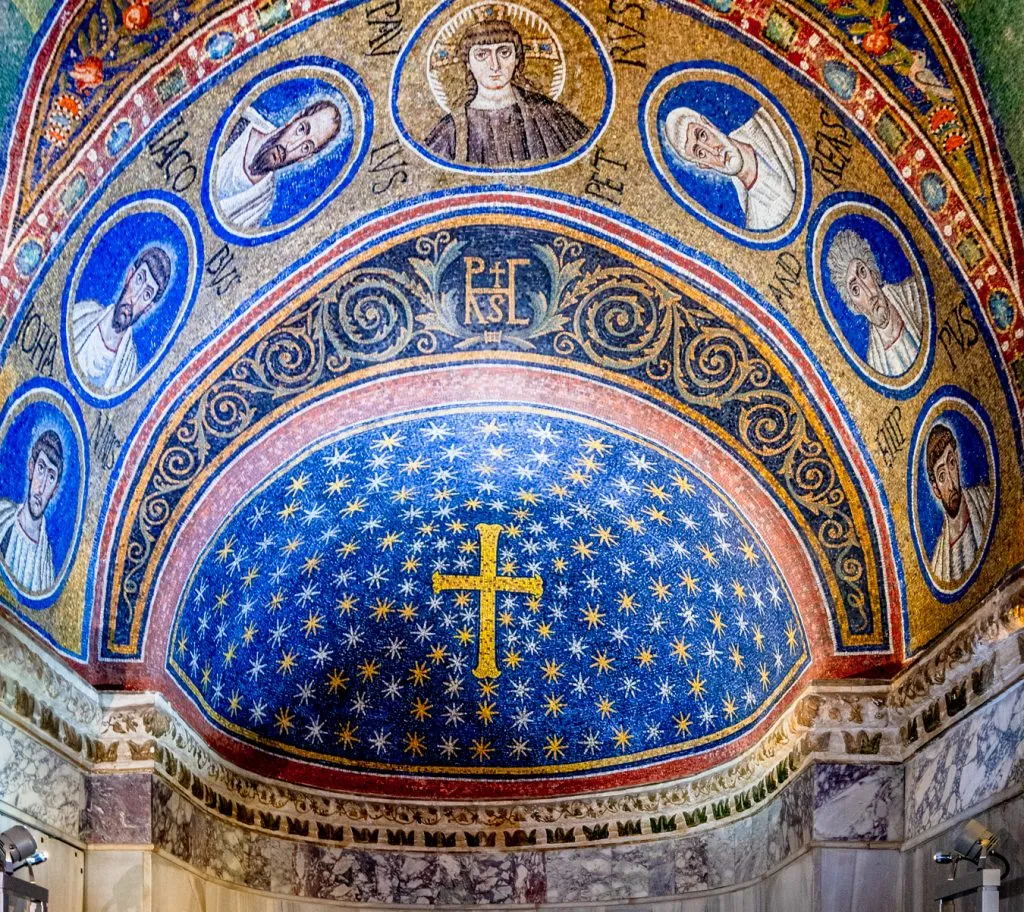 Cool Bologna Day Trips in Veneto
Verona
The city of Romeo and Juliet is so much more than its literary ties.
Beautiful viewpoints, a gorgeous downtown, tasty food, and a lovely setting on the Adige River make Verona one of our personal favorite day trips from Bologna, Italy.
While you're there, be sure to see the Verona Arena, drop by the beautiful Piazza delle Erbe (the view of the piazza from the top of the Torre dei Lamberti is excellent), stroll across the Ponte Scaligero, and soak in the views from the Castel San Pietro.
And, yes, there are plenty of Romeo and Juliet attractions too, including a chance to visit Juliet's (inauthentic, but pretty) balcony, write a letter to Juliet, visit Romeo's house, or of course, see the play.
Distance from Bologna
1 hour by train.
Venice
There's nowhere in the world quite like Venice.
The canals, the masks, the architecture, the glass… Venice is truly one-of-a-kind, and it deserves a place on any Italy itinerary.
While we certainly recommend spending at least one night in Venice if at all possible, if a day trip is all you can spare, you can certainly get a taste of Venice in a day via a day trip from Bologna!
Head to Venice and explore the famous St. Mark's Square, climb St. Mark's Bell Tower for some incredible views over the city, and head to the famous Rialto Bridge for the iconic view of the Grand Canal.
If you want to avoid the biggest crowds, make your way to quieter neighborhoods like Dorsoduro and Cannaregio, meandering over tiny footbridges and picturesque canals along the way.
Distance from Bologna
1.5 hours by train.
Padua
With a university dating back to 1222 and a lively student population, Padua has quite a bit in common with Bologna on the surface, though they're very different cities.
They are, however, both absolutely worth a visit!
Padua, set on the Bacchiglione River, is a fantastic Bologna day trip option.
Don't miss the 14th-century Basilica of St. Anthony, the frescoes in the famous Scrovegni Chapel, and the bustling Ragione Palace.
Kick back and relax in the Piazza dei Signori, and be sure to stop by the famous Prato della Valle, which is probably Padua's most-photographed spot.
Distance from Bologna
1 hour by train.
Tuscan Day Trips from Bologna, Italy
Florence
The Cradle of the Renaissance is easily one of our favorite cities in the world–and luckily, it's very close to Bologna!
Though one day in Florence won't be enough to explore all of its art in depth, you'll have enough time to get a great overview of the city.
Consider visiting the Duomo, Mercato Centrale, Piazza della Repubblica, the Ponte Vecchio, and Piazzale Michelangelo while you're there.
And, of course, no trip to Florence would be complete without stopping at a trattoria for delicious Tuscan pasta!
Keep in mind that if you're hoping to climb the Cupola, go into the Uffizi, or see David on your Florence day trip, you will almost certainly need to pre-book tickets and/or a tour to do so.
Distance from Bologna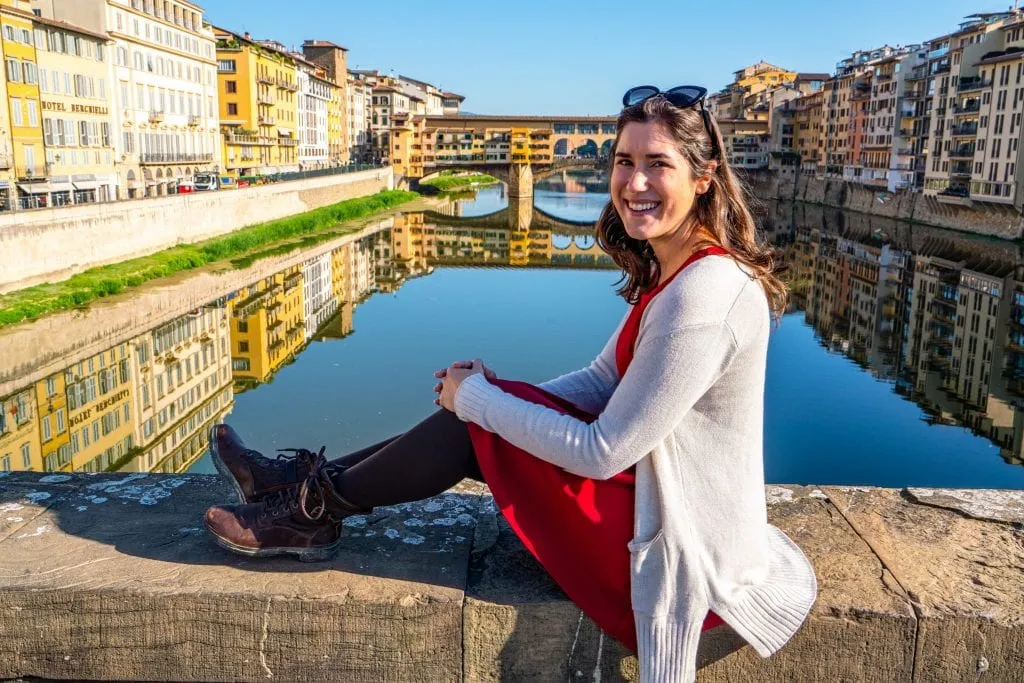 Siena
Captivating, stunning Siena is a bit of a long day trip from Bologna, but it is well worth the effort!
Once the military rival of Florence, Siena is packed with gorgeous architecture (Siena's Duomo is arguably one of the most magnificent in Tuscany), a compelling history (the various Contrade alone are so interesting!), the amazing Piazza del Campo, and twice a year, the Palio di Siena.
The Palio di Siena horse race is held twice a year in the Piazza del Campo (July 2 and August 16), and while it's unlikely you'll happen to take your day trip to Siena on one of those days, the horse races dominate the lore of the city.
With or without them, though, Siena is well worth the trip!
Distance from Bologna
2 hours by train.
Arezzo
Outside of Florence, most Tuscan cities are too difficult to reach from Bologna to be worth considering as Bologna day trips, but if you want to see a smaller Tuscan city while based in Bologna, Arezzo is a great option.
While you're there, be sure to visit the stunning Piazza Grande and admire it from above.
The view from the top of the clock tower at the Palazzo della Fraternita dei Laici on Piazza Grande is one of my favorites that we've seen in Tuscany!
Arezzo is also home to some gorgeous early-Renaissance frescoes in the Church of San Francesco, beautiful views from the Fortezza Medicea, and some of the best antiquing in Tuscany, all of which are worth checking out.
Distance from Bologna
1.5-2 hours by train.
Lombardy Day Trips from Bologna
Milan
If you're short on time and want a small taste of Italy's fashion and business capital, Milan is perfectly set up for sampling in one day.
The main sights can be covered quickly, and a Bologna day trip is plenty of time to see the Duomo (including its epic rooftop), the Galleria Vittorio Emanuele II, the Sforzesco Castle, and more.
As a bonus, Milan's central train station is one of the most beautiful we have ever seen–so the sightseeing can being as soon as you arrive in Milan!
As for the Last Supper, tickets sell out well in advance–if you're taking a last-minute day trip, you'll likely need to book a guided tour like this if you want to see the fresco during your visit.
Distance from Bologna
1 to 1.5 hours by train.
A Special Bologna Day Trip Outside of Italy
San Marino
Glancing at a map, does it seem impossible to take any day trip from Bolognas that are outside of Italy?
Thanks to the microstate of San Marino (which is the self-proclaimed oldest republic in the world), it's actually surprisingly easy to take add a day trip to a different country from Bologna!
If you're interested in microstates or visiting lots of countries, San Marino needs to be at the top of your list of day trips from Bologna.
Home to incredible landscapes, castles, fairytale views, and some very interesting sights (want to visit a tiny parliament?), San Marino is a must-see.
San Marino sadly is a bit harder to get to than the rest of these day trips from Bologna–it requires you to either drive, or take a train to Rimini and then a bus after that–but in our opinion, it is worth it to visit such a unique place.
Distance from Bologna
1.5 hours by car, 3+ hours by a combination of train and bus.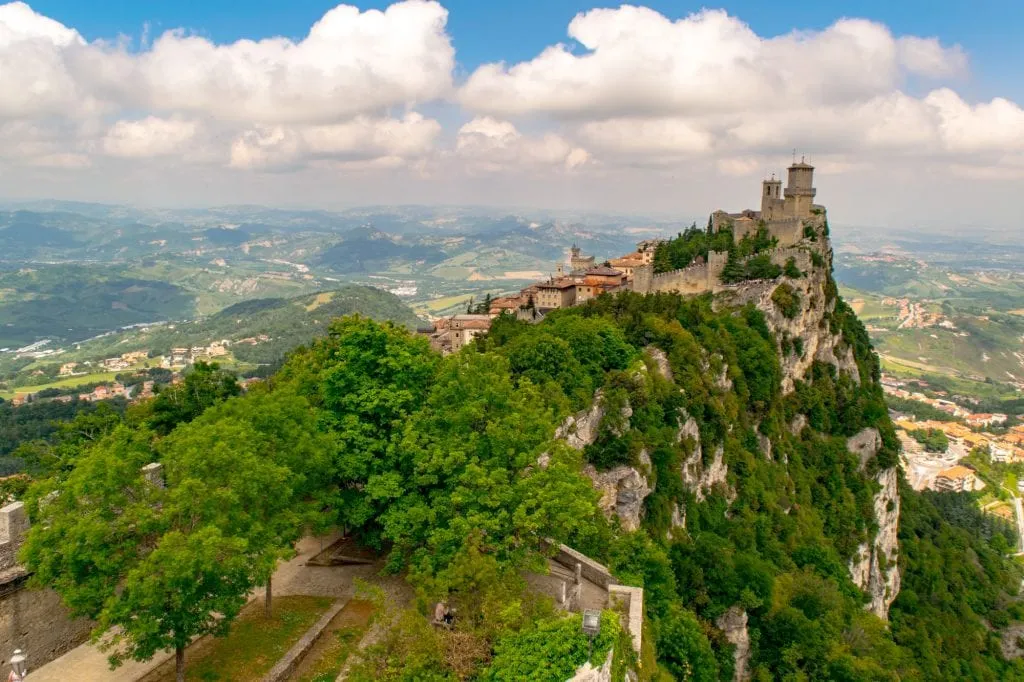 Bologna Day Trips Map
Take This Map With You! Click each highlight to pull up the name of the destination. To save this map to "Your Places" on Google Maps, click the star to the right of the title. You'll then be able to find it under the Maps tab of your Google Maps account! To open the map in a new window, click the button on the top right of the map.