As self-proclaimed bibliophiles, we are proudly obsessed with beautiful bookstores in Europe and beyond.
From the gorgeous decor to the books themselves, we find ourselves perusing the shelves every chance we get, all over the world.
That being said–some shops stick out more than others.
We love European fairytale towns of all shapes and sizes, but gorgeous towns that are also home to gorgeous bookstores are a special treat!
We've teamed up with several other travel bloggers to curate a list of the most beautiful European bookshops.
Some of these we've been to, some are still on our list of places to visit, and all of them are absolutely gorgeous.
Some links in this post may be affiliate links. If you make a purchase through one of these links, we may earn a small commission at no extra cost to you. Please see our

disclosure policy

for more detail.
Shakespeare & Company, Paris, France
From Lena of Salut from Paris
Paris' famous Shakespeare and Company bookshop resembles more a piece of art than a store.
The interior is as askew as the outside and despite its small size, it actually takes a while to explore and capture this beautiful bookstore as a whole: two floors and an unbelievable amount of tiny rooms are filled with literature, poetry, biographies, and the comforting smell of old books.
The remaining beds, sofas, and the piano are relics from earlier days when grand writers spent time living and writing here.
The little yellow-green storefront with the colorful fairy lights is located in the center of Paris in a setting that could not be more perfect.
With Notre Dame, a classic green water fountain, the slightly weathered outside bookshelves, and the cherry blossom trees all visible from the front of the store, it makes a perfect Paris picture.
While you're exploring the best things to do in Paris, you should not miss the events that are held frequently at Shakespeare and Company!
Several times a week the bookstore is opening its doors for evening author readings.
The admission is free and so is the glass of wine you can have at the end.
The House of Books, Saint Petersburg, Russia
From Campbell and Alya of Stingy Nomads
Housed in a former office building modeled after the Singer Building in New York City, The House of Books is ornate and beautiful.
The building is one of the best examples of art nouveau architecture in Saint Petersburg, complete with opulent decorative details massive oak frames and doors, large windows, a mosaic floor, and gold foil detailing.
The House of Books is one of the biggest bookstores in Europe, and you can find anything from city photo albums and travel guides to modern novels and souvenirs there.
Once you're finished shopping, head up to the coffee shop on the second floor for a cup of coffee and a great view of the Kazan Cathedral through the window.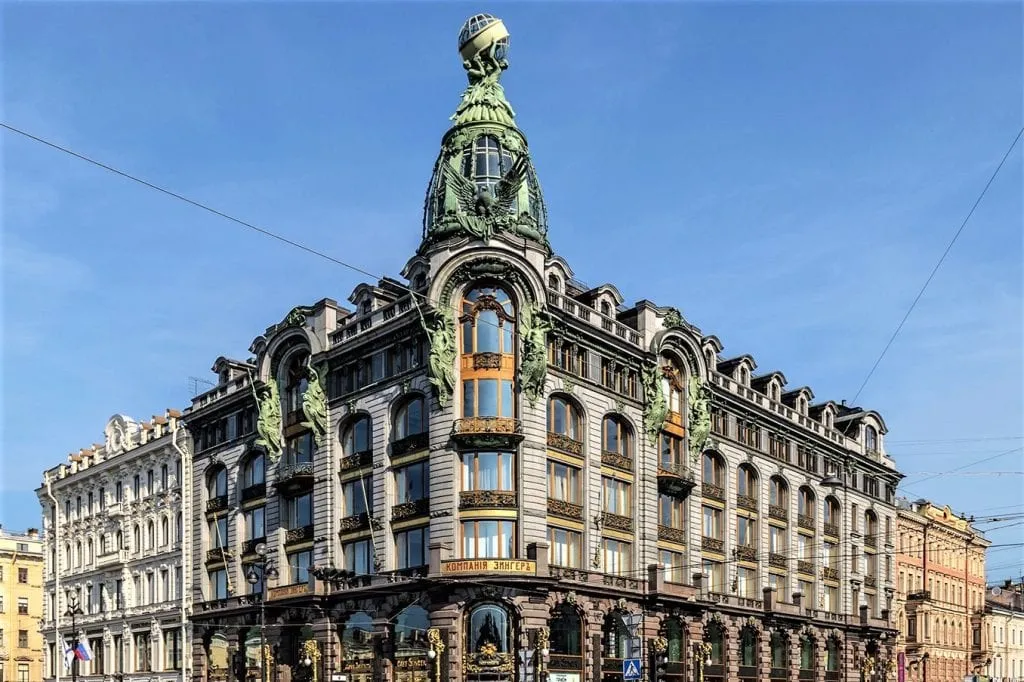 Ler Devagar, Lisbon, Portugal
From James of Worldwide Shopping Guide
One of my favorite bookshops in Europe, simply in terms of design, is Ler Devagar.
Situated in Lisbon's hipster LX Factory, the bookstore is large and industrial, with big high ceilings, metal beams, and plenty of open space – the opposite of most other European bookstores, which are typically small, intimate, and cozy.
The bookshop is housed in a former printing press, and it still holds many of the machines that were a part of the print workshop.
Re-using old factories for new businesses is nothing new, especially these days, but rarely do the two businesses match as well as a printing press and a bookstore.
Ler Devagar means read slowly, and this is a great bookstore for doing exactly that.
With so much open space, you rarely feel like you're getting in anybody's way and, if you want to be even more leisurely, there's a cafe where you can sit down and enjoy your latest souvenir from Portugal.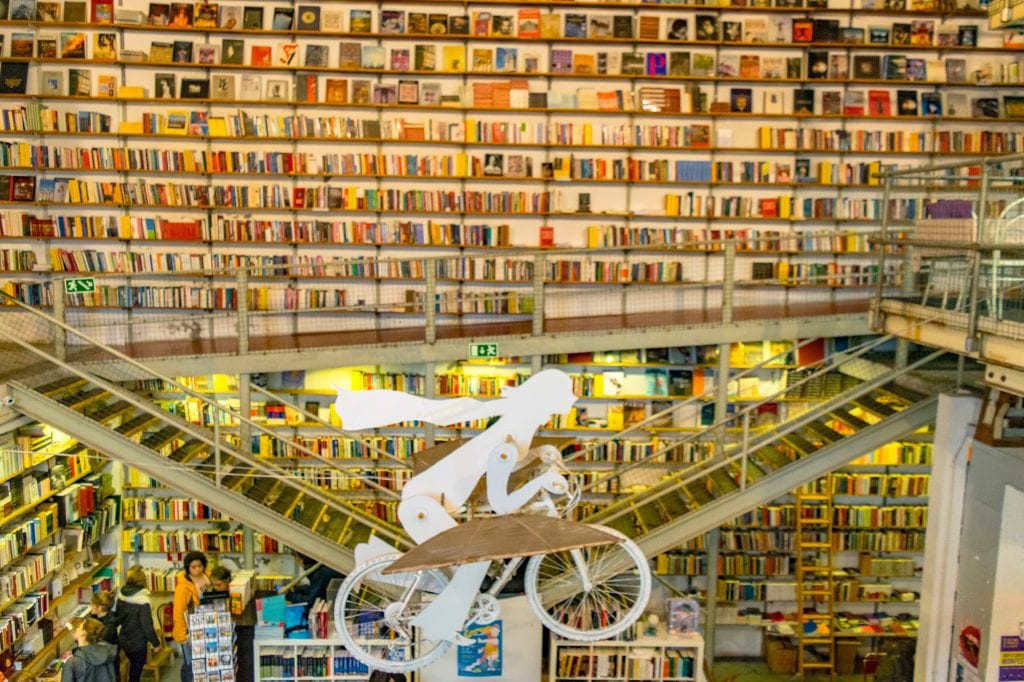 Leakey's Bookstore, Inverness, Scotland
From Laurence of Finding the Universe
Leakey's Bookstore is a rare treat waiting to be discovered in Inverness, the capital of the Scottish Highlands, and the starting point of Scotland's epic North Coast 500 driving route.
When you walk into the book store, the first thing you will notice will likely be the huge heating stove, which in winter keeps the whole place toasty warm.
Around this central area are shelves upon shelves and piles upon piles of books, spread out across two stories.
Access to the second floor is available via a spiral staircase, which also offers a wonderful view of all those lovely books that are just waiting for you to crack them open.
The books are for the most part well-loved and well priced, and you could easily lose yourself for hours here!
Libreria Acqua Alta, Venice, Italy
A bookstore designed to protect its books from floods: that is the nature of Libreria Acqua Alta, the Venice bookshop known for storing its books in devices that float–think bathtubs, buckets, and one beautiful gondola.
The interior of the bookshop is enough to rank it as one of the most beautiful bookstores in Europe, but its back porch is incredibly memorable as well.
The shop owners have taken hundreds of old books that have outlived their usefulness (mostly outdated encyclopedias) and created a staircase made entirely of books.
Be sure to make the short climb up–you'll be rewarded with a beautiful view of Venice's canals.
Naturally, this bookstore can get extremely crowded–we've lost count of how many times we've visited now, and tend to have the best chance of avoiding the crowds by going as soon as they open in the morning.
For around 20 minutes one morning, we practically had the place to ourselves!
Even if you only have one day in Venice, the beautiful Libreria Acqua Alta is a must-see for book lovers–you won't regret seeking it out!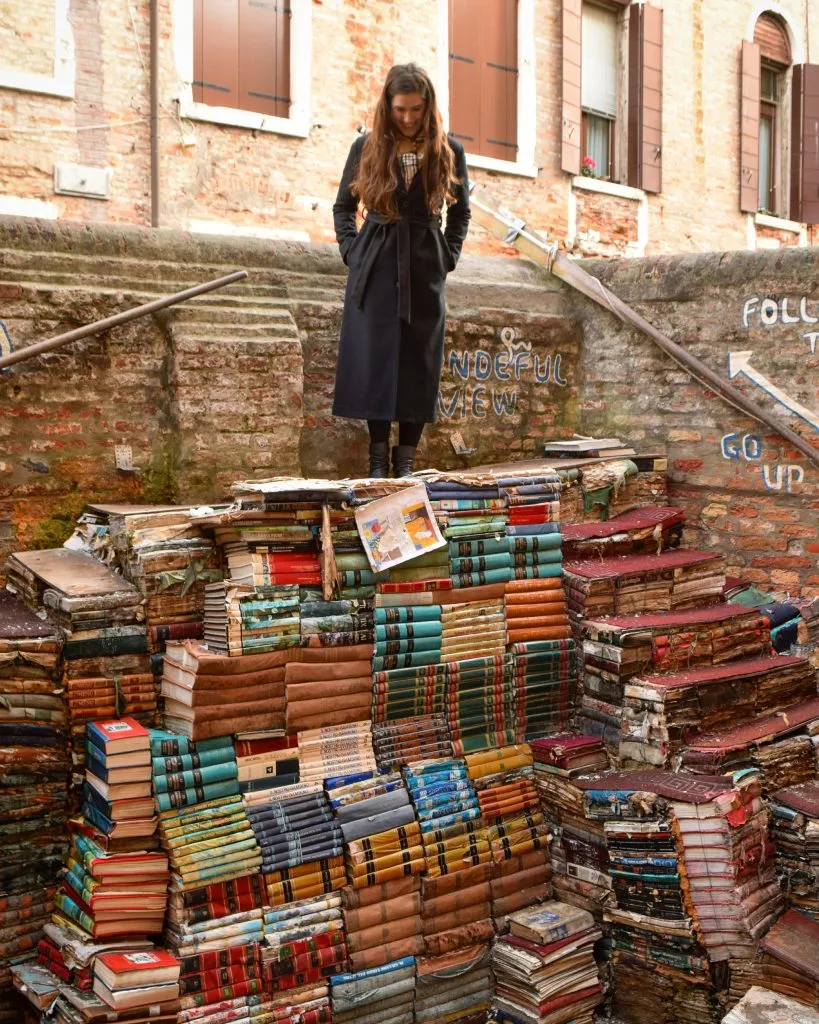 Selexyz Dominican Church, Maastricht, The Netherlands
From Bruna of Maps 'n Bags
Can you imagine what it is like to read a book in a former 13th-century Dominican church?
Created from the fusion between a few European bookshops, the Selexyz Dominicanen bookstore is one of the best things to do in Maastricht and it attracts many tourists and locals by its distinctive location.
The architecture of the place didn't change much with the passing of the years, so if you have been to other European churches and you know how gorgeous they are, you won't be disappointed here!
On the ground floor, there are plenty of aisles with some books as well as magazines, but most of the shelves are on a huge three-story black steel construction.
I highly recommend you to go upstairs because the view is just astonishing, almost divine.
Fancy a cup of coffee
? Then go to the church's altar and have a cup of coffee which many people claim to be the best in town.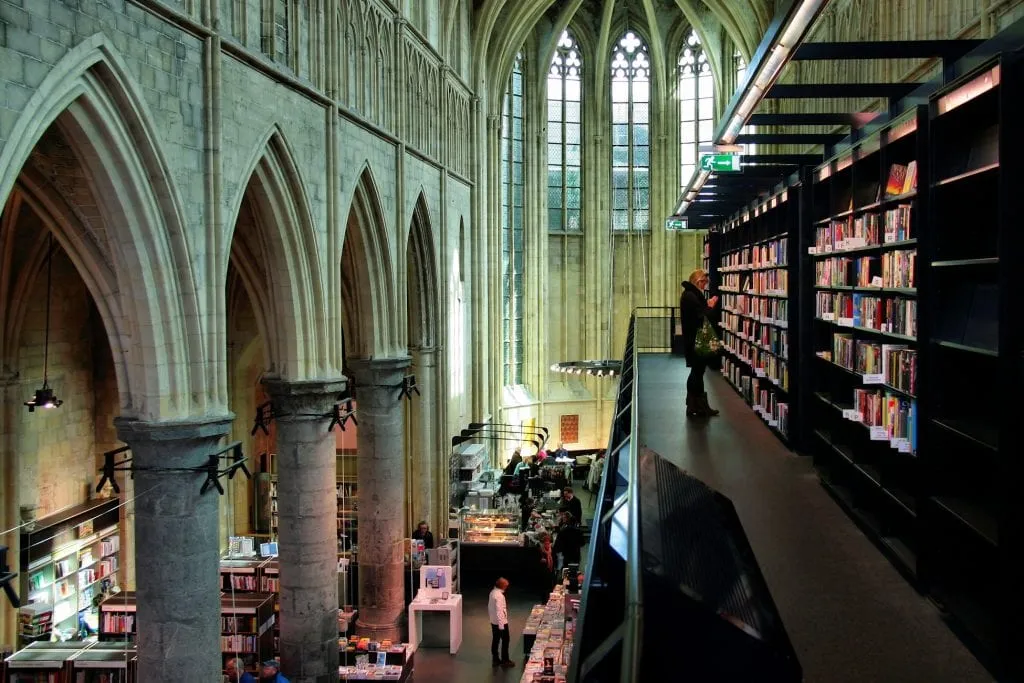 Cărturești Carusel, Bucharest, Romania
from Skye at Skye Travels
Cărturești Carusel is the pride and joy of the Old Town of Bucharest, Romania–though perhaps Old Town is a misnomer.
Although the oldest part of the city, it was dilapidated until just the past few years when efforts have been made to revitalize it.
One of the restorations is of an old bank building from the early 1900s. In 2015, it opened its doors as the gorgeous Carusel bookstore.
The bookstore doesn't follow any specific architectural design, yet the style is beautifully modern.
The six stories are arranged with natural lighting coming down from the skylights to the ground floor. Wavy banisters wrap along the wooden-floor aisles, held up by a dozen white columns.
Over 10,000 titles are available, both in Romanian and English.
In the basement, multimedia can be purchased, while much of the ground floor is somewhat of a souvenir shop, including a massive selection of teas and chocolates.
The fifth floor doesn't have any shelves. Instead, it doubles as a gallery for local artists.
Then on the top floor is a spacious café where readers and travelers can relax while enjoying a coffee and the view of the floors beneath.
Librairie Jousseaume, Paris, France
From Elisa of World in Paris
Everybody knows about Shakespeare & Company, one of the most Instagrammed spots in Paris.
But if you ask locals about the most beautiful independent bookstore, probably they will send you to Gallerie Vivienne.
Librairie Jousseaume (45 Gallerie Vivienne, Paris 2) is one of the most bookish spots in the City of Lights, a hidden gem located in one of the most beautiful covered passages in Paris.
This charming bookstore, classified as a historical monument, was founded in 1826 with the name of Librairie Petit-Siroux.
Today, this dream bookshop lost in time has over 40.000 references from XVIII, XIX, and XX centuries and it is the perfect place to browse for ancient and new books, rare books, and perhaps find a treasure.
The concept is simple: Mr. Jousseaume has everything or he can have everything.
Go to Librairie Jousseaume to get a glimpse of La Belle Epoque, of that charming Paris almost disappeared.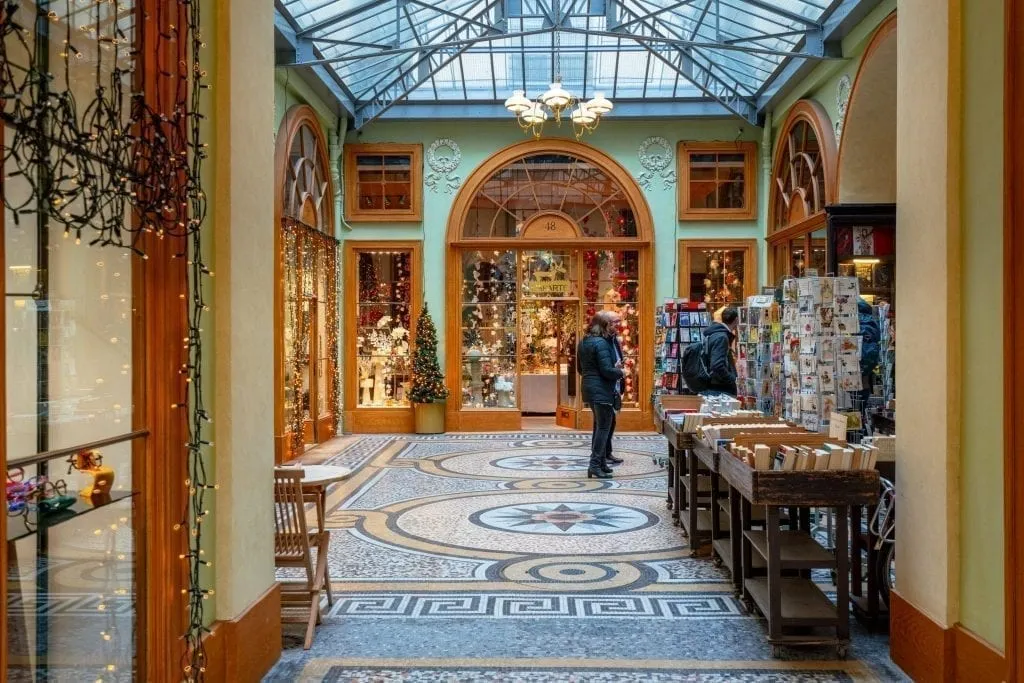 Booth Books, Hay-On-Wye, Wales, United Kingdom
From David of Delve Into Wales
Hay-on-Wye, a small Welsh country town on the English border, has long been the second-hand book capital of the world, and it also plays host to the annual Hay Literary Festival, one of the biggest of its kind in the world.
Booth Books was founded by Richard Booth, who kickstarted the whole Hay book-town phenomenon and once declared himself King of Hay.
It's one of the largest bookshops in the town, and in recent years has also opened a small café and cinema in the back of the shop.
It's housed in a vast old building in the center of the town, a labyrinth of shelves where I always linger for an hour or two whenever I pass through Hay, emerging eventually with at least half a dozen new volumes.
I'm sure I haven't read some I bought there a quarter of a century ago, but next time, I'll be back for more.
Open Book Market, Sofia, Bulgaria
From Stephanie and Allison of Sofia Adventures
Sofia's Open Book Market is a special place in the city, and I've never seen anything quite like it anywhere in the world.
The market is focused mainly on used books, with some new books and other tchotchkes thrown in.
While the majority of the volumes are in Bulgarian (and therefore have gorgeous Cyrillic covers), every seller has an English section.
Prices for most used books range from one to five leva (under three Euros!).
The pedestrian-friendly zone is lined with shops, and the vintage trams come through regularly, making this a fantastic place to people watch, photograph the trains, and browse for used English classics.
My favorite feature is the benches, which have decorative wood panels painted to look like books, celebrating the legacy and cultural impact of this small market.
It's a beautiful and quiet corner of the city, which is why it's one of my favorite Instagram spots in Sofia.
Stroll through, buy whatever catches your eye, and sit peacefully nearby reading your new find.
---