There's no doubt that beautiful, fashionable, romantic Paris is among the most photogenic cities in the entire world–and in today's modern age, that means that there's no shortage of instagrammable places in Paris!
Whether you're hunting down photo spots in Paris to snap perfect angles for Instagram, find beautiful views for their own sake, or simply want to use this list as a bit of a scavenger hunt to help you find some photogenic places in Paris you might have otherwise missed, we've rounded them all up here.
And don't worry–with a list this long, maps are a requirement! We've included a map of all these Paris Instagram spots at the bottom of this post, so you'll easily be able to find them.
From iconic highlights to offbeat options you may not have heard of, here are the most instagrammable places in Paris.
Some links in this post may be affiliate links. If you make a purchase through one of these links, we may earn a small commission at no extra cost to you. Please see our

disclosure policy

for more detail.
Most Instagrammable Places in Paris
Sacre Coeur
Stunning Sacre Coeur stands tall over Montmartre and is among the most popular Instagram spots in Paris–and luckily, it's pretty from just about any angle!
View of Sacre Coeur from the Carousel
Far below Sacre Coeur sits a beautiful carousel–and if you look up from there, you'll be able to capture both the colorful carousel and stately Sacre Coeur in one beautiful shot.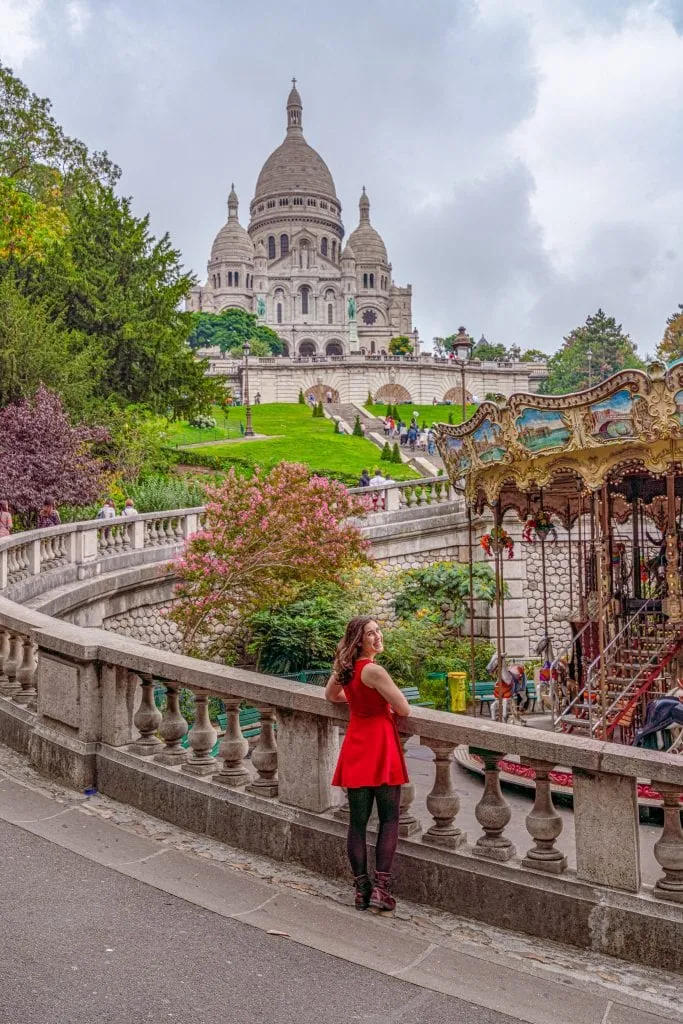 View of Paris from Sacre Coeur
Keeping Sacre Coeur at your back while standing in front of it is an incredible view of its own: the view of Paris from the steps of Sacre Coeur is absolutely sublime.
If you want to see a similar view from a higher vantage point, climbing to the top of the basilica is also a great option.
Sinking House Near Sacre Coeur
As you climb down the hill in front of Sacre Coeur, look to the right. Here you'll see a brick building jutting out from the green hill.
A twist of the camera gives this popular optical illusion: the sinking house of Montmartre.
Rue du Chevalier de la Barre
This pretty street in Montmartre is full of souvenir shops and small restaurants–but it dead-ends into Sacre Coeur, which makes it incredibly photogenic!
La Maison Rose
This pretty, pink building nestled in Montmartre is among the most #instagramfamous places in Paris, but it has been famous for far longer: Picasso himself used to frequent this cafe, along with many other writers and artists.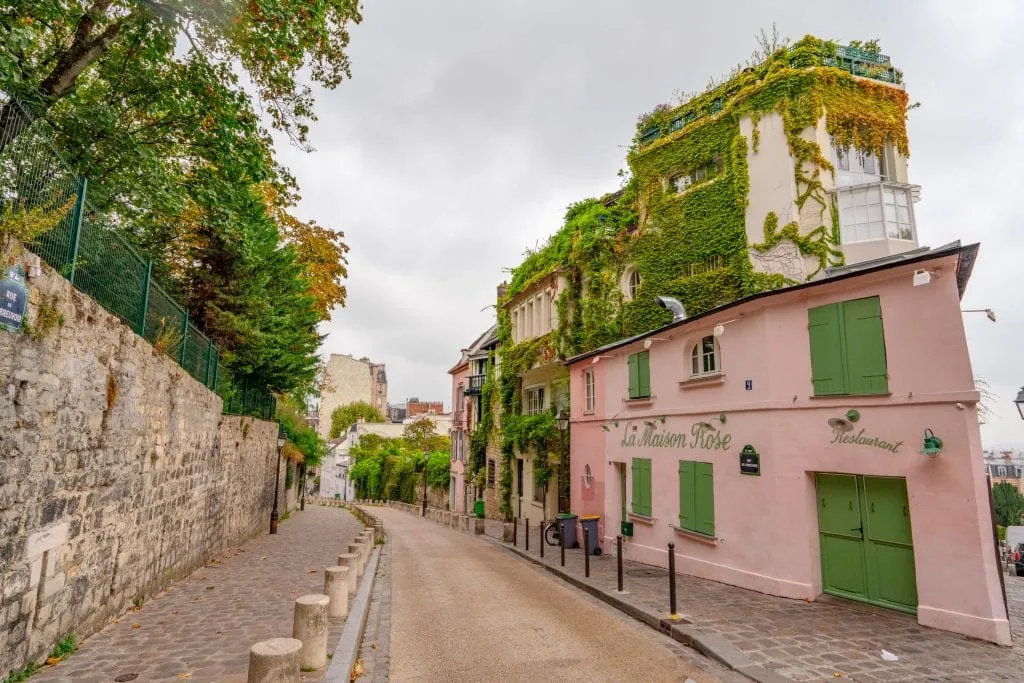 Rue de l'Abreuvoir
La Maison Rose may be one of the most popular photo spots in Paris, but honestly, I prefer the street that is right next door: walk down Rue de l'Abreuvoir after snapping your shots of La Maison Rose, and you'll be rewarded with this picture-perfect view.
[instagram url=https://www.instagram.com/p/B3AFGW1CvCr/]
Galeries Lafayette
The famous (and gigantic) Galeries Lafayette department store is well worth photographing in Paris, especially in these two spots.
Dome Interior
The interior of the Galeries Lafayette dome (the cosmetics department is located on the ground floor underneath it if you're having trouble locating it) is absolutely stunning, but never more so than at Christmas, when the decor is truly magnificent.
On our most recent visit to the store, we were surprised to see that a skybridge has been built that allows visitors to stroll to the center of the dome for free.
I'll be honest, it tested my fear of heights a bit, but the photos are lovely!
Rooftop View
The rooftop of the Galeries Lafayette is easily one of the most instagrammable places in Paris, offering gorgeous views of the city.
Most notably, the Palais Garnier is right in front of the view, and the Eiffel Tower is clearly visible to one side.
The rooftop is free to visit–another point in its favor–though there is a cafe if you'd like to grab a cup of coffee while there.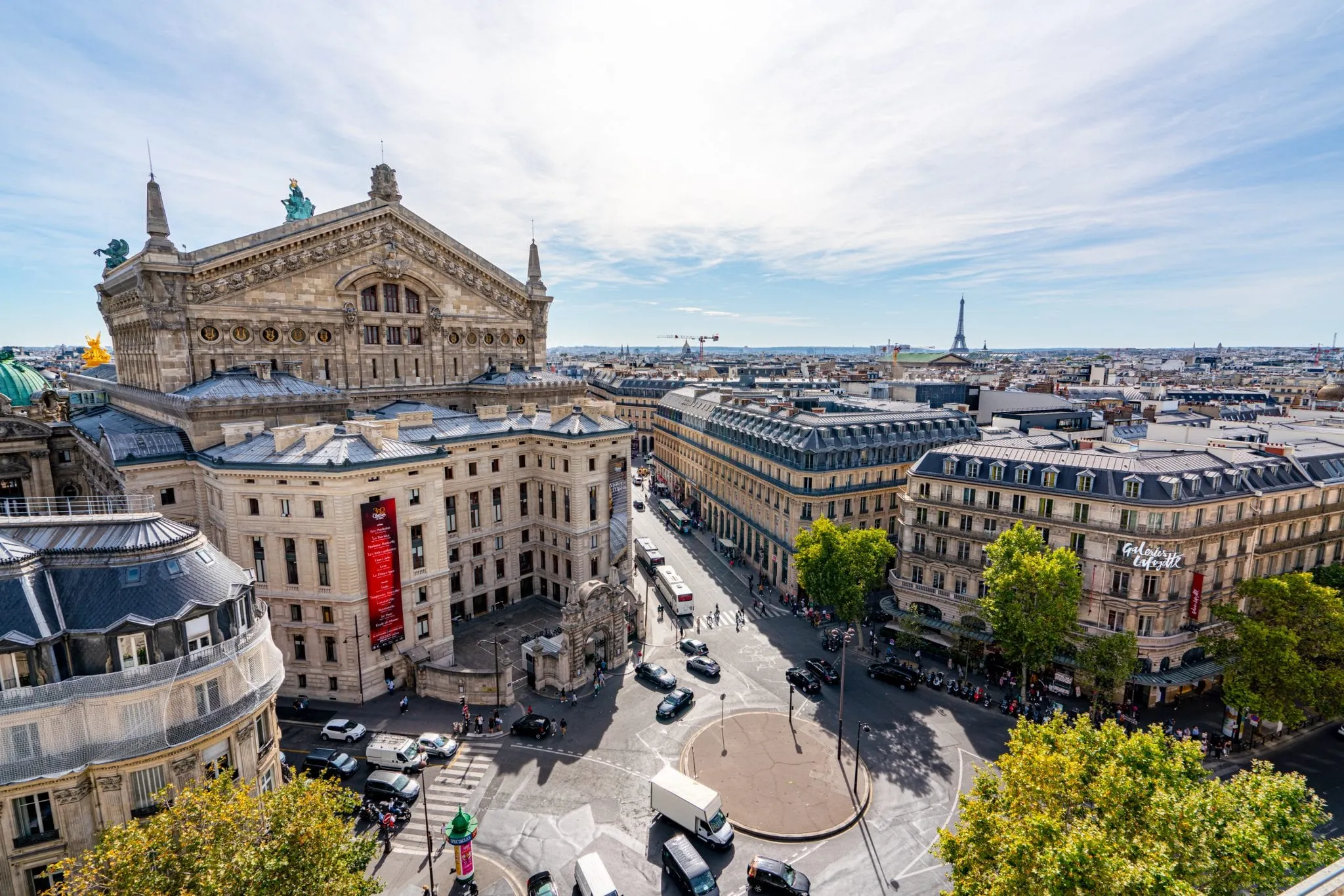 Notre Dame
After the tragic April 2019 fire, most typical views of Notre Dame, including from the roof and of the sides and rear of the building, are out of commission for the foreseeable future.
However, as of September 2019, there is one place to snap semi-normal-looking photos of Notre Dame if you just can't leave Paris without one: from the corner of Rue de la Cite and Quai de Montebello, near the Pont de Coeurs, you can photograph the tops of the towers and some of the front of the cathedral.
At this time, the area in front of the cathedral is completely closed off.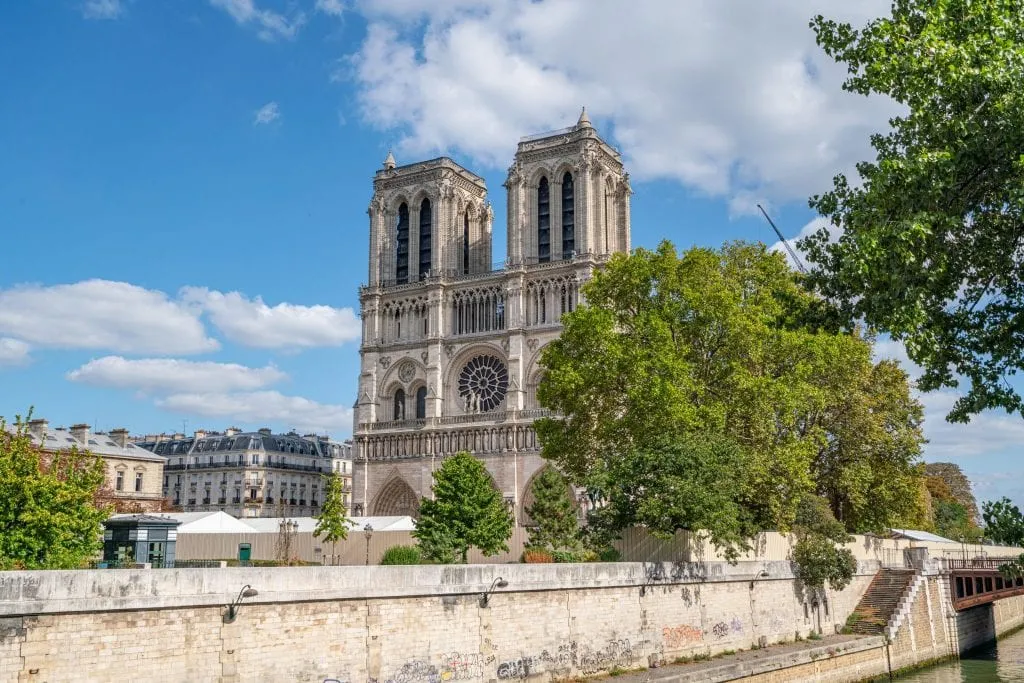 Trocadero
Obviously, any guide to the most instagrammable spots in Paris has to include this: beautiful Trocadero, which overlooks the Eiffel Tower, is among the most famous photo spots on the planet!
[instagram url=https://www.instagram.com/p/BrqFhB7ghrQ/]
Trocadero Carousel
Everyone photographs the balcony and staircase when they visit Trocadero–and while both are lovely, be sure to head down to the carousel for a different view of the Eiffel Tower as well.
Shakespeare & Company
This famous English-language bookstore is insanely photogenic–but you'll have to content yourself with photos of the charming exterior only, because no photos are allowed inside!

The outside still allows plenty of lovely photo opportunities, though, and the interior is well worth experiencing with your camera put away.
Abbey Bookshop
Unlike Shakespeare & Company, the delightful Abbey Bookshop does allow interior photos–and while it's worth snapping some, it's actually the lovely exterior that's most photogenic here!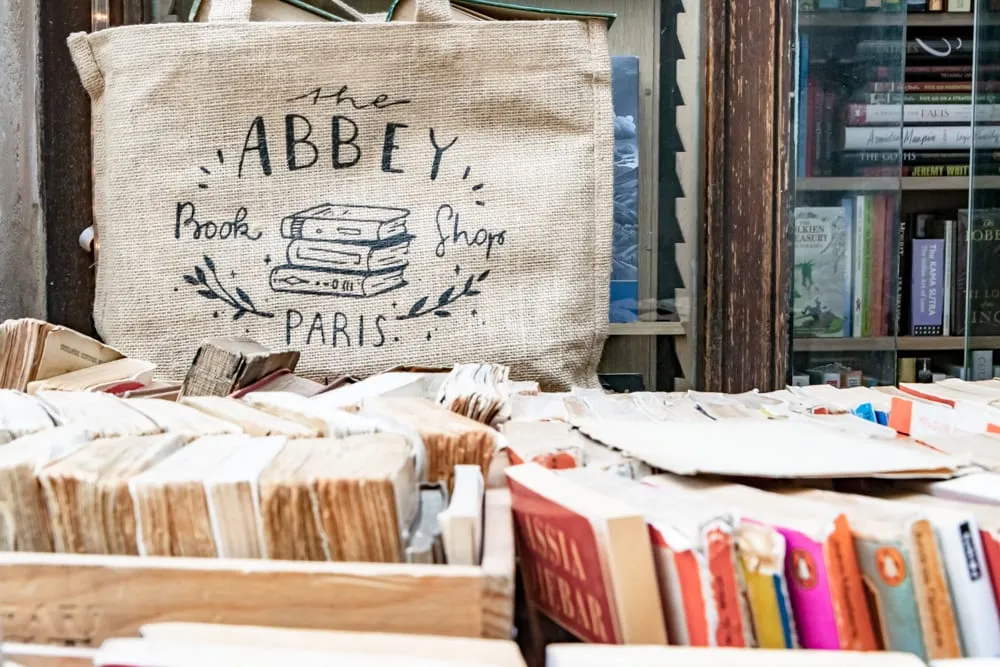 Odette Cafe
The gorgeous Odette Cafe is located at the dead-end of a cobblestone street–what more could you ask for when looking for photo spots in Paris?
Au Vieux Paris d'Arcole
Covered in wisteria in the spring and decorated beautifully for Christmas in the winter, the incredibly photogenic Au Vieux Paris d'Arcole is easily one of the most photogenic cafes in Paris!
For the best shots, arrive before it opens–but since it doesn't open until 12pm each day, you'll have plenty of time to reach it in the off-hours when searching for the best photo spots in Paris.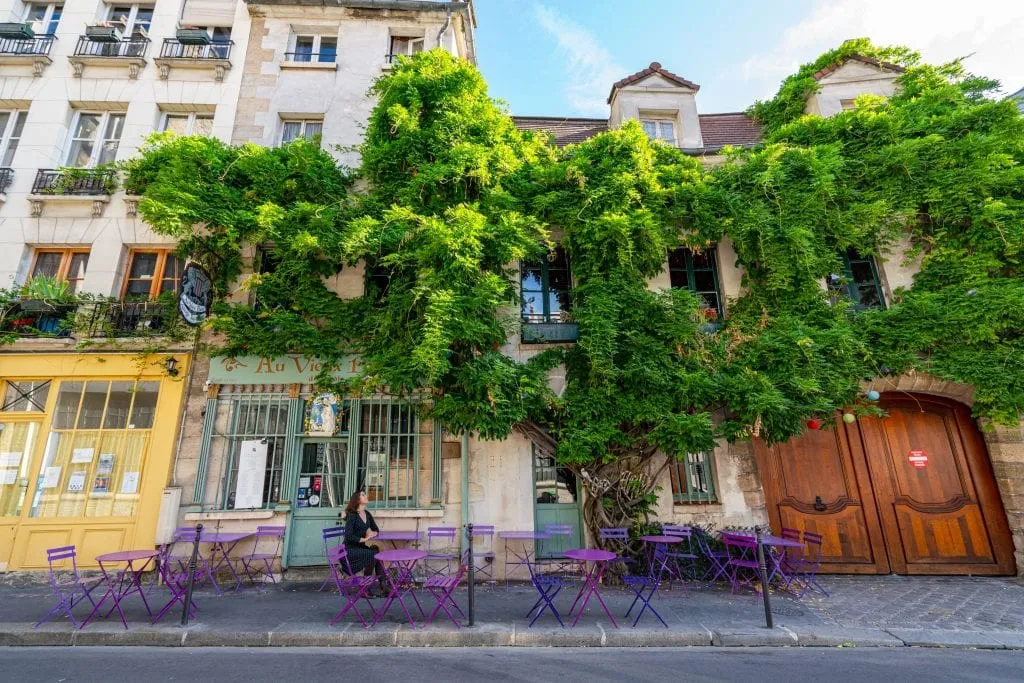 Le Consulat Cafe
Surrounded on either side by winding cobblestone streets and decorated in vibrant color, Le Consulat deserves a place on any list of the most instagrammable places in Paris–and it's also an excellent place to rest your feet if you're worn out from exploring all the cool things to do in Montmartre.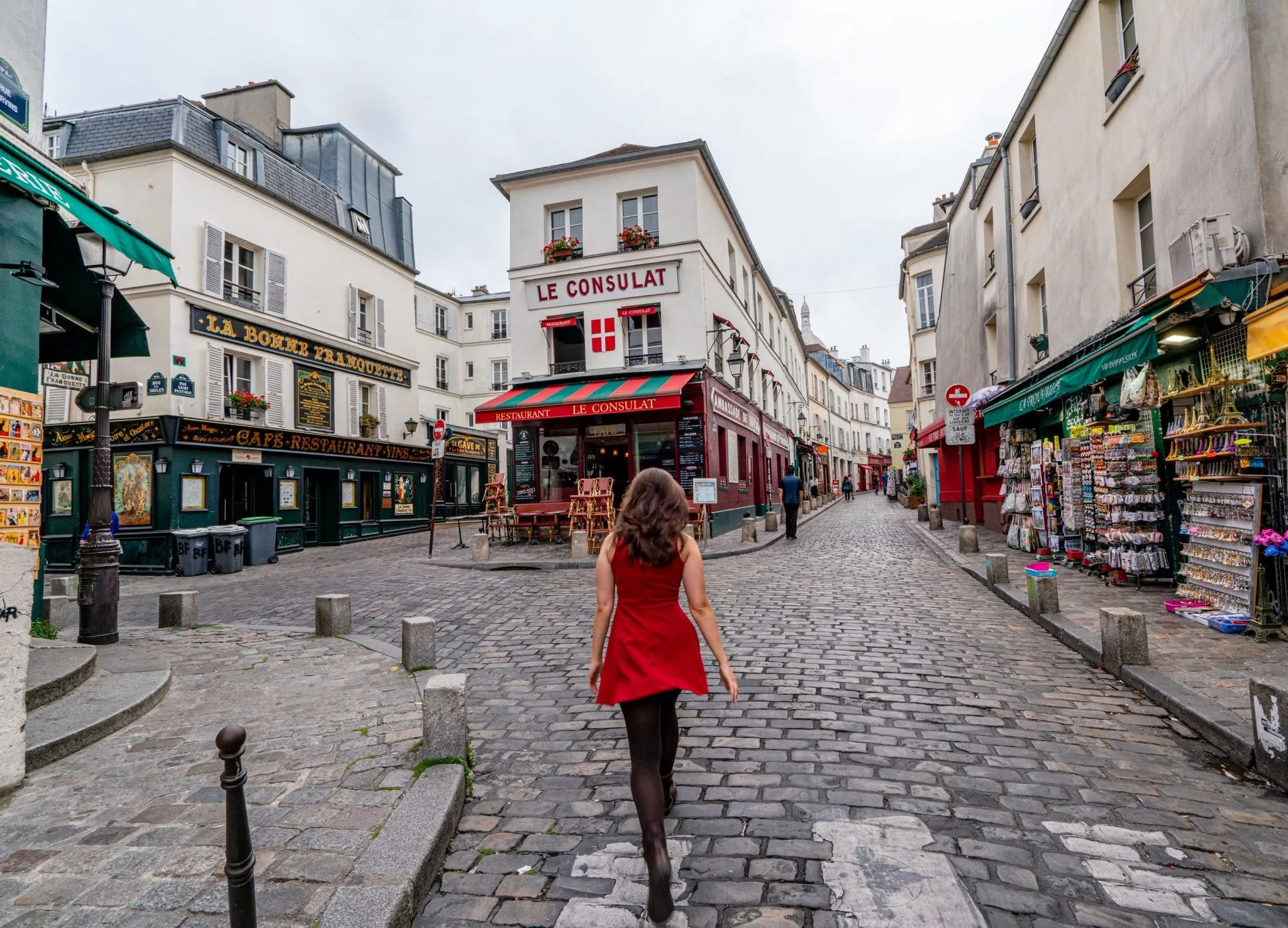 Sainte-Chapelle
Built-in the 13th century to house Christian relics, Sainte-Chapelle is (in my totally biased opinion) the prettiest house of worship in Paris and also easily one of the prettiest in the world.
Just look at that stained glass–and then marvel at the fact that it is around 70% original.
Buy your skip-the-line ticket for Sainte-Chapelle today!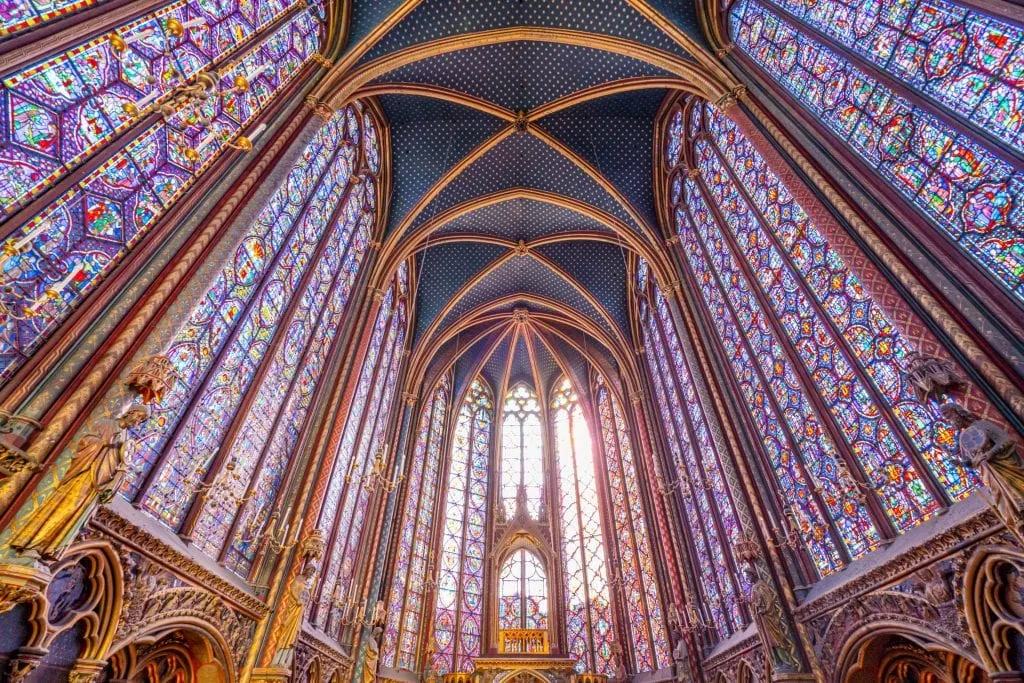 Rue de l'Universite
Lined with beautiful, classically Parisian buildings–think lovely stone and wrought-iron balconies–and dead-ending abruptly into the Eiffel Tower, it's hard to imagine a most instagrammable spot in Paris than the end of Rue de l'Universite.
The street is quite long, so if you're looking for the best spot for photos, we recommend putting your directions on for 223 Rue de l'Universite, which will put you in roughly the right place.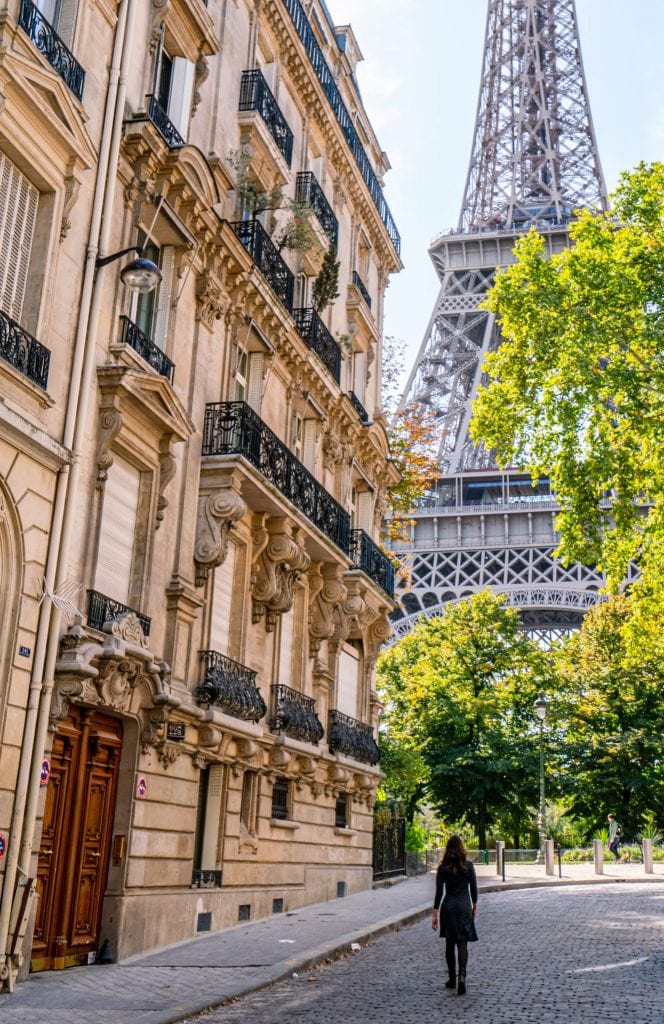 Avenue Rapp
Wide and gorgeous, Avenue Rapp is an excellent place for photography in Paris–but there are a couple of spots in particular to keep an eye out for.
Eiffel Tower Views
As you look down side streets when strolling down Avenue Rapp, you'll notice an unmistakable structure at the end of many of them: the Eiffel Tower!
If you want a specific spot to search for, turn off Avenue Rapp onto Rue du General Camou.
29 Avenue Rapp
Wild, intricate, and full of symbolism (check out the depictions of Adam and Eve on either corner above the door), 29 Avenue Rapp looks more like it belongs in Barcelona than Paris–and it's definitely an excellent place for Paris photography!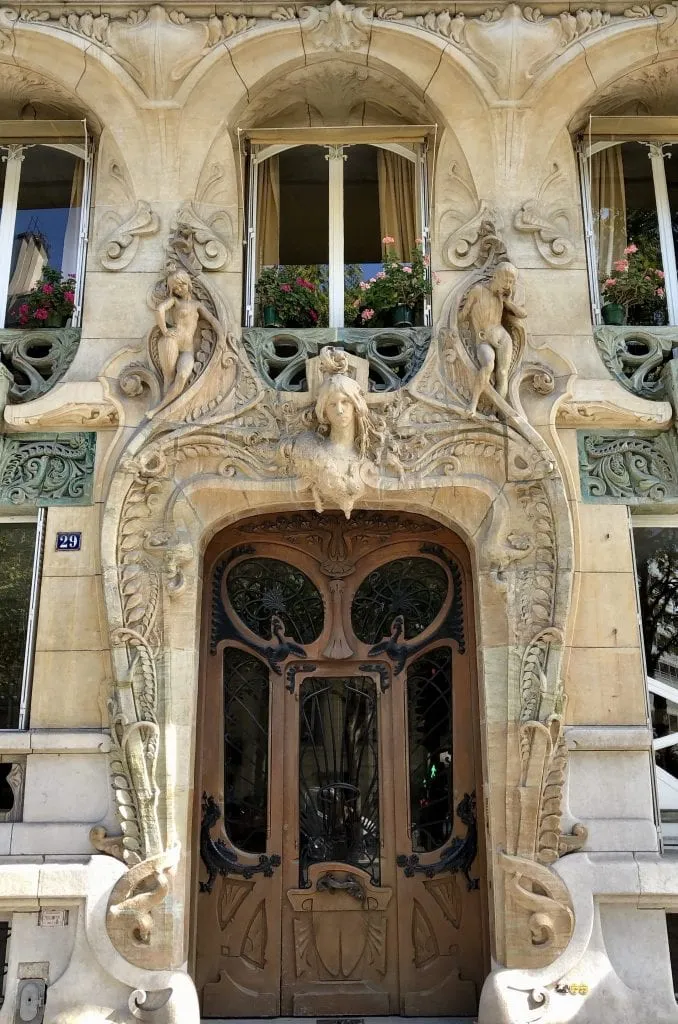 Palais Garnier
The Palais Garnier, with its gilded rooms and magnificent architecture, is absolutely among our favorite photo spots in Paris–here's where to find some of its best angles.
Hall of Mirrors
Eerily reminiscent of the one at Versailles, the only appropriate word to describe the Hall of Mirrors in the Palais Garnier is opulent.
Balcony
Step past the Hall of Mirrors and onto the wide balcony of the Palais Garnier, and you'll find plenty of photo opportunities–both of the view looking out and of the area itself.
Staircase
The stunning, iconic staircase of the Palais Garnier is even lovelier in person.
If you don't head there right at opening (or right before closing) it will be particularly difficult to photograph without crowds of people–but if you can time it right, it's worth the wait.
Book tickets to visit the Palais Garnier today!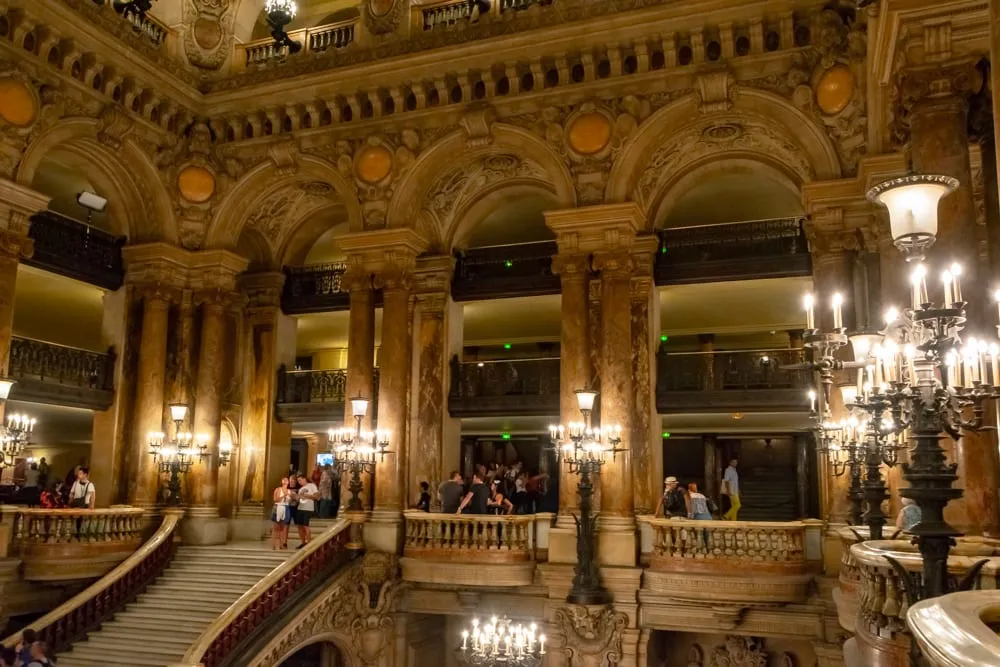 Bouquinistes
The beautiful book (and souvenir) sellers set up along the banks of the Seine, especially near Il de la Cite, are easily among the most photogenic spots in Paris–just be cautious and keep an eye out for "no photo" signs, as not all the sellers like their wares to be photographed.
Sleeping Beauty's Castle at Disneyland Paris
Want to seek out a completely different kind of Paris Instagram photo? Head to Disneyland Paris for some classic theme park shots, and the chance to photograph what just may be the prettiest Disney park castle of them all.
Shop Disneyland Paris tickets today!
Luxembourg Gardens
Inspired by the also-stunning Boboli Gardens in Florence, there's no doubt that the Luxembourg Gardens deserve to be counted among the most instagrammable places in Paris year-round–but summer is when they truly shine.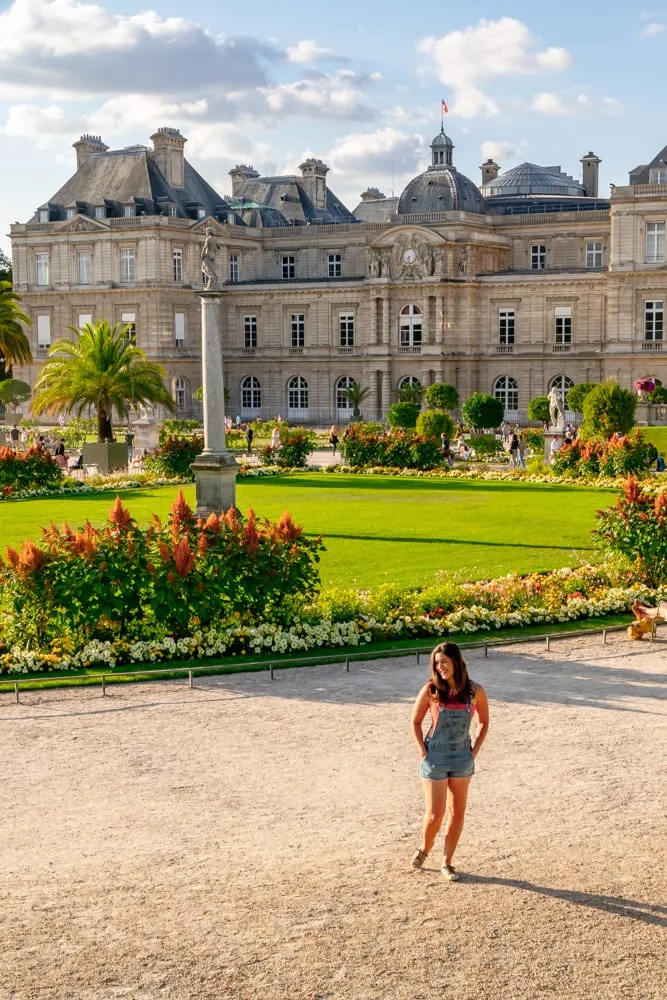 Arc de Triomphe
The Arc de Triomphe, standing proud in the center of the Champs-Elysees, is absolutely one of the most instagrammable places in Paris.
Here are a few of its best angles!
Center of Champs-Elysees
You can (safely) cross into the center of the street to photograph the Arc de Triomphe dead-on–be cautious, though, as there is traffic nearby!
Be sure to turn around and photograph the famous avenue, as well!
Edge of Champs-Elysees
From the edge of the Champs-Elysees, you can capture beautiful angled photos of the Arc de Triomphe.
Directly next to the Arc de Triomphe
If you walk directly next to (and under) the Arc de Triomphe, you'll not only be able to photograph its beautiful underside, but also the Champs-Elysees.
Top of the Arc de Triomphe
Obviously, this is the ultimate IG spot for the Arc de Triomphe: the view from the top of the arch is incredibly beautiful, and arguably the best view in Paris!
Waiting times to visit the roof of the Arc de Triomphe can get extremely long–save money by pre-booking skip-the-line ticketstoday!
Rue Cremieux
Want to feel like you've been to Notting Hill without leaving Paris?
Head to the charming Rue Cremieux to photograph some of the most colorful houses in Paris!
Colonnes de Buren (Le Deux Plateaux)
The Colonnes de Buren may be one of the most popular Instagram spots in Paris these days, but in the mid-1980s when they were installed, their modern vibe and black-and-white stripes were considered jarring and not at all suitable to their home in the inner courtyard of the Palais Royale (much like the pyramids in front of the Louvre, and for the matter, the Eiffel Tower itself).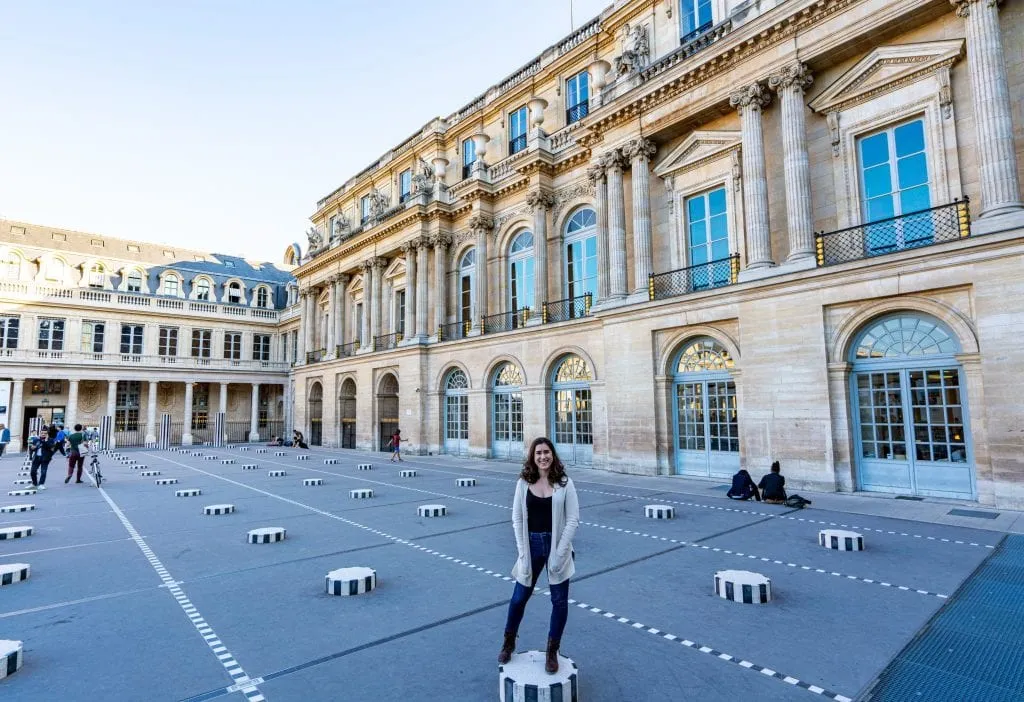 Metro Signs of Paris
Paris' metro signs are incredibly iconic, and there's no shortage of opportunities around the city to photograph them.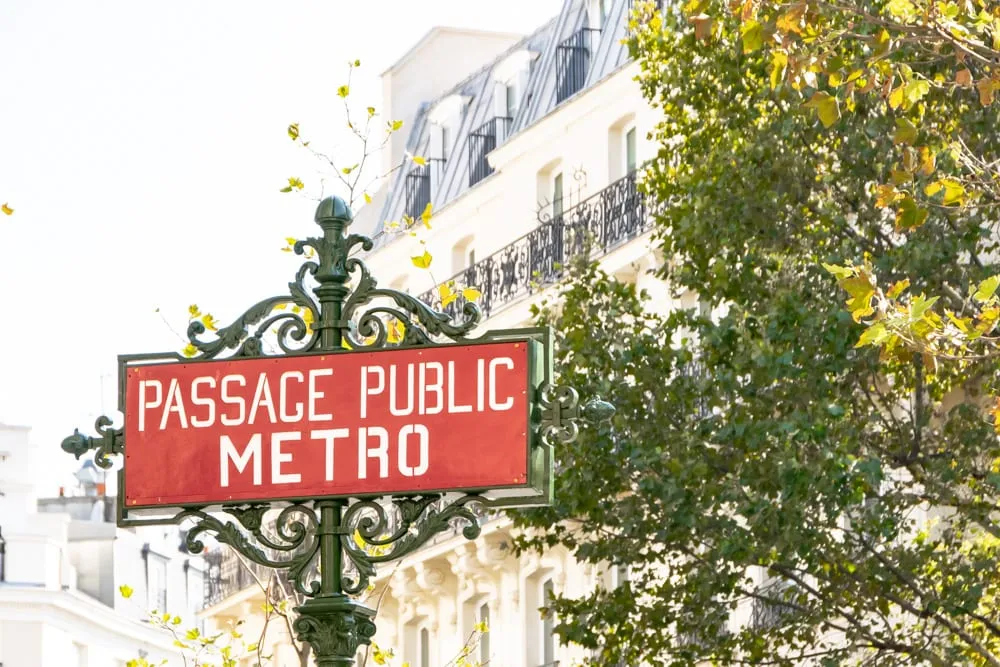 Place du Tertre
This square in Montmartre is where artists traditionally congregate, creating and selling everything from intricate oil paintings to touristy caricatures–and the constant ebb and flow of life there makes the square one of the best photo spots in Paris.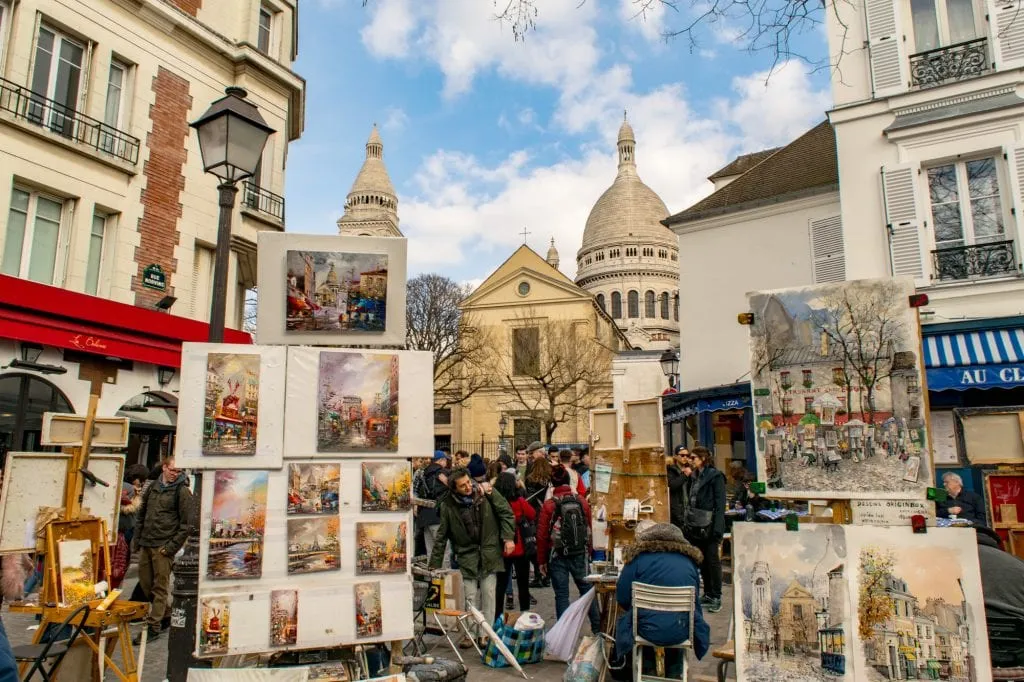 Moulin Rouge
Touristy, colorful, and easily recognizable: there's nowhere quite like the famous Moulin Rouge windmill, and it's easy to snap a photo of the front while in Paris.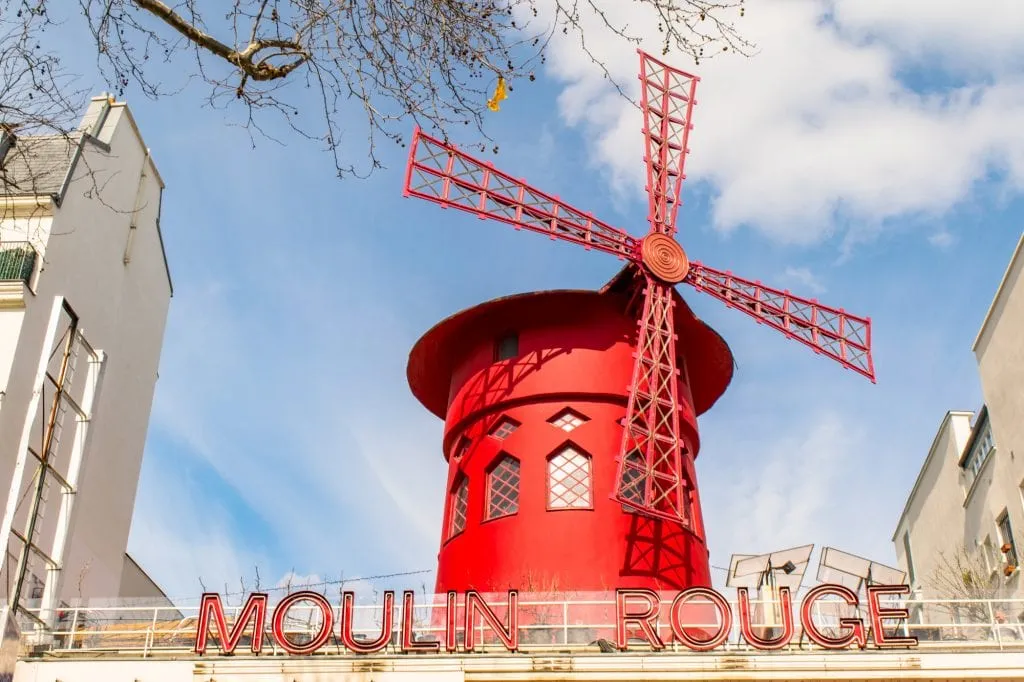 Montparnasse Tower
Tall and imposing, Montparnasse Tower itself is arguably a blight on the skyline of Paris–but the views from it are pretty lovely.
Get your Montparnasse Tower tickets today!
Banks of the Seine
Strolling along the Banks of the Seine and across its many bridges provides ample opportunity for photography in Paris–if you want a tried-and-true spot, try the views from the Pont des Arts!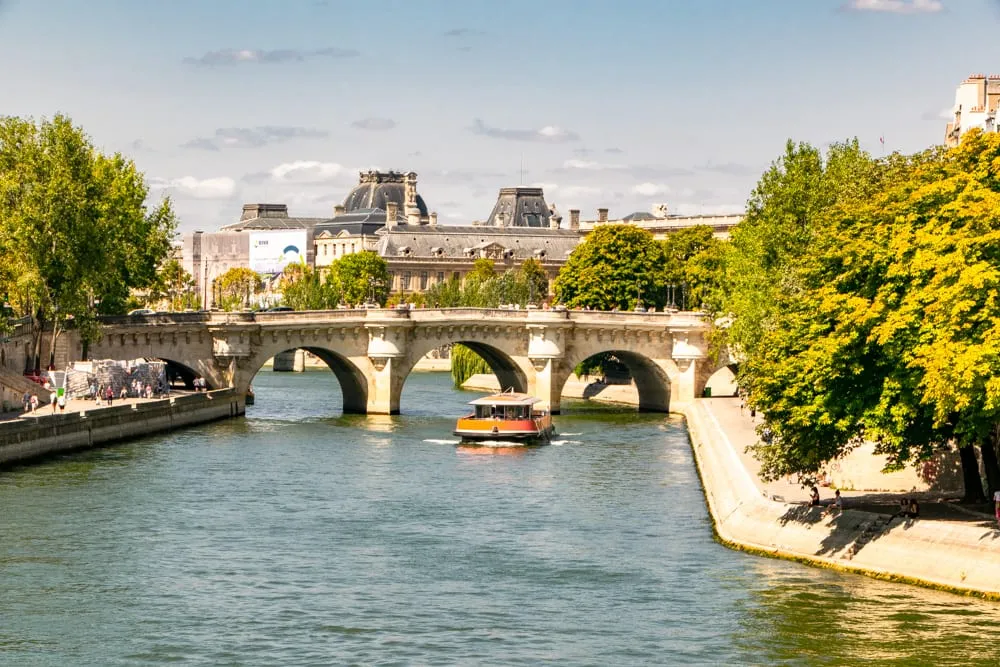 Louvre Pyramids
The sparkling glass pyramids of the Louvre are iconic (though some Parisians still aren't fond of that idea–they weren't popular when they were installed in the 1980s).
Don't miss a chance to snap photos here, and arrive early if you can–this is among the most popular photo spots in Paris, and it gets very crowded.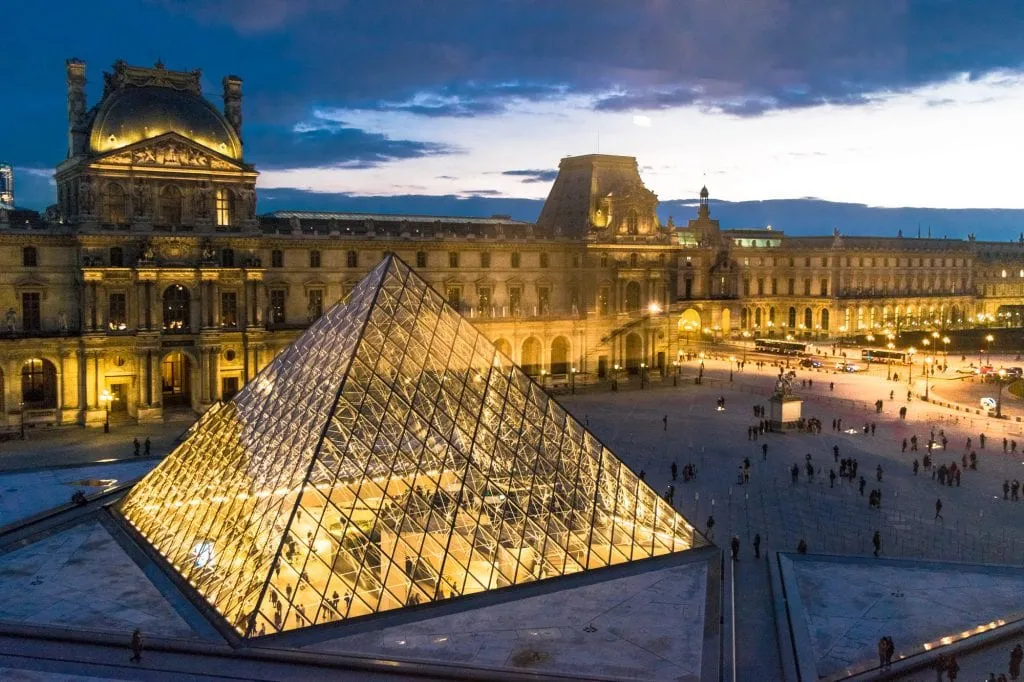 Musee d'Orsay
Built into what used to be the Gare d'Orsay train station, the art in the Musee d'Orsay is truly phenomenal–but the building is pretty amazing too.
If you want to see some of the prettiest places to take photos in Paris, head to these two spots.
Clocks
Located on the 5th floor of the museum, the Musee d'Orsay clocks are one of the most well-known instagrammable places in Paris.
Don't forget to peek through the clocks and admire their capabilities as windows, as well–you can see Sacre Coeur, the Seine, and plenty more from the clocks.
Museum Interior
The balconies overlooking the entirety of the central alcove of the museum are easy to find, and it's absolutely worth it to snap photos of the gorgeous interior.
Grab your skip-the-line tickets for the Musee d'Orsay today!
Pont Alexander III
The opulent, beautiful Pont Alexander III is considered by many to be the most beautiful bridge in the city–and it's definitely amazing place to take photos in Paris.
Doors of the Petit Palais
The golden doors of the Petit Palais are one of the most instagrammable places in Paris–but to snap photos of them closed (and therefore at their most photogenic), be sure to arrive before the museum opens at 10am or on a Monday, when it's closed all day.
On the other hand, the interior of the building contains the Museum of Fine Arts and it is completely free to visit–so if you stop by during business hours, you'll have a chance to enjoy the museum.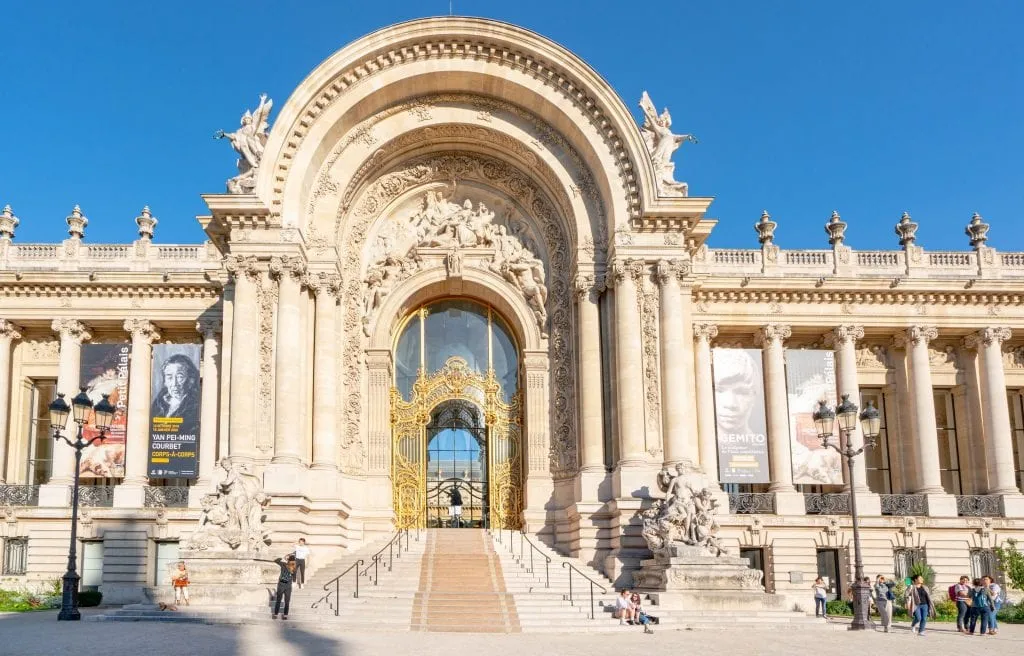 Hotel de Ville
Intricately beautiful and centrally located, the Hotel de Ville makes the perfect backdrop when looking for beautiful photography spots in Paris!
However, don't be fooled by the name–the Hotel de Ville isn't somewhere you can check into for a good night's rest. It's actually the city administration building of Paris!
Au Canon des Invalides Brasserie (Rue Saint-Dominique)
You can never have too many Eiffel Tower views when looking for the most instagrammable places in Paris–and this is another great one!
Corner of Avenue Silvestre de Sacy & Avenue Elisee Reclus
We happened upon this corner accidentally when strolling near the Eiffel Tower–but it is too insanely photogenic not to mention! Look at those Eiffel Tower views.
Map of the Best Photo Spots in Paris
Take This Map With You! Click each highlight to pull up the name of the destination. To save this map to "Your Places" on Google Maps, click the star to the right of the title. You'll then be able to find it under the Maps tab of your Google Maps account! To open the map in a new window, click the button on the top right of the map.
Tips for Visiting the Most Instagrammable Places in Paris
Be respectful.
I always feel like it's a bit of overkill to include these sections on photo guides to different cities… but I've seen plenty of misbehaving photographers when traveling, and ultimately, we can all always use a reminder to play nice.
Paris is very, very used to photographers and being photographed, but being respectful when snapping away is still extremely important.
Always keep in mind respect for the city, its citizens, and its other visitors when photographing the most instagrammable places in Paris. Don't climb on or touch anything (buildings, balconies, you name it) that should not be climbed on or touched.
Don't trespass–the homeowners on Rue Cremieux do not want to wake up to Instagrammers on their porches.
Show respect for your fellow visitors and photographers, too–be polite, and don't hog spots if you see other people waiting.
In other words, just be a reasonable person. It's not that hard, and we'll all be better off for it.
Get acquainted with the metro.
Paris is an enormous city, and it goes without saying that many of these Paris Instagram spots are not located anywhere near each other, though some do come in clusters (those in Montmartre, those near the Eiffel Tower, those on and near Il de la Cite, etc).
The metro is the easiest way to get around Paris, and will be a huge help in finding many of these places!
Be prepared to get up early.
Especially at the more popular spots, being early will pay off in a big way: not only will you be able to photograph Paris without the crowds, the light will be more likely to work in your favor.
We recommend getting up at sunrise to visit some of these instagrammable places in Paris at least once!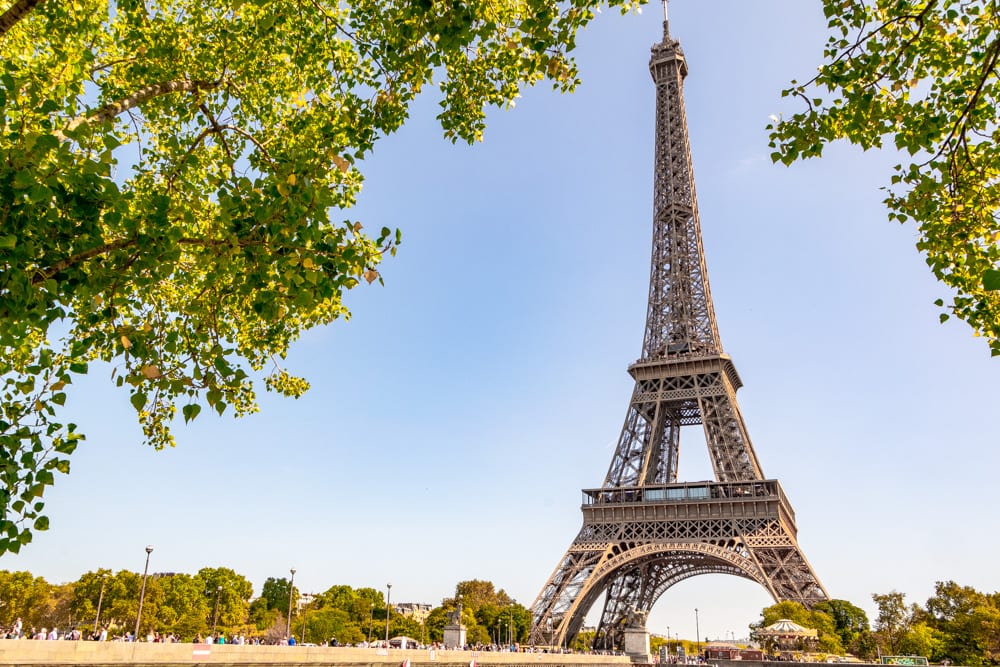 Don't be afraid to get creative.
Paris is ridiculously photogenic, and no list of photo spots in Paris could hope to encompass all the excellent places to snap photos here.
While some spots (looking at you, Trocadero) can get crowded, it's incredibly easy to find unique angles to enjoy both Paris' famous and less famous landmarks–half the fun of photographing Paris is the excuse to explore so much of it!
Paris is a fun place to photograph with props (and they make great souvenirs).
Berets, baguettes, macarons, peonies–if you like to mix things up by including props in your photos, Paris is the perfect place to do so–and many of them make for excellent souvenirs (or snacks).
---