I've lost track of how many times we've visited Libreria Acqua Alta in Venice.
And the truth is, this is a less a testament to how much time we've spent in Venice than the unreasonably large amount of time we dedicate to pretty bookstores when traveling–particularly ones as remarkable as Venice's Libreria Acqua Alta.
There was the first time we visited, when we found the shop accidentally when wandering around Venice's tiny side streets and I delighted at realizing I knew exactly what this was, because I had heard of it before.
There was the second time, the next morning, when we returned right at opening to take photos when the crowds would hopefully be lighter than the previous afternoon (and we were totally successful).
Some links in this post may be affiliate links. If you make a purchase through one of these links, we may earn a small commission at no extra cost to you. Please see our

disclosure policy

for more detail.
Then there were the three or four times after that, which is officially where I lose track of the count. … And then the times we visited Libreria Acqua Alta during our next trip to Venice.
Basically, this bookstore is amazing and if you're a fellow bibliophile, you need to visit.
Here's what to know before you go.
What does Libreria Acqua Alta mean in English?
Libreria Acqua Alta literally translates to "high water bookshop".
"Acqua alta" means "high water" in Italian, and in Venice, it is the name not only of this bookstore but of the flooding that Venice experiences each year.
Why is Libreria Acqua Alta famous?
Libreria Acqua Alta is famous for, essentially, two things: its unique method of storing books, and its beautiful decor.
As the name suggests, a sizable portion of the efforts that go into running Libreria Acqua Alta are dedicated to making sure that the inventory doesn't get ruined when–and it is when not if–the bookstore is flooded.
Running a bookshop in a city famous for its floods (and not only that, but a bookshop that literally opens right onto a canal) is obviously an exercise in risk management.
The books at Libreria Acqua Alta are stored in bathtubs, rowboats, canoes, and most famously, a gondola, in addition to high shelves.
This gives the interior of the store a delightfully chaotic feel, like you're wandering around inside a treasure chest of books.
Libreria Acqua Alta, partially because of this chaotic feel and partially because of further efforts to make it unique (like the literal staircase of books–more on that below), is also known for being extremely photogenic and #instagrammable.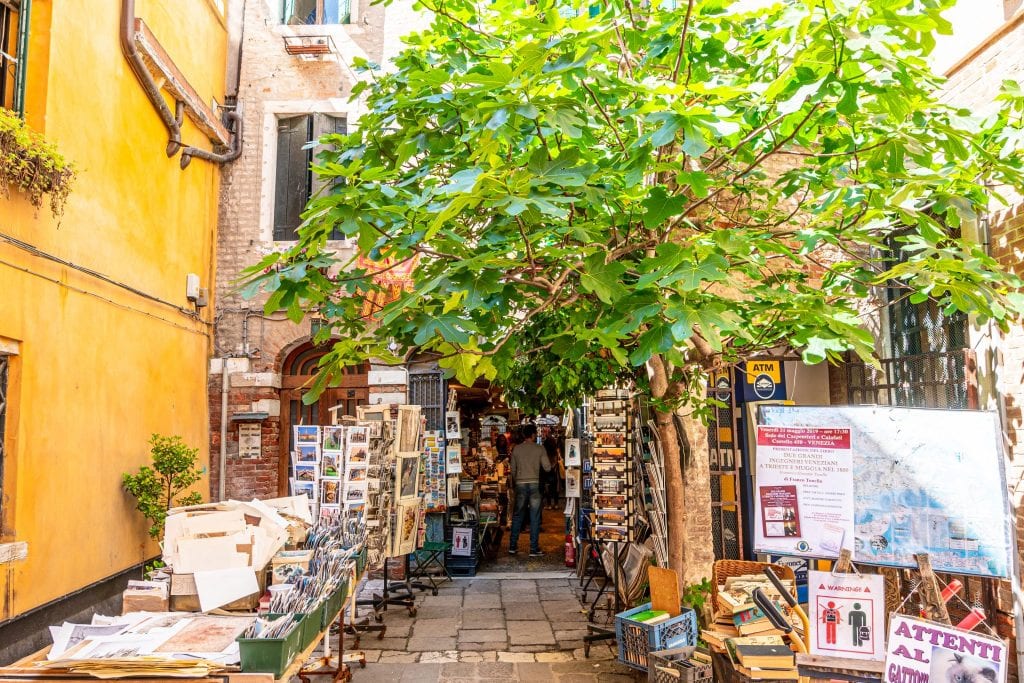 Things to Do in Libreria Acqua Alta
Buy books, obviously.
As much fun as it is to wander through and photograph Libreria Acqua Alta, that doesn't pay the bills for this independent bookshop!
If you come to explore and take photos, consider picking up one of the many, many books available as well.
The inventory is a mix of new and used, and while most of the books are in Italian, English and other languages are available as well–and, of course, Libreria Acqua Alta has a sizable collection of books about Venice available.
If you don't have the money or space for a book, you could also pick up one of the many vintage postcards for sale in the shop, which are inexpensive and entirely unique souvenirs from Venice.
Climb the staircase of books.
On Libreria Acqua Alta's back porch sits its most famous photo spot: a staircase made of damaged and/or no longer usable books (think outdated encyclopedias).
Climb the staircase, and you'll be rewarded with a gorgeous view over one of Venice's canals, and if you're lucky, a passing gondola or two!
Check out the fire exit.
If you head to Libreria Acqua Alta's "fire exit" you'll come right up to a canal–like, don't-watch-where-you're-going-and-you'll-end-up-with-wet-feet right up to a canal.
There's a cozy chair on the porch which is perfect for photos, and sometimes, if you're lucky, a gondola parked right outside.
On our first visit to Libreria Acqua Alta, Venice was experiencing a minor acqua alta–look closely at the legs of the chair in the below photo, and you'll see where they are submerged in a bit of water.
When we re-visited outside of acqua alta season, the area was completely dry and we could step onto the porch.
Admire the cats.
Libreria Acqua Alta is home to plenty of fluffy cats (once strays, now adopted bookstore cats), which animal lovers like us consider a huge bonus to visiting the store.
You'll find cats napping on piles of books, staring you down at the register, sunning themselves out front, and just about anywhere else they want to go.
Investigate every nook and cranny.
Libreria Acqua Alta is bigger than it looks.
Don't miss traveling down each one of the "hallways", the back porch, the fire exit, or the side entrance, which is home to another wall built of books–you never know where you'll find inspirational books or funny travel reads to peruse.
We actually came through the side entrance on our first visit to Libreria Acqua Alta, and personally, I like it even more than coming through the front!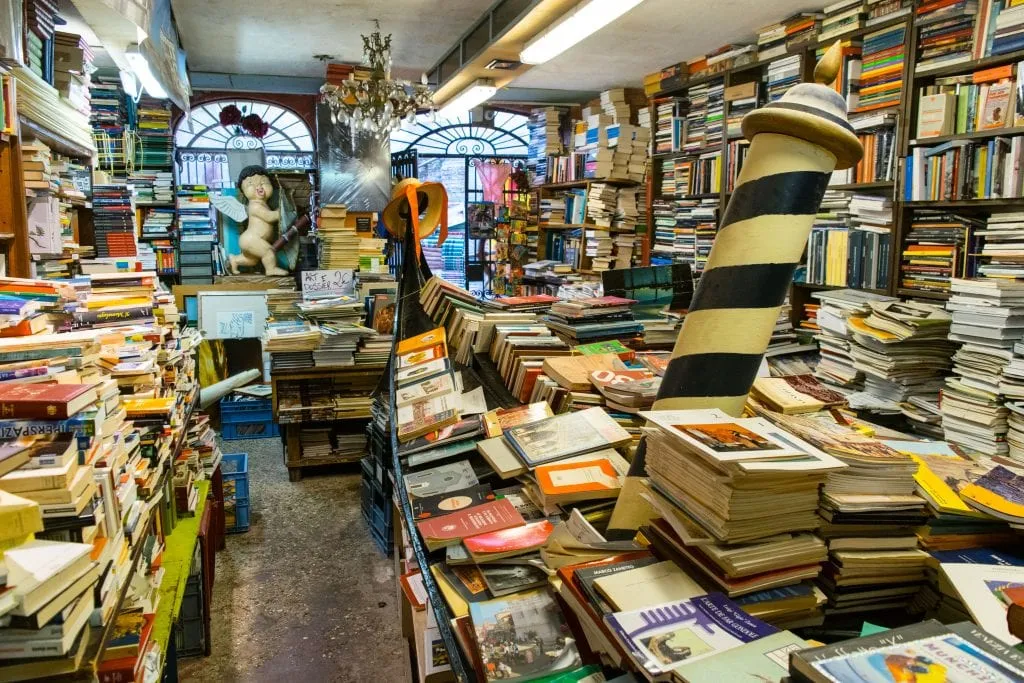 What to Know Before Visiting Libreria Acqua Alta in Venice
Current hours of operation are 9:15 AM – 7:45 PM.
We recommend showing up right at opening (we've done that a couple of times) or right before close (done that too) to avoid the crowds.
Unfortunately, the chaotic, congested nature of the interior that is so lovely when the shop is nearly empty can be a bit overwhelming and unpleasant when you're fighting large crowds to enjoy it.
Libreria Acqua Alta is at the edge of Venice's Castello sestiere.
Though Libreria Acqua Alta is less than a 10-minute walk from either Piazza San Marco or the Rialto Bridge, the area immediately surrounding Venice's famous bookstore is actually fairly quiet.
And, if you head deeper into the Castello district after you wrap up your visit instead of turning and heading back to the city's most popular spots, you'll definitely find some lovely and quiet corners of Venice to enjoy.
Location of Libreria Acqua Alta
Address of Libreria Acqua Alta
Calle Lunga Santa Maria Formosa, 5176b, 30122 Castello, Venezia VE, Italy
Libreria Acqua Alta Phone Number
+39 041 296 0841
Map of Libreria Acqua Alta Location