Looking for the best souvenirs from Portugal to shop for on your trip?
We've got you covered!
There are near-limitless fun things to dream about and budget for when gearing up for a trip to Portugal, and planning what to buy in Portugal is definitely among them!
Portuguese souvenirs are a fantastic way to bring a piece of your trip home with you, and you can definitely find a souvenir for every taste when shopping in Portugal.
We currently live in Lisbon as American expats and have accumulated quite a collection of fun souvenirs from Portugal (including a mildly absurd number of bottles of port).
From food to wine to ceramics (so many ceramics!), there is lots of love about shopping for souvenirs in Portugal.
Here's what to buy in Portugal!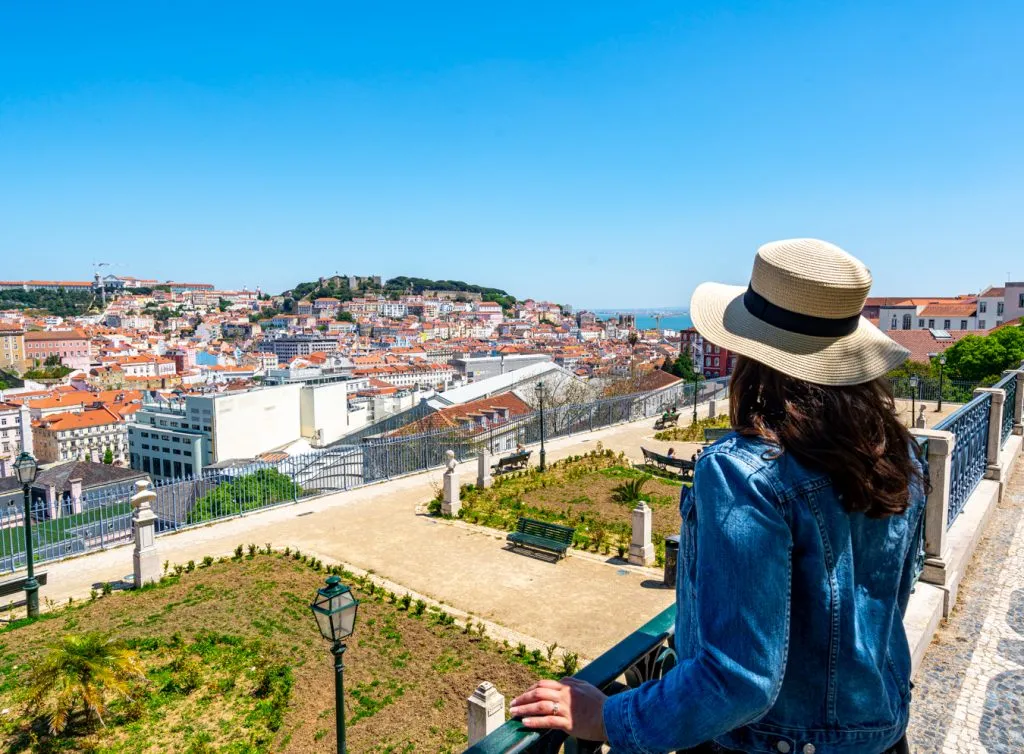 The Best Foodie Souvenirs From Portugal
Without a doubt, some of the best things to buy in Portugal are edible!
From world-famous wine to sweet treats, here are the best foodie souvenirs from Portugal.
Port Wine
Created in the Douro Valley and traditionally shipped from Porto, port wine is one of the most iconic things to buy in Portugal!
This sweet, fortified wine is typically red, but there are white ports as well (which are delicious).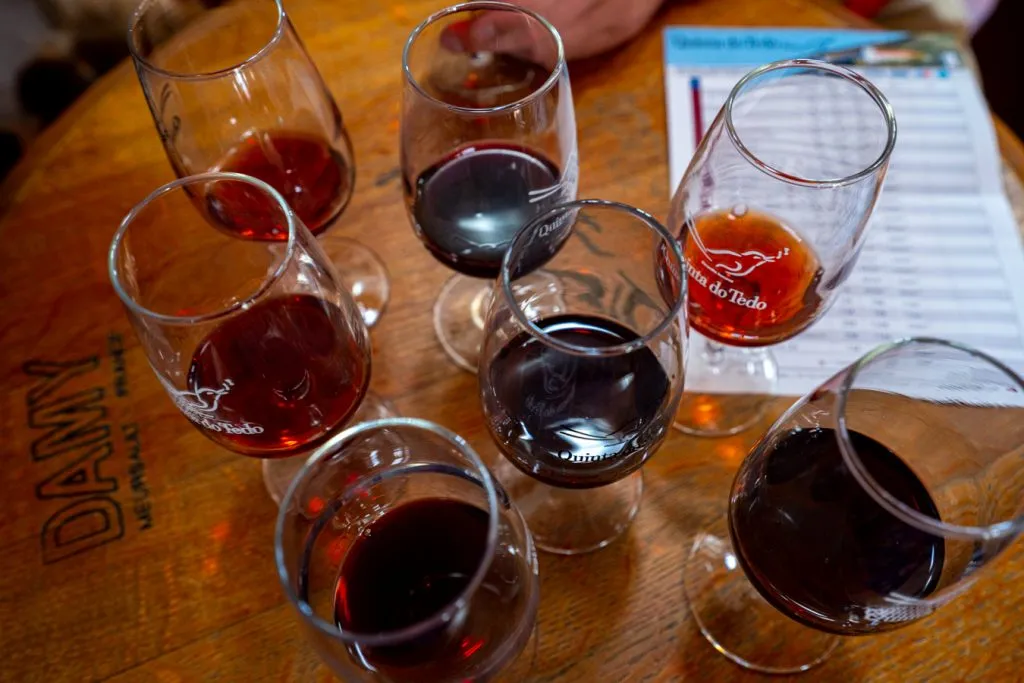 The absolute best way to shop for a port souvenir in Portugal is to visit a port house in Porto or a vineyard in the Douro Valley.
A wine shop or even supermarket will do in a pinch as well, but there's something incredibly special about buying port from a location that has a connection to that particular port.
Many smaller port lodges only export a small portion of their port and by visiting them, you can end up with a unique Portugal souvenir!
More Portuguese Wine
While port wine is certainly the best-known Portuguese wine on an international level, Portugal's wine scene is far, far more varied!
With more than a dozen wine regions that are home to more than 250 native grape varietals, Portugal is a wine-lovers' haven (and that's before we even talk about how shockingly affordable Portuguese wine is as compared to other nearby countries).
Be sure to get beyond the Douro Valley when on the hunt for wines to enjoy (and bring home from) Portugal!
Canned Sardines
Canned sardines are one of the most iconic Portugal souvenirs, and fish fans should be sure to bring a few cans back home with them!
You can buy everything from colorful, touristy cans decorated with your birth year to simple cans in supermarkets, and both are excellent options for shopping in Portugal, depending on what you're looking for.
Jeremy usually has a couple of cans from the supermarket stashed in the back of our pantry!
While sardines are certainly the most famous Portuguese canned fish, you can find other seafood options as well, such as octopus and mackerel.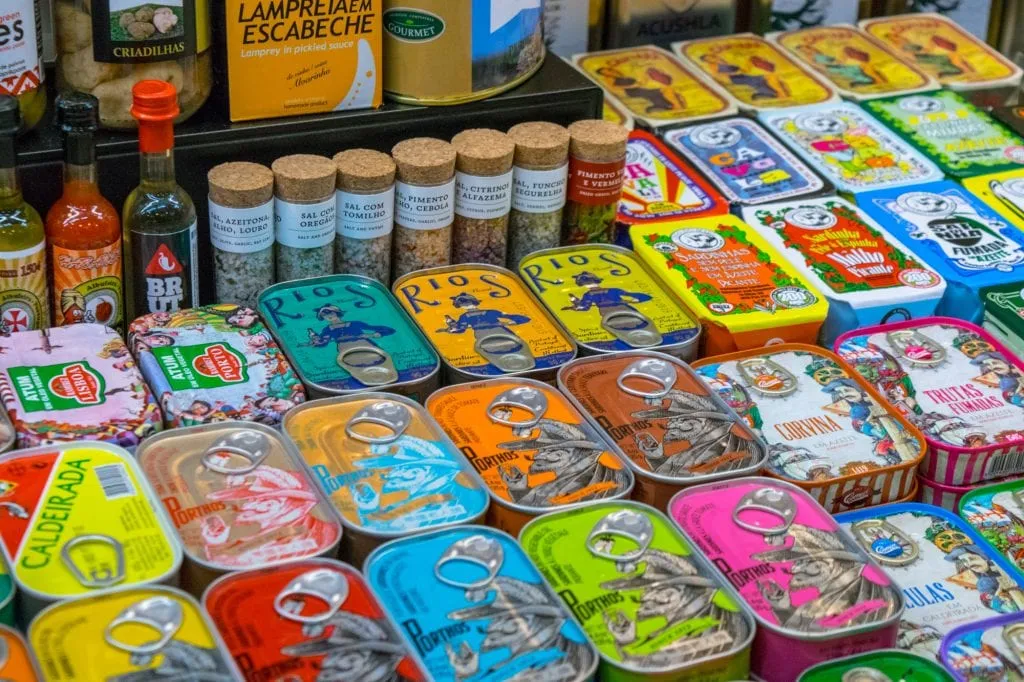 Ginjinha
Ginjinha, also known as ginja, is Portugal's most popular liqueur.
And, as someone who typically doesn't care for liqueurs, let me say–this one is absolutely fantastic.
Made with morello cherries among other delights, ginjinha is served in a small, shot-sized glass (which is sometimes made of chocolate), but it is meant to be sipped.
We've tried many brands in Lisbon, Obidos, and beyond, but remain partial to Ginjinha Espinheira (it's fabulous).
For a memorable place to pick up this Portugal memento, head to the popular A Ginjinha bar in Lisbon, have a drink, and then pick up a bottle to go (and don't miss the Igreja de Sao Domingos that's next door–it's free and well worth ducking inside).
Olive Oil
Portuguese olive oil is downright delicious, every bit as wonderful as the products of nearby Spain, France, and Italy.
There's never a day that we don't have a bottle of Portuguese olive oil in our pantry, and it brings us joy every time we use it.
If you're a foodie, be sure to add Portuguese olive oil to your list of what to buy in Portugal!
While artisan olive oils are delicious, if you're looking for something a bit simpler, you can find delicious (and very affordable) Portuguese olive oils at supermarkets, too.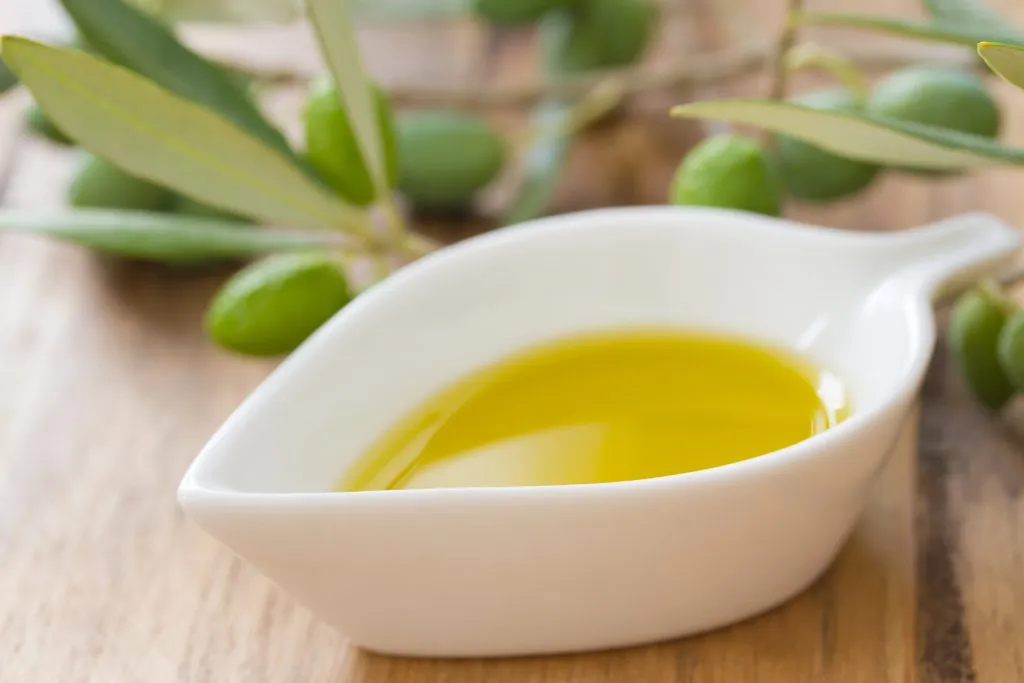 Portuguese Cheese
Portugal makes absolutely fantastic cheese–to the point where if I'm listing reasons that I like living in Portugal, the cheese will no doubt be featured.
From the creamy Serra da Estrela to Azeitão cheese and beyond, Portuguese cheese is one of the best things to buy in Portugal (and it goes great with the local wine, too).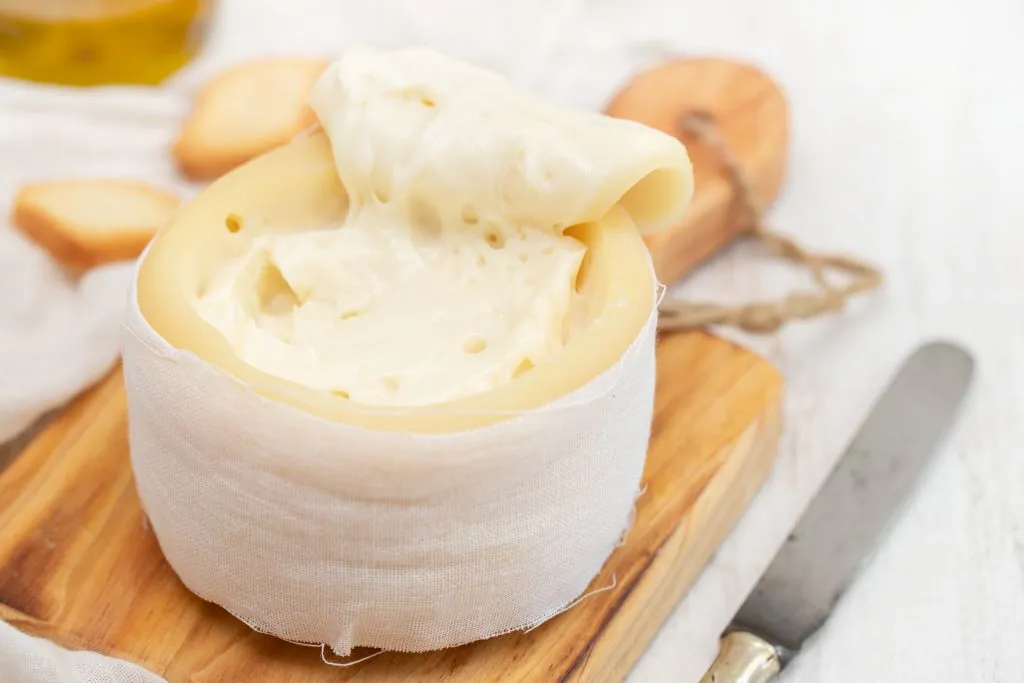 Peri-Peri Sauce
Peri-Peri sauce's connection to Portugal is through its era of colonization–we first tried this delicious sauce in its origin country of Mozambique–but it is incredibly popular in Portugal today.
A form of hot sauce, it's an excellent addition to anything that you want to give an extra kick to, from bifanas to eggs.
Be sure to start slow–peri-peri sauces vary in intensity, but they get quite hot!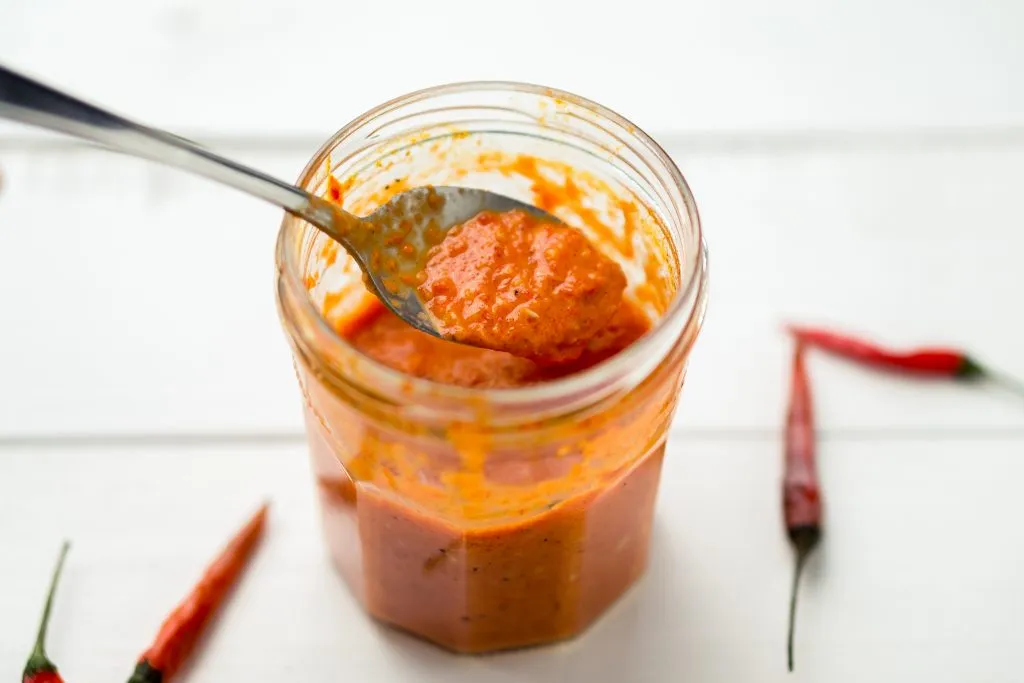 Pasteis de Nata
Honestly, I'm hesitant to recommend purchasing pasteis de nata to bring home with you…. but they are undoubtedly one of the most popular souvenirs from Portugal, so I can't bear to leave them out!
Here's the thing: the popular boxes of pasteis de nata sold in bakeries are tasty, but by definition, pasteis de nata are best when fresh–and by quite a wide margin, too.
We feel so strongly about this that we don't even buy these little morsels of delight to bring back to our apartment in Lisbon with us, we simply go to a cafe and order a fresh one whenever we have a craving.
If you want to have the best available pasteis de nata at home, consider investing in a pasteis de nata cooking class while you're here in Portugal instead of buying pre-made ones!
… But, that being said, I wouldn't blame you for bringing home a box, either: it's hard to say goodbye to something so delicious when you board the plane home.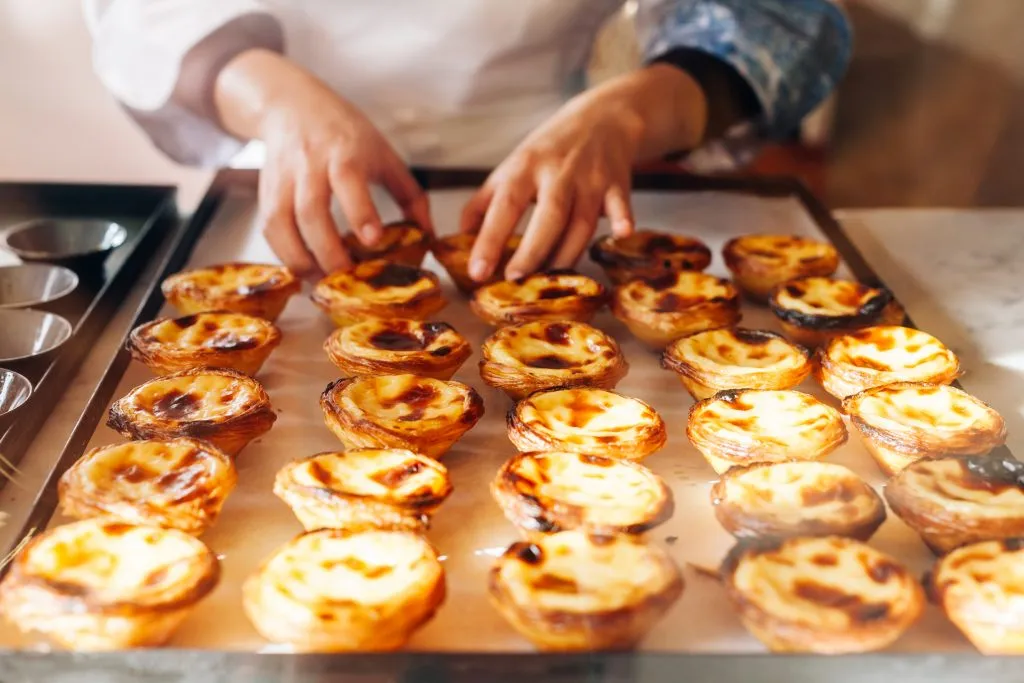 Portuguese Cookbooks
Want to take your favorite Portuguese foods home with you?
Consider picking up a cookbook when shopping for souvenirs from Portugal!
You'll find English-language Portuguese cookbooks in most bookstores with an English section.
We picked ours up in Livraria Bertrand, the oldest still-operating bookstore in the world!
Decor + Collectibles to Buy in Portugal
With longstanding traditions and plenty of naturally occuring materials (hello cork!), decor and collectibles belong on any list of what to buy in Portugal.
Portuguese Ceramics
Beautiful Portuguese ceramics are easily among the best souvenirs from Portugal.
From simple items like spoon rests to large serving bowls and vases, you can't go wrong with purchasing a handcrafted Portuguese ceramic.
Personally, we own a cermaic pot holder, decorative dish, and spoon rest so far… with plans to purchase even more in the future.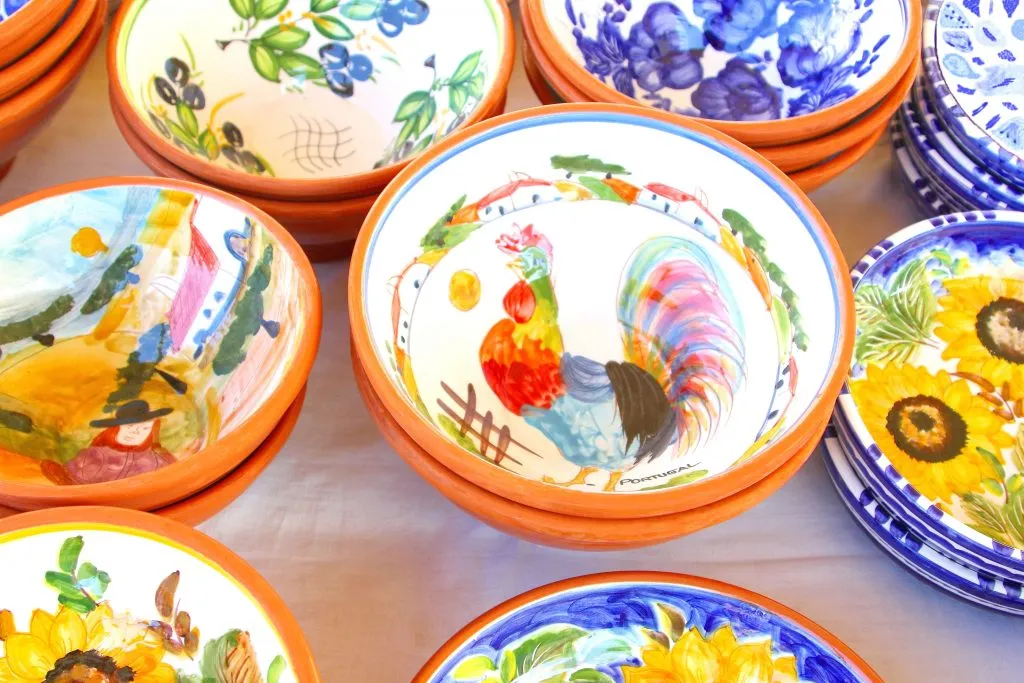 Cork Products
Did you know that Portugal is the largest producer of cork in the world?
More specifically, the Alentejo region (where you'll find beautiful Évora) alone produces more than half the global cork supply.
Naturally, that translates to an enormous variety of cork products available as Portuguese souvenirs!
From coin purses to backpacks to shoes to furniture, cork is an incredibly versatile and durable material that is both practical and beautiful.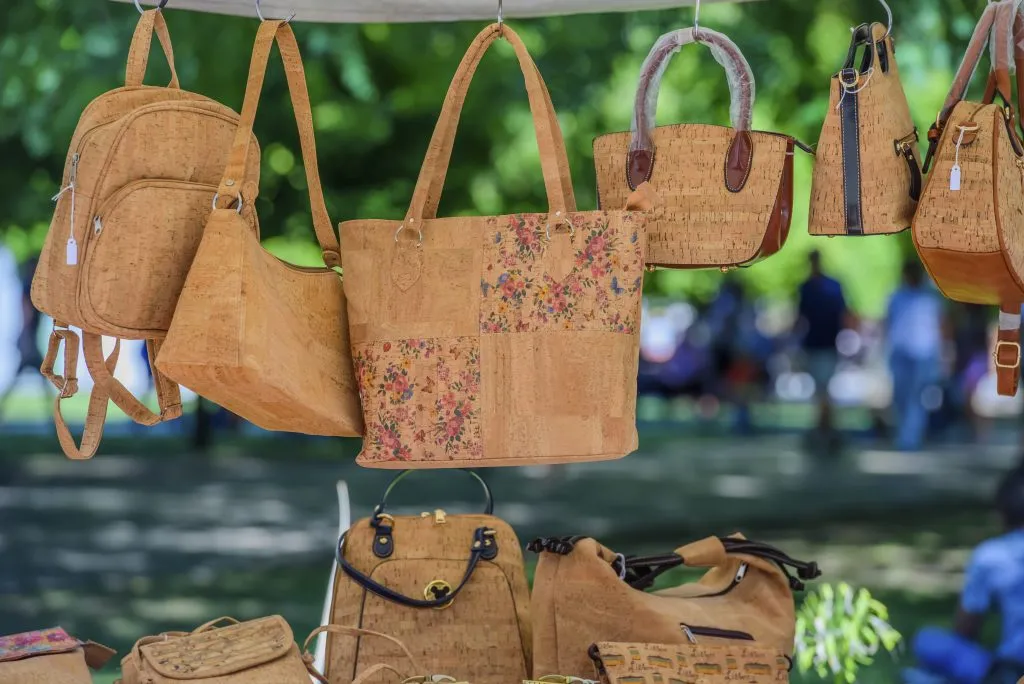 Barcelos Rooster
The Barcelos Rooster has its root in a legend dating to the 12th century, and today, it is one of the most recognizable symbols of Portugal!
Whimsical, colorful, and charming, you can find Barcelos Roosters for sale in all sizes and colors, making it simple to pick one that suits you when shopping in Portugal.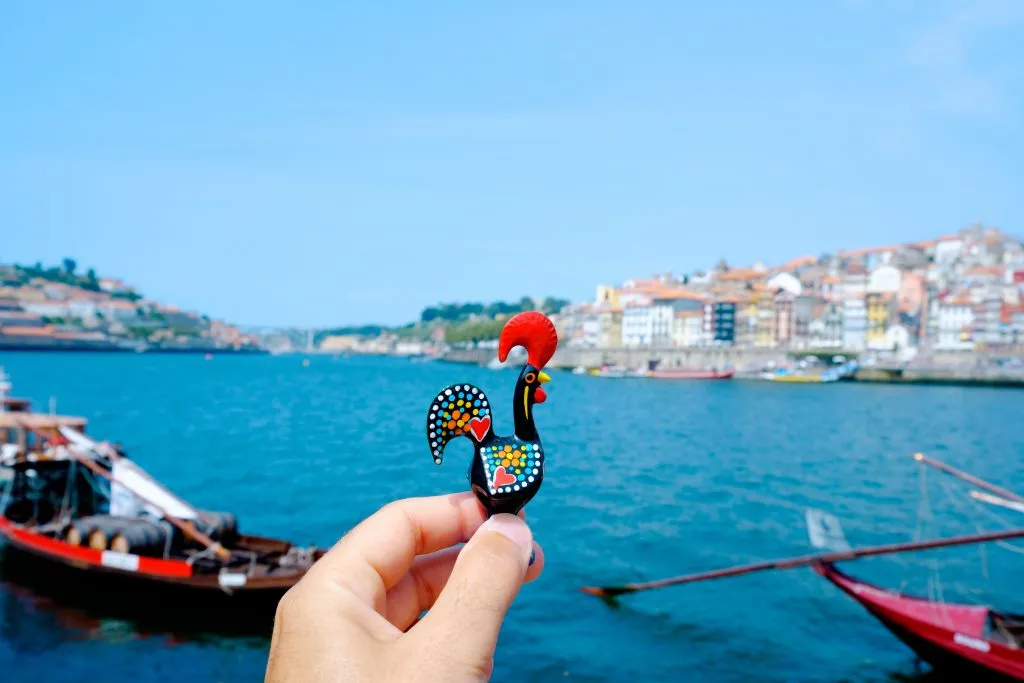 Azulejos
Some of the most recognizable–and downright gorgeous–Portuguese souvenirs to buy are azulejos, or Portuguese hand-painted tiles.
These tiles were traditionally blue and white (you'll find lots of churches featuring traditional tiles throughout Portugal, especially in Porto), but today, you can find all kinds of colors and patterns.
One important note for buying azulejos though is that you should absolutely buy new ones.
Unfortunately, stolen azulejos have a habit of showing up at flea markets.
In order to avoid accidentally contributing the destruction of historic Portuguese buildings, it's best to buy brand new azulejos from local artisans instead.
Luckily, there are plenty to choose from!
Knick-Knacks From Flea Markets
Outside of azulejos, though, there are lots of fun things to buy at Portuguese flea markets!
Lisbon's Feira da Ladra is held every Tuesday and Saturday and is a popular stop with visitors.
However, Portugal is also positively overflowing with antique stores, and you can find all kinds of unique treasures in them!
We've bought porcelain bowls, vases, a ginger jar, and more secondhand in Portugal.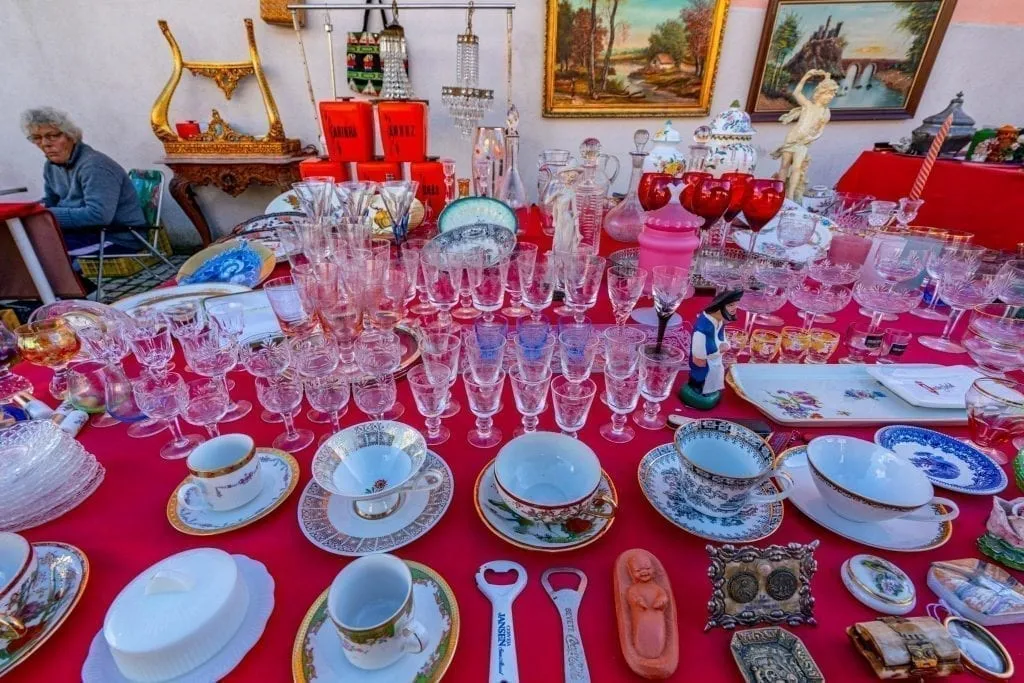 Portuguese Embroidery
From the island of Madeira to Viana do Castelo in the northeast, Portugal has a long tradition of intricate embroidery.
While you can pay a pretty penny of a beautiful, handwoven piece–and they are treasures–if you're looking for something simpler, you can also find many more affordable machine-made embroidery pieces inspired by Portuguese traditions today.
Whether you're looking for dishtowels (one of the Portugal souvenirs my grandparents went back to the USA with when they came to visit us!), a tablecloth, or something else, embroidered pieces are a wonderful way to take Portugal home with you.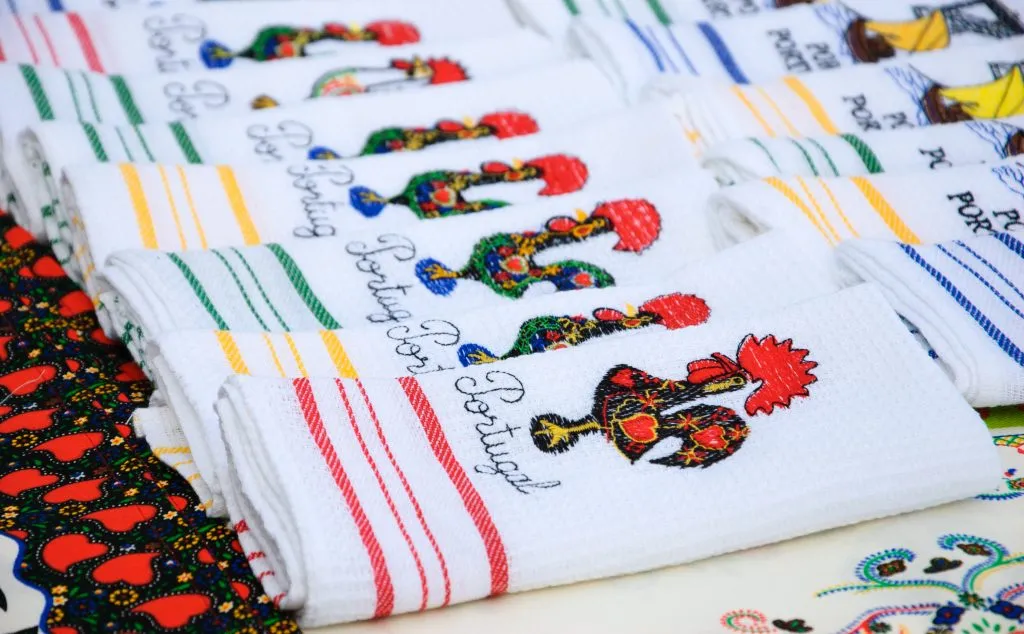 Posters + Paintings
Oil paintings, watercolors, cartoon-style drawings: whatever your stylistic preference, there's a local artisan in Portugal who's no doubt put your vision to paper (or canvas).
Most artisans are able to ship paintings home, whereas posters can often be transported in your suitcase.
We're still keeping an eye out for the perfect oil painting featuring a yellow tram to decorate our home!
Fish-Themed Decor
With almost 1000 kilometers of Atlantic coastline, is it any surprise that fish is an intricate part of Portuguese culture?
From canned sardines to the approximately 85,000 delicious ways to consume cod, fish and Portugal are deeply intertwined–and that includes in decor!
When shopping in Portugal, you'll find fish featured heavily in various Portuguese souvenirs and artworks, ranging from t-shirts to intricately painted cermaics in the shape of sardines.
If you're a seafood fan, consider adding a fish-themed piece of decor to your kitchen for a bit of whimsical Portuguese flair!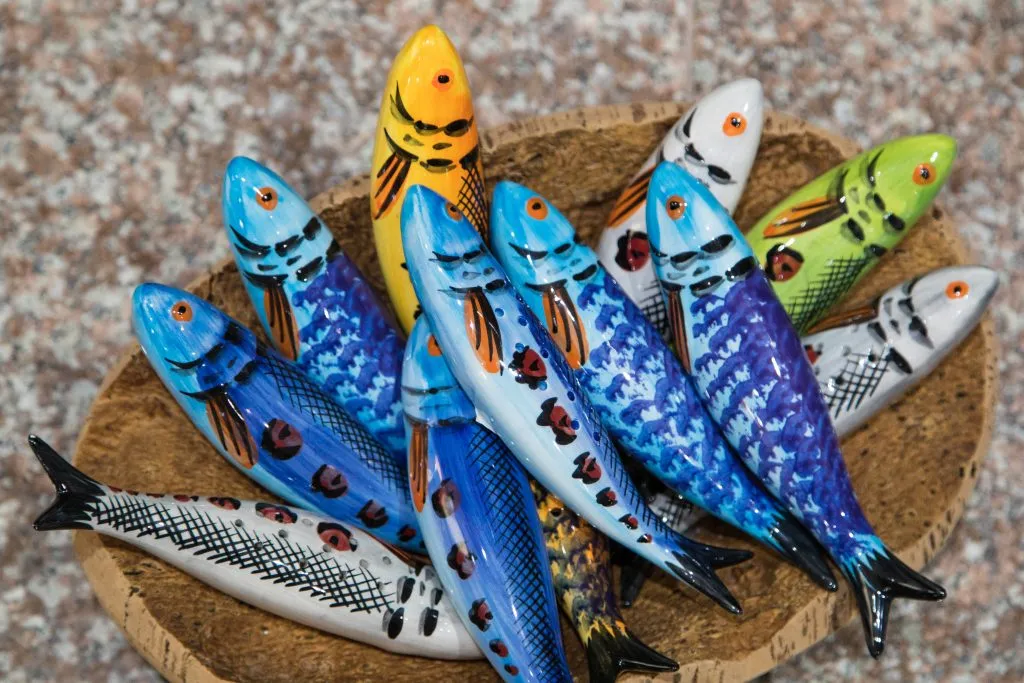 Tram Figurine
While the vast majority of the tram figurines you happen across when shopping in Portugal are mass-produced… you also can't ask for a more iconic reminder of your time in Portugal!
Perfect for mixing onto a shelf of mementos, a tram figurine is on Jeremy's list of things he's determined to buy in Portugal (though we're still waiting for the right one for us to pop up).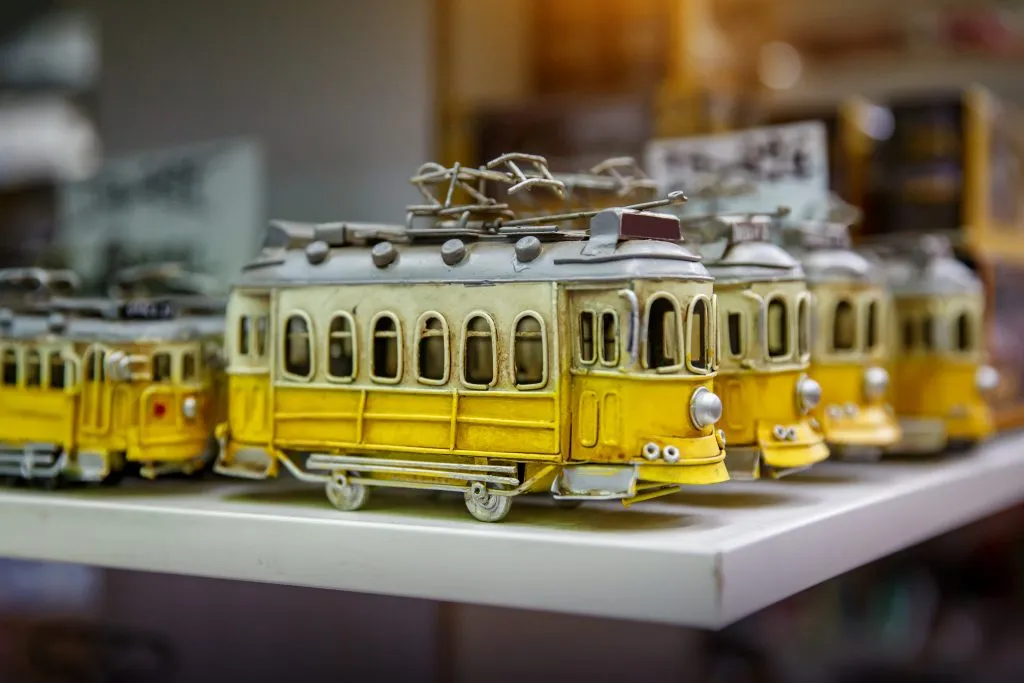 Miscellaneous Things to Buy in Portugal
Filigree Jewelry
Intricate, delicate, and very beautiful, filigree jewelry has a long history in Portugal.
This finely woven jewelry is intended to remind the viewer of lace–and the detailed work that goes into it is incredibly impressive.
Traditional filigree jewelry, especially if done in silver or especially gold, is one of the most expensive souvenirs from Portugal included on this list.
If you're looking for a splurge, though, there's no doubt that a beautiful piece of gold filigree jewelry will help you remember your trip to Portugal for years to come!
Religious Items
From rosaries to statues of Our Lady of Fatima and beyond, Catholic mementos make excellent souvenirs from Portugal for either Catholic travelers or travelers shopping for Catholic relatives!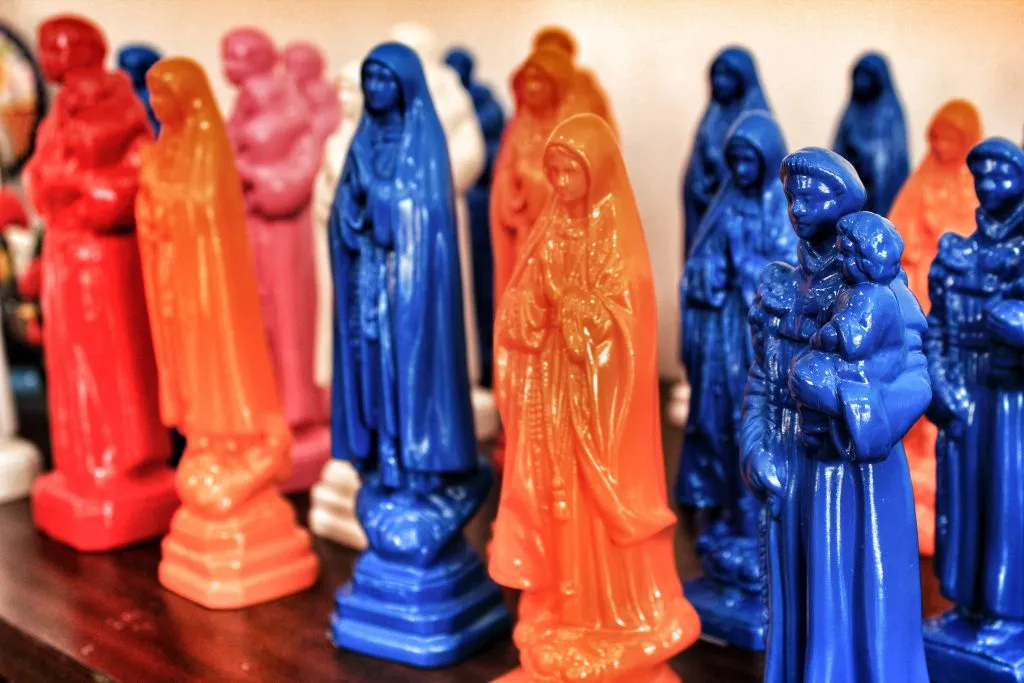 A Very Memorable Book
Portugal is home to some incredibly memorable bookstores, from Livraria Bertrand in Lisbon (the reported oldest bookstore in the world) to the famously stunning Livraria Lello in Porto.
For a unique Portugal souvenir, consider shopping for a book (either Portugal-related or not) in one of these famous bookstores!
We have books from both shops and love seeing them on our bookshelf.
Christmas Ornaments
While Portugal doesn't have the long-standing tradition of Christmas markets that you'll find in places like Germany and Austria (though you can find a handful of markets each winter), it does have plenty of beautiful Christmas ornaments to purchase!
In addition to buying one for yourself, ornaments also make excellent Portugal souvenirs to bring back to friends and family.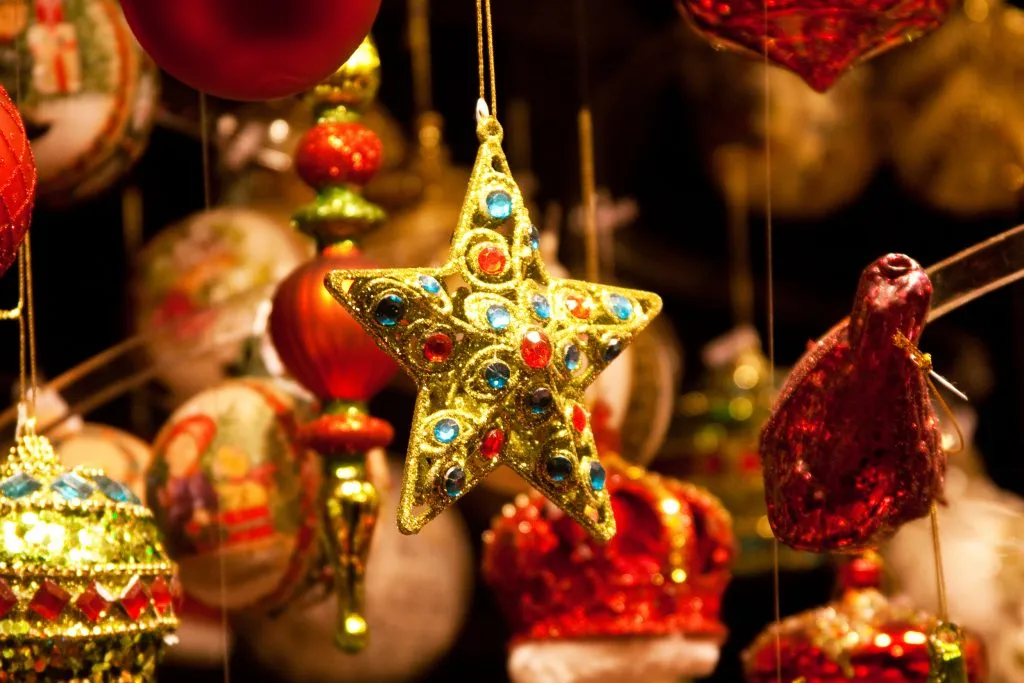 Inexpensive (But Fun) Portugal Souvenir Ideas
Only have a few Euro or a small sliver of space in your luggage to spare?
These Portugal souvenirs might be right for you!
Magnets
Magnets are one of the most popular souvenirs to collect from around the world, and often run only a Euro or two apiece.
It's worth waiting to find one that really sticks out to you, which also gives you an excuse to duck into plenty of shops as you travel!
I finally bought a Lisbon magnet 6 months after arriving in the city, and love the one we ended up with.
Coasters
As I sit and type this blog post in my apartment in Lisbon, there's a blue-and-white coaster from Porto resting right next to me, underneath my coffee cup.
It cost a whopping 3 Euro, and sure, it's a fairly cheesy souvenir–but it makes me smile every time I look down at it!
Small mementos that bring your memories of traveling in Portugal into your daily life are always worth it.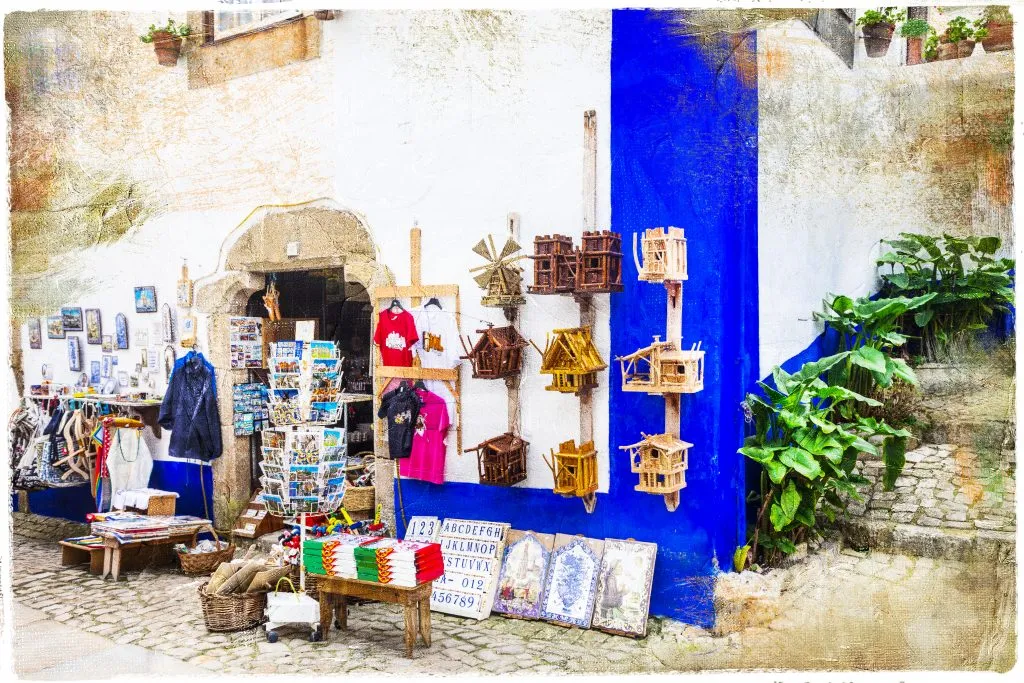 Mugs
What better way is there to reminisce about your trip to Portugal than to be reminded of it every time you go to make a hot drink and pull your mug from Portugal out of the cabinet?
Postcards
Postcards are the ultimate combination of inexpensive, easy to pack, and easily personalized, making them one of the best budget souvenirs from Portugal!
They tend to run .50 to 1 Euro each, but if you're up to spending an extra couple Euro on top of that, consider filling a postcard out with your memories of the day right then and there.
Then, send it to yourself so you can relive your Portugal travel memories as you return home!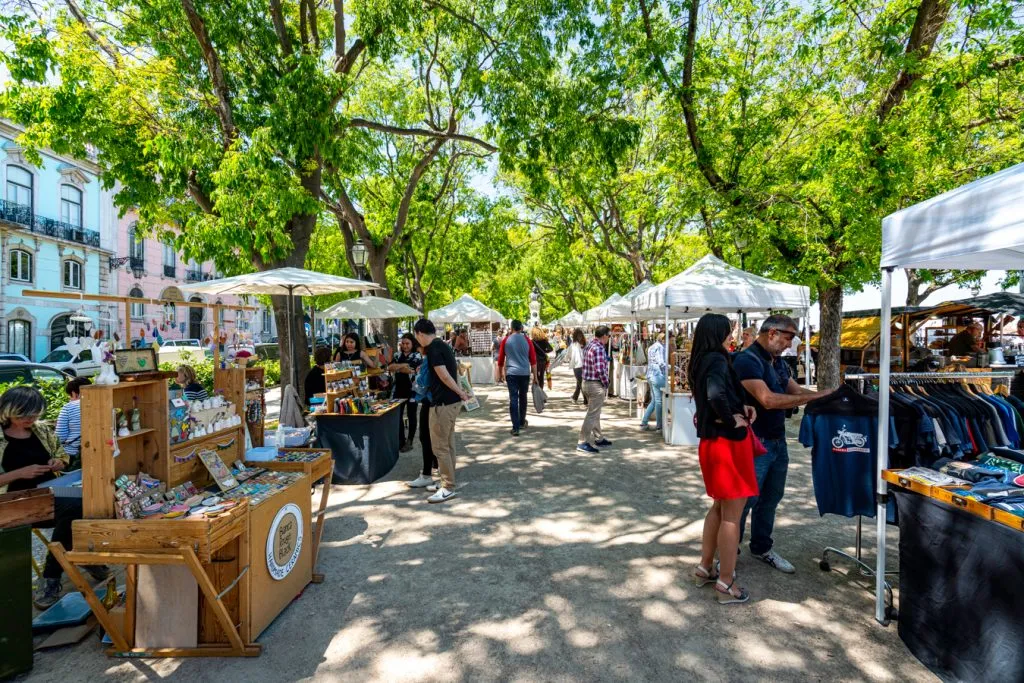 Tips for Shopping in Portugal
When shopping for food items, check for their certification.
Portugal takes its gastronomy incredibly seriously–so seriously, in fact, that there are several protected classifications a product can earn, stating that it was made in a particular place, with particular ingredients, or with a particular technique.
While this system is used throughout Europe now (just look at Italy or France), Portugal was actually the first country to designate a protected region!
In 1756, the Marquis de Pombal declared the Douro Valley the world's first protected wine region, which kicked off a now long-standing tradition of protected food and drink classifications.
Look for the DOC, DOP, and/or IGP labels when shopping in Portugal for food products, and you're bound to come away with a great example of Portuguese gastronomy.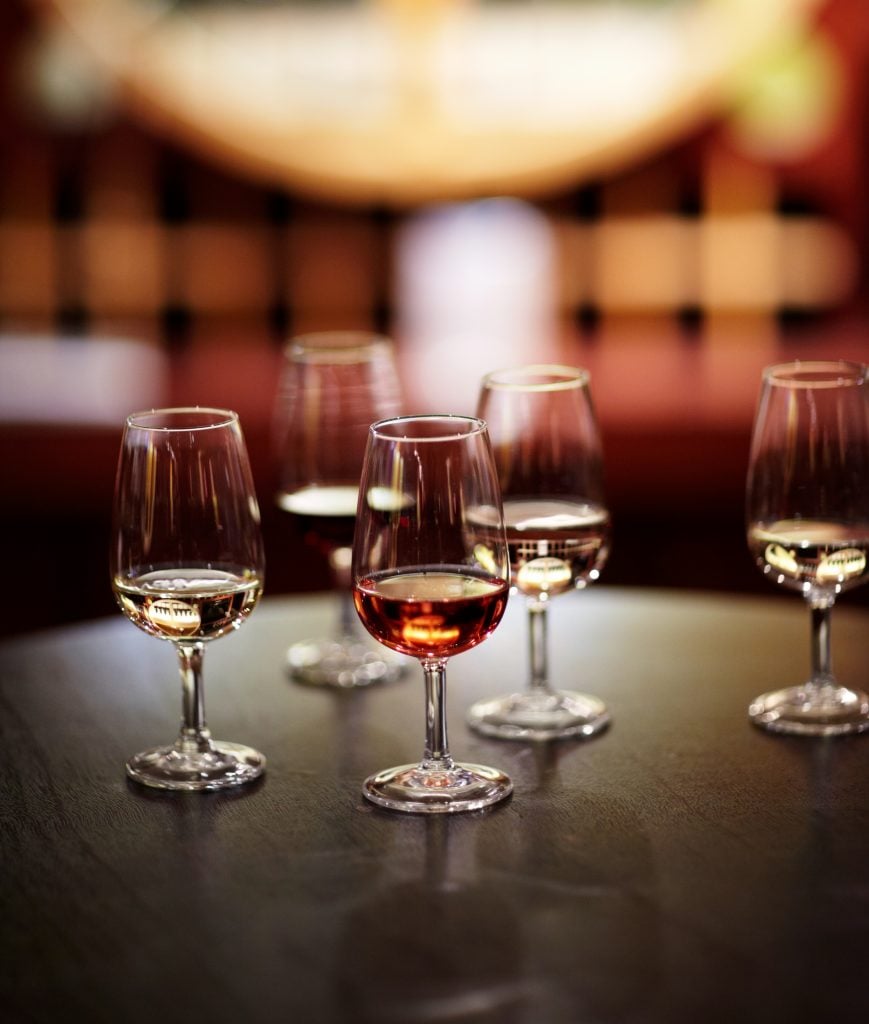 Shop your region.
While you can find beautiful Portuguese souvenirs all over the country and can find most of the items included in this Portugal shopping guide in many places, shopping for products specific to the region you're visiting can add something special to the memory while helping ensure you have the best possible selection available.
For example, consider saving your port shopping for Porto or the Douro Valley!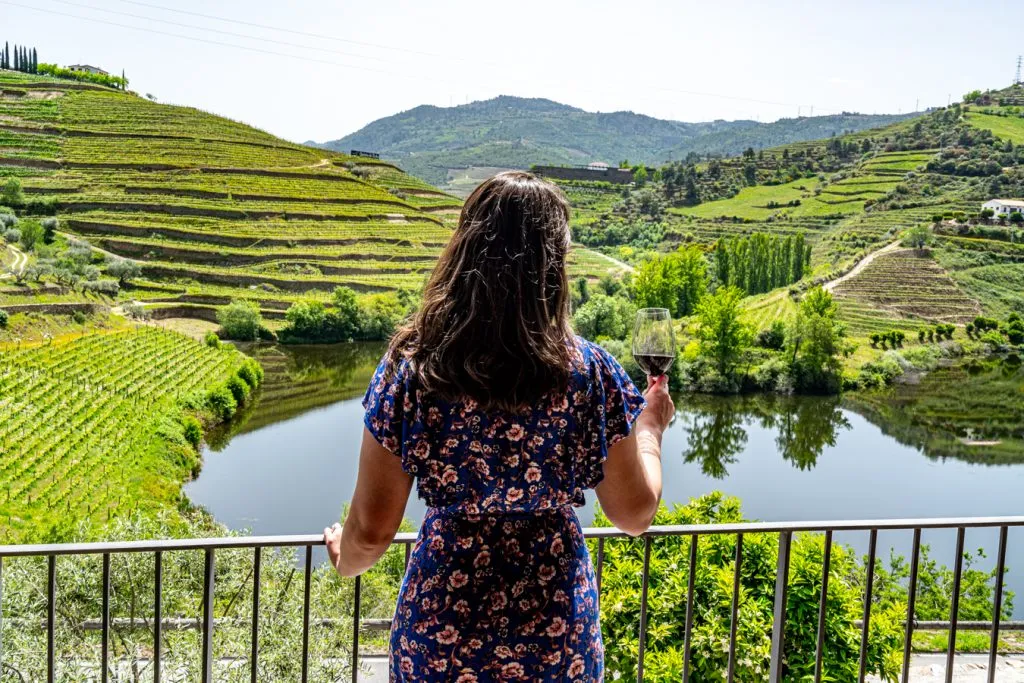 Have a plan for which souvenirs from Portugal you want before starting your trip.
You won't need to stick to your plan exactly, of course–shopping spontaneously can be part of the fun of travel–but having a general idea of what you want to look for when shopping in Portugal can help add structure to your browsing, and in some cases, help limit indecisiveness (for me, anyway!).
This goes double for any higher-ticket items that you may have in mind, such as filigree jewelry.
Consider quality over quantity.
When deciding what to buy in Portugal, think about quality over quantity.
It's incredibly easy to end up buying more Portuguese souvenirs than expected and end up with more knick-knacks than you really need.
In our experience, it's much better to buy 1-2 truly memorable souvenirs than a whole slew of less memorable ones!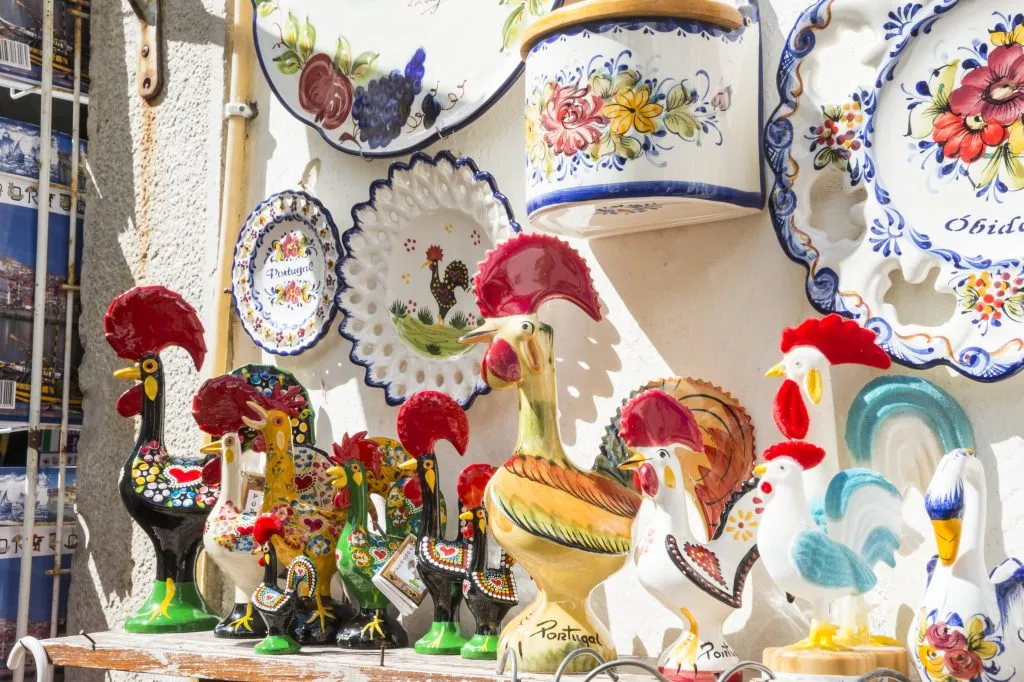 Note the trip and date of purchase on your Portugal souvenirs.
You may find it easy to remember when and where you purchased your beautiful souvenirs from Portugal now, but give it a decade or three, and you may be very glad you noted the place and year of purchase with the item!
We tend to write the info on the bottom of home decor pieces or Christmas ornaments and love the tradition of it.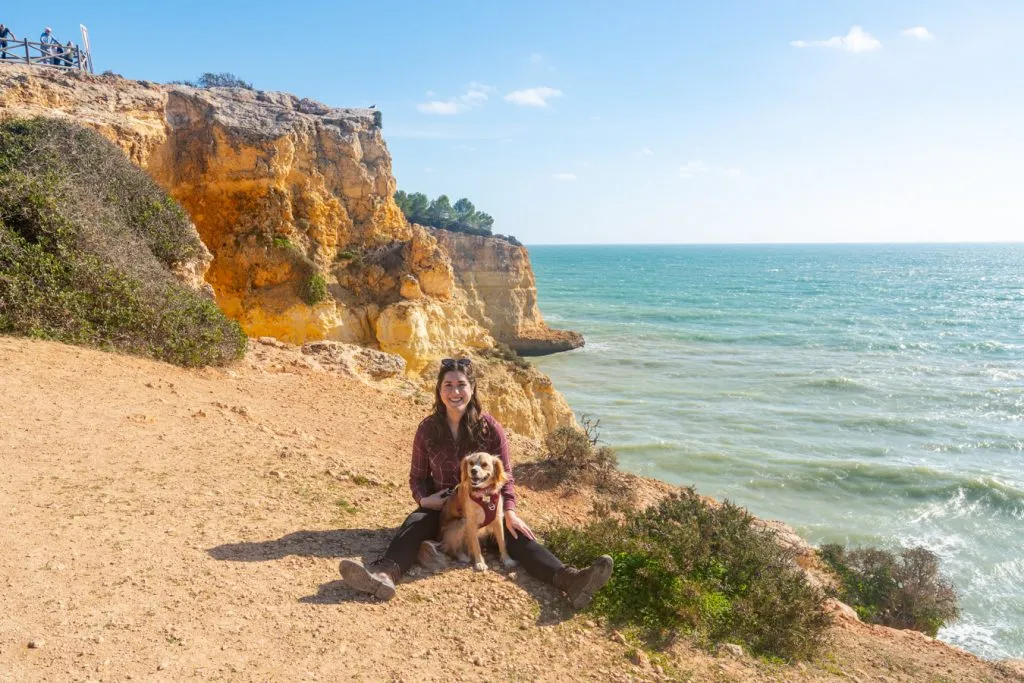 Check transportation regulations.
For the vast majority of these souvenirs from Portugal, there is absolutely no issue with bringing them back yourself in your checked luggage.
For food items, though, be sure to double-check any necessary regulations before packing up to leave Portugal!
For Americans like us, check the TSA regulations here.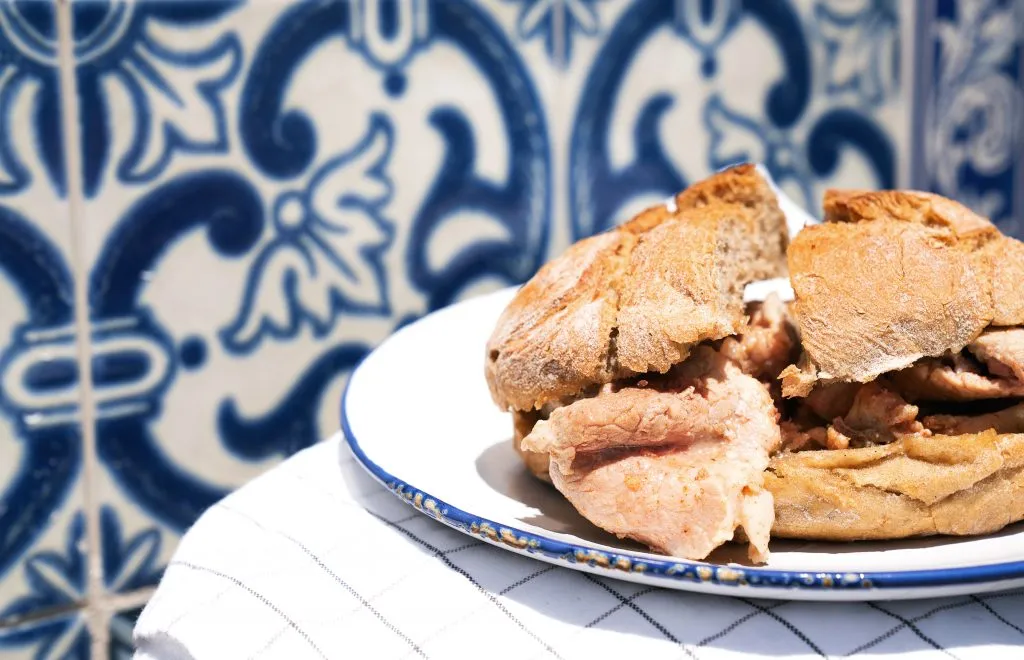 Check on shipping costs if necessary.
If you're carrying back something particularly fragile, heavy, or potentially regulated, it's definitely worth at least inquiring about the cost of shipping.
Many small businesses and artisans in Portugal are able and willing to ship their goods abroad!
… and leave extra space in your bag!
It's definitely worth leaving an extra outfit or two at home to make sure that you have enough room in your luggage to accommodate a couple of the best souvenirs from Portugal on your way home!