Planning to visit Madrid on a budget and wondering how much money you need to pull it off?
Spain's capital city makes for a wonderful trip: the city is laid-back, livable, and packed with delicious and affordable food options like tapas and churros con chocolate.
As a result, visiting Madrid on a small budget is not only possible, it's a delight.
This Madrid travel budget guide reflects our spending on our first trip to the city.
At the time, we were starting our 6-month RTW trip (Madrid was our very first stop!), so we were particularly cognizant of our travel costs–every penny we spent was a penny sooner we knew we'd have to go home.
The Madrid trip costs outlined here represent our time spent backpacking Spain on what we would consider a flashpacker budget.
Basically, no to dorm rooms, but also no to major luxuries.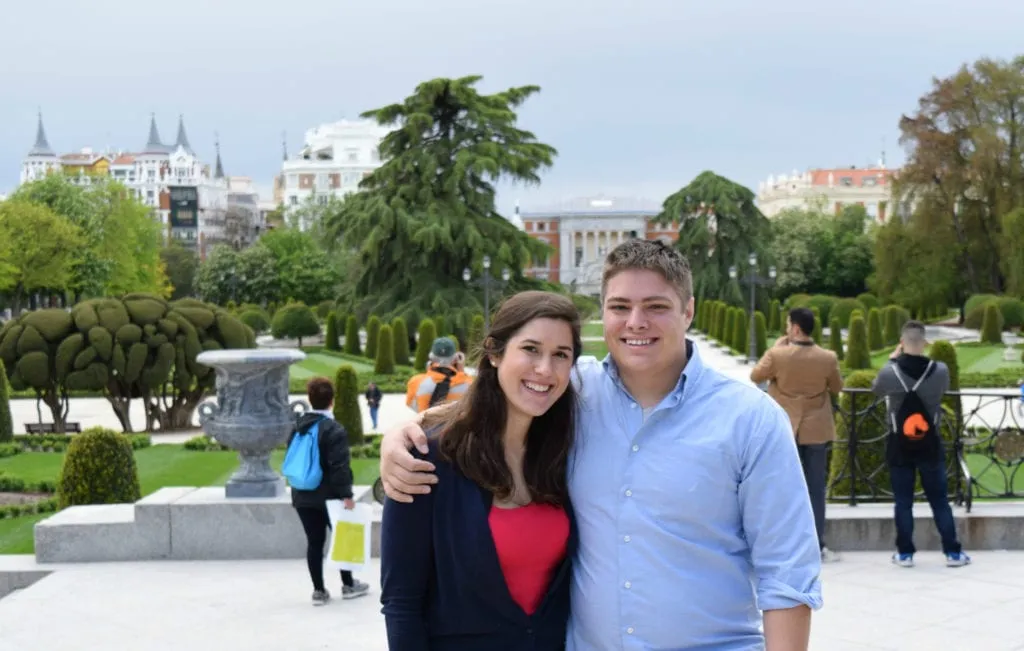 Some links in this post may be affiliate links. If you make a purchase through one of these links, we may earn a small commission at no extra cost to you. Please see our

disclosure policy

for more detail.
On this trip, we spent 4 full days in the city, averaging a total Madrid travel budget of $134.50/day for two people, or $67.25 per person, per day. This added up to a total cost of $548.03 for our visit.
If you're planning a trip to the city soon, these prices will give you a solid idea of how much you may need to set aside for a travel budget for Madrid.
All prices for our trip to Madrid costs are listed in USD unless otherwise noted, and, as usual for our travel budget roundups, we don't include the costs of entering or leaving the city here, as those expenses can vary so dramatically depending on your starting point.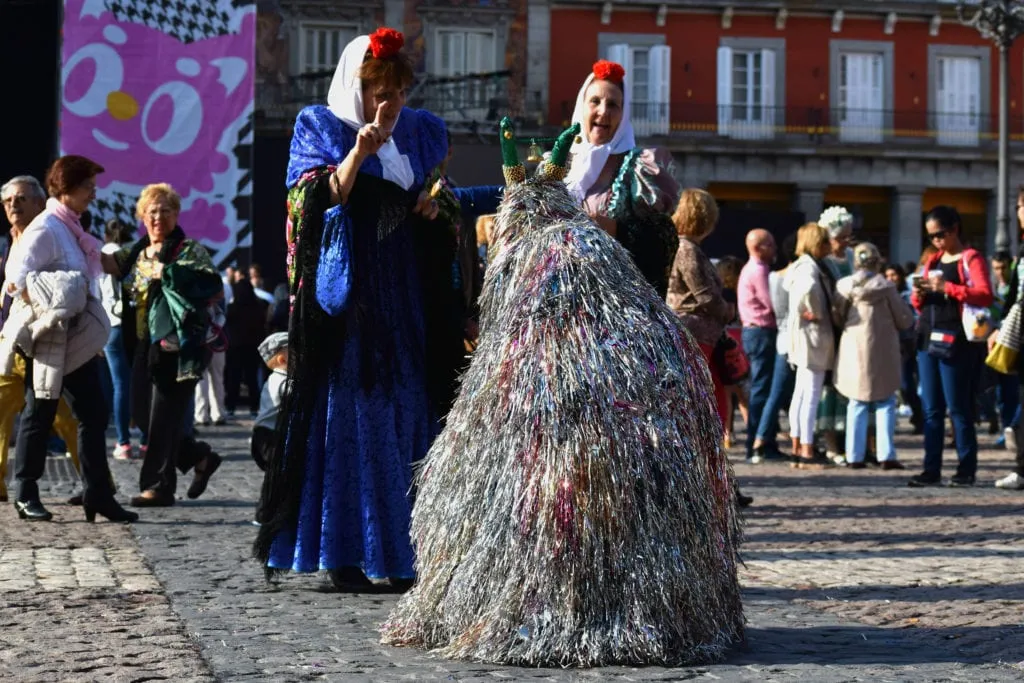 Our Lodging Costs in Madrid
Total: $295.00 for 5 nights, or $59/night.
In Madrid we rented a private flat for 5 nights, booked via Airbnb.
If you're looking for where to stay in Madrid, you'll find there are plenty of amazing neighborhoods to choose from!
Our Transportation Expenses in Madrid
Total: $51.62
This Madrid travel budget category includes metro tickets to/from the airport, bus tickets to/from Toledo, and metro tickets to reach the bus station.
In general, we found Madrid to be incredibly walkable, and as a result, didn't feel the need to use much public transportation.
Our Restaurant Travel Budget for Madrid
Total: $93.39
We didn't eat out much during this trip, preferring to cook in our Airbnb apartment to stay on budget.
We did have one breakfast with Spanish coffee to die for (Spanish tortilla is not like Latin American tortillas, but order it anyway–Spanish ham is also delicious), and one passable lunch in Toledo in restaurants in Madrid
We also enjoyed an incredible array of food at Mercado San Miguel and almost $20 worth of churros and chocolate (not even a little bit sorry–these delicacies belong on any Spain bucket list).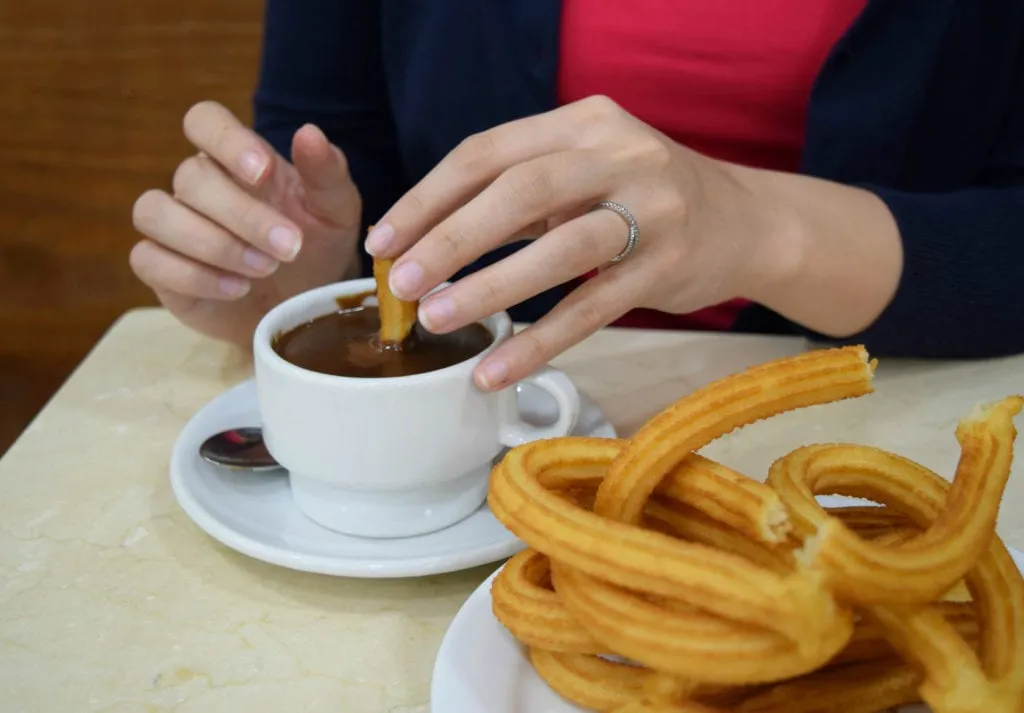 Our Grocery Expenses in Madrid
Total: $24.73
We found groceries to be perfectly reasonable for trying to travel Madrid on a budget.
This covered a loaf of bread, 4 rolls, a package of strawberries, 4 apples, a pack of ham, a pack of sliced cheese, a bag of shredded cheese, a dozen eggs, and more butter than we could use in four days.
Oh, and two big bags of potato chips as a splurge.
Tours + Excursions in Madrid on a Budget
Total: $59.33
While we didn't book any organized day trips or pricey private tours when exploring Madrid on a budget, we did enjoy taking a few affordable tours while in Madrid.
The expenses outlined in this Madrid budget category include 3 tours: our "free" walking tour (we tipped the guide 10 well-deserved Euros), a 2.5-hour Spanish Inquisition tour (we learned a lot, definitely recommend taking one if you are interested in the subject), and a hop-on/hop-off tour in Toledo.
We also took advantage of free admission hours to enjoy the Prado one evening.
There are so many amazing things to do in Madrid, both for free and not–on a return visit, I could see us splurging a bit more!
Miscellaneous Madrid Travel Budget Expenses
Total: $23.96
The expenses in this Madrid travel budget category include $4.56 for an umbrella that we bought from a street vendor, and just under $20 for me to buy two pairs of harem pants at El Rastro.
(Update: those pants ended up lasting 5 years, so as it turns out, they were quite the bargain!).
Our General Impression of Traveling Madrid on a Budget
We spent 4 full days in Madrid, landing late in the evening on our arrival day and leaving early in the morning on our departure day.
This budget includes absolutely everything–every penny we spent–and we walked away feeling like Madrid is absolutely worth visiting (enough that we've returned several times since).
Our inexpensive groceries fed us enough meals to drastically reduce what we would have spent eating out regularly, which helped enormously in keeping our trip to Madrid costs down.
Given our strict budget at the time, the private Airbnb flat we stayed in was a bit of a splurge–at $59.00 per night, it ate up a huge part of our budget.
We prepaid for this months ago, so by the time we got there it felt like "free" money.
We won't be so lucky in future destinations, but we will likely continue to spend a large amount on lodging.
Simply put, we like our privacy, our space, and our room to cook!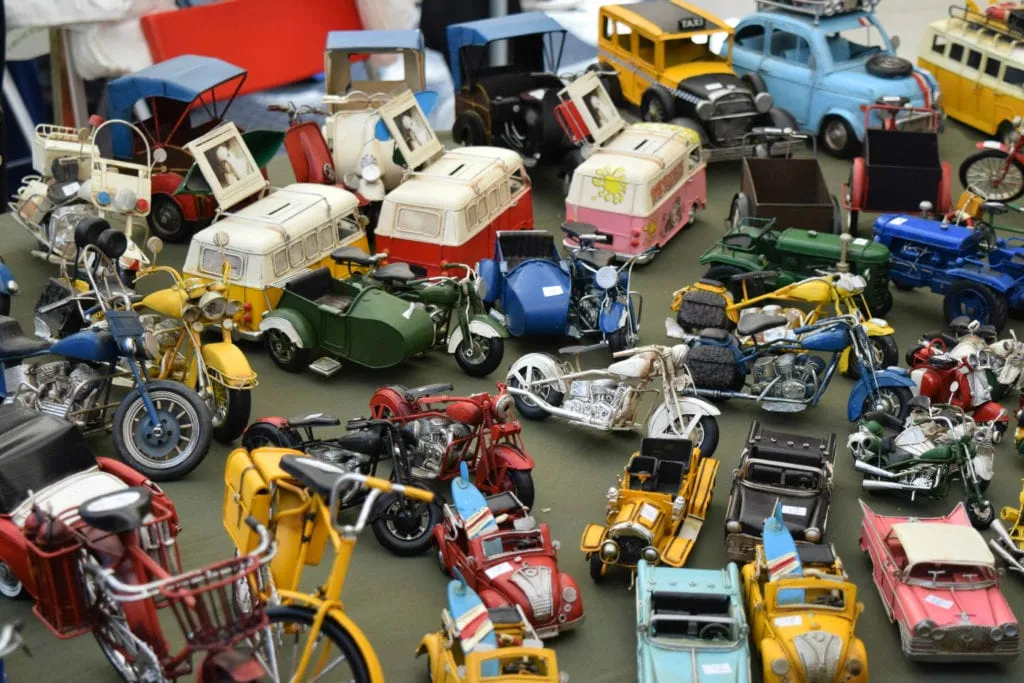 Overall, we did not feel tied down or like we were on a particularly small travel budget in Madrid, though we watched our expenses closely.
We experienced everything that we wanted to do that was not restricted by time, sampled delicious Spanish food, learned a lot about both the city and what we wanted long-term travel to look like for us in general, and soaked up the atmosphere.
With an ultimate trip to Madrid cost of $67.25 per person/per day ($134.50/day for the two of us), it felt like a bargain on our moderate budget, and we definitely feel like we arrived at an excellent time to visit Spain.
A couple of simple switches (hostel for private Airbnb being the easiest win) could easily make it possible to visit Madrid on a budget of less than $50 per person/per day destination, which I consider more than reasonable for traveling a fascinating and engaging city in western Europe.
One day, we'd love to go back and see what our budget would be for backpacking Spain as a whole!