Few small cities can claim to be as beautiful or as historically fascinating as Toledo–and as it is located less than an hour away from Madrid, is it any surprise that taking a Madrid to Toledo day trip is a fabulous way to spend a day in Spain?
More than 2000 years old and standing proudly on a hill overlooking the surrounding region, Toledo is a postcard-worthy example of a preserved medieval city, with a history that involves contributions from the Visigoths, Moors, and of course, Spaniards, among others.
Toledo was briefly an independent state, briefly the capital of Spain, and is always a city where many cultures come to meld and clash, earning it the nickname "The City of Three Cultures" for the prominent participation of Christian, Jewish, and Muslim faiths in the making of modern Toledo.
Want to take a day trip to Toledo from Madrid to explore this fascinating city?
Here's how to spend one day in Toledo–and how to get there.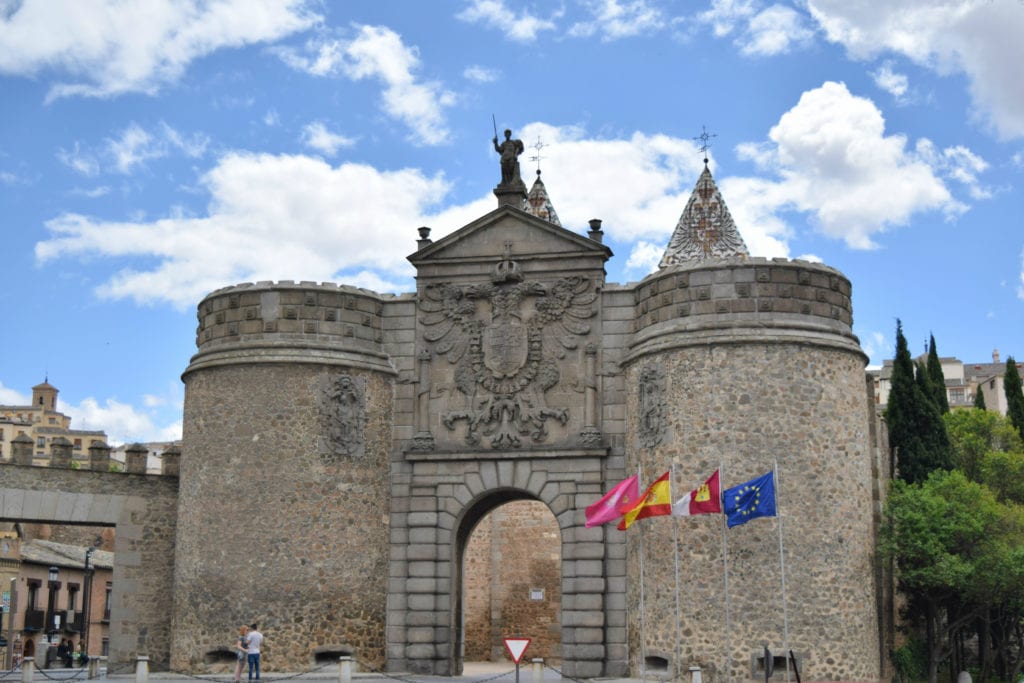 Some links in this post may be affiliate links. If you make a purchase through one of these links, we may earn a small commission at no extra cost to you. Please see our

disclosure policy

for more detail.
Best Things to Do on a Toledo Day Trip
Step inside some of Toledo's stunning houses of worship.
From the opulence of the gothic Toledo Cathedral (as is popular with Spanish cathedrals, the interior is coated in a magnificent explosion of gold) to the Synagogue of El Tránsito to the baroque Church of San Ildefonso to the Mosque of Christ of the Light to so many more–seriously, Toledo has an overwhelming number of religious buildings for a city of its size–there are plenty of historical masterpieces to seek out during your one day in Toledo.
Snap photos from the viewpoints outside of town.
This was one of our personal favorite things to see in Toledo: between the beautiful medieval town center located high on a hill and the Tagus River curving gently around it at the base, Toledo is absolutely one of the most beautiful cities in Spain.
It takes a bit of extra effort to get across the river during your Toledo day trip, but it is absolutely worth prioritizing.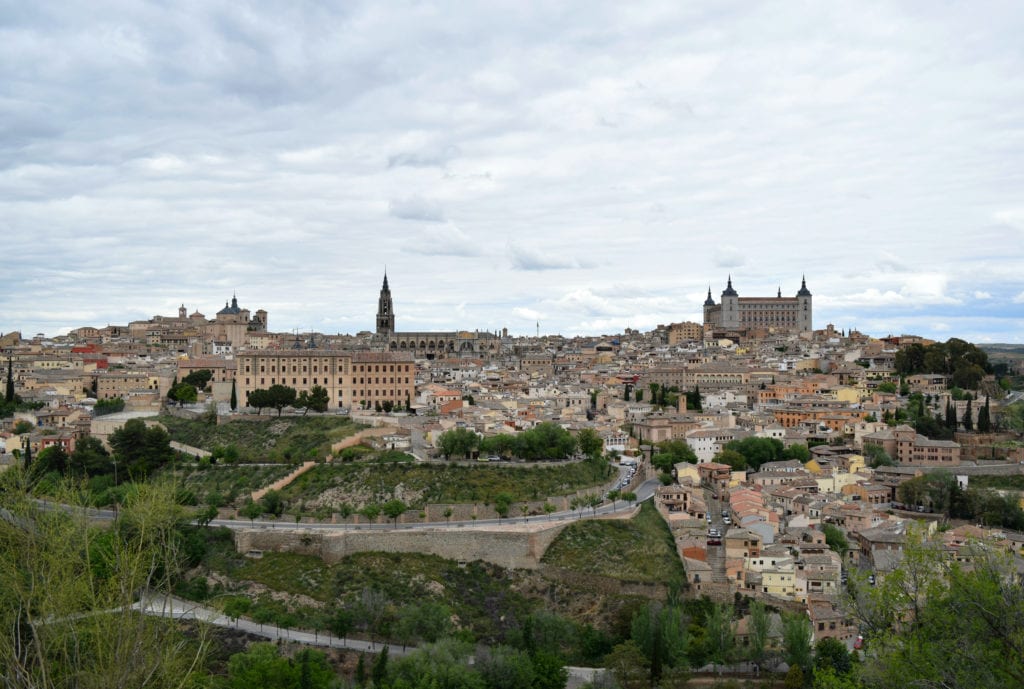 Check out the Puente de San Martín and the Puente de Alcántara.
These two beautiful footbridges are perfect for admiring views of the Tagus River (which incidently continues all the way down the Iberian peninsula to our former home city of Lisbon).
Both are definitely worth stopping by during your Toledo day trip!
Though the Puente de San Martín dates to the Middle Ages and the Puente de Alcántara technically dates to the Roman times, they've naturally both been repaired and rebuilt a few times along the way.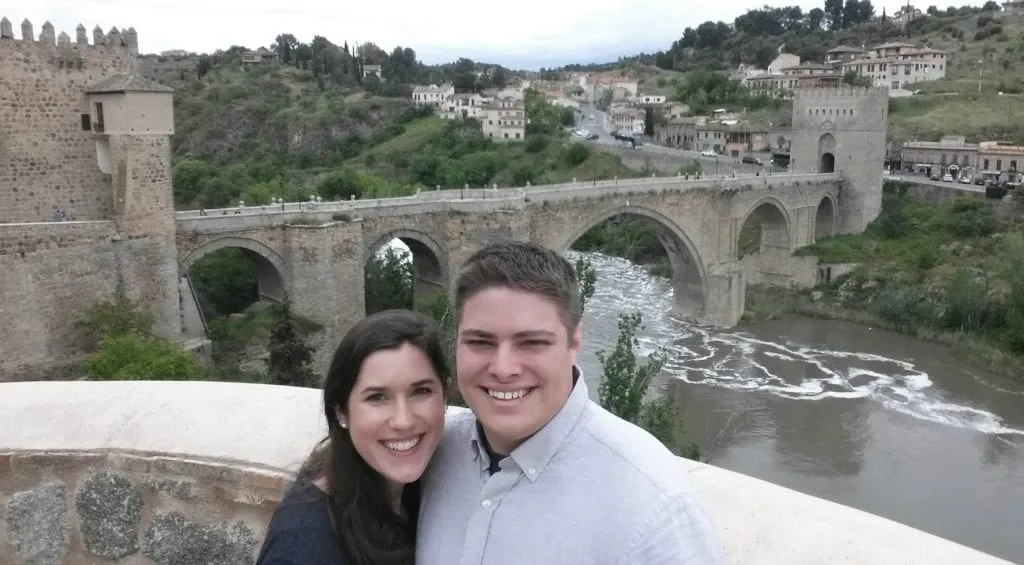 Visit the Monastery of San Juan de Los Reyes.
Built in the 15th century, this beautiful monastery is best known today for its stunning cloisters.
In addition to beauty, it packs an impressive history: the Monastery of San Juan de Los Reyes was built by the Spanish monarchs for two purposes, the first being sentimental (in honor of the birth of their son), and the second military-focused (in honor of winning a major battle).
Walk through the Puerta de Bisagra.
Toledo's grand entrance gate is the perfect place to enter the historic center of the city–all medieval towers and imposing stone, it's an unmissable sight during one day in Toledo.
Wander the tiny, medieval streets of Toledo.
Whether you want to seek out the perfect armor shop to buy a sword to take home with you (Toledo has been known for its armor for hundreds of years, so if you're ever going to splurge, this is the place!), seek out a cozy cafe, or simply enjoy the walk, there's no doubt that spending a couple of hours wandering around the historic center semi-aimlessly is an excellent way to spend part of your day trip to Toledo.
Admire the Alcázar of Toledo.
Intended to house Spanish Kings, the Alcázar of Toledo never did get to fulfill its original purpose: by the time this 16th-century palace was completed, the Spanish court had moved to Madrid.
Widowed Spanish queens did live there for a time, no doubt enjoying the views from the palace's location on the highest point in Toledo, and today, the palace functions as an army and weapons museum.
Personally, we felt no need to go inside the museum during our one day in Toledo, but whether you choose to enter or not, there's no doubt that the Alcázar is worth admiring from the outside!
How to Travel from Madrid to Toledo
Train
The fast train is arguably the simplest (and is definitely the fastest) way to travel from Madrid to Toledo independently.
The journey takes around half an hour and costs a little under 15 Euro each way.
Book your fast train tickets from Madrid to Toledo today!
Bus
Bus journeys are also available for your day trip from Madrid to Toledo, and take a bit under an hour.
However, the bus is a bit cheaper than the train, and as an added bonus, the bus station is a bit closer to Toledo's historic center than the train station (so requires less uphill walking and/or a cheaper taxi ride once you arrive).
Shop bus tickets to Toledo now!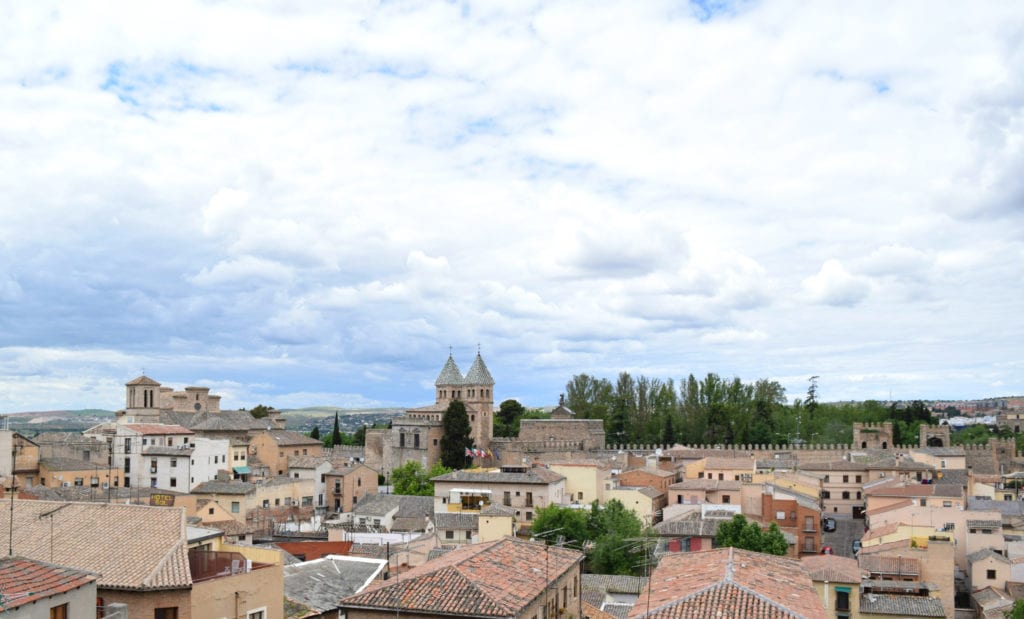 Tour
Don't want to worry about the hassle of getting to and from Toledo, and want to ensure you can easily visit the beautiful viewpoints outside of town without dealing with logistics, or even combine a day trip to Toledo with a visit to Segovia?
Toledo day trips from Madrid are an excellent value–this one is popular and gets great reviews–and are an excellent way to enjoy all the benefits of one day in Toledo without any of the stress.
Book your day trip to Toledo today!
Car
Most people traveling from Madrid to Toledo won't have a rental car with them, but on the off chance you do, driving to Toledo is a solid option as well.
There are several places to park outside the historic center of Toledo, and having a car with you will allow you to visit the viewpoints outside of town independently.
Tips for Spending One Day in Toledo
Arrive as early as possible!
Our biggest regret from our own day trip to Toledo is that we got too late of a start–had we forced ourselves awake and onto the bus a bit earlier, we would have loved to spend another few hours in town (admittedly, we had a good excuse–we were quite jetlagged at the time!).
Since Toledo is among the most popular day trips from Madrid, it understandably gets crowded in the middle of the day.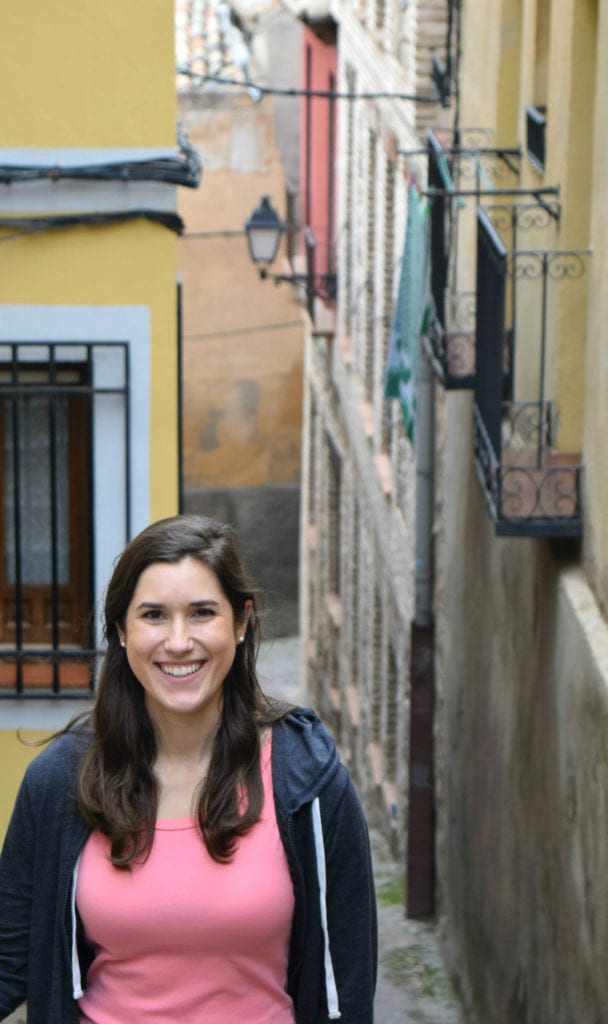 Wear comfortable shoes, and be prepared to walk uphill.
This is especially true if you arrive via bus or train and don't want to pay for either a taxi or Hop On/Hop Off bus ticket to reach the center of town.
You won't be able to see it all, so go slow and savor it.
Despite its small size, Toledo has dozens of tourist attractions that would theoretically be worth checking out given enough time: from houses of worship to small museums to plenty of restaurants and shops worth checking out, one day in Toledo certainly isn't enough time to see it all… but it's definitely enough to enjoy every second.
On a Madrid to Toledo day trip, we recommend picking out 3-4 things to do in Toledo that you absolutely want to see, and other than that, kicking back and seeing where the day takes you.
Try to see the city from across the Tagus–it's worth the effort.
The views of Toledo from across the Tagus, looking every part of the stunning medieval city that it is, are truly not to be missed.
It's a bit of a hassle to get out there unless you happen to drive yourself to Toledo, but it's 100% worth the hassle.
We enjoyed the view by taking a Hop On/Hop Off bus tour that included the view as one of the stops–we very rarely purchase those tours, but this was the perfect time to do so and we were completely satisfied with the choice.
Shop Hop On/Hop Off bus tours in Toledo today!