Considering a 6 month round the world trip soon? We've been there!
I originally published this blog post in early 2016, on the cusp of starting what we then believed to be a 6 month RTW adventure that would see us backpacking parts of Europe, Southeast Asia, and South America.
Fast forward 7 years, and it turns out that 6 months of backpacking the world turned into a full-time travel lifestyle that has spanned more than 50 countries and counting, entirely reshaping our lives along the way.
Our travels have truly been beyond our wildest dreams.
The decision to go backpacking for 6 months eventually led to us camping in the Sahara, learning to scuba dive in Thailand, climbing a volcano in Guatemala, traveling overland from Mexico City to Bocas del Toro, Panama, visiting most European countries, road-tripping on several continents, and spending a month or more basing ourselves in cities as diverse as Rome, Istanbul, and Cape Town.
Eventually, we spent a year living in Lisbon, Portugal, and racked up enough long trips to Italy that we can say we've spent a year each there, too.
Oh, and we added our dog Ranger to our pack, and who also travels with us now!
For posterity (and, okay, primarily for my own nostalgia), I've saved our original post announcing our intention to go backpacking here, complete with all of the excitement, nerves, and anticipation that bleeds through it.
Toward the end of this post, though, I'll share a little more about where we are now–as well as a few important things we would have done differently when planning a RTW trip if we knew in 2016 what we know now.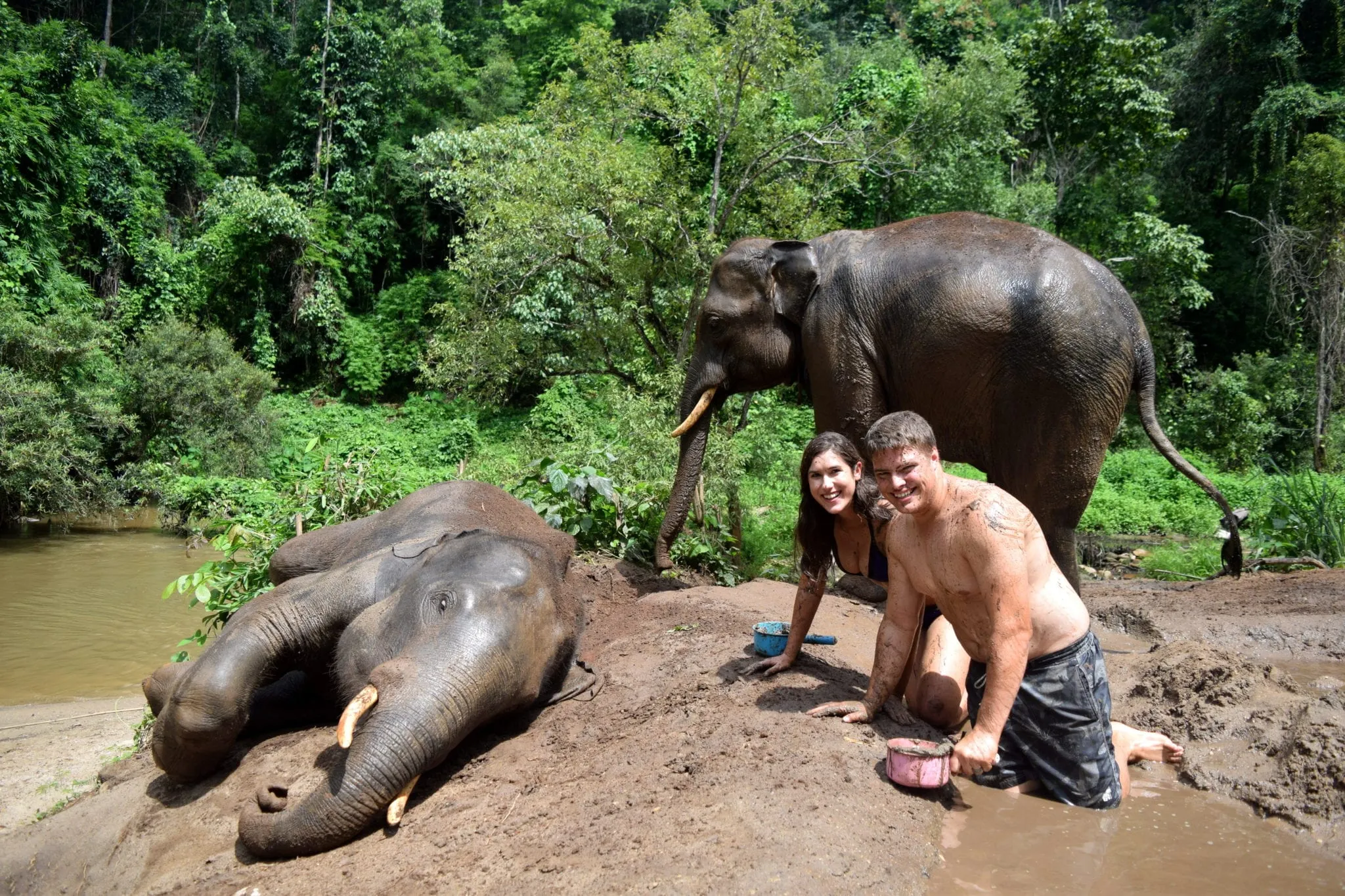 Our Original 6 Month RTW Trip Announcement
I have written and deleted and rewritten the opening paragraph of this post at least a dozen times.
It appears that the words just aren't going to come out right on this subject, but I am so ready to have them out there that I'm just going to have to settle for adequate ones.
Jeremy and I are leaving in May for a 6 month round the world trip.
In the internet world, this is not a big deal.
In our world, it is an enormous upheaval of our entire lives and everything that we thought they would be at this point, and it is an epic adventure.
In mid-2015, we found ourselves growing more and more discontent: with our jobs, with the beautiful house we had bought less than a year before, with our city, with the entire 8-to-5, double-income, double-commute, spend-the-weekend-recovering-from-the-work-week-while-also-squeezing-in-all-your-chores life.
We had already discussed and decided that we would work toward early financial independence from biweekly paychecks (I know, this trip is not exactly moving that goal forward, but hey–we're not perfect).
Still, though: that was a long, long way away.
Several (for now theoretical) kids away. A lot of gray hairs away. And way, way too many congested commutes away.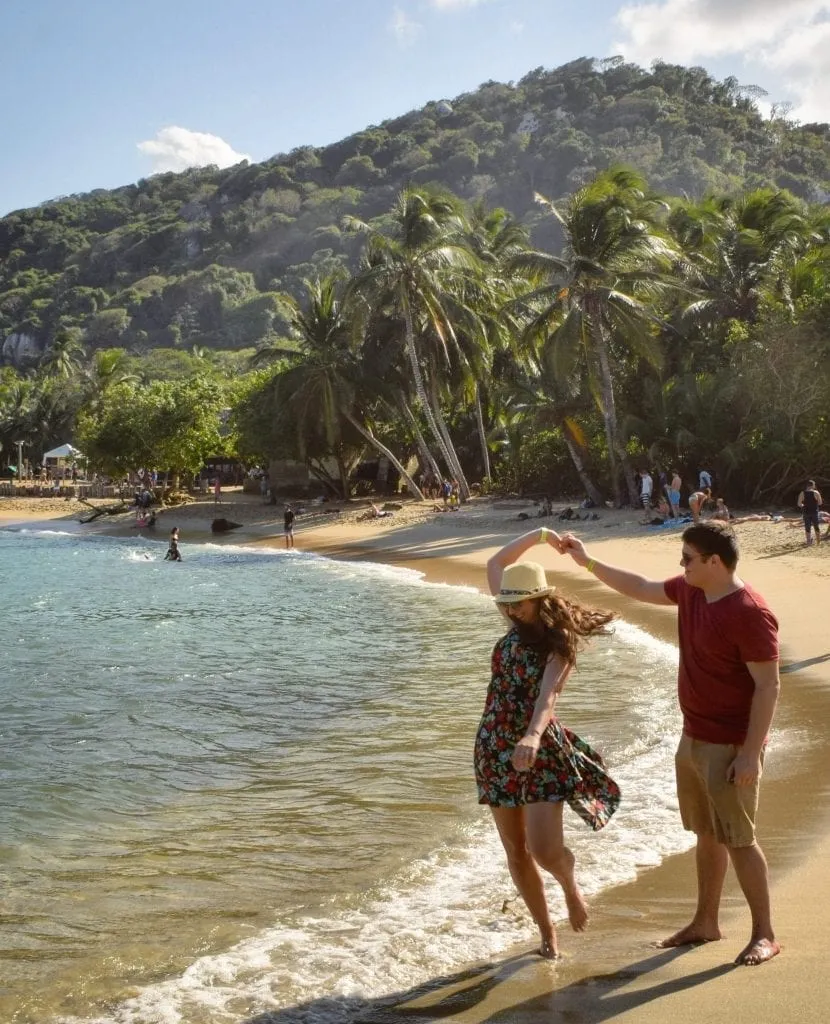 We needed out. We needed gone. We needed a whole new lifestyle.
We needed (and yes, this is hopefully the corniest line I'll ever type), an escape clause from the contract we had apparently signed after college graduation with suburban, corporate America.
From there, we started to discuss seriously: if we were going to redesign our lives, what would they look like?
Kids were a major theme for the future, but we knew that wasn't a path we were in a hurry for.
Downsizing was a big one: what in the world were we thinking, buying a 2600 square foot house on a tiny lot that made us feel like we were drowning in space inside and claustrophobic outside?
Seriously, that decision now feels utterly insane.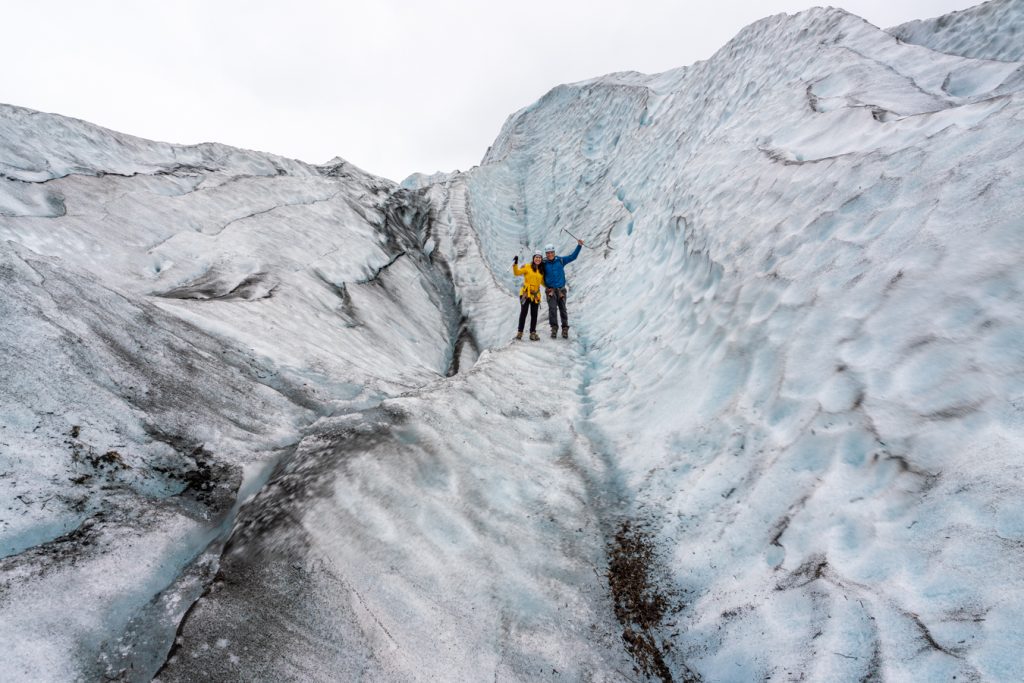 Moving away from San Antonio was also a repeated idea–when we moved there right after Jeremy graduated college, we agreed to give it two years.
We love the food (breakfast tacos, TexMex, and kolaches are all pieces of heaven), but the city feel and heavy traffic was not for us.
2023 Update: turns out we absolutely adore cities, the bigger and more complex the better (spoiler: we very happily moved to New York City of all places). We just don't like commuting in cities or living in car-dependent neighborhoods!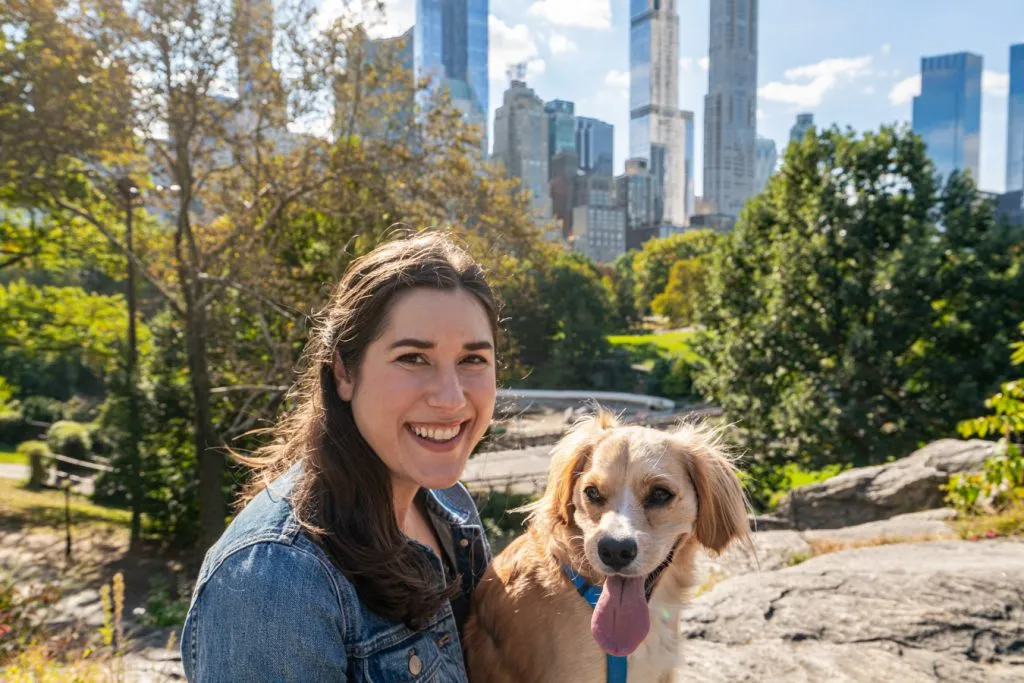 On top of that, of course, was our big, seemingly unattainable dream: travel.
Long term travel, the kind with a one-way plane ticket and plenty of time to wander as we please.
The type of travel that came with a loose itinerary, and the ability to make plans and decisions along the way.
Adding all this up, we cobbled together the vague idea of a plan: since we knew we wanted to leave San Antonio, we would sell our house.
Assuming that went well, we would take advantage of this transition period and leave on a round the world trip for 6 months.
After wrapping that up, we would return home and decide on our next chapter.
Moving back to our hometown is on the shortlist, but frankly, we're a little gun-shy about making hardline predictions about our future at the moment.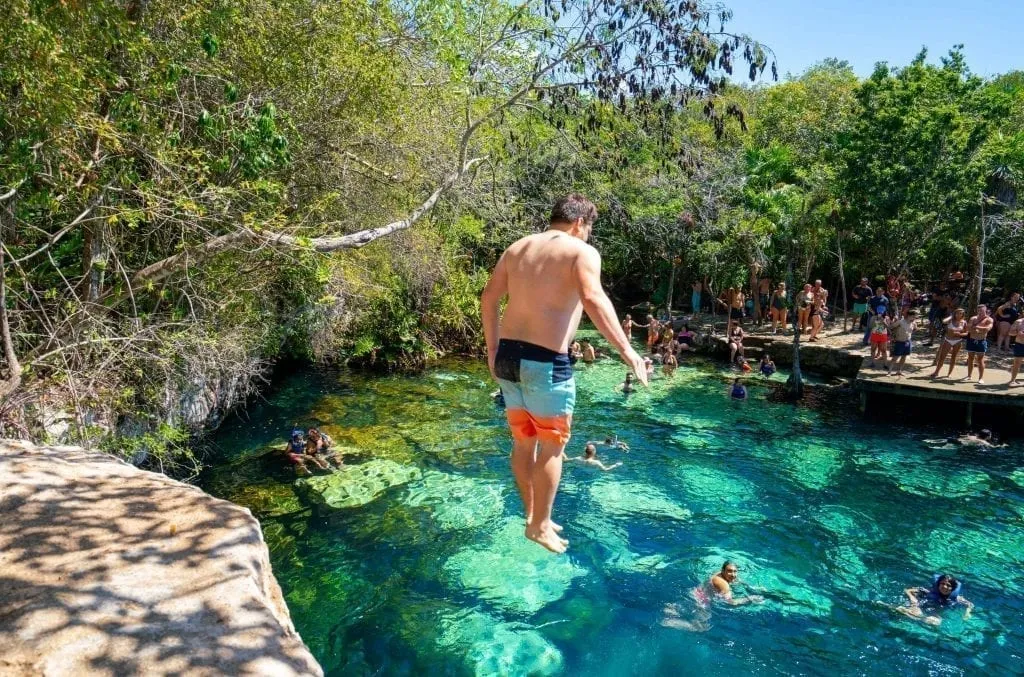 After all of the discussing and what-iffing, the doing… well, the doing went exceptionally fast. Our house was under contract less than 2 months after putting it on the market.
Our first few destinations (Spain, Italy, Morocco) are outlined, with plane tickets purchased and some accommodation arranged.
I have triple and quadruple-checked our budget, and we are squeezing every last penny we can into it while also holding our breaths and hoping the money lasts as long as we hope that it does.
Now, we prepare, prepare, prepare–and wait (oh, okay, and go on an awesome 2 week road trip to Savannah, Charleston, and Atlantic Beach, North Carolina).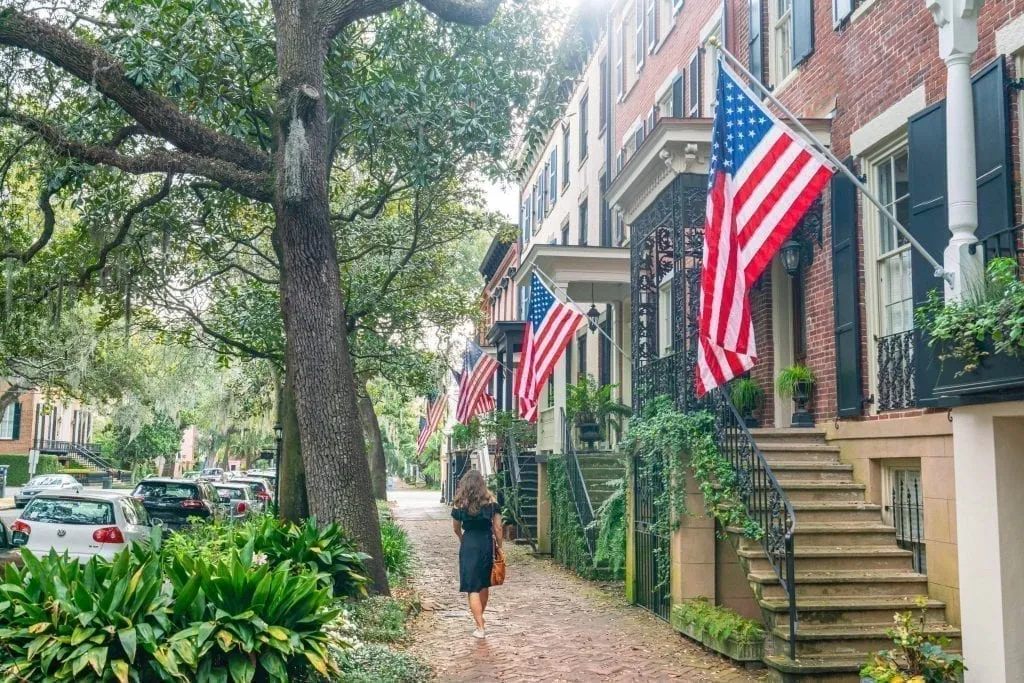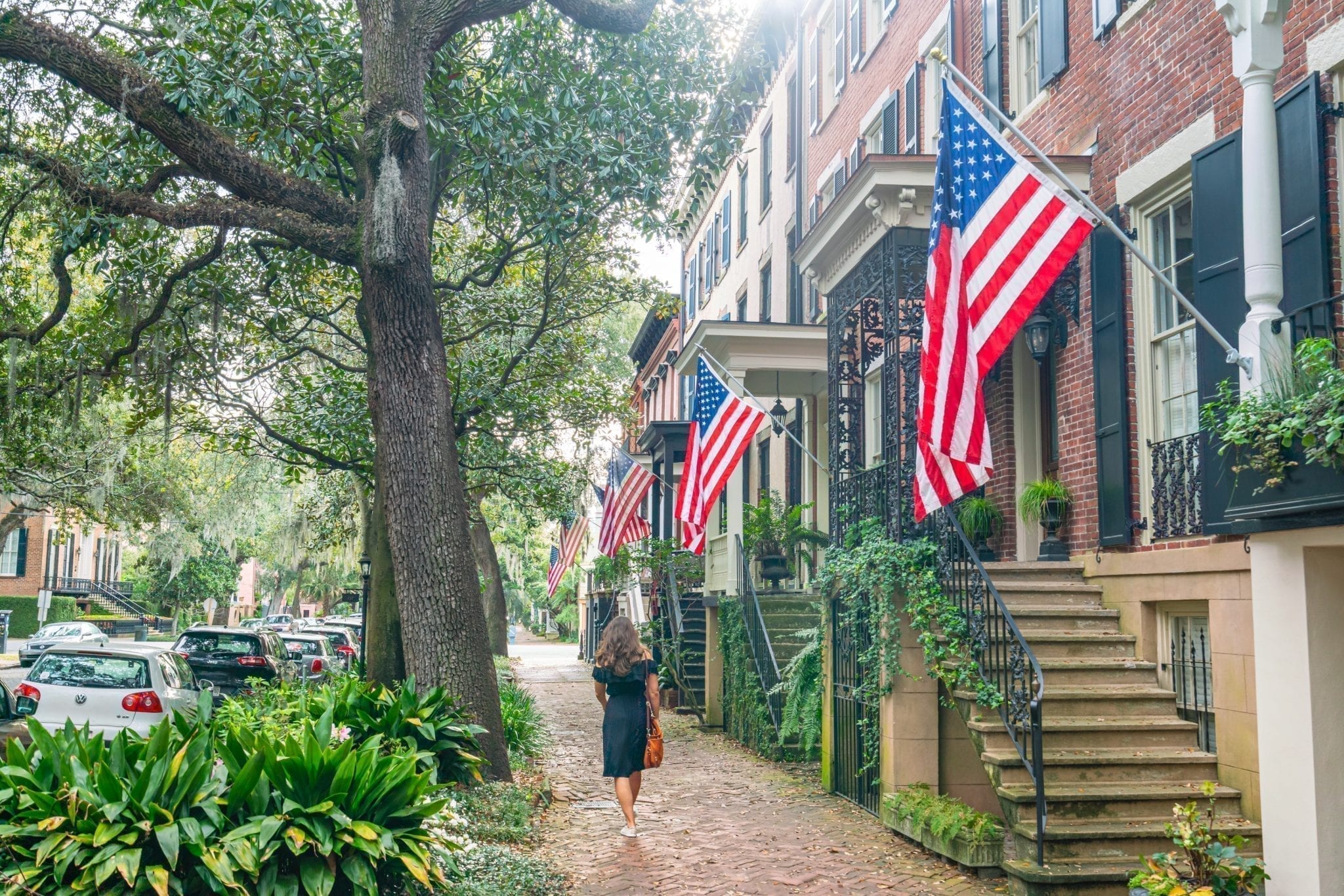 What Actually Happened On Our 6 Month Round the World Trip
It took less than a month for our carefully-organized (read: obsessively overplanned) 6 month backpacking itinerary to veer wildly off course.
Years later, I can still remember the decision like it was yesterday.
Rather than double-back from the blue city of Chefchaouen, Morocco to Fez, where a pre-paid Ryanair flight was ready to whisk us off to… Milan? Venice? (I honestly can't remember which), we decided to extend our stay in Chefchaouen once.
And then twice.
After almost 2 weeks in Morocco and nearly a month of traveling at a breakneck pace, we were already exhausted.
The prospect of the long, hot, bumpy bus ride back was just too unappealing for words.
Instead, we stuck around Chefchaouen for a while, and then headed to Tangier and hopped a ferry back to Spain, where we promptly fell in love with both the town of Tarifa and the joy of traveling spontaneously.
And, sure, yes, we lost one of our debit cards in Tarifa, only took about 10 photos of our entire week-long stay there, and one of my clearest memories of our stay is rejoicing upon finding an Old El Paso taco kit in the grocery store (our homesickness for TexMex never went away).
Importantly, though, the electrifying feeling of freedom and opportunity also sunk in during our time in southern Spain.
Here's what our 6 month RTW trip ended up looking like:
6 Month Around the World Trip Itinerary
Month 1
Spain (Madrid, Toledo, Tarifa), Italy (Bolzano, Lucca, Florence, Volterra, Pisa, Monterosso al Mare), Morocco (Marrakech, Erg Chebbi, Tinghir, Air Benhaddou, Fez, Chefchaouen).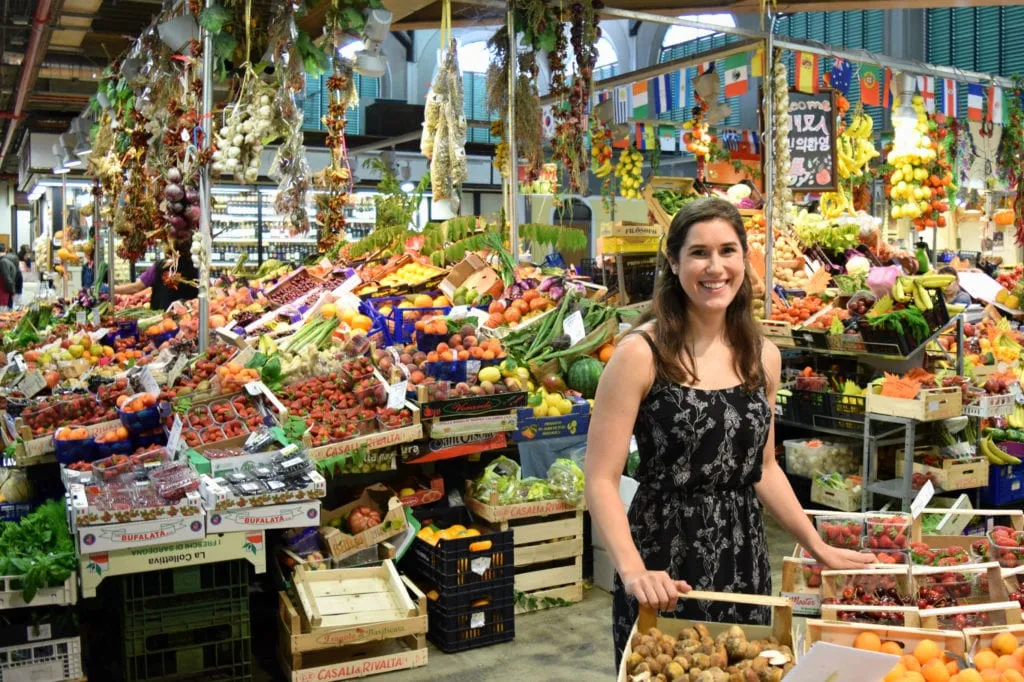 Month 2
Spain (Tarifa, Seville), Italy (Milan, Trieste), Slovenia (Piran, Mojstrana, Triglav National Park, Bled, Lake Bohinj, Ljubljana), Croatia (Split)
Month 3
Croatia (Split, Hvar, Dubrovnik), Bosnia and Herzegovina (Mostar, Sarajevo), Thailand (Bangkok, Koh Tao)
Month 4
Thailand (Bangkok, Koh Tao, Chiang Mai), Laos (Luang Prabang, Vang Vieng, Vientiane), Cambodia (Phnom Penh, Koh Rong)
Month 5
Cambodia (Koh Rong, Siem Reap)… and then the USA.
Yep, after all that careful planning, we ended up not only making it to South America in our first six months of travel (that actually wouldn't end up happening until early 2018, when we spent a month in Colombia), but we also took a break before six months was even up.
As it turns out, planning that far into the future wasn't our strong suit–and still isn't.
We ended up spending a couple of months at home with family, and then a few days after Thanksgiving, boarding a flight to Mexico City that would end up turning into our six-month adventure of backpacking overland from Mexico City to Bocas del Toro, Panama–which just about brought us to the one-year mark of full-time travel.
After Our First Year of Full-Time Travel…
How we pulled off the next six years and counting is mostly a story for another day (hint: travel blogging is a big part of it, and is now our sole income source).
But, we ended up staying fully nomadic until mid-2020 when the global crisis finally caused us to (temporarily) hang up our bags.
At that point, we headed back to the Lone Star State and spent a year rebuilding our business while based in Austin (2020-2021), and then moved to Lisbon, Portugal for a bit over a year (2021-2022).
As of 2023, we are happily based in NYC (for now?) and continue to travel far and wide in our pursuit of living our personal versions of a deeply fulfilling life.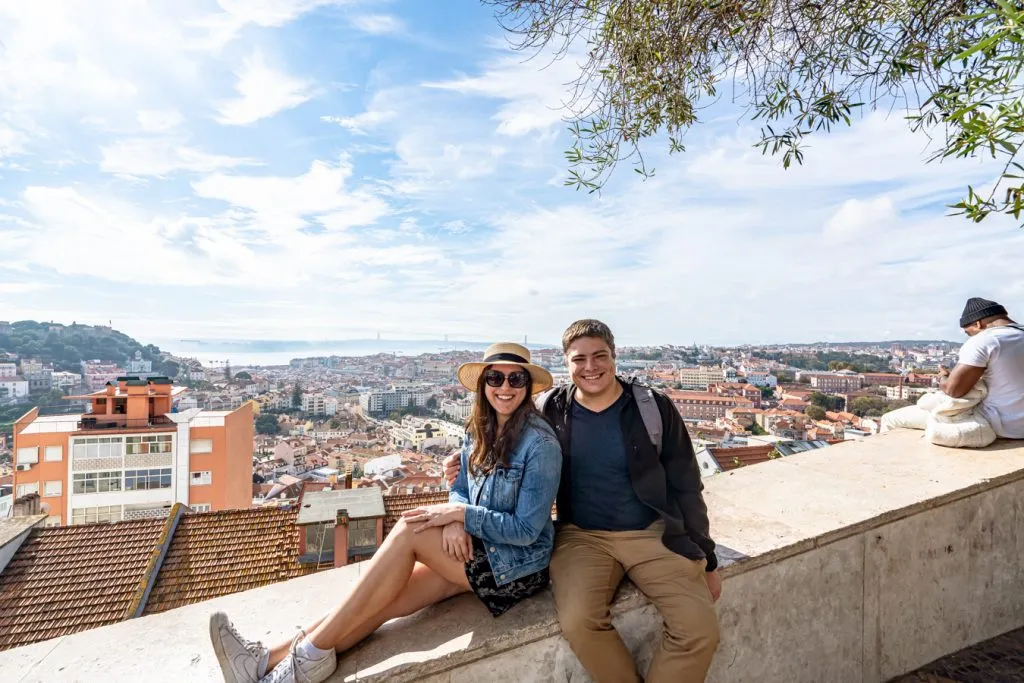 What We Would Have Done Differently
Overall, we are beyond thrilled with how our decision to go backpacking for 6 months turned out, even and possibly especially because we never could have predicted it!
That being said, we were still fairly novice travelers when we kicked off our RTW trip, and we certainly made plenty of mistakes along the way (getting scammed in Marrakech is one memorable one).
Looking back, here's what I would tell our ambitious, mid-twenties selves before they got started traveling the world.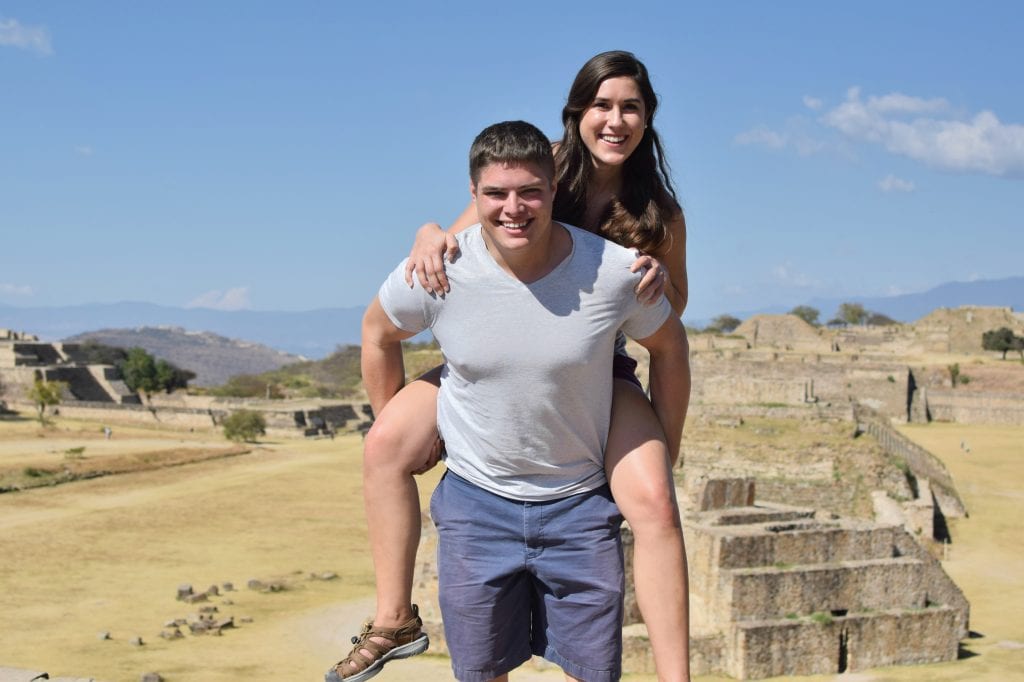 Don't plan too far in advance.
It took less than a month for our carefully-planned 6 month travel itinerary to fly out the window.
Today, we wouldn't recommend putting money down on anything more than a couple of weeks in advance, unless it's a bucket list experience that you're planning your trip around, like a festival.
Be open to changing your itinerary.
Did we end up not getting around to a lot of things we planned to do on our RTW trip?
Most definitely–for example, we still haven't been to Malaysia, Ecuador, or Vietnam!
Instead, we ended up with a lot of unforgettable experiences that never even occurred to us before we started traveling, such as scuba diving in Mozambique and chasing waterfalls in Chiapas.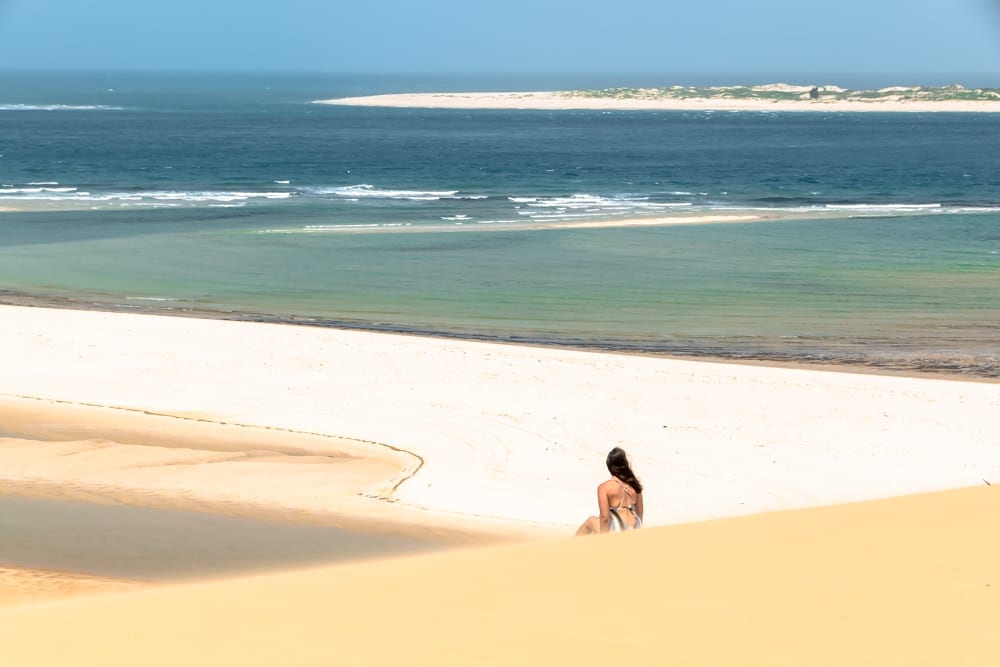 Get rid of more than you think you should.
When we initially sold our house and got rid of most of our belongings, we absolutely did not get rid of enough.
Objectively, we didn't keep a ton, but going through the boxes years later, it's laughable what we thought we needed.
At this point, we've actually gotten rid of (almost) everything and furnished places from scratch 3 times (not including our pre-travel lives), and each time the "to keep" pile gets smaller.
If you're planning an open-ended trip, especially if you're paying for storage, keep only what is nostalgic or entirely practical.
Take more photos than you think.
During the last 7 years, photography has gone from something we use to remember our trips by to a component of our business, and as such we have an absurd amount of photos… but often not the ones we would like.
Take photos of scenery, yes, but make sure to put yourself in some of them, too.
Even if you don't like how you look at the time, the years have a way of softening edges and turning a photo you were critical of yourself in into a priceless snapshot of your happiness at the time.
I also wish we had more photos of temporal things like bustling markets, restaurant meals, and dogs and people we met along the way.
Those photos don't seem as valuable at the time, but they tend to grow in sentimental value with the years in a way that standard scenery photos don't.
Buy a few souvenirs.
Because of the very nature of backpacking the world for six months, we bought shockingly few souvenirs during our first year abroad.
While we still consider ourselves minimalists and don't necessarily recommend buying things in every destination, I wish we had a few more physical items to remember our adventures by.
We have exactly two surviving souvenirs from our first year: a carved elephant from Thailand and a vase from Nicaragua.
Were they impractical to carry? Yes. But we deeply cherish them both.
Say yes more than no.
Just a couple of months into our 6 month round the world trip, we visited Krka National Park in Croatia.
At the time, you could swim in the waterfalls there–but we were tired from a long day of travels and didn't like the idea of riding the bus back to Split damp, so we passed.
Fast forward several years, and you can no longer swim in the falls.
I wish we would have said yes.
Most travelers who stick with it long enough have an anecdote or two like that–and the bottom line is, with the exception of incredibly dangerous things, people regret saying no a lot longer than they regret saying yes.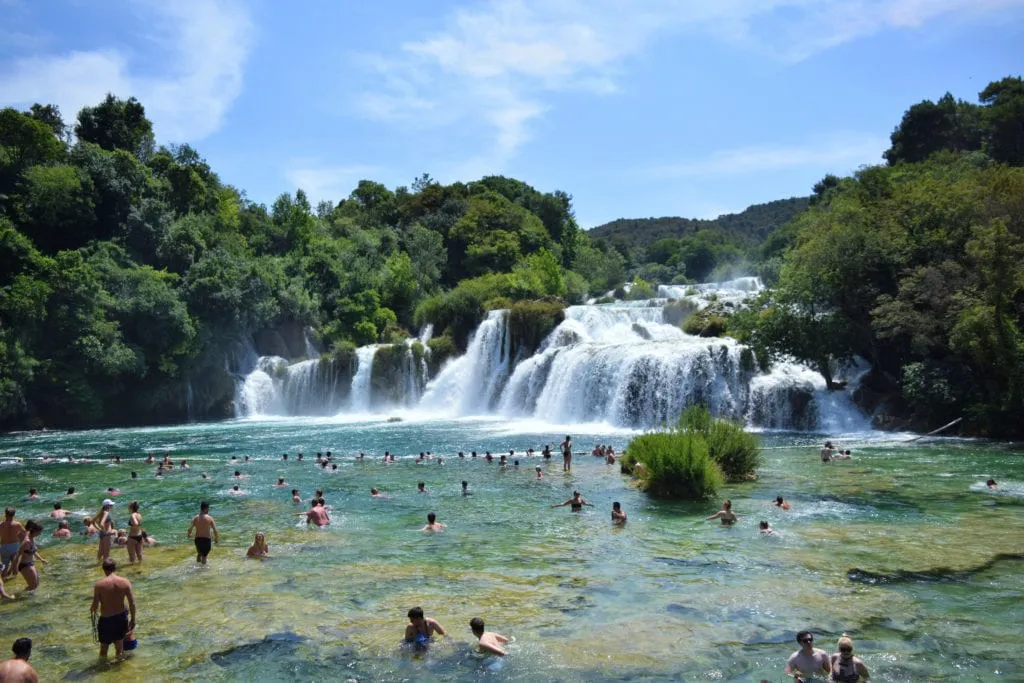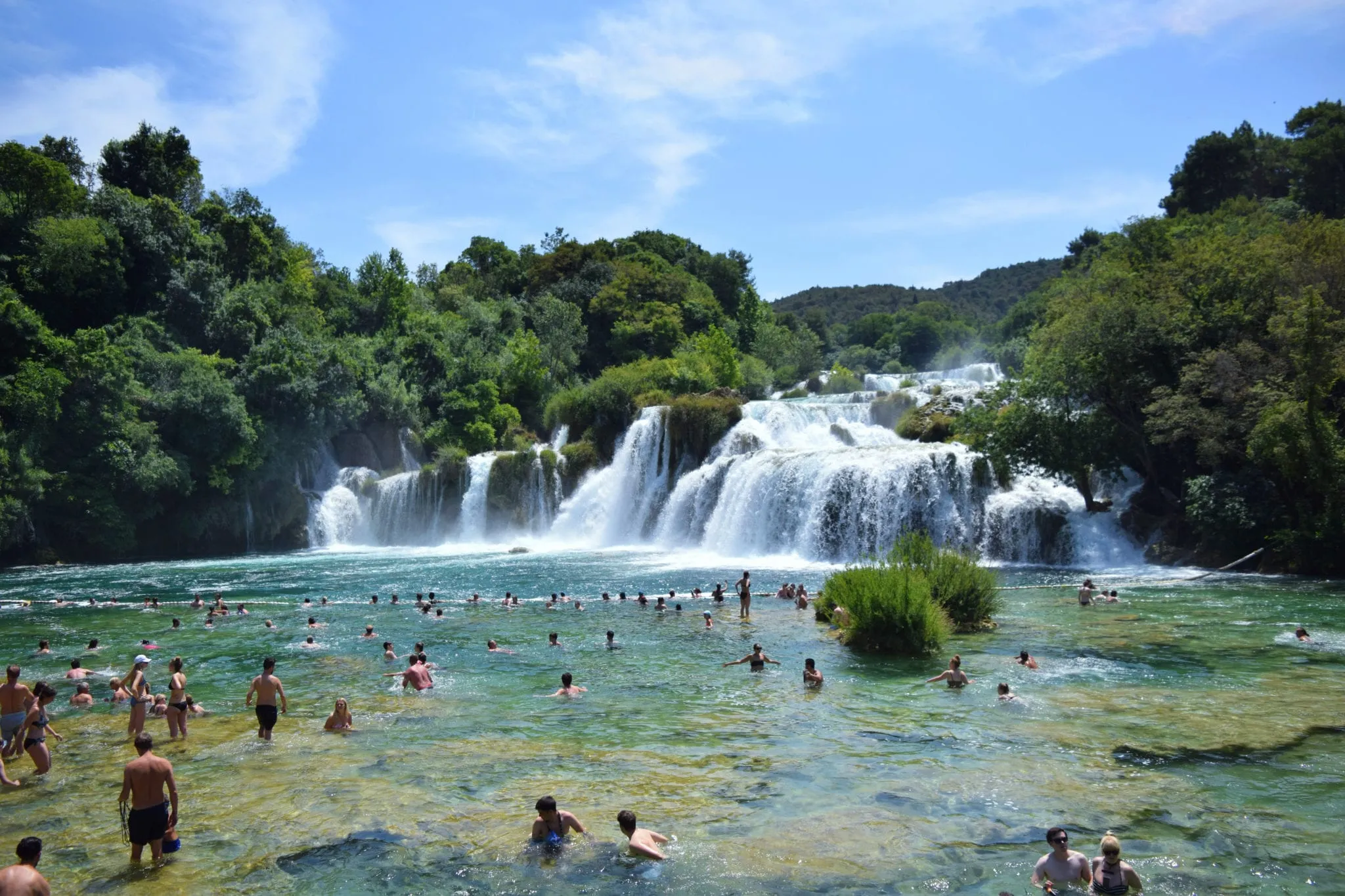 Pack less than you think.
Oh, how we agonized over our packing list!
From clothes to travel gear, we spent weeks checking and double-checking what we needed, trying to anticipate what we would want or wear, and making sure we wouldn't run out of anything.
Honestly, we should've spent about 10% of the energy on it than we did.
It simply does not matter nearly as much as many travelers, us included, think it does before they set off.
The exceptions?
Prescription medication, and high-quality essentials that might be a pain or expensive to source abroad (like your backpack, camera, or hiking boots).
When it comes to things like t-shirts, drugstore shampoo, or flip-flops, though, you'll find them for sale just about everywhere relevant.
Keep a journal.
In mid-2017, I started keeping a One Line a Day Journal
, which is an easy way to take snapshots of my days and keep the memories fresh.
I absolutely adore it and desperately wish I had kept a travel journal of some kind during that first 6 month round the world trip.
At the time, I thought blogging would be more than enough writing, but sharing RTW travel advice, or even stories, is simply not the same as notes you keep only for yourself.