Morocco is, by and large, a very budget-friendly destination. We didn't find it difficult to keep to our overall Morocco travel budget, but there were definitely varying degrees of how inexpensive things were based on our US standards of value.
Transportation inside cities was very inexpensive: we paid $1.50 for most cab rides, with a maximum cost of $3.00. As far as cab rides go, those are some of the least painful that I've ever experienced. Long-distance taxis, though, were another matter: we ended up forking over $60.00 for a taxi from Tinghir to Fez.
Restaurant food was generally 25-50% of what we pay in the US, with the exception being tourist-driven restaurants without any competition nearby to dilute the prices. Orange juice was always worth the money in my opinion–4 dirham ($0.40 USD) for a fresh-squeezed glass always hit the spot.
Lodging was where we found that we had the most room to breathe: we spent $15-35/night for a riad, had private rooms everywhere, and private bathrooms and included breakfast in all but Chefchaouen–but that was also the least expensive place that we stayed.
Trip Length: 12 days
Total Cost (excluding transportation in/out): $868.00 ($72.34/day, $36.17 per person/per day)
Lodging: $258.00 for 9 nights, average $28.67/night
We spent 11 nights total in Morocco, and the lodging for two of them is wrapped up in our 3 day/2 night desert tour. Our remaining 9 nights average out to $28.67/night.
We initially booked all of our lodging online, and when we extended our stays in Fes and Chefchaouen, we handled that in cash (and received a nice discount each time for doing so). Our riad in Marrakech was by far the most expensive–if we go back to Morocco, experience has taught us that we can find a far better rate.
Where We Stayed in Morocco
Marrakech
Riad Ineslisa — This was an inexpensive riad in the medina, and the cost showed. While it was walking distance (about 15 minutes) to Jemma el-Fnaa, the room felt insecure. Our room had only a very thin door with a simple lock and had air flow from the lobby. This was both good since there was no air conditioning, and bad since there was very little privacy as far as noise goes. We wouldn't stay here again.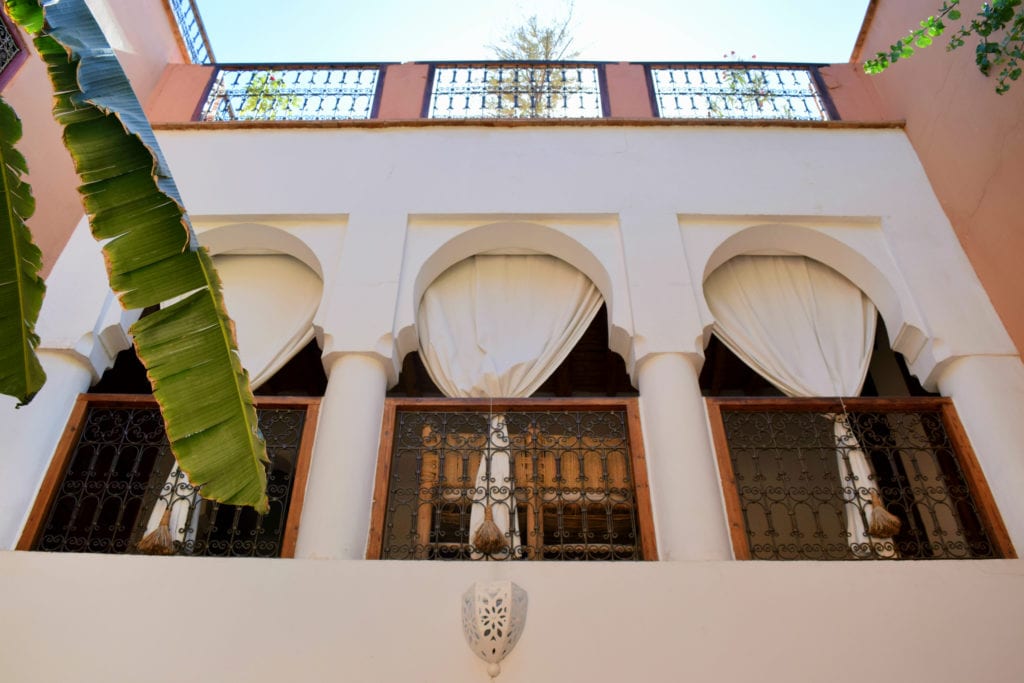 Fes
Riad Malak — This was our favorite place that we stayed in Morocco! The riad was beautiful, the owner kind and helpful, and the breakfast amazing (so many pastries!). Best of all, it had air conditioning. The riad is located in the heart of the medina, easy walking distance to most of the major sites. The only issue we had was a strong mildew smell in the bathroom, but, well–that wasn't exactly rare in Morocco.
Chefchaouen
Hostal Vallparadis — Cheap, clean, and very basic: this hostel was exactly what we were looking for. It is made up of all private rooms and is very quiet–exactly what we needed by the time we arrived in Chefchaouen. The rooms and bathrooms (shared) were clean, and the location is walking distance from almost everything we needed (except the bus station). We wouldn't mind returning here!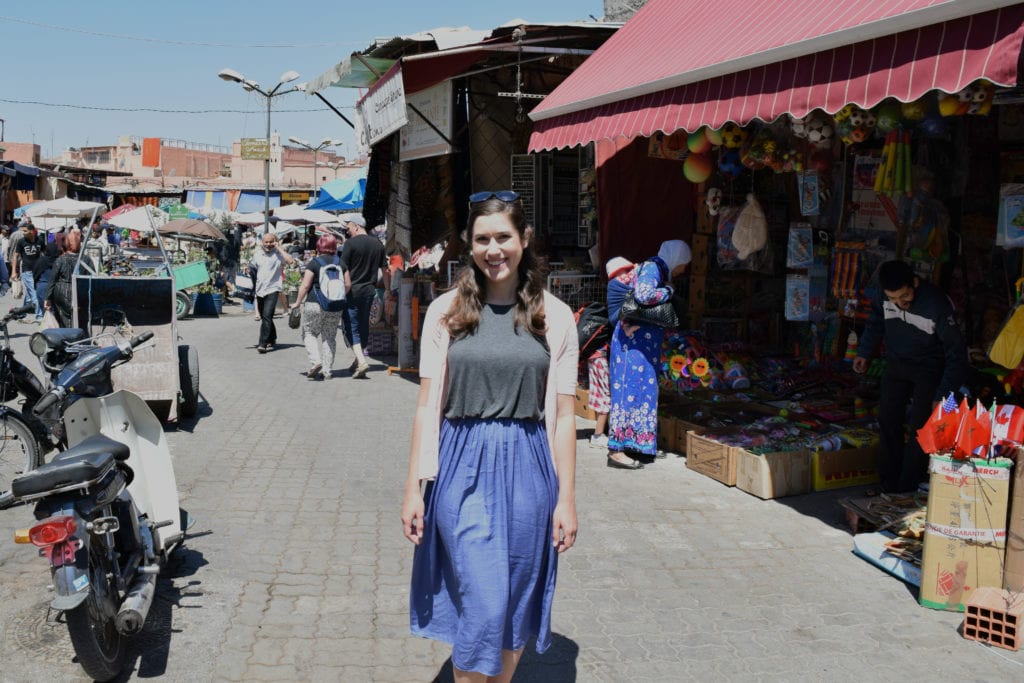 Transportation: $127.50
The biggest expenses here were our airport transport ($35.00, higher than it should have been because we booked through our riad for ease), and our taxi from Tinghir to Fez. Bus rides cost under $10.00 per person for long distances.
A Morocco road trip will likely raise your transportation prices a bit, but depending on what kind of trip you're planning, might be worth it! We didn't feel ready to take that on during our first trip to Morocco.
Restaurant Food: $152.50
The bulk of the meals listed in our Morocco travel budget are from restaurants–and yes, we were completely sick of it by the end. The tagine and couscous were great, but after nearly two weeks in Morocco, I think I'll be fine if I don't see either for another five years.
Groceries: $59.00
By far, our biggest expense in this category was water. It seems fairly inexpensive (most frequently we paid 36 dirham, or $3.60 USD, for 9 liters), but it adds up over time. If you go to the desert, be sure to stock up on water first: the prices rise the closer you get.
We also bought several rounds of snack food and treats, since we didn't have access to a kitchen and sometimes needed to taste something familiar–Pringles, Oreos and Nestle candy bars were ubiquitous.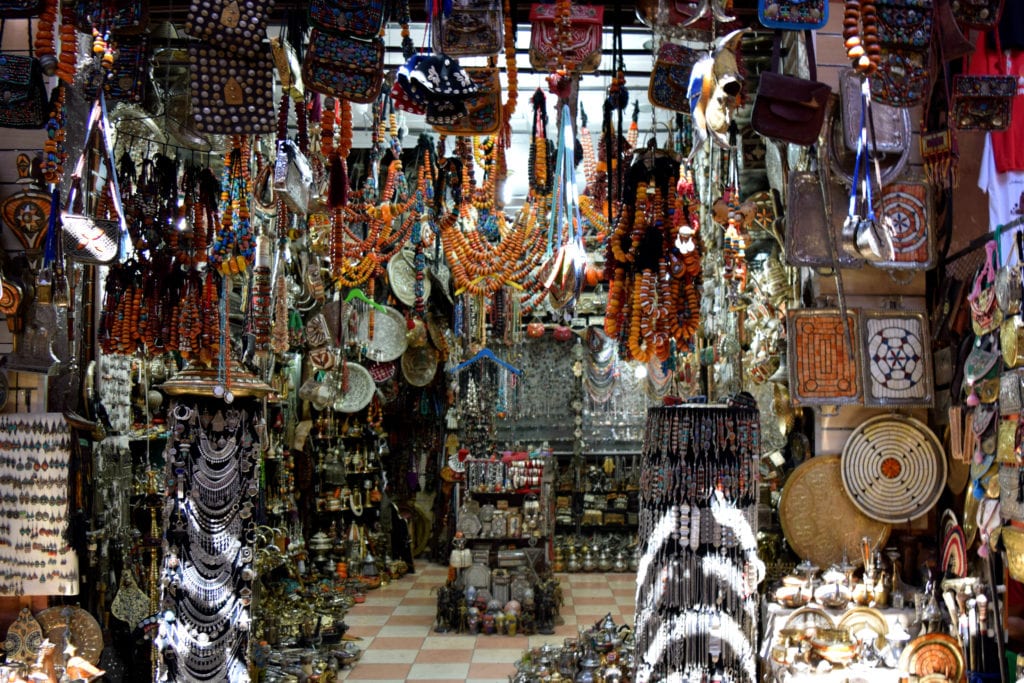 Tours: $217.00
The vast majority of this cost was our 3 day/2 night tour to the Sahara Desert (which also included plenty of other sightseeing, like Game of Thrones film locations such as Ait Ben Haddou and some beautiful Atlas Mountain viewpoints), but it also includes our disastrous tannery visit, our time at Ben Youssef Madrasa, and a few other odds and ends.
Miscellaneous: $54.00
We had a lot of miscellaneous purchases that we needed to fit into our Morocco travel budget, including bathroom fees (most bathrooms have a fee and do not provide toilet paper) and a new pair of cheap sunglasses for both of us. Most expensive (and most embarrassing) were the cash advance fees that we ended up paying on our credit card when our debit card refused to work in Morocco. We ended up working the issue out with our bank, but not before racking up some obnoxious fees.
Because of limited storage space, we did at least pass on all of the (tempting) souvenirs–but the price of those is definitely determined by how good you are at shopping in Morocco!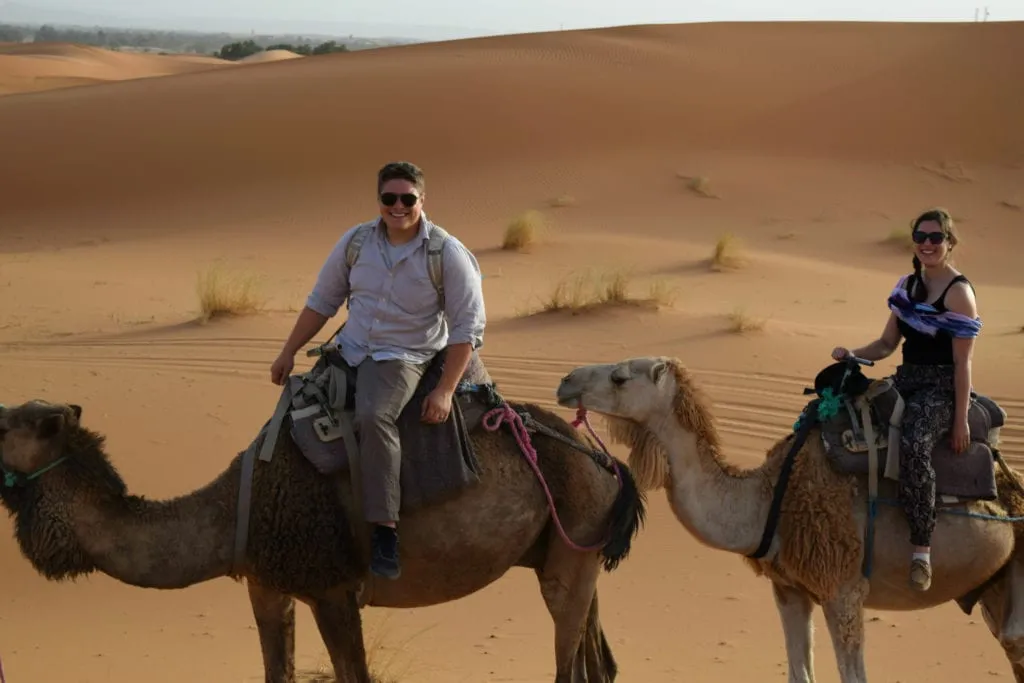 Overall, I'm very happy with our Morocco travel budget. Like in most locations, if we were to return, we would be able to do it cheaper. A general learning curve to a new destination will almost certainly end up costing a little money, but at the end of the day, we are satisfied with what we spent for the experiences we received.
Don't visit Morocco without travel insurance! We use and recommend World Nomads for their competitive prices, ease of purchasing, and the clarity of their contracts.

We didn't include it on this budget because, similar to entering and exiting the country, the costs can vary widely for each trip. Be sure to research your needs before taking off!