July 12, 2018
How to Take a Sahara Desert Tour in Morocco (The Right Way)
Morocco
Let me preface this post by saying that I despise signing my life away to anyone else managing my time for more than a few hours.
As a child, this meant that I hated summer camp with the passion of a thousand fiery suns, and only made it through a couple of them (despite growing up to love most of the actual activities that campers participate in).
As an adult, it means that I am deeply suspicious of organized group tours and generally avoid being part of them at all costs.
So, when I say that Jeremy and I found that our final night of our 3 day/2 night Sahara Desert tour in Morocco to be the most rewarding thing that we did in the country–I really, really mean it.
Erg Chebbi, the giant dune that most tourists seek out when trekking to the Sahara in Morocco, is one of the most remarkable things I have ever seen. The complete silence that greets you in the desert, and the way you can truly lose yourself in sand that stretches as far as the eye can see, is incredible.
The sand in the Sahara Desert is the that softest I have found–no beach or desert that I have ever been to before can compare: this was akin to sitting on velvet, or running your hands through water. It is so soft.
And, the stars–don't get me started on the stars. I have been to some fairly remote places, but the Sahara Desert is about as dark as it gets: when the sun went down, the sky utterly erupted with more stars than I thought it could hold, complete with a crystal-clear view of the milky way.
To add to the ambiance, we trekked to our campsite by camel at sunset, and then out again at sunrise. It sounds romantic to do it that way (and it was)–but really, I'm pretty sure the sunset/sunrise schedule has more to do with shielding the tourists from the heat than anything else.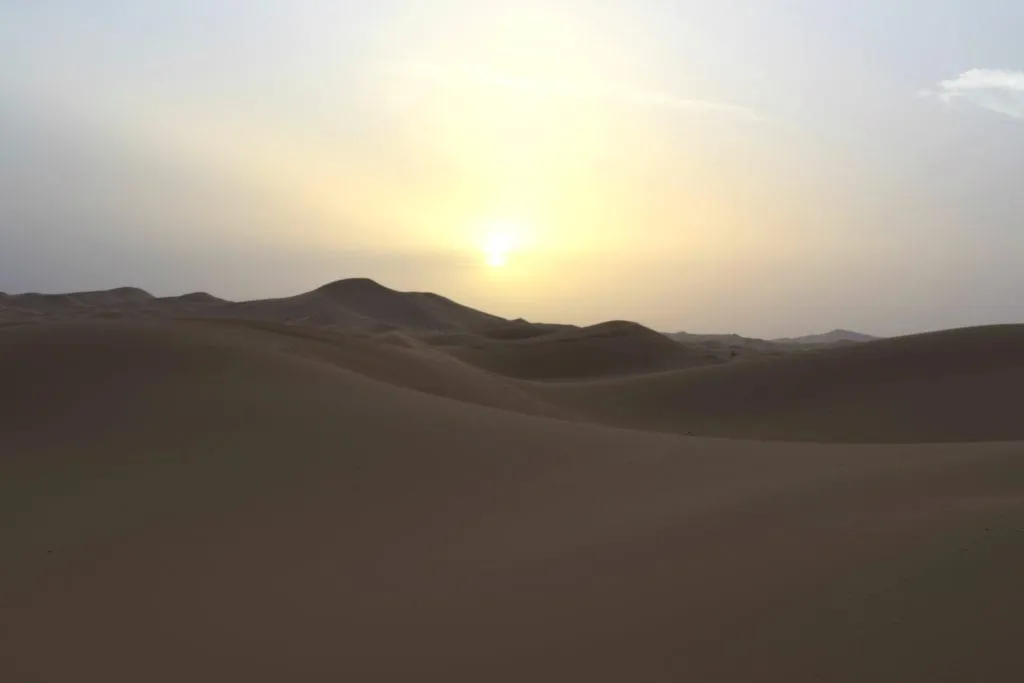 Either way, though, the camels definitely added to the atmosphere.
Initially, I was a bit disappointed that our 3 day tour only included one to two hours of camel ride, but I quickly got over it–first, because as it turns out that was one to two hours each way, and second, because the similarities between camel riding and horseback riding are somewhat limited. I was so sore by the end of the second ride that I couldn't wait to dismount. About half our group abandoned the camels entirely on the way back, and chose to walk alongside them instead.
Note: The camels of the Sahara Desert in Morocco have one hump instead of two, and are therefore technically "dromedaries", or "Arabian camels". Everyone in Morocco just called them "camels", though, either for the tourist's benefit or otherwise, so I'm going to stick to that for simplicity here.
Due to a combination of refusing to close our eyes and stop watching the stars, and being roused at the literal crack of dawn to jump on our camels again and leave (I think it was less than 10 minutes from opening my eyes to sitting on the camel–the Berber boys running this show were incredibly efficient), we barely slept–but it was so worth it.
Raving about the desert seems to be a pretty consistent reaction among people who have been there–I really can't speak highly enough about being consumed by a very different kind of nature than most of us are used to, and I will forever nag anyone who is headed to Morocco to be sure to add a night in the desert (preferably by camel–you can go by 4-wheeler, by unless you have a physical limitation, I don't recommend it) to their itinerary.
… Which begs the question: how should you get out there? We did a multi-day Sahara Desert tour, but while you certainly need to hire a trekking company to head into the desert for the night, it is possible to get yourself to Merzouga (the "entrance point" to the desert) and find a company there, rather than signing your life away for multiple days.
The right answer, I believe, depends fully on your travel style, experience, and expectations.
Based on our experience, here are the pros and cons of using a multi-day tour to visit the Sahara Desert:
Pros of taking a Sahara Desert Tour in Morocco:
1. It is the simpler option.
With a Sahara Desert tour, your transportation, trekking company, lodging, and normally some meals are taken care of in one (negotiated) price. There's a much smaller chance of getting lost, and there are far, far fewer logistics to manage.
Note: Never, ever book your Sahara Desert tour before leaving home. I reached out to a few companies before leaving, but made the choice not to book after reading that much better deals could be had in-country. We ended up paying less than 25% of what the initial offers were–and we didn't get close to the best deal in our group!
2. The group dynamic can add to the experience.
Of course, group dynamics can be finicky, but Jeremy and I were lucky enough to end up with a great group of people who all got along well. Those brief "travel friendships" were valuable, and greatly enhanced our experience of both being out in the desert and in Morocco in general.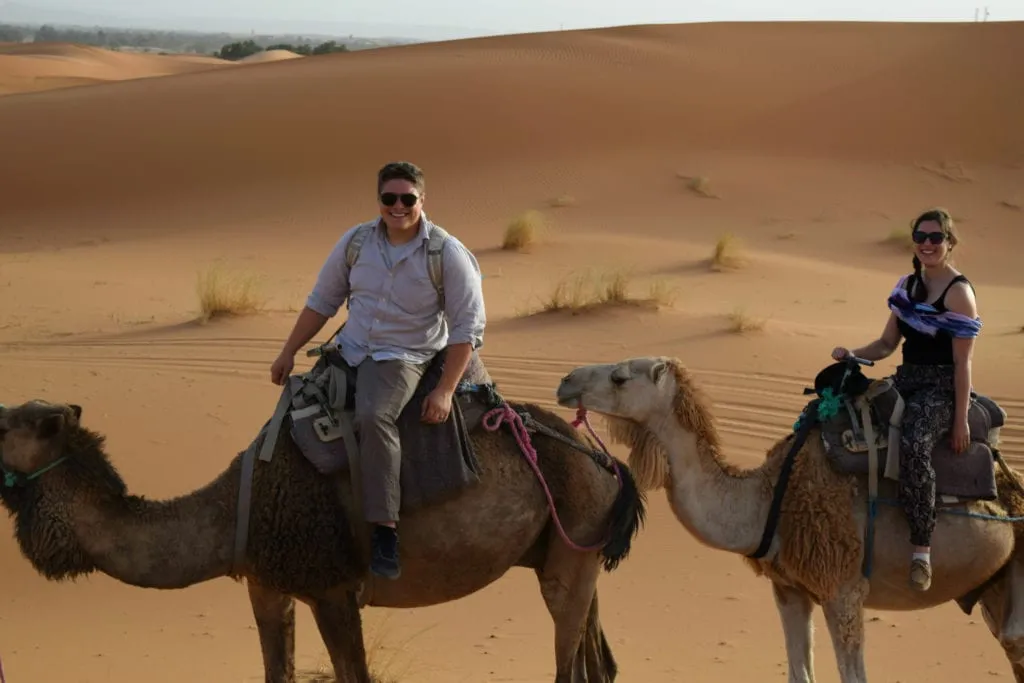 3. The stops along the way will be organized.
This can really fall under both "pro" and "con", but there's no denying that the tour bus drivers know exactly where to take you to get some great photos throughout Morocco–some of my favorite photos of our time in the country came from our driver pulling over to the side of a small road and having us all get out to snap.
4. You can be reasonably certain of the safety of your trek.
There's a certain vulnerability in traveling to a country that you're unfamiliar with, that also has a language that you're unfamiliar with, that also has completely different customs than you're familiar with.
Though you can never be 100% certain of the safety or reputability of anyone that you're working with, having a contract with a tour company that delivers dozens of tourists to them regularly does suggest a certain level of experience.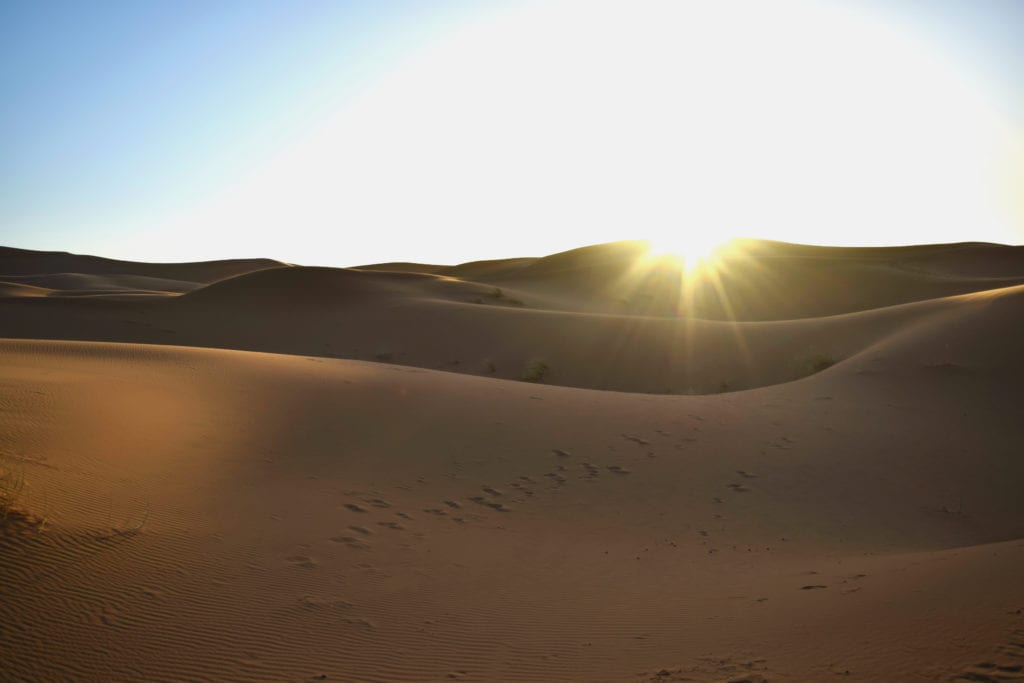 Cons of taking a group Sahara Desert Tour in Morocco:
1. You will have little to no control over your schedule.
From the moment we were picked up at our riad in Marrakech until the moment the tour was over, we were told when (and where) to eat, when (and where) to spend money, and when (and where) to sleep.
In many ways, this is the nature of group travel–but for people who prefer to make their own schedules (guilty as charged), the dynamic can get very frustrating, very quickly.
2. You are a captive audience.
Though our tour company did keep to all technical promises made–transportation, breakfast, dinner, lodging and desert trek were covered by our initial fee–the tour company and those working around us pushed the boundaries every way that they could.
Mysteriously, we did not eat at one restaurant for lunch that charged less than typical US prices for mediocre cuisine–shocking, I know. We also never ate at a restaurant that had any other stores, restaurants, or general options surrounding it.
Our tour group ended up forking over money for a "tour" that we didn't know that we were taking–and yes, an "any optional entrance fees will be additional" notice was given, but we did not receive any notice when this "optional" activity started and were not given a choice to opt out.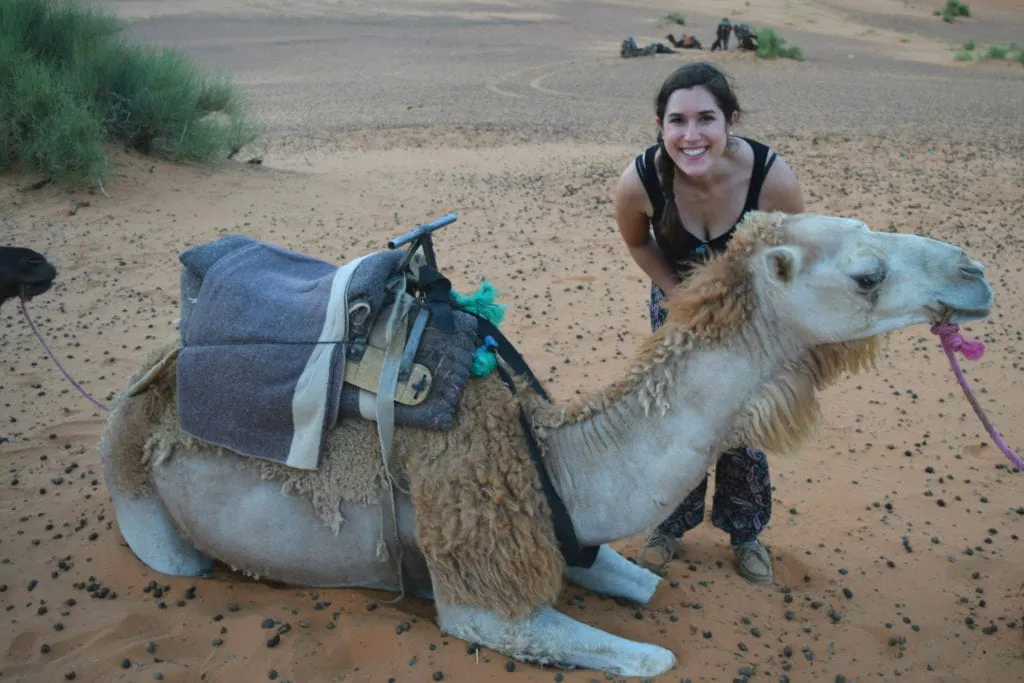 Most obnoxiously, in my opinion: on the final day of our tour, half our group (us included) were going to head to Fez rather than bus back to Marrakech. We were told that we would be dropped at a bus station and could then arrange for a bus or a taxi–fair enough.
What actually ended up happening, however, was that we were dropped off on the side of the road, no town or bus station in sight, and our bus driver called a "friend" to pick us up before the bus drove away. Of course, we were left with essentially no bargaining power in this situation, as we had no real option but to get in the chosen taxi or be left on the side of the road with our luggage and no transportation.
3. Outside of the Sahara Desert, the controlled activities were mediocre.
Our visits to Ait Benhaddou and Tinghir were interesting, but they were also very rushed, very formulaic, and were clearly designed to extract money from us rather than provide us with an experience.
We stayed in each place for less than 2 hours, with at least 1/3 of that time being dedicated to the clear attempt to sell us things–most obviously, we were taken to a "Berber carpet shop" in Tinghir where we were "shown carpets" for five minutes and "aggressively sold to" for another twenty before we were directed to leave.
Read Next: Show Me The Money: Travel Budget for Morocco
Overall Thoughts on our Saraha Desert Tour in Morocco:
I think that we made the right choice by taking a Sahara Desert tour. This was our first time in Morocco, and the stress of navigating buses or hiring a car to get to Merzouga, only to find a trekking company ourselves, was an overwhelming prospect that I am glad we didn't take on.
That being said, the activities leading up to the desert itself were not worth the time or money (at least the way that the tour did them–I'm sure the sites are worth seeing with more time and a different perspective).
In retrospect, I wish we would have done a 2 day/1 night tour that was more or less a long drive out to the Sahara Desert, seeing the desert, and coming back. It would have meant quite a bit of bus time, but I think that Jeremy and I could have used the extra day more productively doing some sell-led traveling in Morocco.
If we go back again, knowing what to expect, we would likely bus to Merzouga and take a trek from there–but that would have been too much for our first visit.
Don't head out on a Sahara Desert tour in Morocco without travel insurance! We use and recommend World Nomads for their affordability, ease of purchasing & the clarity of their contract!
Some links in this post about Sahara Desert tours in Morocco are affiliate links. If you click through one of these links, we may earn a small commission at no extra cost to you. We are committed to only ever recommending products and services that we personally use and like.