Tempted by the cultural charm and natural beauty of the Iberian Peninsula and hoping to plan the perfect 2 week Spain and Portugal itinerary?
If so, we've designed this itinerary for Portugal and Spain for you!
Tucked away in the southwest corner of Europe, planning a combined trip to Spain and Portugal over 2 weeks is as invigorating as it is challenging.
After more than a year of living in Lisbon as American ex-pats and more trips to Spain than we can count, we have quite a few opinions about planning the perfect 14 days in Portugal and Spain!
These two countries–both of which feature a list of bucket-list destinations that could take months to see if given the opportunity–are fascinating and engaging places, though with more differences between them than might be immediately apparent on the surface.
If you're hoping to enjoy a whirlwind, fast-paced, crash-course in what makes traveling in Spain and Portugal special, this itinerary is for you.
Here's how to make the most of 14 days in Spain and Portugal!
How We Structured This 2 Week Spain and Portugal Itinerary
We structured this 14 day itinerary for Spain and Portugal as a "U" shaped route beginning in Barcelona and ending in Porto.
In addition to those 2 cities, we also cover stops in Seville, Cordoba, Granada, the Algarve, Lisbon, and Sintra.
In other words, this is a very, very fast-paced itinerary!
While very doable, I'll be perfectly honest: this is a mildly exhausting pace, and if you prefer a more relaxed itinerary, trimming the stop that appeals to you the least is a very reasonable option.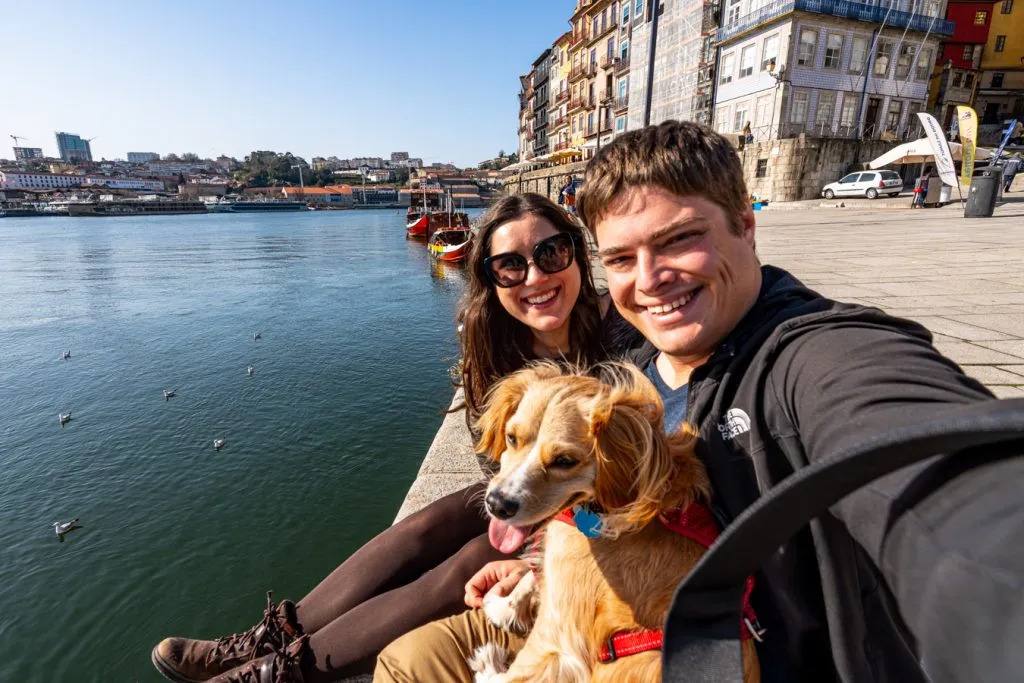 We agonized over what destinations should make the cut (and it took me a long time to come to the conclusion Madrid wasn't doable on top of everything else, though you could easily swap it for Barcelona or Porto if you prefer), but ultimately, we decided to suggest an ambitious but realistic plan that is as varied as possible.
Major cities, legendary architecture, stunning coastlines, and small towns all feature on this itinerary for Spain and Portugal, and we truly believe that you'll walk away from this trip with a wonderful snapshot of both destinations.
In order to fit it all in, though, be prepared to lace up your most comfortable shoes, plan your transportation in advance, and squeeze lots of sightseeing into one day!
Oh, and pack as light as you can–trust me, unpacking and re-packing this many times in a row is not a blast.
What About Morocco?
When planning a combined vacation to Spain and Portugal, there's another country that tends to draw the eye: Morocco, which sits a tantalizingly short ferry trip or plane ride away from the southern edge of the Iberian Peninsula.
We opted not to include Morocco here due to sheer logistics.
The reality is that 14 days is barely enough time to do justice to Spain and Portugal, let alone add on a whole additional country (with a wildly different culture, packing list, and attractions to consider, too).
When you add in the fact that Tangier, the Moroccan port city reachable by ferry from the Iberian Peninsula, isn't typically the favorite destination of visitors to Morocco, it simply doesn't make sense to add it to this route.
Now, that being said, Morocco is unforgettable–we still count our time there camping in the Sahara Desert as one of our favorite travel memories of all time.
If you have 3 weeks to work with instead of 2, you might consider adding a Morocco leg onto your trip.
We wouldn't recommend a day trip, though: about 5 days, enough to see the Sahara Desert overnight as well as Marrakech and/or Fes, is enough to give you a solid taste of the country (though of course, 7-14 days would be even better).
With more time, the Blue City of Chefchaouen and the coastal city of Essaouira offer wonderful experiences.
Getting Around During Your 14 Days in Portugal and Spain
This itinerary for visiting Spain and Portugal in 2 weeks is best accomplished with a mix of transportation.
Between each Spanish city, the best way to get around is typically via high-speed train, though a flight is an option on one route.
In order to pull this itinerary off effectively, you'll want to purchase tickets in advance and make sure you're using the most direct routes!
Spain's high-speed AVE trains, like many high-speed trains around Europe, use dynamic pricing–in other words, you should lock down your fares as soon as you can commit to dates.
(Be sure to show up early, too, as high-speed train routes in Spain require a security check before boarding).
We use and recommend Omio, a ground transportation aggregate that is popular for traveling in Europe, for checking timetables and purchasing tickets.
For traveling between Spain and Portugal, which in this itinerary means traveling from Seville to Lagos, you'll want to book a bus (you can also do this through Omio, and the journey takes around 5 hours).
While it is possible to rent a car for this part of the route too, one-way drop-off fees between countries are generally astronomical.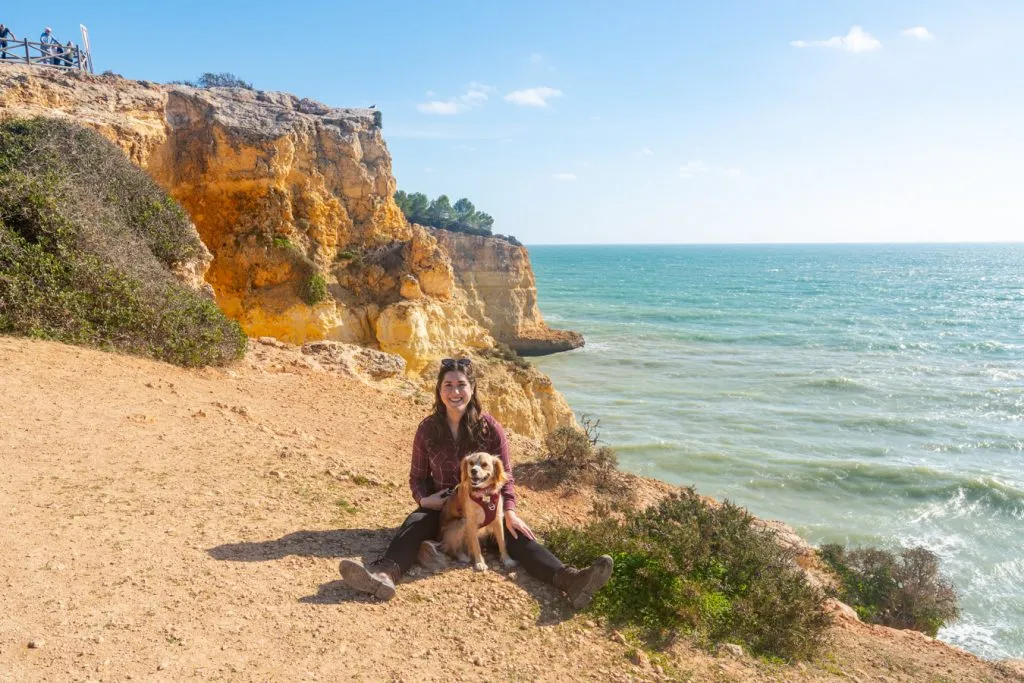 Once you're in Portugal, depending on your travel style, you might prefer to rent a car for the Algarve portion of your trip and then drive the car to Lisbon, or to do without and take the train to Lisbon.
Taking the train between Lisbon and Porto is very simple, but if you'd rather step off the beaten path and visit somewhere like Óbidos, the Alcobaca Monastery, or Tomar along the way, driving can also be fun!
This guide for traveling between Lisbon and Porto breaks down your options in detail.
Shop rental cars and train tickets for your 2 weeks in Spain and Portugal today!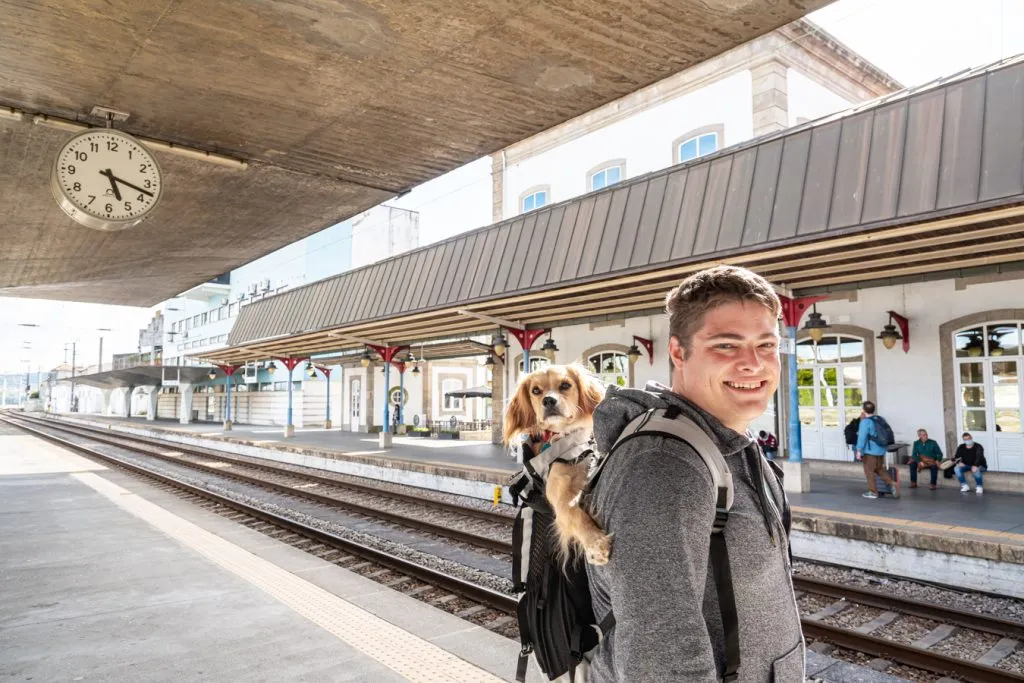 The Ultimate 2 Weeks in Spain and Portugal Itinerary
Here on Our Escape Clause, we have written (and continue to write) extensively about traveling to Spain and Portugal.
Those guides include (but are far from limited to) standalone trip itineraries for Spain, Portugal, and Andalucia, as well as detailed itineraries for most cities covered in this itinerary (for example, here are our suggestions for Madrid, Seville, and Lisbon).
For that reason, I'll try to keep the descriptions of each day semi-brief, as this Portugal and Spain travel guide will no doubt be extremely long regardless!
For more detailed day-to-day advice, I'll continue to link to additional relevant guides throughout the itinerary, and you can also peruse all of our Portugal blog posts here and/or Spain blog posts here.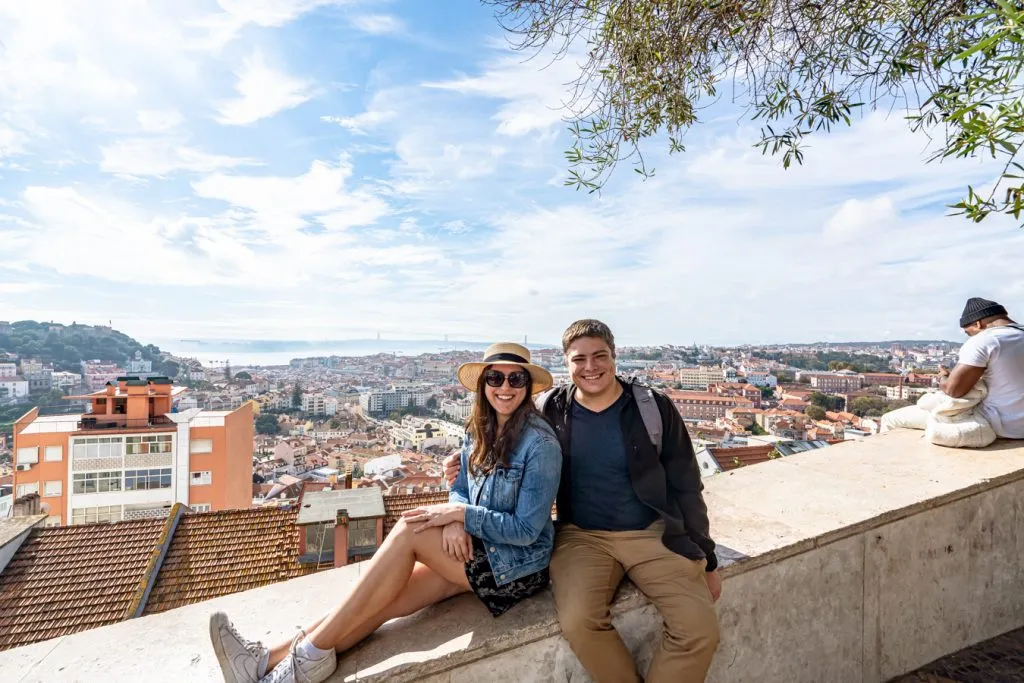 Day 1: Arrive in Barcelona and hit the ground running.
For the purposes of this 2 week Spain and Portugal itinerary, we'll assume you arrive in Barcelona in the morning, jet-lagged but excited to start exploring!
(This is an extremely common schedule for flights from North America to Spain).
Once you drop off your language at your hotel (most are more than happy to store bags for you until check-in), it's time to explore Barcelona's iconic architecture.
On your first day in Barcelona, start with a visit to either Casa Milà or Casa Batlló, two of the most famous homes designed by Gaudi!
They're fairly close together, but given how much there is to see in Barcelona, we recommend only going inside one and seeing the other from the outside.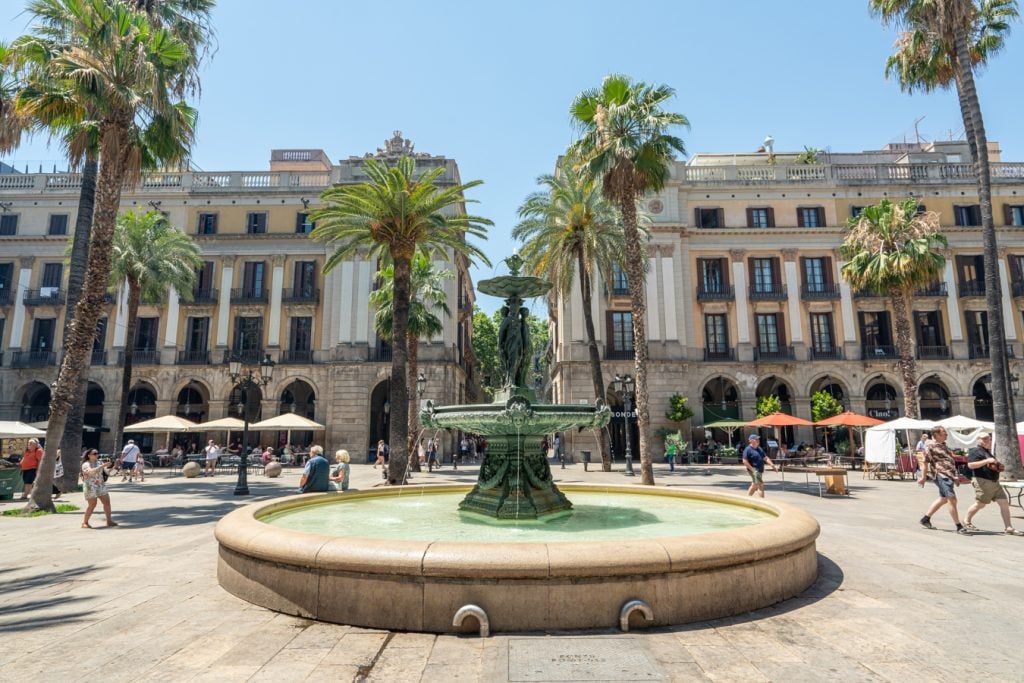 Personally, we recommend pre-booking tickets for Casa Batlló for as early a time in the day as possible.
After hitting up your first major attraction, take some time to explore the Gothic Quarter, including the Barcelona Cathedral, the Santa Caterina Market, the famous Las Ramblas, and Plaça Reia.
If you have time (and energy) Catalunya Plaza and Mercado de la Boqueria are also worth a look.
If you're excited about all of Barcelona's Catalan modernism architecture, we can also heartily recommend a visit to Palau de la Música Catalana.
Though not designed by Gaudi, it's an amazing (and compared to much of Barcelona, uncrowded) example of the style and a memorable place to visit!
Barcelona's Arc de Triomf is also only a 10-minute walk away, and Ciutadella Park is just beyond it.
From there, depending on your energy, it might be time for a (brief) afternoon nap!
If you can pull together enough energy in the late afternoon or early evening, though, heading down to Barcelona's coastline and soaking up some sunshine on the beaches (whether that means a swim or just grabbing a bench and enjoying the environment) is a memorable way to close out your first day on the Iberian Peninsula.
Where to Stay in Barcelona, Spain
When deciding where to stay in Barcelona, it's important to keep in mind that this sprawling city requires some effort to move around.
In other words, there's no way to stay near all the best things to see in Barcelona, but it's best to stay by some of them!
We recently stayed at Citadines Ramblas Barcelona and were extremely satisfied–to the point that we may just keep going back on additional trips.
Our room was spacious, complete with a kitchenette, and extremely quiet despite the hotel being located in a prime spot right along Las Ramblas.
The view of the Barcelona Cathedral from the rooftop deck of the Colón Hotel Barcelona is pretty incredible too, though, and we have it bookmarked for a possible future trip.
If you're traveling on a bit more of a budget, Hotel Nouvel also gets excellent reviews and is in a wonderful location.
Day 2: Dive deeper into Barcelona.
After your first full day of exploring, it's time to dive even deeper into Barcelona!
Today, plan to head further afield, starting with a visit to Park Güell and/or Tibidabo for one of the best views over sprawling Barcelona!
(Keep in mind that these are a bit of a trek from the city center, especially Tibidabo, so plan on using a chunk of time for transportation).
Later on, the incredible Picasso Museum (which holds over 4,000 of the artist's works), is a must-see for art lovers in Barcelona, while Camp Nou is a popular pilgrimage for football lovers.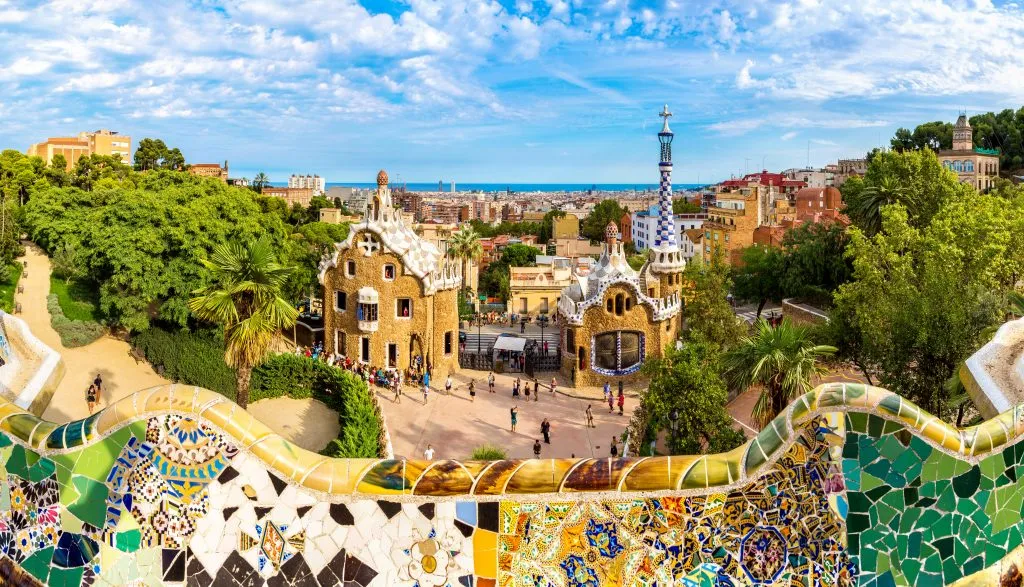 And, of course, we can't forget the Sagrada Familia: Gaudi's unfinished masterpiece of a cathedral is an absolute must-see when visiting Barcelona!
We visited in the early evening after hearing that the interior's light was at its best then, and we were not disappointed–the colors were phenomenal.
If you wrap up at the Sagrada Familia before sunset and would like to enjoy the Mediterranean while in Barcelona, consider wrapping up your evening with a sunset catamaran cruise.
Book skip-the-line tickets to visit the Sagrada Familia today!
Day 3: Enjoy a morning stroll in Barcelona and then head to Seville.
After a last look at Barcelona–perhaps one more pass through the Gothic Quarter, a stroll along the beach, or a leisurely breakfast in a cafe–it's time to head south to Andalucia!
Seville, the capital of Andalucia and one of the best places to visit in Spain, is a 6+ hour train ride from Barcelona.
Alternatively, it's about a 2-hour flight between the 2 cities.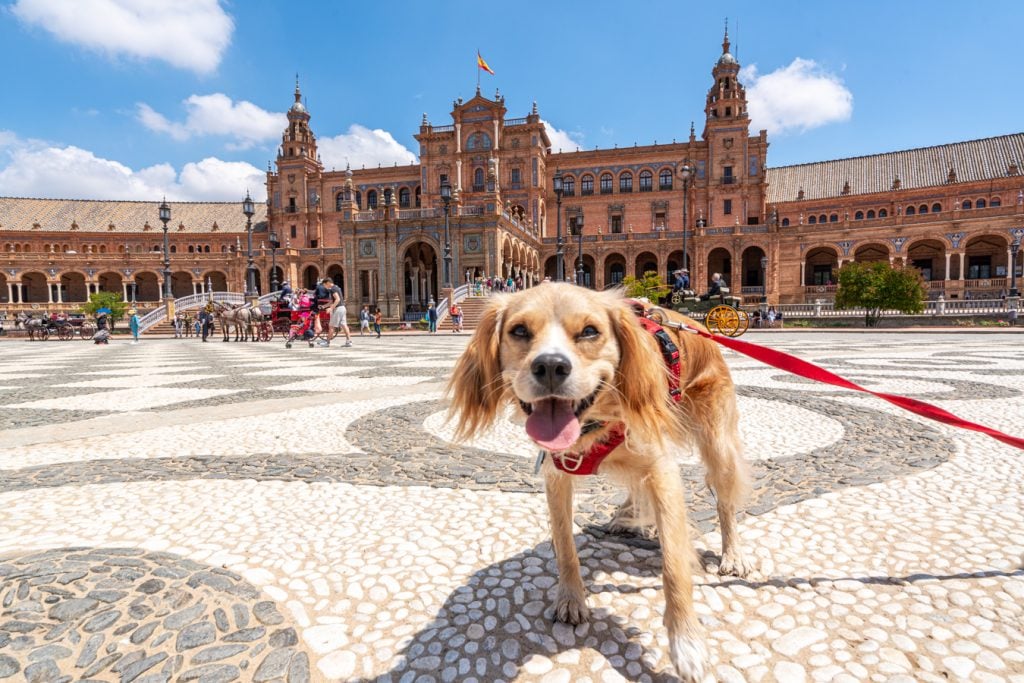 While we personally find the train more comfortable and pleasant (and it saves you the time and hassle of getting to and from the airports), there's another factor to consider: flying is sometimes cheaper than traveling by train.
We recommend considering and pricing out both options, but either way, most of day 3 will be eaten up with getting to Seville!
Once you arrive, meander through Barrio Santa Cruz, grab dinner (or just a bunch of tapas–this popular tapas crawl is a fun option if you want to find the best spots with ease) and rest up for a full day of sightseeing tomorrow.
Where to Stay in Seville, Spain
When deciding where to stay in Seville, location is key as ideally, you'll want to stay within walking distance of Seville's best attractions.
We had a fantastic experience at Petit Palace Puerta de Triana on our most recent trip to Seville.
The hotel has a fantastic location (central but also quiet–a far-from-guaranteed combination in Spain), a delicious breakfast, and comfortable rooms.
Looking for something a bit different?
The incredibly popular Hotel Rey Alfonso X is an excellent choice, and its rooftop views are sublime!
If you'd like to stick to more of a budget, Hotel America Sevilla gets wonderful reviews and doesn't sacrifice too much in terms of location.
Meanwhile, for the height of luxury, you can't beat the absolutely stunning Hotel Alfonso XIII!
Day 4: See the best of Seville.
Today, it's all about appreciating the beauty of colorful, vibrant Seville!
Don't miss the chance to visit the gilded and glamorous Seville Cathedral (with a side of dark history: you'll find the tomb of Christoper Colombus here).
Climbing the cathedral's bell tower (Giralda) for incredible views of the city is also incredibly memorable, and included with your ticket for visiting the Seville Cathedral.
The tiled Plaza de Espana, which is one of the most photographed spots in the city, is also a must-see!
One of Seville's top attractions, the Royal Alcazar of Seville, is definitely worth experiencing–but depending on your sightseeing style, you may prefer to skip it and enjoy relaxing in the city more.
The Alcazar, with its complex of intricate palaces and beautiful gardens, is incredible… but it is outshone by the Alhambra in Granada, which you'll be seeing in a couple of days when following this itinerary for Spain and Portugal.
If you're a traveler who likes to leave no stone unturned, we recommend visiting the Alcazar first thing in the morning–otherwise, you have a more leisurely pace to work with.
Regardless of what you decide about the Alcazar, though, we highly recommend ending your evening with this wildly popular flamenco show, which is held in a venue dating to the 15th century and will give you an excellent taste of flamenco culture.
Flamenco is widely associated with Spain as a whole, but it originated in the south of Spain–and, according to some sources, it originated in Seville itself, making this the perfect place to pause for a show!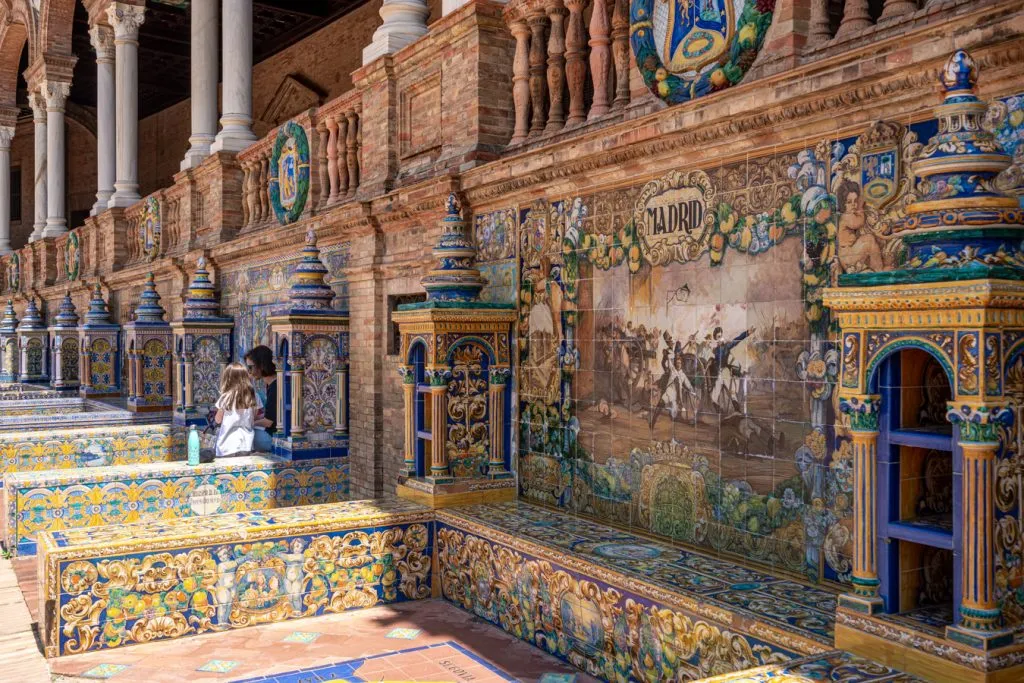 Day 5: Take a half-day trip to Cordoba.
Less than an hour from Seville by train or car, you'll find the captivating Andalucian city of Cordoba–which happens to be one of our favorite places in the region!
Once the most powerful city in Islamic Spain, the Cordoba of today is small and manageable, a bite-size tourism destination that nonetheless leaves a big impact on visitors.
Cordoba is most famous for its incredible Mosque-Cathedral–literally a former mosque with a cathedral built into its center–which is one of the most memorable buildings we've had a chance to visit anywhere.
The Mosque-Cathedral should absolutely be your top priority when visiting Cordoba, but beyond that, there's still plenty to see within a short walk!
Snapping photos of the picturesque Calleja de las Flores, relaxing in the Patio de los Naranjos, wandering through the Jewish Quarter, and checking out some of the beautiful patios of Cordoba should also be on your to-do list.
After enjoying the best of Cordoba, head back for a relaxing night in Seville.
You'll need the rest: tomorrow will be one of the busiest days during your Spain and Portugal vacation!
Day 6: Experience the legendary Alhambra.
Today is all about enjoying one of the giants of tourism in Spain: Granada's legendary Alhambra.
This collection of centuries-old palaces (plus a fort, gardens, ruins of a medina, and more), is one of the most unique groupings of architecture in Europe, and the most-visited tourist attraction in Spain!
We wrote about visiting the Alhambra extensively here, so I'll try to keep this (kind of) brief, but the long and the short of it is that this is a place you need to plan ahead for.
Tickets often sell out, but coming from Seville for the day, we highly recommend booking an organized day trip (and as a bonus, that means you won't need to book as far in advance as travelers hoping to score tickets independently).
Why take a tour?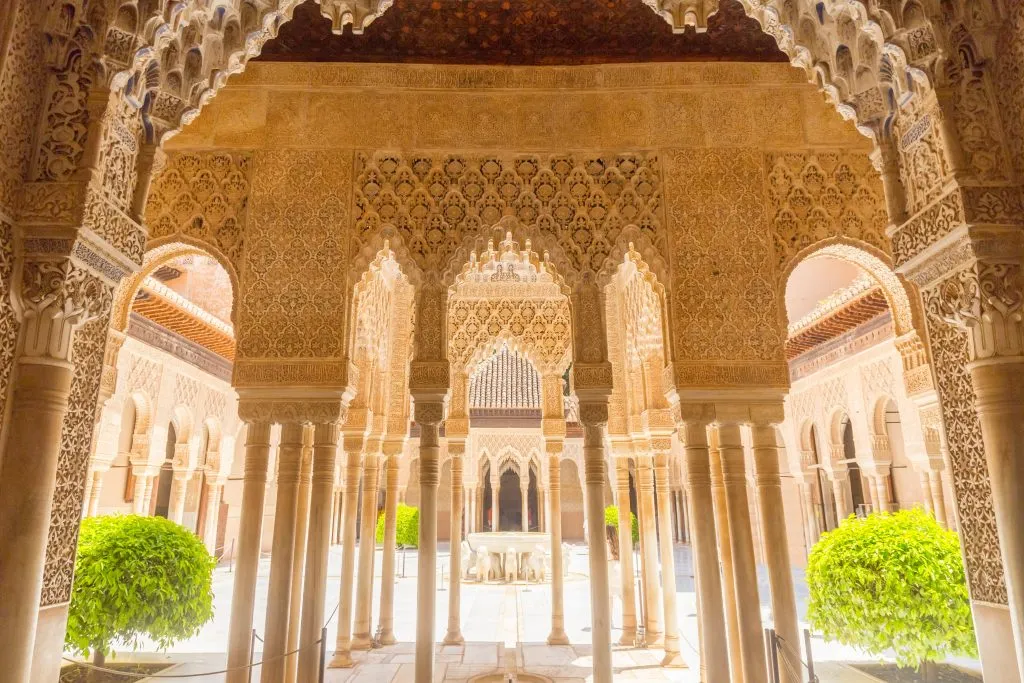 While the Alhambra is absolutely worth seeing–it's truly one of the most incredible places to visit in Spain, and worth going out of your way for–it's in Granada, which is 3 hours, each way, from Seville.
Add in getting to and from the Alhambra itself and wanting to leave a small amount of time to sample the rest of Granada (we love this city!), and letting someone else take the lead will make your life much easier.
If that doesn't appeal, there are two alternatives.
First, you could spend the previous night in Granada (we stayed here and loved it)–but that will add on hours of travel to your journey to Portugal tomorrow.
Alternatively, you could opt to enjoy the Royal Alcazar in Seville instead, perhaps take a half-day trip to a closer town like Ronda or Setenil de las Bodegas, and save the Alhambra for another trip.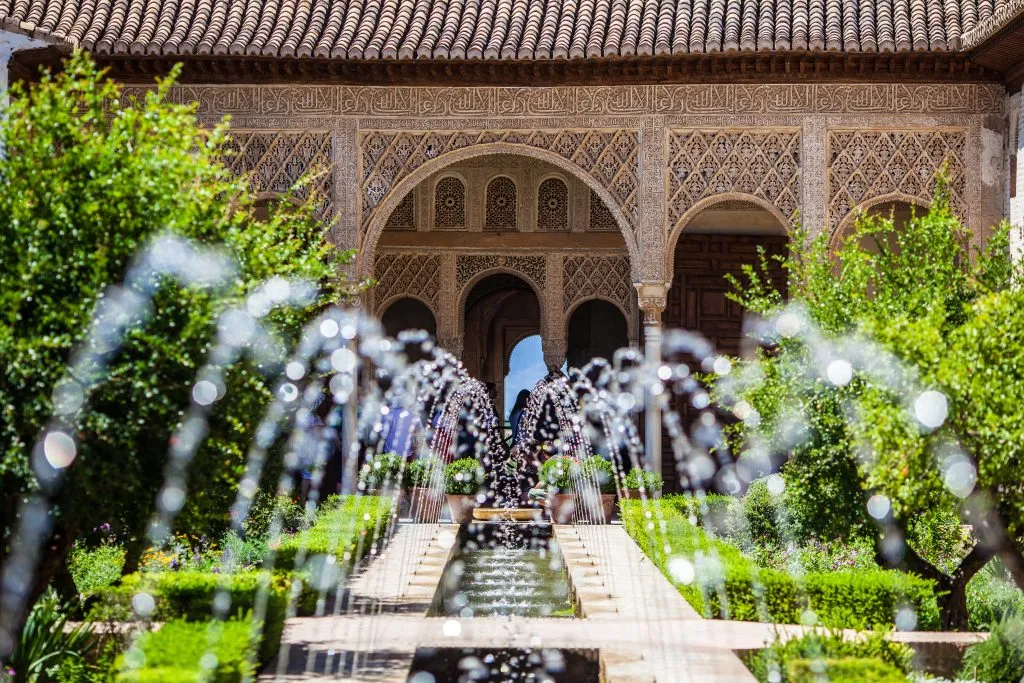 If you don't expect to be back in Andalucia soon, we believe the Alhambra and Granada are worth the headache–but with only 14 days to visit Spain and Portugal, it's completely understandable if you'd rather slow down a bit, too.
If you do want to experience the Alhambra, this day trip gets great reviews and covers transportation, the Alhambra (including the essential tickets to the Nasrid Palaces), and time in Granada's beautiful Albayzin neighborhood.
Don't miss the view from the Mirador de San Nicholas!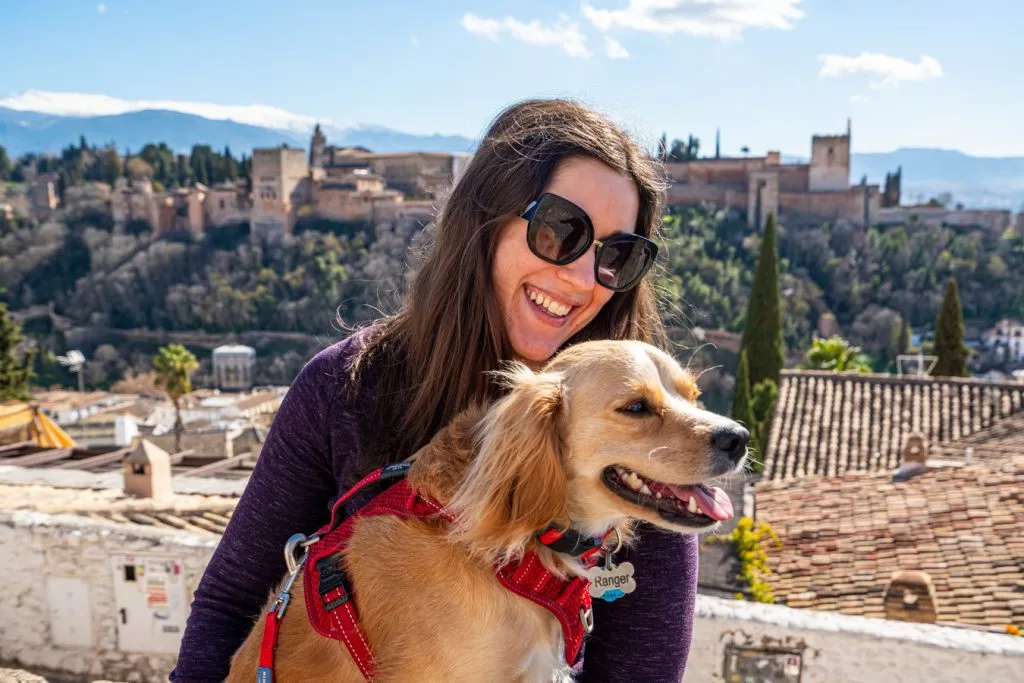 Day 7: Say goodbye to Spain and hop over to Lagos, Portugal.
As you hit the halfway point of your Iberian adventure, it's time to trade Spain for Portugal!
The simplest and most efficient way to travel from Seville to Lagos will be to travel by bus, which takes about 5 hours.
Unfortunately, with no trains between Seville and the Algarve, and no direct flights, there are limited transportation options to work with.
However, the good news is that if you haven't been on a bus since you were school-aged, these buses are likely much more comfortable than you may think!
Considering driving?
Unfortunately, picking up a rental car in one country and dropping it off in another tends to incur extreme fees–think around 1000 Euro, give or take.
Once you arrive in Lagos, check into your hotel and head to the sea!
If you're ready to stretch your legs (and have enough time in the day–summer visitors will likely have better luck here than winter ones), consider hiking the Ponta da Piedade coastal trail to one of Portugal's most famous viewpoints.
It takes a bit over an hour each way, though you can trim time on the way back by simply hiking along the road instead of the trail (though it's much less scenic).
Want to enjoy the views from Ponta da Piedade, but without the hike?
Calling a ride share (we tend to use FreeNow in Europe, though Uber works too) will get you there from the historic center of Lagos in just a few minutes.
Where to Stay in Lagos, Portugal
Lagos' central location, beautiful beaches, and convenient town center make it a fantastic place to base yourself during your time in the Algarve!
Each of these properties boasts excellent reviews and a prime location within walking distance of many of the top things to do in Lagos.
For budget travelers, a fantastic included breakfast, private room, and free parking are all waiting for you at Dream Lagos B&B –and as the rave reviews indicate, you won't be disappointed.
The trade-off is staying a bit further from the town center, though still within walking distance.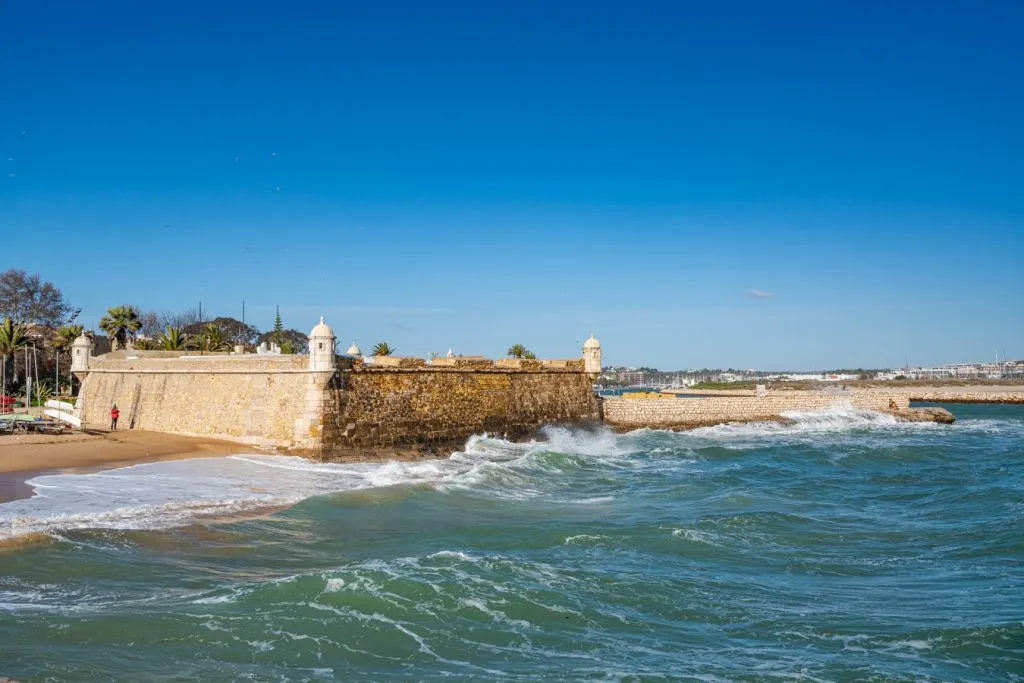 For mid-range travelers, Hotel Lagosmar features excellent reviews and a perfect location right across from the Lagos Marina, plus a rooftop terrace with gorgeous views of the sea and town.
If you'd like to splash out a bit (and by the standards of much of Europe, the Algarve is a very affordable place to do so outside of the peak summer months), Tivoli Lagos makes a wonderful base in Lagos.
We adored our stay at this 4-star resort and would be thrilled to return to enjoy the beautiful property, gorgeous pool, restaurants, and delicious included breakfast again.
With free parking (almost) on-site, comfortable rooms, and incredibly easy access to Lagos' attractions, Tivoli Lagos is a fantastic place to stay.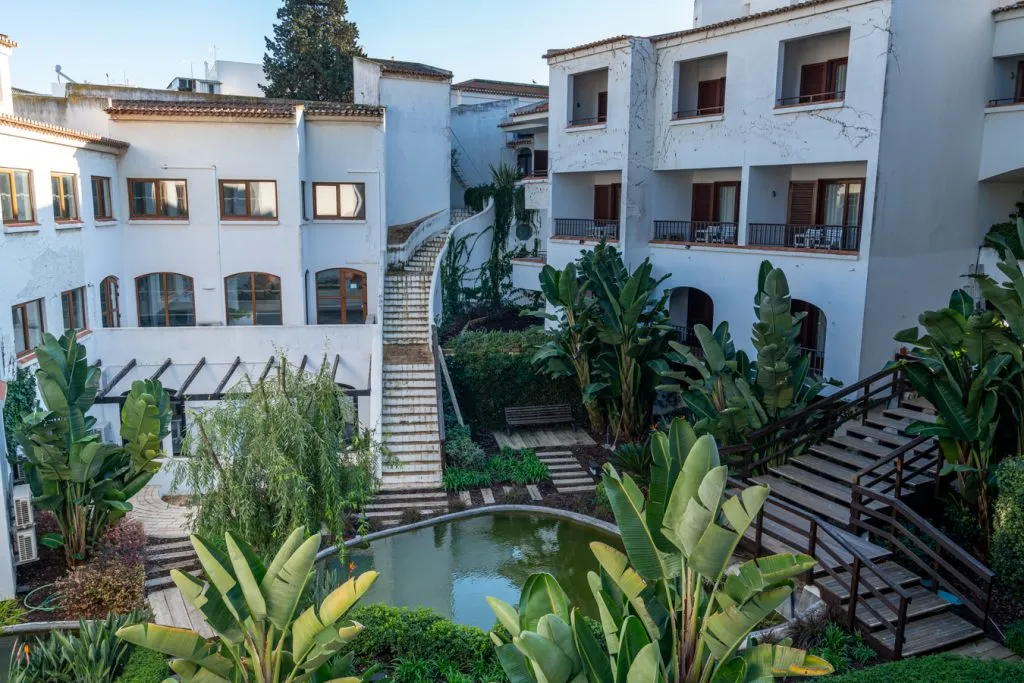 Day 8: Soak up Algarve views.
With one full day to enjoy the Algarve, the best way to spend your time depends on a few factors, including your travel style, the season, your energy levels now that you're past the halfway point of your 2 week trip through Spain and Portugal, and whether you feel like driving.
First things first, though: want to find a beach and spend all day on it?
You're in a great place for that (though fair warning for those who grew up in hot climates like us: the water is quite chilly in the Algarve, even in summer).
Praia Meia, Praia do Camilo, Praia dos Estudantes, and Praia do Pinhão are just a handful of the many dreamy beaches in the immediate vicinity of Lagos (some within walking distance) that are excellent places to relax.
Praia do Camilo in particular is so scenic that it's worth stopping by just to admire it for a minute!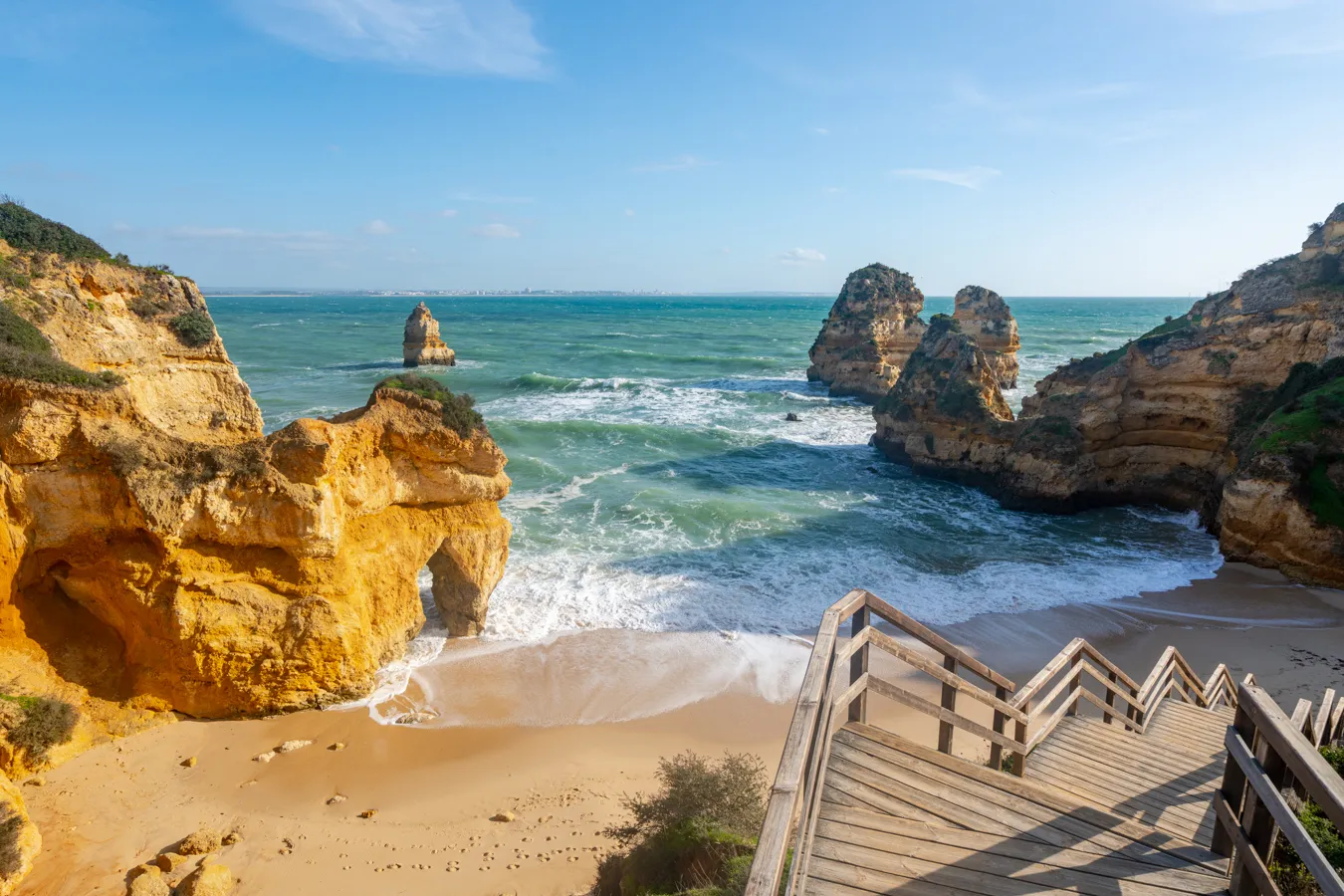 Craving more activity?
Heading back to Ponta da Piedade, this time from the water, is an incredible experience!
Whether you want to kick back and relax on a boat ride or join an adventurous kayaking tour, you'll be treated to unforgettable coastal views.
With any luck, you may spot a few dolphins, as well (though if that's your focus, a dolphin spotting cruise might be more your speed).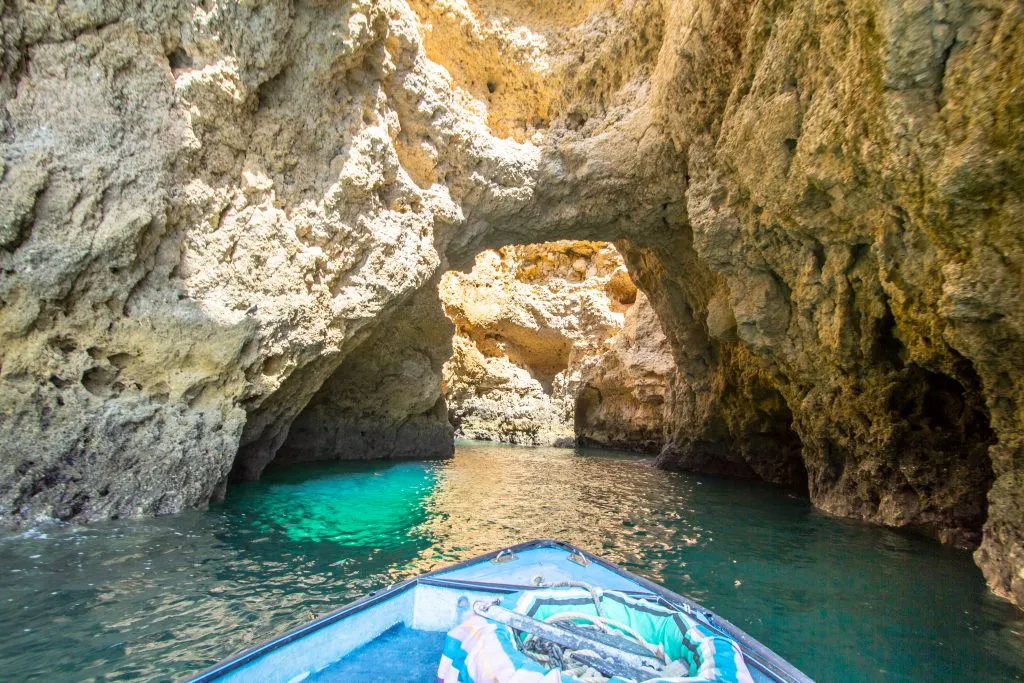 Willing to head 30-45 minutes away from Lagos by taxi, ride-share, or rental car?
The famous Benagil Cave can be visited from the charming town of Carvoeiro, and the magnificent Seven Hanging Valleys Trail and Marinha Beach can also be accessed nearby!
If you want to actually walk inside Benagil Cave, though, prepare to sweat for it: popular boat tours like this can enter the cave but can't land there.
If you want to land… you'll need to visit by kayak or SUP (but don't worry–it's only a 200m distance or so from the shore).
Book your Benagil Cave kayaking tour or small boat tour today!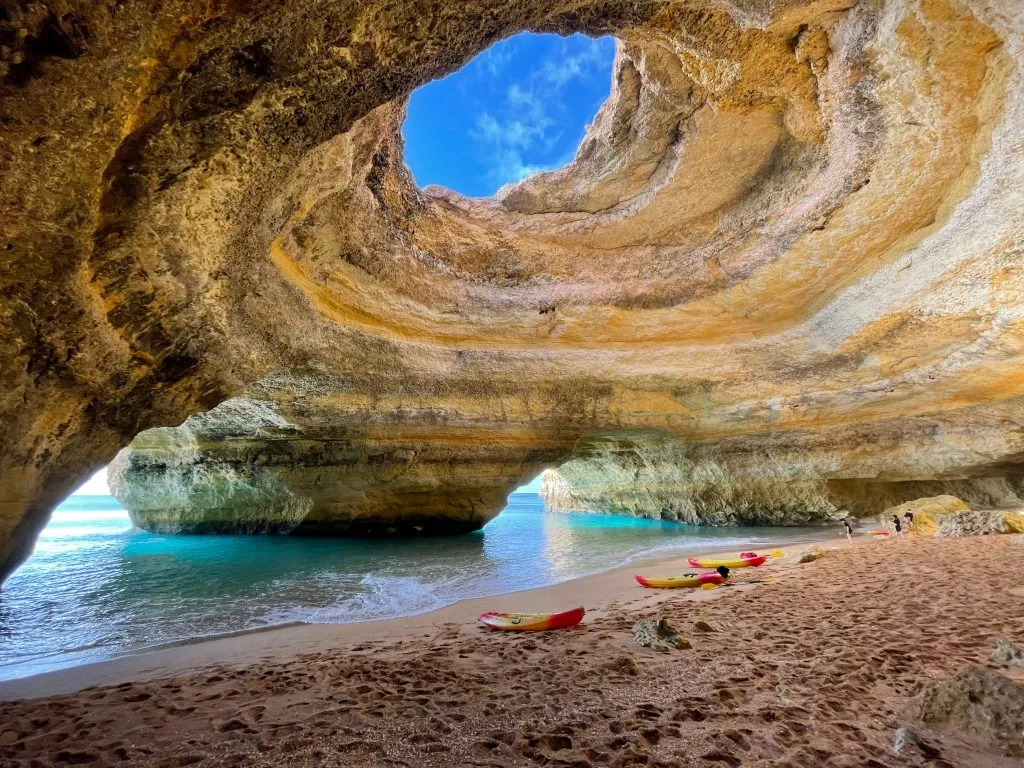 Day 9: Make your way to Lisbon.
After a last breakfast, a local beach stroll, and possibly even a quick morning visit to Ponte da Piedade, it's time to say goodbye to the Algarve and head north to Lisbon–our former home for more than a year and a downright delightful city to visit.
The fastest way to get to Lisbon from Lagos is to drive, however, since you won't need a car once you arrive (and you'll incur a one-way drop-off fee for returning the car to a different city), you'll likely want to opt for a train or bus instead.
The train is the most comfortable option, but generally takes between 4 and 5 hours and requires you to make a change, as there are no direct routes between Lisbon and Lagos.
The bus, while less comfortable, is cheaper, doesn't require a change, and is a bit faster.
You can check both train and bus prices and times here.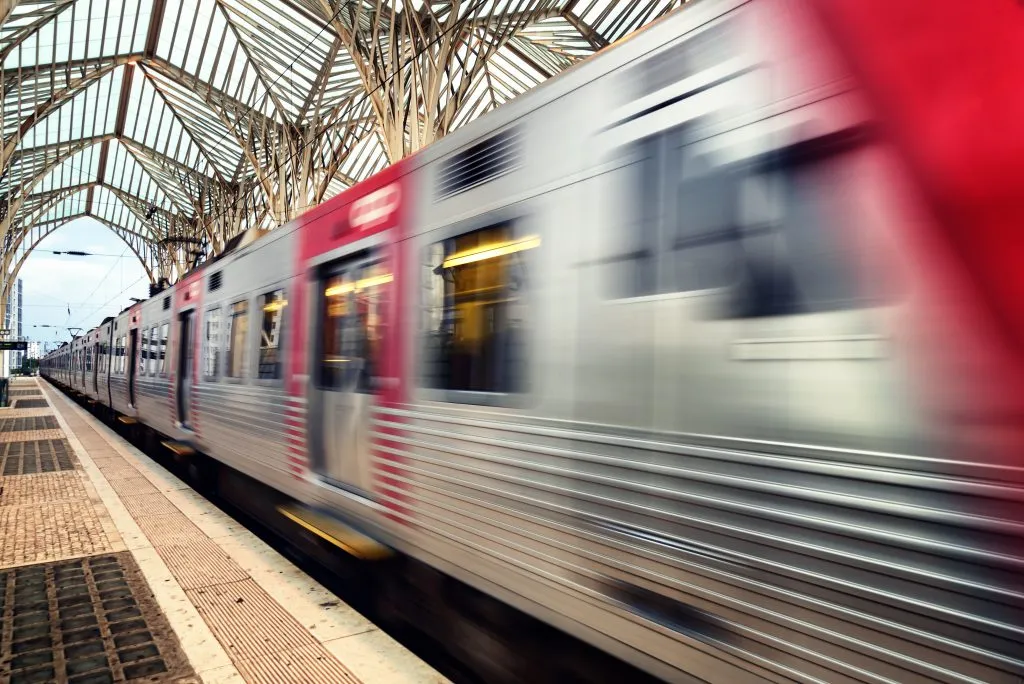 Once you arrive in Lisbon, it's time to check into your hotel and then hit the ground running with sightseeing!
We loved this food tour, which starts later in the afternoon, and it is an excellent way to get introduced to the city.
Alternatively (or in addition!), head to the top of Lisbon to enjoy the gorgeous views from the remains of Castelo de São Jorge, and meander through Alfama.
Here, you'll see many Lisbon postcards come to life, including the views from the Miradouro das Portas do Sol and the Miradouro de Santa Luzia, the famous Tram 28 (though we don't recommend riding it–just snap photos from outside) and the Lisbon Cathedral.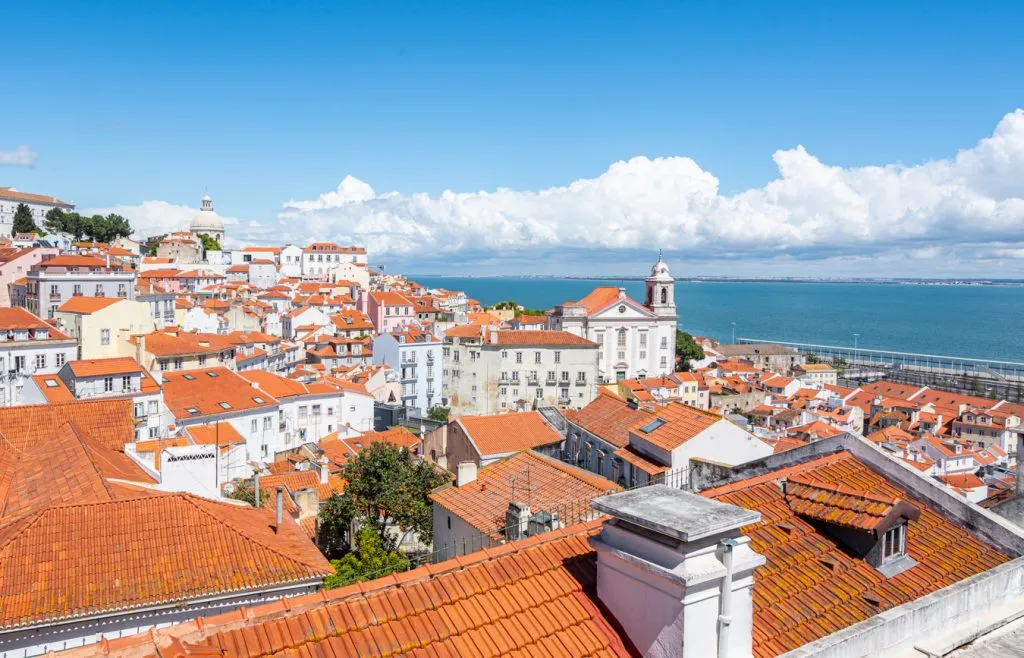 As you head downhill from the heart of Alfama, you'll reach the riverside neighborhood of Baixa (where the food tour starts).
Be sure to check out Praça do Comércio, Rossio Square, and the Church of São Domingos while there!
If you're interested in experiencing an evening Fado show in Lisbon, tonight is a great opportunity to do so.
Book your Lisbon food tour today!
Where to Stay in Lisbon, Portugal
While there are plenty of excellent neighborhoods to stay in throughout Lisbon, we recommend picking somewhere central with good transportation connections around the city.
Alfama, Baixa, Chiado, Principe Real, and Barrio Alto are great names to keep an eye out for when browsing places to stay.
For a budget-friendly hostel experience (with private rooms available), the Sunset Destination Hostel is a great, centrally located option.
At a mid-range price tag, you can't beat the location or rave reviews for Tempo FLH Hotels Lisboa.
Looking for a splurge?
The Lumiares Hotel & Spa is part of the much-acclaimed Small Luxury Hotels of the World Collection, and offers stunning views that you won't forget anytime soon!
Day 10: Enjoy sightseeing in Lisbon.
Today is all about sightseeing in Lisbon–and wear some comfortable shoes, because it will be a long (and hilly) journey!
First things first: if you didn't visit Alfama yesterday, take a quick stroll through there and the neighborhood of Castelo (and stop for some pasteis de nata at Pastelaria Santo António while you're at it).
If you've already visited Alfama, start your morning in Lisbon's Bairro Alto (high town) and Chiado, exploring a corner of the historic center that you didn't get to see yesterday!
Highlights include the Miradouro de São Pedro de Alcantara, the overwhelming Church of São Roque, the Carmo Convent, and a stop at Livraria Bertrand, the oldest still-operating bookstore in the world.
If you're a fan of glitzy cafes, consider also grabbing a coffee and pastry at A Brasileira.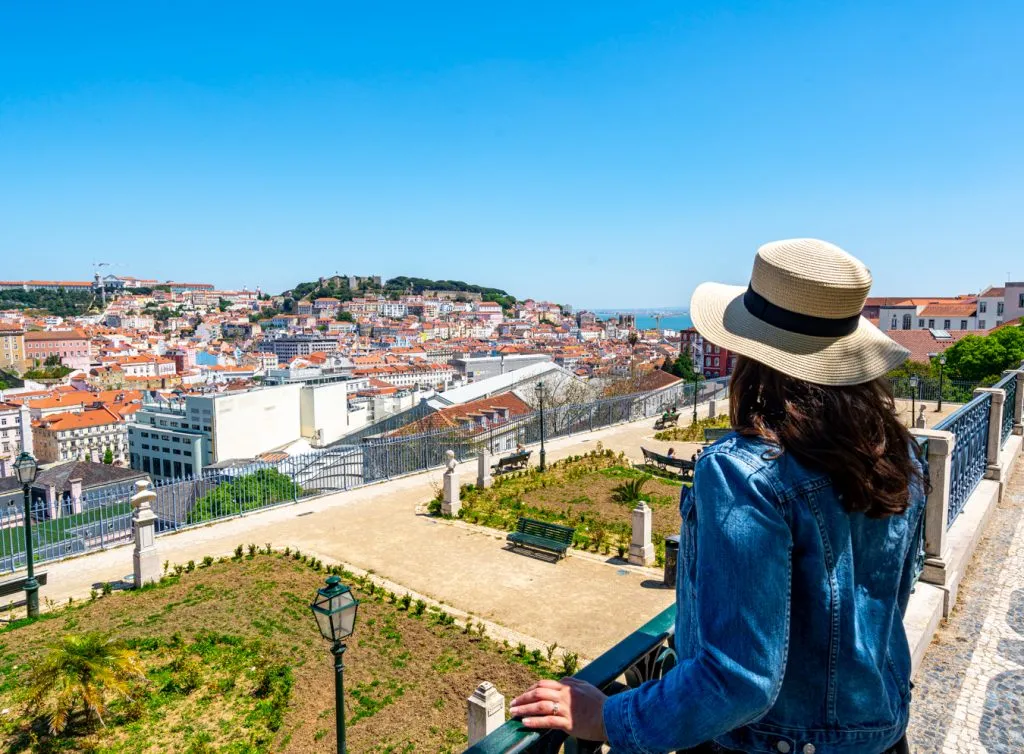 From there it's time to head over to the popular riverside neighborhood of Belém (taxi or ride share will be the easiest way to get there).
Here, you'll find the famous Jerónimos Monastery and accompanying church (the church is free to enter, the monastery is not), the gorgeous Belém Tower (you don't need to go in, but it's worth seeing the exterior), the Monument of the Discoveries, and stunning views of the Tagus River.
You'll also find the wildly popular Pastéis de Belém, which serves up the original pastéis de nata.
Yes, they are worth the long line (hint: the table service line is often much shorter than the takeaway line!), but if standing in line for carbs isn't your thing, Manteigaria, another popular Lisbon bakery, has a location just down the street.
Meanwhile, the Jerónimos Monastery, while a must-see, is home to some of the longest lines for any tourist attraction in Portugal!
Pre-book your ticket and, since you're visiting Belém in the afternoon, consider going close to closing time.
In the evening, close out your day with a sunset boat cruise on the Tagus River, soaking in some of the best views of Lisbon, the Tagus, and the Ponte 25 Abril Bridge from the water.
We absolutely loved our sunset cruise experience in Lisbon and highly recommend it–kicking back and relaxing with beautiful views is the perfect way to end a busy sightseeing day.
Day 11: Take a day trip to Sintra.
Set in the hills just outside of Lisbon, the beautiful town of Sintra–complete with several fantastic palaces–is easily among the most popular places to visit in Portugal.
From the beauty of the distinctive yellow-and-red Pena Palace to the quirky Alice in Wonderland vibes of Quinta da Regaleira to the stunning views from the Moorish Castle and beyond, visiting Sintra is incredibly memorable and worth the effort.
… But, its popularity also has another side effect: the palaces of Sintra are among the most crowded places included on this Iberian Peninsula itinerary, so be prepared for that.
With only 2 weeks to cover both Spain and Portugal, you'll want to visit Sintra on a day trip from Lisbon, and that essentially leaves you 2 options: travel by public transportation, or on a guided day trip like this.
This day trip is one of the most popular tours in Portugal and includes visits to Pena Palace and Quinta da Regaleira as well as Cabo da Roca (long believed to be the westernmost point of mainland Europe, now simply a stunning viewpoint), and a short stop in the resort town of Cascais.
The pros of taking a tour are simple: as the palaces in Sintra are far enough apart that you can't walk between most of them and parking is very tricky, it saves you time and allows you to see more.
The cons are simple too: with so many stops to make, you won't have much time to linger.
If you'd rather travel independently, you can absolutely do that as well, though we recommend nabbing your tickets for Pena Palace and other popular places in advance.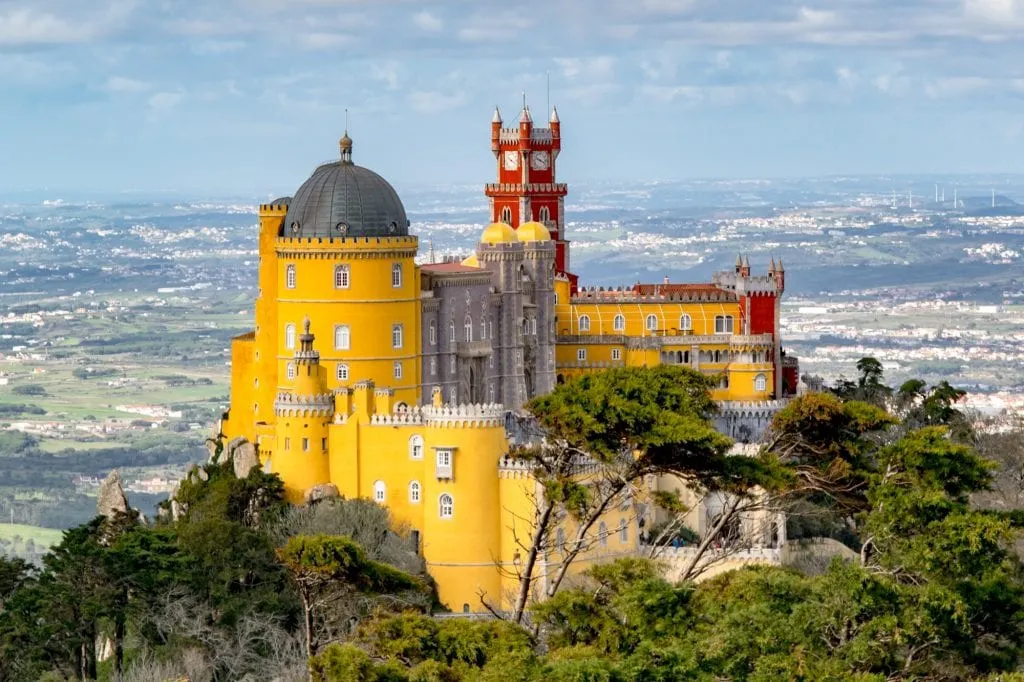 The train takes about 40 minutes from central Lisbon.
Once you arrive in Sintra, you'll board one of 2 buses that will take you to your first palace, and then (depending on which palaces you choose to see) another to your second and maybe third, depending on how fast you explore.
When you're finished, you can head back to Lisbon via train or simply call an Uber (which is what we tend to do).
Book your day trip to Sintra today!
Day 12: Make your way from Lisbon to Porto.
All aboard to Porto!
The final destination of this itinerary for 2 weeks in Spain and Portugal, the beautiful city of Porto is compact and memorable, featuring stunning river views, endless port (and if you don't think you like port… try it here before you commit to that opinion), and oodles of azulejos.
Easy sightseeing and a relaxed vibe make it the perfect final destination of your trip–but first, you need to get there!
The easiest way to travel from Lisbon to Porto is to take the train, which travels directly between the 2 cities and takes about 3.5 hours.
Most trains leave from Lisbon's Santa Apolonia Station and run consistently throughout the day.
We go into more detail on managing the journey between the 2 cities in this blog post.
We recommend booking your train tickets for the earliest time you feel comfortable with–the sooner you get to Porto, the better!
Once you arrive in Porto, drop your bags off at your hotel (if it's not time for check-in yet, they should be able to hold them in the lobby for you) and get ready to explore!
If you're looking for a quick lunch, the roast pork and soft cheese sandwich at Casa Guedes is a great place to start.
From there, we recommend checking out some of Porto's attractions that are further from the river, such as the Chapel of Souls, the Church of Saint Ildefonso, and Rua Santa Catarina.
If you have time, head over to the Church of Carmo, as and soak up the view from Miradouro da Vitória (and if you don't have time to visit the Church of Carmo today, add it to your list for tomorrow).
And, of course, you can't forget the very first attraction you'll see as you arrive in Porto: the interior of the São Bento train station is magnificent!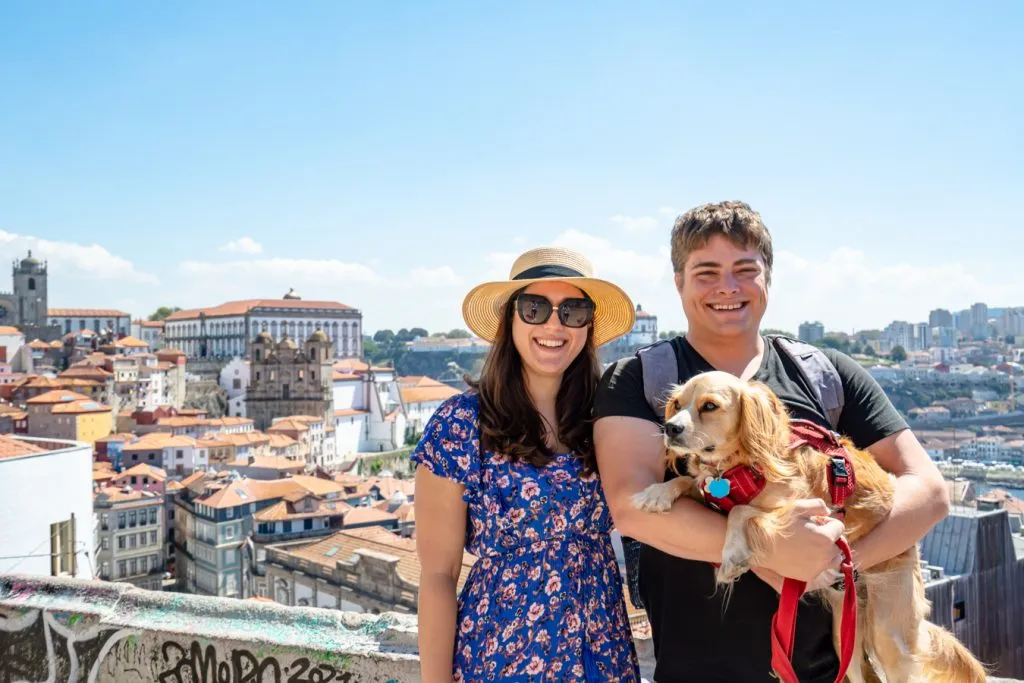 Where to Stay in Porto, Portugal
We've visited Porto several times now, and have made a habit of staying at Pestana Porto – A Brasileira or NH Hotel Porto Batalha during our visits.
Both hotels are beautiful, with excellent customer service and incredibly central locations that both make it easy to explore Porto on foot and easy to check in when arriving by train.
(They both also welcome Ranger, a must for us).
If you're traveling Spain and Portugal on a budget, the Zero Box Lodge Porto gets excellent reviews.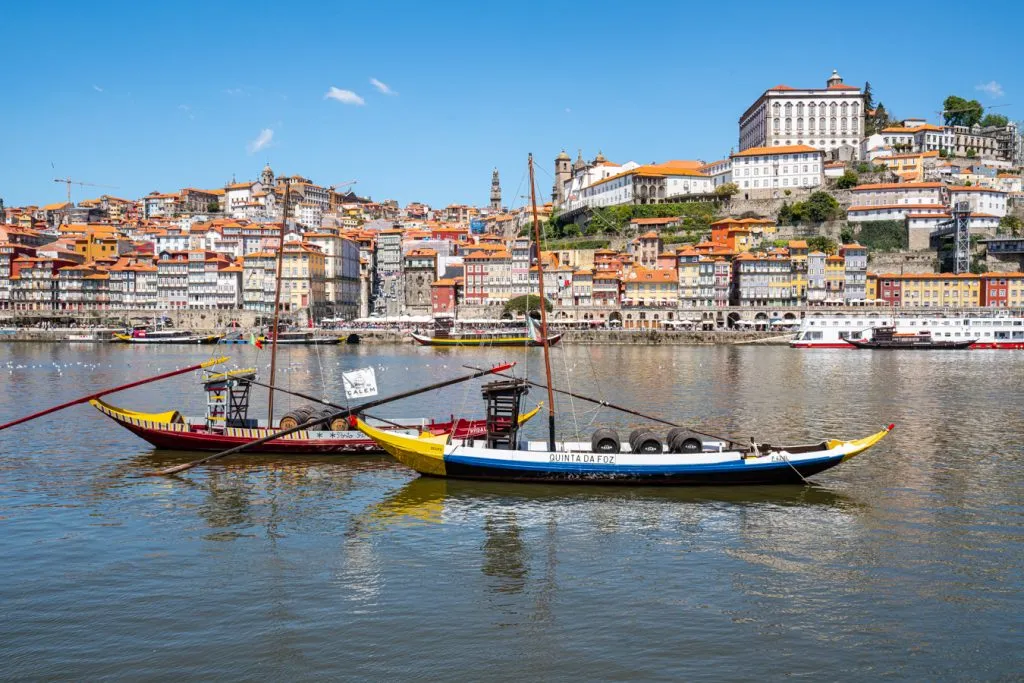 Day 13: Get to know Porto (and Vila Nova de Gaia).
After a leisurely brunch (we can heartily recommend Floresta Cafe and Esquires Coffee, both of which we've eaten at many times), make your way to Clerigos Tower to enjoy one of the most stunning views of Porto!
From there, check out the Porto Cathedral–while the church is free to enter, it's well worth forking over a few Euro to explore the cloisters and attached museum, too.
Meander down toward the gorgeous Bolsa Palace (if you want to go inside, you'll need to book a 30-minute guided tour) and the Church of San Francisco, which is home to a downright stunning interior!
At this point, you'll be very close to Porto's vibrant, famous, and colorful riverside, also known as the Ribeira District.
Once the haunt of fishermen and sailors, and now the haunt of tourists, the Ribeira district is a beautiful place to relax and enjoy views of Porto.
Like many picturesque neighborhoods around the world, the restaurants here tend toward being expensive and mediocre, but you can find occasional gems (we enjoyed our meal at Grupo Desportivo Infante D. Henrique, which has a great view but is a bit out of the hustle and bustle).
From Ribeira, make your way across the (lower level of the) Dom Luis I Bridge, to Vila Nova de Gaia.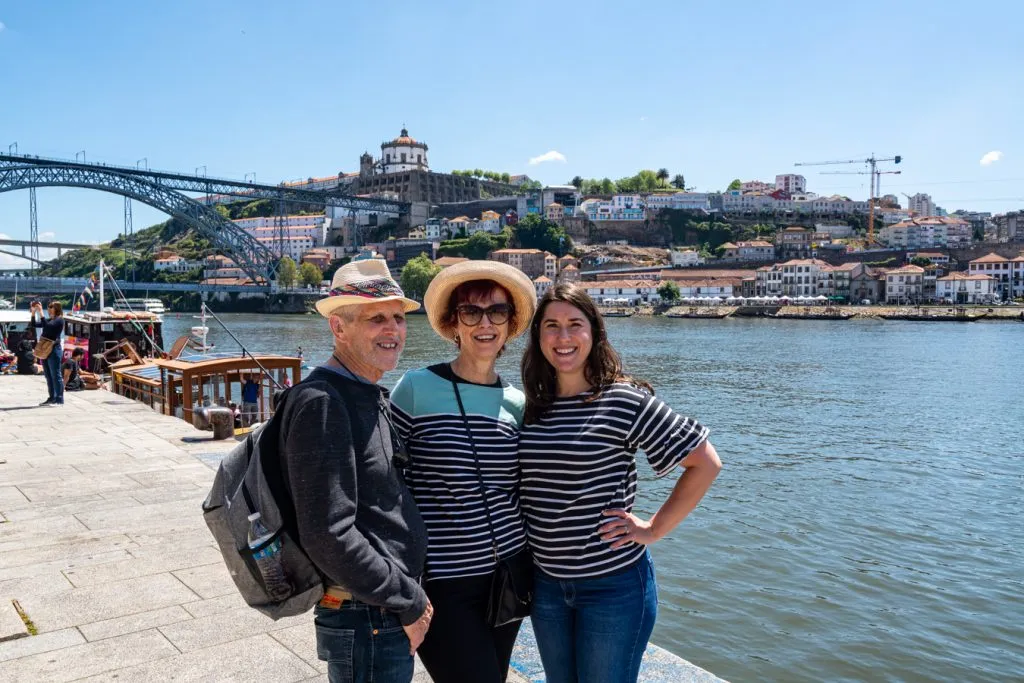 This charming riverfront destination is technically a separate city from Porto, but it's also home to all of the port lodges, and no trip to Porto is complete without a port tasting!
This port cellar tour and tasting will give you a good idea of what to expect from a typical tasting, and you can either opt for an organized tour or a build-your-own adventure experience (Quinta dos Corvos is a personal favorite lodge of ours).
This is also where you can hop on a 6 Bridges Cruise to experience Porto from the water for an hour–a delightful experience in and of itself.
Once you wrap up exploring Vila Nova de Gaia, ride the cable car back up to the top of the Dom Luis I Bridge, where you'll be treated to gorgeous views over the city and an easy walk back to your hotel.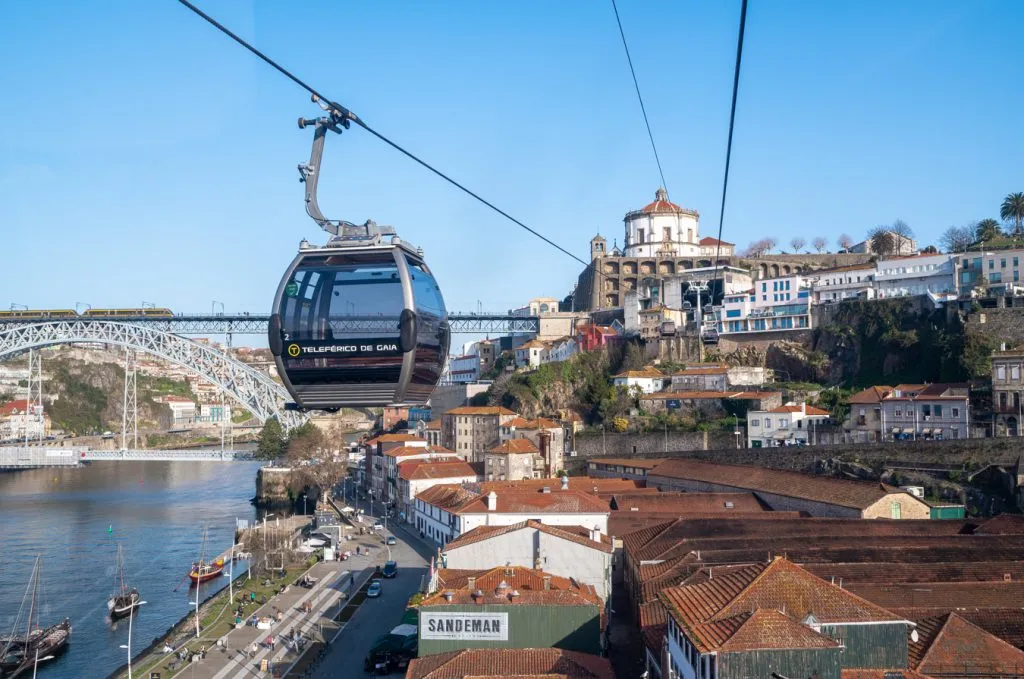 Day 14: Say goodbye to the Iberian Peninsula and head home.
As you come to the close of 14 (hopefully) perfect days spent exploring Portugal and Spain, there's one more challenge ahead: getting home!
By far the simplest method for closing out this itinerary is to fly out of Porto, however, for many North Americans, there's a chance that will be a less ideal option due to scheduling, price, or both (Porto's airport is much smaller than Lisbon's).
It's worth considering, but most likely, you'll want to head back to Lisbon either the night of day 13 or this morning in order to catch a flight home.
However you say goodbye, be sure to make time for at least one more pastel de nata as you bid adios and adeus to the Iberian Peninsula!
Possible Alterations to this 14 Day Itinerary for Spain and Portugal
I mentioned this above, but it bears repeating here: while realistic, this itinerary is jam-packed, and one of the fastest-paced itineraries that we've published here on Our Escape Clause.
If you're a traveler who loves to move fast, doesn't mind changing hotels, and is hoping to see as much variety as possible on their Spain and Portugal vacation, you'll love it (and be very excited to get home to your own bed afterward).
If you prefer a slower pace, or are enjoying 2 weeks in Spain and Portugal as part of an even longer adventure, you'll likely want to slow it down a bit.
Here are a few good options for personalizing this itinerary.
Skip Porto to spend longer in Lisbon and the Algarve.
I debated for a long time whether or not to include Porto in the original itinerary above, as it adds quite a bit of travel time!
However, Porto is a small city that can be thoroughly sampled in a day, and it's a very different city from the other cities featured on this itinerary.
Plus, port!
However, while we definitely consider Porto well worth a visit, if you're flying out of Lisbon and want to limit your train time toward the end of the trip (it's about 3 hours each way by train), skipping northern Portugal is definitely a valid option.
If you decide to spend longer in Lisbon, you might even want to add on an easy additional day trip to see a different side of Portugal, such as to Cascais or Óbidos (here are the best day trips from Lisbon).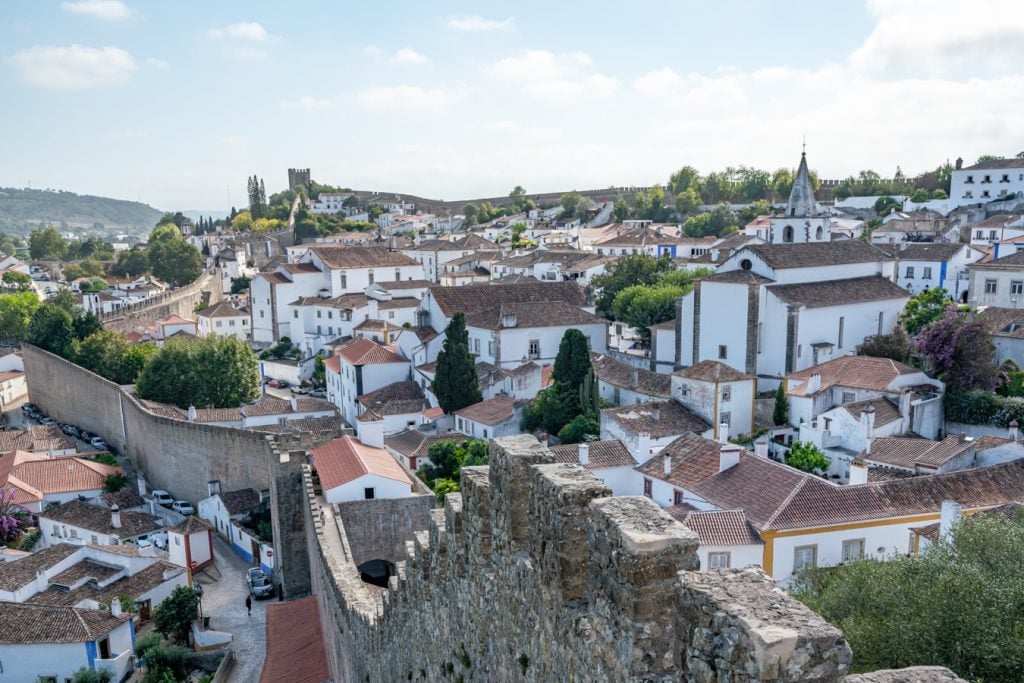 Start your itinerary in Seville.
While Barcelona is wonderful, there's no doubt that you can cut your travel time significantly by flying straight to Seville to start your trip!
The downside of this route is that you'll only see one region of Spain (Andalucia), but the upside is, you'll move at a much slower pace.
Skip the Algarve and head right to Lisbon.
We decided to include the Algarve in this 14 day itinerary as it is not only beautiful and an incredibly fun place to visit, but a great change of pace from the more city-sightseeing-and-history-focused stops that make up most of the itinerary.
However, while swapping city streets for sandy beaches and seaside hikes is a wonderful addition to this trip, you can definitely save time by heading right from Seville to Lisbon.
If you're more interested in cities than coastlines, or the weather isn't cooperating for your trip, this might be a great option.
Visiting Cabo da Roca from Lisbon as part of your day trip to Sintra, or taking a day trip to Cascais, will also give you a small chance to appreciate the beauty of the Portuguese coastline offers without leaving the Lisbon area.
Swap Barcelona for Madrid.
This change isn't a matter of timing, but of taste (and flight schedules).
We included Barcelona in this itinerary over Madrid as there's only room for one of Spain's two most famous cities, and Barcelona is both the most popular and arguably the most unique.
However, while Barcelona's Gaudi architecture, Catalan culture, and seaside location are phenomenal, Madrid also has a lot to offer!
If you're a big fan of art museums and royal palaces, you might prefer the Spanish capital (our recommended Madrid itinerary is a great guide to what to expect).
Not sure which you'd prefer?
Let flight deals dictate which city you visit!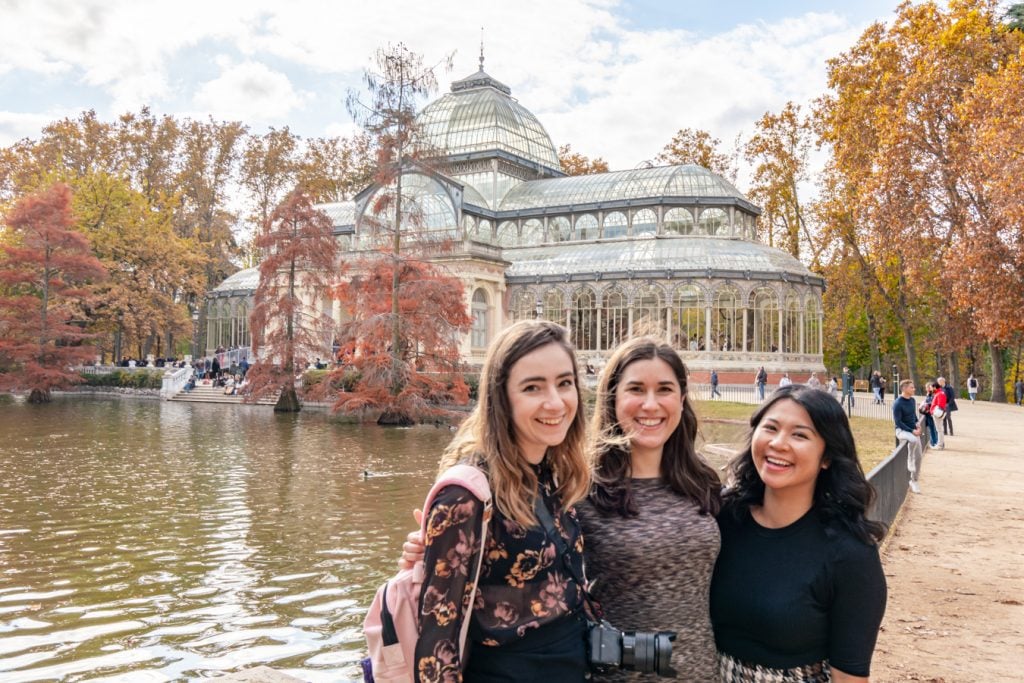 The Best Time of Year to Enjoy This Portugal and Spain Itinerary
Spain and Portugal are both the definitions of year-round destinations, and that includes this Spain and Portugal itinerary!
That being said, though, if you have flexible dates and are trying to pinpoint the ideal time to travel Portugal and Spain, we recommend enjoying this itinerary in the spring or fall.
Summer in Spain in particular, especially in Andalucia, can be brutally hot (we shudder to think of visiting the Alhambra at noon in July).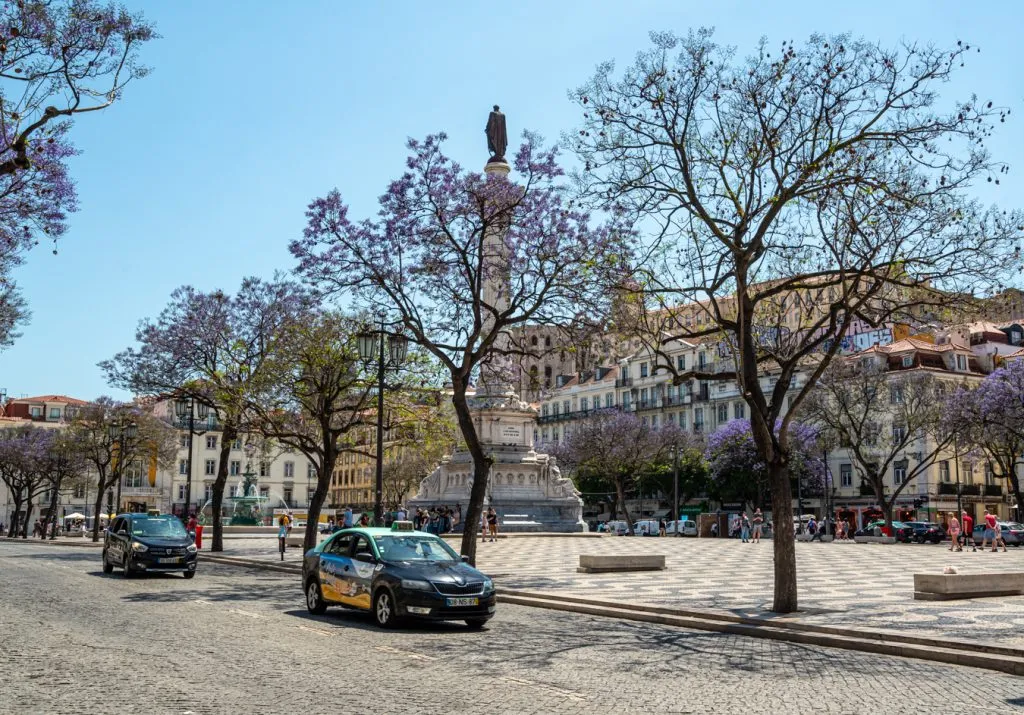 Winter is perfectly doable, but the weather can be rainy and less predictable than in spring or summer (it is, however, a fantastic time to go hiking in the Algarve, as long as you don't mind skipping the swimming).
On the plus side for winter, though, you'll experience few crowds, low prices, and still have a decent chance at soaking up some sunshine, albeit with a jacket at hand.
The sweet spot for this 14 day Spain and Portugal itinerary, though, which travels across a decent swath of both countries and therefore needs to take multiple climates into account, is the spring and fall.
We have spent time in both Portugal and Spain in every season, and while each trip was a delight, we have a special place in our hearts for the spring and fall!
How to Extend Your Iberian Peninsula Vacation (+ Morocco Advice)
If you're lucky enough to have more than 2 weeks in Spain and Portugal, you have a chance to do two things: first, add Madrid to this itinerary (it was very hard leaving it off!).
And, second, slow down as much as you can: every one of the destinations included in this itinerary has plenty more to see, and also boasts far more incredible day trip options than there is time to cover in 2 weeks.
A day trip to Toledo from Madrid, to Monserrat from Barcelona, to Ronda from Seville, to Cascais from Lisbon, or to the Douro Valley from Porto, just barely scratches the surface of the options out there!
For even more ideas, here are the best day trips from Lisbon, and here are the best day trips from Barcelona.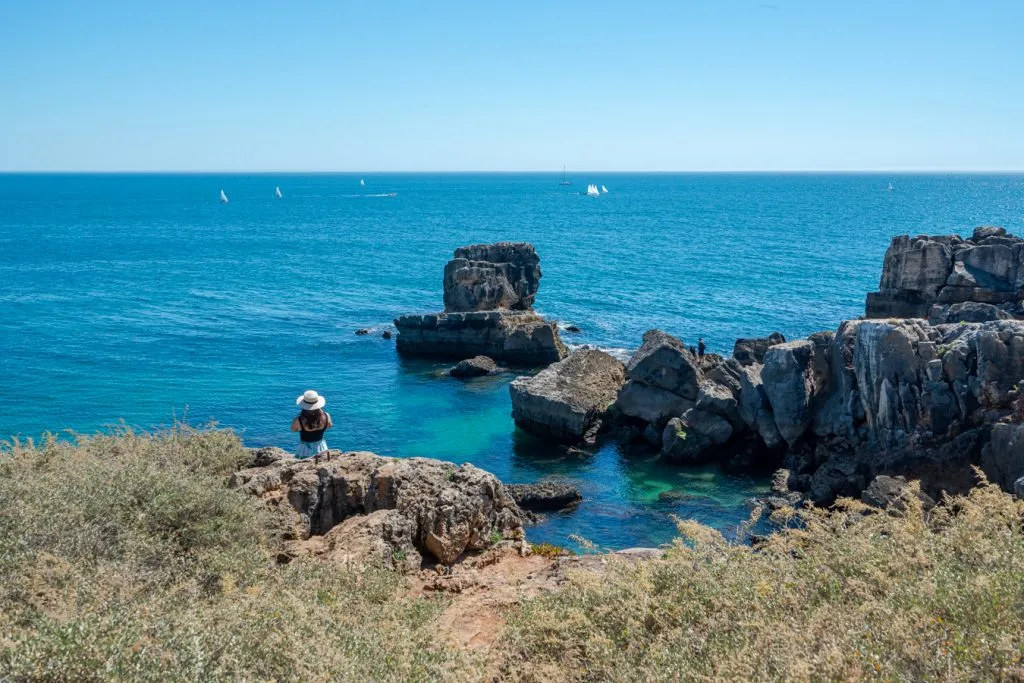 By adding day trips instead of overnights, you'll be able to slow down the pace of travel and enjoy your trip even more.
If you have close to 3 weeks on the Iberian Peninsula, that's when I would start to potentially consider adding on a Morocco leg, if that's something you're interested in.
As I mentioned at the beginning of the post, we'd recommend concentrating on the Sahara Desert, Marrakech and/or Fes, and if you have time, Chefchaouen and/or Essaouira.
Taking the ferry from Spain or Portugal to Tangier, Morocco, is a cool experience (though if you have a tendency toward seasickness like me–fair warning, it was also a nauseating experience), but Tangier is quite far from the most popular places to visit in Morocco.
Unless you're particularly interested in traveling overland for its own sake, flying will likely make more sense, and there are tons of budget airline routes between Spain, Portugal, and Morocco.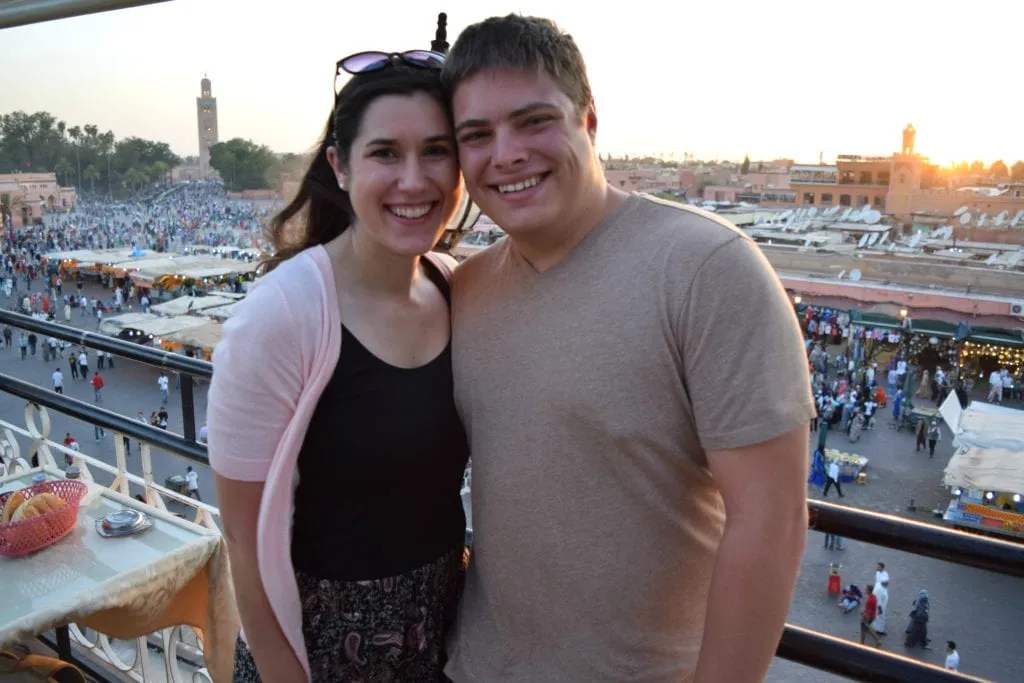 What to Pack For Your 2 Weeks in Portugal and Spain
Our detailed packing lists for visiting Europe in the spring, summer, fall, and winter cover just about everything you'll need to bring on your 14 day Spain and Portugal vacation!
To get you started on your list, though, here are a few essentials to add to your packing list:
Travel Adaptors for Spain and Portugal — If you're coming from outside of mainland Europe, you'll definitely need adaptors for your electronics!
Spain and Portugal use the same plugs/voltage, so you won't need anything different when moving between them.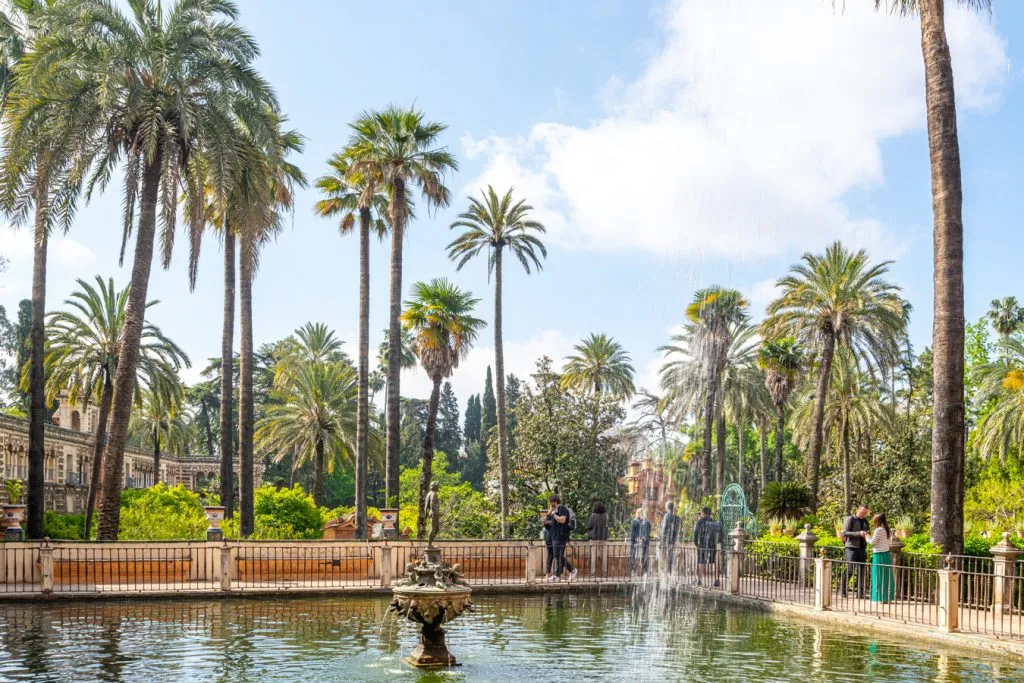 Travel Insurance — No one like to think about the possibility of canceled or interrupted trips, let alone accidents on the road.
Anything can happen while traveling, though–and that's where travel insurance can help.
Check travel insurance policy inclusions and prices with Safety Wing for your trip here.
Camera — We completely adore our Sony a7R III, but whatever camera you're comfortable with works–just make sure you have something with you to preserve your memories!
Comfortable Day Bag — We currently use Pacsafe's sleek anti-theft backpack and love it, but if you don't want to shell out the cash for this trip, that's totally understandable.
Just aim for something comfortable to wear, not flashy, and medium-sized–we used a Northface Jester backpack for years and loved it as well.
Sunglasses — The sun in Spain and Portugal is famous for a reason!
I find myself regularly reaching for sunglasses even in the winter when on the Iberian Peninsula.
Apple Air Tags — Air Tags are a relatively new addition to our packing list, but we've absolutely loved having the extra security when checking our luggage!
They'll be coming with us from now on.
Reusable Water Bottle — Save both money and plastic during your 14 days in Spain and Portugal and add a reusable water bottle to your packing list for Europe! I love this metal one.
Portable USB Charger — Don't stress about your phone dying while you're sightseeing in Portugal and Spain: bring a USB charger along for the ride.
FAQ About Planning a Spain and Portugal Vacation
How many days do you need for Portugal and Spain?
Personally, we recommend visiting for a minimum of 2 weeks if you want to have a solid overview of both Spain and Portugal.
If you have less time to work with, consider sticking with fewer destinations, and perhaps sampling one city in each country instead.
Can you do Spain and Portugal on the same trip?
Yes, you can absolutely visit both Spain and Portugal on the same trip!
As next-door neighbors located in the far southwestern corner of Europe, Portugal and Spain make a great combination when planning a European vacation.
Is it possible to visit Spain and Portugal in 7 days?
Yes, you can visit both Spain and Portugal in 7 days–but don't expect (or try) to see everything!
If you have a week in Spain and Portugal, we recommend picking one city in each country to focus on, with a possible day trip from each.
You'll likely want to fly between the two countries in this scenario as well unless you happen to pick Lisbon and Seville, which are fairly close together (about 4.5 hours by car).
Can you drive a rental car from Spain to Portugal?
Typically, yes, you can drive rental cars between Spain and Portugal.
Be sure to confirm with your rental car company, though, and as always, make sure you tell them you plan to cross borders!
Can you rent a car in Spain and return it in Portugal (or vice versa)?
Yes, it's technically possible to rent a car in one EU country and return it to another, but be prepared for an eye-watering fee for doing so!
One-way rental fees are almost always a bit pricey, but when it comes to crossing borders, it can get very expensive: we've been quoted around 1000 Euro (not a typo) more than once for the privilege.
If you plan to rent a car for your trip to Spain and Portugal, be sure to build extra fees into your budget… or just plan on returning it to the same country you picked it up in.
Check prices and shop rental cars for your Spain and Portugal road trip today!
Which is cheaper to visit, Spain or Portugal?
We go into this in a bit more detail in our Spain vs Portugal comparison post, but the basic answer is that while online resources and blog posts tend to state that Portugal is cheaper to visit than Spain, the reality on the ground is a bit more complex.
The cost of travel in Spain (and Portugal, for that matter) varies dramatically based on where you visit.
Barcelona, for example, clocks in as a pricey destination on par with Paris or Milan, while other regions like Andalucia can be far less expensive–including less expensive than popular places in Portugal's Algarve.
Overall, from the perspective of planning a vacation, I would say that the Spain leg of this trip and the Portugal leg probably cost about the same, with the most expensive destination (Barcelona) being balanced out by Andalucia being among the more affordable stops.
Can you take the train between Spain and Portugal?
Technically, you can take trains between Spain and Portugal… but for this trip, you probably won't want to.
Spain and Portugal are not well-connected by train, and doing so requires going out of your way from most major tourist destinations (there's a train from Porto to Vigo in the north, and alternatively, with multiple stops, you can cobble together a very long route through the center of Portugal into Spain).
Lisbon and Madrid used to be connected via a night train, but that was discontinued in 2020 and talk of bringing it back (or installing a high-speed rail) is stalled at rumor level indefinitely.
There are no trains connecting the Algarve to Andalucia.
More Portugal and Spain Travel Tips
Looking for more tips for visiting Spain and Portugal?
We've written about both countries extensively, with many more blog posts to come in the future!
You can scroll through all of our Portugal articles here, our Spain articles here, or check out these guides:
Your 14 Day Spain and Portugal Itinerary Map
Take This Map With You! Click each highlight to pull up the name of the destination. To save this map to "Your Places" on Google Maps, click the star to the right of the title. You'll then be able to find it under the Maps tab of your Google Maps account! To open the map in a new window, click the button on the top right of the map.