Drive deep into the hills of Andalucia, and you just may find a village that's not the typical white… but rather a bright blue!
Welcome, to Juzcar, Spain, affectionately known as both Spain's "Smurf Village" and also as the Blue Village of Spain.
While tiny, Juzcar makes for quite the memorable side stop on an Andalucia road trip!
If you're considering a visit, here's what to know before you go.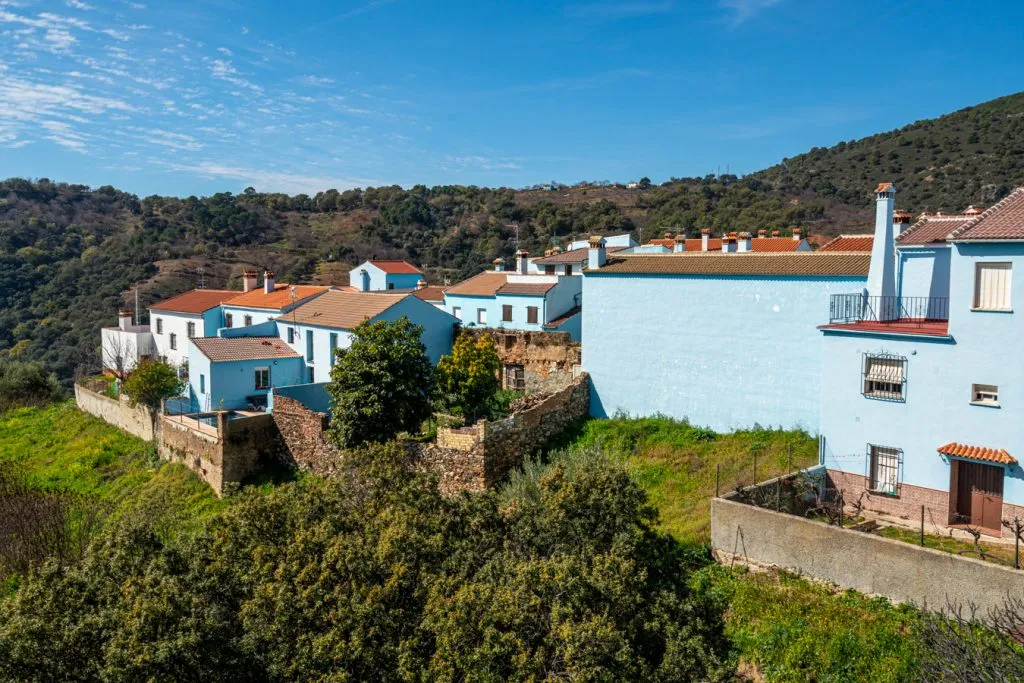 Some links in this post may be affiliate links. If you make a purchase through one of these links, we may earn a small commission at no extra cost to you. Please see our

disclosure policy

for more detail.
Where is Spain's Smurf Village?
The blue village of Juzcar is located about 30 minutes south of Ronda, or about 2 hours west of Malaga.
Its small size and isolation along winding roads mean that the best way to reach Juzcar is undoubtedly by car.
We visited as part of a southern Spain road trip and loved the experience.
Parking on the outskirts of town is fairly simple, and the small size means that once you arrive, nothing is a far walk away.
We recommend renting a small car through Discover Cars, which will allow you to compare the prices and inclusions of multiple companies at the same time and choose the best car for you from there.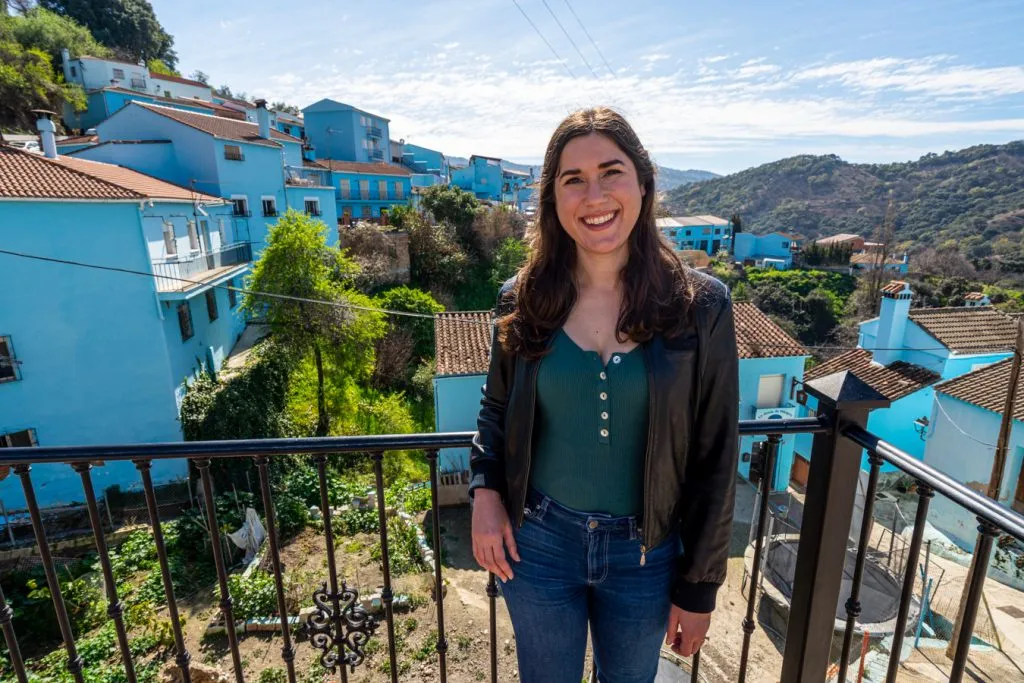 Why is Juzcar, Spain Painted Blue?
In 2011, Sony Pictures approached the town of Juzcar about transforming their typical whitewashed Andalucian town into Spain's Smurf Village to promote the new Smurfs movie.
Juzcar, Spain wasn't selected entirely at random: the town was already known for its many mushrooms, which Smurfs have an affinity for.
The paint was only supposed to be temporary, but tourism picked up, and eventually, a decade had passed with Juzcar remaining a blue village.
There have been a few controversies over the years–for example, in 2017 it looked like the Smurfs were going to disappear–but as of 2022, both the blue paint and Smurf-themed artwork live proudly on in Juzcar, Spain.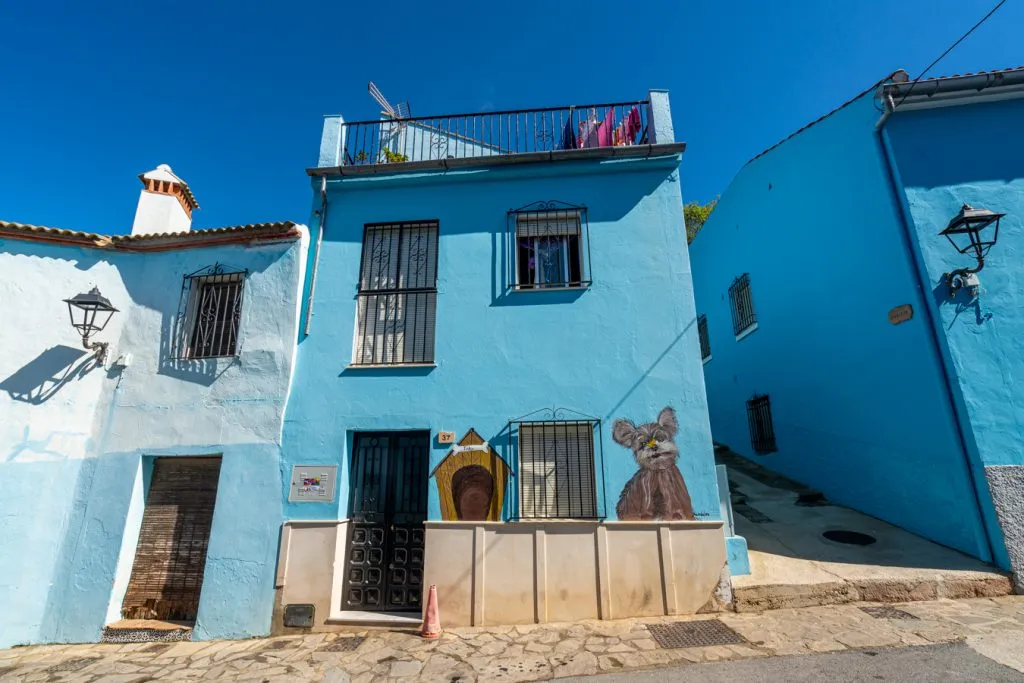 The Best Things to Do Juzcar, Spain
Despite its fame as Andalucia's only blue village, Juzcar remains a very sleepy place.
Visiting won't take longer than an afternoon–but here's what to do while you're there!
Seek out the viewpoints.
Like many Andalucian towns, Juzcar is built into the hills and therefore includes plenty of elevation changes.
The result is that your visit will probably include climbing a few small hills… but there will be plenty of viewpoints along the way!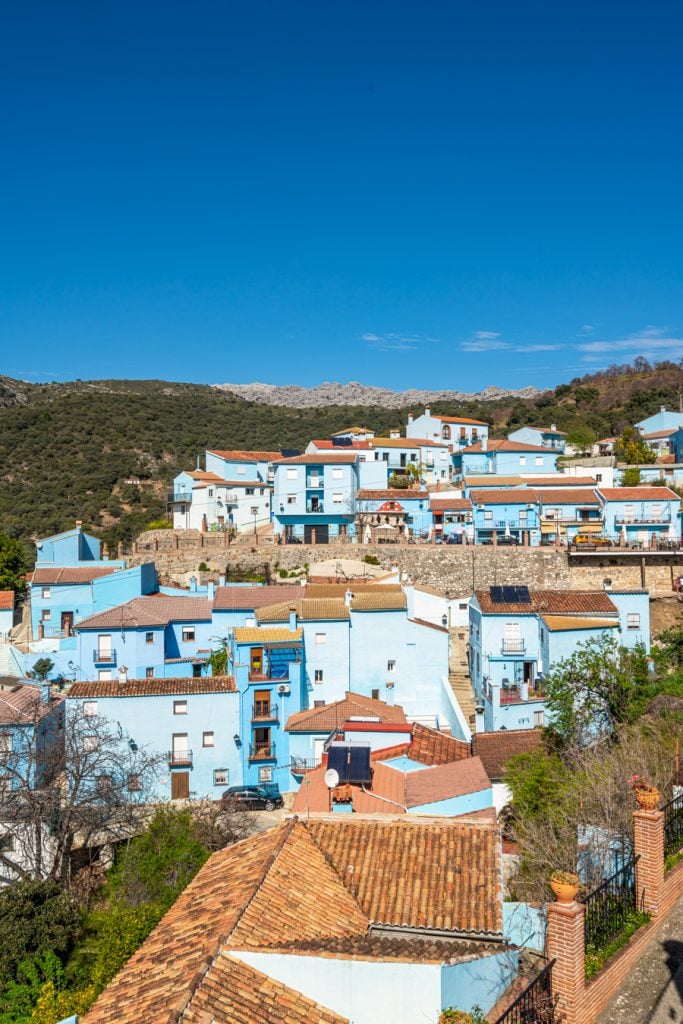 Keep an eye out for Smurf-related artwork.
From mushroom statues to Smurf murals, there are whimsical reminders of Juzcar's Smurf Village status down even the quietest residential streets.
The small children's park on the edge of town is a great starting point, and even includes a Smurf statue!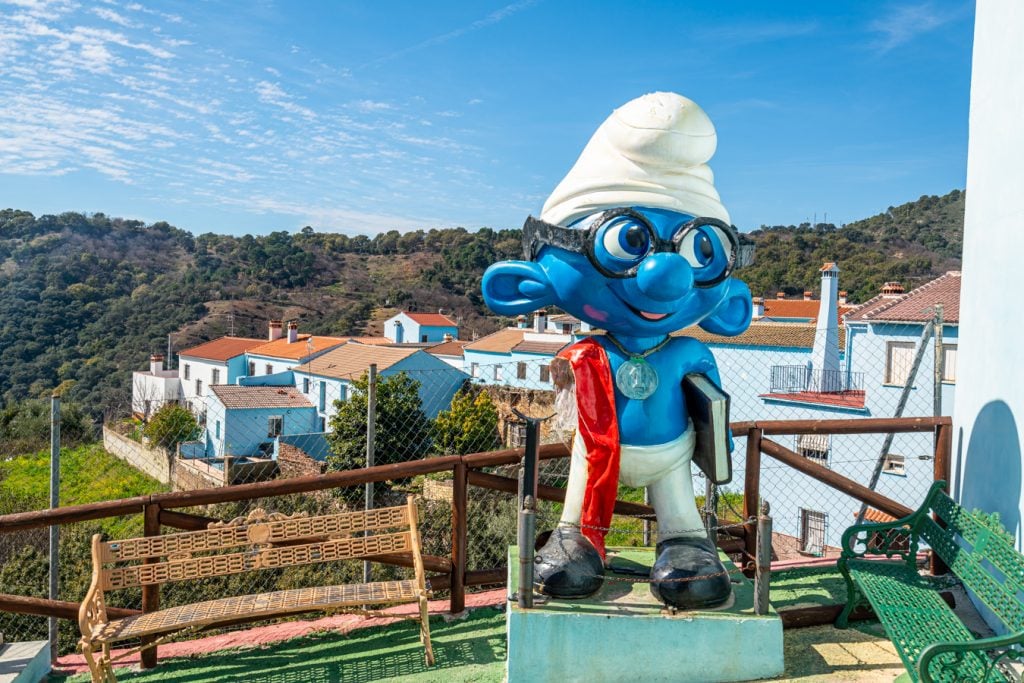 Grab a bite to eat.
Juzcar is a very quiet place, but there are a handful of restaurants in town to enjoy lunch with a blue view.
We ate at El Casaron, right in the center of town, and had a great experience.
Enjoy all the photo ops!
Juzcar's blue paint was literally made for photo ops, and you can tell!
A big part of the charm of visiting Spain's Smurf Village is photographing it from every angle.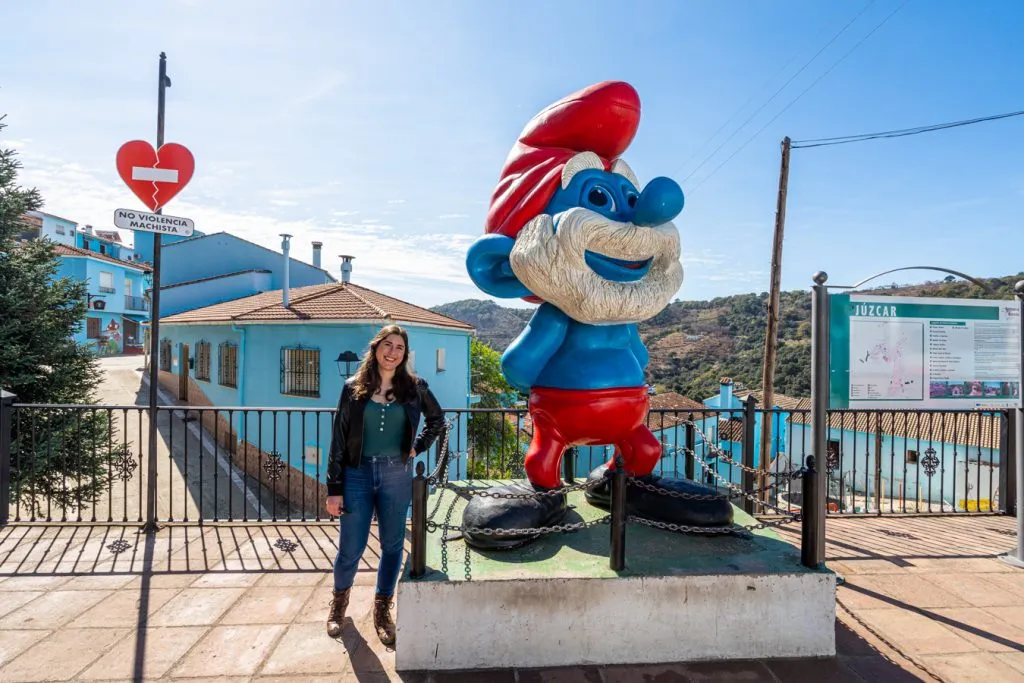 Go for a hike outside of town.
Like so many small Andalucian villages, Juzcar is surrounded by beautiful hiking trails.
If you'd like to extend your visit or even spend the night (there is a well-reviewed hotel in the center of Juzcar), consider spending time enjoying the great outdoors!
If you happen to be visiting during mushroom season, all the better.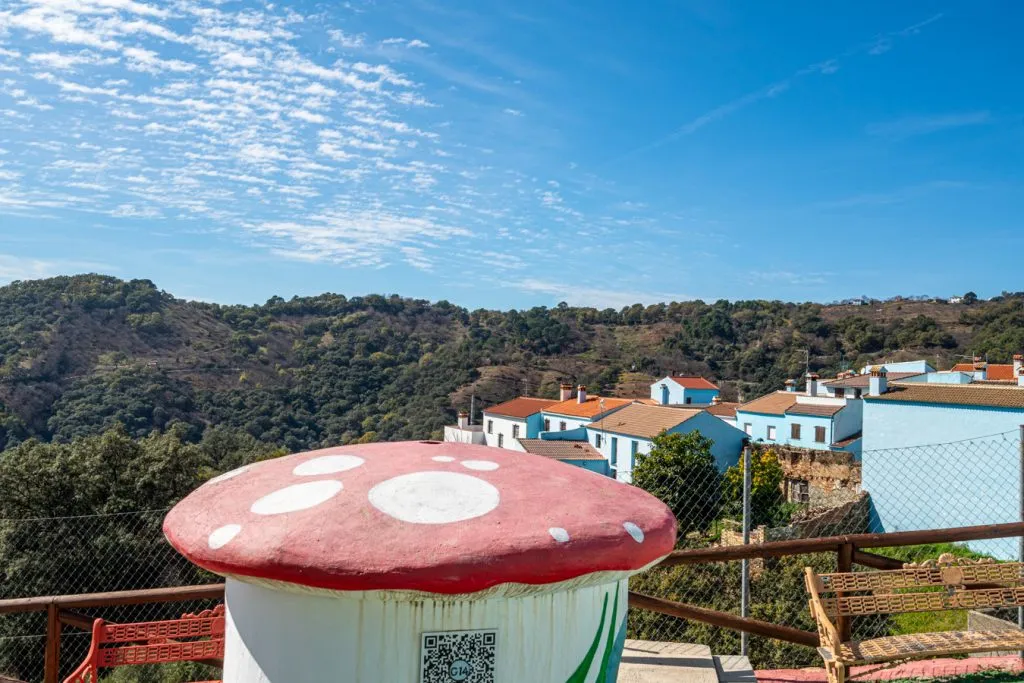 Is the Smurf Village in Spain Worth Visiting?
Yes, absolutely!
We loved the whimsical nature of an entirely blue Spanish town and greatly enjoyed seeking out the town's best viewpoints.
Juzcar certainly isn't somewhere you visit as a standalone trip, but as an addition to a southern Spain itinerary, it's definitely fun.
You can combine Juzcar with a trip to Ronda and/or Setenil de las Bodegas quite easily.
However you structure your visit, there's no doubt that visiting Spain's Smurf Village is a memorable experience!
---