Packed with whitewashed villages perched on the edge of the sea, historic port cities dating back thousands of years, and some incredibly unique architecture (looking at you, trulli), it's safe to say that narrowing down the best places to visit in Puglia, Italy, is quite the challenge!
Located on the "heel of the boot" in southeastern Italy, Puglia (sometimes written as Apulia) is known not only for its (rightfully) much-lauded beach towns, but for the delights of the villages of the Itria Valley, the quiet beauty of the Gargano, and more.
We've rounded up some of the most beautiful cities and towns in Puglia here, with the hopes of including enough variety to inspire not one, but several trips to this magical region of Italy.
Here are the must-see Puglia towns to visit on your next road trip!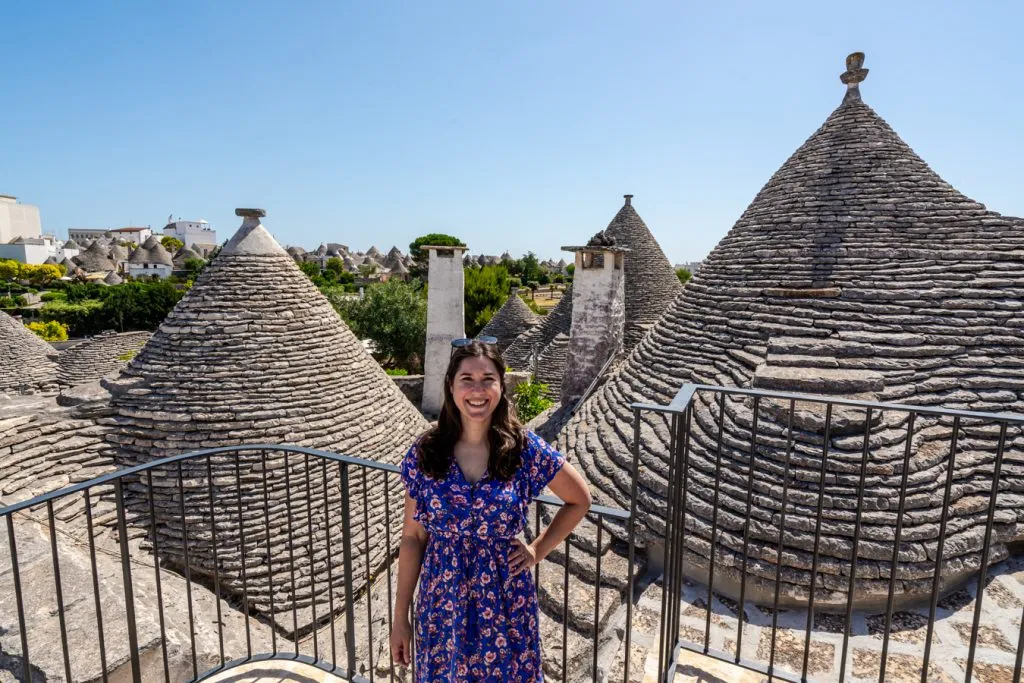 Ready to Plan Your Trip to Puglia?
Once you discover which Puglia cities and towns sound most appealing to you, we'd love to help you plan your trip to the heel of the boot in more detail!
Here on Our Escape Clause, we have published 100+ Italy blog posts to help you plan your adventures, including several on Puglia.
After reading about the best places to visit in Puglia, we recommend checking out our suggested Puglia road trip itinerary (ideal for maximizing what you see with limited time in the region).
We also have specific guides to towns like Otranto, as well as tips for the magnificient Cave of Poetry, which we highly recommend visiting!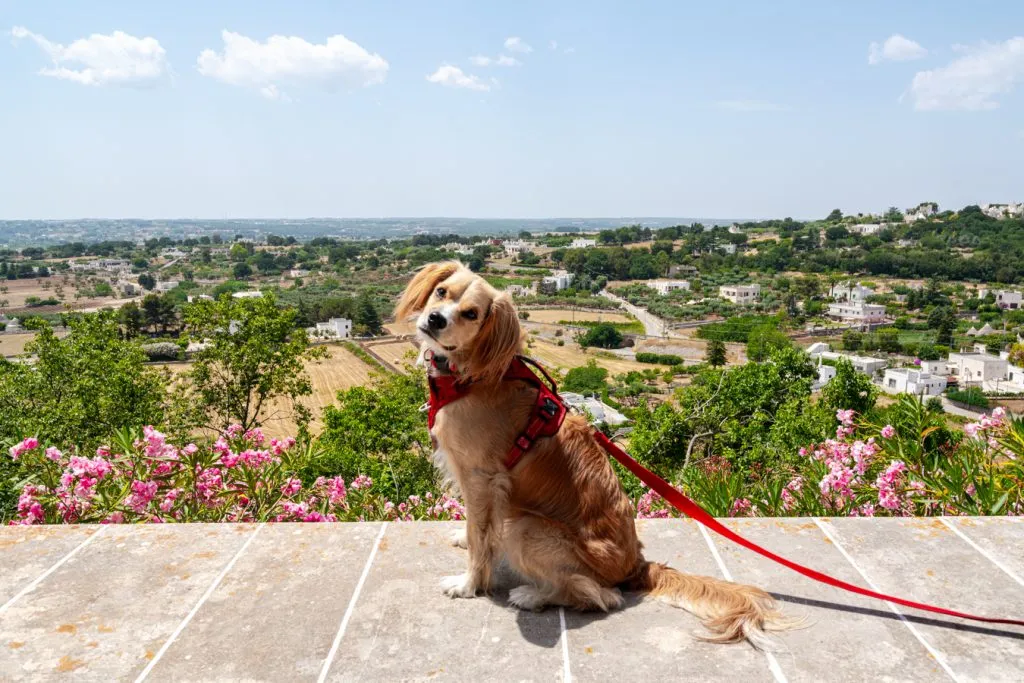 Beautiful Beach Towns to Visit in Puglia, Italy
Puglia is rightfully famous for its gorgeous seaside towns, ranging from the many stunning whitewashed villages of the Salento region to incredible gems near Bari like Polignano a Mare.
Here are some of the most beautiful beach towns in Puglia to visit!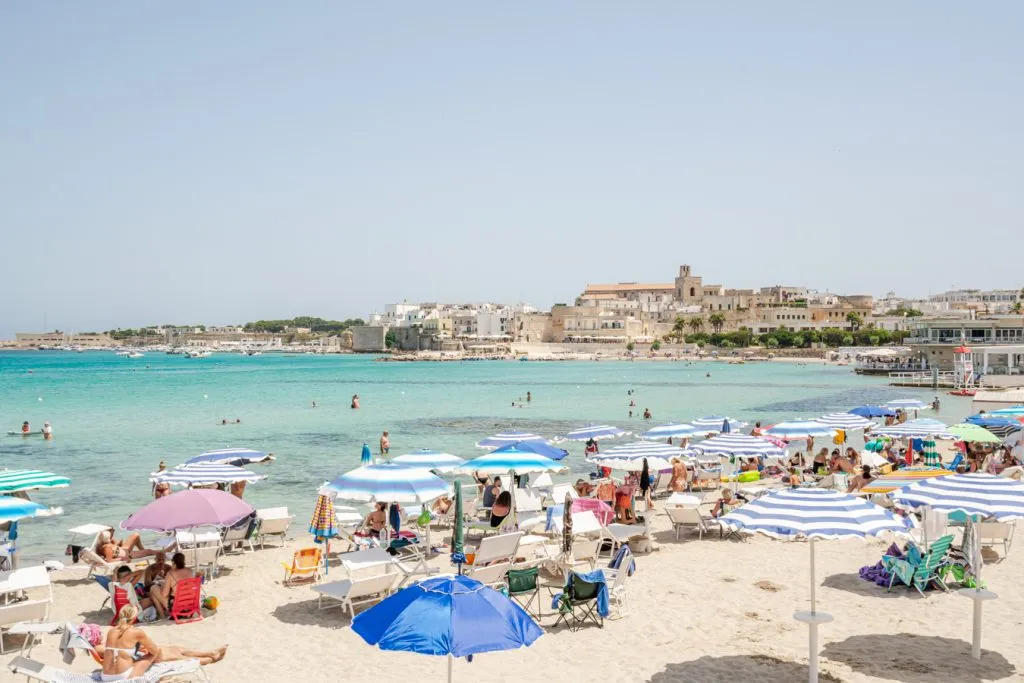 Polignano a Mare
If you've seen photos of one town in Puglia, it's probably this one.
Beautiful Polignano a Mare, with its dramatic cove beach situated in the center of town, is undoubtedly one of the most famous images of Puglia!
Built on cliffs overlooking the sea, Polignano a Mare is just south of Bari and absolutely worth a visit.
Just be sure to bring water shoes and a sense of patience if you want to enjoy the famous beach during the summer–it is both rocky and quite small!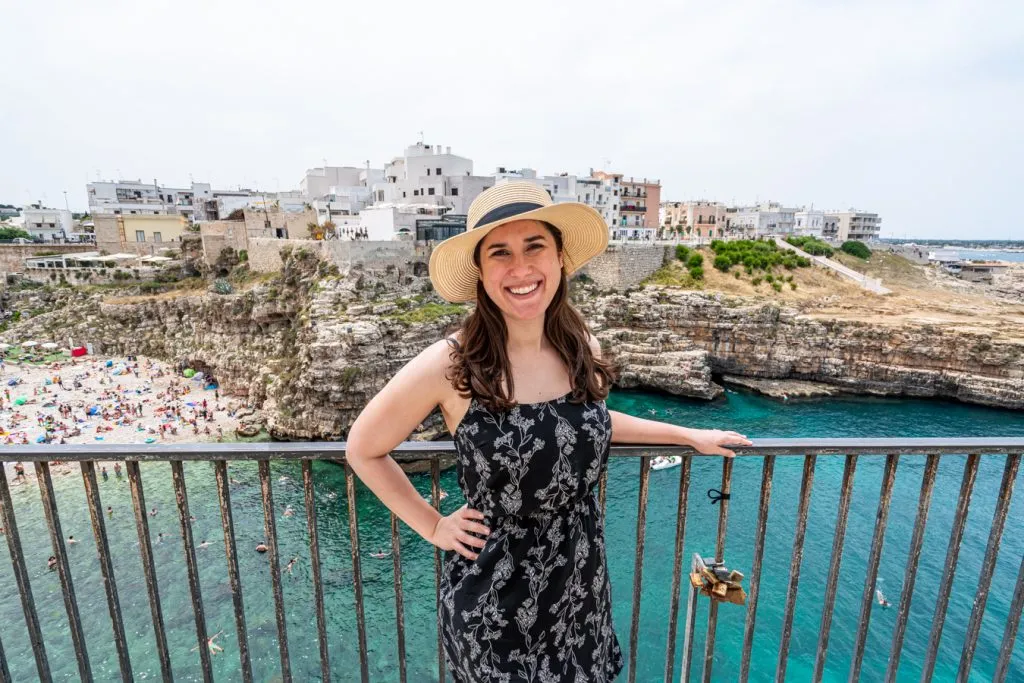 Trani
Located right on the Adriatic Sea and featuring a beautiful Duomo, charming Centro Storico, and the remains of once-important defensive structures, Trani is well worth a visit when exploring Puglia!
As Trani is situated north of Bari, it gets fewer international visitors than arguably similar towns like Monopoli and Otranto–but it is well worth your time.
Don't miss the views from Svevo Castle while you're there!
Otranto
Situated in the southeast corner of Puglia, in the highly lauded Salento region, Otranto is one of our personal favorite beach towns in Puglia.
With an excellent combination of easy-to-access, quick-to-see historic sites and plenty of beautiful beaches within a short walk or drive of the historic center, Otranto makes for an excellent day trip or base when visiting Puglia.
Otranto also offers close proximity to the stunning Cave of Poetry, one of the most beautiful natural swimming pools in the world!
Peschici
Built on a tall karst cliff that juts into the Adriatic Sea, Peschici is visually striking from the moment you lay eyes on it.
This whitewashed fishing village is known for its excellent views, long history (its castle dates to 970 AD–a whopping 500 years older than Otranto's, for example), and wide stretches of sandy beaches.
From Peschici, you can also catch a ferry or helicopter ride to the Tremiti Islands, which just might be one of the best hidden gems in all of Italy!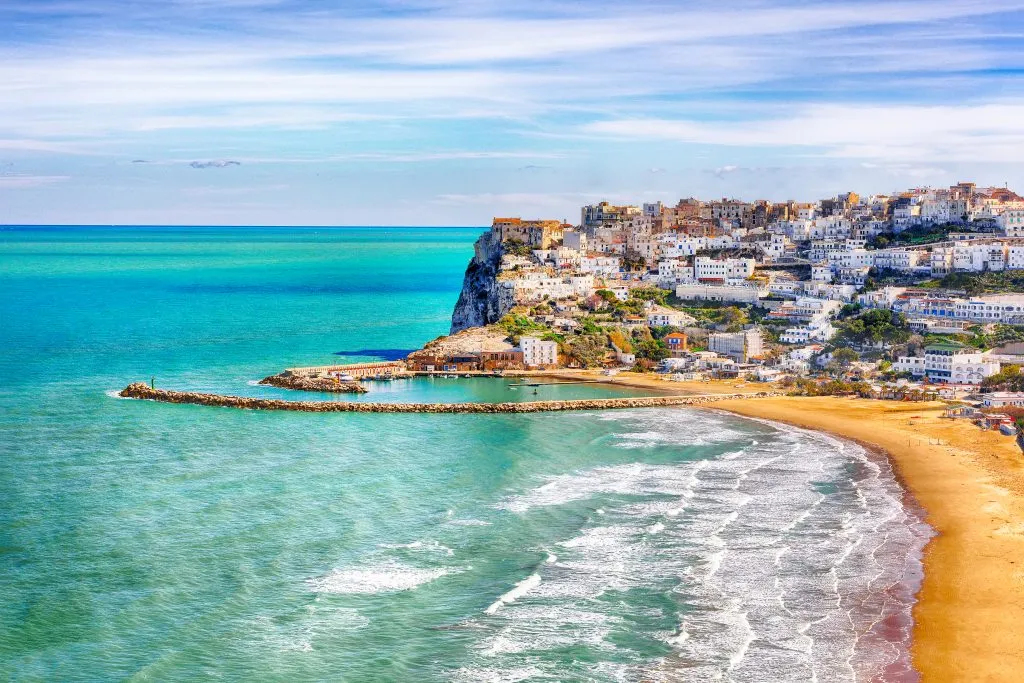 Gallipoli
Located on the western edge of the Salento region, Gallipoli is located more or less opposite Otranto on the heel of the boot.
Unlike the rest of the Puglia towns covered here, Gallipoli is technically located on an island just off the mainland, and strolling around the remaining fortifications of this once highly defended city is definitely worth your time!
Gallipoli also features the beautiful seaside Castello Aragonese, a charming center, and plenty of surrounding beaches, making this seaside town one of the best places to visit in Puglia.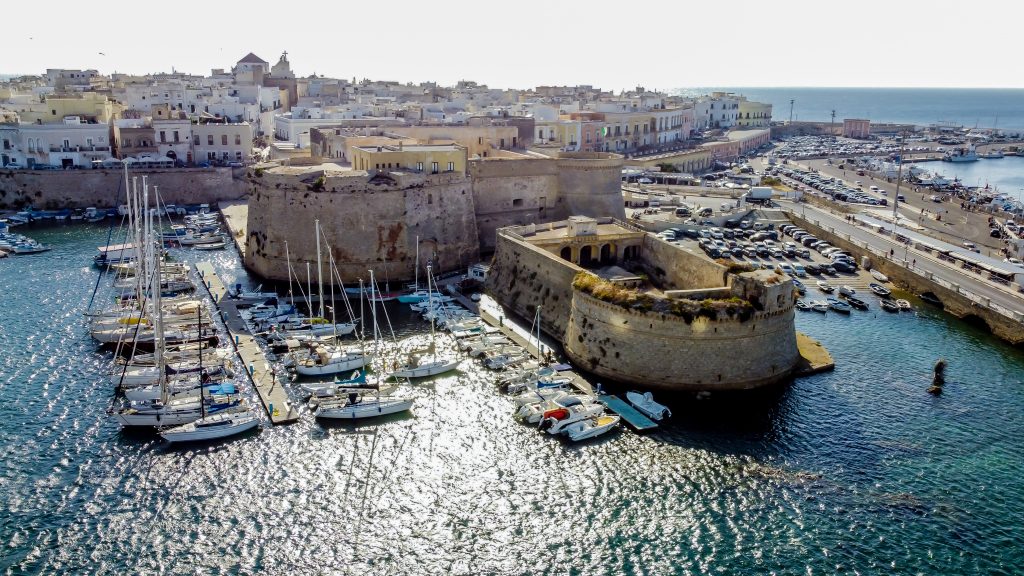 Monopoli
Found less than an hour south of Bari, and located right on the Adriatic Sea, Monopoli is an ideal example of a coastal town in Puglia.
Featuring a charming historic center–all arches, colorful shutters, and gelato shops–a darling old port, and a Lungomare that begs you to take a stroll, Monopoli is one of those towns where you arrive for a day and find yourself hoping to stay for weeks.
Don't miss the imposing Castello Carlos V (or the nearby views), the bustling Piazza Giuseppe Garibaldi, or the delightful Cala Porta Vecchia swim spot/small beach/viewpoint while you're there!
Santa Maria de Leuca
At the very southern tip of Puglia, you'll find Santa Maria de Leuca, which is easily one of the best towns in Puglia to visit for history lovers (and sea-lovers won't go amiss, either).
Often referred to simply as "Leuca", this tiny coastal village is where St. Peter once stopped on his journey to Rome, stopping to bless the local Greek temple and turn it into a church along the way.
Today, visiting the famous church (Basilica de Finibus Terrae) built on the site of the former temple is one of the best things to do in Leuca!
Admiring the town's impressive lighthouse and exploring the nearby sea caves are also must-sees in this seaside town.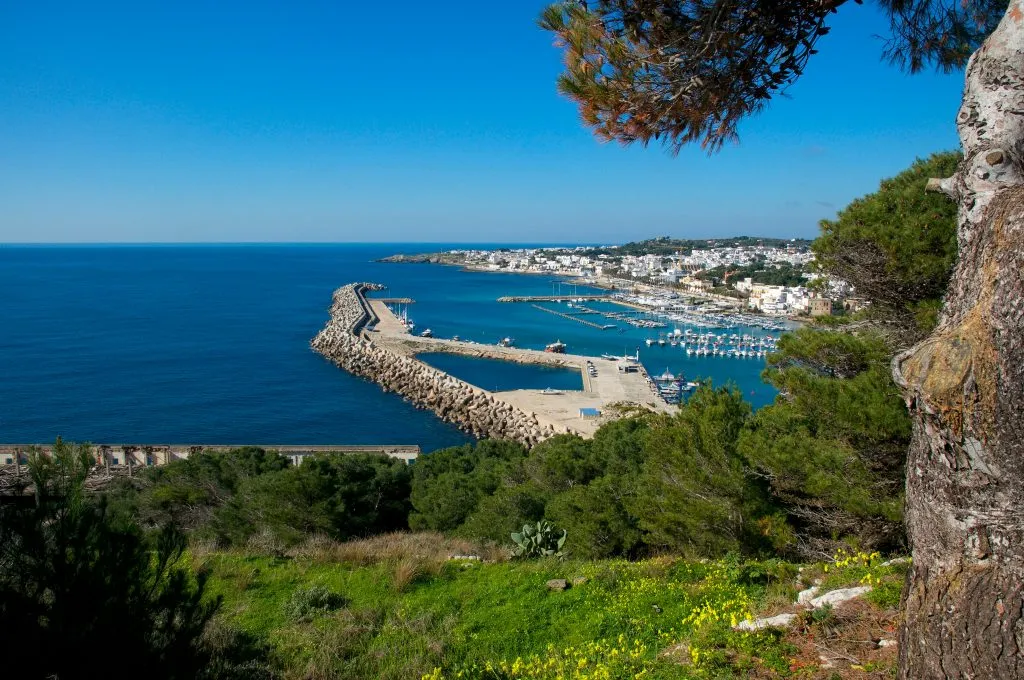 Vieste
Situated on a rocky promenade jutting out into the Adriatic Sea, picturesque Vieste is both one of the best beach towns in Puglia and one of the best bases for exploring the Gargano region!
With a lovely historic center to explore and gorgeous beaches on either side of the promenade, you can't go wrong with a visit to Vieste.
Be sure not to miss the famous Pizzomuno Rock, or the incredible views of Vieste from Belvedere Piazza Seggio while you're there!
Vieste, like Peschici, can also be used as a launching point to visit the Tremiti Islands.
Inland Puglia Towns You Need to See (Itria Valley + Beyond)
While Puglia may be best-known as a beach destination, not all of the best towns in Puglia are on the coast!
The Itria Valley in particular is known for its beautiful towns–and this is where you'll find the UNESCO World Heritage Site of Alberobello, with its many trulli.
Here are some of the prettiest Puglia destinations away from the coast!
Locorotondo
Found high on a hill overlooking the Itria Valley, Locorotondo is tiny, whitewashed, and utterly beautiful.
While strolling along the Lungomare and ducking into the many churches and artisan shops are a must, the real joy of Locorotondo is simply existing inside it.
If you enjoy lunch there, be sure to order a glass of the famous Bianco Locorotondo DOC wine at its source!
Ostuni
Sometimes called the "White City", Ostuni is known for its gorgeous historic center, its magnificent views of the countryside, and–perhaps most of all–for its location.
While Ostuni is absolutely worth exploring in its own right, and a favorite among travelers, it's also known as a popular base for travelers looking to base themselves in between popular Itria Valley destinations like Alberobello and the Adriatic Sea.
In addition to being centrally located, staying in Ostuni is often cheaper than on the coast, appealing to visitors traveling on a budget.
While in Ostuni, though, you can't miss the city's magnificient Gothic Cathedral, its many picturesque alleyways, and the chance to seek out the many viewpoints around town.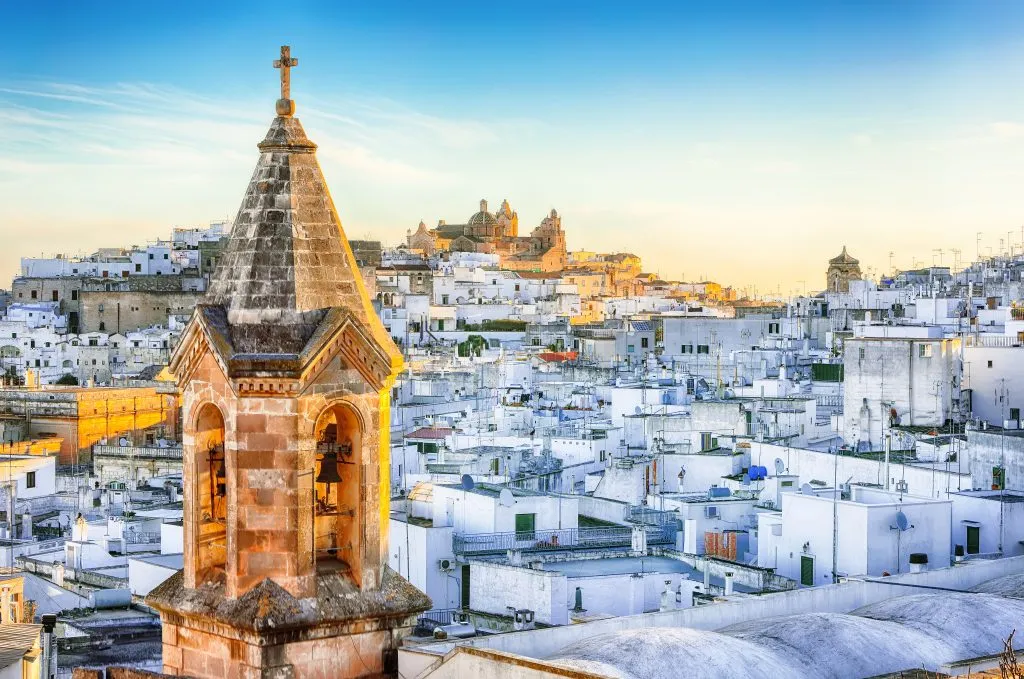 Alberobello
The crown jewel of the Itria Valley's beautiful villages, Alberobello is known for its dense collection of trulli–the conical, dry stone huts that Puglia is famous for.
While you can find trulli throughout the Itria Valley, Alberobello has by far the densest collection of them and as a result, the Trulli of Alberobello are recognized as a UNESCO World Heritage Site.
Unsurprisingly, this also means that Alberobello is one of the most crowded places to visit in Puglia (especially inland), but it's worth the effort.
Don't miss the Rione Monti district, the many views from various rooftops, or the Sant'Antonio Church.
We also recommend spending the night in a trullo (we loved our stay in this one), as it is not only an amazing travel experience, but gives you a chance to enjoy Alberobello without the daytrippers.
Martina Franca
Far less crowded than Alberobello, and bigger than Puglian towns like Locorotondo while still holding plenty of charm, Martina Franca is an excellent destination in Puglia for travelers looking to go a bit off the beaten path without driving too far out of their way.
Known for its stunning collection of Baroque churches and the whitewashed beauty of the historic center that is typical of the region, Martina Franca is a delight to explore.
Be sure to visit Piazza Maria Immacolata, the gorgeous neighborhood of La Lama, and the stunning Basilica di San Martino as you wander through Martina Franca!
Nardò
Despite being near the coast, Nardò, Puglia, is set a few kilometers inland rather than on the sea, making it a lesser-visited hidden gem in Puglia.
If you're looking for an uncrowded, offbeat beauty in the Salento region, though, Nardò fits the bill!
With a gorgeous collection of Baroque architecture (particularly churches, of course), delicious food, low prices, and a 15-20 minute drive to magnificent beaches on the Ionian Sea, Nardò is an unforgettable destination for those looking to get off the beaten path in Italy!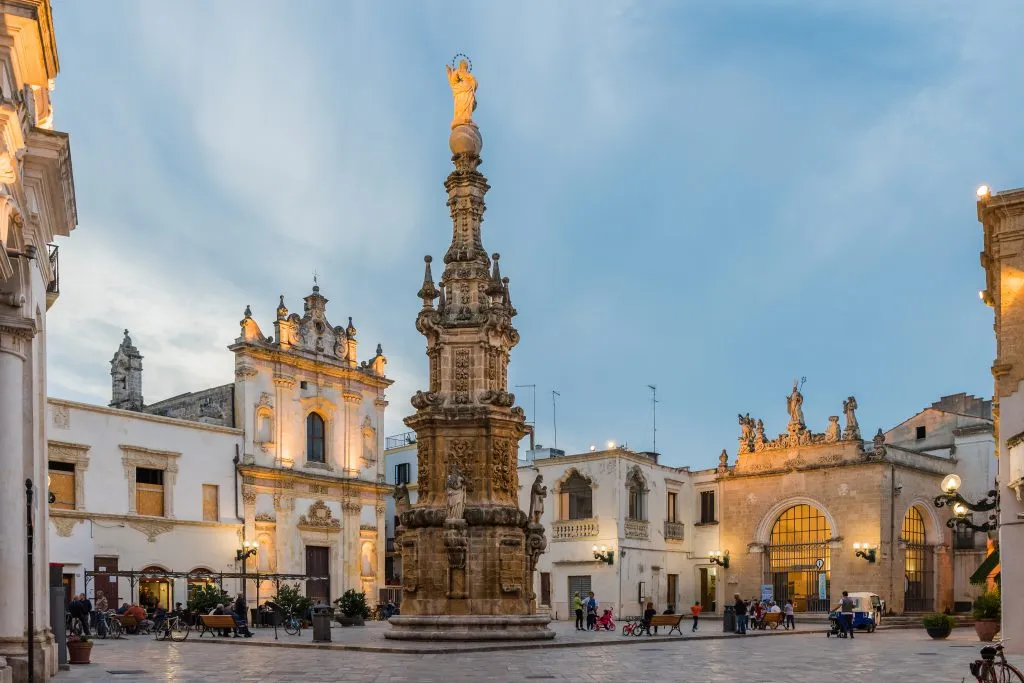 Monte Sant'Angelo
Located high in the hills, and reasonably far (by Puglian standards) from most of the top places to visit in Puglia, Monte Sant'Angelo is certainly off the beaten path for most travelers.
… Except UNESCO-World-Heritage-Site collectors, that is!
In addition to being a beautiful town in its own right, featuring an impressive medieval castle and excellent views, Monte Sant'Angelo is home to the first-ever shrine to the Archangel Michael in Western Europe.
In 2011, the Sanctuary of Saint Michael the Archangel was recognized as (part of) a UNESCO site.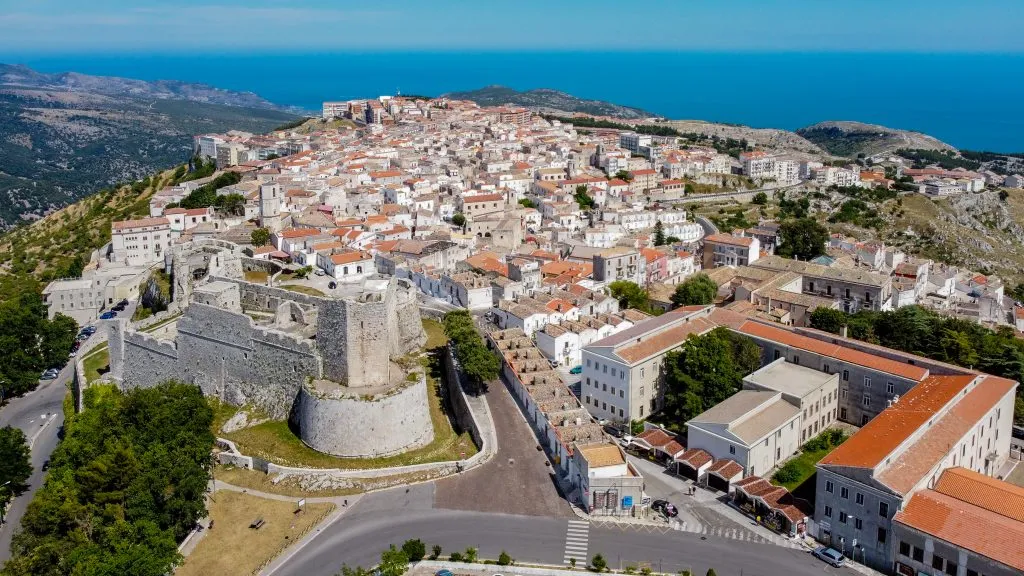 Gorgeous Cities in Puglia to Visit
Puglia's cities may not be quite as famous as its beaches and small towns, but for those seeking history and culture, they're still absolutely worth a visit.
Bari
As the capital of and largest city in Puglia, Bari is the starting point of many trips to Puglia!
While many travelers, pressed for time and eager to get to Puglia's beach towns, skip right through Bari, it's worth checking out the city's best sights if there's room in your itinerary.
The Bari Castle, Basilica San Nicolo, Porta Vecchia, and the Cathedral of San Sabino are among the city's top attractions, and Piazza Mercantile is worth seeing, too!
Lecce
Nicknamed the "Florence of the South", Lecce is one of the best places to go in Puglia if you're looking for a stunning but somewhat offbeat city to visit in Italy.
This university city is packed with stunning Baroque architecture and long history with ties to Ancient Greece and Rome.
It's gorgeous and well worth a visit, but since it's located inland in the southern part of Puglia, it doesn't draw nearly as many visitors as the coast or even the Itria Valley.
Some of the best things to see in Lecce's Centro Storico include the remains of the Roman Amphitheatre, the Basilica di Santa Croce, and the Piazza del Duomo and Duomo itself.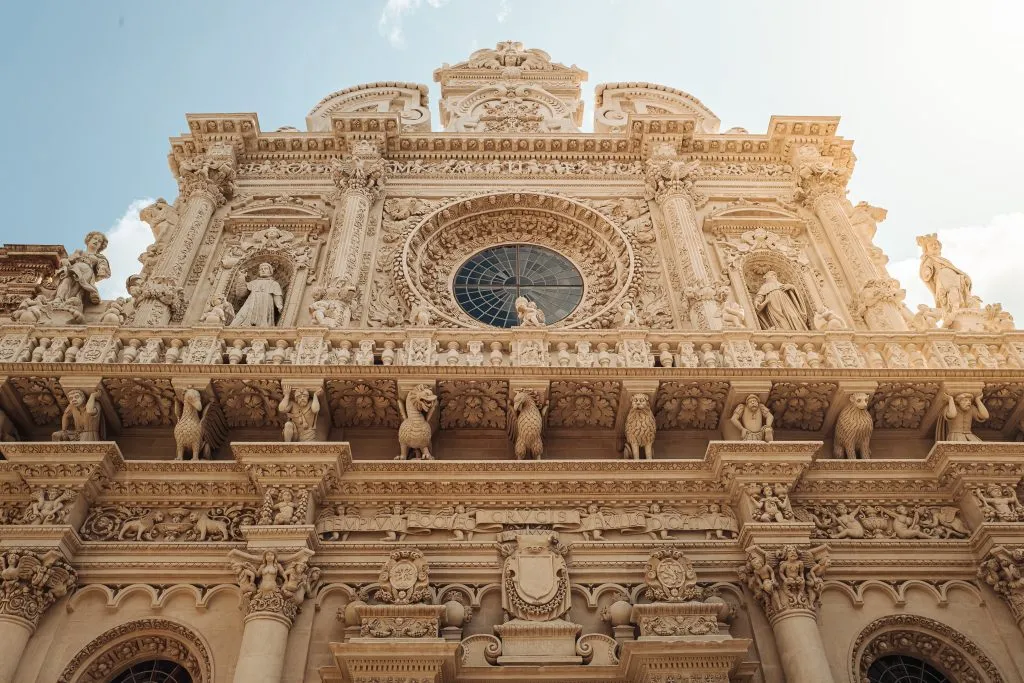 Brindisi
Known as the "Gateway to the East", Brindisi has been a notable port city in southern Italy dating back to Roman times–and that continues today.
If you visit Brindisi while in Puglia, there's a solid chance that you're doing so because you flew into Italy there, or because you're catching a ferry to or from Greece or Albania.
Once you're in Brindisi, though, it's worth taking a spin around this Puglian city!
A bit grittier than many of the best places to go in Puglia, Brindisi nonetheless has plenty to see, starting with 2 castles (including the Castello a Mare, which is situated on a small island near the city), a historic center packed with winding streets, and a memorable archaeological museum.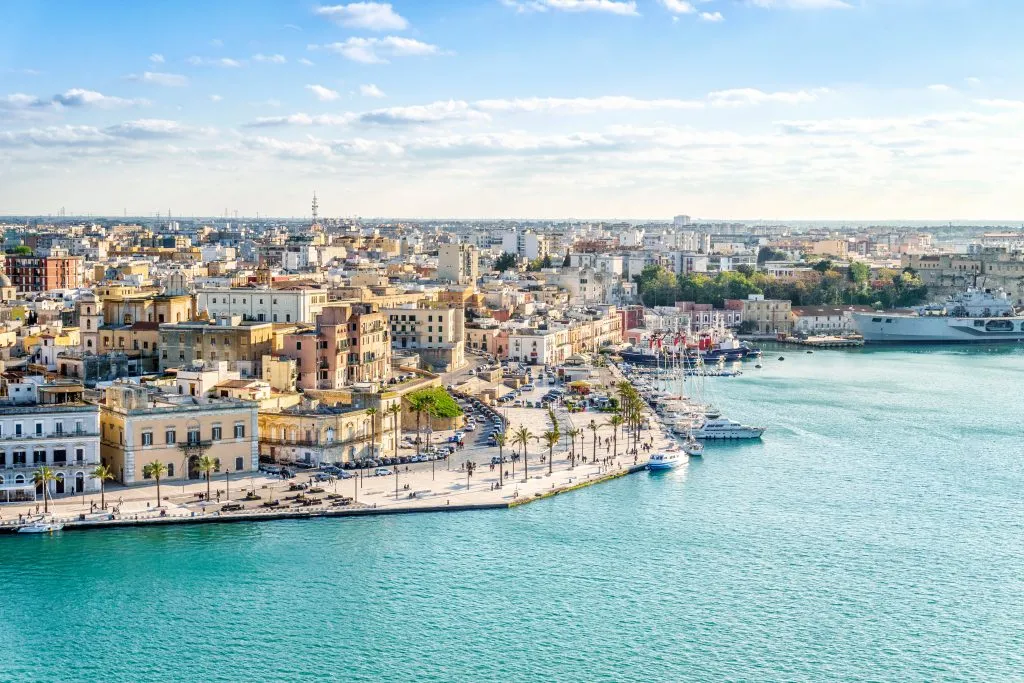 How to Reach the Best Places to Visit in Puglia
While most of the best places to visit in Puglia are connected to the wider region by train and/or bus, Puglia makes an ideal road trip destination in Italy.
Train service here can be spottier than in more northern regions, and the tiny size of many Puglian towns makes them ideal for visiting by car.
To give yourself the most freedom when exploring all of the beautiful places in Puglia, we recommend renting a small car through Discover Cars.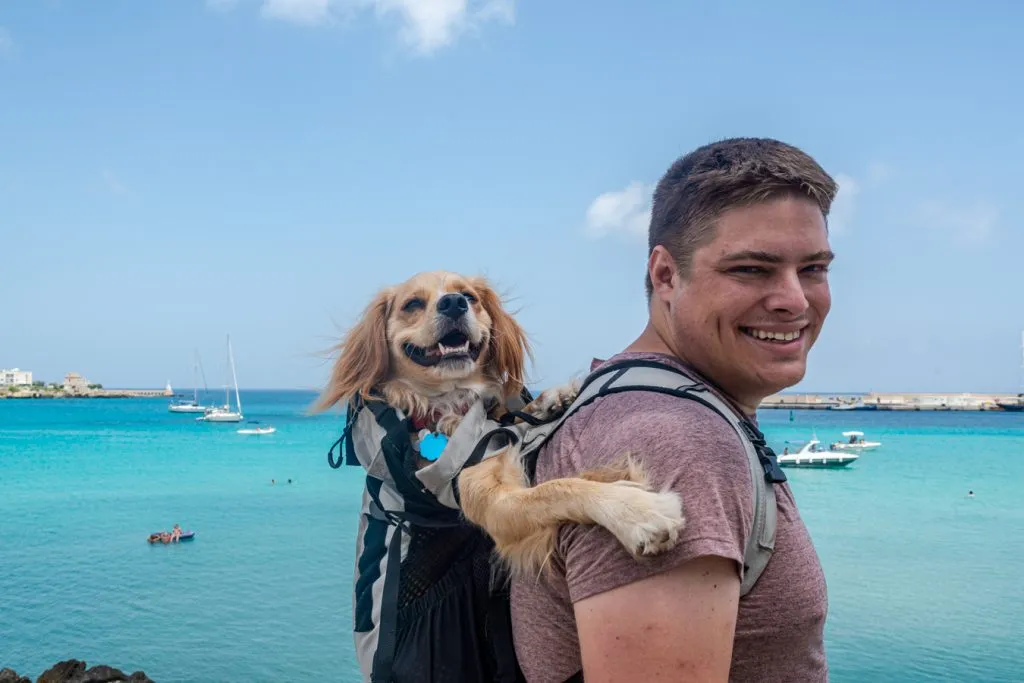 This will allow you to compare the prices and inclusions of multiple companies at the same time and choose the best car for you from there.
If you'd prefer not to drive, you can check train and bus schedules, with prices, through Omio–but if you're planning to focus your trip on the many beautiful small towns of Puglia, driving is definitely ideal.
Map of the Most Beautiful Cities + Towns in Puglia
Take This Map With You! Click each highlight to pull up the name of the destination. To save this map to "Your Places" on Google Maps, click the star to the right of the title. You'll then be able to find it under the Maps tab of your Google Maps account! To open the map in a new window, click the button on the top right of the map.