Nestled onto the coast of the Salento region of Puglia, Otranto is not only the easternmost town in Italy, but a delightful place to kick back, relax, and enjoy a bit of sun and sea!
As a popular beach town in Puglia, the best things to do in Otranto range from lots of time spent on the sand to exploring the historic churches in the town's small-but-charming Centro Storico.
We fell in love with Otranto almost immediately after arriving, taken in by its combination of historic attractions paired with places to swim–all located within walking distance of each other.
Here's what to do in Otranto, Italy, plus some tips on how to make the most of your time in this Puglian beach town!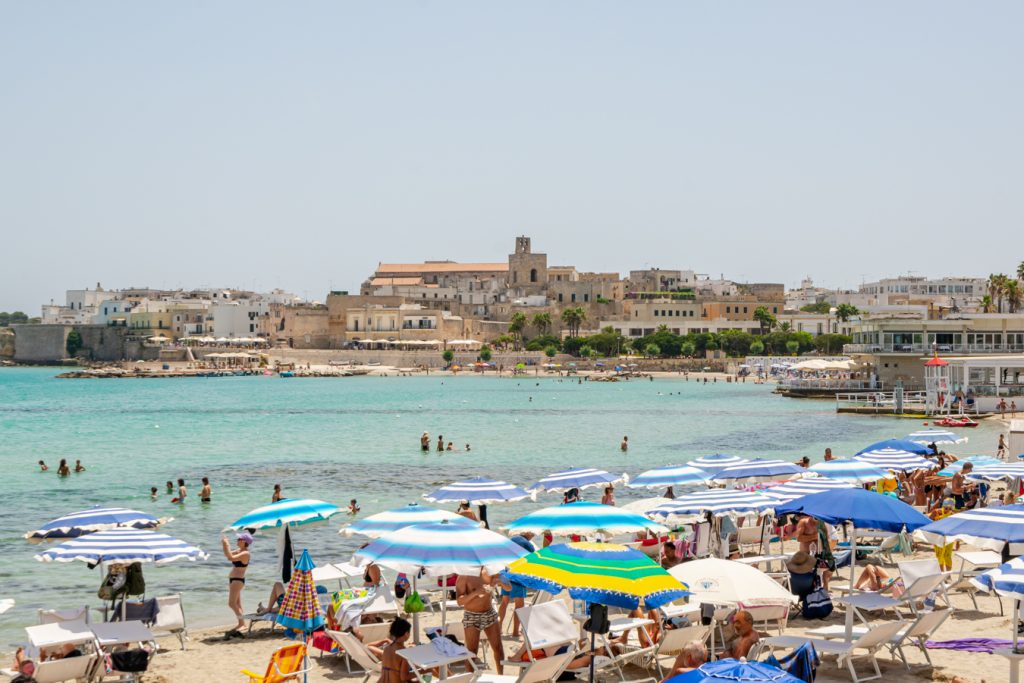 Some links in this post may be affiliate links. If you make a purchase through one of these links, we may earn a small commission at no extra cost to you. Please see our

disclosure policy

for more detail.
The Best Things to Do in Otranto, Italy
Otranto's historic center (Centro Storico) may be small, but there are still a handful of historic sites to check out while you're there!
Step inside Otranto's magnificent Duomo.
The Otranto Cathedral, or Duomo, dates back to 1088, and is well worth a visit!
While the facade is fairly standard, the interior is anything but: the mosaic floor, which dates to the 12th century, is particularly incredible.
Technically named the Basilica Cattedrale di Santa Maria Annunziata, be sure not to miss the crypt or the Chapel of the Martyrs when visiting, either.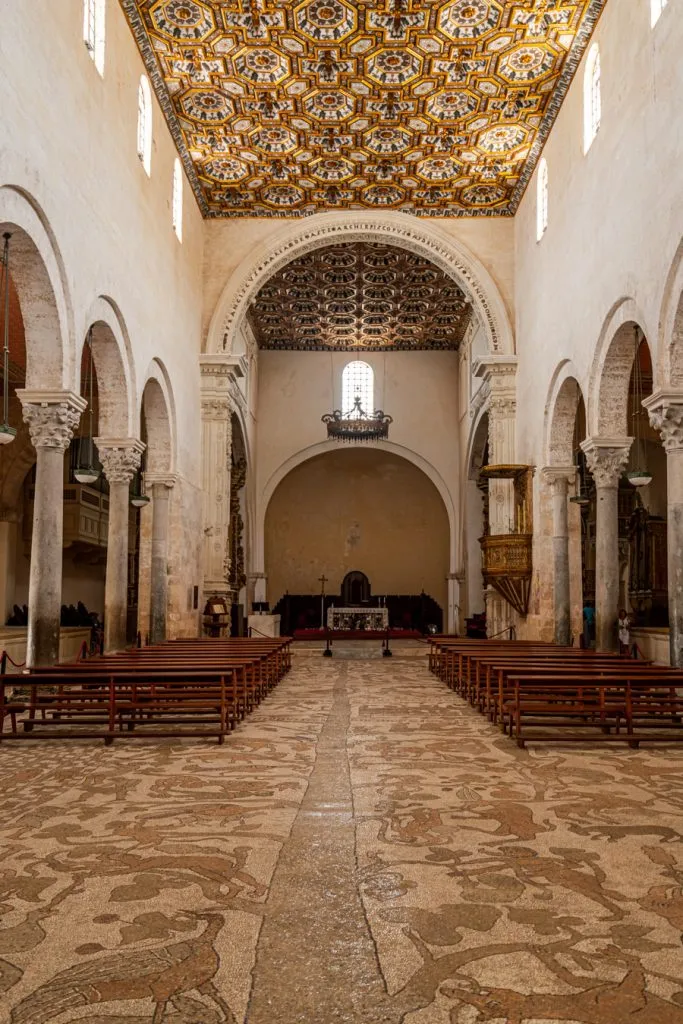 Stroll along the Lungomare.
Harbor views and sea breeze: is there any better combination when visiting a beach town?
The Lungomare is incredibly picturesque–perhaps even more so with a gelato in hand–and well worth strolling along a dozen or so times when visiting Otranto.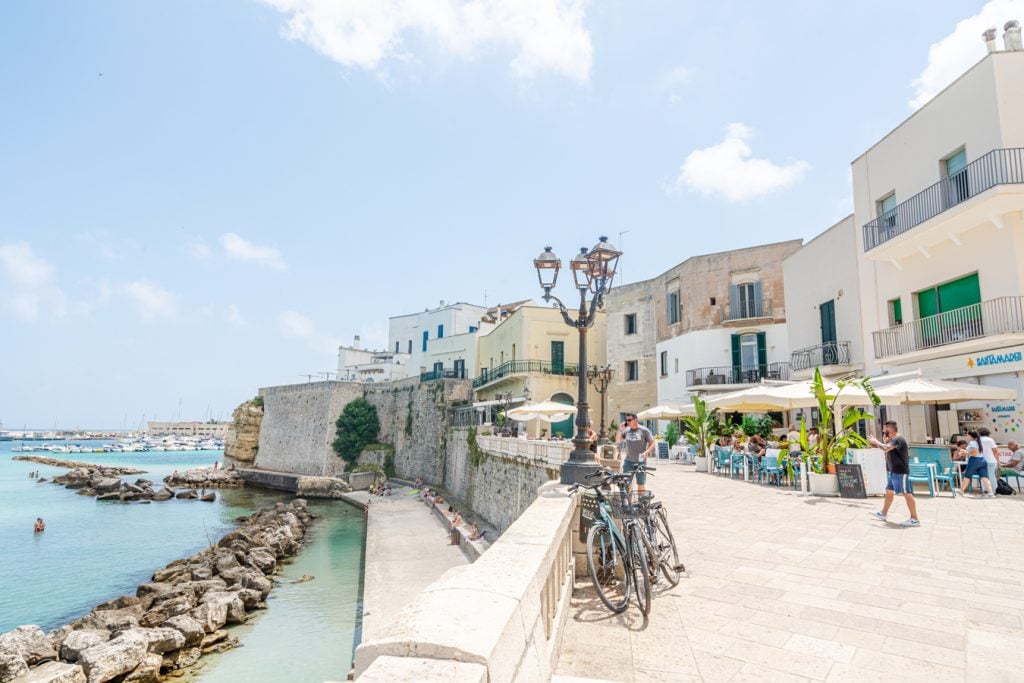 Explore Castello Aragonese.
It's impossible to miss Otranto's imposing castle, which stands at the edge of Centro Storico and overlooks the sea.
Built after the Ottomans raided the city in 1480, the castle was very much intended as a defensive structure.
Fast forward several centuries, though, and today the castle is best known for the beautiful views from the rooftop.
Thanks to random coincidence, the castle also has a bit of literary notoriety: the first-ever Gothic novel, published in 1764 by Horace Walpole, is named The Castle of Otranto.
The name is a mere coincidence: Walpole never visited Otranto, Italy before writing the novel.
That hasn't stopped visitors from arriving in Puglia over the centuries hoping to visit the real-life Castle of Otranto, though!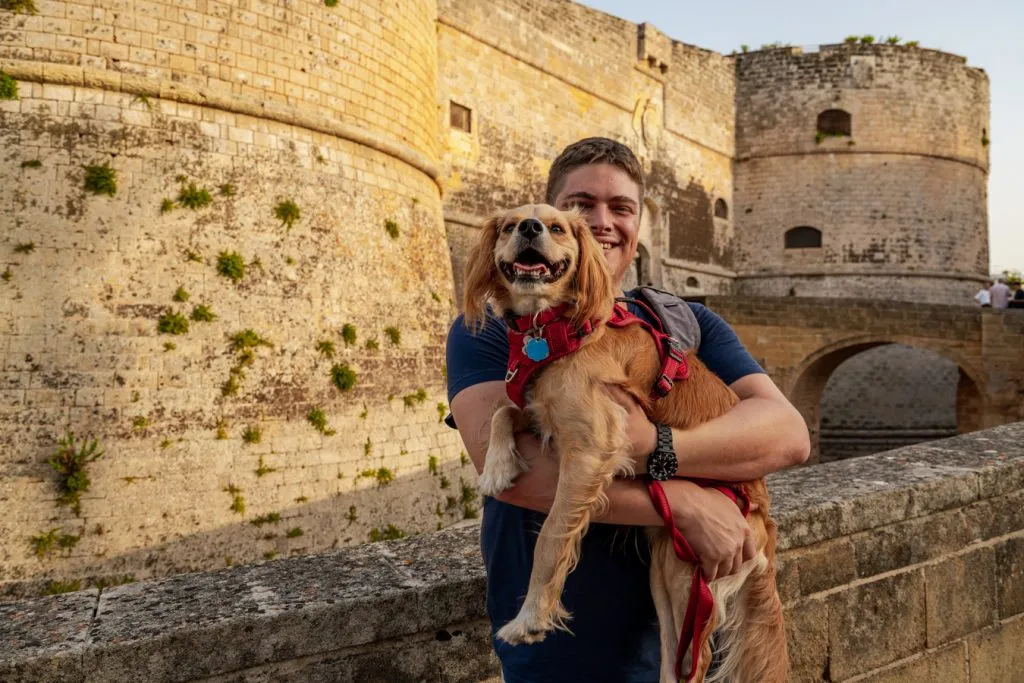 Pay a quick visit to the Church of St. Peter.
The small, unassuming Church of St. Peter is easy to miss when strolling by–but it's worth stepping inside to check out one of the best things to see in Otranto!
Covered in frescoes that are estimated to date to the 9th and 10th centuries, the Church of St. Peter is considered to be one of the best-preserved links to the Byzantine era in Puglia.
Easy to access but set in a quiet piazza, this small church makes for a quick but beautiful detour when visiting Otranto.
Check out the Porta Alfonsina.
This imposing stone gate marks one of the entrances to Otranto's historic center, making it an easy–and memorable–landmark to pay a quick visit to when exploring the city.
On a hot day, it's also a reliable place to grab a quick break in the shade!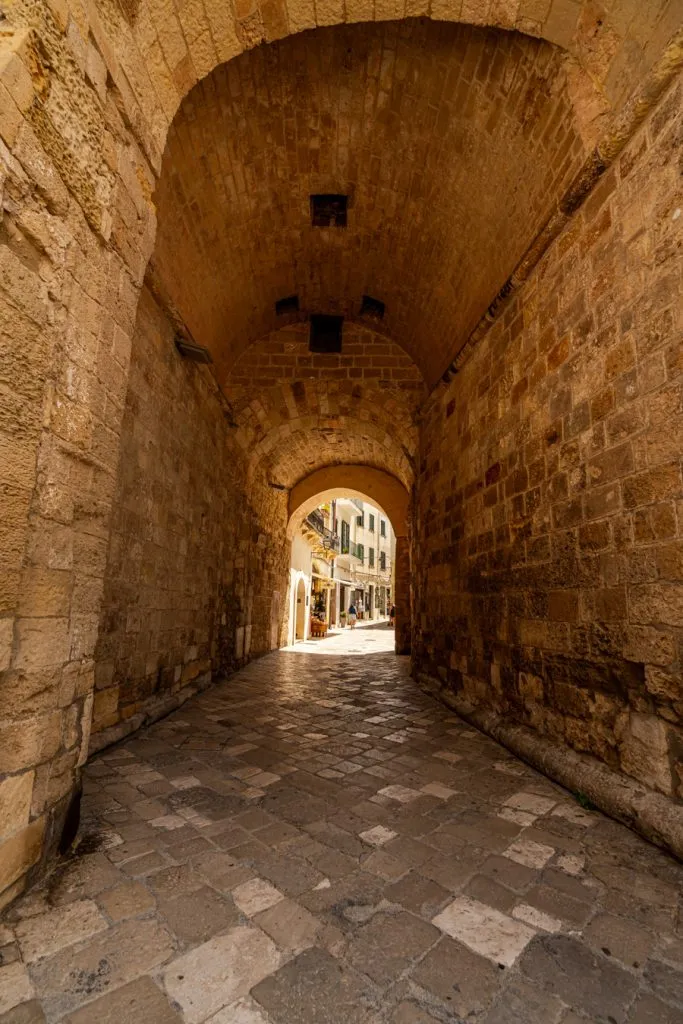 Visit the easternmost point of Italy at the Punta Palascia Lighthouse.
Otranto may be the easternmost town in Italy, but you'll need to leave the historic center to reach the official easternmost point of the country!
A very short drive will take you to Punta Palascia Lighthouse, which is not only a photogenic spot, but the official easternmost spot in Italy.
As of the time of writing, you can't visit the lighthouse itself, but you can walk around outside and enjoy the beautiful views.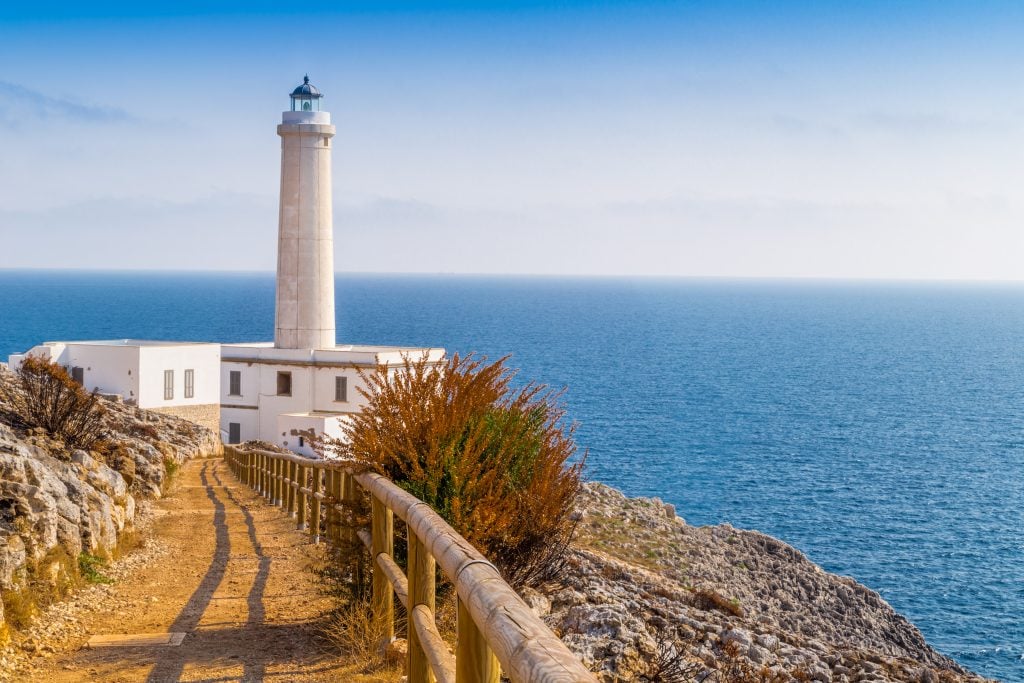 Snap a photo of the clock tower.
There isn't much to see at Otranto's charming clock tower, but it's a photogenic landmark all the same.
It's worth a quick peek and snap as you explore!
Check out Cava di Bauxite.
Looking for something unique to do in Otranto, Puglia?
Cava di Bauxite–while it reminds me forcefully of the American Southwest–is definitely not the usual attraction in southern Italy!
This emerald-green lake surrounded by red rock exists on the remains of an old quarry.
Today, you can drive almost all the way to Cava di Bauxite, and enjoy a stroll around the lake.
It's not safe to swim in Cava di Bauxite, but if you're looking for an interesting attraction in Otranto, it definitely fits the bill.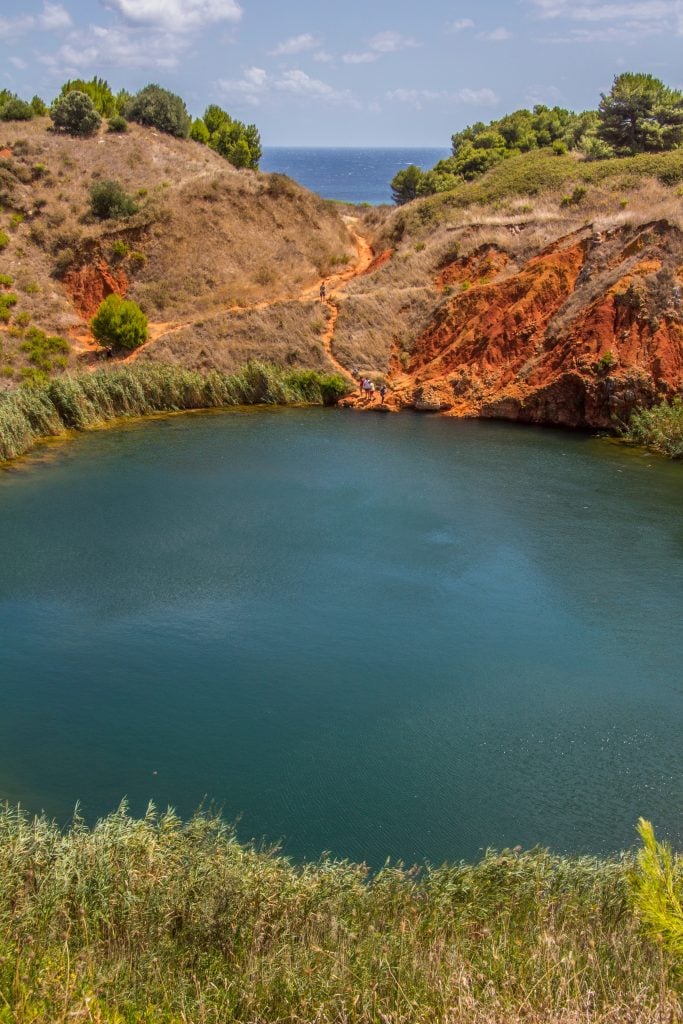 Where to Swim in Otranto (Beaches + Beyond!)
Like most places along the coast of Italy, Otranto follows the informal rule of "anywhere you can reasonably lay down a towel is a place to swim".
For this reason, Otranto "beaches" include both plenty of sandy areas surrounding Centro Storico, as well as plenty of rocky outlets!
Stroll along the edge of the water outside of Centro Storico, and you'll pass plenty of Otranto beaches, including both lidos (paid beach clubs with umbrellas and sun loungers), and free places to swim, crowded with a colorful collection of umbrellas and other beach gear that people haul to the water during the summer.
The water directly outside of Centro Storico is gorgeous to look at but extremely shallow–excellent for sunbathing or hanging out in the water, but less for traditional swimming.
For that, you'll want to go a bit further afield.
Here are a couple of the most popular beaches near Otranto, Puglia: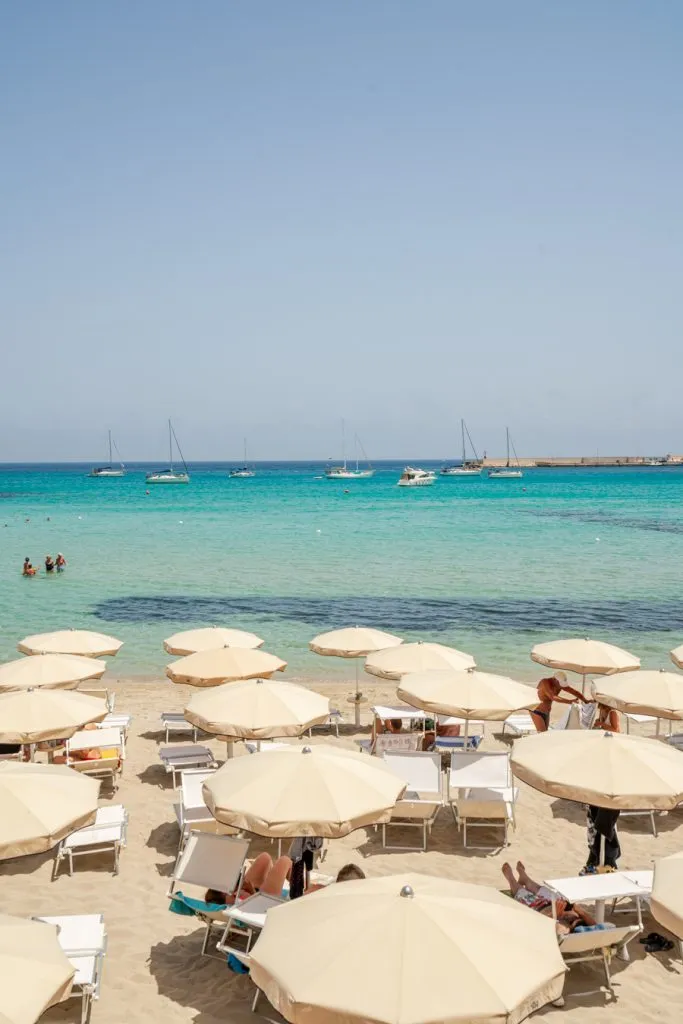 Baia dei Turchi
The Baia dei Turchi gets its name from the fact that the Turks landed here in 1480–but today, the bay is all about laid-back swimming.
Often considered one of the best beaches in Puglia, the Baia dei Turchi offers wide swaths of sand and clear water.
You'll find both lidos and sections of free-to-access beach here.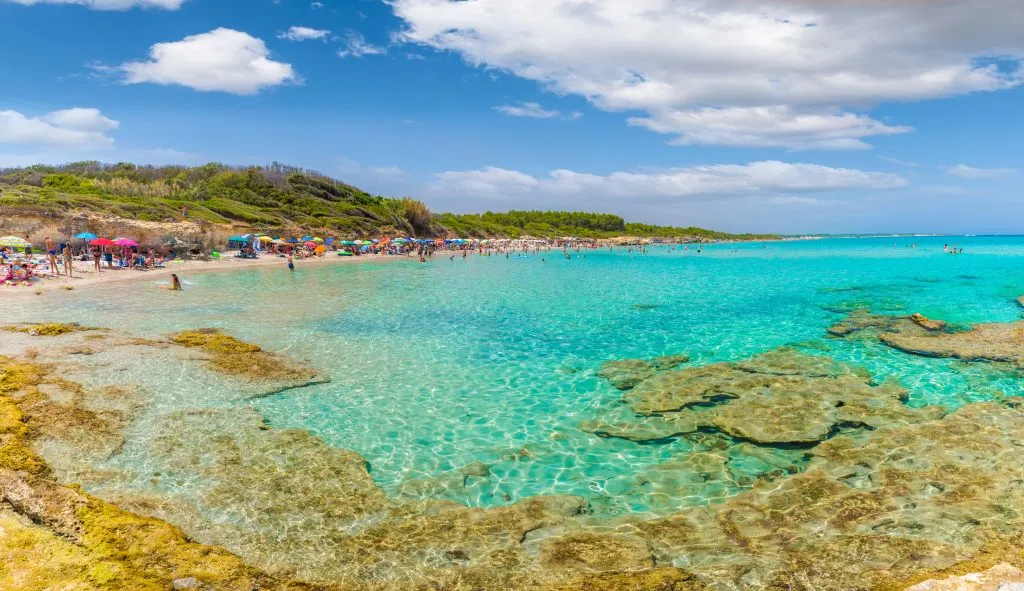 Spiaggia Alimini
Popular with locals and tourists alike, Spiaggia Alimini offers a long stretch of sand, backed by the shade of pine trees, and gorgeous water.
There are many lidos here, and they do get crowded during the high season!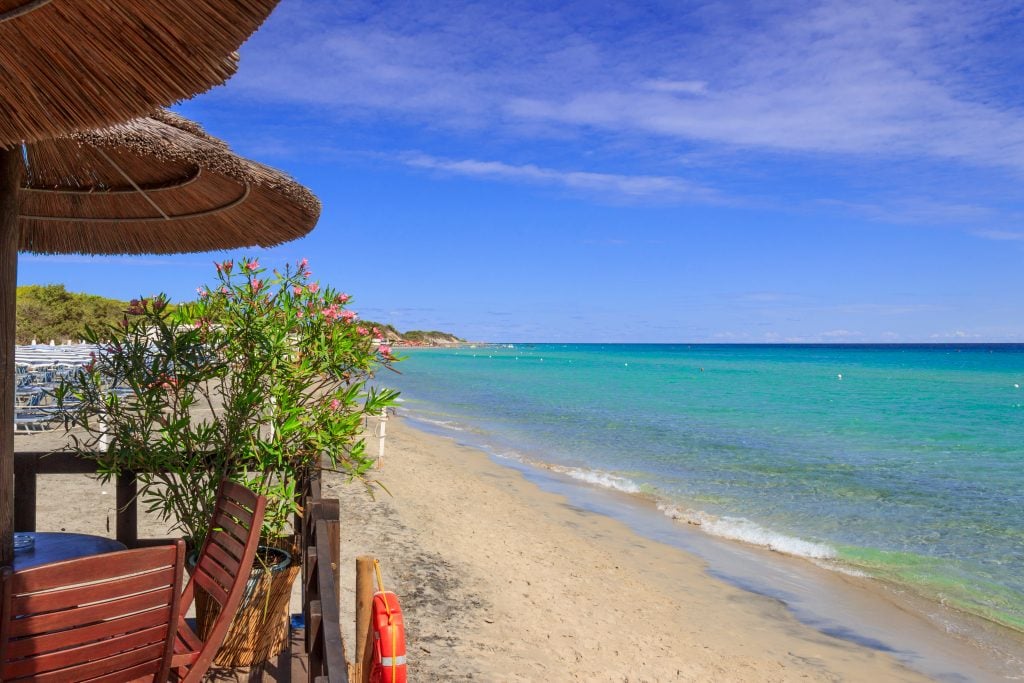 Grotta della Poesia
The Grotta della Poesia, or Cave of Poetry, is not a beach, but a stunning coastal swimming hole that reminded us forcefully of swimming in the cenotes of Mexico.
Featuring crystal-clear water, jaw-dropping views, a cave to swim through, and even some nearby ruins to explore, it's a remarkable sight.
And, if you're feeling particularly daring, you can even join the locals for a bit of cliff-jumping!
Where to Stay in Otranto, Puglia
We loved our stay at the spacious Marimar Apartments, located a short walk from Centro Storico and an even shorter walk from the sea.
B&B Palazzo Marzo and Palazzo de Mori are both excellent options as well!
Otranto's small size and location hugging the Adriatic make it simple to find places to stay near the water, a big advantage for a beach town.
How to Get to (+ Around) Otranto, Italy
While Otranto's Centro Storico and its surrounding area are extremely walkable and quite compact, your trip to Otranto will be much smoother with a car.
Otranto does have a small train station (and bus service beyond that), but its service has a reputation for being a bit erratic–and if you need to travel on a Sunday, that goes double.
To travel from Bari to Otranto by train on a not-Sunday, you'll need to transfer twice.
Plus, once you get to Otranto, you'll likely want to visit attractions outside the center, whether it's spending a day at the Baia dei Turchi or checking out Gallipoli (40 minutes away by car, 1.5+ hours away by bus).
If you'd like to sketch out what your Otranto trip could look like without a car, you can check bus and train schedules here.
Otherwise, we recommend renting a small car through Discover Cars, which will allow you to compare the prices and inclusions of multiple companies at the same time and choose the best car for you from there.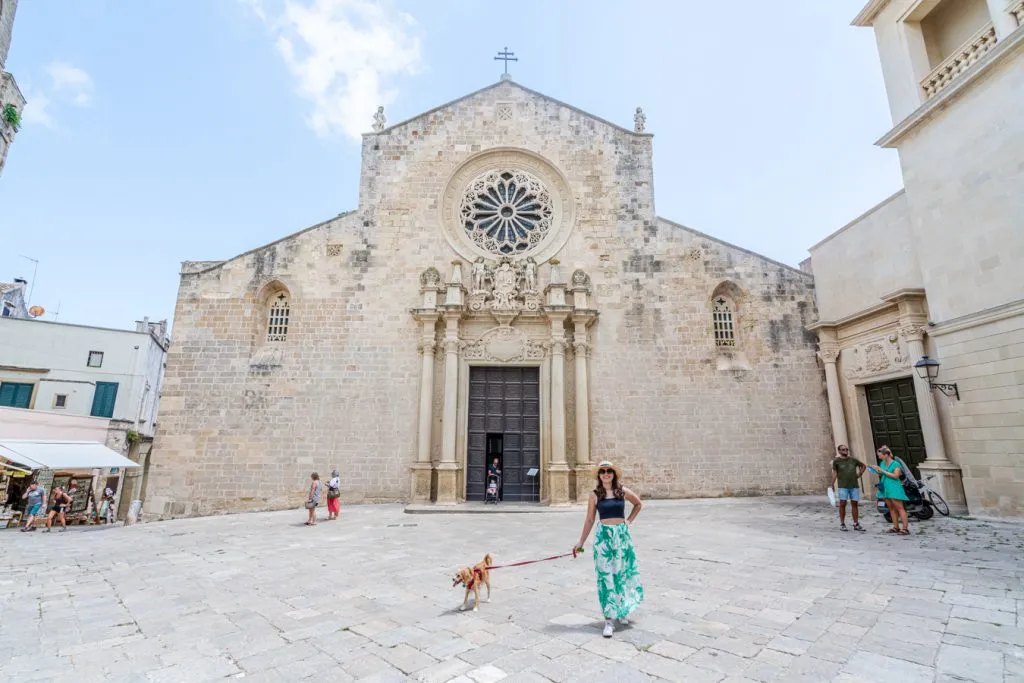 How Long to Spend in Otranto
If you're visiting Otranto as part of a wider-reaching Puglia itinerary, you can easily see the major attractions in Centro Storico in half a day, leaving the other half free to dedicate to enjoying the water.
However, Otranto also makes an excellent base for exploring the Salento region, with easy access to destinations like Gallipoli and Lecce, as well as the wide selection of stunning beaches near Otranto.
We based ourselves in Otranto for several days, and when we left, it was with the plan to return there on future trips to Puglia.
The best things to do in Otranto, Italy may not take long to see… but many are worth seeing more than once!