Often considered one of the most beautiful natural swimming pools in the world, Italy's Cave of Poetry (or in Italian, Grotta della Poesia) is a fantastic addition to a trip to Puglia!
Located amongst the archaeological site of Roca Vecchia, a short drive from either Otranto or Lecce, the Cave of Poetry is a delight to explore.
Here's what to know about visiting the beautiful Cave of Poetry in Italy!
Some links in this post may be affiliate links. If you make a purchase through one of these links, we may earn a small commission at no extra cost to you. Please see our

disclosure policy

for more detail.
What's it Like to Visit the Cave of Poetry?
Swimming in the Cave of Poetry in Puglia is a fantastic experience–and, if you want it to, it can even feature a side of heart-pounding adrenaline.
While swimming is definitely the main attraction, locals and tourists alike also entertain themselves with some impressive cliff jumping!
As someone who is not a big fan of heights, I opted out of this part of the Cave of Poetry experience in favor of enjoying the gorgeous water.
In addition to the main pool, there is a short cave to swim through, where you can experience where the natural swimming hole and the sea meet.
We've also heard rumors of a couple of "secret beaches" at the Grotta della Poesia–we didn't visit any of these ourselves, but if you want to find them, you may want to ask around to some friendly locals while you explore!
Depending on how long you like to swim, you can spend under an hour at the pool or all day.
Tips for Visiting the Cave of Poetry in Puglia, Italy
Watch your step!
To enter the Grotta della Poesia, you have 2 options: jump from the edge of the cliff, or make your way down a somewhat small and slippery staircase carved into the rock.
We opted for the second version, but be sure to watch your step!
It would be very easy to slip here.
At the bottom of the staircase, there is a large boulder where many visitors leave some of their belongings before edging themselves into the crystal clear waters of the pool.
Bring cash.
Perhaps this goes without saying, in a fairly rural part of southern Italy, but you'll definitely want to bring cash when visiting the Cave of Poetry, ideally small coins.
You'll want this both for your entrance fee and to pay for parking.
Be prepared for a (short) walk.
When you arrive at the Grotta della Poesia and pay your entrance fee, it's a short walk over a rocky, unshaded landscape to reach the pool itself.
The views, both of the coastline and of the scattered archaeological ruins of Roca Vecchia, are fantastic.
It's not a far walk, but you definitely won't want to make this walk barefoot: be sure to wear shoes that will keep the soles of your feet comfortable.
Use your best judgment.
Cliff jumping is very popular here, but while generally safe, it's still a risky activity!
If you choose to jump, use caution, always check for swimmers below you before jumping, and follow the lead of locals to find the best spots.
Stroll along the perimeter for excellent views.
Once you've cooled off sufficiently with your first swim of the day, take some time to stroll around the top of the Grotta della Poesia.
The views from above are beautiful, and you can get some beautiful photos from up here that capture the experience of visiting.
While you're up there, consider strolling around and checking out some more of the onsite archaeological ruins, too.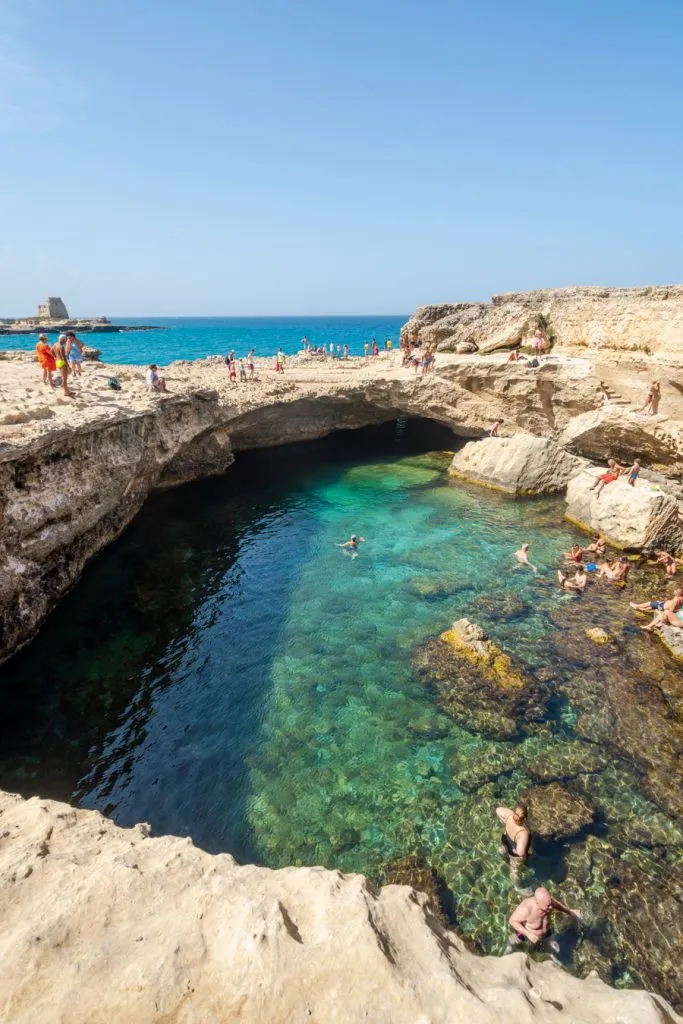 Don't forget your sunscreen.
There is little to no shade available at the Cave of Poetry, making sunburns a big risk.
Sunscreen is a must when visiting!
Make sure to look up as you swim!
The cliff jumpers are generally quite careful to make sure no one is below them before jumping, but it's best to stay aware of your surroundings when swimming in the Cave of Poetry.
That includes keeping an eye on what's going on above you!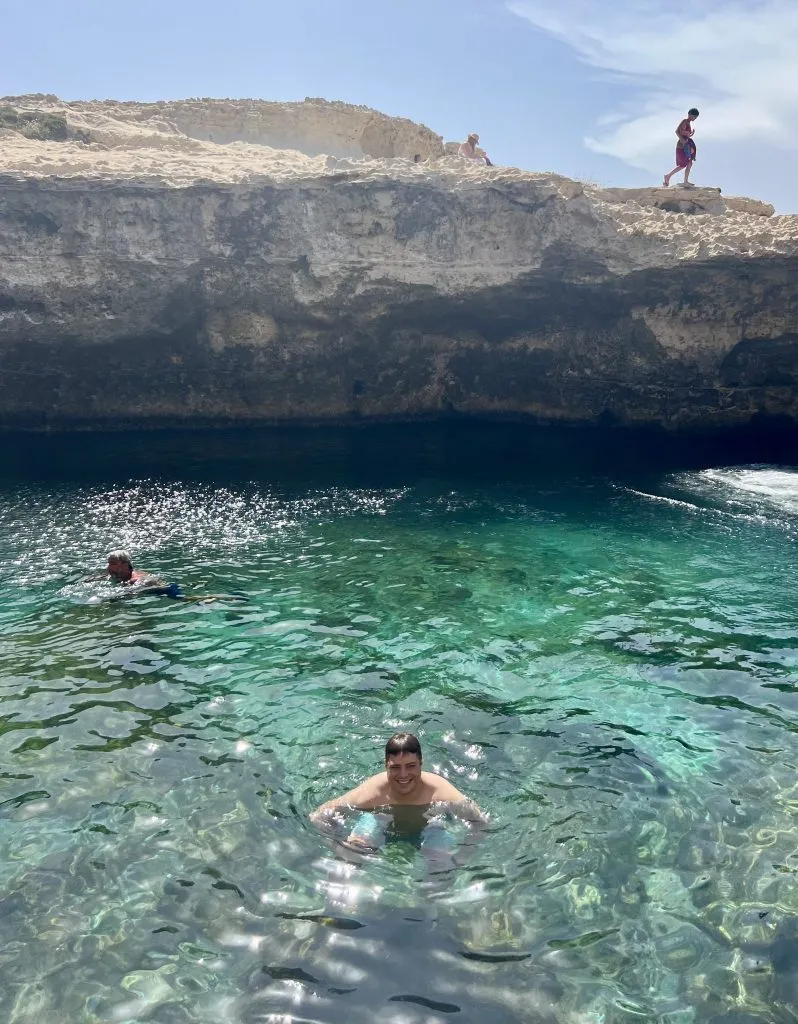 Keep crowds in mind during the summer.
Swimming in the Grotta della Poesia is extremely popular with locals and tourists alike, which means it can get extremely busy during the peak months of July and August!
June and September are considered ideal times to visit, with warm water but fewer crowds.
We visited during June and the swimming pool was busy, but manageable–everyone had plenty of room to spread out and enjoy themselves.
If you are visiting during peak season, consider visiting first thing in the morning to enjoy Puglia's Cave of Poetry without the crowds.
Logistical Information for Visiting the Grotta della Poesia
To visit the Cave of Poetry in Italy, you'll pay an entrance fee of 3 Euro per person (in cash).
There is a parking lot, clearly marked on Google Maps, a short walk up the road from the entrance to the swimming hole.
Parking is paid, and we recommend bringing cash along for this as well (when we visited, the machine didn't take our credit card properly).
As of the time of writing, parking at the Cave of Poetry costs 1.80 Euro/hour.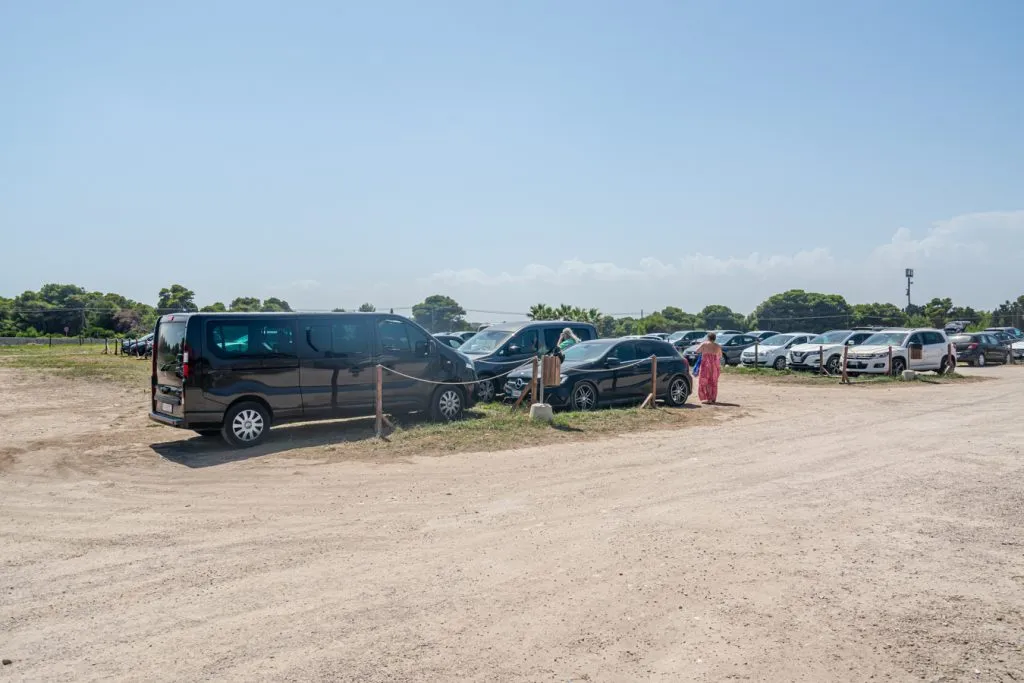 The area immediately surrounding the Grotta della Poesia doesn't have many businesses, but there is a bar and a few snack stands a short walk from the entrance gate, at least during the summer.
Once you pay your fee and enter the Cave of Poetry area, there's no other opportunity to buy supplies, so pack some snacks if you plan to stay long!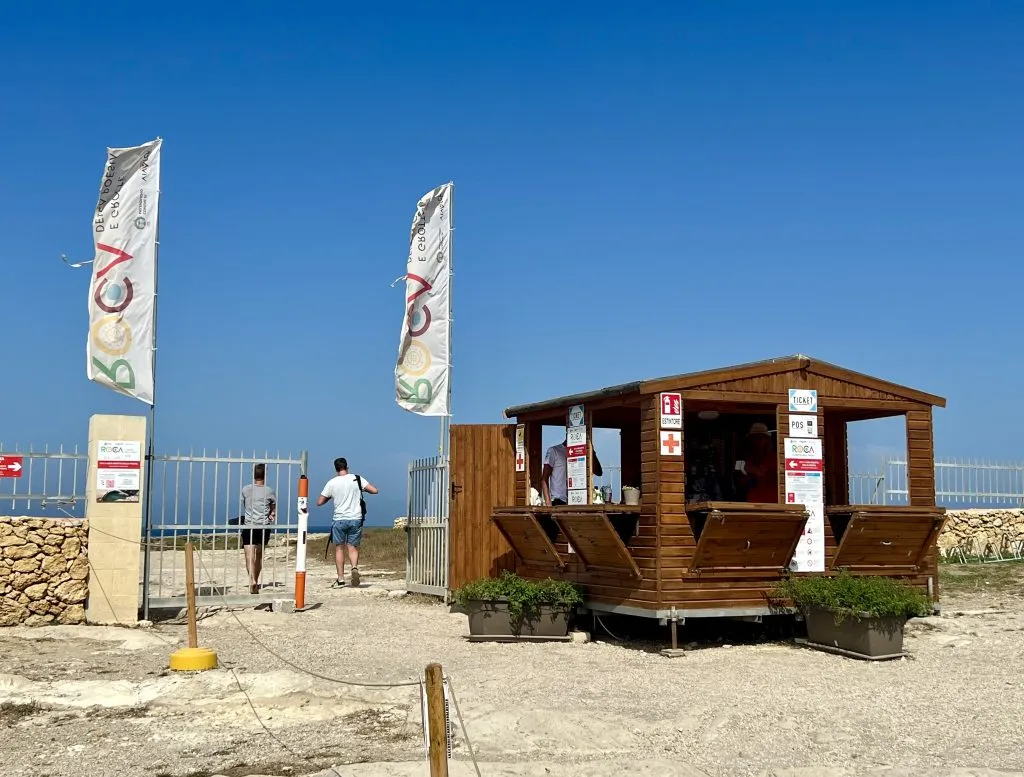 What to Bring to the Cave of Poetry, Italy
There isn't anywhere in particular to store your belongings when swimming in the Cave of Poetry, so it's best to bring as little as possible.
Visitors tend to store their things around the edges of the pool, relying on their travel companions to help them keep an eye on their stuff.
That being said, you'll absolutely want to bring sunscreen, water, a coverup, and possibly a sunhat with you.
There's essentially no shade at the Grotta della Poesia, so sun protection is a must!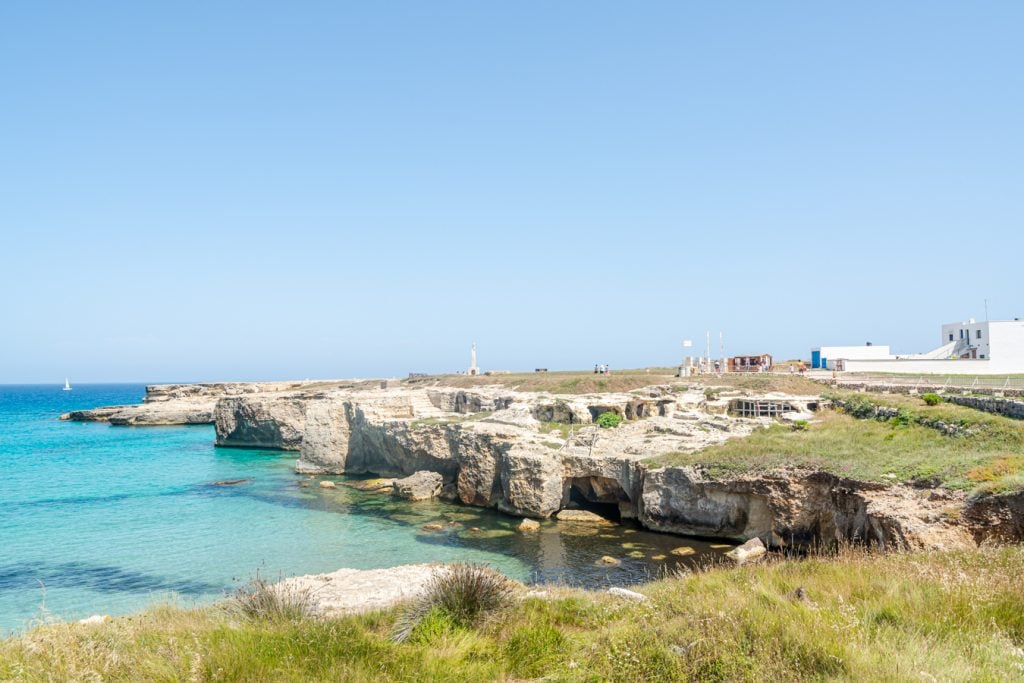 If your feet are sensitive, you may want water shoes, as well–the rocks are sharp in places as you climb down into the pool or walk along the edge up top.
And, let's be real: this is 2022, and no one wants to visit one of the most beautiful swimming holes in the world without taking pictures!
Obviously, you'll want to keep a close eye on your phone, which most people accomplish by switching off swimming with their friends or family.
However, a dry bag can also help you bring your phone into the water with you.
We also loved having our swim goggles with us when swimming in the Cave of Poetry–all the better to admire the underwater landscape with!