We always knew that we would fall in love with Puglia, but after diving deep into the region on an extended Puglia road trip, it's safe to say that we're near-obsessed with it.
From exploring whitewashed hilltop villages to dipping (again and again and again) into the sparkling Adriatic Sea, and from devouring endless plates of orecchiette to sleeping in one of the region's famous trulli, Puglia is awash with delightful Italy travel experiences.
Longtime readers know that we have a tendency to fall in love with certain corners of Italy and return to them repeatedly, and, well–let's just say we expect to have plenty of opportunities to continue updating this Puglia blog post over the years.
Located on the "heel of the boot", Puglia (sometimes called Apulia) is known primarily as a beach destination to Italian and other European travelers.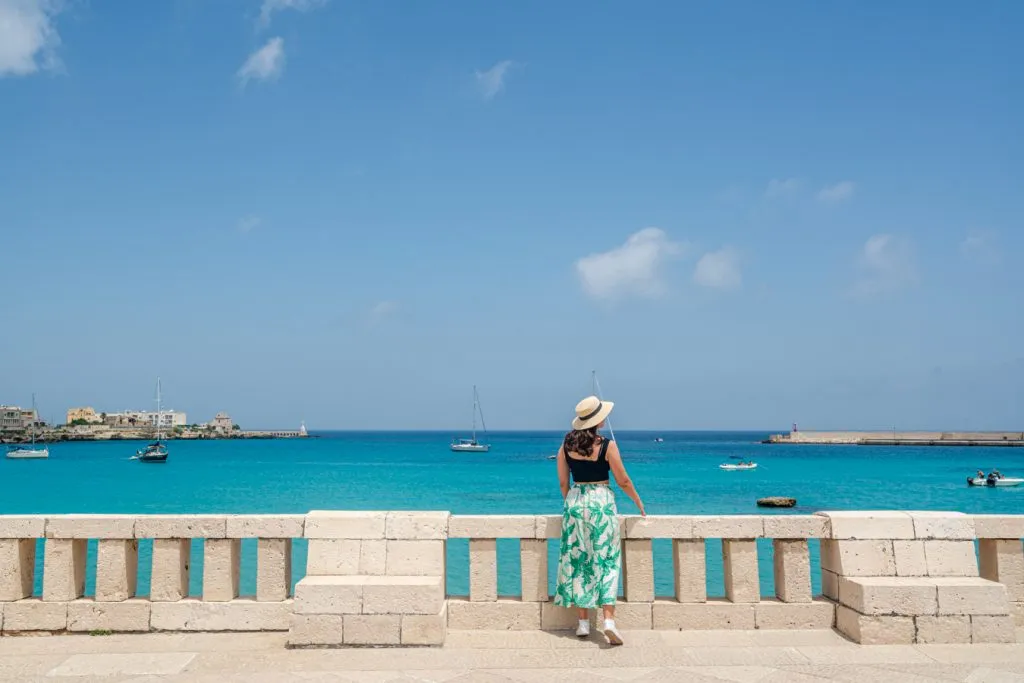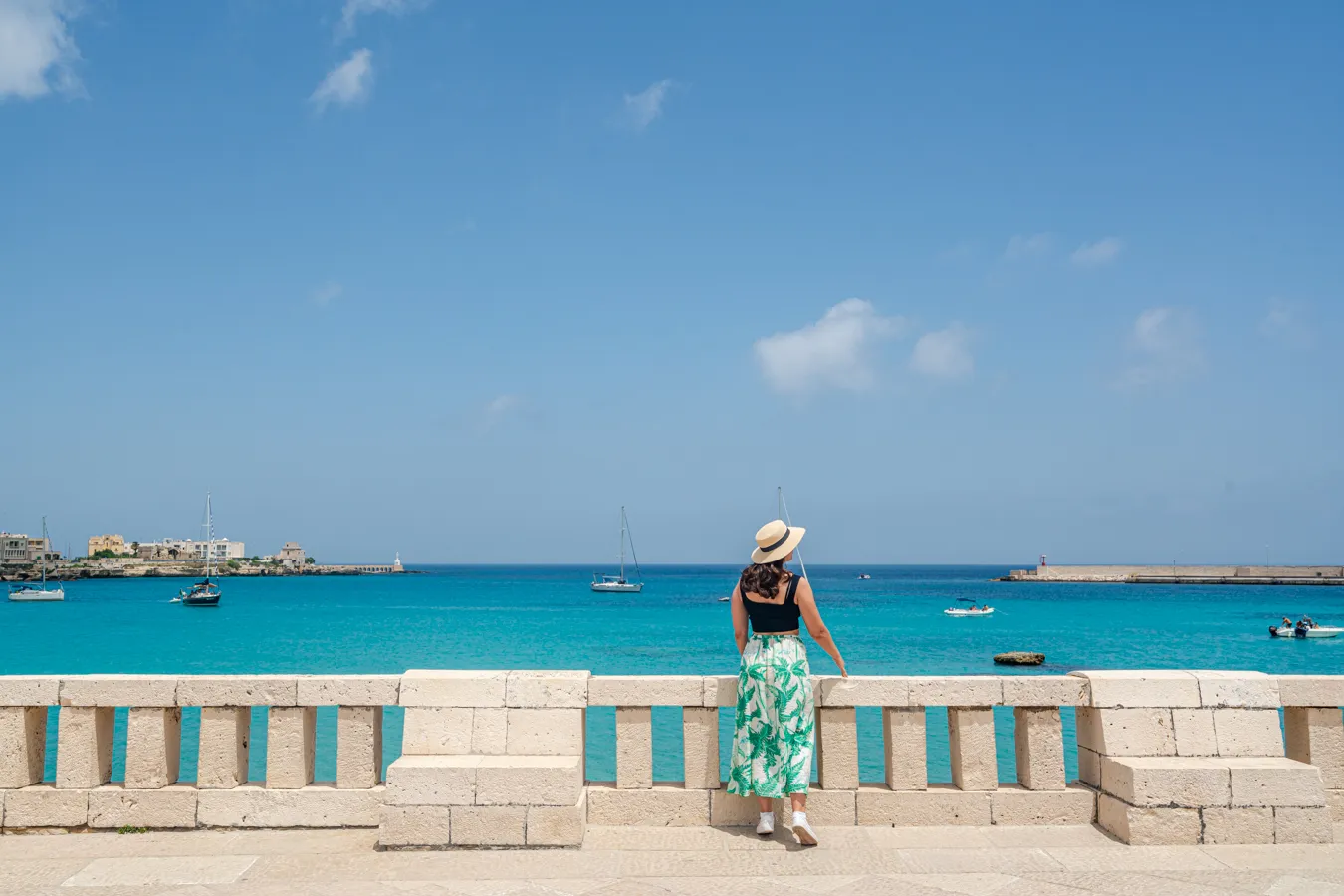 It's less popular with North Americans (so far), but that balance seems to be shifting a bit more each year.
With a hidden gem as absolutely sublime as this one, though, it was only a matter of time until the secret got out.
If you're looking to spend a week exploring a laid-back and beautiful corner of Italy, where the food is fresh (fun fact: around 40% of Italy's olive oil comes from Puglia!), the driving easy, the and the swimming sublime, this Puglia road trip itinerary is for you.
(And, I didn't even mention yet that Puglia is significantly less crowded and less expensive than hotspots like the Amalfi Coast and Cinque Terre).
Here's how to make the most of 7 days in beautiful Puglia, Italy!
How We Structured This Puglia Itinerary
With a region as large and diverse as Puglia, narrowing down the best places to visit on a 7 day Puglia road trip is quite the challenge!
Unlike many of the itineraries on Our Escape Clause, we've structured this Puglia itinerary as a point-to-point trip leading (loosely) from Bari to Lecce, rather than as a loop.
However, as Lecce and Bari are less than 2 hours apart by either train or car, you'll easily be able to return to Bari at the end of your trip if needed.
We designed this trip to Puglia around visiting whitewashed villages, historic cities, and–of course–lots of beaches and seaside landscapes.
It's a fairly fast-paced itinerary in the sense that it packs a lot in and involves visiting many beautiful towns, but to drive this route straight through without traffic would actually take less than 5 hours!
You'll drive a bit more than that, counting day trips and such, but the bottom line is that it's a very doable distance in a week, even at a relaxed pace.
In other words, you have more time for beach time than you might think at first glance!
However, try as you might, it's impossible to explore all of the best places to visit in Puglia in a week, so some (very worthy) destinations have been cut.
Because of this, in addition to the detailed 7 day itinerary for Puglia that we've outlined here, we've also made notes of several more incredible places in the region that you can add or swap in, depending on your travel style, the season, and how much time you have to enjoy the heel of the boot.
This Puglia travel guide is quite long, so feel free to use the table of contents above this section to navigate to the most important parts for you if you wish!
Renting a Car for Your Road Trip (+ Traveling to Puglia)
For most people, of course, taking a Puglia road trip will require renting a car
We recommend renting a small car through Discover Cars, which will allow you to compare the prices and inclusions of multiple companies at the same time and choose the best car for you from there.
For the purposes of this itinerary, we recommend picking up your car in Bari.
To get to Puglia itself, you can either fly into Bari (Brindisi, to the south, has an airport as well, but Bari is more convenient for this itinerary), or take the train there.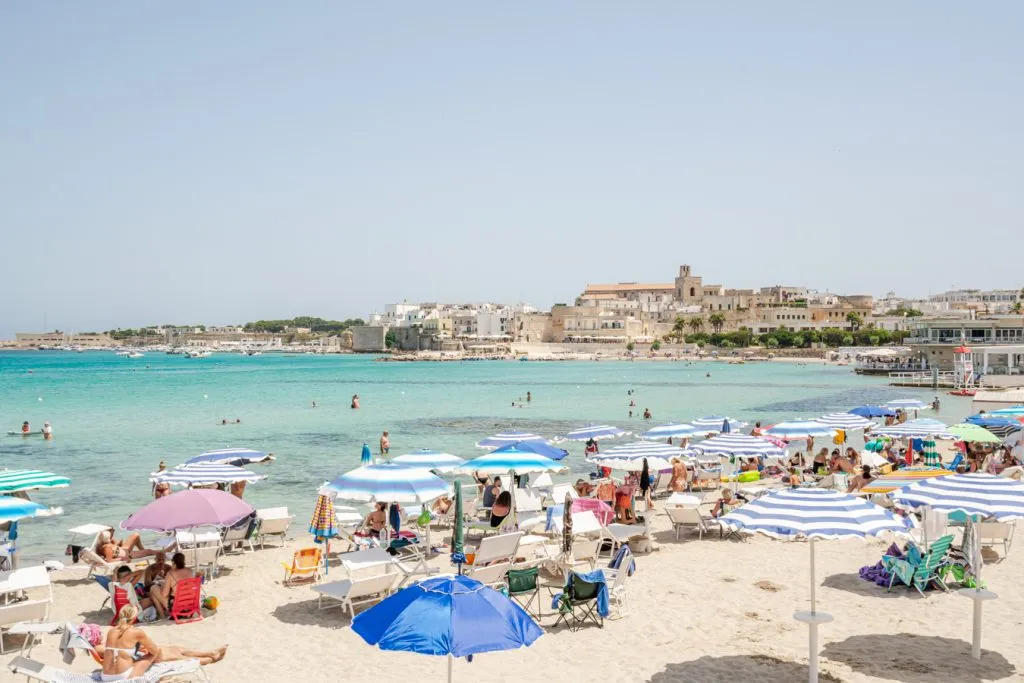 If you're coming from outside of Europe, there's a good chance it will be more affordable to fly into Rome or Venice, and then take the high-speed train to Bari to start your road trip in Puglia.
If you'd like to investigate flying into a major city and then taking a train to Puglia, we recommend checking the train schedules and prices through Omio (bear in mind that tickets for high-speed trains can dramatically increase as the trip gets closer).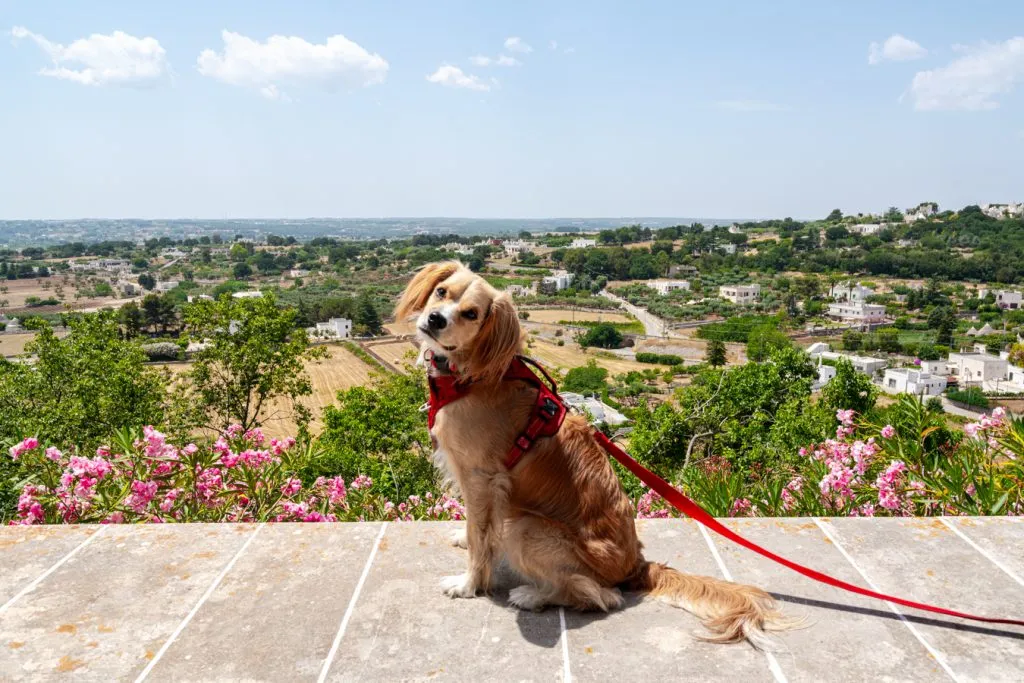 Can This Puglia Itinerary Work Without a Car?
This Puglia itinerary is specifically designed as a road trip, and we do strongly believe that driving is the best way to visit the heel of Italy's boot!
From offbeat villages to quiet, out-of-the-way beaches, your trip to Puglia will absolutely be enhanced by having your own set of wheels.
That being said, if you can't or would rather not drive, you can still cover the vast majority of the sights included on this Puglia road trip itinerary through a combination of public transportation and guided tours.
If you're not planning to drive, you can still follow the bulk of this itinerary by train.
However, you'll likely need to cut some of the smaller towns in the Itria Valley (as you won't be moving as quickly), as well as stick to beaches/swim spots within walking distance of town.
You'll also want to be sure to choose lodging that's within walking distance of the train stations.
And, if you're not attached the idea of sleeping in a trullo (though I'll be the first to say it is a delight), you may consider spending longer based in Monopoli and visiting the interior towns via day trips.
If you want to structure your itinerary for Puglia without a car, we highly recommend using Omio to check exact ticket schedules and pricing for trains and buses in the region.
Check schedules and shop train and bus tickets in Puglia today!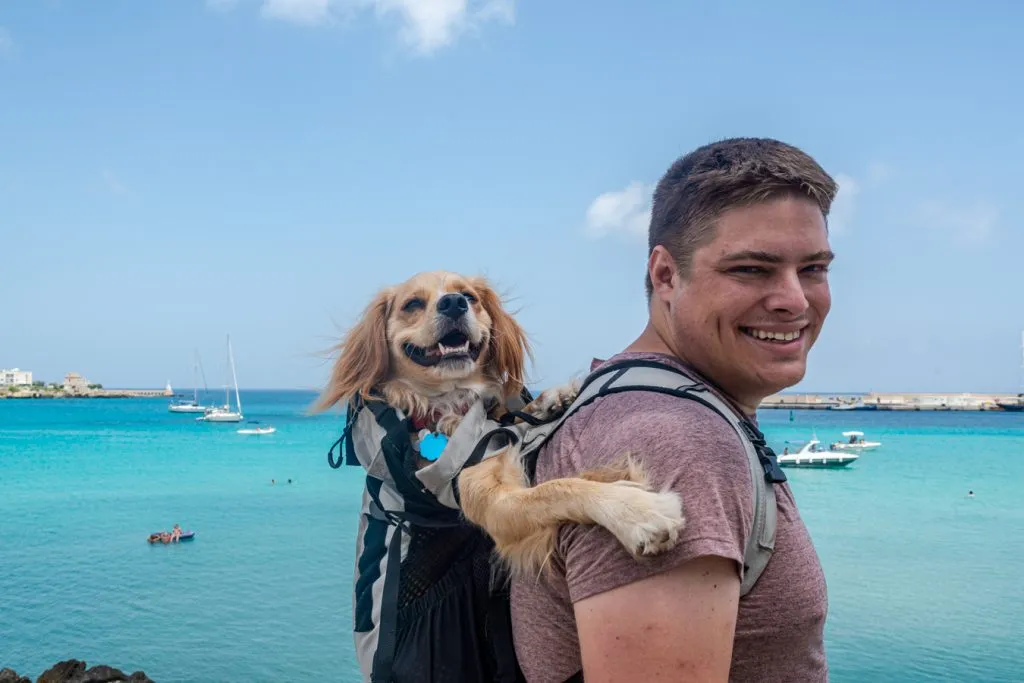 The Perfect 7 Day Puglia Road Trip Itinerary
Day 1: Arrive in Bari and head to Monopoli.
Bari, Puglia's capital and largest city, is the perfect launching pad for your road trip whether you arrive in the region by train or plane.
While Bari has several attractions worth exploring, for the sake of time, we won't dedicate much time to Bari on this itinerary.
If you arrive by train and are a completionist at heart, it's about a 15-minute walk from Bari Centrale to the heart of the old town, if you'd like to take a quick spin around the city's central sights like the Basilica San Nicolo and the Cathedral of San Sabino.
Once you wrap up, though, it's time to pick up your rental car and zip off to Monopoli!
It's about a 45-minute drive between the 2 cities, depending on traffic, so you're not in a rush.
After checking into your hotel (ideally in or near the historic center–more on that in a minute), it's time to start exploring.
While Monopoli's historic center has some interesting churches and such to check out, the Piazza Giuseppe Garibaldi is definitely worth a peek (as is the Bella Blu Gelateria right on it), what you're most likely looking for is the sparkling Adriatic Sea!
Head to the Porto Antico (Old Harbor) to start your stroll past the Castello Carlo V and along the Lungomare.
As you head further away from the historic center, you'll notice more and more people with their towels spread out on the rocks, going for a dip–and yes, this is highly recommended!
Where to Stay in Monopoli, Italy
We loved our stay at La Maison dello Zio: the property was clean, spacious, and very quiet (extra impressive considering its location in the heart of Monopoli's small historic center).
We'd be happy to stay again!
Other popular, well-reviewed options in Monopoli include Corte Sant'Angelo or–if you're looking for a splurge complete with incredible views–the stunning Hotel Don Ferrante.
We recommend staying in Monopoli for 2 nights.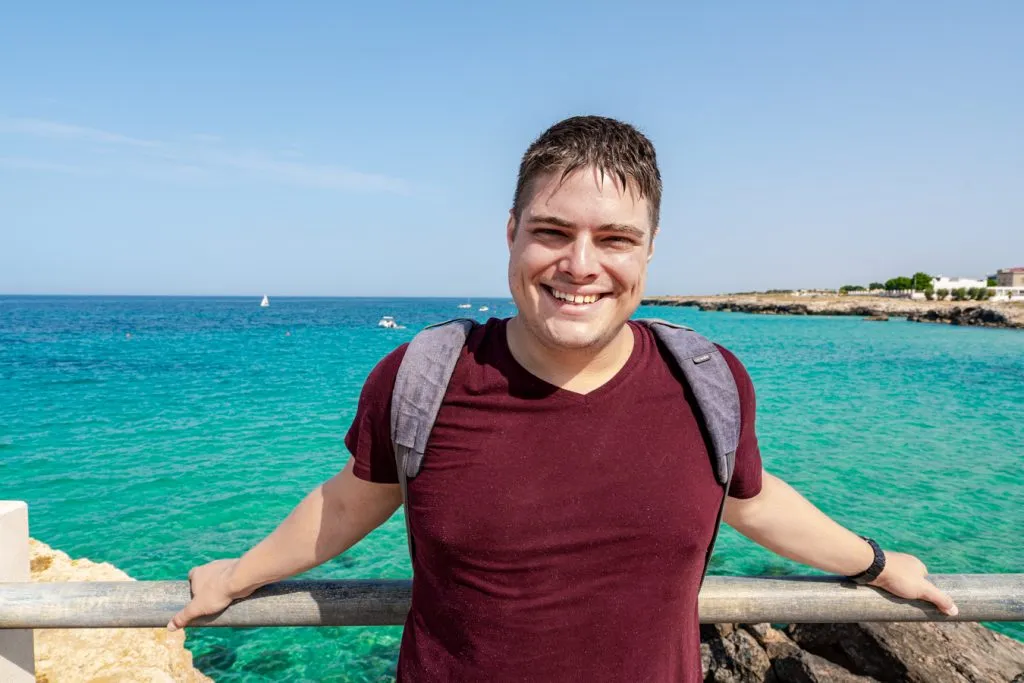 Day 2: Visit Polignano a Mare and explore Monopoli.
On the second day of your road trip in Puglia, head just 15 minutes north or so along the coast to the famous town of Polignano a Mare.
You'll likely recognize Polignano a Mare's picture-perfect beach: the views of this beach from above are some of the most iconic images of the region!
While the beach itself is small and very rocky (you'll definitely want water shoes if you plan to swim there), the water is gorgeous and the views of the coast from above are well worth the trip.
Polignano a Mare is one of the most popular–read crowded–towns in Puglia, so we recommend getting an early start if you can.
Don't miss the opportunity to wander through the old town, seeking out stunning views of the Adriatic along the way.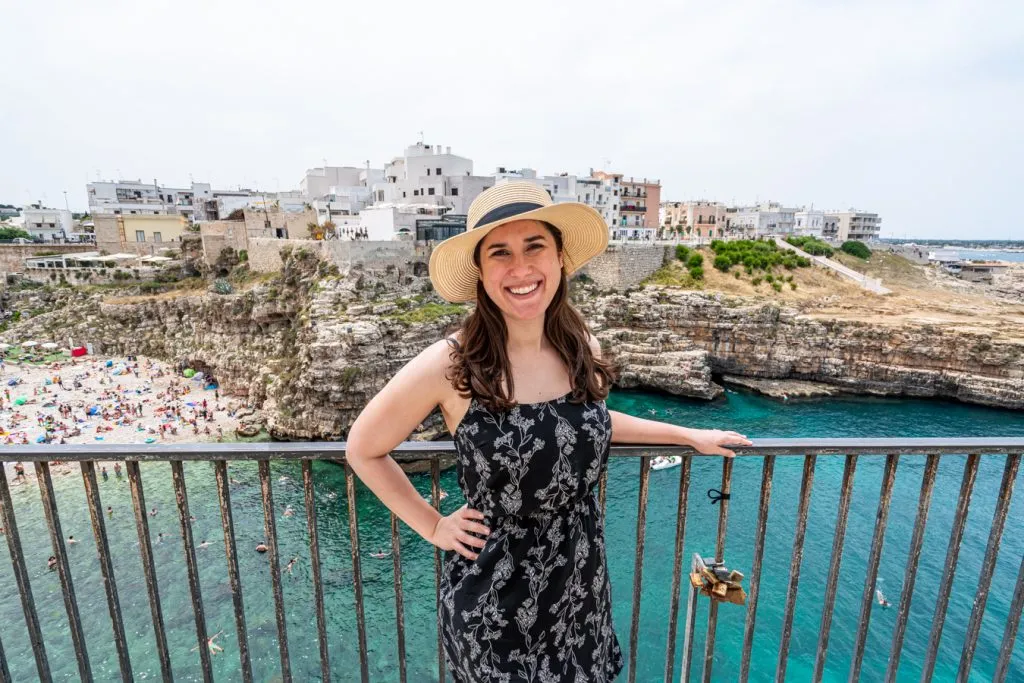 Terrazza Santo Stefano in particular is a must-see!
If you want even more unique views of the coast, joining one of the popular Polignano a Mare boat tours is a fantastic option (and will also give you an opportunity to swim away from the crowds at the beach).
Want a bucket-list dining experience while in Puglia?
The picturesque cave overlooking the sea found at Hotel Grotta Palazzese has been used as a restaurant since the 18th century (today, you'll definitely need reservations if you plan to eat lunch there).
After wrapping up your morning exploring, eating, and possibly swimming your way through Polignano a Mare, head back to Monopoli and enjoy the afternoon and evening there!
To swim, check out Cala Porta Vecchia, or keep walking along the water until you hit Cala Cozze or Porto Bianco.
There are plenty of lidos (paid Italian beach clubs with umbrellas and chairs) around Monopoli, but for less than a full beach day, we prefer to stick with free swimming spots.
Day 3: Head inland to Alberobello and nearby whitewashed towns.
As difficult as it can be to leave the coast behind, it's worth it to see another side of Puglia during your week in the region!
Puglia is famous for trulli–the dry, stone, conical buildings typical of the area, and the buildings are recognized as a UNESCO World Heritage Site!
You can find them across the Itria Valley, but no town has a higher concentration of them than the famous–and stunning–Alberobello.
After Polignano a Mare's central beach, the trulli of Alberobello are probably the most recognizable image of Puglia.
However, today won't just be about Alberobello, but about the surrounding villages.
The nearby small towns of Locorotondo and Martina Franca are both also well worth visiting, and while they have fewer trulli, they're beautiful and will be far less crowded.
We recommend saving Alberobello for the end of the day, and spending the night there–ideally in a trullo!
The crowds of day trippers that swarm Alberobello throughout the day can be downright overwhelming, making this down best enjoyed in the evening and the early morning (and if you're visiting in the summer, this will help with the heat, too).
If you want to make sure you don't miss any of the most iconic trulli, this popular walking tour is a great addition to your time in Alberobello.
Where to Stay in Alberobello, Italy
For a memorable stay in the Itria Valley, you can't beat spending the night in a trullo!
We can't rave enough about our stay in the Miratrulli Apartment & Trullo–everything from the structure to the location to the hospitality of the owner was flawless.
If it's booked, though, Trulli Holiday Albergo Diffuso and Trulli Soave also get excellent reviews.
We recommend spending 1-2 nights here.
Day 4: Continue exploring the Itria Valley or head to Matera.
As you hit the mid-point of your Puglia road trip, it's time for a decision!
Option one: stay in the Itria Valley, continue exploring whitewashed hilltop towns, tasting wine, sampling olive oil, and enjoying trulli.
With this option, you may want to head over to the gorgeous city of Ostuni, a longtime favorite in the region that features magnificent views from its hilltop as well as plenty of nooks and crannies to explore.
Alternatively, you can head west to the fascinating city of Matera.
Matera, though located in the region of Basilicata rather than in Puglia itself, is a popular addition to Puglia itineraries.
Matera is an endlessly interesting place, known for being populated since the prehistoric area, its incredible views, and its Sassi area–the area populated by cave dwellings dating back thousands of years.
In the 1950s, Matera gained international notoriety for the poor living conditions in the Sassi, and was nicknamed the "Shame of Italy".
The population was forcibly removed the the "new" (still quite old) town surrounding the Sassi, and the historic cave dwellings were abandoned.
Fast forward several decades, though, and Matera has achieved new life as a UNESCO World Heritage Site, a popular filming location (for films ranging wildly from "The Passion of the Christ" to "James Bond: No Time to Die"), and a European Capital of Culture.
Many of the formerly shameful Sassi have been converted into popular boutique cave hotels.
Matera is absolutely, without a doubt, worth visiting–but it is also incredibly hot during the summer months, even by the standards of southern Italy.
If that sounds like a fair trade, or you're enjoying 7 days in Puglia outside of summer, Matera is a great idea.
If you don't have a high heat tolerance, consider sticking around the Itria Valley instead, where it still gets quite hot, but is easier to cool off.
Where to Stay in Matera, Italy
Unfortunately, as beautiful as the views from our balcony were, we can't recommend the cave hotel we stayed in when visiting Matera.
However, Conche Luxury Retreat and Il Belvedere are both beautiful properties that get excellent reviews!
Matera in general is extremely affordable by Italian standards, making it a wonderful place to splurge on a memorable place to stay.
If you choose to visit Matera, we recommend spending one night there.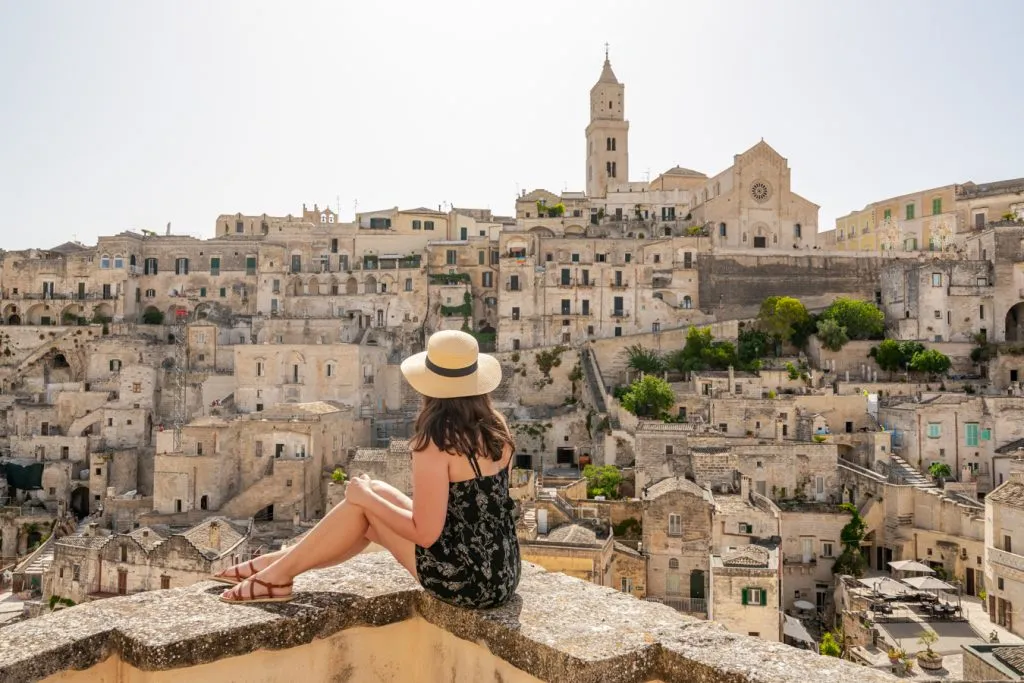 Day 5: Make your way back to the sea in Otranto.
Whether you've been exploring the Itria Valley or Matera, if you're visiting Puglia during the summer, one thing is certain: at this point, you're going to be ready to get back to the sea!
Make your way to Otranto (despite this being your longest drive of the trip, getting from Matera to Otranto is still likely to take you only about 3 hours), where you can enjoy wide, sandy beaches and plenty of coastal charm again.
Choosing a favorite between Monopoli and Otranto would be very, very difficult, but Otranto's wide, sandy beaches located right next door to the center are definitely a plus.
(Monopoli has plenty of swimming near the center too, of course, but not as many sandy stretches quite as conveniently located).
While in Otranto, be sure to pay a visit to the gorgeous Duomo, the Castello Aragonese, and the tiny Church of St. Peter.
Walking along the town ramparts is also a must, but without a doubt, a good portion of your time in Otranto should be dedicated to beach time!
Where to Stay in Otranto, Italy
We loved our stay at the spacious Marimar Apartments, located a short walk from Centro Storico and an even shorter walk from the sea.
B&B Palazzo Marzo and Palazzo de Mori are both excellent options as well!
Otranto's small size and location hugging the Adriatic make it simple to find places to stay near the water, a big advantage for a beach town.
We recommend staying in Otranto for 2 nights and wrapping up your 7 days in Puglia here.
Day 6: Explore Otranto and visit the Cave of Poetry.
While we've tried to leave plenty of room for afternoon swimming in this 7 day itinerary for Puglia, today is the only day that is dedicated almost exclusively to it!
Other than perhaps a bit of sightseeing (gelato in hand, of course) in Centro Storico, today is all about the water.
We recommend taking a drive out to the Cave of Poetry (in Italian, Grotta della Poesia) to enjoy one of the most stunning swimming holes we've ever had a chance to enjoy!
Featuring crystal-clear water, jaw-dropping views, a cave to swim through, and even some nearby ruins to explore, it's a remarkable sight.
And, if you're feeling particularly daring, you can even join the locals for a bit of cliff-jumping.
Looking for something a bit different, either as an alternative or an addition to your day?
The Bay of Turkey (Baia dei Turchi) is also nearby and boasts what is widely considered one of the most beautiful beaches in Puglia.
If you happen to be visiting Puglia outside the swimming season and are looking for an alternative away from the water, you could substitute a visit to Gallipoli and/or Lecce here.
Day 7: Make your way home, possibly stopping in Lecce on the way.
As you wrap up your 7 days in Puglia and prepare to head home, there's one final stop we recommend making on the way: Lecce, the "Florence of the South".
This university city is packed with stunning Baroque architecture and long history with ties to Ancient Greece and Rome.
It's gorgeous and well worth a visit, but since it's located inland in the southern part of Puglia, it doesn't draw nearly as many visitors as the coasts.
If you have time, spend some time exploring the best things to do in Lecce's Centro Storico, including the remains of the Roman Amphitheatre, the Basilica di Santa Croce, and the Piazza del Duomo and Duomo itself.
This well-reviewed walking tour can help you efficiently cover the highlights of the city in just a couple of hours!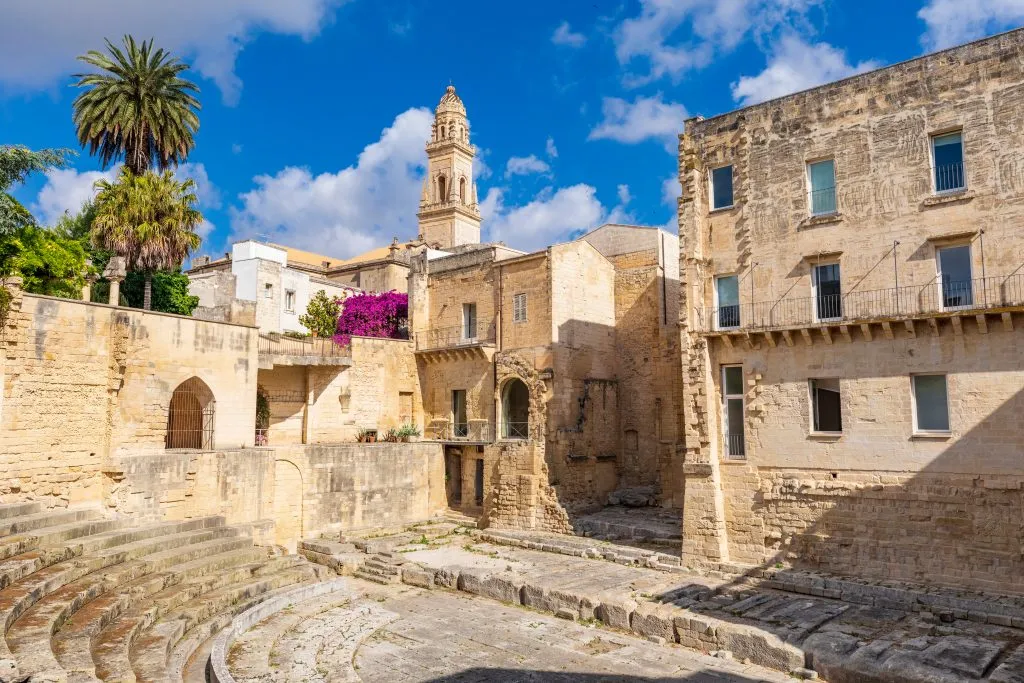 If you don't want to drive back to Bari to drop off your rental car (it's about a 2-hour drive), consider checking prices for a one-way rental that you drop off in Lecce.
That's what we did on our Puglia road trip, and it ended up being very affordable!
Lecce is home to a well-connected train station that can easily whisk you off to your next destination in Italy if you're planning to continue your travels within the country.
If you're flying home from Bari, though, it'll likely be easiest to drive back yourself.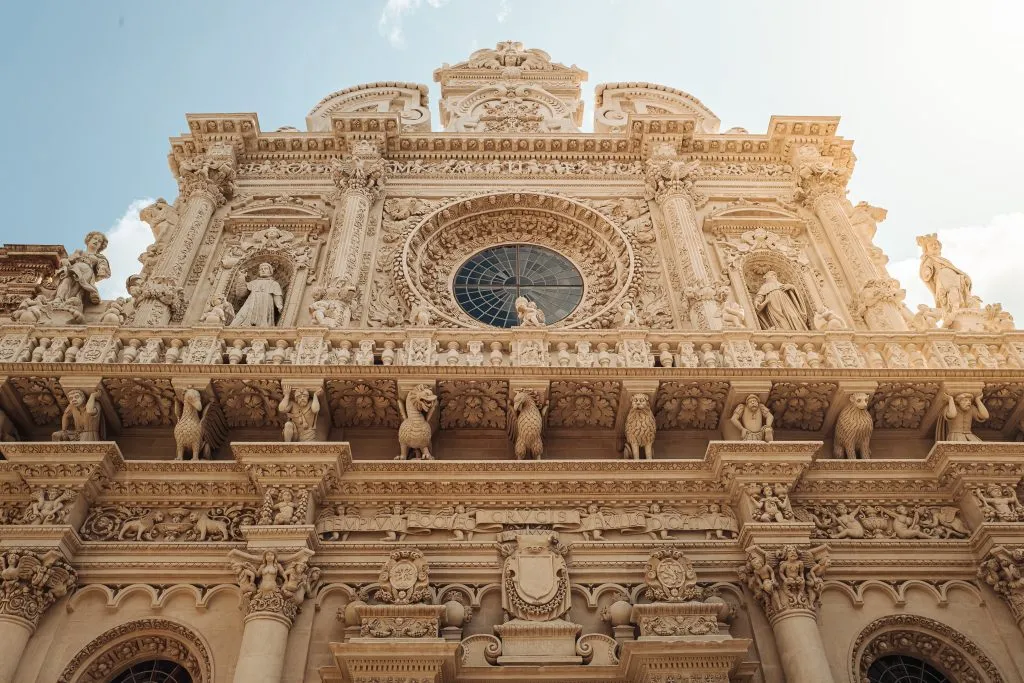 Other Destinations to Add to Your Itinerary for Puglia
While this itinerary covers quite a bit of Puglia in 7 days, no one trip could hope to cover it all!
In addition to the choose-your-own-adventure modifications we've included throughout the itinerary, here are a few more stops you might consider adding on with more than a week in Puglia.
Gallipoli
Located on the western edge of the Salento region of Puglia, Gallipoli is located more or less opposite Otranto on the peninsula.
Featuring the beautiful seaside Castello Aragonese, a charming center, and plenty of surrounding beaches, Gallipoli makes for a delightful seaside base in southern Puglia.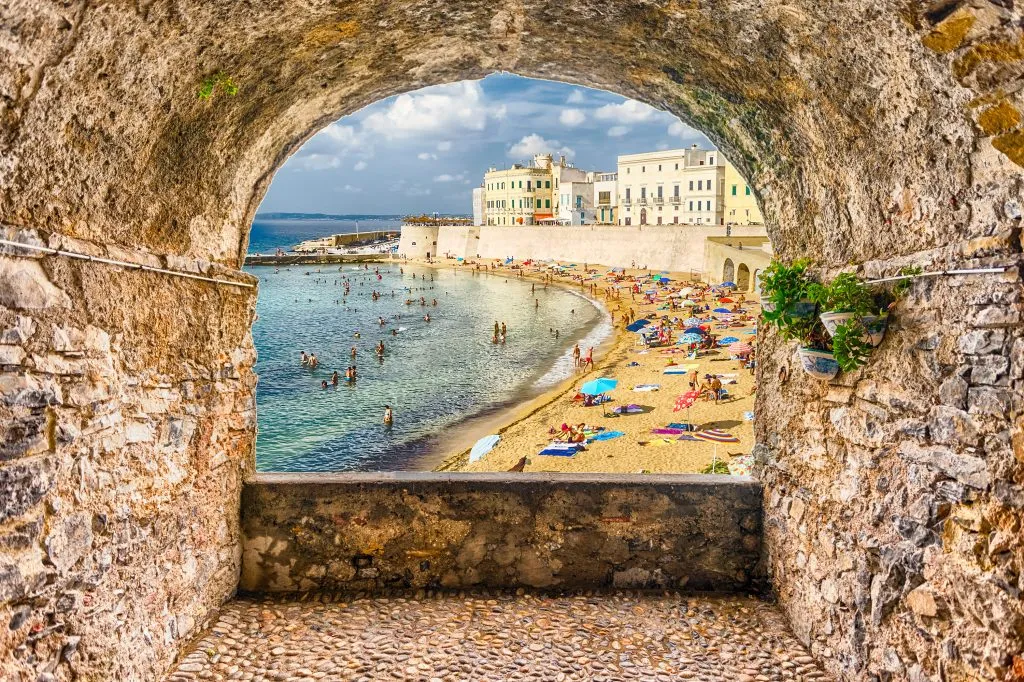 Gargano National Park
This itinerary for Puglia doesn't stray further north than Bari, so sadly doesn't pass through Gargano National Park.
However, if you're looking for rugged, wild beaches, offbeat small towns like the gorgeous Vico del Gargano, and even a forest (the Forest Umbra is stunning), Gargano National Park has you covered.
Unless you have an exceptionally long time to spend on your Puglia vacation, this part of the region is probably best visited on a separate trip.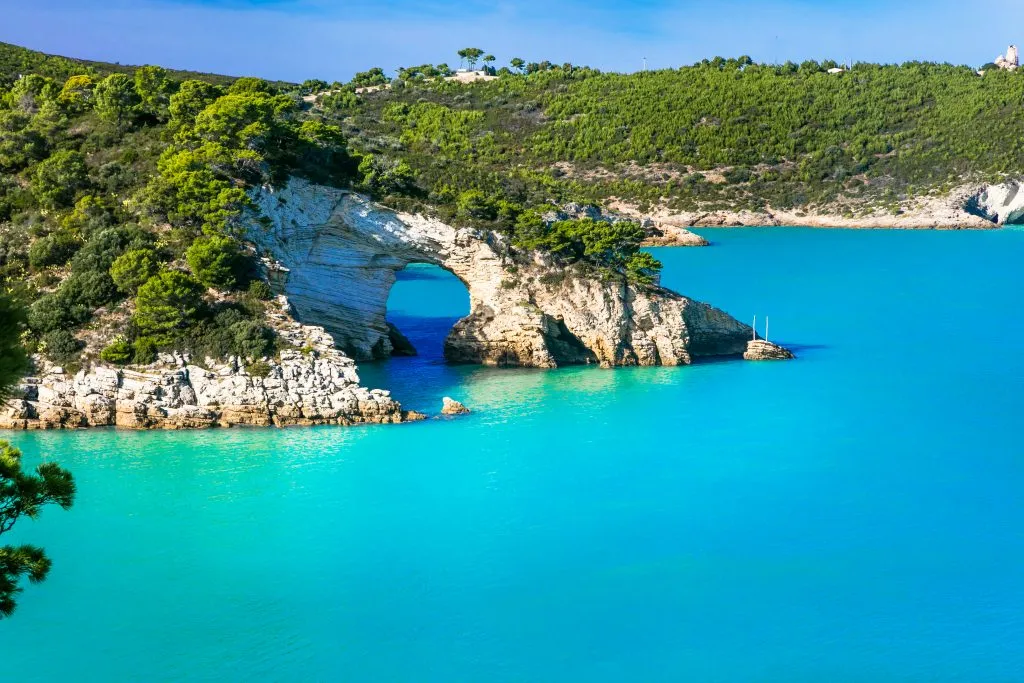 Tremiti Islands
This small archipelago, made up of 5 main islands, is known for its magnificent beaches, sea caves, cliffs, and brilliant turquoise water.
The Tremiti Islands are part of Gargano National Park, but you'll need to hop on a boat–or, if you're feeling like a splurge, a helicopter–to get there!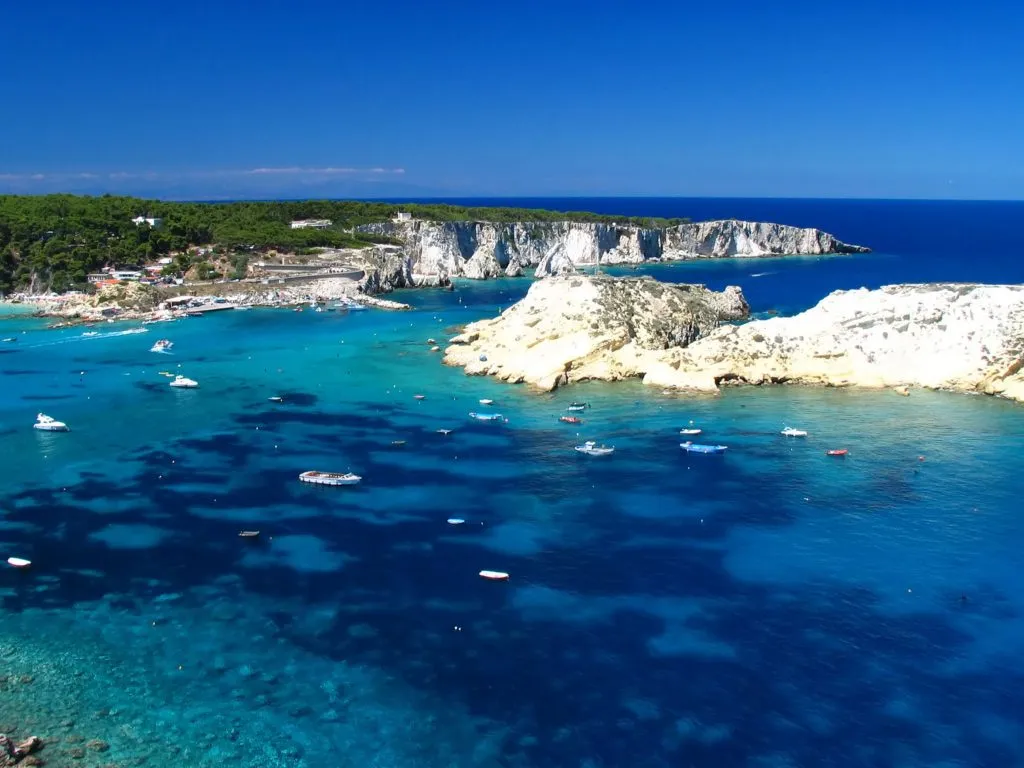 Castel del Monte
The mysterious Castel del Monte dates to the 13th century and was built by King Frederick II.
Its unusual shape has caused some to speculate over the centuries that it was never meant to be a defensive fortress at all!
Today, it is known as one of Puglia's UNESCO World Heritage Sites and is located just outside of Bari.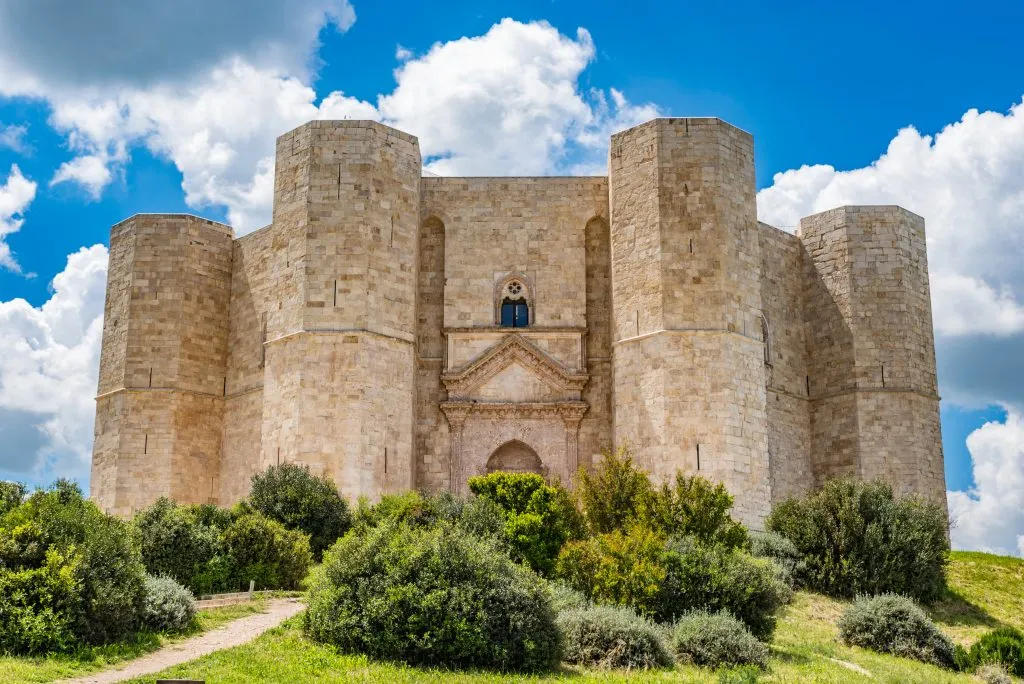 Trani
Located right on the Adriatic Sea and featuring a beautiful Duomo, charming Centro Storico, and the remains of once-important defensive structures, Trani has quite a bit in common with towns like Monopoli and Otranto!
Too far north to fit into this 7 day Puglia trip, it is nonetheless well worth a visit with more time in the region.
Grotte di Castellana
This stunning karst cave system is a feast for the eyes, and definitely one of the coolest places to visit in Puglia!
And, during the summer, "coolest" is literal: the caves maintain a constant temperature of around 62°F/16.5°C, making them a great place to escape the summer heat on a particularly hot afternoon.
You can reach the Grotte di Castellana in under 30 minutes from Monopoli or Alberobello.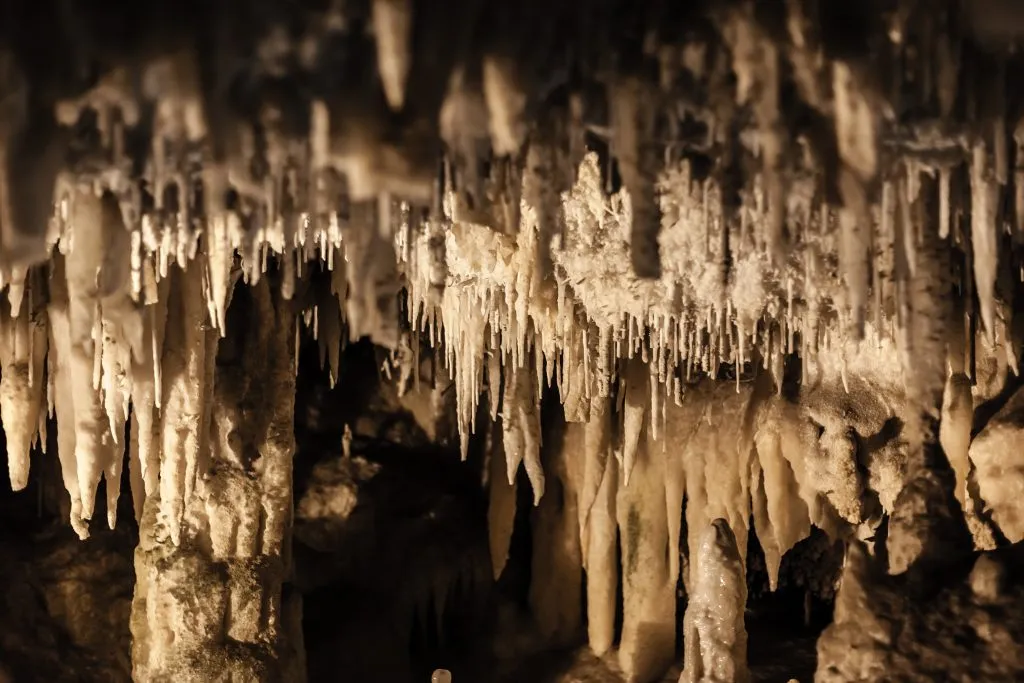 The Best Time of Year to Visit Puglia, Italy
We've designed this Puglia road trip for a visit that takes place during the swimming season–so late spring, summer, and early fall.
Personally, we find June and September to be the ideal months for visiting Puglia if you're hoping to swim and have a typical beach trip: the water will be great for swimming, and the towns lively without being overrun as in July and August.
July and August are the most popular months for visiting Puglia, so if you want the height of the mid-summer, peak season experience, that's when to go!
In May, the weather is a bit cool for swimming as far as we're concerned, but some brave souls do take it on.
Spring and fall are both ideal for cultural trips to Puglia focused on exploring the villages of the Itria Valley, the region's historic sites, and of course, its food.
We found sweating during mid-day when inland a fair trade-off for swimming in the Adriatic, but we definitely would have been far more comfortable in places like Locorotondo and Alberobello in the spring or fall.
Winter is a decidedly slow season in Puglia, however, the weather does stay mild and quite dry, making it a great choice if you're looking to escape the cold, dark weather further north during winter in Europe!
What to Pack for a 7 Day Puglia Road Trip
Here are a few essentials that you should definitely add to your packing list as you prepare for your road trip in Puglia, Italy!
Travel Insurance — We don't ever suggest traveling without travel insurance–anything can happen, and a fast-paced road trip is definitely a case of better safe than sorry.
We use and recommend Safety Wing for trips to Italy.
Travel Adaptors for Italy — If you're coming from outside of Europe, you'll definitely need adaptors for your electronics.
Hands-Free Phone Mount — This is especially important if you don't have a reliable co-pilot: the last thing you want to do is fumble with the GPS on your phone when driving in Puglia.
Pack a cell phone holder to attach to the car and you'll be able to drive much more safely!
Dry Bag — Want to keep your electronics safe during a beach day or boat trip?
Securing them in a dry bag is the perfect low-cost solution!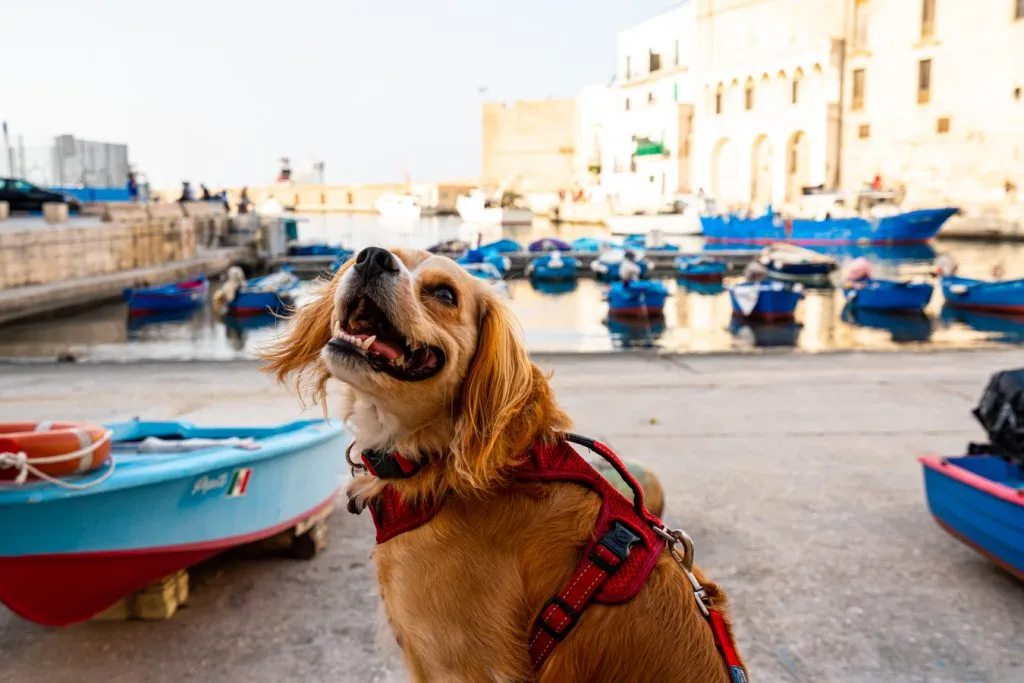 Sunscreen — The day we visited Polignano a Mare, we forgot our sunscreen and ended up panic-buying a very overpriced bottle in town… that didn't even work well.
Moral of this story: bring your own sunscreen!
Additional Car Insurance — Whether you purchase a policy that covers car rental (only some do, so double-check!), purchase a policy through the rental car company, or something else, be sure you have coverage: it's worth the peace of mind.
Portable USB Charger — Don't stress about your phone dying while you're spending long days driving from village to village: add a portable charger to your packing list.
Swiss Army Knife — Want to open wine bottles in your hotel room, slice cheese from the market, or cut up that fresh focaccia from the bakery?
You'll be so glad you brought a Swiss Army Knife along on your Puglia vacation!
Camera — We absolutely adore our Sony a7R III, but whatever camera you're comfortable with works.
Just make sure you have something with you to preserve your memories!.
Hand Sanitizer — We carry this everywhere, and have never been sorry to have it floating around in our day bag.
One Week Puglia Travel Itinerary Map
Take This Map With You! Click each highlight to pull up the name of the destination. To save this map to "Your Places" on Google Maps, click the star to the right of the title. You'll then be able to find it under the Maps tab of your Google Maps account! To open the map in a new window, click the button on the top right of the map.