Hoping to discover Greece in 7 days? With only a week in Greece, you have your work cut out to design the perfect Greece itinerary for you!
Unlike many countries where there's a fairly typical first-timers route to follow, Greece's 227 islands and captivating mainland mean that there are truly infinite Greek itineraries at your fingertips.
To help show off the best of Greece from many angles, we teamed up with 13 other travel bloggers and asked them to share their favorite 7 day Greece itinerary ideas–and the options are as varied as they are exciting!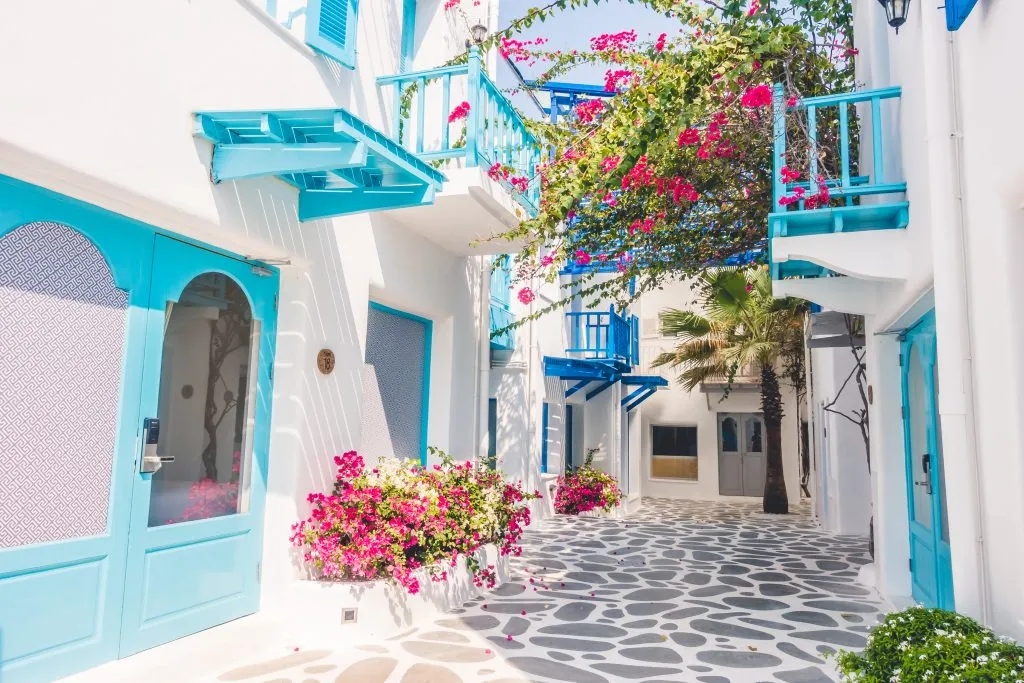 From ancient monasteries to bustling cities, from idyllic islands to magnificent ruins, there is no shortage of incredible places to visit in Greece.
Whether you want to soak up the sun on a Greece island-hopping itinerary, take an exciting road trip, or seek out the best ruins of Ancient Greece, one of these 7 day Greece itineraries is for you!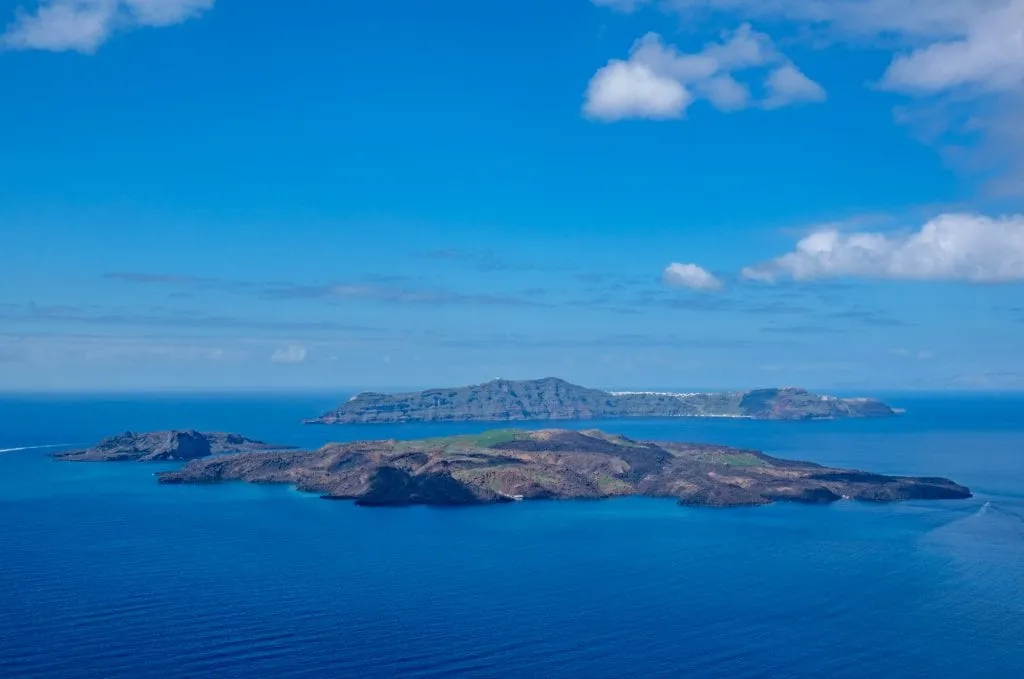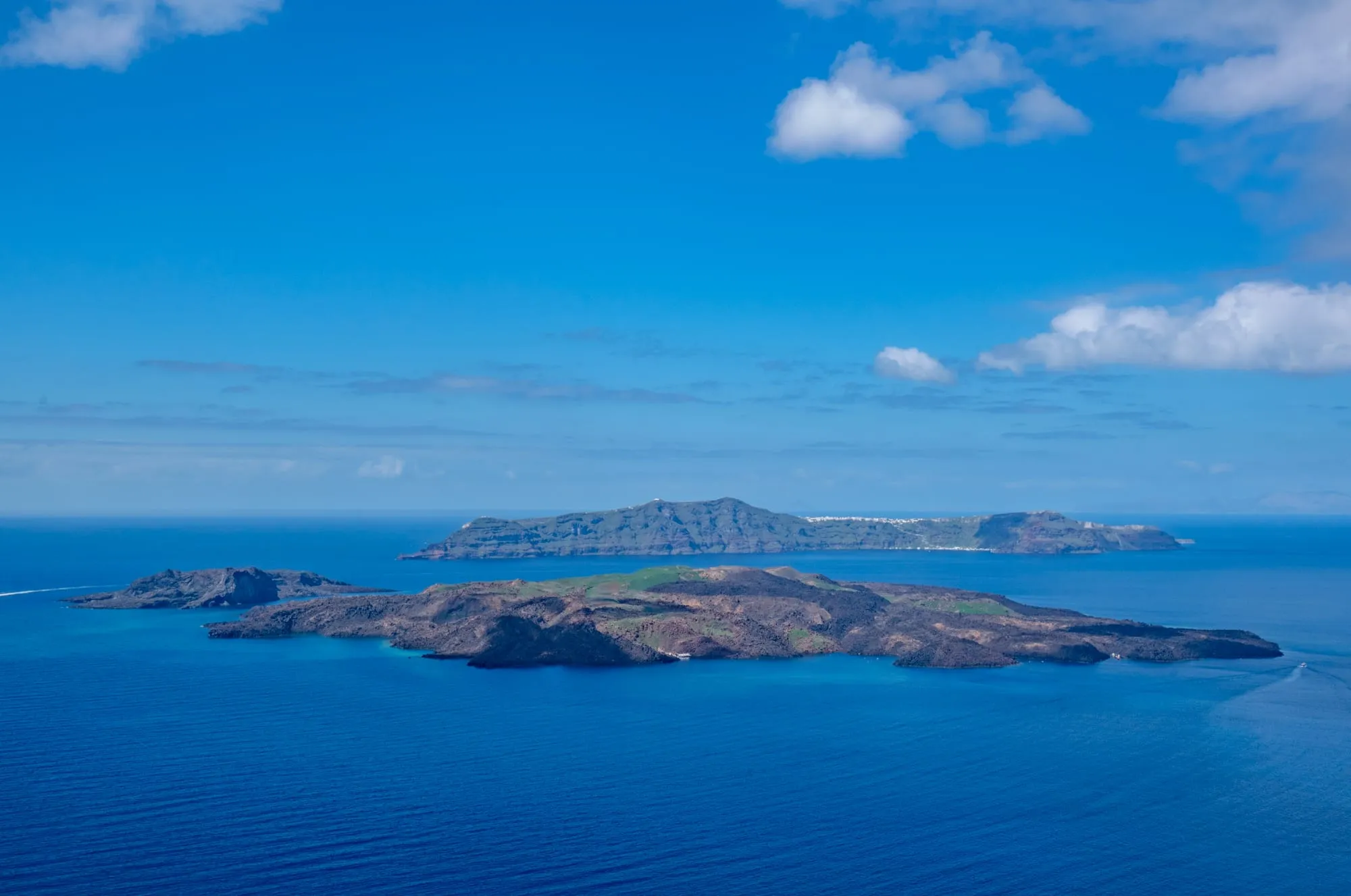 Quick Tips for Exploring Greece in 7 Days
Before we dive into our Greek itineraries, here are some quick tips to be aware of as you plan your trip!
Don't shy away from shoulder season.
Greece's summer months of June, July, and August–especially August–can be intensely, oppressively busy.
Whether you want to relax on the best beaches in Greece or marvel at the Acropolis, you'll find crowds in every direction.
If you can, consider planning a trip in April, May, September, or October instead–especially if swimming isn't a big part of your plans.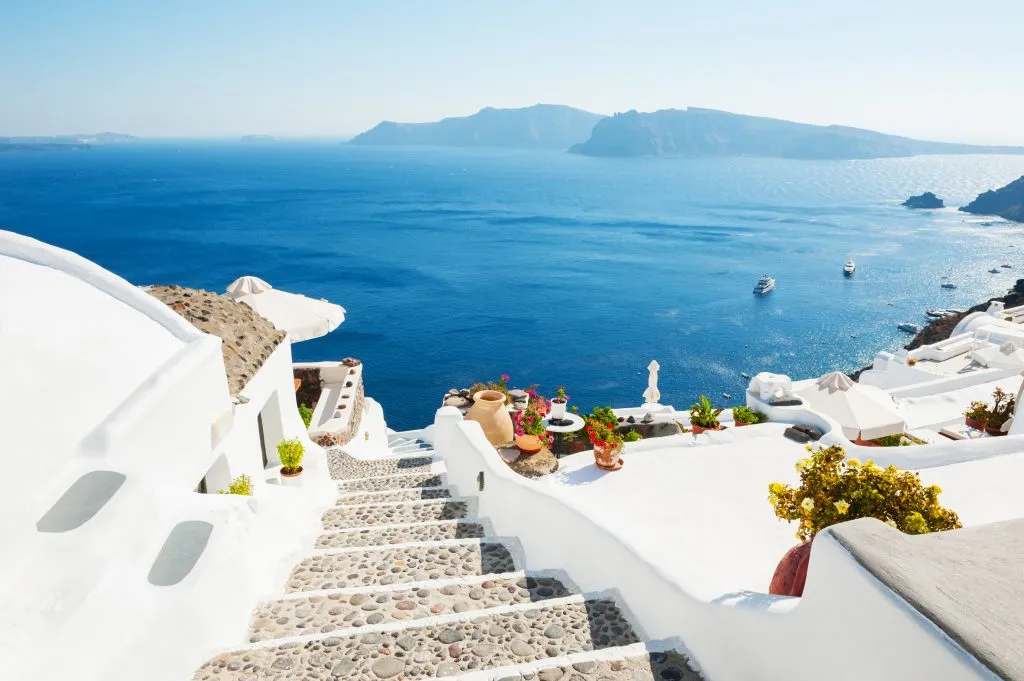 … and book in advance!
Greece's islands are full of beautiful boutique hotels–and they book up far in advance!
If you're traveling during the summer, be sure to book your hotels, a rental car if you plan to get one, and any specific tours that you have your heart set on well in advance.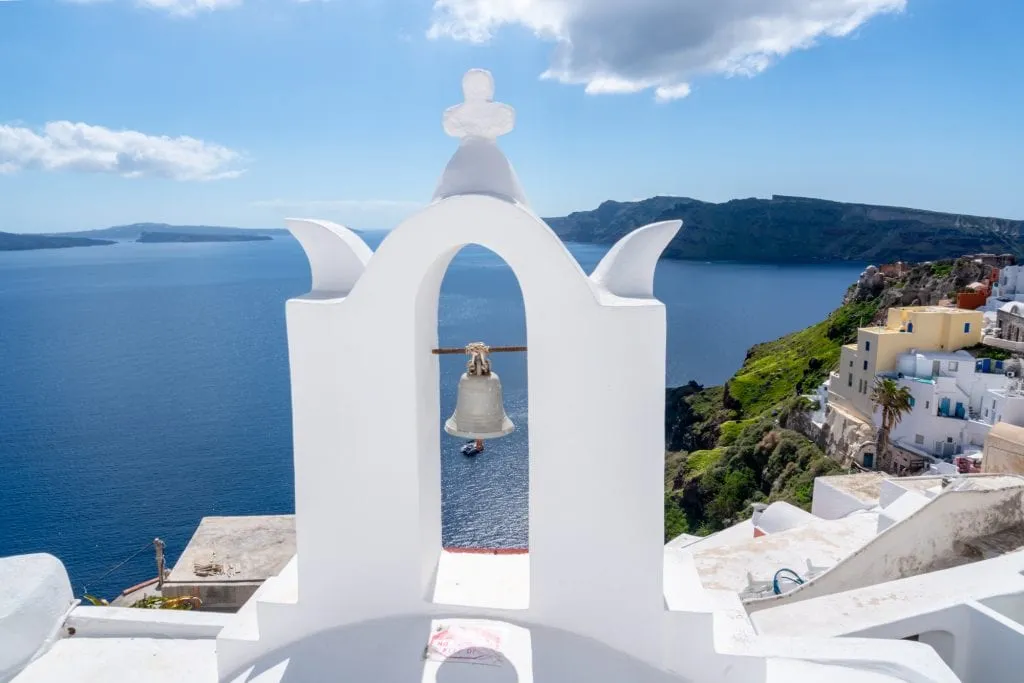 If you're renting a car, shop around.
The best company to rent a car from for your week in Greece will likely vary dramatically depending on where and when you're traveling.
Sometimes large international carriers offer the best prices, sometimes local outfits. Sometimes one company has an excellent base price, but terrible rental requirements.
The best way to find your rental car is to search through Discover Cars, which will sift through dozens of companies to find the best combination of low prices and reasonable rental terms for your trip.
Browse rental cars for your 7 days in Greece today!
7 Day Island Hopping Greek Itinerary Ideas
Classic Itinerary for 7 Days in Greece
From Dymphe of Dym Abroad
If you have 7 days to spend in Greece, you can visit Athens, Hydra, Santorini, and Mykonos.
This is a great, classic itinerary for first-time visitors as it covers a large variety of most popular places to visit in Greece.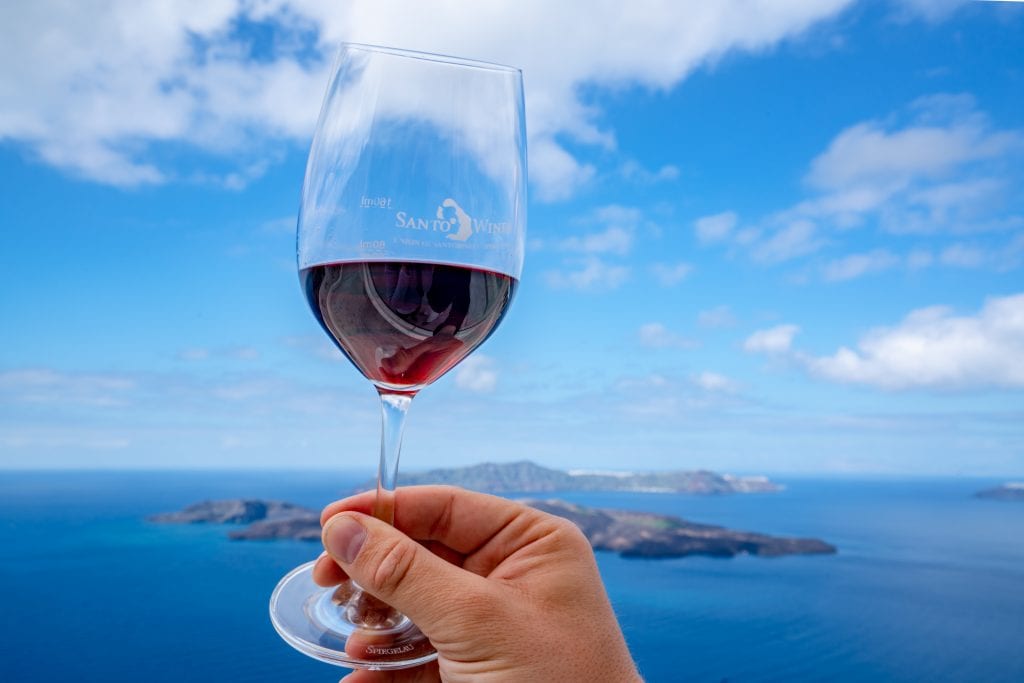 Athens
First, start by spending 2 days in Athens. This is an amazing city to visit, as there are a lot of ancient sites, including the famous Acropolis, and fantastic museums.
Besides that, Athens is also the perfect place if you want to try Greek cuisine. For example, the area Plaka has great restaurants.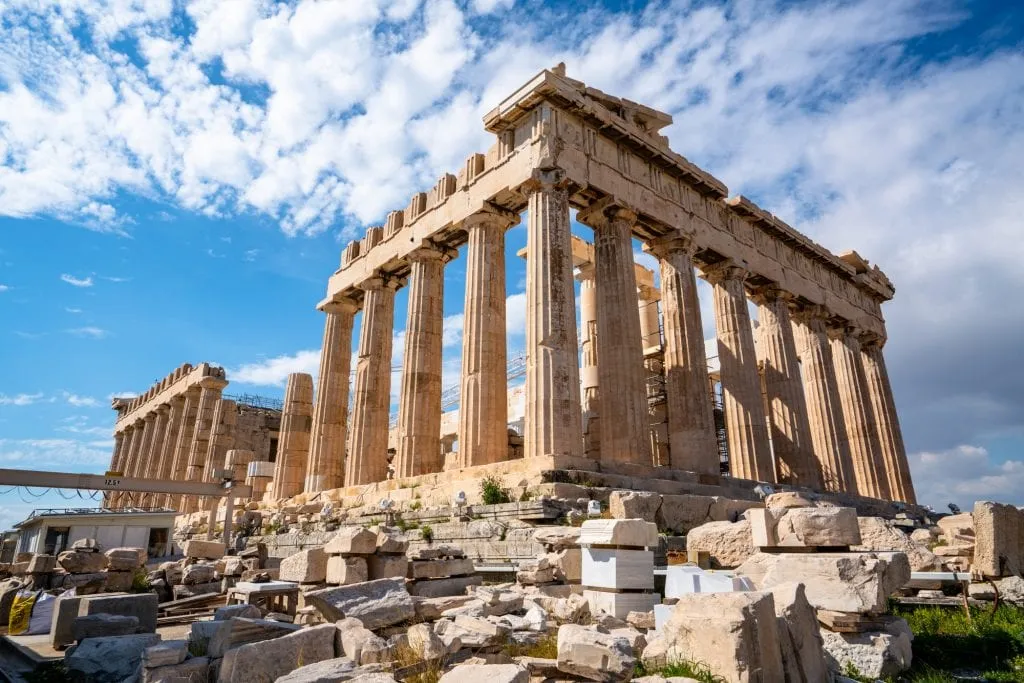 Hydra
On the third day, take a day trip to Hydra from Athens. This is great, as you can take a ferry that only takes about 1.5 hours.
What's fun about this trip is that even though it is close to Athens, it is completely different. It is a very picturesque island, where cars aren't allowed.
You find here many relaxing places, and there are good restaurants and good places for swimming.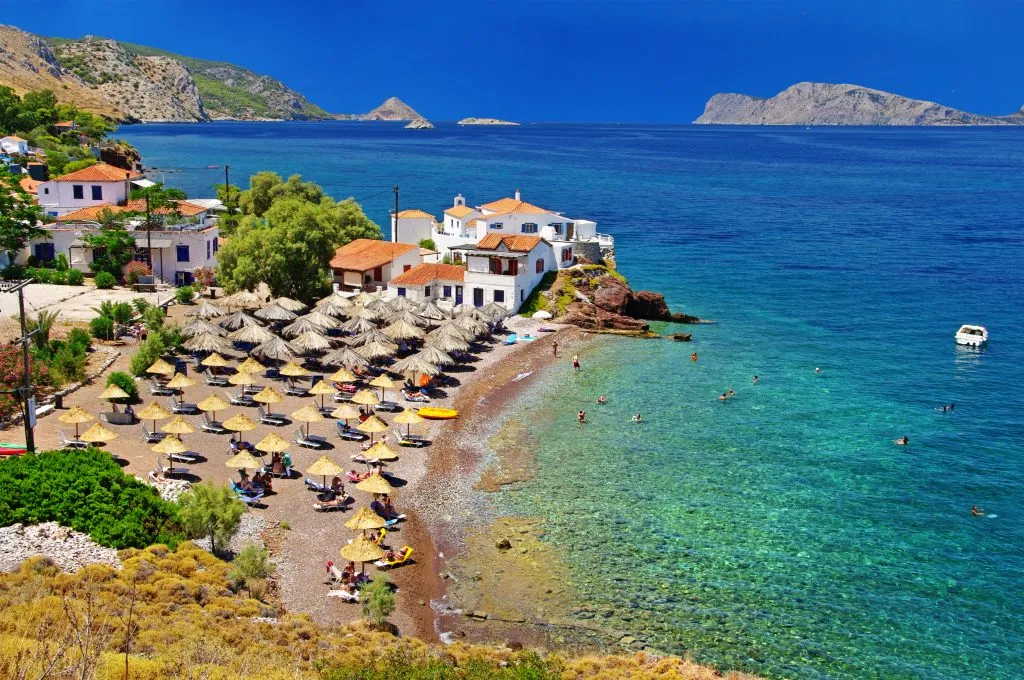 Santorini
On the fourth day, go to Santorini, where you stay for 2 days.
Santorini is one of the most beautiful places in Greece. It's famous because of the blue domes and breathtaking viewpoints.
If you've seen any photos of Greece, you've almost certainly seen photos from Oia, one of the most popular villages in Santorini.
Here you find many of the most Instagrammable places in Santorini.
Mykonos
You can spend the last 2 days on Mykonos.
This island is famous for its nightlife, so if you want to party this place is great! Besides that, you also find great beaches and lovely villages.
One of the best places to visit is Mykonos Town. You find here cobblestone streets, local shops, and great Greek restaurants.
Quick Greece Travel Tip
For this itinerary, you have to travel a lot by ferry.
To make your travels simpler, we recommend buying tickets in advance online.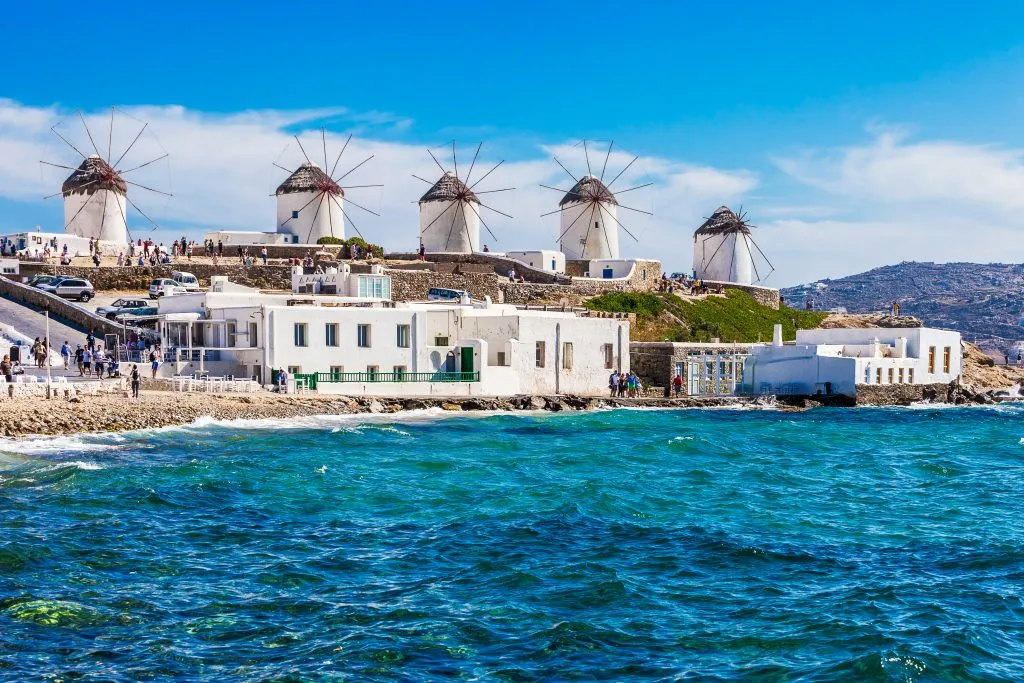 Athens + Folegandros + Santorini
From Martha of May Cause Wanderlust
Athens
Start your 7 day Greek itinerary in Athens, where you can explore the best of the city in a couple of days.
You'll definitely want to visit the Acropolis, which overlooks the city like an ancient sentinel. On the top of this rocky platform, there are temples and monuments from Ancient Greece, most famously the Parthenon.
Other ancient remains you can explore include the Roman Forum and the marble Panathenaic Stadium.
When you've had your fill of monuments, roam the streets of Plaka and Monastiraki, the areas near the base of the Acropolis, where there are plenty of shops, churches, and places to eat.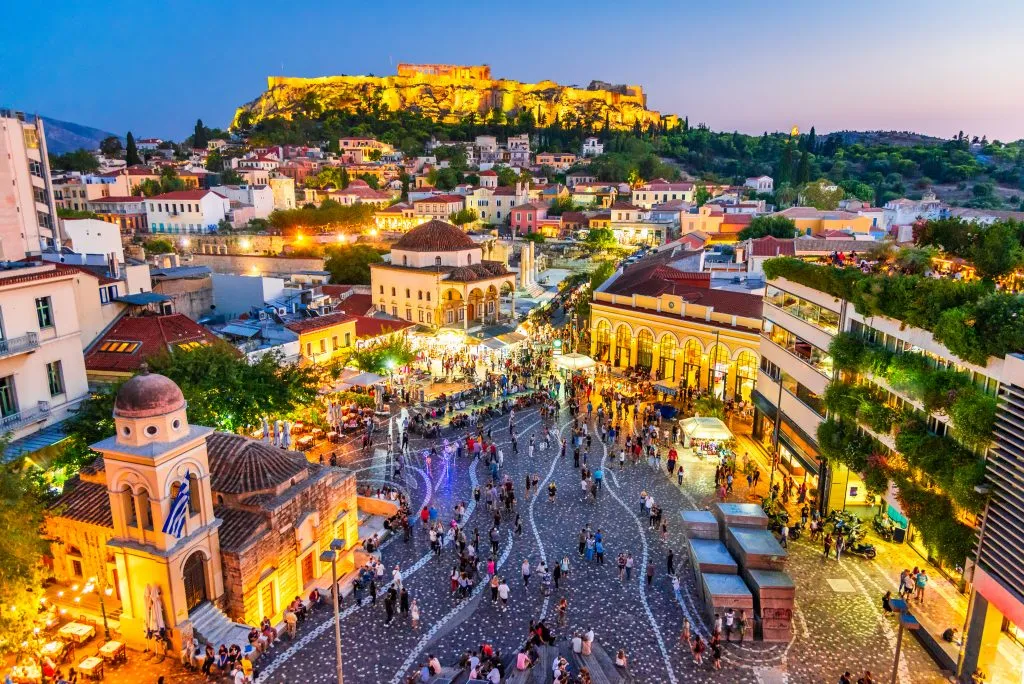 Folegandros
From Athens, catch a ferry to Folegandros, a small and stunningly peaceful island within the Cyclades.
A fast ferry will take 3 hours 45 minutes, and soon you'll be pulling into the picture-perfect harbor of Karavostasi.
From here you can explore the island by boat, visiting its quiet beaches.
You can also catch a bus to the main town of Chora, which sits high on the island, next to a cliff that overlooks the gorgeous Aegean sea.
The pace is slow in Folegandros, so enjoy languid dinners in white-washed streets surrounded by pretty Bougainvillea trees.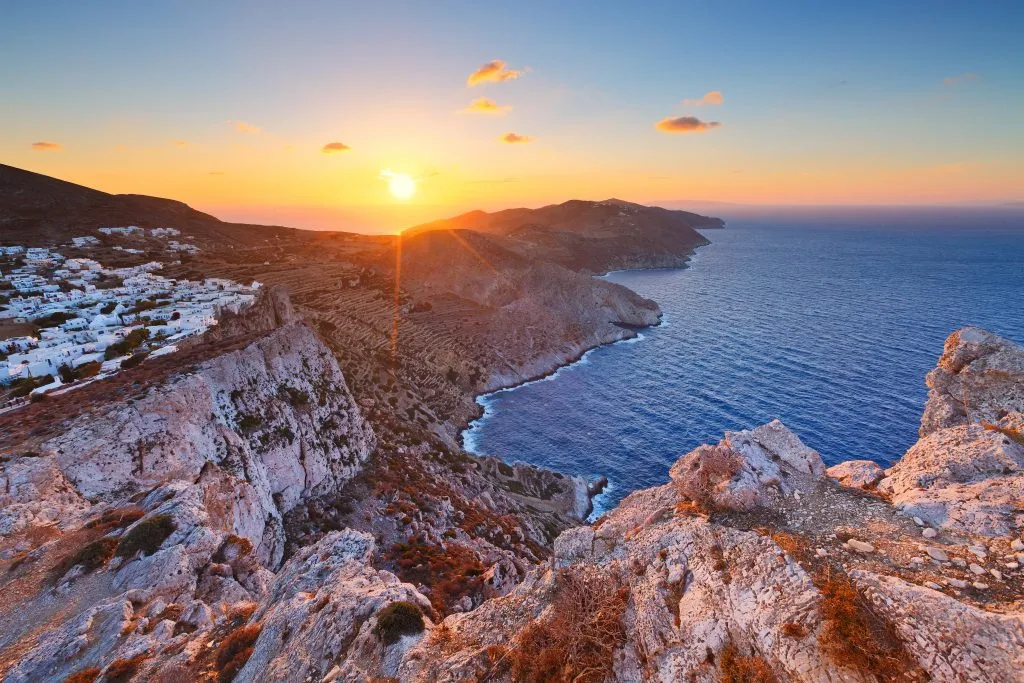 Santorini
Once you've relaxed on Folegandros for 2-3 days, you might want a little excitement, and where better than Santorini, the jewel of the Cyclades. It is less than an hour from Folegandros by fast ferry.
Here you will marvel at the scenery of the volcanic caldera – the best views are from the towns of Oia and Fira.
Santorini is more well-known and popular than Folegandros, so prices are higher and reservations are needed for accommodation and restaurants.
If you fancy something more active, take a trip to Nea Kameni, one of the newer volcanos that have formed in the middle of the caldera.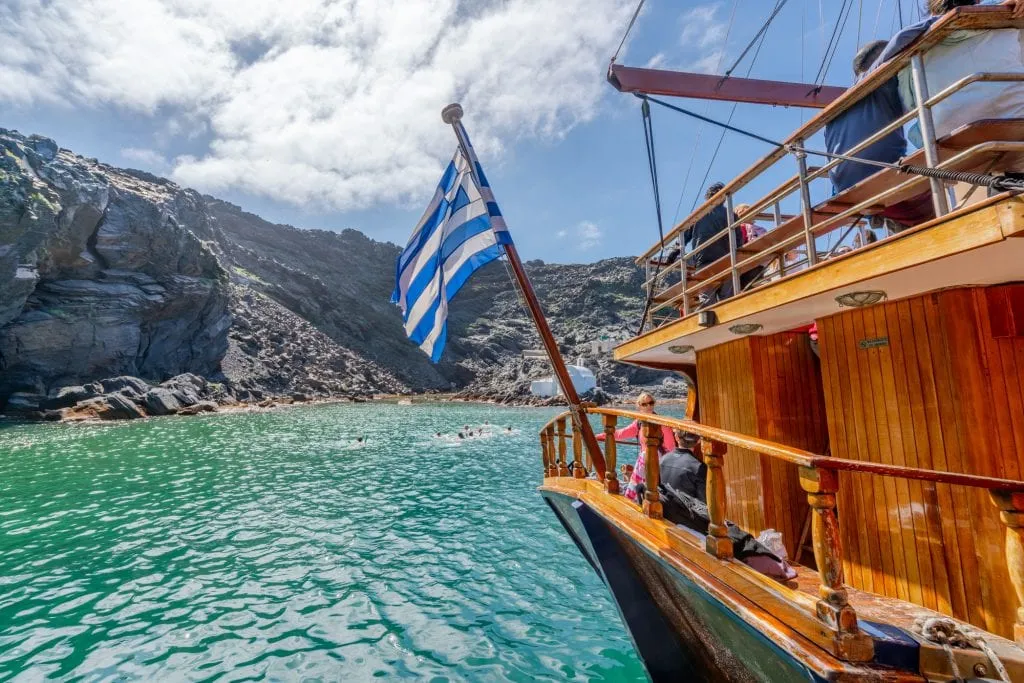 Quick Greece Travel Tip
If you don't fancy taking the ferries, consider a small ship sailing holiday – there are plenty of itineraries, and this is a great way to go island-hopping in the Cyclades.
7 Day Greek Island Hopping Itinerary in Mykonos, Delos + Paros
From Lavina of Continent Hop
Looking for a classic Greece island itinerary? This one is for you!
While you can spend as long as you please on each island, you can visit about 3 islands in a week by spending at least 2 days at each destination.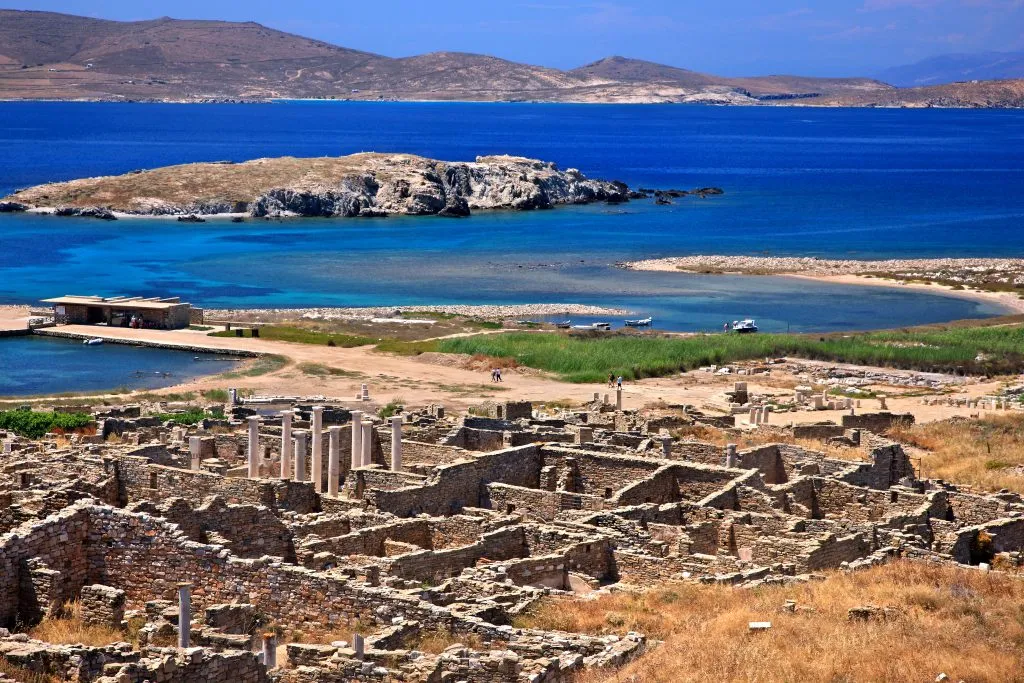 Mykonos
Start your Greece trip in Mykonos. One of the best ways to get here is to fly directly or get on a ferry from Santorini, which takes about an hour.
Once here, try to stay on the East side of the island as there are fewer tourists here and budget-friendly!
Little Venice is a must-visit, and the Chora windmills are a must-visit here!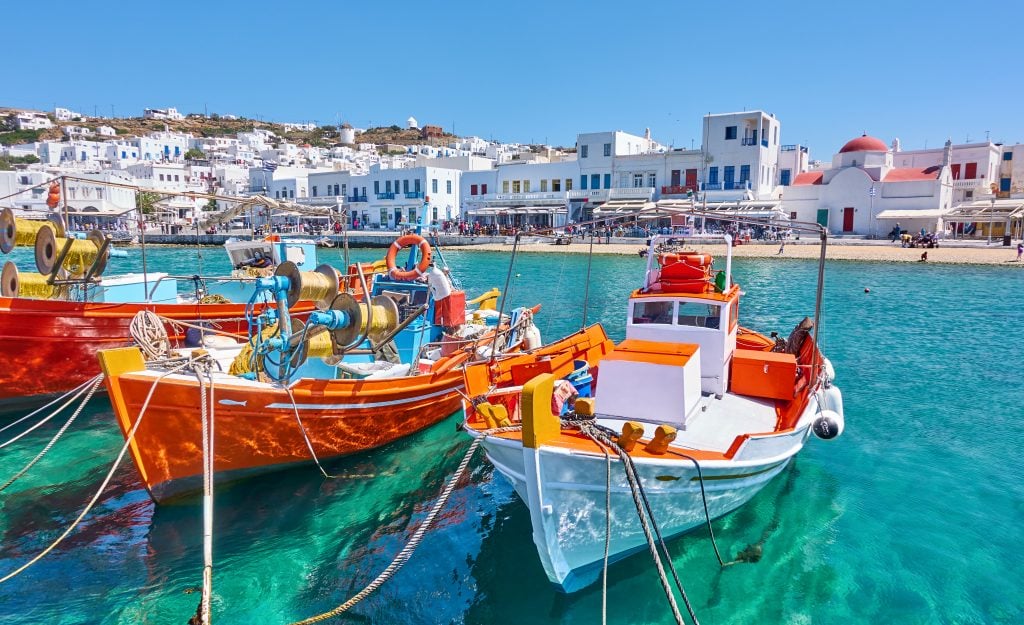 Delos
The island of Delos can be done as a day trip from Mykonos via ferry from the new port in Mykonos at Tourlos.
It is said that the Greek God Apollo was born here, and hence for those who love mythology, architecture, and history, Delos makes for a great addition to a Greek island hopping itinerary.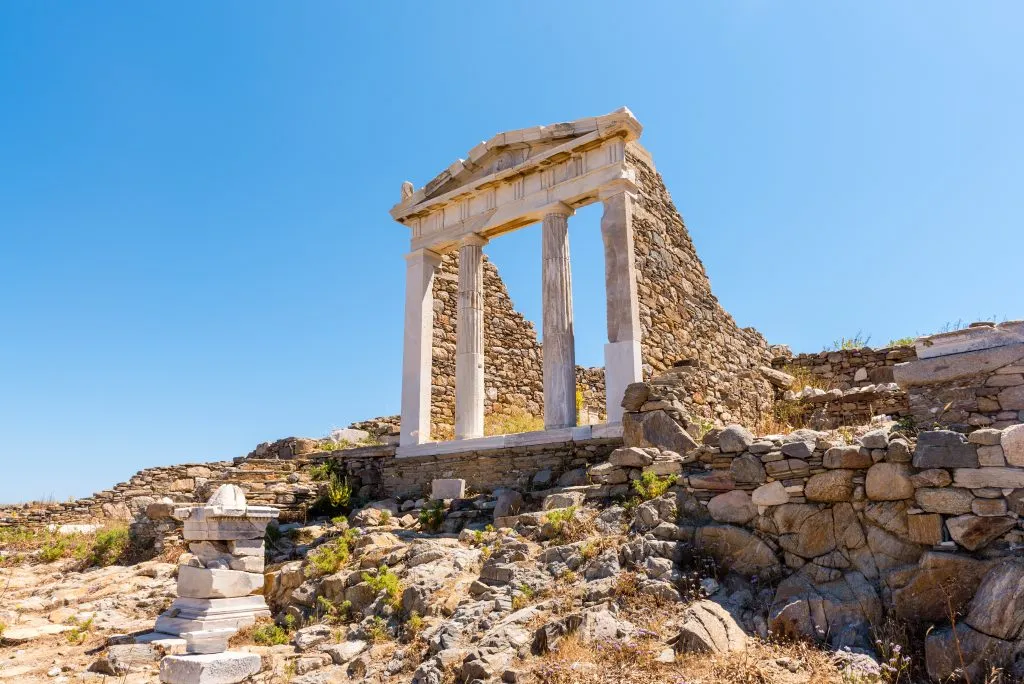 Paros
Paros can be reached via Naxos, and it takes about 2 hours 45 minutes to get to this island.
While Paros is also popular with tourists, you will find abandoned marble quarries here, making it an offbeat activity you can visit when here.
Naoussa village will remind you of Little Venice when you're here!
Quick Greece Travel Tip
This build-your-own itinerary can easily be adjusted by swapping Santorini for Mykonos, or Naxos for Paros.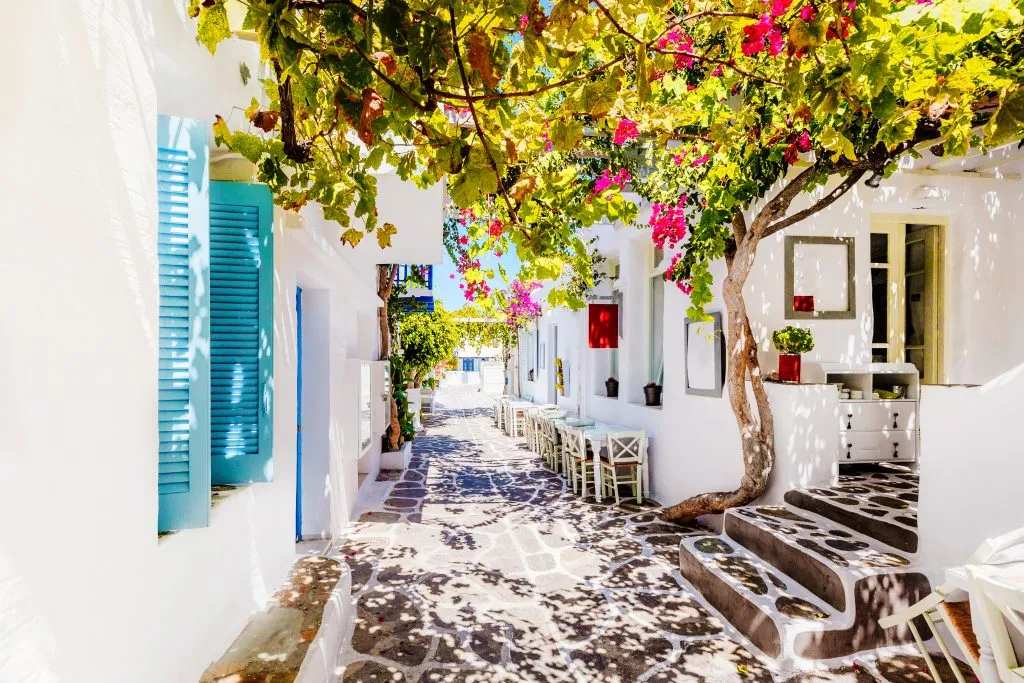 Northern Aegean Island Hopping Trip
From Anda of Travel For A While
If you're looking for a less touristy part of Greece to explore, you'll love the Northern Aegean islands.
This 7 days in Greece itinerary starts in Kavala, a sea town in Northern Greece.
It's easy to ignore Kavala, but if you have a few hours to spare, there's a pleasant surprise awaiting.
Kavala
Most things you need to see in Kavala are in the Old Town, on the peninsula.
Head to the narrow streets of the Panagia and make your way up to the fortress, and you'll be rewarded with some amazing views of the city and the sea.
This is also the best vantage point to see the aqueduct passing through the city.
Lemnos
The ferry to Lemnos should take 3 to 4 hours.
Lemnos is a very diverse island where you can find anything from sandy beaches, desert dunes, churches hidden in the mountain, and a Byzantine castle overlooking the sea.
The capital of Lemnos, Myrina will leave you speechless with not one, but two sea promenades. Try the taverns in the small fishing harbor and enjoy the fresh catch every day.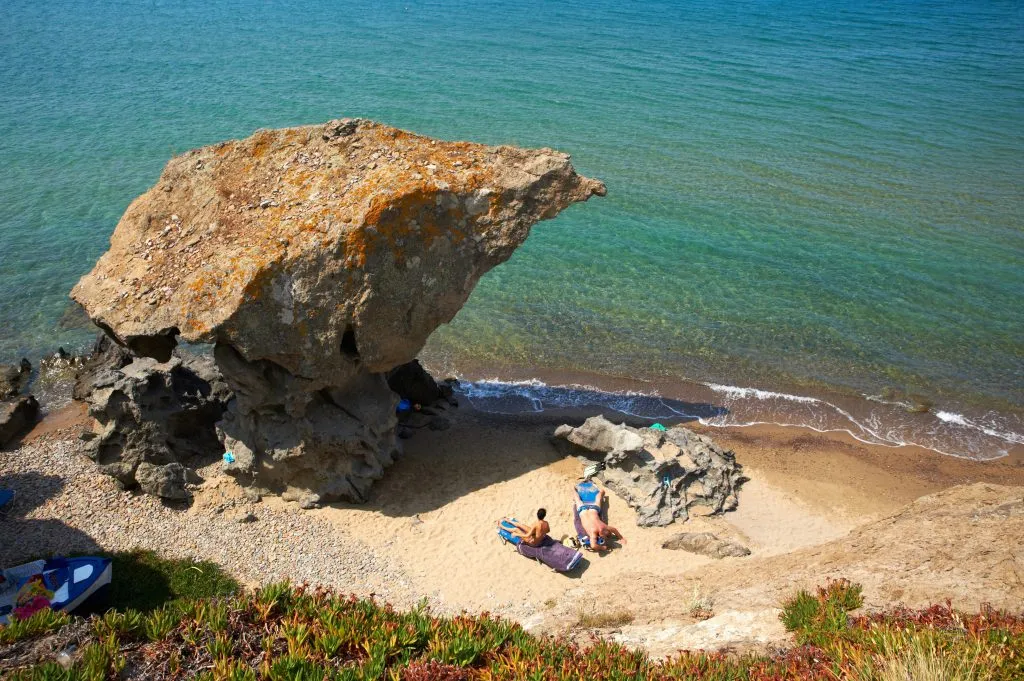 Samothraki
One of my favorite Greek islands, Samothraki is not exactly a beach paradise.
You can hike in Samothraki, up to the highest summit at 1600m, explore the ruins of the Ancient Sanctuary of the Great Gods, chase the waterfalls or explore the traditional villages.
The beaches are mostly unorganized, but this only adds to the charm of the place.
Quick Greece Travel Tip
Stay on the right side of the ferry going to Limnos. You'll have an incredible view over Mt. Athos for almost the entire trip.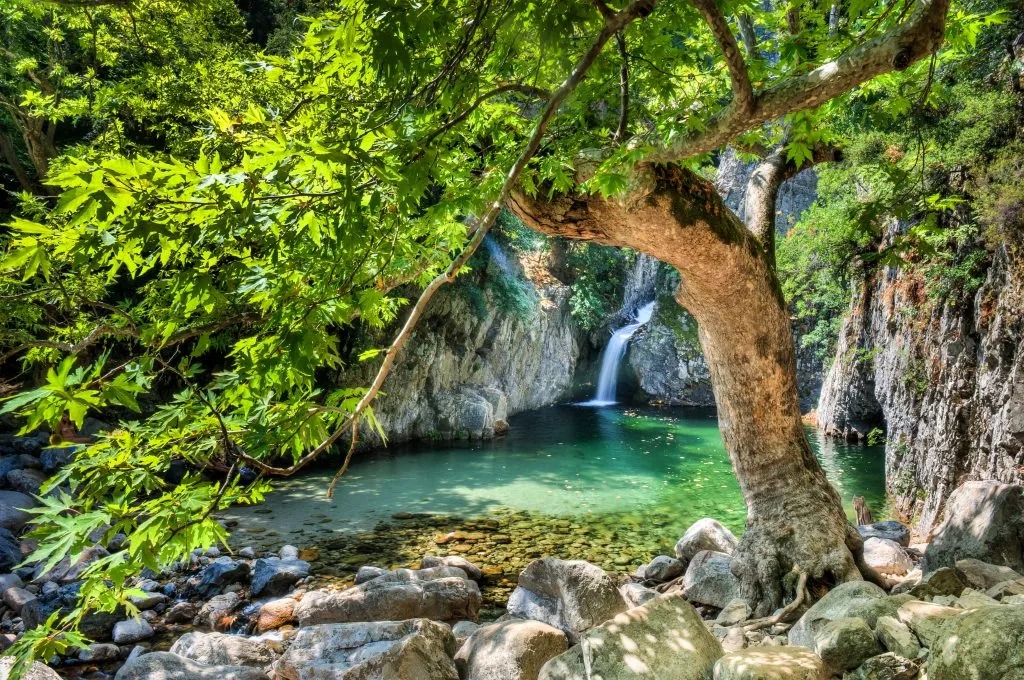 A Week in Andros, Tinos + Mykonos
From Chrysoula of Greece Travel Ideas
This 7 day itinerary for Greece is perfect if you want to do some island hopping on the Greek islands as all three islands are really close to each other and you don't lose time traveling between them.
It also offers a great overview to first-time visitors as it includes a very popular island, Mykonos with two lesser-known ones, Andros and Tinos.
Andros
The first stop on your itinerary is Andros Island, the second-largest island of the Cyclades group that is only 2 hours away by ferry from Athens (Rafina port).
Andros's Chora (main town) is one of the most beautiful in the Cyclades.
It is also one of the best Greek islands for hiking with around 200 km of signposted paths and for art lovers as it is home to the museum of modern art that every summer houses some amazing exhibitions.
Finally, Andros has great beaches including Achla, Tis Grias to Pidima, and Aghios Petros.
Tinos
Just 1 hour and 30 minutes away from Andros is Tinos an island famous for its churches and chapels (more than 750) with the Church of the Virgin Mary being one of the most important in the whole country.
Apart from the nice beaches around the island, Tinos has picturesque villages worth exploring like Pyrgos and Kardiani. It is also home to more than 600 ornate dovecotes.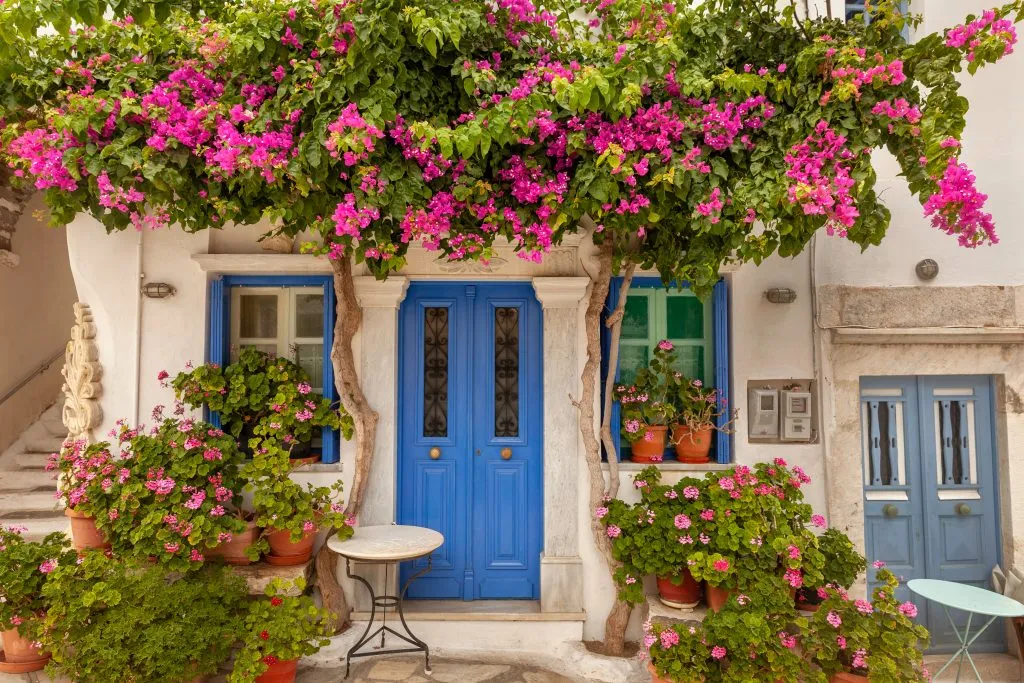 Mykonos
The final stop on your Greece itinerary is the popular island of Mykonos only 30 minutes away from Tinos.
There are plenty of things to do on the island including a boat trip to the sacred island of Delos which is a Unesco Heritage site, a walk around the windmills in Mykonos Chora, enjoying the sunset over Little Venice, and searching for Petros the Pelican in the alleyways.
If you are looking for exciting nightlife and gourmet dining you are in the right place.
Finally, in Mykonos, you will find some of the best beaches in Greece including Paradise Beach, Super Paradise Beach, Elia, and Ornos.
Quick Greece Travel Tip
The best time to enjoy this trip is in June and September when there are fewer crowds and the temperature is not as high.
7 Day Greek Island Itinerary for Rhodes + Patmos + Mykonos
From Zoe of Together in Transit
Rhodes
Start your week in Greece on the gorgeous island of Rhodes. It is a beautiful place that has a bit of everything for everyone.
Whether you like relaxing at the local beaches, snorkeling the clear waters, exploring historical Greek ruins, or walking the cobblestoned pathways of the old town – the island has it all.
While you're there, plan a day trip to Lindos, a perfect little Greek village with an impressive and historical Acropolis to explore.
Patmos
After Rhodes, the next destination is Patmos, easily reachable with the fast direct boat.
Patmos is a much smaller island, meaning also fewer tourists and more locals – which is great for truly experiencing Greece.
The village Chora on the island is the perfect spot for views across the whole island. There are also many little boutiques and restaurants here selling local fresh fish.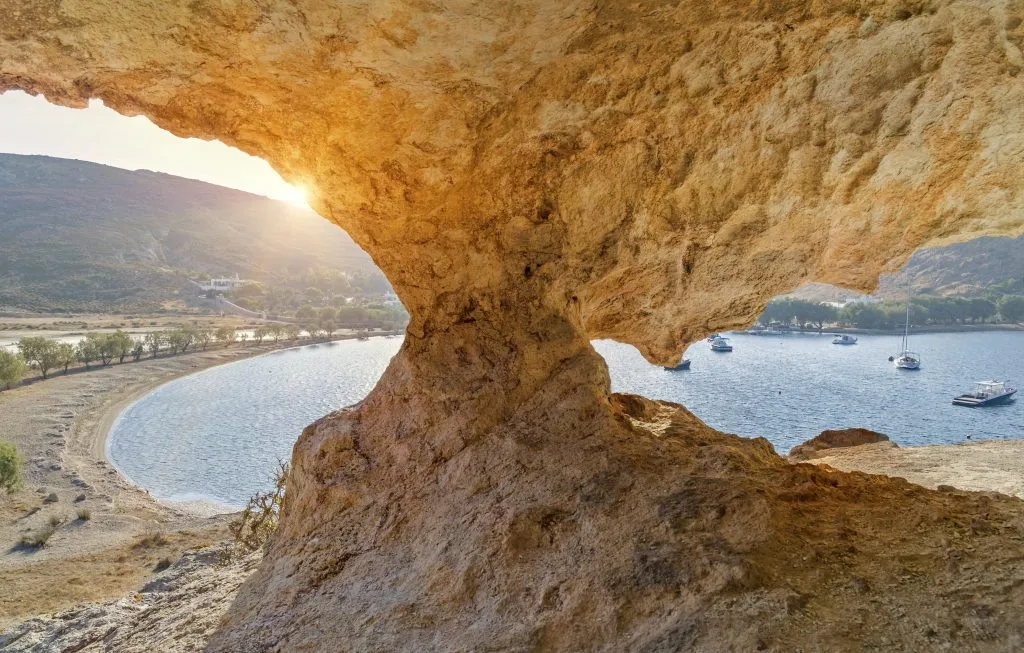 Mykonos
Lastly, make your way to the last destination of the week to Mykonos.
Immerse yourself in the blue and white colored streets and alleyways for shopping and eating, before relaxing by the water's edge for a drink.
Here you can also take a day trip to Delos for some history, before heading back to your hotel for a dip in an infinity pool.
If you'd like to take a day trip to Delos, book early–the boats often get fully booked.
Quick Greece Travel Tip
On Patmos, consider renting a small scooter or car to truly explore the island's local beaches and hiking spots.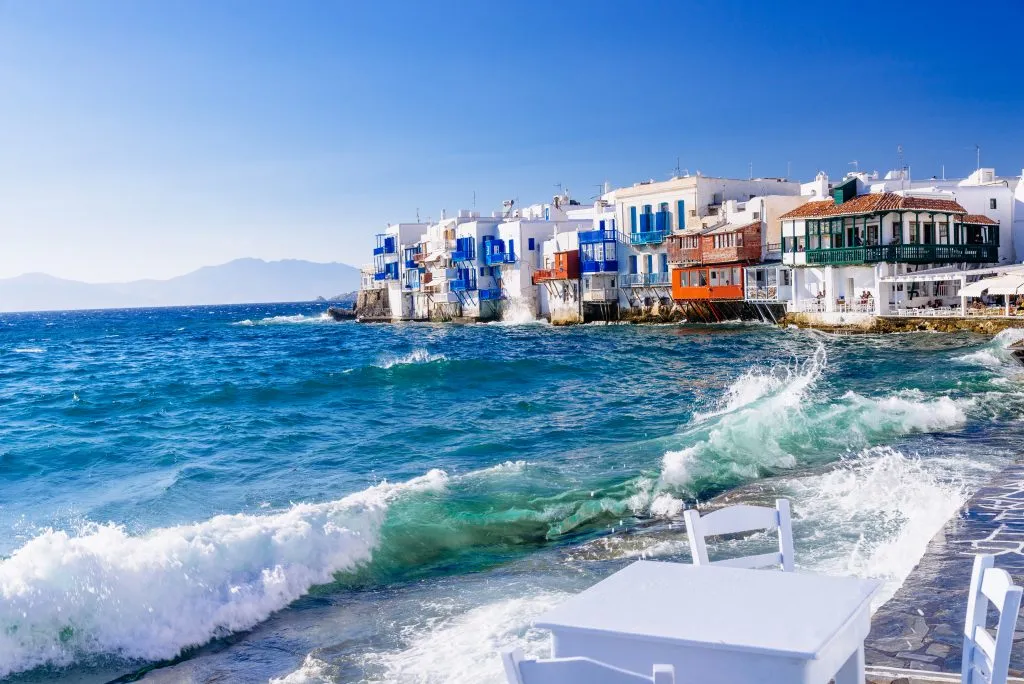 More Greece in 7 Days Itinerary Ideas
A Greek Road Trip in Monemvasia + Elafonisos
By Maria of It's All Trip To Me
The Peloponnese region in Southern Greece is a land filled with wonders.
Laconia, in particular, is one of the most authentic regions in the country.
There are a couple of amazing places to visit there during a 7 day Greece road trip.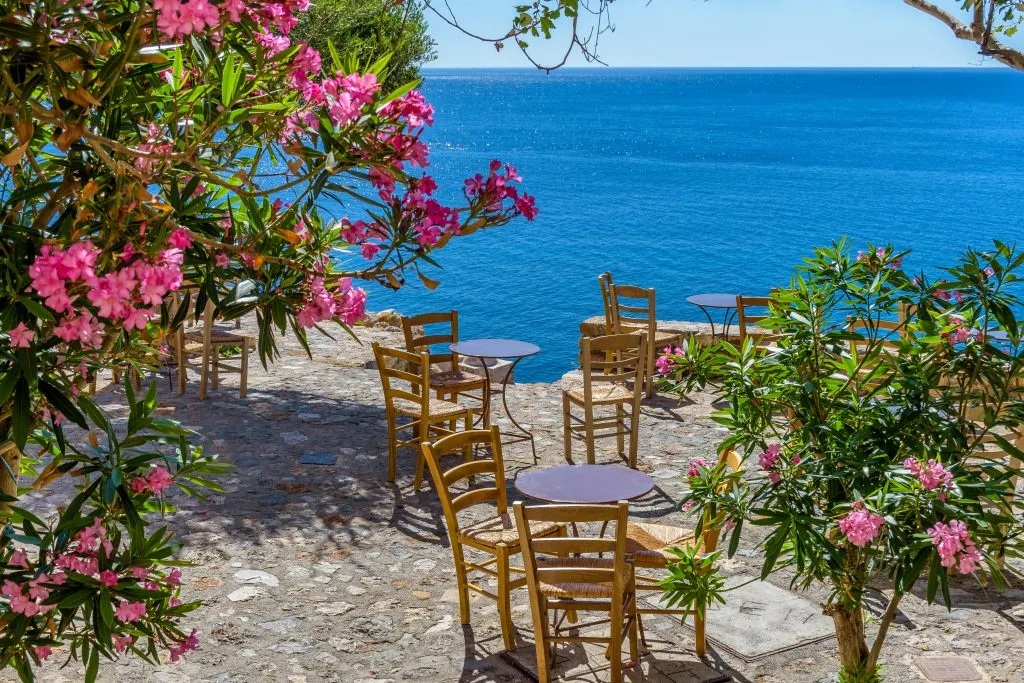 Monemvasia
Probably the most enchanting destination in mainland Greece, Monemvasia is a breathtaking castle town built on a rock in the middle of the sea.
With its stunning architecture, romantic cobbled streets, and laid-back ambiance, Monemvasia is a unique place where time seems to have stood still.
Few places to visit in Greece can boast an entire town that's almost completely untouched by time and within the walls of which no vehicles are allowed.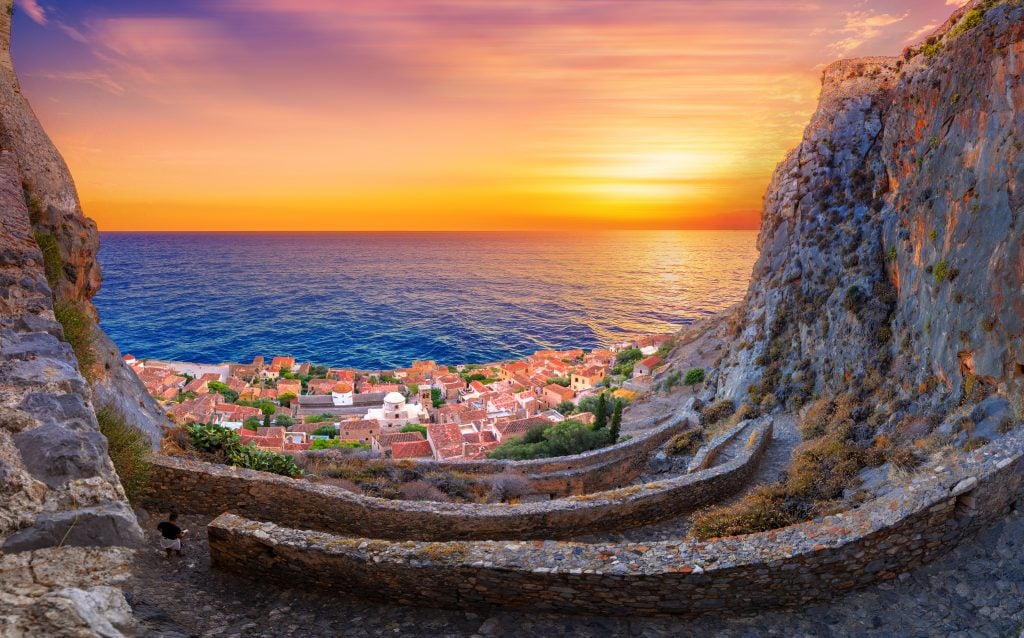 Elafonisos
The second stop on a week-long road trip across Laconia should be Elafonisos, a tiny island of turquoise waters and long stretches of dazzlingly white sand.
The ferry ride from Neapoli Port at the southernmost tip of the region to Elafonisos Island takes less than ten minutes.
Elafonisos is home to one of the most spectacular beaches in Greece, the famous Simos.
The island is ideal for a relaxing seaside escape like no other.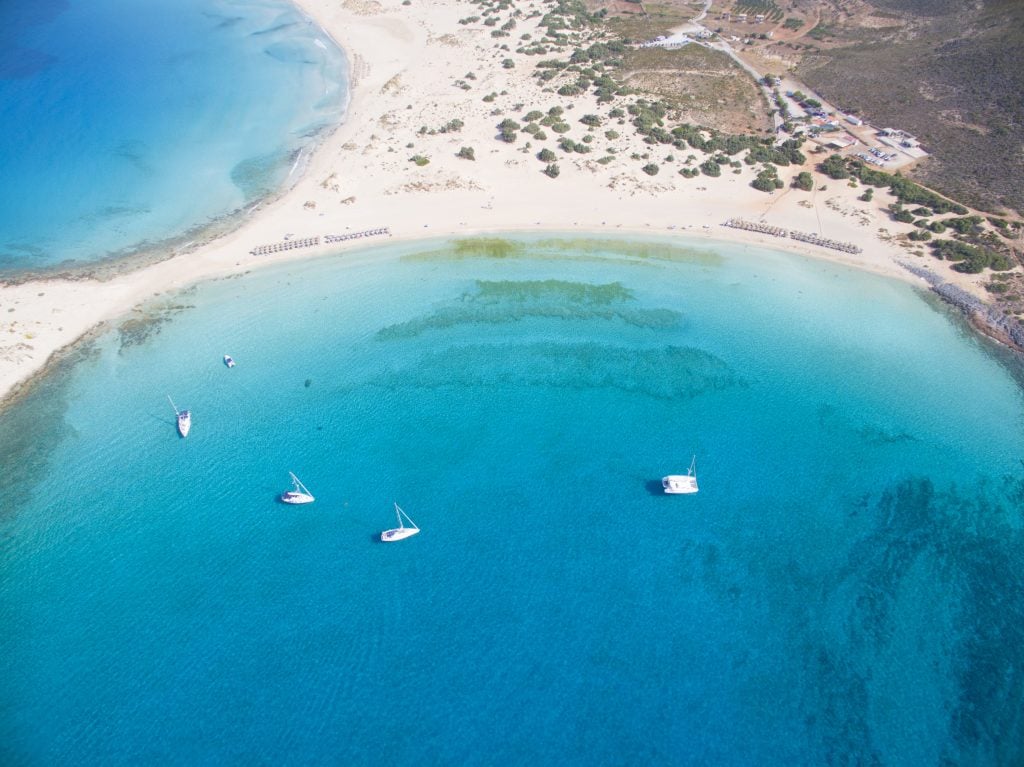 Quick Greece Travel Tip
When driving from Monemvasia Castle to Neapoli Port, follow the road signs to Neapoli via the New Road.
Even though that's a slightly longer route, the new road is in a lot better condition than the old one, while it offers jaw-dropping views of Monemvasia from afar.
7 Days in Northern Greece
From Roxanne of Faraway Worlds
Spending a week in Thessaloniki, Meteora and the Halkidiki region gives you three very different Greek experiences without traveling too far.
Explore monasteries, mountains, and hidden beaches in just seven days with this northern Greece 7 day itinerary.
Thessaloniki
Greece's second-largest city is vibrant and bustling with a long waterfront and some interesting architecture.
There are some great cafes and restaurants and it makes a great base for a few days.
There are some interesting museums to visit and there are some great day trips, including visiting Mount Olympus National Park and Pella, the capital of ancient Macedonia and the birthplace of Alexander the Great.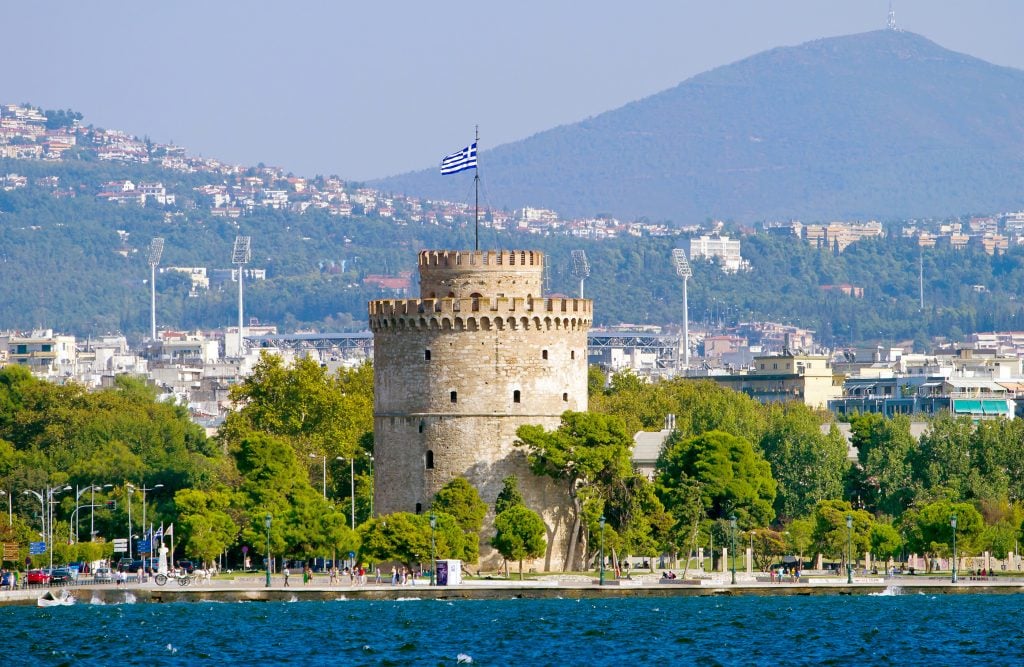 Meteora
The Meteora Monasteries are one of the highlights of mainland Greece.
Less than three hours' drive from Thessaloniki, you'll find huge karsts stretching up into the sky with monasteries built on the peak.
You can visit the monasteries, although keep in mind they can be very busy.
If you're staying in the area for a couple of days, hiking through the valley is a peaceful experience with stunning views – there are trails accessible from the main town of Kalabaka and the smaller village of Kastraki.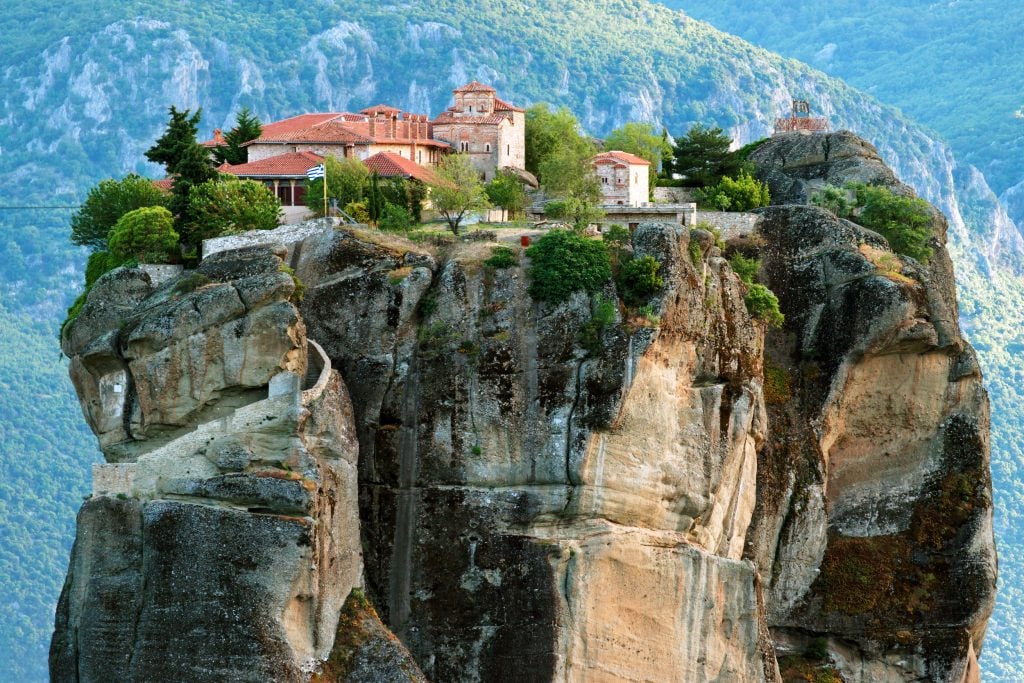 Halkidiki
Less than two hours out of Thessaloniki is the beautiful region of Halkidiki, where three "fingers" of land stretch into the sea.
Halkidiki is a favorite for local holidays but sees fewer international tourists than the islands.
With beaches, mountain hikes, and small villages, Halkidiki is a wonderful base to relax by the sea and enjoy the outdoors.
The water is clear, the food is good, and it can give you a taste of the islands while keeping down the cost of your trip to Greece.
Quick Greece Travel Tip
Hiring a car to visit Halkidiki will allow you to fully explore all the hidden parts of this lovely region.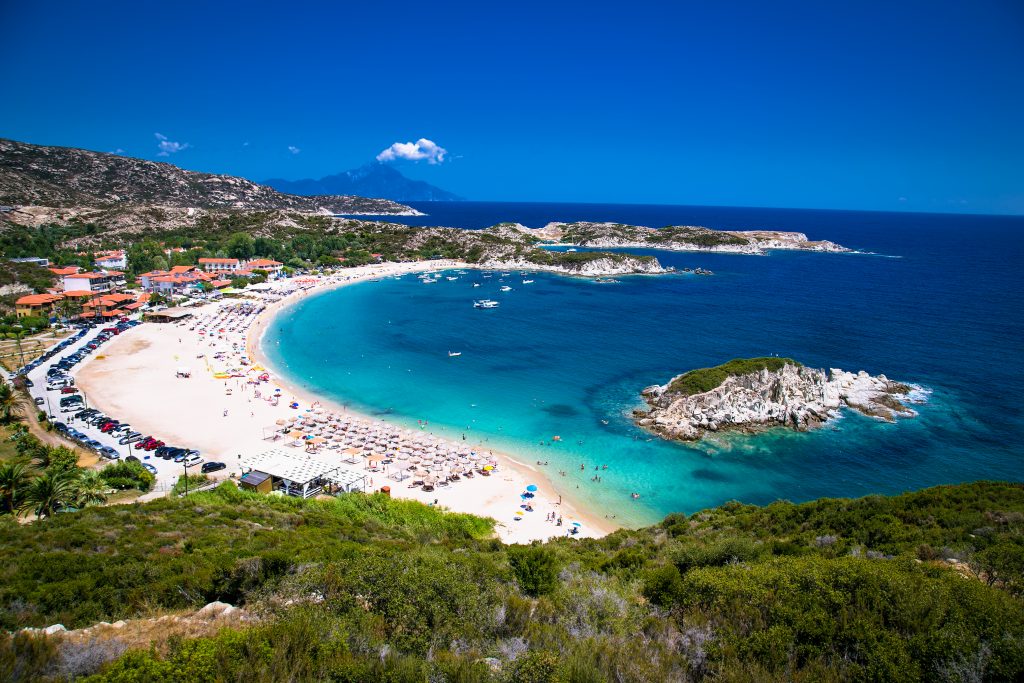 Archaeology in Greece 7 Day Itinerary: Athens + Delphi + Epidaurus
A trip to some of the top archeological sites on mainland Greece is unforgettable for travelers with a keen interest in history.
These sites are all within a few hours of each other, allowing you to comfortably create your own archeological tour.
Athens
Athens is a wonderland for anyone curious about archaeology.
Top sites include the Acropolis, the Ancient Agora, the Roman Agora, Aristotle's Lyceum, the Temple of Olympian Zeus, and more.
Some of the greatest finds are housed in world-class museums in the city. Be sure to visit both the Museum of the Acropolis and the National Archeological Museum.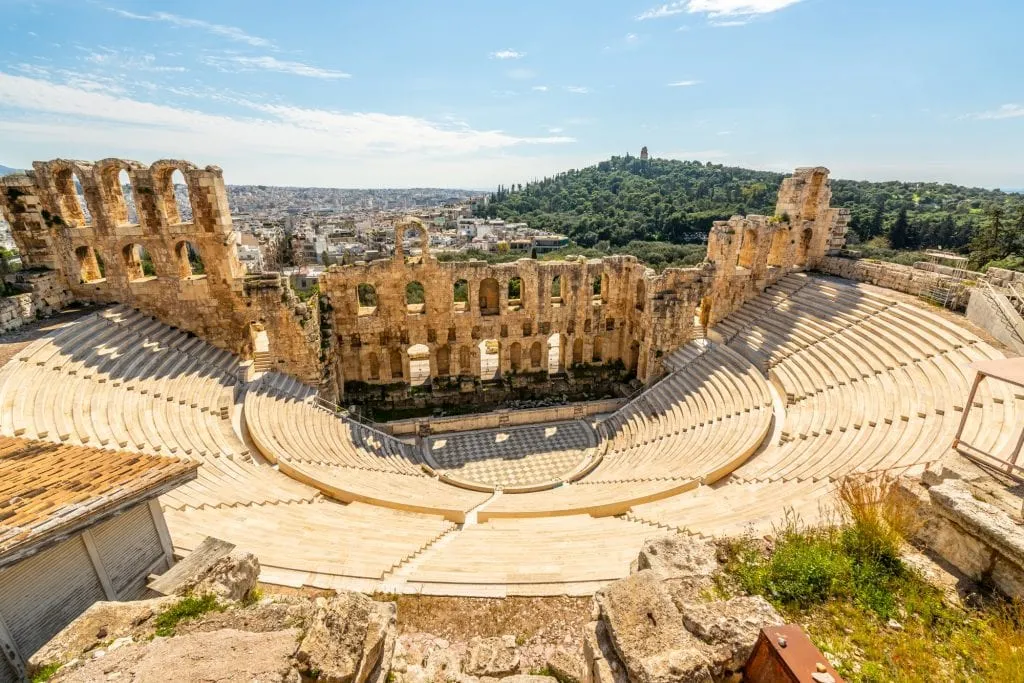 Delphi
Your next stop is Delphi, the ancient "navel" of the world. You can visit as a day trip from Athens or enjoy it as an overnight destination.
As readers of both history and myth know, the oracles at Delphi influenced the most important decisions in the region.
You can explore the Temple of Apollo, the Tholos, and the nearby Delphi Archeological Museum, all of which make this an outstanding part of your travels.
Book your day trip to Delphi today!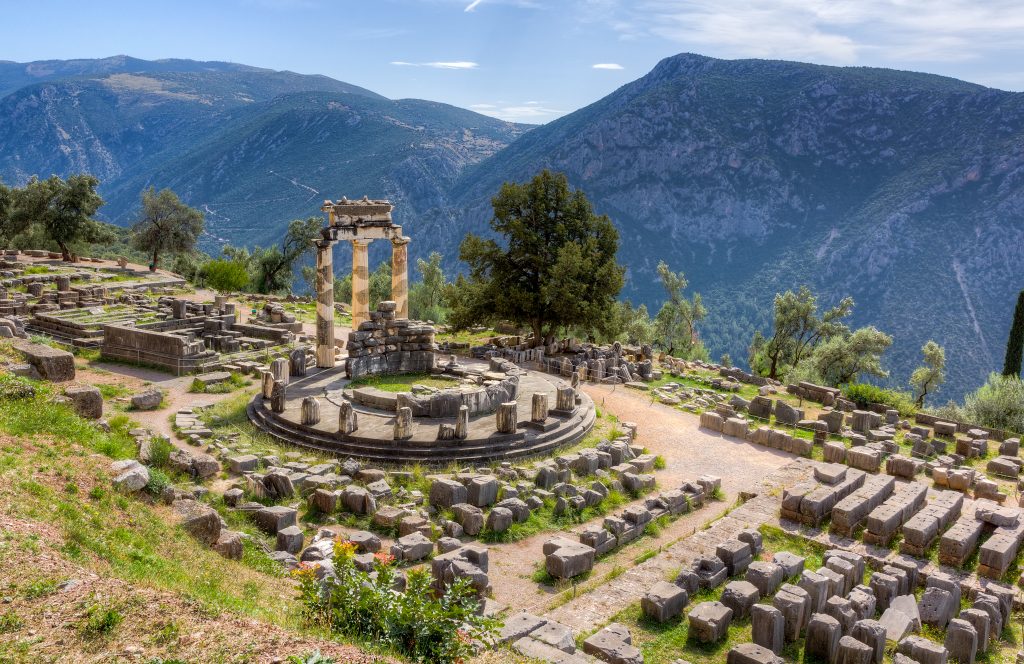 Epidaurus
There are two fascinating archeological sites to visit on your drive to Epidaurus.
The first is Ancient Corinth, the polis that gave its name to the ornate columns.
Shortly after you will reach the Archeological Site of Mycenae. The Mycenaean civilization is named after this Bronze Age site.
Additionally, it features prominently in Homer's epic poems. Plan to spend a few hours exploring this remarkable site.
The highlight of your trip to Epidaurus can be a live performance in the ancient theater. It is the best-preserved ancient theater in Greece and the acoustics continue to astound visitors.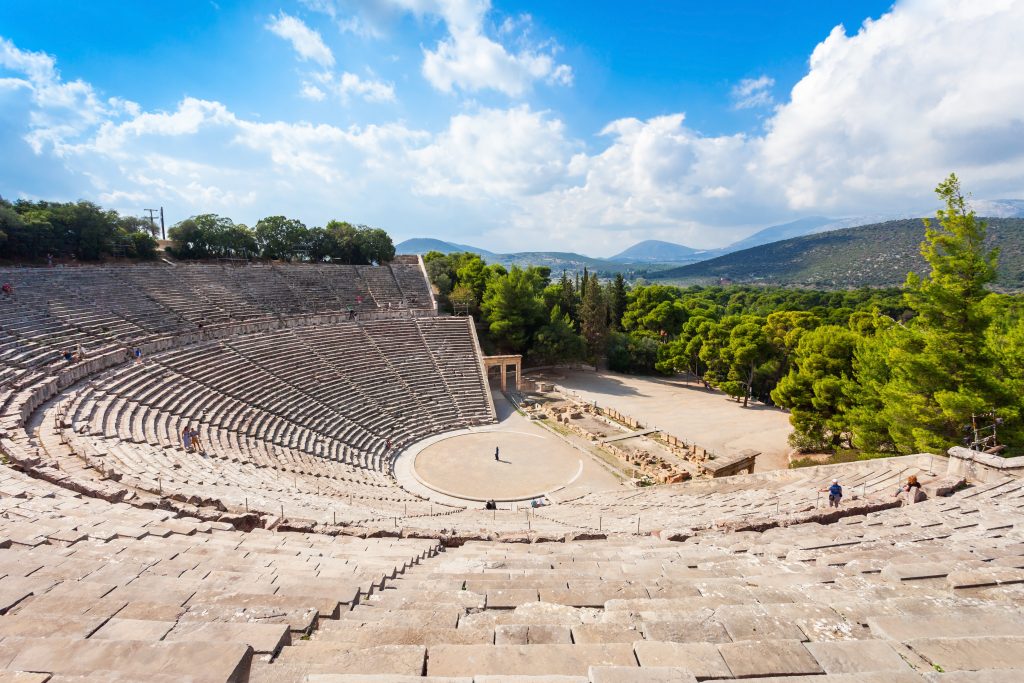 Delight in some living history as you enjoy performances of the works of Greek playwrights like Sophocles and Aristophanes.
The theater is part of the larger Sanctuary of Asklepion, an important healing center in Greece.
Be sure to arrive early enough to explore the site and enjoy dinner before the performance. Plan to spend at least one night here.
Quick Greece Travel Tip
Craft your 7 days in Greece itinerary around the performance schedule at Epidaurus because there are so few dates available.
The season traditionally runs on weekends from mid-June to mid-July but check for details before booking.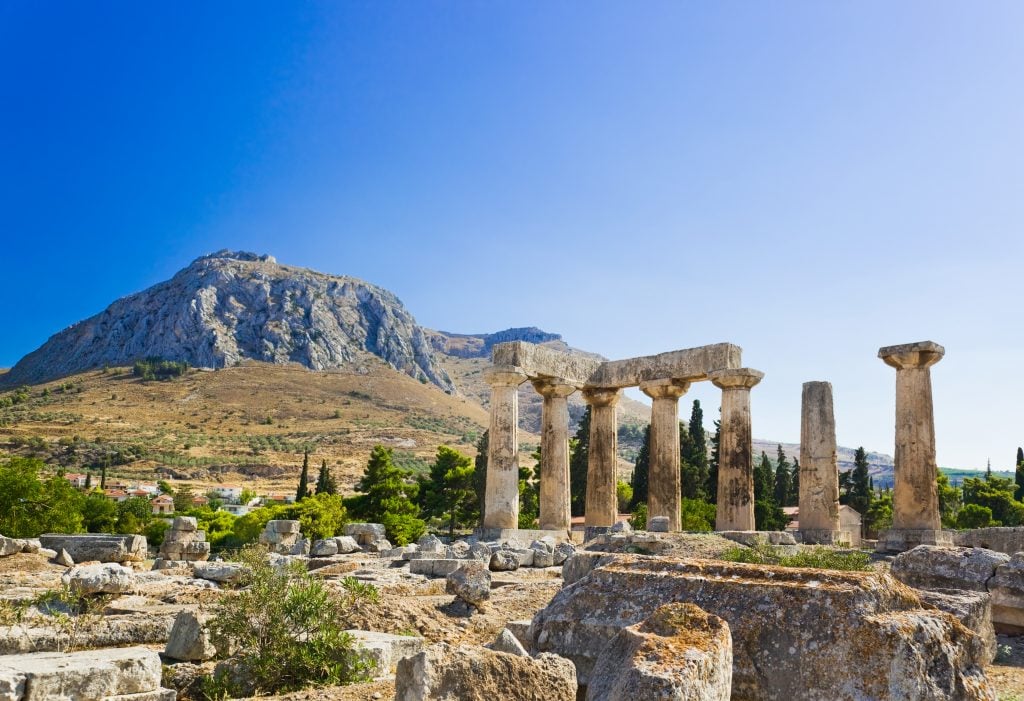 Epirus Region Itinerary
From Nina of Lemons and Luggage
Greece's Epirus region is often overlooked by international tourists.
This 7 day itinerary for northwestern Greece is perfect for those who want to get off the beaten path and explore this beautiful region.
Ioannina
Start your trip in the capital of the Epirus region.
Explore the various Islamic sites in Ioannina such as the well-preserved mosques, the clock tower, the old town, or the Ali Paşa Museum on the islet of Ioannina.
Make sure to plan a day trip to the ancient oracle at Dodoni, the oldest and second most important of all oracles in Ancient Greece.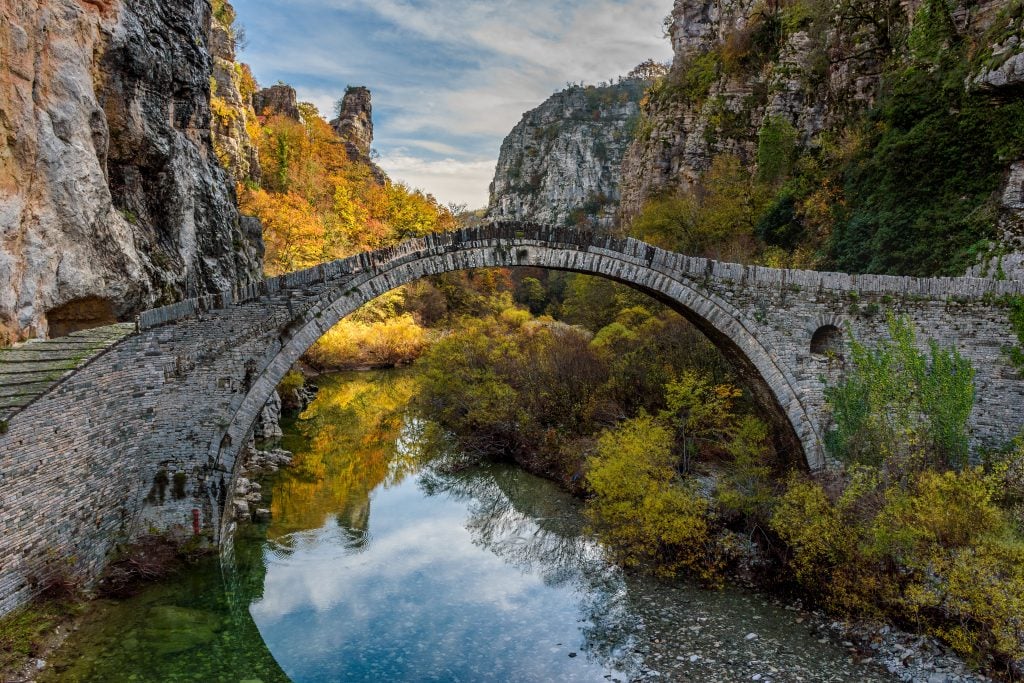 Zagorohoria
The Zagorohoria are some of the most beautiful mountain villages in Greece.
One of the prettiest villages is Monodendri with its stone buildings and pavements. From here you can easily reach the Ayia Paraskevi Monastery with its breathtaking views of the Vikos Gorge.
Another popular village is Papigko located behind Voidomatis River with its ice-cold turquoise water. Papigko is the perfect start for a hike through Vikos National Park.
The Zagori villages are also an excellent destination in the winter when their historic architecture and the setting in the mountains make for a very cozy atmosphere.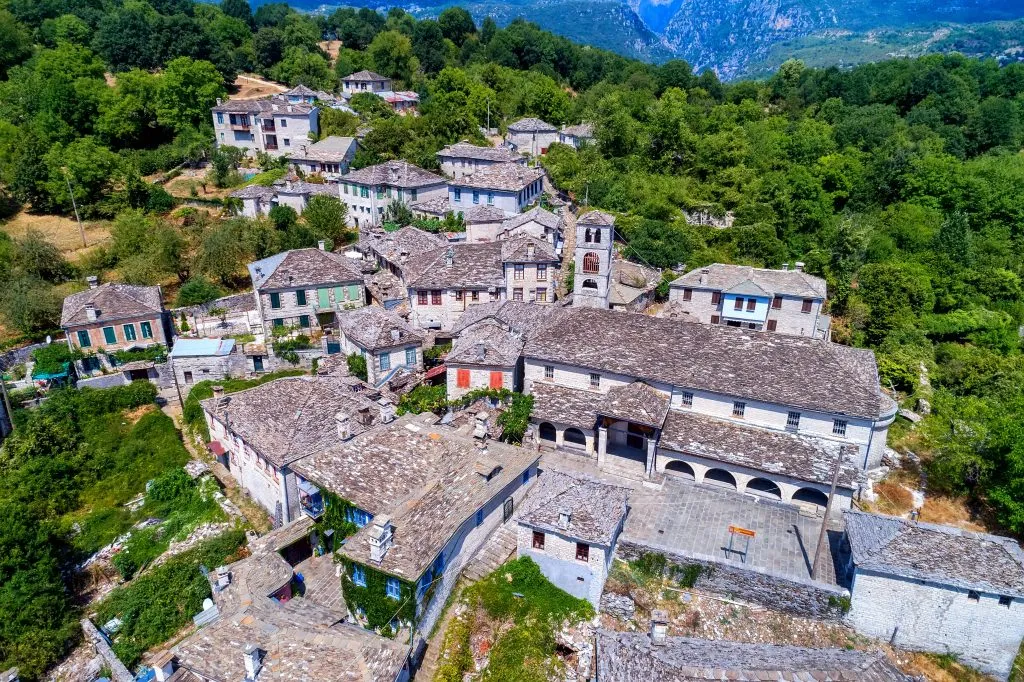 Metsovo
The small town of Metsovo is famous for its meat and cheese, so if you're vegan check out this vegan guide to Greece first.
Hikers will love Metsovo's location south of Pindos National Park, one of the least known national parks in Europe.
It's a great park if you want to experience unspoiled nature. There are plenty of gorges, waterfalls, and old stone bridges to reward you. In the winter, the area offers skiing opportunities as well.
Quick Greece Travel Tip
Keep in mind that the distances in this itinerary are quite short, but due to the winding mountain roads you should drive slowly and carefully.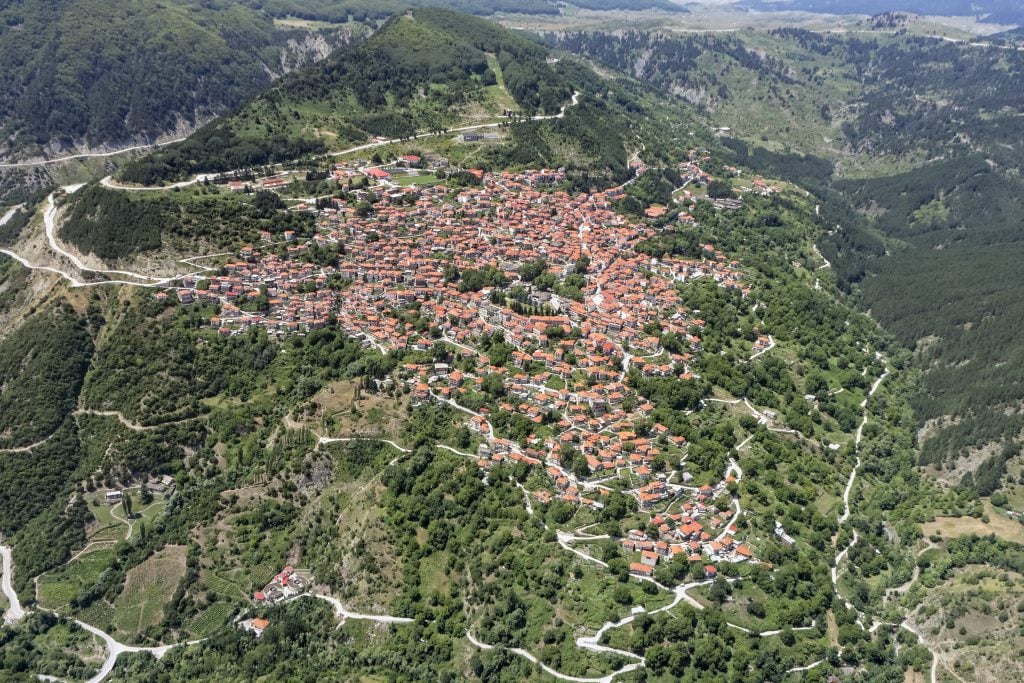 Itinerary For a Week in Crete
From Claire of Zig Zag on Earth
Crete is a destination in itself in Greece.
There is so much to see on the island, and you can easily fill your 7 day itinerary for Greece on Crete alone.
I recommend traveling Crete as a road trip, to be able to enjoy all of its wonders.
Day 1 – 3: Heraklion
Start in Heraklion where you can arrive by ferry or plane.
This is the best place to learn about the Minoan civilization and the history of the island. Don't miss the Archeological Museum and the famous Knossos Palace.
From Heraklion, you can also enjoy a day trip to the island of Spinalonga to learn about more recent history.
And, if Santorini is absolutely on your bucket list, know that you can plan a day trip from Heraklion to Santorini (see article to best plan it).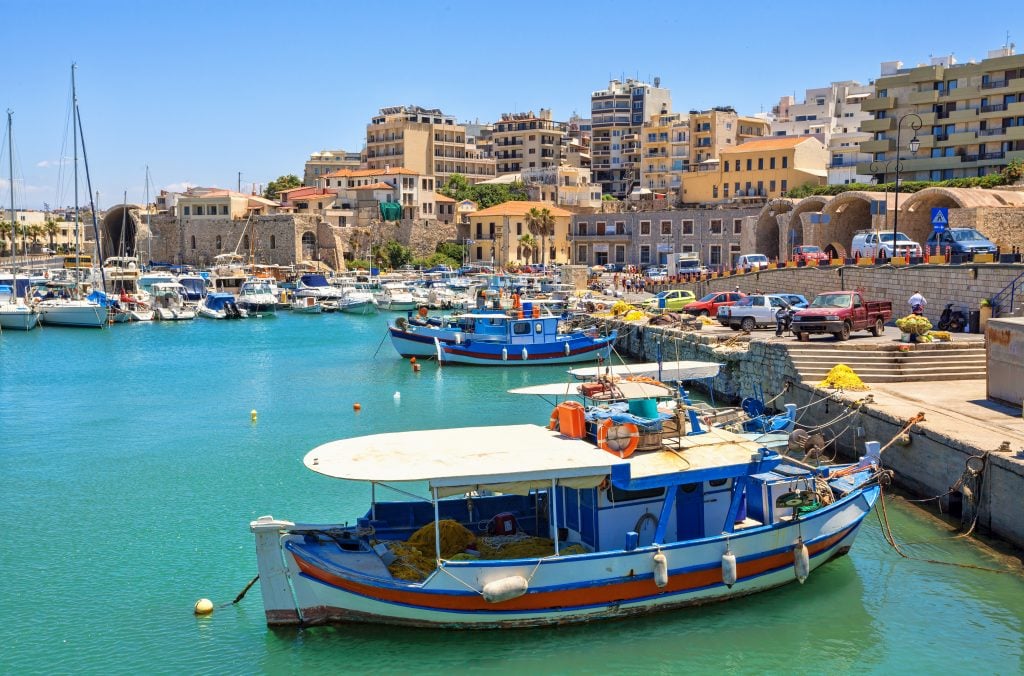 Day 4 – 5: Chania
After exploring the area surrounding Heraklion, continue your Greece vacation and head west to the most beautiful town in Crete: Chania.
Be sure to spend some time strolling its streets and seafront.
Chania is the perfect base to explore the west coast and is home to 2 of the best places to visit in Crete: the magnificent Balos Lagoon (accessible by boat), and the pink beach of Elafonisi.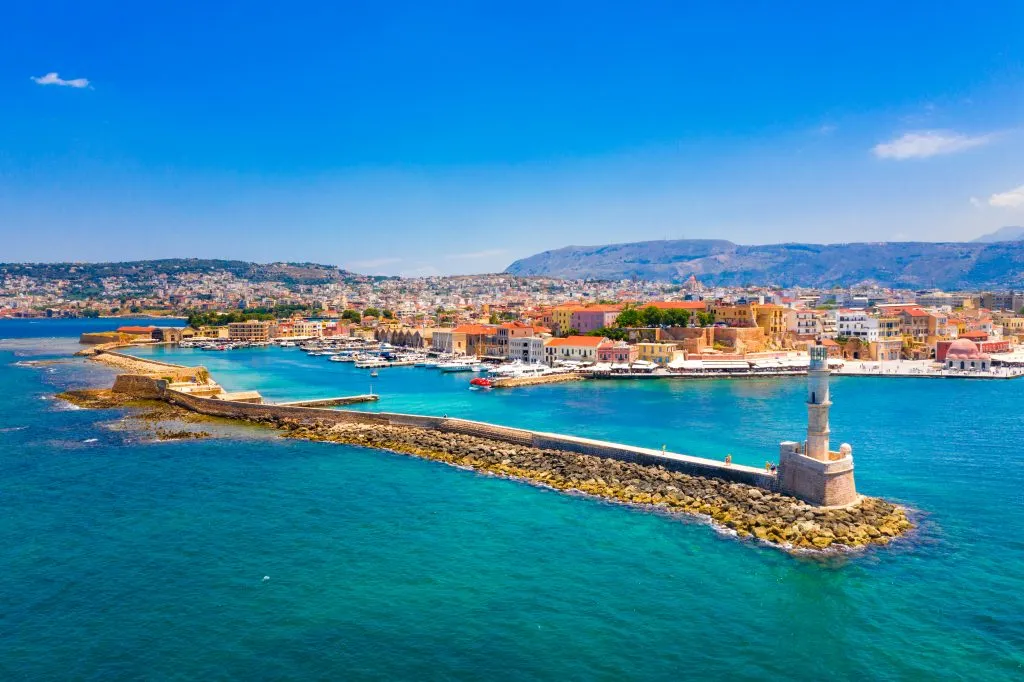 Day 6 – 7: Matala
To wrap up your 7 days in Greece, head to the south coast.
Matala is a great place to settle for a few days with a hippie vibe, beach, and magnificent sunsets.
From here you can enjoy the wonders of the Phaistos Palace (Minoan period) of the Gortynas Ruins (Roman times) or head to wilder beaches such as Preveli Beach.
You can't go wrong in Crete. From everywhere you have access to beaches, mountains and historical sites.
Quick Greece Travel Tip
When planning your trip to Crete, keep in mind that the north coast is more crowded than the south, and plan according to your preferences.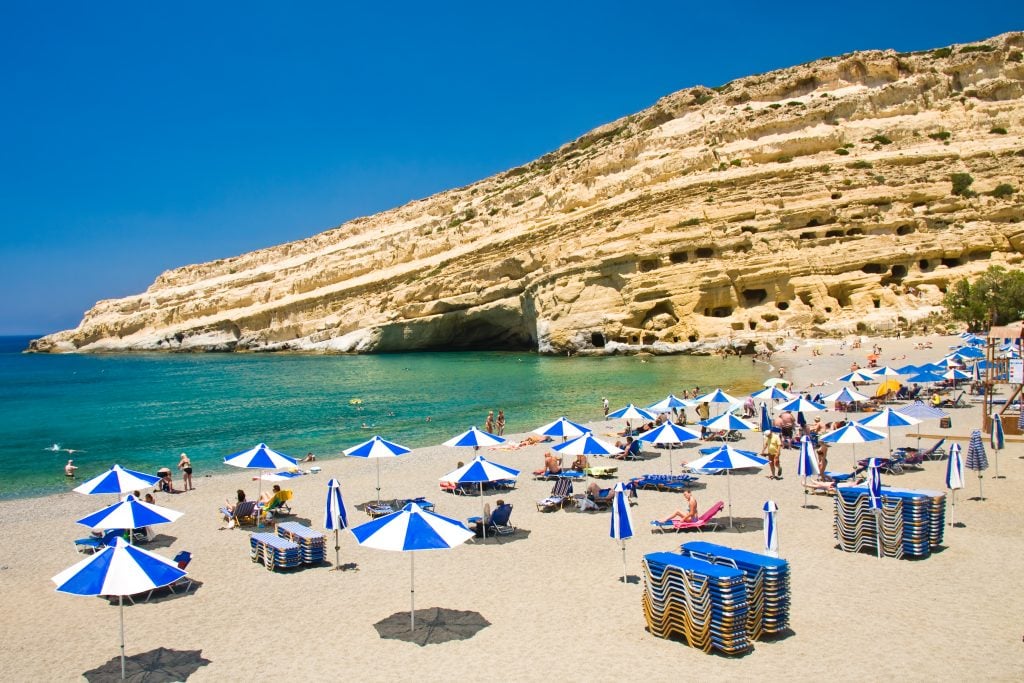 7 Day Milos Itinerary
From Mal of Raw Mal Roams
If you're looking for a beautiful Greek island itinerary that doesn't have crazy crowds like Santorini or Mykonos, you'll love spending a week discovering Milos.
Day 1-2 Adamas
Adamas is the largest and most busy town on Milos, and it's the port where visitors come to Milos from Athens or other Cycladic islands.
Adamas is one of the best places to stay on Milos if you like to be close to a wide selection of restaurants, shops, and good nightlife.
On your seven-day Milos itinerary, you could easily check into one of Milos' boutique hotels in Adamas for your whole trip and explore the island by car or bus.
Some of the best things to do in Adamas include strolling its promenade, dining in one of its seafront restaurants, and shopping its cute boutiques.
You can also catch a tour to the fantastic Kleftiko Beach, which is only accessible by boat.
If you need a relaxing day, lounge at one of the nearby beaches of Lagada Beach or Papkinou Beach.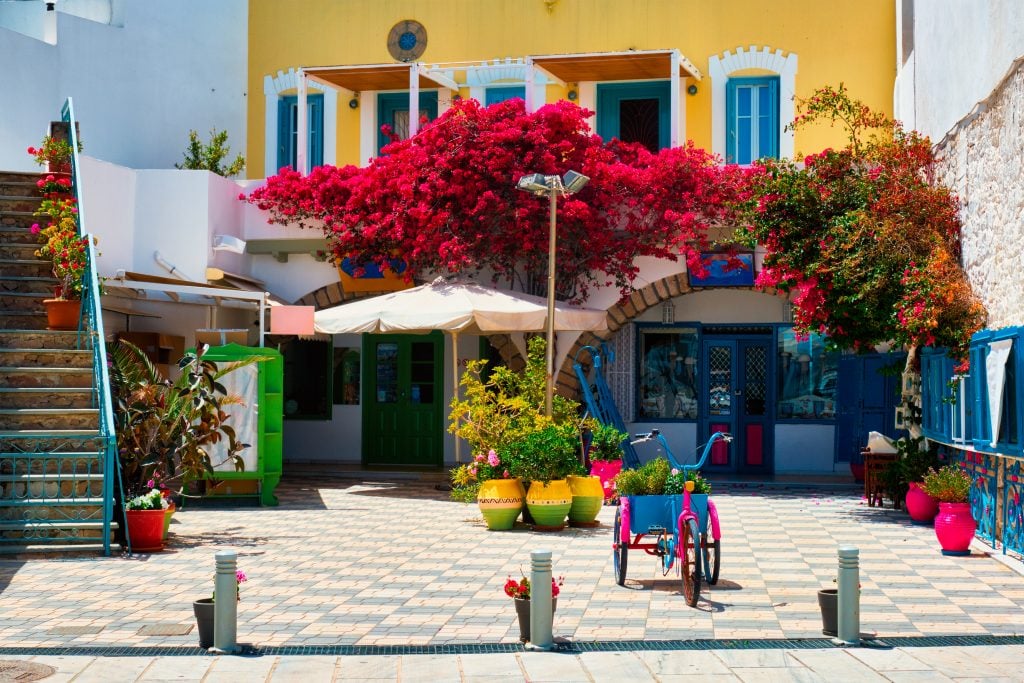 Day 3: Serakiniko Beach, Firopotamos
Serakiniko Beach is probably the most famous place to see on Milos.
Its unworldly, moon-like landscape is perfect for taking some epic photos.
If you want to experience having the beach all to yourself, be sure to arrive early in the day!
After Serakiniko, head to the finishing village of Firopotamos for more charming sights and traditional Greek food.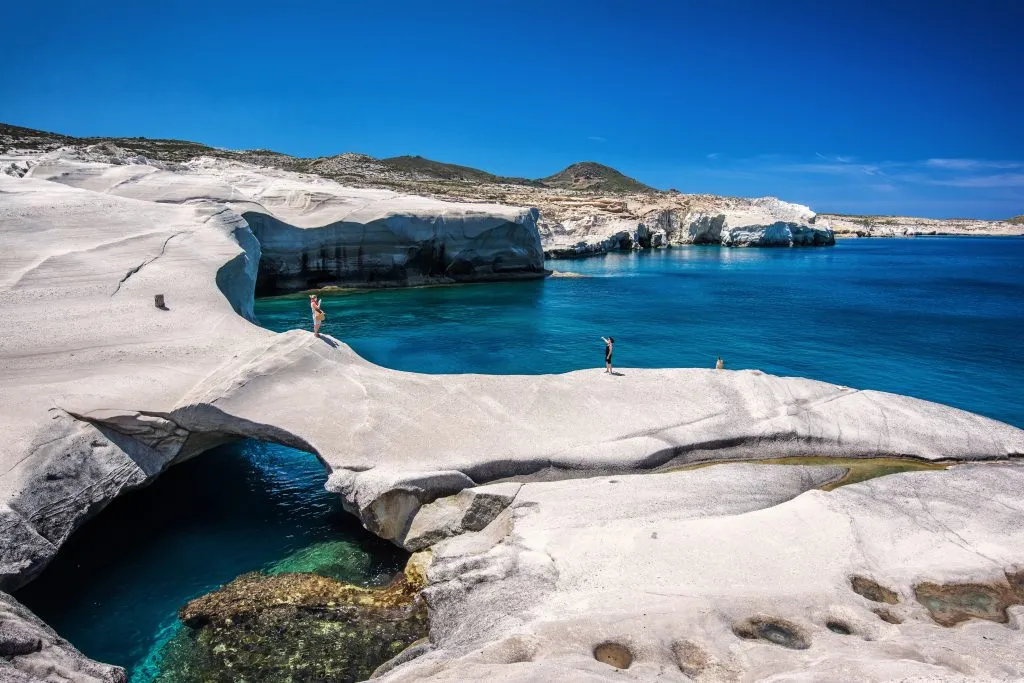 Day 4: Plaka, Tripiti, Klima
A short drive from Adamas, there is Plaka – the island's capital dating back to the 18th century.
Stop here to stroll its narrow cobbled streets and admire the Cycladic architecture, as well as check out the Archaeological Museum, Plaka Castle, and the ancient amphitheater and catacombs of Milos.
If you have more time, also visit Tripiti, which is the neighboring town that is famous for windmills. From Tripiti, head to Klima – a colorful traditional fishing village.
Day 5: Pollonia + Kimolos Island 
On Day 5, head to Pollonia, situated in the northeast part of the island.
If you're a fan of wine, pop to the Kostantakis Cave Winery and if you're up for more adventure, take a short boat ride to the quaint island of Kimolos.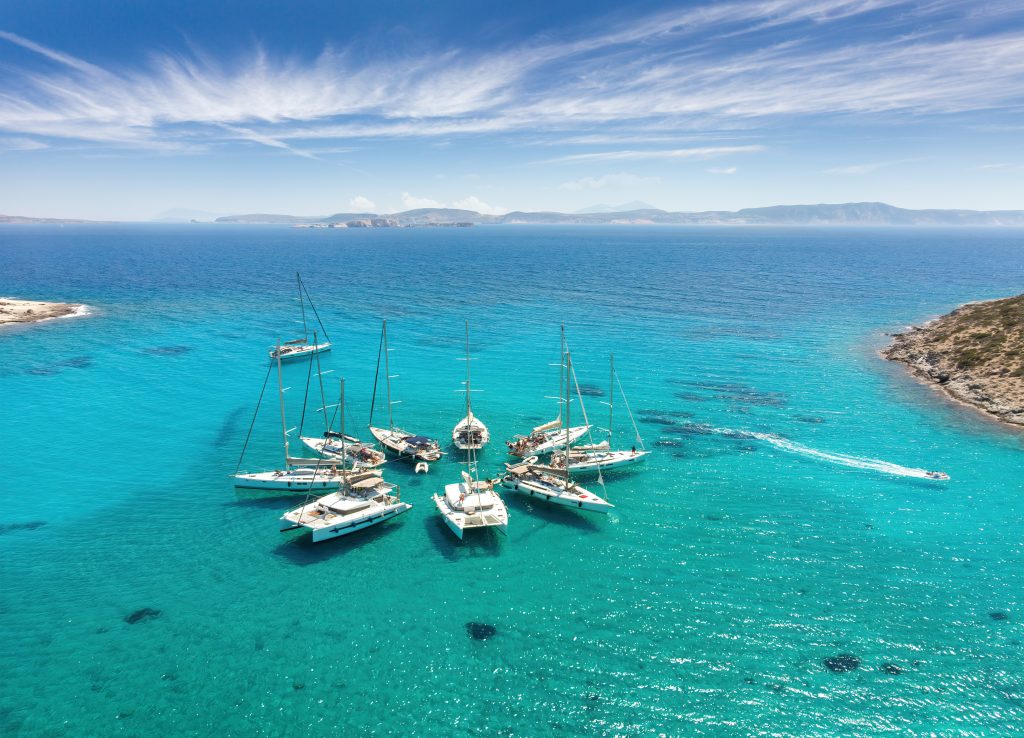 Day 6-7: Tsigrado + Paleochori
On your last 2 days in Greece, stay in the Paleochori area, which has a good selection of hotels and is situated in the south.
Paleochori is a stunning beach with distinctive red and pink-colored rocks.
Spend a day lazing in one of the beach bars or visit the local sights, including the Sulphur Mines.
Spend your last day exploring Tsigrado beach, a short drive away from Paleochori. To access this beach, you'll have to climb down a steep ladder which is an adventure in itself.
You can get to Milos by ferry from Athens' port Piraeus or catch a flight from Athens to Milos airport.
Quick Greece Travel Tip
If you want to save money, get a slow ferry, they are typically half the price of fast ferries.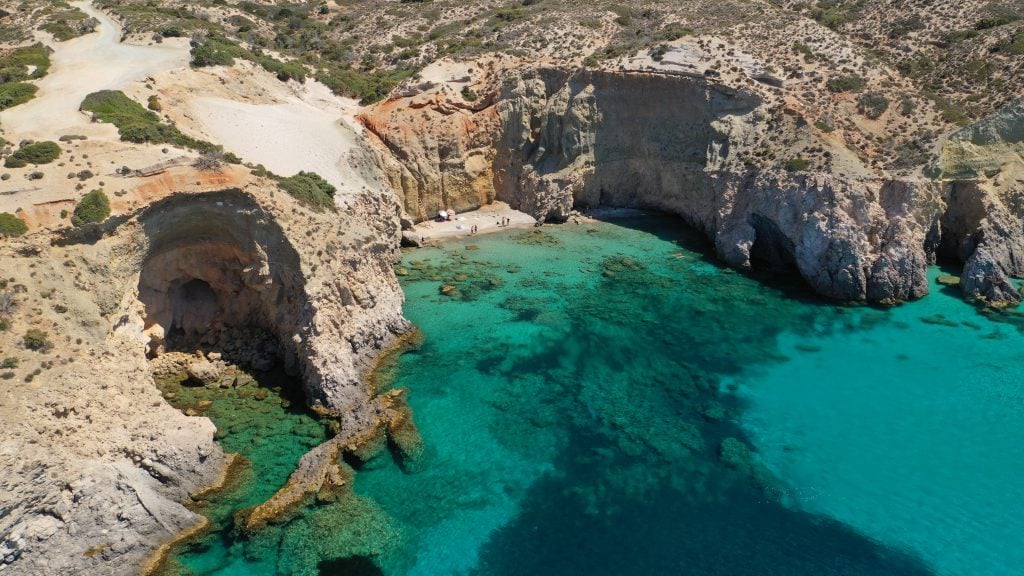 Thessaloniki + Skopelos 7 Day Greece Itinerary
From Marta of Where Life is Great
Less popular than the Cyclades Islands, but similarly beautiful, the Sporades archipelago is a must-visit!
The easiest way to arrive is by flying into Thessaloniki and spending your first night there.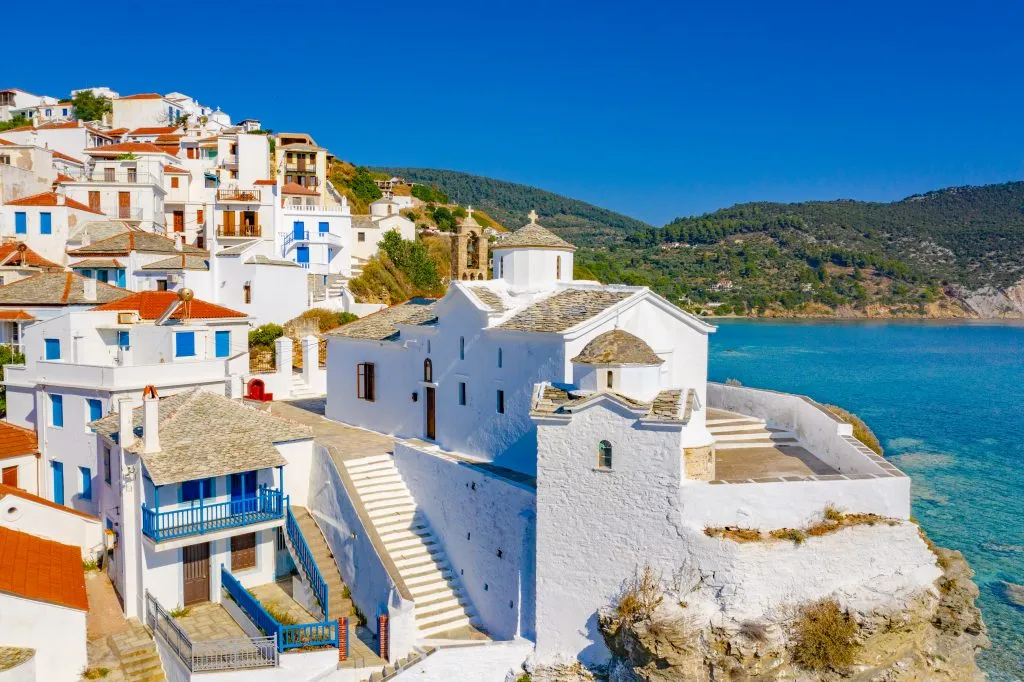 Thessaloniki
Thessaloniki has a multicultural history, beautiful churches, and interesting museums.
Wandering Thessaloniki town, you'll come across many monuments mostly dating back to the Roman and Byzantine eras.
Don't miss the white tower of Thessaloniki and Kapani Market!
Once you finish indulging in history, time to hop on a direct ferry to Skopelos for some island vibes.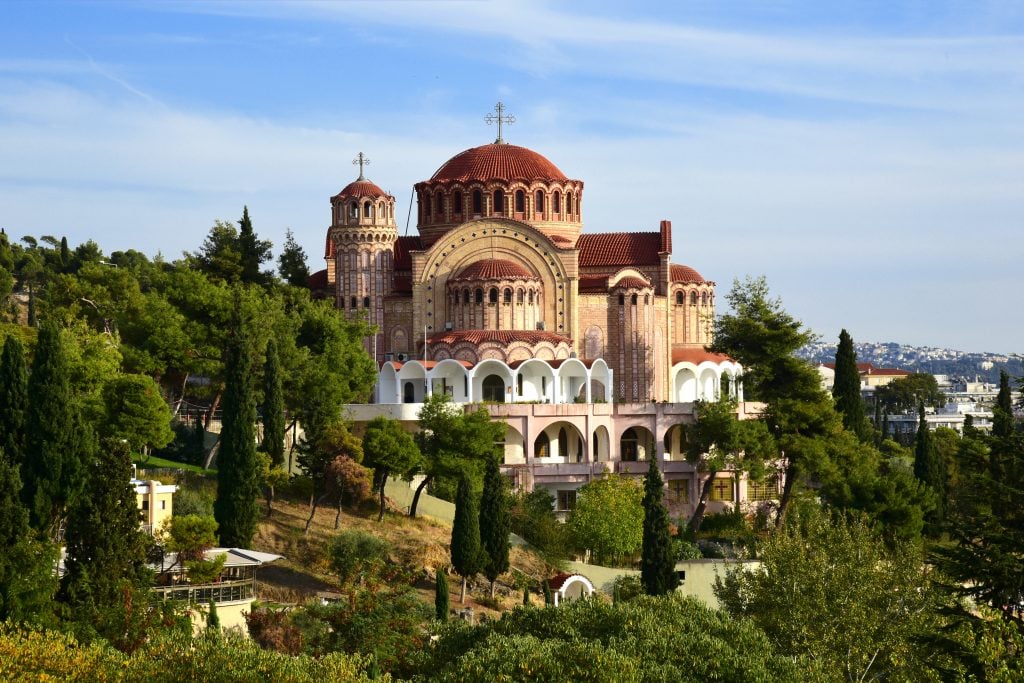 Skopelos
Skopelos is quite a small island located on the Aegean sea within the archipelago of Sporades.
With a car, you could circle the island within a few hours but that's not the point. It's best to have at least 5 days to fully enjoy what the island has to offer.
Don't miss the famous Mamma Mia filming locations on Skopelos: Agios Ioannis – Kastani Beach – Cape Amarandos.
Start the trip in Glossa, take your time in its charming old town built at an altitude of 300m above the Loutraki port.
Next up is the famous church of Mamma Mia! It's only a 15 minutes drive from Glossa but it's very curvy.
Try to avoid arriving at the church during midday as there are 200 steps to climb!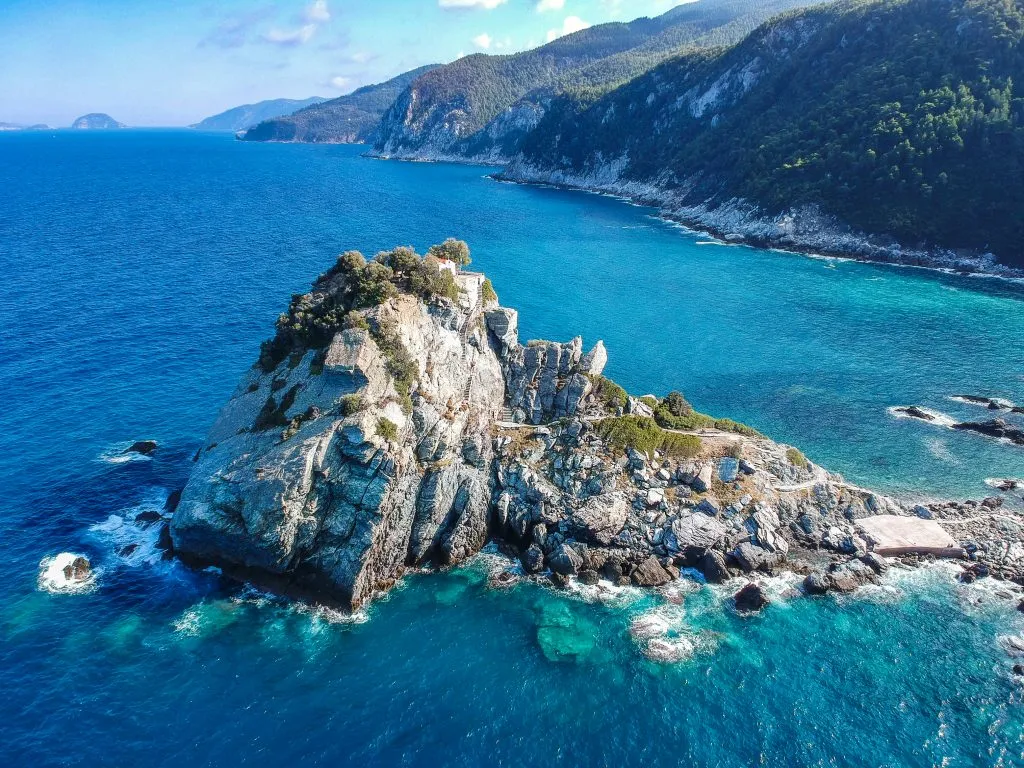 Driving along the coast towards Cape Amarandos, you can visit famous Kastani Beach where the majority of the scenes from Mamma Mia were shot.
The last stop is Cape Amarandos, a rocky cape with two lonely pines sticking out of a cliff.
Amarandos Cape became a symbol of Skopelos after playing in a scene "Our Last Summer" in the Mamma Mia movie. Bring comfy shoes as there is no path to follow.
Quick Greece Travel Tip
The direct ferry from Thessaloniki to Skopelos starts operating in mid-June.
---