Perched high on a hill and far off the beaten path in eastern Portugal, the tiny rock town of Monsanto has been voted the "Most Portuguese Village in Portugal"–and yet, this village is incredibly unique, unlike any other place in the country.
Overlooked by the imposing Castle of Monsanto, this beautiful village is famous for being built amongst the enormous boulders that dot the landscape, and has been nicknamed "Monsanto Rock Village" as a result.
Hoping to get far off the beaten path in Portugal and curious about visiting Monsanto?
Here are the best things to do in Monsanto, Portugal, plus tips for visiting–and whether we think Portugal's rock town is worth the trek.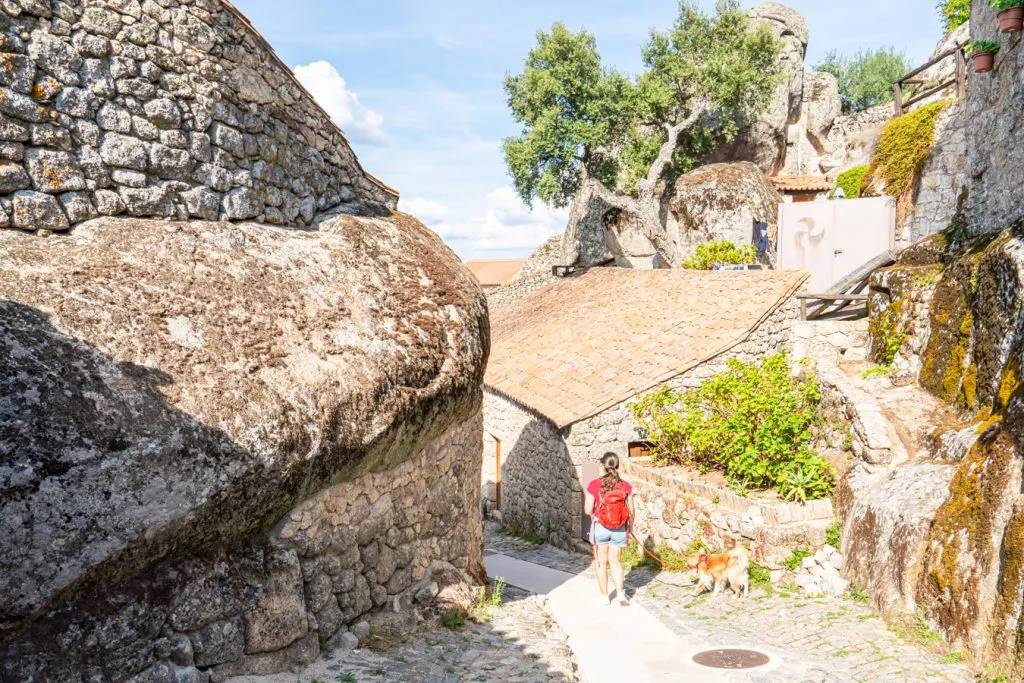 Some links in this post may be affiliate links. If you make a purchase through one of these links, we may earn a small commission at no extra cost to you. Please see our

disclosure policy

for more detail.
Where is Monsanto, Portugal?
Monsanto is located in the central part of far eastern Portugal, quite a distance from most of the popular tourist destinations in the country.
By car, it's about 3 hours (170 miles/275 kilometers) northeast of Lisbon, 2.5 hours (120 miles/190 kilometers) east of Coimbra, and more than 3 hours (195 miles/315 kilometers) southeast of Porto.
Castelo Branco is the closest (small) city to Monsanto and is a little under an hour (30 miles/50 kilometers) from Portugal's rock village.
If you need to rent a car to visit Monsanto, we recommend searching for a small rental car through Discover Cars.
This will allow you to compare prices and inclusions of multiple companies at the same time and choose the best car for you from there.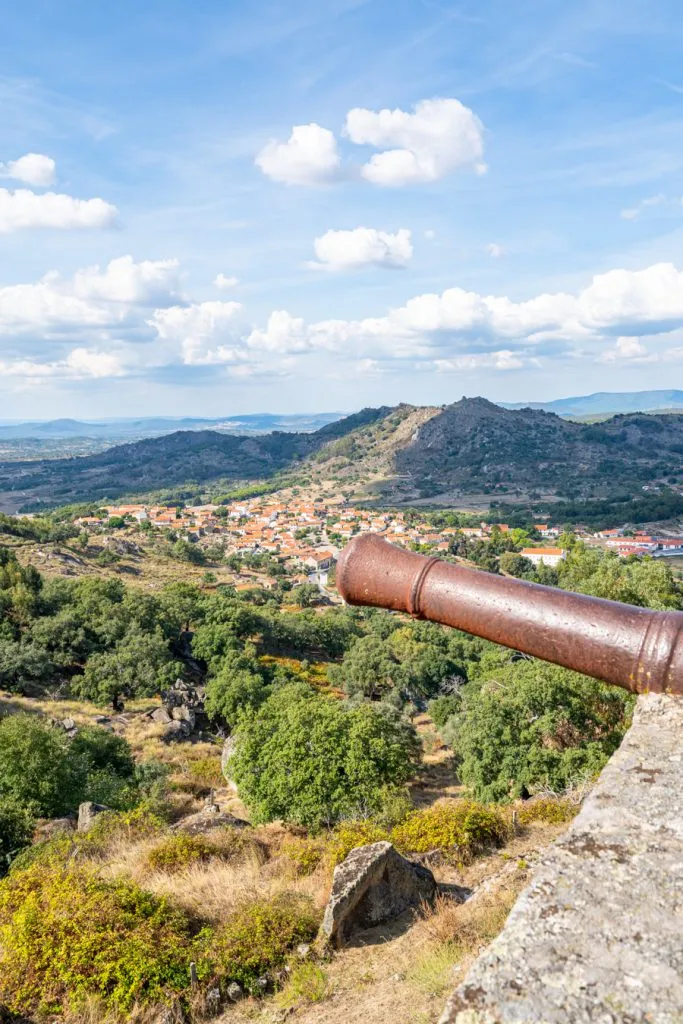 The Best Things to Do in Monsanto, Portugal
Stop by the tourism office and pick up a map.
It's fairly uncommon that we start a travel guide with a recommendation to stop by the tourism office, but Monsanto is a fairly uncommon place!
Housed in the Marquess of Graciosa Manor, the Monsanto Tourism Office is one of the first points of interest you'll happen across when winding your way into town on foot, and it's worth stopping in.
The office provides maps, including suggested trails through the boulders, that will help you find some of the best Monsanto viewpoints.
The staff was extremely friendly and helpful, and we were glad we took the time to stop in.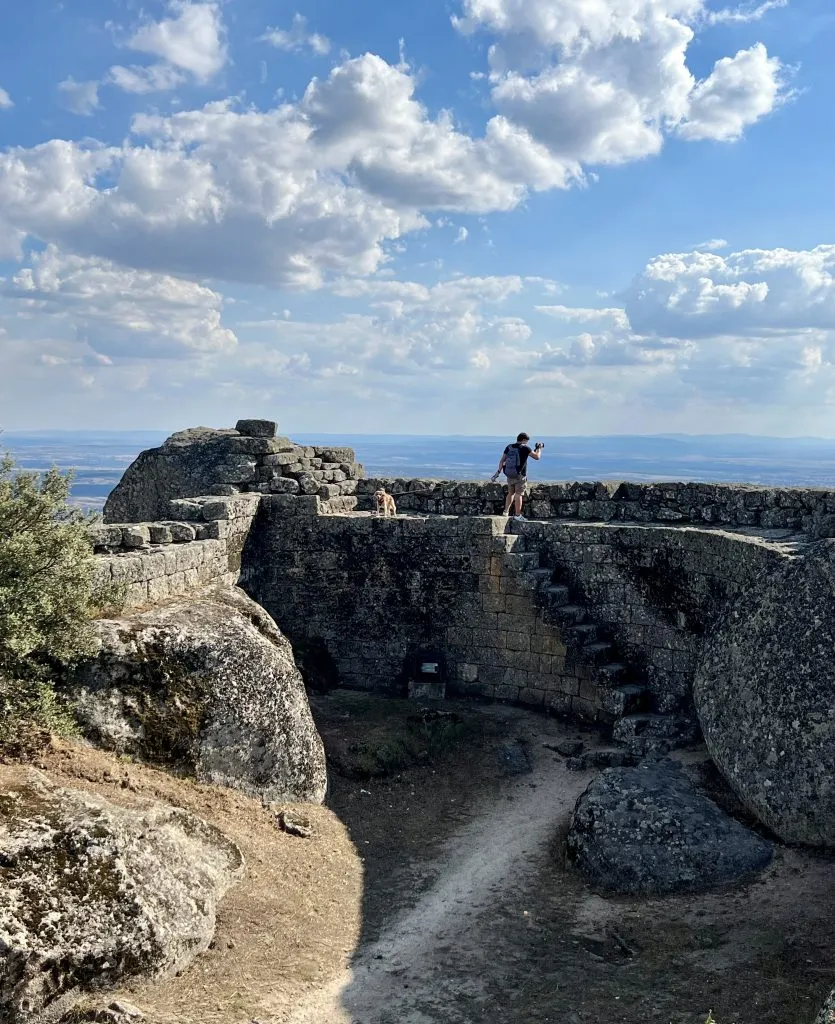 Thoroughly explore the Castle of Monsanto.
Without a doubt, one attraction in Monsanto ranks above all others: visiting the Castle of Monsanto.
If you only do one thing in Monsanto, make it this!
Dating to the 12th century, the Castle of Monsanto has a long history of defending the village, as well as ties to the Knights Templar.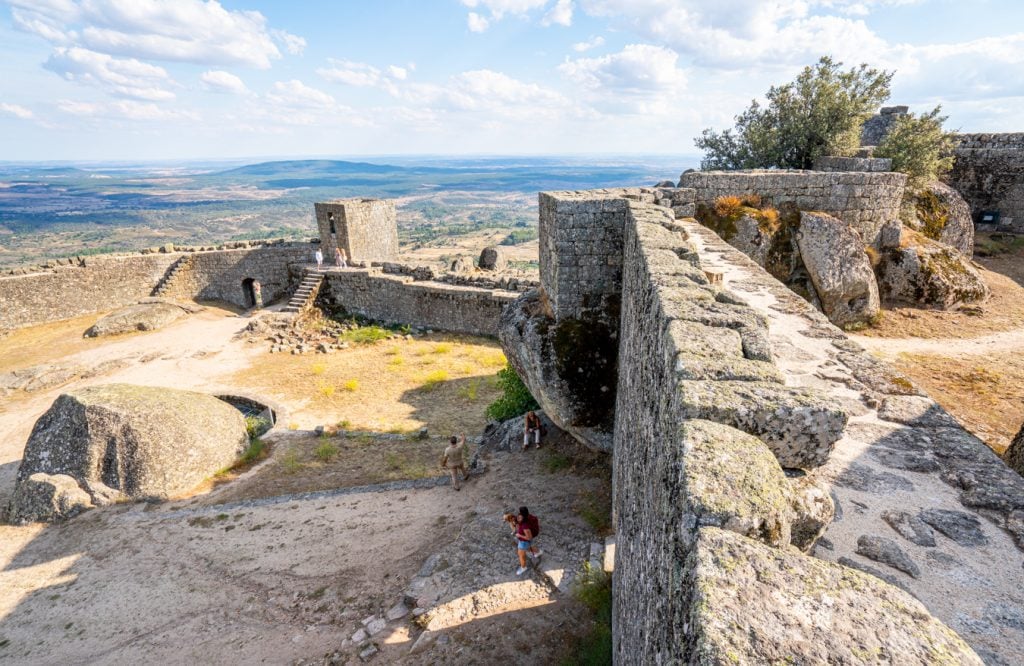 There are a couple of specific landmarks in the area, including Pião Tower (the only remaining lookout tower) and the Chapel of Santa Maria do Castelo.
Perched high on the hill overlooking the village, the ruins of the Castle of Monsanto are free to visit, incredible fun to explore, and boast phenomenal views.
On a clear day, you can see all the way to Spain!
Our favorite view from the castle walls, though, is of the village itself–I snapped the photo of Monsanto that's at the top of this blog post from here.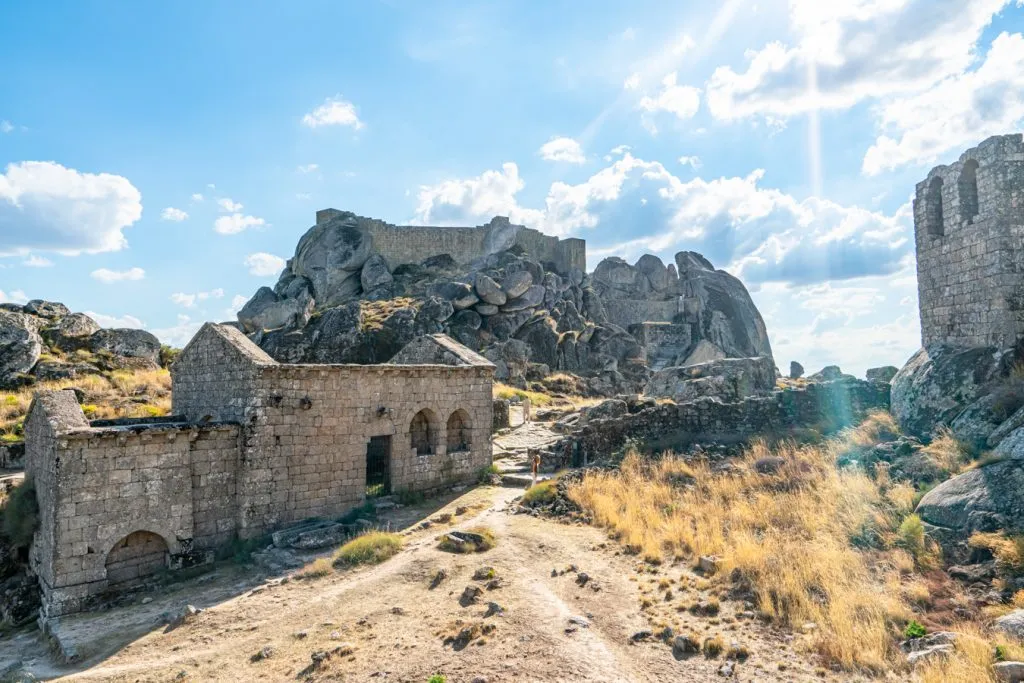 Check out the Lucano Tower.
Lucano Tower, or the Clock Tower, is one of the most recognizable places to visit in Monsanto.
The base of the tower features beautiful views of the area.
If you look closely, you'll also be able to spot the rooster on its roof!
The rooster is a replica of the trophy that the town won in the 1930s for being the "Most Portuguese Village in Portugal".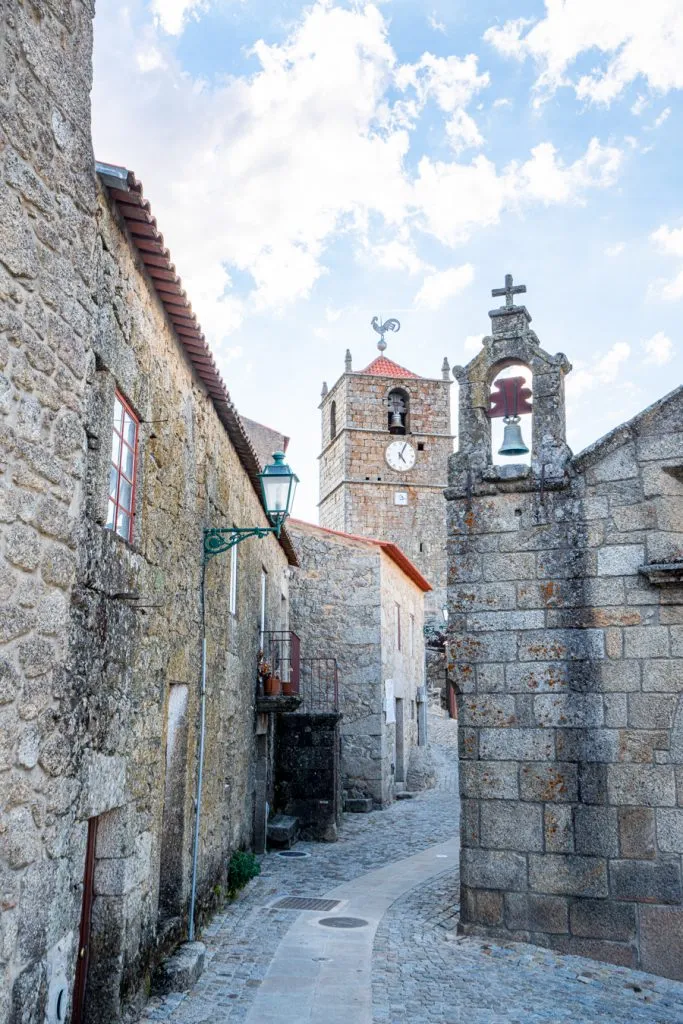 Step inside a cave.
As you climb along Rua do Castelo toward the Castle of Monsanto, you'll pass an unassuming open doorway with a small sign above it reading Gruta (cave).
Step inside, and you can get a (very dark) feel for what Monsanto's cave dwellings must have felt like long ago!
The room is very small, but extremely dark–I couldn't see my hand in front of my face while inside.
The cave is free to visit and marked only as Gruta on Google maps.
Pay a visit to Monsanto's churches.
The Igreja Matriz de São Salvador (Monsanto's parish church) and Igreja da Misericordia are both very quick sightseeing stops, but worth a peek when visiting Monsanto!
The Igreja Matriz de São Salvador in particular is extremely easy to find: it'll be one of the first landmarks you pass when walking into Monsanto from the parking area.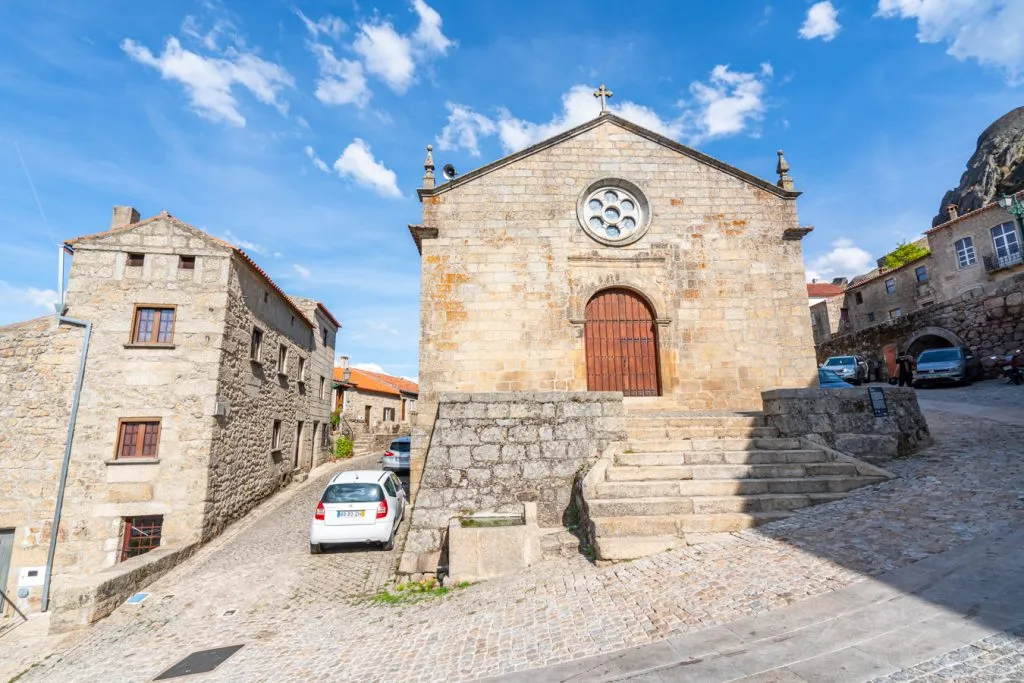 Enjoy a leisurely meal at one of the restaurants in Monsanto.
While Monsanto is extremely small, it does get enough visitors that there are a handful of restaurants in town!
One of the most popular options is Taverna Lusitana, which has a roof deck with great views.
Pesticos & Granitos is also popular, thanks in part to the giant boulder that serves as its roof, but the reviews of the food are a bit more mixed.
If you have your heart set on eating in town, we recommend calling ahead, as hours can be limited.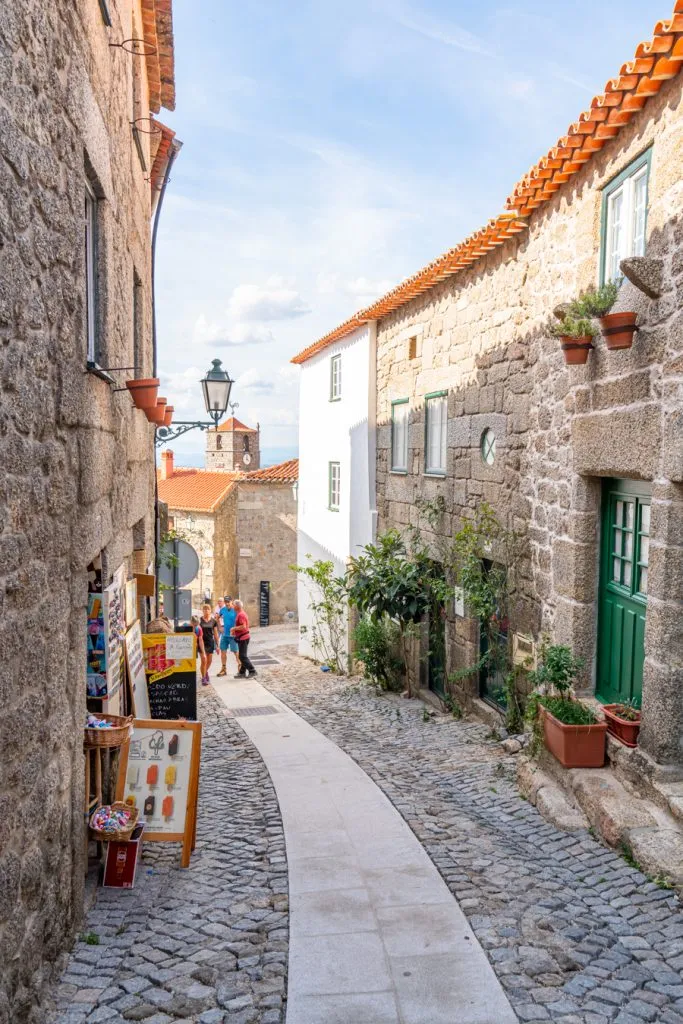 Browse local crafts on your climb to Monsanto Castle.
As you make your way uphill through Monsanto, you'll pass several artisans working on crafts that make for unusual Portuguese souvenirs!
Two of the most popular options include adufe (colorful drums) and marafona (faceless rag dolls).
Marafona dolls are said to bring good luck to fertility, and were traditionally placed under a couples' bed on their wedding night.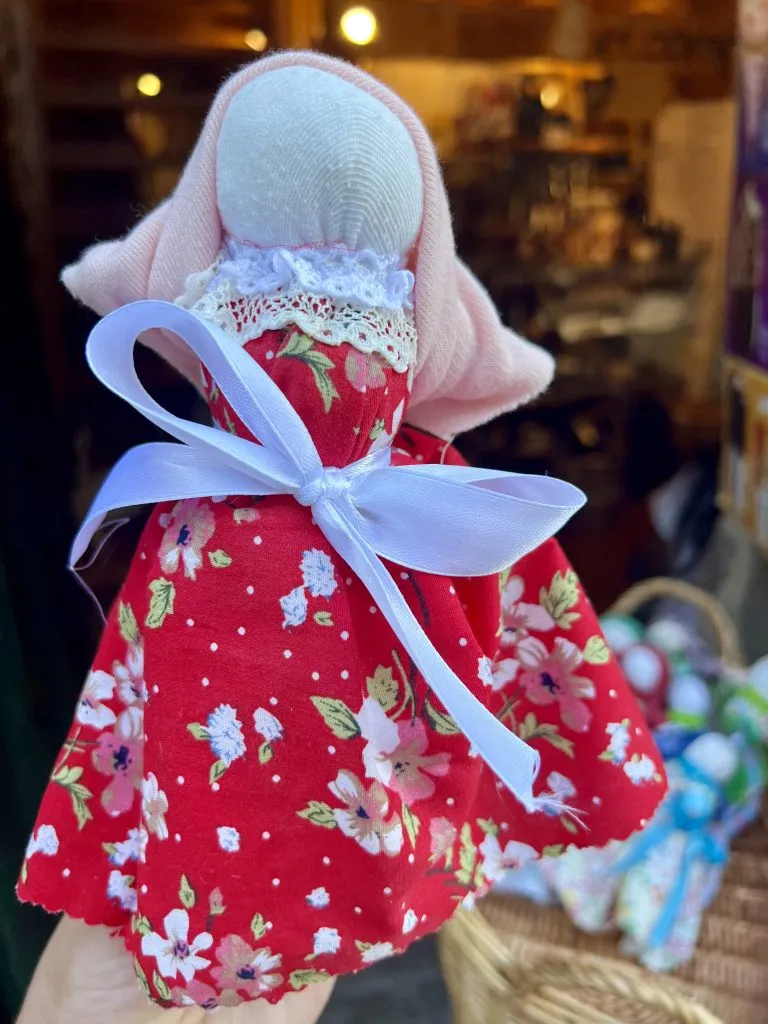 Check out the Chapel of St. Michael (Capela de São Miguel).
Situated just downhill from the main portion of Monsanto Castle, the Chapel of St. Michael is a beautiful, roofless stone chapel that stands fairly isolated amongst the landscape.
It reminds us quite a bit of the many ruins in Ireland, though the views are quite different!
You can't go inside the chapel, but as you climb to the castle, the chapel only takes a short detour to see. It's worth taking a look at the exterior!
For the best view, climb up a bit higher and admire Capela de São Miguel from above.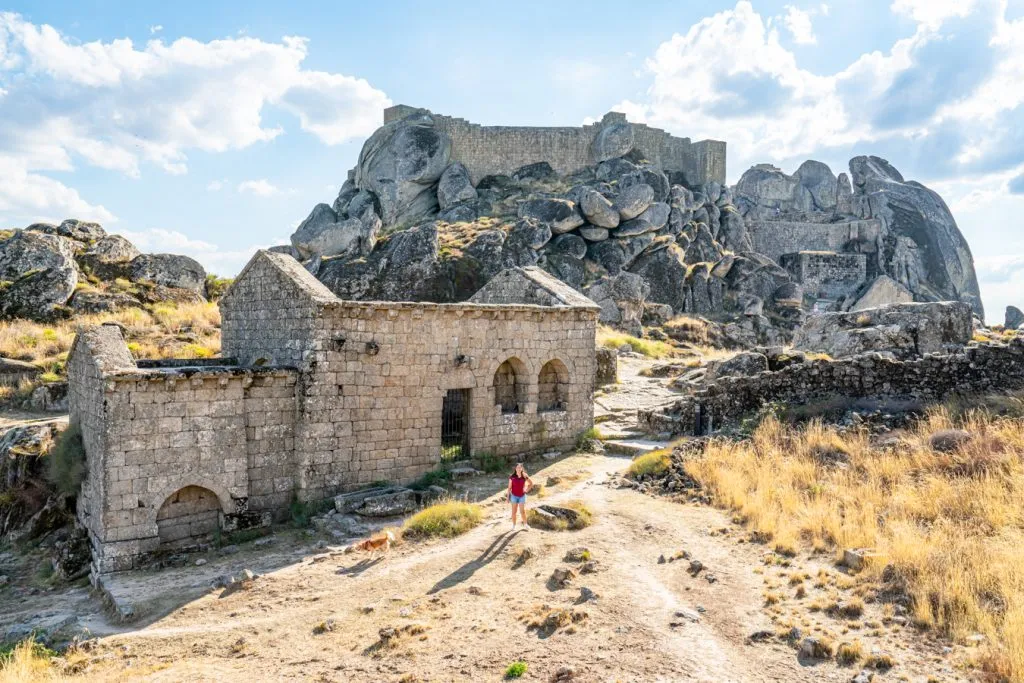 Wander through town and soak up the atmosphere.
One of the absolute best things to do in Monsanto is simply to wander around on foot–and while that's true for many small towns in Portugal, it's especially true here.
Monsanto's unique topography, from its hilltop location to its many surprising boulders that pop out as you round corners, makes it feel a bit like a jungle gym for kids of all ages.
We absolutely loved ducking down random corners in the village, and found some absolutely beautiful views of Monsanto and the surrounding valleys that way, too!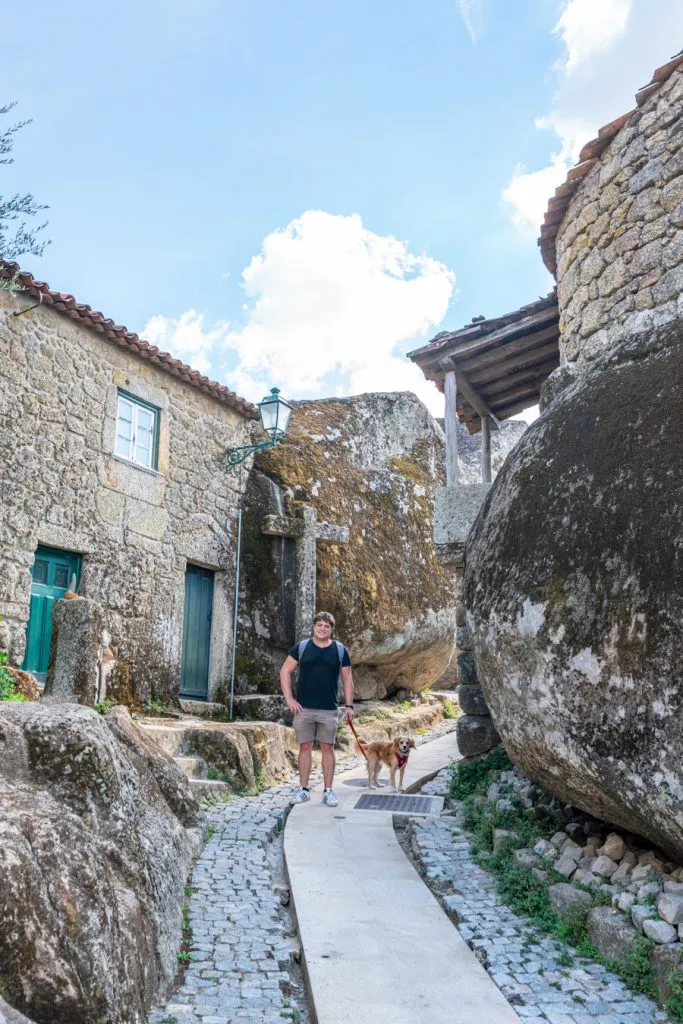 More Places to Visit Near Monsanto
Since Monsanto is so tiny, you may want to expand your trip and visit parts of the surrounding area as well!
The nearby village of Penha Garcia is home to another remarkable Portuguese castle that, like Monsanto's, was built to defend Portugal from Spain and has ties to the Knights Templar.
Idanha-a-Velha, which is very small but home to Roman ruins, is also nearby.
Idanha-a-Velha and Monsanto are both recognized among Portugal's 12 Historical Villages.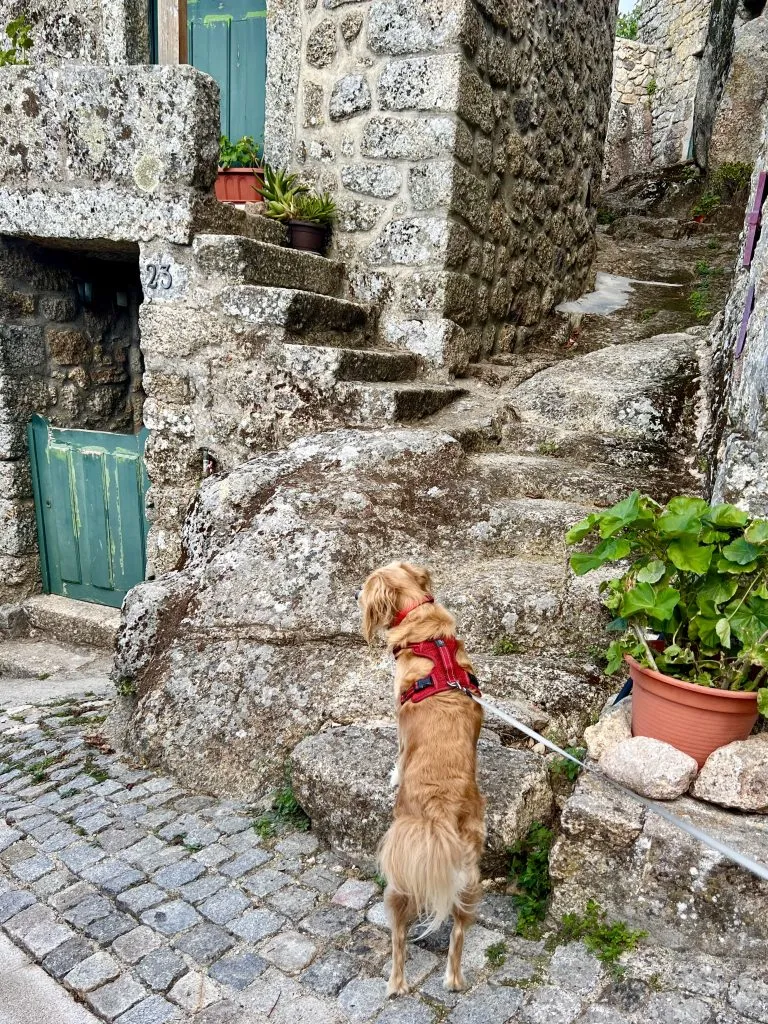 Where to Stay When Visiting Monsanto
If you're looking for a quiet, peaceful, and affordable getaway that's light on sightseeing but high on ambiance, consider spending a night in Monsanto!
There aren't any large hotels within Monsanto itself (this is about the biggest you'll find), instead, the town leans more toward a smattering of very positively reviewed boutique hotels and rentals.
(Though if you rent a place with a kitchen and hope to cook anything during your stay, I recommend grocery shopping before arriving in Monsanto).
The Sun Set House gets amazing reviews and dates to the 15th century, and Casa do Castello Monsanto offers a view from the back porch that you won't forget anytime soon!
Casa de David is so charming that I snapped a photo of it as we walked by before I even realized it was a B&B–and as a bonus, it's inside the village while not being too far from the parking lot (less distance to haul your luggage, in other words).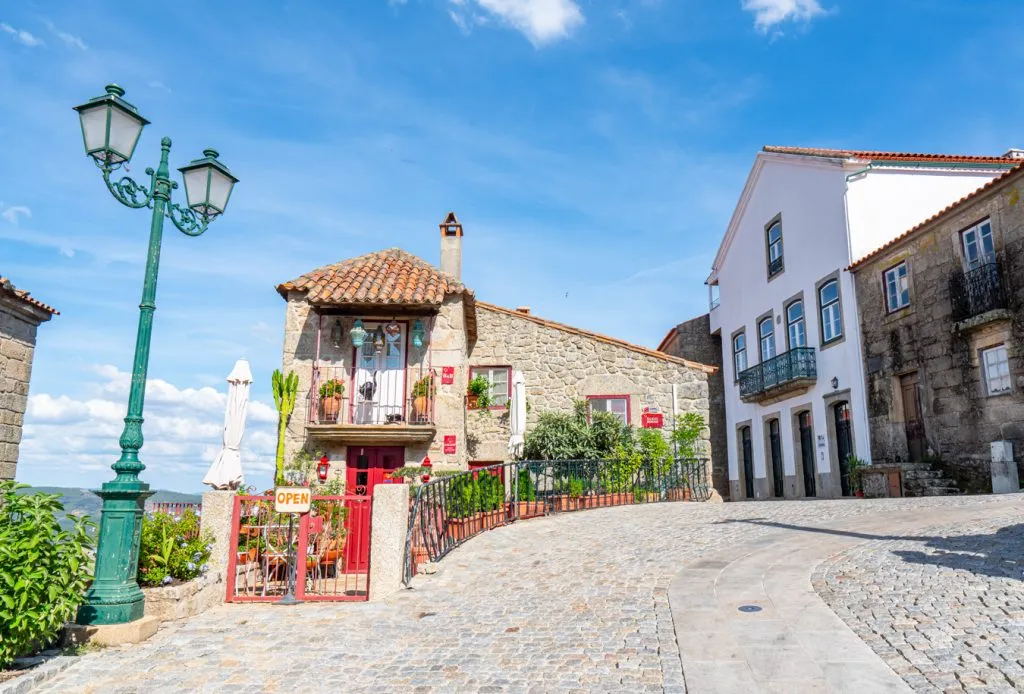 How to Get to Monsanto, Portugal (+ Parking Tips)
By far the easiest way to get to Monsanto is to drive, and that's how the vast majority of visitors arrive in the hamlet!
There is limited bus service to Monsanto from Castelo Branco, but it's not frequent.
If you want to visit Monsanto during your trip to Portugal, we strongly recommend renting a car and driving.
Shopping for rental cars through Discover Cars will allow you to compare prices and inclusions of multiple companies at the same time and choose the best car for you from there.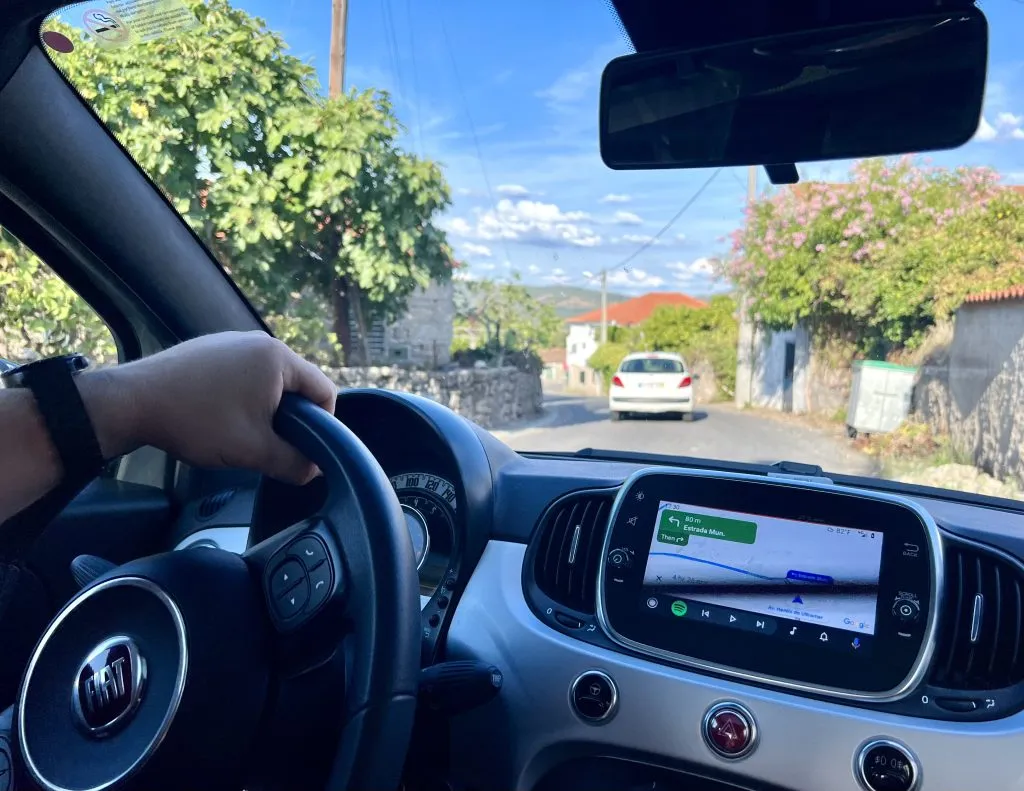 Parking in Monsanto
As you approach Monsanto, set your GPS to the Miradouro de Monsanto that is marked on Google maps.
There is paid parking starting down the hill from this viewpoint (keep an eye out for available spots as you get close), up to the viewpoint.
You can't travel past the Miradouro de Monsanto by car, so if you hit this point and don't see a parking spot, you'll need to turn around and find one further down the hill.
There are public toilets available near the parking area if needed.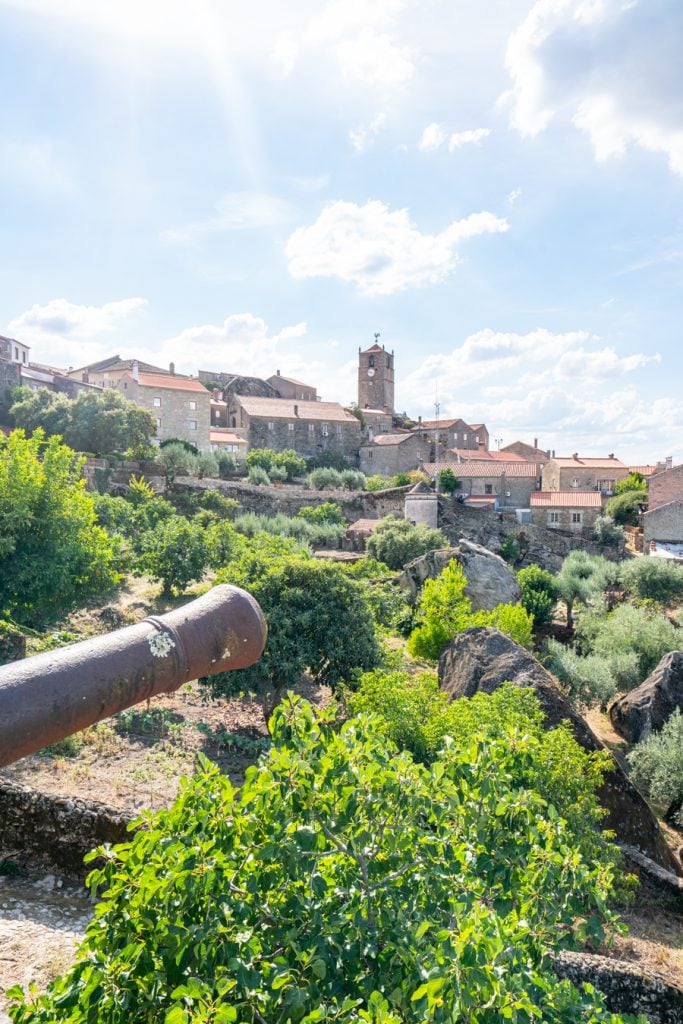 How Long to Spend in Monsanto
Honestly, it's easy to stop by all the best places to visit in Monsanto on a morning or afternoon visit.
However, if you want to enjoy the sunset or linger in the otherworldly atmosphere a bit longer, spending a night in Monsanto can be a wonderful way to extend your trip.
That's especially true if you want a chance to stay in one of Monsanto's unique rock houses!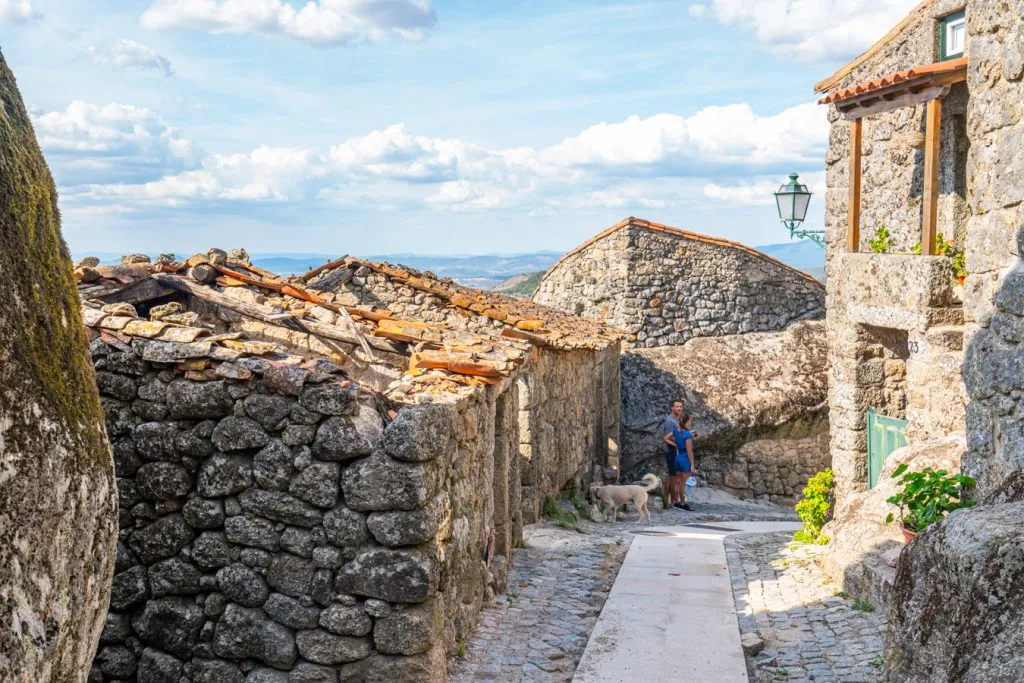 Why is Monsanto the "Most Portuguese Village in Portugal"?
You may have noticed something incongruous about Monsanto: despite holding the title of the "Most Portuguese Village in Portugal"–a phrase that has become near-synonymous with the boulder-strewn village–Monsanto doesn't actually look particularly like other Portuguese villages.
(It actually reminds me quite a bit of an inland version of Kotor, Montenegro, especially when seen from above).
So, how did the rock town of Portugal get the coveted title?
In 1938, the Estado Novo regime was heavily promoting the advantages of rural, traditional life, and Monsanto won the title in a contest.
Despite the enormous changes in all aspects of Portuguese life since, Monsanto has hung onto its recognition and is well-known by the moniker.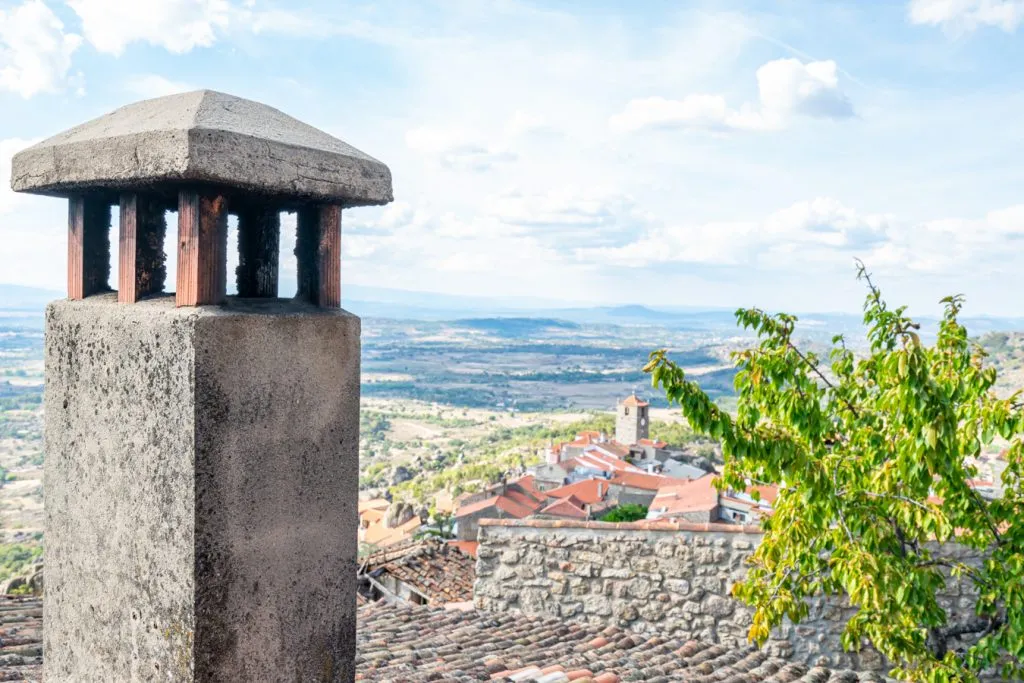 Is Monsanto Worth Visiting?
We absolutely loved exploring the "most Portuguese village in Portugal", and would say that Monsanto is definitely worth visiting.
However, that comes with a caveat: while Monsanto is an extremely interesting place to visit, it's very out of the way for most visitors to Portugal, and I wouldn't necessarily trim a more convenient location off of your itinerary for it.
If you're flying in and out of Portugal on a standalone vacation that takes place over 2 weeks or less, Monsanto probably isn't the best addition to your trip.
However, if you're visiting Portugal for an extended time, live in Portugal, are going to be passing by on a road trip to or from Spain, or are dedicated to planning a trip to Portugal that goes far off the beaten path, then visiting Monsanto is a wonderful idea.
Map of Attractions in Monsanto, Portugal
Take This Map With You! Click each highlight to pull up the name of the destination. To save this map to "Your Places" on Google Maps, click the star to the right of the title. You'll then be able to find it under the Maps tab of your Google Maps account! To open the map in a new window, click the button on the top right of the map.