Climbing from the banks of the sparkling Tagus River in a dizzying series of neighborhoods, monasteries, viewpoints, steep hills, pastry shops, and more, experiencing the best of Lisbon in 3 days requires some careful itinerary planning!
Once an offbeat gem of a city and now a popular European city break, Lisbon can both stand on its own as a long weekend getaway and act as a fantastic launching pad into a larger trip to Portugal.
With its colorful architecture, famously sunny weather (the second-sunniest capital city in Europe!), picturesque castle, steep hills, long and intense history, and an uncountable number of shops selling iconic pastéis de nata, learning for yourself exactly what's special about Lisbon is a delightful experience.
We've called Portugal's vibrant and (literally) bright capital city home for a year now, and have packed this 3 day Lisbon itinerary with enough detail to ensure you have the perfect first trip to the "Queen of the Sea".
Here's how to spend 3 days in Lisbon, Portugal!
The Perfect 3 Day Lisbon Itinerary
Day 1 in Lisbon: Explore the heart of Lisbon in Alfama and Baixa.
Legend says that Lisbon was built (like many other cities, including Rome) as a "City on 7 Hills".
While the accuracy of this is questionable at best, there's no doubt that Lisbon's many hills play an important role in the city's topography and history.
You'll kick off your itinerary for Lisbon at the top of one of them!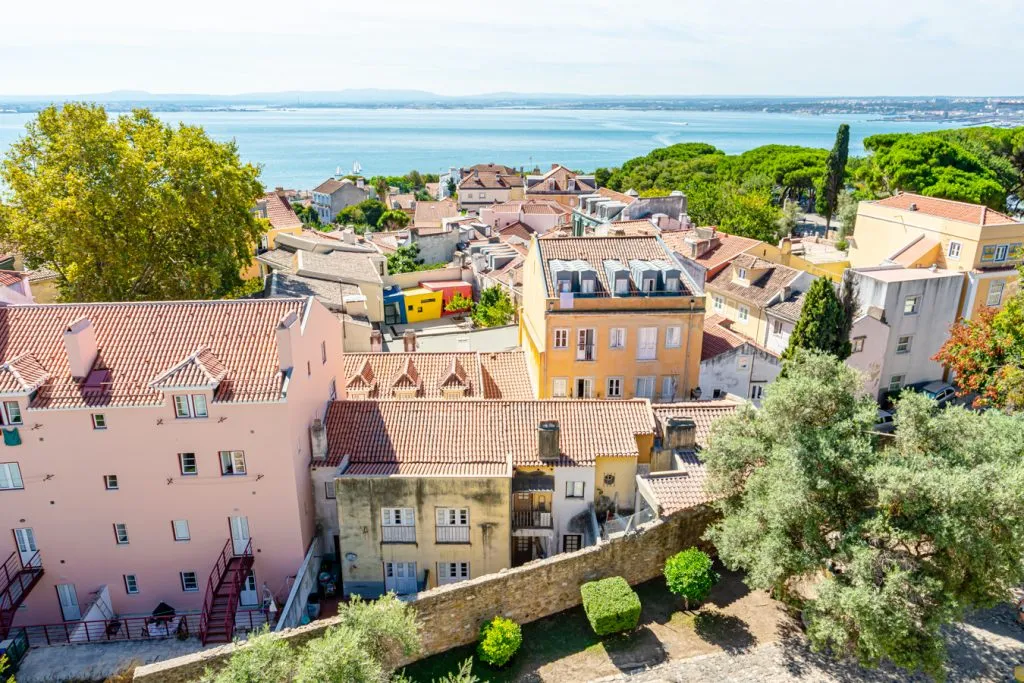 Start your morning with a visit to the famous Castelo de São Jorge.
Lisbon's famous Castelo de São Jorge (Saint George's Castle) is situated at the top of São Jorge Hill and is a fantastic place to start your 3 day Lisbon trip.
Castelo de São Jorge has its roots in Lisbon's (or back then, Olisipo's) history, and later was instrumental in the formation of Portugal as a political entity in 1143.
The castle has been rebuilt many times, and today, ramparts, excellent views, peacocks, and a small museum remain.
However, there are no interior rooms or furnishings, like what you'll see in the palaces of Sintra.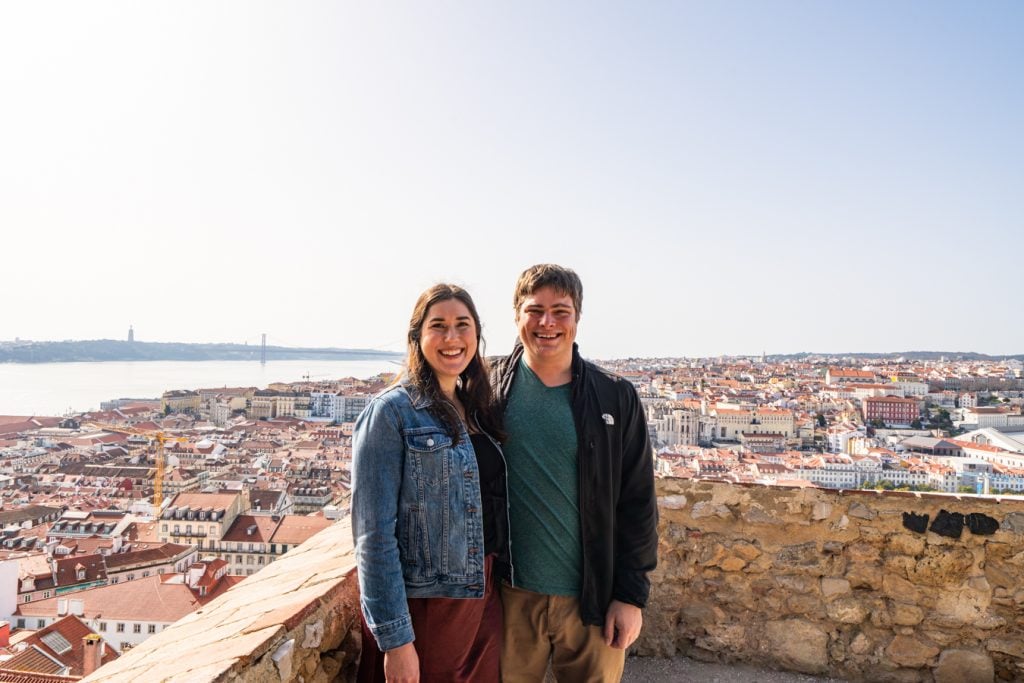 Because of the lack of interiors, some argue that Castelo de São Jorge is overrated, however, our family and friends who have visited us in Lisbon have loved it, with some even naming it their favorite sight we saw in the city!
The lines to get in are notoriously long, though, so we highly recommend getting started as early as you can (the castle opens at 9:00 AM) and pre-booking your tickets in advance!
This skip-the-line ticket also includes a 15-minute introduction to the castle and city, which is a great way to get your bearings at the beginning of your 3 days in Lisbon.
Book your skip-the-line ticket for Castelo de São Jorge today!
Make your way to Pastelaria Santo António for your first (of many) pastéis de nata.
Housed in an azulejo-covered building just down the street from Castelo de São Jorge, Pastelaria Santo António consistently makes one of our favorite pastéis de nata in the city!
Consistently busy (meaning you're virtually always buying a fresh pastel de nata) but not overwhelmingly so, Pastelaria Santo António won the "best pastel de nata in Lisbon" award in 2019.
Their pastries will set a high bar for the many other pastéis de nata you'll no doubt enjoy as you make your way through this itinerary for Lisbon, and we highly recommend enjoying some with a coffee!
Two natas per person is usually enough for a light breakfast, though of course, you can always have more.
Don't forget the cinnamon, either: whether or not you should sprinkle cinnamon (and/or powdered sugar) on top of your pastel de nata is something of a debate, but it's worth trying at least once!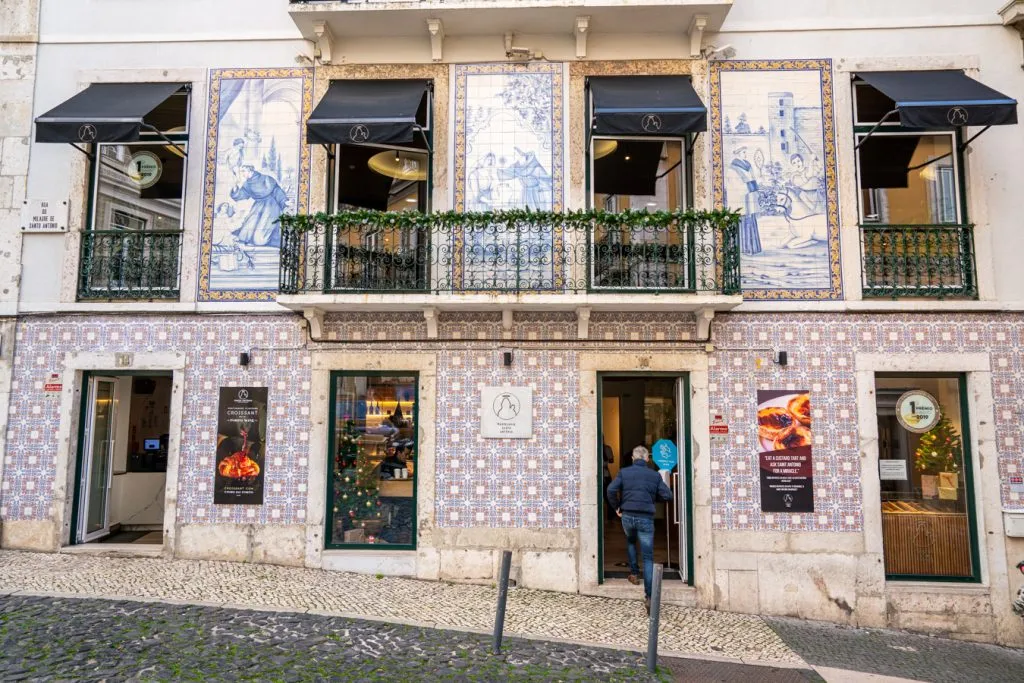 Head over to Miradouro de Santa Luzia to enjoy one of the best views in Lisbon.
Easily one of Lisbon's most famous viewpoints, the Miradouro de Santa Luzia offers gorgeous azulejos, excellent views of the Lisbon skyline, and a charming (albeit often crowded) small park to enjoy.
On your way here, if you're a hiker, you can make an extremely short detour along Rua de Santiago to check out the facade of the Santiago Church.
The church is typically closed, but it's the starting point of the Portuguese Way to Camino de Santiago, the Portuguese version of the famous pilgrimage.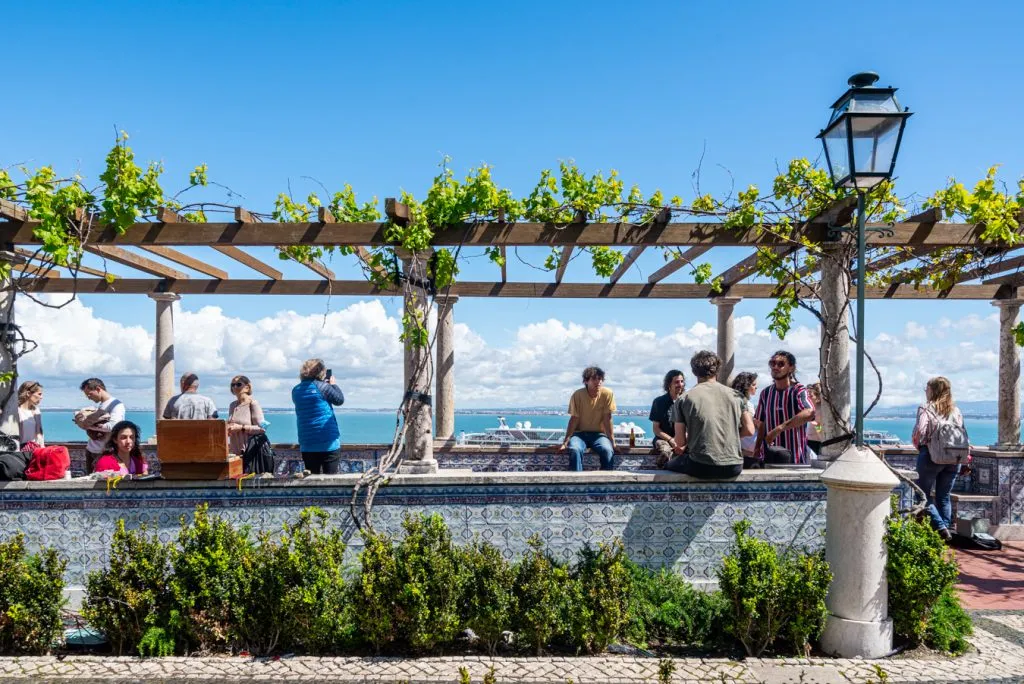 … and then hop over next door to the Miradouro das Portas do Sol.
Right next door to the Miradouro de Santa Luzia, you'll find the Miradouro das Portas do Sol.
The view from here has graced many a Lisbon travel guide, postcard, and advertisement, and it is stunning!
The view is better from the Miradouro das Portas do Sol, while the viewpoint itself (the terrace, the azulejos) is much more charming next door at Miradouro de Santa Luzia.
It's definitely worth seeing both!
And, as you walk between them, be sure to admire the famous Tram 28 rumbling by (though we don't recommend riding it).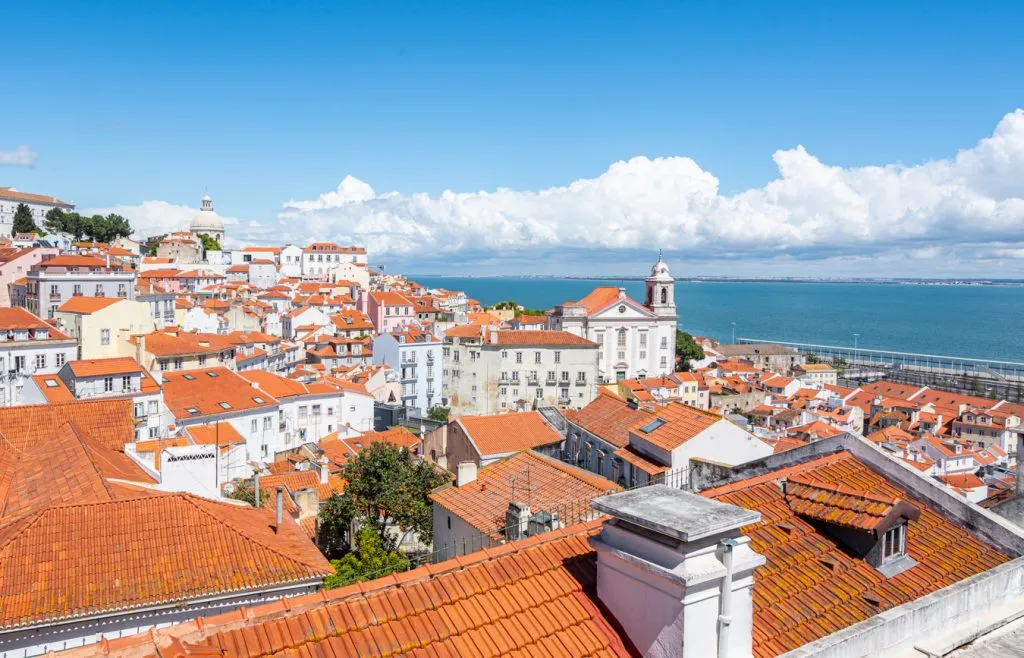 Wander semi-aimlessly through Alfama.
Alfama is Lisbon's oldest neighborhood and one of its most picturesque, thanks to the fact that it was one of the only places in central Lisbon that was spared in the tragic earthquake of 1755.
(As a side note, it's a good idea to familiarize yourself with the earthquake of 1755 before visiting Lisbon. The earthquake reshaped the city, physically and emotionally, and is a defining moment in Portuguese history. You'll hear about it constantly when visiting Lisbon's historic attractions.)
Alfama is more or less as old as Lisbon itself and is laid out in a delightfully confusing mix of steep, winding streets.
You'll find shops and cafes here, but also many quiet residential streets.
Try not to climb too far down, unless you want to head back up the steep hills for your next stops on this 3 day Lisbon itinerary!
Pay a visit to the Lisbon Cathedral.
Dating to the 12th century, the Lisbon Cathedral is the most important church in Lisbon, if not necessarily an absolute favorite among visitors.
Partially rebuilt many times over the centuries, the Lisbon Cathedral is done in a mix of architectural styles, heavy on soaring stone and stained glass.
It doesn't really "feel" like a typical Lisbon church on the inside, which usually tend toward being much more opulent, and also costs 5 Euro to enter (while all of the other churches included on this Lisbon itinerary are free to visit).
Despite these potential blemishes, though, the cathedral is a stunning building, and your entrance fee includes a few rooms of museums upstairs (which feature some charming azulejos, though you're not allowed to photograph them), and a chance to admire gorgeous views from its balcony.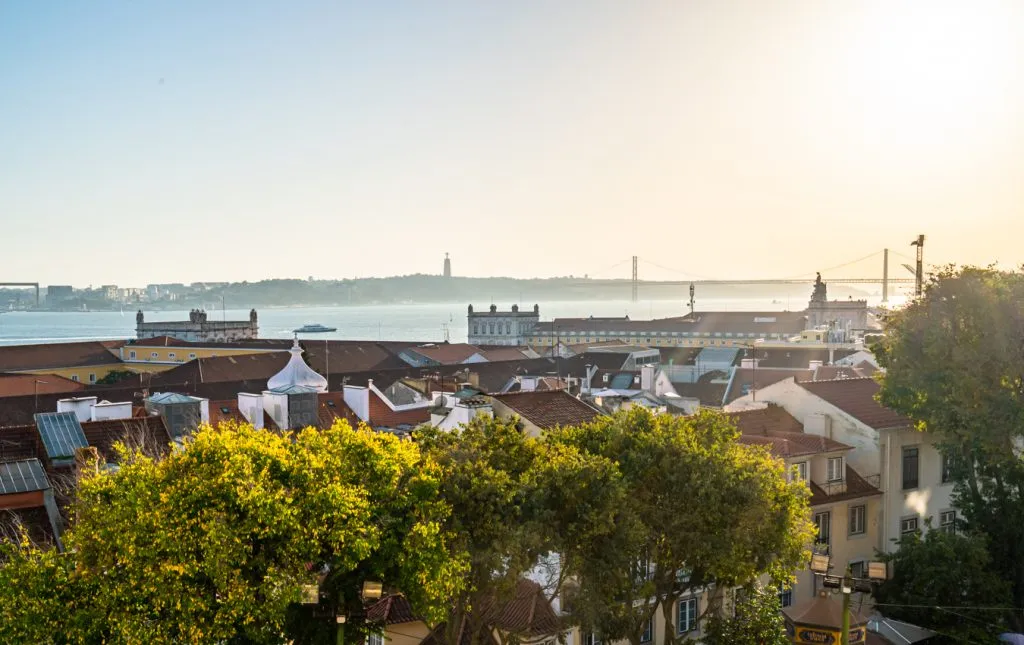 With views of rumbling trams below and the Tagus River in the distance, the view from the balcony is definitely a perk of visiting the cathedral!
If you are trying to visit Lisbon on a budget, though, I wouldn't necessarily call the cathedral a must-see: if you'd prefer to simply snap a photo of the outside, that's understandable.
If you would like to skip the cathedral but want to sub another attraction, the remains of Lisbon's Roman Amphitheatre are just up the street.
The ruins are much less impressive than in many other cities, to be honest, but the very fact that they are there 2,000 years later makes them a marvel (and they also helped put Lisbon on the history map: the discovery of the amphitheater helped scholars realize that Lisbon was a more important city in Roman times than was once believed).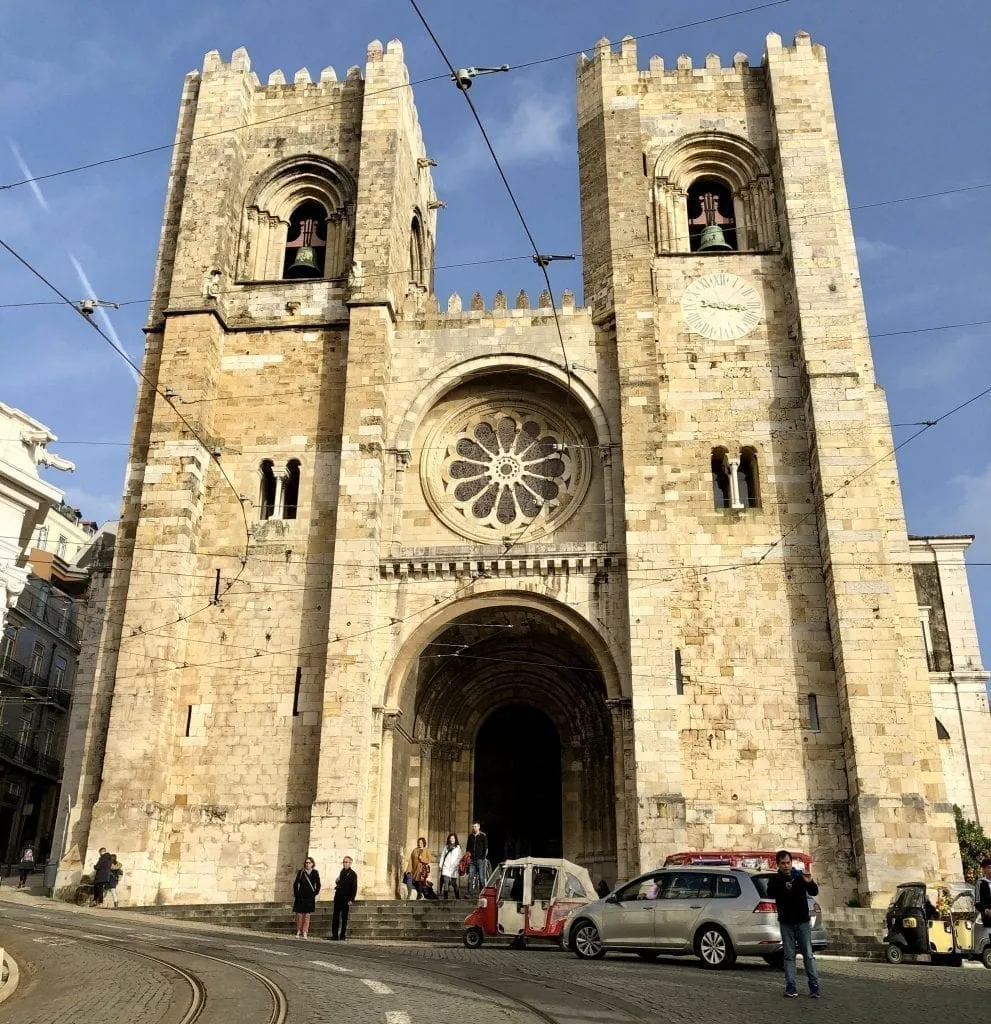 … and St. Anthony's Church.
Just down the street from the Lisbon Cathedral, you'll find the much smaller St. Anthony's Church, built on what is, according to legend, the birthplace of St. Anthony himself.
As the patron saint of Lisbon, St. Anthony is a beloved figure in the city and you'll see his name all over the place (including at your pastel de nata stop earlier this morning).
The church itself is lovely, but the fun of visiting is taking a hard left right after you enter and walking down the tiled hallway to the crypt.
A small shrine to St. Anthony is set up in the crypt and is free to visit.
There are also restrooms in the hallway, a major perk for travelers who have spent the last few hours sightseeing.
Once you wrap up at the crypt and church, if you're hungry, consider stopping at the Dear Breakfast location a bit further along in the same square.
Dear Breakfast is one of our favorite brunch spots in a city that is mildly obsessed with brunch, and it makes an excellent break (but don't eat too heavily–there's more food to come!).
Head to the shores of the Tagus River to visit the Praça do Comércio and Cais das Colunas.
After wrapping up at the church(es), it's time to head down to Baixa.
Lisbon's rebuilt historic center along the river is one of the flattest and most modern-feeling neighborhoods during this 3 day itinerary for Lisbon.
The grid-style, carefully-organized streets are a marked departure from the winding alleys of Alfama, and tell the story of Lisbon's modernization in the wake of the 1755 earthquake that reshaped the area.
Make your way to the Praça do Comércio (note the elephant on the statue in the center!) and then to the Cais das Colunas along the Tagus (in Portuguese, Tejo) River.
After soaking up views of the 25 de Abril Bridge (fun fact: it was built by the same company that built the Oakland Bay Bridge, though not the similar and iconic Golden Gate), head up to the striking Rua Augusta Arch, cross under it, and start making your way through the streets of Baixa.
You can pause to head to the top of the arch if you like: it's not a must-do and not one of the absolute best views of Lisbon, but it only costs 3 Euro and I've never once seen a line there.
The views of Praça do Comércio from the top of the arch are pretty spectacular!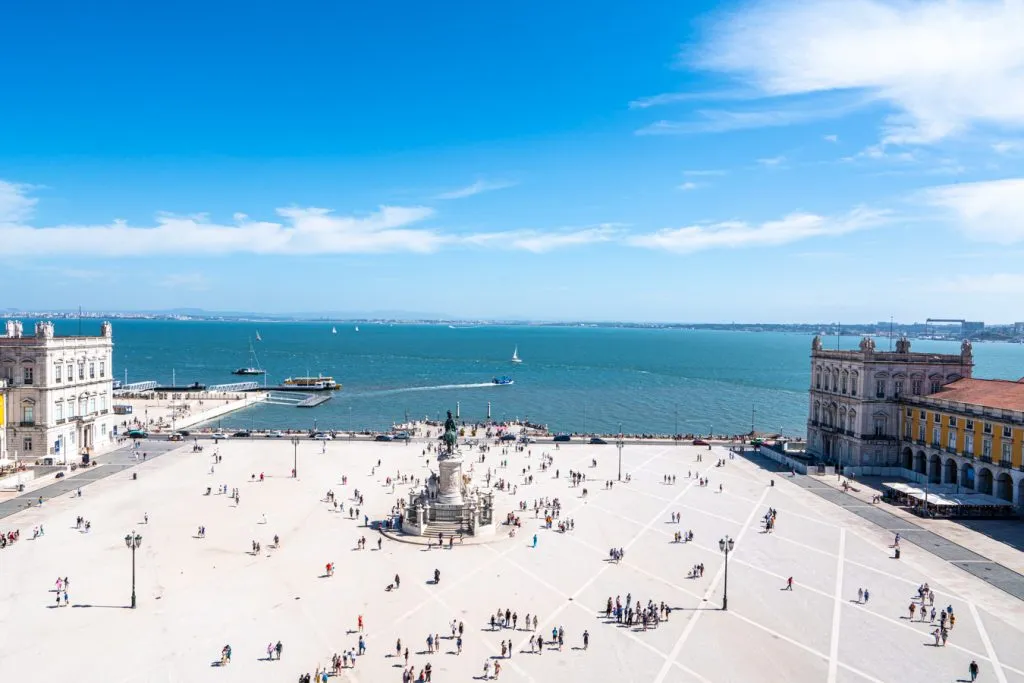 Stroll up Rua Augusta until you hit Rossio Square.
The pedestrianized Rua Augusta is one of the main thoroughfares in Baixa and runs from the Rua Augusta Arch all the way to Rossio Square (technically named the Praca Dom Pedro IV, but calling it Rossio is much more common).
Bustling and touristy, this is one of those streets that is worth walking through and definitely not worth stopping for a meal along, no matter how many waiters try to tempt you.
There is an exception, though: Manteigaria, one of the most beloved bakers of pastéis de nata, has a location here.
We have lots of food upcoming, though, so only have one, if any (I can't blame you for being tempted into a snack, though).
Keep an eye out for the Santa Justa Lift to your left as you walk down the street, too–it's truly striking!
Opened in 1902 and designed by Raoul Mesnier du Ponsard, who was a student of the one and only Gustave Eiffel, you may notice some similarities to a certain other famous iron tower.
Once an important part of Lisbon's public transportation, today the Santa Justa Lift has been given over entirely to tourists.
Appreciate the construction, but don't wait in the long lines to ride it: this Lisbon itinerary will guide you to the top without needing a ticket or to wait in line tomorrow.
Meander through Rossio Square.
Charming Rossio Square features fountains, statues, excellent views of the roofless Carmo Convent (another Lisbon attraction that you'll see up close tomorrow), and a beautiful array of the distinctive calçada portuguesa (or Portuguese pavement) that you'll see throughout the country
If you happen to luck out and being visiting Lisbon in May, you'll also be treated to some stunning jacaranda blooms here!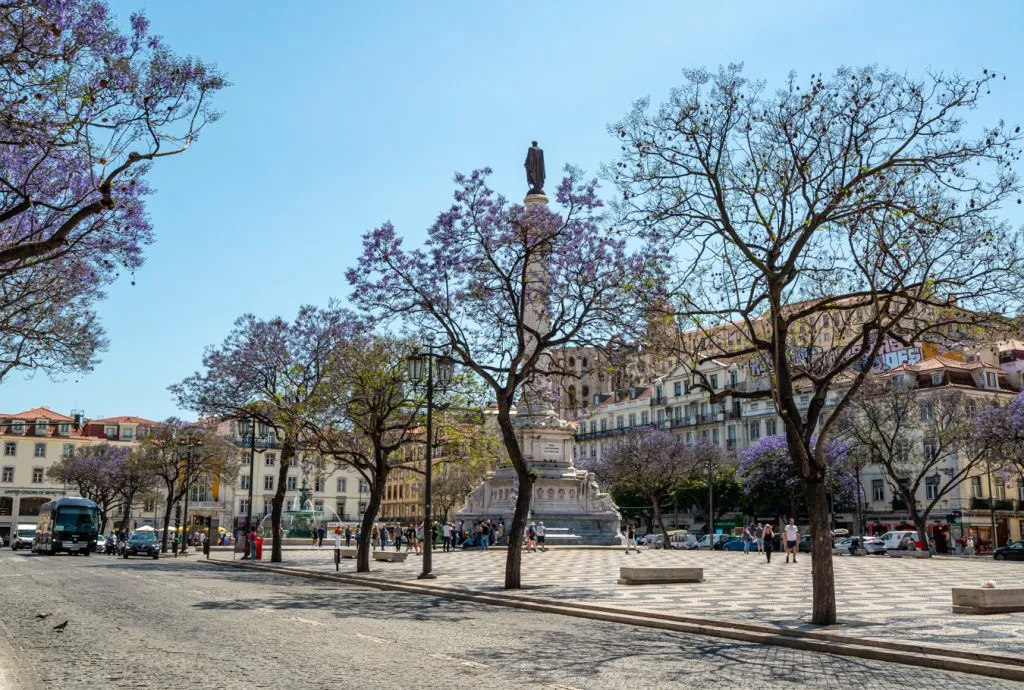 Step around the corner to visit the Church of São Domingos.
Found behind an unassuming white facade, just steps away from Rossio Square, lies the memorable Church of São Domingos.
It's one of the most unique churches in Lisbon, and one of my personal favorites!
Originally dedicated in the 13th century, the Church of São Domingos was severely damaged by an earthquake in 1531… and then again in the infamous earthquake of 1755.
Fast forward a couple hundred years, and a 1959 fire caused even more damage.
The church has been restored, but in such a way that its scars are clearly and obviously preserved.
The effect is one of the most striking church interiors in Lisbon and one that's definitely worth ducking inside to see.
Get acquainted with Portuguese cuisine on a Lisbon food tour.
We're big proponents of food tours around the world: combining traditional local food with a chance to take a walking tour of a city is a fantastic way to get acquainted with a new place!
We've taken a few Lisbon food tours over the years, all wonderful, but on your first trip to Lisbon, there's none that I recommend more highly than this food and wine tour.
With a convenient starting point that is very close to the Church of São Domingos, this food tour is filling, delicious, and informative.
Best of all, it focuses primarily on introducing you to classic Lisbon cuisine, which makes it an excellent addition to your Lisbon itinerary that will help you with ordering in restaurants for the rest of your time in Portugal.
Perhaps the biggest endorsement we can offer is that we have returned to several of the included establishments since, including bringing our friends and family to some of them when they visit us in Lisbon!
Book your Lisbon food tour today!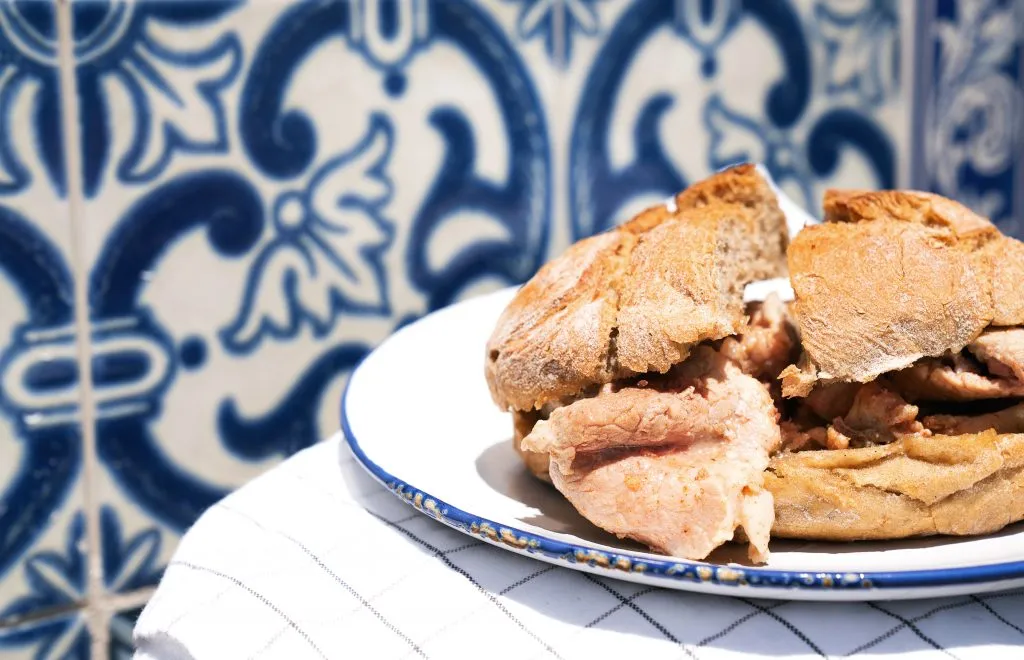 Day 2 in Lisbon: Visit Belém, and then make your way to Chiado and Bairro Alto.
On your second day in Lisbon, take a break from climbing hills and spend the morning among the famous monuments along the river out in Belém (and for a chance to sample the most iconic pastel de nata of them all).
In the afternoon and evening, head out to the trendy neighborhoods of Chiado, Bairro Alto, and Príncipe Real to see a different side of Lisbon!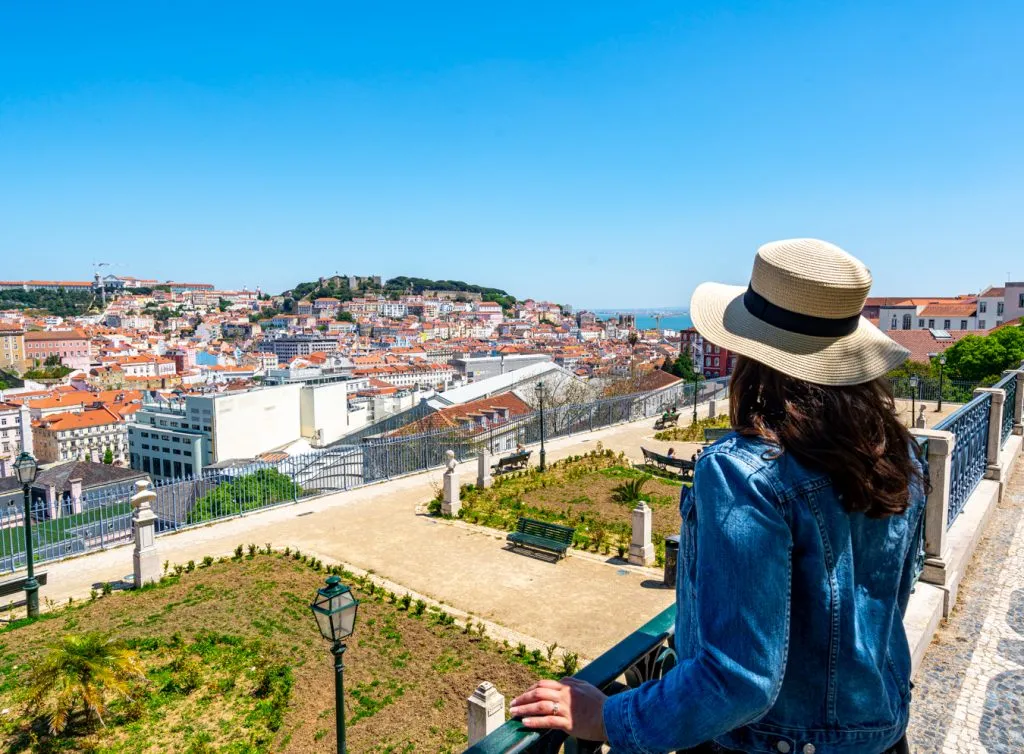 Sample the famous Pastéis de Belém for yourself.
When it comes to Portugal's most famous pastry, one bakery has a reputation above all others: Pastéis de Belém, home to the original pastéis de nata.
Baked from a recipe that has been a closely guarded secret for generations (ever since the original proprietor purchased it from the monks at the nearby Jerónimos Monastery), these sweet treats are known for their incredible taste… and their long lines.
Arrive for a breakfast treat in order to make the most of your few days in Lisbon (and yes, pastéis de nata are 100% an acceptable breakfast food in Portugal).
Instead of opting for the generally crowded takeaway line, grab a table and settle in for a memorable breakfast–their spacious dining room reminds me vividly of Cafe du Monde in New Orleans.
Whether or not these are really the best pastéis de nata in Lisbon is a matter of intense debate, but they are absolutely delicious (I'm an especially big fan of the crust).
Make your way over to the iconic Jerónimos Monastery.
Built at the turn of the 16th century, the Jerónimos Monastery is one of the most fantastic buildings in Portugal, a UNESCO World Heritage Site, and one of the most popular places to visit in Lisbon.
Considered one of the best examples of the detailed, opulent Gothic Manueline architecture in Lisbon, the Jerónimos Monastery (also called the Hieronymites Monastery) dwarfs the surrounding neighborhood even today.
As you approach, imagine how imposing this gigantic, detailed building would have been in the 1500s, when it was located outside of town.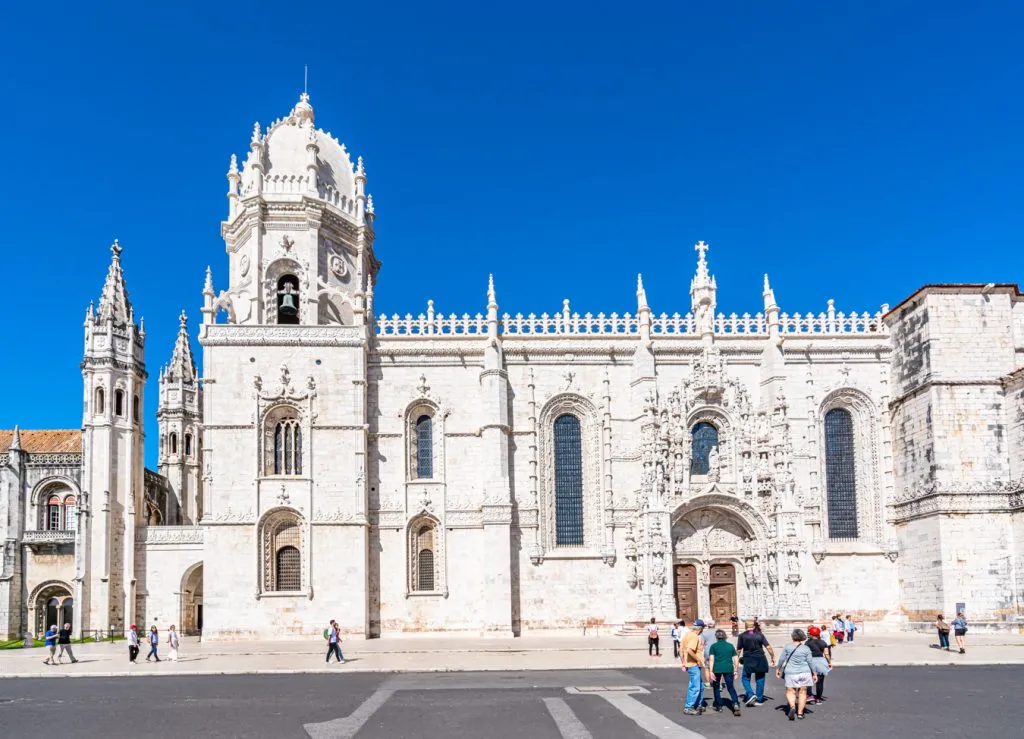 Spared in the earthquake of 1755 by virtue of being located in Belém (fun fact: happening to be in Belém at the time is also what spared the Portuguese royal family on that fateful day), the Jerónimos Monastery is one of the oldest monuments in Lisbon that was not reconstructed.
It also happens to be ridiculously popular.
We strongly recommend buying your tickets in advance and arriving before the doors open at 10:00 AM to ensure you can enjoy this landmark without dedicating too much of your few days in Lisbon to it!
Bear in mind that you will need to wait in line twice to view every part of the monastery: the ticketed portion, which includes the famous cloisters, should be your first stop.
Visit the Church of Santa Maria de Belém.
Physically attached to the Jerónimos Monastery but visited via a separate entrance (that includes its own line), the Church of Santa Maria de Belém is one of the most significant in Lisbon.
With soaring ceilings and beautiful details, this Manueline church would be worth a visit for its architecture alone.
Its significance to Portuguese history, though, comes more from the many tombs there, including those of King Manuel I (the man behind Manueline architecture), Luís de Camões (a beloved poet), and most famously, Vasco da Gama (the first European to round the Cape of Good Hope and successfully sail from Europe to India).
All 3 figures were important to Portugal's Age of Discovery, which resulted in Lisbon's importance and wealth at the time that the Jerónimos Monastery and Church of Santa Maria de Belém were being constructed.
Unlike the monastery itself, the church is free to visit.
Make your way to the Monument of the Discoveries.
After wrapping up at the monastery, make your way through the Praça do Império Garden (keep an eye out for the pretty Thai pagoda!) and head toward the Tagus River.
As you approach the street, you'll find a pedestrian underpass that will take you swiftly and easily to the Monument of the Discoveries.
One of the most recognizable landmarks in Lisbon, the Monument of the Discoveries catalogs Portugal's Age of Discovery from the 1400s to the 1600s, a time period that dramatically shaped Portugal's past and present.
The figures carved on the monument were all men relevant to seafaring exploration, from poets to cartographers to sailors.
At the head of the monument, you'll find Henry the Navigator.
Built in the mid-20th century at the behest of dictator António de Oliveira Salazar, this is a highly romanticized monument (in other words, don't expect any hard-hitting analysis of colonization here, despite the obvious implications).
Depending on the time, you may want to head to the top to appreciate the beautiful view of the 25 de Abril Bridge, Tagus River, Jerónimos Monastery, and more.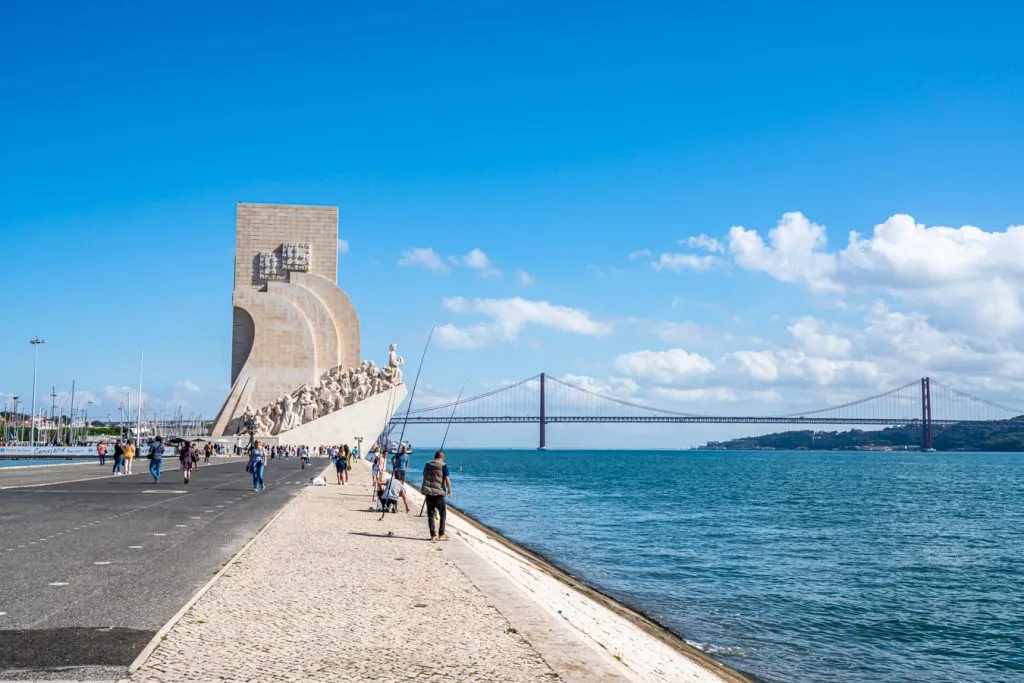 Stroll along the Tagus River to the Belém Tower.
Just a 12-minute walk along the Tagus River from the Monument of the Discoveries, you'll find Lisbon's famous Belém Tower!
(You will have to turn slightly away from the river to get past a harbor, but for the most part, it's a straight walk between the 2 monuments).
Built at roughly the same time as the Jerónimos Monastery, this 500+-year-old fortification is arguably one of the most beautiful buildings in Lisbon.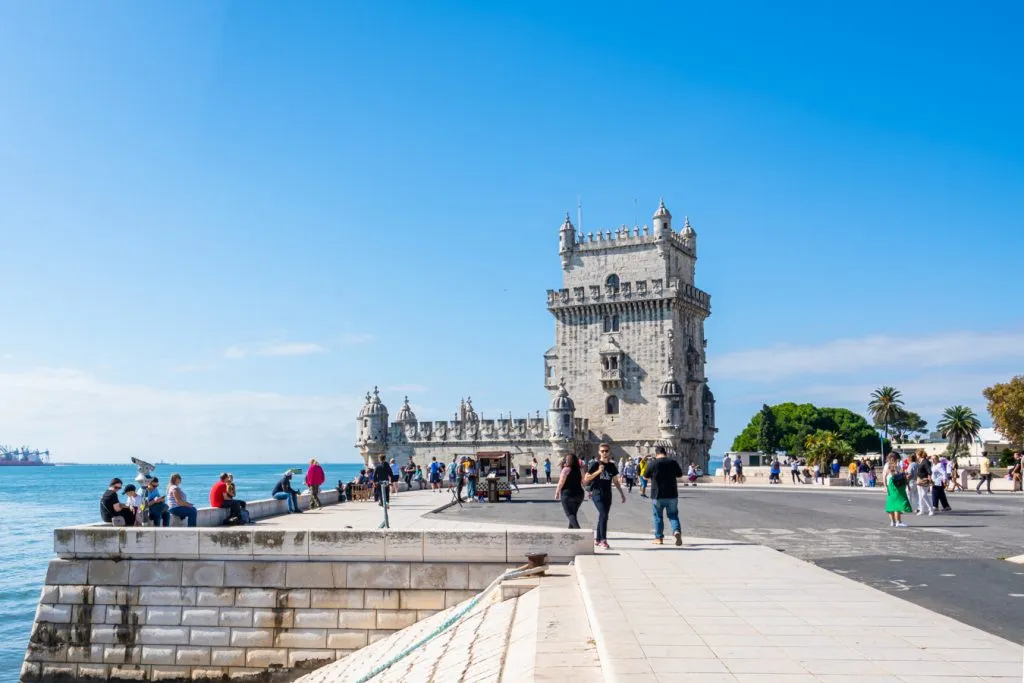 Done in the detailed Manueline style, the Belém Tower once served as a ceremonial entrance and exit point of Lisbon.
While you can go inside, we don't recommend it: the interior is unfurnished, somewhat plain, and not large enough to accommodate the number of people who want to visit, resulting in having to wait in multiple lines.
The one time we went inside (on an iffy weather day in September), we felt more like we were constantly lining up for a Disney ride than exploring a historic structure!
If you're a huge Portuguese architecture nerd, it may be worth it in the off-season (seeing the exterior of the building up close is lovely), but otherwise, we suggest sticking with enjoying the Belém Tower from the outside.
Optional: Enjoy views from the Tagus River by sailboat.
Depending on how long of lines you encounter and how speedy your sightseeing style is, you may or may not want to squeeze a quick Tagus River cruise into your 3 day Lisbon itinerary–but if you wrap up at the Belém Tower by mid-afternoon, we recommend it!
The views of Lisbon from the Tagus are wonderful, and there's nothing quite like experiencing the city from the water.
Lisbon's history and culture are deeply tied to the Tejo and to the wide open sea that lies beyond it, and relaxing on a sailboat is a fantastic way to reflect on the last day and a half of exploring the best attractions in Lisbon.
Plus, it's simply lots of fun, and more affordable than you might expect!
Most Tagus River cruises leave from Belém, so this is the best opportunity during your trip to Lisbon to hop on board.
Book your Tagus River cruise today!
Switch neighborhoods and head over to the Miradouro de São Pedro de Alcântara.
After taking in the popular attractions in Belém, it's time to head back to the hills, and specifically, to the neighborhoods of Chiado, Bairro Alto, and Príncipe Real, which all flow easily together when exploring on foot.
These areas include some of my favorite parts of Lisbon: they're popular, historic, and beautiful, but feel less overwhelmingly touristy than a neighborhood like Baixa.
To get there, the easiest thing to do will be to take a taxi to Miradouro de São Pedro de Alcântara, one of the best viewpoints in Lisbon.
However, if you want to ride one of the iconic funiculars during your 3 days in Lisbon, you could also have the taxi drop you in Restauradores Square and ride the famous Glória Funicular up to the miradouro instead.
Personally, I tend to prefer snapping photos of the funiculars from the outside than dealing with the crowds on the inside, but if you're inclined to take a ride, this is the best opportunity to do so on this itinerary for Lisbon!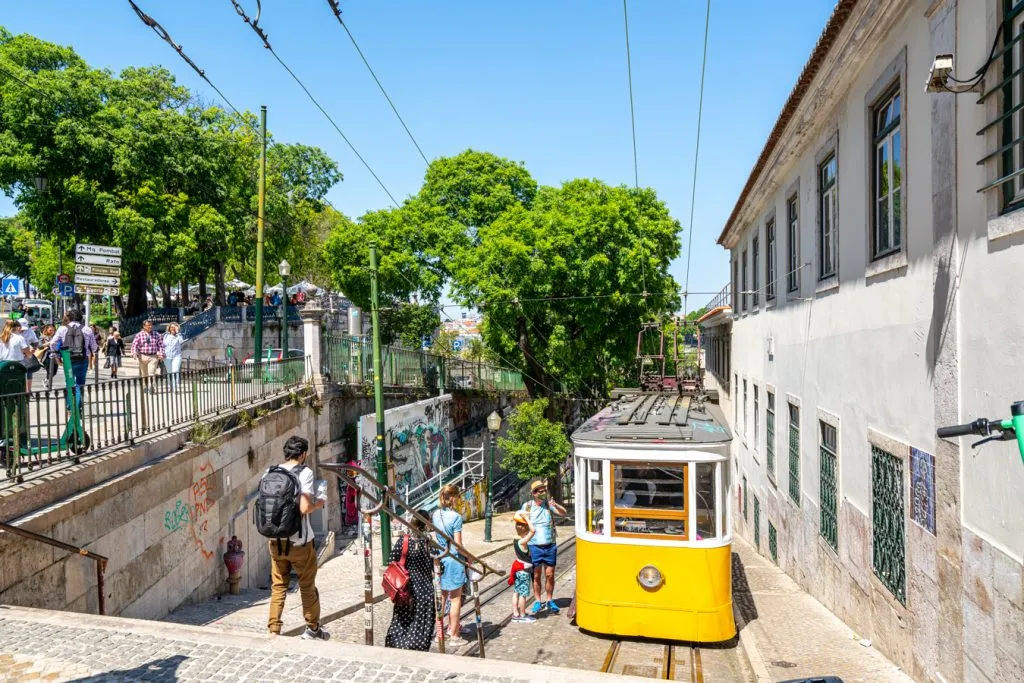 Marvel at the Church of São Roque.
Dating to the 16th century, the Church of São Roque is one of the most spectacular churches in Lisbon.
The earliest Jesuit church in Portugal, the Church of São Roque has a collection of incredible gilded (primarily Baroque) chapels, as well as a magnificent painted ceiling.
Unlike some churches where you can simply duck inside and admire the view from the back of the building, here, it's absolutely worth circling the interior of the church and admiring the intricate detail of the individual chapels–that's where the Church of São Roque truly stands out.
The church itself is free to visit, and visiting the small attached museum (which is optional) costs 2.5 Euro as of the time of writing.
For a whimsical detail, stop by the O Cauteleiro statue (Lottery Ticket Seller) in the square out front, and rub the ticket in his hand for good luck!
Step inside the Carmo Convent.
Yesterday, in Rossio Square, you saw the roofless Carmo Convent sticking out notably from Lisbon's skyline–and now, it's time to go inside.
Construction broke on the magnificent, Gothic-style Carmo Convent in 1393.
Fast forward a few centuries, and the church collapsed in the infamous earthquake of 1755.
And fast forward a couple more centuries, and you have the fascinating Carmo Convent of today: a roofless church stretching out over the Lisbon skyline.
The Carmo Convent was partially restored after the earthquake, but its roof was never put back on–and the resulting atmosphere is worth a visit.
In addition to the church itself, the small Carmo Archaeological Museum features artifacts from both Portugal and around the world, including 2 Peruvian mummies.
Admire the views from the top of the Santa Justa Lift (without the lines).
If you're standing in the shady Largo di Carmo square, facing the Carmo Convent, you'll see a road leading alongside the right side of the convent.
Follow it, and within less than a minute, you'll find yourself at the top of the Santa Justa Lift!
From here, you can freely walk onto the beautiful iron structure, admiring the same views that you would have gotten by waiting in line to ride it.
It really is one of my favorite views of Lisbon, too–the dead-center view of the São Jorge Castle perched high on a hill about Baixa is stunning (the top photo from this Lisbon blog post was taken here).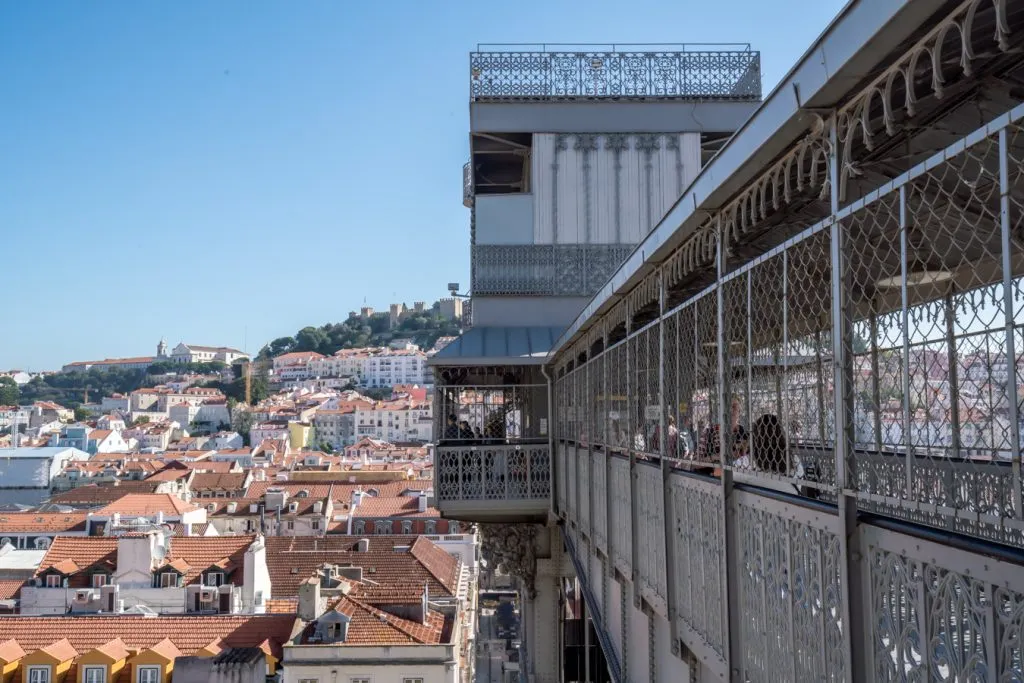 Explore Rua Garrett and the oldest bookstore in the world.
A short walk from the Santa Justa Lift will take you back to the center of Chiado, along the trendy Rua Garrett shopping street.
Here, bibliophiles will be delighted to find Livraria Bertrand, which holds the Guinness World Record as the oldest bookstore in the world (that is still operational).
In addition to Livraria Bertrand, Rua Garrett is home to a wide variety of shopping ranging from international brands to local art galleries.
You'll also find some beautiful churches here (the Basilica of Nossa Senhora dos Mártires is a cool, fast stop), the bustling Luís de Camões Square, and plenty of views of passing trams.
For (comparatively) high prices but a stunning Art Deco interior with ties to Lisbon's early 20th century writers, Café A Brasileira has been one of Lisbon's most famous and distinctive cafes since 1905.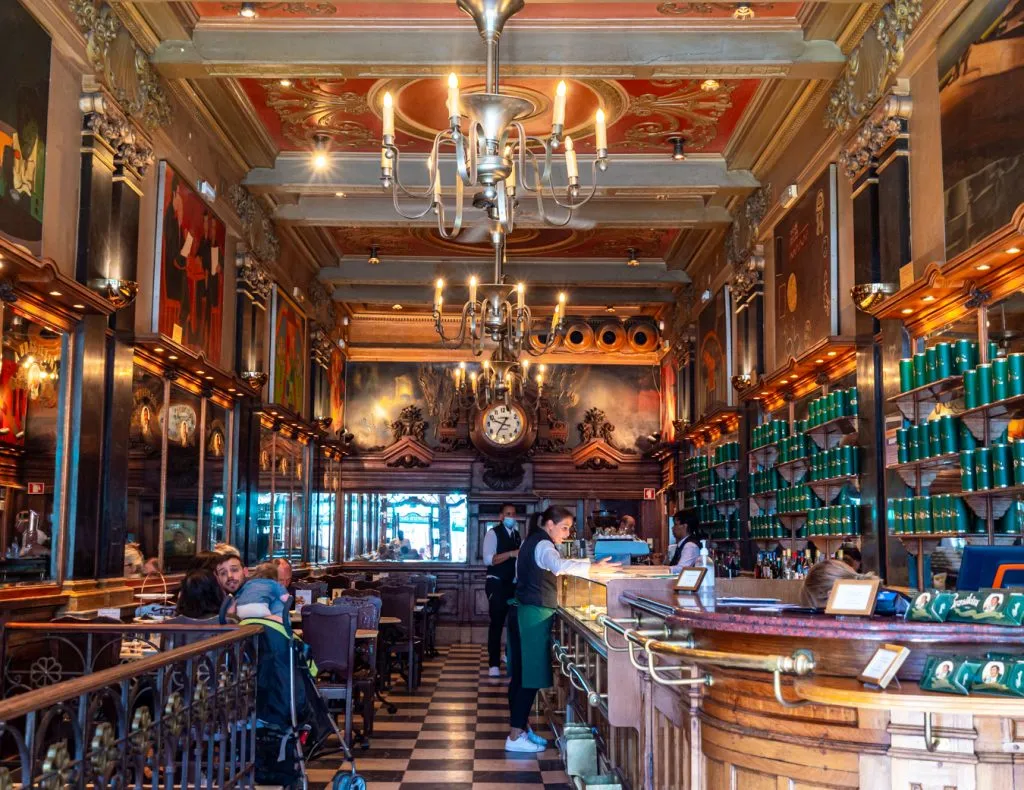 Sample traditional Portuguese culture at Fado in Chiado.
Fado, Lisbon's most iconic form of music, is near-synonymous with the city.
Deeply heartfelt and nostalgic, fado is traditionally performed with a female singer and a male playing guitar, each performing with deep emotion that is described in Portuguese as saudade.
Melancholic nostalgia is a fairly close translation, but it's one of those words that can't quite be defined in other languages–only through Portuguese music.
This popular fado show in Chiado is a popular, easy introduction to fado over the course of a one-hour performance, and a great addition to your few days in Lisbon.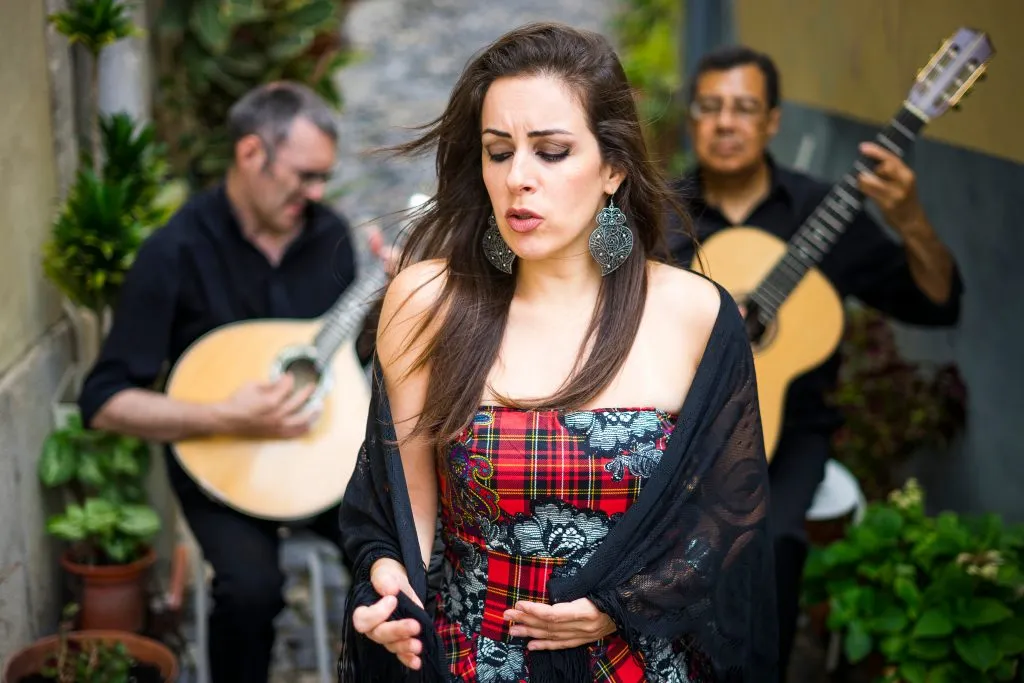 Have dinner in the trendy neighborhood of Príncipe Real.
Before officially closing the book on this busy day exploring different Lisbon neighborhoods, there's one more to check out: the glamorous and trendy Príncipe Real.
Known for its excellent restaurants, shopping, and views, Príncipe Real is one of the most fashionable neighborhoods in Lisbon.
You'll be spoiled for choice among restaurants here, but consider Atalho Real for steak (they have a beautiful back garden, too), A Cevicharia for casual seafood, or Tapisco for incredible petiscos (Portuguese tapas).
Wherever you choose to go for dinner, your evening will likely go much more smoothly if you make a reservation in advance!
Day 3 in Lisbon: Take a day trip to Sintra.
The dazzling town of Sintra, Portugal is one of the most popular places to visit in the country for very good reason–and it's less than an hour from Lisbon!
Home to an impressive collection of iconic, beautiful, and often downright whimsical palaces, Sintra is a memorable place and a worthy addition to any Lisbon itinerary.
When it comes to visiting Sintra from Lisbon, there are 2 excellent options, each suited to a different kind of traveler: visiting independently by public transportation and/or taxi or taking a tour.
Here are the pros and cons of each!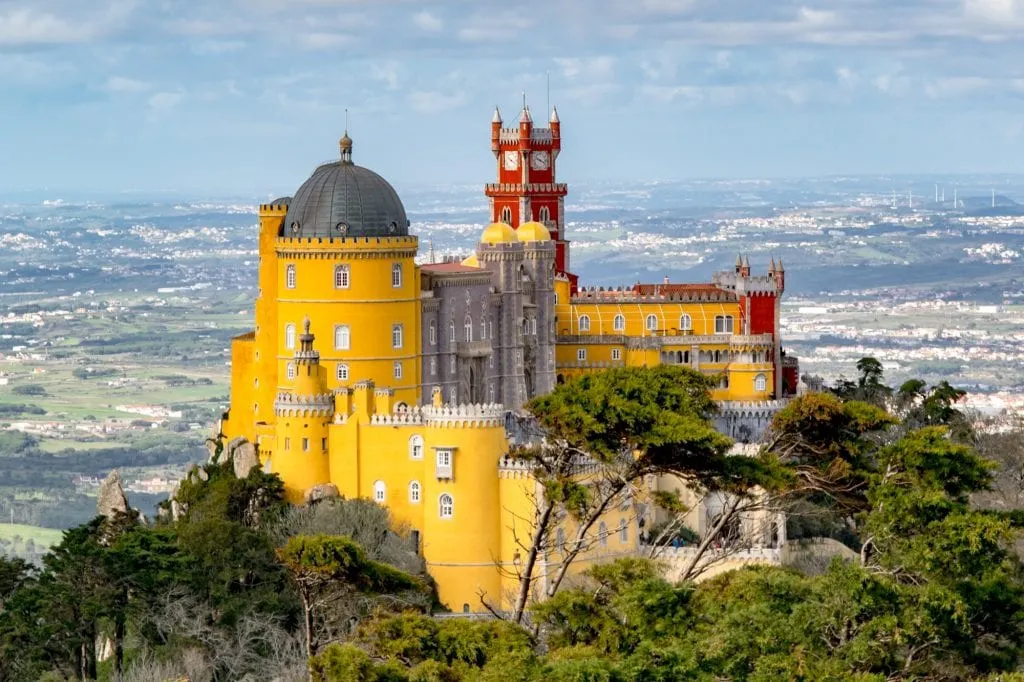 Option 1: Take an independent day trip to Sintra.
If you'd like to visit Sintra independently, you absolutely can!
Trains run regularly from Lisbon's centrally located Rossio Station, and take about 40 minutes to reach Sintra.
Once arriving, you'll board one of 2 main tourist bus routes with stops just outside the station that will whisk you away to the palace(s) of your choice!
On an independent day trip, you can generally cover 2-3 palaces, depending on exactly which ones you choose to visit, the speed at which you sightsee, if you want to get lunch in town, etc.
Pena Palace (the iconic red and yellow one!) and the Moorish Castle (where you can walk on medieval walls) are within walking distance of each other.
Quinta da Regaleira, where you'll find the insta-famous well and a garden worthy of Alice in Wonderland, is a bus ride away.
Those aren't the only palaces in Sintra (the Sintra National Palace, for example, has some of the best interiors), but they are the most popular!
Wherever you plan to go, one thing is for certain: you'll need to plan ahead, book tickets in advance for Pena Palace, and be prepared for crowds.
Sintra is popular for good reason, and its public transportation system is very usable, but it's definitely congested as a result, and not as walkable as first-time visitors might imagine.
If you do choose to visit Sintra independently, a Lisbon Card might be a good value for your trip (just make sure you double-check the pickup instructions if you go this route).
Buy your tickets for Pena Palace or compare prices with the Lisbon Card today!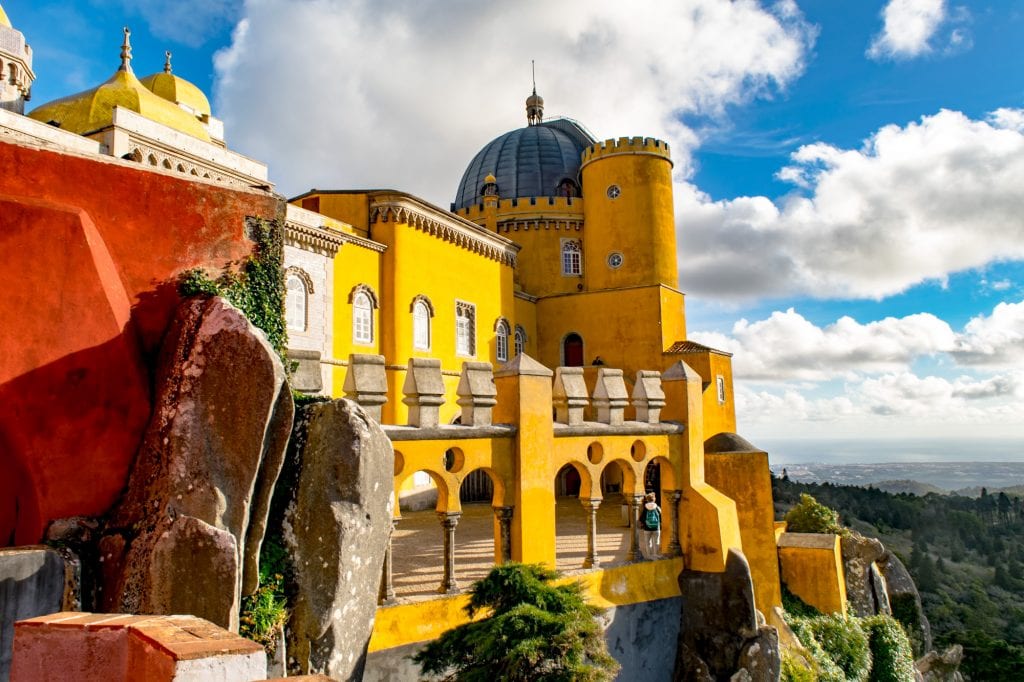 Option 2: Sample the best of Sintra and beyond on an organized day trip.
Don't want to deal with the hassle of navigating to and between Sintra's palaces, or are you someone who tries to pack in as much as possible on your trip?
If so, this day trip to Sintra, Cascais, and Cabo da Roca might be the right option for you!
On one of the most popular tours in Portugal, you'll see Pena Palace, Quinta da Regaleira, Cabo da Roca (once believed to be the westernmost point on mainland Europe), and the beach resort town of Cascais.
If that sounds like a lot, it is–you won't see as much of the actual town of Sintra as if you visit independently–but the coast near Lisbon is absolutely phenomenal, and a worthy trade for the right traveler.
Plus, you'll have your tour of Pena Palace and Quinta da Regaleira arranged for you!
I love all of these areas, and don't think there's a wrong answer here: visiting independently vs with a tour comes down to what you're in the mood for, essentially.
If you're craving palaces and architecture exclusively, a self-guided tour might be right for you.
On the other hand, if sea air, stunning views, and a stress-free visit to the iconic Pena Palace and whimsical Quinta da Regaleira sounds ideal, this incredibly popular tour has you covered.
Book your day trip to Sintra today!
Option 3: Stick to Lisbon, or take an alternate day trip.
If Sintra doesn't appeal to you, there are plenty of other fantastic day trips from Lisbon to try, or many other things to enjoy around the city!
If you'd like an architecture-focused but less crowded day trip, visiting the UNESCO World Heritage monasteries to the north is a fantastic option (Batalha Monastery and Alcobaça Monastery rank among my favorite places in Portugal.
For a little sun and sea air, consider rounding out your Lisbon 3 day itinerary by taking the train or a taxi to Cascais.
Or, within Lisbon itself, consider visiting some of the hidden gems of Lisbon, like the Monastery of São Vicente, the National Tile Museum, the Naval Museum, or the Museum of Architecture and Technology.
(Also, if you are the museum-hopping type, the Lisbon Card might also be a good fit for your trip!)
For foodies, a pastel de nata baking class is always a fun option.
We'll cover more suggestions in a different section of this blog post below, but suffice it to say that you won't run out of things to do in Lisbon.
Where to Stay in Lisbon for 3 Days
Lisbon is a city of neighborhoods, and that means that there is a huge variety of places to stay!
When deciding where to stay in Lisbon, we recommend picking somewhere central with good transportation connections around the city.
Alfama, Baixa, Chiado, Príncipe Real, and Barrio Alto (for nightlife lovers who want to be in the center of the action) are great names to keep an eye out for when browsing hotels in the city.
With only a few days in Lisbon, we don't recommend staying in Belém unless you're on a budget.
While some of the best things to do in Lisbon can be found in Belém, it's fairly isolated from everything else on this Lisbon itinerary.
And, keep in mind that Lisbon is fairly large and spread out: no matter what neighborhood you choose to stay in, you won't be within walking distance of everything!
For a budget-friendly hostel experience (with private rooms available), the Sunset Destination Hostel is a great, centrally located option.
At a mid-range price tag, you can't beat the location or rave reviews for Tempo FLH Hotels Lisboa.
Looking for a splurge?
The Lumiares Hotel & Spa is part of the much-acclaimed Small Luxury Hotels of the World Collection, and offers stunning views that you won't forget anytime soon!
Getting Around During 3 Days in Lisbon
Lisbon is a city of distinct neighborhoods, spread across a fairly large area that famously includes very steep hills.
In other words, while this 3 days in Lisbon itinerary features lots of walking, you'll definitely need alternate transportation to get around, too!
A couple that you may want to use include:
Metro
The Lisbon metro isn't as all-encompassing as in a city like Paris or London, but it is helpful for getting around.
Many of the stations are decorated with modern azulejo art, which gives the metro system a whimsy of its own.
Taxis
We frequently opt to use taxis around the city and find them incredibly convenient.
The base rate starts at 3.5 Euro, and we regularly travel around the city for well under 10 Euro.
Taxi stands are commonly found in popular locations (Rossio Square, Avenida da Liberdade, across the street from Jerónimos Monastery, outside of Jardim da Estrela, etc.), and we also recommend downloading FreeNow.
FreeNow is active in many cities around Europe and is essentially Uber for official taxi services.
Uber exists in the city, too, but it's not quite as common as taxis, and Ubers will often drop you off before you reach your destination due to traffic restrictions (highly inconvenient when you're trying to reach São Jorge Castle, for example).
Trams
Obviously, Lisbon's iconic trams are a popular option for getting around!
I'll be honest, as an ex-pat who gets easily motion sick and doesn't care for crowded transportation, I don't use the trams much at all (I do love photographing them, though).
However, they're definitely a memorable Lisbon experience!
The iconic Tram 28 gets extremely crowded, so if you have your heart set on riding it, we recommend getting a very early start.
Route 12 is a quieter alternative that will take you up to Graça (the Miradouro da Graça is one of my favorite viewpoints in the city).
A Note on Walking in Lisbon
Wandering the streets of Lisbon is absolutely one of the best ways to enjoy the different neighborhoods in the city!
However, do keep in mind that the hills can be incredibly steep (you'll definitely get a workout in while visiting places like Alfama), and supportive, comfortable shoes are a must.
The distinctive Portuguese pavement (or calçada portuguesa) that you'll see throughout the city offers its challenges, too: these walkways are both beautiful and a bit of a hazard in the rain.
Here's the thing… they're incredibly slippery when wet, especially if they happen to have fallen leaves sitting on them.
Watch your step, especially on hills, and opt for shoes with some grip on them!
More than 3 Days in Lisbon, Portugal?
While we've stuffed this itinerary for Lisbon as much as we can (and then some), sadly, with only a few days in Lisbon it's impossible to see it all!
If you're lucky enough to have more than 3 days in Lisbon, it's safe to say you won't run out of places to visit–I honestly had a hard time narrowing down what to include here, as there are so many excellent options.
A couple of the most popular places to visit in Lisbon that didn't make our itinerary include the trendy LX Factory (don't miss the quirky Ler Devanger bookstore!), and the famous Time Out Market (Ground Burger, while not Portuguese food, is excellent).
The Cais do Sodré neighborhood right behind Time Out Market is trendy and excellent for nightlife and seeing the famous Pink Street.
For a chance to enjoy some of Lisbon's more relaxed and charming neighborhoods, check out the beautiful Campo de Ourique and nearby Estrela (our stomping grounds!).
In Campo de Ourique, the market and the Prazeres Cemetery are both memorable.
In Estrela, the Basilica da Estrela (be sure to climb to the top to see the church from the inside of the dome) and the Jardim da Estrela are both absolutely worth visiting.
Over in Graça, you can soak up some of the best views in the city!
Parque Eduardo VII and Avenida da Liberdade (modeled after the Champs-Élysées in Paris, though arguably more peaceful) are also lovely.
Many of Lisbon's smaller museums and historic buildings, including the Monastery of São Vicente, the National Pantheon, the National Tile Museum, the National Coach Museum, and more, are worth adding to your itinerary for Lisbon!
If you're a museum-hopper, definitely look into the Lisbon Card: the more small museums you visit, the better value it becomes.
3 Day Lisbon Itinerary Map
Take This Map With You! Click each highlight to pull up the name of the destination. To save this map to "Your Places" on Google Maps, click the star to the right of the title. You'll then be able to find it under the Maps tab of your Google Maps account! To open the map in a new window, click the button on the top right of the map.