If you're planning your first trip to Spain and are hoping to sample a variety of what makes this sun-drenched country special, we designed this 10 day Spain itinerary for you!
Spain has had a special place in our hearts ever since we landed in Madrid for the first time when kicking off our supposed "6-month" round-the-world trip (that was almost 7 years ago, and that trip arguably never ended).
In the years since, we have been lucky enough to visit Spain so many times that we've lost count, exploring countless cathedrals, castles, alcabazas, beaches, and cities along the way.
We've explored the country via train, car, bus, and ferry, sampling iconic attractions and little-known villages alike, traveling both alone and with various groups of family and friends.
This itinerary for Spain in 10 days has been curated for first-time travelers based on our lived experiences in Spain, and we hope that you walk away loving this beautiful country as much as we do!
Here's how to fall in love with Spain in 10 days.
How We Structured This 10 Day Spain Itinerary
We structured this 10 day Spain itinerary to cover many of the country's most popular destinations in a "U" shape, beginning in Madrid and ending in Barcelona.
In addition to the ever-popular Madrid and Barcelona, this itinerary also loops through Toledo, Seville, Granada, and Cordoba in a quest to sample a variety of what makes traveling in Spain special.
With the help of the high-speed train between Madrid and Barcelona, you can easily enjoy this trip by either flying round-trip to and from Madrid, or booking an open-jaw ticket where you fly into Madrid and leave from Barcelona.
And, while we opted to start this itinerary for Spain in the capital, you can easily reverse it and start in Barcelona instead, if the flights work out better that way!
Getting Around During Your 10 Days in Spain
Since this 10 days in Spain itinerary is focused on cities, there's no need to rent a car or drive on this route!
The simplest (and most fun) way to travel between each destination on this itinerary is via train.
For most places, you'll have the choice of a high-speed train (more expensive but much faster), or a slower regional train.
We recommend comparing train schedules and prices via Omio, the service we use to book many trains around Europe.
Spain's high-speed AVE trains, like many high-speed trains around Europe, use dynamic pricing–in other words, you should lock down your fares as soon as you can commit to dates!
Once you're in a given destination, each city is walkable (with the help of public transportation and/or cab rides in certain places).
The Ultimate 10 Days in Spain Itinerary
Day 1: Arrive in Madrid and start sightseeing.
There's nowhere better to kick off your 10 days in Spain that in the vibrant capital city of Madrid!
Often underestimated compared to popular Barcelona, Madrid is beautiful, endlessly interesting, and pulsates with life from every corner.
It's one of our favorite cities in Europe to fantasize about living in, and who knows–one day we might just make it happen.
On your first day in the city, tour the (gigantic, opulent) Royal Palace, check out the cathedral, meander through Plaza Mayor, and stop by the Templo de Debod.
And, of course, your first day in Spain can't be complete without tapas!
Head to Mercado San Miguel for endless options, or opt for this popular tapas tour to learn the ins and outs of this tradition (knowledge that will be very useful for the rest of your time in Spain).
Book your Madrid tapas tour today!
Where to Stay in Madrid
Budget
Hostal Adis — Located just off Puerta del Sol and boasting excellent reviews, you couldn't ask for a better location in Madrid–and at a budget price, too!
Hostal Adis is an excellent property for budget travelers looking for an excellent location and plenty of privacy–rather than being a traditional hostel, Hostal Adis is more like a budget hotel.
Mid-range
Hotel Regina — Featuring plush beds, spacious rooms, excellent customer service, and a perfect location near Puerta del Sol, mid-range travelers can't go wrong with a stay at the popular Hotel Regina.
If you're feeling like a bit of a splurge, upgrade to a room with a panoramic view for an experience you won't forget anytime soon!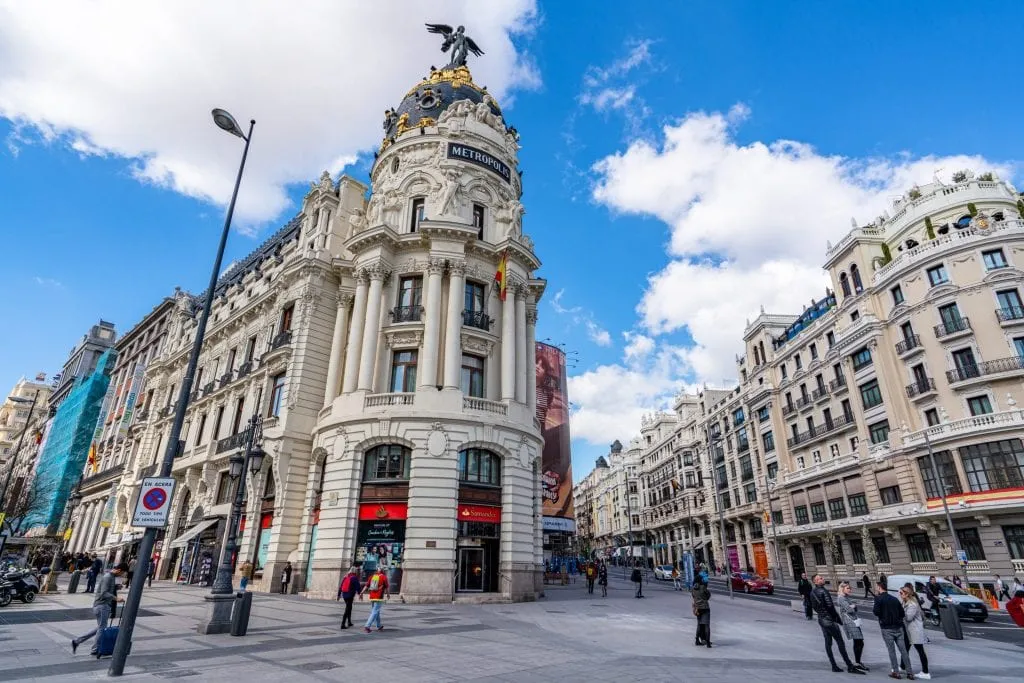 Luxury
Catalonia Las Cortes — Simultaneously sleek and cozy, modern and traditional, Catalonia Las Cortes is housed in an 18-century building in the heart of Madrid and has blended together all the best of classic atmosphere and modern convenience.
We've stayed at a few Catalonia hotels over the years and have always been impressed.
An excellent location near Puerta del Sol, rave reviews and beautiful rooms make Catalonia Las Cortes the perfect luxury hotel choice for those looking for a blend of traditional and modern during their 3 days in Madrid!
Day 2: Enjoy a second day in Madrid.
The second day of this itinerary for Spain opens with one of the most memorable art museums in the country: Spain's National Art Museum, the Prado.
Packed with masterpieces (primarily Spanish, but also from across Europe), the Prado is one of those museums that we never get tired of.
Skip-the-line tickets are a great idea here, but for the most context (and efficient sightseeing), consider taking a tour in order to make sure you see the best of Velázquez, Goya, El Greco, and beyond!
Once you're ready to move on, head to the delightful Retiro Park.
With gardens to explore, rowboats to rent, statues to admire, lawns to lounge on, and even the Palacio de Cristal to enjoy, Retiro Park is a wonderful place to relax.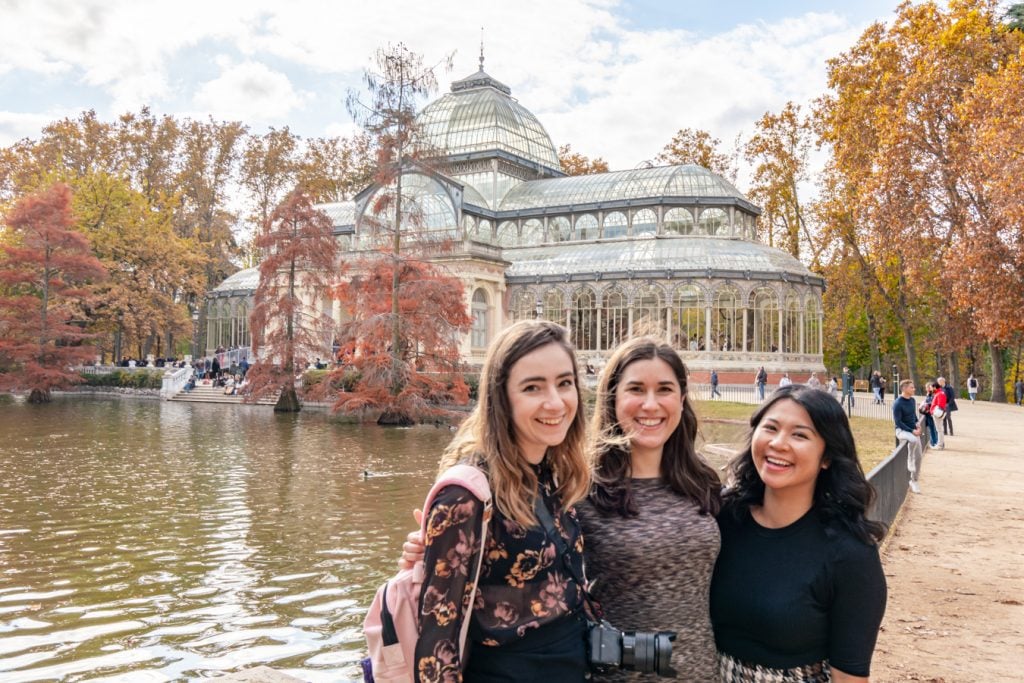 Eventually, make your way to the exit by the Puerta de Alcalá and head up Gran Vía to check out some of Madrid's most famous architecture!
This shopping street is where you'll find the iconic Metropolis Building (the rooftop bar and restaurant on top of the Círculo de Bellas Artes has an amazing view of it!), as well as the Cybele Palace.
Branch off to explore the Puerta del Sol and lively La Latina neighborhood in the afternoon and evening!
Don't wrap up your last (full) day in Madrid without at least one round of churros con chocolate at Chocolatería San Ginés, either.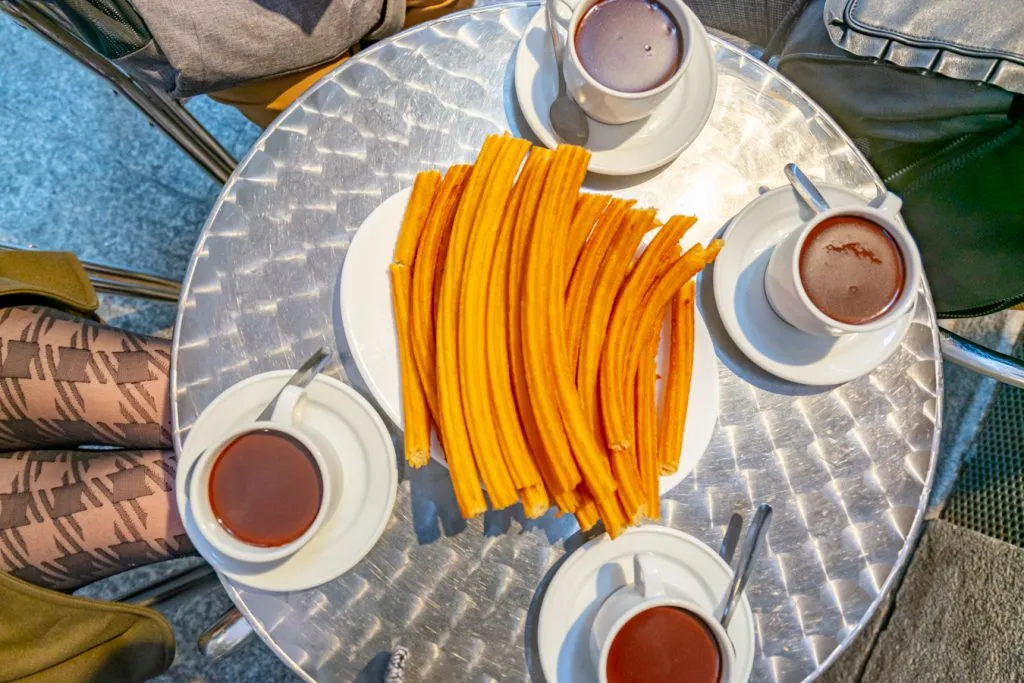 Day 3: Take a day trip to Toledo.
Today, it's time to leave the capital behind and take a day trip to the beautiful medieval city of Toledo.
Set about 35 minutes away from Madrid by high-speed train (or about an hour by bus or car), beautiful Toledo is easily one of the best day trips from Madrid.
Surrounded on 3 sides by the Tagus River, Toledo is as charming to look at as it is historically relevant.
The city once briefly served as the capital of Spain, and was even an independent kingdom at one point!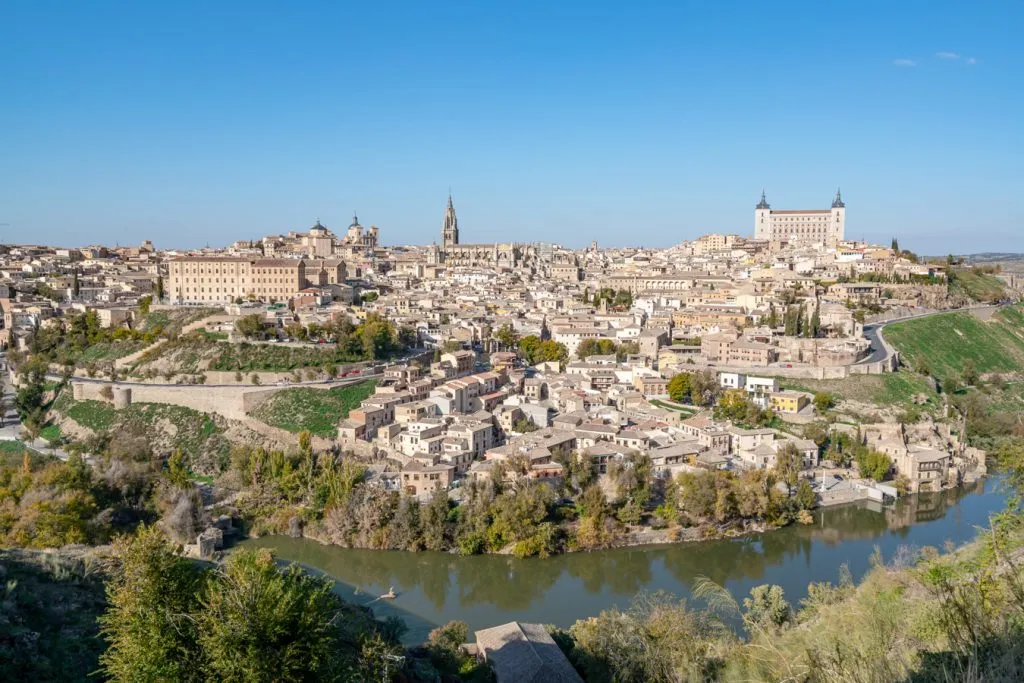 Some of the best things to do in Toledo include visiting the magnificent Toledo Cathedral, touring the Alcázar, stepping inside the Monastery of San Juan de Los Reyes, and meandering through the city's charming streets.
Don't miss the viewpoints of the town from across the river, either!
You can easily take the high-speed train to Toledo yourself for the day, but if you prefer the context of a tour (and/or want the easiest access to the viewpoints from across the river), this popular day trip is also an excellent option.
Book your day trip to Toledo today!
Day 4: Head south to Seville.
Sunshine, sour orange trees, flamenco, and some of the most fascinating architecture in Europe await in the next part of this Spain itinerary: welcome to Andalucia.
This is one of our favorite regions in Spain, and it always seems to keep drawing us back.
A roughly 2.5-hour high-speed train journey will deliver you from Madrid to Seville, the capital of the Andalucia region and an excellent jumping-off point for your explorations.
We recommend taking an early train down from Madrid, dropping off your luggage at your hotel (most are happy to hold it until check-in for you), and starting your sightseeing.
Today, be sure to check out the stunning Seville Cathedral, climb to the top of the Giralda (bell tower) for beautiful views of the city, wander through the famous Plaza de Espana, and explore the delightful neighborhood of Barrio Santa Cruz.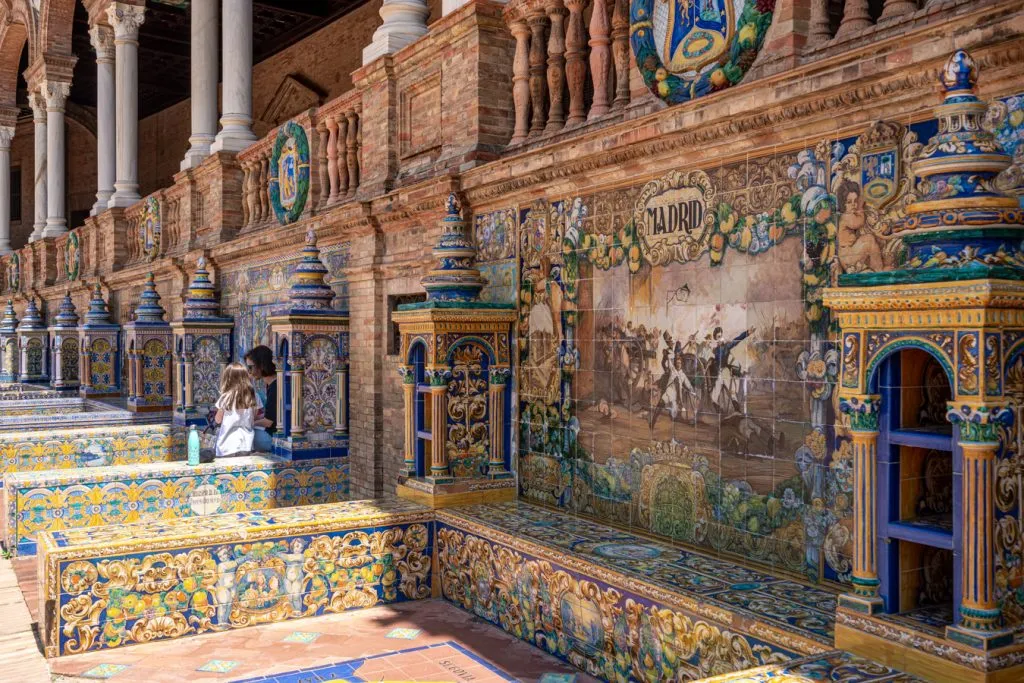 The Royal Alcazar of Seville is stunning, and also one of the best attractions in town–but we'd only recommend visiting today if you're a really big architecture fan.
As amazing as the Alcazar is (and it is, truly), it's somewhat overshadowed by the Alhambra, which you'll see in another couple of days when following this 10 day Spain itinerary.
On the other hand, if you're interested in adding a flamenco show to your Spain itinerary, Seville is the place to do it.
Andalucia is widely considered the birthplace of flamenco (though the specific origins are debated), and a flamenco show like this is a wonderful way to close out your evening.
Where to Stay in Seville
When deciding where to stay in Seville, location is key as ideally, you'll want to stay within walking distance of Seville's best attractions.
We had a fantastic experience at Petit Palace Puerta de Triana on our most recent trip to Seville.
The hotel has a fantastic location (central but also quiet–a far-from-guaranteed combination in Spain), a delicious breakfast, and comfortable rooms.
Looking for something a bit different?
The incredibly popular Hotel Rey Alfonso X is an excellent choice, and its rooftop views are sublime!
If you'd like to stick to more of a budget, Hotel America Sevilla gets wonderful reviews and doesn't sacrifice too much in terms of location.
Meanwhile, for the height of luxury, you can't beat the absolutely stunning Hotel Alfonso XIII!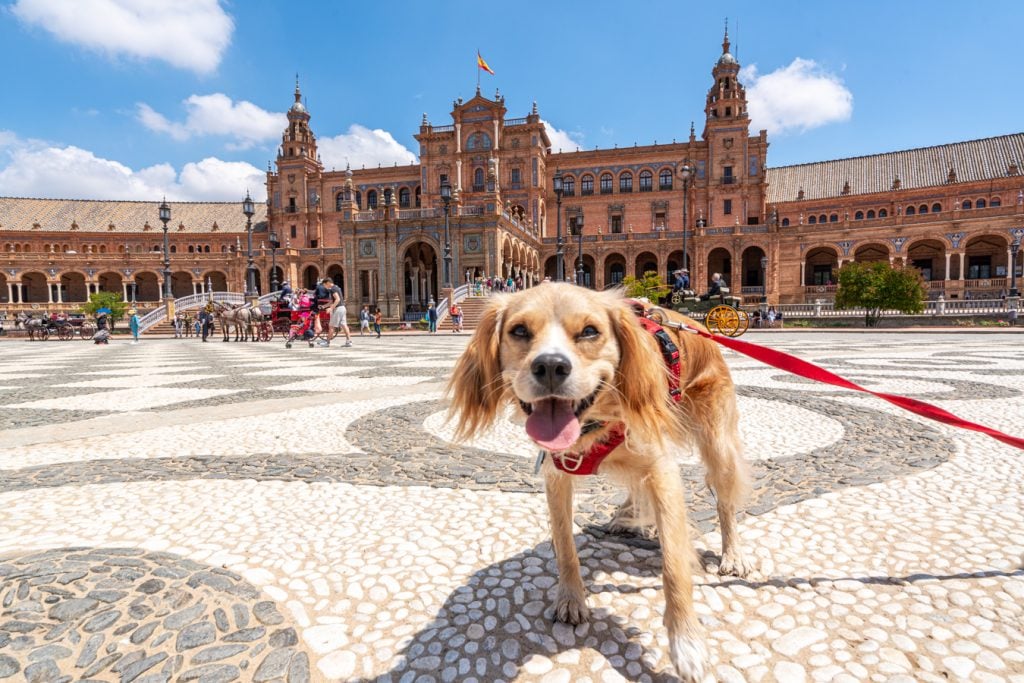 Day 5: Take a half-day trip to Cordoba.
Less than an hour from Seville by train or car, you'll find the captivating Andalucian city of Cordoba–which happens to be one of our favorite places in the region!
Once the most powerful city in Islamic Spain, the Cordoba of today is small and manageable, a bite-size tourism destination that nonetheless leaves a big impact on visitors.
Cordoba is most famous for its incredible Mosque-Cathedral–literally a former mosque with a cathedral built into its center–which is one of the most memorable buildings we've had a chance to visit anywhere.
The Mosque-Cathedral should absolutely be your top priority when visiting Cordoba, but beyond that, there's still plenty to see within a short walk!
Snapping photos of the picturesque Calleja de las Flores, relaxing in the Patio de los Naranjos, wandering through the Jewish Quarter, and checking out some of the beautiful patios of Cordoba should also be on your to-do list.
After seeing the best of Cordoba, you have two options for the rest of your day: first, you could enjoy another evening in Seville.
Or, if you'd rather make today particularly busy in favor of having more time for sightseeing tomorrow, you could head onto Granada.
Granada, home to the Alhambra, is about 3 hours from Seville by train or car and is your destination for tomorrow.
You could opt to continue sleeping in Seville and take a long day trip there on day 6, or, if you're open to packing and unpacking an extra time, you could sleep in Granada starting tonight to give yourself more time in the city.
Personally, we love Granada and would recommend spending extra time there, but both options are compatible with this Spain itinerary.
Where to Stay in Granada
When spending a few days in Granada, we opted to rent an apartment from Mosaiko Homes and could not have had a better experience: the owner was responsive, the apartment fantastic, and the location unbeatable!
Mosaiko Homes is located on a quiet street a short walk from many of Granada's top sights, offering the combination of a convenient location and a lack of noise at night–two things that can be difficult to find together in Andalucia!
Another excellent option with near-perfect reviews is the incredibly unique Casa de Reyes (that decor!).
For a bit of luxury, the popular Shine Albayzin is not only housed in a 16th-century palace, it overlooks the Alhambra.
Generally speaking, lodging in Granada is much more affordable than in, say, Barcelona or even Seville.
If you're going to splurge on a luxury property during your 10 days in Spain, Granada is a fantastic place to do so!
Day 6: Explore Granada and tour the Alhambra.
Whether you're visiting on a day trip from Seville or spending the whole day in Granada (we recommend the second, but the first is doable too), there is one major item on the agenda today: the Alhambra.
This collection of centuries-old palaces (plus a fort, gardens, ruins of a medina, and more), is one of the most unique groupings of architecture in Europe, and the most-visited tourist attraction in Spain!
We wrote about visiting the Alhambra extensively here, so I'll try to keep this (kind of) brief, but the long and the short of it is that this is a place you need to plan ahead for.
Tickets often sell out, and a tour is a great idea here if you like historical context (we enjoyed this one).
If you're visiting from Seville, we recommend booking a day trip, because 3 hours of transit each way plus navigating to and from the complex is a headache in a short time frame (we rarely suggest taking day trips this long, but the Alhambra is worth it).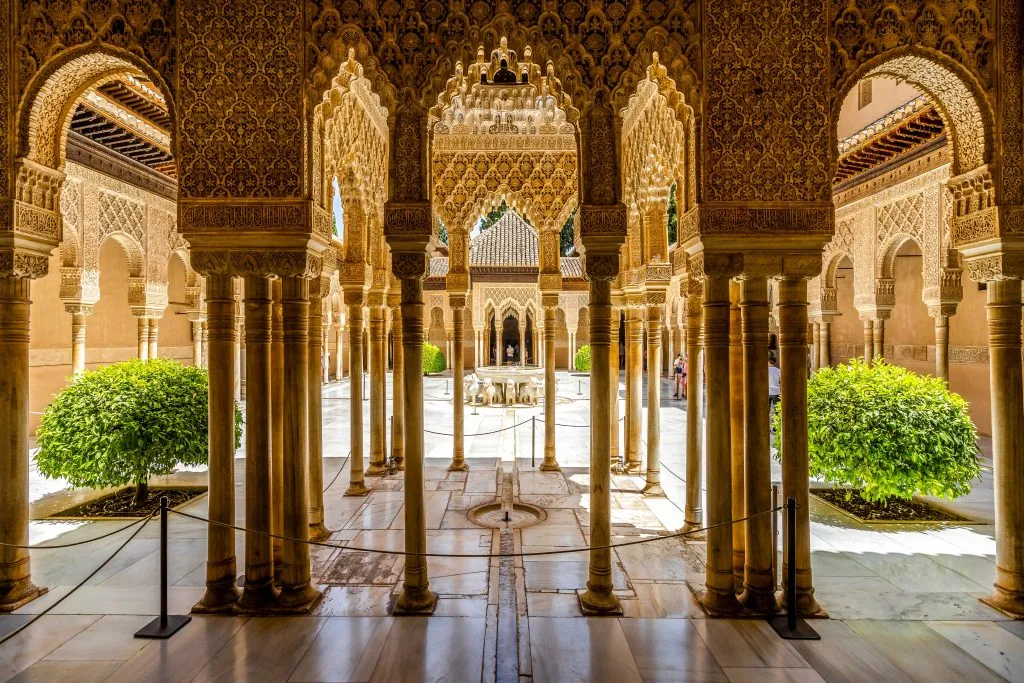 However you decide to visit, make sure that you book a ticket or tour that includes the Nasrid Palaces!
These magnificent palaces, the final stronghold of Islamic Al-Andalus before the Reconquista was officially completed by the Catholics in 1492, are the jewel of the Alhambra and an absolute must-visit.
Not all tours and tickets include them, though, so book yours carefully.
Once you wrap up at the Alhambra, if you're staying in Granada, be sure to wander through the Albayzin neighborhood, admire the views of the Alhambra from a distance at the beautiful Mirador de San Nicolas, and visit the beautiful Granada Cathedral.
Granada is also a fantastic place to enjoy Spain's tapas culture, so be sure to indulge in some snacks along with a tinto verano.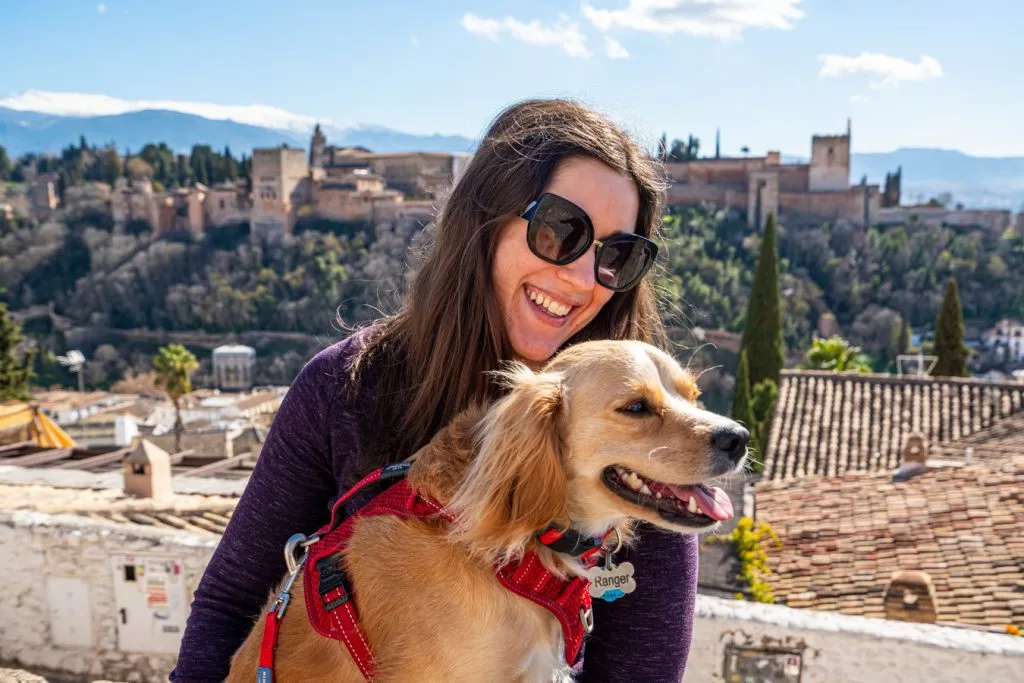 Day 7: Head north to Barcelona.
Today, say goodbye to Andalucia and head north to Barcelona!
This is the longest travel day included on this 10 days in Spain itinerary, and you can expect to spend 6+ hours on a train from Granada to Barcelona.
We recommend booking this trip at least a few weeks in advance, as you'll want a choice of schedules and to get the best price possible.
If you're on a budget, you can price out flights too, but traveling by train is much more fun!
Once you arrive in Barcelona, you can check into your hotel, get unpacked, and start exploring.
Meander through the Gothic Quarter, check out the Barcelona Cathedral, sample the Santa Caterina Market, stroll down Las Ramblas, and soak up the beauty of Plaça Reial.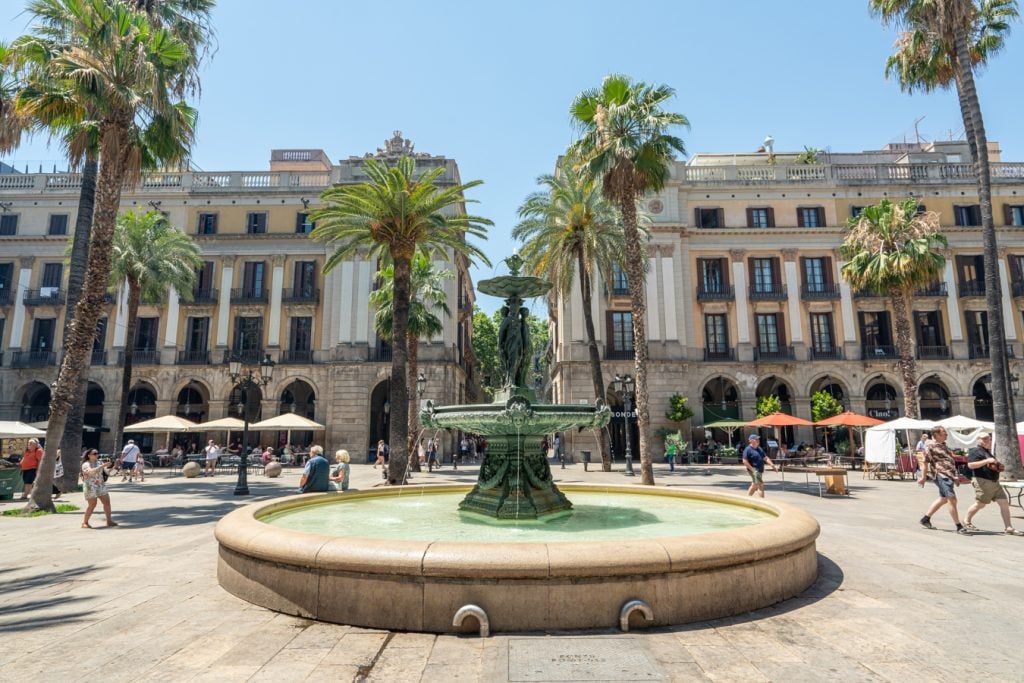 Where to Stay in Barcelona
When deciding where to stay in Barcelona, it's important to keep in mind that this sprawling city requires some effort to move around–there's no way to stay near all the best things to see in Barcelona, but it's best to stay by some of them!
We checked into Citadines Ramblas Barcelona and were extremely satisfied–to the point that we may just keep going back on additional trips.
Our room was spacious, complete with a kitchenette, and extremely quiet despite the hotel being located in a prime spot right along Las Ramblas.
The view of the Barcelona Cathedral from the rooftop deck of the Colón Hotel Barcelona is pretty incredible too, though, and we have it bookmarked for a possible future trip.
If you're traveling on a bit more of a budget, Hotel Nouvel also gets excellent reviews and is in a wonderful location.
Day 8: Explore Barcelona's unique architecture.
On your first full day in Barcelona, start with a visit to either Casa Milà or Casa Batlló, two of the most famous homes designed by Gaudi!
They're fairly close together, but with only a couple of days left in Spain, we recommend only going inside one and seeing the other from the outside.
You'll also want to get an early start–personally, we recommend pre-booking tickets for Casa Batlló when it opens).
From there, explore any nooks and crannies of the Gothic Quarter you didn't get to see yesterday, including Catalunya Plaza and Mercado de la Boqueria.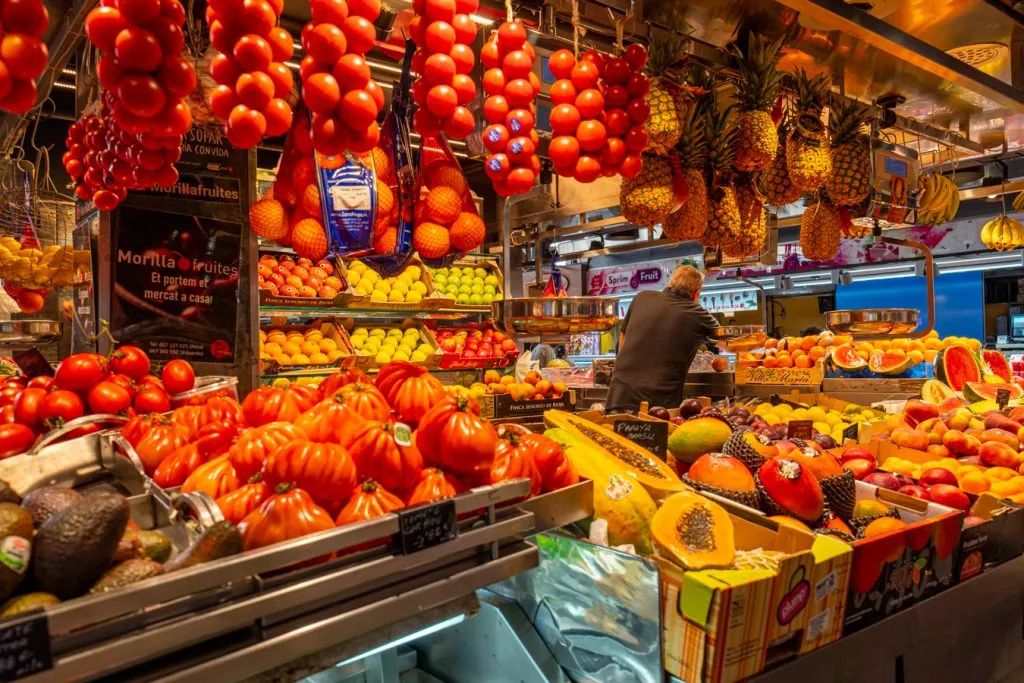 If you're excited about all of Barcelona's Catalan modernism architecture, we can also heartily recommend a visit to Palau de la Música Catalana.
Though not designed by Gaudi, it's an amazing (and compared to much of Barcelona, uncrowded) example of the style and a memorable place to visit!
Barcelona's Arc de Triomf is also only a 10-minute walk away.
From there, you'll be about a 25-minute walk from Barcelona's beaches and bustling coastline.
Day 9: Dive deeper into Barcelona (and possibly take a day trip).
With its long list of incredible attractions, it would be very easy to spend the penultimate day of your Spain vacation exploring the city in-depth–but another option would be to add on a trip to the monastery of Monserrat.
This mountain retreat away from the city is known for its incredible views, and a half-day trip there is a wonderful way to get a taste of Catalonia beyond Barcelona itself.
However, staying in the city also has its charms: the views from Park Güell and/or Tibidabo, the incredible Picasso Museum (which holds over 4,000 of the artist's works), and a visit to Camp Nou are possible additions to your list.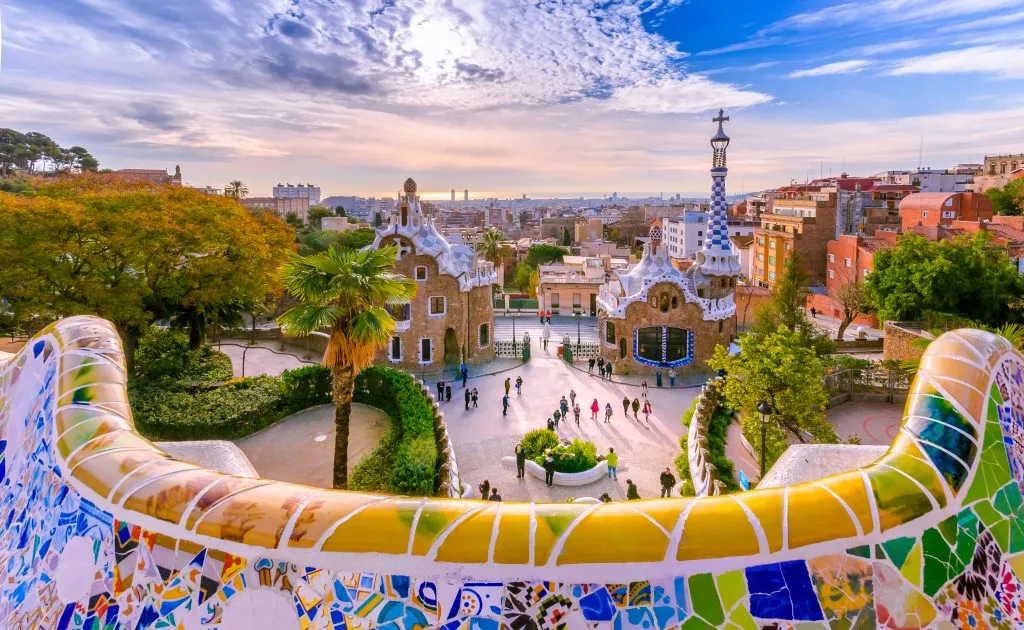 And, of course, we can't forget the Sagrada Familia: Gaudi's unfinished masterpiece of a cathedral is an absolute must-see when visiting Barcelona!
We visited in the early evening after hearing that the interior's light was at its best then, and we were not disappointed–the colors were phenomenal.
If you wrap up at the Sagrada Familia before sunset and would like to enjoy the Mediterranean while in Barcelona, consider wrapping up your evening with a sunset catamaran cruise.
Book skip-the-line tickets to visit the Sagrada Familia today!
Day 10: (Maybe) head back to Madrid and say goodbye to Spain.
How the final day of this itinerary for Spain works for you depends on one factor: whether you're flying home from Madrid or Barcelona.
If you're taking an evening flight home from Madrid, you'll need to take the high-speed train back to the capital (we highly recommend booking this in advance).
If you're leaving from Barcelona, you may have time for one more round of pan con tomate enjoyed while admiring the bustling of the city before you catch your flight!
However you close out your 10 days in Spain, we hope you say goodbye already dreaming of your trip back.
The Best Time of Year to Enjoy This Itinerary for Spain
Spain is the definition of a year-round destination, and that includes this Spain itinerary!
That being said, though, if you have flexible dates and are trying to pinpoint the ideal time to travel Spain, we recommend enjoying this itinerary in the spring or fall.
Summer in Spain, especially in Andalucia, can be brutally hot (we shudder to think of visiting the Alhambra at noon in July).
Winter is perfectly doable, but the weather can be rainy and less predictable than in spring or summer.
On the plus side for winter, though, you'll experience few crowds, low prices, and still have a decent chance at soaking up some Spanish sun, albeit with a jacket at hand.
The sweet spot for this 10 day Spain itinerary, though, which travels a decent chunk of the country and therefore needs to take multiple climates into account, is the spring and fall.
We have visited Spain in every season, and while each trip was a delight, we have a special place in our hearts for our spring and fall visits!
More Than 10 Days in Spain?
Lucky enough to have longer than 10 days in Spain? If so, congratulations!
Our first recommendation with a couple of extra days to add to your Spain itinerary is to slow down: every destination covered in this travel guide could easily use another day or two at least.
While it's doable to travel Spain at a breakneck pace for a week and a half, the longer you're there, the slower you'll want to travel.
Alternatively, if you want to keep the speed going, you could add on another day trip: visit Girona from Barcelona, Segovia from Madrid, or Ronda from Seville, for example.
If you have closer to 2 weeks in Spain, consider adding Basque country to your itinerary!
San Sebastián, Bilbao, Vitoria-Gasteiz, and beyond makes for a wonderful extension to round out a couple of weeks in Spain.
Alternatively, you could opt to extend the Andalucia portion of your trip to include a couple of days on the Costa del Sol.
With near-limitless ways to enjoy a Spain vacation, it's safe to say that wherever you head, you're bound to have a wonderful trip.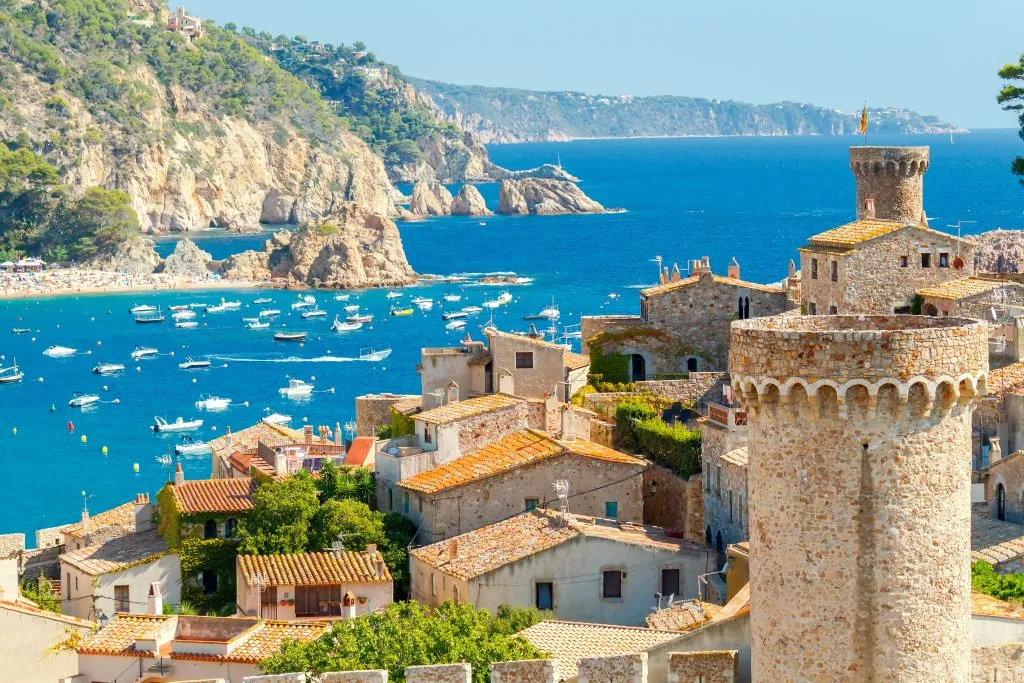 What to Pack for Your Trip to Spain
Our detailed packing lists for Europe in summer, fall, and winter cover just about everything you'll need to bring on your 10 day Spain vacation!
To get you started on your list, though, here are a few essentials to add to your packing list:
Travel Adaptors for Spain — If you're coming from outside of mainland Europe, you'll definitely need adaptors for your electronics.
Camera — We completely adore our Sony a7R III, but whatever camera you're comfortable with works–just make sure you have something with you to preserve your memories!
Comfortable Day Bag — We currently use Pacsafe's sleek anti-theft backpack and love it, but if you don't want to shell out the cash for this trip, that's totally understandable.
Just aim for something comfortable to wear, not flashy, and medium-sized–we used a Northface Jester backpack for years and loved it as well.
Sunglasses — They're not kidding about the Spanish sun! I find myself reaching for sunglasses regularly even when visiting Spain in winter.
Portable USB Charger — Don't stress about your phone dying while you're sightseeing in Spain: bring a USB charger along for the ride.
Your 10 Day Spain Itinerary Map
Take This Map With You! Click each highlight to pull up the name of the destination. To save this map to "Your Places" on Google Maps, click the star to the right of the title. You'll then be able to find it under the Maps tab of your Google Maps account! To open the map in a new window, click the button on the top right of the map.