Colorful, vibrant, diverse, delicious, and surprising: after working your way through this 10 days in Portugal itinerary, those are just a few adjectives that you may find yourself trying–and failing–to sum up this gorgeous country with.
Despite its small size and somewhat isolated position in the far southwestern corner of Europe, the sheer variety of things to do and see on a trip to Portugal is astounding.
And–thanks to the aforementioned small size–you can sample a decent portion of the best places to visit in Portugal in 10 days.
We've now been living in Portugal as American ex-pats for about a year, and with every beach town, historic monastery, cozy restaurant, and quirky museum visited, we find something else that we love about traveling in Portugal.
And, thanks to having family and friends come to visit, we've had the opportunity to test-drive much of this suggested itinerary for Portugal on our various loved ones, too.
If you are planning your first trip to (mainland) Portugal and are hoping to see as much as possible, we have you covered!
Here's how to enjoy an incredible 10 days in Portugal.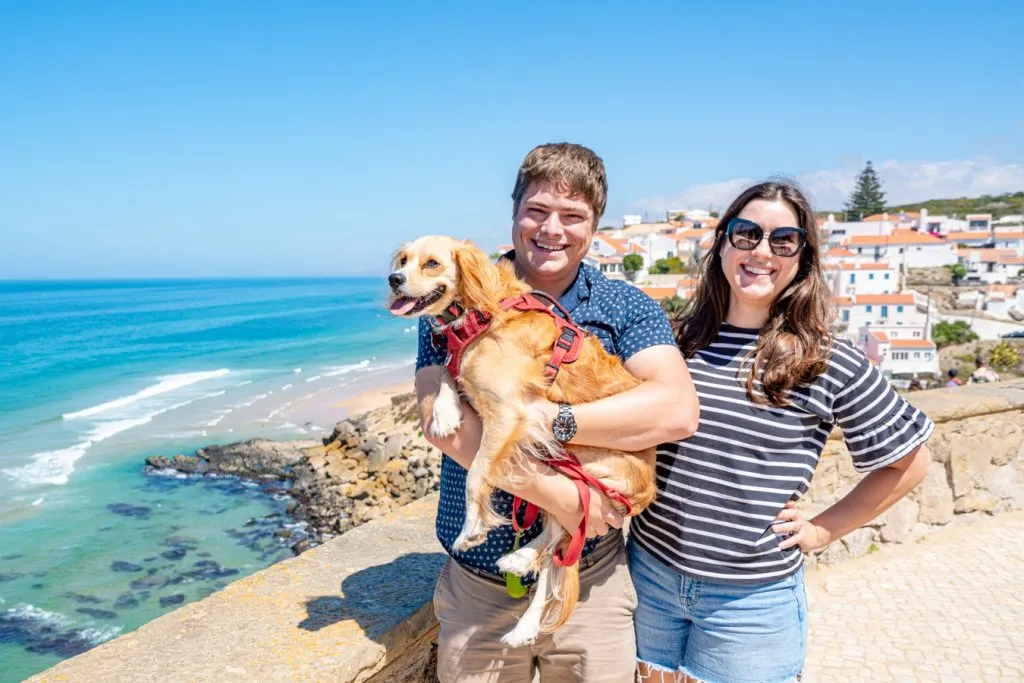 How We Structured This 10 Day Portugal Itinerary
We've intentionally structured this Portugal itinerary as a loop beginning and ending in Lisbon.
In addition to the capital city, we'll cover stops in Sintra, Porto, the Douro Valley, and the Algarve.
While a quick glance at a map is enough to tell you that starting and ending your trip in Lisbon isn't the most geographically sensible thing to do, it's what most visitors end up doing simply because Lisbon has–by far–the biggest international airport in Portugal.
If you happen to get a good flight deal, starting your trip in Porto and ending in Faro (home to the Algarve's international airport) is another option.
However, unless you're flying to and from another destination in Europe, it's unlikely to make sense for your vacation.
Getting Around During Your 10 Days in Portugal
This itinerary for Portugal is best accomplished with a mix of transportation.
Within Lisbon and Porto, traveling on foot, via public transportation, and via taxi are sufficient.
To travel from Lisbon to Porto, we recommend taking the train, and we break down the details of that process in this Lisbon to Porto travel guide.
For train tickets, we recommend checking prices and timetables via Omio.
In the Algarve, your life will be much easier with a rental car, though–with some modifications–you can get by without one in a pinch.
We recommend searching for your rental car through Discover Cars, which will allow you to sift through all your options and choose the right car for you based on price, the reputation of the company that is renting it, and the terms of the rental contract.
The trickiest travel day on this route is between Porto and the Algarve, when, depending on your travel style, you may prefer to fly, take the train, or drive, and we'll go into more detail on that below.
Shop rental cars and train tickets for your trip to Portugal today!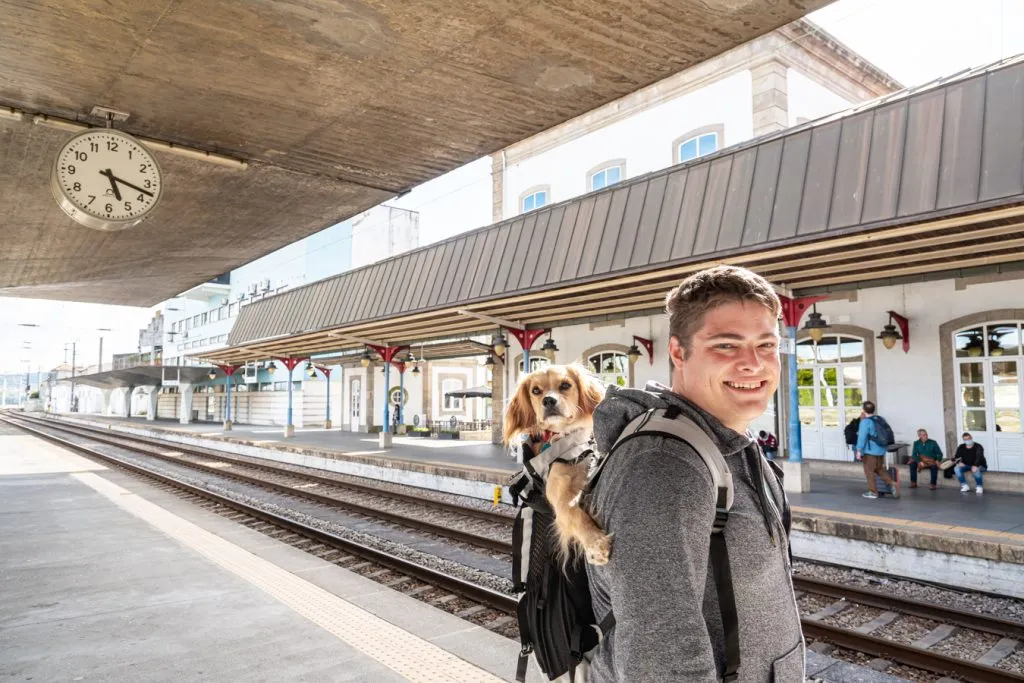 The Ultimate 10 Days in Portugal Itinerary
Day 1: Arrive in Lisbon and start exploring the city.
If you're traveling to Portugal from North America, odds are very high that you'll arrive early in the morning, exhausted, jet-lagged… and excited to see the city.
Head into the city by cab or metro (cab is the fastest and most comfortable), drop your luggage off at your hotel and enjoy your first round of pasteis de nata over coffee.
From there, it's time to explore the city–starting with one of its highest points.
Morning: Alfama + Castelo de São Jorge
For your first morning in Lisbon, start by heading to the city's very highest point: the remains of Castelo de São Jorge, which boasts one of the most stunning views of Lisbon.
Keep in mind that not much is left of Castelo de São Jorge–there are walls, ramparts, views, history, and peacocks.
Even so, it's consistently ranked one of the best things to do in Lisbon, including by our own visitors (and the lines get ridiculous, so nab skip-the-line tickets online before you go).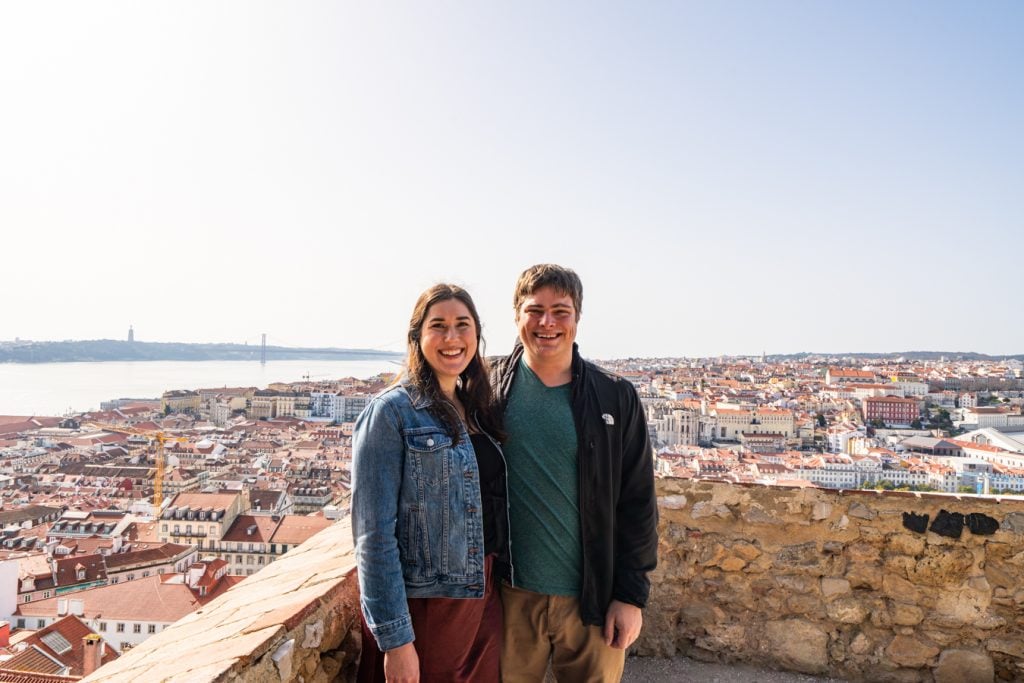 From there, head downhill to explore Alfama, Lisbon's oldest neighborhood and one of the only parts of the city that wasn't destroyed in the infamous 1755 earthquake.
Here, you'll see many Lisbon postcards come to life, including the views from the Miradouro das Portas do Sol and the Miradouro de Santa Luzia, the famous Tram 28 (though we don't recommend riding it–just snap photos from outside) and the Lisbon Cathedral.
Wander your way through the tiny streets of Alfama, vaguely making your way toward the Praça do Comércio.
Book skip-the-line tickets to visit Castelo de São Jorge today!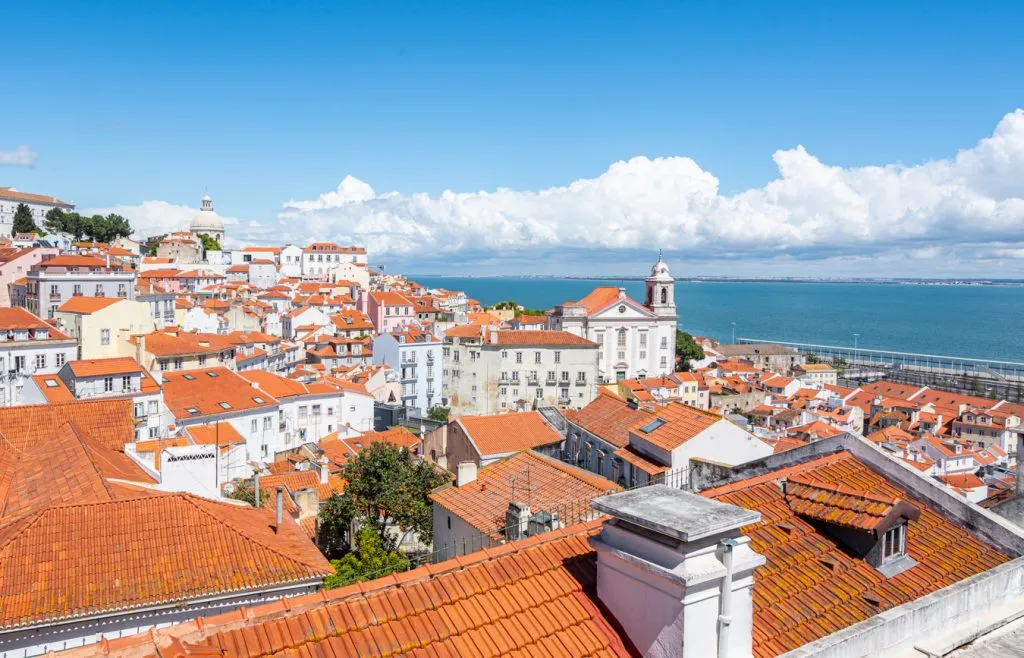 Afternoon: Baixa + A Food Tour
When you find yourself at the Praça do Comércio, you're in Baixa, the heart of Lisbon's downtown that was reimagined and rebuilt after the 1755 earthquake.
You'll no doubt be able to feel the difference in architecture as compared to more medieval Alfama!
Enjoy the square and accompanying views of the river, and then head inland, through the beautiful Arco da Rua Augusta and up through Lisbon's shopping district.
Make your way past Rossio Square, and check out the Church of São Domingos.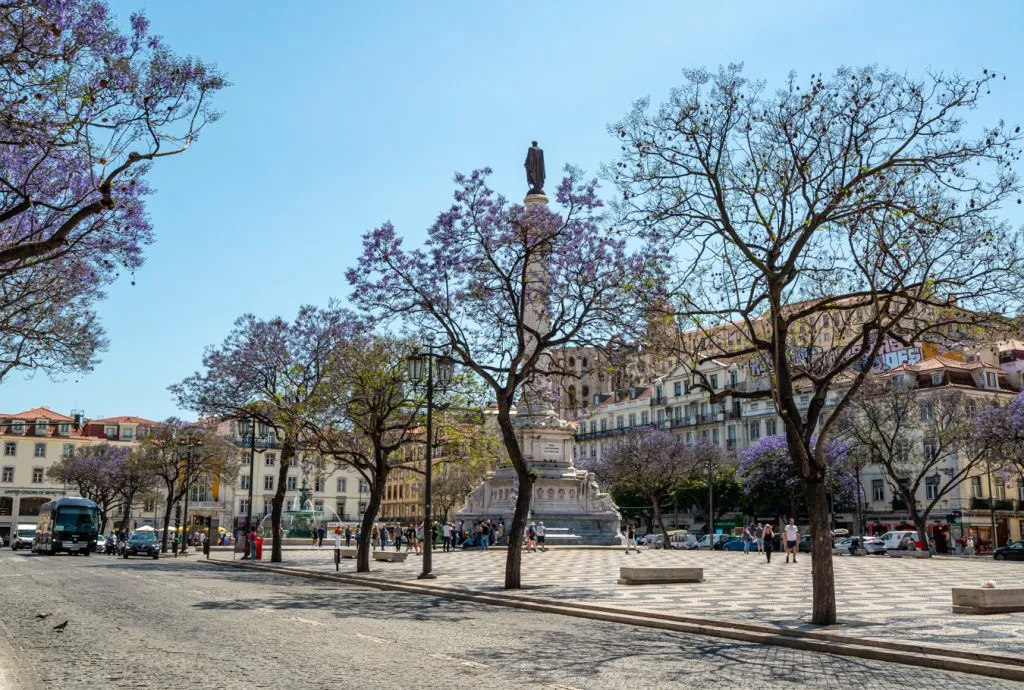 At this point, you may be completely burned out with jetlag–but hopefully not.
If you can rally, we highly recommend signing up for this food tour, which we loved and is one of a few that we have taken in Lisbon.
We had a great time on the tour and found it to be a great quick introduction to Portuguese cuisine.
In other words, it's the perfect activity for the beginning of your first trip to Portugal (and it will save you from having to figure out where to eat dinner your first day, too).
Where to Stay in Lisbon
We recommend basing yourself in Lisbon for your first 3 nights in Portugal.
While there are plenty of excellent neighborhoods to stay in throughout Lisbon, we recommend picking somewhere central with good transportation connections around the city.
Alfama, Baixa, Chiado, Principe Real, and Barrio Alto are great names to keep an eye out for when browsing places to stay.
For a budget-friendly hostel experience (with private rooms available), the Sunset Destination Hostel is a great, centrally located option.
At a mid-range price tag, you can't beat the location or rave reviews for Tempo FLH Hotels Lisboa.
Looking for a splurge?
The Lumiares Hotel & Spa is part of the much-acclaimed Small Luxury Hotels of the World Collection, and offers stunning views that you won't forget anytime soon!
Day 2: Enjoy more of Lisbon's highlights.
The second day of your Portugal itinerary is all about continuing to get to know Lisbon, covering a mix of the capital's top attractions and cultural delights.
Morning: Bairro Alto + Chiado
Start your morning in Lisbon's Bairro Alto (high town) and Chiado, exploring a corner of the historic center that you didn't get to see yesterday!
Highlights include the Miradouro de São Pedro de Alcantara, the overwhelming Church of São Roque, the Carmo Convent, and a stop at Livraria Bertrand, the oldest still-operating bookstore in the world.
If you're a fan of glitzy cafes, consider also grabbing a coffee and pastry at A Brasileira.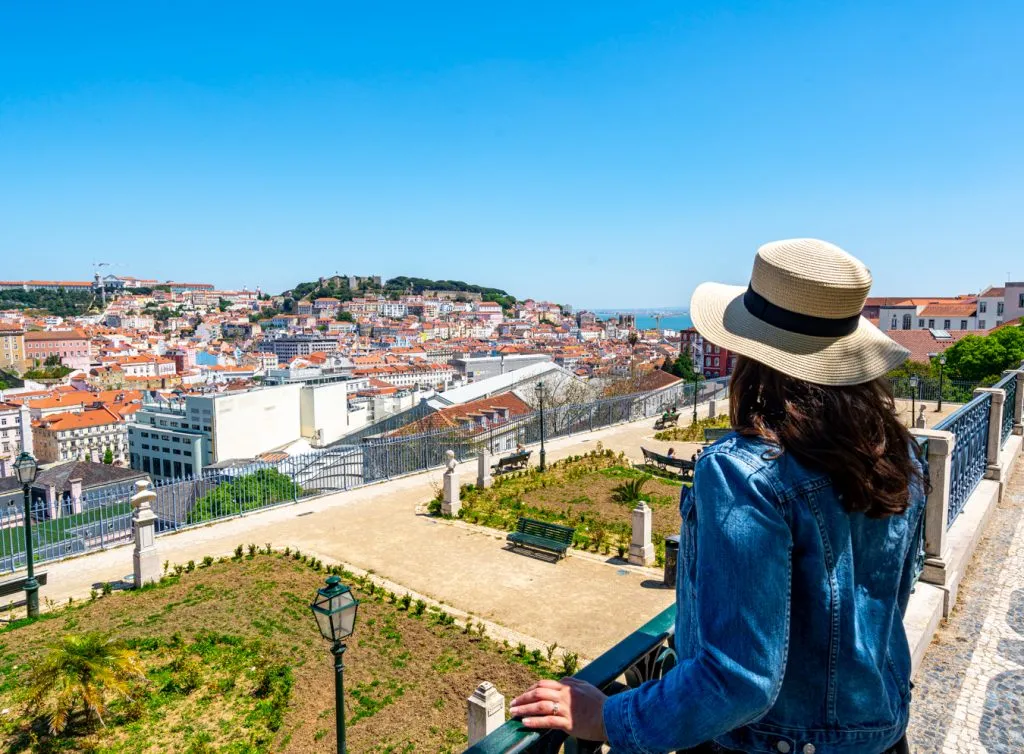 Afternoon: Belém + The Jerónimos Monastery
Next up on your Portugal itinerary, head down to the popular riverside neighborhood of Belém.
Here, you'll find the famous Jerónimos Monastery and accompanying church (the church is free to enter, the monastery is not), the gorgeous Belém Tower (you don't need to go in, but it's worth seeing the exterior), the Monument of the Discoveries, and stunning views of the Tagus River.
You'll also find the wildly popular Pastéis de Belém, which serves up the original pastéis de nata.
Yes, they are worth the long line (hint: the table service line is often much shorter than the takeaway line!), but if standing in line for carbs isn't your thing, Manteigaria, another popular Lisbon bakery, has a location just down the street.
Meanwhile, the Jerónimos Monastery, while a must-see, is home to some of the longest lines for any tourist attraction in Portugal!
Pre-book your ticket and, since you're visiting Belém in the afternoon, consider going close to closing time (we took the photos of the monastery that are included in this post on a September afternoon close to closing time).
Evening: Sunset Boat Tour or Fado Show
In the evening, close out your day with a sunset boat cruise on the Tagus River, soaking in some of the best views of Lisbon, the Tagus, and the Ponte 25 Abril Bridge from the water.
We absolutely loved our sunset cruise experience in Lisbon and highly recommend it–kicking back and relaxing with beautiful views is the perfect way to end a busy sightseeing day.
Not into cruises?
Alternatively, you could opt to attend a Fado show instead, to experience a different side of Portuguese culture.
If you prefer to enjoy a Fado show, we recommend reversing this day's itinerary, starting with Jerónimos Monastery as soon as it opens and then ending your day in Chiado.
Book your sunset boat cruise or Fado show today!
Day 3: Take a day trip to Sintra (and beyond).
Set in the hills just outside of Lisbon, the beautiful town of Sintra–complete with several fantastic palaces–is easily among the most popular places to visit in Portugal.
From the beauty of the distinctive yellow-and-red Pena Palace to the quirky Alice in Wonderland vibes of Quinta da Regaleira to the stunning views from the Moorish Castle and beyond, visiting Sintra is incredibly memorable and worth the effort.
… But, its popularity also has another side effect: the palaces of Sintra are among the most crowded places included on this travel itinerary, so be prepared for that.
With 10 days in Portugal, you'll want to visit Sintra on a day trip from Lisbon, and that essentially leaves you 2 options: travel by public transportation, or on a guided day trip like this.
This day trip is one of the most popular tours in Portugal and includes visits to Pena Palace and Quinta da Regaleira as well as Cabo da Roca (long believed to be the westernmost point of mainland Europe, now simply a stunning viewpoint), and a short stop in the resort town of Cascais.
The pros of taking a tour are simple: as the palaces in Sintra are far enough apart that you can't walk between most of them and parking is very tricky, it saves you time and allows you to see more.
The cons are simple too: with so many stops to make, you won't have much time to linger.
If you'd rather travel independently, you can absolutely do that as well, though we recommend nabbing your tickets for Pena Palace and other popular places in advance.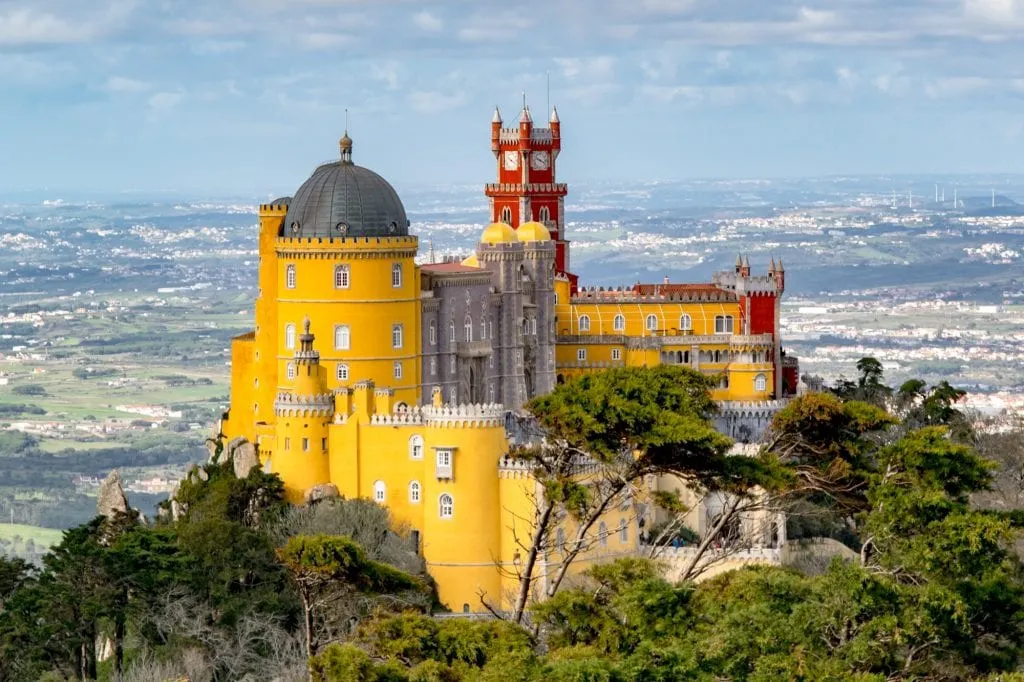 The train takes about 40 minutes from central Lisbon.
Once you arrive in Sintra, you'll board one of 2 buses that will take you to your first palace, and then (depending on which palaces you choose to see) another to your second and maybe third, depending on how fast you explore.
When you're finished, you can head back to Lisbon via train or simply call an Uber (we tend to do this).
Book your Sintra day trip today!
Alternative Day Trip: Obidos + the UNESCO Monasteries
Not into touring palaces (and fighting crowds to do so) or admiring views of the sea?
I can't say I entirely understand, but I do have an excellent alternative for travelers more interested in small towns and historic architecture: instead of heading to Sintra and the coast, head to Óbidos and (some of) the nearby UNESCO monasteries of Alcobaça, Batalha, and Tomar.
I'll describe these destinations in a bit more detail in the "other destinations" sections below, but if 700-year-old monasteries and medieval castle walls you can climb on for free sound like your idea of a good time, you'll love them.
For this day trip, you'll want to either rent a car for the day or sign up for an organized day trip like this to handle the transportation and logistics.
Honestly, these are some of my favorite places in Portugal, so it pains me not to include them in the full itinerary–and they're certainly worthy of a day of your time.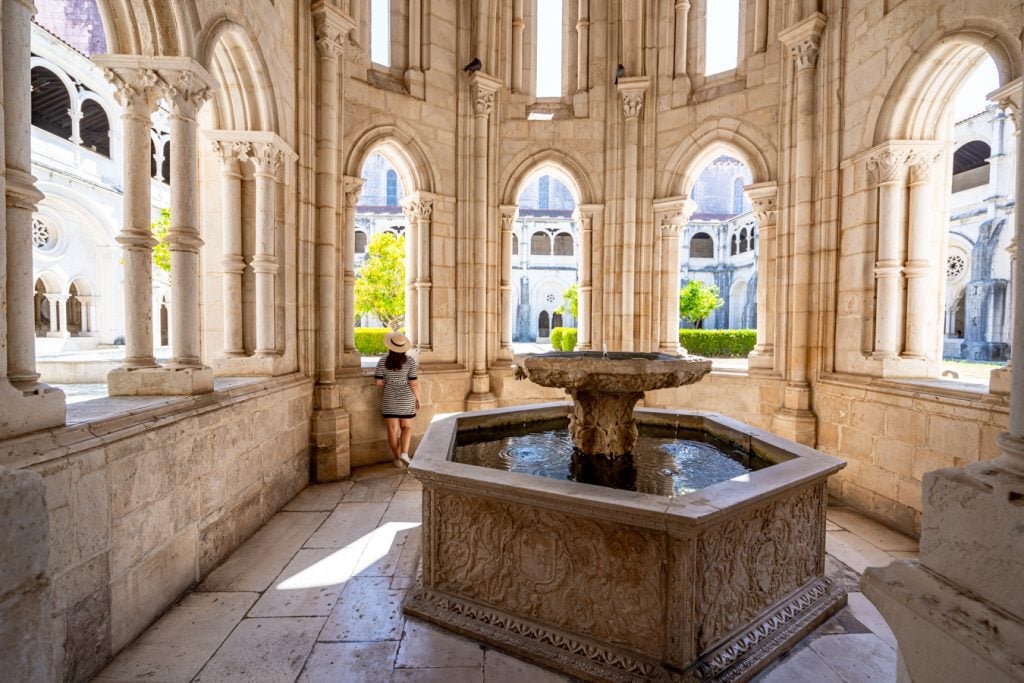 Day 4: Head north to Porto.
This morning, it's time to check out your hotel and head north to Porto!
Morning: Train to Porto
The easiest way to travel from Lisbon to Porto during your 10 days in Portugal is to take the train, which travels directly between the 2 cities and takes about 3.5 hours.
Most trains leave from Lisbon's Santa Apolonia Station and run consistently throughout the day.
We go into more detail on managing the journey between the 2 cities in this blog post.
We recommend booking your train tickets for the earliest time you feel comfortable with–the sooner you get to Porto, the better!
Afternoon/Evening: Porto's Historic Center
Once you arrive in Porto, drop your bags off at your hotel (if it's not time for check-in yet, they should be able to hold them in the lobby for you) and get ready to explore!
If you're looking for a quick lunch, the roast pork and soft cheese sandwich at Casa Guedes is a great place to start.
From there, we recommend checking out some of Porto's attractions that are further from the river, such as the Chapel of Souls, the Church of Saint Ildefonso, and Rua Santa Catarina.
If you have time, head over to the Church of Carmo, as and soak up the view from Miradouro da Vitória.
And, of course, you can't forget the very first attraction you'll see as you arrive in Porto: the interior of the São Bento train station is magnificent!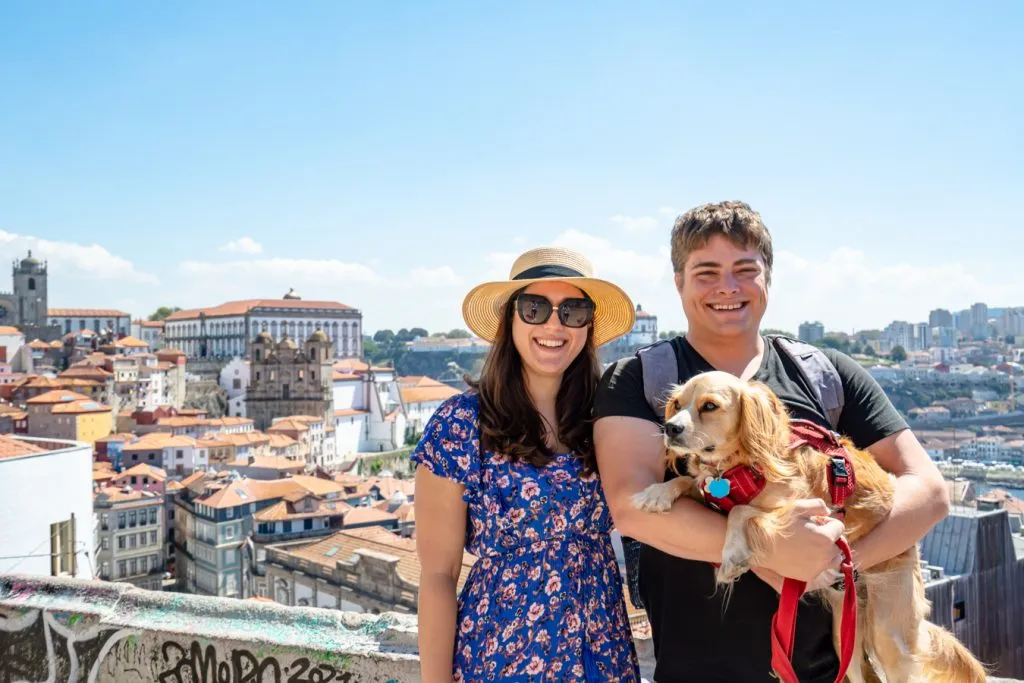 Where to Stay in Porto
We've visited Porto several times now, and have made a habit of staying at Pestana Porto – A Brasileira or NH Hotel Porto Batalha during our visits.
Both hotels are beautiful, with excellent customer service and incredibly central locations that both make it easy to explore Porto on foot and easy to check in when arriving by train.
(They both also welcome Ranger, a must for us).
If you're traveling Portugal on a budget, the Zero Box Lodge Porto gets excellent reviews.
We recommend spending 3 nights in Porto during your Portugal vacation.
Day 5: Explore Porto in-depth.
While day 4 of this itinerary involved traveling from Lisbon and day 6 includes a day trip, day 5 is all about diving deep into the city of Porto.
Morning: More of Porto's Historic Center
After a leisurely brunch (we can heartily recommend Floresta Cafe and Esquires Coffee, both of which we've eaten at many times), make your way to Clerigos Tower to enjoy one of the most stunning views of Porto!
From there, check out the Porto Cathedral–while the church is free to enter, it's well worth forking over a few Euro to explore the cloisters and attached museum, too.
Meander down toward the gorgeous Bolsa Palace (if you want to go inside, you'll need to book a 30-minute guided tour) and the Church of San Francisco, which is home to a downright stunning interior!
Afternoon/Evening: Ribeira + Vila Nova de Gaia
When you wrap up with the Porto attractions above, you'll be very close to the Ribeira district: Porto's colorful, vibrant riverside.
Once the haunt of fishermen and sailors, and now the haunt of tourists, the Ribeira district is a beautiful place to relax and enjoy views of Porto.
Like many picturesque neighborhoods around the world, the restaurants here tend toward being expensive and mediocre, but you can find occasional gems (we enjoyed our meal at Grupo Desportivo Infante D. Henrique, which has a great view but is a bit out of the hustle and bustle).
From Ribeira, make your way across the (lower level of the) Dom Luis I Bridge, to Vila Nova de Gaia.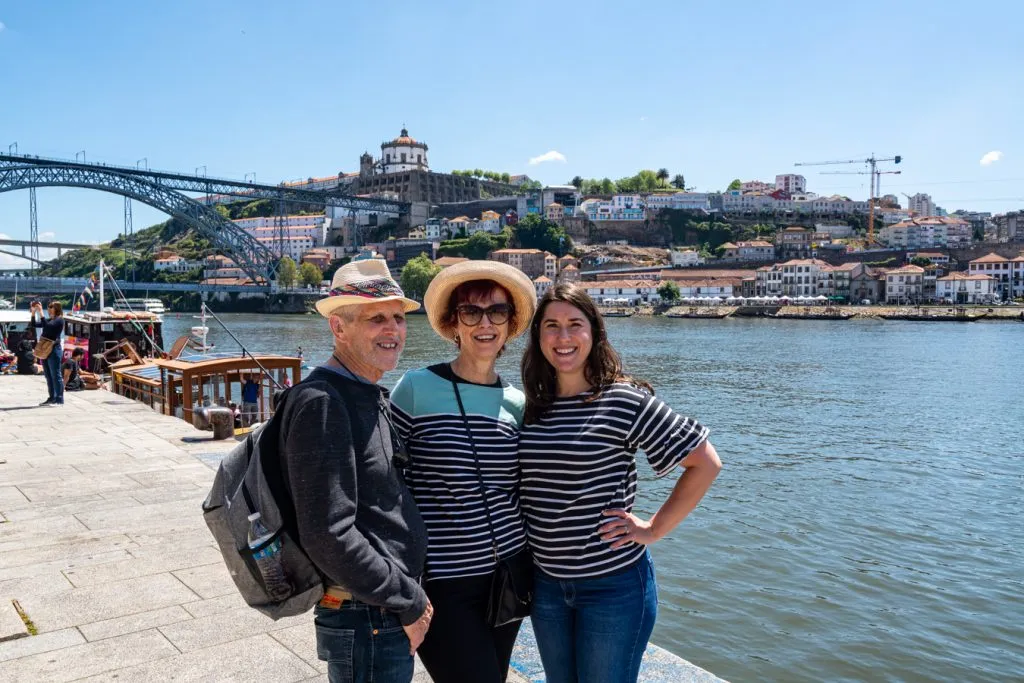 This charming riverfront is technically a separate city from Porto, but it's also home to all of the port lodges, and no trip to Porto is complete without a port tasting!
This port cellar tour and tasting will give you a good idea of what to expect from a typical tasting, and you can either opt for an organized tour or a build-your-own adventure experience (Quinta dos Corvos is a personal favorite lodge of ours).
This is also where you can hop on a 6 Bridges Cruise to experience Porto from the water for an hour–a delightful experience in and of itself.
Once you wrap up exploring Vila Nova de Gaia, ride the cable car back up to the top of the Dom Luis I Bridge, where you'll be treated to gorgeous views over the city and an easy walk back to your hotel.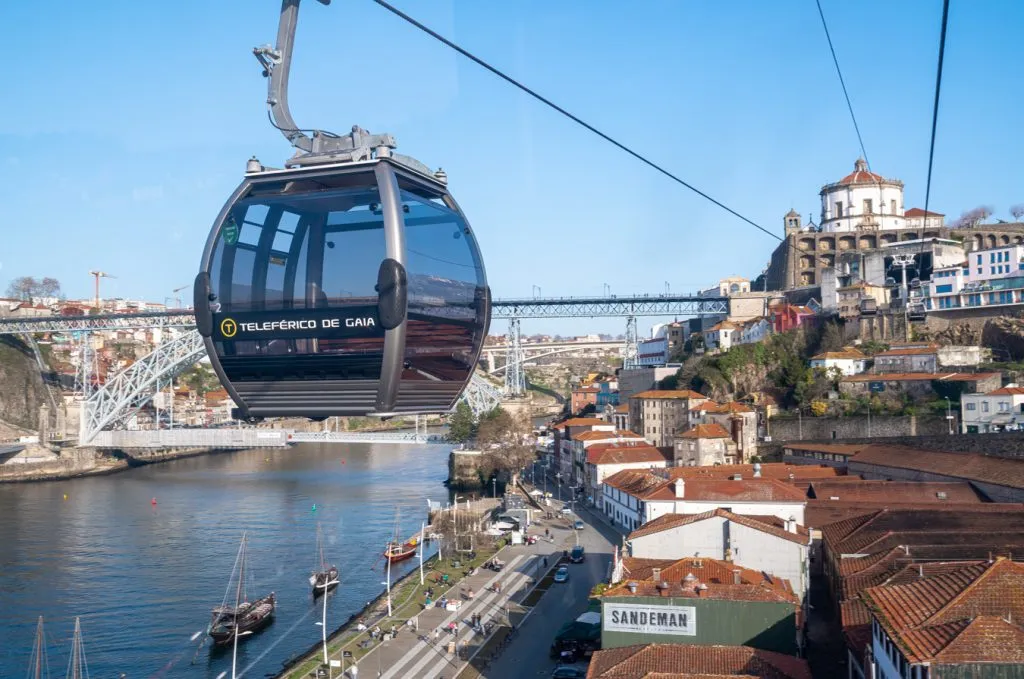 Day 6: Take a day trip to the Douro Valley.
Today, set off from Porto to visit one of the most dreamy destinations in Portugal: the Douro Valley.
Set a couple of hours east of Porto (give or take), the Douro Valley is the origin of the famous port wine and the oldest demarcated wine region in the world.
Here, the wine grows on dramatic terraces leading to the Douro River and, due to how steep the terraces are, the grapes are still harvested by hand.
And, as beautiful as the photos of the Douro Valley are, I have to say: this is one part of Portugal that photography simply sells short.
It is even more stunning in person!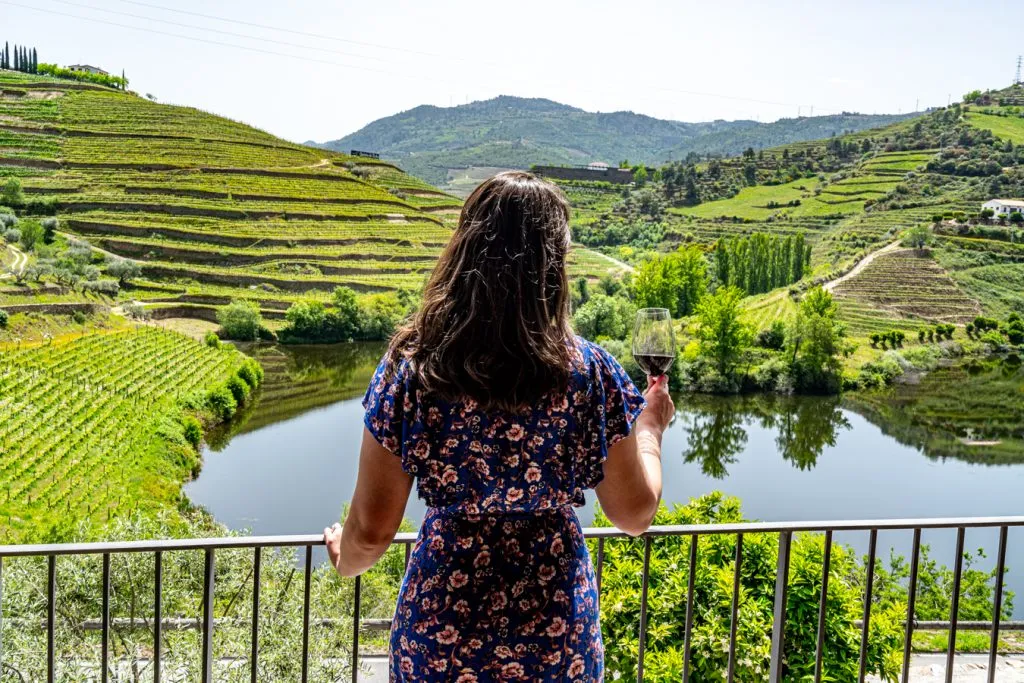 On a day trip to the Douro Valley from Porto, you'll have time to take in a few mesmerizing viewpoints, attend a port tasting or two at the source, and possibly take a cruise along the Douro River.
While you can rent a car and drive out to a quinta or two yourself, this is one day where a guided tour makes absolute sense.
The best viewpoints in the Douro Valley, while stunning, can require a bit of tricky driving, and for obvious reasons, port tastings and driving on tiny, winding, unfamiliar roads don't mix well.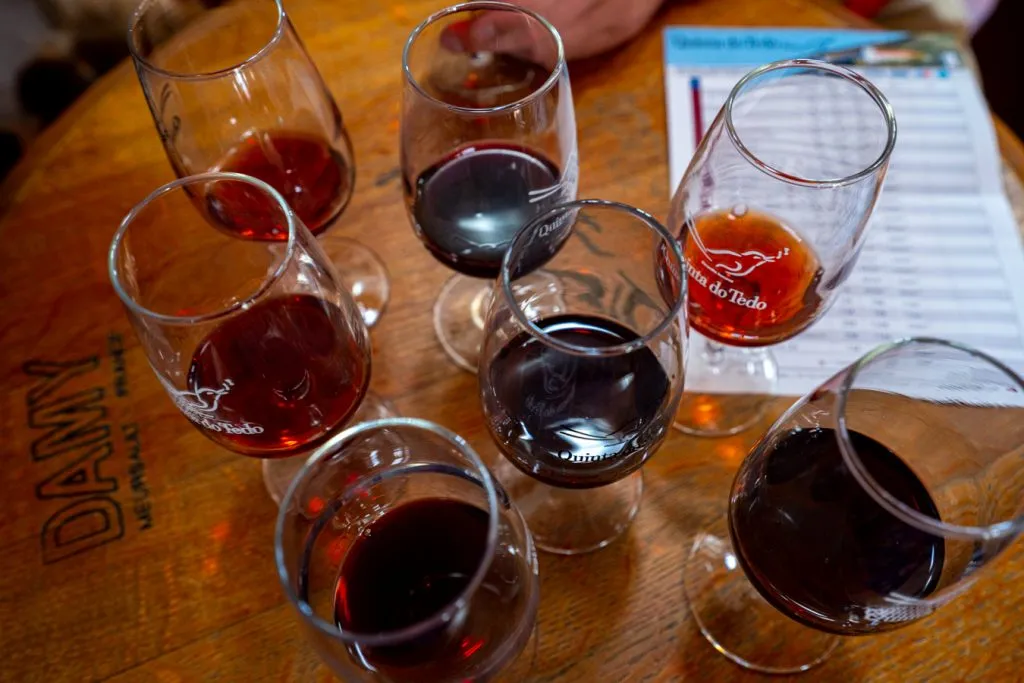 With only 10 days in Portugal to work with, this is an area where it's easier to let experts deal with the legwork.
There are many excellent tours out there, usually offering some combination of a couple of port tastings, a lunch, and a river cruise in the town of Pinhão (if you get a chance to check out the azulejo-covered train station while youre' in Pinhão, be sure to take it).
This day trip is an excellent option for those who want to focus exclusively on the Douro Valley, and this tour is a fun alternative who want to combine the Douro Valley with a stop in the charming small town of Amarante.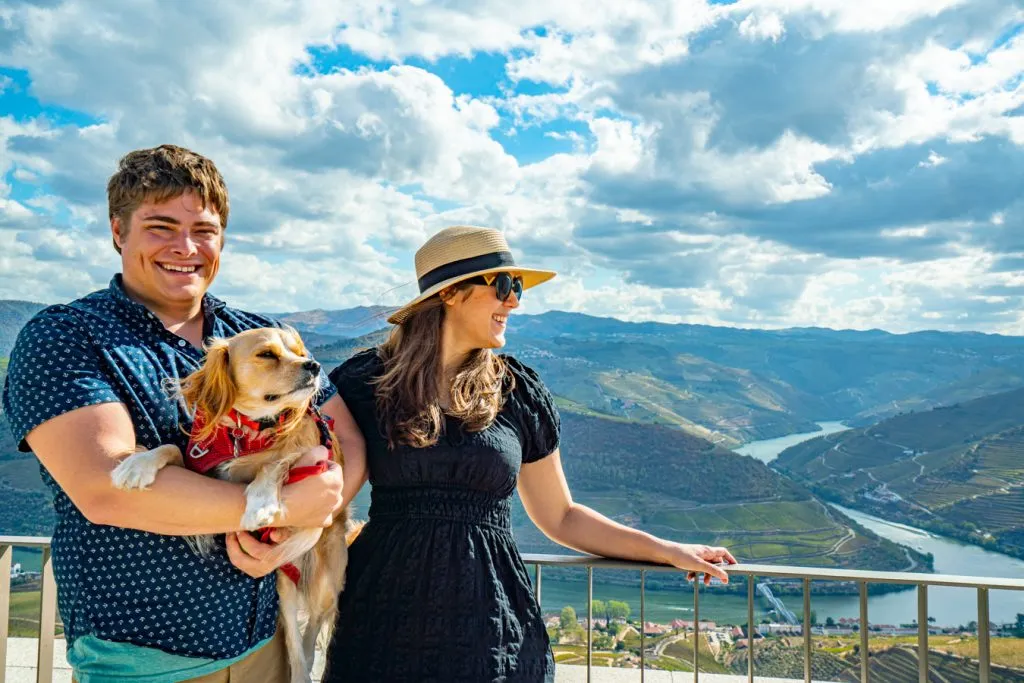 Day 7: Make your way from Porto to Lagos.
Without a doubt, traveling from Porto all the way to the country's southern shores in Lagos is the longest travel day on this 10 day Portugal itinerary.
You essentially have 3 options: first, rent a car and drive, which will likely incur a one-way rental fee (they're usually quite reasonable, but double-check).
The drive is about 5 hours (360 miles/575 kilometers), not including stops.
Alternatively, you could take the train (6.5 hours and 1-2 changes), or fly to Faro (about an hour of flight time, then another hour to drive to Lagos).
All of the options have their pros and cons, you can price rental cars via Discover Cars here and check train and flight tickets on Omio here.
Personally, we'd rather drive or take the train, as we generally consider flying more hassle than it's worth for distances this short.
Regardless, once you arrive in the Algarve, you'll likely want a car–so if you don't pick one up in Porto, you'll want to grab one once you arrive!
Evening: Lagos' Historic Center + Ponta da Piedade
Once you arrive in Lagos and get checked into your hotel, you'll potentially still have a bit of daylight left to work with!
Start getting to know the town by wandering the historic center and waterfront.
Fort Ponta da Bandeira is always worth a look and, if it's still open when you arrive, the Church of Santo Antonio is a must-see.
Ponta da Piedade, one of the most stunning viewpoints in all of Portugal, is a 10-minute drive or 45-minute walk from the center of town and is an excellent place to be at sunset.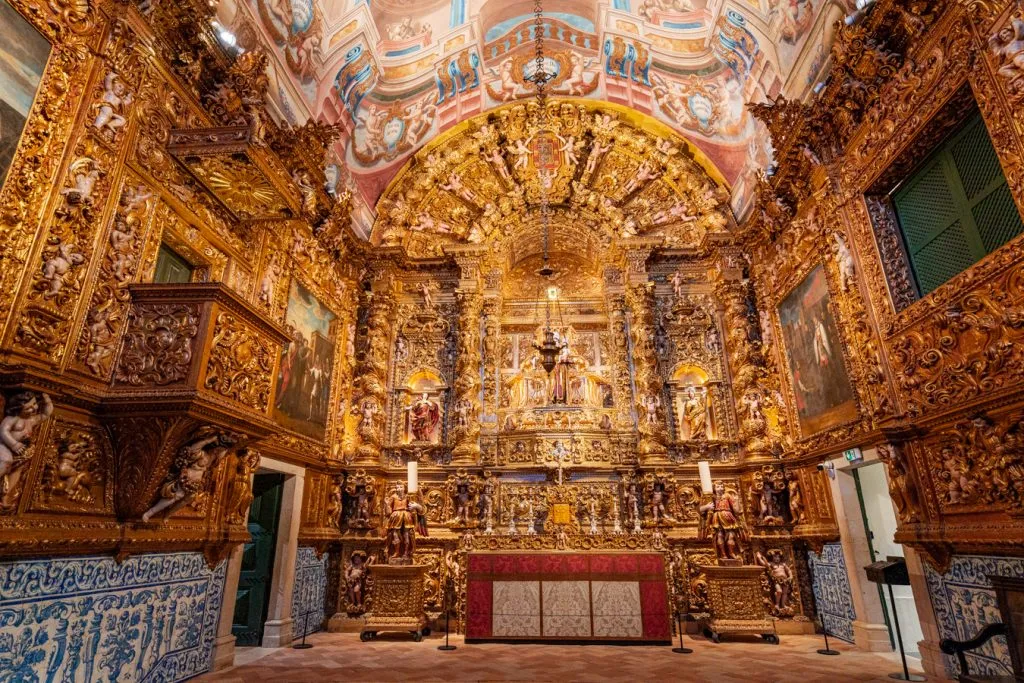 Where to Stay in Lagos
Lagos is one of the most beloved beach towns in the Algarve and makes an excellent final base to round off your 10 days in Portugal.
Look for hotels within walking distance of the historic center, ideally with on-site parking, and you'll be well-positioned to explore the region.
We adored our stay at Tivoli Lagos and would be thrilled to return to enjoy the beautiful property, gorgeous pool, restaurants, and delicious included breakfast again.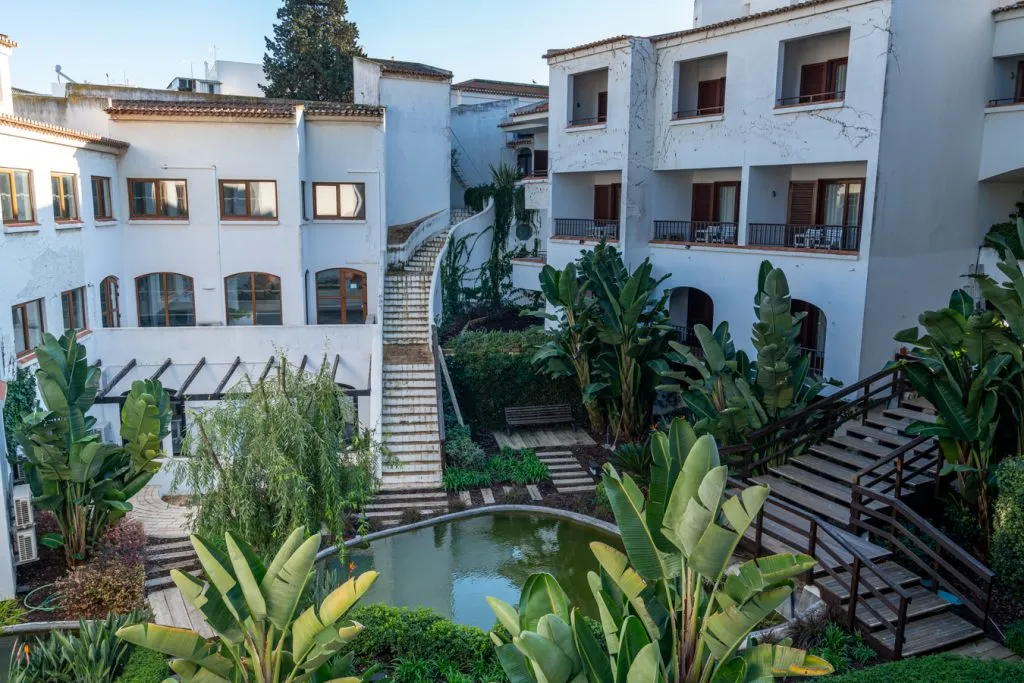 With free parking (almost) on-site, comfortable rooms, and incredibly easy access to Lagos' attractions, Tivoli Lagos is a fantastic place to stay.
Hotel Lagosmar is another excellent nearby option, and Dream Lagos B&B is a fantastic place to stay when visiting Portugal on a budget.
We recommend staying in Lagos for 2-3 nights.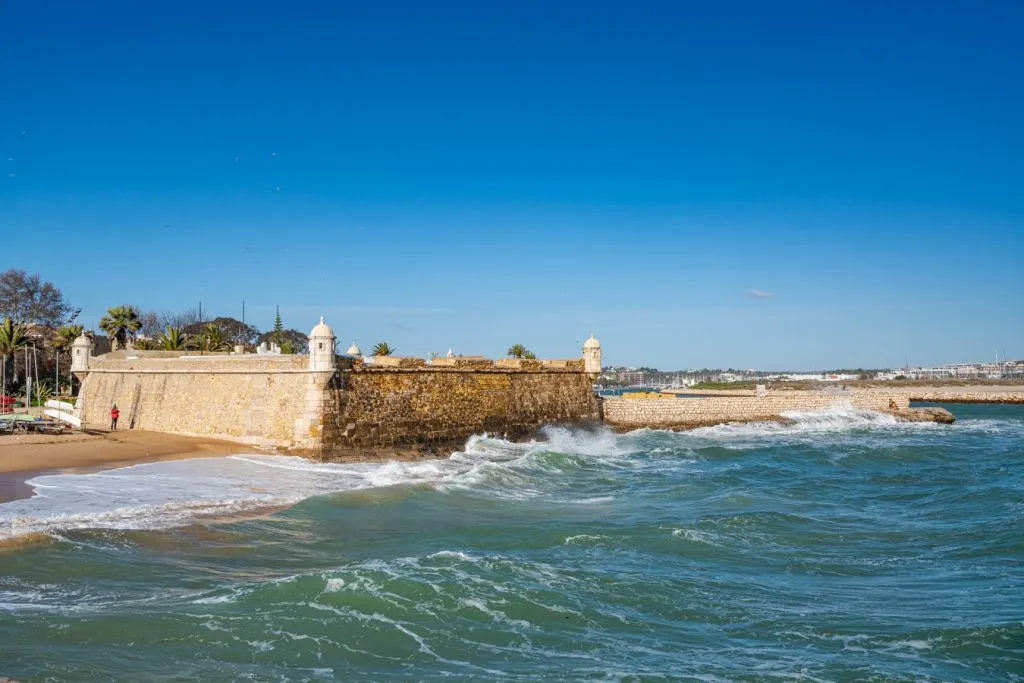 Day 8: See the best of Lagos + nearby towns.
Today is all about enjoying the best of the Algarve, both from land and sea!
Morning: Boat Tour From Lagos
Start your morning with a boat tour from Lagos, which will show you Ponta da Piedade and the coastline of the Algarve from a whole new level.
With any luck, you may spot a few dolphins, as well (though if that's your focus, a dolphin spotting cruise might be more your speed).
If you're looking for something more physically active than a boat ride, there are kayaking options as well!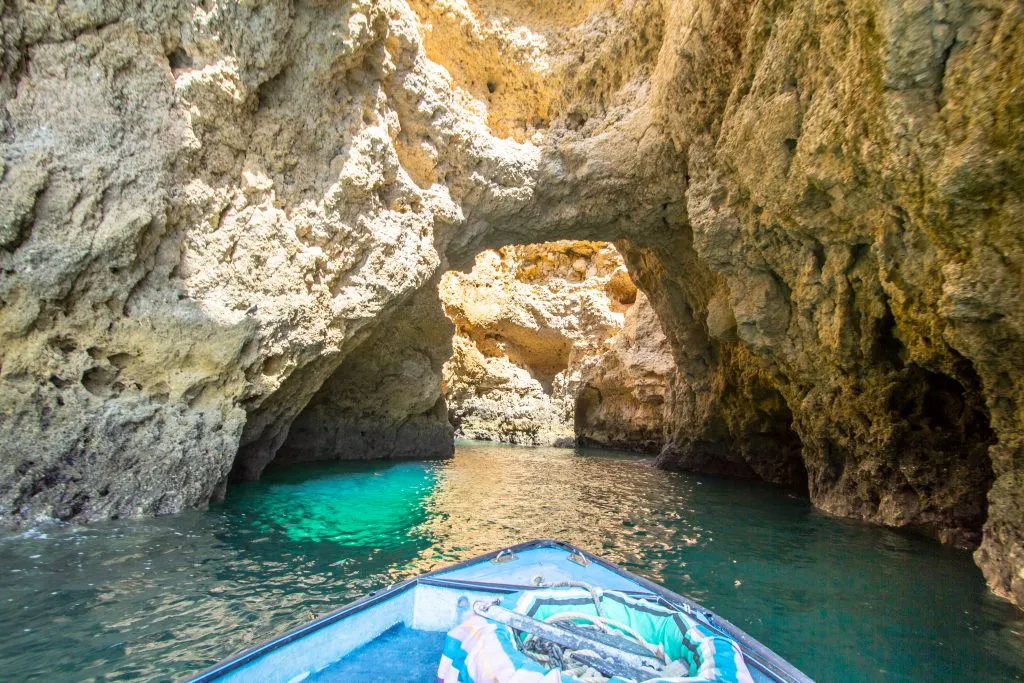 Afternoon/Evening: Algarve Town-Hopping
Lagos may be a wonderful place to visit in Portugal, but it's surrounded by plenty of other gorgeous, white-washed towns that also deserve to be explored.
Albufeira (busy, beautiful, known for its nightlife) and Ferragudo (charming, laid-back) are both a short drive away and worthy of a visit.
Looking for something a bit more out of the way?
Sagres (yes, like the beer!) is located on the southwestern tip of mainland Europe, about a 40-minute drive from Lagos, and is also a gorgeous option.
It's best known as a surfing destination, but the town center and scenic views from its 15th-century fortress are also worth checking out.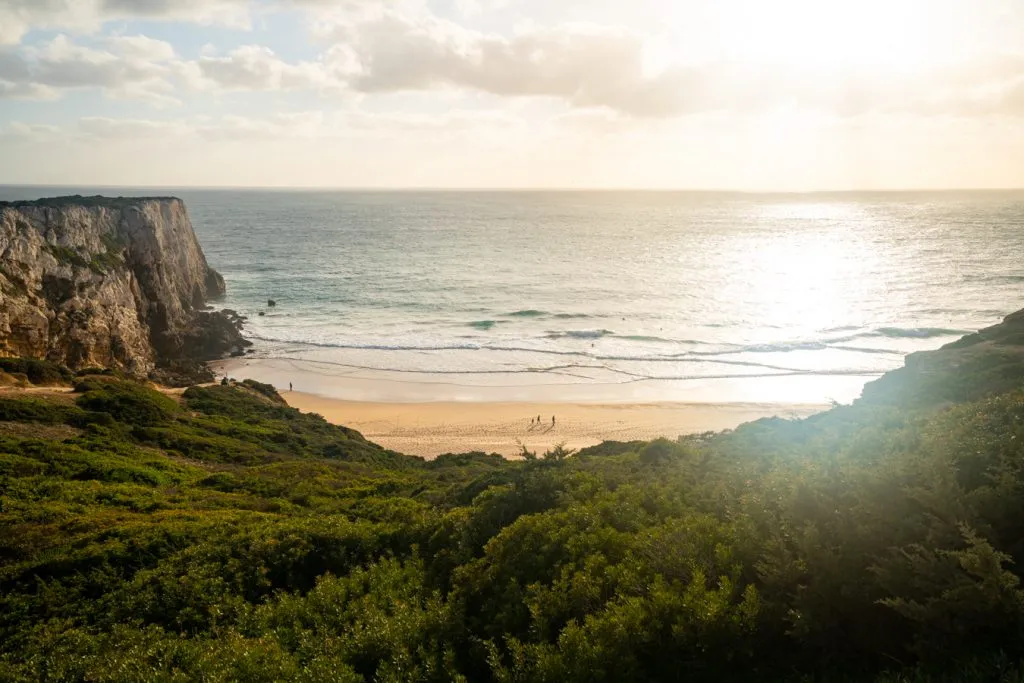 Alternative: Beach Time
Of course, after more than a week of intense sightseeing around Portugal, the idea of even more tours, towns, and attractions may sound more exhausting than invigorating!
If that's you, don't worry: the Algarve has plenty of beaches ready to help you relax as long as you need.
Praia Meia, Praia do Camilo, Praia dos Estudantes, and Praia do Pinhão are just a handful of the many dreamy beaches in the immediate vicinity of Lagos (some within walking distance) that are excellent places to relax.
Fair warning, though: if you hail from a hot climate like us, the beaches of the Algarve don't have particularly warm water, even in the height of summer.
Day 9: Hike the Seven Hanging Valleys Trail and kayak to Benagil Cave.
Hiking, kayaking, and coastal views are what your last full day in Portugal is all about!
Of course, there's also the perfectly valid option of relaxing on (or continuing to relax on) one of the Algarve's many legendary beaches today instead–more on that in a bit.
Morning: Bengail Cave + Carvoeiro
If you've seen photos of a sea cave in Portugal, odds are it was of the stunning Benagil Cave.
This absolutely gorgeous cave is an iconic spot in the Algarve, and experiencing it yourself is one of the best things to do in Portugal!
In order to access Benagil Cave, you'll need to do so from the water–and kayaking (or SUPing) the 200m required is the perfect option.
Don't want to kayak or SUP?
You can still visit Benagil Cave, but here's the catch: regulations prevent boat tours like this popular one from letting participants disembark in the cave.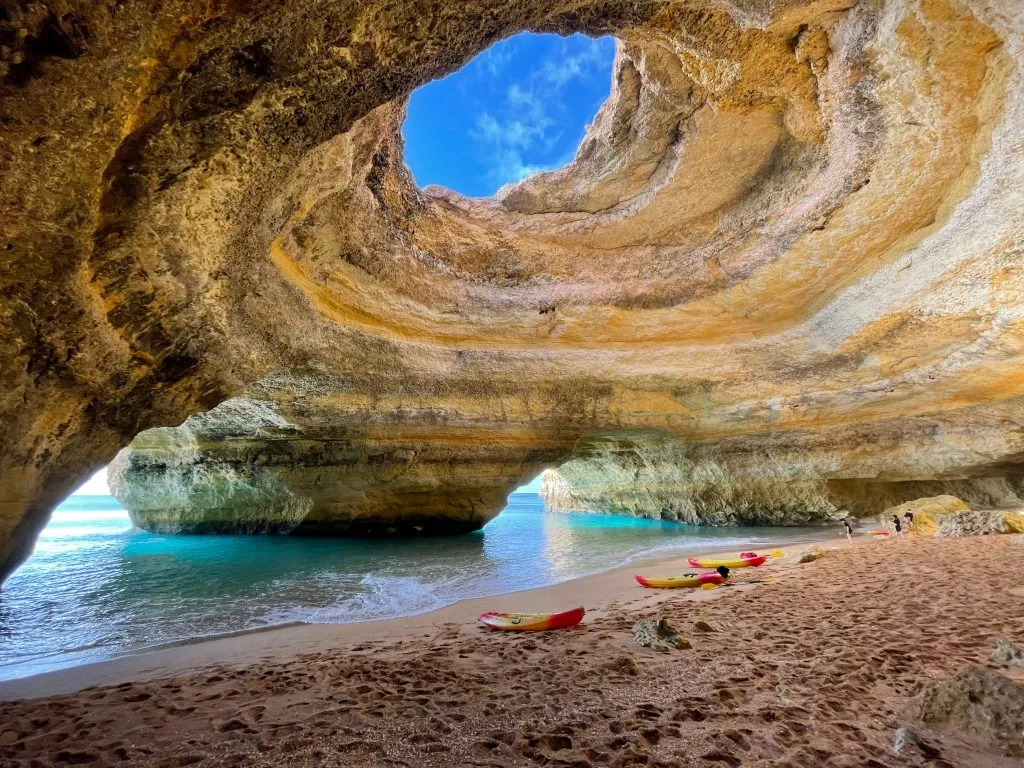 If you want that iconic view of Benagil Cave from standing on the small beach inside, you'll have to sweat a bit to get it!
However, a boat tour has its benefits as well, including more time to visit several other sea caves in the area.
Once you wrap up visiting Benagil Cave–or if you'd rather not–the town of Carvoeiro, where the cave is located, is well worth a wander (and its beach is a wonderful place to enjoy some time on the sand).
Book your Benagil Cave kayaking tour or small boat tour today!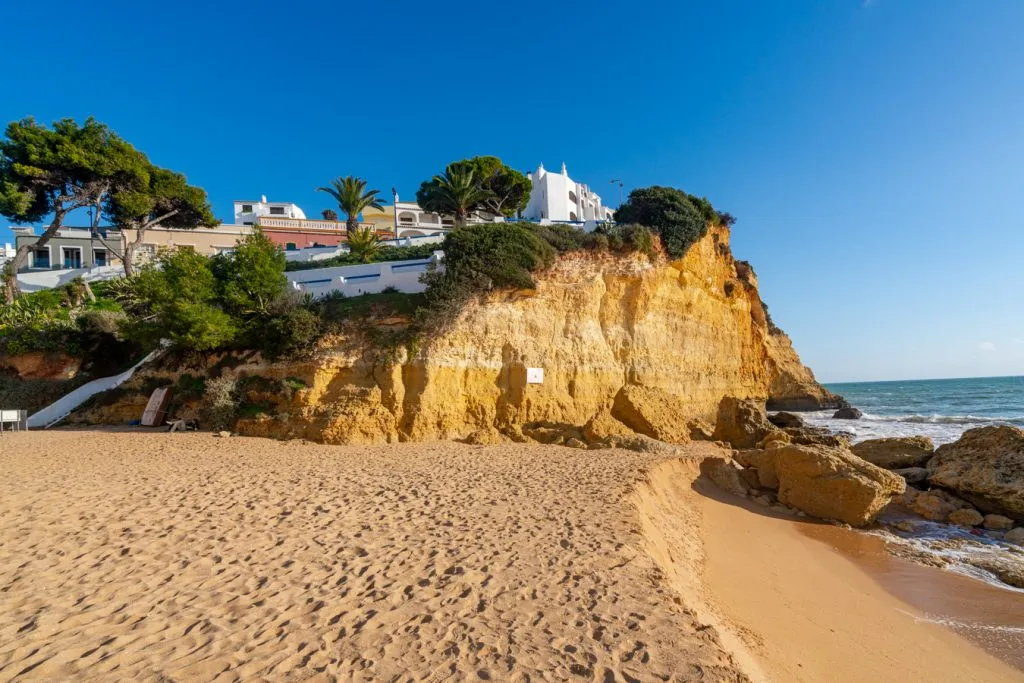 Afternoon/Evening: Seven Hanging Valleys Trail
Often considered one of the best hikes in Portugal, the Seven Hanging Valleys Trail stretches 6 kilometers each way and runs from Praia da Marinha and Praia de Vale Centeanes.
This out-and-back trail is absolutely stunning and one of our favorite places in Portugal, and the very top photo of this Portugal blog post was snapped when we were hiking the Seven Hanging Valleys Trail.
Featuring absolutely magnificent views all the way through, every step of this moderate trail is a delight.
You'll even hike right over the Benagil Cave, though a fence prevents you from being able to see into the cave very well.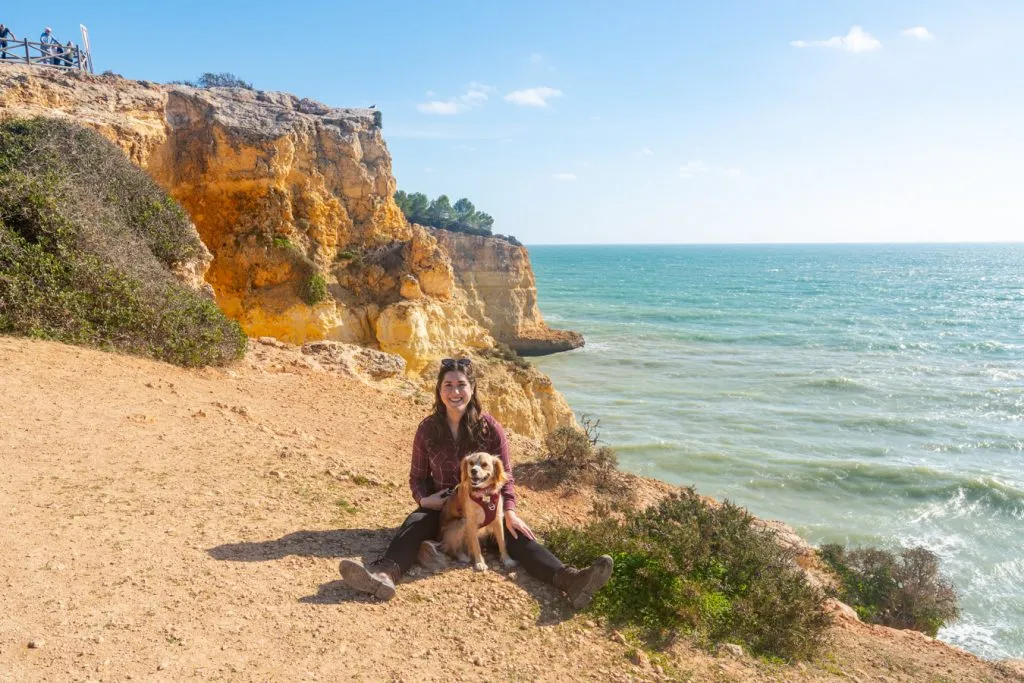 Alternative: Beach Day
If you're looking for a beach to enjoy as you get ready to wrap up your 10 day Portugal itinerary, you can't beat the iconic Praia da Marinha.
Situated at one end of the Seven Hanging Valleys Trail, the Praia da Marinha is absolutely stunning and a fantastic place to either enjoy the sand or admire from above.
Countless publications, including the Michelin Guide, have ranked Praia da Marinha as one of the most beautiful beaches on Earth over the years, and to see it in person is to fully understand why.
There's parking near the beach, and if you're not up for a full hike, you can always hike however much of the Seven Hanging Valleys Trail you would like from there, and then double back to the beach when you're ready.
Day 10: Make your way back to Lisbon and say goodbye to Portugal.
… over one more pastel de nata, probably!
Honestly, depending on what time your flight leaves, you may need to return to Lisbon on the evening of day 9 instead.
But, since Lagos and Lisbon are less than 3 hours apart by car, you can still have a full day of exploring and then drive back the evening of your 9th day.
If you have an evening flight out and wake up in the Algarve this morning, we recommend getting one last glimpse of the sea if you have time!
Other Portugal Destinations to Add to Your Itinerary
It's very tempting to simply use this section to make a list of all the incredible places that we love in Portugal–but that's not particularly helpful!
However, if you have more than 10 days to work with–say, around 2 weeks in Portugal or so–here are the destinations we'd strongly consider adding to your itinerary.
You won't have time for all of them, even with a full 14 days to work with, but some will likely catch your eye more than others.
And, all of these places are within around 2 hours of Lisbon, Porto, or both, making them smooth additions to your route.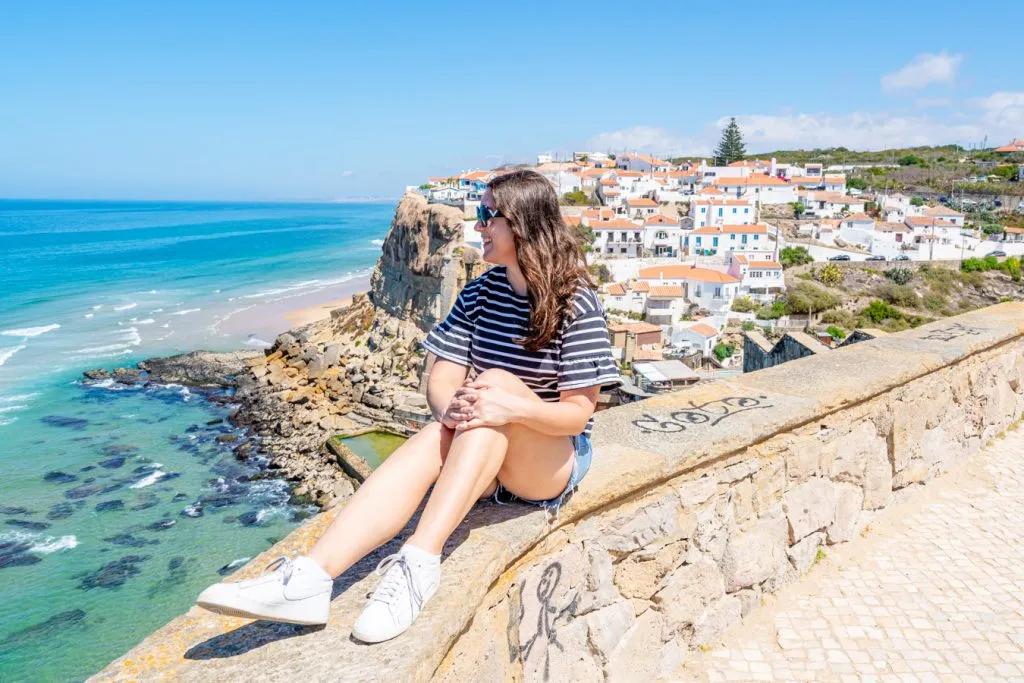 Obidos
One of our absolute favorite small towns in Portugal, Obidos lies about an hour north of Lisbon and is completely surrounded by the intact walls of its medieval castle.
And, one of the best things to do in Obidos is to simply stroll along the tops of those walls!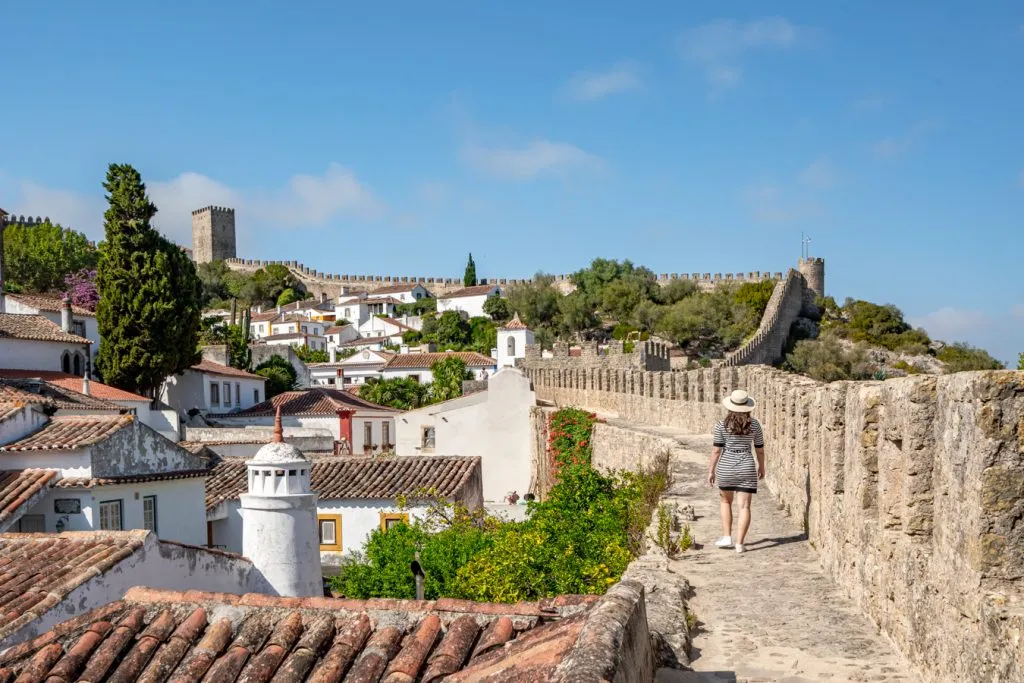 Alcobaça + Batalha + Tomar
The monasteries of Alcobaça and Batalha, plus the Convent of Christ of Tomar, are all UNESCO World Heritage Sites that are located within fairly short drives of each other, only 1.5 hours or so north of Lisbon.
They also happen to be typically uncrowded and are some of my favorite places in Portugal!
Tomar, and the Convent of Christ of Tomar in particular, has 12th-century roots in the Knights Templar.
All 3 destinations have absolutely mesmerizing architecture and are well worth visiting.
(Entrance to all 3 is also included with the Lisbon Card, so if you plan to purchase the card, try to structure your visits here so they'll be covered).
Cascais
As Lisbon's most convenient beach/resort town (less than an hour by train or car), Cascais is a local and tourist favorite!
From relaxing on the beaches to checking out fun attractions like the Boca do Inferno and the Castro Guimaraes Museum (well worth the 4 Euro entry fee), Cascais is a fun addition to any Portugal itinerary.
It also doesn't take long to see: whether you have 2 hours or 2 days, you'll have fun in Cascais.
Braga
Braga, located northeast of Porto, is best known for its famous UNESCO World Heritage Site, Bom Jesus de Monte.
Exploring the city center, and visiting the many other historic churches in the city (including the Braga Cathedral), are also well worth your time.
Évora
As the capital of Portugal's Alentejo region, Évora makes a fantastic day trip from Lisbon or an overnight addition to a Portugal itinerary.
While you're there, don't miss the 12th-century Gothic Cathedral, the spooky Chapel of Bones, or the remains of a 2000-year-old Roman temple that you can find in the center of the city.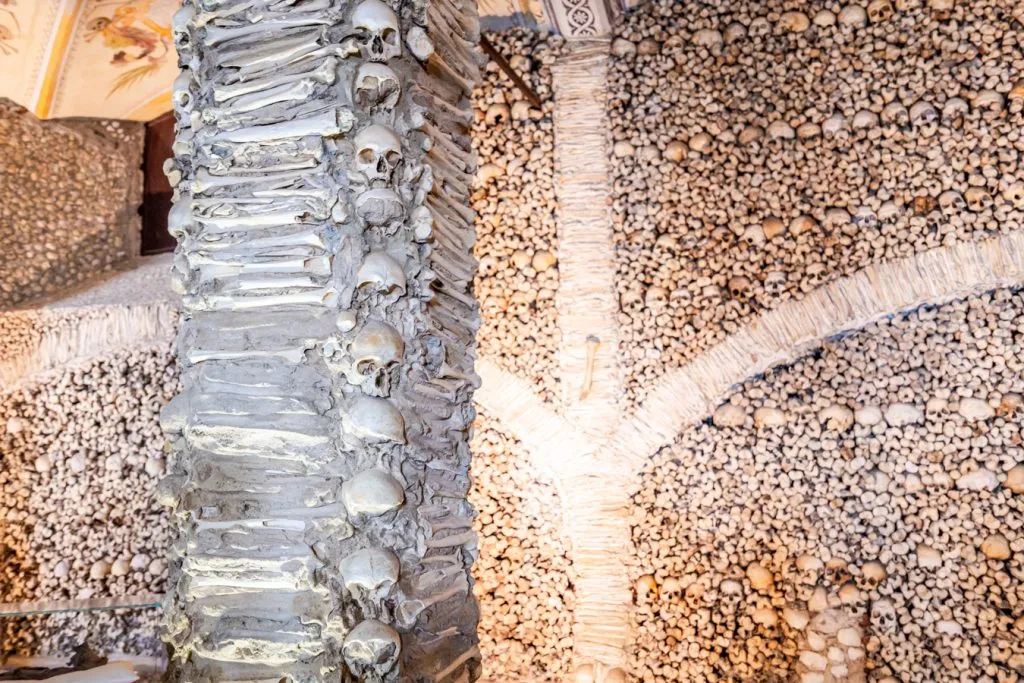 Guimarães
Known as the "birthplace of Portugal", Guimarães is located in the north of the country, not far from Braga and within day-tripping distance from Porto.
The 10th-century Guimarães Castle and the 15th-century palace of the Duke of Bragança are among the best things to see in town, but don't miss the chance to explore the historic center, either!
Coimbra
Home to the UNESCO World Heritage-recognized University of Coimbra, Portugal's "third city" is incredibly beautiful and mixes ornate architecture and lengthy history (it was the capital of Portugal from 1139 to 1385) with youthful energy.
Note that Coimbra is located along the train route between Lisbon and Porto, and is a very easy stop to add between the two.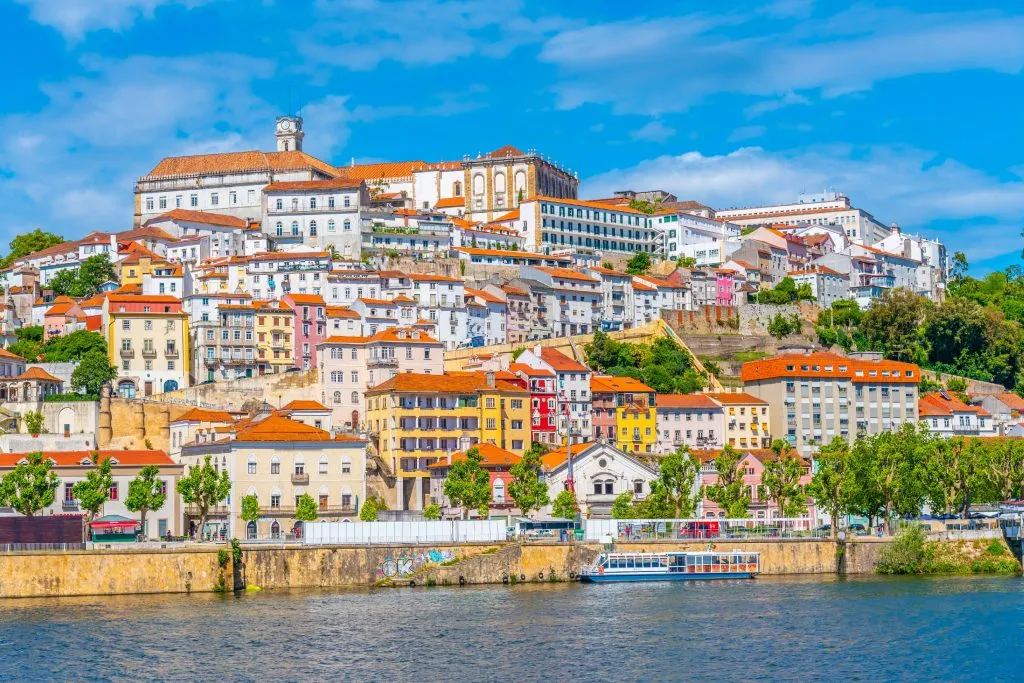 Tips for Making the Most of Portugal in 10 Days
Choose your day trips based on your travel style.
We've structured this 10 day Portugal itinerary to cover the country's biggest highlights in a short amount of time–which, realistically speaking, means visiting some places (Sintra, for example) that tend to be crowded.
If you know that you're a fan of quieter, more offbeat destinations, Lisbon and Porto both have an absolutely overwhelming number of options!
Instead of Sintra, for example, you could head to Évora or Tomar.
Instead of the Douro Valley, you could visit Braga and Guimarães.
There are no wrong answers, and there are far more incredible things to see in Portugal than you can cover in less than 2 weeks.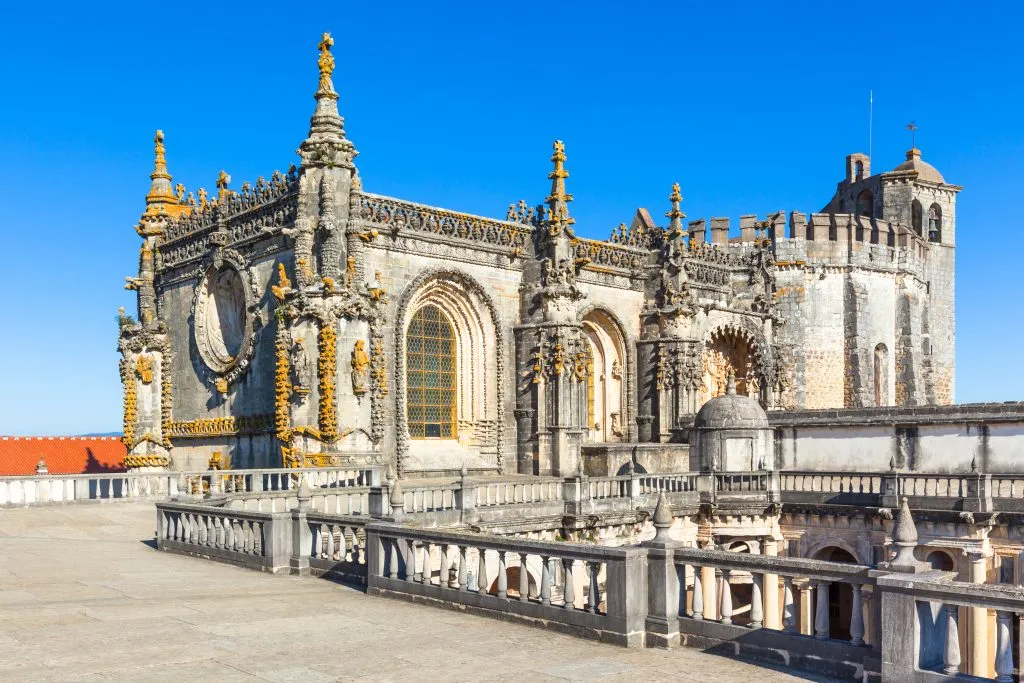 Don't overextend your itinerary.
Given Portugal's compact nature (it's about the same size as Indiana) it can be very tempting to add on "just one more!" destination to your travel plans.
Try to resist the urge, though!
This itinerary for Portugal is already very fast-paced as written, and you don't want to end up spending all of your time in a car or on a train instead of enjoying the country.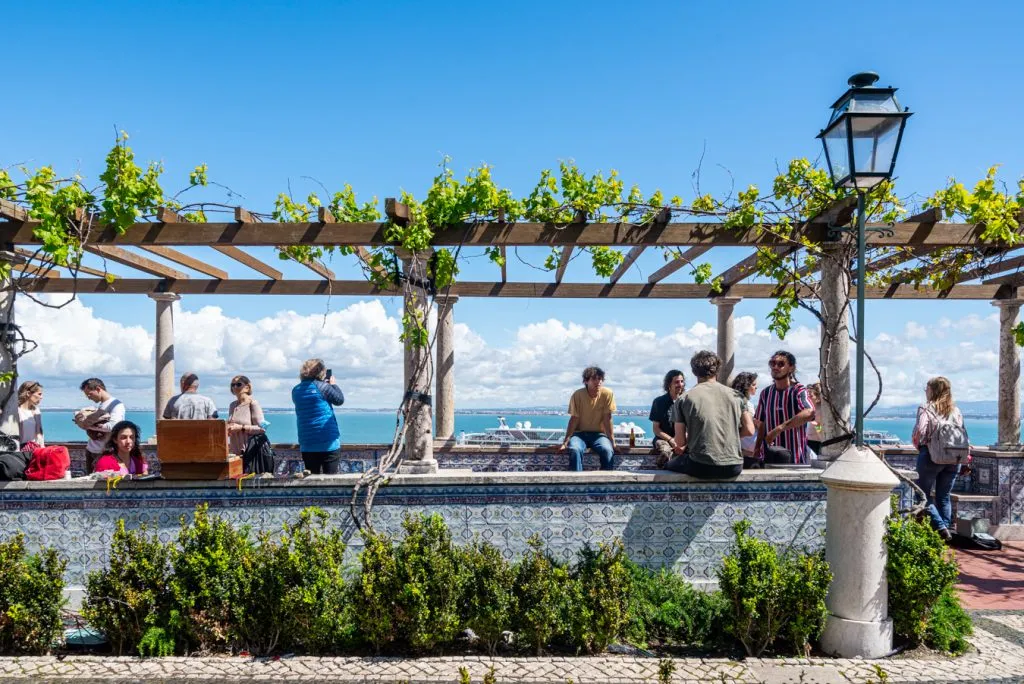 Carefully consider how you'll get from place to place.
While Portugal's train system is very useful in some areas–like traveling between Lisbon and Porto–it can get a bit more complex on other routes.
Even traveling between Lisbon and Lagos via train, for example, requires making a change.
And taking a day trip to Évora from Lisbon via train, while it looks simple on paper, requires some careful planning, as there are only 2 trains per day.
Rental cars can come in handy here, and for places very close to a major city (like Cascais and Sintra), so can taxis and/or Ubers.
Bring shoes with an excellent grip.
Portugal's traditional pavement, or calçada portuguesa, is one of the most distinctive features of the country's cities and towns (though you'll also find it in many of the places Portugal once colonized).
These walkways are beautiful, distinctive, and quite slippery–especially in the rain.
Watch your step, especially on hills, and opt for shoes with some grip on them!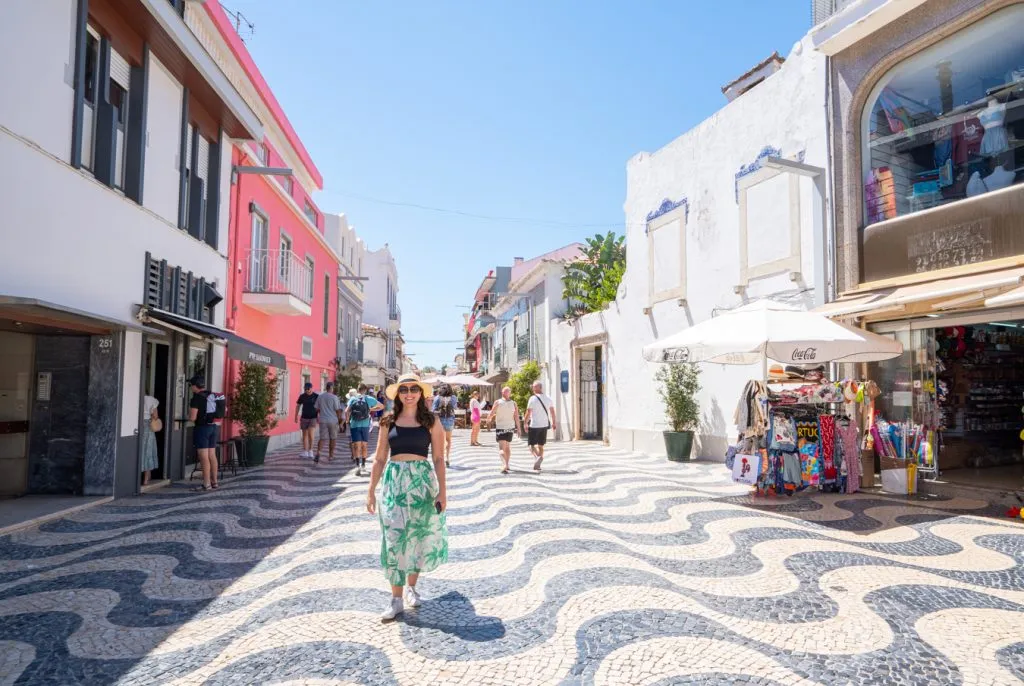 Be prepared to climb lots of hills.
Most of the places included on this 10 day Portugal itinerary, including both Lisbon and Porto, are famous for their steep hills!
Be prepared to get a workout when exploring both cities, as well as in places like Sintra.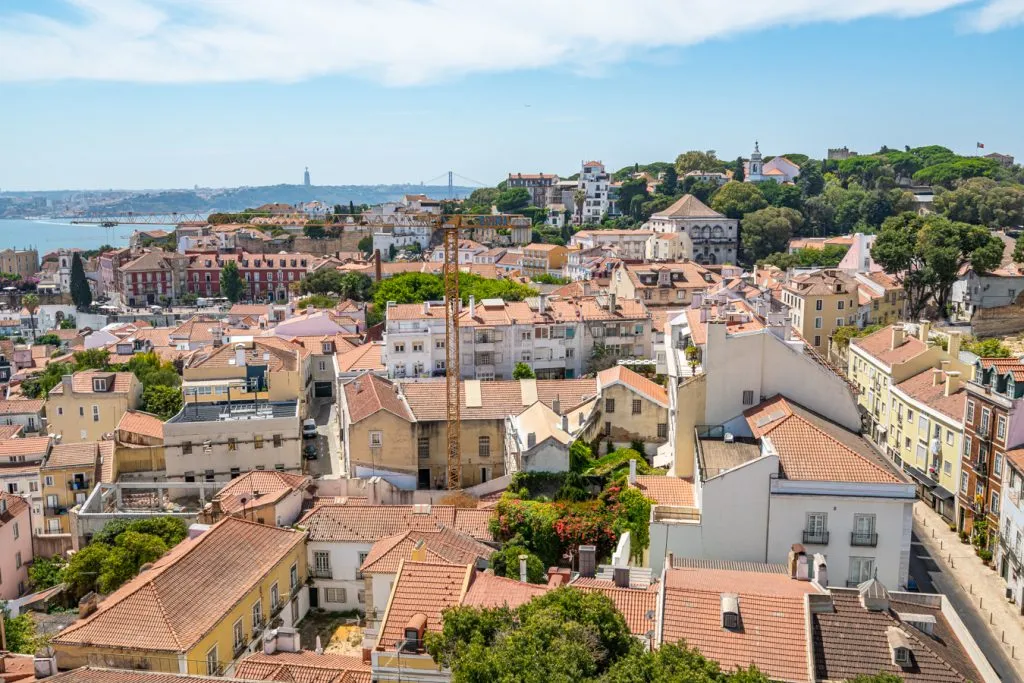 The Best Time of Year to Visit Portugal
Portugal is the epitome of a year-round destination, and this itinerary for Portugal in 10 days is equally viable in January and July.
There will be a few things that change with the seasons, of course–the Algarve in January will mean more pleasant hiking but no swimming, and you'll certainly fight more crowds at Pena Palace in August than you would in March–but the overall structure of the route is solid at any time of the year.
Portugal's winters are extremely mild but can be wet, especially in the north.
Plan for rain if you're visiting in the winter, but that's no reason to cancel your trip.
After all, you could just as easily end up with January weather in the Algarve that looks like this:
If we had to pick our absolute favorite times to recommend for visiting Portugal, we'd recommend April/May (the jacaranda trees blooming in Lisbon in May is a special bonus!), and September/October.
In other words, shoulder seasons that offer plenty of sunshine and mild weather, while avoiding the worst crowds of July and August.
What to Pack for Your Trip to Portugal
Our summer packing list for Europe will cover the vast majority of what you need to bring to Portugal–but here are a few essentials to keep in mind!
Travel Adaptors for Portugal — If you're coming from outside of Europe, you'll definitely need adaptors for your electronics.
Dry Bag — Want to keep your electronics safe during a beach day, kayaking tour, or boat trip?
Securing them in a dry bag is the perfect low-cost solution!
Sunglasses — Remember how I mentioned that the beautiful calçada portuguesa is incredibly slippery?
Well, there's another hazard: it's also incredibly bright!
You'll want to wear sunglasses even more than usual during your 10 day Portugal vacation.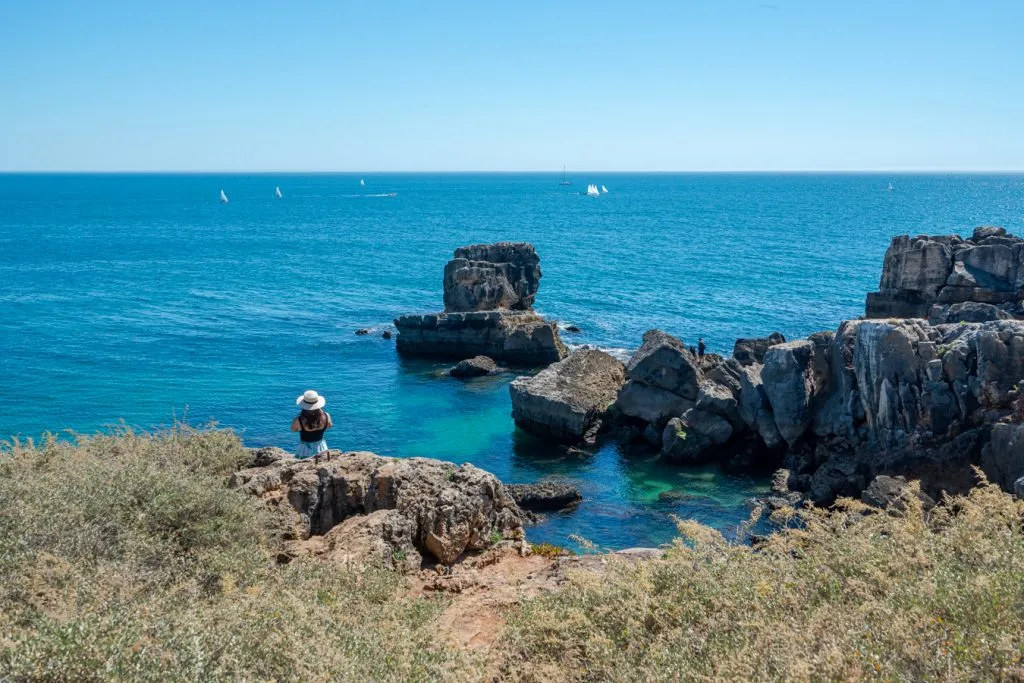 Camera — We absolutely adore our Sony a7R III, but whatever camera you're comfortable with works.
Just make sure you have something with you to preserve your memories!
Hand Sanitizer — We carry this everywhere, and have never been sorry to have it floating around in our day bag.
Reusable Water Bottle — Cut down on plastic waste and save money by bringing a reusable water bottle along for your 10 days in Portugal!
Your 10 Day Portugal Itinerary Map
Take This Map With You! Click each highlight to pull up the name of the destination. To save this map to "Your Places" on Google Maps, click the star to the right of the title. You'll then be able to find it under the Maps tab of your Google Maps account! To open the map in a new window, click the button on the top right of the map.
---