From magnificent islands to beautiful villages carved out of the cliffside to some of the world's most famous archaeological ruins, there is no limit to the variety of day trips from Sorrento that you can take.
If you're planning a trip to Sorrento and hoping to use it as a jumping-off point to visit some truly remarkable destinations in Campania, you've come to the right place.
With its accessible train station, port, and plentiful bus routes, Sorrento is one of the best-connected places to stay near the Amalfi Coast–and the options for Sorrento day trips leave no stone unturned.
Here are the best day trips from Sorrento.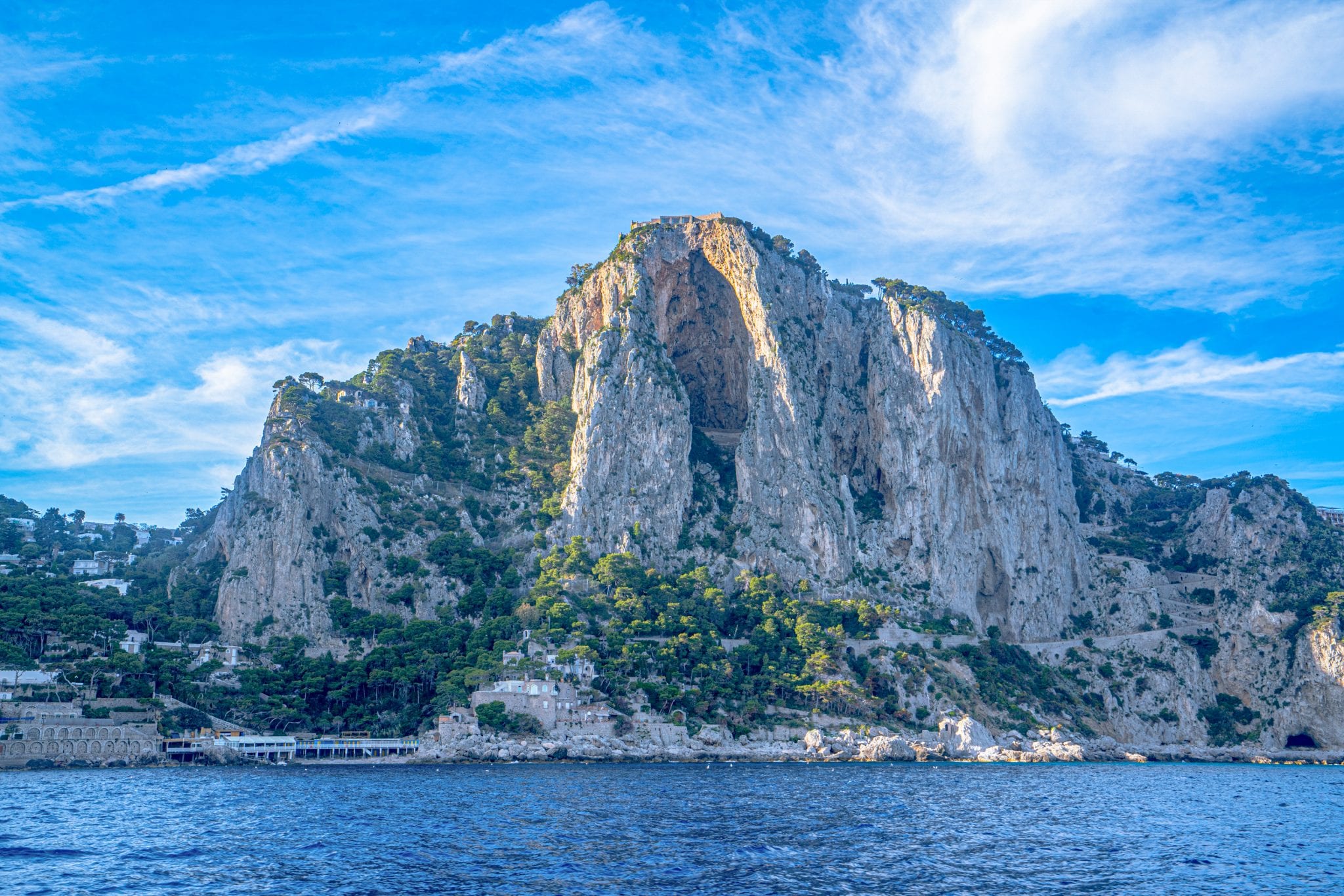 Some links in this post may be affiliate links. If you make a purchase through one of these links, we may earn a small commission at no extra cost to you. Please see our

disclosure policy

for more detail.
Amalfi Coast
Of course, how can we start anywhere else: the shimmering, sparkling, legendary Amalfi Coast is the best-known of all these day trips from Sorrento. Italy's most famous coastline lives up to the hype and is absolutely magical to experience in person.
There are a few ways to reach the Amalfi Coast from Sorrento, most notably by ferry, bus, rental car, or tour.
The drive is magnificent, but not for the faint of heart–we wouldn't recommend taking it on unless you're comfortable driving on very narrow roads perched on high cliffs as gigantic tour buses speed past you.
Ferry and bus both make for solid options, especially if you want to visit more offbeat spots, but the logistics of getting from town to town can include lots of crowds and complexity–speaking from experience, it hardly makes for a luxurious or relaxing day.
The easiest way to take a day trip the Amalfi Coast from Sorrento is simply to book a guided tour–this one will show you the most popular spots on the coast efficiently and help you avoid wasting any of your precious time waiting around for a bus or ferry.
As for what to do when you get there, there are dozens of memorable places to visit along the Amalfi Coast, from villages to beaches to hikes, but we'll just call out a few below to give you an idea of your options when taking a day trip to the Amalfi Coast from Sorrento.
Positano, Amalfi & Ravello
The three most famous of all the villages along the Amalfi Coast are all incredibly popular to visit, and for visitors who only have one day to explore the coast, often their only three stops.
Positano is known for its near-vertical building style and beach, Amalfi for its cathedral, and Ravello for its absolutely magnificent views of the Amalfi Coast.
Want to make your day trip to the Amalfi Coast easy and delightful?

Book a fun Amalfi Coast tour that covers Positano, Ravello, and Amalfi today!
Path of the Gods
Between the villages of Bomerano and Nocelle along the Amalfi Coast runs one of the most beautiful hiking trails in all of Italy.
The main portion is only about 4 miles, but you'll be in for quite the workout if you decide to finish by descending from Nocelle to Positano by foot. The views, however, are worth the effort.
If you'd rather not go it alone but would like to experience the Path of the Gods, you can also join a guided hike!
Sign up for a guided hike along the Path of the Gods today!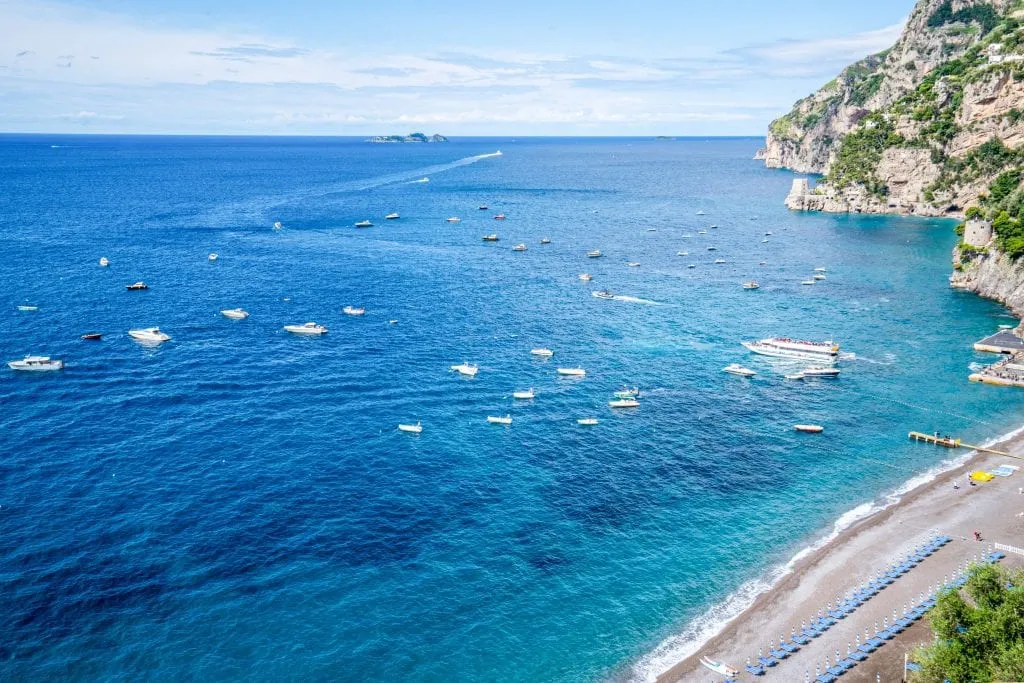 Fiordo di Furore
This hidden beach is tucked behind Italy's only fjord and provides a picture-perfect place to spend a beach day along the Amalfi Coast.
Capri
Taking a day trip to Capri is like taking a trip to another dimension.
From Capri, the blue of the water glistens just a little brighter. The curves of the cliffs are just a bit more majestic. The location, in general, is just a bit otherworldly–like something out of a legend.
Capri's magnificent beauty has been beckoning the rich and famous to visit it for a couple of millennia, from Roman emperors to modern movie stars, and thousands of others in between.
While you're there, be sure to take a boat tour around the island (generally included in a day tour from Sorrento if you book one), take in the views from the Garden of Augustus, and tour Villa San Michele.
We don't recommend eating up hours of your precious day trip time to tour the Blue Grotto, but if you have your heart set on visiting it, you definitely do so.
You can reach Capri from Sorrento by either ferry or tour, but the tours are such excellent value that they're well worth taking!
Book your day trip to Capri today!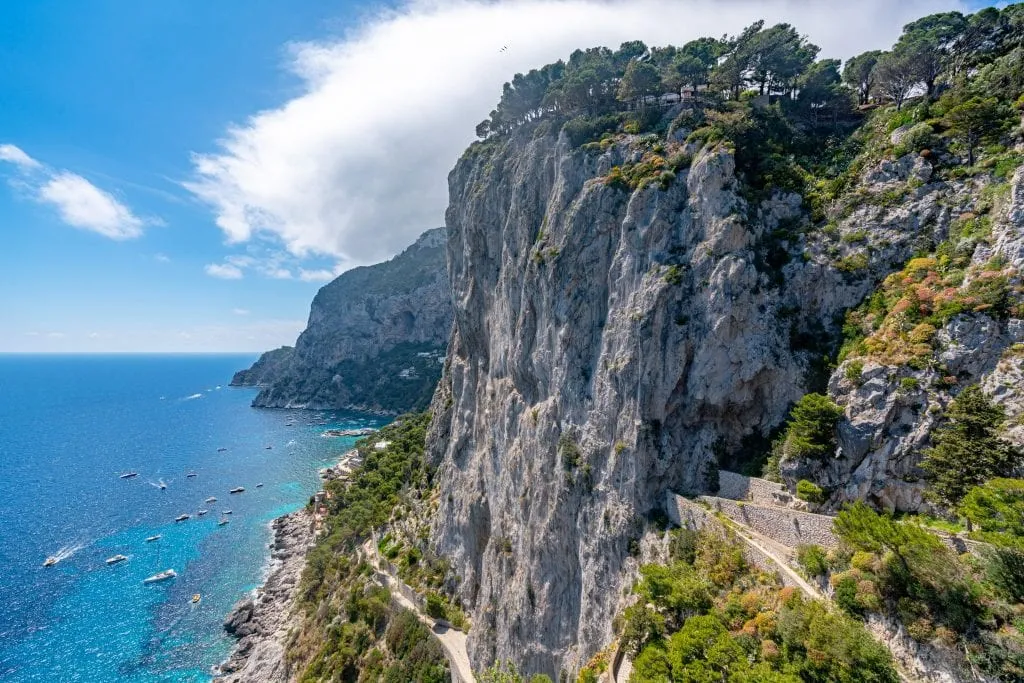 Pompeii
Pompeii is one of the most famous archaeological sites in the world, and it truly defies words.
You will not be squinting at ruins and imagining what might have been in Pompeii.
Instead, you will be strolling down roads as well-maintained as many modern ones, walking in and out of intact buildings, and truly walking through a ghost town–a thriving city that one fateful day in 79 AD, simply stopped.
A visit to Pompeii is not one that you'll forget anytime soon, and while it's fairly simple to reach Pompeii from Sorrento independently via the Circumvesuviana train and a bus ride, having a guided tour once you reach the city will greatly enhance your visit, and we highly recommend having one.
This guided tour from Take Walks would be our first pick–they're a wonderful company, and we've never had anything but stellar experiences on their tours–but if you'd prefer an option that also includes transportation to Pompeii as part of your day trip from Sorrento, this day trip is also a fantastic option.
Book your guided tour of Pompeii or Pompeii day trip today!
Procida
The tiny island of Procida (we're talking only about 1.5 square miles total here!) is the smallest island in the Bay of Naples, far less touristy than Capri or even Ischia, and is the perfect day trip from Sorrento for travelers looking to get off the beaten path for foreign tourists and explore a cozy, colorful island.
Come during the week for the quietest experience, as the island fills up with Italian families on summer weekends, and be sure not to miss the opportunity to soak in the views from Terra Murata!
You can reach Procida from Sorrento by ferry, but if you have your heart set on this Sorrento day trip idea, be sure to plan ahead, as the ferries only run a few days per week.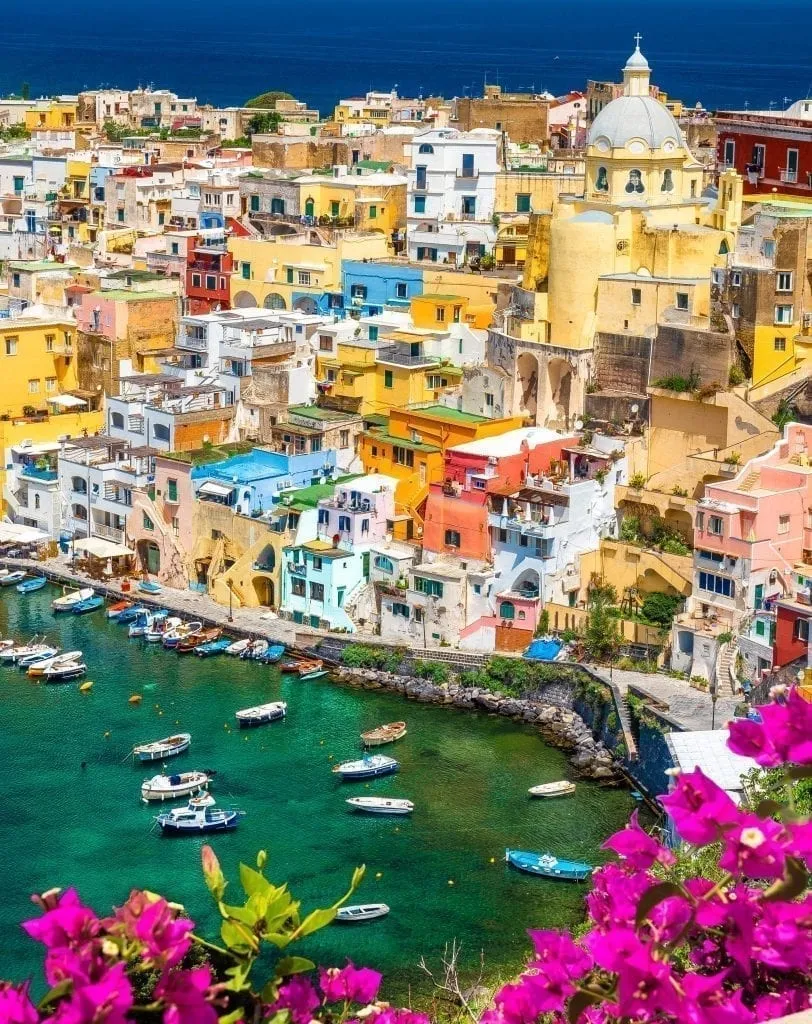 Herculaneum
Despite being lesser-known, the story of the city of Herculaneum is nearly identical to its far-more-famous neighbor, Pompeii: this ancient Roman (though originally Greek–can you guess which Greek figure the city was named for?) city was buried in the eruption of Mount Vesuvius in 79 AD, obliterating a thriving city while simultaneously preserving it for the future.
In its heyday, Herculaneum was both smaller and wealthier than middle-class Pompeii, making it easier to tour, and in some ways, even more interesting, as the homes tend to be a bit more opulent.
Even better, Herculaneum is one of the easiest day trips from Sorrento to take independently, as you can simply hop on the Circumvesuviana train and be dropped off a short walk away from Herculaneum–no buses or ferries required.
Like Pompeii, though, it can be extremely valuable to have the context a guide brings when you tour the site, so don't hesitate to book a tour if you'd like the hear the details behind the city!
Prefer the context of a tour?

This fun day trip combines a guided tour of Herculaneum with a trip to Mount Vesuvius!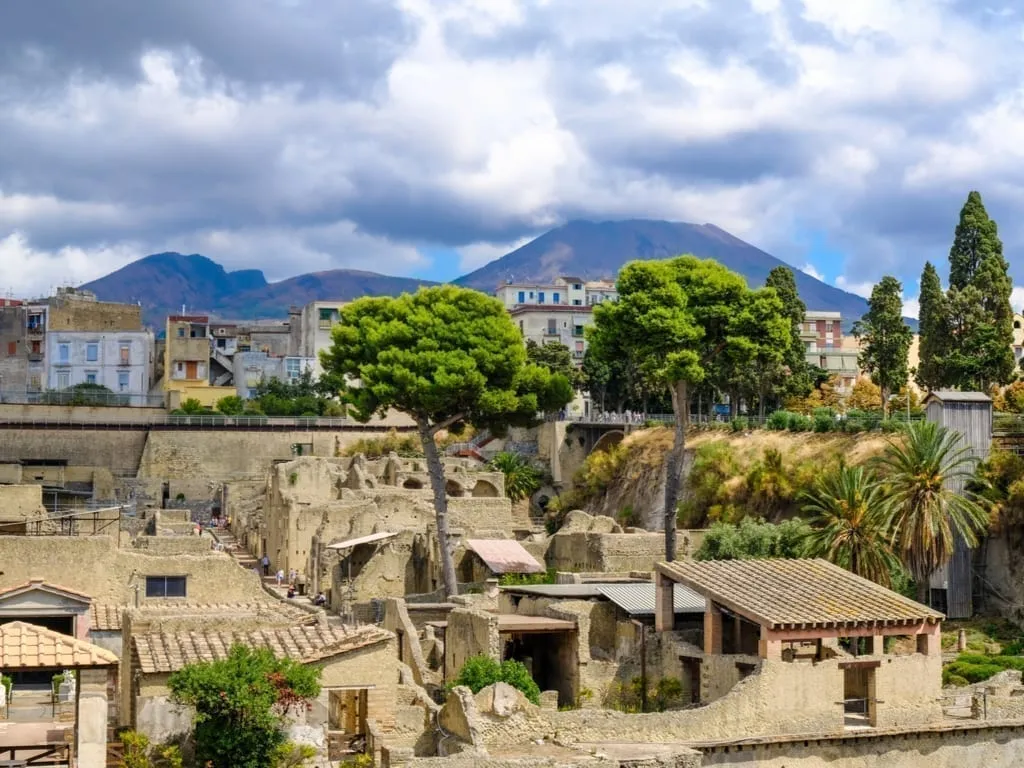 Ischia
Set in the Bay of Naples, the beautiful island of Ischia is located an hour to an hour and a half away from Sorrento by ferry (depending on the route that day), and makes a laid-back and lovely option for those hoping for an island day trip that is a bit more relaxed than glitzy Capri, but bigger than tiny Procida.
Ischia is gaining in popularity with foreign visitors these days, but is still delightfully under the radar as compared to Capri. It has been popular with Italians for generations and played a role in Elena Ferrante's phenomenal Neapolitan Novels (which, side note, I cannot recommend highly enough if you're looking for something to read during your trip to Sorrento!).
You won't be able to accomplish all that Ischia has to offer on a day trip, but consider paying a visit to Aragonese Castle, climbing Mount Epomeo for stunning views of the island, soaking in some of Ischia's natural thermal spas, or–of course–relaxing on the beach.
Mount Vesuvius
Once upon a time, towering Mount Vesuvius erupted, burying the thriving cities of Pompeii and Herculaneum in ash, where they would remain hidden for nearly 2000 years.
Today, that powerful, awe-inspiring force of destruction can be visited up close–in fact, you can tour the crater.
Visiting Mount Vesuvius will give you an opportunity to visit the smoldering crater of an active volcano (no lava visible, though) while also taking in some truly phenomenal views of the Bay of Naples–on a clear day, you can see all the way to Capri!
You can visit Mount Vesuvius by bus or tour, and the parking lot where you are dropped off is about a 20-minute climb, give or take, from the crater.
Be sure to wear closed-toe shoes and bring a jacket with you–it can often be far colder up there than in Sorrento.
This popular day tour from Sorrento combines a visit to Pompeii with a trip to Mount Vesuvius!
Naples
When it comes to Italian cities, Naples often gets a bit of a bad rap, often being called too crowded, too dirty, too hilly.
And yes, it's definitely a bit rougher around the edges than some Italian cities, but it's also beautiful and complex, with a history that rivals Florence or Venice, a fascinating underground, stunning views over the Bay of Naples, and, of course, some of the best pizza on Earth.
A day trip from Sorrento to Naples is the perfect way to get a taste of one of Italy's most controversial cities, and see for yourself what you think–personally, the first time we visited Naples, we were surprised by how quickly we came to love it.
Stroll through the Piazza del Plebiscito, sip coffee at the opulent Caffe Gambrinus, snack on a sfogliatella, explore Via Toledo, visit Naples' incredible archaeological museum, and be sure to visit at least 2-3 of the best pizzerias in Naples.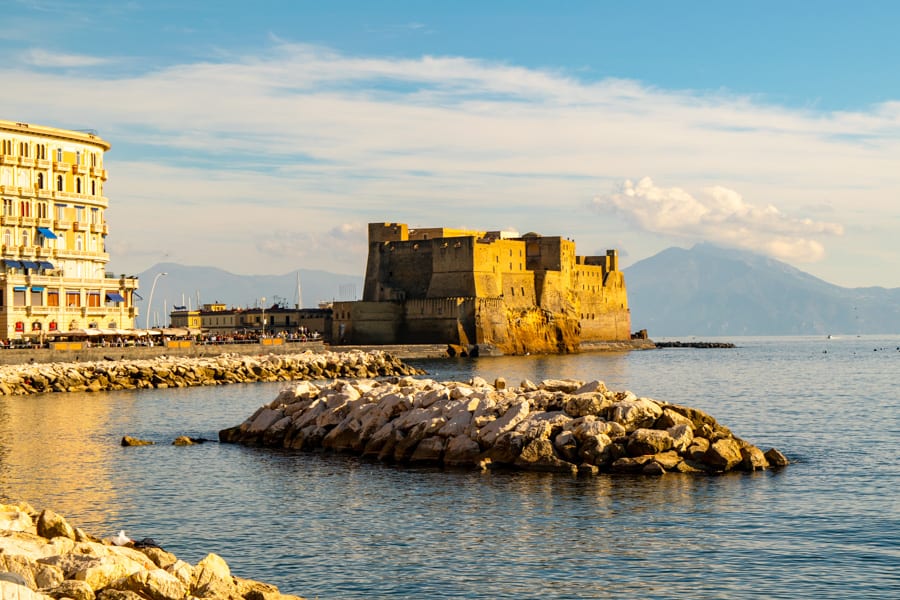 Paestum
When it comes to ancient ruins near Sorrento, everyone knows Pompeii, and some people have heard of Herculaneum… but have you ever heard of Paestum?
Located nearly 2 hours south of Sorrento by car (and you will want a car for this one–while you can technically reach Paestum via a combination of trains and buses, it's complex and a hassle), if you're hoping to get off the beaten path with one of your day trips from Sorrento, Paestum is an excellent choice.
Founded in the 7th century BCE, Paestum is best-known today for being home to some of the best-preserved Ancient Greek temples on the planet, in particular, two temples dedicated to Hera and one to Athena.
Shop rental cars for your day trip to Paestum today!