Sunshine, gelato, and beautiful azure waters–it's hard to imagine a better place to hit the beach than Italy, especially when there are so many adorable beach towns in Italy to choose from!
Whether it's the glitz and glamour of the Amalfi Coast or the laid-back, rugged beauty of Puglia, Italy's enormous coastline ensures that there is an Italian coastal town around for every type of traveler.
We teamed up with several other bloggers to round up some incredible beach towns in Italy–and now we have plenty of new ideas for where to soak up the sun this summer.
Some links in this post may be affiliate links. If you make a purchase through one of these links, we may earn a small commission at no extra cost to you. Please see our

disclosure policy

for more detail.
Polignano a Mare, Puglia
From Nadine of Le Long Weekend
Located on the Adriatic coast of Italy's heel, Polignano a Mare is like no other beach town in Italy.
An ancient riverbed divides the town in two, and in the middle, you'll find the picturesque Lama Monachile, which is undoubtedly one of the most beautiful beaches in Puglia.
Towering cliffs frame the beach on each side of its sandy shores, and the old town clings precariously to one side. It's here, in the cobbled ramshackle streets that you'll find many of the best views to be had in Polignano a mare.
Head to the end of the promontory to get the best vantage point over Lama Monachile.
The annual Red Bull cliff diving championships are held in this exact spot, but I wouldn't recommend jumping in unless you're a seasoned pro.
A little further around by the Grotta dell'Arcivescovado you'll be rewarded with a fantastic view of the old town as it rises above the sea-battered cliffs.
Wander the streets and duck into one of the many curbside restaurants to sample the local delicacy – Orecchiette pasta with turnip tops. Trust me, it tastes better than it sounds! Or, for a truly memorable experience, you could book a table at Grotta Palazzese where you can dine waterside right inside of a cave in the cliff.
Polignano a Mare is situated half an hour south of Bari, and an hour north of Brindisi.
Both cities have airports and are popular starting points for people visiting Puglia.
I'd recommend hiring a car and taking your time to discover many of the beautiful towns on this stretch of coast, including the nearby town of Monopoli.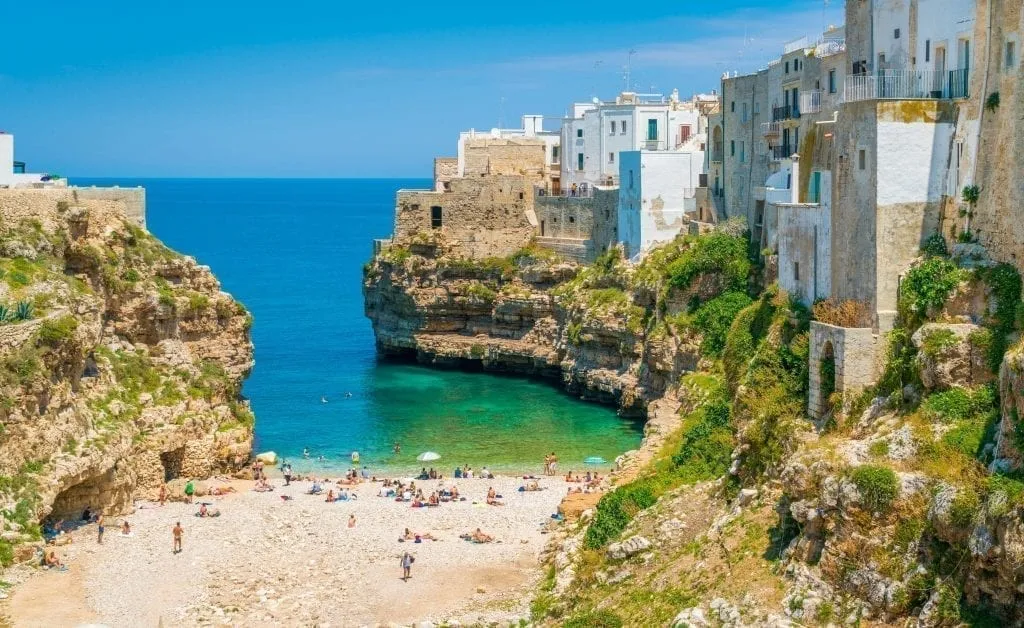 Cefalu, Sicily
From Gemma of A Girl and Her Dog on the Road
Located about an hour from Palermo, the town of Cefalu, pronounced Chef-a-loo, is home to beautiful beaches and a historical town–you won't find any high rises here!
Take the time to explore the winding alleys of the medieval center–it will give you some welcomed shade after the heat of the beach! The impressive Duomo is not to be missed.
Splash out on one of the sea view restaurants located along Via Carlo Ortolani di Bordonaro. Ristorante Al Porticciolo is a great choice and has a wonderful view over the peaceful rocky outcrops beyond the beach.
The beach is exceptionally busy during the summer months of July and August but you can head a couple of miles up the road to the little fishing village of Mazzaforno where the beaches tend to be quieter.
If you're driving around Sicily, consider staying a bit outside Cefalu in the peaceful mountains of the Madonie National Park.
There are also really spectacular views of the town below on the drive up, though of course, they are completely different than the mountain views found further north in Italy like in Courmayeur!
Gallipoli, Puglia
From Michele of A Taste for Travel
It's not very often you discover a beach destination where there also happens to be an ancient castle in the middle of town. Gallipoli, Italy (not to be confused with the Gallipoli in Turkey) happens to have that magical combination of sun, sea, and history.
Located on the Salento Peninsula in the "heel" of Italy's boot an hour by car from Brindisi on the Adriatic Coast, Gallipoli is one of the best places to stay in Puglia if you are looking for easy access to the beaches of the Ionian Sea as well as cultural diversions.
Highlights of Gallipoli Old Town include a wealth of Baroque buildings, a seaside promenade with a pretty beach and the impressive 13th-century Angevine-Aragonese Castle.
The sandy beaches and azure waters of this stretch of coastline in Puglia are among Italy's most scenic.
Top dishes to try in Gallipoli include Purè di fave e cicorie – fava bean puree with chicory — a traditional antipasti dish made with dried fava beans, orecchiette, an ear-shaped pasta often served with simple tomato sauce.
Be sure to also enjoy some grilled seafood, best enjoyed at the marina's food stalls in Old Town Gallipoli where clams, mussels, and sweet oysters are freshly shucked and eaten raw.
Your drinks of choice should be Negroamaro and Primitivo wines, the famous wines of the Salento.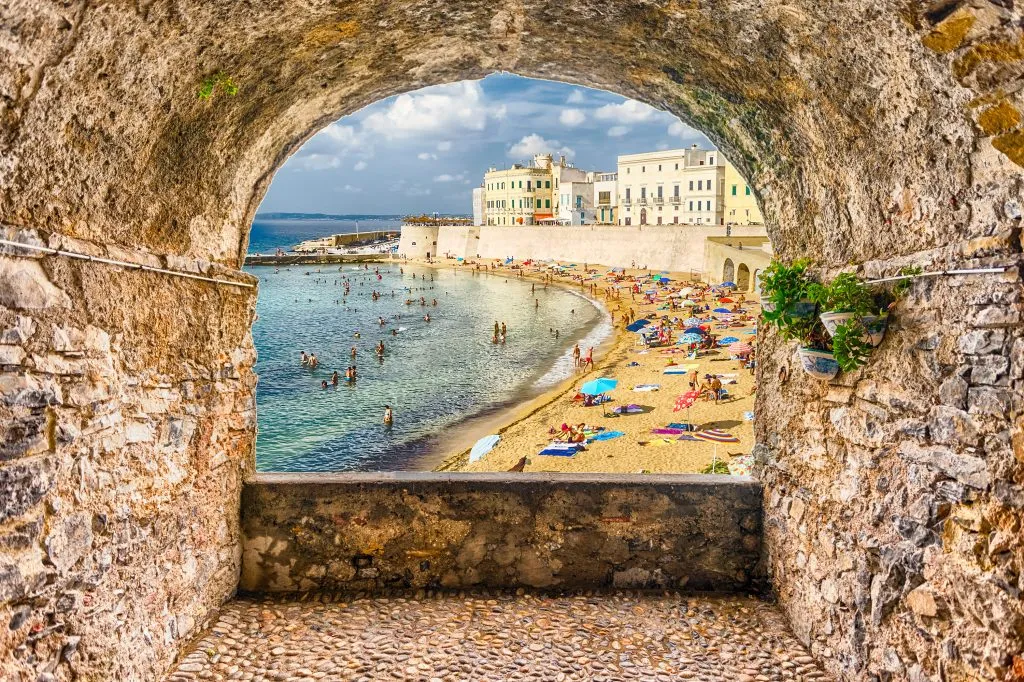 Trani, Puglia
From Wendy of The Nomadic Vegan
Trani is a lovely coastal town in Italy that is located in the southern region of Puglia, just a 30-minute train ride north of Bari. It has a beautiful harbor filled with a mix of small yachts and brightly-colored fishing boats.
The coast here is rugged, with a steady stream of rolling waves. The beach itself is a mix of pebbles and sand, and the water is a crystal clear aquamarine.
What's wonderful about Trani is that it offers a mix of beachgoing and city sightseeing. The town is filled with ornately decorated churches and imposing palaces.
The star attraction is definitely the 13th-century Cathedral near the port, right at the water's edge. It's one of the most beautiful and well preserved Romanesque churches in Puglia.
The bronze doors at the front entrance are the work of Barisano da Trani and are composed of 32 panels depicting Jesus, Mary, the apostles and other saints. Be sure to visit the crypt underneath, which is a must-see containing medieval frescoes and relics. There's even a second crypt below that, was built in the 6th century.
Like in the rest of Puglia, the food in Trani is amazing. One local dish you should definitely try is fave e cicoria, which is fava beans blended into a purée and served with chicory leaves. It's one of the many naturally vegetarian and vegan dishes in Puglian cuisine.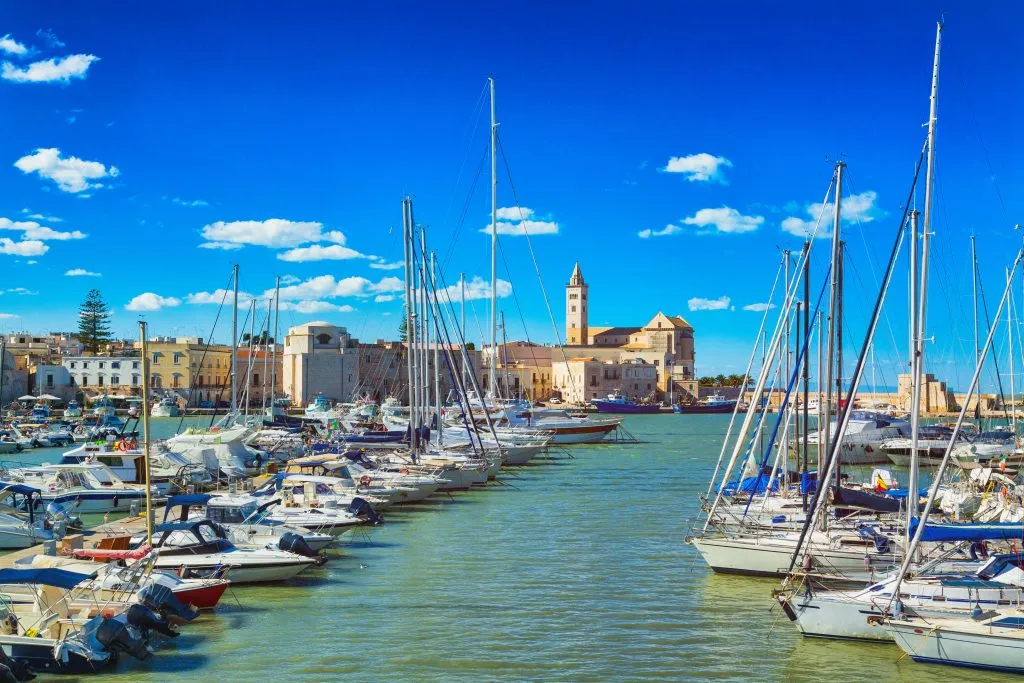 Lerici, Liguria
From Hayley of A Lovely Planet
I've been visiting Lerici (& Fiascherino) since I was a child and it's still one of my favorite Italian beach towns. Located south of the famous Cinque Terre, it's much less visited than the colorful villages of the national park, and in my opinion one of the best places to visit in Liguria.
Lerici is located an hour north of Pisa, which is the closest airport and Genoa is 1.5 hours in the opposite direction. Lerici's main beach is a big sandy beach, where you can find umbrellas and chairs for hire.
Further along the coast, the beaches of Fiascherino are more secluded rocky coves – perfect for snorkeling.
There is a great restaurant here too – that sells Muscoli Ripieni alla Spezzina – a regional specialty of mussels stuffed with garlic, milk-drenched breadcrumbs, Parmesan, tomato, eggs, and mortadella. It is delicious! In fact, there are a number of mussel producers in the area.
It's not all about seafood though, the region of Liguria is known for incredible pesto, which is best eaten here with a type of pasta called trofie. And you can't leave Lerici without sampling some delicious focaccia too!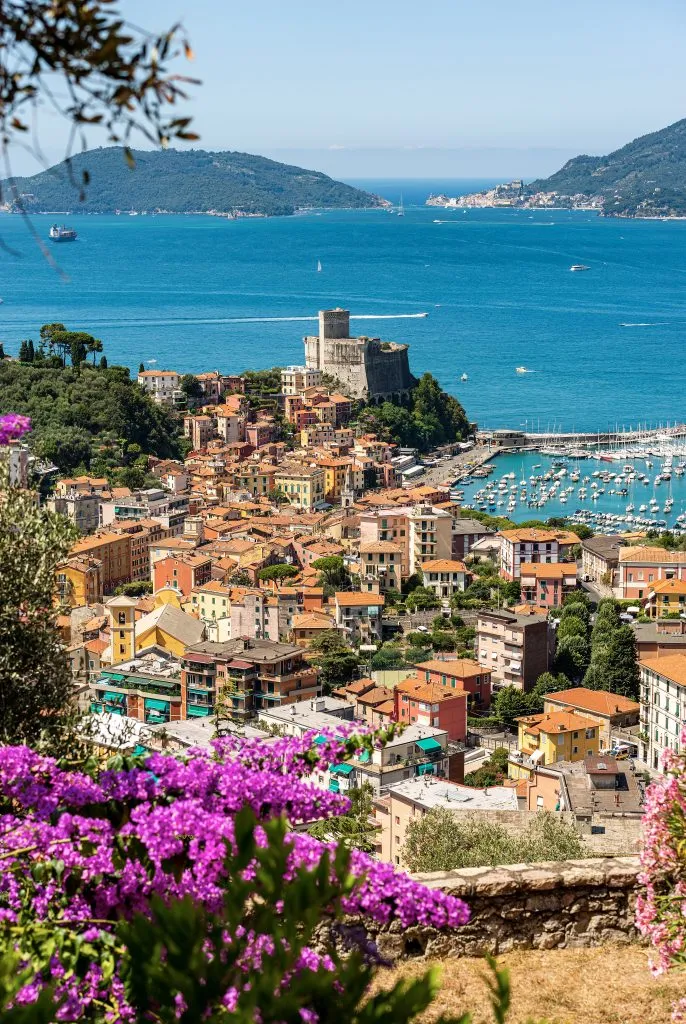 Bosa, Sardinia
From Angela of Chasing the Unexpected
Nominated the second most beautiful town in Italy, you can't go wrong with a visit to Bosa on Sardinia's western coast.
Located in Oristano province, it's not far from the famous tourist city of Alghero, but lesser-known Bosa also deserves to be recognized among the best beach towns in Italy.
There are many reasons why I think Bosa is one of the best places to see in Sardinia.
As soon as you arrive, the first thing you will notice is the multi-hued cityscape. That's the neighborhood of Sa Costa, where colorful houses are perched on the slopes of the Serravalle hill. On top of the hill, you can reach the Malaspina castle, from where you will have a lovely view of the whole town.
Being Bosa a traditional seafaring village, its typical dishes are with fish and seafood combined with the products from the surrounding countryside. Try their lobster linguine pasta, fish soup, eel marinated in the local Malvasia wine and stir-fried, or their typical tuna in the oven.
Crossed by the Temo river, if you are in Sardinia in summer, one of the main attractions in Bosa is its "Marina" area.
The most famous Italian beaches here are the scenic S'Abba Druche, Porto Managu, Compoltittu, and Turas. Surrounded by hills and vegetation, they are a peaceful corner where you can enjoy the sun, the sandy coast, and the crystal clear waters.
Bosa is also known for a gorgeous natural pool surrounded by white rocks called Cane Malu. When the sea is calm, from the rocks you can plunge into the blue waters and enjoy a lovely swim.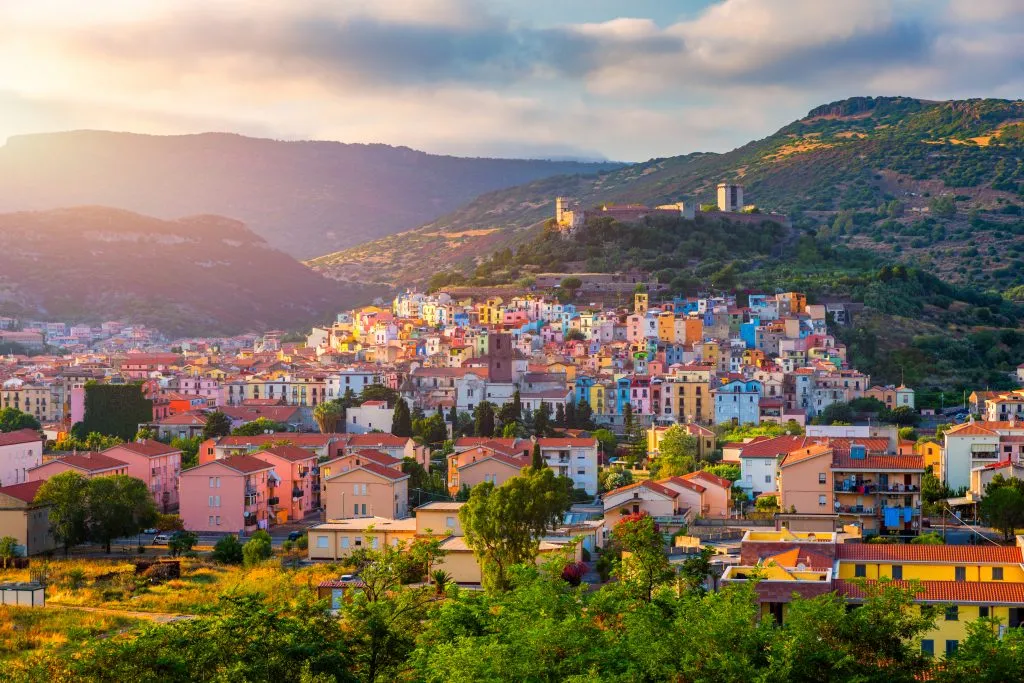 Positano, Campania
From Lori of Travlin Mad
The beautiful cliffside resort town of Positano lies on the southern coast of the Sorrentine Peninsula south of Naples and east of Sorrento, on the other side of the mountain.
Many travelers, as well as Italians, consider Positano the gem of Italy's Amalfi Coast with its beaches and azure Mediterranean water, and rank it as one of the absolute best Italian seaside towns.
However, if you're inclined to build sand castles, you'll need to look elsewhere. The beaches here are pebbles right down and into the water. If you have tender feet you may want to consider packing along some water shoes.
The main sandy beach is Spiaggia Grande Beach (Marina Grande Beach), arguably the most popular beach here, and it can get pretty crowded.
Don't want the crowds? Try smaller Laurito or Fornillo beaches. You can walk or climb down steps to any of these, but for many, the boat shuttles that run from the main pier are a great alternative. Get to the beach early during the season as they can get a bit crowded later in the day.
It may be small, but there's no shortage of things to do in Positano. There's shopping galore. Take a day trip down the coast to Amalfi, Ravello, or any of the charming towns along the way. Go to one of several overlooks or piazzas and you'll find fantastic views and compelling photo opportunities.
But whatever you do, indulge in the food from the many excellent restaurants and cafes. For us, one of our favorite things in Positano is a stroll through the narrow quiet streets after a late dinner. Heavenly!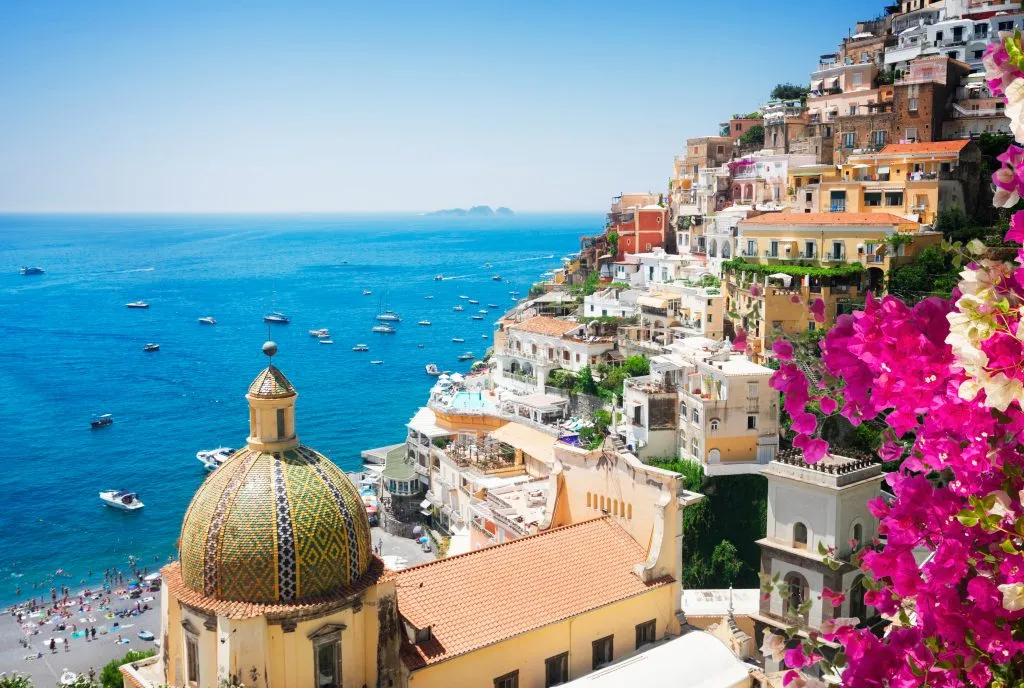 Rimini, Emilia Romagna
From Halef & Michael of The Round the World Guys
Rimini is one of Europe's famous beach towns. It was first established by the Romans in 268 BC, and one of Rimini's most famous figures is the Italian director, Federico Fellini.
Rimini's beach town fame started in the mid-1800s, when a few bathing establishments were built along the Adriatic Sea to accommodate tourism.
Fast forward to 2019, its nine-mile stretch of sandy beach offers visitors so many options to hang out and enjoy this Italian vista. You'll find thousands of bars, restaurants, and spas. And you even get your own spot under a beach umbrella.
Rimini is the jewel of the Emilia-Romagna region in northern Italy, about halfway between Ravenna and Ancona. A two-hour train from Bologna runs frequently, and it costs less than ten Euros.
There are some things to do in Rimini, other than enjoying the beach, that are worth mentioning. Rimini is home to several theme parks, such as Aviation park, and the Italia in Miniatura. Here, you can enjoy the small scale models of famous Italian landmarks, as well as a science park and a few parrots.
Rimini is one of Italy's best destinations to enjoy regional cuisine. Try one of the Romagna pastas, and rabbit porchetta in one of the fine restaurants by the shoreline.
And if you are somehow bored with the beach scene, Rimini is the gateway to visit the oldest republic in the world. Hop on a twenty-minute bus to San Marino, which gives you a completely different landscape to enjoy.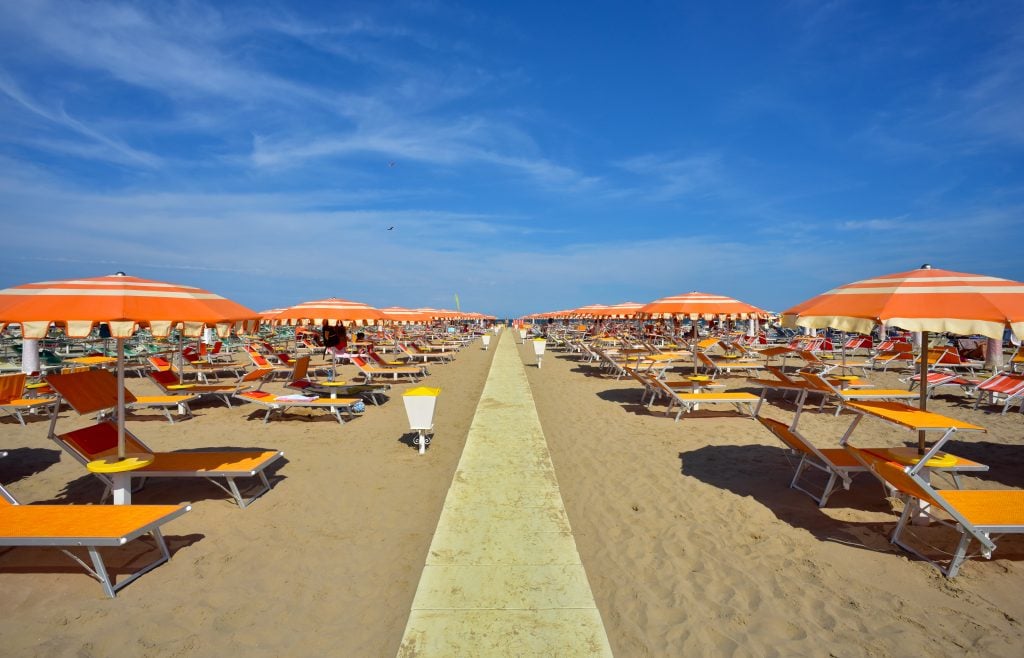 Portofino, Liguria
From James at Travel Collecting
Portofino, originally a fishing village, has become one of the premier resorts in the world for the rich and famous and is well-known for being one of the most gorgeous beach towns in Italy.
Perched on the edge of the boat-filled bay surrounded by colorful houses, it is incredibly beautiful.
Whilst there are no beaches in Portofino proper, there are several wonderful beaches very nearby. Just a few minutes' drive or a 30-minute walk along the coast is the spectacular Paraggi Beach, where the water is crystal clear.
You can also hike over the hills to the secluded cove of San Fruttuoso, with the bright blue Mediterranean Sea sparkling below. In San Fruttuoso, which is only accessible by foot or boat, the pebbly beach is framed by a 10th Century abbey and covered in the ubiquitous sunbeds and umbrellas that characterize Italian beaches.
The views of the emerald green cove and the golden abbey from the hills above is iconic. In addition, a short boat ride away from Portofino is the beach at Camogli in one direction and Santa Margherita Ligure in the other.
In between time spent at the beach or on a boat, explore the shops, art galleries, bars and restaurants of Portofino. Seafood restaurants are common in town and at all of these beaches.
Other local specialties in this area include Focaccia alla Genovese (a delicious flatbread) and Pesto Genovese (pasta with basil, pine nuts, walnuts, cheese, olive oil, and garlic).
Portofino is a 30 to 40-minute drive south of Genoa, which is the nearest large town and the nearest major airport.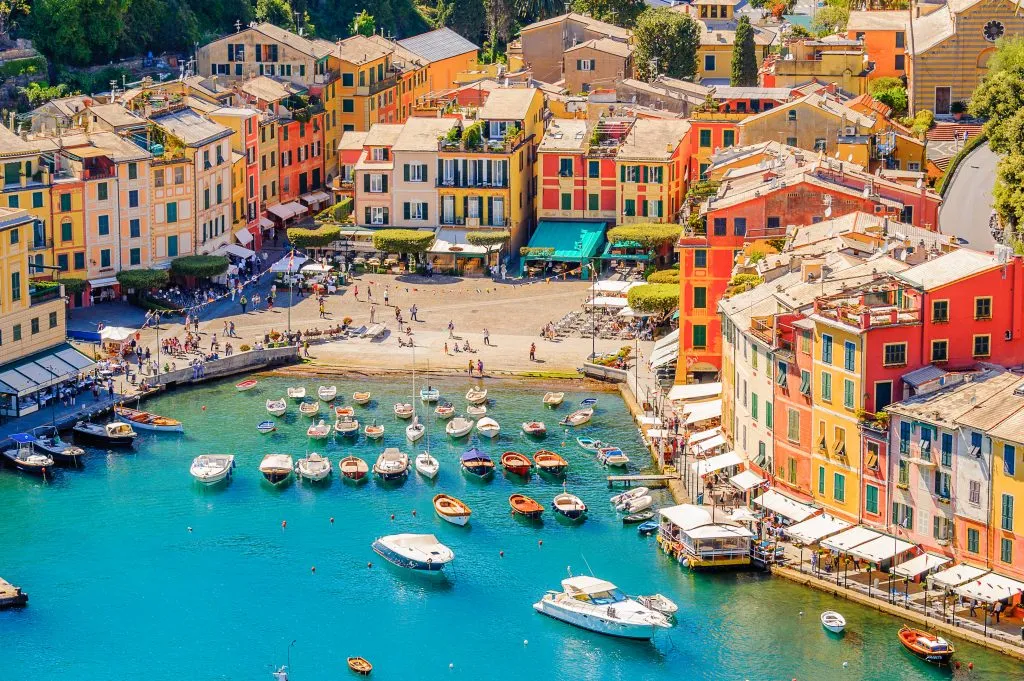 Sirmione, Lombardy
From Or at My Path in the World
Traveling through northern Italy, you cannot miss the cute town of Sirmione, Lake Garda's pearl. Although it sits on a lake and not on the Mediterranean, it definitely has some visit-worthy beaches.
The most popular one is Jamaica Beach which is made of flat rock slabs and known for its crystal clear water. The town also offers a variety of thermal baths and water sports facilities like windsurfing and canoeing.
If you are a history lover, in Sirmione, you can visit several historical landmarks. My favorite one is Scaligera Castle, a fortress dating back to the 13th century where you can enjoy some of the best views of Sirmione.
Another unmissable sight is the archaeological site of Grotte di Catullo which is the ruins of an ancient Roman villa.
If that's not enough, you can also visit three old churches dating back to different centuries – San Pietro in Mavino Church, Santa Maria Maggiore Church, and St. Anne Church.
Apart from these specific landmarks, you should take some time to explore Sirmione's old town freely. It's filled with restaurants, cafes, and shops, and its alleys and bougainvillea-covered houses are utterly charming.
Of course, you cannot leave without trying the local gelato. If you are up for a challenge, head to Gelateria Mirkoz and try to pick your favorite flavors out of 120 different options. It's not an easy task, but it's definitely a must-have experience in Sirmione.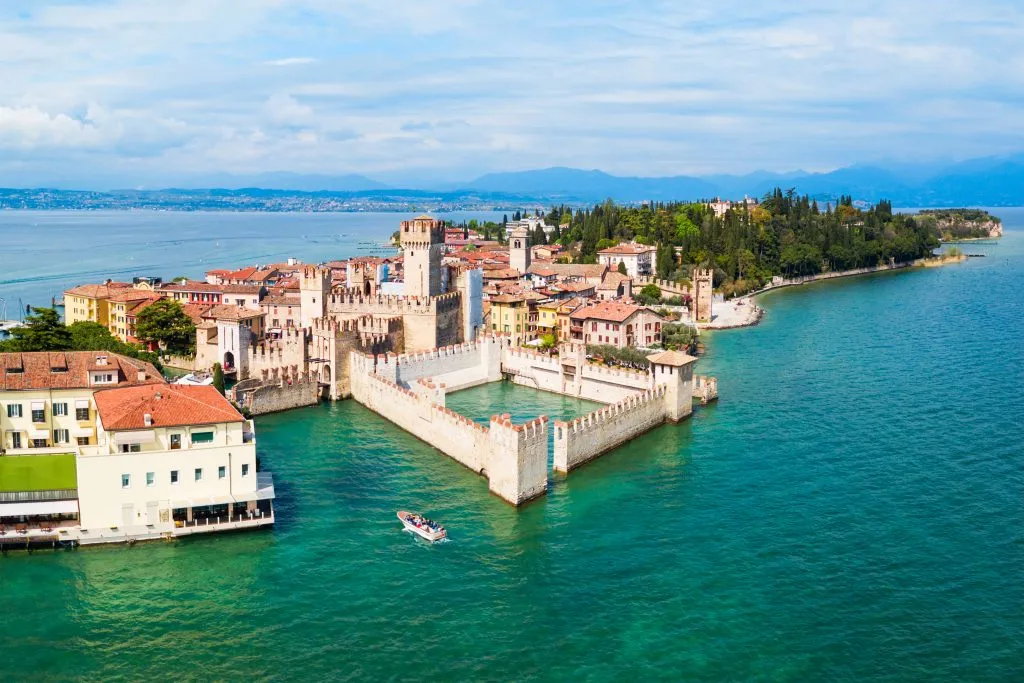 Rapallo, Liguria
From Margherita of The Crowded Planet
Every summer from where I was born until when I was about 15, I spent my summer holidays in Liguria, the region also known as Italian Riviera.
After spending the happiest times in my childhood, Liguria has always been one of those places that reminds me of joy and holidays, and since I have many friends there, I visit every chance I get.
One of my favorite towns in Liguria is Rapallo, located about 30 minutes east of Genoa.
The town is not the best in terms of beaches, but it's located close beautiful villages like Portofino and surrounded by lots of hiking paths crossing the mountains just behind.
The best view over Rapallo can be had from the sanctuary of Montallegro, about 600 meters above the town, easy to reach by cable car, or with a scenic hour-long hike.
Rapallo is also a good place to visit in terms of food – you have to try focaccia, both simple and filled with cheese. It's delicious and budget-friendly, costing only a few euros per slice. The best, in my opinion, is from Panificio Tossini!
Cagliari, Sardinia
From Claudia of My Adventures Across the World
Often overlooked for other, more popular beach towns in Italy, Cagliari, the capital of Sardinia, is actually one of the prettiest Italian beach towns.
It boasts a number of beaches, most of them within easy reach from the city center via public transportation, and a couple others requiring a short hike that rewards with one of the most isolated, pristine beaches one could hope for.
Cagliari's most famous beach is Poetto. It's a long stretch of white sand lined with palm trees and small kiosks where you can stop for a light meal or a drink.
Along the water at this Italian seaside town, there are plenty of places where you can rent chairs, umbrellas and whatever else you may need to fully enjoy your day at the beach. Running along the beach there is a bike / skating / running lane, where locals go exercising throughout the year.
At night, one of the best things to do in Cagliari is going to Poetto for a drink or to one of the outer kiosks where there regularly is live music.
Calamosca is the other main beach, located on the other side of Sella del Diavolo (one of Cagliari's natural landmarks). It's a smaller cove, with lovely clear waters.
Not far from the beach, a trail starts that takes you all the way to the top of Sella del Diavolo, for impressive views of Poetto and the city.
Cala Fighera is the most isolated beach in Cagliari. From Calamosca, you have to drive along the road that goes all the way to La Paillote, one of the nicest restaurants overlooking the sea.
The road ends there, and you have to take a trail that takes you to one of the most famous nudist beaches in Sardinia. It's worth going!
Cagliari also offers much more than beaches: archeological sites, museums, churches and some of the most beautiful sunsets you'll get to experience in your life. Complete this with an incredible food scene, and you'll see why people who visit once keep on going!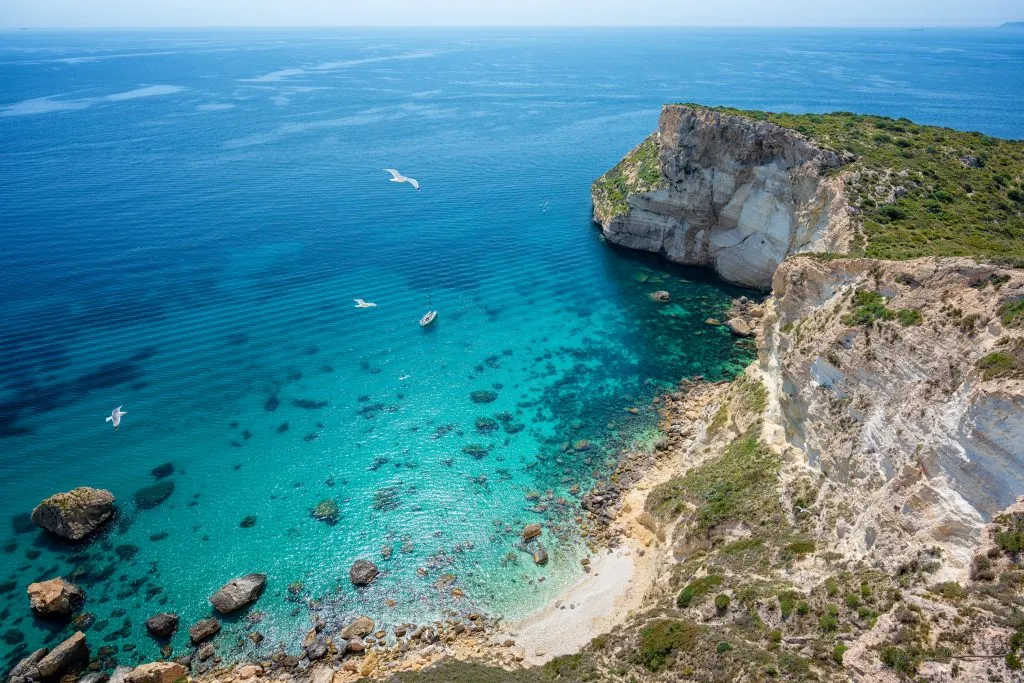 Monterosso al Mare, Liguria
From Dan of Honeymoon Always
Located on the Northwestern coast of Italy, Monterosso al Mare is one of the five small villages that together make up Cinque Terre and one of the most famous beach towns in Italy. It is located in the Liguria region and can be easily reached by train.
This beautiful coastal town in Italy is divided into two sections, the old town, and the new town.
A beach runs along most of the coastline of the city and is the largest beach and only sand beach in Cinque Terre. The beaches are free, but there are also paid services available.
You can rent umbrellas, beach chairs and ability you use restrooms, showers and changing rooms on the beach. Prices drop halfway through the day.
From Fegina Beach you can admire the statue of Neptune emerging from the stone at the far end of the beach. This symbol of the city is 14 meters tall and has eroded over time, but is still an impressive sight to see.
When you aren't relaxing on the beach, take some time to go on a hike. The trails that link Monterosso with other towns of Cinque Terre provide views of the town as well as wondering paths through vineyards and countryside.
You can also take the train to neighboring towns, take a ferry or book a boat tour to get to know the area better. Make sure you eat some seafood while you are there and some Panna Cotta and take some time to walk around town to see the shops.
Castro, Puglia
From Sabrina of In My Suitcase
Among the more vibrant small cities overlooking the amazing sea of Salento, there is Castro.

Also called "The Pearl of Salento", Castro boasts one of the best wine festivals in Italy, the Castro Wine Festival and hosts very intense and interesting jazz nights from spring till mid-fall.
As a "Salento Insider", I can tell that Castro is a great spot to enjoy the sea and an elegant rocky coastline.
Castro Marina, the extreme coast area of the city, will make you enjoy breathtaking sea views from no matter where; the sea will be a constant companion while walking down the streets of the old castle and the historic center.
Almost all local accommodations overlook the sea and many of them have special private access to the deep-blue waters.
In Castro, you'll also breath all the perfumes of local flora and will pick up the colorful and sweet prickly pear, local precious food.
Castro is also the place I suggest to seafood lovers: here you can enjoy the very best local fresh fish and seafood both in restaurants and in small and friendly food trucks and seafood bars.
Tropea, Calabria
From Chontelle of Mum's Little Explorers
A fairy tale like little town tucked away in the south of Italy on the toe of the boot, Tropea is unlike any other.
A gorgeous clifftop medieval town in the province of Vibo Valentina, this seaside town has a stunning view of the coastline and is one of those places you must see in person to appreciate its beauty.
One of the main attractions, and what it is most famous for is the Santa Maria della Isloa, which is a fairy tale like church perched on a hill in the sea.
Crowds flock to Tropea to climb the famous steps to explore inside the church and Its gardens outside which have a view looking over the beach.
The best view of the church itself is from the main balcony up on the hill near the town center.
The cute little town itself comes alive during the summertime where there are various bars and restaurants serving up fresh seafood, pasta, pizza, and of course the famous red onions and chilly peppers that Tropea is known for.
To visit Tropea, you can fly into the nearest airport which is Lamezia Terme, just under an hour away.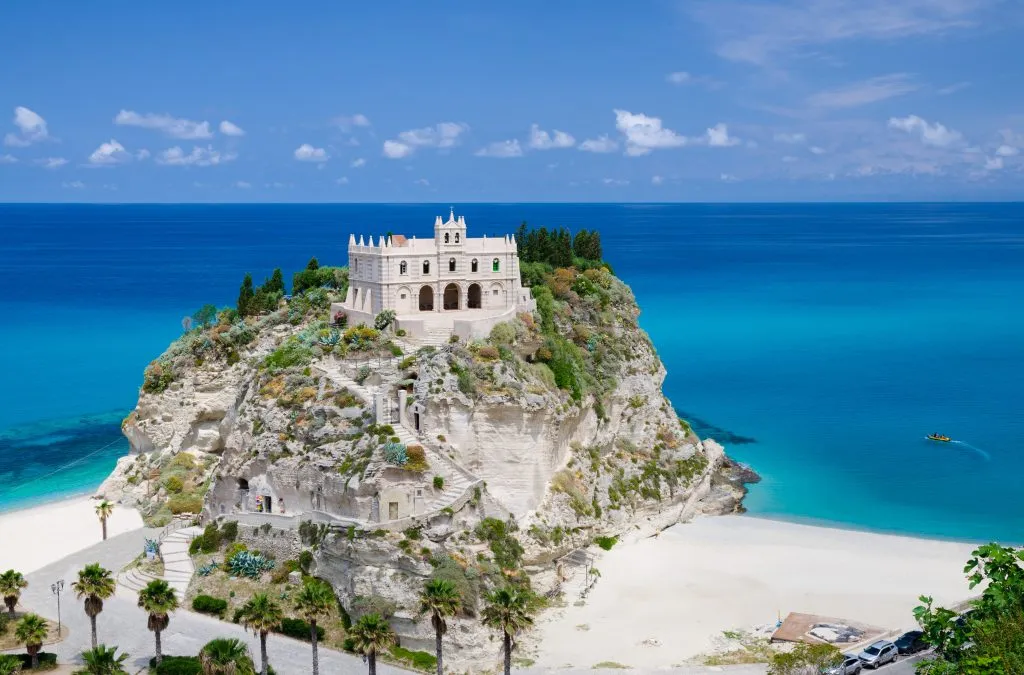 Capri, Campania
From Chandresh of Family on the Wheels
Capri, an island located in the Tyrrhenian Sea, near Gulf of Naples, is a perfect tourist destination and one of the most incredible beach towns in Italy.
It is a well-known destination known for its blue sea, amazing rugged landscapes, the faraglioni rocks emerging out of the sea, the Grottos, and yes, the high-end designer fashion streets.
The best way to explore Capri and Anacapri is by walking down along the beautiful floral lanes and then going in for a boat experience across the island.
It is worth every breath you take to walk along the beautiful floral lanes of Capri. They will for sure leave you awestruck at the beauty of blue sea seen across.
Capri is really famous for its high-end designer showrooms and that can be seen when you walk through that area. They showcase exclusive grand clothing and interior masterpieces, along with numerous eateries.
While you're in Capri, be sure to take a boat tour around the island to explore the Blue Grotto, visit the Garden of Augustus, walk to Belvedere Tragara, take the chair lift to reach Mount Solaro, and watch the sunset from the Punta Carena lighthouse.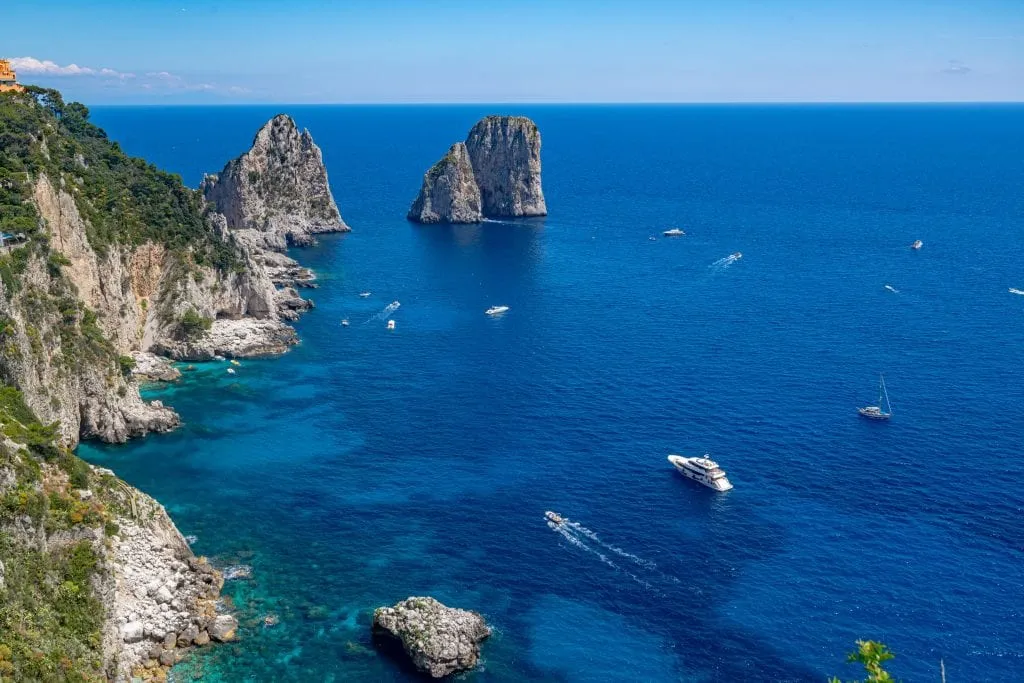 Sestri Levante, Liguria
From Katy of Untold Morsels
Halfway between ritzy Portofino and the rustic villages of the Cinque Terre, Sestri Levante is a gorgeous coastal town in Italy with tons of charm.
Built on a tiny sliver of the peninsula between the Baia di Silenzio (Bay of Silence) and the Baia delle Favole (Bay of Fables) you can spend time at two very different beaches in Sestri Levante.
The main beach is lined with typical Italian beach clubs where you can splash in the open Ligurian Sea or lounge in style with your cappuccino or glass of wine. But take a stroll through the old town to the magical narrow shoreline of the Baia di Silenzio and you're in for a real treat.
This public or free beach, lined with colorful houses, is incredibly romantic and a beautiful spot to spend an afternoon lounging in the sun. When you get hungry the cobbled streets of the old town are not far away.
Here you can try typical dishes of the Liguria region such as squid ink pasta or trofie with pesto.
Sestri Levante is popular with Italians looking to enjoy one of the best beach towns in Italy but is almost a secret to the rest of the world. The nearest large cities are Genoa and La Spezia so it is not hard to get to this picturesque spot on the Italian Riviera.