Taking a day trip to Capri is like taking a trip to another dimension.
From Capri, the blue of the water glistens just a little brighter. The curves of the cliffs are just a bit more majestic. The location, in general, is just a bit otherworldly–like something out of a legend.
Capri's magnificent beauty has been beckoning the rich and famous to visit it for a couple of millennia, from Roman emperors to modern movie stars, and thousands of others in between.
Today, Capri maintains a bit of that glitz and glamour–the location alone demands it–but anyone can easily take a day trip to Capri and enjoy a slice of its glorious beauty for themselves (just don't expect to spot any celebrities unless you stay past 6:00 PM).
Paying a visit to the Amalfi Coast or the surrounding area and want to spend a day on Capri? Here's how to do it.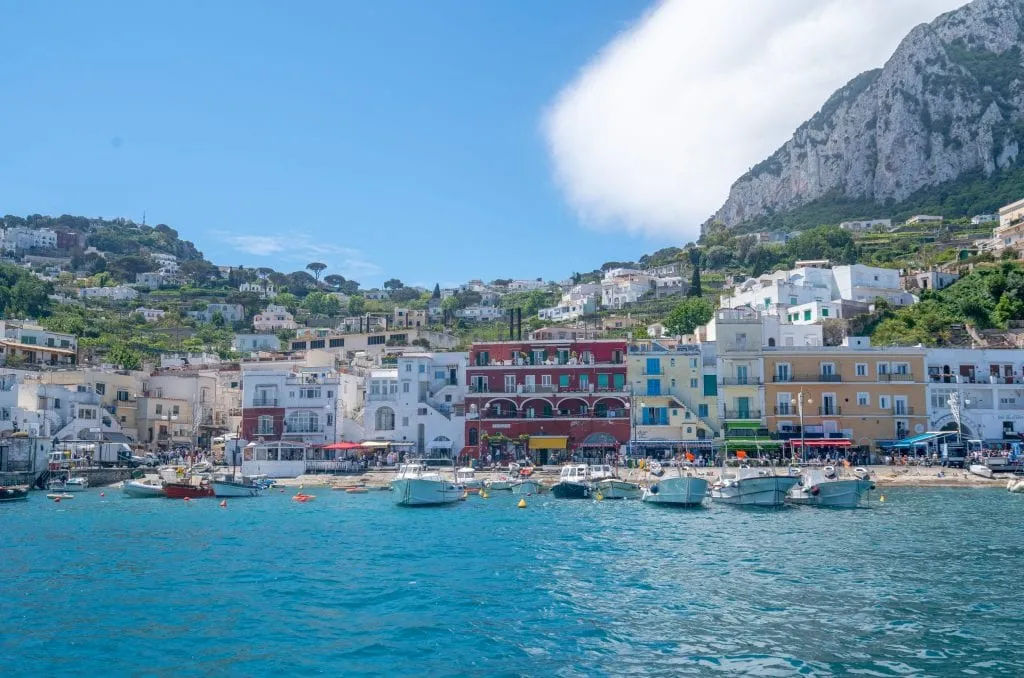 Some links in this post may be affiliate links. If you make a purchase through one of these links, we may earn a small commission at no extra cost to you. Please see our

disclosure policy

for more detail.
How to Get to Capri
Unless you happen to have a private boat that you're sailing to Capri, there are, essentially, two ways to take a day trip to Capri: by ferry or by tour.
Ferries run several times a day from all the nearby tourism hubs like Sorrento, Amalfi, Positano, and even Naples–but they aren't cheap! Depending on where you are coming from, expect to pay around 20 Euros/person each way, plus a 2.5 Euro tourist tax upon arriving in Capri.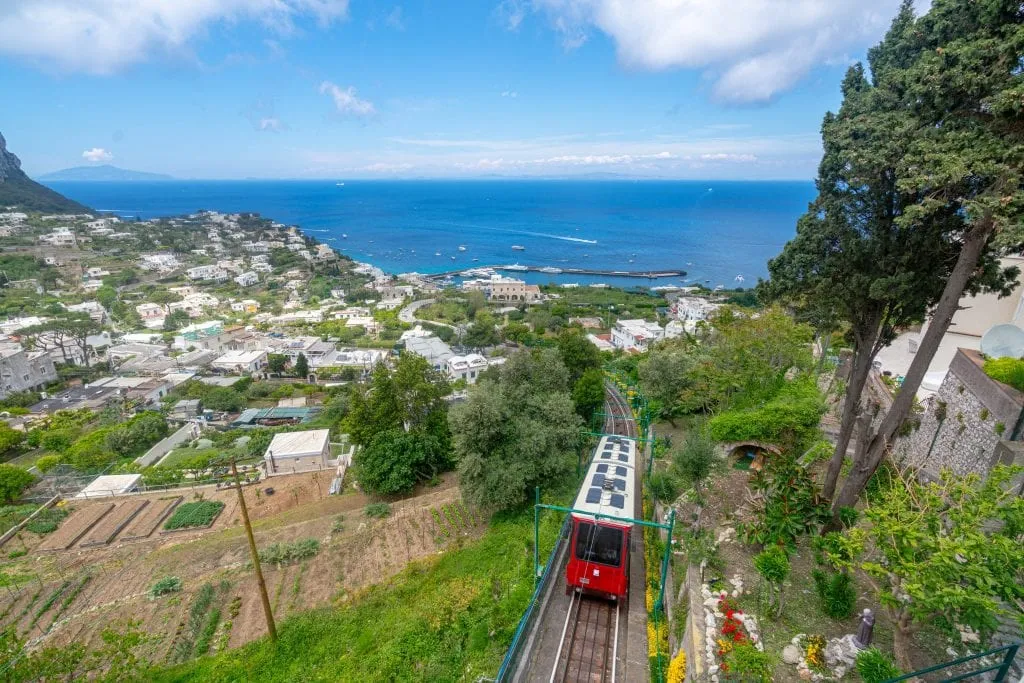 For this reason, tours are often quite a bargain for a day trip to Capri, as they typically include both transport there and back, as well as (usually) a boat tour around the island, and some tours even cover the tourist tax for you.
We took a tour similar to this one from Sorrento and were very pleased with the value.
Book your day tour to Capri today!
Whichever way you decide to visit Capri for one day, expect to spend about 30 minutes getting there from Sorrento or Positano, just under an hour from Amalfi, or 1-2 hours from Naples.
You can check exact prices and times for ferries to Capri here.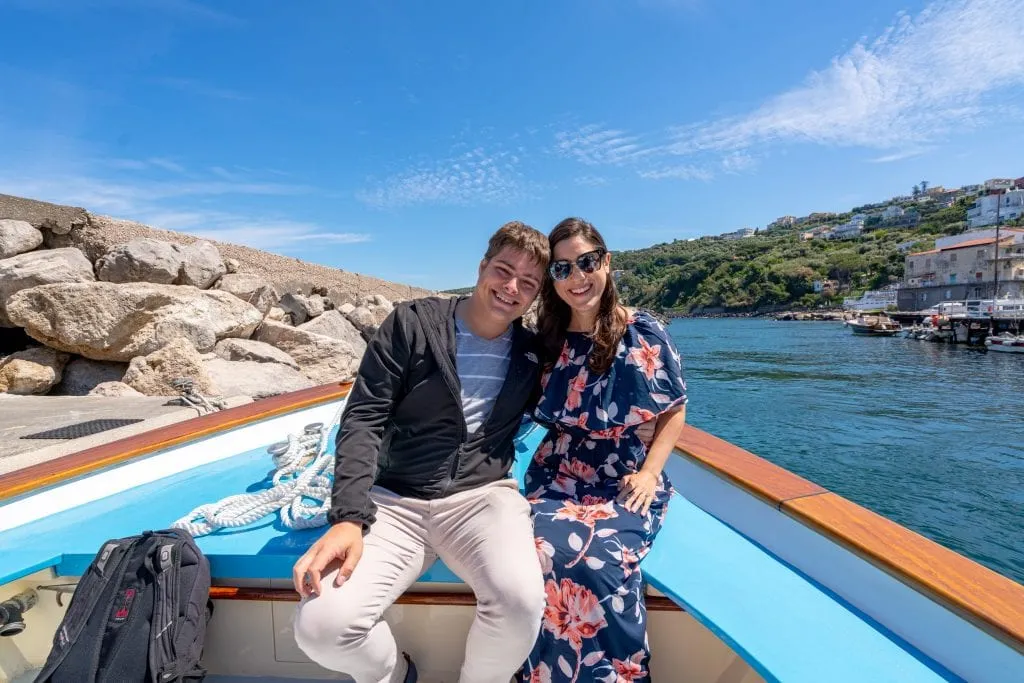 The Best Things to Do on Day Trip to Capri
Take a boat tour around the island.
Cruising around the island of Capri is an absolute delight: the views are stunning, the grottos remarkable, and the relaxing nature of laying back on a boat and watching such a beautiful part of the world go by is incredible.
I definitely recommend making sure that a boat tour is part of your day trip to Capri–it is one of our favorite memories from our time exploring the Amalfi Coast and surrounding area!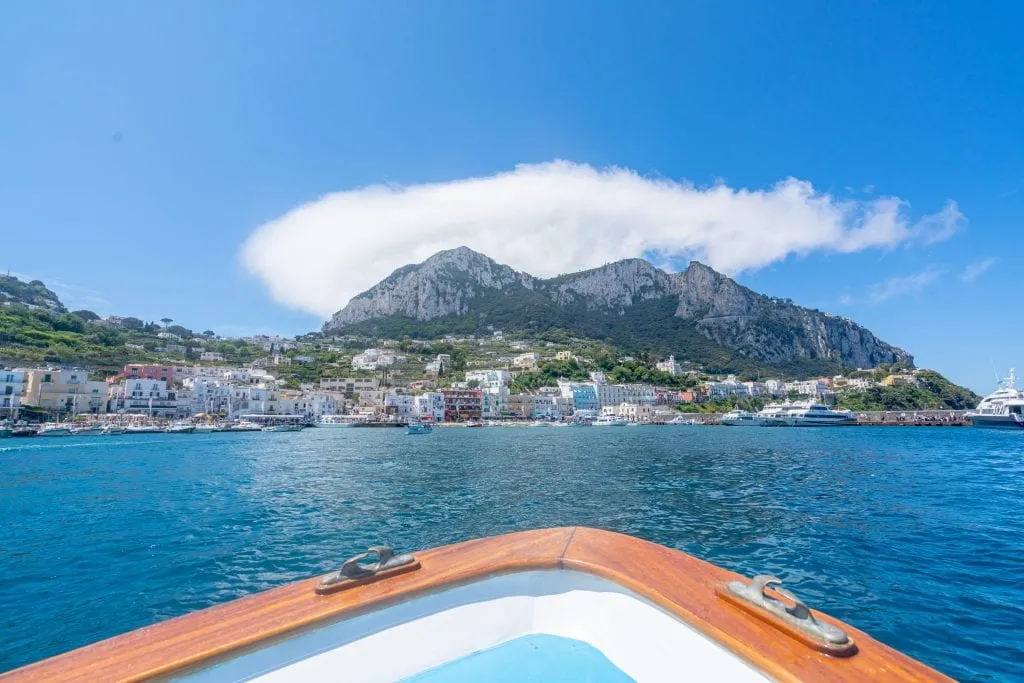 Visit the peak of Mount Solaro.
Riding the chairlift up to the highest point on Capri is an experience within itself–and the views from the top are magnificent!
Keep in mind that to reach the chairlift, you'll need to first head to Anacapri–so if this is at the top of your list of things to do in Capri, we recommend heading that way the moment you disembark onto Capri for the day.
Soak in jaw-dropping views at the Garden of Augustus.
At only 1 Euro, the Garden of Augustus is a downright bargain for the views you receive: just look at that water!
Somehow, these gardens don't get spoken of as much as other viewpoints around Capri, but we just couldn't tear our eyes away from the views of the Faraglioni or Via Krupp, which snakes toward the sea far below the Garden of Augustus.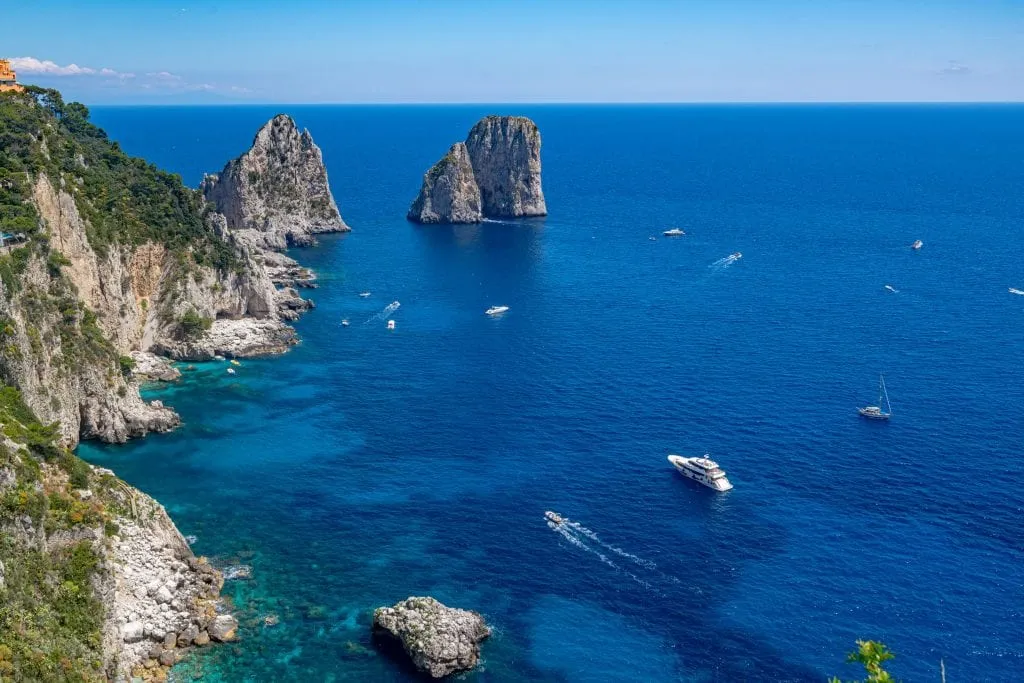 Tour the Blue Grotto.
I'll be honest: I'm including this here only because of its fame, but I truly don't recommend touring the Blue Grotto during your day trip to Capri.
While the colors are supposed to be lovely, the wait times to enter the grotto are insane (think over an hour to get into it in the middle of the day), and the actual time spent in the grotto is incredibly short (think under 5 minutes).
While we didn't tour the Blue Grotto ourselves, based on what I have read online, have heard from friends, and what we heard from our fellow tour-goers who decided to visit on the day we took our Capri day trip, I feel pretty confident in recommending avoiding the Blue Grotto on a day trip to Capri.
If you are desperate to visit, consider spending a night on Capri and then visiting the Blue Grotto the moment it opens in the morning, well before the daytrippers arrive.
Check out Villa San Michele.
Built as the dream home of a Swedish doctor in the late 19th century, this beautiful mansion-turned-museum was designed specifically to showcase stunning views of Capri–and it succeeded.
If you can bear to tear your eyes away from the sea for a moment, there are also plenty of interesting historical artifacts on the property, including the famous sphinx that overlooks Capri.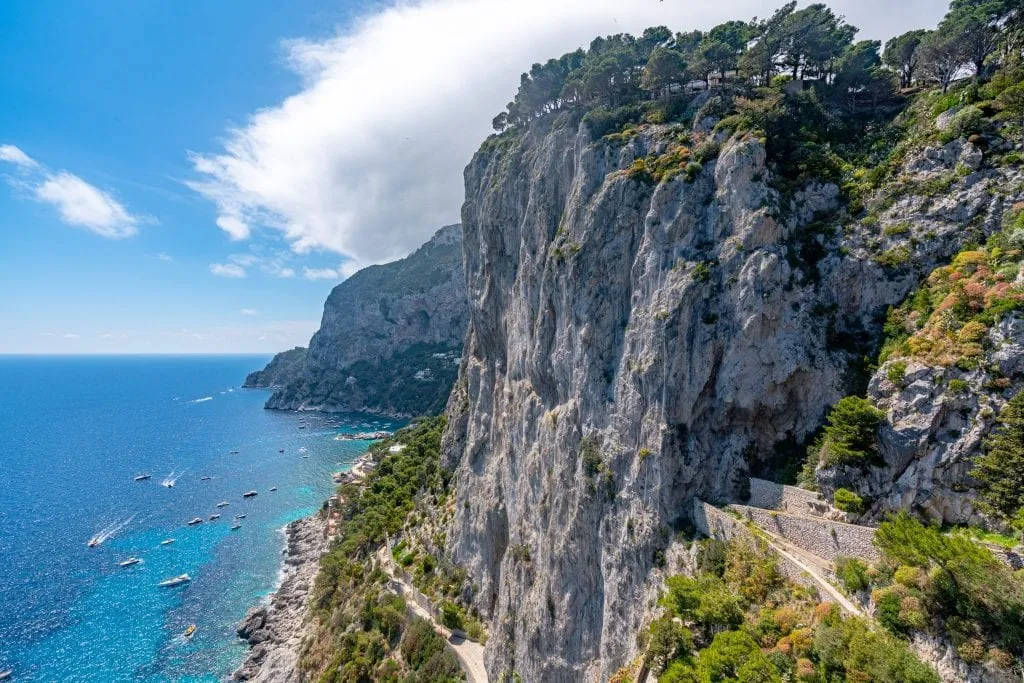 Stroll through the center of Anacapri.
While Capri Town is lovely, Anacapri is quieter–if you're heading that way to visit Villa San Michele or Mount Solaro, definitely take a bit of time on your Capri day trip to meander through the town itself!
Sip a drink in the Piazzetta.
Capri's Piazzetta is a place to see and be seen, and there's something truly delightful about ordering a cocktail or an espresso and watching the world go by from your table.
Definitely make a stop here on your day trip to Capri–just chalk the prices up to part of the experience and try not to wince too hard!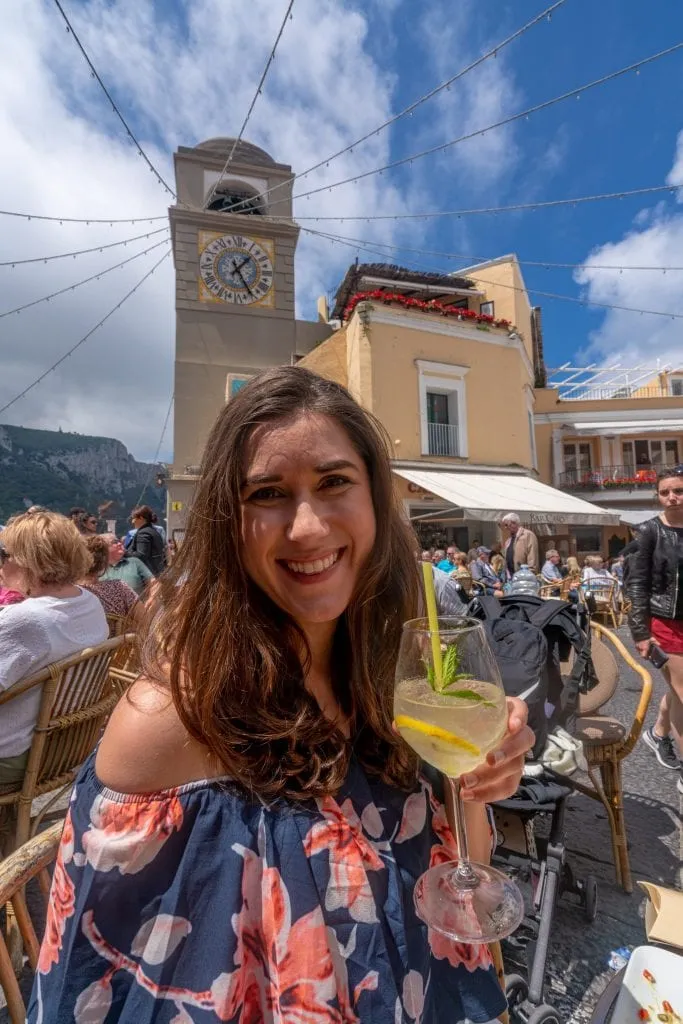 Should You Take a Tour to Capri?
I touched on this above, but while it's certainly not a bad idea to visit Capri for a day independently via ferry, day tours to Capri are actually a surprisingly good value.
We chose to take one similar to this tour and had a great time, and we loved not having to deal with booking a boat tour once we arrived on Capri.
Most tours to Capri will leave you free for most of the day to explore–ours did–but add simplicity and structure to the day by covering your transportation to and from Capri, as well as frequently a boat tour and the tourist tax the island charges, all in one flat rate.
Book your day tour to Capri today!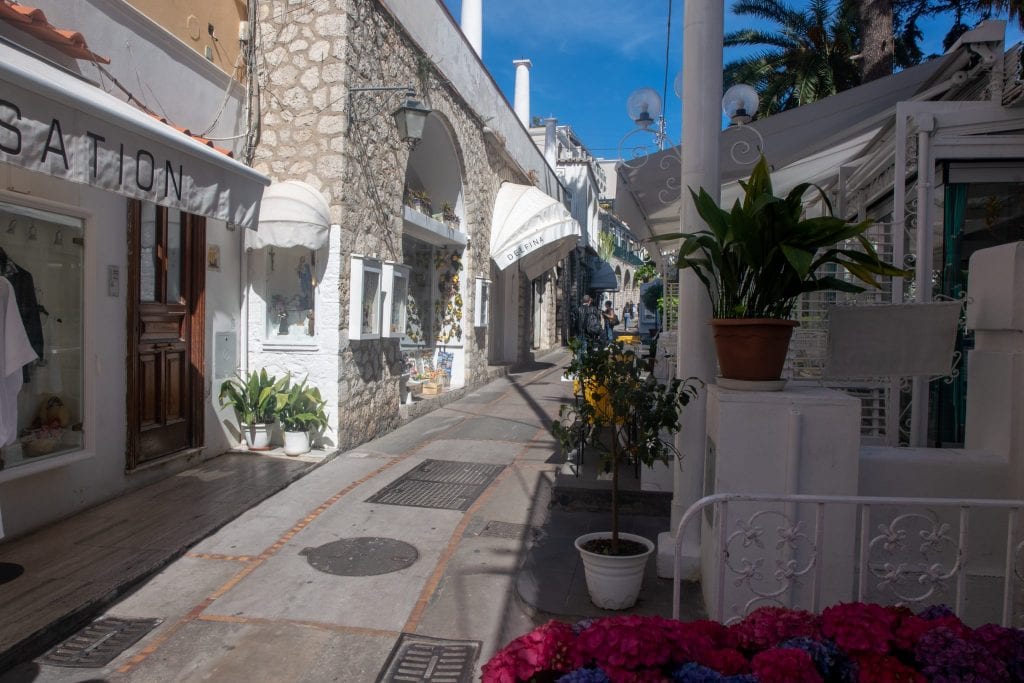 When to Take a Capri Day Trip
Capri is one of those lucky destinations that is stunning year-round: spring brings beautiful blooms, summer the height of its busy season with plenty of fashionable residents coming and going, autumn reduced crowds, and winter a much slower pace of life (expect for many restaurants and stores to be closed).
Personally, I'd be most excited about taking a day trip to Capri in the spring for views and in the summer for boat tours and swimming–but if you happen to be visiting the region during the offseason, I wouldn't necessarily avoid the island.
The most important component of when to take a Capri day trip, I would argue, isn't the temperature so much as the lighting: this is an island that looks best bathed in sunlight, and I highly recommend trying to schedule your day trip to Capri for one of the sunniest days of your visit to the area.
Tips for Taking the Perfect Day Trip to Capri
Budget generously.
There's just no way around it: Capri is expensive.
If you're on a tight budget and want to see the island inexpensively, we recommend packing your own food and drinks and admiring the views from the budget-friendly Garden of Augustus.
If you're hoping to grab food or drink on the island or to hit the major tourist spots, though, be prepared! For example, the going rate on Capri for an Aperol Spritz was around 12 Euros (about double the going rate on the already-pricey mainland)–that should give you an idea of what kind of prices you're going to be looking at on Capri!
Avoid the Blue Grotto.
I touched on this above, but on a Capri day trip, the Blue Grotto will eat up huge amounts of your time on Capri for what is generally considered to be an underwhelming and overpriced experience–unless the Blue Grotto is a major bucket list item for you, I recommend focusing elsewhere for your time on Capri.
Visit in the sunshine!
Capri thrives on sunshine.
This island is all about the views, and since virtually all of those views include the sea, planning your day on Capri for a time when the sea will be sparkling at its very best will greatly improve your visit.
Don't plan on sandy beaches.
While Capri is a stunning coastal destination, it's not really a beach one–don't plan on coming here for a stretch of sand.
The island is more about appreciating the rocky coastline than laying out in the sun, so play to its strengths during your day trip to Capri!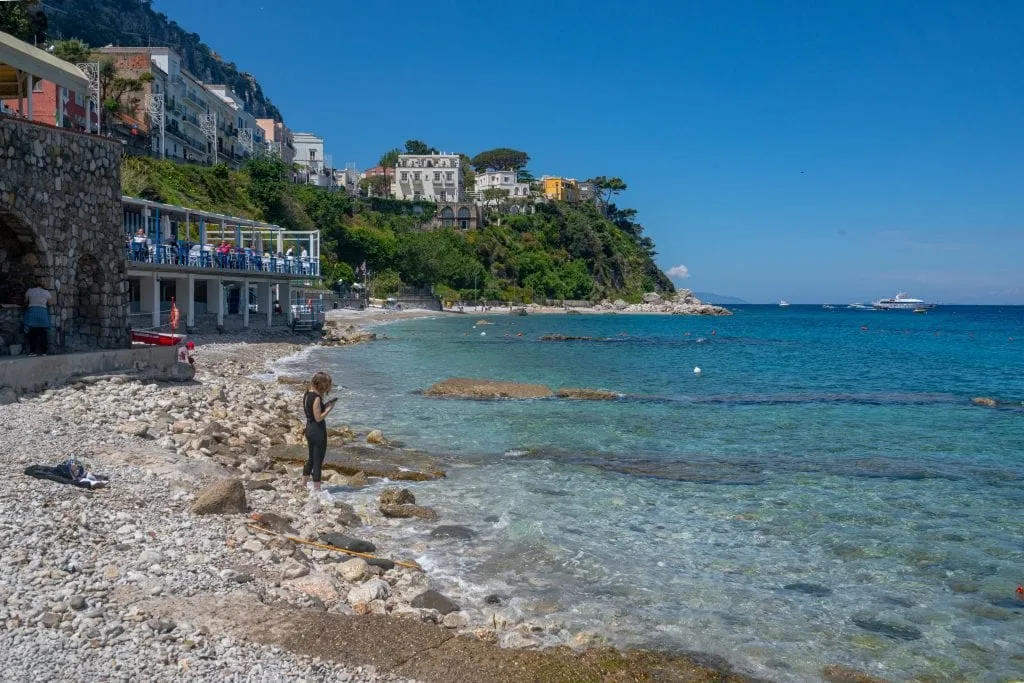 If you want to eat a nice meal on the island, plan ahead.
Like most destinations as popular as Capri, there are magnificent restaurants… and plenty of tourist traps.
Since you're going to be spending a pretty penny for a meal on Capri regardless, make sure it's worth it and research a restaurant you'd like to visit (and if possible, make a reservation) ahead of time.