This Naples pizza guide was written in partnership with Expedia.com.
Naples and pizza: those are two words that simply go together, so when we decided to head down to Naples and explore the city, we immediately knew that the best way to structure our visit would be through a Naples pizza tour.
Rather than head out for a single day, though, we wrote our own, marking down our best picks for pizza in Naples and embarking on a multi-day independent Naples pizza tour.
We teamed up with Expedia for our explorations, with their Naples city guide helping us find nearby sights to break up the doughy madness (and also making us desperate to make a return trip when it's the right season to visit the Amalfi Coast).
But while November may not be beach season, it is the perfect time for pizza in Naples, and we definitely had an unforgettable experience in the city.
We finished this Naples pizza tour so completely stuffed that we probably won't taste another slice for weeks!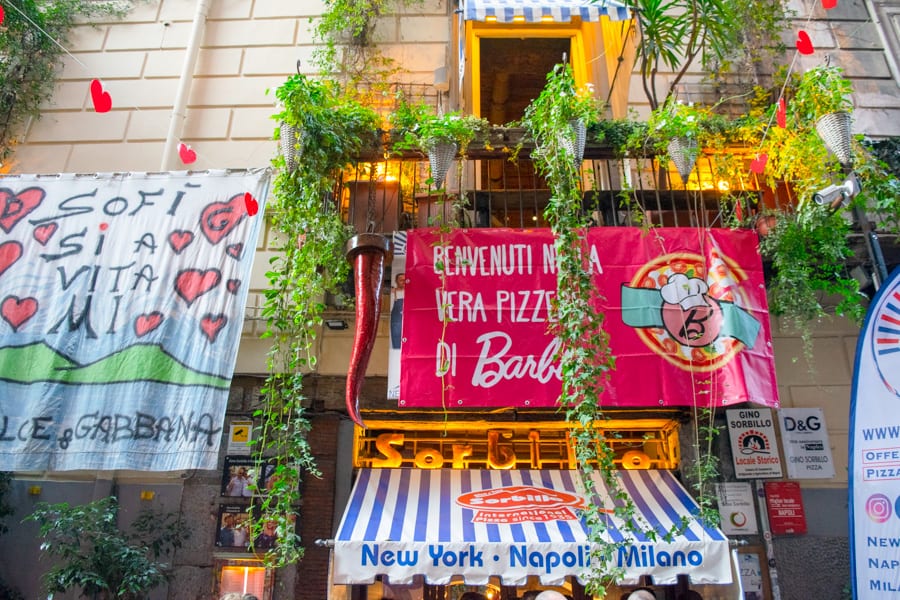 Some links in this post may be affiliate links. If you make a purchase through one of these links, we may earn a small commission at no extra cost to you. Please see our

disclosure policy

for more detail.
How We Put Together Our Naples Pizza Tour
Essentially, we did lots and lots of googling to put this Naples pizza tour together.
We're hardly the first people to want to eat their weight in pizza while in Naples–even the Michelin Guide has put in their share of work in rounding up the best pizza in Naples, and pizza features prominently on any guide to what to eat in Naples–so many articles later, we cultivated a list of Naples pizza shops that we thought would show us a cross-section of the pizza culture in the city.
Our picks ranged from classic and historical (including where pizza margherita was invented) to trendy and modern, and all five shops are within walking distance of Naples' major tourist attractions.
Want to follow in our footsteps? We highly recommend it–eating our way through the best pizza in Naples was incredibly fun, perfectly manageable over a few days in Naples, and a fantastic way to structure a visit to the city.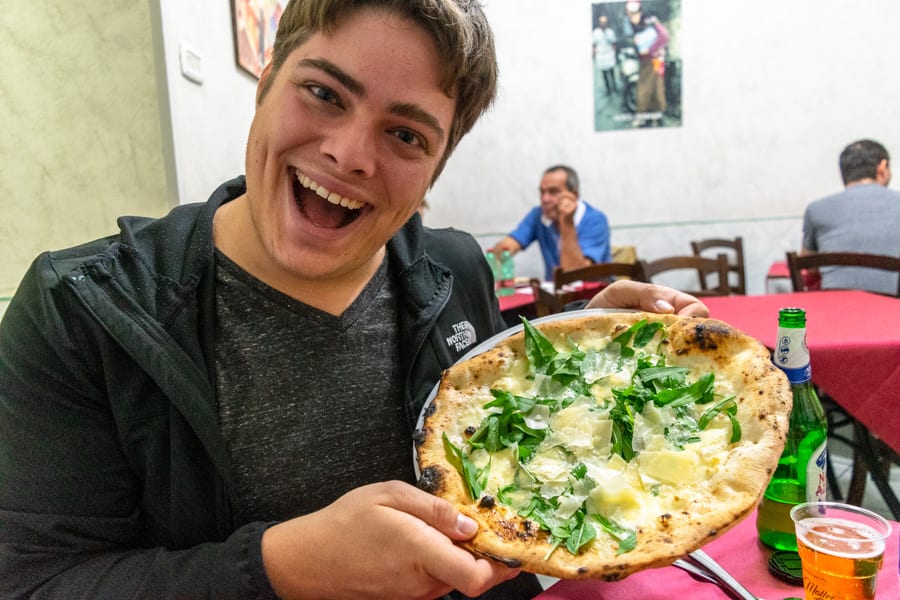 Our Naples Pizza Tour Stops
L'Antica Pizzeria da Michele
L'Antica Pizzeria da Michele may have gotten an uptick in publicity from Julia Robert's filming Eat Pray Love there–but since the pizzeria opened in 1870 and they've been recognized by the Michelin Guide, they've definitely been popular in Naples for much longer than that!
Not only is the pizza here completely delicious, boasting our favorite crust that we tasted in the city, the atmosphere is incredible: the menu is tiny (two choices: pizza margherita or pizza marinara), customers sit squished close together at tiny tables, and the pizza oven is completely visible along the back wall of the restaurant.
Surprisingly, given its popularity, this was also the least expensive pizza we had in a restaurant in Naples–each pie was 4 Euros, and the prices can only rise as high as 5 Euros (if you opt for the bigger size or double the cheese).
This is the only place we waited for a table for–about 30 minutes on a weekday in November–rumor has it that you can avoid the wait by showing up right when they open at noon.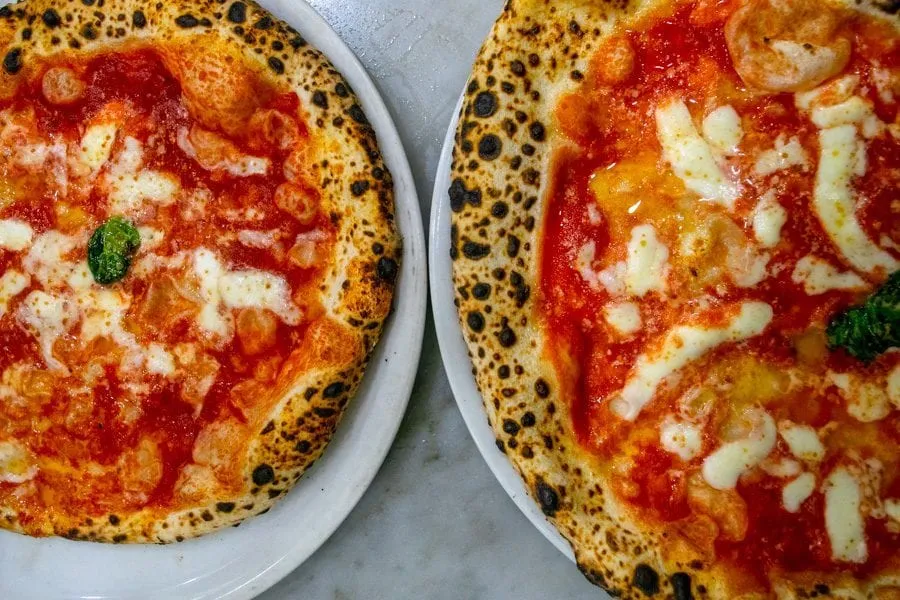 Pizzeria di Matteo
Looking for cheap prices, a giant menu, and great pies just steps away from Naples' Duomo? Welcome to Pizzeria Matteo.
This was neither our favorite nor least favorite stop on our Naples pizza tour: the atmosphere was a bit lacking inside, but the pizza (we opted for rucola and parmesan) was tasty and the prices were competitive, coming in at only 6 Euros for our pizza.
The location itself is a bit of a selling point, as most people visiting Naples will almost certainly be close by at some point.
Pizzeria de' Figliole
Before arriving in Naples, if someone had stated that they were eating fried pizza, I would have immediately assumed that they were at a carnival or fair in the USA, home of deep-fried just-about-anything.
But, no–fried pizza is as Neapolitan as they come, dating back hundreds of years. It was originally considered a poverty food, but seeing as it's completely delicious, it has stuck around over the decades and remained a favorite in Naples.
No Naples pizza tour could be complete without sampling at least one fried version, and Pizzeria de' Figliole is the place to go to try it.
Ingredients are already chopped and prepared under the glass countertop, and when we walked in and ordered, the woman behind the counter started stuffing some dough on the spot!
In less than five minutes, we watched our fried pizza get assembled, dumped into and then scooping out of the deep fryer, wrapped in paper, and delivered to us as a takeaway order–all for a whopping 4 Euros.
Pizzeria Brandi
Before arriving at Pizzeria Brandi, we had heard it described as a historical must-see on a Naples pizza tour (margherita pizza was invented here!), but not actually a remarkable pizza.
Well, everyone has different tastes… but we loved this pizza.
The crust, sauce, cheese, and basil combined into a perfect flavor (we ordered the margherita, of course), and the price was fair at 6.5 Euros for a pie.
The restaurant itself was also cozy and warm, boasting lots of dark wood and feeling like every bit like the nostalgic Naples pizza joint that it is.
Pizzeria Gino e Toto Sorbillo
Sadly, this is the only destination on our Naples pizza tour that we would rate slightly disappointing… and by slightly disappointing, I mean that we would have raved about this pizza when eating anywhere but Naples, but it just couldn't quite stack up to its impressive neighbors.
That being said, this pizzeria is one of the most commercially successful in Naples, with locations in Milan and New York in addition to its Naples locations… so if you happen to be in Milan or NYC where the competition for Napoli-style pizza is less stiff, you'll likely be thrilled with this pizza!
Sorbillo is known for its inventive ingredients, so if you'd like to step outside of a traditional pizza order in Naples, this is the place to do it.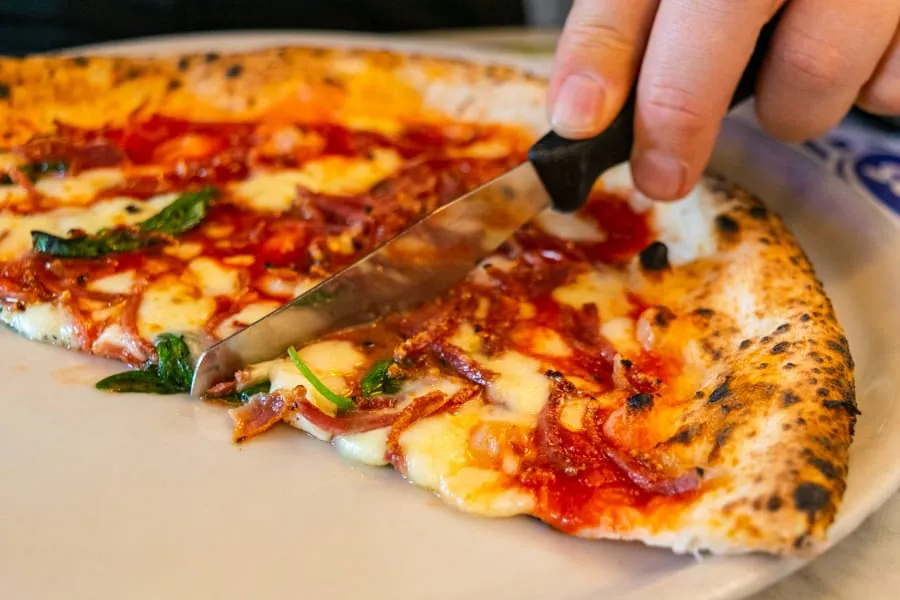 Okay, but which one is your favorite?
That's always the first question, right?
And, just like answering what our favorite country is, it's hard to say.
If we had to choose one of these pizza shops that you just simply couldn't skip on your own Naples pizza tour, though, it would be L'Antica Pizzeria da Michele.
Sure, it's popular, but the combination of the utterly delicious pizza and distinct environment makes it an unmissable Naples pizza tour experience in our minds!
That being said, when we eventually return to Naples, we'll probably be most likely to return to Pizzeria Brandi–we loved the cozy atmosphere and their delicious (and original!) margherita pizza.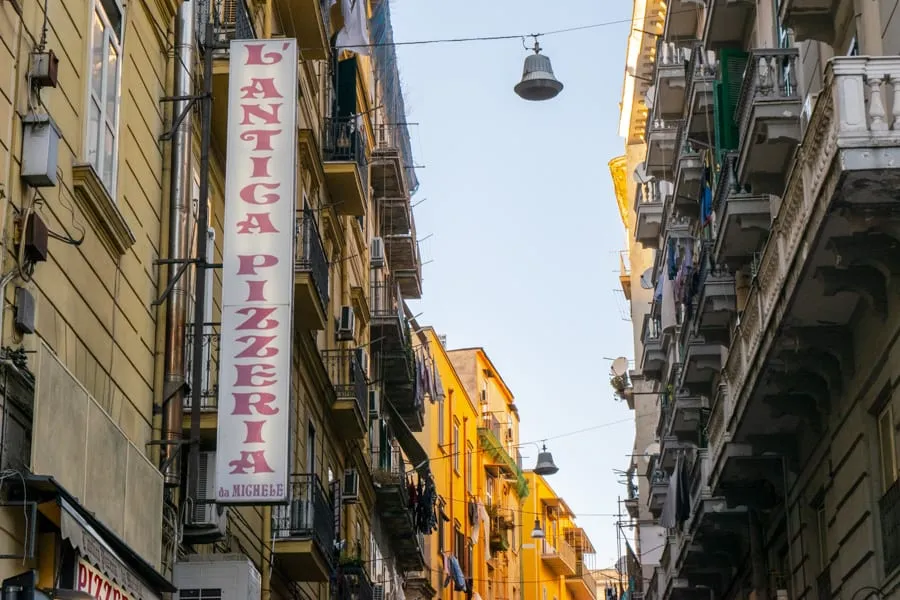 More Epic Naples Pizza Tour Stops
Even once we narrowed down our list of possible stops on our Naples pizza tour, there was simply no way we were going to hit them all–these locations didn't make the cut, either due to location or time, but they're still on our list for next time!
50 Kalo
This pizzeria is known for its modern twist on Naples pizza tradition, and for the beautiful views from the terrace at its Chiaia location.
Pizzeria La Notizia
Pizzeria La Notizia has two locations in Naples, located right down the street from each other–making them a perfect addition to a Naples pizza tour!
The 53 Via Michelangelo da Caravaggio location is known for its traditional pizzas, and down at 94 Via Michelangelo da Caravaggio, Pizzeria La Notizia has a more experimental style.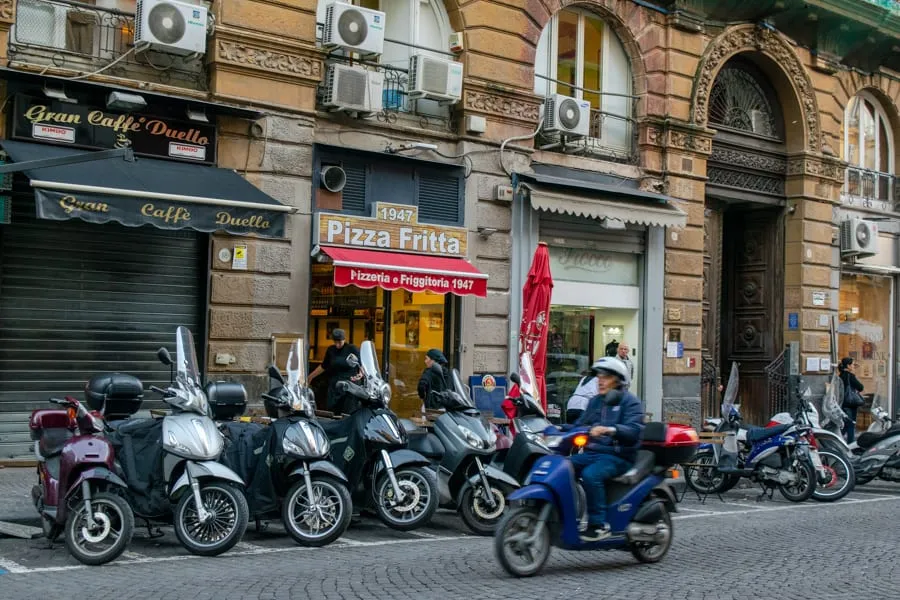 Pizzeria dal Presidente
Pizzeria dal Presidente is famous for–what else–having a president eat there. President Bill Clinton ate at this pizzeria while in office, and it has been famous ever since.
We passed by partially because of how cheesy the advertisements outside were–lots of promotion of various celebrities who ate there–but it is a popular pizzeria, and the advertising makes some sense as there are some would-be imposters with similar names nearby.
Pizzeria Starita
Pizzeria Starita is famous in part for Sophia Loren filming a scene there for her 1954 movie "The Gold of Naples".
However, as the pizzeria was founded in the 1940's and is popular to this day–even getting a nod from the Michelin Guide–it's still definitely well worth a visit on a Naples pizza tour.