Of the six sestieri (or neighborhoods) that make up the core of Venice, Dorsoduro is our favorite.
Populated with a wide variety of locals, plenty of students, and far fewer tourists than you'll see at the most popular places in the city, Dorsoduro feels like what Venice "should" be: relaxing, beautiful, and full of hidden gems waiting to be discovered.
The best things to do in Dorsoduro include everything from visiting ornate churches to wandering through uncrowded museums to hopping on a vaporetto to visit Venetian islands that only a small percentage of the city's visitors ever see, and each of them is worth the effort.
We've now visited Venice, Italy, many times, in all seasons–and with each successive trip, we find ourselves choosing to spend more and more of our time in Dorsoduro.
Here's what to do in Dorsoduro, Venice!
The Best Things to Do in Dorsoduro, Venice
Kick back and relax in Campo Santa Margherita.
This enormous, spacious piazza is one of our favorite places to take a seat and savor the atmosphere in Venice.
Featuring plenty of restaurants and bars, a public fountain, usually a food vendor or two in the mornings, and even a couple of shade trees, Campo Santa Margherita is a gem of a piazza.
What it lacks in canal views (all the better to keep the worst of the crowds away) it makes up for in atmosphere, often helped along in the early evenings by a handful of kids playing soccer/football.
If you're looking for a fun place to drink a spritz, you can't go wrong with Campo Santa Margherita.
Personally, we've enjoyed both spritzes and a tagliere misto (delicious plate of local cured meats) from Osteria alla Bifora!
Step inside the Chiesa di San Sebastiano.
Despite boasting what is arguably one of the most stunning church interiors in Venice, you're unlikely to find a crowd inside when you visit the Chiesa di San Sebastiano!
This 16th-century church may look like just another standard–if lovely–Venetian church on the outside, but step inside and you'll be greeted with an incredible array of art, featuring works by Tintoretto, Veronese, and Titian.
Be sure not to miss the sacristy, which is located to the front left of the sanctuary and can be accessed via a somewhat unassuming hallway.
No photos are allowed inside the sacristy, but it's well worth taking the time to visit.
Explore the Peggy Guggenheim Collection.
Despite being one of the less crowded sestieri in central Venice, Dorsoduro is home to 2 of the city's most prominent art museums, including the Peggy Guggenheim Collection.
Housed in the 18th-century palazzo along the Grand Canal that Peggy Guggenheim herself once called home, this popular museum focuses on modern art.
The art was sourced primarily from the personal collection of Peggy Guggenheim, who started displaying the work publicly in the 1950s.
Grab tickets to visit the Peggy Guggenheim Collection today!
… and the Gallerie dell'Accademia.
Located just past the Ponte dell'Accademia as you enter Dorsoduro, the beautiful Gallerie dell'Accademia focuses on pre-19th-century art.
The museum focuses primarily on works by Venetian painters, including Tintoretto, whose name you'll likely see pop up quite frequently during your time in Venice (and in this blog post, too).
Cruise across the lagoon to visit the Campanile San Giorgio Maggiore.
If you're standing on the popular Riva degli Schiavoni near Piazza San Marco and the Bridge of Sighs, you'll be treated to an excellent view of a curiously tiny island featuring a church and bell tower across the lagoon.
This is San Giorgio Maggiore, and this small island is actually part of Dorsoduro!
A quick vaporetto ride will deliver you to this San Giorgio Maggiore, which does not take long to see but is well worth the ride.
The Basilica of San Giorgio Maggiore is a stunning building, but the main reason to visit the island is actually the bell tower, or campanile.
The bell tower receives a fraction of the visitors that the popular St. Mark's Bell Tower does, despite having an equally impressive view.
A smooth elevator ride will deliver you to the top of the bell tower (no climb required), and you'll be rewarded with absolutely magnificent views of the Venetian lagoon and central Venice.
Most strikingly, the view from the top of San Giorgio Maggiore's bell tower features a picture-perfect view of St. Mark's Square, as seen from across the water.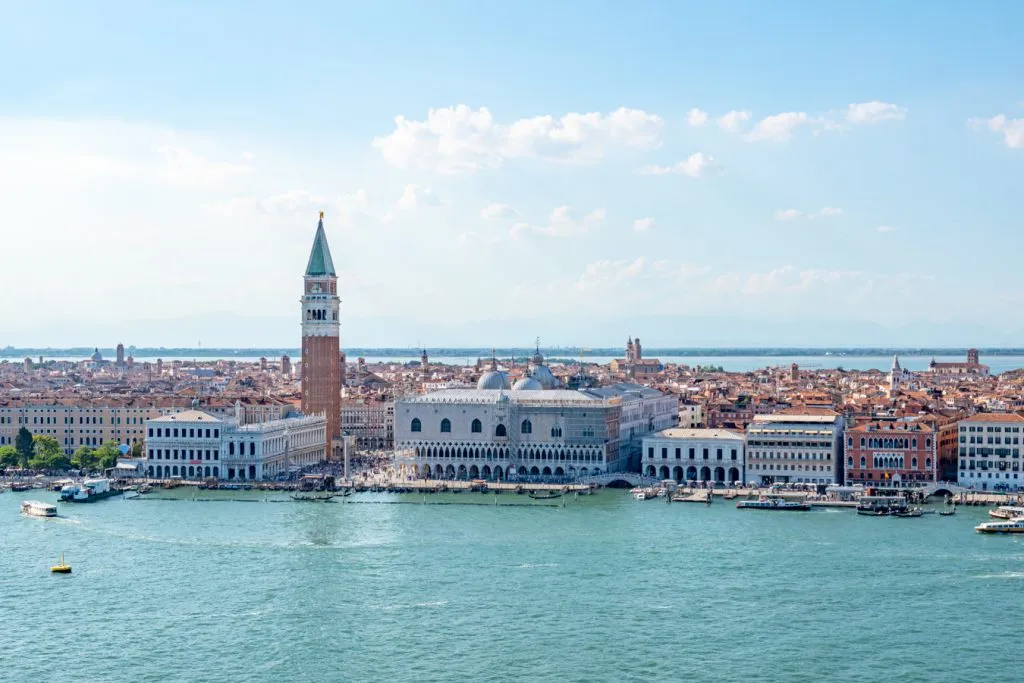 Stroll along the Fondamenta delle Zattere.
Situated along the lagoon at the far end of Dorsoduro, the Fondamenta delle Zattere–sometimes called the "Walkway of the Venetians" and more commonly referred to simply as "Zattere" is a long promenade offering peace, quiet, and excellent views.
Far fewer tourists make it down to the Zattere than to the more popular lagoon-side Riva degli Schiavoni near Piazza San Marco, and it makes for a delightful change of pace.
In addition to beautiful views of Giudecca and a conveniently-located vaporetto stop, you'll also find some of the best gelato in Venice here at the much-lauded Gelateria Nico.
Enjoy a gondola ride in one of Venice's quieter sestieri.
While a private gondola ride in Venice is quite the splurge at 80 Euro per boat, we do believe it can absolutely be worth it depending on your budget and the length of your trip!
That being said, boarding a gondola in one of the most crowded sections of Venice, such as anywhere within a short walk of the Rialto Bridge or Piazza San Marco, is a mistake.
There, you'll likely end up in a line of gondolas all proceeding down the same path, ending up with something that more resembles a theme park ride than a once-in-a-lifetime experience!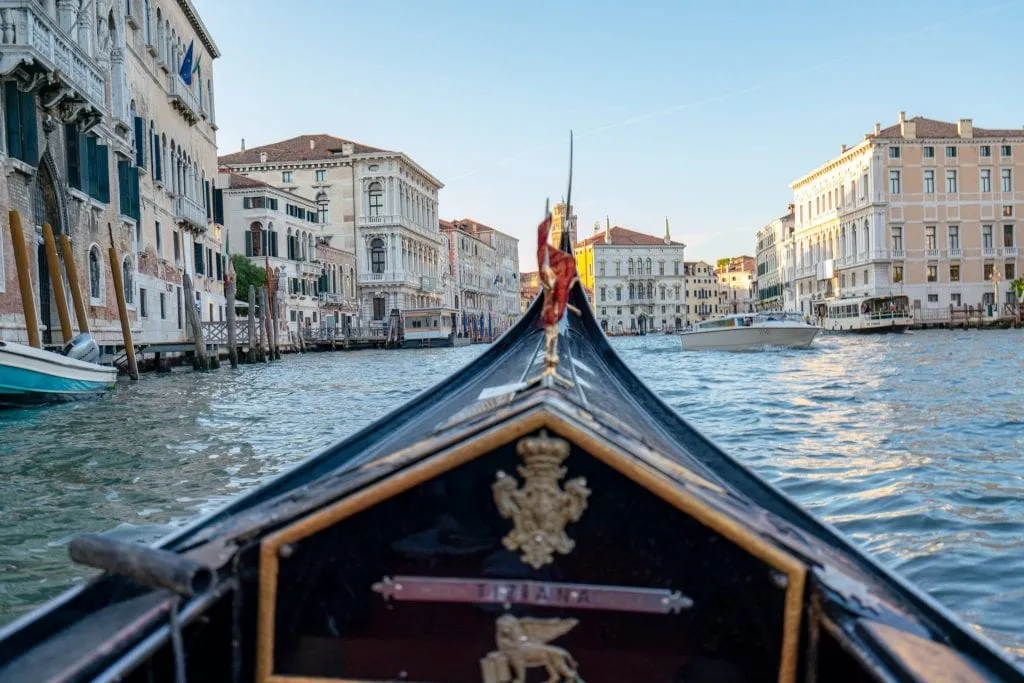 For that reason, we recommend taking your gondola ride in a quieter neighborhood–and Dorsoduro is the perfect option.
Our first-ever Venetian gondola ride left from right in front of the Gallerie dell'Accademia, and we loved the combination of drifting through small canals, getting to go into the Grand Canal, and having few other gondolas around.
We cover planning the perfect gondola experience for you in more detail in our guide to gondola rides in Venice!
Step inside the beautiful Ca'Rezzonico.
Located right along the Grand Canal in Dorsoduro, this stunning Venetian palazzo is a delight to visit and doesn't attract many crowds.
The palazzo itself has its roots in the 1600s, but a tumultuous history–bankruptcies, families dying out–led to the building being more or less an empty shell when the city of Venice acquired it in 1935.
Today, it houses the museum of 18th-century Venice, complete with beautiful frescoes, furnishings, paintings, and more.
… and the Grand Canal views are pretty magnificent, too.
If you're looking for a gorgeous museum to visit where you have plenty of elbow room to appreciate the art, visiting Ca' Rezzonico is one of the best places to visit in Dorsoduro.
Hop on a vaporetto to Giudecca.
Lying across the lagoon from the historic center of Venice, the island of Giudecca is also part of Dorsoduro.
Largely residential, Giudecca doesn't offer much in the way of specific tourist attractions (though the Church of the Redeemer, featuring works by Tintoretto, is certainly worth a visit).
Mainly, though, visiting Giudecca today is about the atmosphere: made up of 8 small islands connected by pedestrian bridges, it's a lovely place to wander, with some saying that exploring Giudecca is like experiencing what Venice would be without the tourists.
The views of the historic center of Venice from the edge of Giudecca are lovely, too, and it's a great place to grab lunch or dinner!
The vaporetto ride to Giudecca can be as short as 3-4 minutes, making it easy to add to your sightseeing list.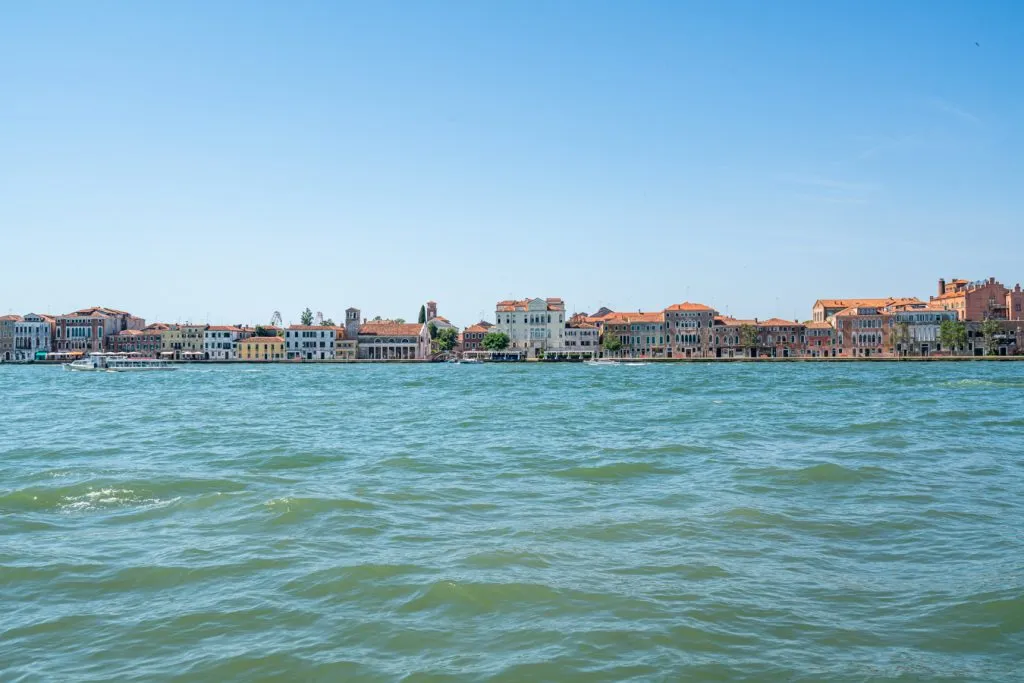 Stop by Dorsoduro's Banksy mural.
Hidden in plain sight, it would be easy to miss Dorsoduro's very own Banksy mural–but it's worth seeking out for a quick look!
Named "The Migrant Child", the mural is striking and lies close to the water of the canal, almost like it is threatening to disappear.
You'll find the work across the canal from Campo San Pantalon, not a far walk from Campo Santa Margherita.
Banksy's work is clearly marked on Google maps as "The Migrant Child by Banksy", and we personally found the views best when walking from Campo Santa Margherita to Campo San Pantalon.
Right before you cross the bridge to Campo San Pantalon, you'll be able to see the mural on the building to the left of the bridge, across the canal.
Kick back and relax in Campo San Barnaba.
Not too big, not too small, just right: Campo San Barnaba is a delightful, cozy piazza that is well worth visiting when you're looking for the best attractions in Dorsoduro!
Away from even the busiest corners of this less-busy neighborhood, Campo San Barnaba offers a handful of restaurants and bars that are perfect for sipping both coffee and spritzes, and I've lost count of the number of times we have enjoyed both here.
Campo San Barnaba is lined on one side by a canal that offers plenty of gondolas and boats to admire as they pass by, and on another by the beautiful neoclassical facade of the Church of San Barnaba.
Movie buffs may recognize the Church of San Barnaba for another reason: the facade was used as a filming location for a library in Indiana Jones and the Last Crusade!
Catch sight of gondolas as they are made and repaired.
Curious about how Venice's iconic gondolas actually get made and maintained?
With only around 400 gondolas filling the canals today, down from a historic 10,000, it's perhaps unsurprising that there are very few places left to see gondolas under construction in Venice.
However, in Dorsoduro, you can!
The best-known (though still somewhat offbeat) place to catch sight of gondolas under construction is Squero di San Trovaso.
Flying even further under the radar is the equally interesting Squero Domenico Tramontin e Figli.
The most common way to visit either square is simply to catch a glimpse of them across the canal–and if you get really lucky, catching that glimpse while people are at work on the boats.
If you're particularly interested in the construction process, you can reach out to either shop through their websites (linked above) to arrange for a private tour.
They don't offer a regular schedule for tours–this is a far off the beaten track Dorsoduro experience–but it is an option!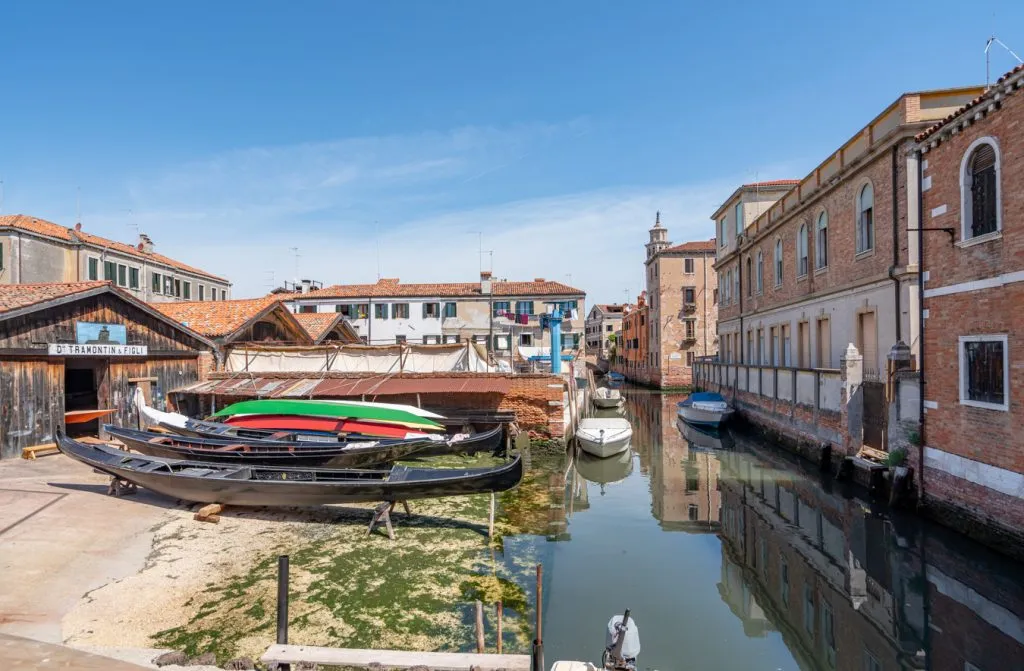 Board a traghetto.
Close to the Basilica di Santa Maria della Salute, you'll find one of Venice's elusive traghetto stops!
The Dogana stop–marked on Google maps as "Gondola-Traghetto-Dogana"–is one of a handful of places in Venice where you can still pick up a traghetto.
Traghetti are large gondolas that act as public transportation across the Grand Canal, and while the rides are short, they also only cost 2 Euro per person!
The hours are somewhat unpredictable–you can read our full guide to traghetti here–but it's well worth checking and seeing if the Dogana stop is running at the time when you pass by!
If you do hop on board, the Dogana route will drop you off very close to St. Mark's Square.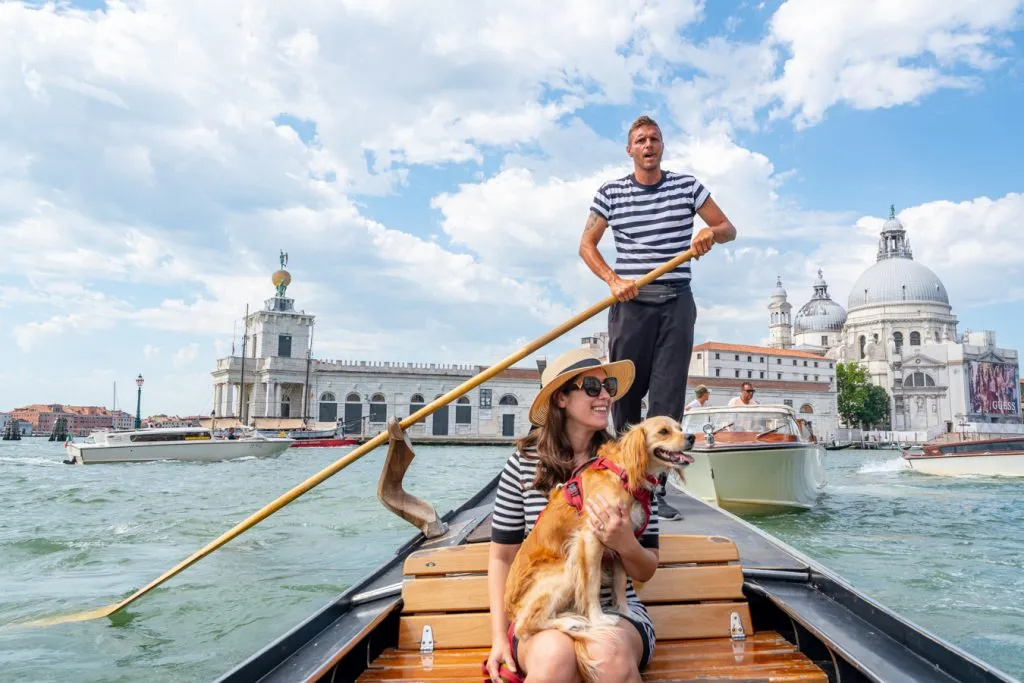 Pay a visit to the Basilica di Santa Maria Salute.
Enormous and beautiful, the Basilica di Santa Maria Salute–or simply Salute, as it is often called in Venice–is simultaneously one of the most recognizable and lesser-visited landmarks in the city.
Salute is a bit off the beaten path for most visitors to Venice, and few make it inside.
The dome of the church, however, is seen by just about everyone!
Situated at the entrance of the Grand Canal, you can admire the dome of Salute from many of the city's most popular viewpoints, including from the Ponte dell'Accademia, the Riva degli Schiavoni, and from the top of St. Mark's Bell Tower.
As you explore Dorsoduro, though, it's worth taking a spin inside this gigantic basilica, which was built between 1631 and 1687 to commemorate the end of a particularly virulent plague outbreak.
Pick up some produce at the vegetable barge.
On the short walk between Campo Santa Margherita and Campo San Barnaba, you can find the Dorsoduro vegetable barge!
One of only 2 remaining floating produce stands in Venice, the Dorsoduro vegetable barge is not only incredibly photogenic but a fun place to shop.
We love picking up seasonal fruits and vegetables here as we pass by, and we've always found the prices very reasonable, too!
… and walk over the Ponte dei Pugni (Bridge of Fists).
In the 1600s, rival Venetian clans had a peculiar tradition.
A couple of times each year, members of neighboring clans would have fist fights on bridges without rails, with the intention of knocking each other into the canal below.
The fights were large public events, and while they took place on several bridges around the city, the most famous location is the Ponte dei Pugni (aka Bridge of Fists), which you can find right next door to the vegetable barge.
The bridge does have rails today, but it's still worth checking out when visiting Dorsoduro!
Walk to the "point" at the end of Dorsoduro.
At the very eastern edge of Dorsoduro, past the Basilica di Santa Maria Salute, you'll find the island ending at an abrupt point.
This point, where Fondamenta Salute and Fondamenta Zattere di Saloni meet, is situated at the entrance of the Grand Canal from the Venetian lagoon and is an incredibly recognizable view in Venice.
… But the views from here are excellent too, and much less sought out!
From here, you can admire Piazza San Marco across the lagoon, as well as San Giorgio Maggiore, the lagoon itself, and of course the hustle and bustle of boat traffic as it moves in and out of the Grand Canal.
It's a lovely, uncrowded viewpoint, and well worth enjoying when visiting Dorsoduro!
Admire the views from the Ponte dell'Accademia.
Of course, no guide to the best things to do in Dorsoduro could leave off the most popular view in the neighborhood!
The Ponte dell'Accademia is one of four bridges that cross the Grand Canal in Venice, and also marks one of the main entrance points to Dorsoduro.
From the bridge, you'll have a picture-perfect view of the Grand Canal, with the Basilica di Santa Maria Salute at the end.
In fact, as you've planned your trip to Venice, you've no doubt come across many photos of the view from the Ponte dell'Accademia!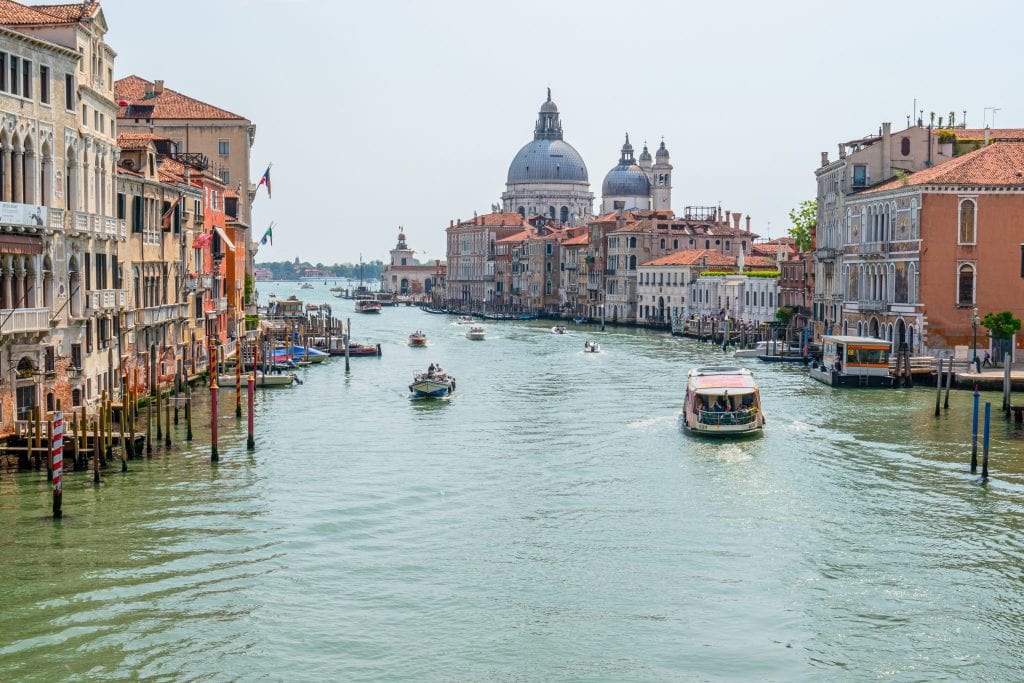 Eat some of the best gelato in Venice.
Travel in Italy long enough, and you'll notice that while (almost) all gelato is tasty, all gelato is certainly not created equal!
Luckily, Dorsoduro is home to 2 particularly memorable gelato shops, both of which we have visited several times.
Gelateria il Doge, located right around the corner from Campo Santa Margherita, is delicious (their specialty flavor, Crema de Doge, is wonderful and includes orange).
Gelateria Nico, which you can find right along the lagoon, is another favorite.
Their specialty, gianduiotto, is almost an ice cream sundae, and Gelateria Nico is one of the rare Italian gelaterias that offers seating–something that, once you see the view, you'll no doubt be tempted to take them up on.
Seek out Venice's nightlife.
Venice is well-known as a city that sleeps early–but as Dorsoduro is home to Ca' Foscari University and plenty of its students, it does have a few more nightlife options than some.
In Dorsoduro, you can find a handful of bars that are open late (many of them near the Campo Santa Margherita), as well as the Venice Jazz Club.
For those of us not so inclined toward nightlife, don't worry–Dorsoduro is a very relaxed, quiet neighborhood, and unless you happen to stay right by a bar, odds are high you'll never know the nightlife is there unless you seek it out.
If bars aren't your thing but being out after dark is, here is our guide to Venice at night!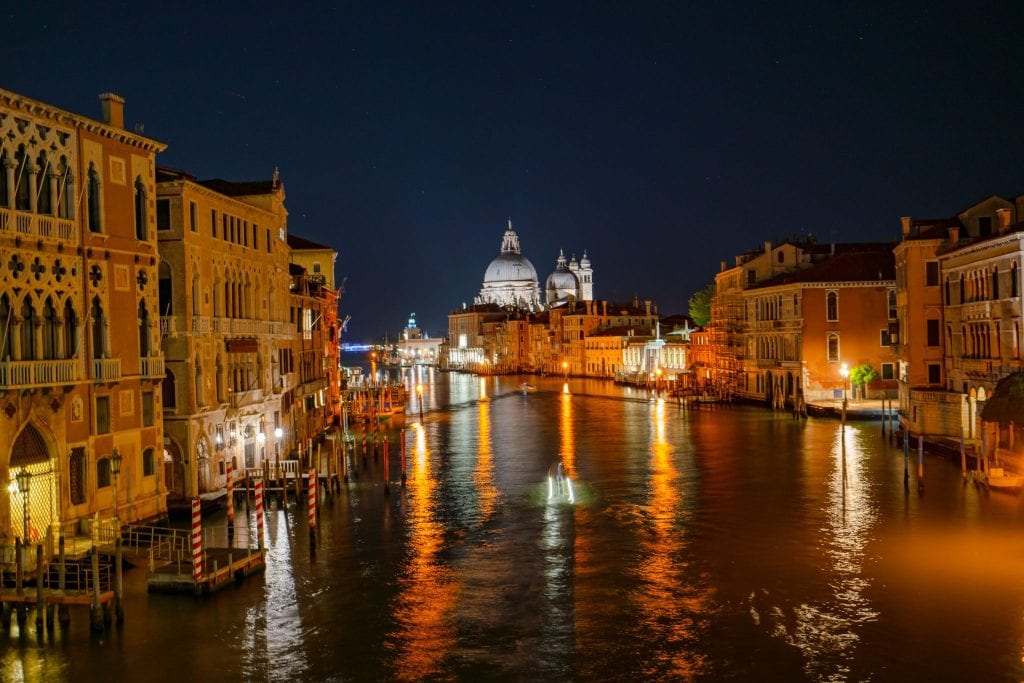 Tour the beautiful Scuola Grande dei Carmini.
Ornate and beautiful, the Scuola Grande dei Carmini (and the nearby associated church) dates to the 18th century.
Today, art lovers seek out the building largely because of the magnificent paintings by Giambattista Tiepolo on the ceiling of the chapter room.
However, the entire school–from the chapel to the grand staircase to the archive room and beyond–is stunning and well worth a visit if you're looking for an uncrowded museum in Venice!
Where to Stay in Dorsoduro
Perhaps it's not a surprise after seeing how much I've gushed over the neighborhood in this blog post, but we consider Dorosduro a delightful place to stay in Venice.
That's especially true if you don't mind a bit of walking and/or prioritize peace and quiet!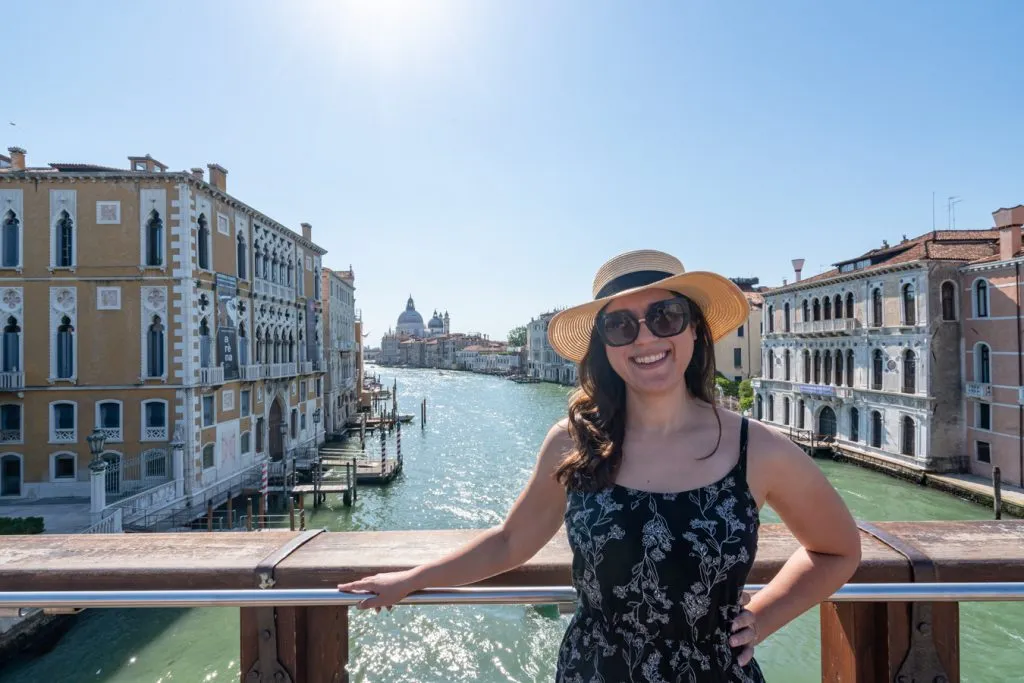 While you'll need to make use of vaporettos (you can check vaporetto prices here–we recommend looking into day passes if you plan to use them regularly!) or enjoy longer strolls to iconic spots like the Rialto Bridge and St. Mark's Square, staying in Dorsoduro feels like a retreat.
By staying in Dorsoduro, you'll be able to visit Venice's most congested areas, and then return in the evenings to somewhere much more relaxed.
We continue to get around almost exclusively on foot while staying in Dorsoduro, and as one of the best things to do in Venice is wander through all of its beautiful streets and across as many footbridges as possible, there's a good chance you'll find the walks aren't a chore.
Plus, your money goes much further when it comes to Venice hotels in Dorosduro than in, say, San Marco, and there are some stunning places to stay!
Ca Bea and Hotel Algi Alboretti both get excellent reviews and are in wonderful locations in Dorsoduro.
Looking for a bit of a splurge?
Palazzo Veneziano (located right across from the lagoon) and Hotel Nani Mocenigo Palace are both absolutely stunning and would be incredibly memorable additions to your Italy trip.
Map of the Best Places to Visit in Dorsoduro, Venice
Take This Map With You! Click each highlight to pull up the name of the destination. To save this map to "Your Places" on Google Maps, click the star to the right of the title. You'll then be able to find it under the Maps tab of your Google Maps account! To open the map in a new window, click the button on the top right of the map.