Exploring Venice at night is a special delight: when the daytrippers have left, the streets have emptied, and the city has quieted, no matter what's on your list of things to do in Venice at night, you'll get to experience the city in its most peaceful and ethereal state.
Venice at night is a completely different experience than during the day, and the city's magic is on full display once the sun has set. Night is our absolute favorite time to explore Venice, and we'll never get tired of admiring the canals lit by the soft glow of lights from docks and bridges.
Wondering what to do in Venice at night?
These fun things to do in Venice at night will help you become enraptured with the magic of the city after dark.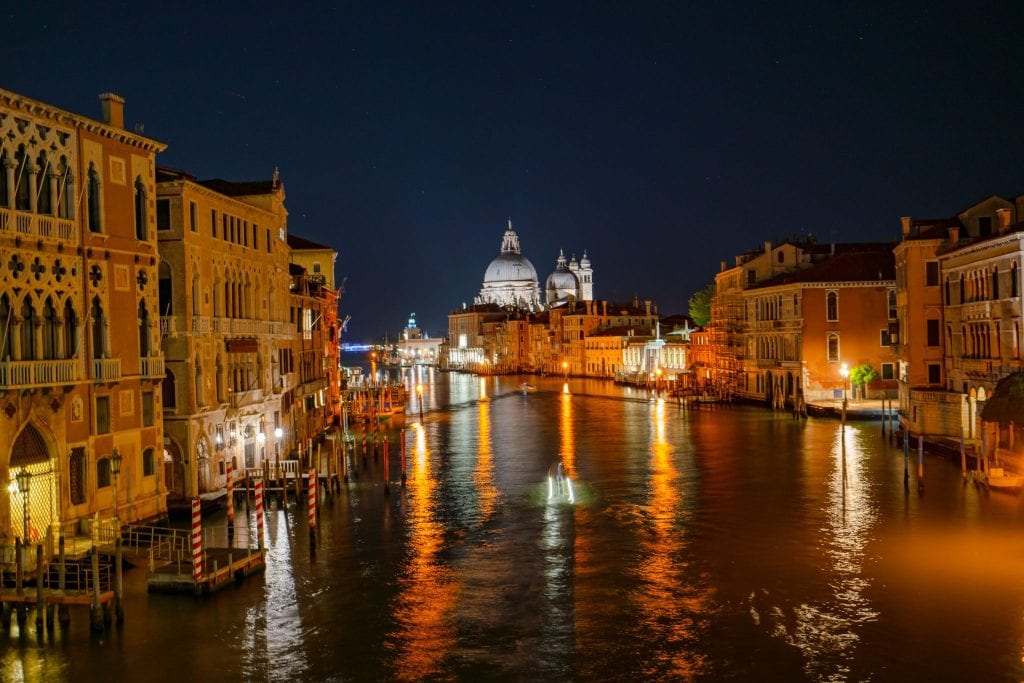 Some links in this post may be affiliate links. If you make a purchase through one of these links, we may earn a small commission at no extra cost to you. Please see our

disclosure policy

for more detail.
What to Do in Venice at Night
Tour the Doge's Palace + St. Mark's Basilica without the crowds.
The magnificent Doge's Palace and St. Mark's Basilica are some of the most popular things to see in Venice–and while they're fantastic at any point, the crowds during the day can often put a small damper on the experience.
Want to get behind the scenes and see some of Venice's most incredible sights without the crowds?
With an after-hours tour, you can!
This popular tour will take you through the Doge's Palace and St. Mark's Basilica after they've already closed for the night, ensuring that your experience there is truly unforgettable.
Book your exclusive after-hours tour of the Doge's Palace + St. Mark's Basilica today!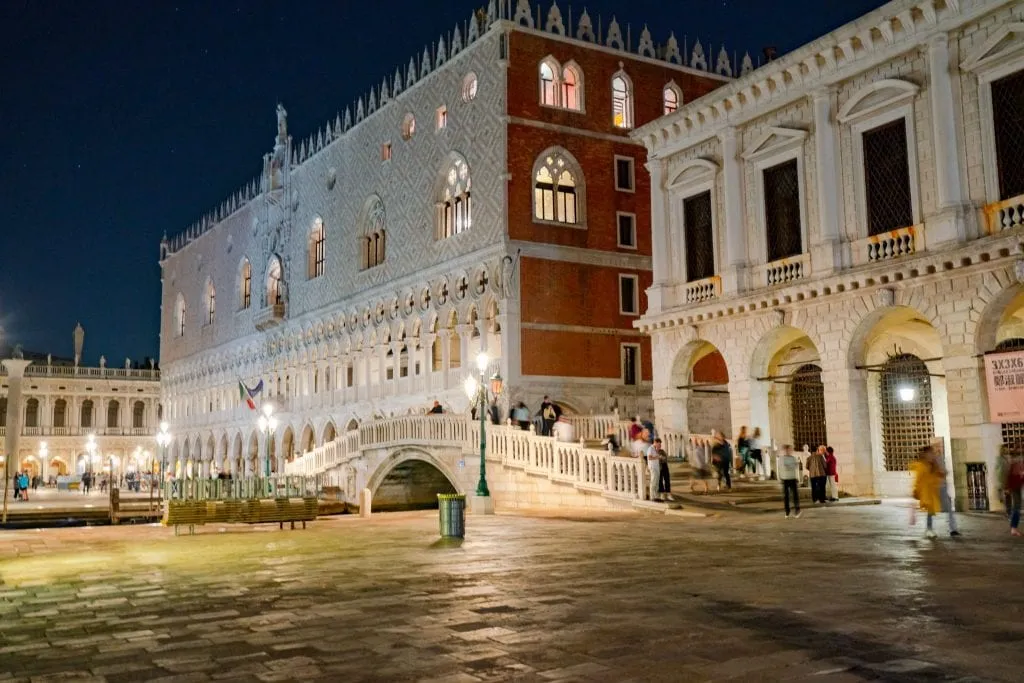 See an opera at the Teatro La Fenice.
Venice is home to one of the most iconic opera houses on the planet (though it has burned down and been rebuilt a couple of times, to be fair), and its magnificent interior is worth touring whether you see a show or not.
If you're looking for an excellent place to splurge on experiencing Italy's theatre scene, though, you can't go wrong with adding an opera at Teatro La Fenice to your list of what to do in Venice at night.
Check schedules and prices for the theatre here.
Take an evening gondola ride.
Taking a Venetian gondola ride at night is a bit more expensive as compared to during the day (100 Euros vs. 80 Euros per gondola), but it's also an absolutely fantastic experience that's worthy of any bucket list.
After the sun sets, the canals become a bit quieter, the city empties, and the entire experience has a peacefulness to it that can be absent during the day (especially if you take your gondola ride in a busier area).
If you want to add a gondola ride to your list of things to do in Venice at night, we recommend aiming for blue hour, or the hour after sunset.
That way, it'll be dark enough to give you the magic of an evening experience, but still light enough that you'll be able to see your surroundings better than if you waited another couple of hours to go.
If you're taking a private gondola ride, there's no need to book in advance.

However, if you'd like a spot on a shared gondola ride, we recommend booking one here!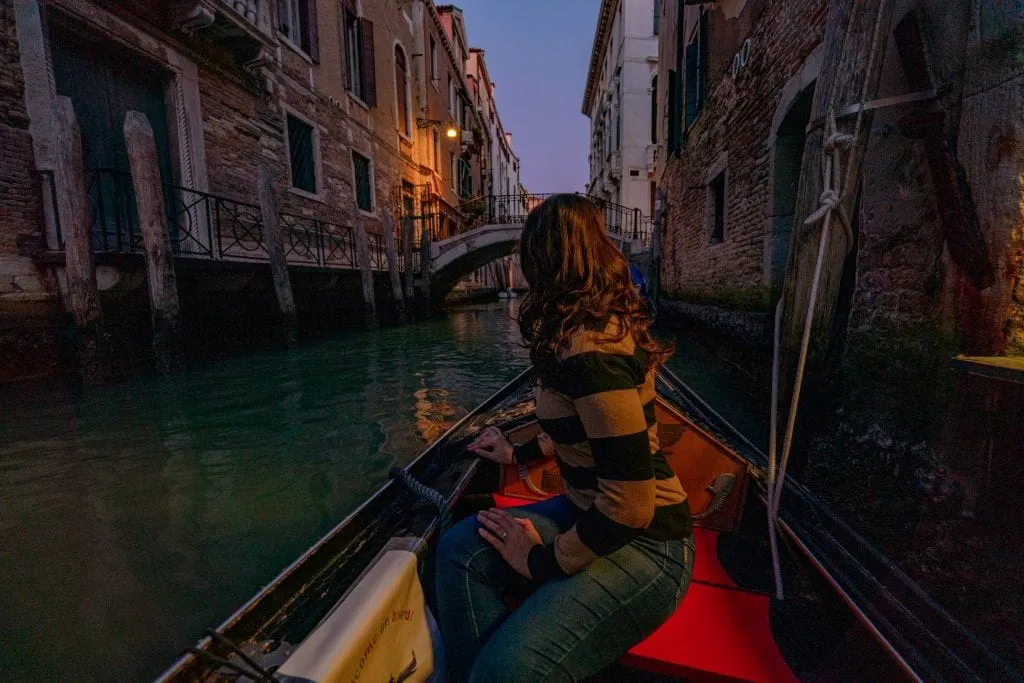 Eat all the cicchetti at aperitivo.
Cicchetti are the Venetian answer to Spanish tapas–small bites of food usually served on a slice of bread and often stuck through with a toothpick–that are served in bars across the city.
Delicious and inexpensive, they're the perfect addition to your aperitivo in Venice–and if you order enough of them, they can even make up an early dinner!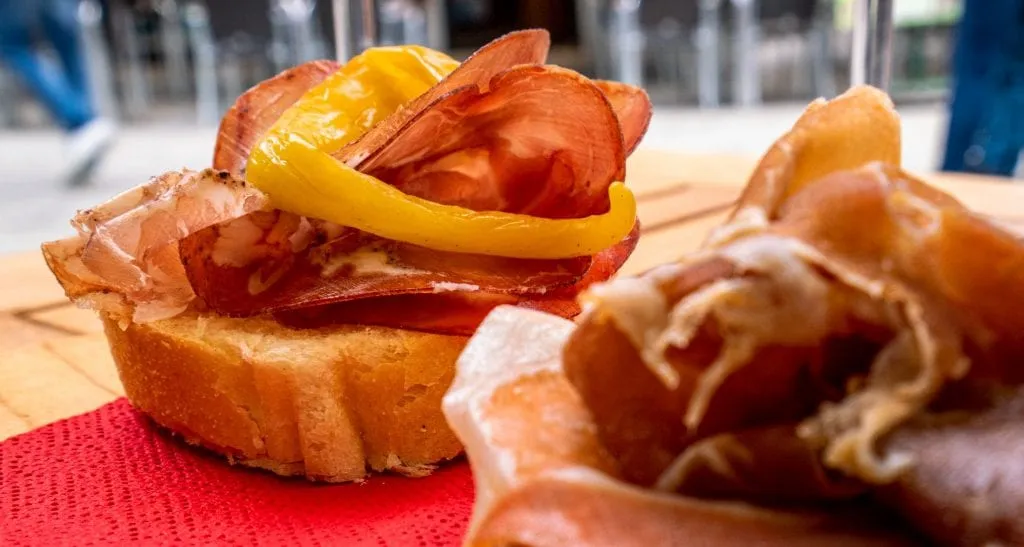 … or explore Venice through a food tour at night.
Want to learn all about Venetian cuisine while stuffing yourself with delicious food in Venice at night?
Head out on a nighttime food tour in Venice–this one is extremely well-reviewed–and enjoy some of the best Venetian food around while also learning a bit about the history of Venice and its food and enjoying a stroll around the city at night.
This epic Venice food tour at night is extremely popular and a fantastic deal–partially because it includes a nighttime gondola ride!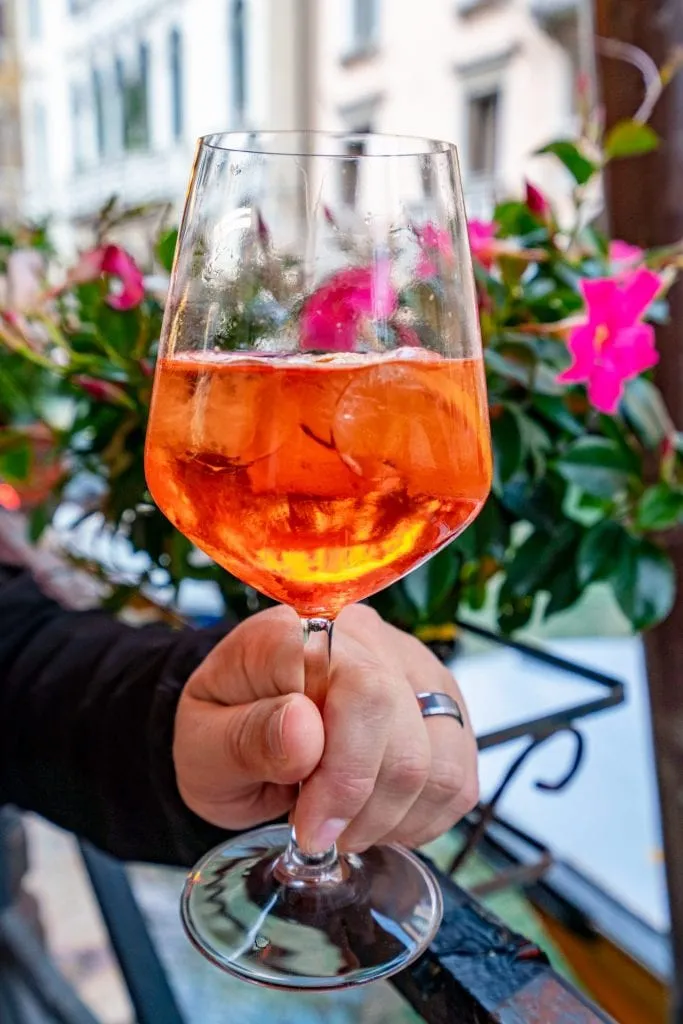 Go for a long walk past Venice's most iconic sights.
It may sound a bit obvious, but this is truly, 100%, without a doubt, our favorite of all the things to do in Venice at night.
Stroll over the Rialto Bridge without fighting crowds. Walk across Piazza San Marco and admire how enormous and empty it is.
Make your way down the Riva degli Schiavoni and marvel at how peaceful it is to enjoy views of the city to one side while you can hear the gentle sounds of the water of the lagoon on the other–sounds often drowned out by crowds of people during the day.
Venice's most popular sights might be crowded during the day, and sure, they won't be totally deserted at night either, but they will be far, far emptier, and allow you to capture the magic of Venice at a level that isn't entirely possible when sharing the same view with hundreds of others.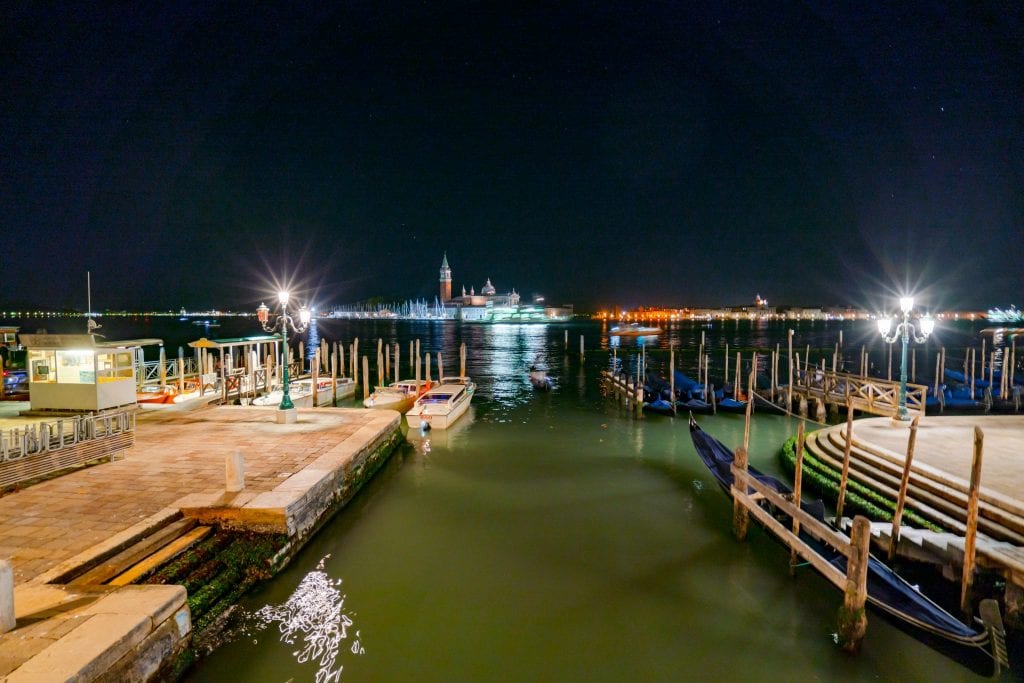 Visit Libreria Acqua Alta after dark.
Venice's most popular bookstore is worth visiting at any time of day, of course, but Libreria Acqua Alta has an extra special quality to it at night–especially on its back porches that overlook a canal.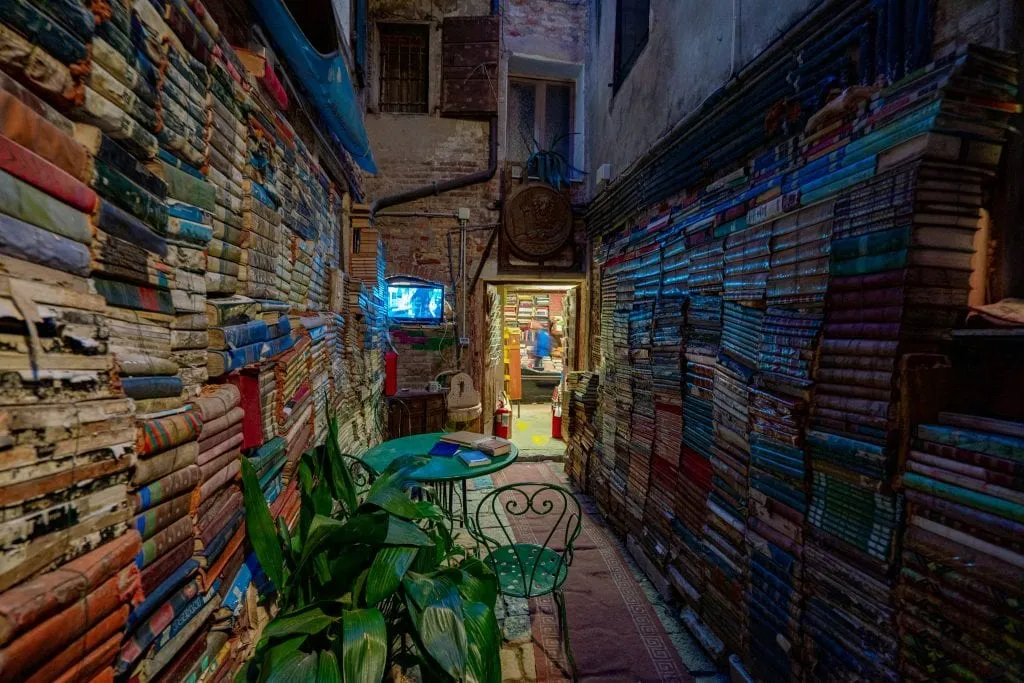 Overpay for a drink at Caffe Florian.
Grabbing a drink at Caffe Florian in Piazza San Marco means parting with a truly obscene sum of money–think around 15 Euros for an espresso, seriously–but sitting at a small table, listening to the cafe's live music, and sipping a drink from the oldest (and arguably prettiest) cafe in Venice is understandably on many Venice bucket lists.
If you're going to splurge on the experience, we absolutely recommend putting this on your list of what to do in Venice at night rather than during the day.
For the same money, you'll look out at a darkened, empty piazza rather than a crowd of tourists and touts, and overall, have a far more peaceful and magical experience.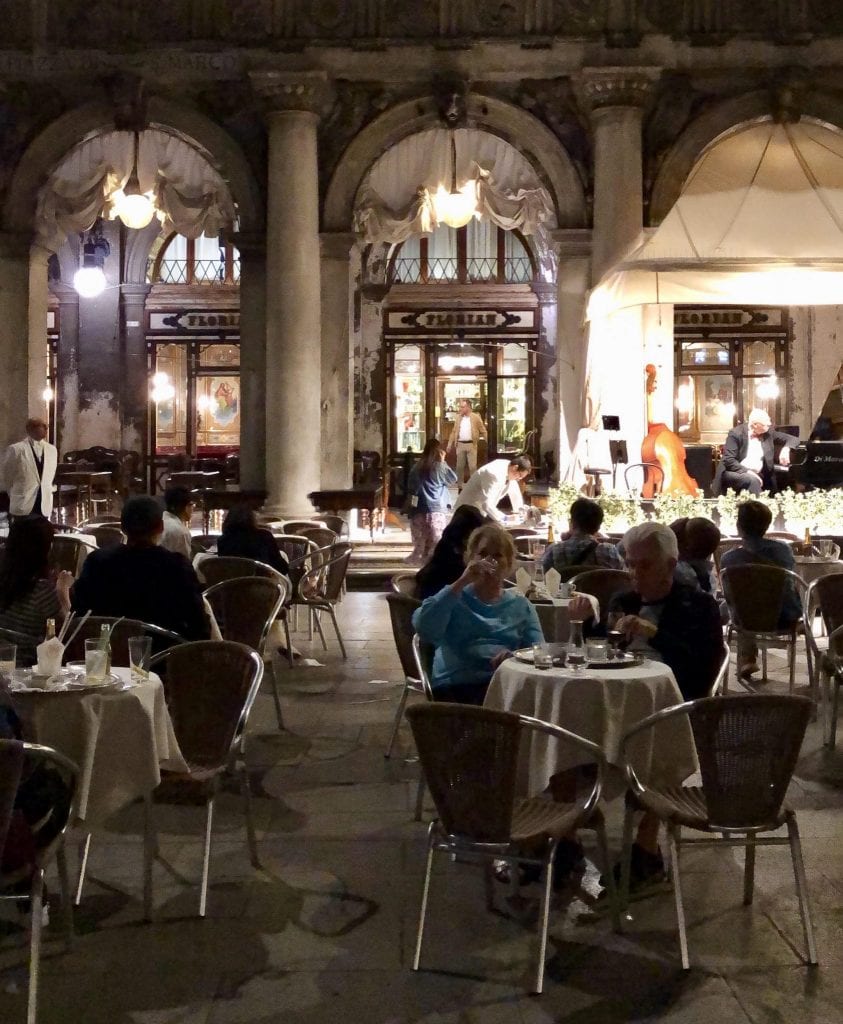 Check out the Venice Jazz Club.
Want to get off the beaten path in Venice a bit and listen to some fabulous live music at the same time?
The Venice Jazz Club in Dorsoduro will take you away from the more touristy neighborhoods of San Marco and San Polo, while giving you the opportunity to listen to some great music in a cozy venue at the same time.
If you're a jazz fan, definitely add this to your list of what to do in Venice at night!
Tips for Exploring Venice at Night
Don't expect to be out too late.
Venice is not a city for nightlife, so cross late-night bars and clubs off your list of potential things to do in Venice at night–in fact, if you're looking for traditional nightlife you'll probably have better luck over in Mestre on the mainland.
Bars and restaurants will generally be closed by 11:00 PM, or in some cases as early as 10:00 PM, so don't expect to stay out all night!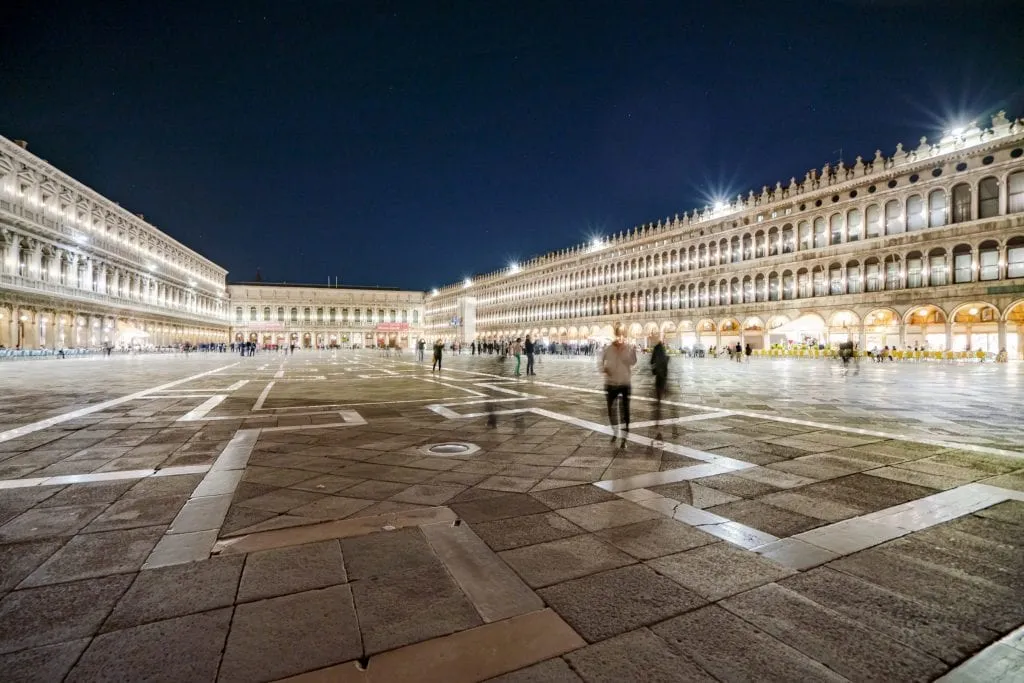 Consider making dinner reservations in advance.
Finding delicious food in Venice often means doing your research in advance.
It's not that there's no good food in Venice… it's just that there's a higher proportion of mediocre restaurants there than even in other popular Italian cities, in large part because of its small size combined with its enormous number of visitors.
If you have a well-reviewed restaurant in mind that you'd like to try, make reservations to ensure you get a table.
If you didn't happen to make reservations, we recommend showing up around the time your restaurant of choice opens for dinner (usually around 7:00 PM or 7:30 PM) to have the best odds of being seated.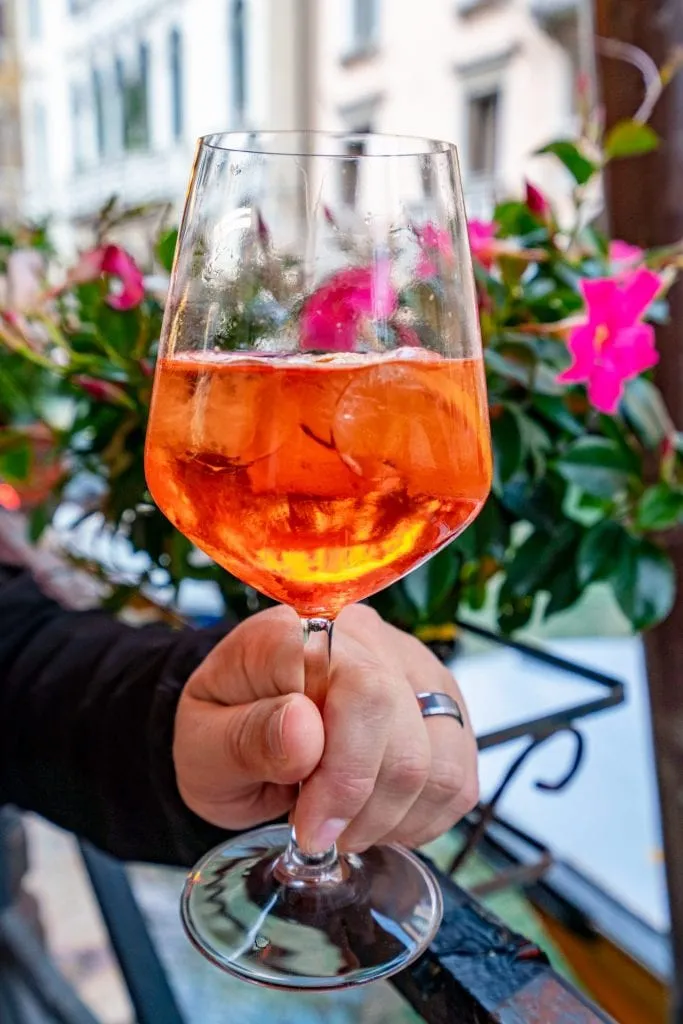 Keep your phone's GPS handy for directions.
Venice's narrow, winding streets and beautiful canals can make navigating the city a bit tricky even in the daylight.
Once night falls and you're out deciding what to do in Venice at night, you'll definitely want to have a map handy in order to help you get back to your hotel at the end of the evening.