Stand along Venice's famous Riva degli Schiavoni, staring out over the Venetian Lagoon, and you'll quickly notice something enticing about this unique city: the dense historic center is only one of many islands in Venice.
Technically, the historic center itself is made up of many Venetian islands, but islands that are so tightly knit that a maze of 400 footbridges is (more or less) all that is required to combine them into a cohesive city.
Beyond this beautiful historic center, though, lies yet another version of Venice, one that only a small percentage of its visitors ever see: the outlying islands of Venice's lagoon.
If you're hoping to get beyond the usual attractions (and crowds) when visiting Venice, it may be time to board a vaporetto and set off on a new adventure.
Some of these Venetian islands are more popular than others, but each and every one of them is a breath of fresh air and a big step off the beaten path as compared to, say, walking across the Rialto Bridge.
Here are the best islands in Venice's Lagoon to add to your trip, plus details on how to get there!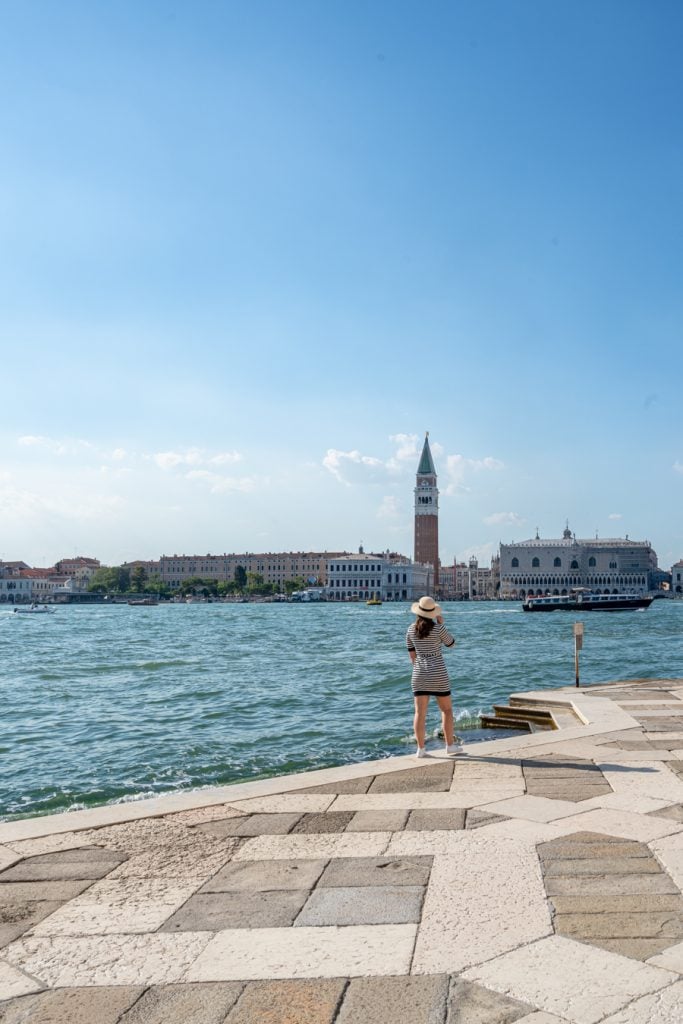 Some links in this post may be affiliate links. If you make a purchase through one of these links, we may earn a small commission at no extra cost to you. Please see our

disclosure policy

for more detail.
How to Travel to Venice's Islands
For most of these islands in the Venetian Lagoon, you'll have two options for getting there: boarding a vaporetto, or booking a tour.
Taking a Vaporetto in Venice
A vaporetto, or water bus, is Venice's answer to public transportation–but as far as public transportation goes, it's quite pricey to use per ticket.
For that reason, we strongly recommend looking into an ACTV day pass for days that you're planning to use the vaporettos quite a bit–for instance, when planning a day trip to one of Venice's outlying islands.
Note that the estimated travel times we've included in this post are not exact–depending on your starting point, starting time, and exact destination, travel times by vaporetto can vary quite a bit.
Booking a Tour to Visit Venetian Islands
For the more popular islands on the Venetian Lagoon, like Burano and Murano, organized day trips like this that include transportation can be an excellent value.
And, if you're hoping to see more than one island in a day, they're a great way to ensure that you're making the most of your limited time, too!
This incredibly popular tour includes stops in Murano, Burano, and Torcello, and is perfect for travelers hoping to sample it all.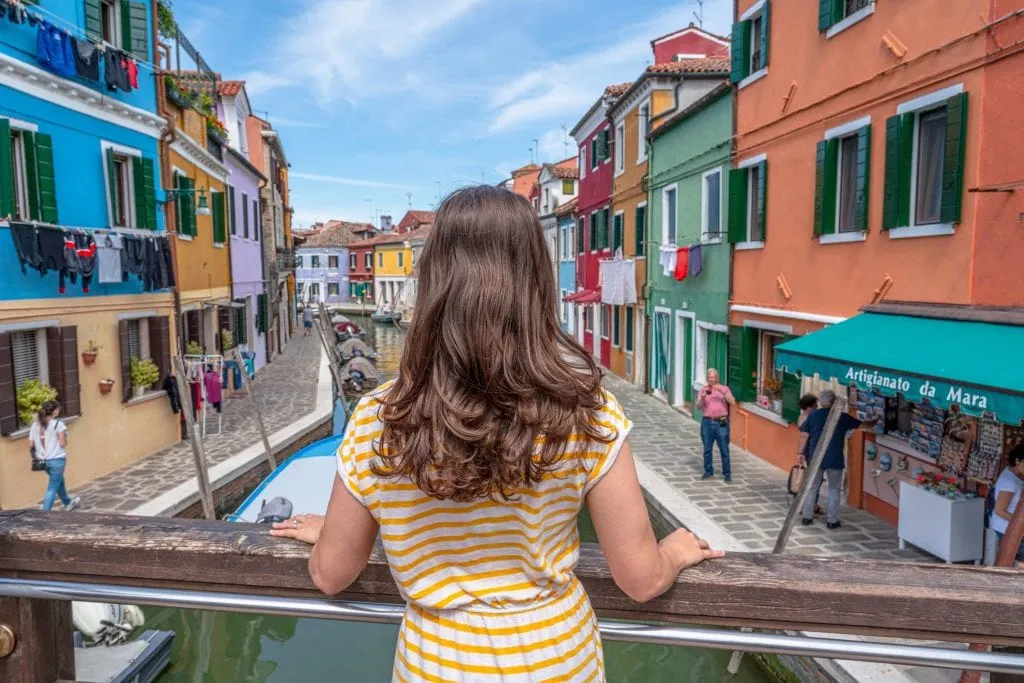 The Most Popular Venetian Islands
This collection of 3 islands on the Venetian Lagoon are by far the most popular with visitors–and there's a reason for that.
Each of them is known for a specific, unique trait that differs from the other islands in Venice, and they're all located reasonably close together.
If you're hoping to make a quick decision about which islands to visit, this popular tour (9000+ reviews!) that visits all 3 is a fantastic option.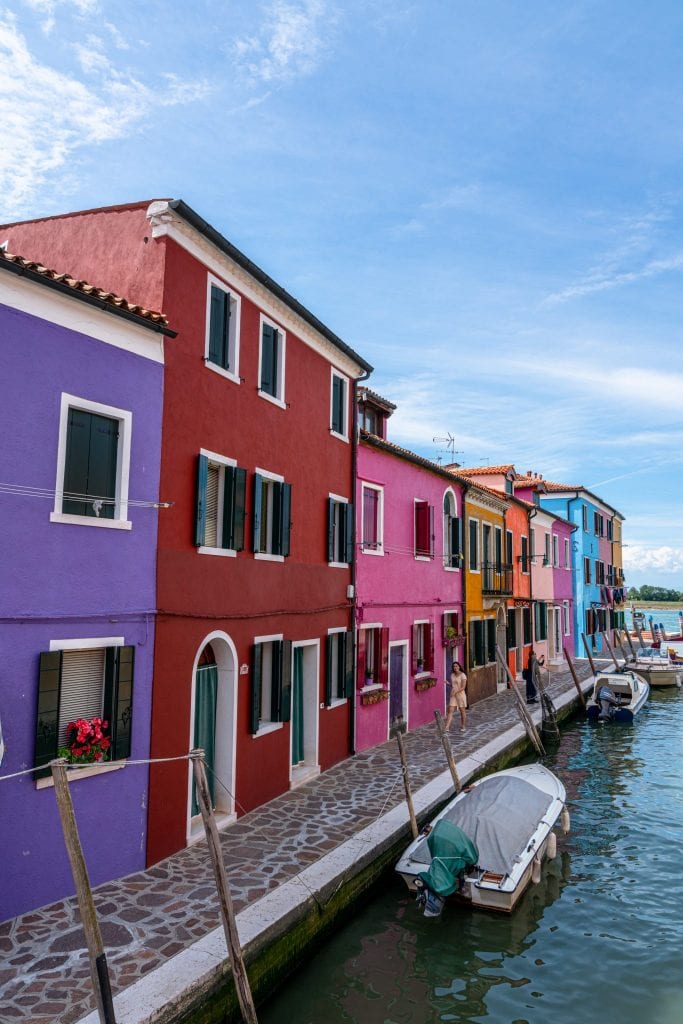 Murano
Even if this is your first trip to Venice, there's a good chance that you've heard of Murano Glass–and this island is the glass' namesake and the traditional home of its production.
The art form has been present in Murano for over 1000 years, and since the 13th century, it has been coveted across Europe and the world, popping up in palaces across the globe.
Today, one of the most popular things to do in Murano is to attend a glass-blowing demonstration, which is very interesting to witness.
And, of course, if you'd like to purchase your own piece of Murano glass, you can't ask for a better place to do so.
Travel Time from Venice's Historic Center
About 15-20 minutes.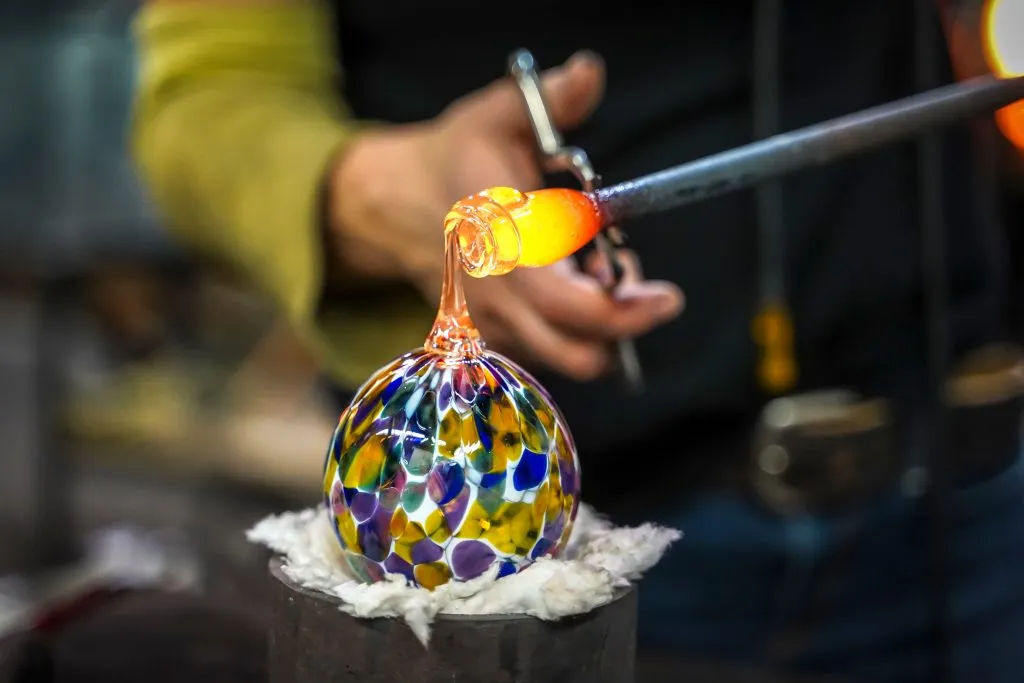 Burano
Above all else, the Venetian island of Burano is known for its color.
Step one foot onto the small island of Burano, and you'll immediately be surrounded by its brightly colored houses, painted just about every hue that you can imagine!
Stories abound as to why the tradition of colorful paint jobs started, but a leading theory is that the distinct colors helped fishermen find their way home across the lagoon.
Today, though, Burano's iconic colors are mostly beloved for their charm and photogenic nature.
And, the color isn't even all Burano is known for: Burano lace has long been celebrated, and though traditional handwoven pieces are extremely rare and expensive, machine-assisted ones make excellent souvenirs.
Be sure not to miss the Tre Ponti or Burano's very own leaning tower when exploring this island in Venice, either!
Travel Time from Venice's Historic Center
About 35-40 minutes.
Torcello
Small, quiet, and packed with enough green space that Venice's historic center will feel light years away, Torcello is one of the best islands to visit in the Venetian Lagoon.
Much less visited than Murano and Burano, Torcello's popularity is nonetheless helped along by its proximity to colorful Burano.
Torcello was once home to over 20,000 residents, but today, only around a dozen remain.
While you're there, the one attraction you can't miss is the beautiful Basilica di Santa Maria Assunta.
Don't miss the magnificent mosaics inside, or the stunning views of Burano from the top of the bell tower!
Travel Time from Venice's Historic Center
About 40 minutes.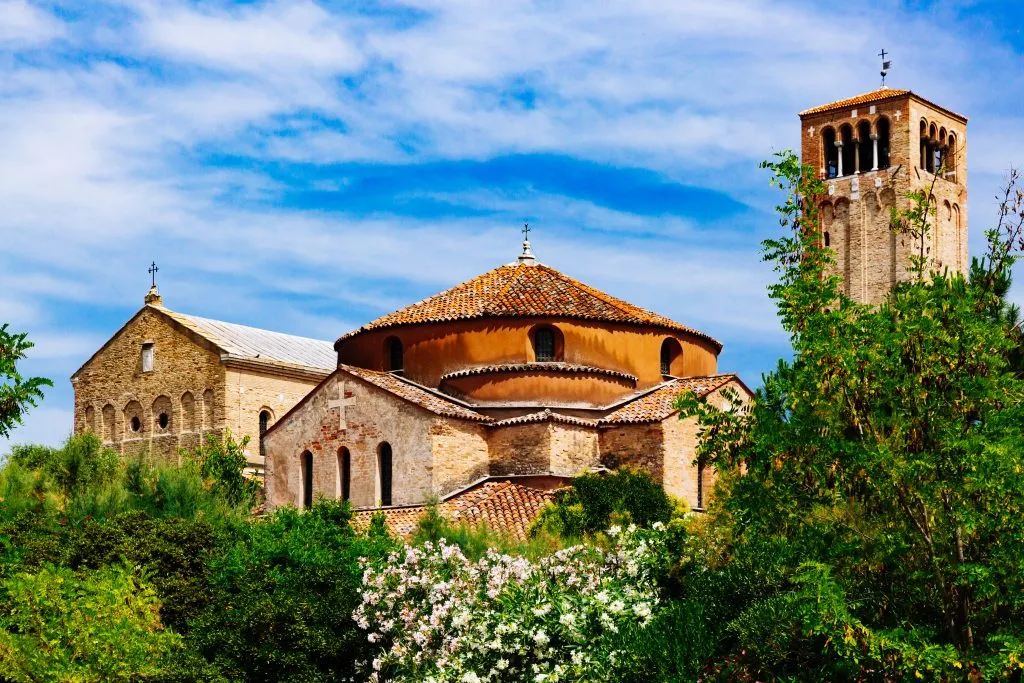 More Beautiful Islands in Venice to Visit
If you want to get off the beaten path in Venice, these islands are fantastic options to do so!
Lido
For a city literally surrounded by water, surprisingly few travelers consider visiting the beach in Venice, even when visiting during the summer.
However, over on the Venetian island of Lido (in Italian, Lido di Venezia), you absolutely can!
At 11 kilometers long, this barrier island is the perfect beach retreat that will make you feel like you're much further from central Venice than you actually are.
The beaches on Lido generally boast incredibly calm, shallow water, perfect for families or those who just want to enjoy a laid-back day with the sun and sea.
Travel Time from Venice's Historic Center
About 30 minutes.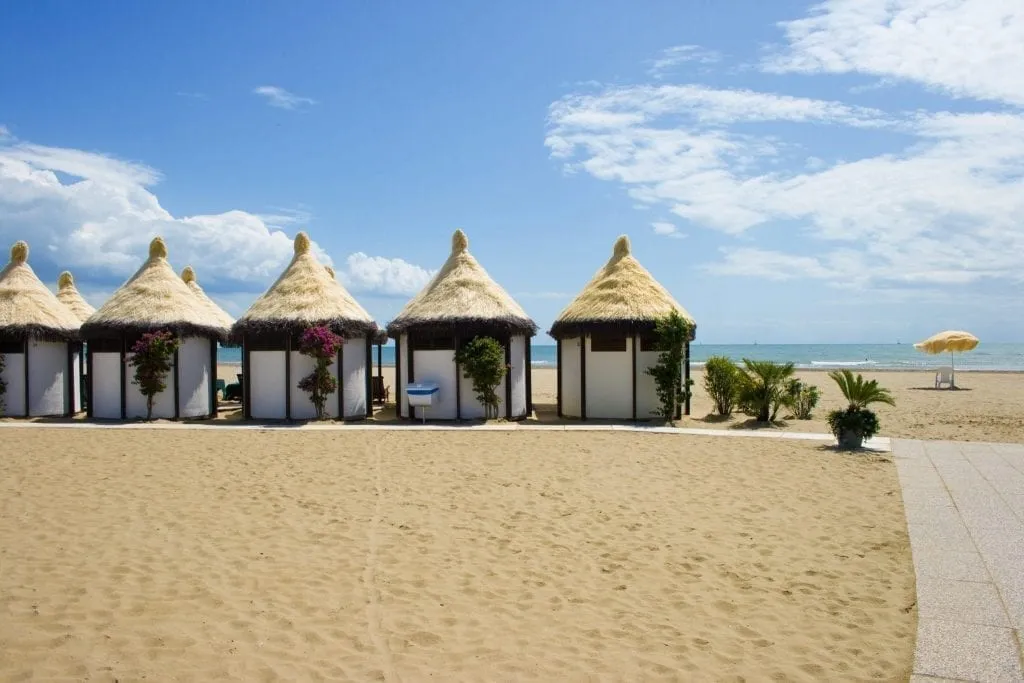 Giudecca
Lying across the lagoon from the historic center of Venice, the island of Giudecca is technically part of the sestiere of Dorsoduro.
Largely residential, Giudecca doesn't offer much in the way of specific tourist attractions (though the Church of the Redeemer, featuring works by Tintoretto, is certainly worth a visit).
Mainly, though, visiting Giudecca today is about the atmosphere.
Made up of 8 small islands connected by pedestrian bridges, it's a lovely place to wander, with some saying that exploring Giudecca is like experiencing what Venice would be without the tourists.
The views of the historic center of Venice from the edge of Giudecca are lovely, too, and it's a great place to grab lunch or dinner!
Travel Time from Venice's Historic Center
5 minutes by vaporetto (from across the Venetian Lagoon).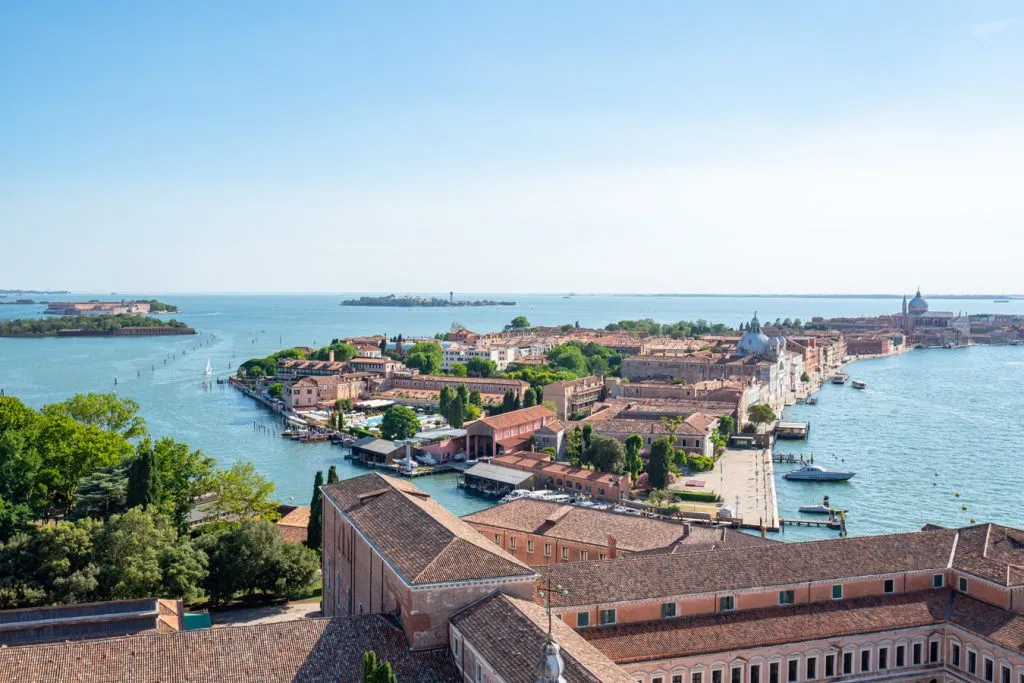 San Giorgio Maggiore
If you're standing on the popular Riva degli Schiavoni near Piazza San Marco and the Bridge of Sighs, you'll be treated to an excellent view of a curiously tiny island featuring a church and bell tower across the lagoon.
And, if you're anything like us, this view of San Giorgio Maggiore may be what piques your curiosity about the outlying Venetian Lagoon islands to begin with!
A quick vaporetto ride will deliver you to San Giorgio Maggiore, which does not take long to see but is well worth the trip.
The Basilica of San Giorgio Maggiore is a stunning building, but the main reason to visit the island is actually the bell tower (campanile).
The bell tower receives a fraction of the visitors that the popular St. Mark's Bell Tower does, despite having an equally impressive view.
A smooth elevator ride will deliver you to the top of the bell tower (no climb required), and you'll be rewarded with absolutely magnificent views of the Venetian Lagoon and central Venice.
Most strikingly, the view from the top of San Giorgio Maggiore's bell tower features a picture-perfect view of St. Mark's Square, as seen from across the water.
Travel Time from Venice's Historic Center
About 10 minutes.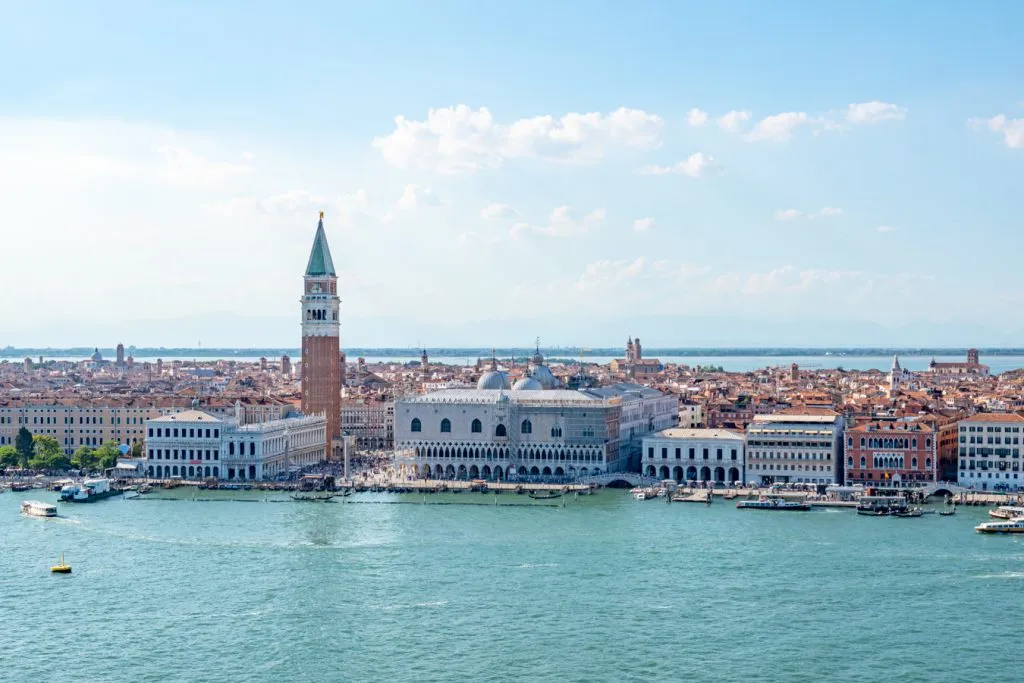 San Michele
Without a doubt, San Michele Island is one of the most unique islands in Venice.
Here, the entire island acts as a cemetery.
San Michele Island is a beautiful, sacred place, and visitors are expected to conduct themselves with respect (and subscribe to the same dress code you would in any Italian church: covered shoulders, no cleavage, etc.).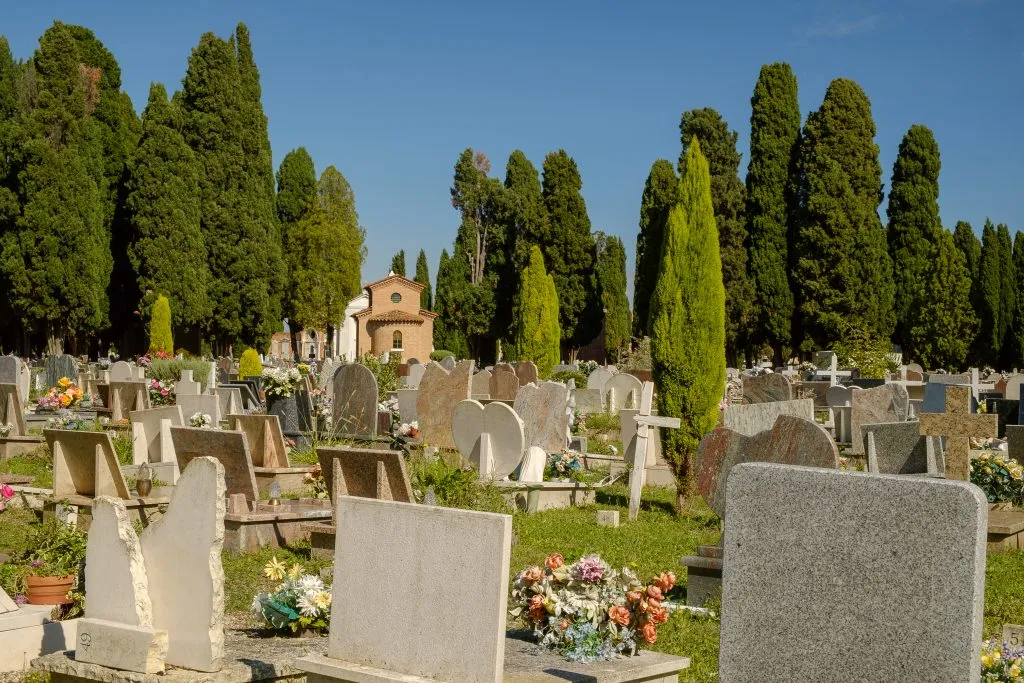 However, if you're hoping to visit an unusual and somewhat secret Venetian island (secret from most tourists, anyway), there's no doubt that this offbeat, active cemetery is unlike anything else you'll see in the city.
Travel Time from Venice's Historic Center
About 10-15 minutes.
Map of the Islands of Venice, Italy
Take This Map With You! Click each highlight to pull up the name of the destination. To save this map to "Your Places" on Google Maps, click the star to the right of the title. You'll then be able to find it under the Maps tab of your Google Maps account! To open the map in a new window, click the button on the top right of the map.