Taking a gondola ride in Venice tops bucket lists around the world–and for good reason.
A once-in-a-lifetime ride through Venice's canals in one of the city's iconic boats is a completely unique experience that can't be replicated anywhere else in the world.
It took us 3 trips to the city before we finally took our own gondola ride in Venice, and after taking one, we can say this: for us, it absolutely lives up to the hype… but it's best to know what you're in for before you jump in.
Planning to take a Venice gondola ride soon?
Here's what to know before you go!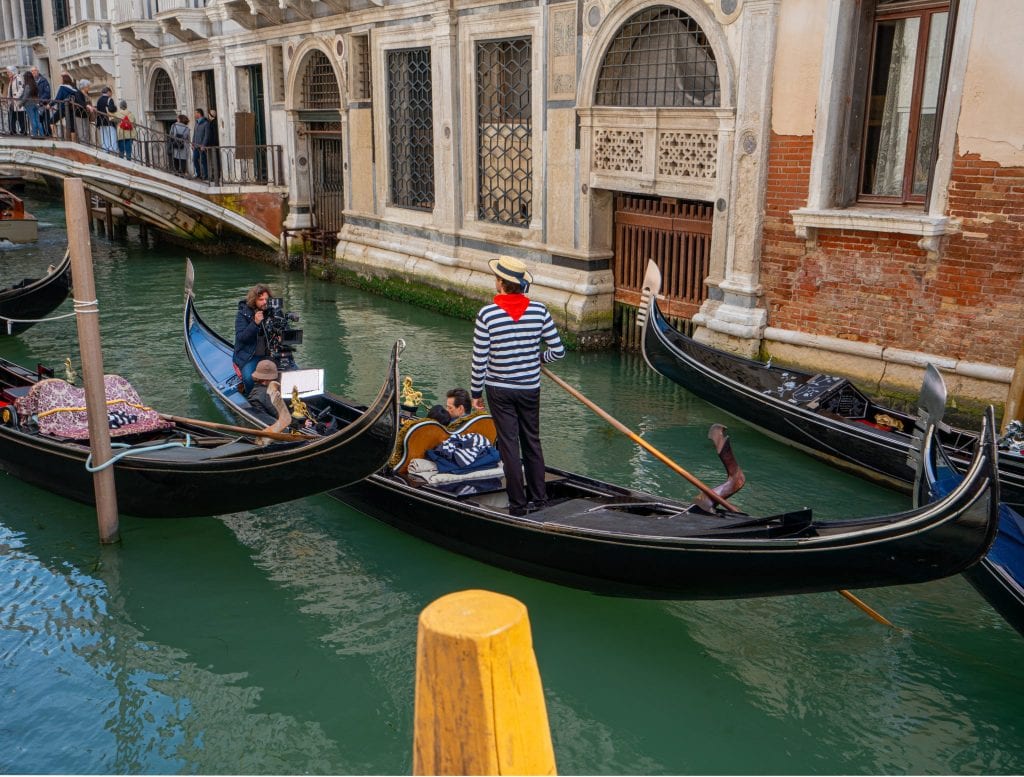 Some links in this post may be affiliate links. If you make a purchase through one of these links, we may earn a small commission at no extra cost to you. Please see our

disclosure policy

for more detail.
A Brief History of Gondolas in Venice
Early versions of gondolas can be traced back around 1000 years, with some historians arguing that they were around even earlier.
However, they evolved continuously throughout the centuries until they eventually became quite uniform and recognizable as the Venetian gondolas we see today.
Jet black, made of eight types of wood, and slightly asymmetrical, gondolas are near-synonymous with the city of Venice.
While today we think of gondolas as a beautiful, elegant way to tour Venice's many canals, until fairly recently in history, gondolas were simply transportation.
Once upon a time, wealthy families would own and use a gondola the way their aristocratic counterparts in other parts of Europe might own a horse and carriage.
And while it may seem that there are gondolas everywhere you look in Venice, Venetians from a few centuries back would beg to differ!
Ten thousand gondolas once roamed the canals, while now, a mere 400 remain.
Today, they are virtually all used for tourism purposes, as other functions like public transportation and deliveries have been taken over by modern motorboats.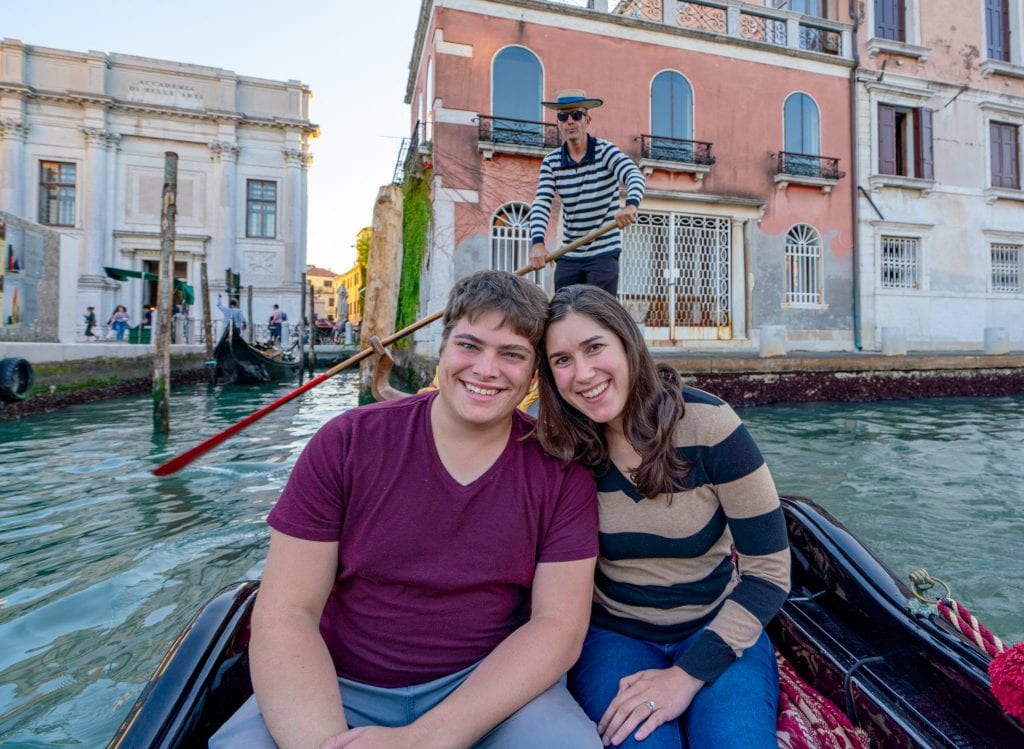 How much does a Venice gondola ride cost?
The price of renting a gondola in Venice is set by an official association and is generally not something that can be haggled.
And to the surprise of absolutely no one, yes, it's quite pricey!
A private gondola ride in Venice costs 80 Euro for a roughly 40-minute ride, or 100 Euro at night (after 7:00 PM).
You can request additional time, with the official rate set at an extra 40 Euro per 20 minutes during the day, and 50 Euro per 20 minutes at night.
Gondolas can hold up to six people at a time, so naturally, the per-person price drops the more people you have with you.
While it is uncommon (though not unheard of) for a gondolier in Venice to try to charge above the stated price, getting a gondolier to commit to a full 40-minute ride is not simple in practice.
30-minute rides are more the accepted standard on the street, and even the gondoliers signs say 35 minutes these days!
How to Find a Gondolier in Venice
Gondola stations are set up at the edges of canals all over Venice, from hoards of them near Piazza San Marco and the Riva degli Schiavoni to 1-2 gondolas being parked at small stations in quieter neighborhoods like Cannaregio and Dorsoduro.
As you stroll through the streets of Venice, you'll inevitably come upon plenty of gondola stands, recognizable by the official sign stating the regulated prices, the small dock, and–most obviously–gondoliers asking "Gondola? Gondola?" over and over again as they offer rides.
It's truly incredibly simple to find a gondolier to take you for a spin in Venice, so don't worry about scheduling one in advance unless you want to go in a shared boat and/or at a very specific time.
If you're planning to take a private gondola ride in Venice, you can absolutely just find one as you wander the city (though be sure to confirm the price and length of the ride before jumping into the boat).
We went on our first gondola ride in Dorsoduro and boarded a few steps from the Ponte dell'Accademia.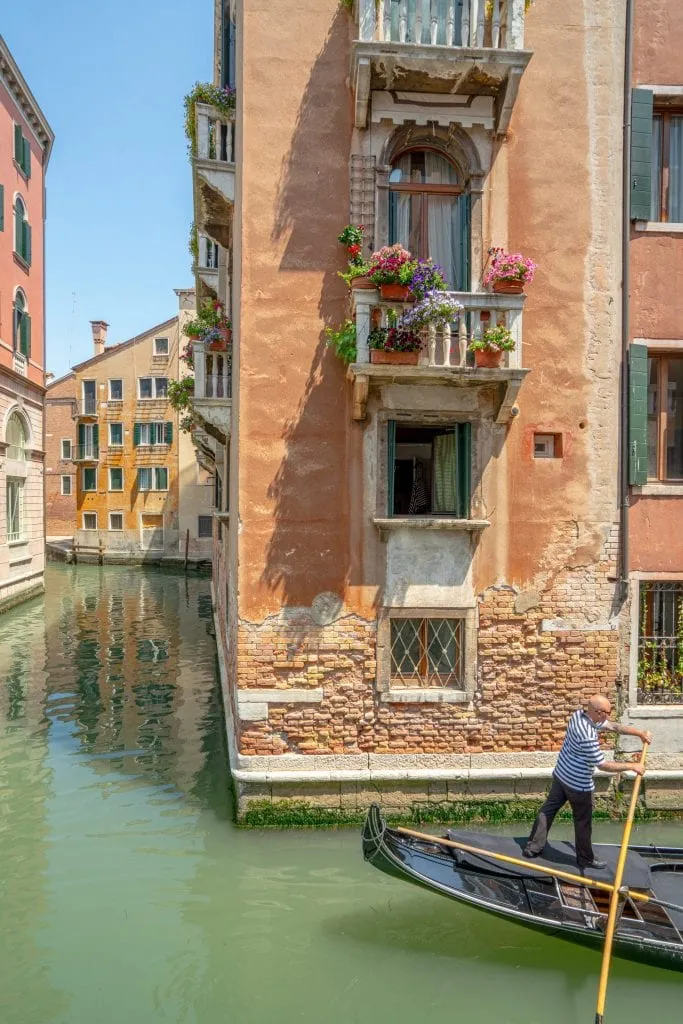 Is a gondola ride in Venice worth the money?
This is probably the most popular question about gondolas in Venice, and the answer is, frustratingly: it depends.
Only you know if a gondola ride in Venice is worth the price to you.
As I mentioned above, Venice gondola rides cost a pretty penny–and only you know whether or not the most famous Venice travel experience is worth it to you.
80 Euro (or 100 if you go at night!) can buy a nice stay at a mid-range hotel in most cities in Italy.
It can also buy a small-group tour for one person of a famous attraction like the Vatican, or a 3-4 hour food tour, or a nice multi-course dinner for two.
I said at the beginning of this post that it took us three trips to Venice to finally take a gondola ride–and a cost-benefit analysis like this is why.
If you want to do it–go, absolutely.
A Venice gondola ride is a truly magical, unique experience and we loved ours.
We loved it so much, in fact, that we'll probably continue splurging on gondola rides in Venice in the future, though probably not on every trip we take to the city.
If you're on the fence?
Don't feel like you have to take a gondola ride in Venice to truly experience the city, because you absolutely don't (and we'll go over some other options for exploring Venice's canals toward the bottom of this post).
We have adored every single one of our trips to Venice, both with and without a gondola ride.
While we loved our gondola experience, you'll never hear us saying it's a "must-do" in the city, simply because it's a very expensive way to spend half an hour!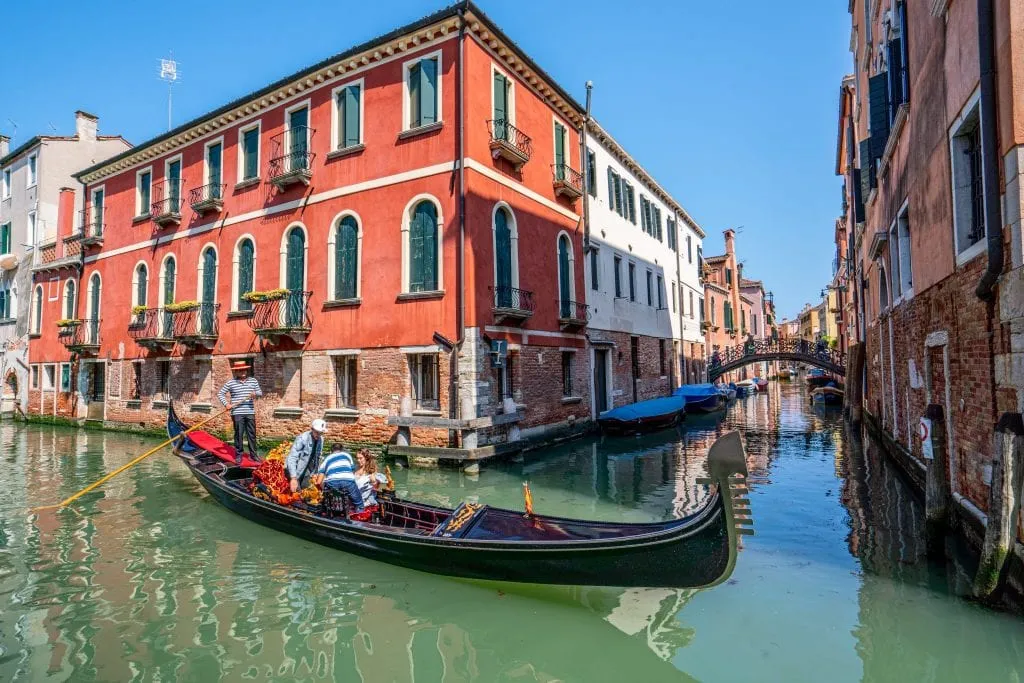 Tips for Taking a Venice Gondola Ride
If you want to avoid the crowds, don't board a gondola near San Marco or the Rialto Bridge.
The closer you are to Venice's top tourist attractions, the more crowded the canals will be during your gondola ride, almost without exception.
If you want the peaceful feeling of being the only boat in sight, even if just for a moment, head to a quieter neighborhood instead.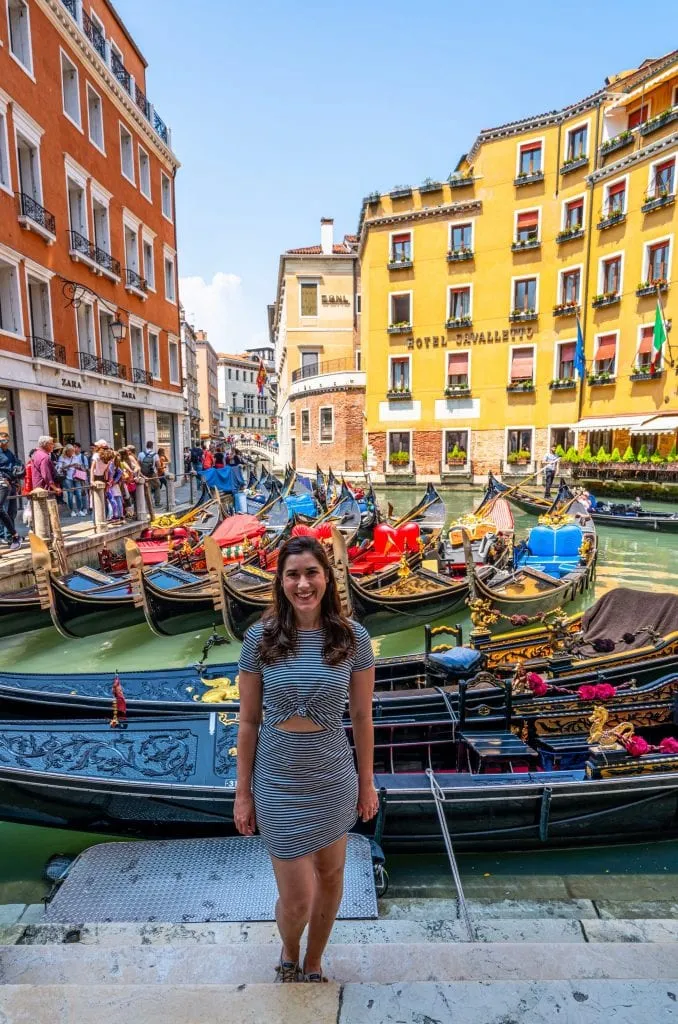 Don't book a private gondola ride in advance.
Assuming it's not paired with another tour or activity, straight up booking a private gondola ride in advance either online or via your hotel tends to come with a surcharge.
Since there's no issue finding an available gondola in Venice, there's no incentive to book ahead of time.
The exception is if you are very particular about where and when you want your ride to take place–if you're celebrating an anniversary or planning a proposal, for example.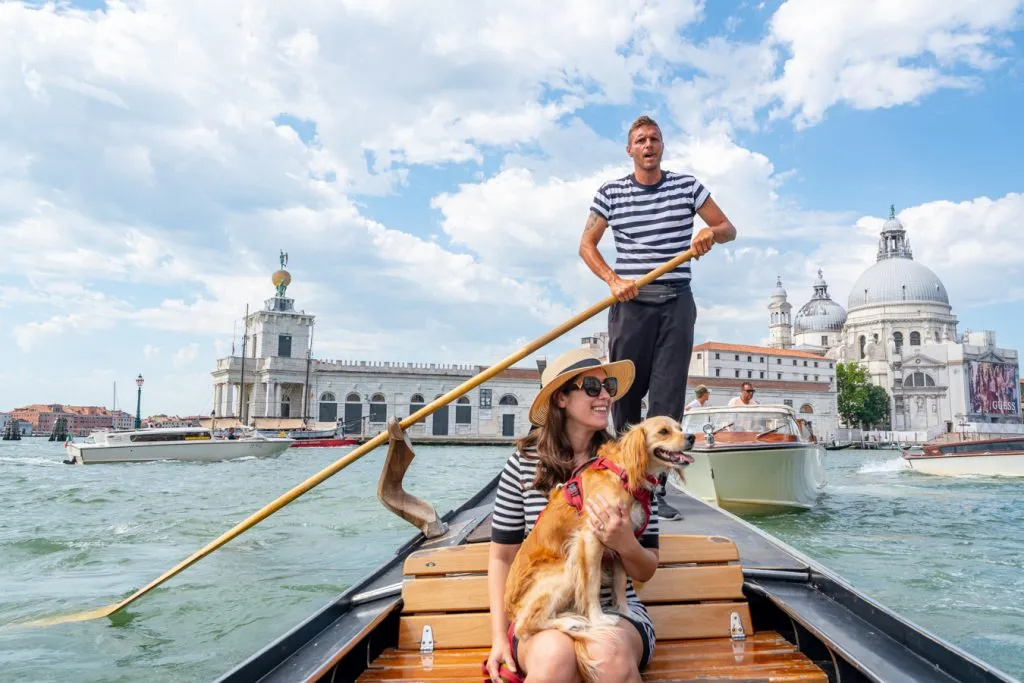 … But if you want a shared gondola ride, consider booking ahead of time.
The reason for this is simply that it's logistically easier.
It's far easier to book a ride in advance than to wait around at a gondola station in the hopes of another group of people looking to split a ride show up at the right place and the right time to drive the price down to the level you're hoping for.
Plus, if you're traveling Venice on a budget, it's nice to know exactly how much you'll be spending before you arrive!
Book your shared gondola ride in Venice today!
Alternatively, book an evening tour that includes a gondola ride.
This popular food tour not only includes delicious cicchetti, risotto, processo, and spritzes, but a nighttime gondola tour arranged by your tour guide (so no hassle or negotiating required).
If you'd like to take a gondola tour at night and also love to take food tours (we love them, personally), this is a great option for you.
Book your Venice food tour + gondola ride at night now!
Be prepared to be in plenty of photos.
Might sound obvious, but given how much everyone (ourselves included!) loves to photograph passing gondolas in Venice.
Taking a Venice gondola ride essentially guarantees that you'll end up in the background of many, many strangers' vacation photos.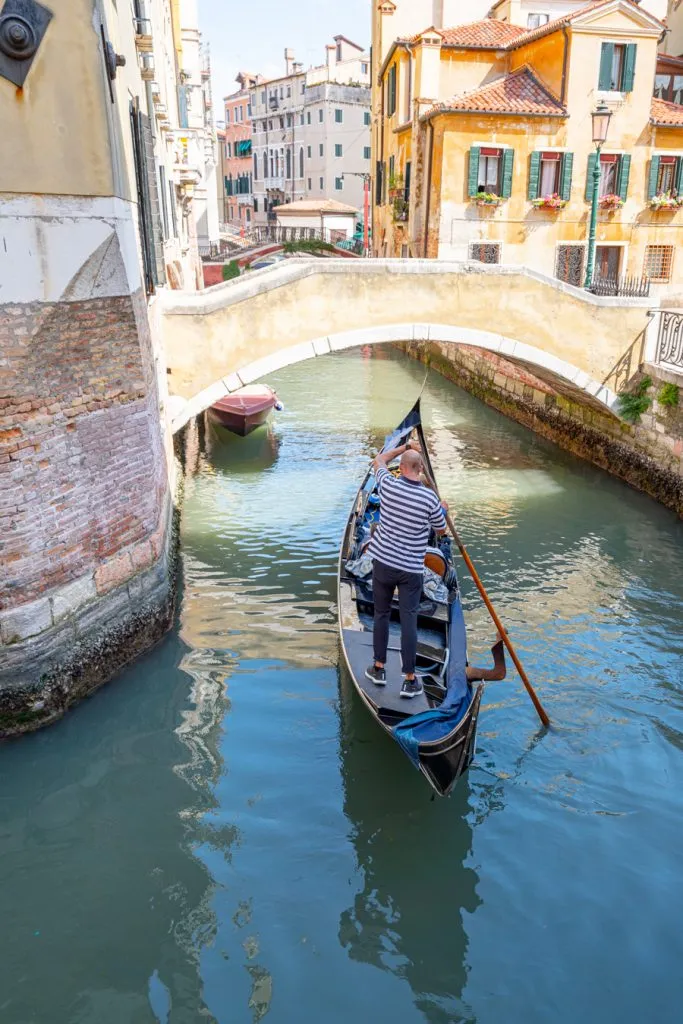 Don't necessarily expect to be serenaded.
Getting serenaded by gondoliers is not automatically expected these days, and when it does happen, it usually costs extra in the form of a tip.
However, that doesn't mean you necessarily need to resign yourself to a grumpy gondolier!
Ours was incredibly friendly and regaled us with the history of the palaces and other buildings around us throughout our ride.
We have also heard singing gondoliers a few times when wandering around Venice–but not very often.
You (probably) won't get seasick.
I can only offer my own experience here, of course, but as someone who gets motion sick at the drop of a hat, I can attest that I didn't have even a hint of seasickness during our gondola ride, even while we were on the Grand Canal.
However, you know yourself best!
If you're worried about getting seasick, come prepared with Sea Bands
and Non-Drowsy Dramamine
.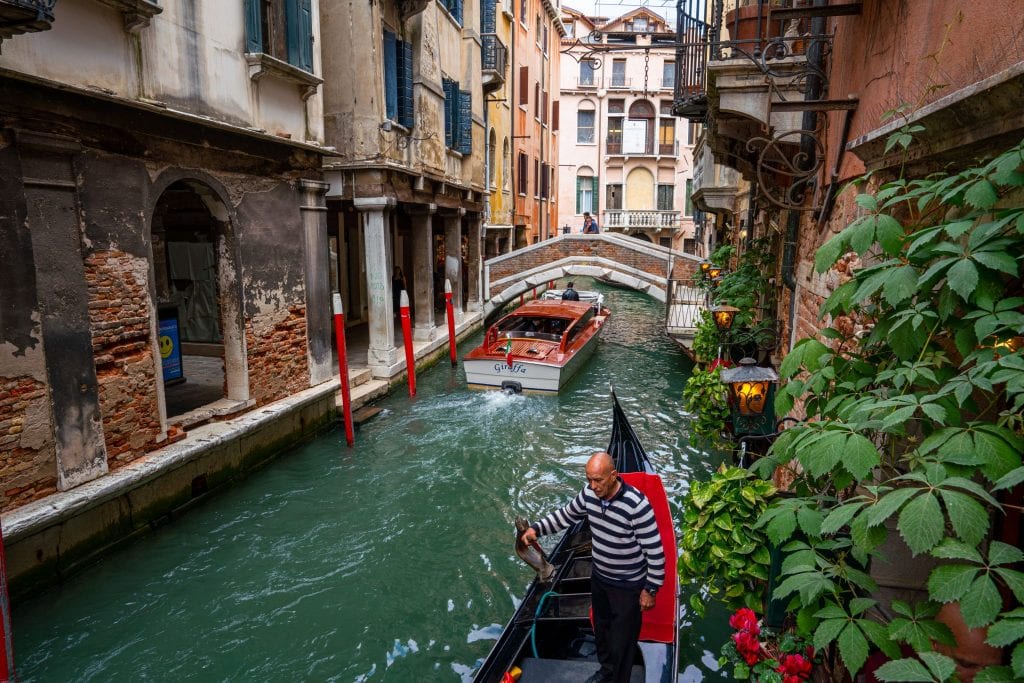 Want to see where gondolas are made? Stop by Bottega Tramontin Gondole.
Located in Dorsoduro, this small gondola shop doesn't offer tours, but with any luck, you'll be able to see gondolas being repaired and built in the area in front of the shop (which, naturally, is right in front of a canal).
It's incredibly cool to see the intricate gondolas in various states of completion.
Word on the street is that you can sometimes see people working on them, but the shop appeared closed when we visited.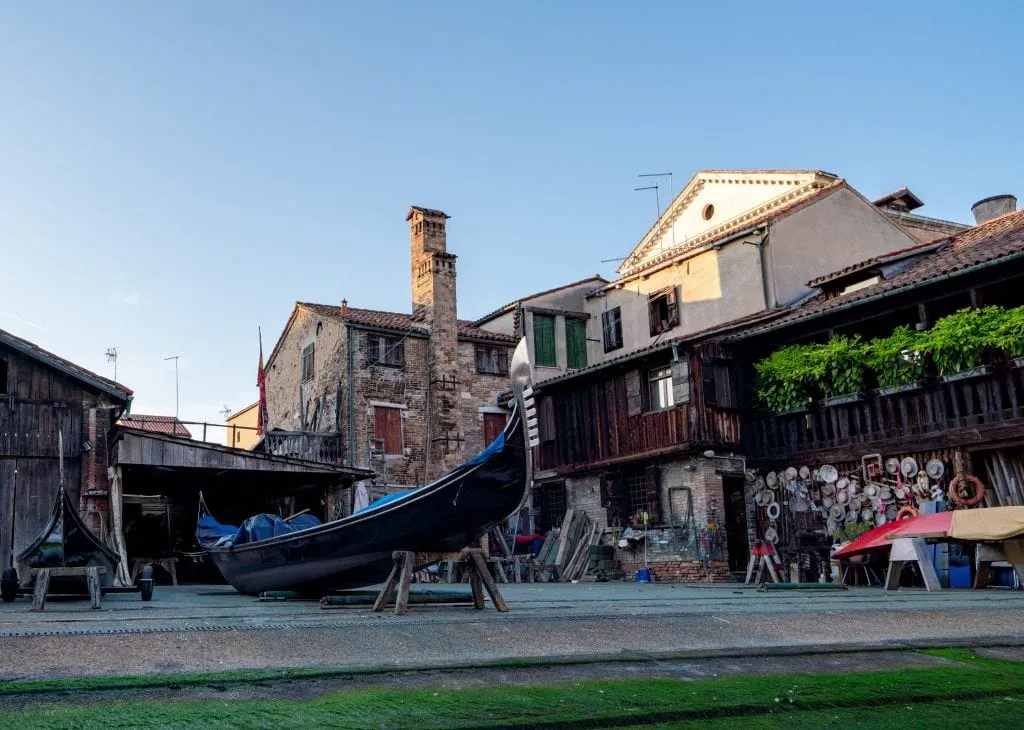 Alternatives to Taking a Gondola Ride in Venice
Take a Grand Canal cruise.
While a gondola ride in Venice may be more iconic and downright romantic as compared to riding in a modern boat, a Grand Canal Cruise has a serious edge over a gondola ride in one important way: it lasts longer.
A one-hour Grand Canal cruise costs less than a gondola ride in Venice and is also a lovely way to enjoy beautiful canal views while learning a bit more about the city.
Arrange your Grand canal cruise today!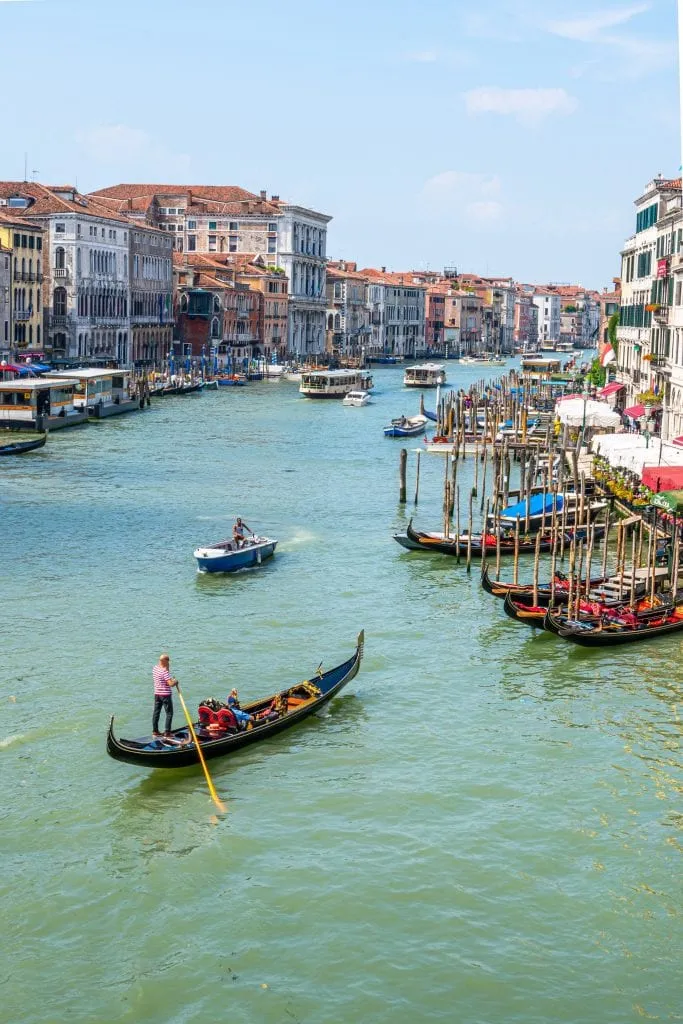 Ride a traghetto.
A traghetto–which literally means "ferry" in Italian–is a bit of a quirkier way to hit the water in Venice.
These small boats ferry people across the Grand Canal by hand, with the help of two oarsmen, and only cost 2 Euro per person to ride.
If you feel like doing it the local way, don't sit down, either–Venetians prefer to stand for these rides.
While much more inexpensive than a gondola, they're not nearly the same experience (the ride only lasts a few minutes, for one thing), and they're a bit unreliable.
They are lots of fun, though, and we have taken them a few times throughout the city.
If you're interested in trying one out, we've put together a separate guide on taking a traghetto in Venice!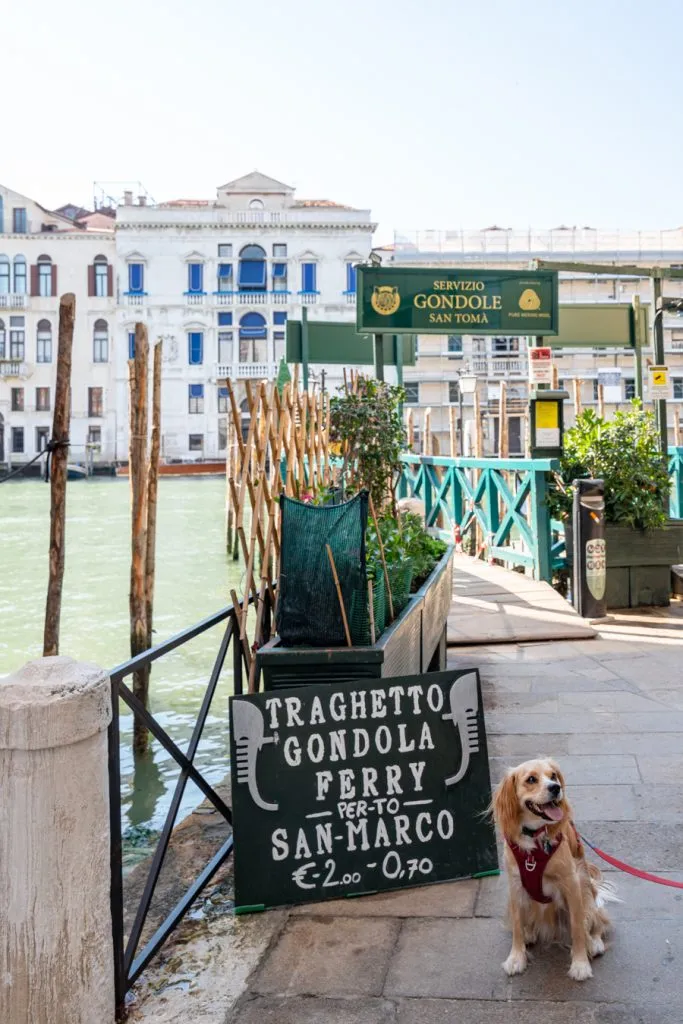 Enjoy views from the vaporetto.
A 7.5 Euro vaporetto ticket will take you down the length of the Grand Canal, complete with insanely beautiful views!
While we have loved each and every one of our vaporetto rides–they're honestly the perfect place to say hello and goodbye to Venice as you head to or from the train station–keep in mind that they are ultimately public transportation.
In other words, they're not always the most comfortable due to crowds, luggage, and the general hullabaloo of people getting on and off the boat at various stops.
Vaporetto No. 1 is the one you're looking for if you want to use it as an impromptu Grand Canal cruise!