Looking for a fun and affordable way to cross the Grand Canal in Venice? Try a traghetto (gondola parada)!
For just 2 Euro–yes, you read that right–you can cross Venice's Grand Canal on a brief but scenic gondola ride.
It's a little quirky, a lot of fun, and well worth seeking out during your trip to Venice.
Here's how to take a 2 Euro gondola ride across the Grand Canal!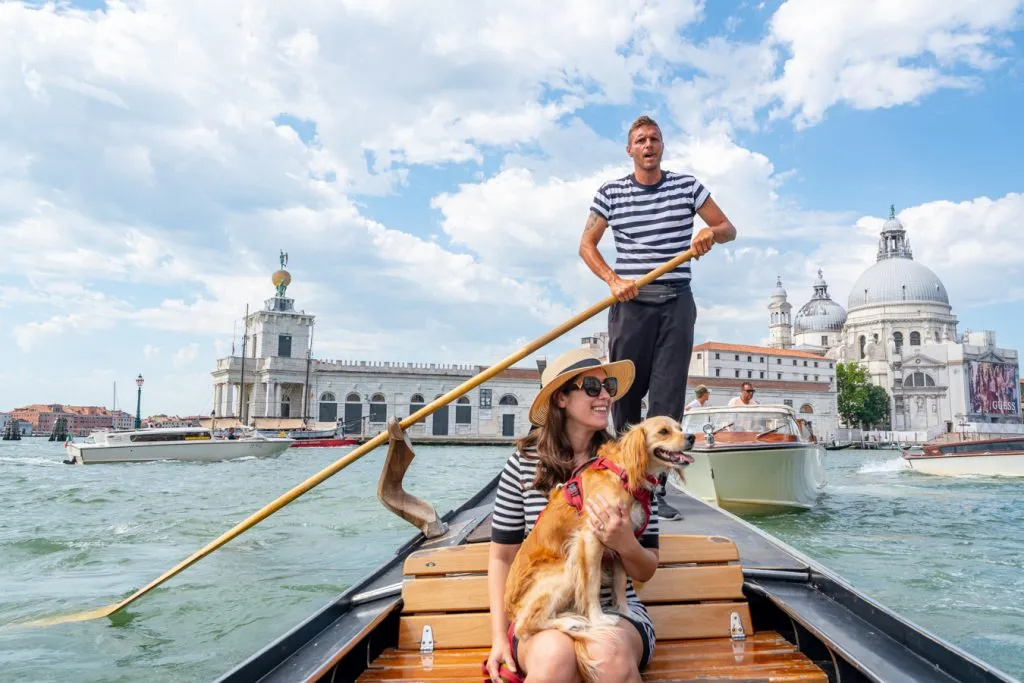 Some links in this post may be affiliate links. If you make a purchase through one of these links, we may earn a small commission at no extra cost to you. Please see our

disclosure policy

for more detail.
What is a traghetto in Venice?
Traghetti are essentially the public transportation version of a gondola, a throwback to earlier decades (and centuries) when everyday Venetians needed a simple way to cross the Grand Canal.
Unlike the smaller, more romantic gondolas that you can hire for a ride, a traghetto (also called a gondola parada) holds up to 10 people and is piloted by 2 gondoliers, not one.
Only 4 bridges (Scalzi, Accademia, Costituzione, and Rialto) criss-cross the beautiful Grand Canal, so it's safe to say there has long been a market for more ways to cross!
While today Venice has plenty of vaporettos serving this purpose, they're more expensive, more cumbersome, and–let's be real–less fun than hopping in a traditional gondola traghetto.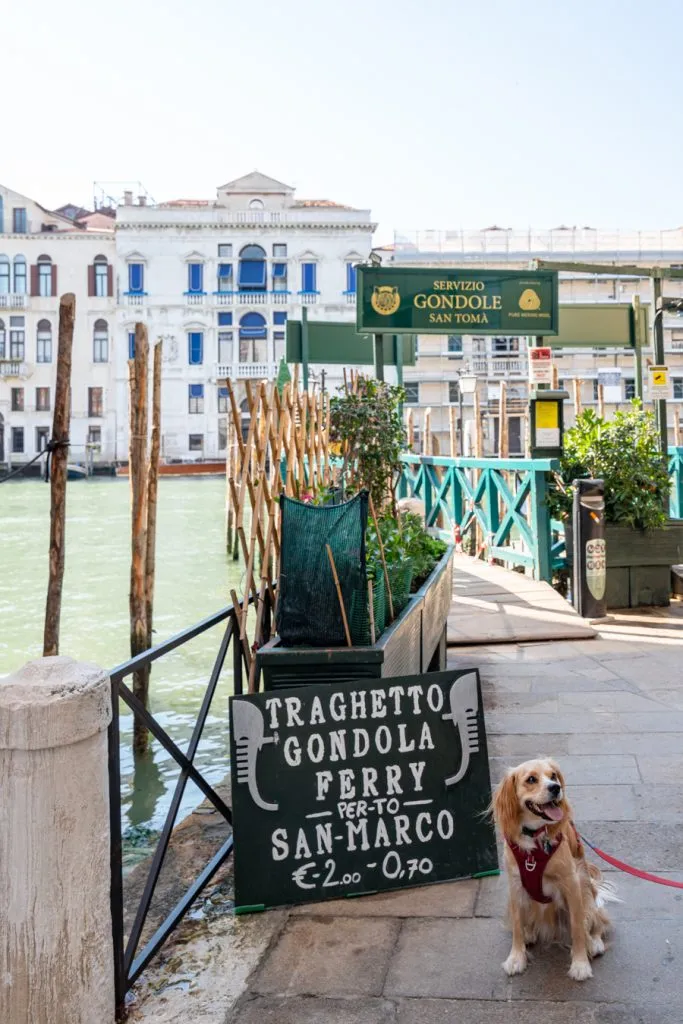 How to Ride a Traghetto in Venice
Step 1: Find a traghetto.
Honestly, the trickiest part about riding a traghetto gondola in Venice is finding one!
There are technically still 7 traghetto routes active in Venice (down from 30+ once upon a time), but their hours can be fickle and inconsistent.
This article details where you can find them (in theory), and searching "Venice traghetto" on Google maps also pulls up the most popular launches.
However, the best way to find one is simply to keep an eye out as you wander around in the general areas where the stations are located.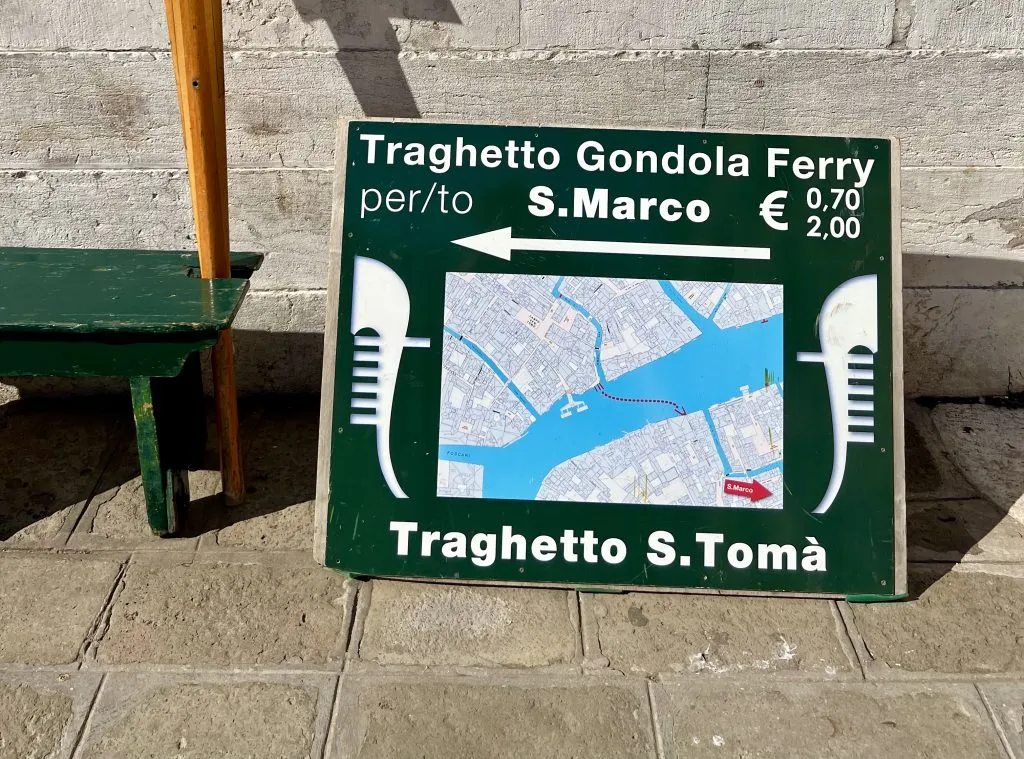 You can often spot signs on buildings pointing to their launch docks, and if the traghetto ferry is open at that point, you'll probably see a sandwich board with prices on it at the launch.
Otherwise, just peek across the Grand Canal–since traghetto routes are so short, you should be able to spot the gondola within a few minutes if it's active!
We've ridden in traghetti leaving from both San Tomà and Dogana and loved both, though the views from Dogana were particularly fantastic!
Both times, we simply happened to be walking by when the traghetto was open and decided to jump on the opportunity to go for a ride.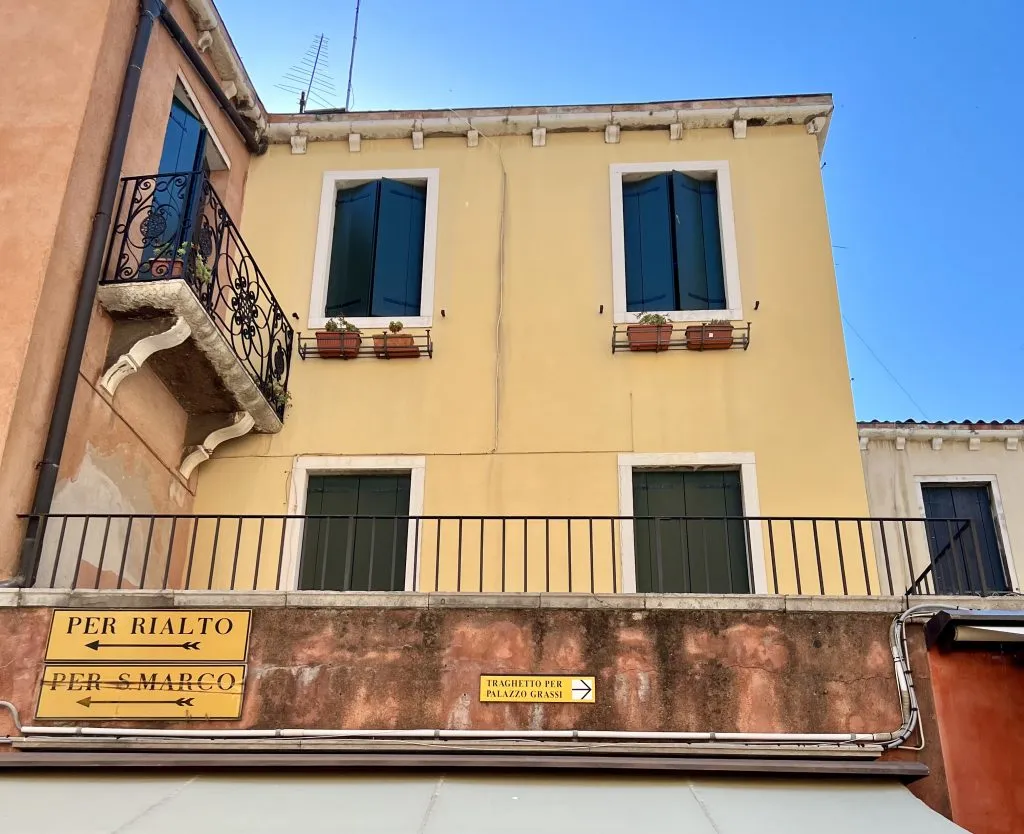 Step 2: Board carefully.
When the traghetto pulls up to the dock, the gondolier will give you a hand into the traghetto.
While Venetians typically stand on these rides, I honestly can't imagine doing so!
The Grand Canal is a busy place, especially in the middle of the day, and while it wasn't particularly dramatic, I caught myself holding onto my seat a couple of times when sitting on the side.
The gondoliers will likely try to balance the weight in the traghetto, so follow their lead on where to sit or stand.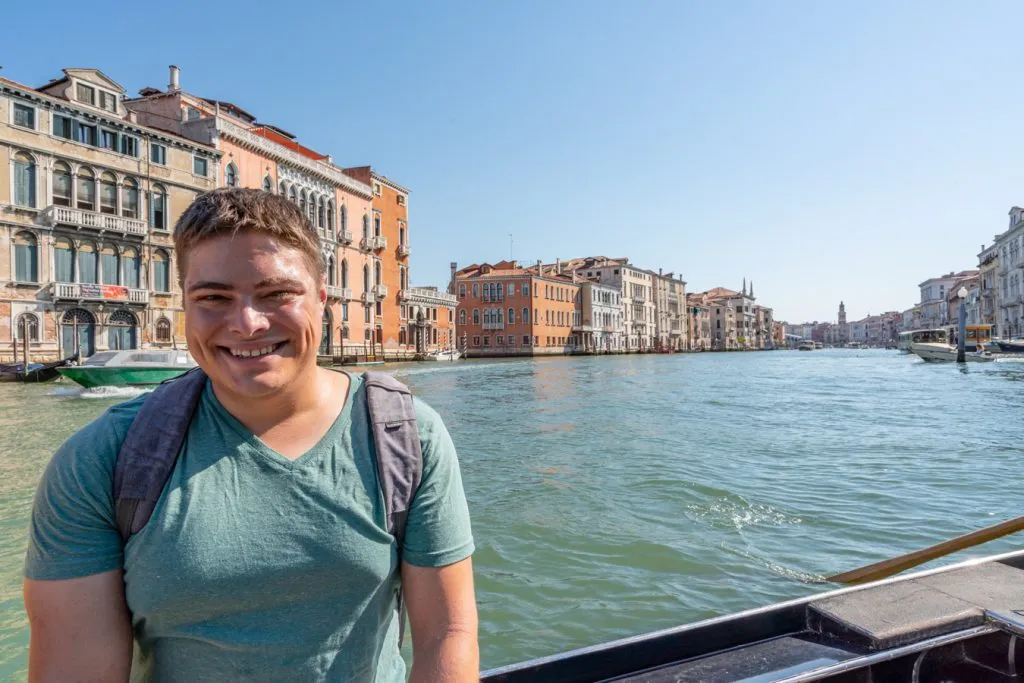 Step 3: Pay your fare (in coins).
Riding a traghetto in Venice is a cash-only experience.
Ideally, you'll have the 2 Euro per person in exact change, but even if you don't pay in coins if possible.
And don't get too excited by the 0.70 Euro price listed–that's only for locals.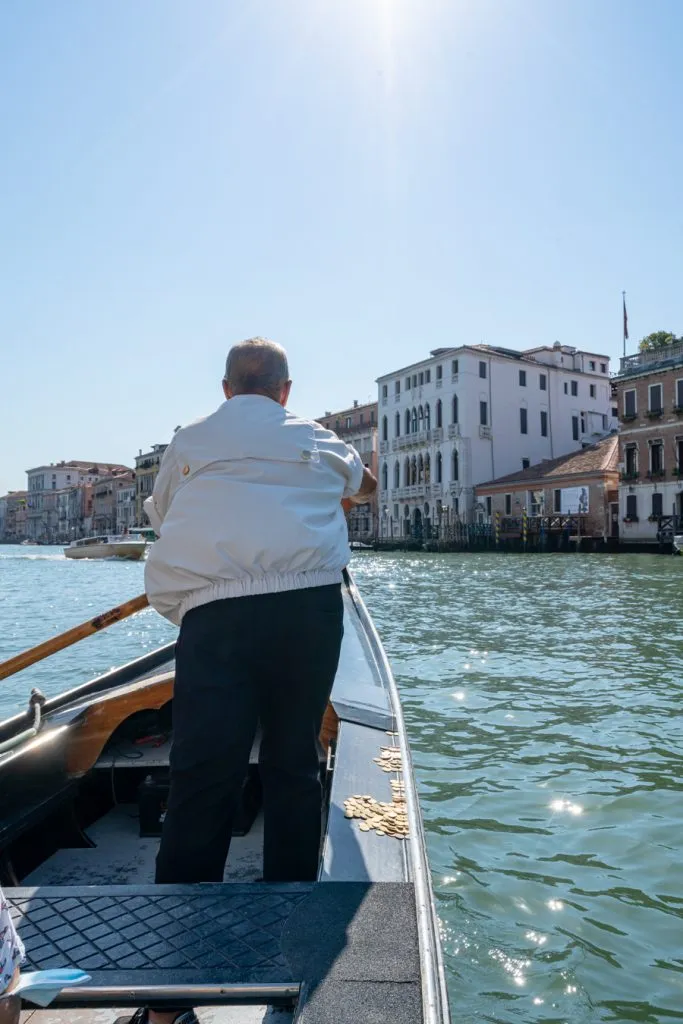 Step 4: Enjoy the views!
Once you board and pay up, it's time to enjoy the views!
A traghetto gondola ride only lasts a couple of minutes, so if you want to get photos from the middle of the Grand Canal, be prepared and have your camera/phone ready.
It's lots of fun, though, and depending on which traghetto you ride, you'll be able to spot one of several Venetian landmarks!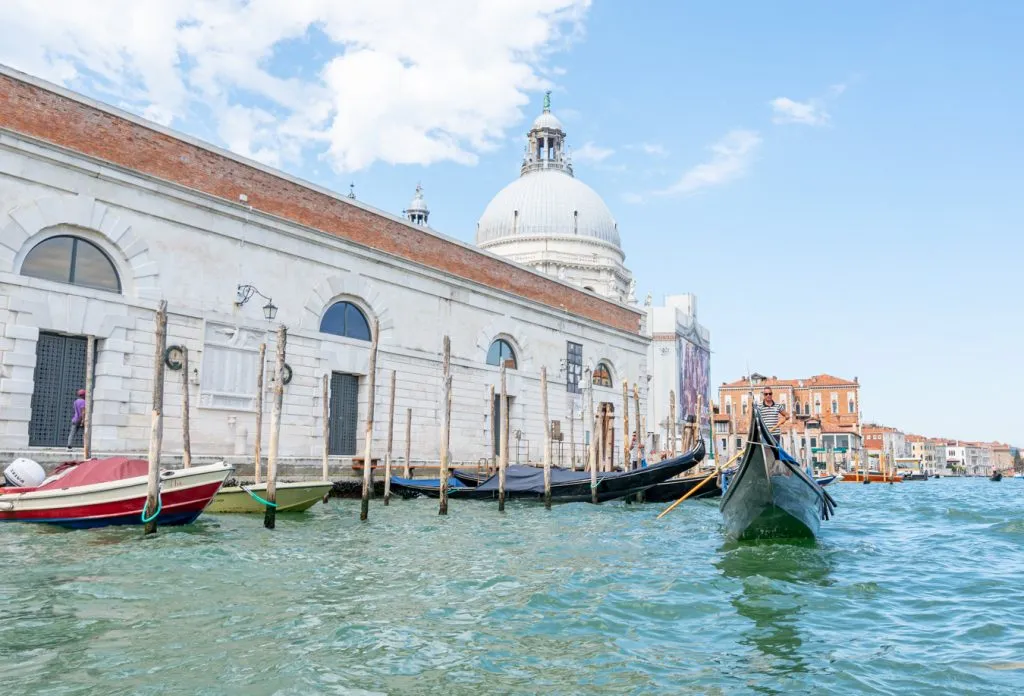 Step 5: Explore your next sestiere in Venice.
Once you wrap up your traghetto ride, you'll be in a whole new area of Venice.
In other words, it's the perfect opportunity to kick off a nice, meandering wander through one of the most beautiful cities in Europe (or the world, for that matter).
If you want a direction, try seeing if any of Venice's best hidden gems are nearby!
… Or, if what you really want is to be back where you were a minute ago, you can always get back in line (if there is one) and cough up another couple of Euro to take the traghetto back to the other side of the Grand Canal.
Is it Worth Paying For a "Real" Gondola Ride?
After riding in a gondola traghetto-style, you may be wondering if paying 80 Euro (per boat, not per person, but still) can possibly be worth it.
The answer is simple: it depends.
We go into much more detail on this in our guide to gondola rides in Venice, but essentially, the experience is different enough (possibly private, much longer, smaller canals) that we certainly see the appeal of doing both.
We've ridden in both traditional gondolas and in traghetti, and we expect to enjoy both again in the future!
That being said, a traditional gondola ride–while fun–will not make or break your trip to Venice, and enjoying a traghetto is a fantastic way to stretch your budget while still getting a taste of riding in a small boat on the Grand Canal.