We first spent one day in Milan in 2016, toward the beginning of what we thought was going to be a 6 month trip around the world.
Two years later (literally to the week!) we returned to Italy's fashion capital with exactly one purpose: to take the vague, newbie-style Milan blog post I wrote about exploring Milan in a day in 2016 as a hobby blogger and turn it into a useful guide for people planning their own one day in Milan itinerary (like you!).
Since our first visit, we've gone from hobby bloggers to professional bloggers, and from people who were excited about their second trip to Italy to people who have spent more than half a year in the country and who are unapologetically Italy obsessed.
In other words, it was high time to return to Milan.
Several days in the city, tons of research, and a delicious anniversary dinner (happy five years of marriage to us!) later, we've succeeded in putting together a complete guide to one day in Milan–if you have a short visit to Milan coming up, this is how to make the most of it!
The Ideal One Day in Milan Itinerary
Start at the Duomo Complex.
With only one day in Milan, there's no better place to start than its famous Duomo complex: regal and imposing, the front view of the Milan Cathedral, complete with pigeons hanging out in the square, is easily one of the most iconic images of Milan.
There are several sights included in a full Duomo Complex ticket, which means you only need to buy one pass to see them all!
Unfortunately, the popularity of the Duomo means that you'll have long lines to deal with, especially to enter the interior of the cathedral itself.
For that reason, with only one day in Milan to work with, we recommend purchasing a skip-the-line pass: the upcharge is reasonable, and the time saved is completely worth it.
Plan ahead: book your Duomo Complex fast pass now!

Not worried about lines? You can still skip one by purchasing a normal ticket in advance.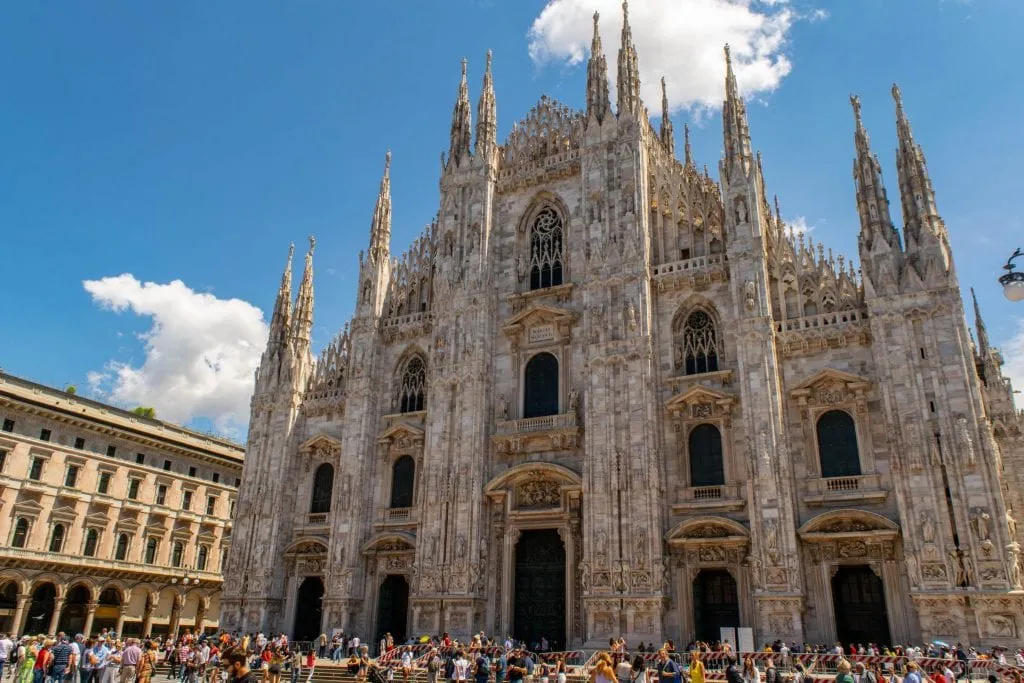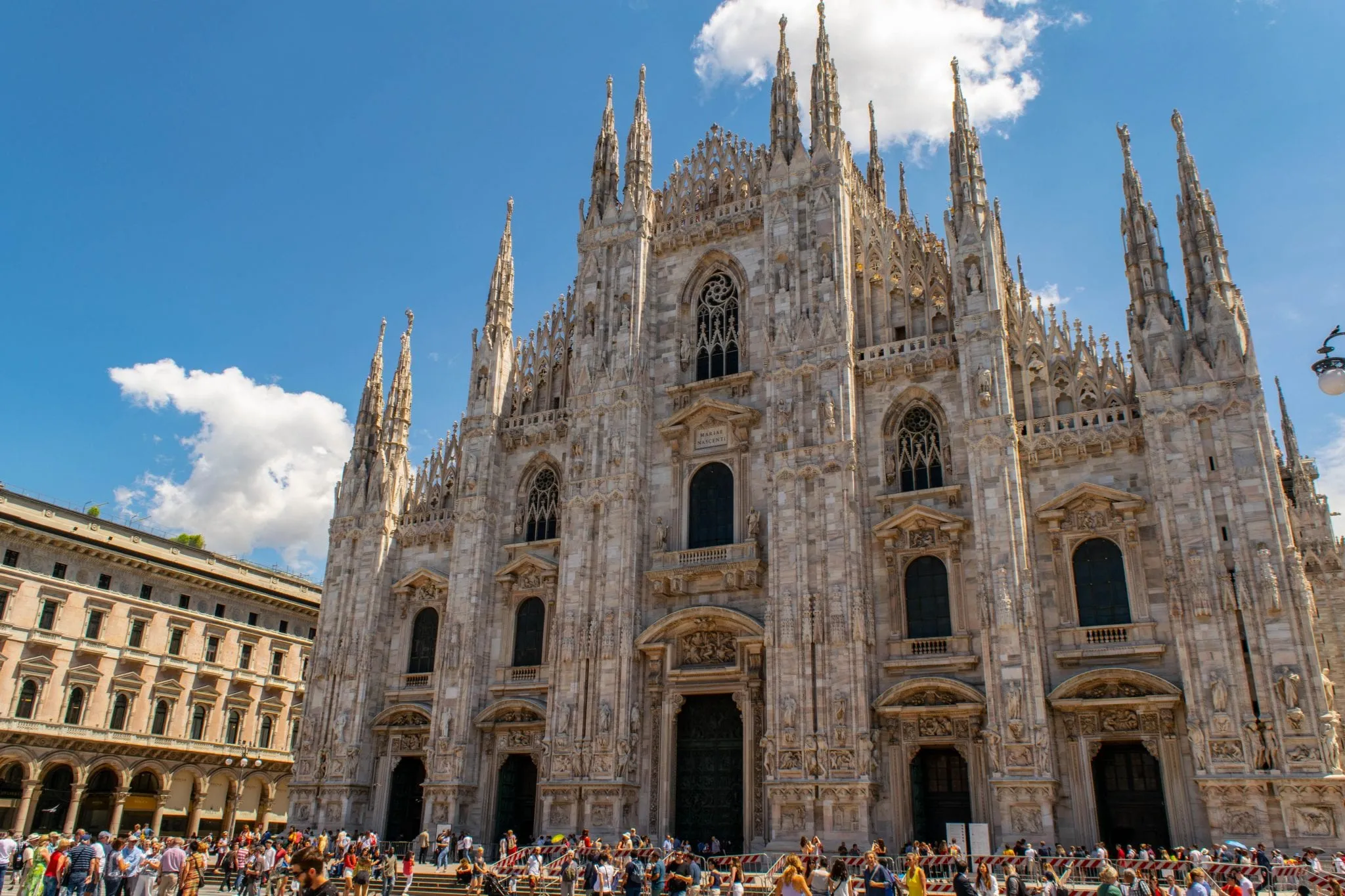 Interior of the Cathedral
The interior of Milan's Duomo is as majestic as you would expect from the outside: ornate columns and incredible inlaid Italian marble floors rule the show.
Please note there is a strict dress code requiring shoulders and knees to be covered. Either dress for your one day in Milan with this in mind, purchase a skip the line pass that includes a borrowed covering or prepare to pay an extra fee to get one at the door (first time I've seen a house of worship charge for those, but alas!).
Rooftop
The cathedral rooftop is, without a doubt, the highlight of Milan's Duomo complex and arguably the highlight of spending one day in Milan–it is exquisite!
Intricately carved and incredibly beautiful, it is worth every single step to the top (which is actually quite short as far as cathedral climbs in Italy go–only around 250 steps).
If you would like to avoid climbing altogether, there is an option to pay an additional fee to ride an elevator to the roof.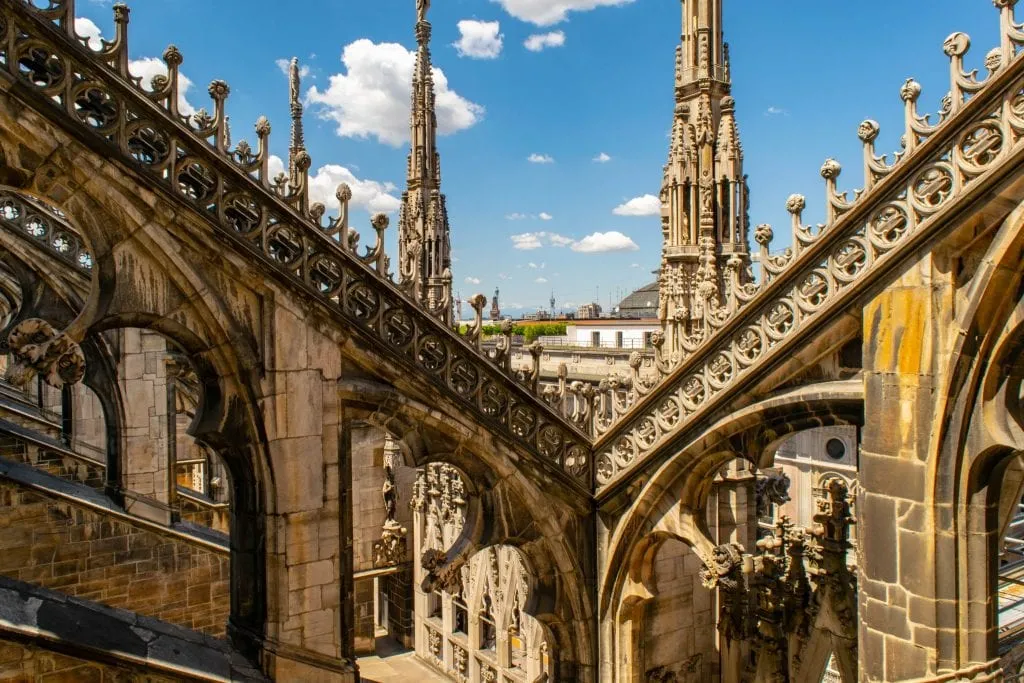 Archaeological Site
Underneath the Duomo itself sits an impressive archaeological site: long before there was a Duomo, there was plenty of other activity and buildings in the square–and you can explore them, in person, underneath the cathedral!
Other Inclusions
A full Duomo complex ticket also includes a visit to the Duomo Museum, which includes statues and artifacts that called the Duomo home in centuries past, and the Church of San Gottardo in Corte.
I wouldn't call either of these must-dos, especially with only one day in Milan.
However, since they are already included in your ticket, consider keeping an eye on the time and adding them to your Milan itinerary if you have room!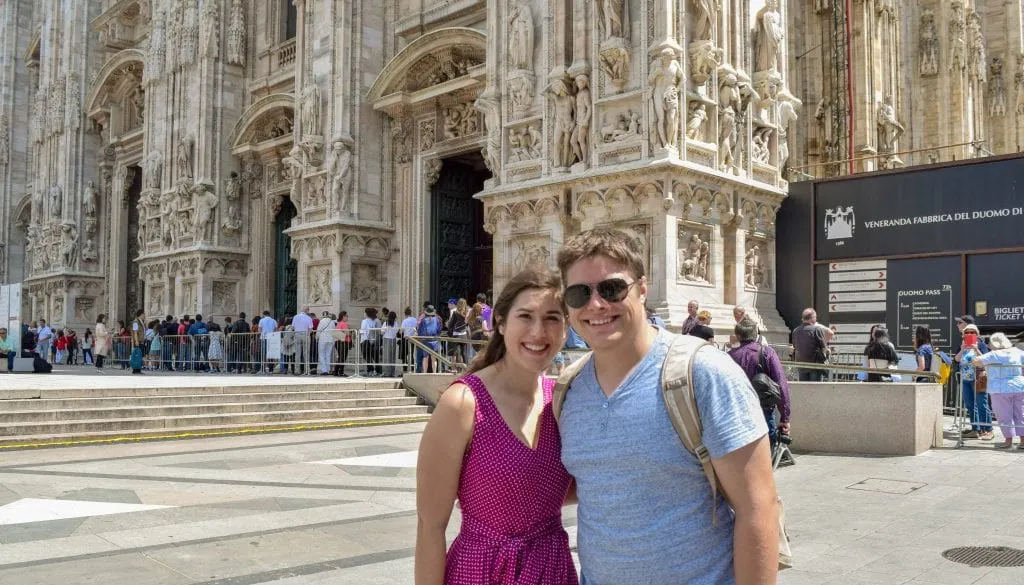 Take a short walk to see the ossuary at San Bernardino alle Ossa.
6-minute walk from the Duomo Complex.
This is perhaps a bit offbeat and often left off of itineraries attempting to cover Milan in one day, but Jeremy and I find ossuaries fascinating and can't bear to leave it off.
This small ossuary is tucked inside the Church of San Bernardino and is home to a seriously impressive number of bones.
The small chapel is decorated with human bones, including skulls stacked into gigantic crucifixes–it truly is a sight to behold.
The ossuary dates back to the 13th century, though its current formation comes from the 17th. The skeletons are believed to primarily have come from people who died at the nearby Brolo hospital, which no longer exists–with one exception.
The bones encased above the door are said to have come from executed prisoners.
Spooky, right?
If you don't like bones, though… definitely skip this one!
(Side note: if this is exactly your kind of tourist attraction, you might want to add Cimitero Monumentale to your Milan wish list, too!)
Loop back to step inside the Galleria Vittorio Emanuele II.
7-minute walk from San Bernardino alle Ossa
Light, airy, and pretty, the 19th-century Galleria Vittorio Emanuele II is a downright luxurious place to do some shopping.
If you are hoping to memorialize your trip to Milan with a pricey purchase from Prada, Versace, Gucci, Armani, or many others, this is the place to do it!
Even if you're not planning on doing any shopping, the Galleria is worth walking through: the glass ceiling gives the entire place a soft glow, and the path through the Galleria leads right from the Piazza del Duomo to the nearby Piazza della Scala.
Pay a visit to the Piazza della Scala.
4-minute walk through Galleria Vittorio Emanuele II
The Piazza della Scala only requires a quick pit stop during your one day in Milan, but since it is so close to the Duomo and the Galleria Vittorio Emanuele II, it's worth taking note of!
Here you can take a quick look at a statue of Leonardo Da Vinci, and also glance at Milan's famous opera house (I'll confess: amongst all the beauty and opulence of Italy, I find the exterior of this opera house a bit plain).
If you love the theatre and get an early start during your day in Milan, you may also be able to squeeze in a visit to the interior to the La Scala Opera House: we haven't been ourselves, but from the photos we've seen, the interior does look far more impressive than the exterior! In order to visit, though, you'll need to rework your Milan schedule a bit (tours are given in the afternoon), and book in advance, as the opera house is a very popular place to visit!
Wander through the grounds of Castello Sforzesco.
13-minute walk from Piazza della Scala
Before there was a unified Italy, there was still a Milan… and a series of Dukes of Milan to rule it.
Their home was Castello Sforzesco, which looks every bit the part of the medieval castle, thick walls and room for a moat and all, while also being plopped right in the middle of what is now modern Milan.
There are plenty of museums inside the castle, but with only one day in Milan, you likely won't have time to enter any.
Luckily, the grounds are free to explore!
If you're interested in history, we recommend doing a little reading on the Dukes of Milan while you're there–the power struggles make Game of Thrones look like child's play!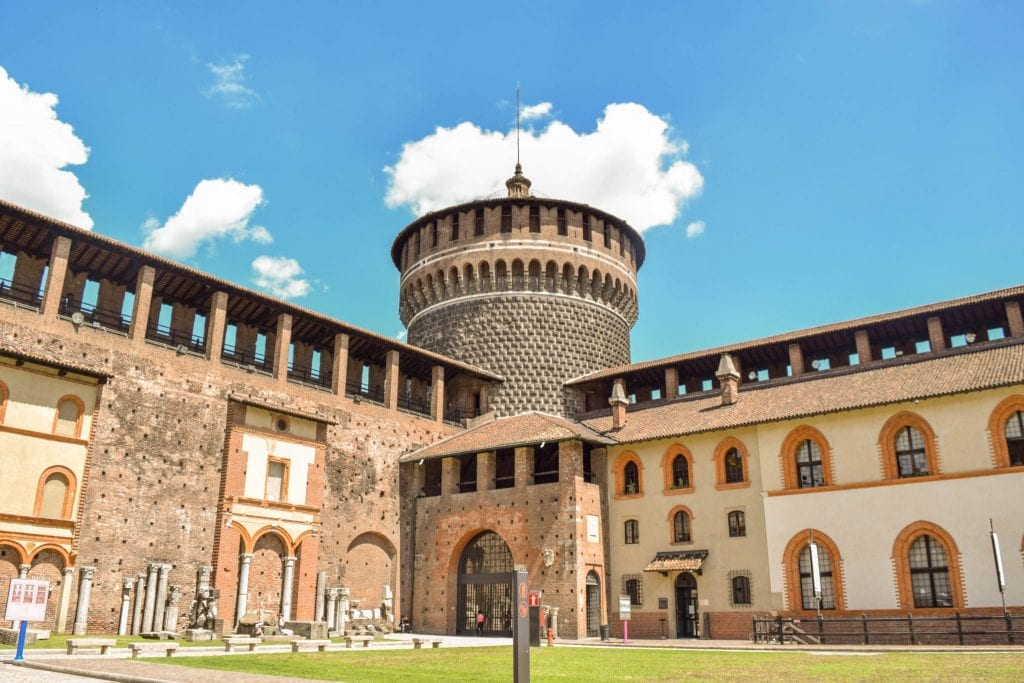 Stroll through Parco Sempione & check out the Porta Sempione.
11-minute walk through the park to Porta Sempione
After strolling through Castello Sforzesco, you will dead-end into one of Milan's prettiest parks, Parco Sempione.
Bursting with flowers in the spring and summer, this park is a great mix of shaded walking paths and sunny, grassy fields perfect for laying on.
We recommend strolling through from Castello Sforzesco to the Porta Sempione on the opposite side (perhaps with a gelato in hand).
One of the things we have picked up on while traveling is that just about everywhere has their own version of the Arc de Triomphe (some of them predating Paris' version), and Porta Sempione (the actual arch is named Arco della Pace) is Milan's version.
Roughly corresponding to the placement of a similar gate dating back to the Roman times, this 19th-century arch is beautiful and definitely worth a quick look during your one day in Milan!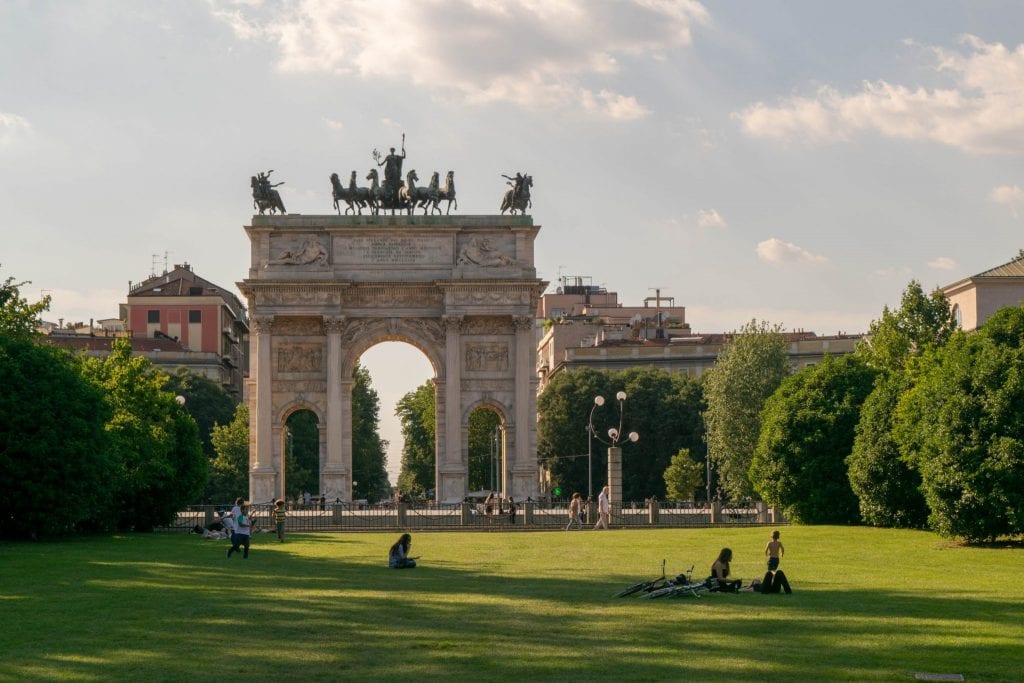 Wander through the Brera Design District.
13-minute walk from the Arco della Pace
Home to Milan's Academy of Fine Arts since the 18th century, the Brera Design District is the perfect way to end your one day in Milan: known for its fashionable cafes, restaurants, and nightlife, you couldn't ask for a better finishing point to a whirlwind day in Milan.
If you get here early enough, there are some interesting museums to check out in the area, including Milan's well-known painting gallery at Pinacoteca, the beautiful Braidense National Library, and the Museo Astronomico, which I think speaks for itself.
About The Last Supper: How to See It During One Day in Milan
Seeing Da Vinci's famous painting while in Milan is harder than it look, which is why we didn't include it in our one day in Milan itinerary: access is tightly controlled, tickets are hard to come by, you must book your visit in advance, and when you do get in, you are allotted a strict 15 minutes to admire The Last Supper in person.
If you're an art fan, that's probably not a deterrent–we are talking about one of the most famous paintings in the world, after all–so you have basically three options to pull a visit off.
Try to score tickets yourself through the official website.
Fair warning: this is nearly impossible.
I'm currently writing this post in June, and the next available tickets are in the last week of September… and only two days are available. Scheduling beyond September isn't available at this point.
If you're planning your one day in Milan well in advance, it's time to try to reserve your tickets on the official website.
If you're planning closer to the time of travel (like us), this likely won't be an option for you.
Book a third-party tour of The Last Supper.
Third party companies sell tours of The Last Supper, and though they charge significantly more than the base price, they do typically include a guide that explains some of the history behind the work–and, more importantly, allow you to access the painting without planning months in advance.
This is a great option if you are set on seeing The Last Supper during your one day in Milan, but want to wander independently for most of the day.
Book your guided tour of The Last Supper now!
Book a broader Milan day tour that includes The Last Supper in its price.
The final option to see The Last Supper is simply to book a tour that includes it.
Most tours that cover the highlights of Milan in one day will include a visit to The Last Supper along with the bulk of the other sights on this one day in Milan itinerary, and though this is the most expensive option of the three, you do get more value for your money than simply booking a tour of The Last Supper only.
This tour includes The Last Supper and a full walking tour of Milan.

There are also some more specific tour options, like one that pairs Castello Sforezsco and The Last Supper for a tour.
Where We Stayed in Milan
Hotel America — This was our hotel in 2016. By staying 20-30 minutes away from the Duomo and other major sites, we were able to cut costs and still see everything we wanted. We booked a private room at Hotel America and took the tram into the center of town, which worked perfectly. The hotel was basic and clean, and the staff was friendly. If you're looking for a budget option in Milan, Hotel America is a solid choice!
Homestay Vittorio Veneto — This was a strange place: not a hostel, not a hotel, not a homestay. We had a private room and bathroom, but the bathroom was detached from the room. It was clean and well-located (about a 15-minute walk from Milano Centrale, and three metro stops from the Duomo), but confusion at check-in and the strict 10:00am check out time means we probably wouldn't book this one again.
You can also check out more ideas on where to stay in Milan from Europe Up Close!
Getting Around Milan
The sights listed in this one day in Milan itinerary are all within walking distance of each other, and we didn't use any other type of transportation to get between them.
Milan is a big city, though, so unless you're paying a pretty penny to stay in Milan's most touristy neighborhoods, your lodging is likely to be a different story when it comes to walkability.
Luckily, Milan's metro system is excellent (it reminds us a lot of Rome's, go figure), and we recommend using that to travel longer distances.
Uber Black is also available in the city if needed, however, we generally prefer to use MyTaxi while in Italy.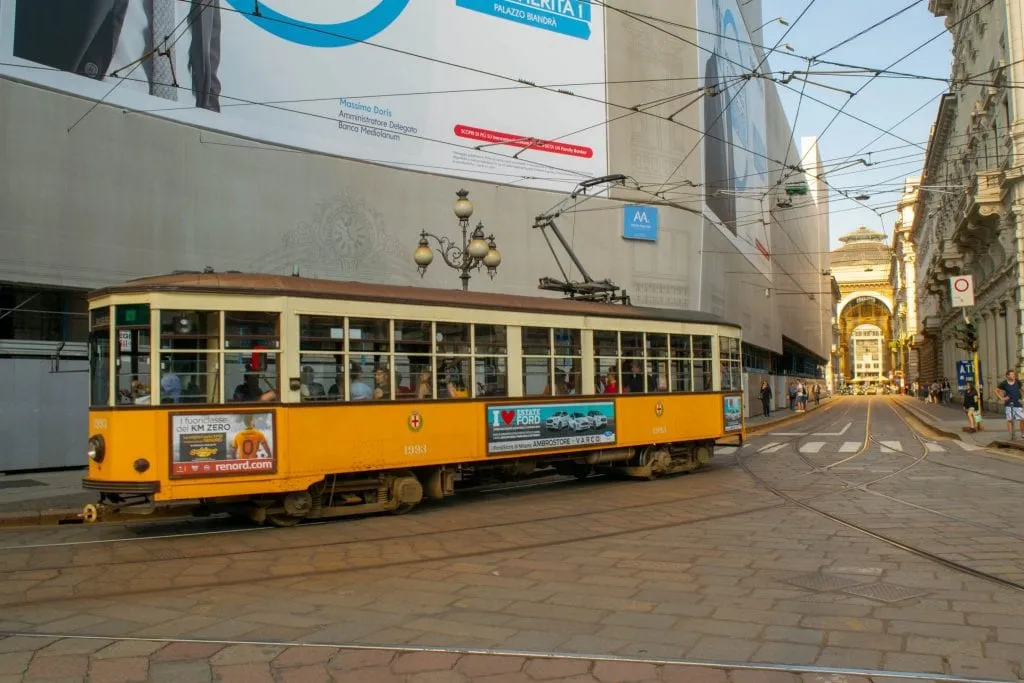 Getting In & Out Of Milan
Whether you're entering and leaving the city by train or plane (and it's probably one or the other), you'll likely be going through Milano Centrale Station–lucky you, because it's one of the most beautiful train stations we've ever seen!
If you're flying out of the city, shuttle buses to both Bergamo and Malpensa airports run every half hour from Milano Centrale, and there are several companies offering the service.
We used Autostradale and found the service incredibly easy–and at around 5 Euros/person for a one hour ride, an absolute bargain for Milan.