As the home of Milan's iconic Gothic cathedral and the launchpad to some of the city's best sightseeing, there's no doubt that the magnificent Piazza del Duomo in Milan is one of the absolute best places to visit in the city–or even in Italy as a whole!
From here, you're located within a very short walk of several of the best things to do in Milan, starting, of course, with heading to the top of the Duomo.
The Piazza del Duomo (or in English, Cathedral Square) has been the literal and figurative center of the city for centuries… so it's no surprise that there's more to this iconic location than meets the eye.
Here are the best things to do in Milan's Piazza del Duomo, including some that you may not be aware of!
The Best Things to Do in Piazza del Duomo, Milan
Visit the rooftop terraces of the Duomo di Milano.
If there's only one attraction that you pay for when visiting Milan's Piazza del Duomo, it should be visiting the mesmerizing rooftop terraces of the Duomo.
The intricate Gothic construction of the cathedral is best appreciated from above!
In addition to the details of the rooftop itself–which is truly the highlight–you'll also be able to enjoy views out over the city, which show off just how modern much of Milan's skyline is compared to Italy's other most visited cities.
A combined Duomo Complex ticket will provide access not only to the rooftop terraces but to the rest of the complex as well (more on that below).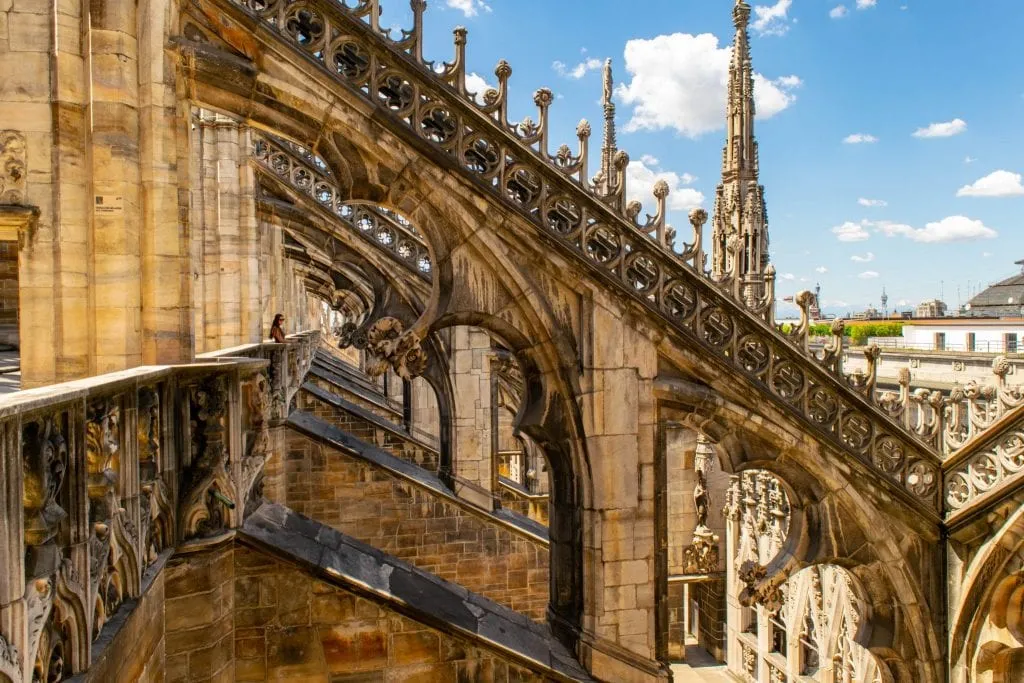 And, while the climb to the top of the Milan Cathedral is actually quite short as far as Duomo climbs in Italy go–only around 250 steps–if you'd like to avoid the climb, some ticket options like this allow elevator access to the rooftop terraces, as well.
Don't want to miss any details–like the symbolism behind those incredible carvings?
If so, a guided cathedral tour like this is a great option.
Book your Milan Duomo Complex tickets today!

Prefer a guided tour? This popular one gets excellent reviews!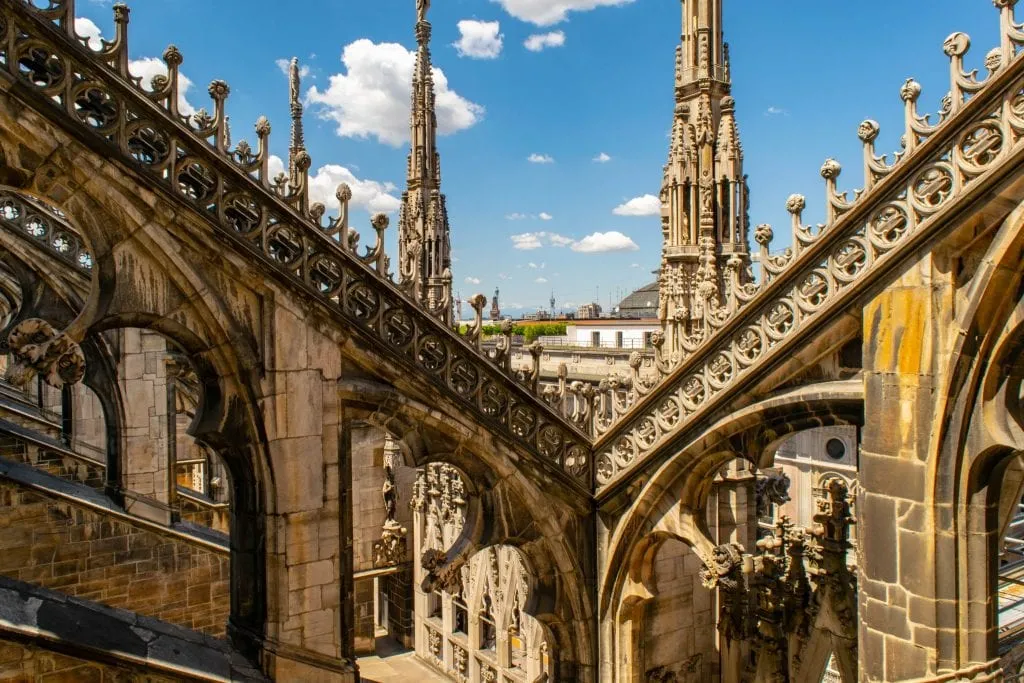 … and visit the rest of the Duomo Complex.
While the rooftop terraces are the showstopper attraction when visiting the Milan Cathedral, there are several other ways to explore the Duomo Complex as well–and they're all worth your time.
Once you visit the rooftop, be sure to see…
Interior of the Cathedral
The interior of Milan's Duomo is as majestic as you would expect from the outside: ornate columns and incredible inlaid Italian marble floors rule the show.
Please note there is a strict dress code requiring shoulders and knees to be covered.
Either dress for your visit to the Duomo di Milano with this in mind, purchase a skip-the-line pass that includes a borrowed covering, or prepare to pay an extra fee to get one at the door (first time I've seen a house of worship charge for those, but alas!).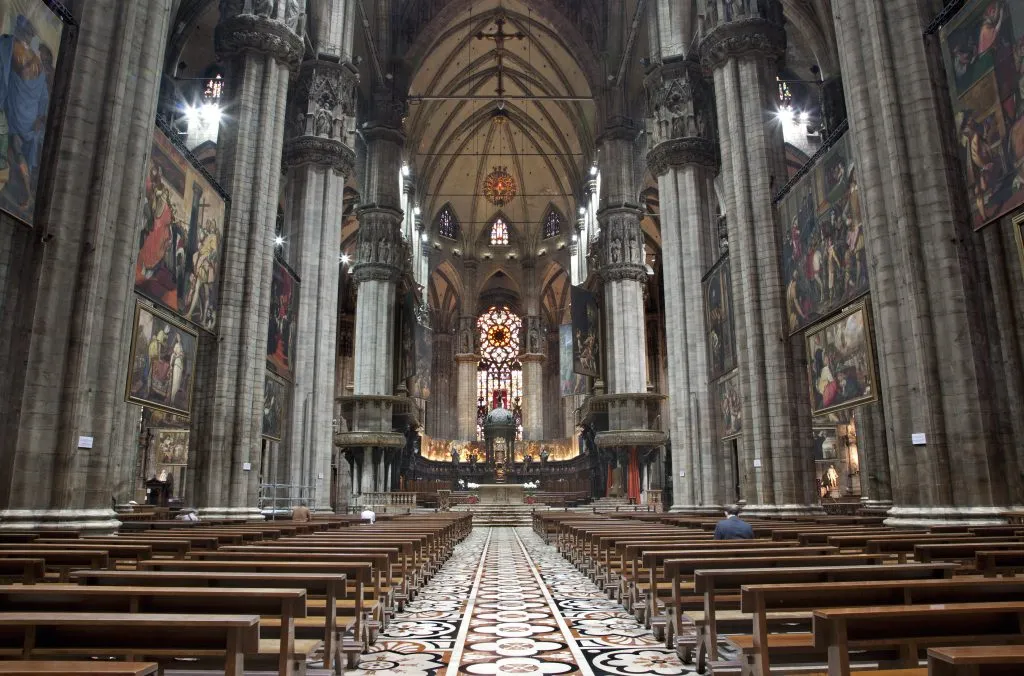 Archaeological Site
Underneath the Duomo itself sits an impressive archaeological site!
Long before there was a Duomo, there was plenty of other activity and buildings in the square–and you can explore them, in person, underneath the cathedral.
The entrance is found at the back of the Duomo, and you enter from inside the church.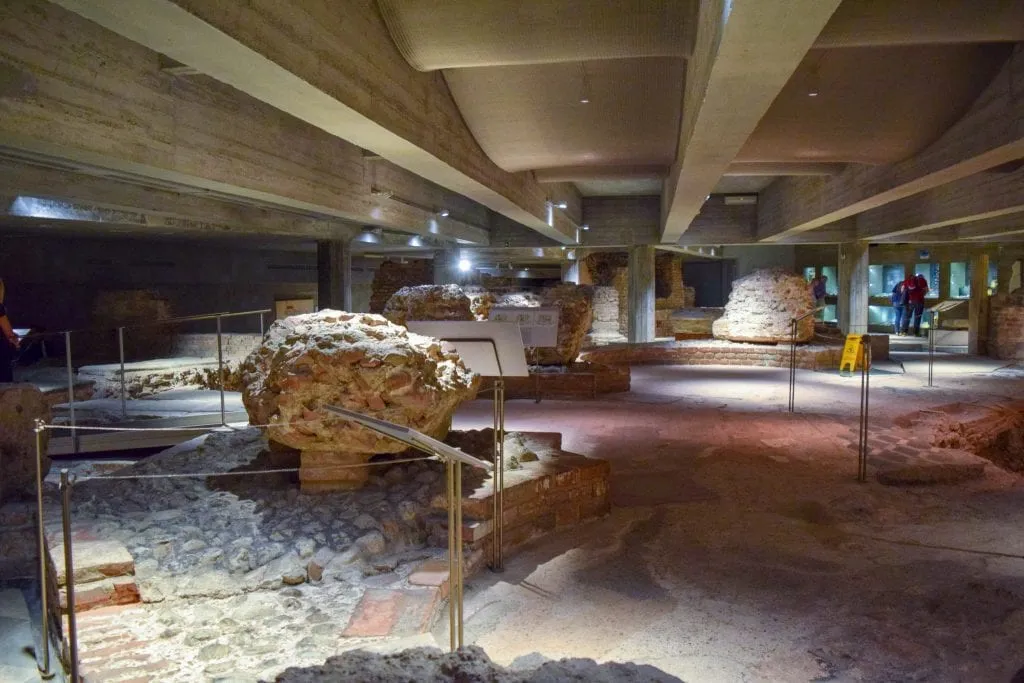 Other Inclusions
A full Duomo complex ticket also includes a visit to the Duomo Museum, which includes statues and artifacts that called the Duomo home in centuries past, and the Church of San Gottardo in Corte.
The Church of San Gottardo in Corte isn't near the Piazza del Duomo, but the Duomo Museum is located just off of the piazza.
Both sites are well worth visiting if you have time to work them into your Milan itinerary!
Stroll through the Galleria Vittorio Emanuele II.
Light, airy, and located right off of the Piazza del Duomo, the 19th-century Galleria Vittorio Emanuele II is a downright luxurious place to do some shopping.
If you are hoping to memorialize your trip to Milan with a pricey purchase from Prada, Versace, Gucci, Armani, or many others, this is the place to do it.
Even if you're not planning on doing any shopping, though, the Galleria is worth walking through!
The glass ceiling gives the entire place a soft glow, and the path through the Galleria leads right from the Piazza del Duomo to the nearby Piazza della Scala.
Pay a visit to the Palazzo Reale di Milano.
Located on the southern edge of the Piazza del Duomo, the Palazzo Reale di Milano–or Royal Palace–was the seat of Milan's government for centuries.
… and if you're looking for a way to step off the beaten path without straying far from Milan's Duomo, it's a wonderful place to visit!
The building itself is as remarkable as you would expect, and today is an art museum that is home to a series of rotating exhibitions, some of which are even free to access (though reservations are encouraged).
… or the Museo de Novecento.
Located right next door to the Palazzo Reale, Milan's Museo de Novecento is dedicated to 20th-century art.
The collection is primarily, though not exclusively, Italian, and offers a chance to see a very different side of Italian art culture than much older Milan highlights like the Gothic-era Duomo and Renaissance-era The Last Supper.
Lauraderiu, CC BY-SA 4.0, via Wikimedia Commons
Visit Camparino in Galleria for an iconic Milanese apertivio.
To experience a classic Milanese experience, stop at Camparino in Galleria to enjoy aperitivo right off of the Piazza del Duomo!
Dating to 1915, Camparino is one of the most famous bars in Milan and is beautiful inside and out (and you sure can't beat the view of the Duomo from their outdoor seating area).
Stop by the Vittorio Emanuele II statue.
Less of a thing to do in the Piazza del Duomo than a point of interest, it's worth noting the striking statue of Vittorio Emanuele II riding his horse into battle when visiting Milan's main square!
The statue was unveiled in 1896, a mere few decades after Vittorio Emanuele II became the first king of a united Italy (and as you've no doubt noticed, a good many things in Italy are named after him).
Other Cool Things to See Near the Piazza del Duomo
Within a 5-minute walk of the Piazza del Duomo, you'll find several other cool things to see in Milan!
First up: the Piazza della Scala, home to Milan's absolutely iconic opera house, Teatro all Scala (also known as the La Scala Opera House in English).
Piazza della Scala is connected to Piazza del Duomo through the Galleria Vittorio Emanuele II, making it a short and beautiful journey.
If you'd like to step inside and see one of the world's most famous (and arguably one of its most beautiful) opera houses for yourself, you can check the ticket schedule here (to make sure you visit at a time with access to the theatre as opposed to just the museum).
Alternatively, you can book a guided tour for a more thorough visit!
Head in a different direction, and you can visit the much quieter, but very charming, Piazza Mercanti.
When visiting Piazza Mercanti, you'll be right around the corner from a very different kind of Milan attraction: the first Starbucks in Italy, which–depending on your travel style–might be either a must-see or must-avoid (though it's safe to say it's probably unlike any Starbucks you've been in before!).
Alternatively, a short walk east of Milan's Piazza del Duomo, you'll find one of the most unique chapels in the city.
The Santuario di San Bernardino alle Ossa is home to a very memorable ossuary, which features–among many other things–human skulls stacked into crucifixes.
Tips for Visiting Piazza del Duomo in Milan
Show up very early–or late.
The Piazza del Duomo is–unsurprisingly–generally the busiest place to visit in Milan.
If you're hoping to photograph the front facade of the Duomo without crowds of people in front of you, be prepared to visit in the off-hours!
Personally, we think both the early morning and night visits have lots to offer, though it'll often mean doubling back in order to actually enter the monuments.
Pre-book your tickets or tours for the cathedral.
In order to avoid long lines and dense crowds, we highly recommend purchasing your Milan Duomo Complex ticket in advance!
We'll never forget waiting in line for ages on our first visit to the Milan Duomo, and these days, we book everything we can online when traveling.
Whether you want to use the elevator, book a guided tour, or simply grab a standard ticket to enjoy all that the complex has to offer, it's absolutely best to plan ahead.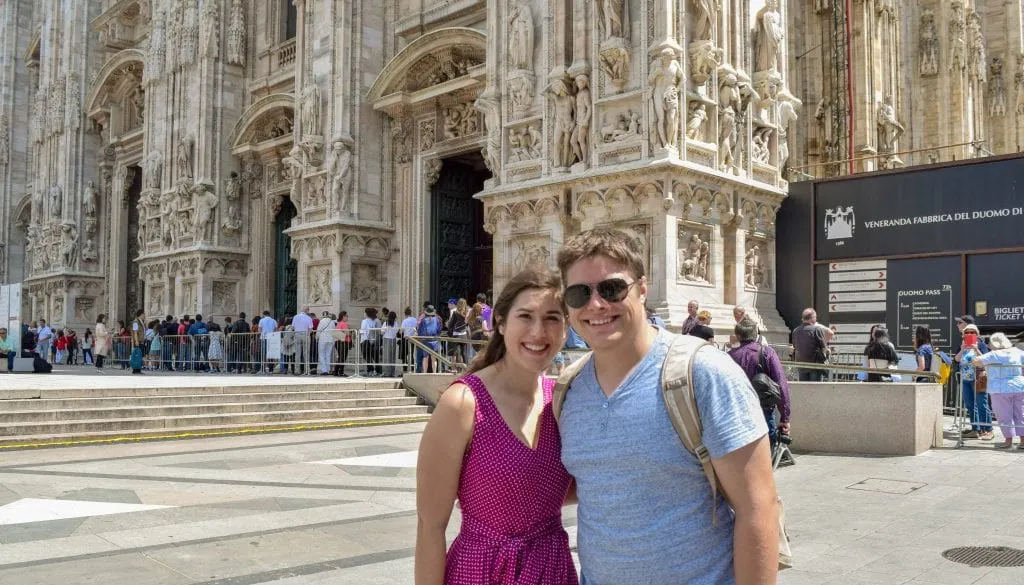 Keep the dress code in mind when visiting the Duomo di Milano.
Like virtually all churches in Italy, Milan's Duomo has a dress code requiring shoulders and knees to be covered.
Due to its popularity with tourists, the dress code is enforced on-site, so be sure to dress appropriately, or bring cash to purchase one of the offered capes/coverings.
If you're visiting Milan in December, prepare for crowds (and beautiful decor).
We've been lucky enough to visit Milan in most seasons, and while crowds are always to be expected, we were somewhat shocked by just how crowded the Piazza del Duomo and Galleria Vittorio Emanuele II were at Christmas!
While Milan is home to several Christmas markets, the most iconic one, of course, is held in the Piazza del Duomo.
The atmosphere and decor are well worth appreciating if you're visiting Milan in late November, December, or very early January… but be prepared for even bigger crowds than usual, especially on the weekends.
How to Get to Milan's Piazza del Duomo
As the geographic heart of the city–not to mention the heart of the city's tourism–it's incredibly easy to get to the Duomo in Milan!
Metro lines 1 and 3 run directly to the Piazza del Duomo, and you'll be able to arrive aboveground already in the square.
If you'd rather ride above ground, tram lines 3, 12, and 27 will get you there as well.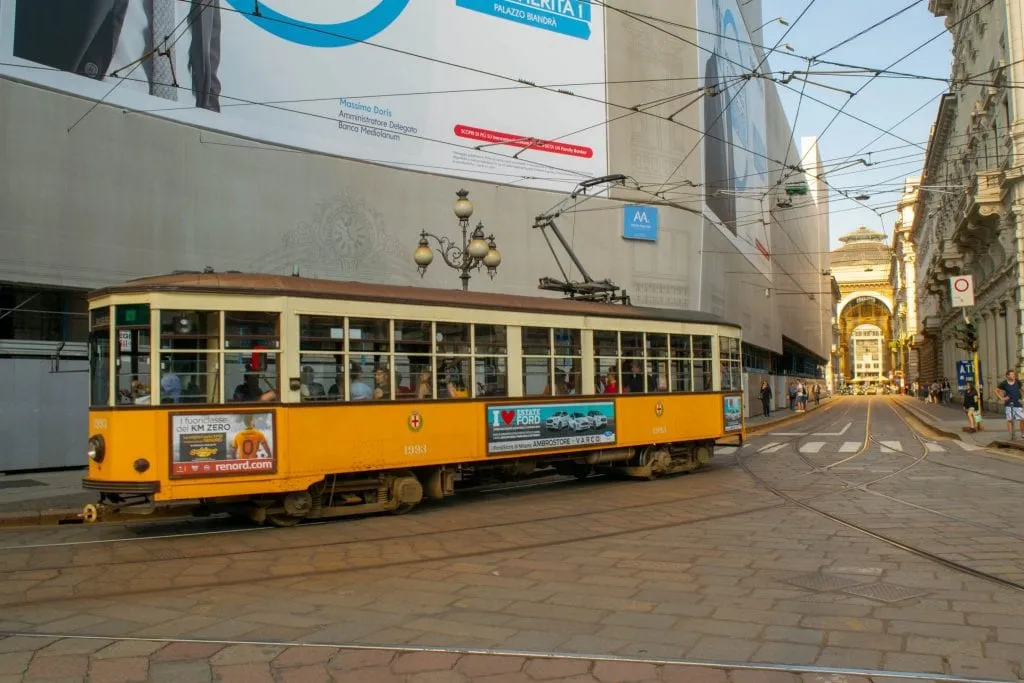 Alternatively, the Piazza del Duomo is about a 40-minute walk from Milano Centrale, or a 35-minute walk from Castello Sforzesco (with lots of sightseeing potential along the way–our recommended one day Milan itinerary follows that route).
It takes just under an hour to walk from Milan's Piazza del Duomo to Piazza di Santa Maria delle Grazie, where you'll find The Last Supper.
(And if you're planning a short trip to Milan and want to make the most of both the Piazza del Duomo and visiting The Last Supper, this well-reviewed tour from one of our favorite tour companies in Italy is a great option!).
Milan's canal-filled Navigli neighborhood is an hour's walk away and is better accessed by metro from the Piazza del Duomo.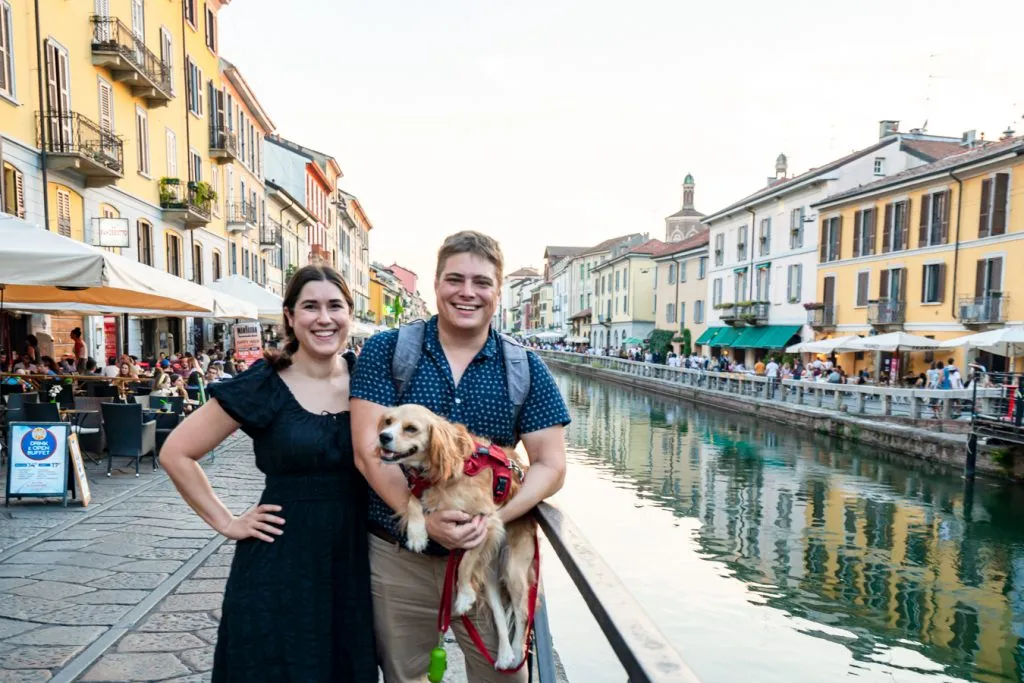 Read More About Visiting Milan + Northern Italy
Ready to keep planning your trip to Italy?
We'd love to help!
You can browse our 100+ Italy blog posts here, or check out these guides: