One day in Florence may not be enough time to master the city, but it is enough time to fall in love with it!
We would know: our first trip to Florence was for one day… and our second was for a month.
We've since returned to Florence enough times that we're starting to lose count, and we love the city more and more with each visit. Looking back, it's downright impressive that our obsession with the city started with a trip that included only one day in Florence.
Trying to see Florence in a day? We want to make sure you leave just as smitten with the city as we are–here's what we recommend you do there.
Some links in this post may be affiliate links. If you make a purchase through one of these links, we may earn a small commission at no extra cost to you. Please see our

disclosure policy

for more detail.
The Perfect One Day in Florence Itinerary
Start at the Galleria dell'Accademia.
As the city of Michelangelo, Botticelli, Da Vinci, and many others, it's no surprise that the Cradle of the Renaissance has maintained a reputation for stellar art collections through the centuries.
Sadly, with only one day in Florence, a visit to the incredible Uffizi only makes sense for serious art buffs who are willing to forgo seeing much else of Florence–but for everyone else, you can still get a taste of Florence's art scene at the Galleria dell'Accademia.
This is the home of Michelangelo's famous David, and we can attest that this statue is utterly mind-blowing to see in person–pictures and replicas simply do not do it justice.
Since the Galleria dell'Accademia is fairly small–it was literally built to house David–it'll be easy enough to work your way through the few other rooms quickly, get a taste of Florence's art scene, and then head out to enjoy the rest of your one day in Florence.
Predictably, lines at the Galleria dell'Accademia can get extremely long, even in the low season, so we strongly recommend you purchase skip-the-line tickets in advance to avoid wasting any time during your one day in Florence.
Don't worry about lines: book your tickets to see David now!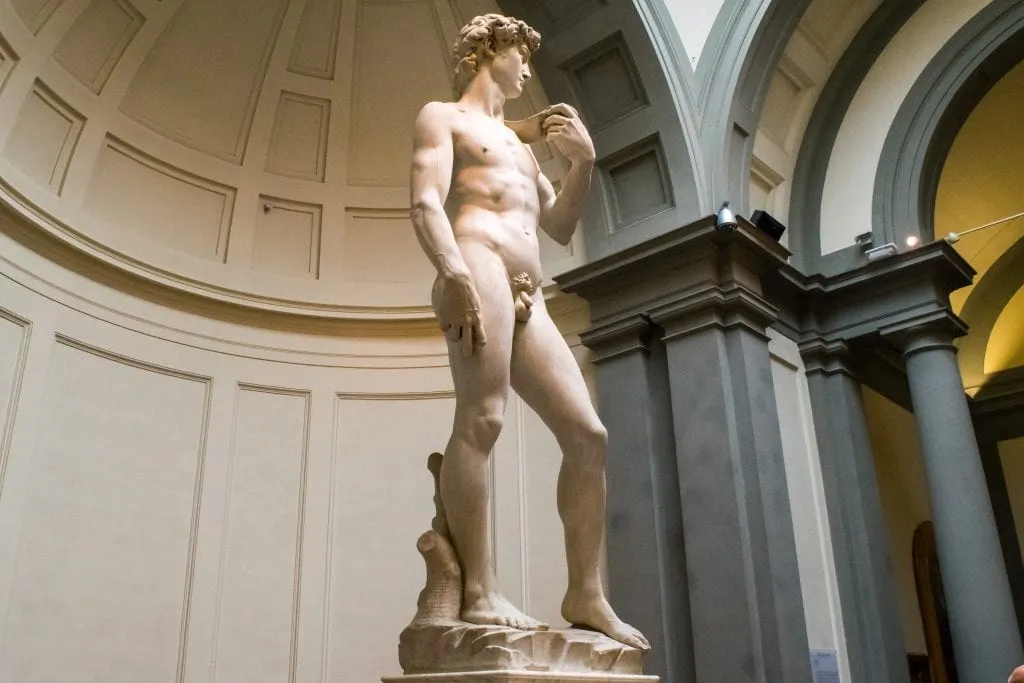 Stroll over to Mercato di San Lorenzo.
7-minute walk from the Galleria dell'Accademia.
As one of Florence's oldest markets, the bustling Mercato di San Lorenzo is an excellent place to people-watch, purchase small souvenirs, and photograph all of the overflowing stalls that are bursting with leather goods.
Keep in mind that the Mercato di San Lorenzo of today is geared almost exclusively toward tourists, and as a result, the quality of the leather may not be the best–we wouldn't recommend purchasing a pricey jacket or large bag here without doing lots of research on the maker (and doing lots of haggling).
Generally, if you want to purchase an item of that caliber while in Florence, it's better to head to a reputable leather shop than a touristic market.
However, if you're not looking for a lifetime purchase but merely a belt, small wallet, journal, etc. to commemorate your one day in Florence, this can be a fun place to browse.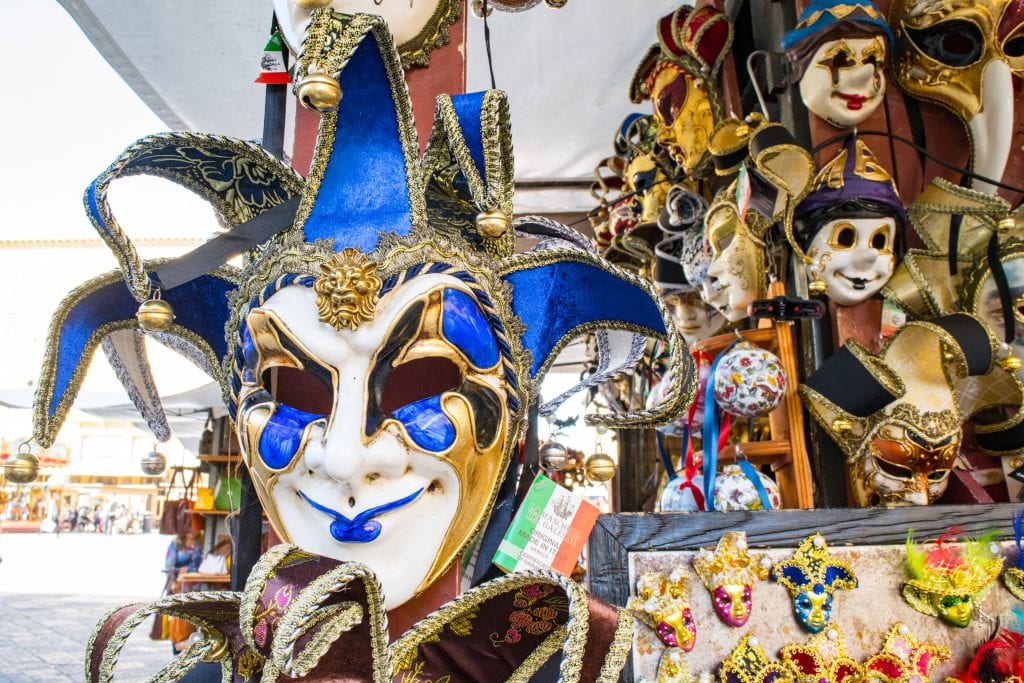 Duck into Mercato Centrale.
Right next door to the Mercato di San Lorenzo sits the Mercato Centrale, one of my favorite places in the city!
This market is all about the food: whether you want to photograph the beautiful fruit stands, pick up some olive or truffle oil to ship home, buy a large block of cheese, or purchase a hot meal from one of the many stands selling pasta and other goods, Mercato Centrale has you covered.
If you're hoping to pick up an edible souvenir during your one day in Florence, this is the place to do it–in addition to the oils mentioned above, vacuum-packed parmigiano-reggiano, cantucci cookies, and traditional balsamic vinegar are all excellent choices!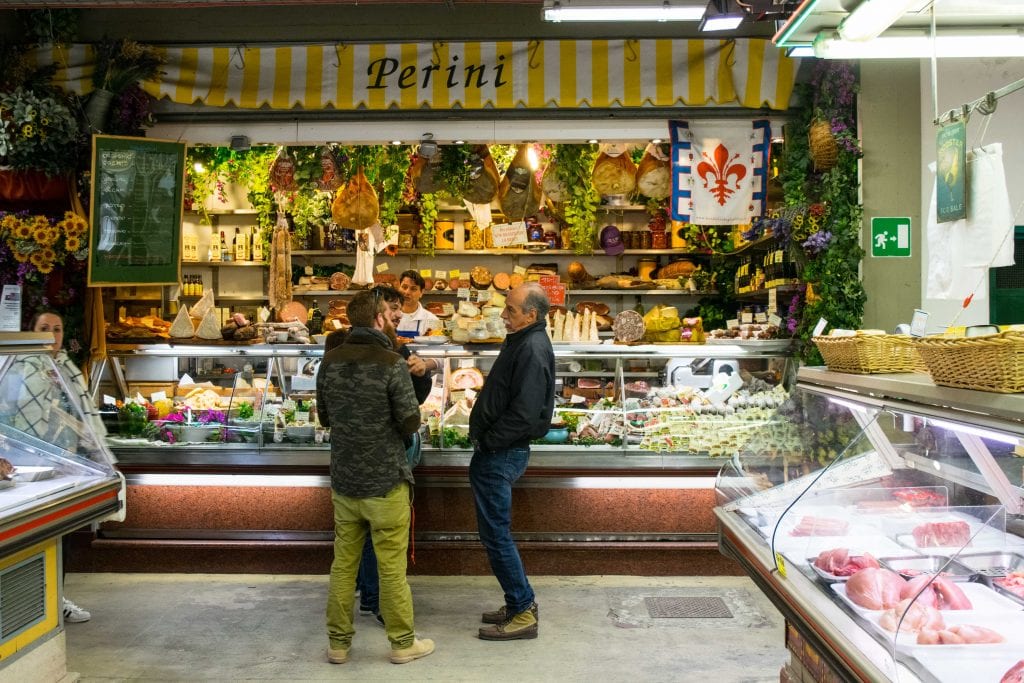 Head over to the Piazza del Duomo.
6-minute walk from Mercato Centrale.
Ah, the Piazza del Duomo: as the home of the Santa Maria del Fiore Cathedral (better known simply as the Duomo), this is the most iconic spot in Florence and one of the most iconic spots in all of Italy.
While in the Piazza del Duomo, be sure to enter the cathedral (it's free to enter, but everything else on this list requires a ticket), tour the baptistery (especially be sure to take note of Botticelli's incredible carved doors on the side that faces the cathedral!), and climb to the top of either Giotto's Bell Tower or Brunelleschi's Dome for amazing views.
The Piazza del Duomo is one place where prior planning for your one day in Florence will make or break what you get to do there: to climb to the top of the cupola, you'll need to reserve your ticket at least several days in advance.
While that is a hassle, it will work to your advantage with limited time in Florence: while you don't need to reserve in advance to climb the bell tower, the lines do get long and you may not have time to wait and still make it to everything else you hope to see in the city.
For that reason, we recommend booking your ticket to the attractions at the Piazza del Duomo in advance, including your timed cupola reservation.
If you'd prefer to climb the bell tower and the line is too long, you can consider trying to loop back around to the Piazza del Duomo near sunset–that's what we did when we climbed it, and we were able to avoid the bulk of the line that way.
Keep in mind that both climbs require lots of stairs–463 for the dome and 414 for the bell tower–so be prepared to sweat a bit!
Don't miss your chance to climb the dome: book your ticket to the Duomo Complex today!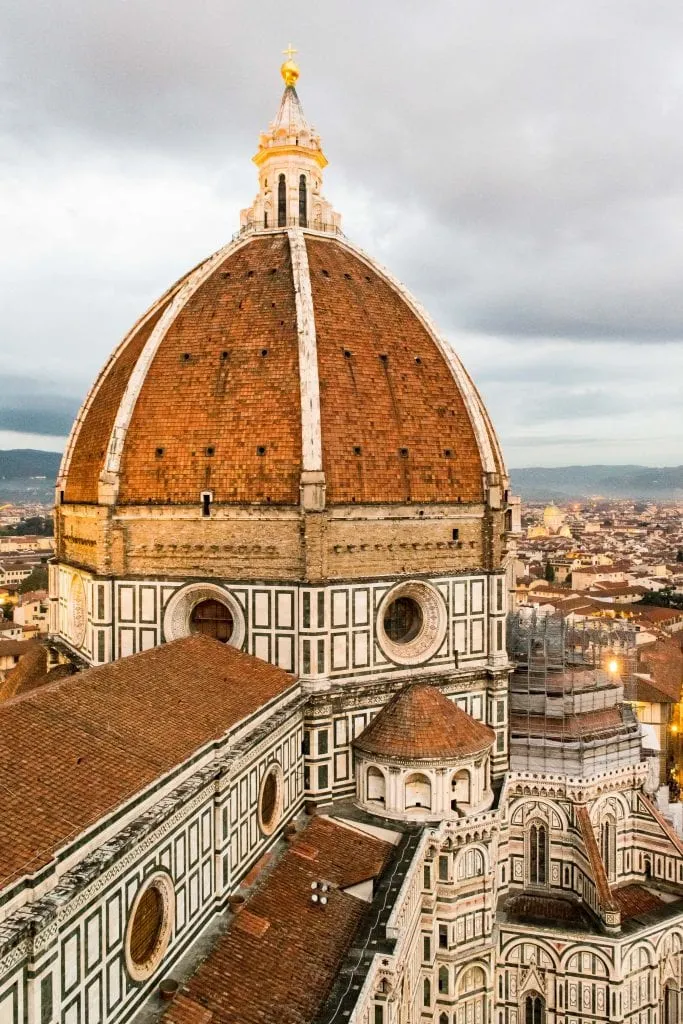 Walk over to the Piazza della Repubblica.
3-minute walk from the Piazza del Duomo.
The Piazza della Repubblica marks the former site of the Roman Forum of Florence, and it was the center of the city in the time of the Roman Empire.
Today, it is a beautiful square that is home to a gorgeous carousel–be sure to stop by and snap some photos, and even jump on a horse if you like!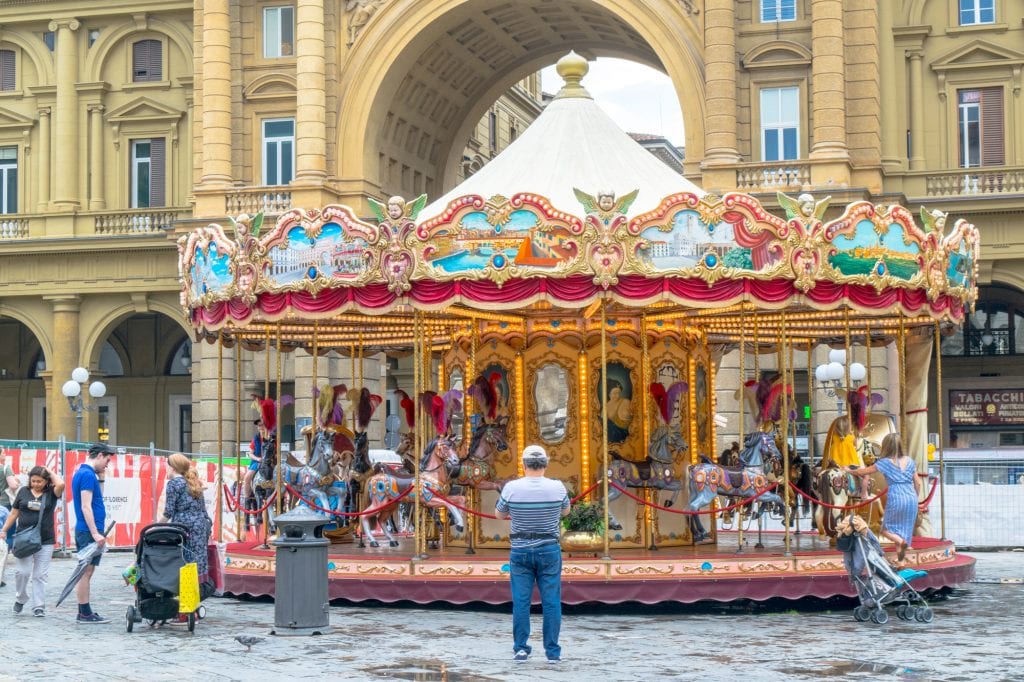 Stop by the Fontana del Porcellino & rub his nose.
3-minute walk from the Piazza della Repubblica.
Just down the road from the Piazza della Repubblica sits the Fontana del Porcellino–and this bronze pig has a couple of traditions attached.
Be sure to stick a coin in his mouth and make a wish as it drops into the grate–if the coin falls through the gate, your wish is said to come true.
More straightforward and important to travelers, however, is the tradition surrounding his nose: rub it, and you're said to be guaranteed to return to Florence one day!
The leather market that is set up next to the Fontana del Porcellino is called the Mercato Nuovo. Like the Mercato di San Lorenzo from earlier in the day, the market is quite touristy–but if there's something you had your eye on at the Mercato di San Lorenzo and regret not picking up, you can probably find another version of it here.
Wander over to the Piazza della Signoria.
2-minute walk from the Fontana del Porcellino.
Home to the Palazzo Vecchio (Florence's active city hall since the Middle Ages!), a beautiful open-air museum showcasing some incredible statues, the beautiful Neptune's Fountain, and the Uffizi Gallery, the Piazza della Signoria is one of the prettiest and most historically important piazzas in Florence.
Though you likely won't have time to go inside the Uffizi with only one day in Florence, the open-air collection of statues is quite the consolation prize–some of Florence's best-known statues are located here, including the horrifying but artistically masterful Rape of the Sabine Women.
Violence is a prevalent theme in this collection of statues–they are impressive, but also somewhat disturbing.
If you're moving quickly through Florence and still have a bit of time, you may want to consider touring the Palazzo Vecchio while here–the building is impressive, and the view from the top is one of our favorite views of Florence!
Want to squeeze in a visit to the Palazzo Vecchio? Book your ticket to the Palazzo Vecchio today!

Just can't say no to the Uffizi?

Save time & book your ticket in advance: Timed Entrance to the Uffizi Gallery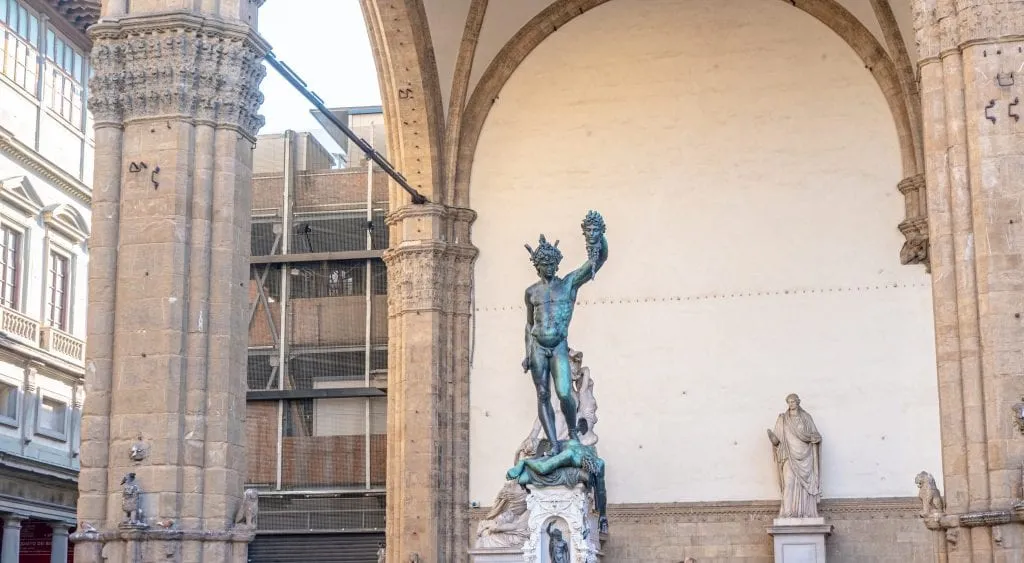 Stroll across the Ponte Vecchio Bridge.
4-minute walk from the Piazza della Signoria.
Spanning the Arno River at its narrowest point, the Ponte Vecchio is known for its distinct look of having buildings built along either side of it–and as the shops there today are glittering with jewels and gold from every angle, it's quite the lovely place for a walk!
The pedestrian bridge can get quite crowded, but it is one of the most iconic features of Florence and offers beautiful views of the Arno River.
Of course, you can't get the best view of the Ponte Vecchio while you are on it–for that, head to the nearby Ponte Santa Trinita.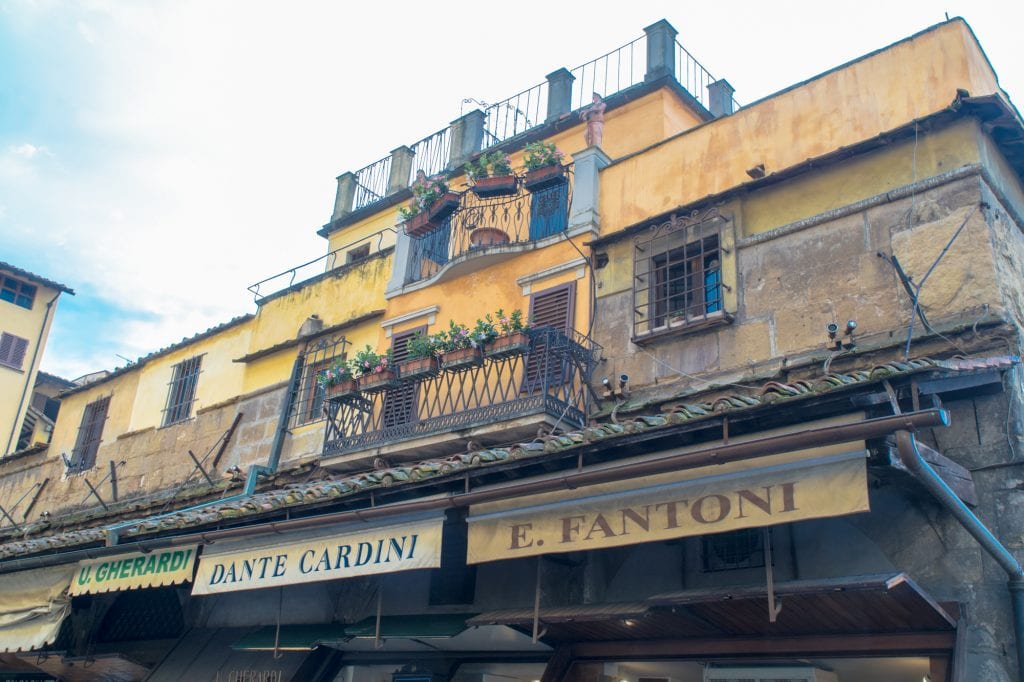 Enjoy the sunset from the Piazzale Michelangelo.
20-minute walk from the Ponte Vecchio.
The Piazzale Michelangelo is one of Florence's best-known viewpoints, and there's no better place to watch the sunset on your one day in Florence.
Try to get there a bit before sunset, not only to grab a great spot to enjoy the view, but to have the opportunity to take some beautiful photos before the sun starts to go down.
From there, it's time for one of two things: either a walk to the train station to bid Florence goodbye, or, if you're spending the night in the city, out to dinner for a delicious Tuscan dinner!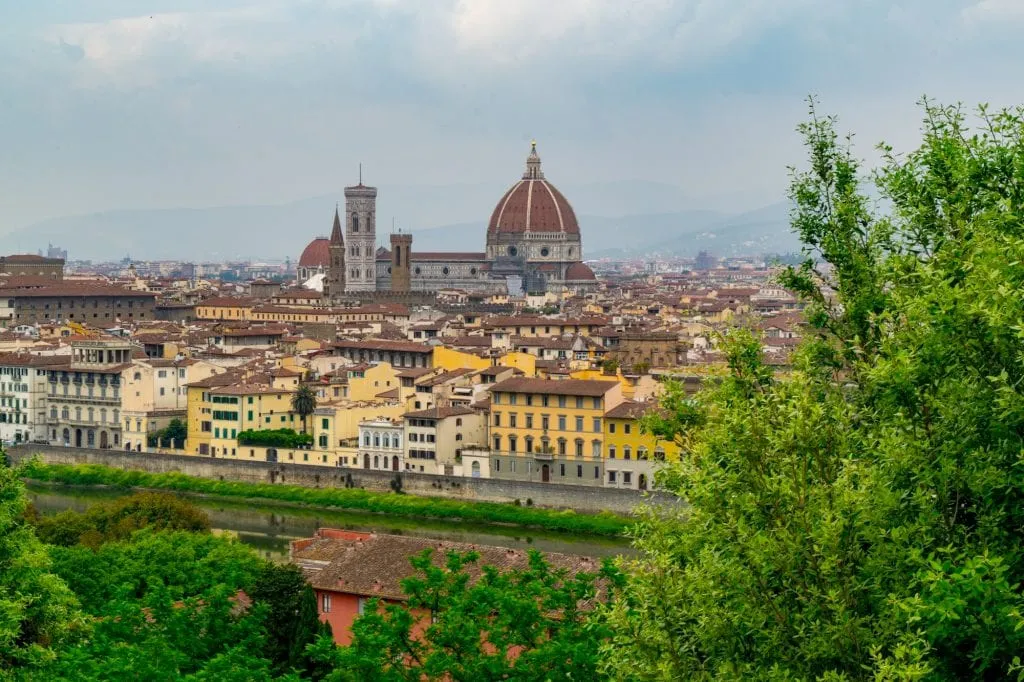 Tips for Spending A Day in Florence
Start early, and have breakfast Italian style.
The biggest key to making the most of one day in Florence is getting an early start: the Galleria dell'Accademia opens at 8:15am, and we recommend being there right as the doors open to get a great jump on exploring the city.
Before arriving, have a quick breakfast Italian-style: a cappuccino drunk standing up at the bar (aka coffeeshop), plus a sweet pastry if you're hungry, is the perfect way to start an Italian morning.
And I'm serious about standing up–Italian bars charge extra for the luxury of drinking while seated! Embrace the tradition, save a few pennies, and drink standing–it's more fun that way, anyway.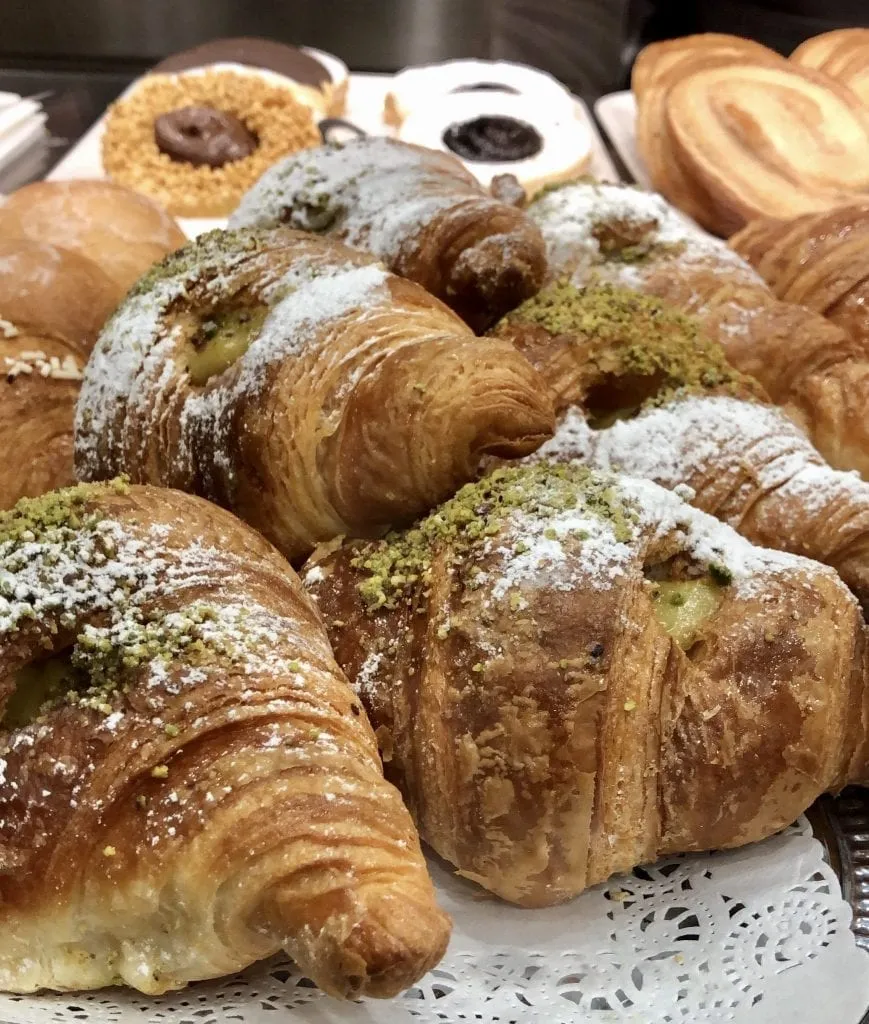 Save time & book your tickets in advance.
We're big believers in planning ahead to avoid waiting in line, and when you're working on an extra short timeline and have only one day in Florence, that becomes even more important.
We strongly recommend purchasing tickets for both the Galleria dell'Accademia and the Duomo before arriving in Florence–your whole day will go so much smoother for it!
Advance planning may even save you some money–you wouldn't be the first travelers to show up at a popular sight, see the gigantic line, and immediately decide to pay the local ticket scalpers whatever they ask (we definitely ended up doing this ourselves at the Vatican once).
Purchase your tickets to the Galleria dell'Accademia and the Duomo today!

Timed Entrance to David & the Galleria dell'Accademia
Pick out some food options ahead of time to avoid delays when exploring.
With only one day in Florence, you'll want to avoid wasting any time worrying about where to eat!
Here are a few quick eats in Florence that we love and that are very closely located to the path marked on this one day in Florence itinerary–we don't think you'll be disappointed with any of them!
We've intentionally avoided any spots that will take a particularly long time or are far out of the way, instead focusing on delicious, fast meals to keep you going throughout your one day in Florence.
If you're spending the night in Florence, you'll want to head out after watching the sunset at Piazzale Michelangelo for a gut-busting, multi-course, delicious Tuscan meal–for that, we can recommend Il Latini (a bit touristy but utterly fabulous). We hear excellent things about Osteria Santo Spirito as well–for both of these restaurants, you'll want to make dinner reservations in advance.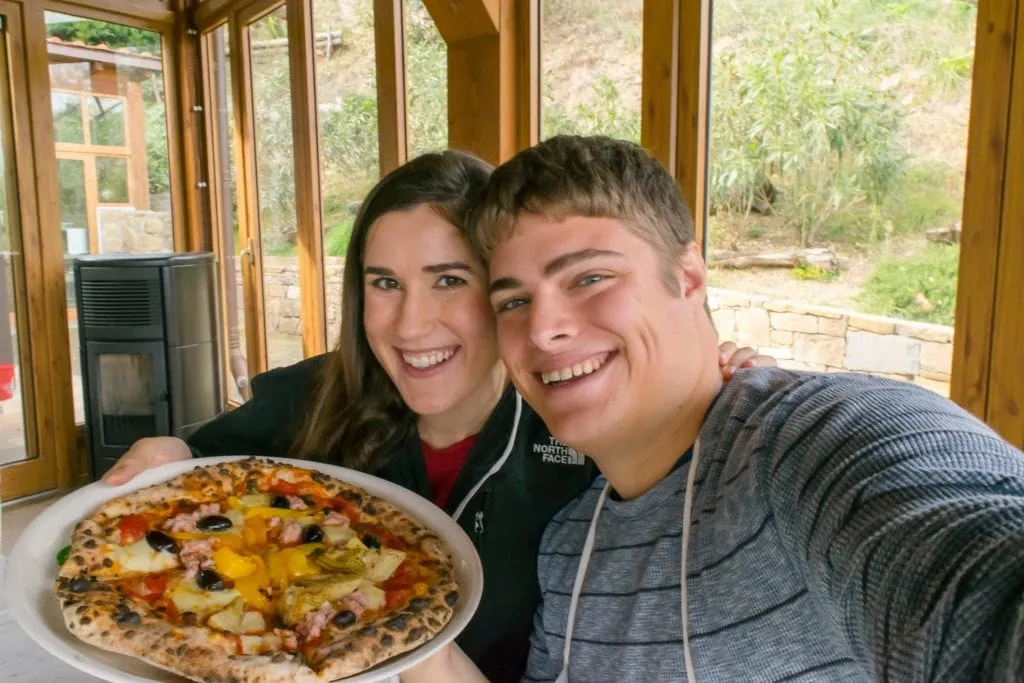 Trattoria Marione
—
Via della Spada
We weren't sure what to expect when we first ate at this trattoria–we picked it out on a whim–but their pesto is, hands down, the best we have ever had–we've been dreaming about it ever since!
Gusta Pizza
—
Via Maggio
Gusta Pizza is well-known, but that's no reason not to stop by! True Napoli-style pizza is quite rare in Tuscany, but Gusta Pizza does an incredible job.
The pizza is delicious and prices are fair–but the crowds are no joke.
We recommend taking your pizza to go, and eating it while people-watching in front of the nearby Palazzo Pitti instead of battling the crowds inside the small restaurant.
Il Panino del Chianti
—
Via de Bardi
We love this panino shop!
The panini are so good, the shop is adorable, and the location is perfect for grabbing a bite to eat in between crossing the Ponte Vecchio and heading up to Piazzale Michelangelo.
Gelateria Edoardo
—
Piazza del Duomo
Conventional travel wisdom would suggest that a gelato shop located within sight of the Duomo would be overpriced and underwhelming–but there are exceptions to every rule, and Gelateria Edoardo is that exception.
Their gelato is delicious, and some of the flavors are so creative. I highly recommend their cinnamon gelato, and Jeremy swears by the traditional vanilla.
Don't forget to enjoy the journey!
Half the fun of Florence is simply being there: wandering the streets, admiring the buildings, hearing the music from the buskers echoing across the squares, strolling around with a scoop of gelato in hand.
While this one day Florence itinerary does take you through many of the best sights of Florence, we intentionally structured it to allow plenty of time for ogling Florence on foot–which, after around half a dozen visits to Florence, is still one of our favorite things to do there.
Getting Around During One Day in Florence
Florence is quite small and assuming you don't have any physical limitations, you likely won't need anything other than your own feet to get around during your one day in Florence.
I've included the walking distance between each attraction above: as you can see, most of them are very close together!
More Time in Florence?
There is no limit to how long you can stay in Florence and be entertained!

If you have more than one day in Florence, be sure to stop by the beautiful Uffizi Gallery, to climb to the small church of San Miniato al Monte for amazing views over the city, to check out the Palazzo Pitti and nearby Boboli Gardens, to visit the Santa Croce Church where Galileo and many others are interred, and to visit the incredible Santa Maria Novella Pharmacy.
If you have more than a few days in Florence, be sure to also get out into the Tuscan countryside: whether you're looking for a wine tour, a day trip to a nearby village (Pisa is popular, Lucca, Siena, and San Gimignano are better), a chance to ride a Vespa through the Tuscan hills, or a cooking class overlooking the countryside, Tuscany has you covered.
Where to Stay for One Day in Florence
If you're spending the night during your one day Florence visit, your main priority should be location: choose a hotel that is centrally located, within easy reach of some of Florence's top attractions, and hopefully the Santa Maria Novella train station, and you'll be golden.
Here are a few options that we recommend.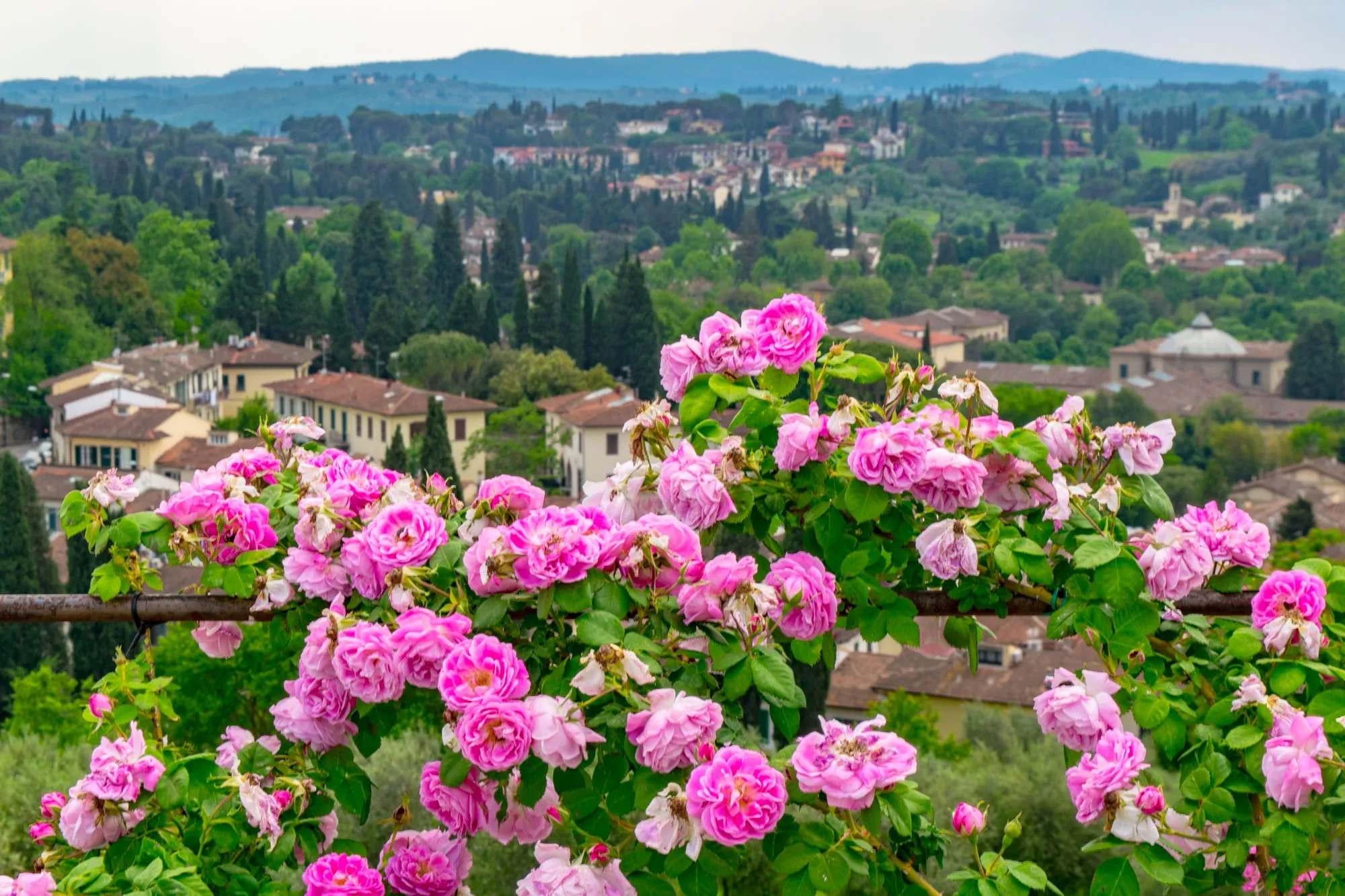 Budget
B&B Le Stanze del Duomo — Though Florence hotels can be a bit pricey and stretch the definition of "budget", B&B Le Stanze's beautiful rooms and impeccable location in Florence will be sure to have you swooning!
Midrange
Bargello Guest House — Located in the heart of Florence, this property is only a short (read: less than 5-minute) walk away from some of Florence's highlights like the Palazzo Vecchio. Staying here, you'll be within easy walking distance of the best of what Florence has to offer.
Luxury
Hotel Lungarno — Nestled right against the Arno River and home to one of the best views of the Ponte Vecchio in Florence (not to mention some of the best views of the rest of Florence from their top deck), Hotel Lungarno is our personal "if we ever really want to splurge" hotel in Florence. You can't go wrong using Hotel Lungarno as your base for one day in Florence!